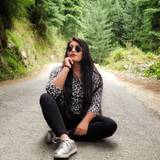 Queenie Singh
Associate - Editorial
From finding answers to the philosophical mysteries of life to deciding what to buy next on her shopping list, living in a world of contrasts is the story of her life. Steering the drama in her life and always being the main character of her story, Queenie believes life has so much to offer if only we are willing to see it. An escape to tame the whirlwind of emotions and perfect raw ingredients to create something magical, the love of words has always been woven into her soul. Good at shutting out the chaos of the world, a good day for her is cosying up in a blanket with a good book, a warm cup of coffee and a piping hot pizza! Or maybe 50 episodes of her favourite series in a go.

Experience

Starting her journey as a freelance writer in love with travel stories and the treasure of experiences the world has to offer, she took her first job at WeddingWire India in 2018 in the Content Operations field. With much patience and resilience, she finally got the opportunity to do what she had always loved. Moving to the Editorial team as a full-time writer, she finally began her journey to weave magic and beauty in words.

WeddingWire Q/A

What is your Dream Wedding Style/Theme?

Either a traditional black-tie Christian wedding with posh decor, ornate floral arrangements and grandiosity in each element, or a garden wedding with whimsical decor, bright splashes of colours, bohemian design elements etc.

Bucket List Dream Wedding Destinations?

It has to be amongst the dreamy destinations like Santorini, Paris or Venice, or a gorgeous beach wedding in the Bahamas, Bali or Seychelles.

Who is your Dream Designer?

Vera Wang or Julie Vino for fantastic wedding gowns. Seema Gujral for eye-catching bridal lehengas.

About your Favorite Celebrity Wedding Look

A custom Ralph Lauren wedding gown for the Christian ceremony of Priyanka Chopra with her 75-foot long veil looked absolutely dreamy.
Articles published by Queenie Singh