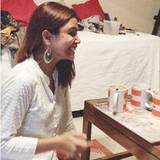 Anwesha Das
Associate - Editorial
Red might just be the colour of my soul too, if not always the hair. Tea dependent life form. Profession: Spinning art in the constraints of 26 letters for a living. Hobby: Struggling for a picture-perfect memory.

A tea dependent life-form, Anwesha's favourite part of the day is when she is spinning art in the constraints of 26 letters. Other times she is seen with a book and a cup of tea in hand. She started her journey with WeddingWire India in 2018 writing storefront content for the vendors on board. Here she cultured her knowledge about weddings with finesse and soon made a place for herself in the Editorial team in 2019. Right from the decor trends at weddings to the latest designer lehenga and who-wore-what - she loves to keep a tab on all things weddings.
Experience
Before Anwesha started her journey as a writer at WeddingWire India, she has been a part of the content writing and quality auditing team at Myntra. While she puts her best foot forward in weaving creativity, she is also at par with analysing the latest trends and the answers to "what's hot"! Be it transcription, creative writing, copywriting, SEO writing, ideating social media campaigns or even finding the perfect fit when it comes to aesthetic pictures - she is an adept professional.
WeddingWire Q/A with Anwesha Das
What is your Dream Wedding Style/Theme?
My dream wedding theme has to be a rustic garden wedding topped with vintage elements and white lilies.
Bucket List Dream Wedding Destinations?
My dream wedding destination is Ballymagarvey Village in Ireland. I have dreamt of the pastures in Ireland forever now!
Who is your Dream Designer?
I love all things minimal. And out of the many ace designers who offer the best couture wear for brides, I would love to wear a Karan Torani outfit for my wedding.
About your Favorite Celebrity Wedding Look
Hailey Baldwin's signature veil on her custom-made Vera Wang dress with the uber cool pair of white trainers stole my heart and how!
Articles published by Anwesha Das