Must-have Aulerth Jewellery Pieces In Every Bride's Trousseau
Aulerth is here with their consciously made couture-inspired jewellery & this is everything you need to add to your bridal shopping list. Here is the perfect guide for you to pick your trousseau jewellery with Aulerth.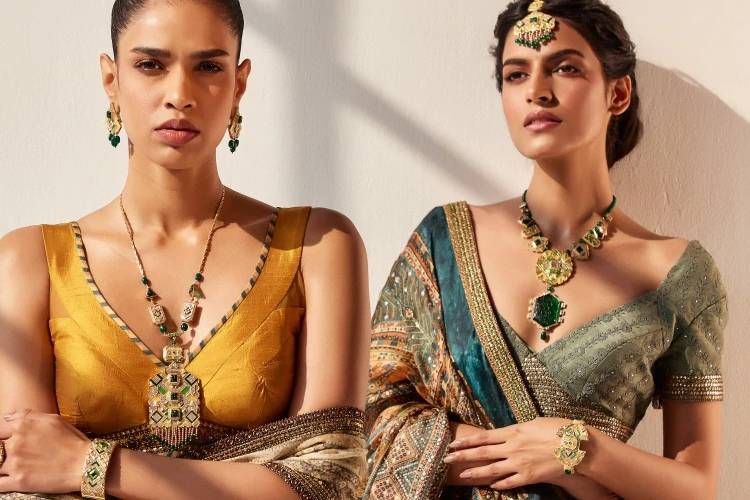 Let's talk about the word "trousseau" and how its meaning has evolved through generations. The typical "something borrowed, something blue" is quite linear in the West, however, in the Indian diaspora – some call it the bride's "sola shringaar," or perhaps the "tattow." But in each culture, it basically means the clothes, the jewellery and other belongings that a bride collects before her marriage. There is a potpourri of traditions that surround the bridal trousseau. However, when our customs roved through contemporary phases, there were a few tweaks as per the need of the times and in the recent past, the definition of trousseau has become more holistic. It is no longer confined to the bride, only. Today, wedding trousseaus have become a part of everyone's wardrobe collections.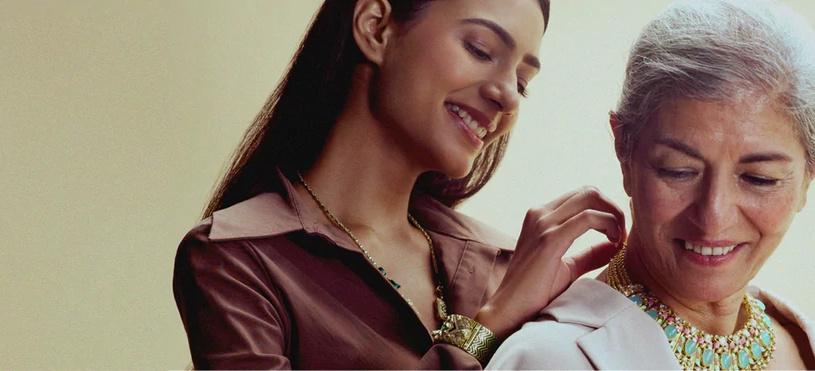 In all these rituals, one thing that remains undeterred is the jewellery - be it for the bride, the mother of the bride, cousins, bridesmaids or the groom's family members. So, if you have been working on curating the perfect jewellery for your wedding trousseau, you have landed on the right page. We bring to you Aulerth - India's first couture-inspired and consciously-made jewellery brand. Aulerth is a multi-designer house of jewellery; the brand is on a path to turn refurbished metal into striking gold-plated jewellery bejewelled with semi-precious man-made stones. These jewels are so versatile that you can pair them with both western and traditional outfits. Their launch collections have been designed by Tribe Amrapali, Suneet Varma, and JJ Valaya wherein these design houses have translated their couture sensibilities onto each piece of jewellery.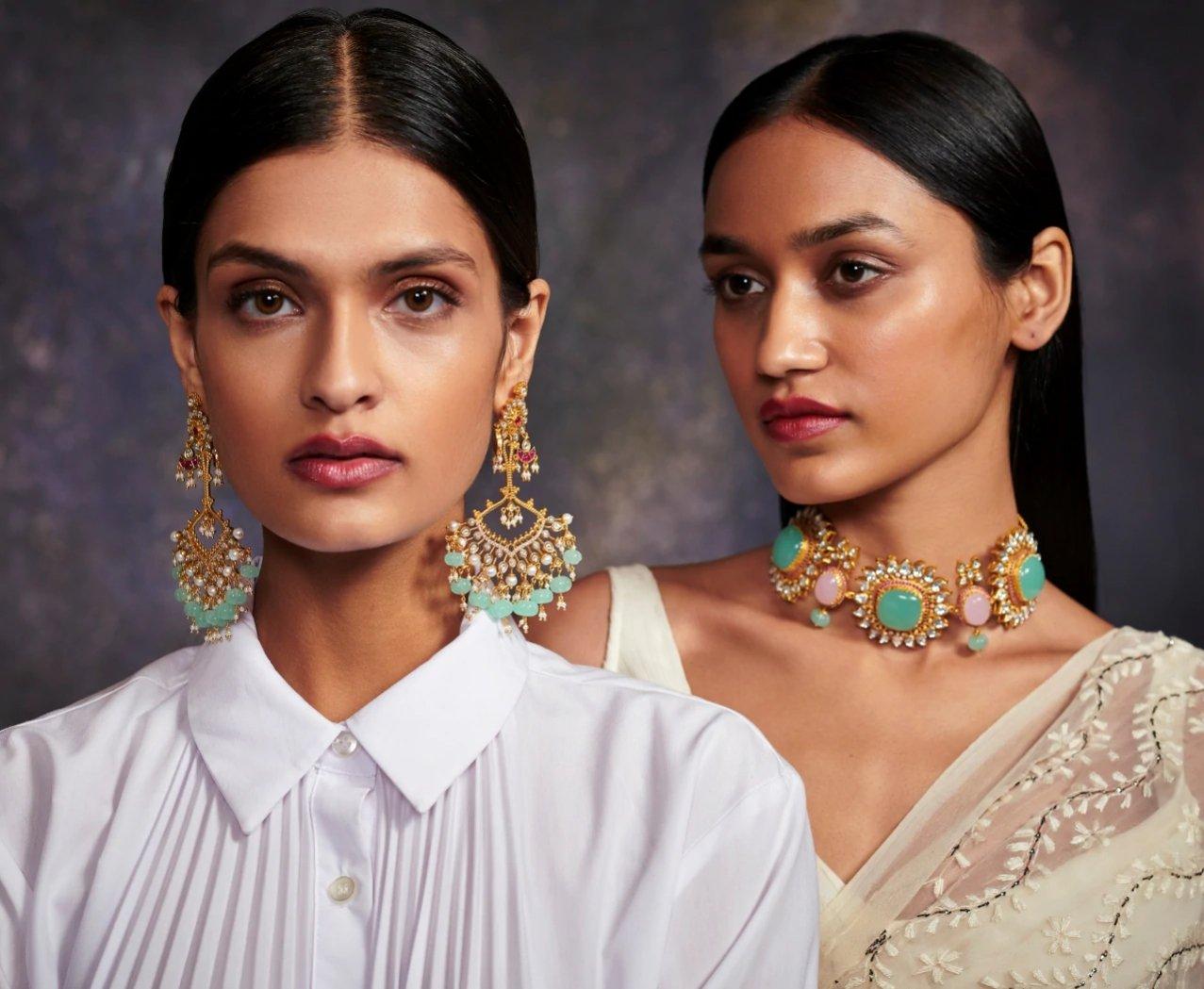 Moreover, you can come back to them after 12 months of your purchase to trade your older jewels for a brand-new design through their "Renew" policy.
If you love the beauty of Indian craftsmanship, and high design sensibilities and like your jewels to be a blend of cool and classy, then you have landed on the right page! We at WeddingWire India have curated the ultimate jewellery guide for your wedding trousseau with Aulerth.
In this article:
1. Trousseau Jewellery for the Bride
2. Trousseau Jewellery for the Bride's Mother & Mother-in-Law
3. Trousseau Jewellery for the Bride's Sister
4. Jewels for Bridesmaids' Trousseau
Trousseau Jewellery for the Bride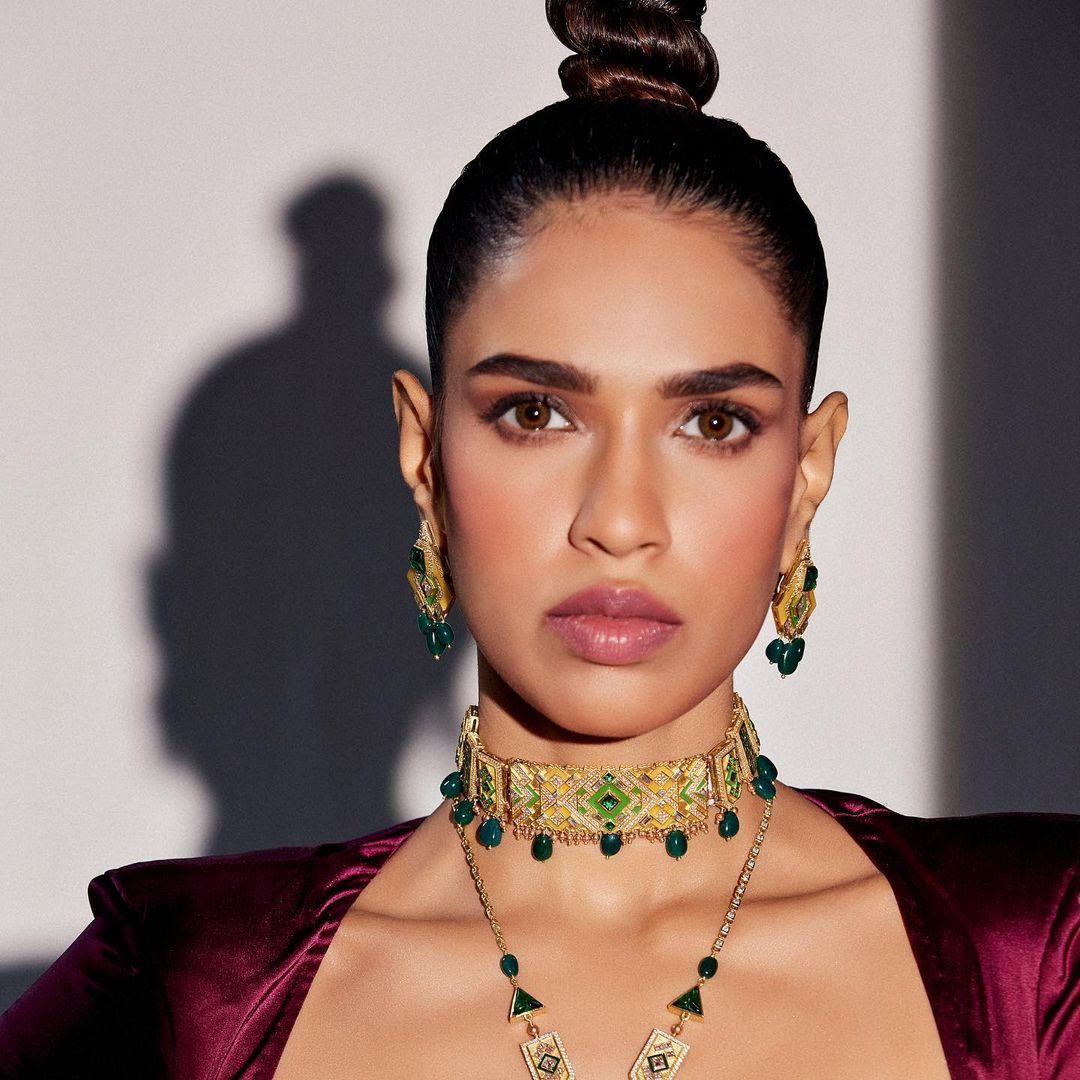 Let's begin with the bride's trousseau jewellery. Essentially, there are 5 pieces of jewellery that are must-haves for any bride - Necklace, Earrings, Bangles, Maang Tikka and Rings. Pick your jewels from Aulerth for an unforgettable bridal trousseau set.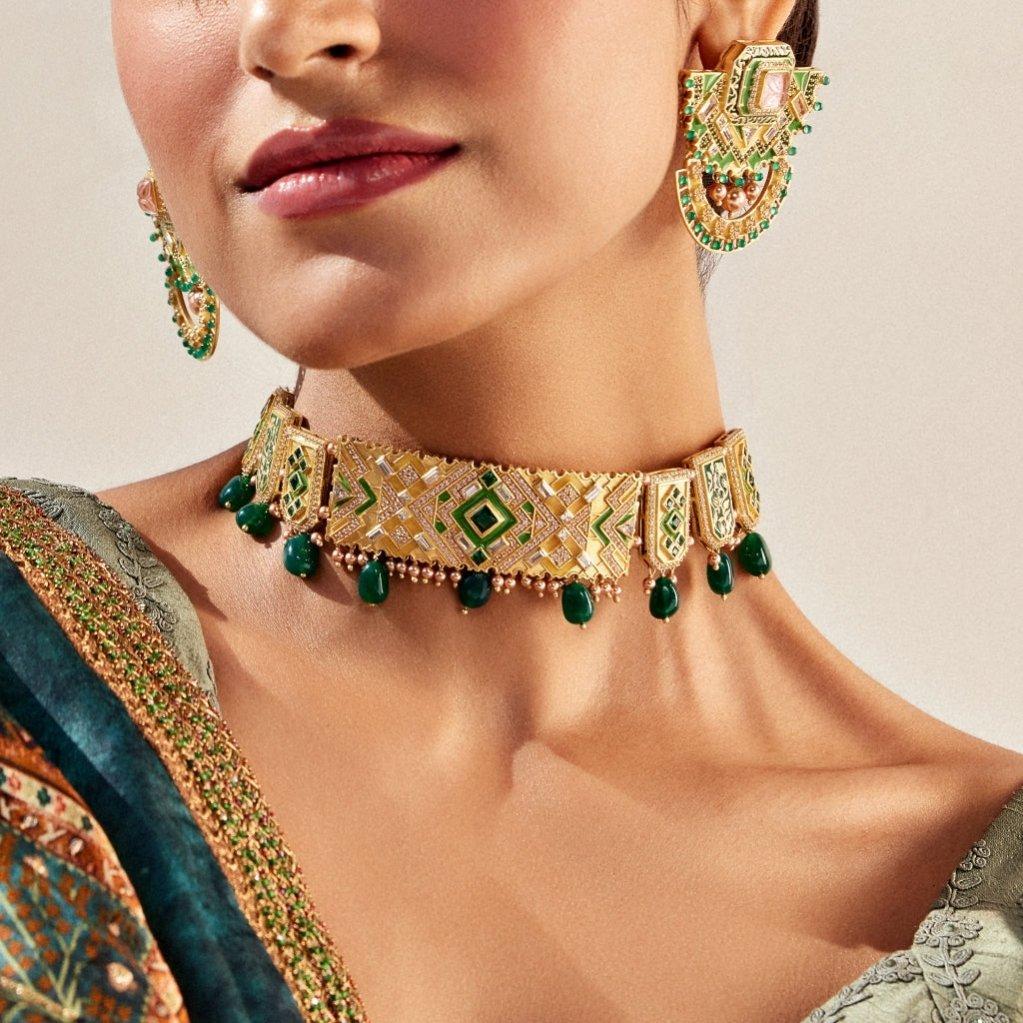 If you like wearing chokers, check out the Rumeli Sculpted Necklace by JJ Valaya on Aulerth. The neat geometric design coupled with rich emerald-hued stones makes this a signature piece of jewellery that any bride should own. If you are looking at multiple layers of necklaces, this consciously designed choker is a perfect fit for the first layer.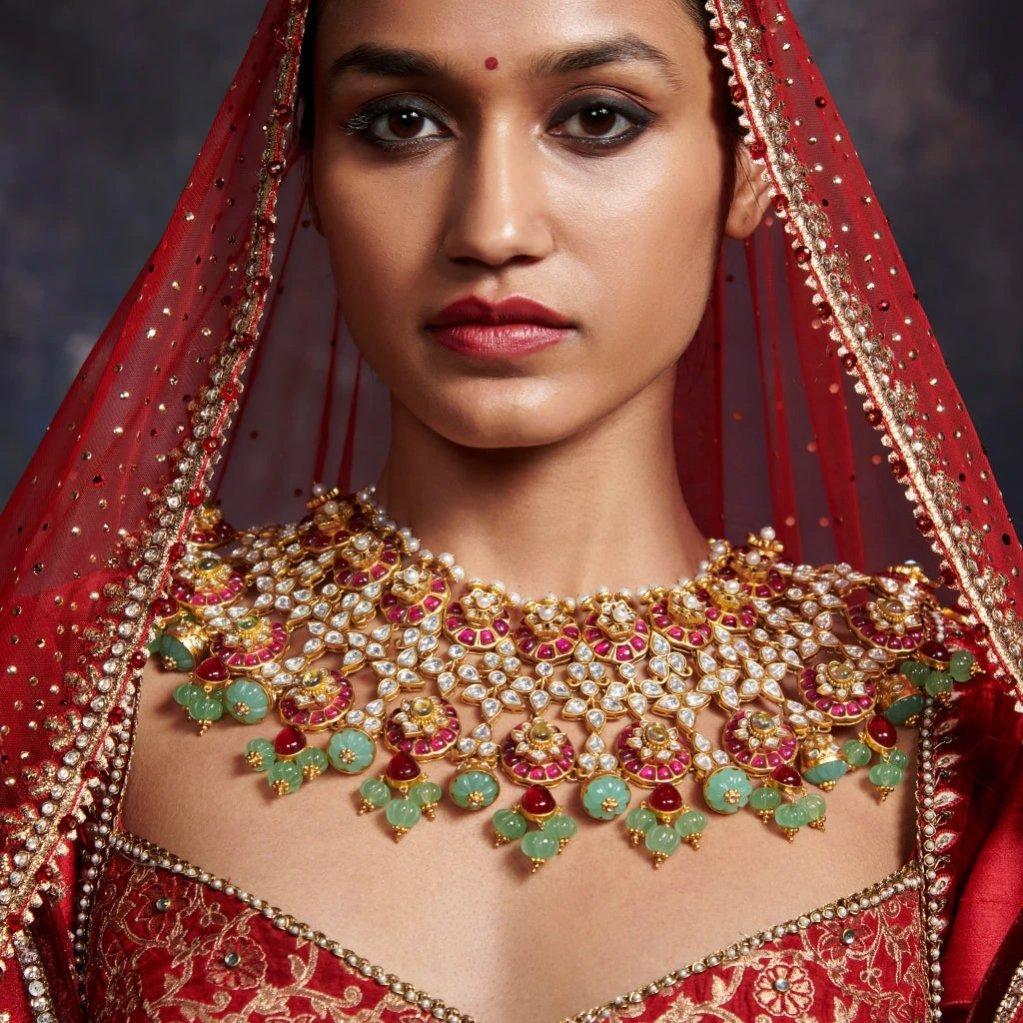 If your vibe is maximalist, do consider wearing the Carnival of Crimsons necklace designed by Tribe Amrapali for Aulerth. Exuding a sense of purity and valour - this bridal necklace narrates a tale of eternal love. The intricate lattice of pastel plum pearls and dazzling crystals add a sense of poise to this statement necklace making it a classic heirloom piece.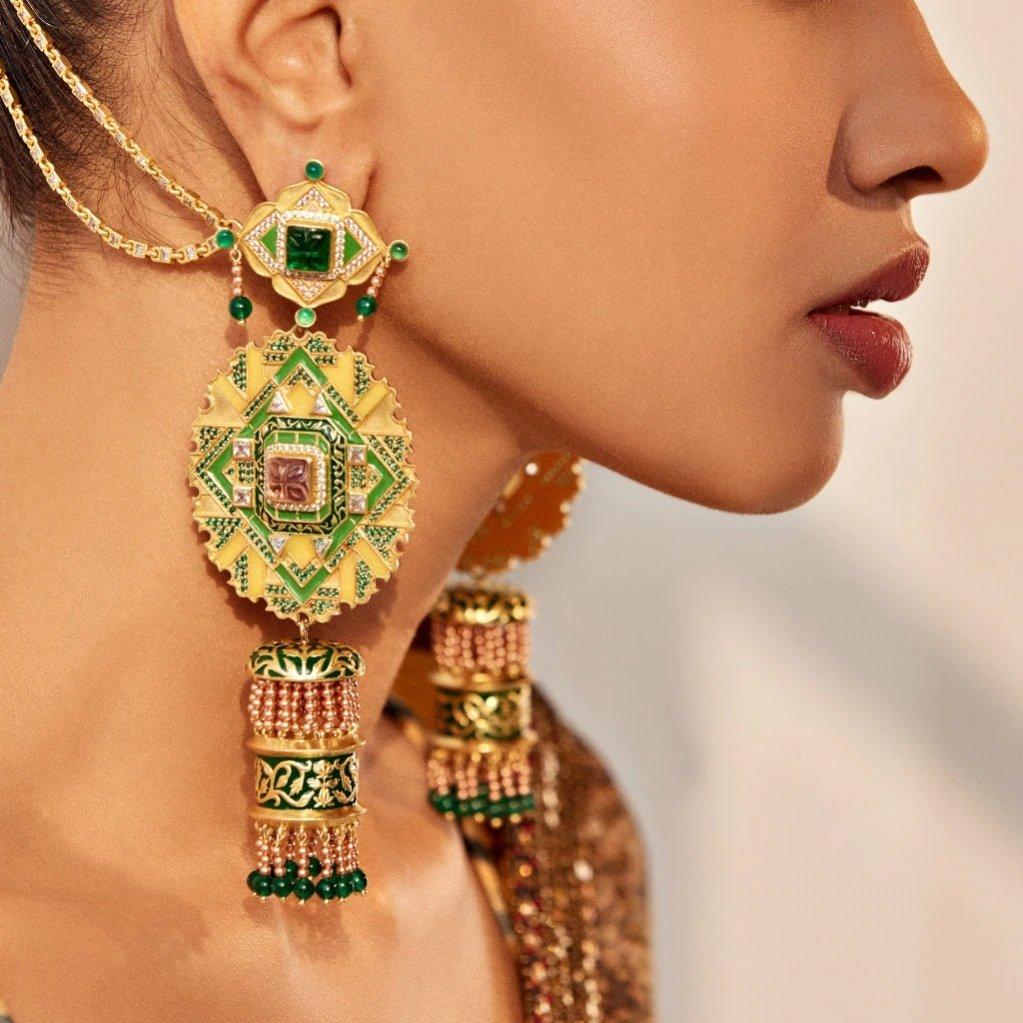 If you are fond of statement earrings, check out the Rumeli Chandelier Earrings designed by JJ Valaya for Aulerth. It is a stylised rendition of the classic chandelier earrings that have been a part of the bridal trousseau for ages now. Evoking a sense of nostalgia with a beautiful touch of contemporary, this earring is perfect for our brides of today. You can style it with brocade sharara dresses or with a classic black jumpsuit – these earrings will accentuate any look.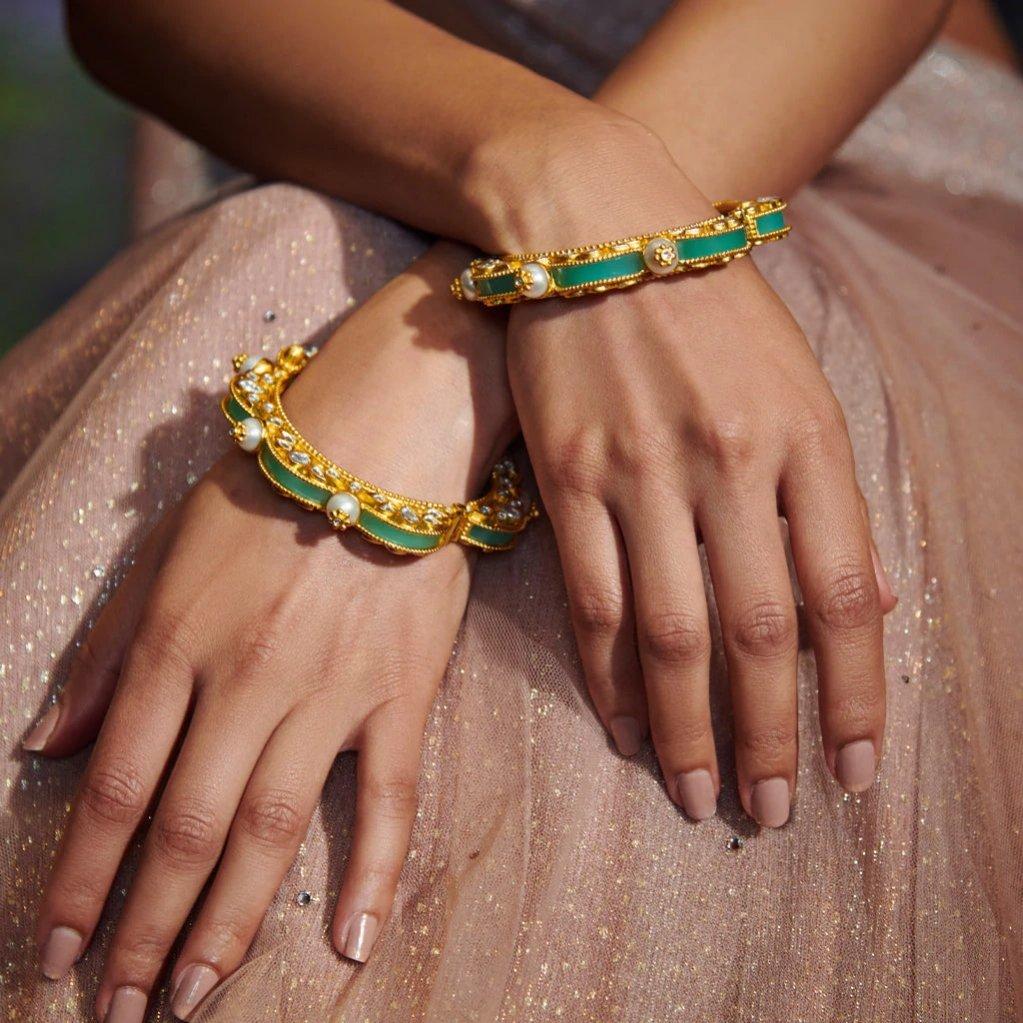 The Dance of Dusk bangles designed by Tribe Amrapali for Aulerth are perfect for summer bridal trousseaus. Enriched with soft colours and dazzling stones, these are perfect wrist-wears for today's brides.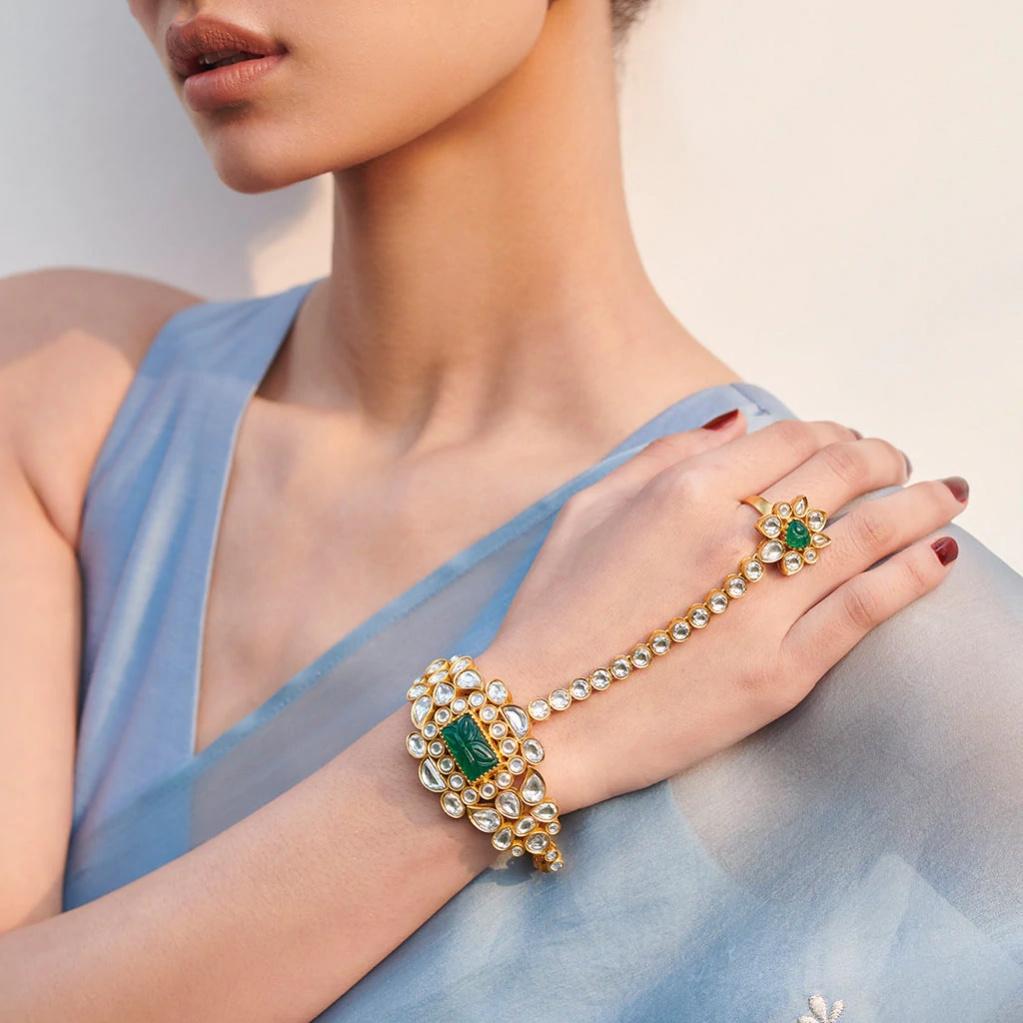 In case you are looking for statement wristwear, you'll fall in love with the Savanna Hand Jewel designed by Suneet Varma for Aulerth. Inspired by the nuances of the Mughal art and architecture, this classic Haath Phool can also be worn as just a bracelet.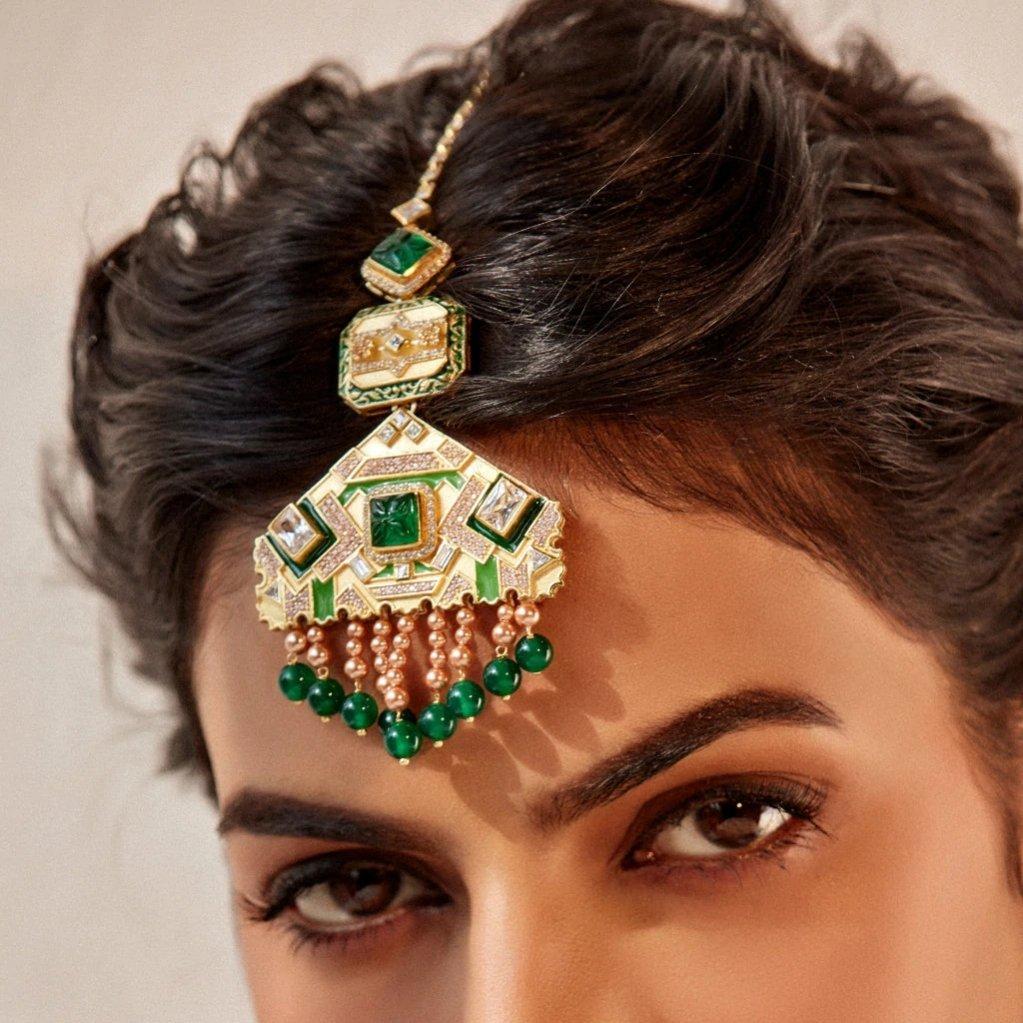 Your trousseau will be incomplete without emerald jewellery and this Signature Emerald Headpiece designed by JJ Valaya for Aulerth. A perfect amalgamation of style, edginess and grace – this head jewel is a must-have accessory for any bride-to-be.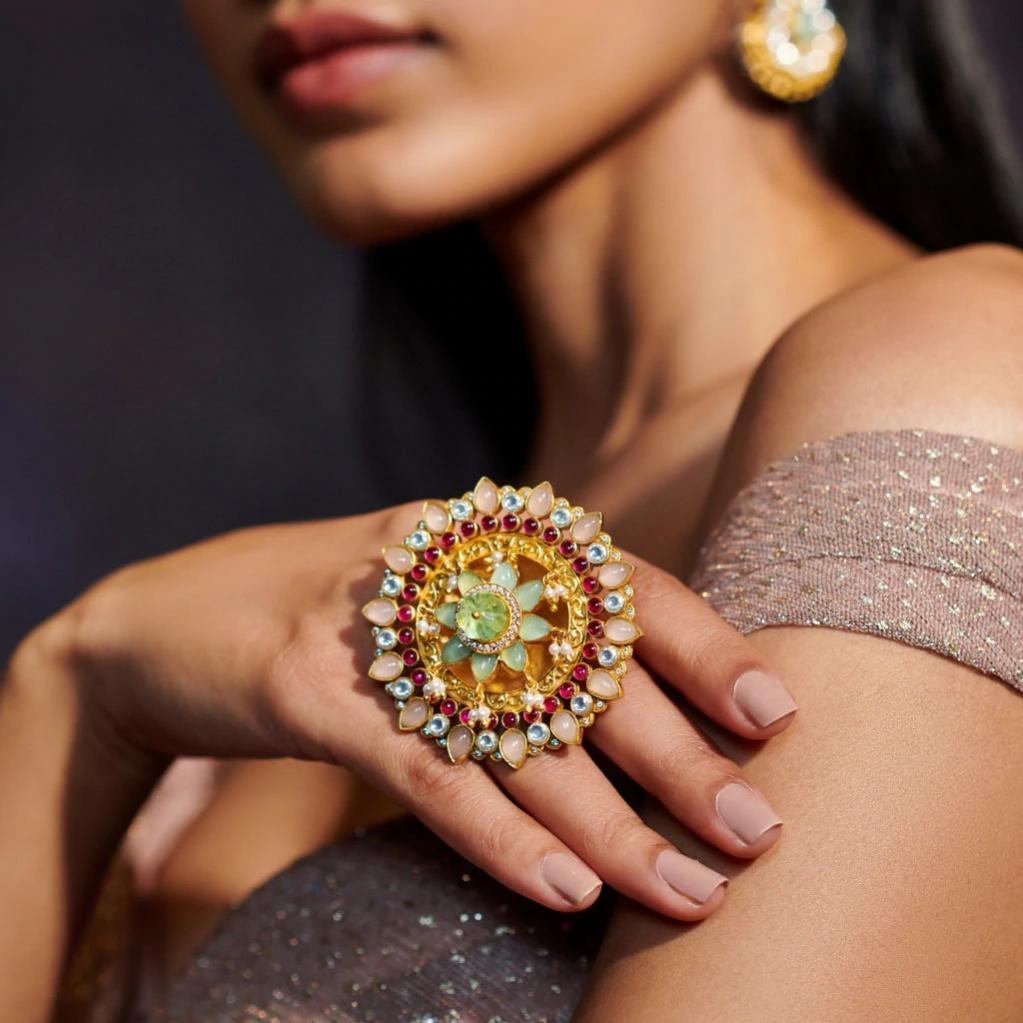 Complete your bridal trousseau with an iconic ring. We are eyeing the Dahlia Ring designed by Tribe Amrapali for Aulerth. A glistening halo of stones framed into a floral silhouette, the central stone is set to bloom and sway along with every gesture of your hand – an enchanting spectacle for sure.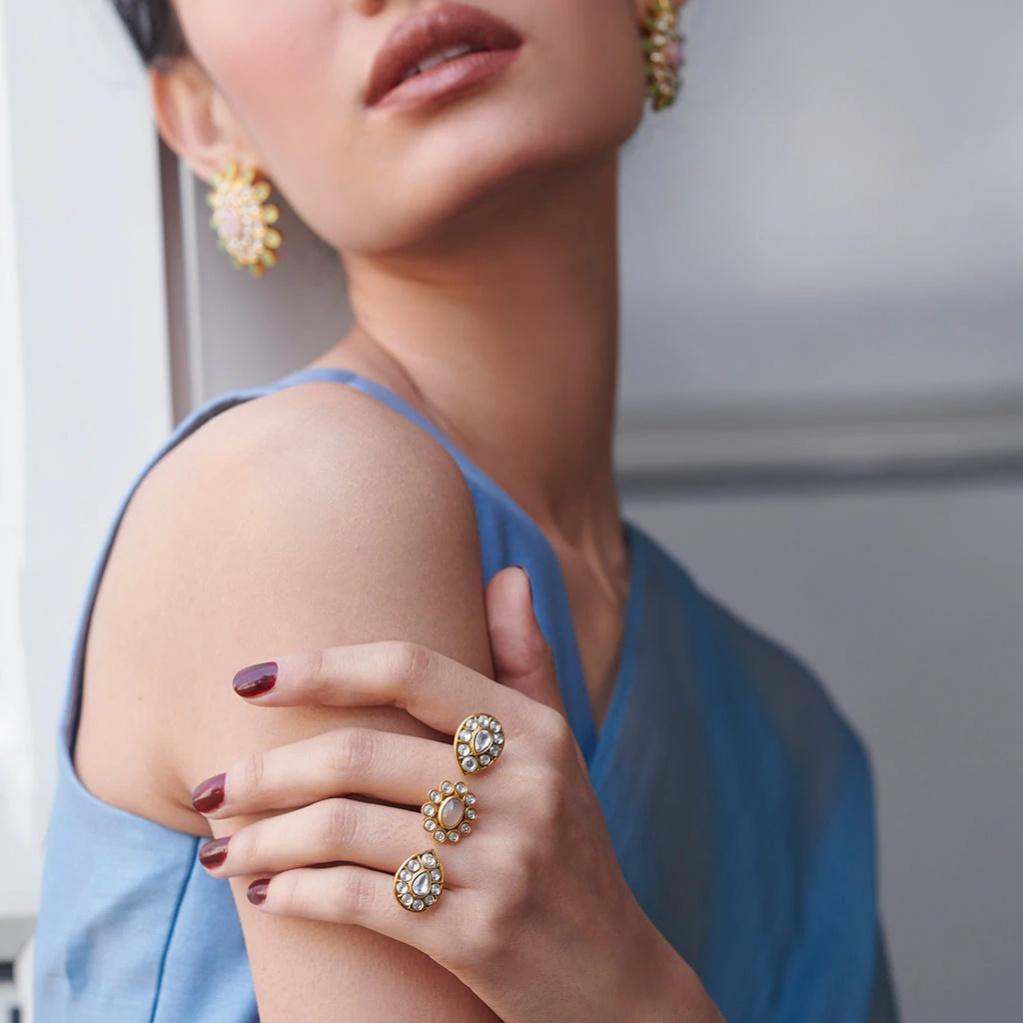 Lastly, the Petra Ring designed by Suneet Varma for Aulerth is an epitome of exquisiteness that conjures a sense of sensuality. The pear-shaped in-between finger ring with delicate floral motifs in the Kundan setting will be an enticing addition to any trousseau.
Trousseau Jewellery for the Bride's Mother & Mother-in-Law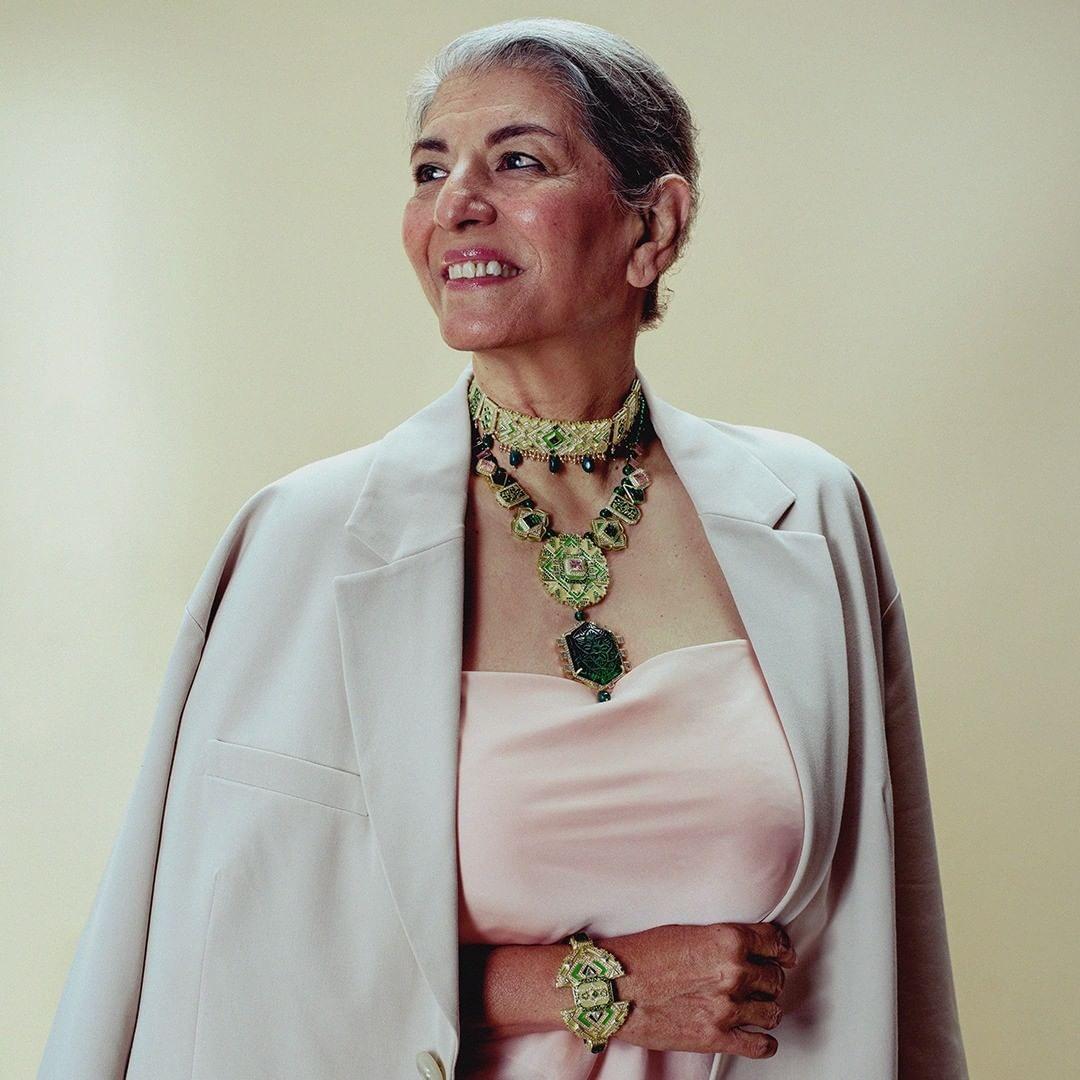 There's no greater joy than decking up your mom for your big day. Be it your mom or mom-in-law, pick timeless jewels with rich design architecture and opulent colours and let them dazzle like the moon.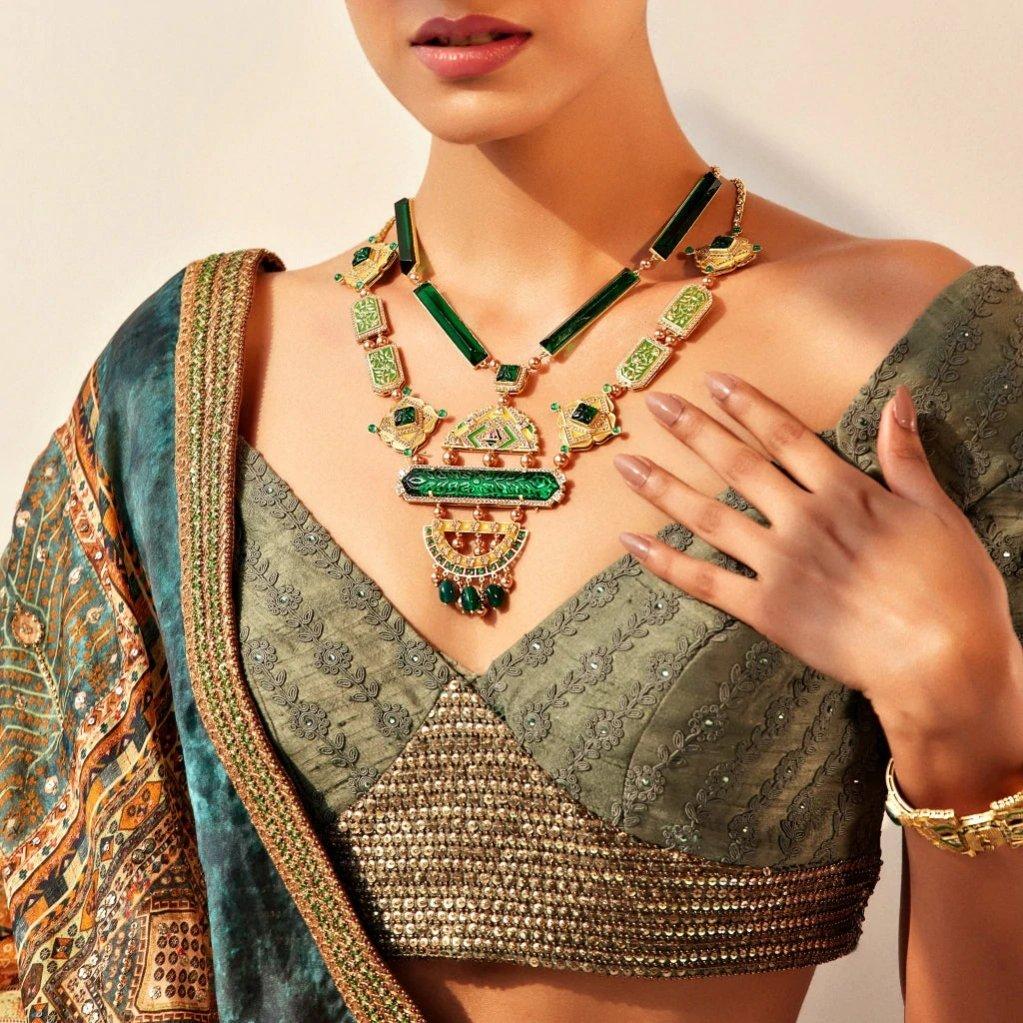 If your mom is fond of emerald hues, pick the Rumeli Multi-strand necklace for her - designed by JJ Valaya for Aulerth. This double-layered necklace can be effortlessly worn with Banarasi sarees or chic rich-hued Anarkalis.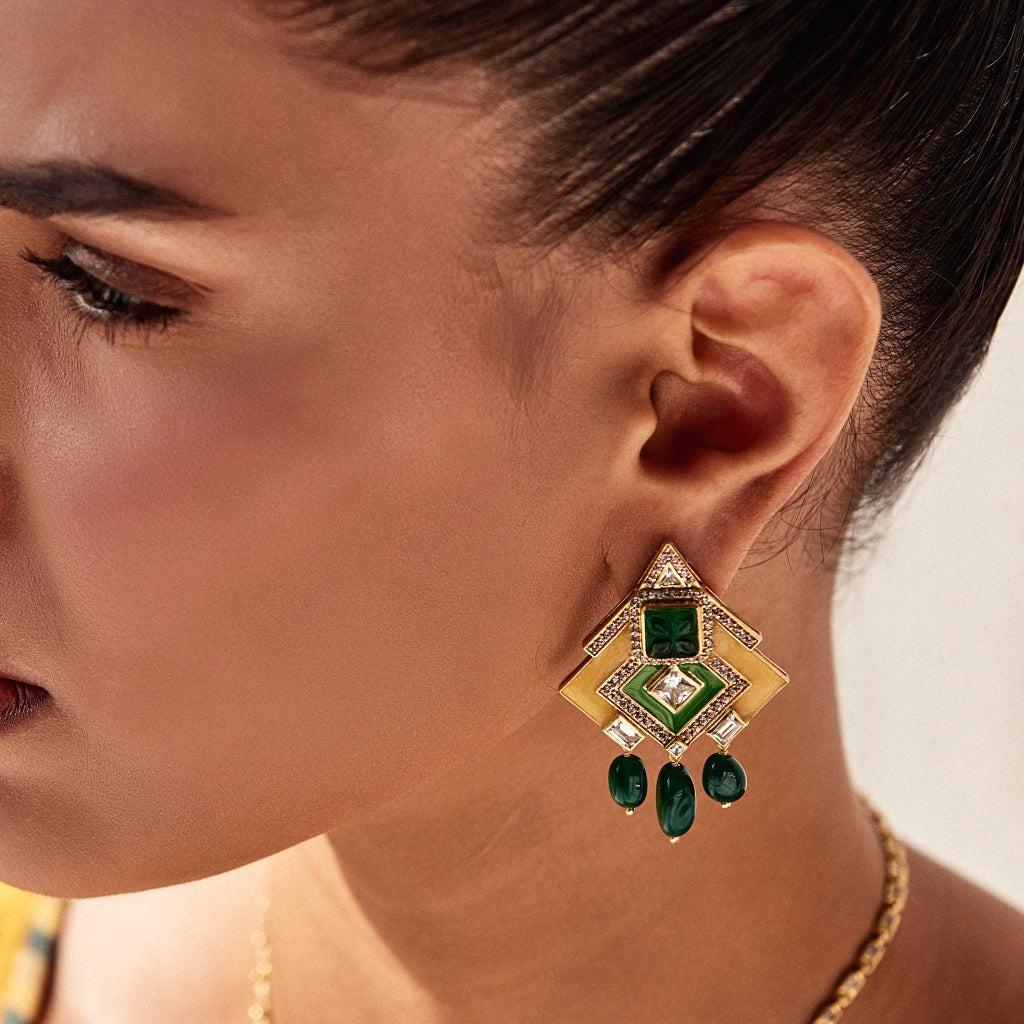 Add a dash of glam to your mother-in-law's ensemble, too. Gift her the Rumeli Angular Earrings designed by JJ Valaya for Aulerth. What sets this pair of earrings apart? A melange of edgy geometric design and intricately carved motifs!
Trousseau Jewellery for the Bride's Sister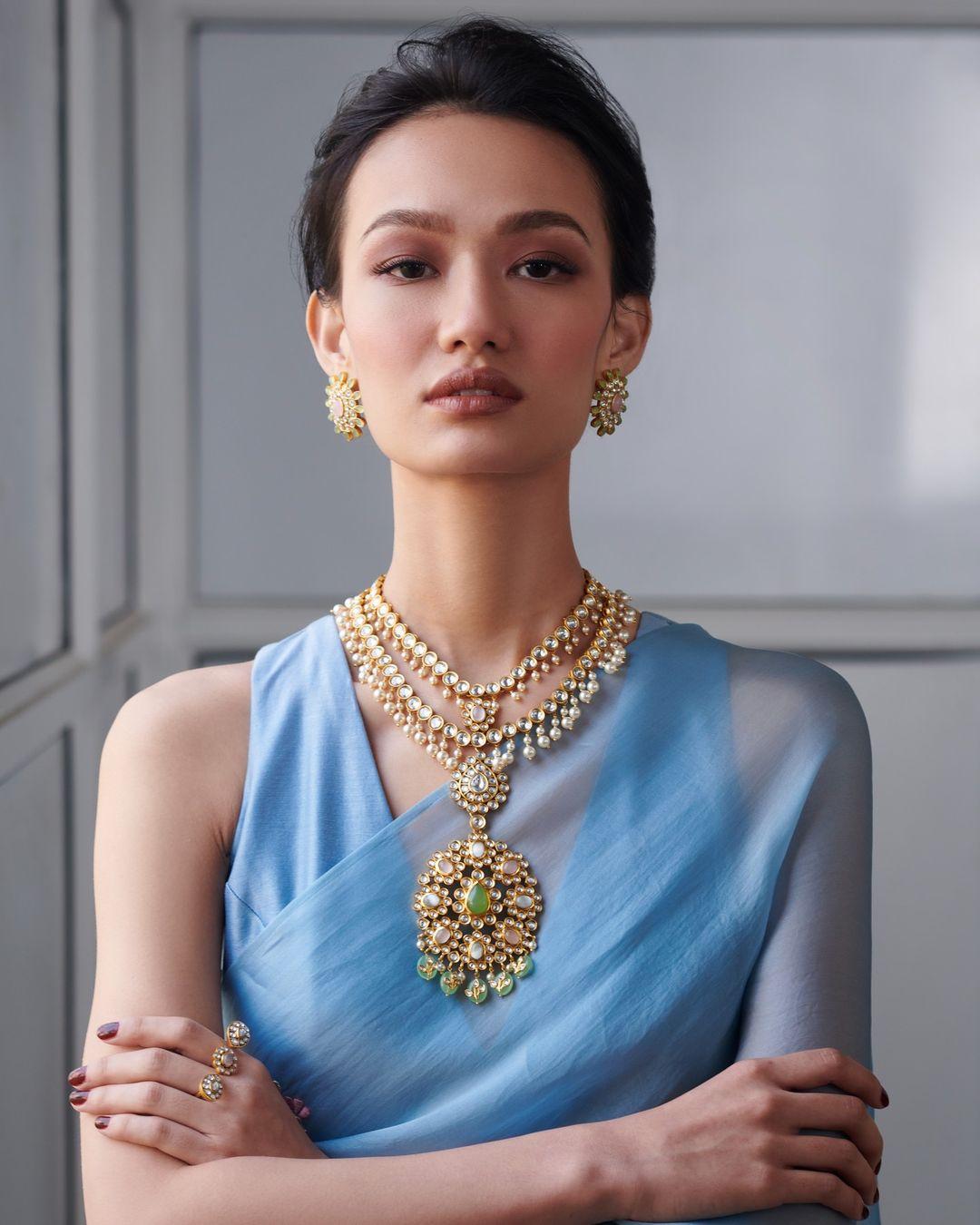 Picking jewels for your sister or sister-in-law? Allow us to recommend a gorgeous repertoire of pastel ornaments from Aulerth.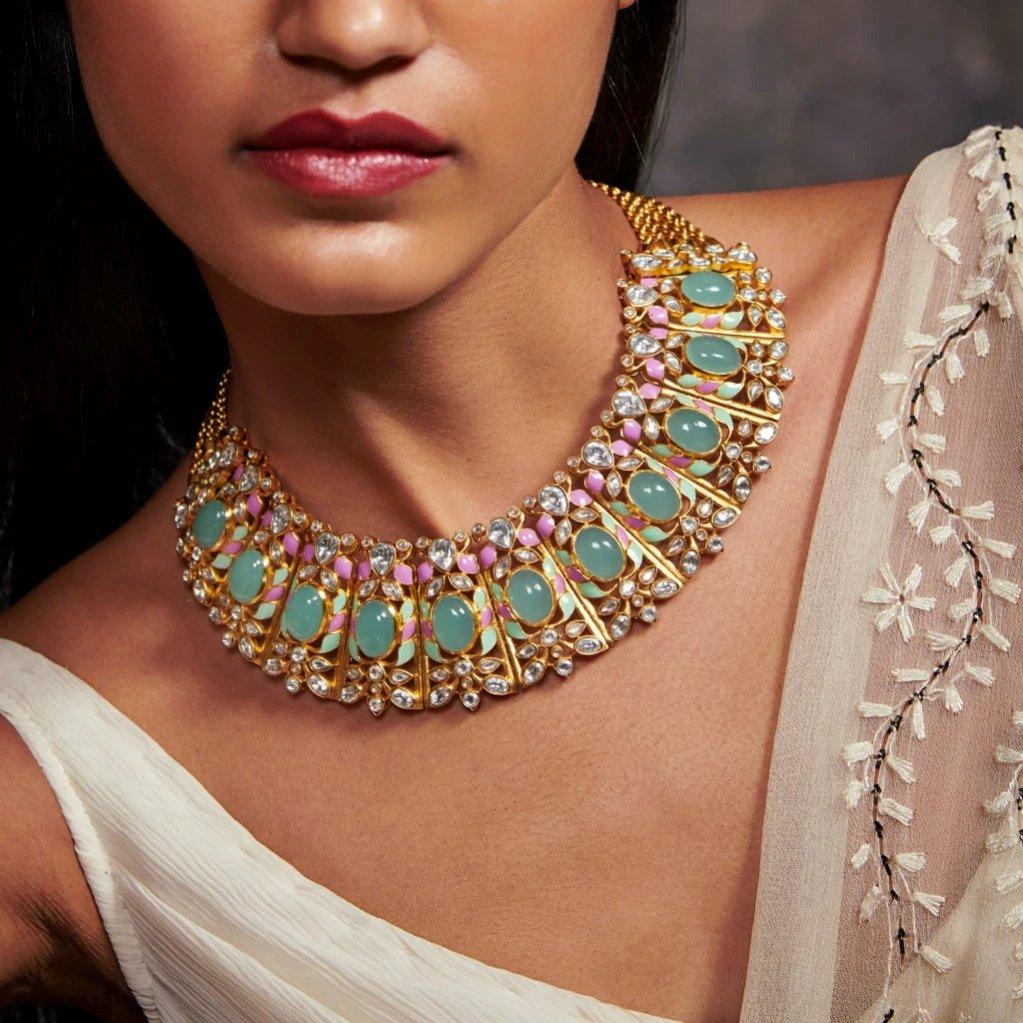 The Hymns of Springtime Collar necklace by Tribe Amrapali is a hoot! The younger lot does like short necklaces and chokers without a doubt and this opulent collar necklace on Aulerth features a poetic potpourri of stones that ooze with springtime hues.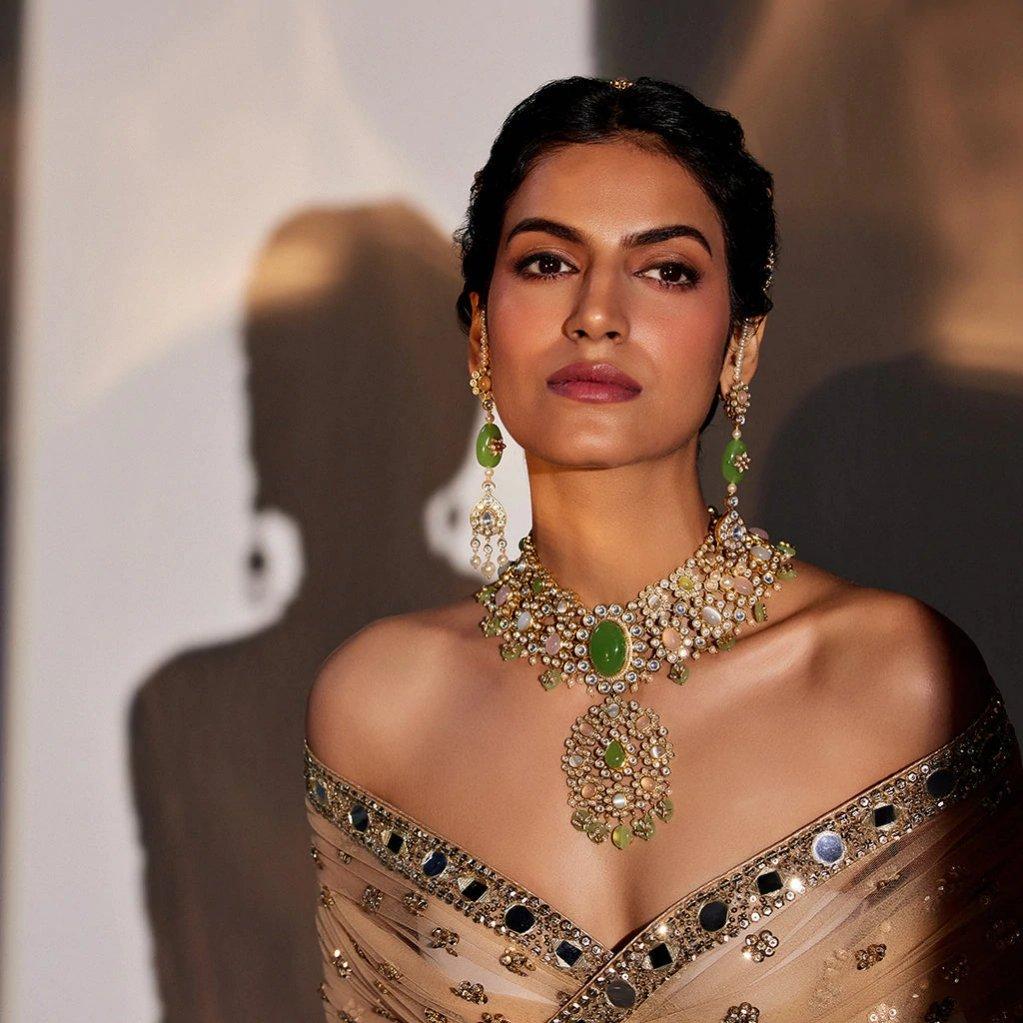 If your sister likes statement jewels with lattices of rich stonework, then Suneet Varma's Blair Dream Necklace is the perfect pick for her. The dainty pinks and pastel greens are tailored to fit the freshness of any summer wedding outfit.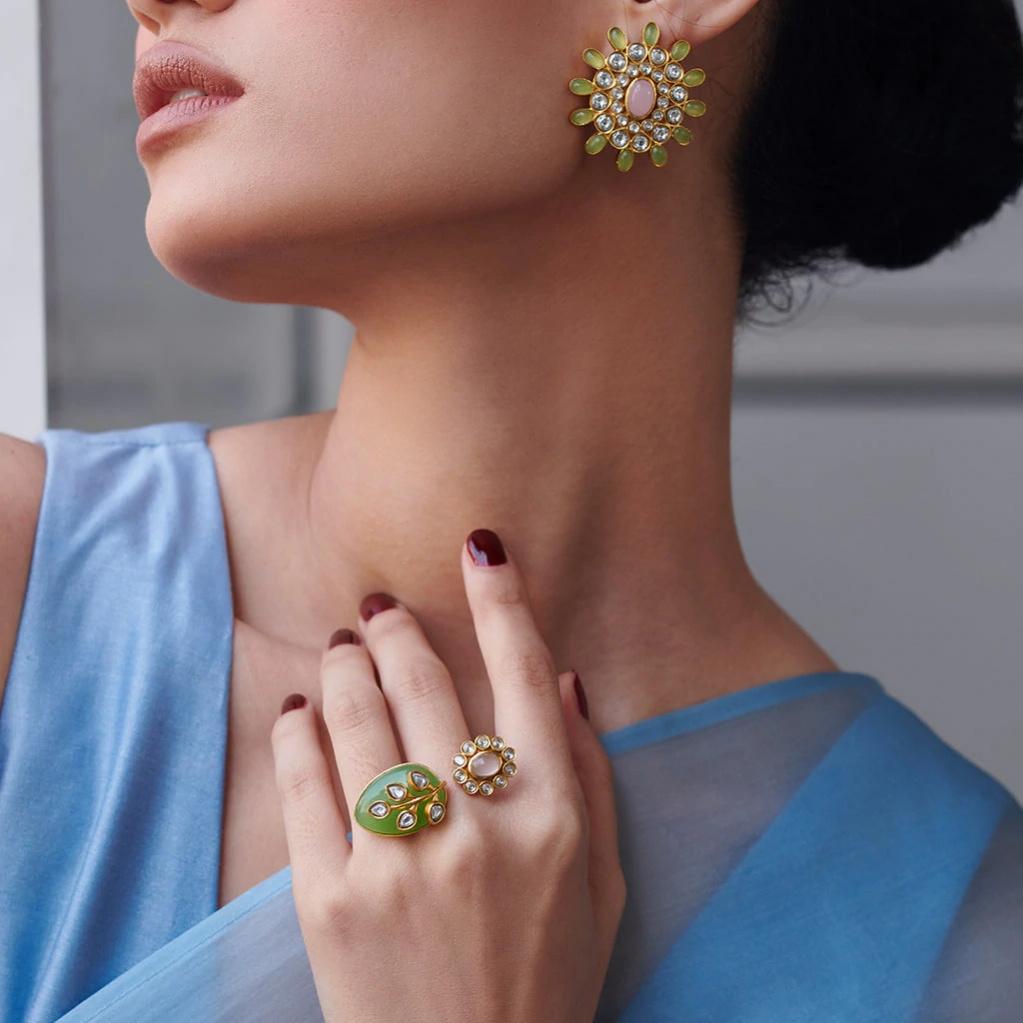 Want to add an enchanting ring to the cart while shopping for your sister? Check out the Sasha Ring designed by Suneet Varma for Aulerth. The in-between finger ring flaunts a delicate flower and leaf motif, making it a jewellery-box must-have.
Jewels for Bridesmaids' Trousseau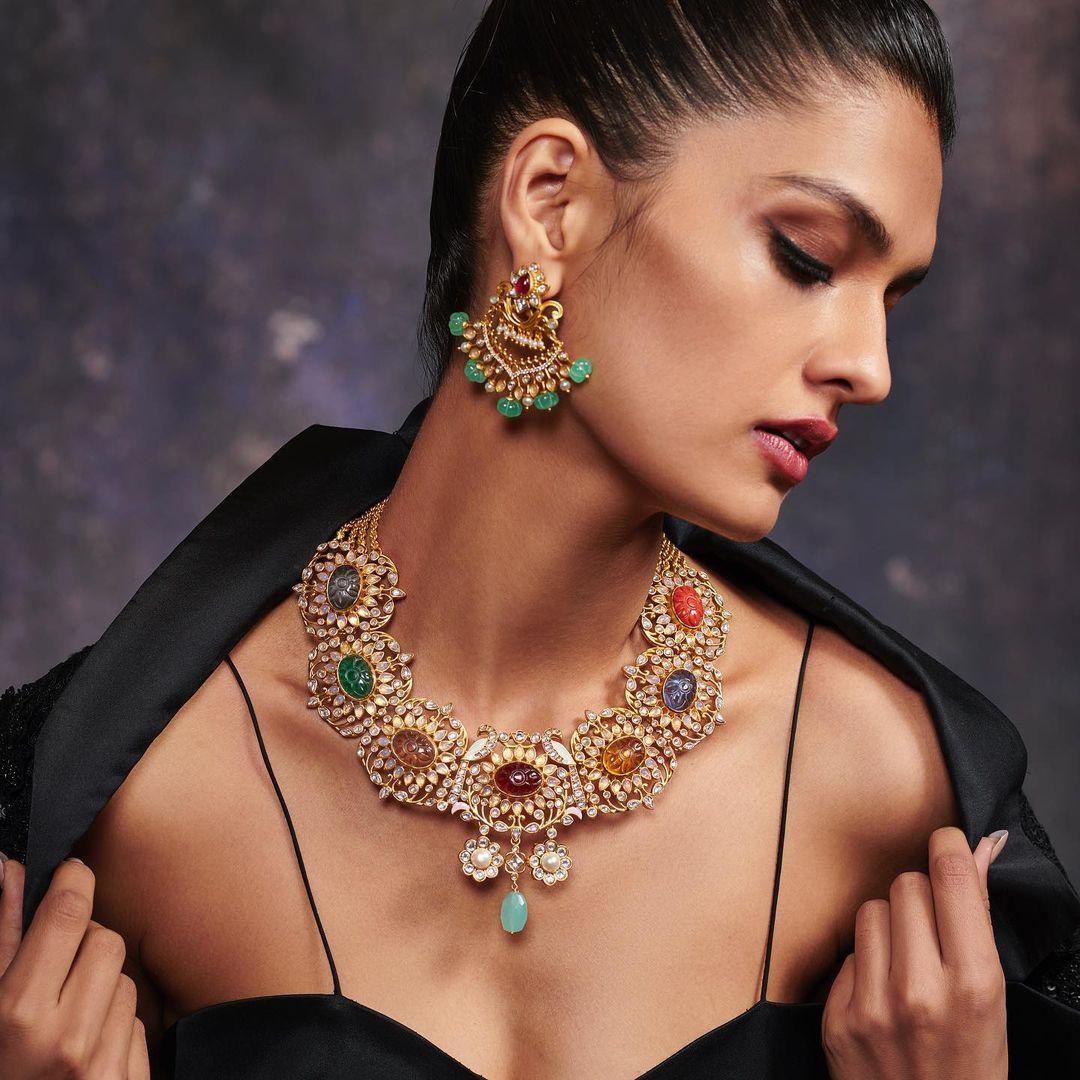 Bracelets are the most perfect jewels that you can gift to your bridesmaids. An effortlessly versatile piece of jewelry, bracelets can be worn with pretty much anything. We list below some of our favourite bracelets from Aulerth.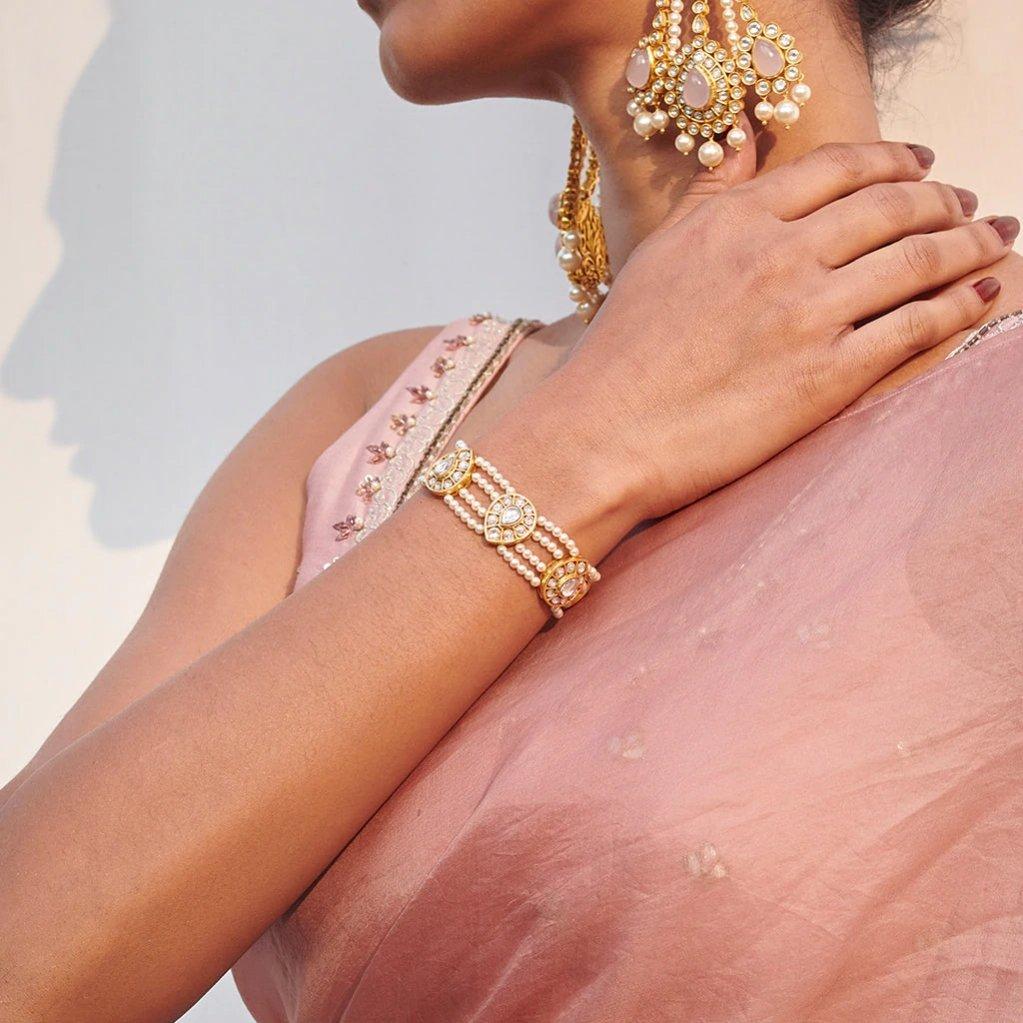 The Harlow Bracelet designed by Suneet Varma for Aulerth is the embodiment of grace and opulence—a perfect pick for your girl gang.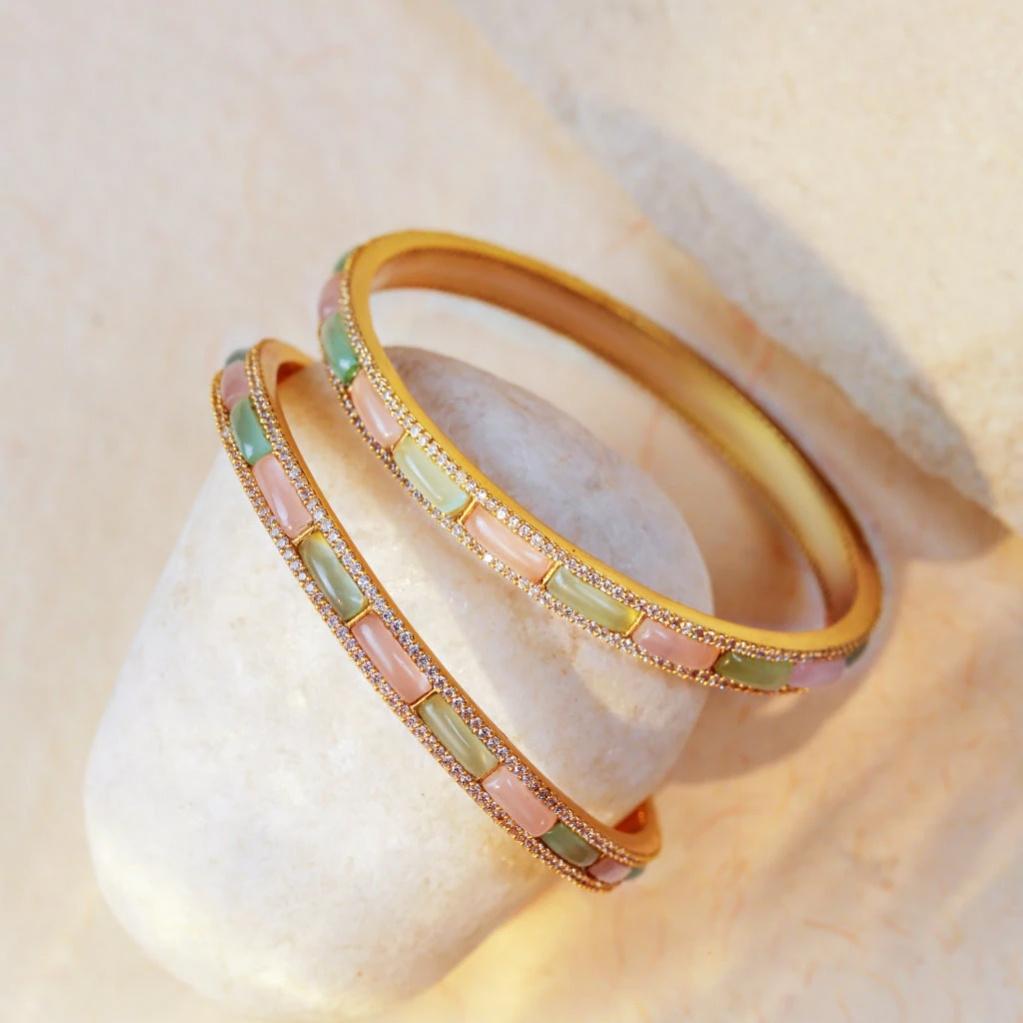 If you wish to gift your girlfriends something cool and exquisite, shift your gaze towards the Dainty Pastel Bangle—designed by Tribe Amrapali for Aulerth. Emanating a sense of old-school romance, this bangle's soft, dreamy pastel stones will elevate any summer wedding look.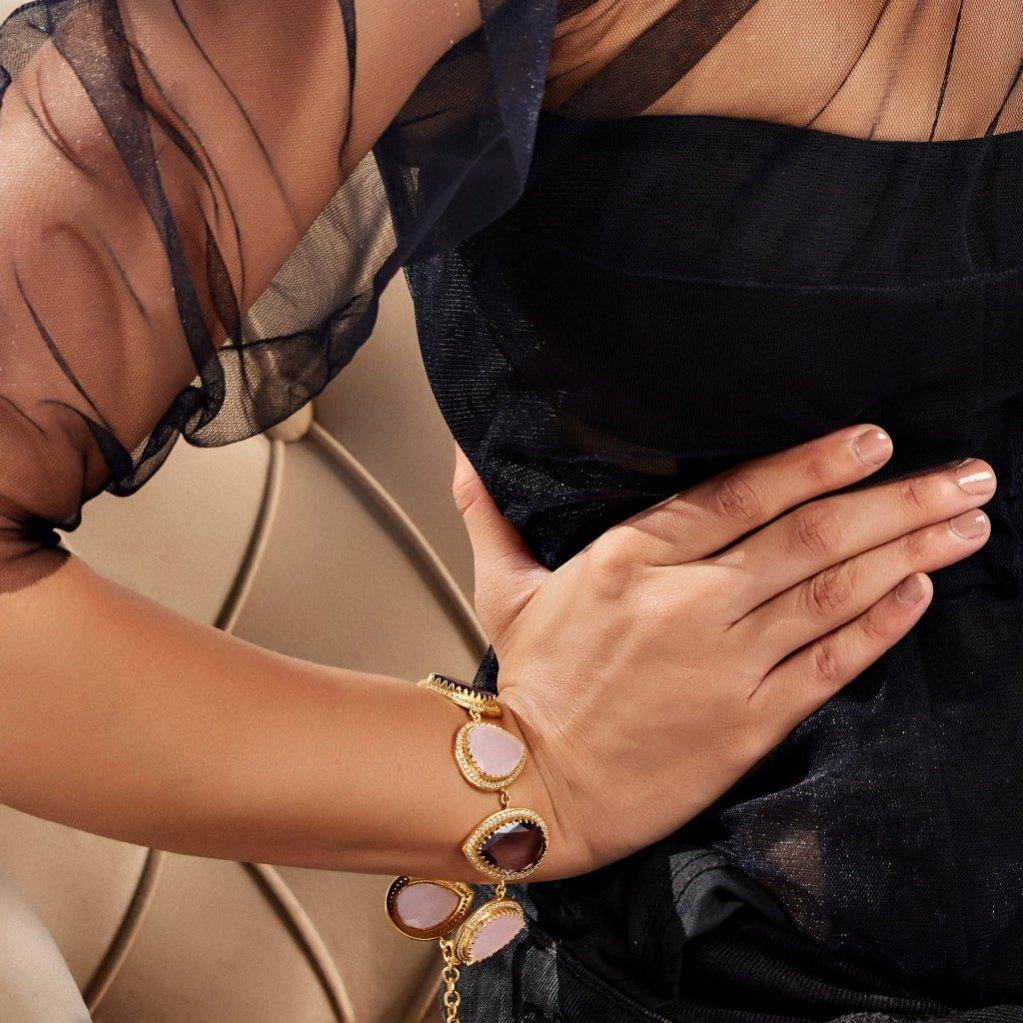 Aulerth's Wild Lavender Bracelet With Morning Stars is an alluring jewel that can add a dash of glam to any look. If your bridesmaids are wearing colour-coordinated outfits in white or lavender hues, then this bracelet will be the perfect accent to style up the ensemble.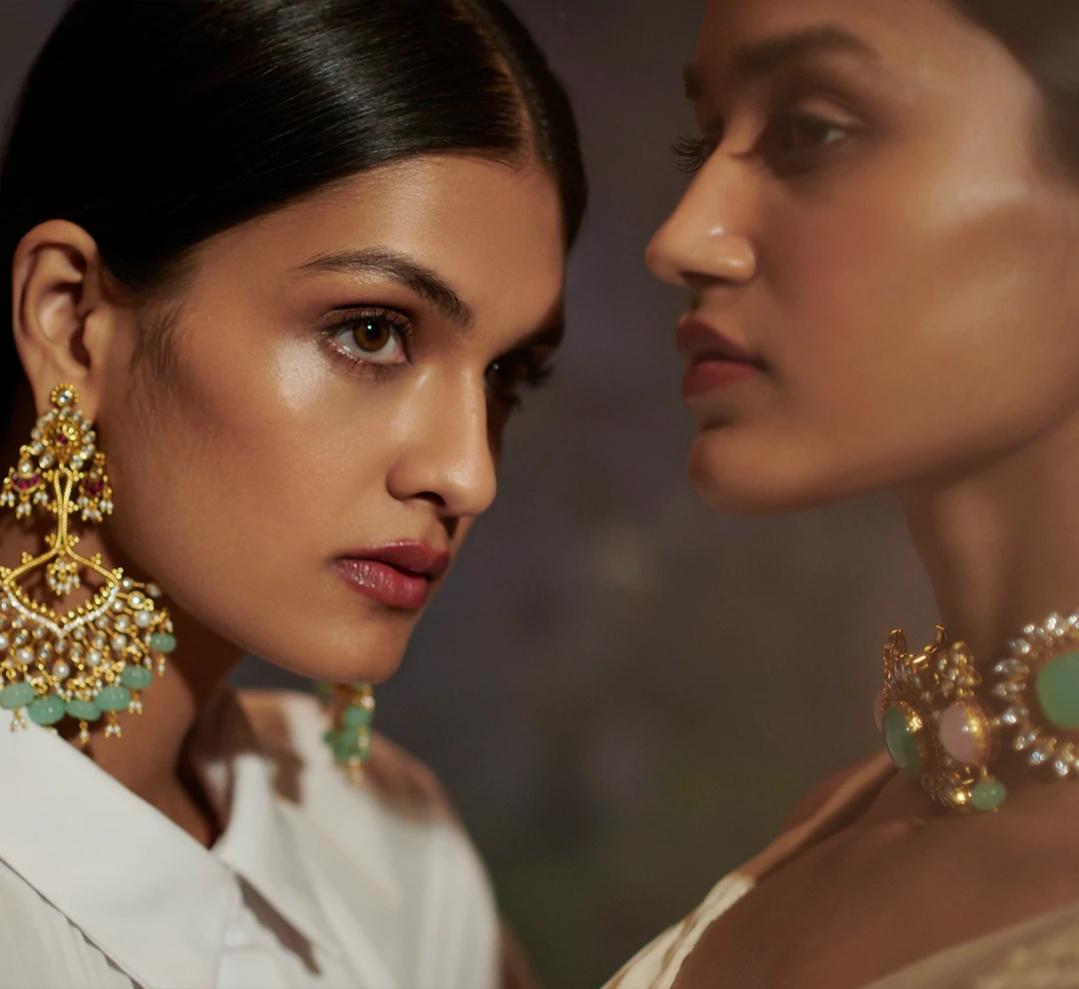 Aulerth is bridging the gap between two worlds by creating jewellery that is couture-inspired and consciously made. They go beyond just weighing carats and karats and also focus on circularity and climate change.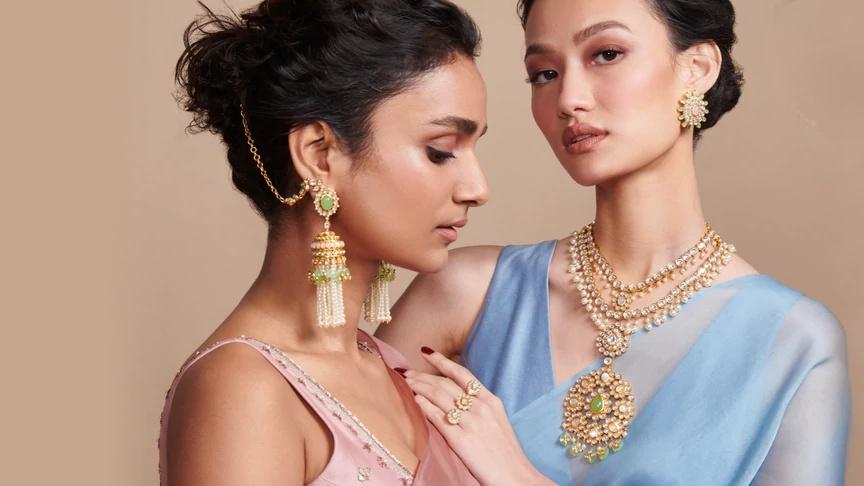 Their jewellery is made from base metals, that are recycled after industrial use (automobiles, construction equipment, and so on) and repurposed for high-quality jewellery. They go through a process of protective layering and coating, and plating with gold – all at above-industry standards to maximize durability. They meticulously choose their stones ensuring they carry a minimal to zero mining footprint, with the least ecological damage.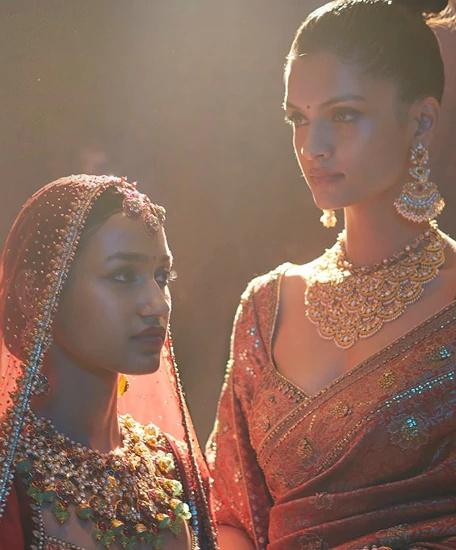 Did you find the perfect piece of jewellery on Aulerth for your trousseau? Let us know in the comments below.
Top Blogs on WeddingWire India