Here Are the Top 49+ Blouse Back Neck Designs for the New Age Brides
Blouse back neck designs, be they fancy or simple, can make or break your bridal look. This is why we have curated a list of some of the best blouse back designs for the neck for you to choose from! Scroll on for more.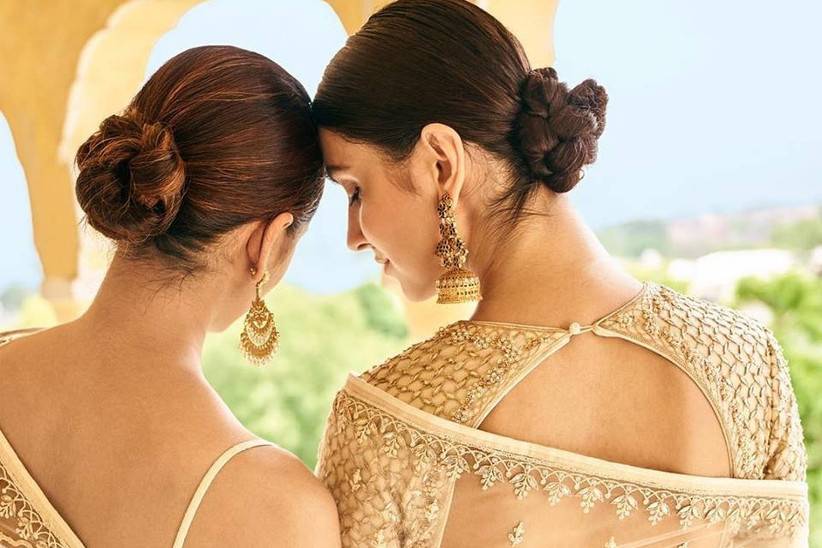 When the decoration is perfect and the wedding planner has helped you put together your dream wedding, you would want to look stellar walking down the aisle. While your groom awaits you at the altar in his best sherwani or tuxedo, you need to pick your best for the D-day. Putting your bridal look together is one of the most demanding yet most exciting things to do from the wedding checklist. The is no doubt that many things come together to mold the perfect bridal outfit like jewellery, footwear, makeup, hairstyle, and so on. Still, it is easier when you start with picking the clothes for your big day - it could be a red lehenga, white lehenga, a pastel lehenga, or a bridal saree too. In most bridal outfits, the blouse does play a significant role in making or breaking your look.
When it comes to blouse designs, you can be as creative and experimental as your imagination lets you. With the endless blouse neck designs, the fancy blouse designs, and even dramatic sleeve blouse designs - you can pick a blouse that enhances your wedding lehenga or the bridal saree in a whiff. While blouse neck designs have been quite popular with women, blouse back neck designs are something that can add to your glam.
The latest blouse back neck patterns can be both simple yet creative. It is important to keep the blouse designs in accordance with the lehenga or saree you are planning to wear. We have cherry-picked some of the trendiest back neck latest blouse designs that include both fancy and simple just for you. Read on to find the best back neck blouse design that has your heart!
Back Neck Latest Blouse Design
We have handpicked some of the best and latest back neck designs to make you look alluring on your big day or any other pre and post-wedding ceremonies that you will get dressed for.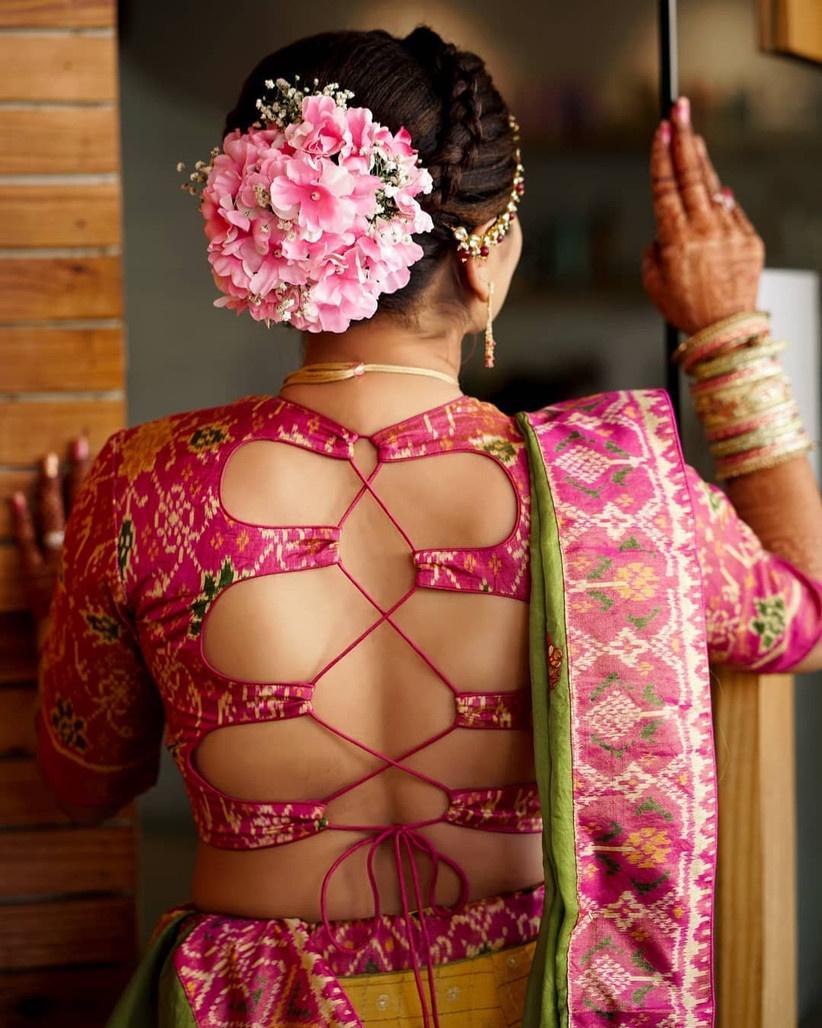 Image Courtesy: Aanal Savaliya
This criss-cross pink bandhani blouse back neck design is a beauty that will accentuate your Gujarati saree instantly. You can even pair it with a traditional Bandhani saree to match the aura.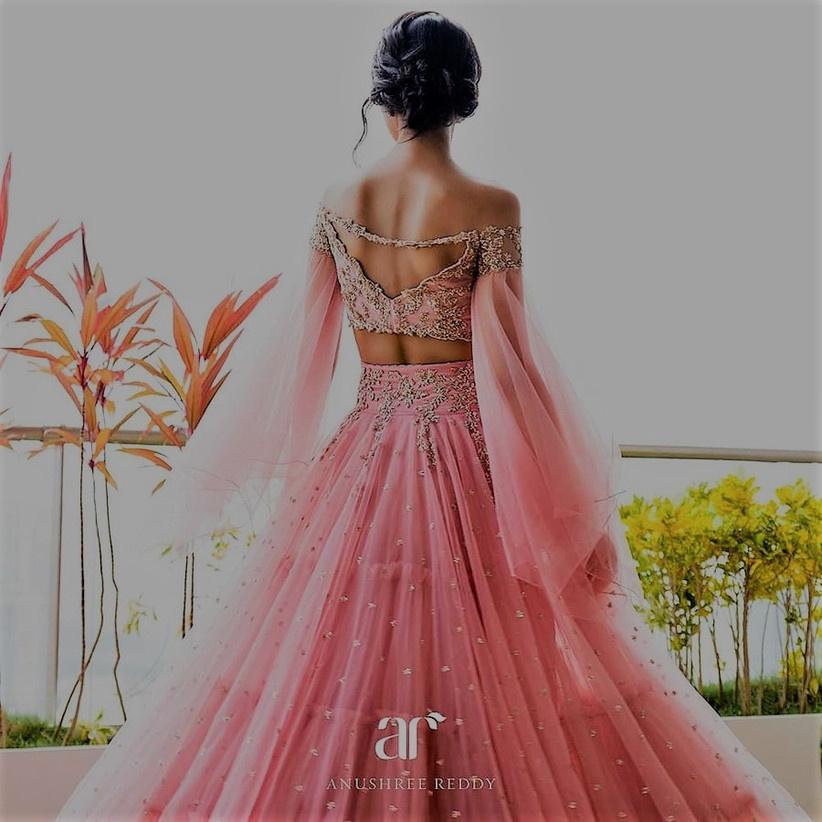 This wonderful latest blouse back neck design by Anushree Reddy is an alluring addition to your wedding wardrobe. The flowy bell sleeves of the off-shoulder blouse will enhance your overall look for the Mehendi ceremony or Sangeet.
Also Read: Blouse Designs: 150+ Traditional & Stylish Blouse Patterns for Your Wardrobe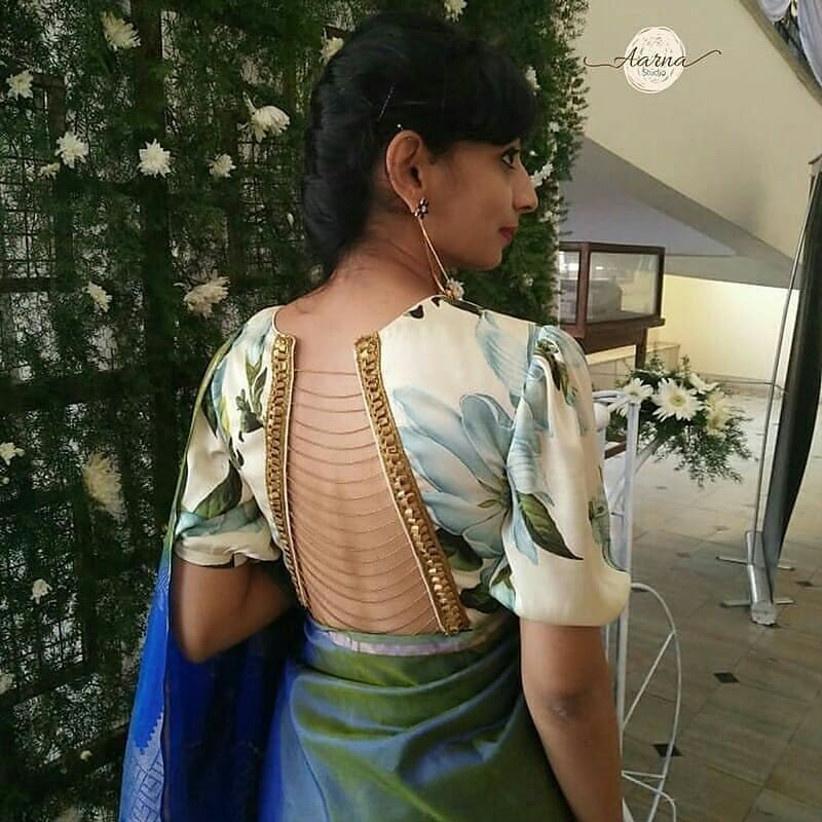 Image Courtesy: FashionBeingsDotCom
This latest blouse back neck design with the chain detailing like a ladder and Gota Patti borders can accentuate even a simple saree that you pick to attend a friend's wedding. Be it a floral lehenga or a plain silk saree - you can choose this latest blouse back neck design to turn heads as you walk by.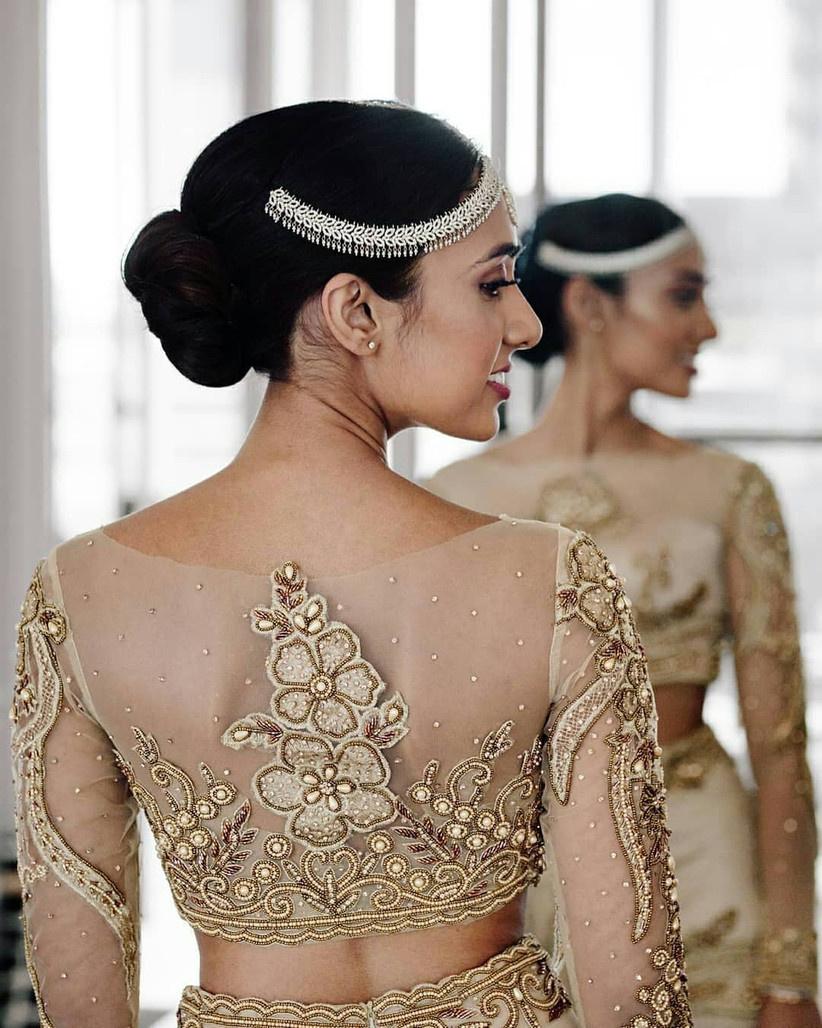 Image Courtesy: Hilary Camp Photography
This complete sleeve blouse design with a net blouse back neck design is a beautiful mirage of a blouse that can go with your golden lehenga or even with your white lehenga. The back boat neck blouse design suits perfect for your Reception look.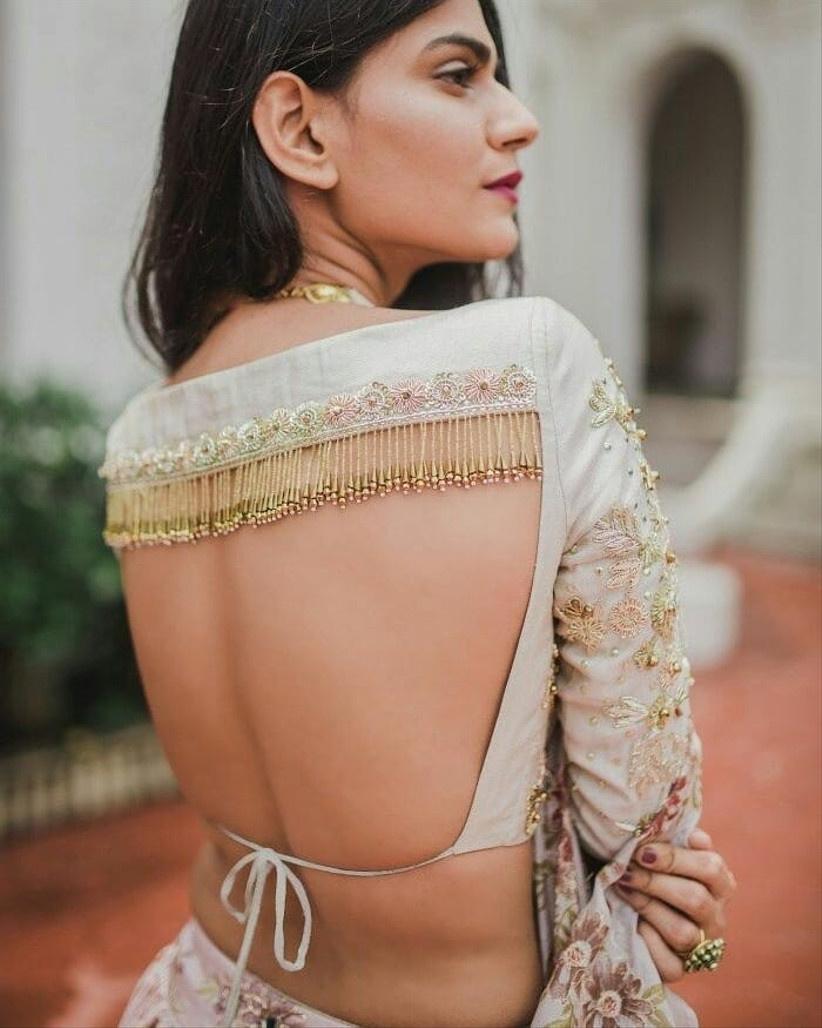 Image Courtesy: House of Blouse
Bringing sexy back, this House of Blouse creation flaunts a dazzling blouse back neck design that the brides can pick for the sangeet ceremony or even pair it with their sequin sarees on the Cocktail Night. These types of semi-back boat neck blouse designs can enhance your bridal look spontaneously.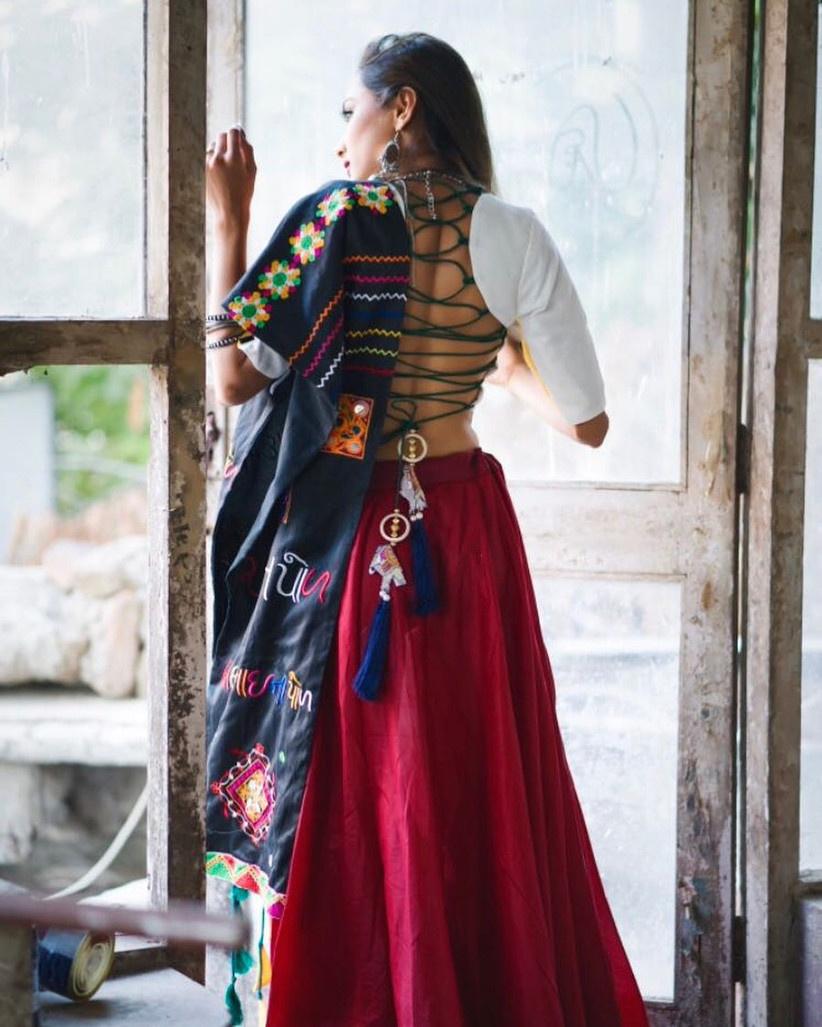 Image Courtesy: Karishma Hingorani
Blouse back neck designs with latkans are a big hit with the brides and among bridesmaids. The criss-cross green tie-up with latkans on the white blouse back neck design makes it perfect to be paired with a multi-colored lehenga or a maroon lehenga for your mehendi.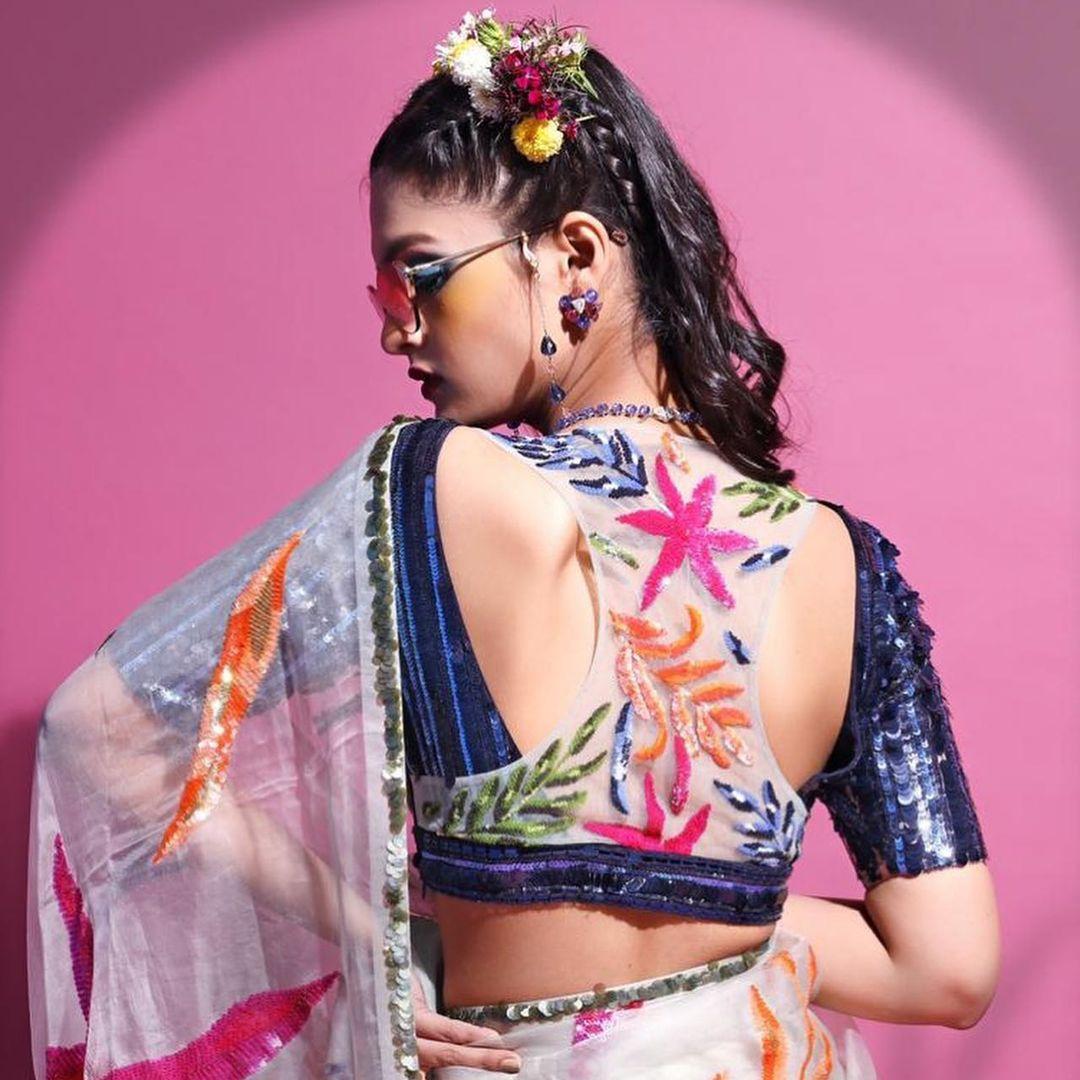 Image Courtesy: Mahima Mahajan
This racer-back blouse design by Mahima Mahajan is one of our favorites from the lot. With exquisite hand embroidery and intricate sequin work on this blouse's back neck design, you are sure to turn heads wherever you go. Be it a quirky pre-wedding ceremony or a friend's wedding - this blouse will instantly amp up your entire outfit in an instant!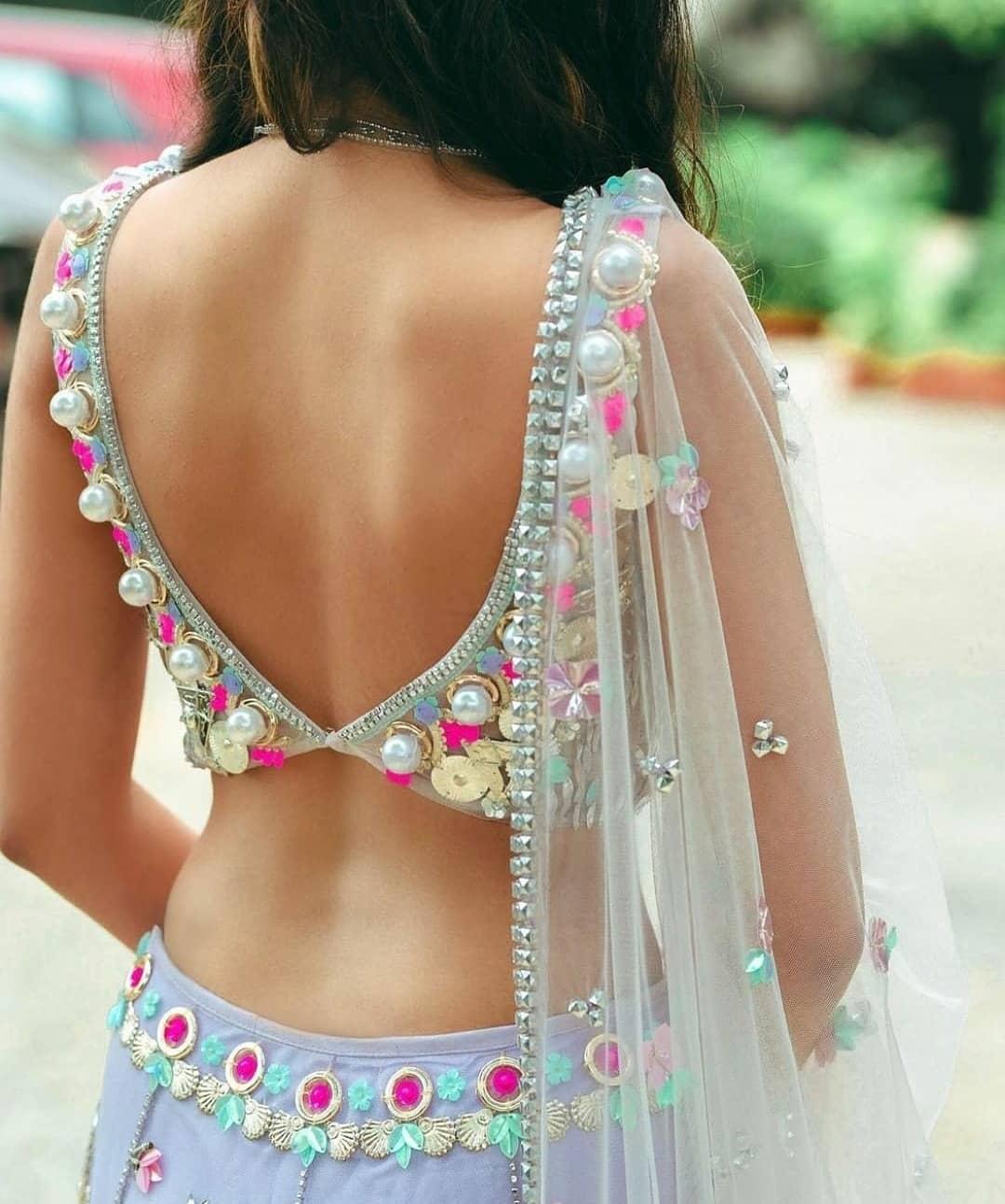 If you are the bride who loves the quirks and wants to try some out-of-the-box latest blouse back neck designs, then this stunning blouse back neck by Papa Don't Preach just for you. The oversized faux pearls and the sequin work in the plunging V-neck blouse back design make it one-of-a-kind, and you will fall in love with this fancy blouse design right at first sight.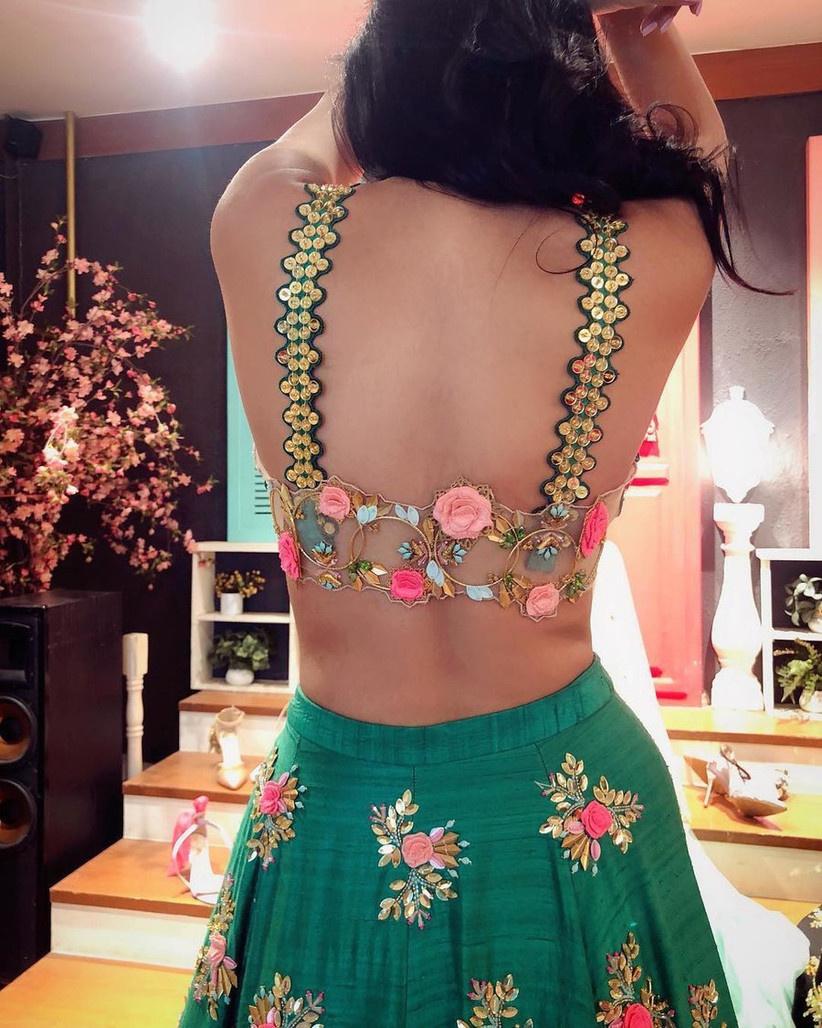 Another OTT's latest blouse back neck designs, the rings and flowers in the green fabric with Gota Patti create a concoction that works best for a Mehndi ceremony outfit. Green and floral are always a safe bet for mehndi, and this blouse design is no exception!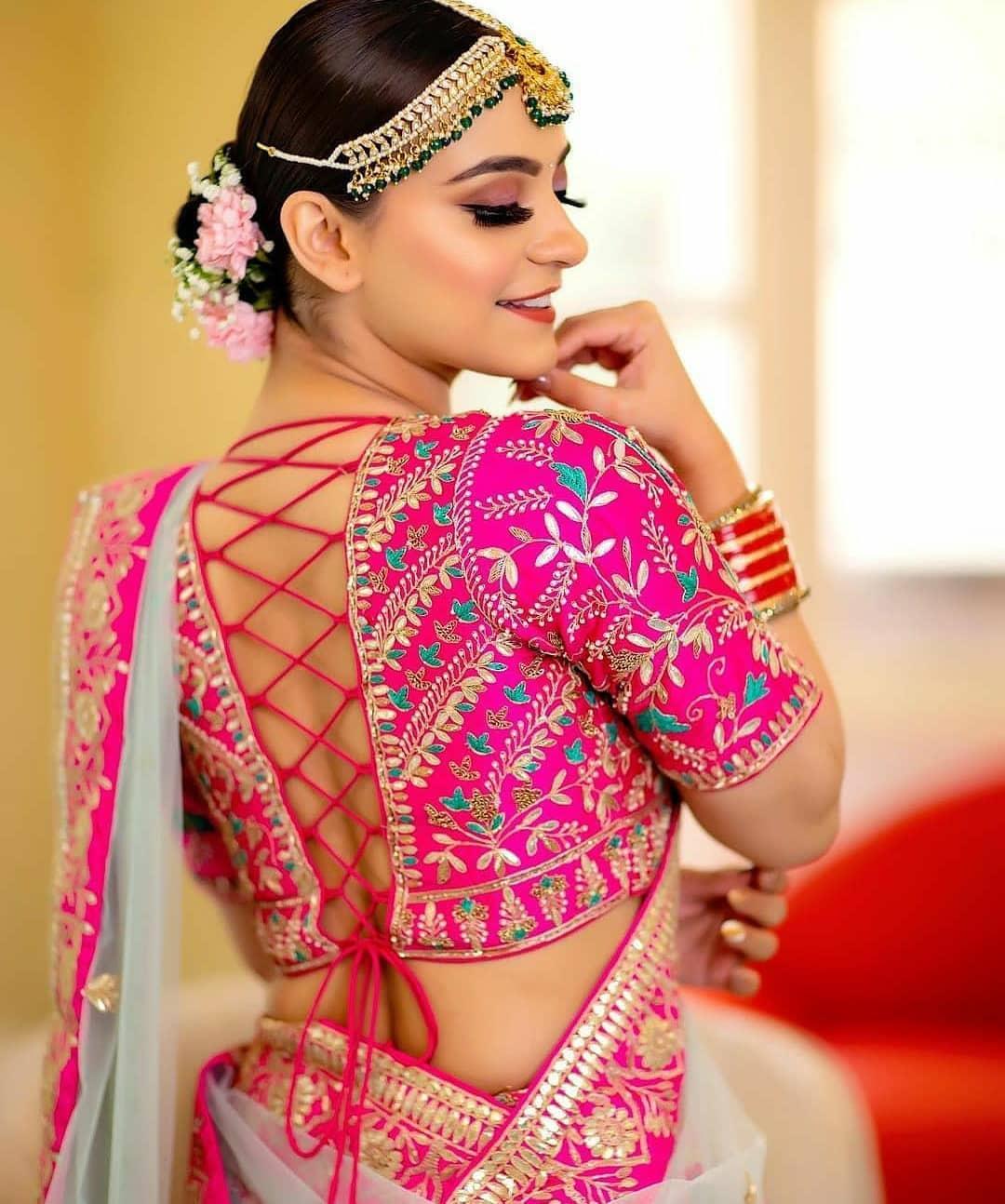 Image Courtesy: Pinterest
Suppose you look for the latest blouse back neck design that meets the traditional aspects while considering the modern fancy touch. In that case, this back tie-up blouse design in pink with Aari embroidery or Maggam work is a beauty you cannot miss. The crisis cross tie can be customised and changed as per your choices and preferences.
Also Read: Breathtaking Corset Blouse Designs For A Flawless D-day Look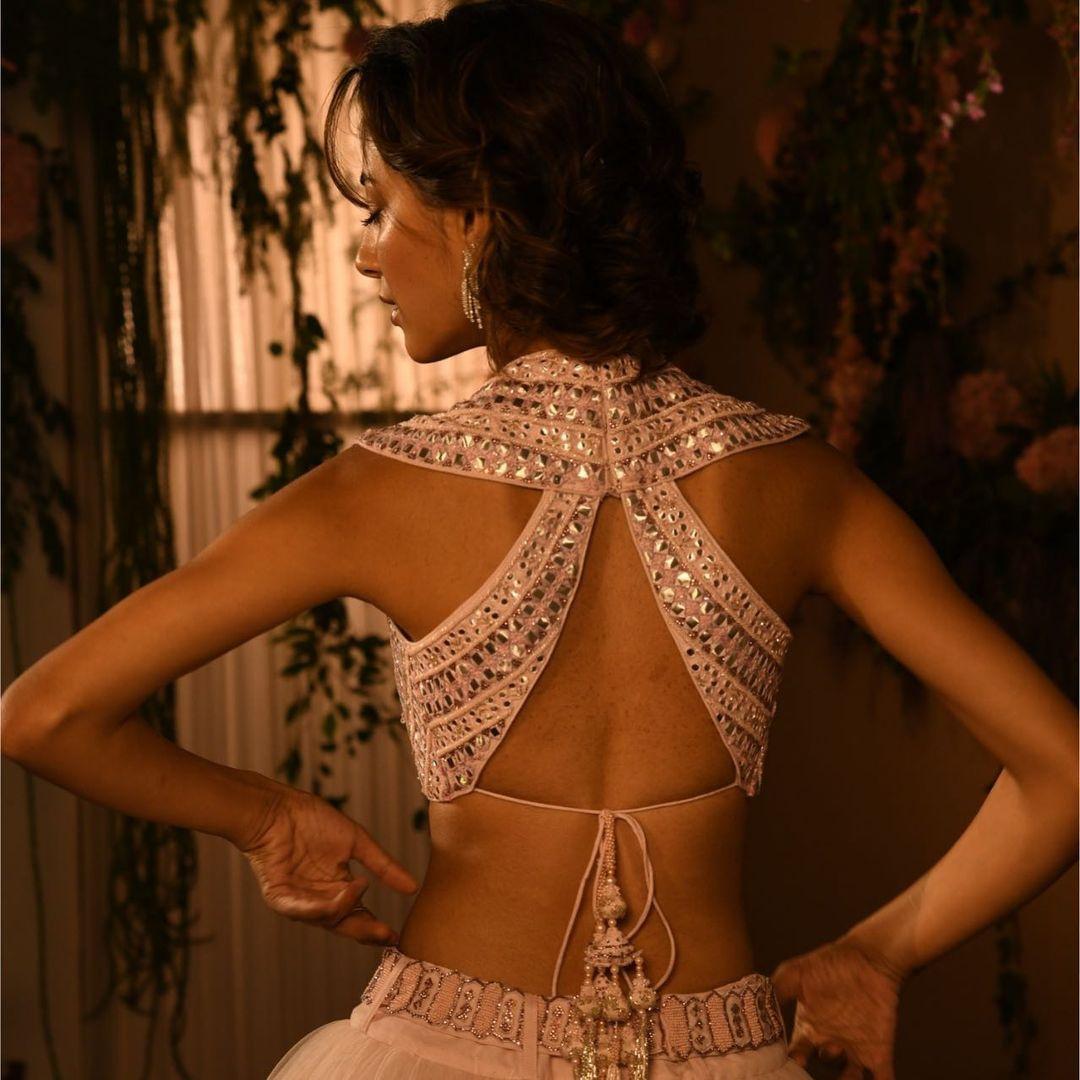 Exuding an alluring charm in every glance, this blouse back neck design by veteran designer Reynu Taandon captures the inner beauty that reflects without! The triangle back blouse design is carefully crafted with exquisite hand embroidery, and detailed yet beguiling workmanship to serve the wedding looks for the millennial woman!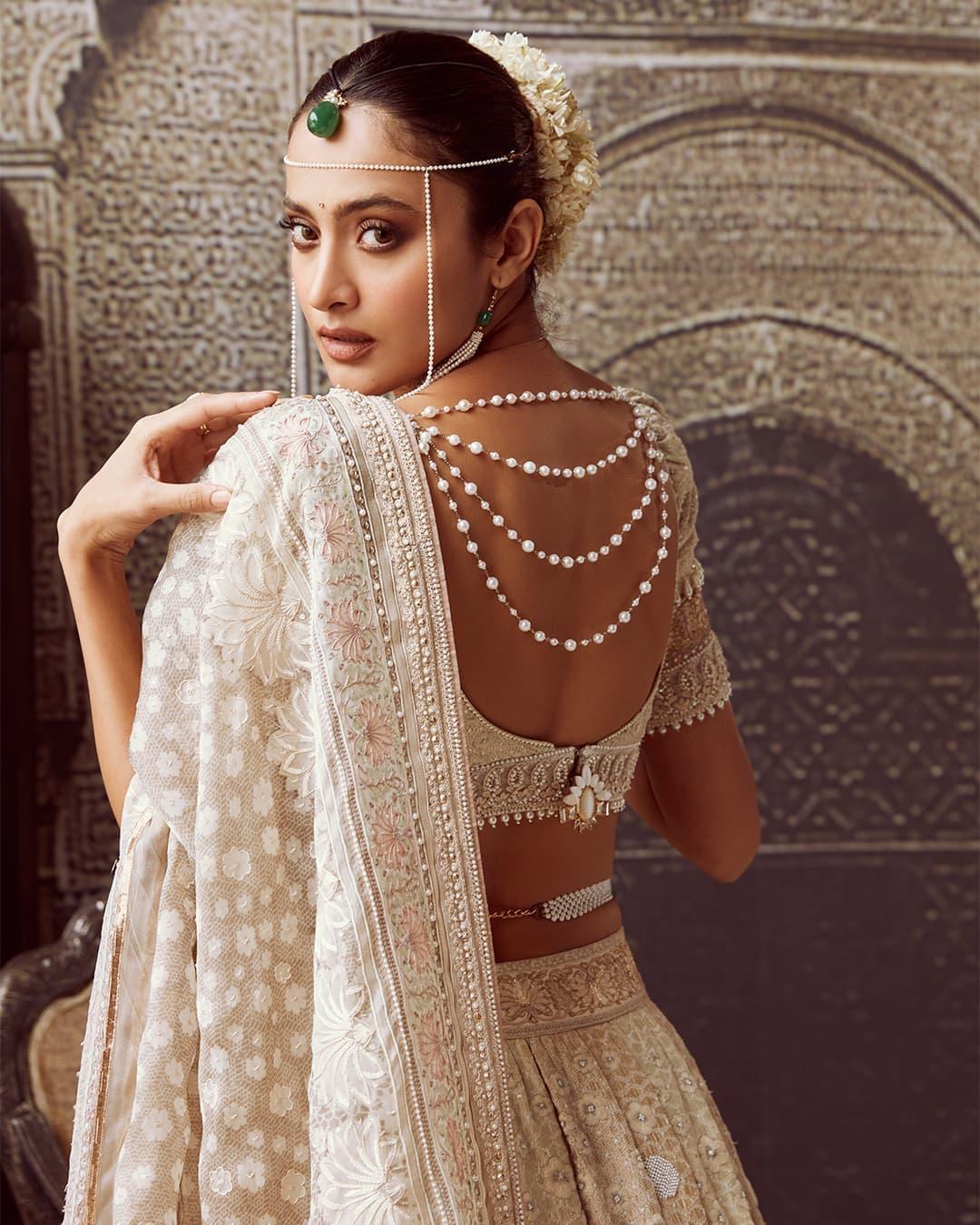 Pearls always exude royalty. The pearl chain gives the appearance of a layered necklace on your latest blouse back neck design. The heavy stone and thread embroidery in white makes this newest blouse back neck design an extraordinary selection for your bridal trousseau. Planning to host a white wedding soiree? This is YOUR blouse!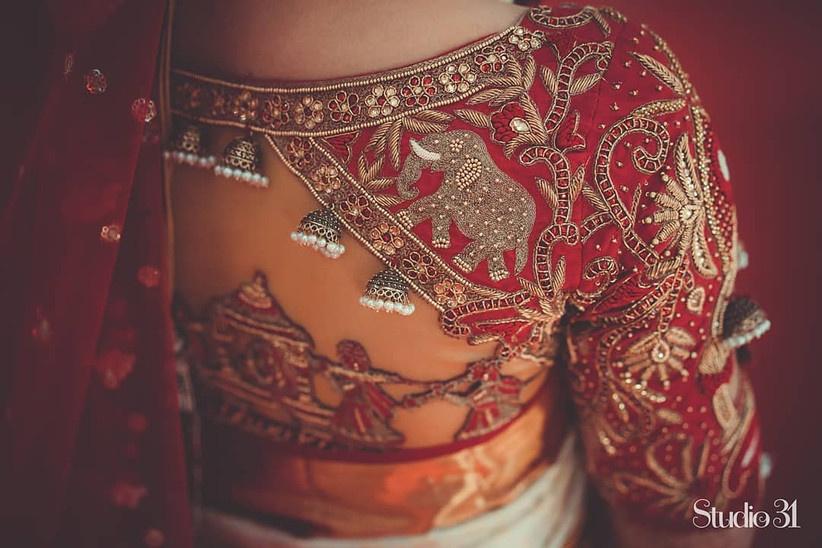 Image Courtesy: Studio 31
Of all the latest blouse back neck designs, this one stands out the most! The little Jhumkas add to the intricate detailing of the cut-out. The cutout on the back of this back neck silk saree blouse design shows an elaborate scene of the palanquin hinting at the traditions of yesteryears when the bride would come and go in a heavily decorated palanquin. The hand-embroidered motifs of plants, leaves, flowers, and elephants make this back neck silk saree blouse design a hit!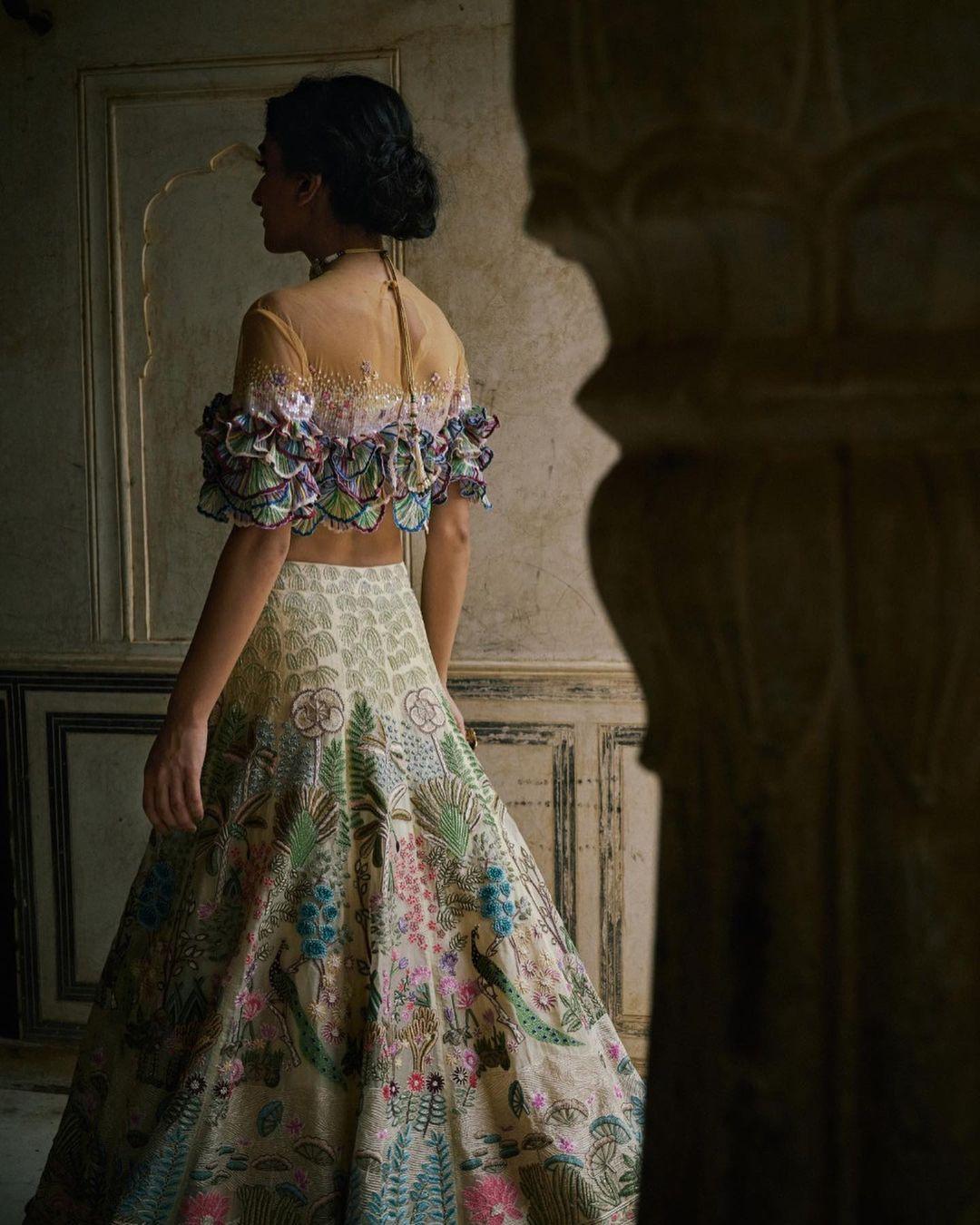 Image Courtesy: Rahul Mishra
This back neck net blouse design with 3D embroidery that holds up the vibrant colors of nature is a masterpiece created by ace designer Rahul Mishra. This latest blouse back neck design in net showcases finesses that will amp your look for any occasion in a blink.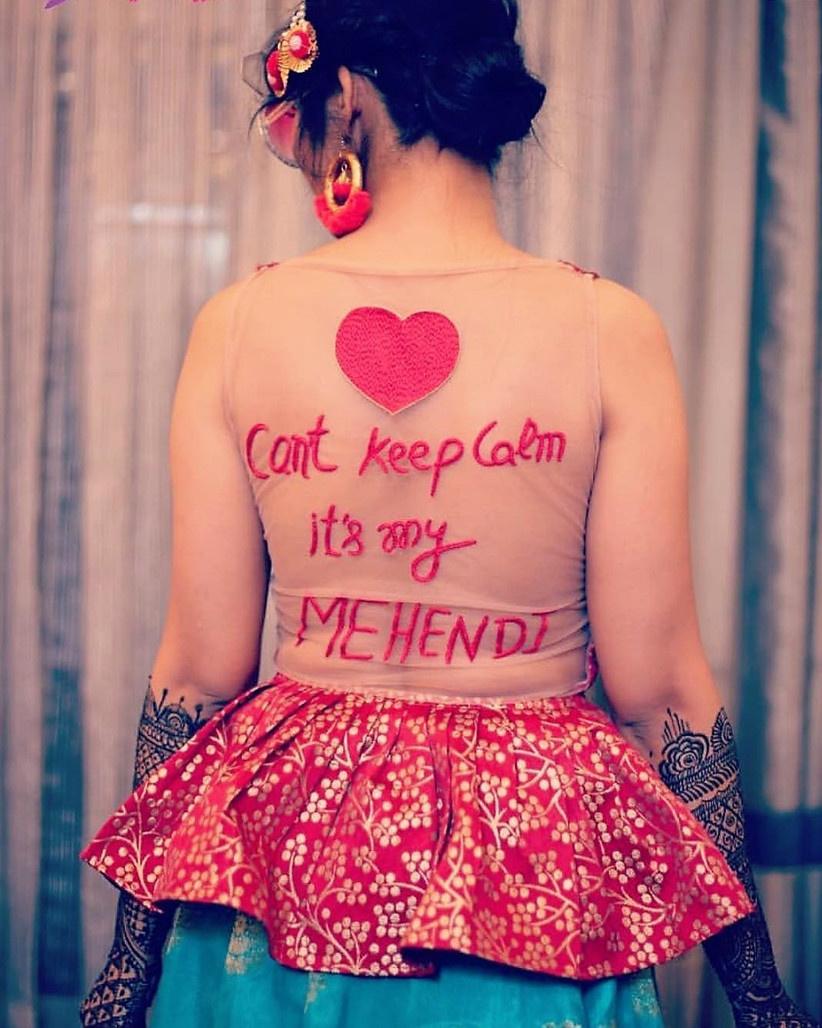 Image Courtesy: The Cage Story
This peplum back neck net blouse design with the personalization is the perfect piece of quirk you would want to add to your outfit. Customisation and personalisation have been doing their own set of rounds in the wedding industry in general. The wedding fashion is no exception to that, and this sleeveless peplum blouse back design with customized message embedded with thread work on the back net is a beauty you cannot miss!
Simple Blouse Back Neck Designs
If you do not like to go over the top and wish to keep your bridal look mild, then these simple blouse back neck designs that we have picked for this list will be just perfect for you. Scroll on to find your favourite.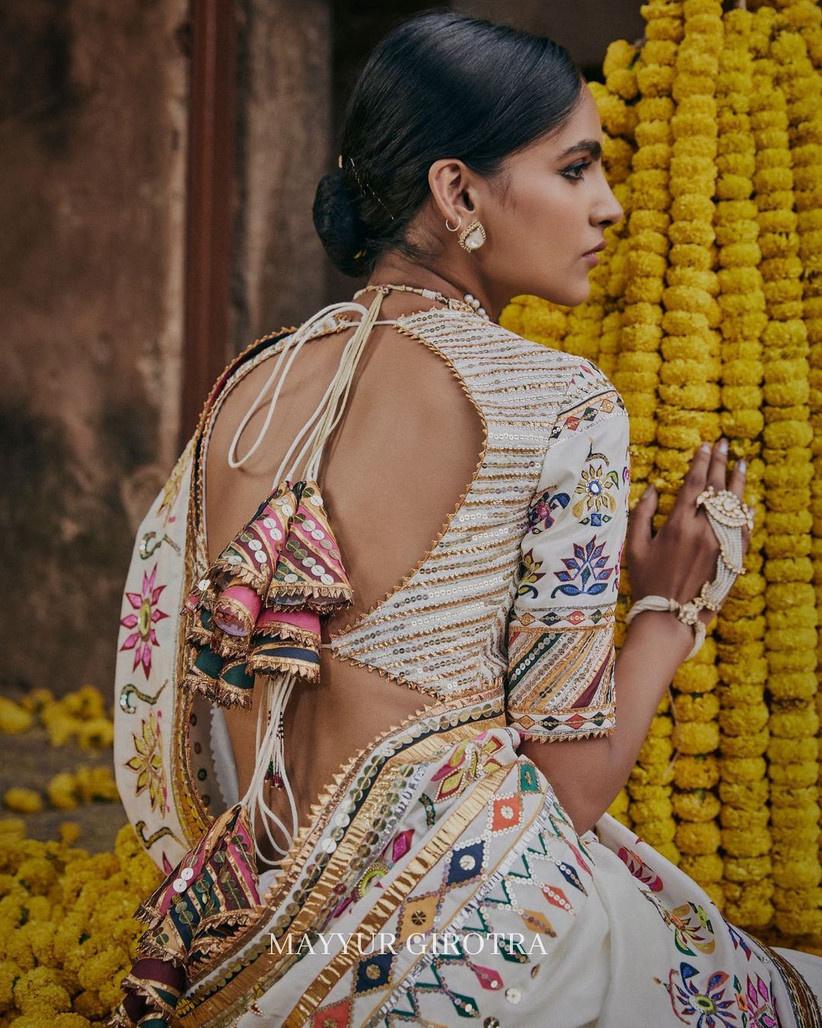 The beautiful white blouse back neck design with patchwork by veteran designer Mayyur Girotra with the bright pink tassels and sequin work will steal the show! If you plan to wear a white lehenga or even a white saree, this blouse design with patchwork is a must! Pearl Haath Phool will be the cherry on top if you carry this look.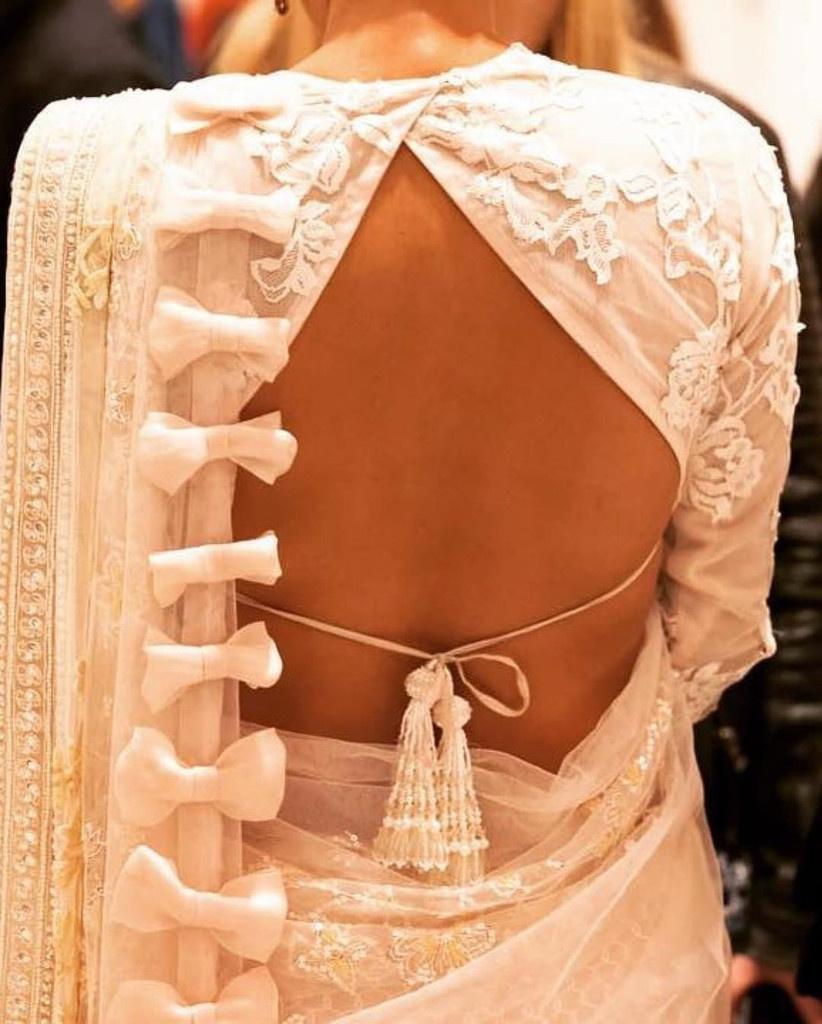 Patchwork and 3D embroidery on blouse designs are blouses that the brides have fallen in love with! Patchwork blouse back neck designs add to the charm of a blouse neck design and make it more quirky and refreshing. Christian weddings in India mostly see brides wearing a white saree, and this full-sleeve net blouse design by Abu Jani Sandeep Khosla is a beauty that will heighten the look of your wedding outfit.
Also Read: 15+ Blouse Neck Designs With Interesting Patch Works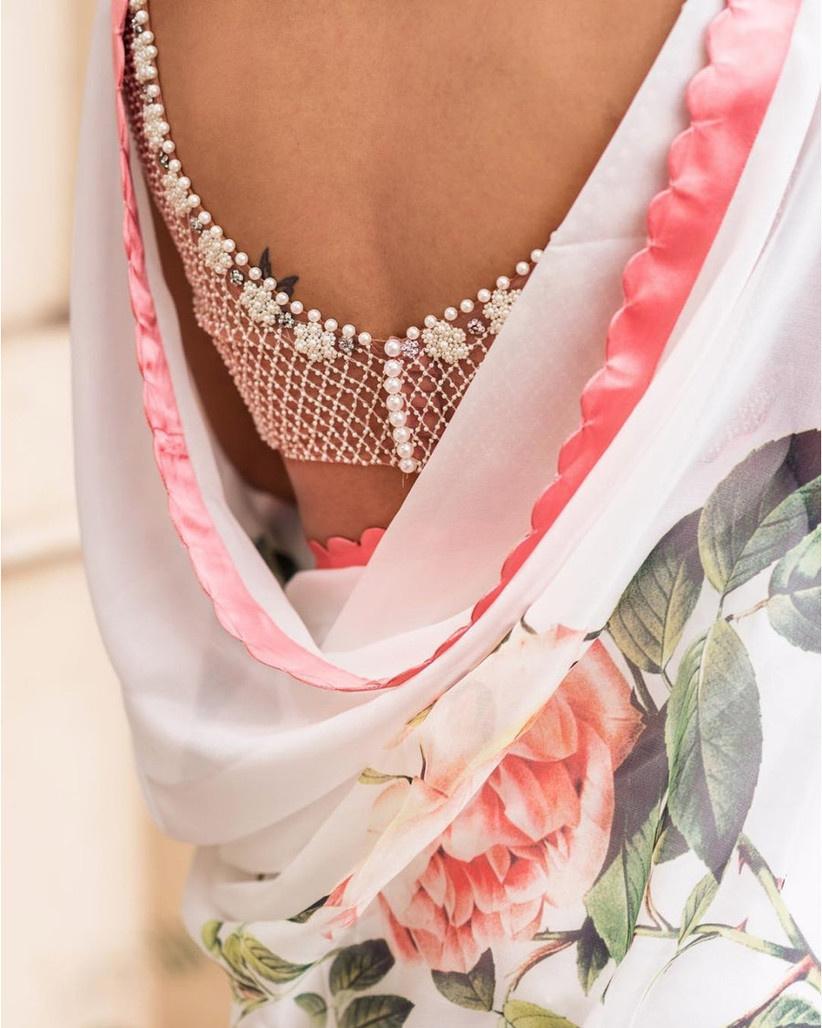 Image Courtesy: Archana Rao Label
In this list, we have picked different types of simple blouse back neck designs that are latest and trendy. One of the more elegant yet enchanting blouses back neck designs is this backside blouse with faux pearls and miniature stone-studded strings in a Jaali pattern. A back neck net blouse design that gives the impression of a zero-neck blouse design is everything you need to wow the eyes that behold you.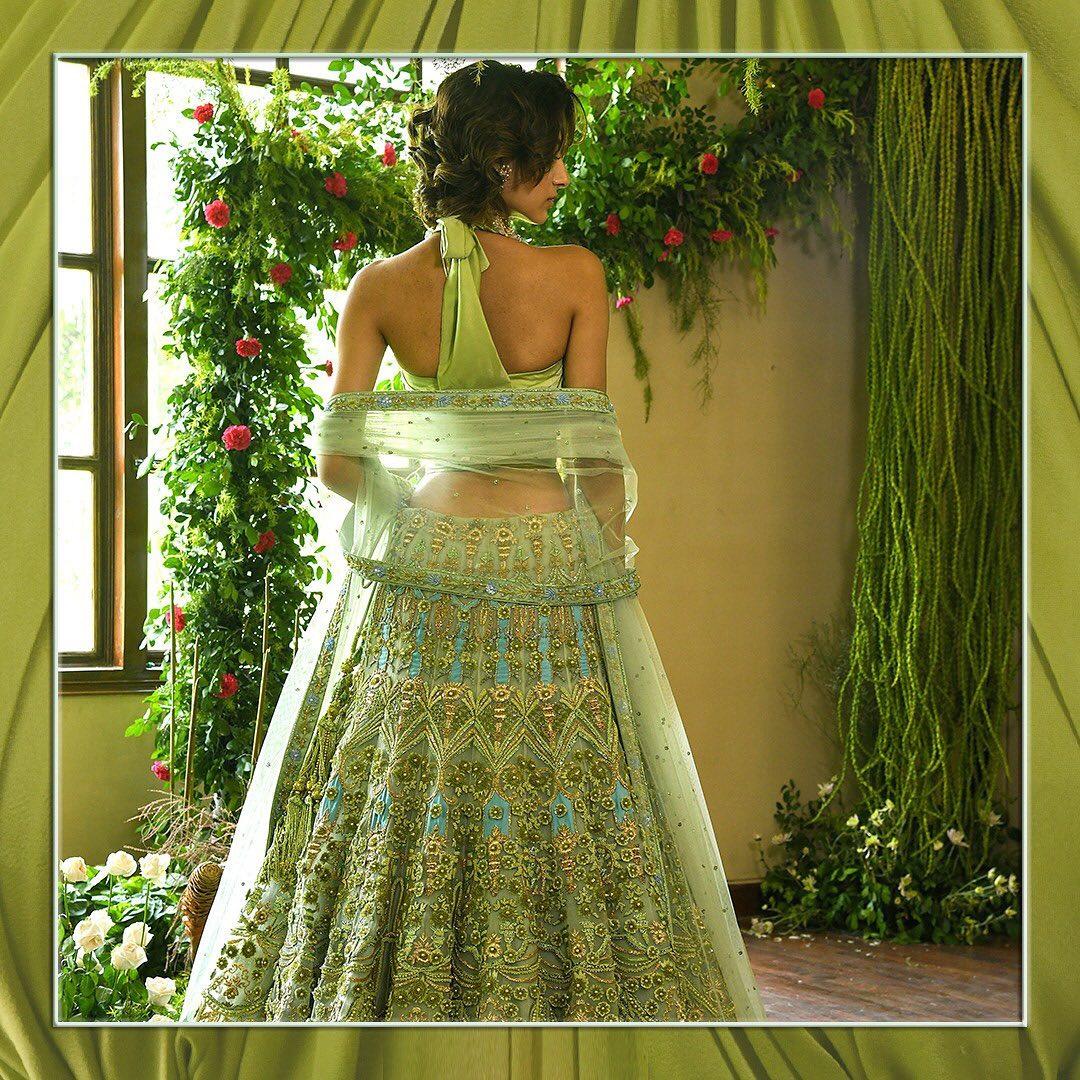 While halter necks are a fad that everyone loves to flaunt, especially at weddings, this backless blouse back neck design with an oversized halter tie is a hoot too. Green is the color for your mehndi ceremony usually, and keeping it simple, charming yet elegant, and fuss-free - this green silk back neck blouse design will be a great addition to your mehndi wardrobe.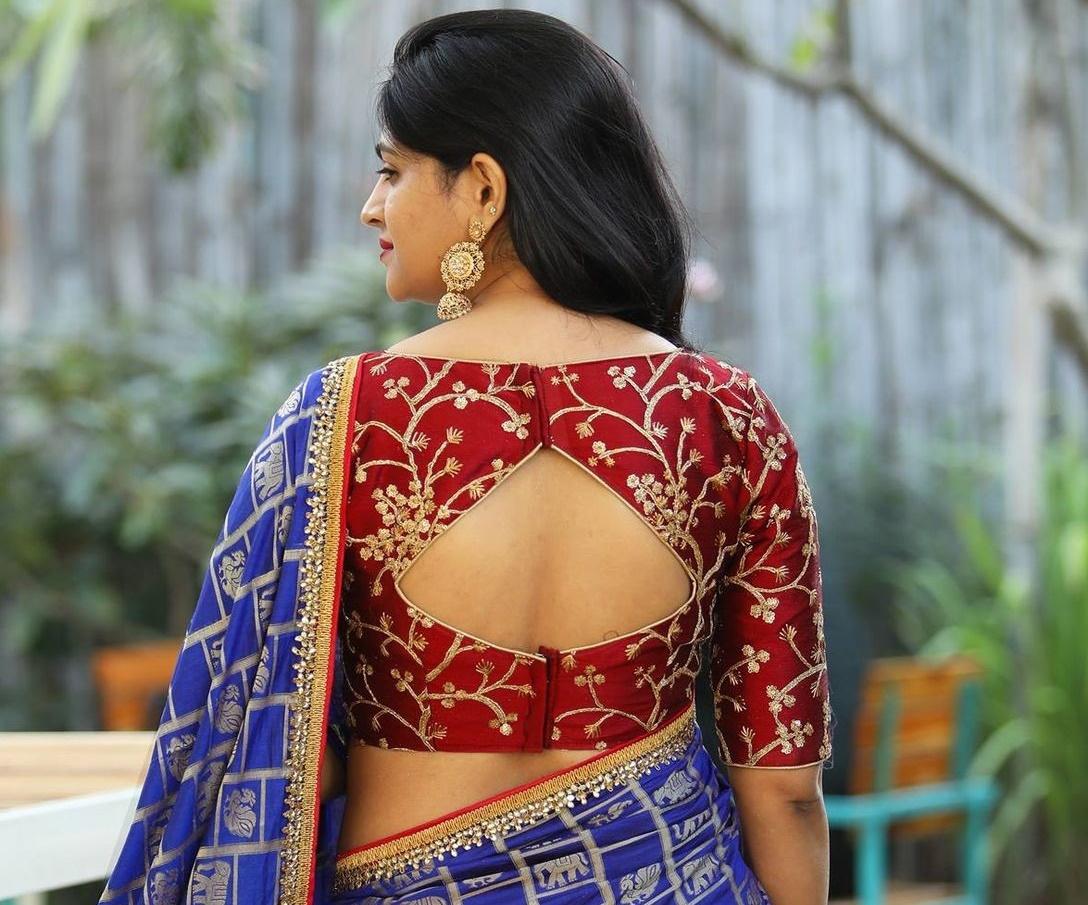 Image Courtesy: Bling Sparkle
The triangle cutout on this back neck silk saree blouse design with hook and eye closure oozes royalty. The maroon silk base and golden color thread embroidery can amp your Kanjeevaram saree look for the D-day.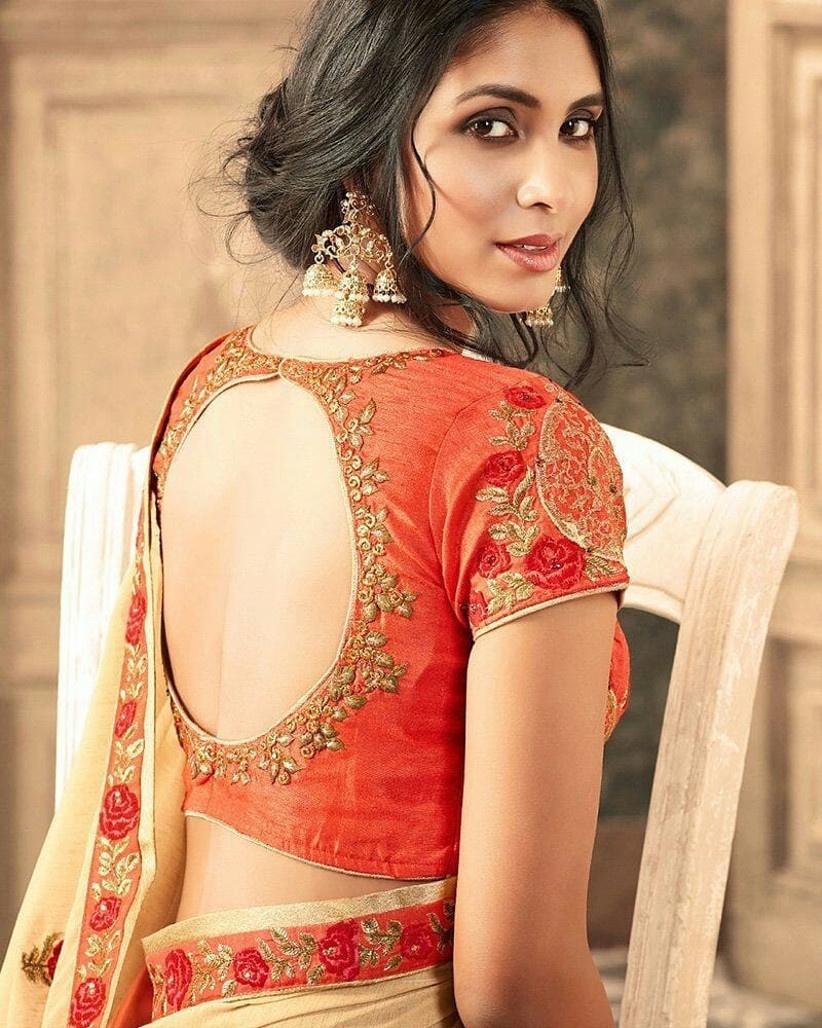 Image Courtesy: FashionBeingsDotDom
Another beauty on the list of back neck silk saree blouse designs, this rust orange short sleeve blouse design with Aari embroidery around the hems and the sleeves, is a beautiful latest blouse back neck design that will set the benchmark for silk blouse back neck designs.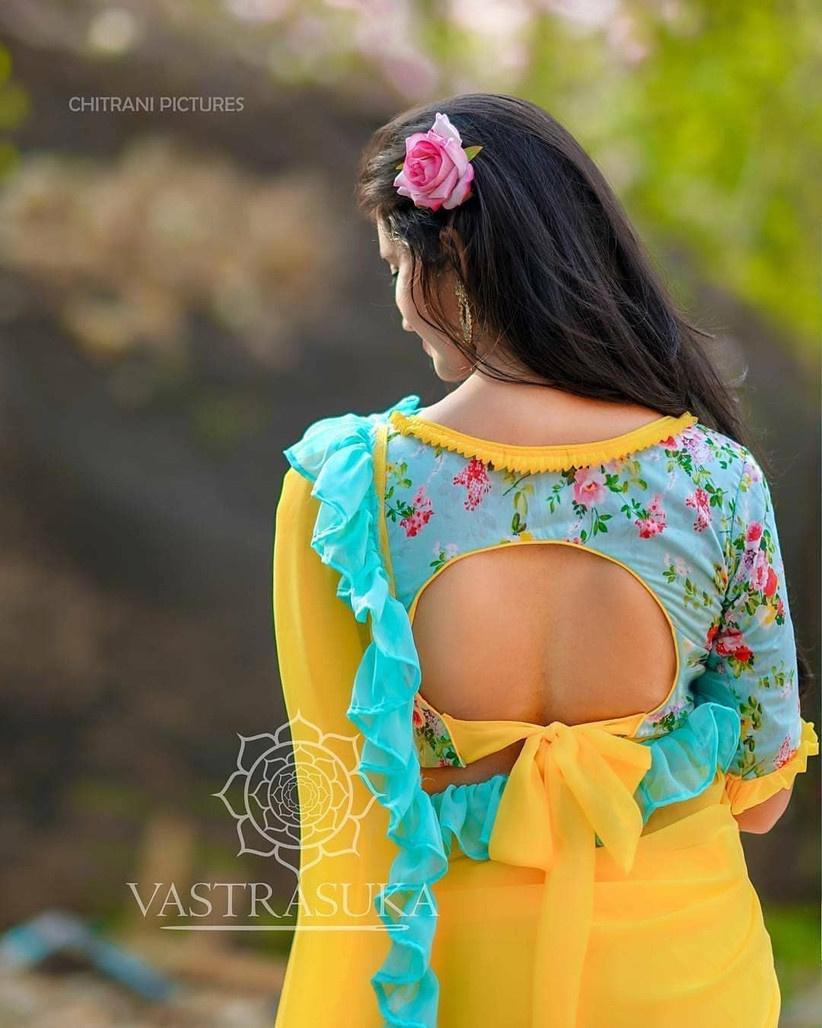 Image Courtesy: Chitrani Pictures
Ruffle sarees have been quite the rage among millennials - be it the brides for their pre and post-wedding functions or be it the bridesmaids on their BFF's wedding. The yellow frills on the back neck of this floral blouse design with the yellow bow that can be tied is a charmer for any wedding ceremony. You can wear this for an intimate wedding ceremony or even the Haldi ceremony of a destination wedding.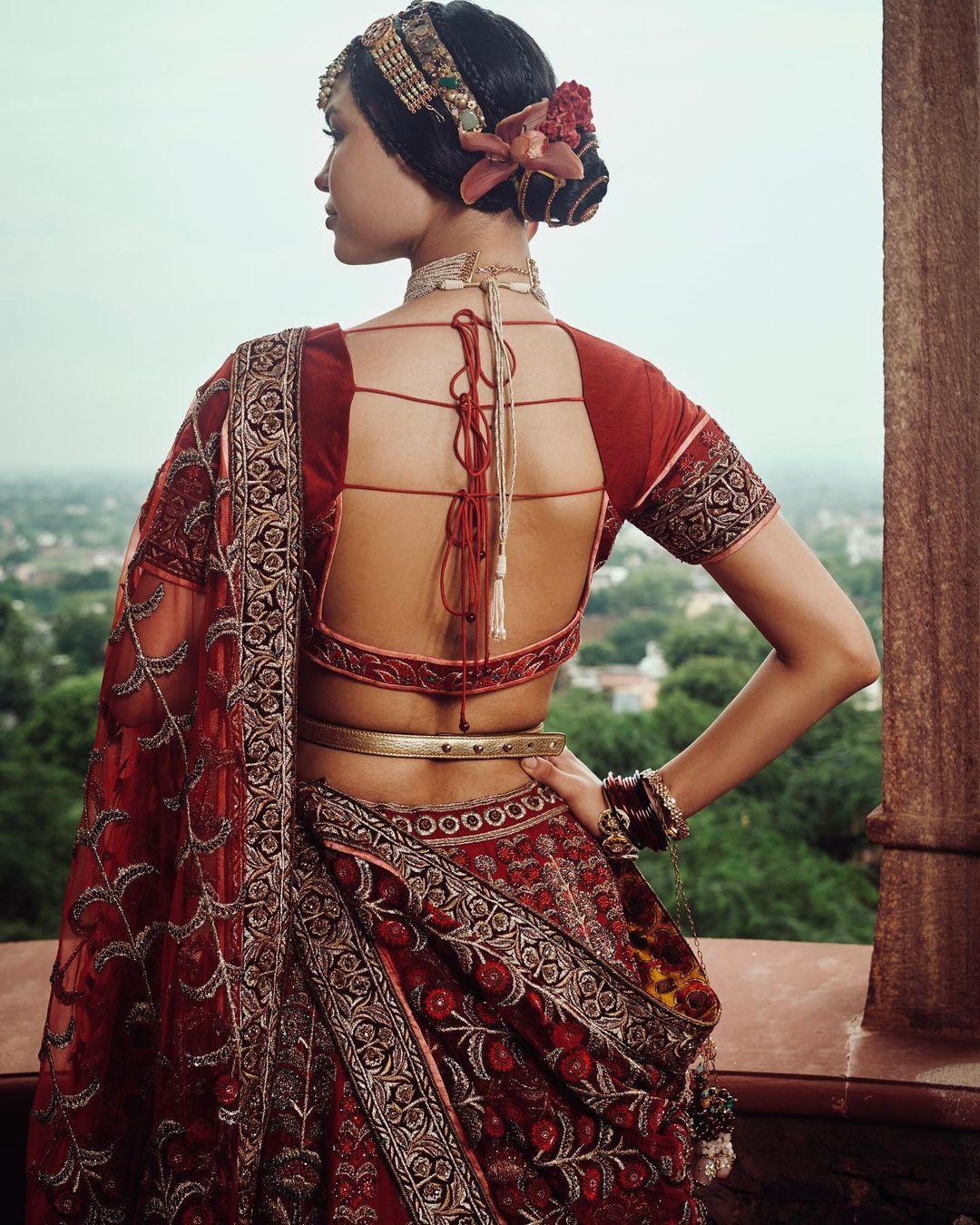 Evey JJ Valaya's design is a regal story in itself. This red blouse will be the perfect addition to your red lehenga for the wedding. Adding oomph to the simple latkan design for the blouse back, this neck design is indeed a catch. Even if you pick a double dupatta draping for your outfit, this simple blouse back design is going to be the highlight of your outfit without a doubt.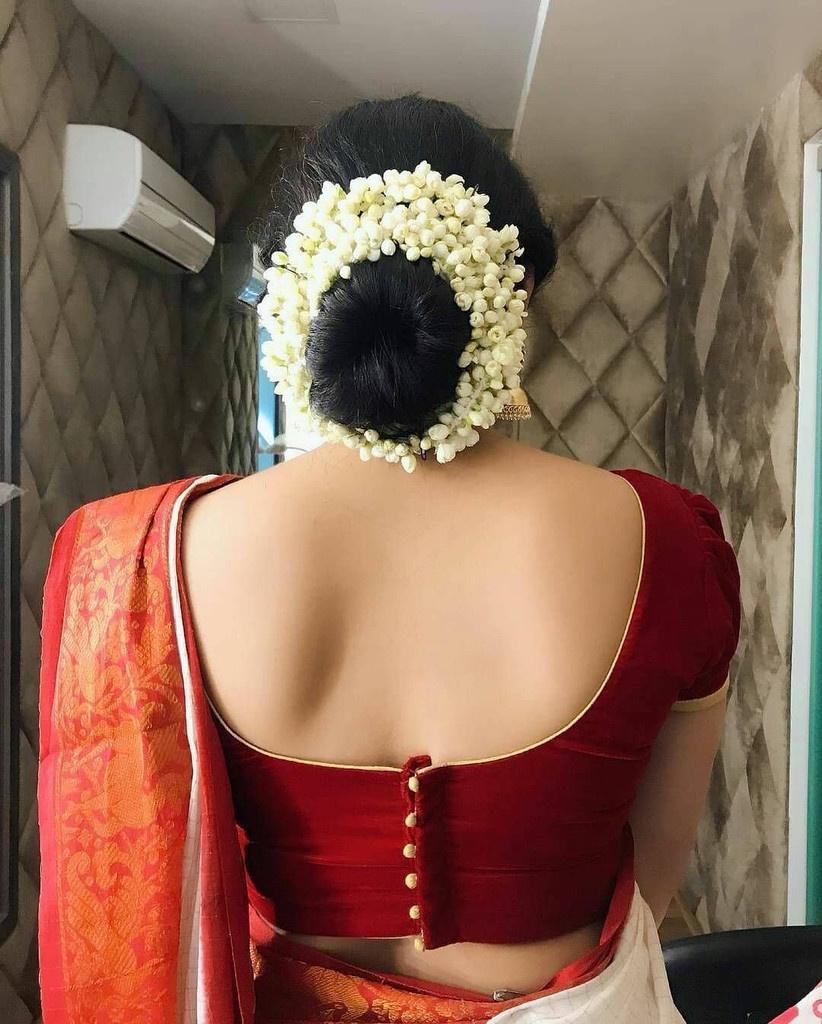 Image Courtesy: House of Blouse
This maroon blouse is a hoot if you are looking for simple blouse back neck designs for silk sarees. The low scooping back neck design with golden button detailing will make your look for a temple wedding shine bright. This blouse design works best with Pattu sarees, and the puff sleeves only add to the grace.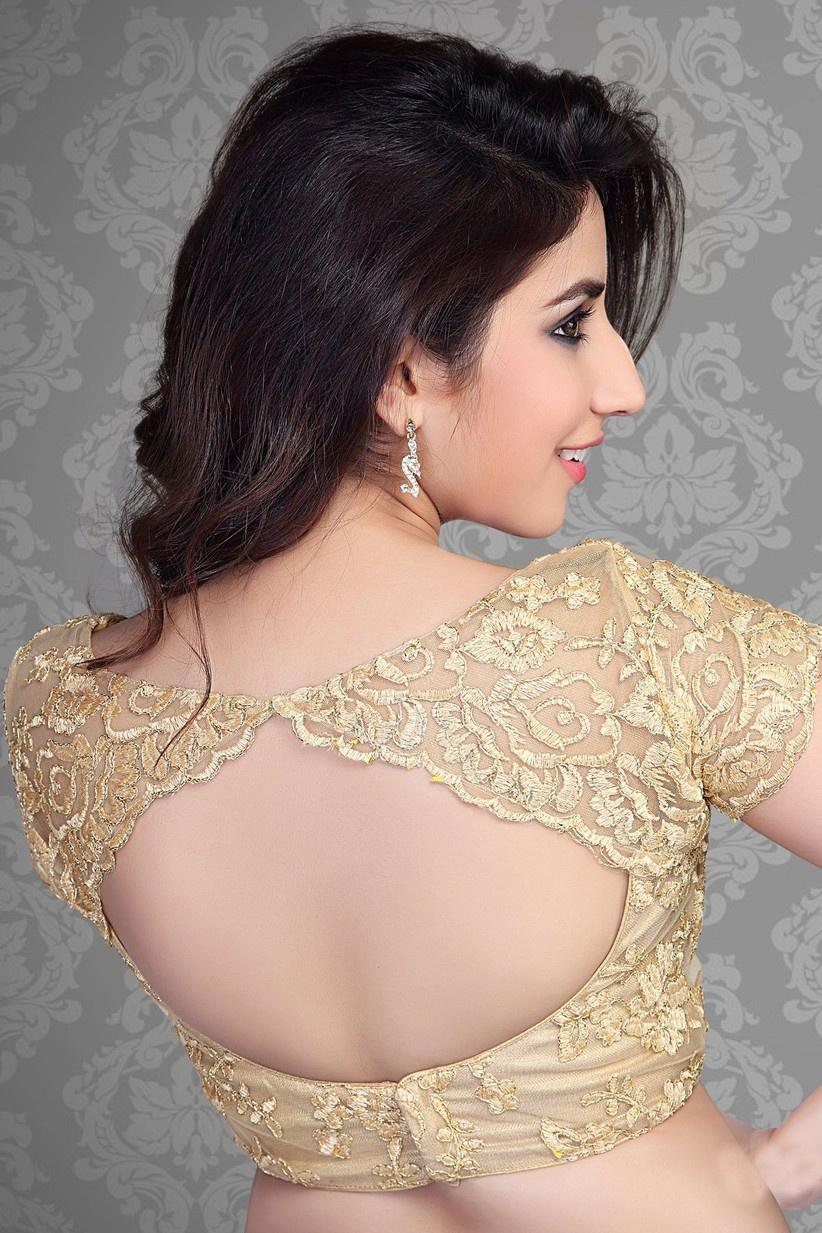 Image Courtesy: Pinterest
Another graceful, simple blouse back neck design is this golden blouse with lace detailing. The cutout design on the back of this blouse is an easy yet simple blouse back neck designs image that you can pick for your golden lehenga. The Chikankari work on the blouse makes it well suited for your Chikankari lehenga or even a simple saree.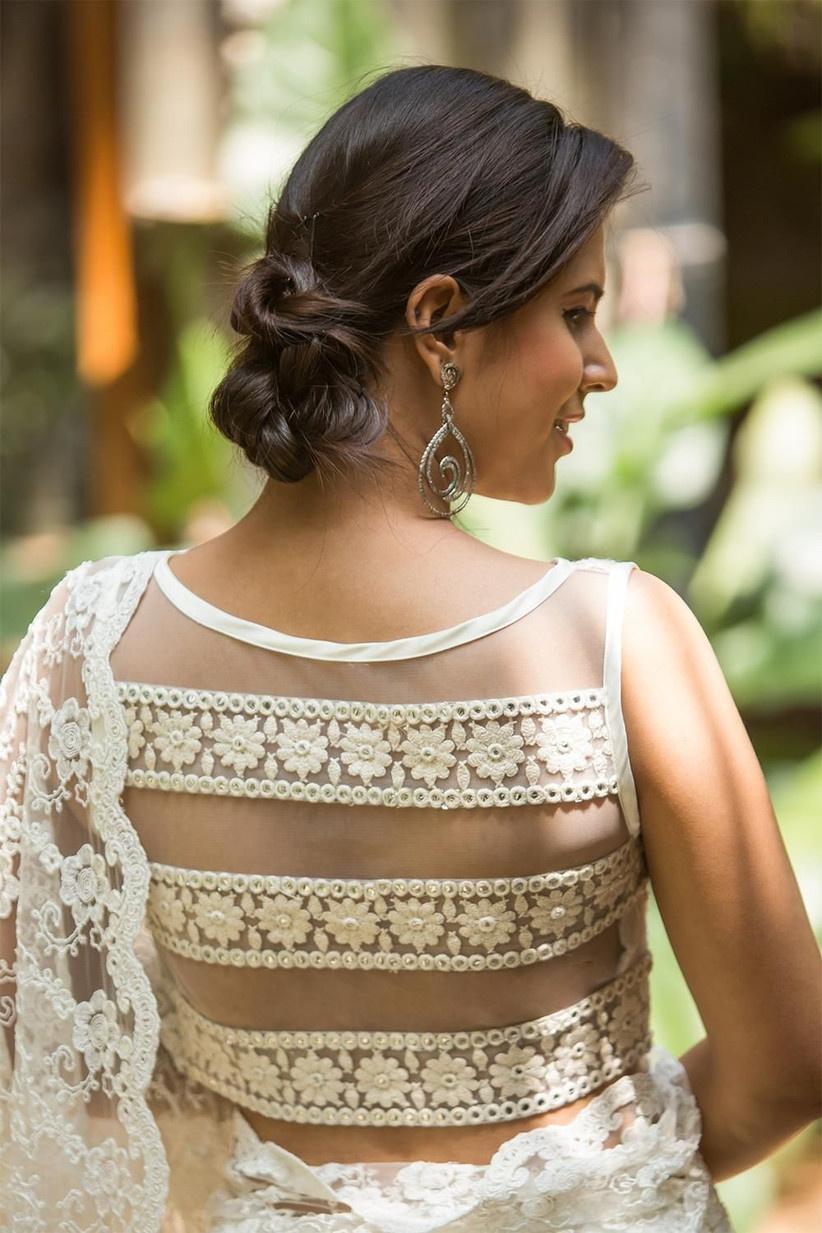 Image Courtesy: Pinterest
Of all the back neck net blouse designs, this one with the lace inserts is a class apart, and it will add elegance to your white saree. The floral motifs add to the beauty of this sleeveless blouse design, and you will wow the crowd with grace.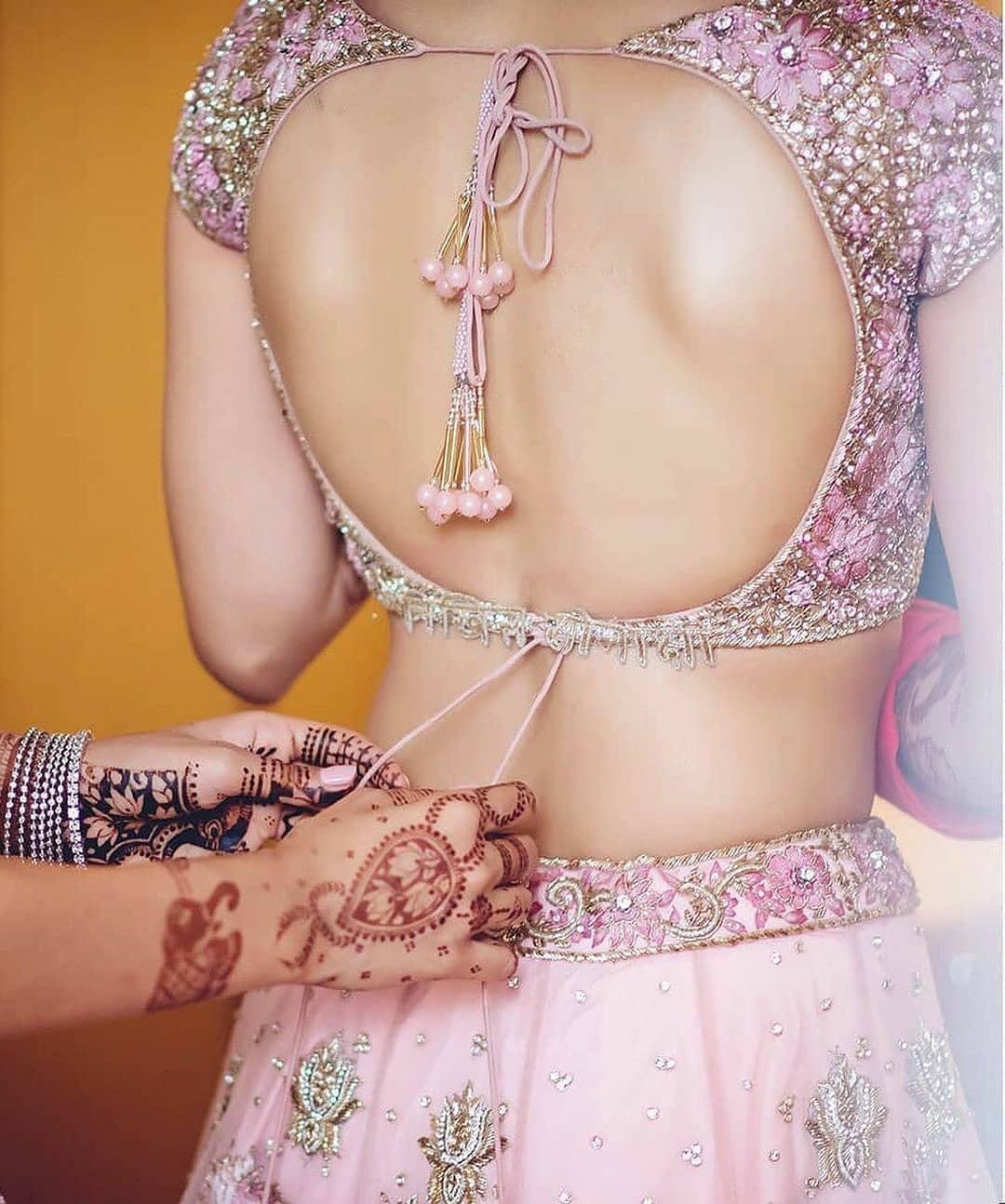 Image Courtesy: Sonaakshi Raaj
Turning this simple blouse back neck design into a hoot, this pink blouse design with intricate embroidery flaunts the name of the groom on the back too. Taking personalization to another level, this blouse can be customised to fit your pink lehenga in the most salutary ways.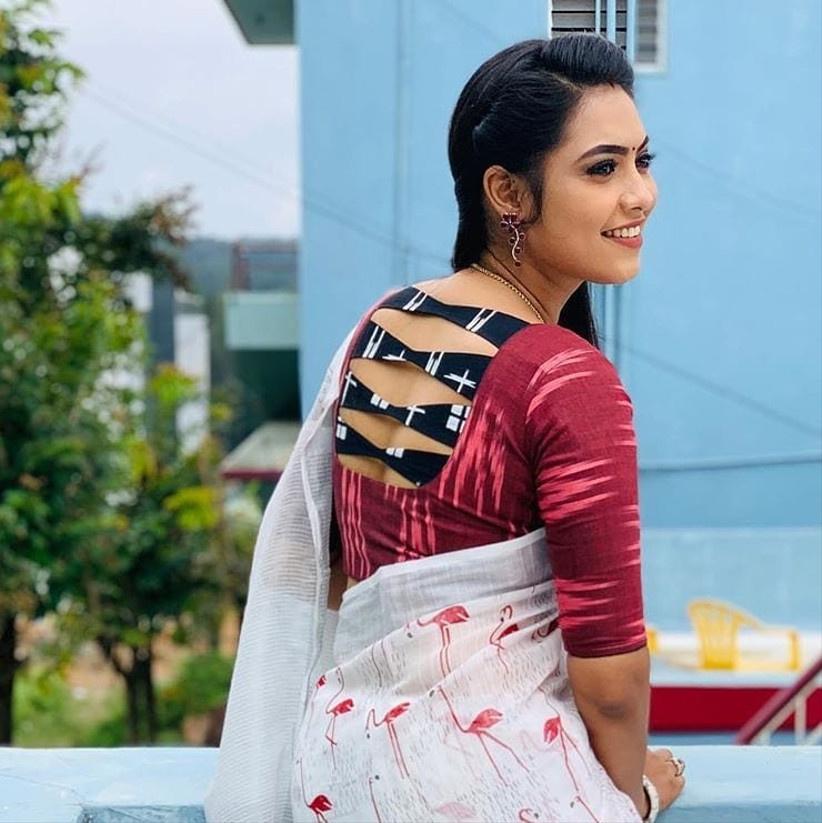 Image Courtesy: Temple Needle N Thread
Ikkat is a much-loved design on cotton blouses, and if you are looking for the perfect simple blouse back design for cotton sarees, this red Ikkat blouse with the black bow detailing on the neckline is an artistic wing to your day wedding wardrobe.
Also Read: Cotton Saree Blouse Designs- Find Trendy Cotton Saree Blouse Designs, Cotton Saree Blouse Designs 2020 @WeddingWire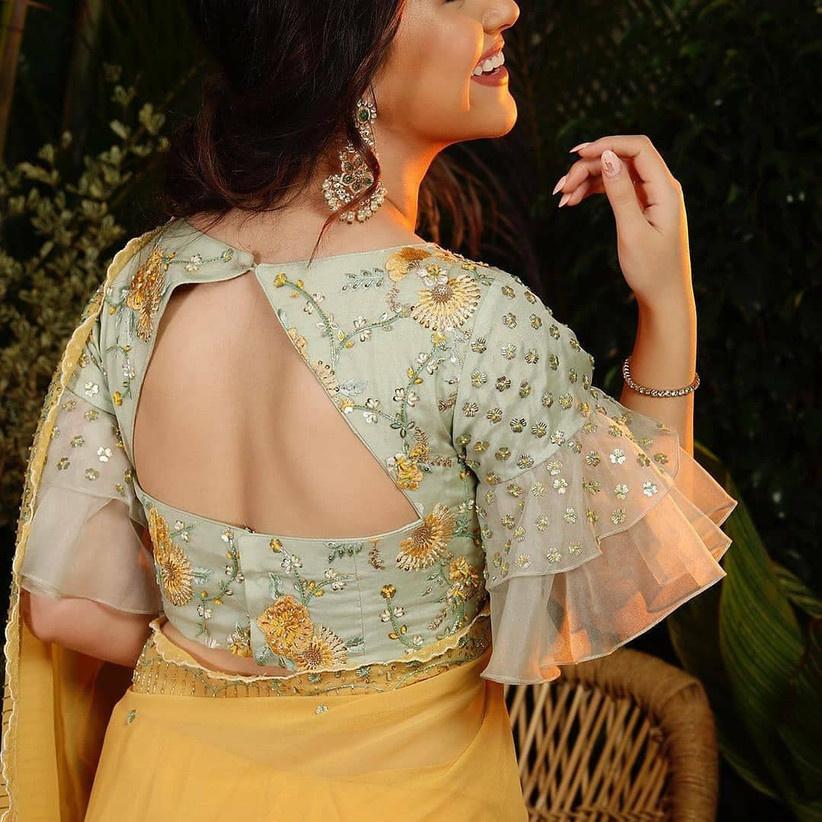 Image Courtesy: The Blouse Post
Flutter sleeves with a simple yet outstanding blouse back design make this ruffle blouse in sage green one-of-a-kind. The pastel colour of the blouse with impressive booti work and floral motifs enhances the cutout design of the back neck of this blouse and appends oomph to your outfit.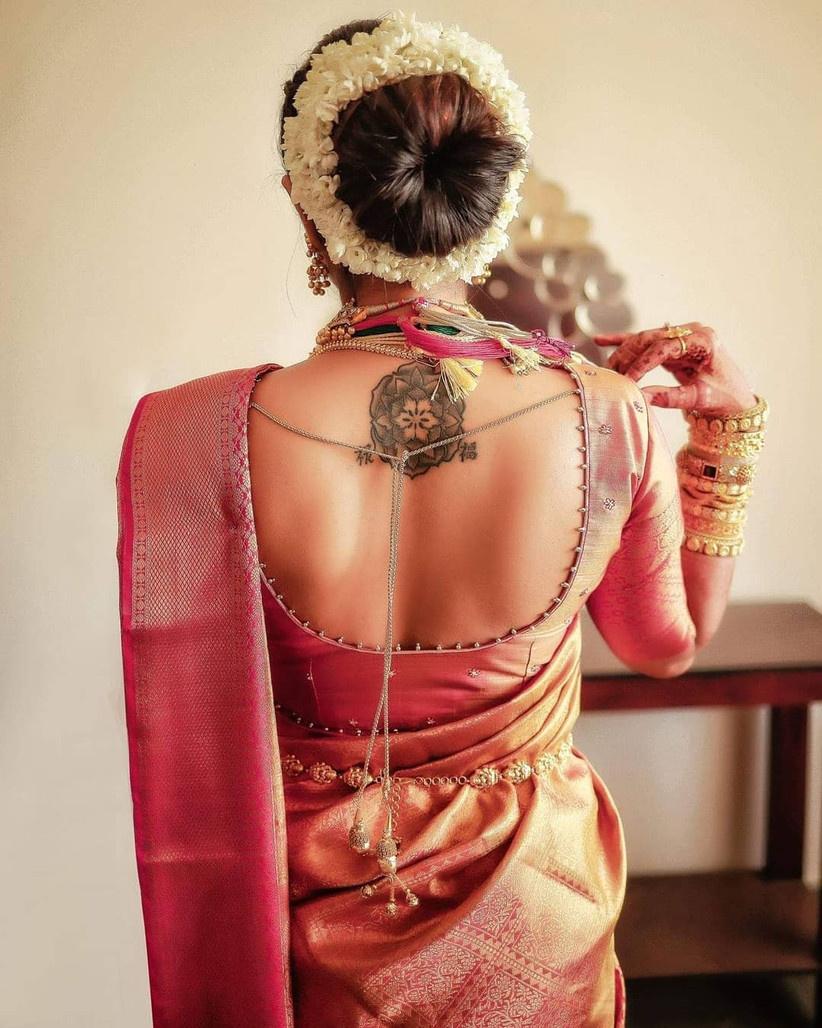 If you are looking for a simple blouse back design for your silk sarees or your Kanjeevaram silk saree, then this blouse back design with a metal chain and doris with metallic accents in the latkan is your go-to.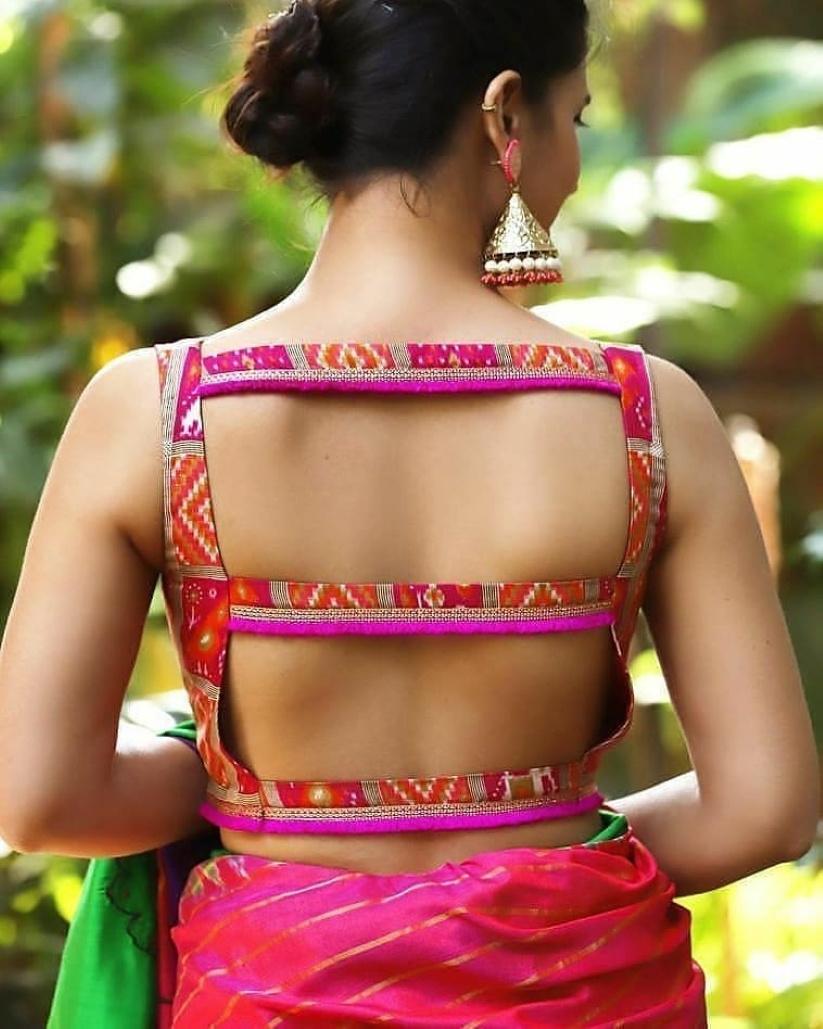 Image Courtesy: The Blouse Post
You might be searching for cotton saree blouse back neck designs, so here is the perfect one for the beautiful you. Get a blouse stitched in two contrasting colours and give it a magical back setting with a subtle backless design with just three thin straps for a good fitting. Flaunt your back with a little bit of skin show with this bold look.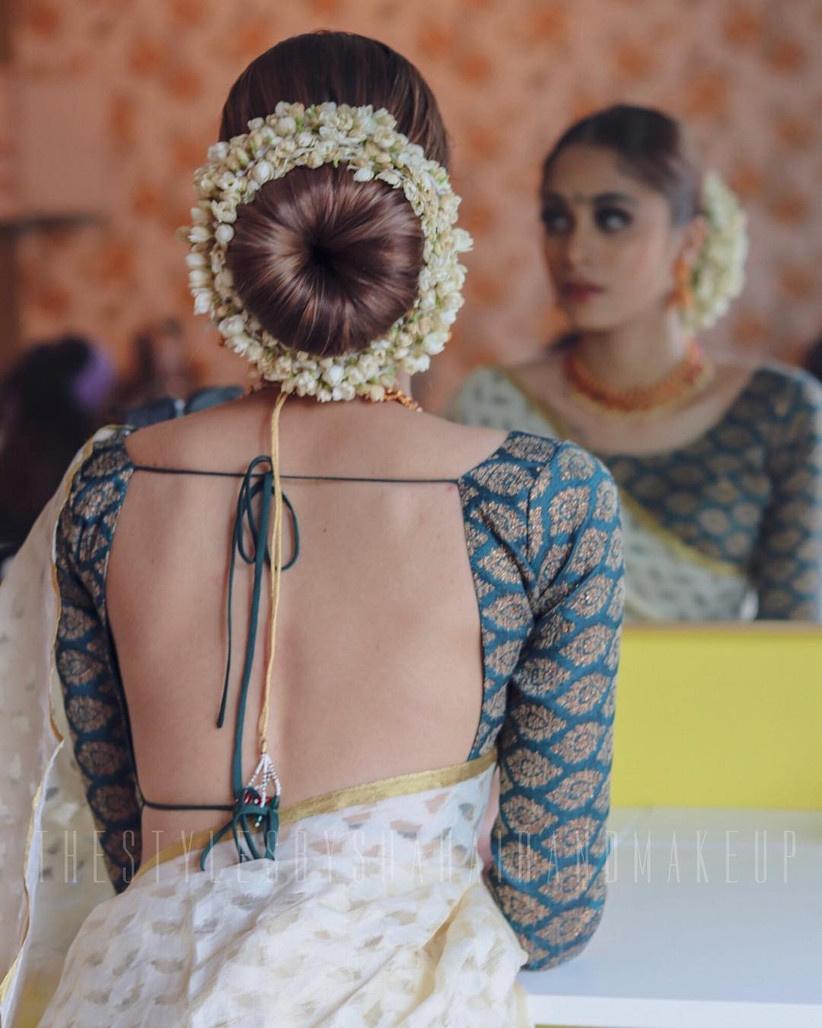 Image Courtesy: Style by Sha
Brides and bridesmaids these days have preferred to flaunt block prints on almost every occasion. The simple blouse back neck design is the USP of this sleeve blouse in teal with block print. The backless blouse design with two minimal latkans is sure to bring sexy back, and it will be the perfect pair to your white saree with a golden border. The double tie feature in this blouse back design image is not just because of the latkans, though – two strings add a tiered effect that looks great and is a creative way to enhance the backless design!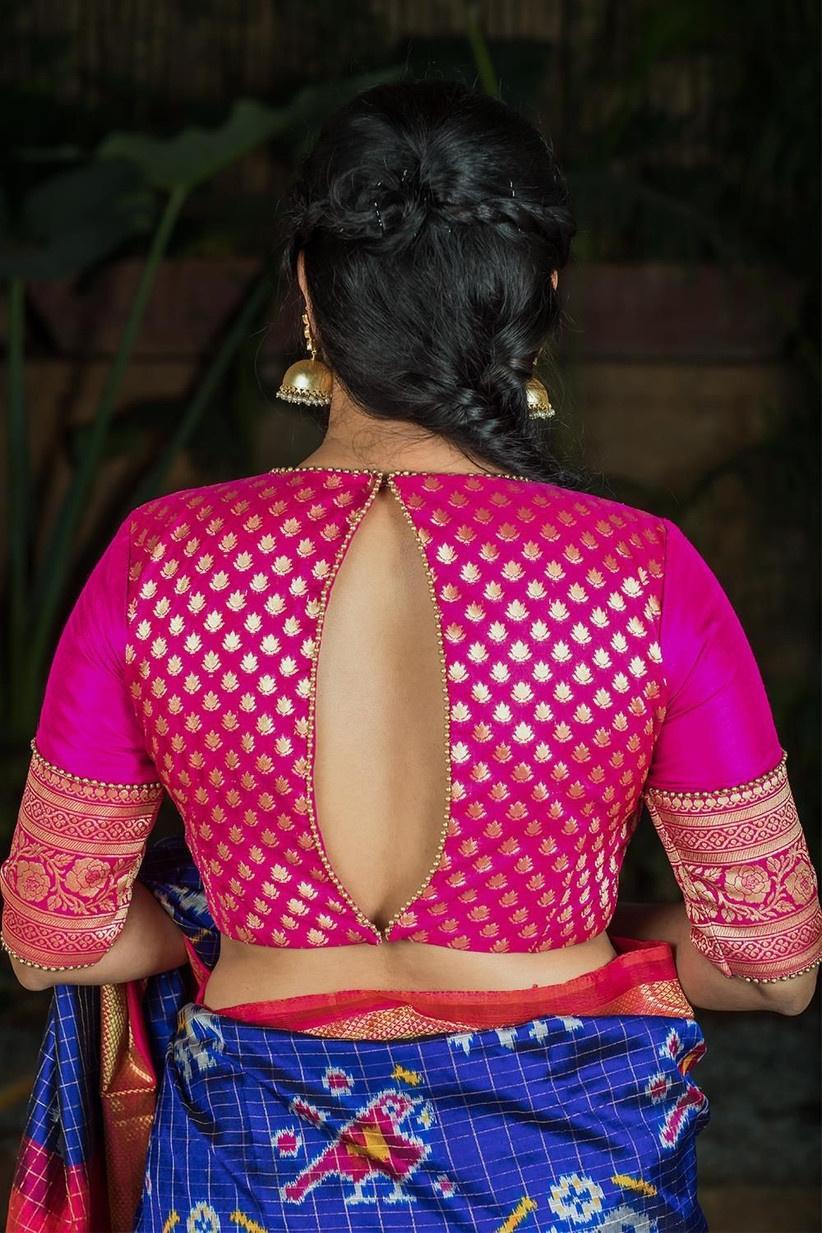 Image Courtesy: Pinterest
The teardrop-shaped cutout opening on the back neck of this blouse design is an ingredient of allure that adds to the attractiveness of the blouse. The brocade floral design on the back enhances the bridal appeal and how!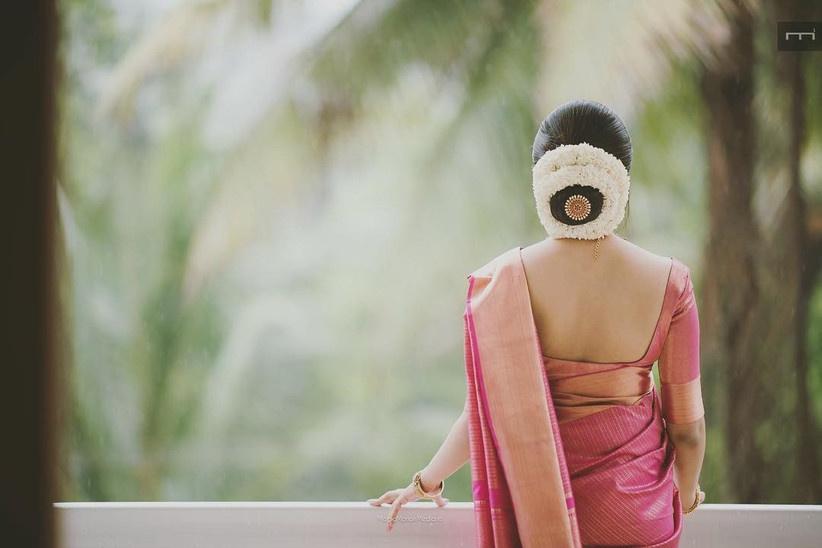 The square back neck is one of the most sought-after traditional blouses back neck designs. And like the deep round-back neck design, this too is a classic. You can get this back designed for an embroidered blouse or a plain blouse, just like this dark salmon pink one with zari work. Oh, and if you have a back tattoo that you would like to show off, then it's all the more reason to get this back neck designed.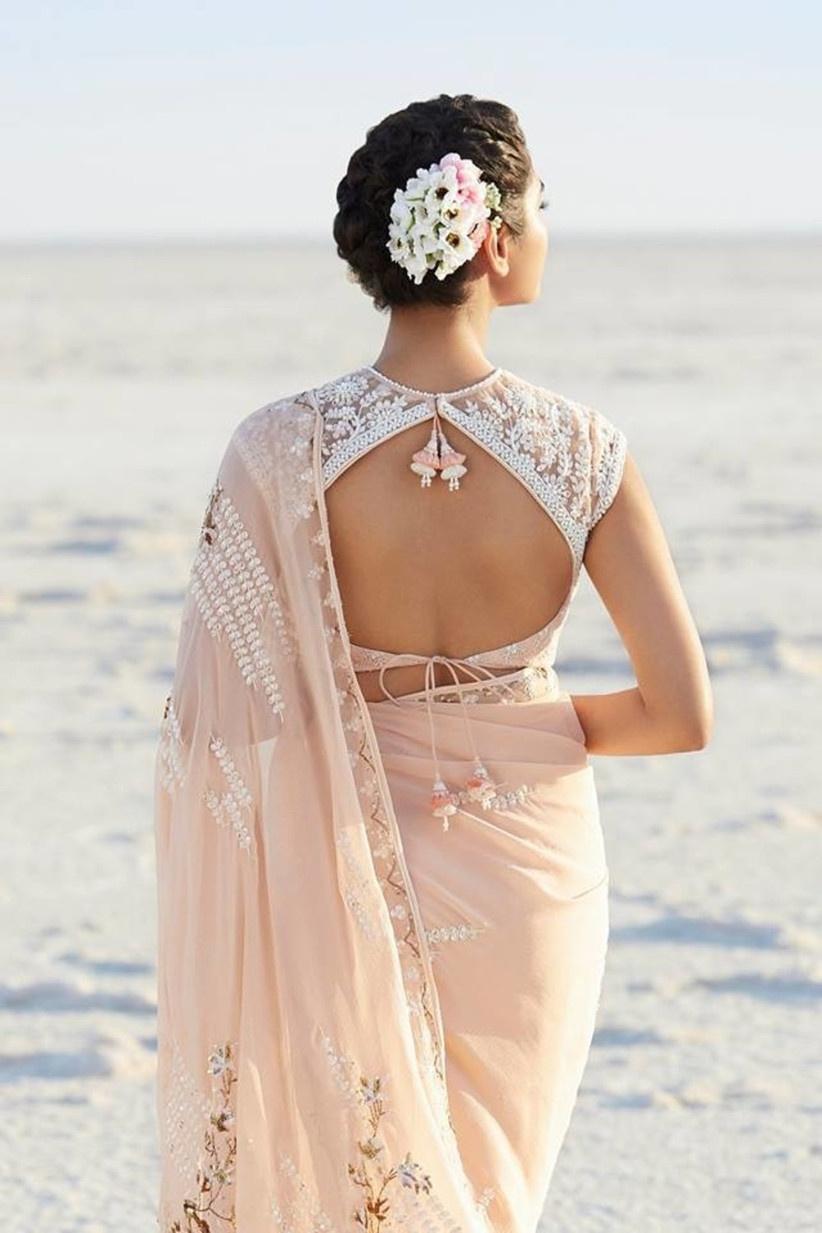 Keeping it classy, this simple blouse back neck design is sure to make you look ethereal. The delicate thread embroidery along with the latkans on the back will make you look beautiful as ever.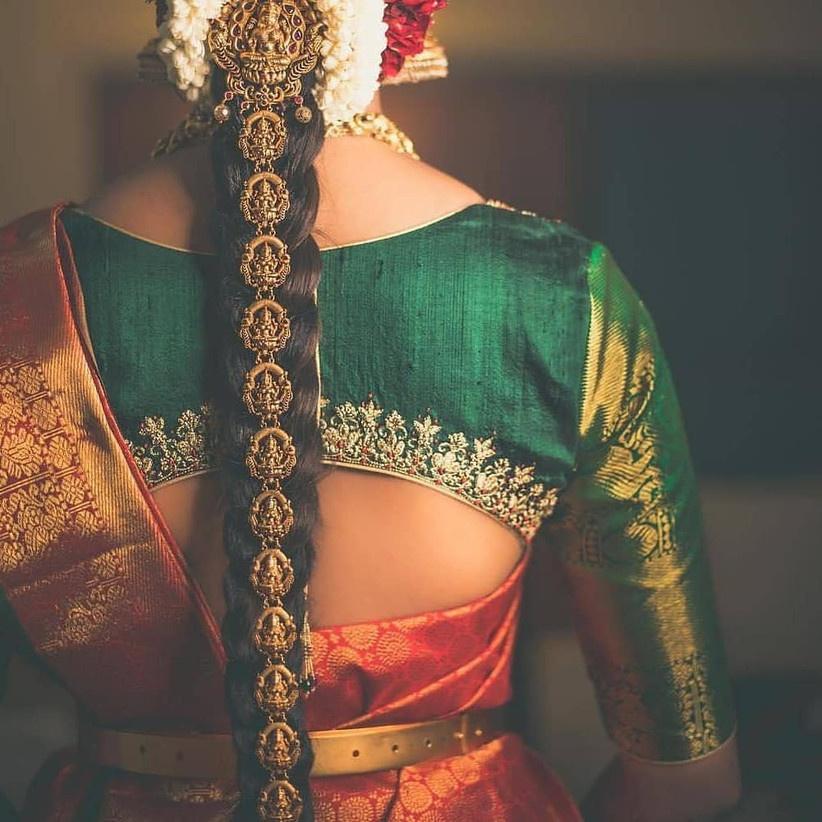 Image Courtesy: Keep Me Stylish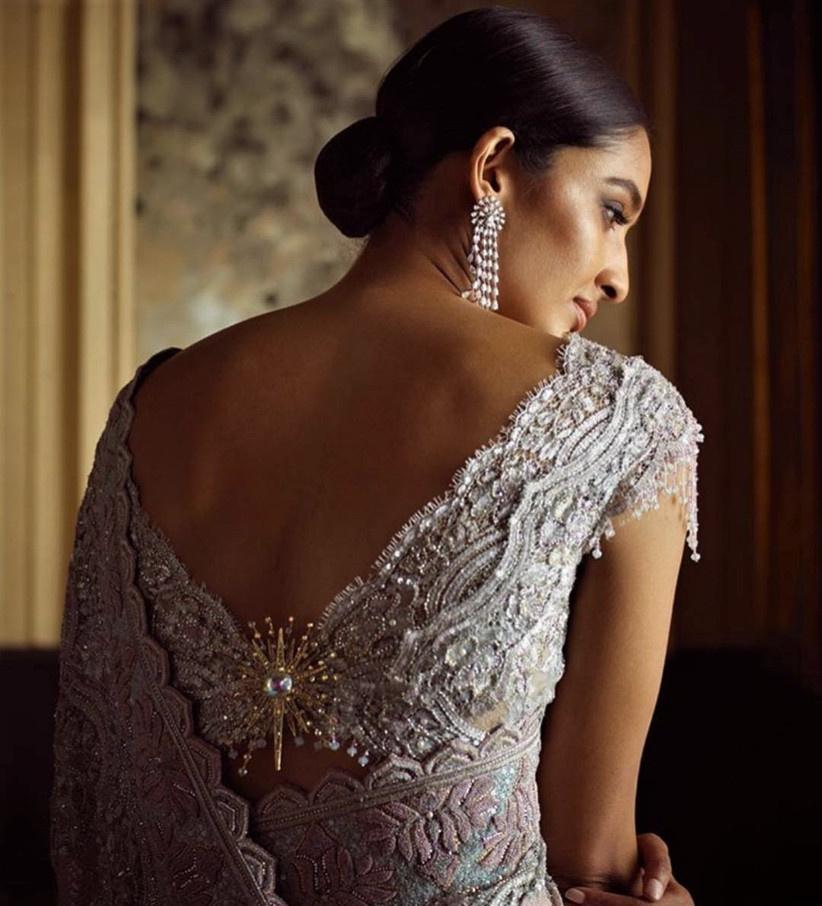 Image Courtesy: The Cage Story
Let's not ignore one of the most popular ensembles when it comes to weddings – the saree! There is nothing more gorgeous than a lace saree, especially an all-white one! Whether you pair it with a matching lace saree or a regular velvet saree, this is a blouse that will look fantastic no matter what! As mentioned earlier, you can get away with pairing this with a skirt too!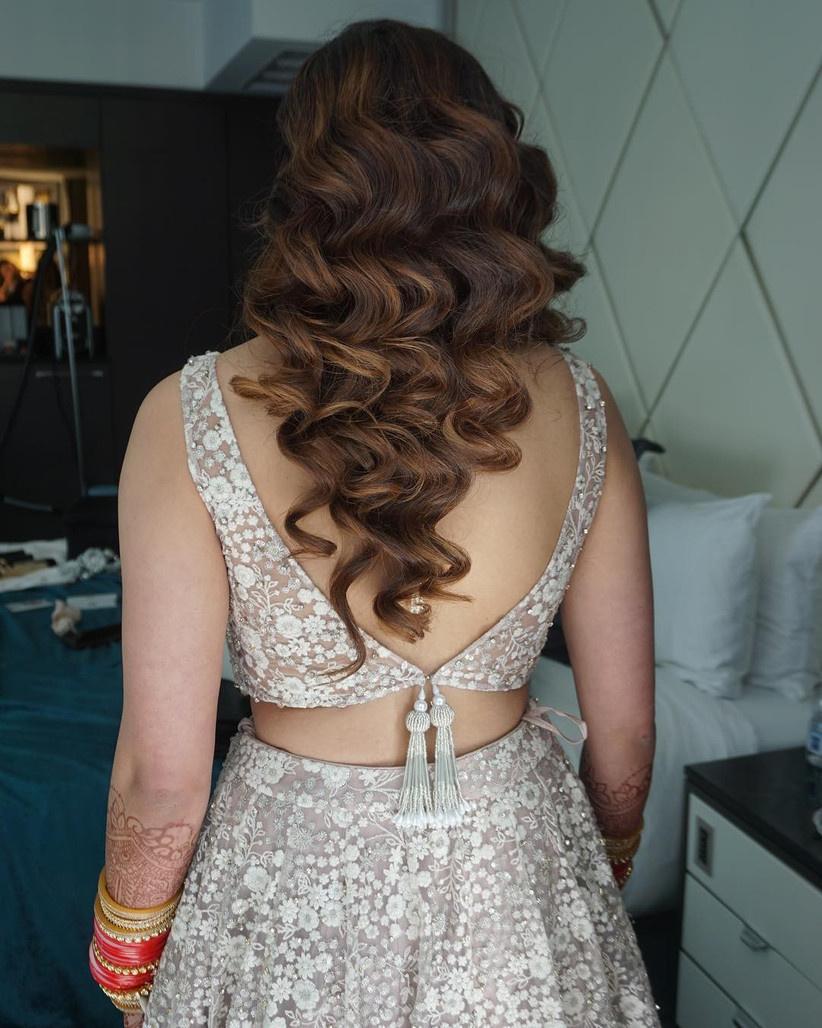 Image Courtesy: Blue Rose Artistry
When one thinks of a blouse back design with lace, one typically pictures white. There's just something about this color that makes it perfect for lace fabric. This V-necked design is predominantly made of sheer fabric, making this look quite glamorous from the back! Something as simple as adding these white Latkans for a blouse goes a long way in making this outfit more appropriate for a wedding. You can also replicate this look with baby pink fabric if you are not comfortable wearing white to a wedding!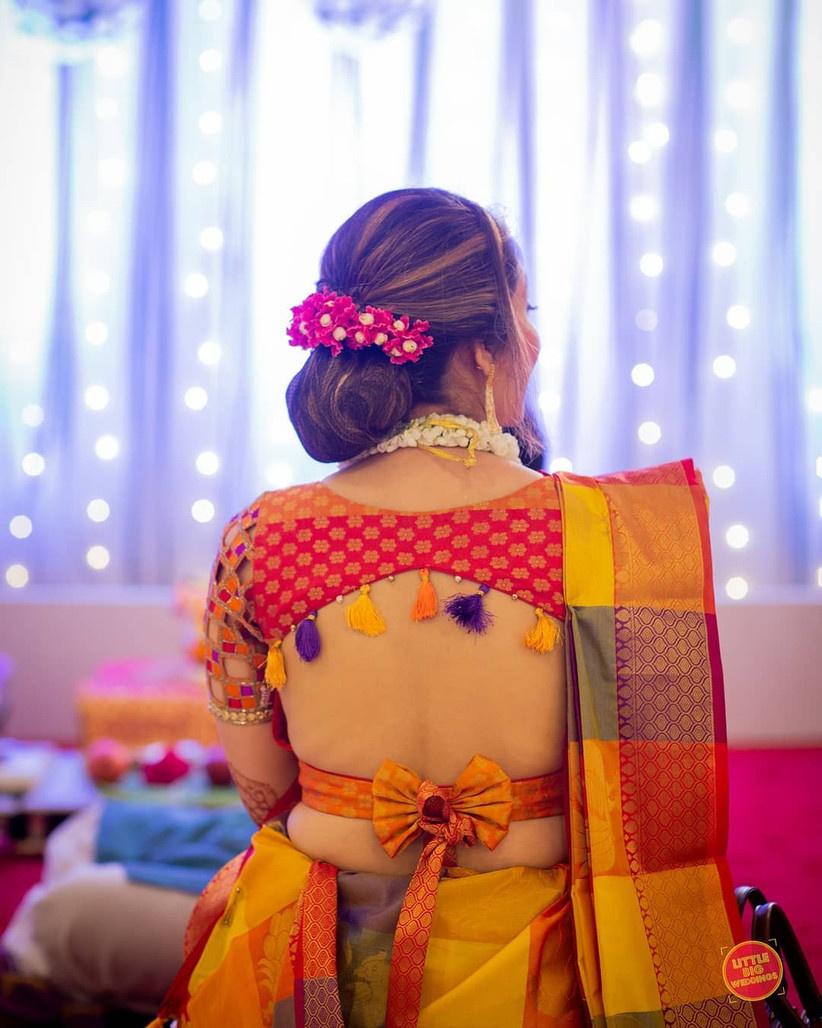 It's the smaller details that come together to create a look. The bright fabric tassels on this blouse are gorgeous yet minimal, but that's not the only thing that makes this blouse's back neck design great. The butterfly bow that presumably matches the bride's saree adds excellent detail to the back of the blouse, giving it some much-needed character!
This simple deep square back neck blouse design by Anita Dongre will be the talk of the town days after the wedding is over. Simplicity is elegant, and proving that right, this simple sleeveless blouse design in white is perfect for the ladies who would like their blouse back design to look sexy yet minimal.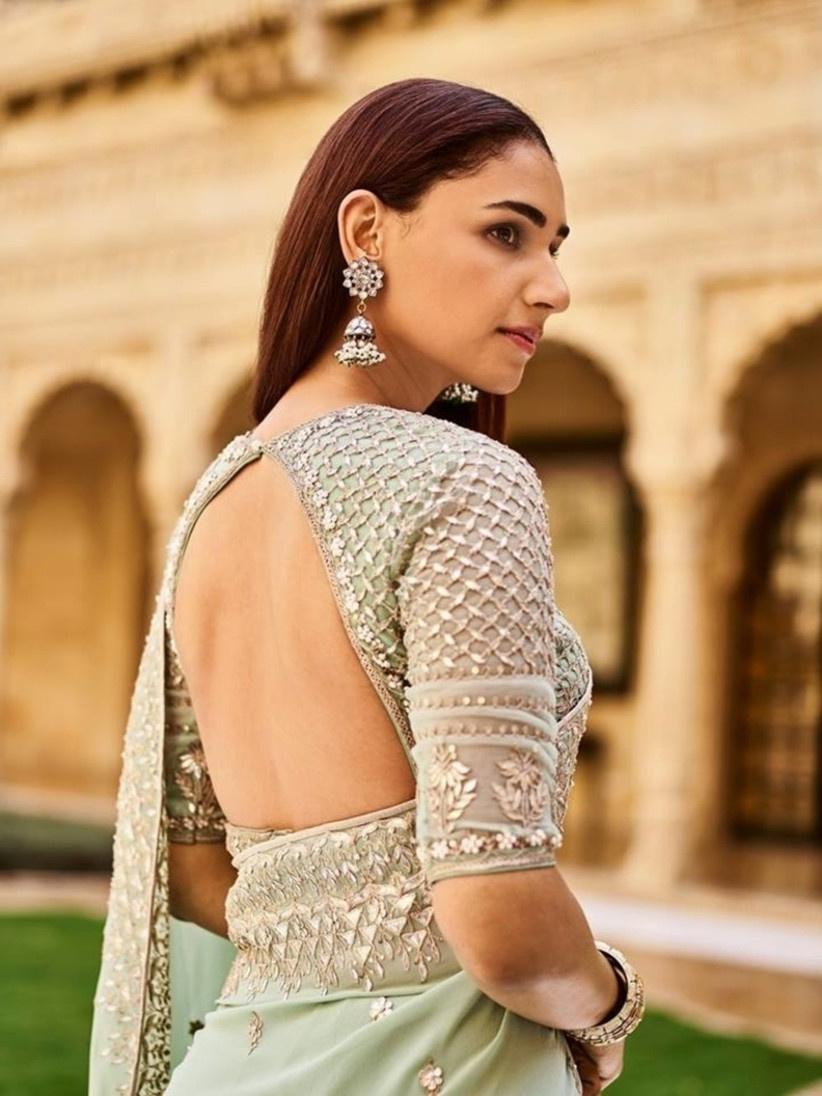 Another classic by Anita Dongre, this triangle cutout back neck design for the blouse is a gem. It will immediately add glamour to your outfit and yet keep the look sophisticated and straightforward overall. You can even customize this new blouse back neck design by turning it into a modern high neck blouse design front and back instead of the regular front neck it has.
Also Read: 15+ Trendy Plunging Neck Blouse Designs for You to Turn Heads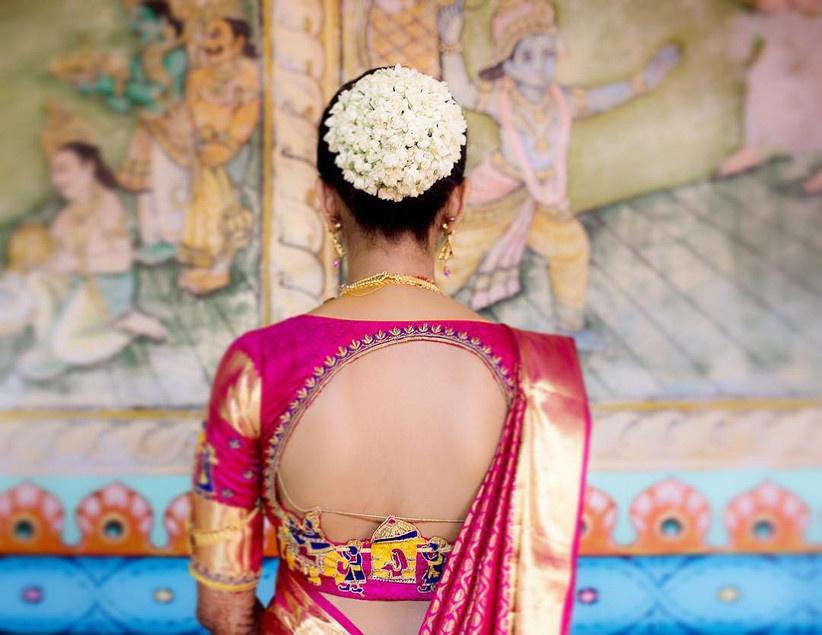 The variety you see for silk saree back, neck silk saree blouse designs is mind-boggling. And this elaborate cutout on the back of the blouse neck will make you stand out. Wedding blouse back neck designs need not be complicated, and this traditional silk blouse back neck design with borders is just what you need if you are looking for a simple yet beautiful wedding blouse back neck design.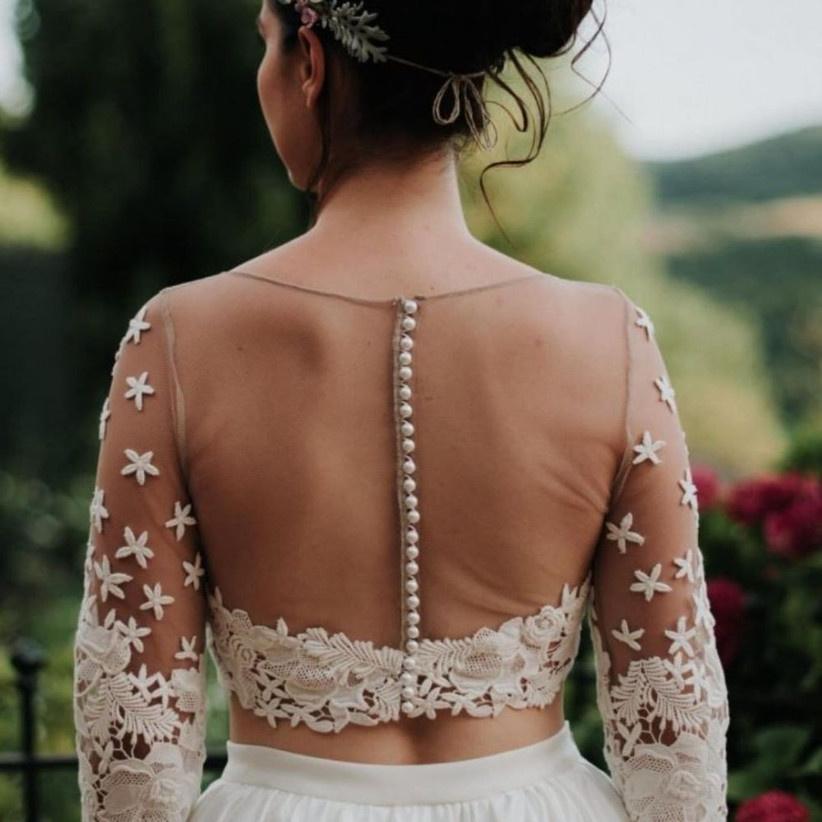 Image Courtesy: The Vogue Vista
Sheer back neck blouse designs might look simple at first, but they add volumes of charm to your overall outfit. Be it a white lehenga or a white saree that you pick, the full sleeve blouse with sheer back is just what you need to add to the oomph. This blouse back neck design in the net is an allure you must add to the bridal wardrobe without fail.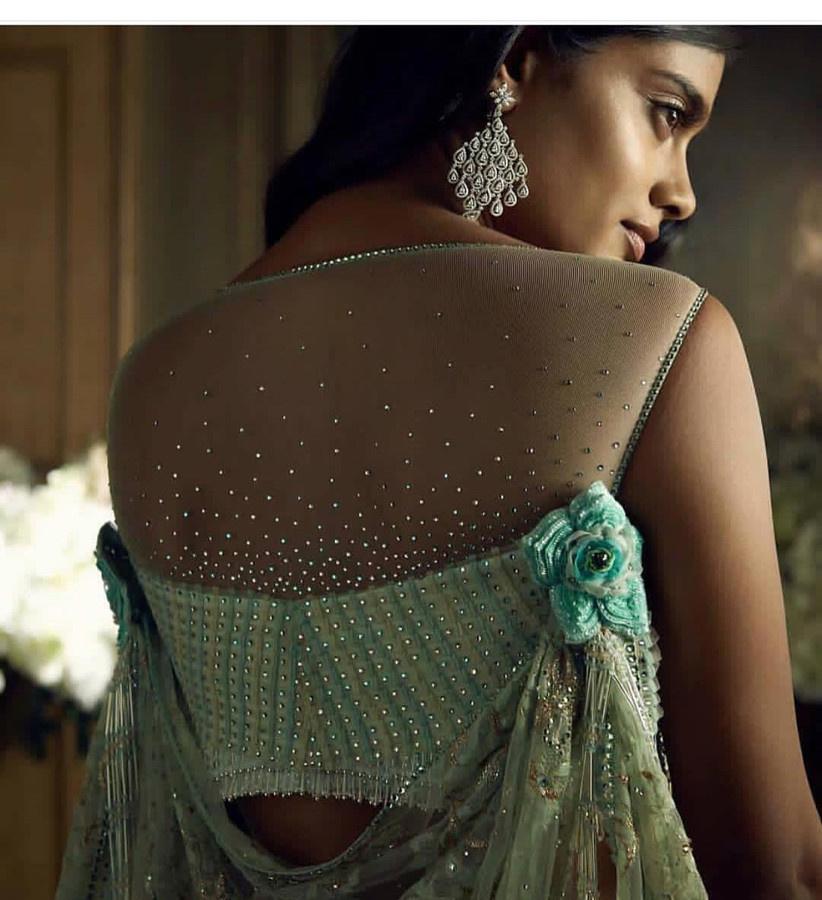 Image Courtesy: Wedding Designer Blouse
Sheer back neck designs for a blouse are some of our favorite back neck stylish latest blouse designs. The simple booti work creates an ombre effect on the sleeveless net blouse with the flowy organza fabric that makes a dramatic impression. The elaborate flowers that pin the flowy fabric to the blouse are also appeal elements in this particular simple blouse back neck design.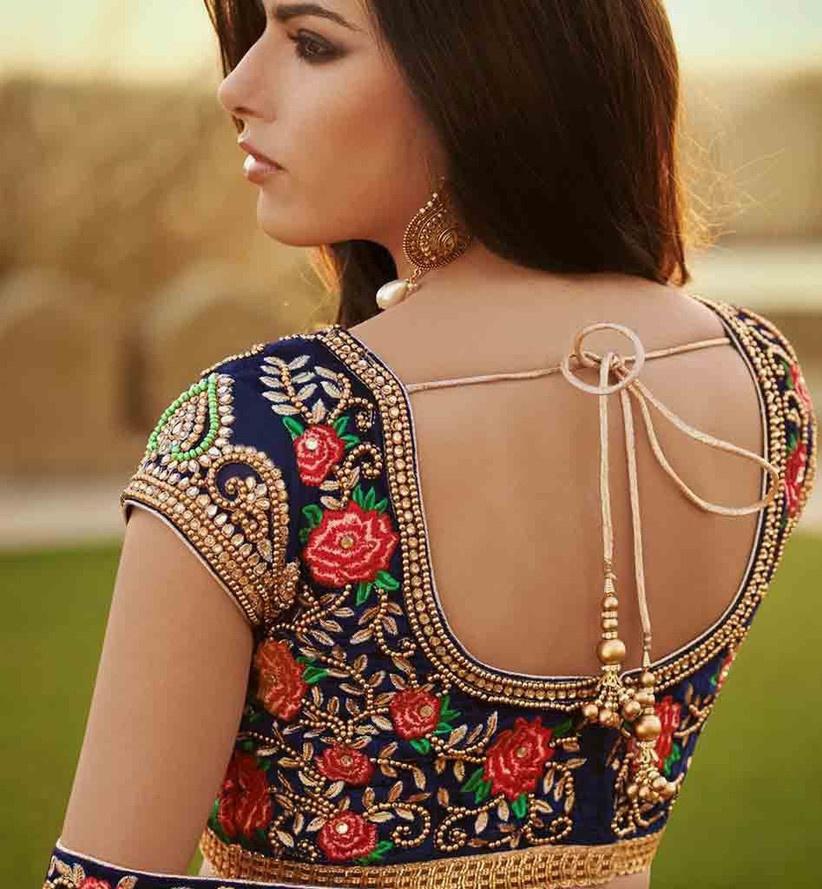 Image Courtesy: Pinterest
This beautiful black colored blouse with a golden border has a similarly colored tie string with tassels. The unique designer blouse back neck patterns of this blouse are its intricate embroidered colourful floral patterns that have been created in the back and look imperial. Even with a backless design, this blouse does strike all the traditional notes, making it apt for the bride at her wedding. Many brides want to add floral elements to their wedding attires, and this is a great and creative way of doing it.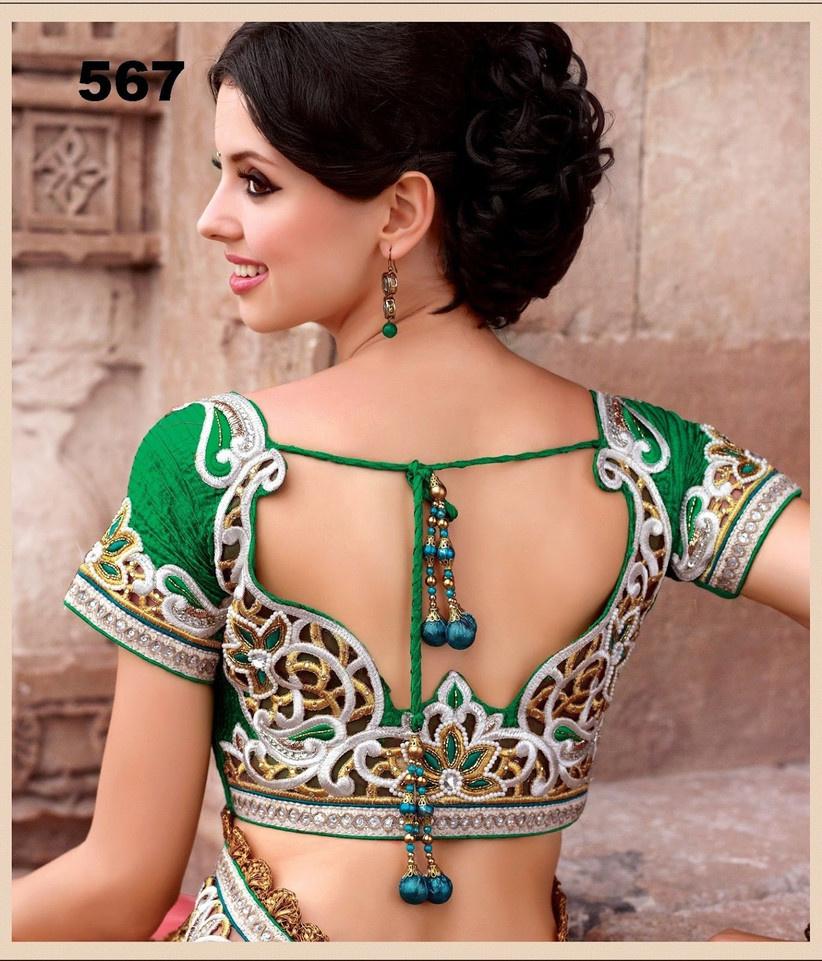 Image Courtesy: Mondcivitan
Filled with one of the most intricate designer blouses back neck patterns, this blouse has a curvy back, outlined with a white embroidery which brings out the blouse's green color. Tied with tie strings on the top along with tassels, the embroidery goes on to be more intricate and charming.
Before you get a blouse back neck design cutting done, it's essential to know your body type and the kind of look you are aiming for. Different types of back neck designs suit your body type or accentuate your features to make you look stellar, so you need to make the right choice. Before confirming your back neck design, check if you have an apple, pear, diamond, or hourglass body shape and try out some sample blouse designs to be double sure. You must also prioritise the outfit, and what kind of blouse back neck design will complement the outfit you have in mind to make sure you wow the eyes of the beholder.
PS, make sure to pick the correct type of fabric because the flow and texture of the fabric you pick to design your blouse back neck will decide the fate of the silhouette you have in mind - be it a trendy or straightforward blouse back neck design.
Did you find the ideal blouse back neck design for the big day yet? Let us know your favourite picks in the comments below!
Read More -
Mehndi Design | Proposal Lines | Simple Finger Mehndi Design | Arabic Mehndi Design | Propose Day Quotes for Boyfriend | Wedding Anniversary Wishes for Sister | Change Aadhar Card Name after Marriage | Tamil Wedding Calendar | Simple Mehndi Design | Pre Wedding Quotes | Engagement Anniversary Wishes | Funny Wedding Wishes for Bestfriend | Blouse Design | Rangoli Design | First Night Tips for Bride | Wedding Anniversary Wishes