100+ Trendy Saree Blouse Designs for the Brides of Today
Take a look at the latest saree blouse designs that we have specially curated for you. Bookmark your favourite ones right away.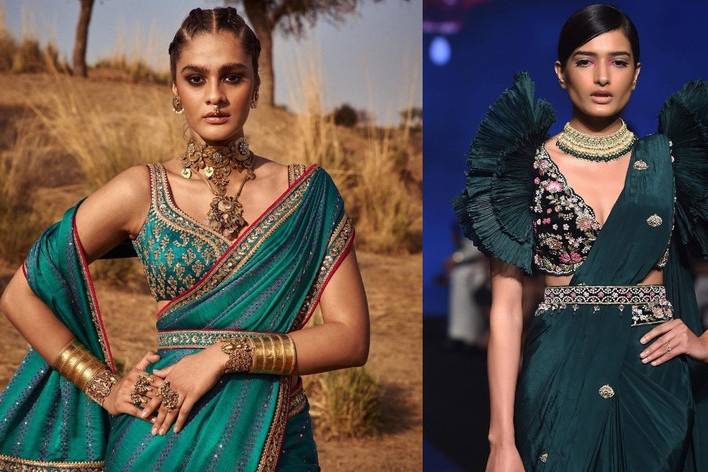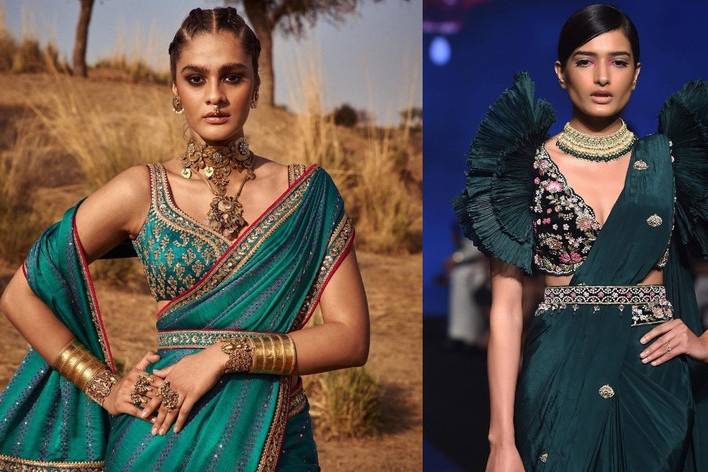 Image Courtesy: Anita Dongre (L), Kalki Fashion (R)
Brides often make a blunder of choosing their bridal saree without checking the finishing of their blouse. While you are busy picking the best designer saree for your wedding ceremony, you must remember that a matching saree blouse design for your wedding is as important as your wedding saree when it comes to your wedding wardrobe. The wedding saree blouse design can make or break your whole look. There is a lot at stake when it comes to picking the perfect sleeve design for blouses. If elegantly stitched, the variety of wedding saree blouse designs not only complete the outfit with elan but also elevate your bridal look to a whole new level.
The brides of today are known for their knack for experimentation, and indeed each time a millennial bride has experimented with their wedding saree blouse designs, they have ended up creating something worth turning heads. Right from getting their love story embroidered on their saree blouse designs to incorporating quirky elements such as an oversized bow, chic latkan designs, going for a unique blouse back neck design to opting for dramatic sleeves and bold plunging necklines - the choices are endless, making it a tad bit confusing at first.
However, picking the perfect blouse that will complement your saree in the best ways is of utmost significance to bring the outfit to life, and this is why we have cherry-picked some of the best saree blouse designs in various base fabrics to suit your particular saree flawlessly. Find the top and trending saree blouse designs right from the comfort of your couches right now!
100+ Latest Saree Blouse Designs
In this article:
2. Cotton Saree Blouse Designs
4. Chiffon Saree Blouse Designs
6. Wedding Saree Blouse Designs
Silk Saree Blouse Designs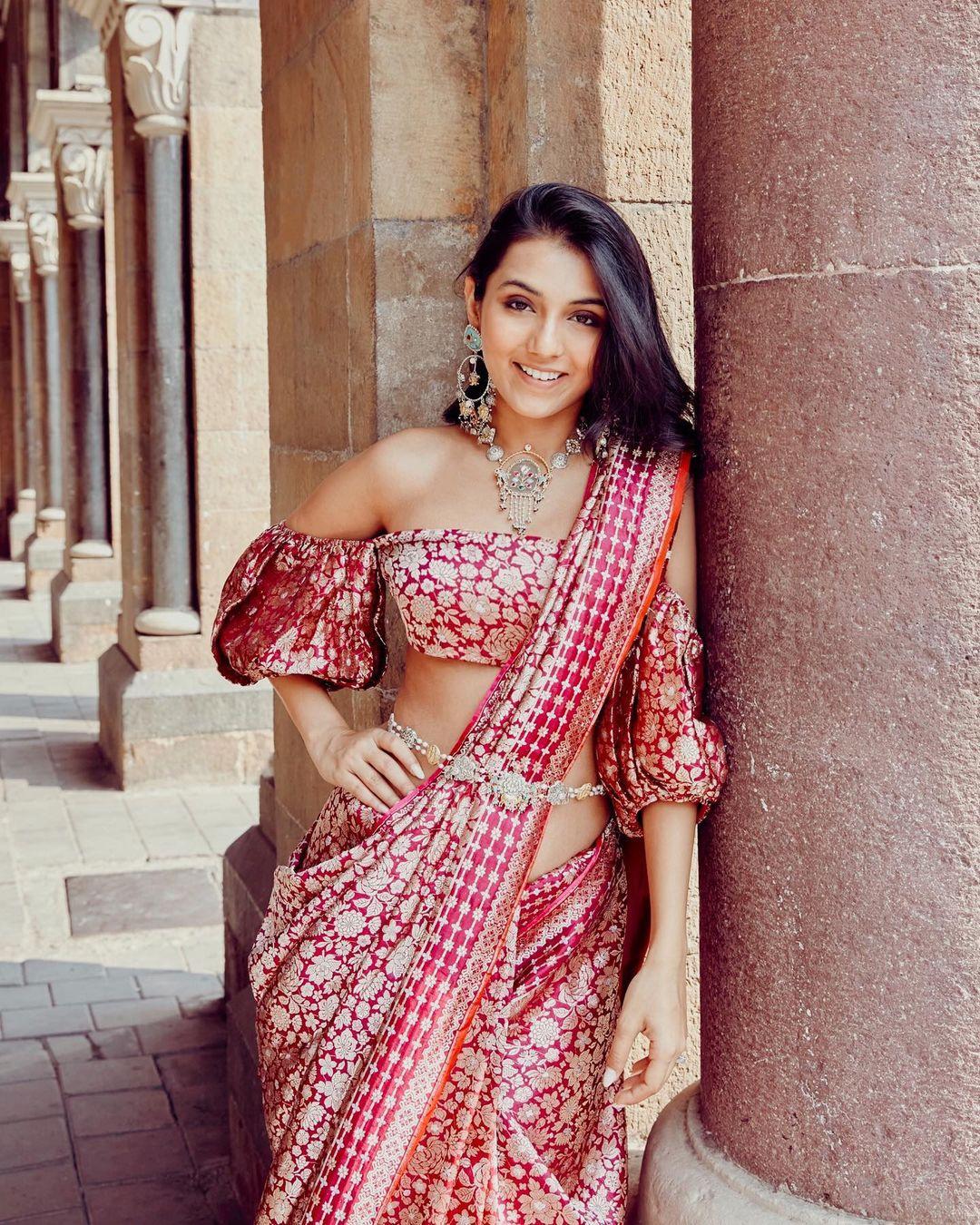 Image Courtesy: Masoom Minawala in Ekaya Banaras
Setting your style statement right, this handwoven maroon silk saree blouse is a class apart. Masoom Minawala has styled her maroon silk saree with this off-shoulder silk saree blouse design and a Kamarbandh accentuating her curves and making her look stellar.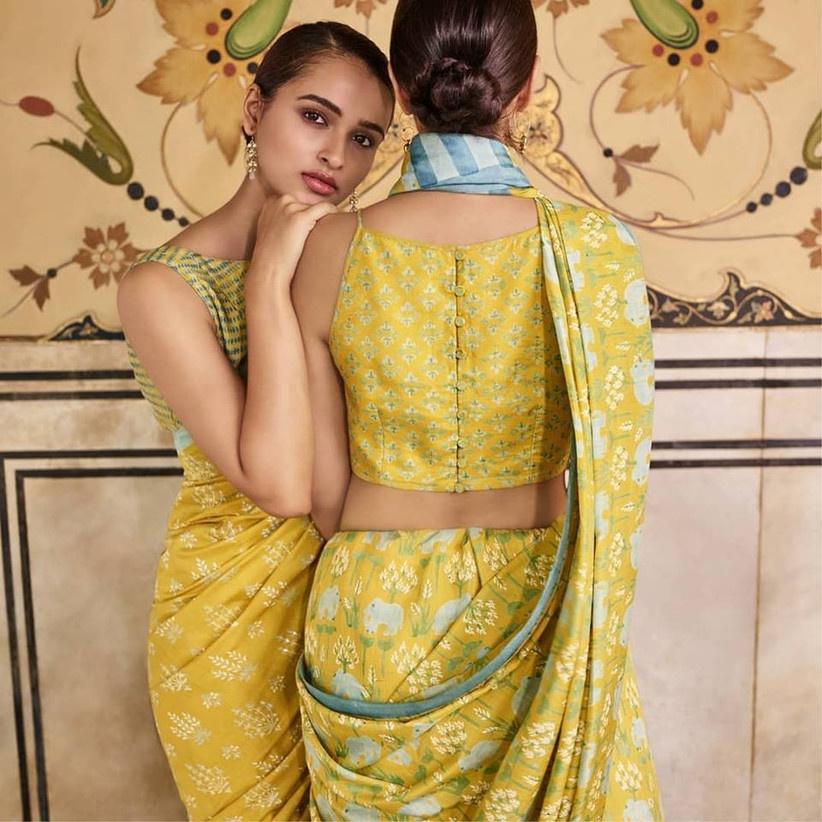 This elegant sleeveless blouse with a buttoned back is a stylish choice to wear at your engagement or Roka ceremony. The spaghetti straps will enhance your day's ceremony look even more. Try and keep your makeup minimal and jewellery OTT to bring out the best of this silk saree blouse design.
Also Read: Blouse Designs: 150+ Traditional & Stylish Blouse Patterns for Your Wardrobe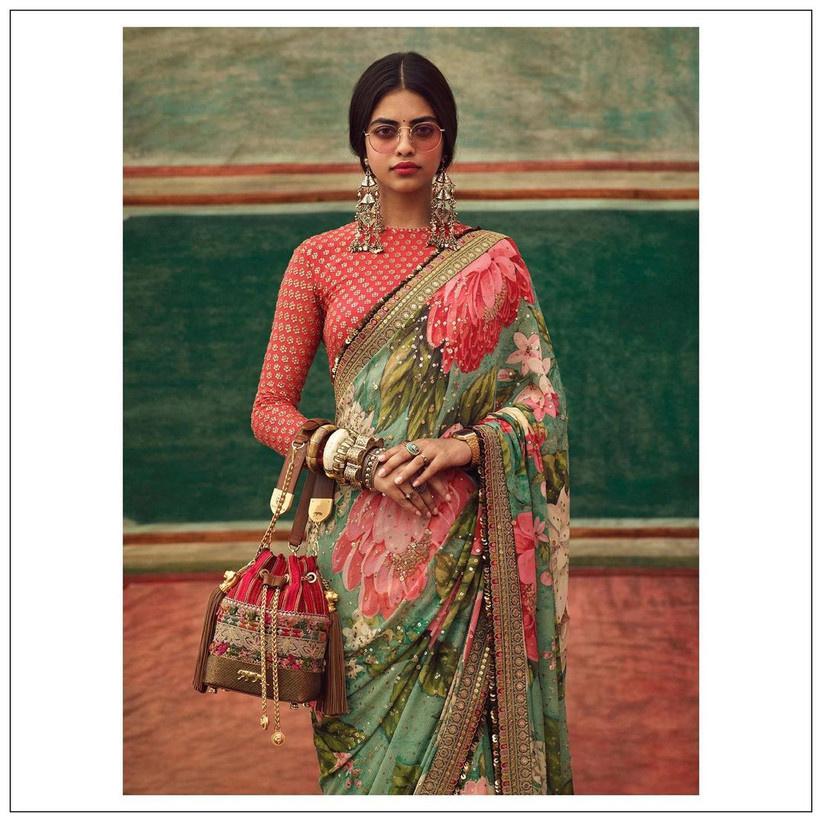 Image Courtesy: Sabyasachi
This red full-sleeve blouse with embroidery is neither too loud nor too flashy - perfect for the modern bride, even for a day wedding ceremony if you're planning one. The silk saree blouse design trend that's inspired by traditional blouse designs with booti work looks great with a saree. You can also try this style with a sheer back or give it a backless look and turn it into a fancy blouse design.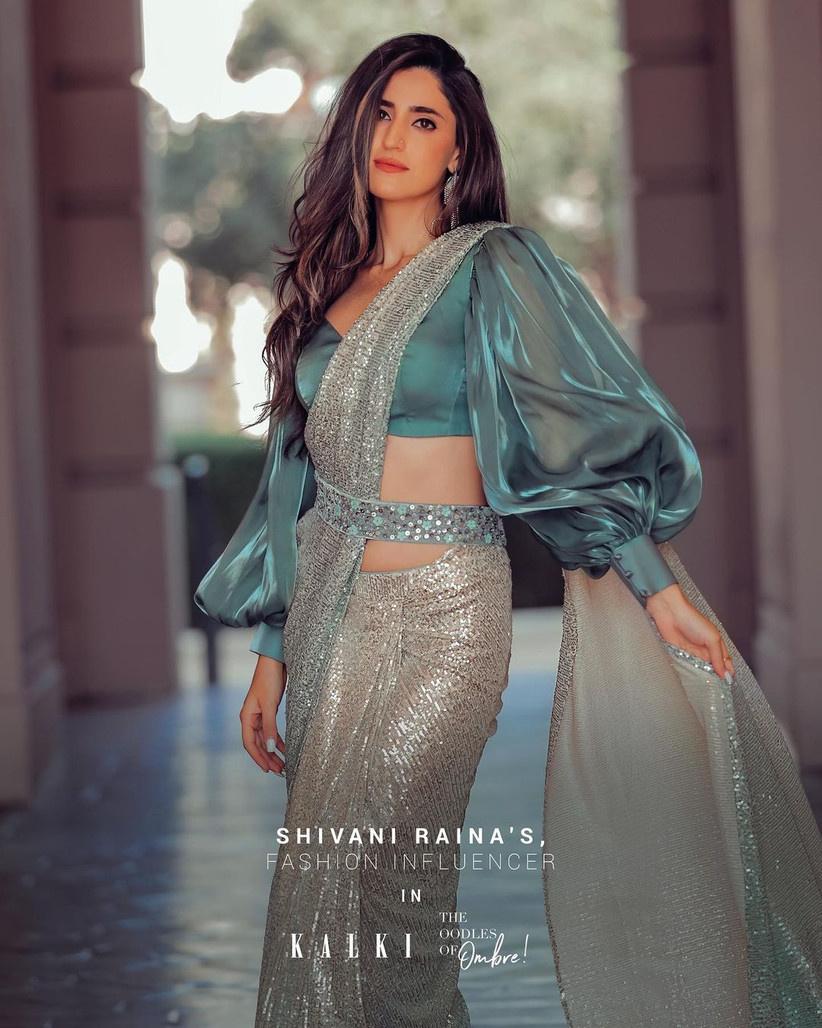 The aqua green ombre ready-to-wear pleated sequin saree is a sight for sore eyes and what makes it stand out is the dramatic sleeve of this organza blouse with silk bodice in dark aqua green is a beauty that will accentuate your overall look for the cocktail evening or your sangeet ceremony. You can pick this elaborate full sleeves designer silk saree blouse design and pair it with a sequin lehenga to get set for the reception as well.
Also Read: 50+ Wedding Blouse Designs- Latest and Trending Wedding Blouse Designs Of 2021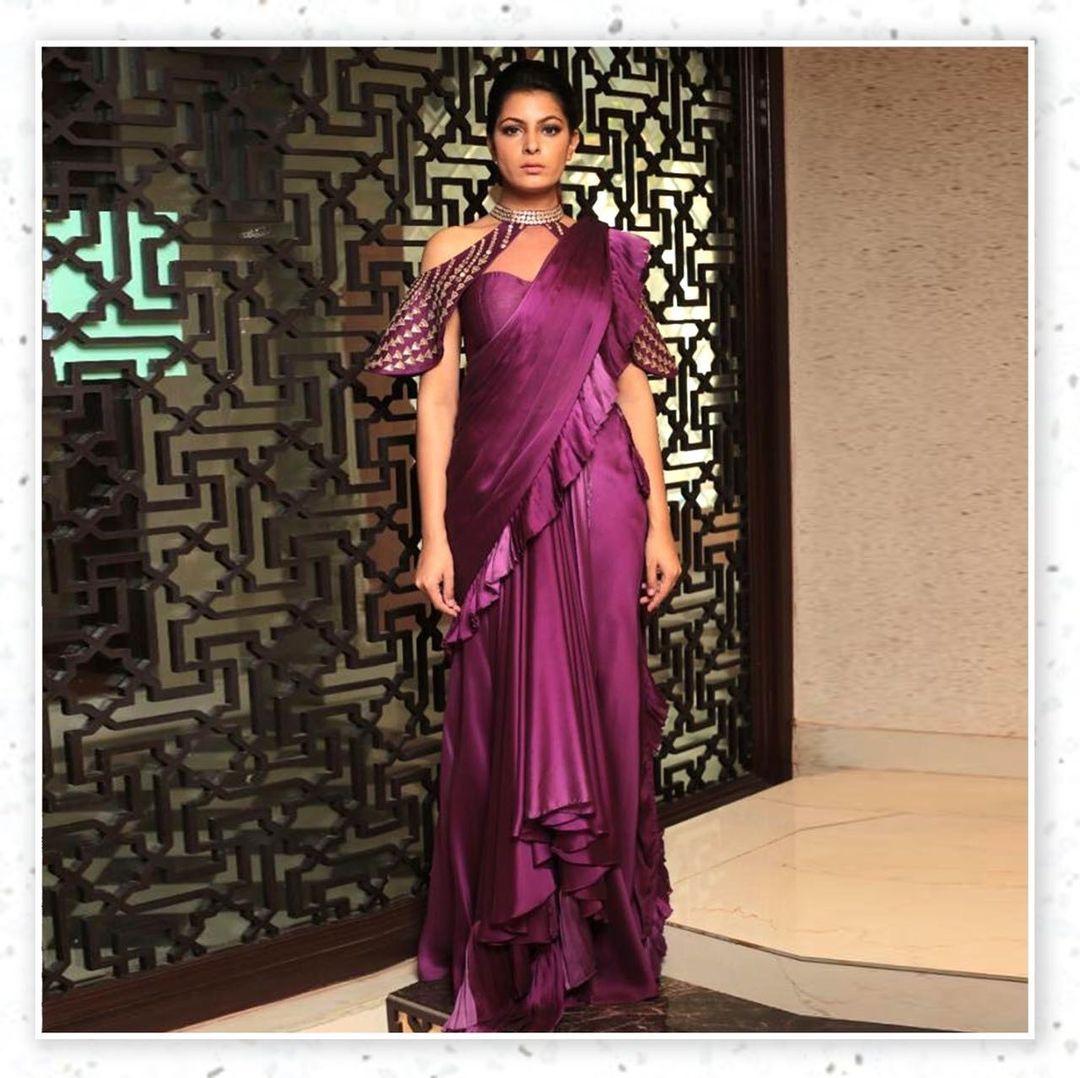 If over the top is your style but you also want to keep it chic, then this amazing silk saree blouse design by veteran designer Reynu Taandon has to be included in your wardrobe without a miss. The colour and sheen of the fabric make it appropriate for your reception or even your Cocktail night.
Cotton Saree Blouse Designs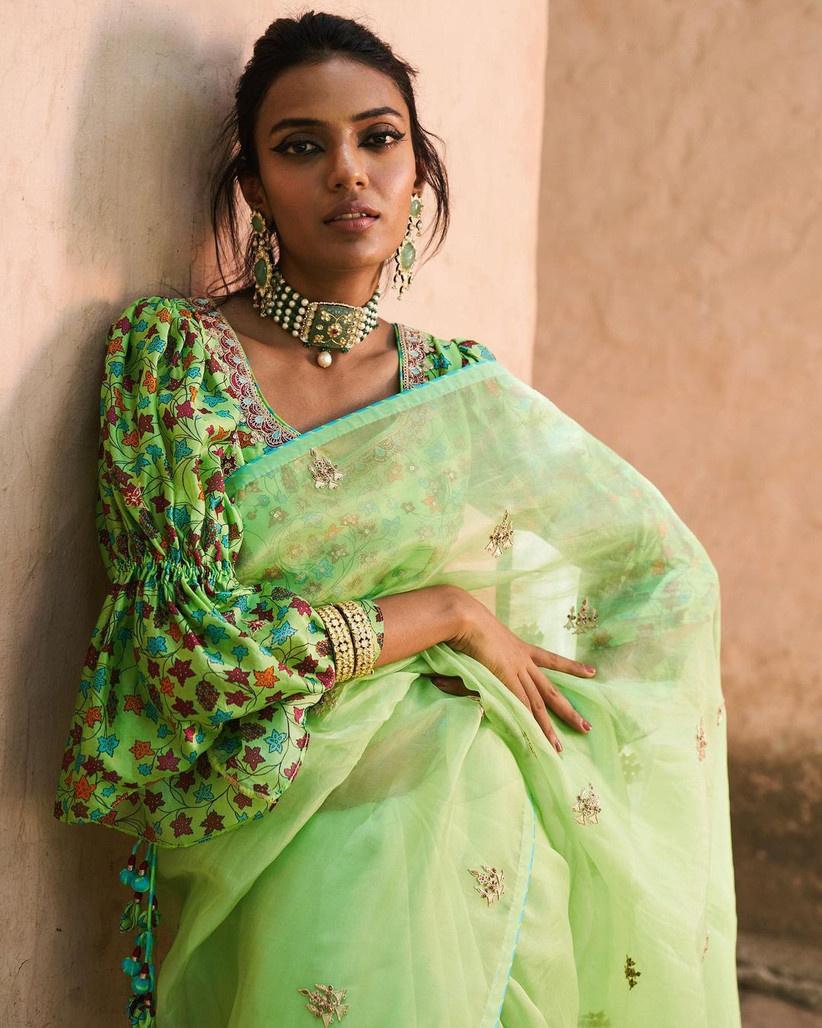 Image Courtesy: Punit Balana
Bishop sleeves and shoulder puffs are for all those brides who love to add a little drama to their outfits. The bright green blouse with the floral print and gathered bishop sleeves is a perfect full sleeve blouse for the cotton sarees. This Punit Balana design is a beauty in the name of a cotton saree blouse design!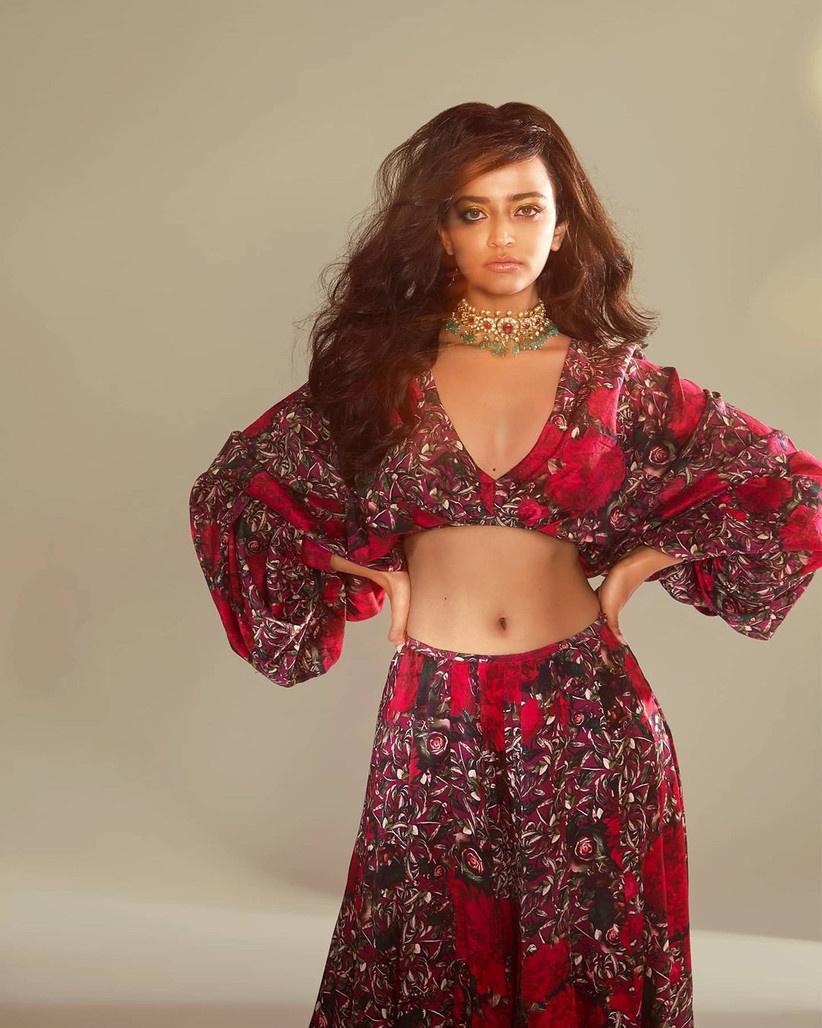 For a beach wedding or an intimate wedding in your backyard, wear this Magenta rose print cape style crop cotton saree blouse designed by none other than ace designer Shehlaa Khan. Your outfit is going to steal the show and leave your guests mesmerized.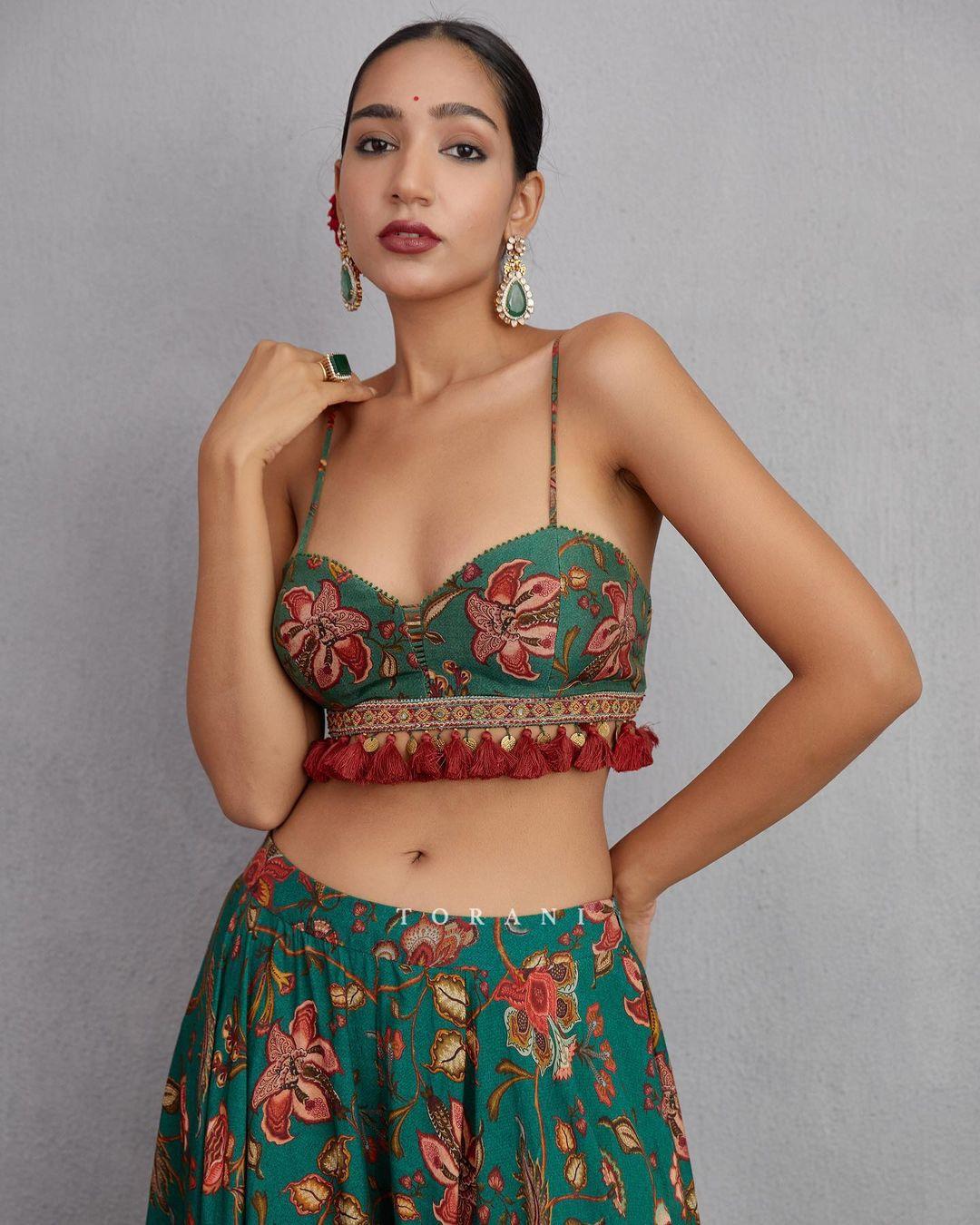 Image Courtesy: Torani
Discover the signature work of Torani with this delicate saree blouse design. Serving the Torani looks in a sumptuous palate of Rema, Sindoori, and Chandan shades and handcrafted in the most classic chintz for the festive season, this bustier blouse with spaghetti straps is a charming addition to your wedding wardrobe, especially if you are looking for top bridesmaids fashion trends.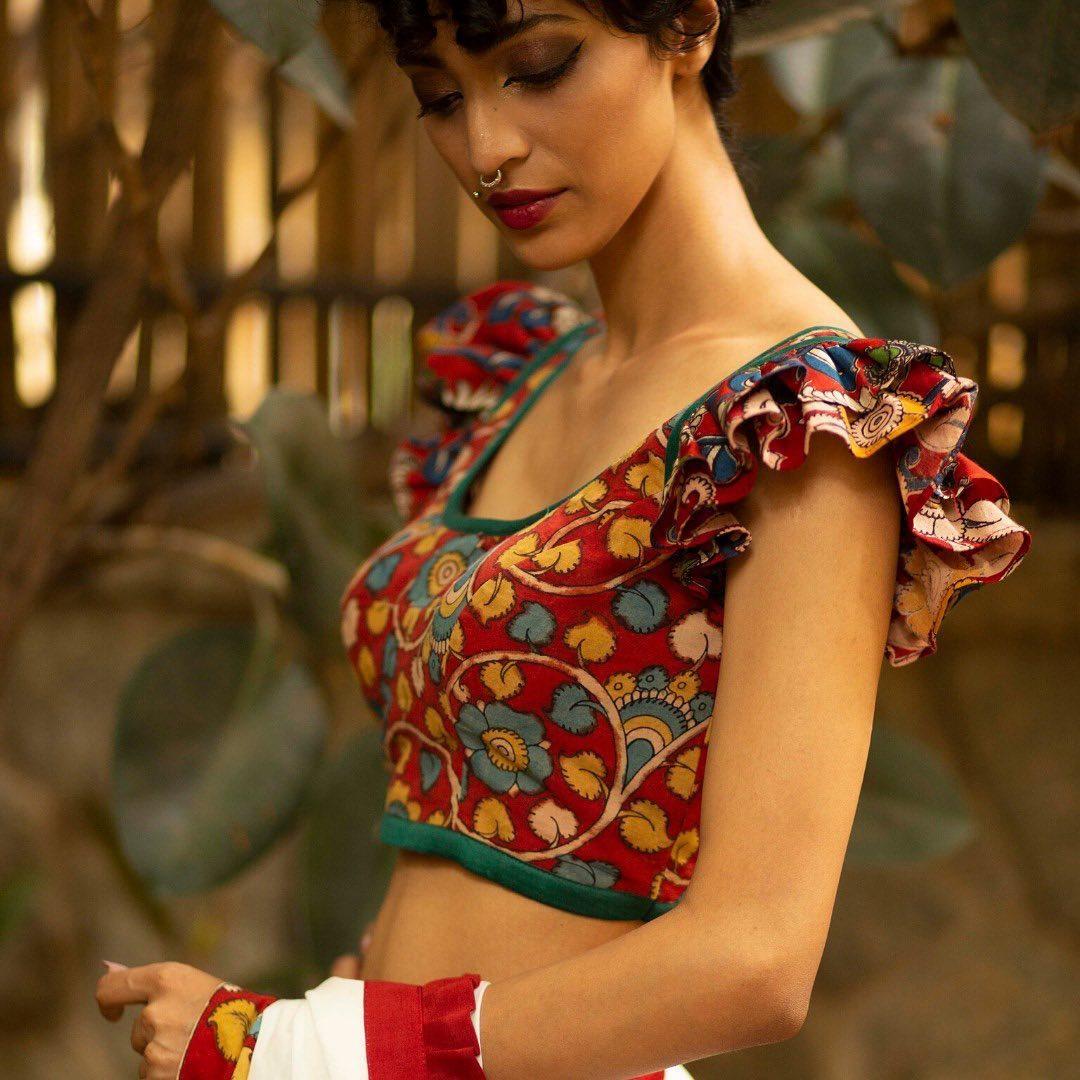 Image Courtesy: House of Blouse Dot Com
Another ruffled wonder! A sweet maroon Kalamkari blouse with double ruffled flutter sleeves. So very fun and a wee bit flirty. This piece is part of our introductory collection of ruffled blouses, which come with matching ruffled masks! The collection is called 'Ruffled Beginnings. When it comes to traditional cotton fabric, this saree blouse design with Kalamkari work might be the first of its kind.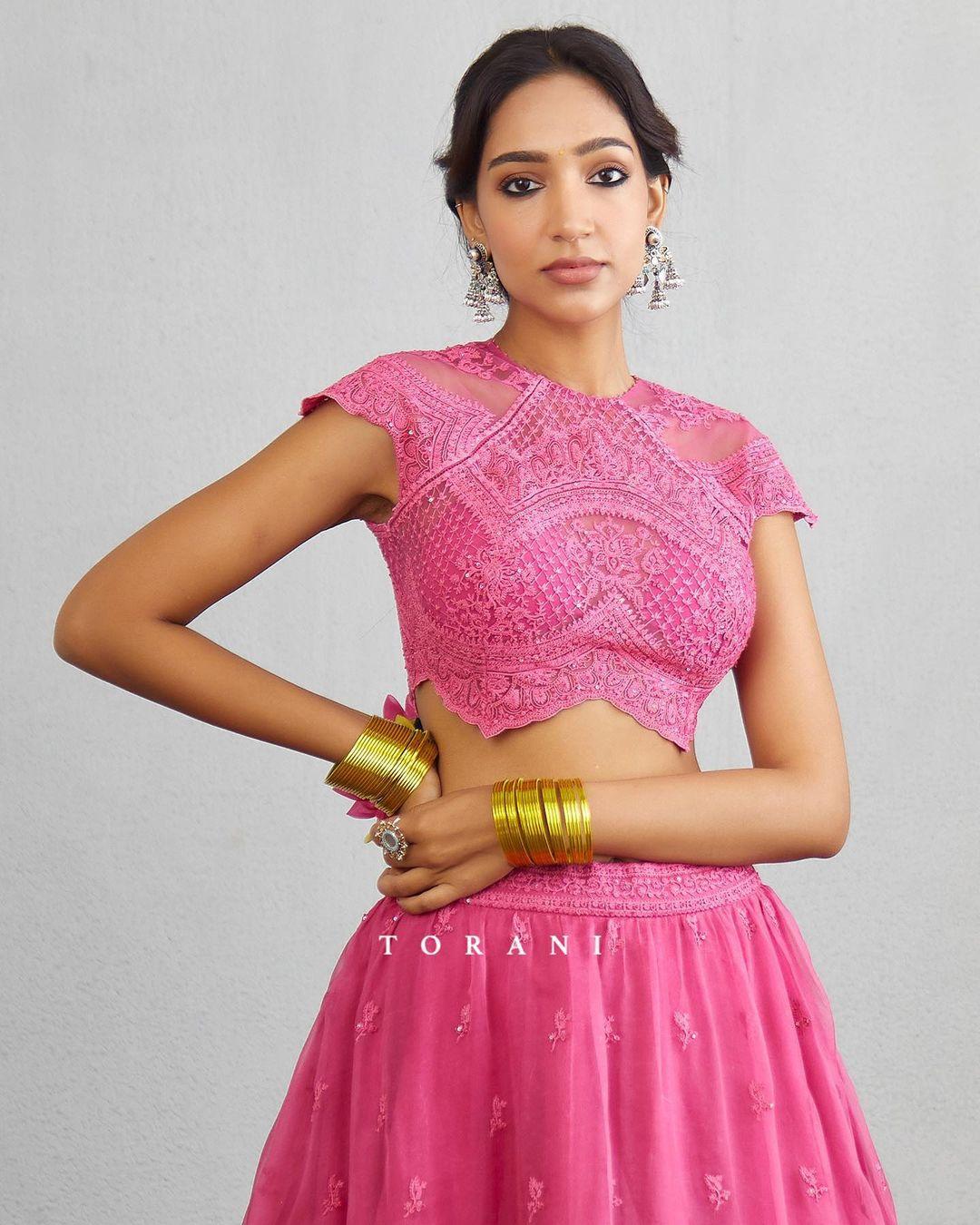 Image Courtesy: Torani
Take a look at this beautiful short-sleeve blouse design in cotton by Torani. The signature chintz motifs with delicate thread embroidery are going to accentuate your cotton saree in an instant. Make sure to accessorize it right to bring out the best from this cotton saree blouse design.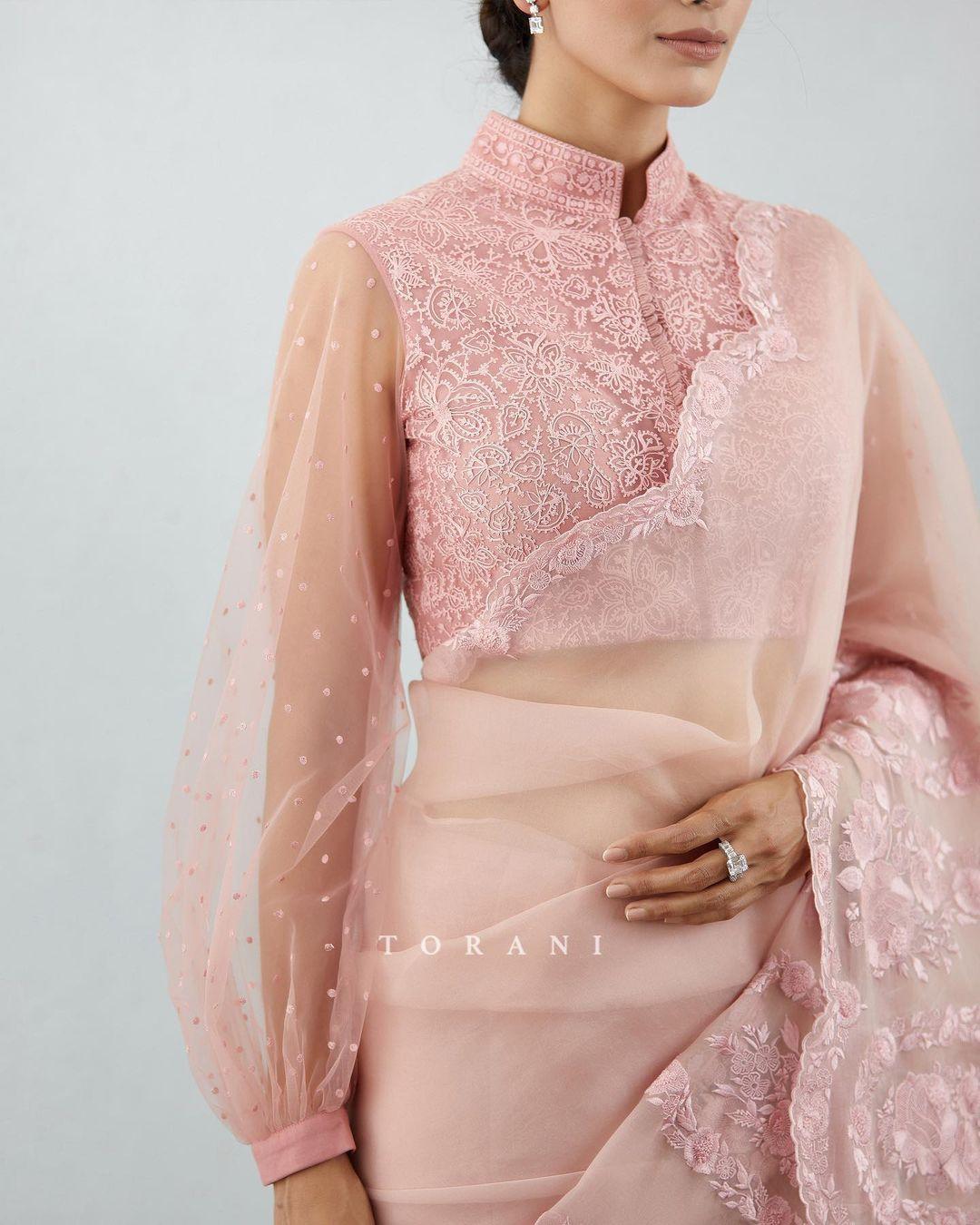 Image Courtesy: Torani
Handcrafted in the most careful and painstaking craft of Aari work on sheer organza combined with cotton, this complete sleeve blouse design is a charmer for summer weddings. Pick this cotton saree blouse design to amp up your bridal look, whether it is a day wedding or a night one. You can flaunt this saree blouse design as a guest too!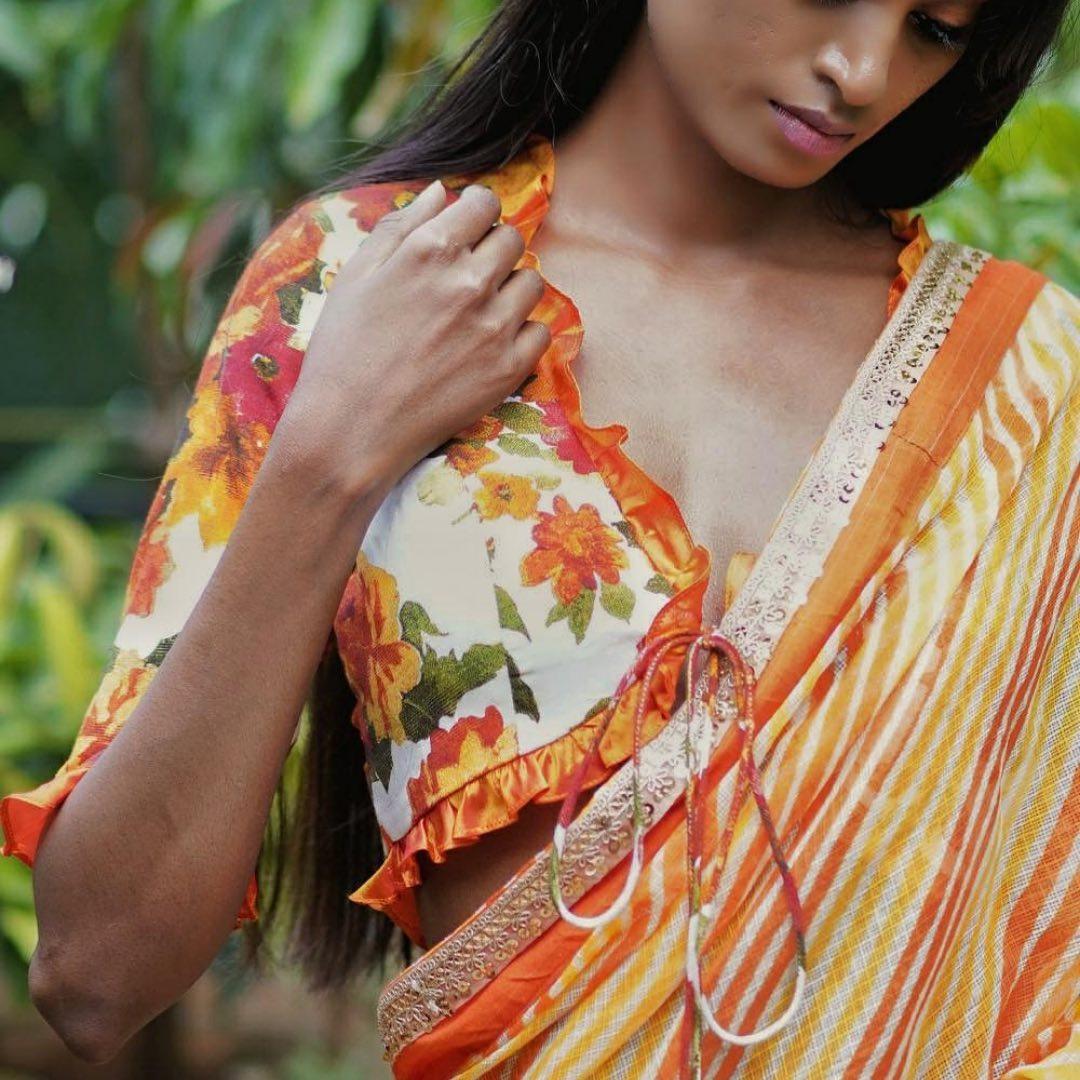 Image Courtesy: House of Blouse Dot Com
Be a wildflower in a garden of roses.⁠ We love everything wild and free, and this cotton saree blouse design is our testament to it. This piece by House of Blouse Dot Com flaunts off white and orange floral handspun & pure muslin fabric with a mesmerising V-neck blouse with frill detailing and a front tie that will enhance your cotton saree blouse look instantly.
Net Saree Blouse Designs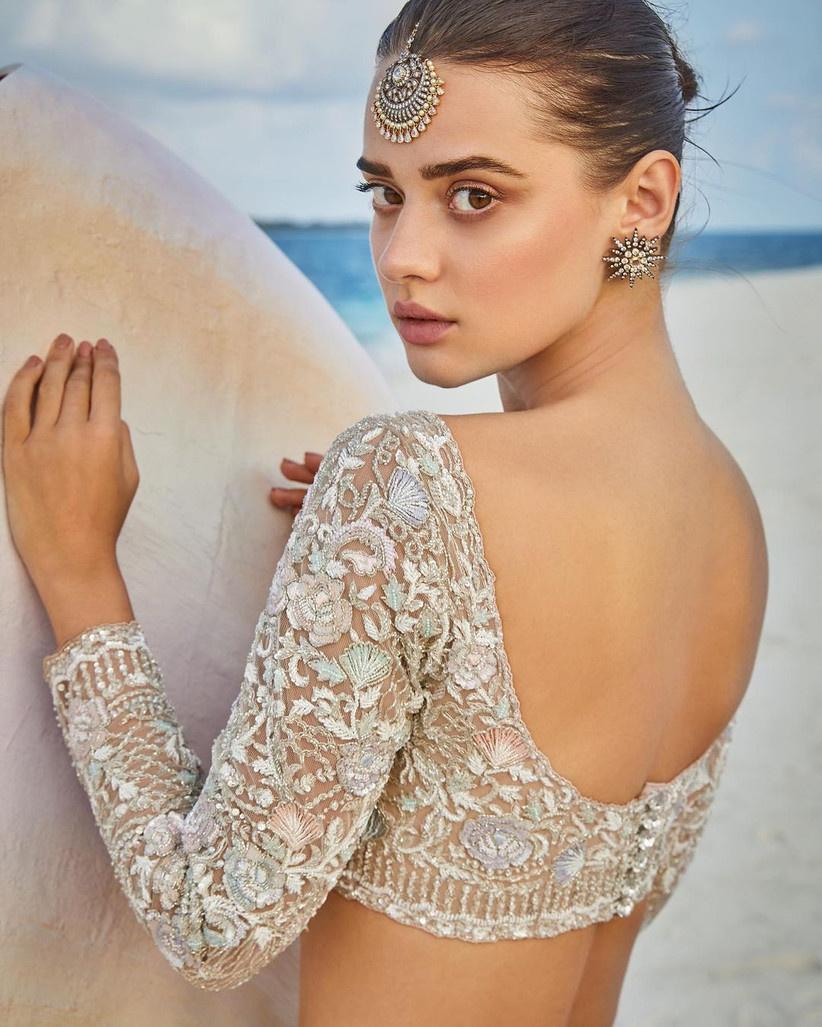 Image Courtesy: Kresha Bajaj
Tessellation detailing and all-over ivory embroidery with motifs of shells and other stunning underwater elements makes this net saree blouse design by Kresha Bajaj a hoot. Every bit of this full sleeve net blouse design is hand-embellished, and the multi-colored elements in over 20 shades are scattered all over.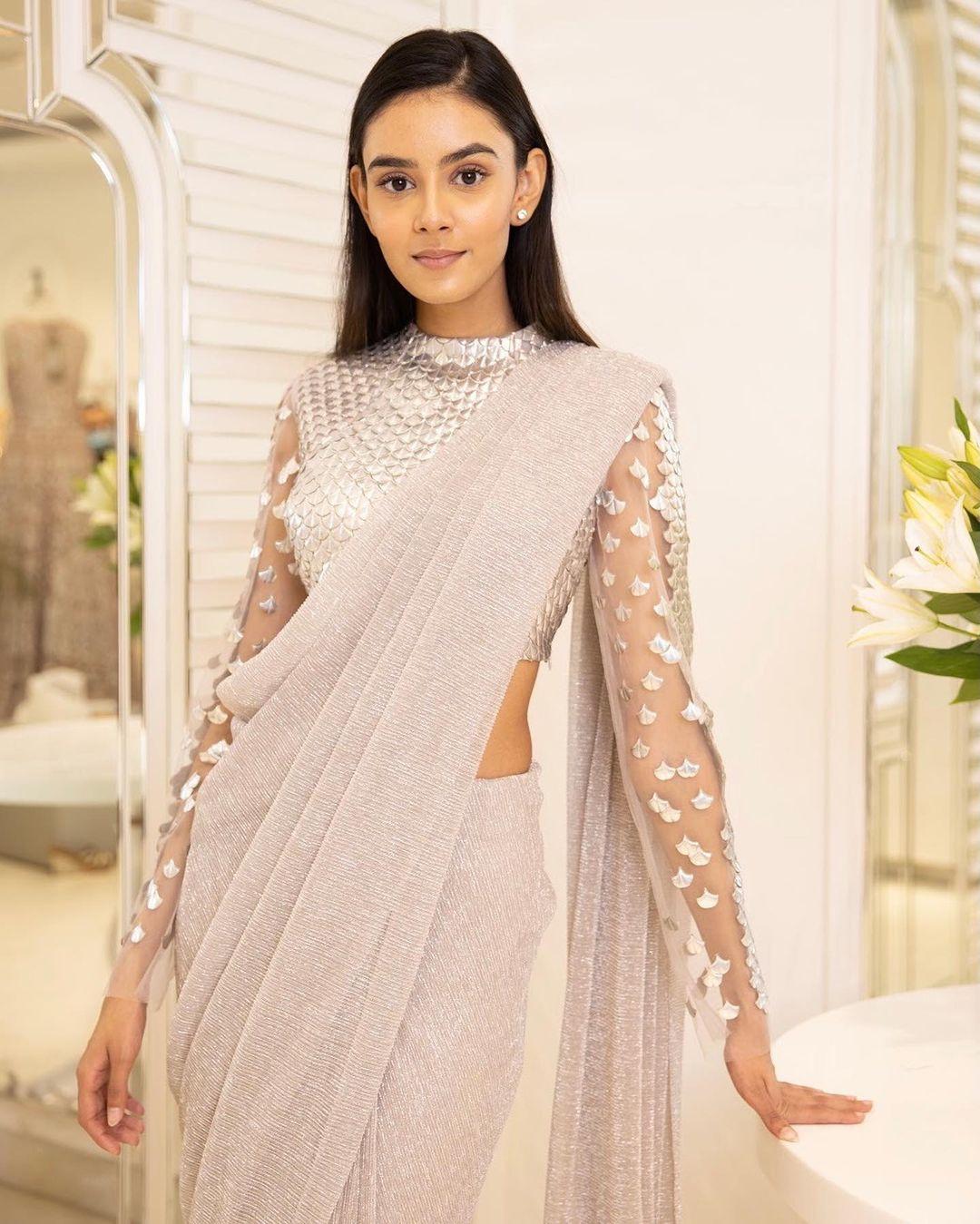 Image Courtesy: Pankaj & Nidhi
A fantastic design, this silver net saree blouse comes with a high-gloss metallic sheen applique that runs in a faded manner throughout the net blouse. The opaque bodice adds to the sheen of the outfit and makes you look glamourous to the T.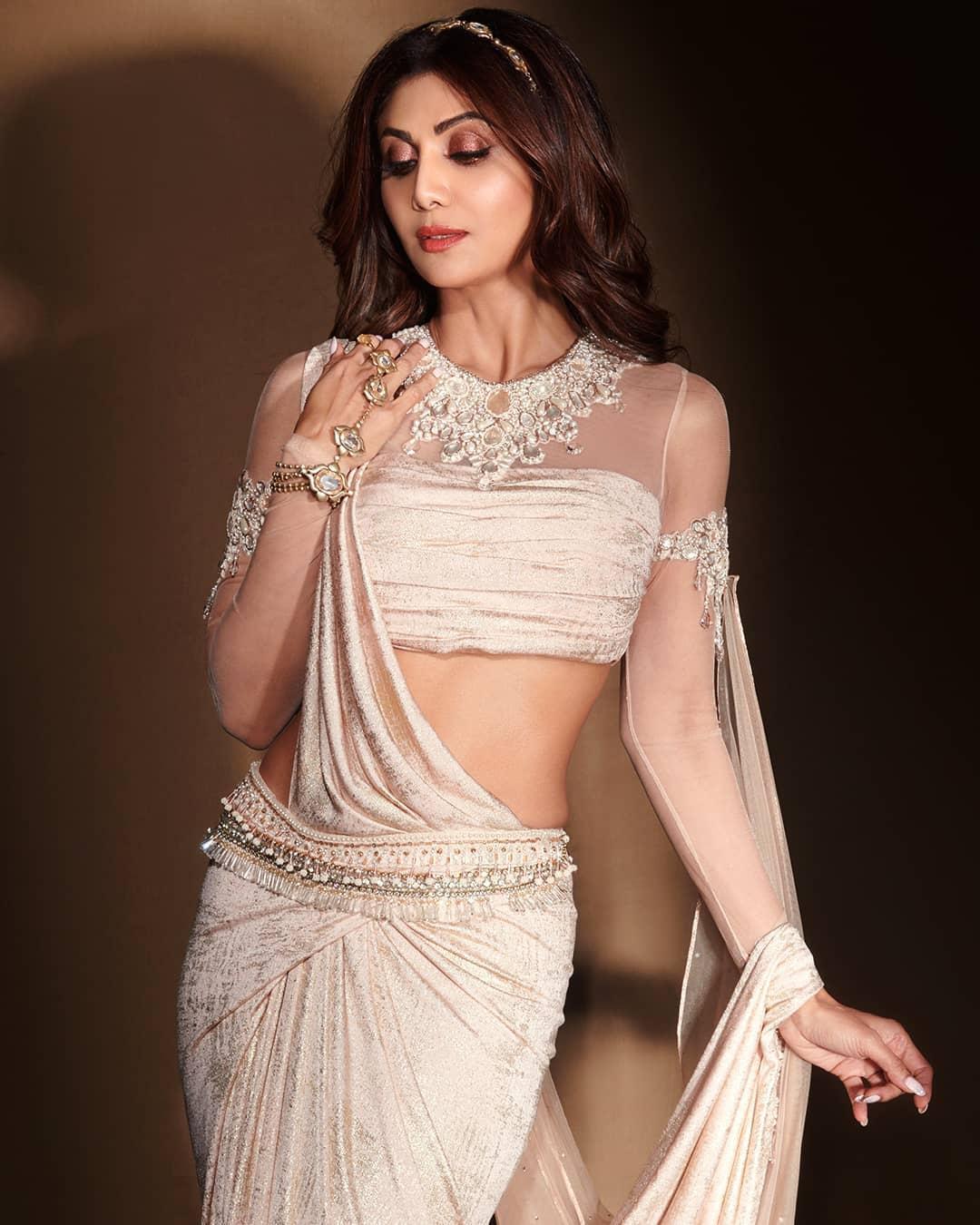 You are bound to look radiant in this metallic foil saree blouse design with net sleeves and a heavily embroidered neckline from the Timelessness collection by none other than ace designer Tarun Tahiliani. The gorgeous drape blouse embellished with pearl & stone embroidery on the neck and Bajubandh makes this net saree blouse design one of a kind.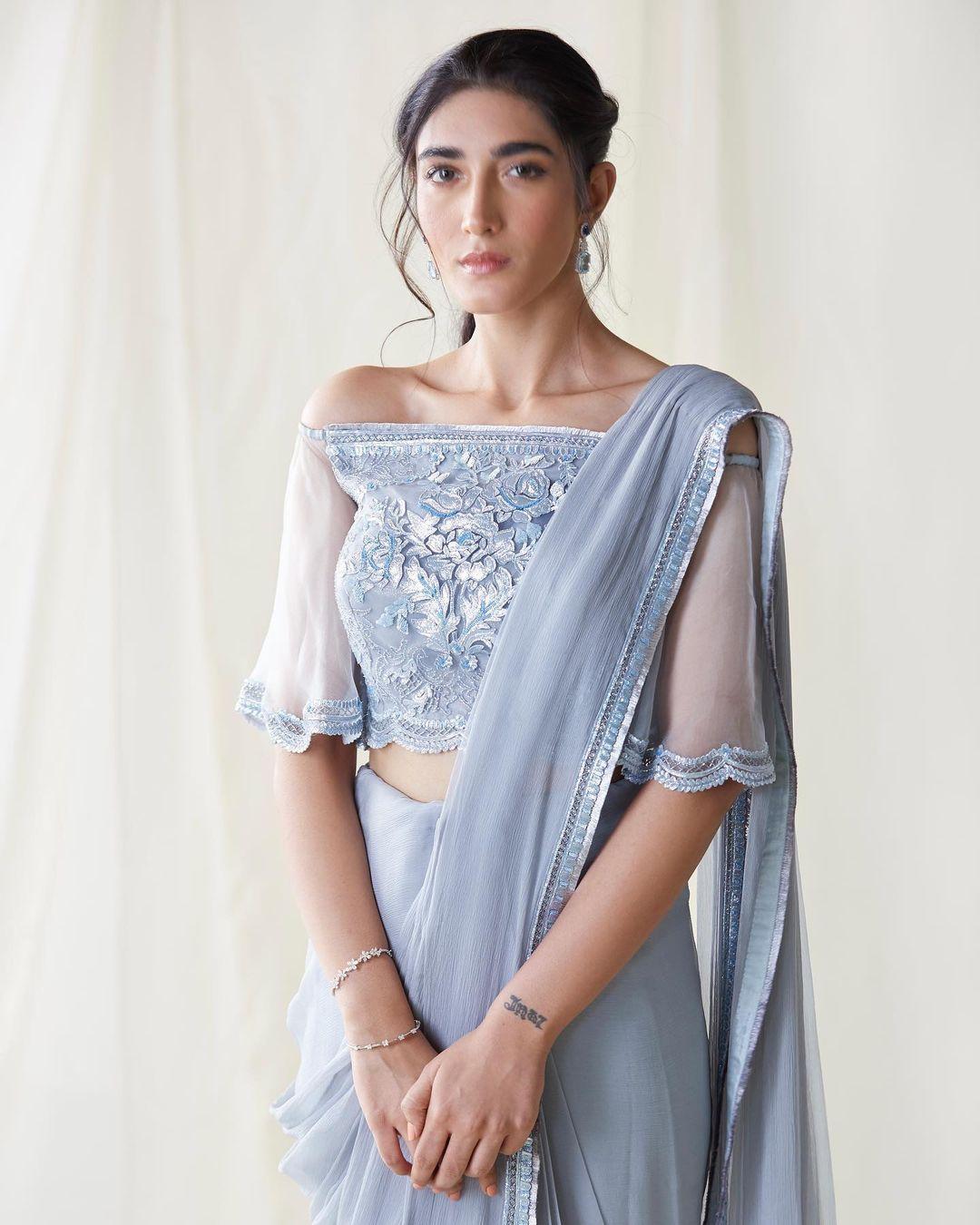 Image Courtesy: Pankaj & Nidhi
Mineral blue embellishments radiate an iridescent sheen over the translucent tulle in this elegant off-shoulder net saree blouse design. Pair this with a chiffon or tulle saree, and watch the heads turn in awe of your outfit.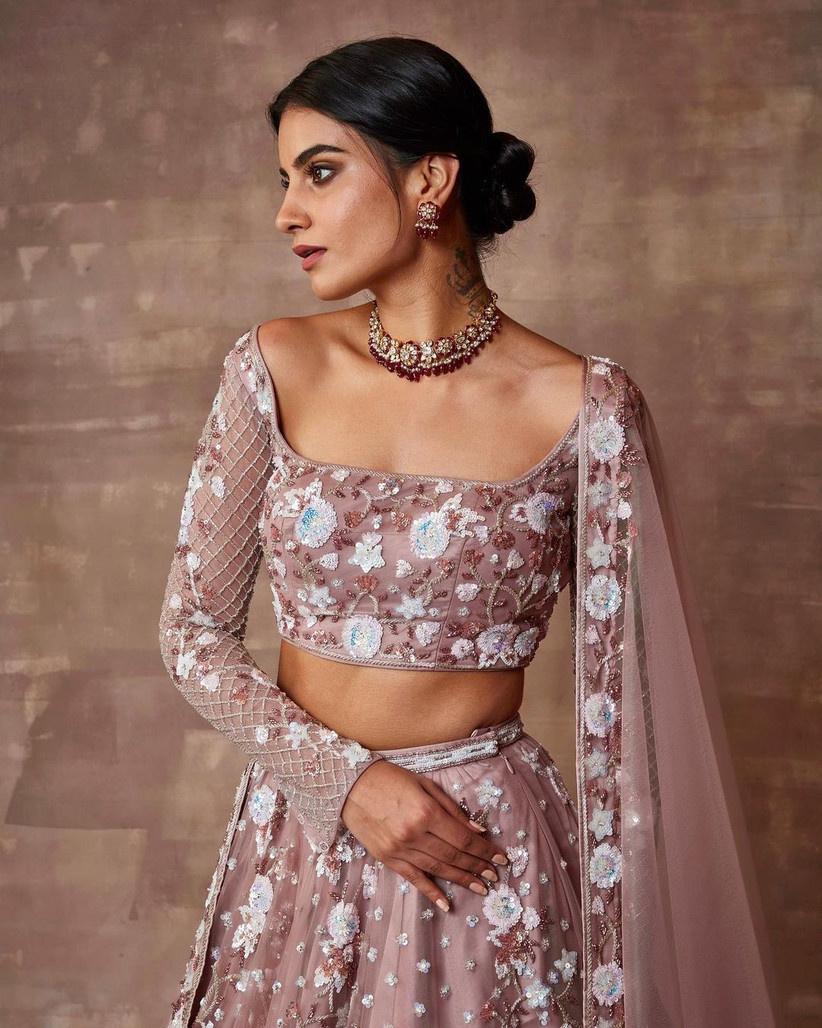 Image Courtesy: House of Neeta Lulla
This raw silk off-shoulder full-sleeve blouse design with floral patchwork embroidery and Aari blouse work is a beauty that will not only accentuate your saree look but also make you look alluring when you pair this up with a lehenga. The full sleeve net blouse with intricate threadwork all over the sleeves with beads and sequins will make it worth every penny you spend on it!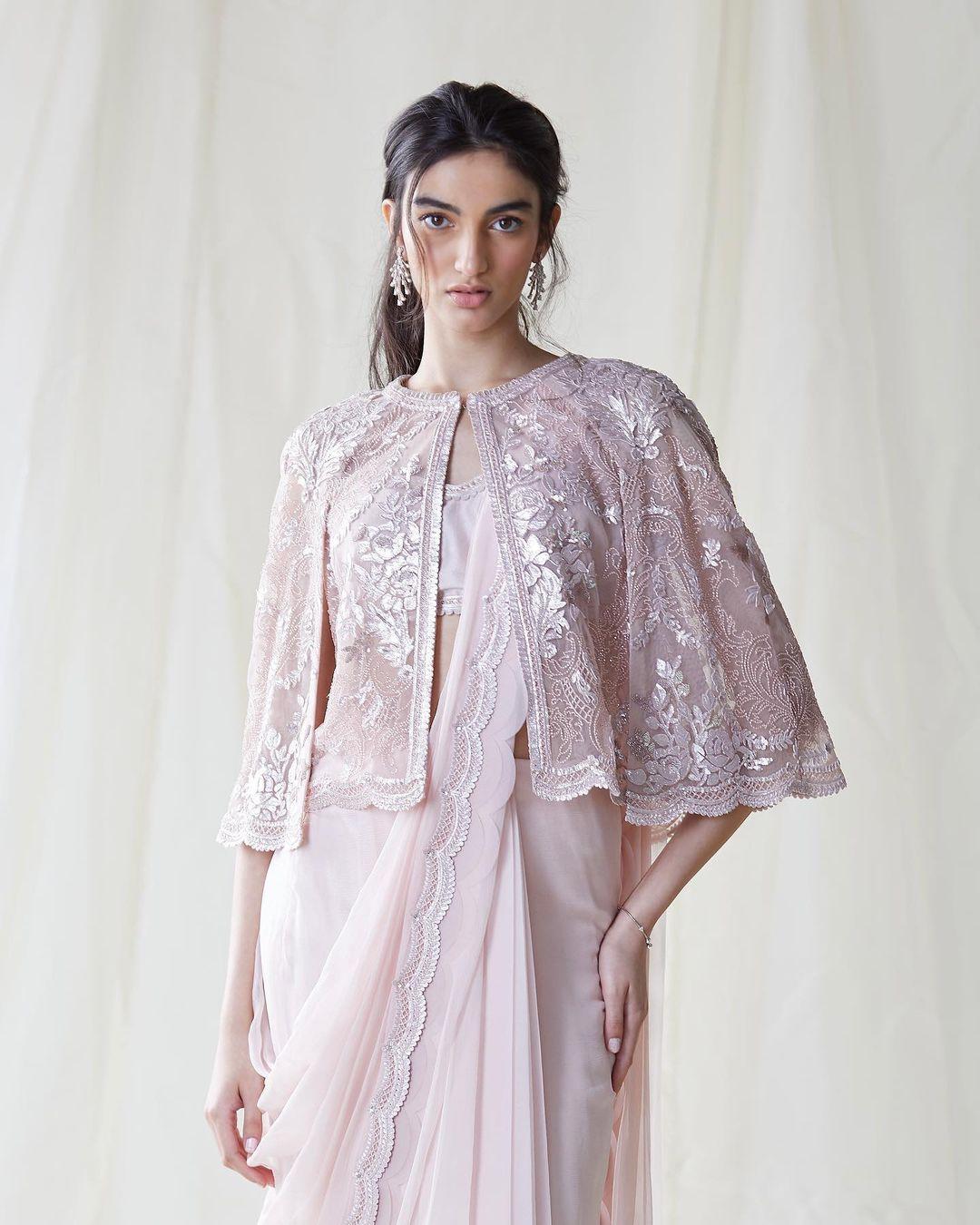 Image Courtesy: Pankaj & Nidhi
Pearly embellishments radiate an iridescence sheen over translucent tulle in this exquisite, draped cape saree blouse design. This bustier net saree blouse design, when paired with a sheer white designer saree, will make you look ethereal. It is for all those brides who don't fret from experimenting on their wedding functions. This modern and stylish blouse pattern is hands-down a winner look for your wedding reception or cocktail party.
Chiffon Saree Blouse Designs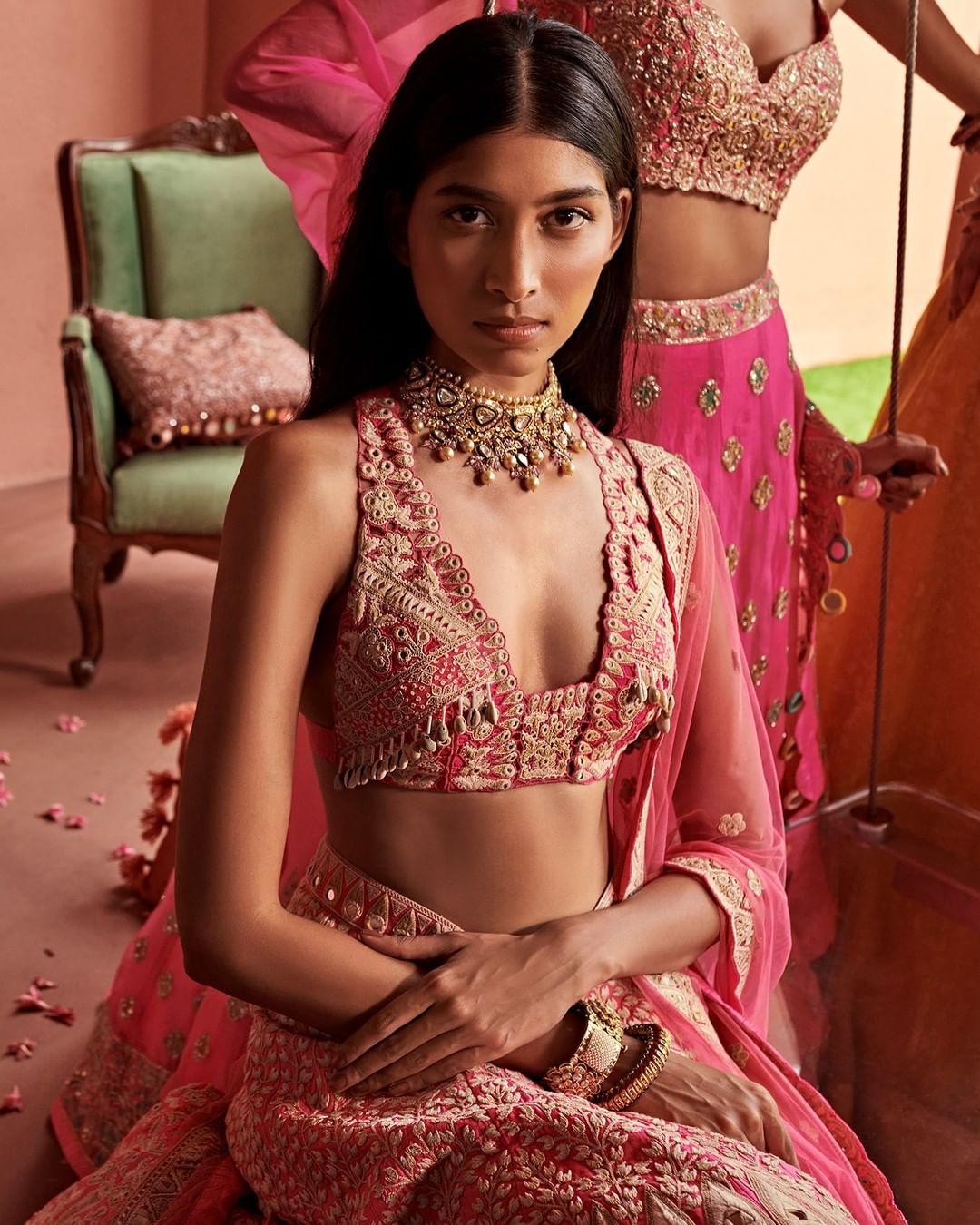 Take a look at this raspberry pink and cream organza sleeveless chiffon blouse design with Ahir and mirror-work hand embroidery. The plunging neck blouse design with intricate embroidery and cowrie shell detailing adds to your overall look.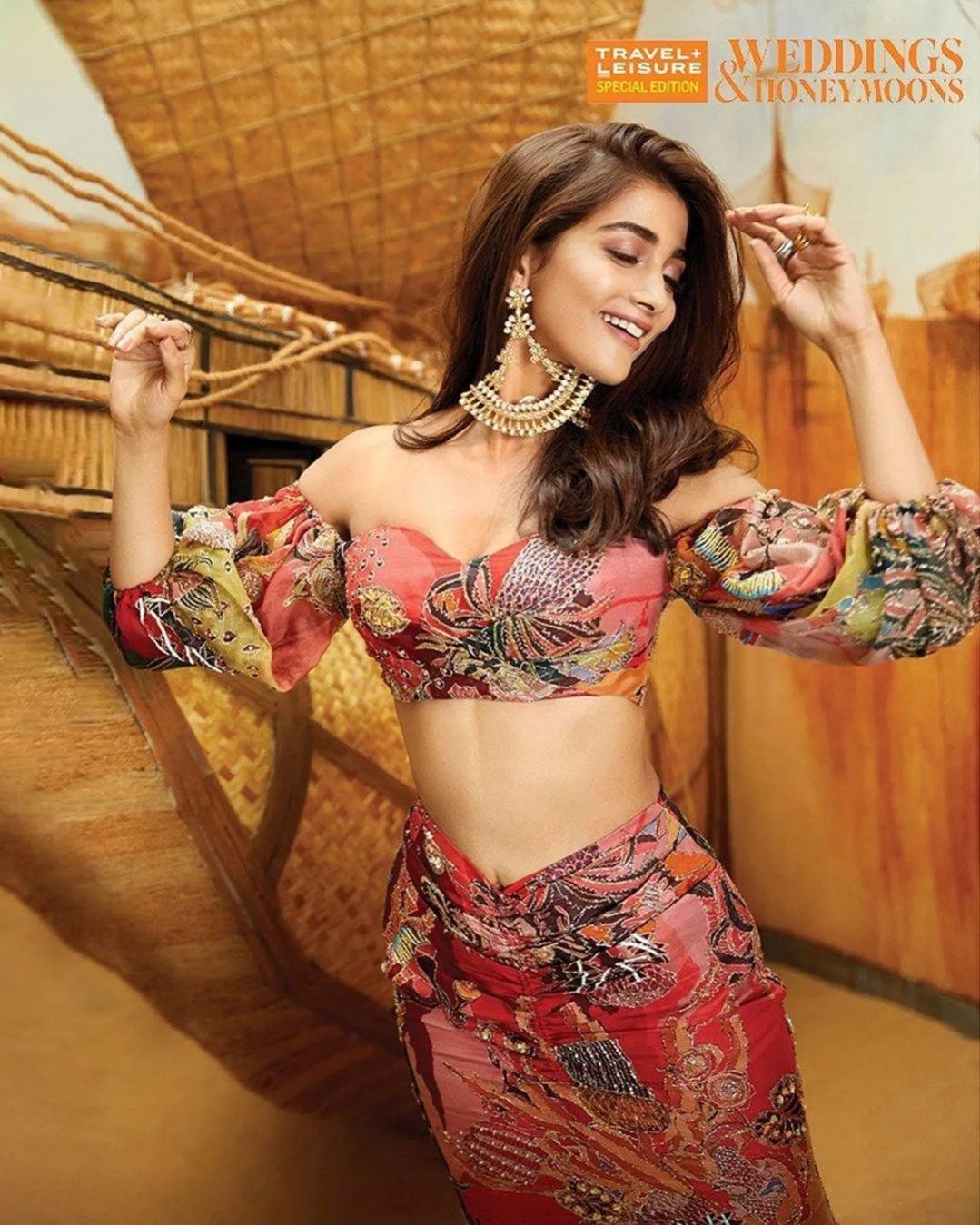 Image Courtesy: Aisha Rao
Organza is a people's favourite and we love it too. This chiffon and organza modern saree blouse design with thread and bead detailing is a whole package of comfort and style. The off-shoulder sweet-heart neck of this pretty yet fierce saree blouse design is sure a head-turner.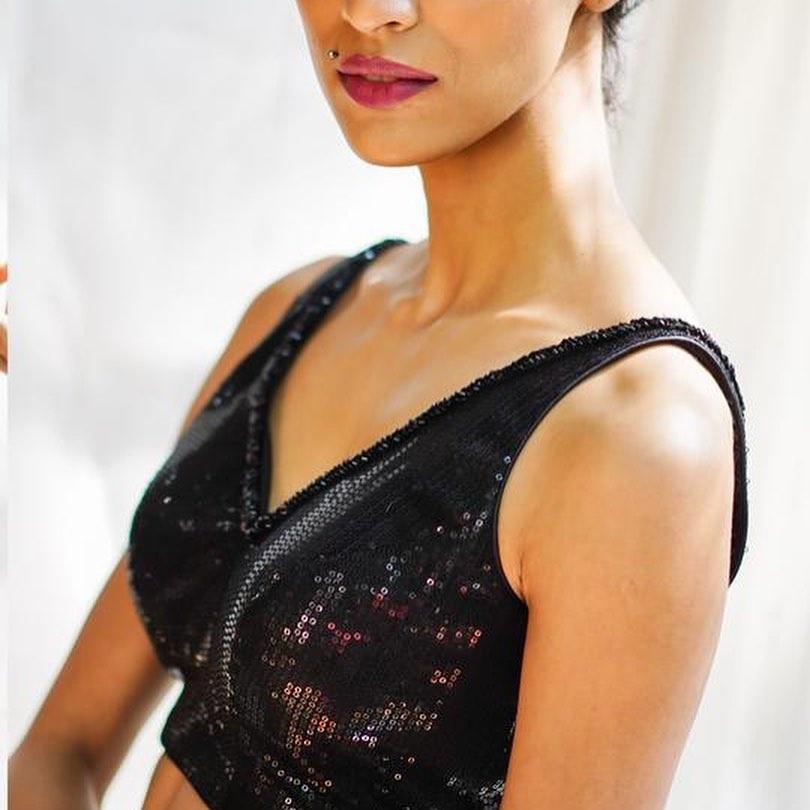 Image Courtesy: House of Blouse Dot Com
Sequins, black, bead detailing, V front and deep V back, customizable neck depth for women who want to go bolder...need we say more?⁠
Fancy Saree Blouse Designs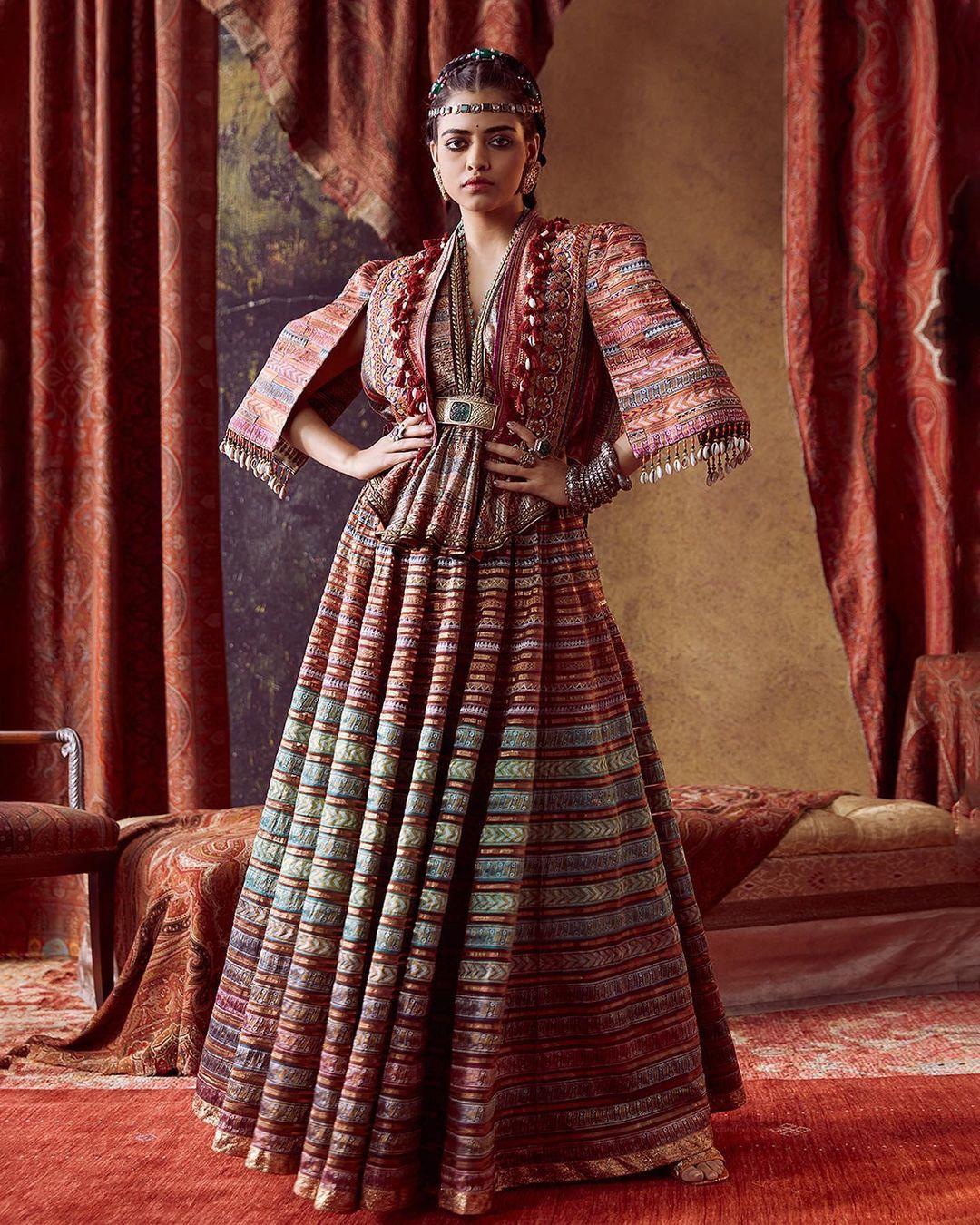 You cannot miss this multi-coloured saree blouse design with brocade borders and a V-neck is definitely going to make your wedding outfit stand out. This saree blouse design also flaunts vibrant gilet featuring tassels, shell and mirror details that adds extra oomph.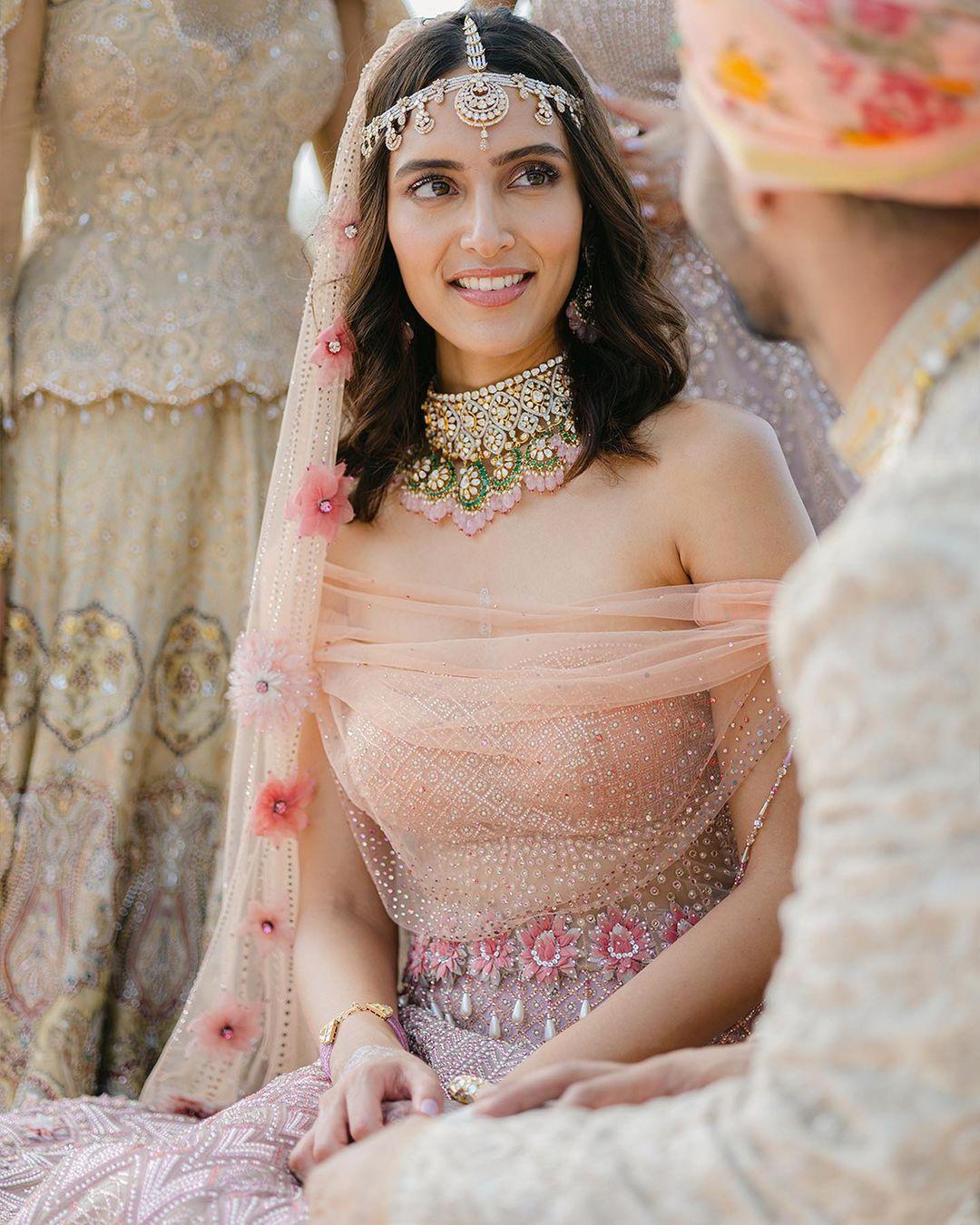 A pastel saree blouse design with beaded tassels and the organza layering over the off-shoulder corset blouse makes it all the more gorgeous.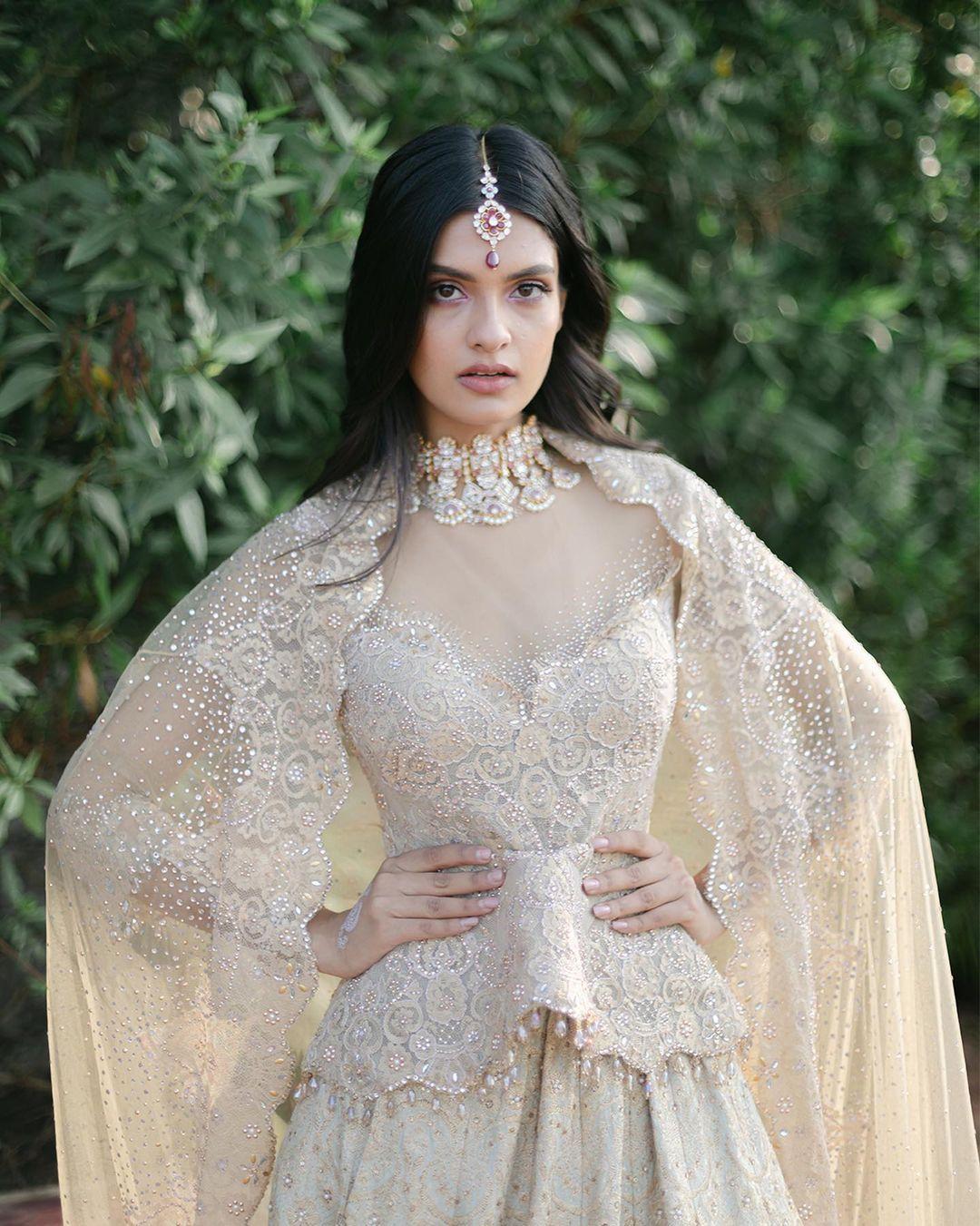 Keeping comfort and lightness as the key design philosophy, this Tarun Tahiliani peplum saree blouse design is a charmer. If you are one of the brides who love to move around with ease then this peplum saree blouse design with 3/4th sleeves is a promise of impeccable finesse and construction for you.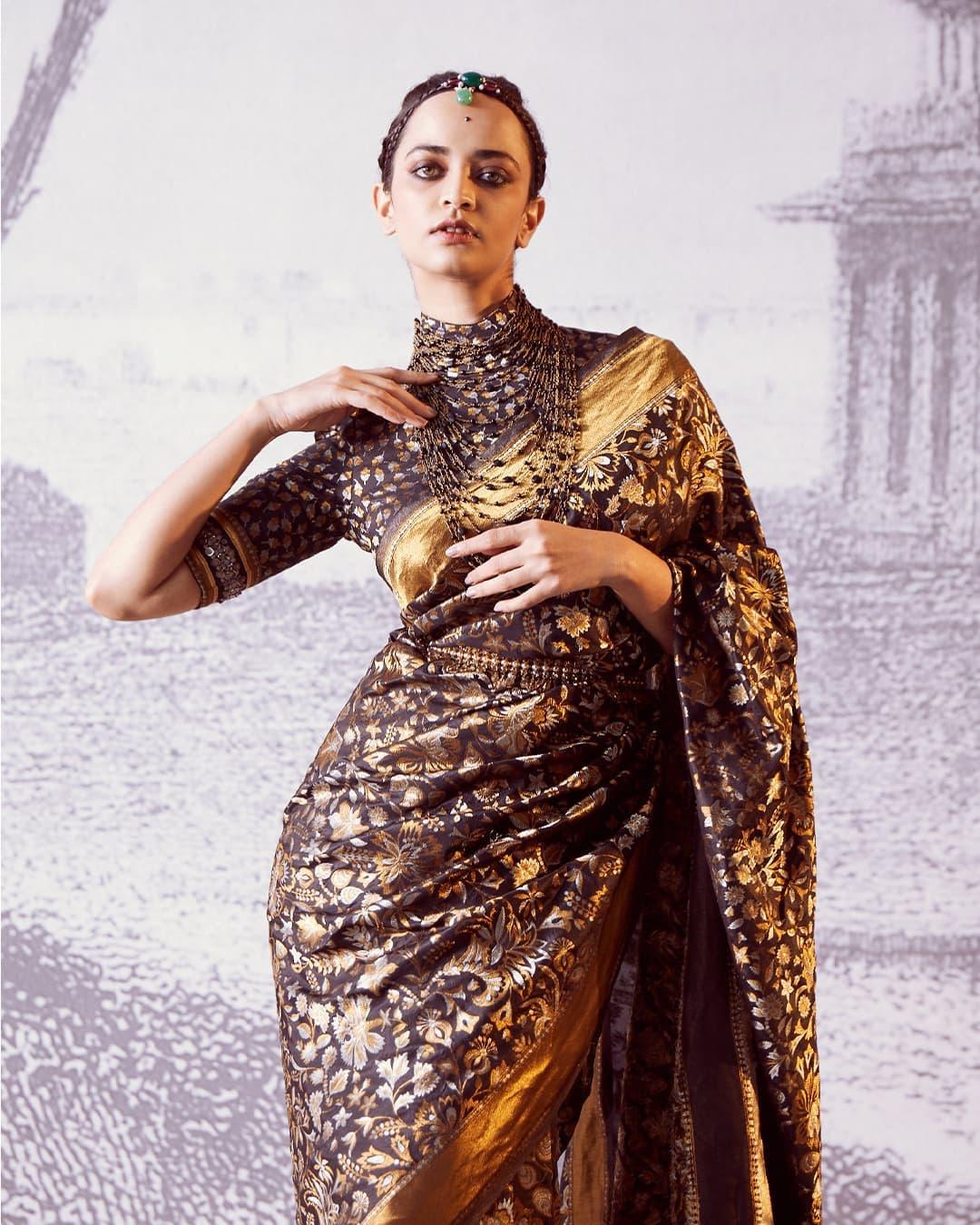 A Tarun Tahiliani black and gold brocade silk saree blouse design that can be styled as per convenience with a traditional saree or a modern one is the best. Flaunting the original hand-drawn artworks and patterns.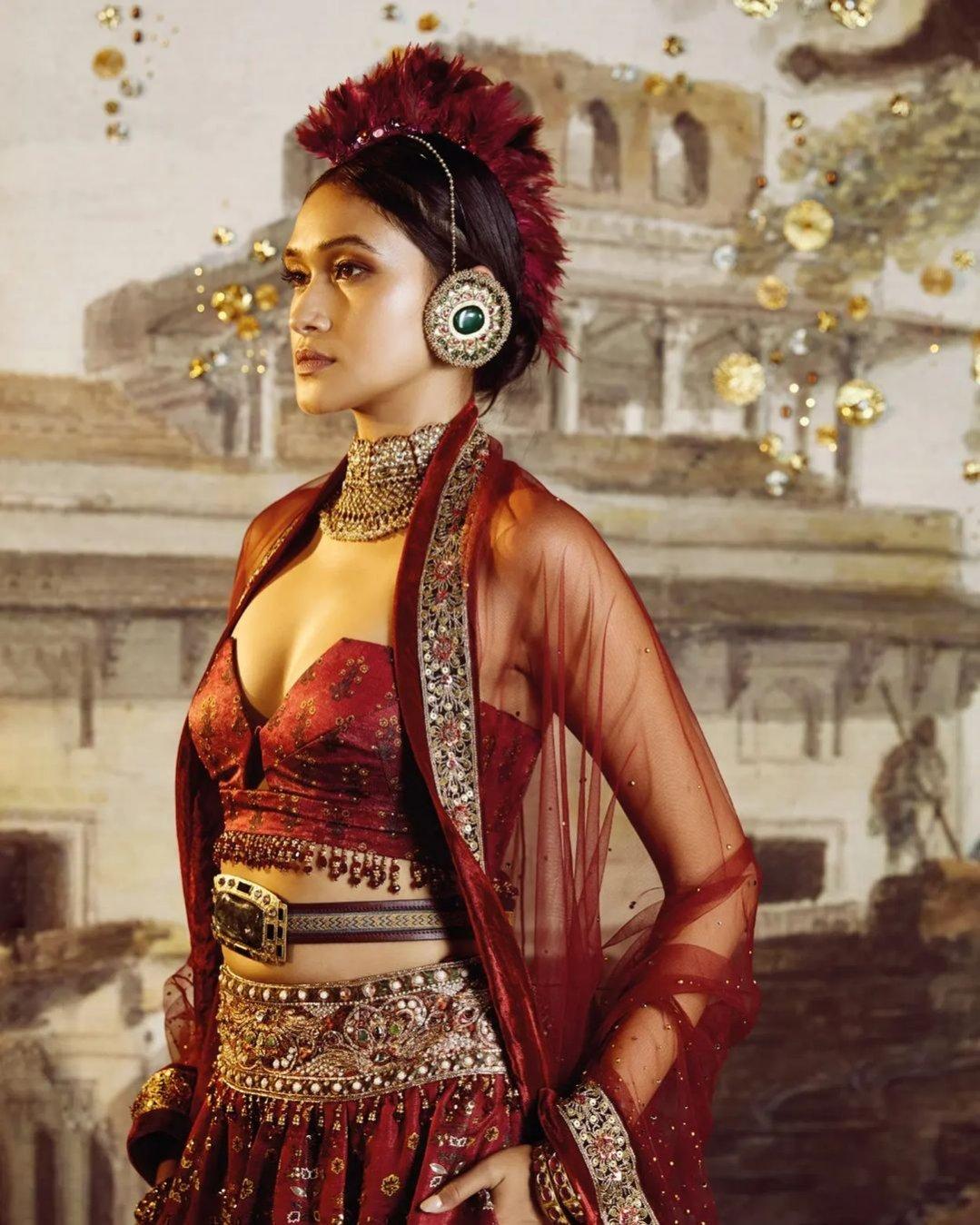 An absolute finesse, this wine-coloured bustier saree blouse design with crystal detailing, along with a tulle cape adorned with a hand-embroidered border, this saree blouse paired with it to create a finished ensemble. The regal yet delicate embroideries that are designed to bounce light and flutter at special occasions is sure to make you look like a dream.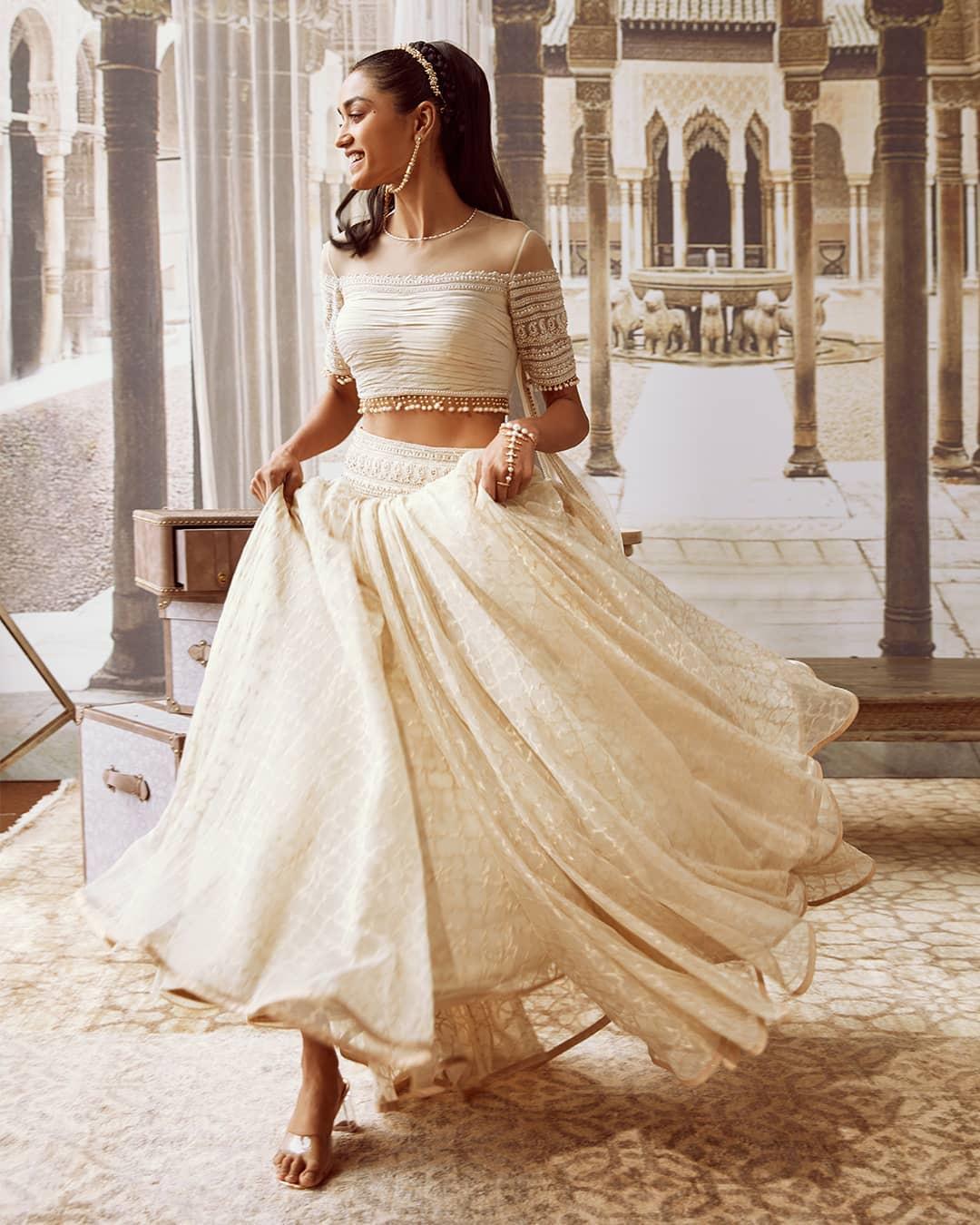 A kalidar draped handloom fluted blouse in ivory and gold, with a sheer neckline and embroidered sleeves is a beautiful fancy saree blouse design in a sombre silhouette. These sleeves are also embellished with pearl and crystal hangings on the hem. The back is cut-out and features attached tulle wings with fringing on this fancy saree blouse design makes it elegant. This blouse celebrates the look of Modern India via a combination of unique textiles and embroidery on interesting silhouettes.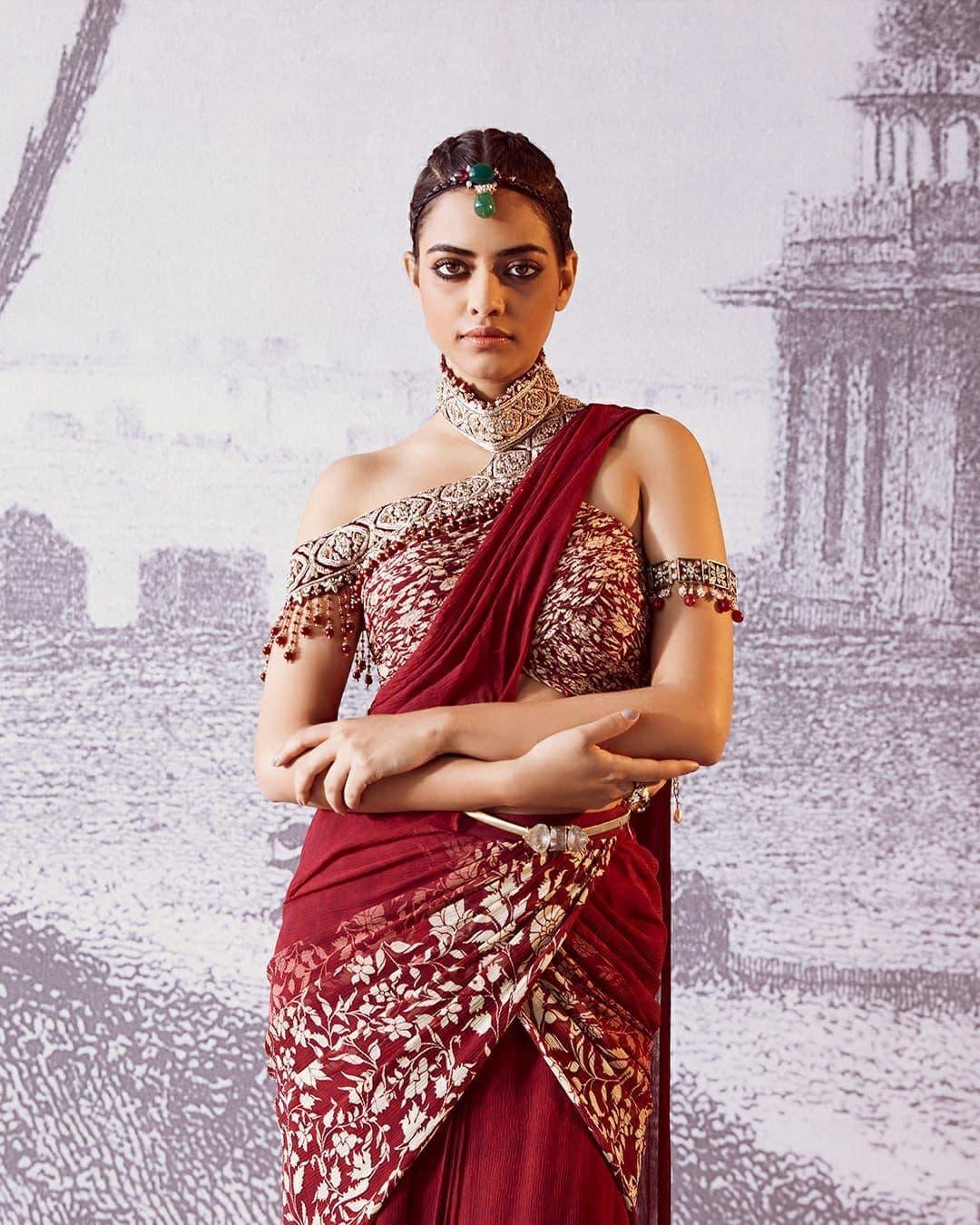 This printed chiffon draped concept saree paired with a one-shoulder blouse, highlighted with thread-work, Kundan embroidery and fringes is one head-turner. You can wear this one-shoulder choker neck saree blouse design with your velvet saree and look flawless for your wedding ceremonies.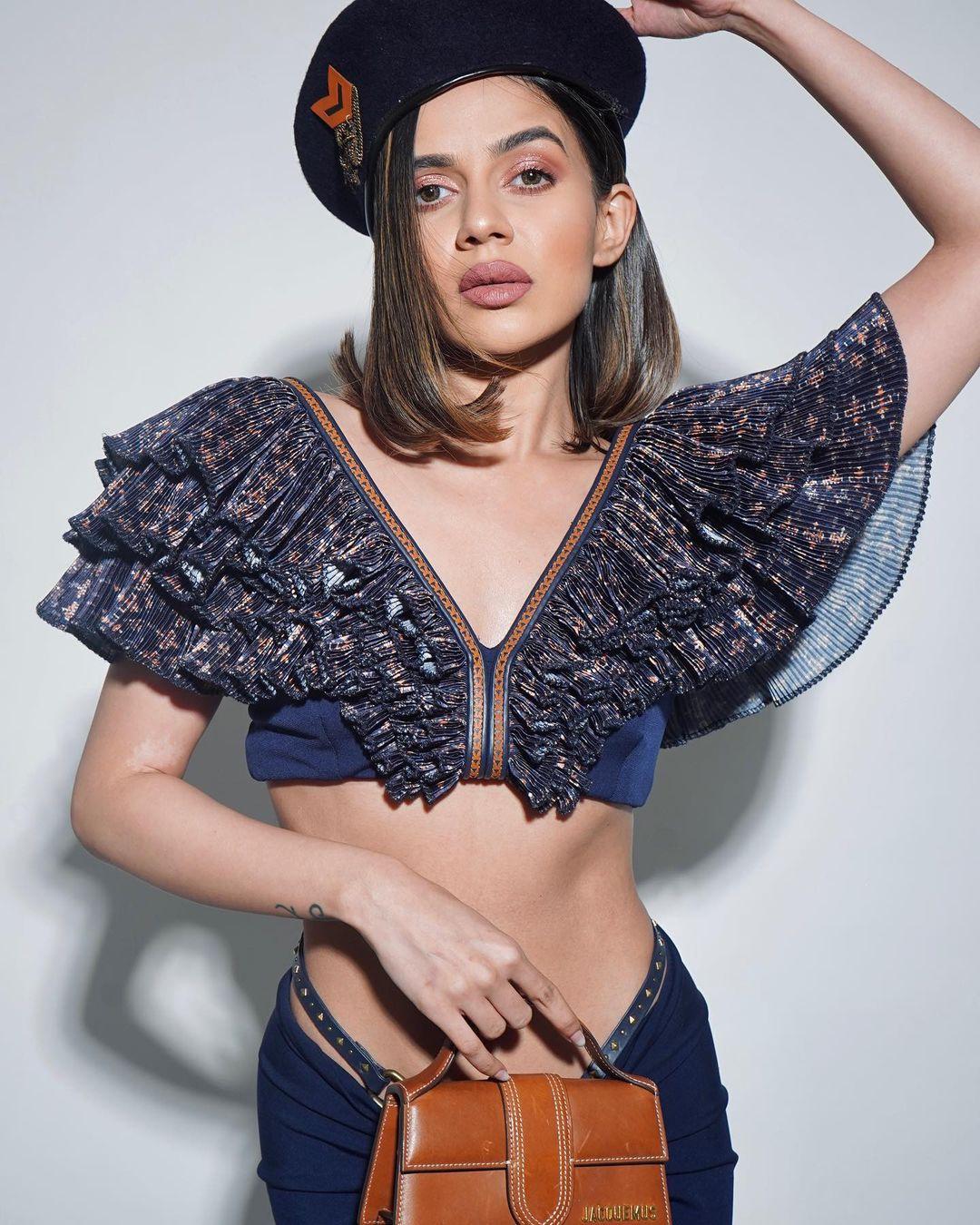 Try pairing this fancy saree blouse design by Shantanu & Nikhil with a plain saree. The trend of plain saree with designer blouse can never go wrong and while ruffle saree blouse designs are in vogue right now, this fancy saree blouse design with a deep V-neck and accordion-pleated ruffles stand out as one of the boldest best fancy saree blouse designs.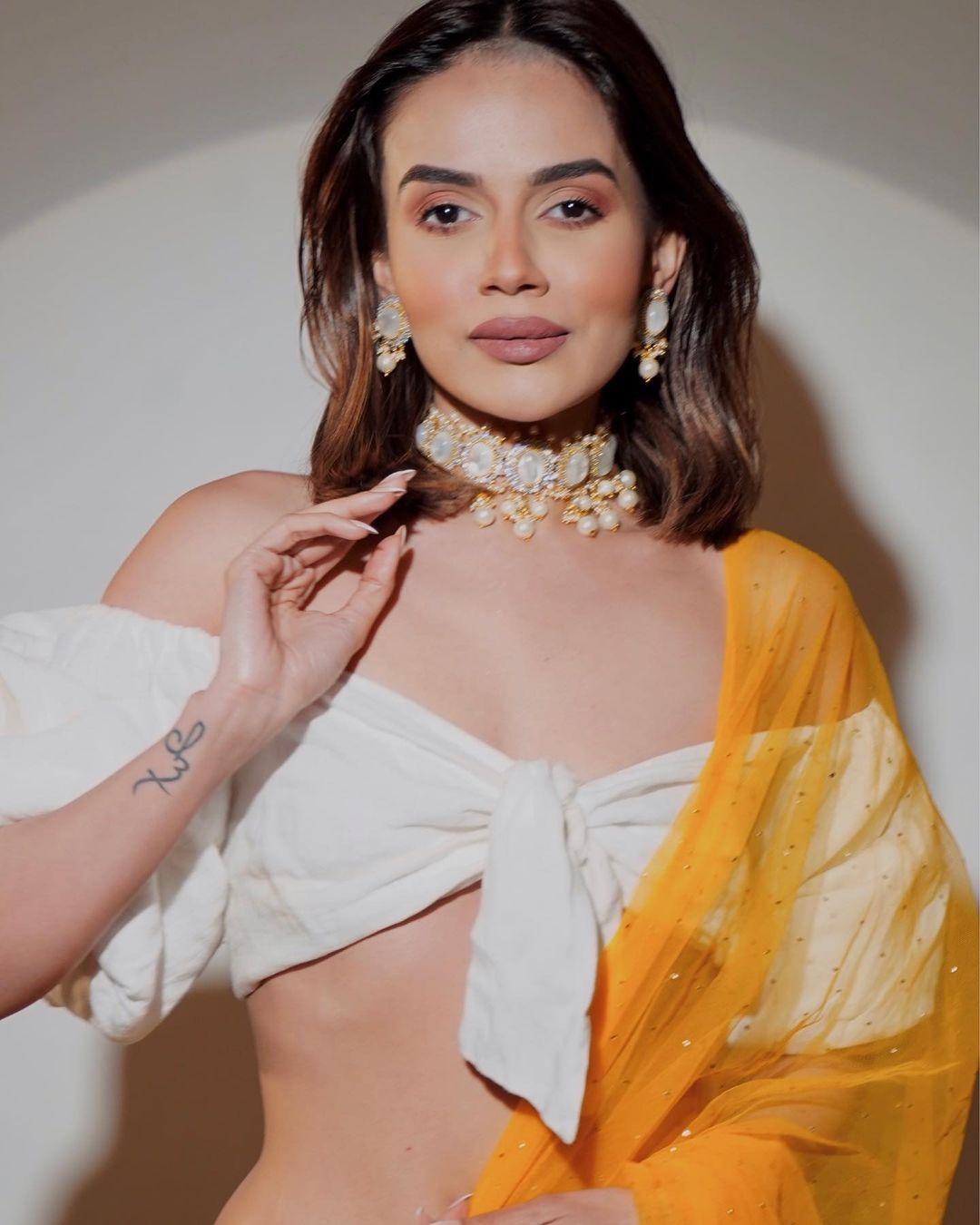 Image Courtesy: Komal Pandey
Keeping it casual yet chic, here is another off-shoulder saree blouse design that will make you fall in love at first sight! The designer blouse with simple saree is a hoot!
Wedding Saree Blouse Designs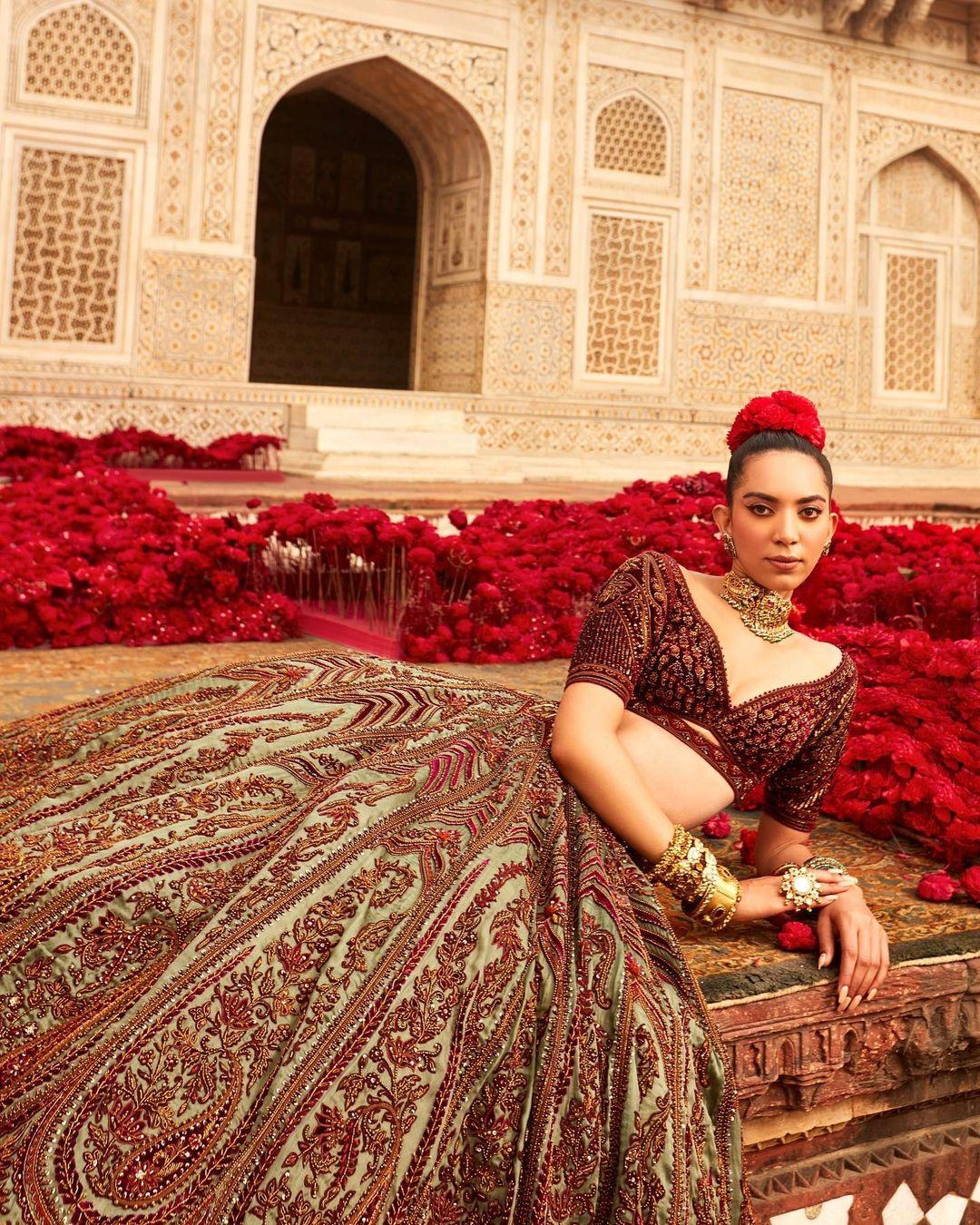 Buoyant, eloquent & expressive - this wedding saree blouse design is a vision come to life. The intricate details like the waistband cutout and the deep V-neck sure add to the overall oomph. If you are wearing a heavy saree in maroon, this might be your perfect blouse design or you can even flaunt it as a gorgeous designer blouse with a simple saree.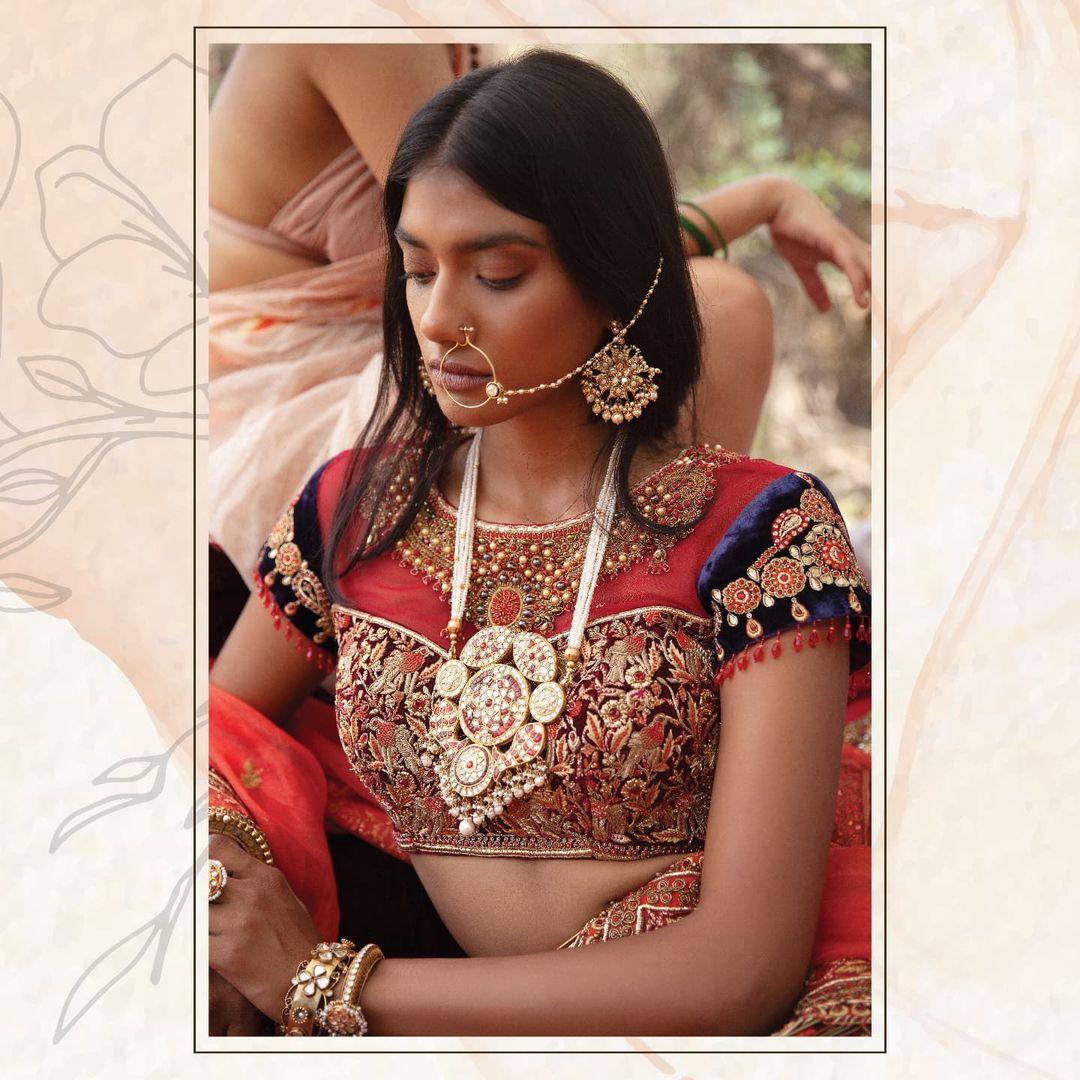 Keeping it completely traditional, this Payal Keyal design is perfectly suited for your big fat Indian wedding saree blouse design.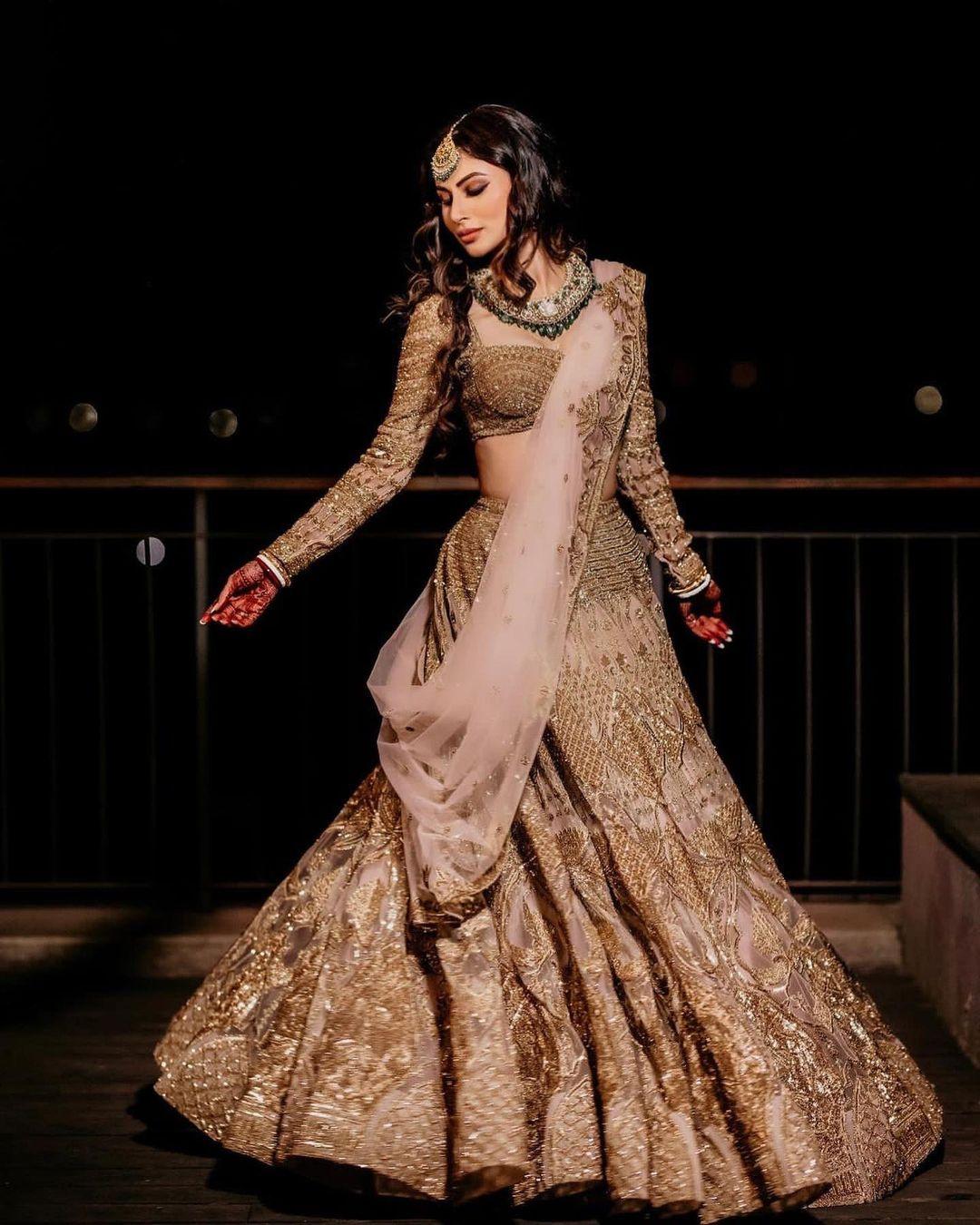 Image Courtesy: Falguni Shane Peacock
Breaking the internet, Mouni Roy's wedding was a hoot that we could not stop gushing over. Each look as classic as the other, this FSP designed full sleeve saree blouse design on Mouni looks breathtaking.
Also Read: Wedding Bells for Mouni Roy & Suraj Nambiar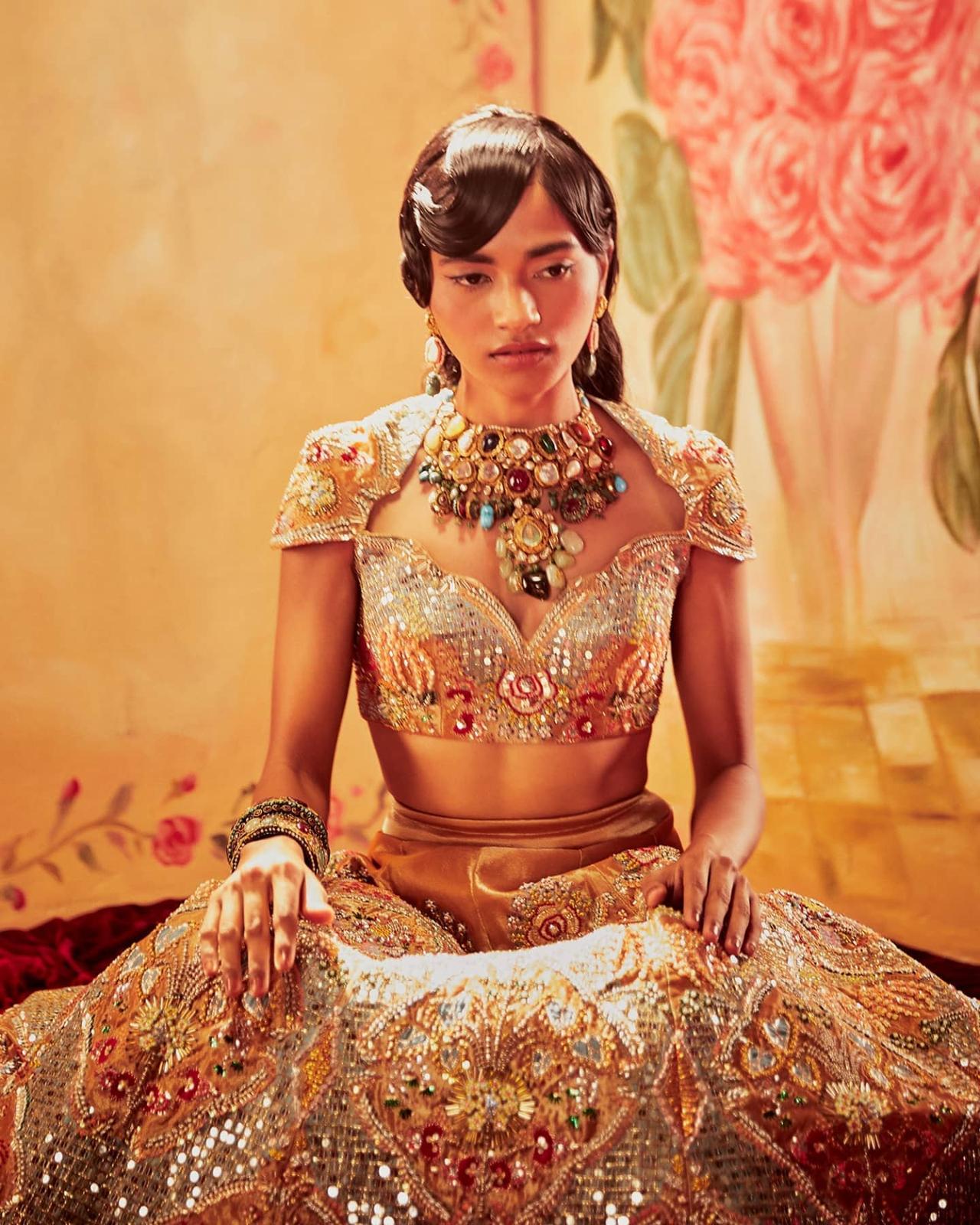 Image Courtesy: Aisha Rao
This unique saree blouse design with heavy mirrorwork and a neckline to die for is our current favourite by Aisa Rao label!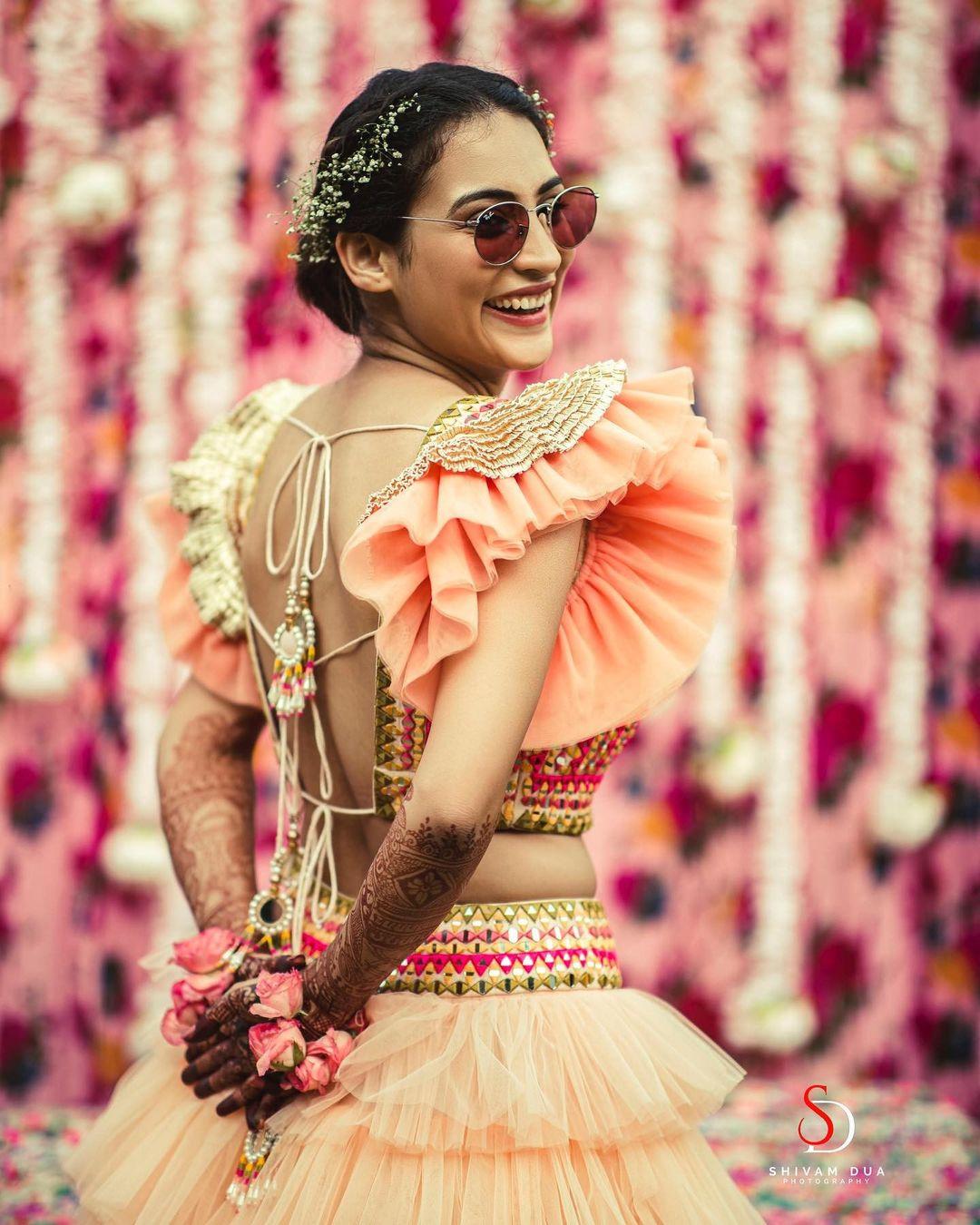 Whoever said drama has got us cheering! The dramatic sleeves of this saree blouse design can make you the talk of the town. Ruffles have never let you down, especially for a fun and quirky Haldi outfit.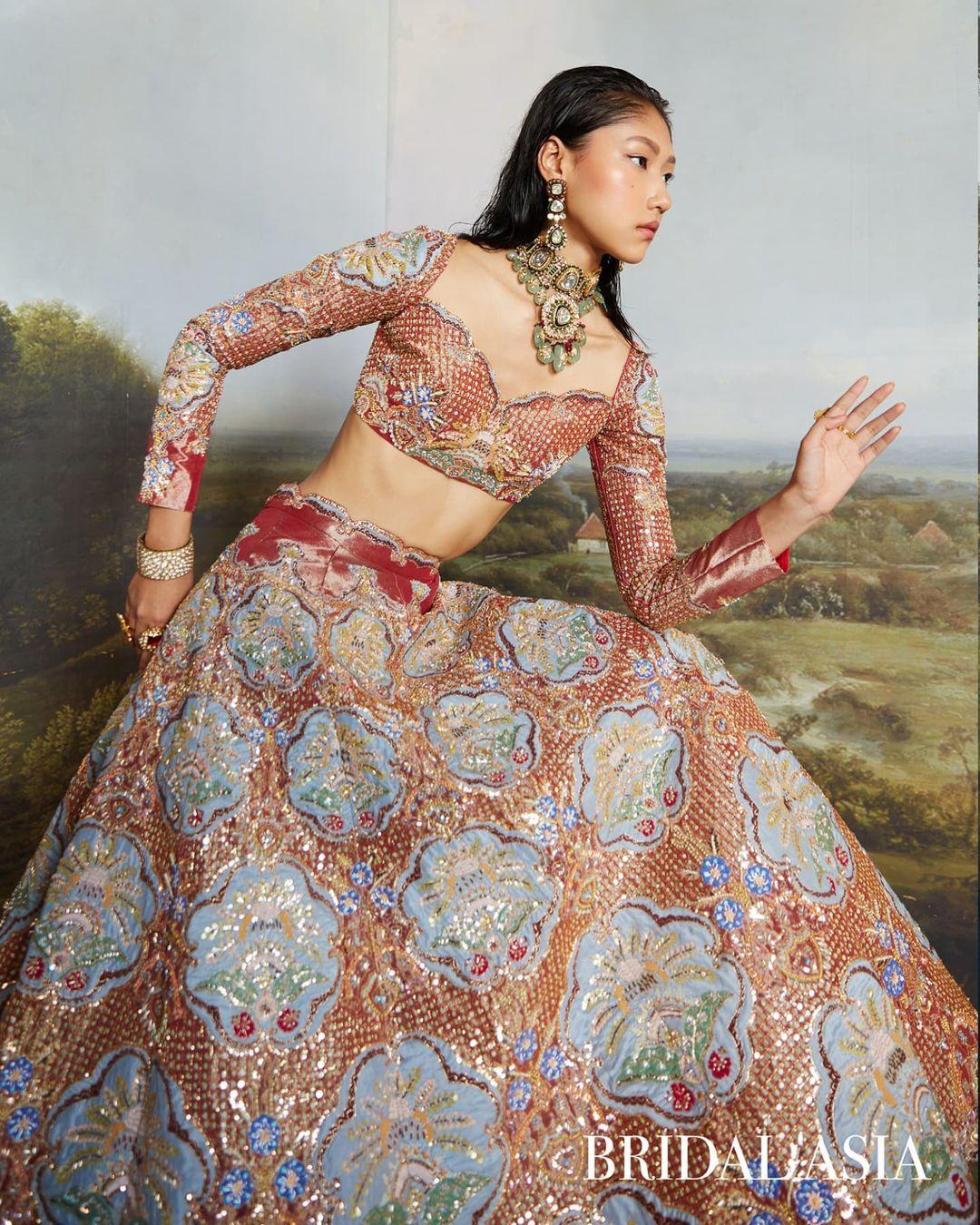 Image Courtesy: Aisha Rao
Juna Burgundy tissue appliqued and embellished full sleeve cutwork blouse - just what you need to look stunning at your wedding. This is a saree blouse design that can also be worn with a lehenga! Did you notice the perfect sweetheart neck on the are blouse yet?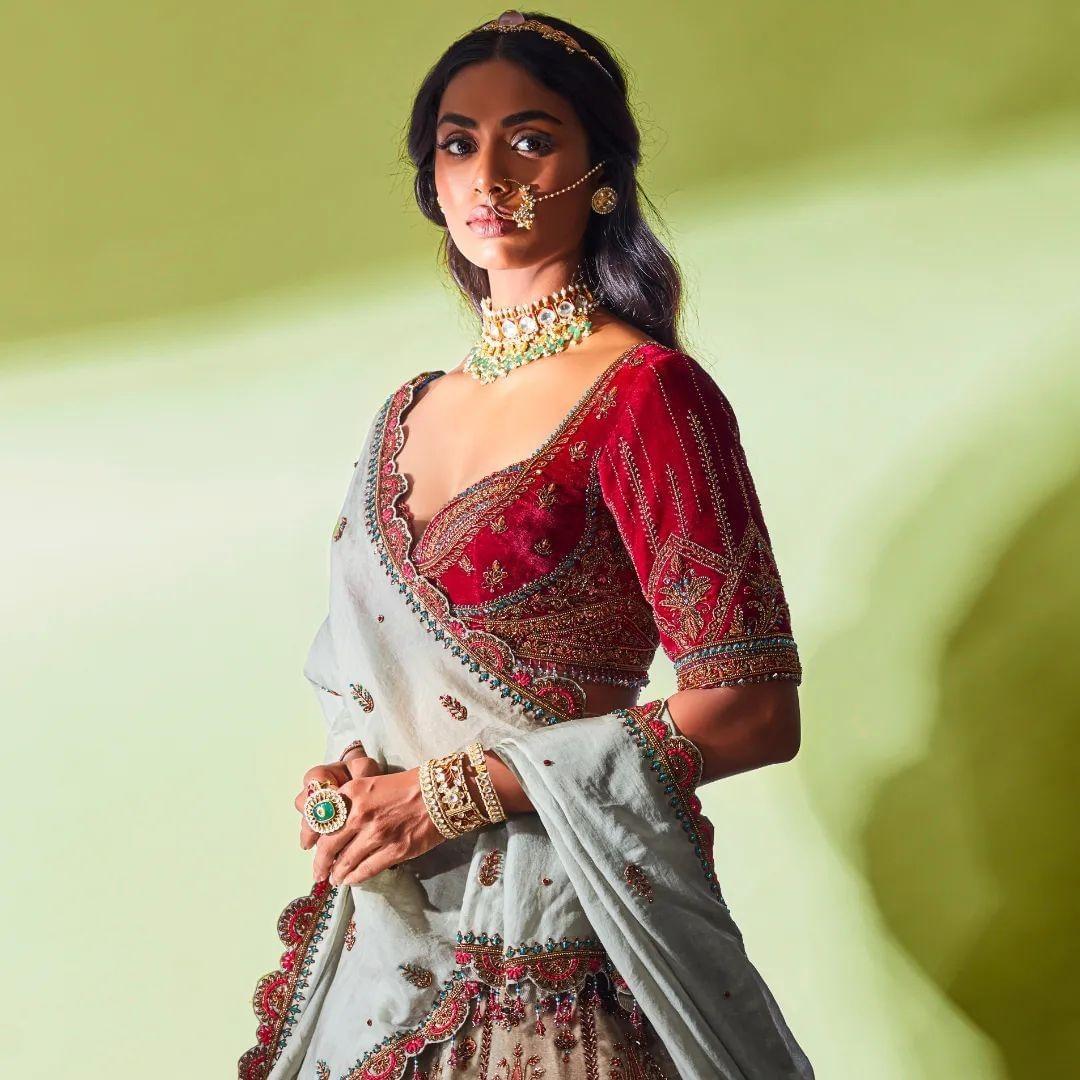 Image Courtesy: Asopalav
Hand crafted embroidery on a velvet saree blouse design that has a patchwork blouse neck, this blouse flaunts a majestic jewel tone that will leave you smitten.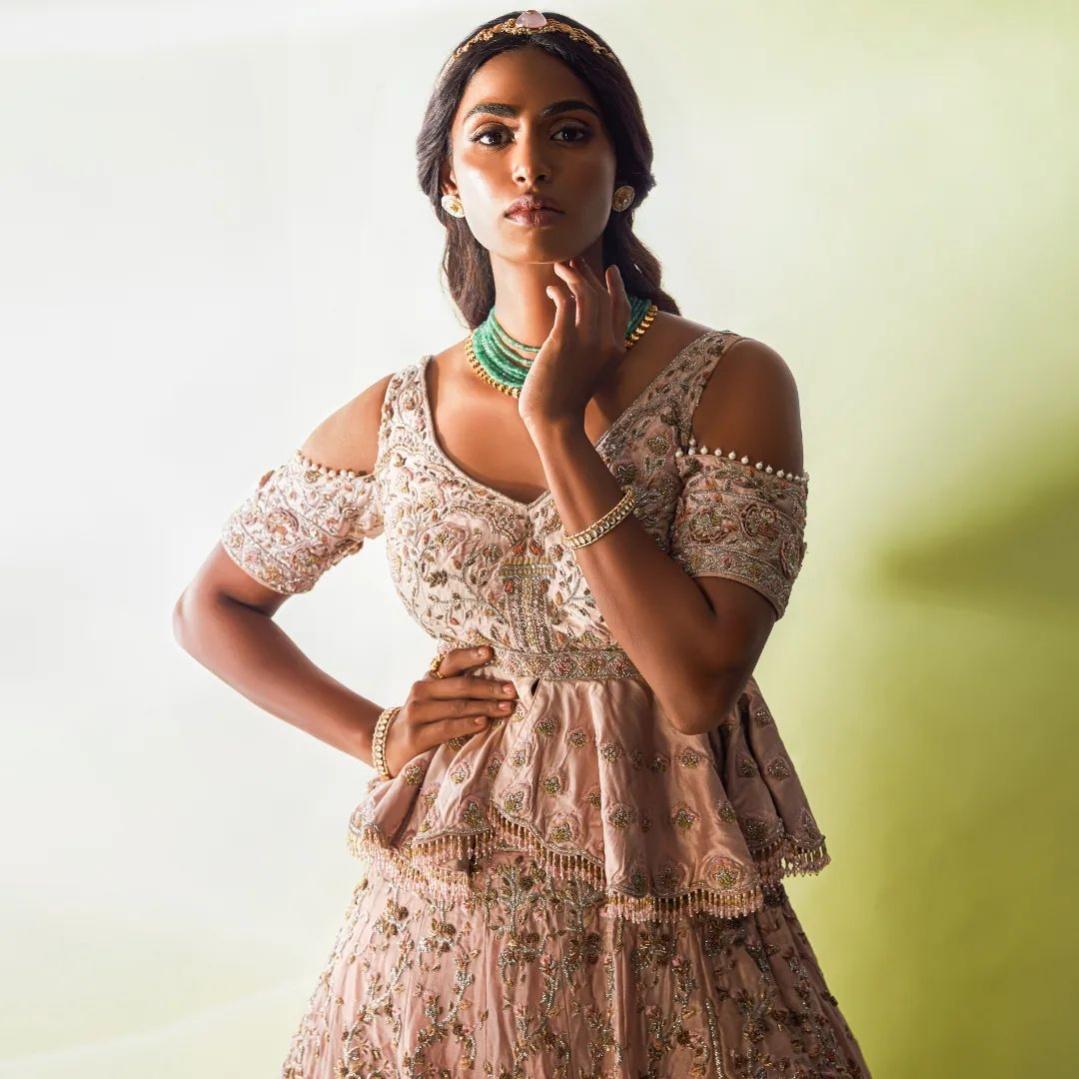 Image Courtesy: Asopalav
What happens when a magnificent pastel tasteful cold-shoulder saree blouse design meets the dainty handiwork in a peplum silhouette? A new-age cold-shoulder, peplum choli is born! If you pick this wedding saree blouse design, you are sure to be a runway hit.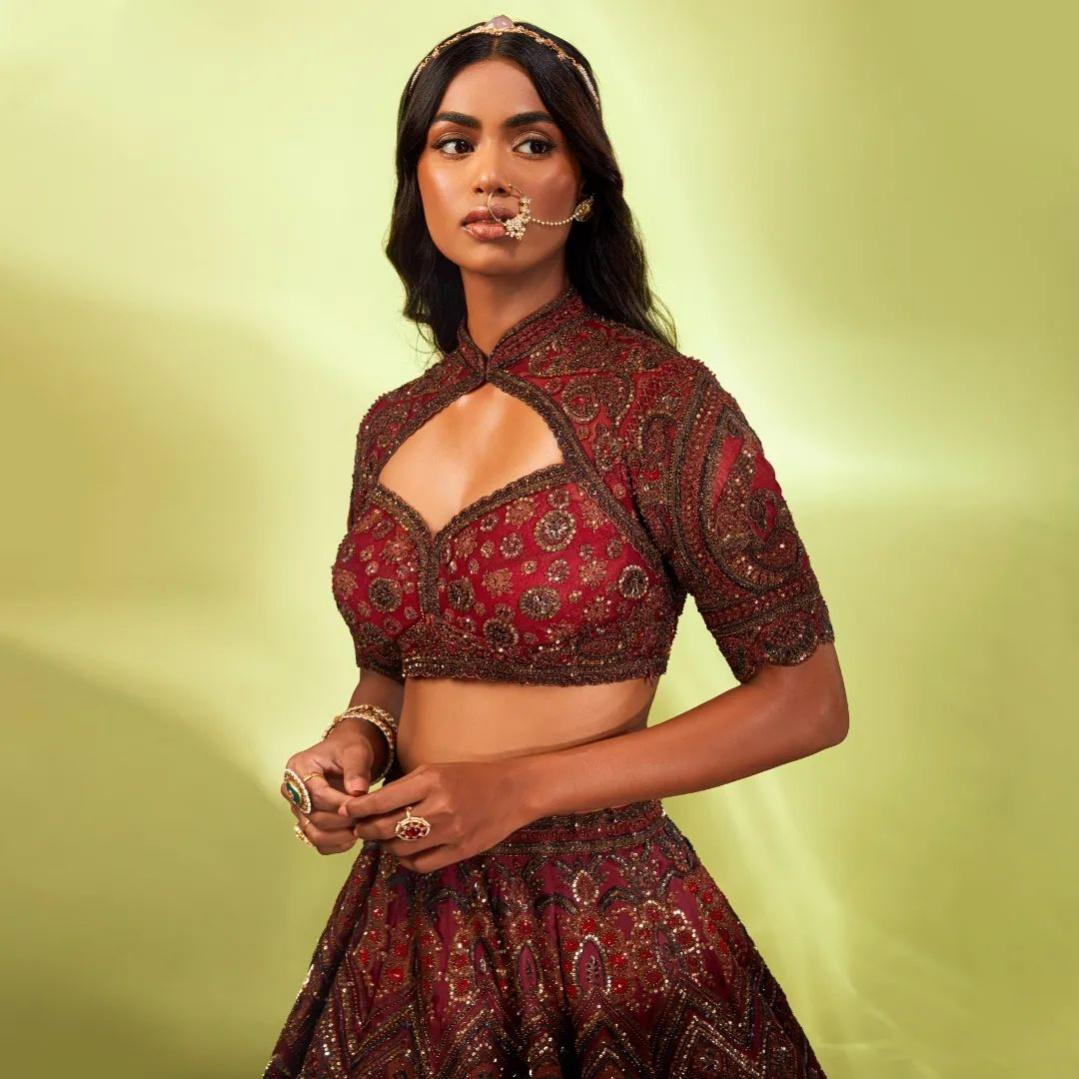 Image Courtesy: Asopalav
Sashay down the cascading vineyards of life, dressed in this monochrome stunner. Crafted to inspire awe, this splendid work of art features masterful all-over embroidery and an undeniable majestic charm that will have you crooning your favourite melodies. This saree blouse design with a diamond-shaped cut-work on the neck is sure to hog all the limelight and we approve!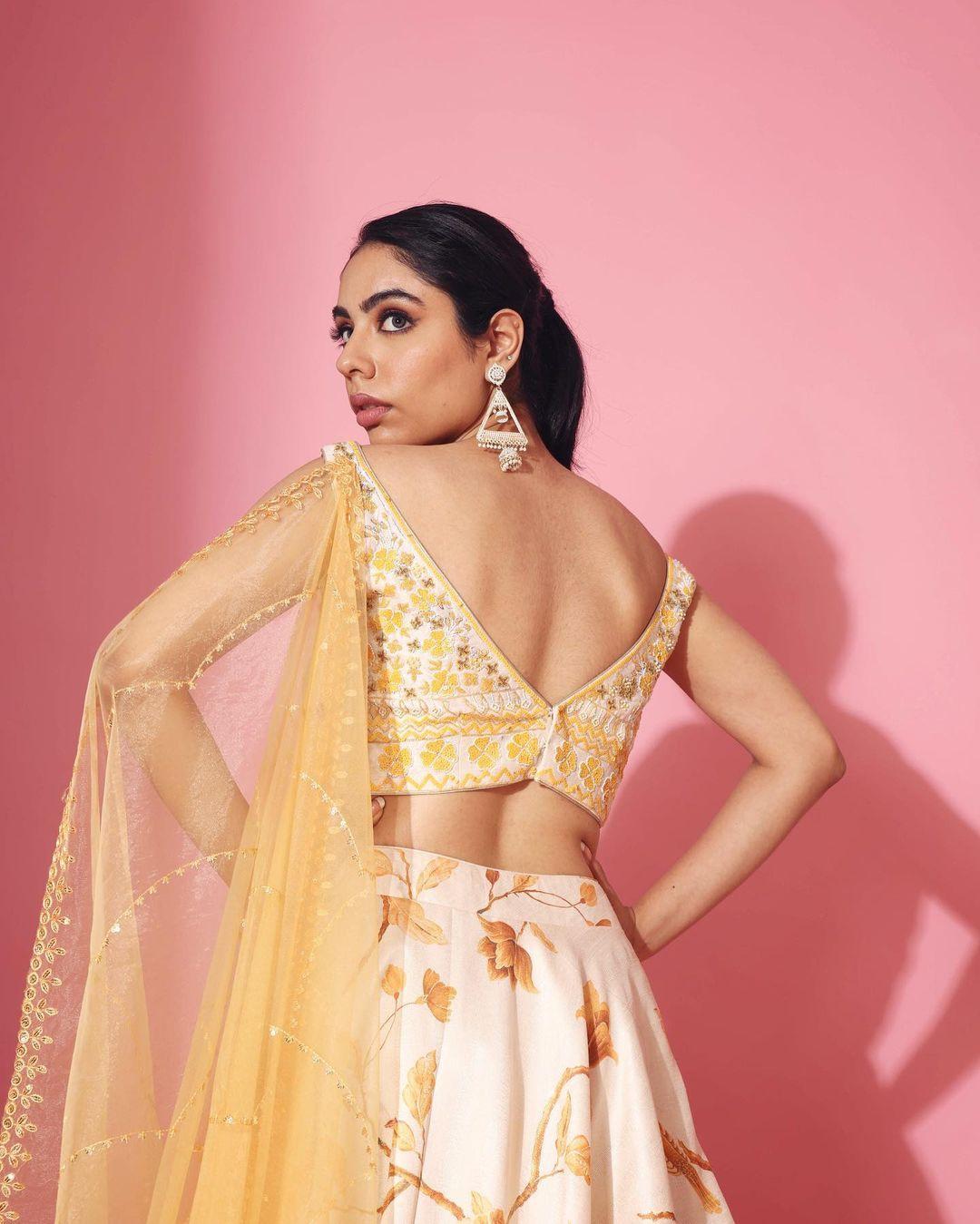 Image Courtesy: Arzoo Kapoor Studio
All that glitters, come wrapped in our exclusive Cream and Sun-Gold lehenga. The impressively embellished blouse made in pure raw silk and the soothing print skirt is sure to make every looker skip multiple heartbeats.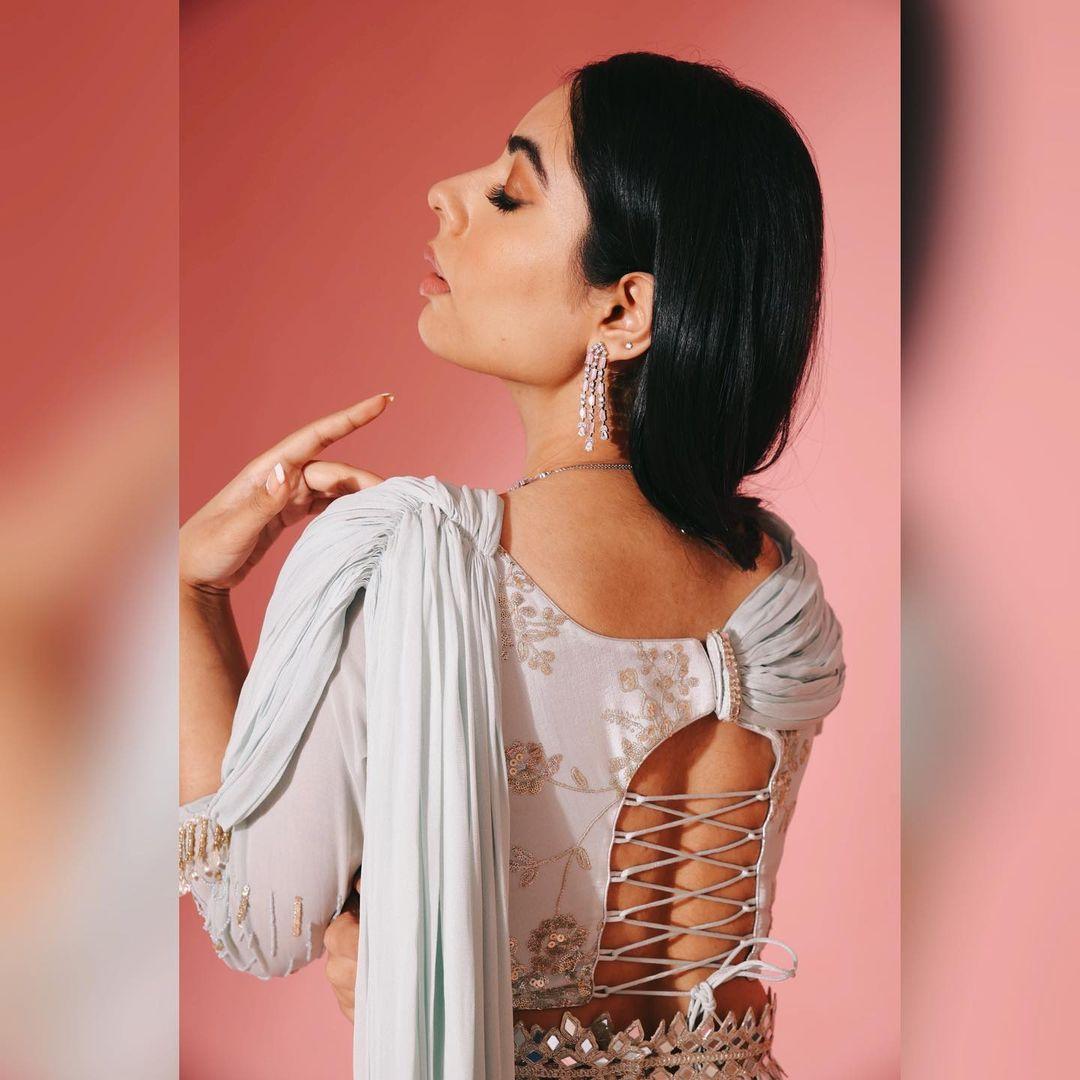 Image Courtesy: Arzoo Kapoor Studio
Heart belongs to the ocean and she revels in the colour of the sea. This flowing Powder-blue lehenga is made in pure crepe with attached georgette drape and exquisite mirror and sequence work on the blouse, complete the look with a beautiful mirror work belt.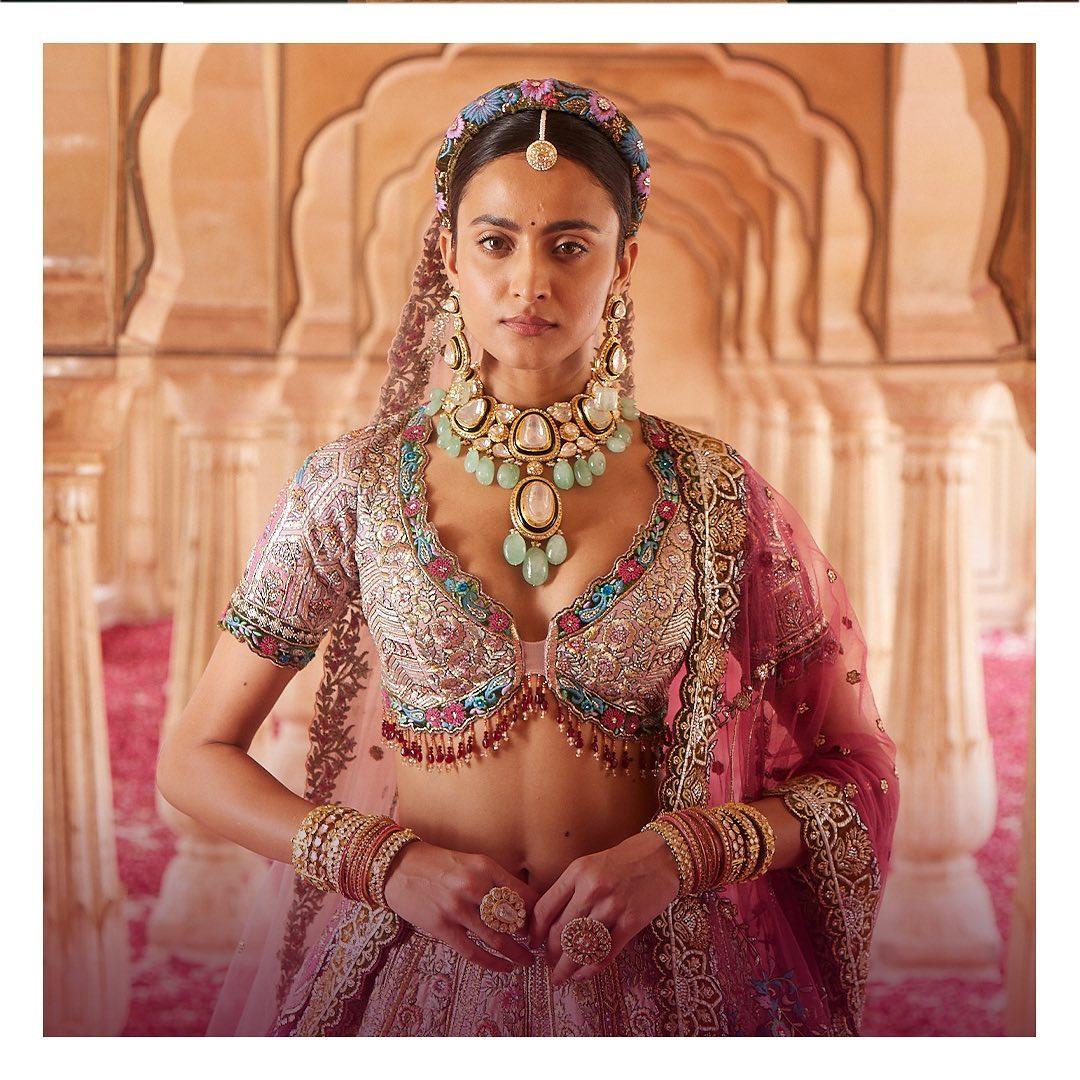 Image Courtesy: Shree G.K. Chudiwalas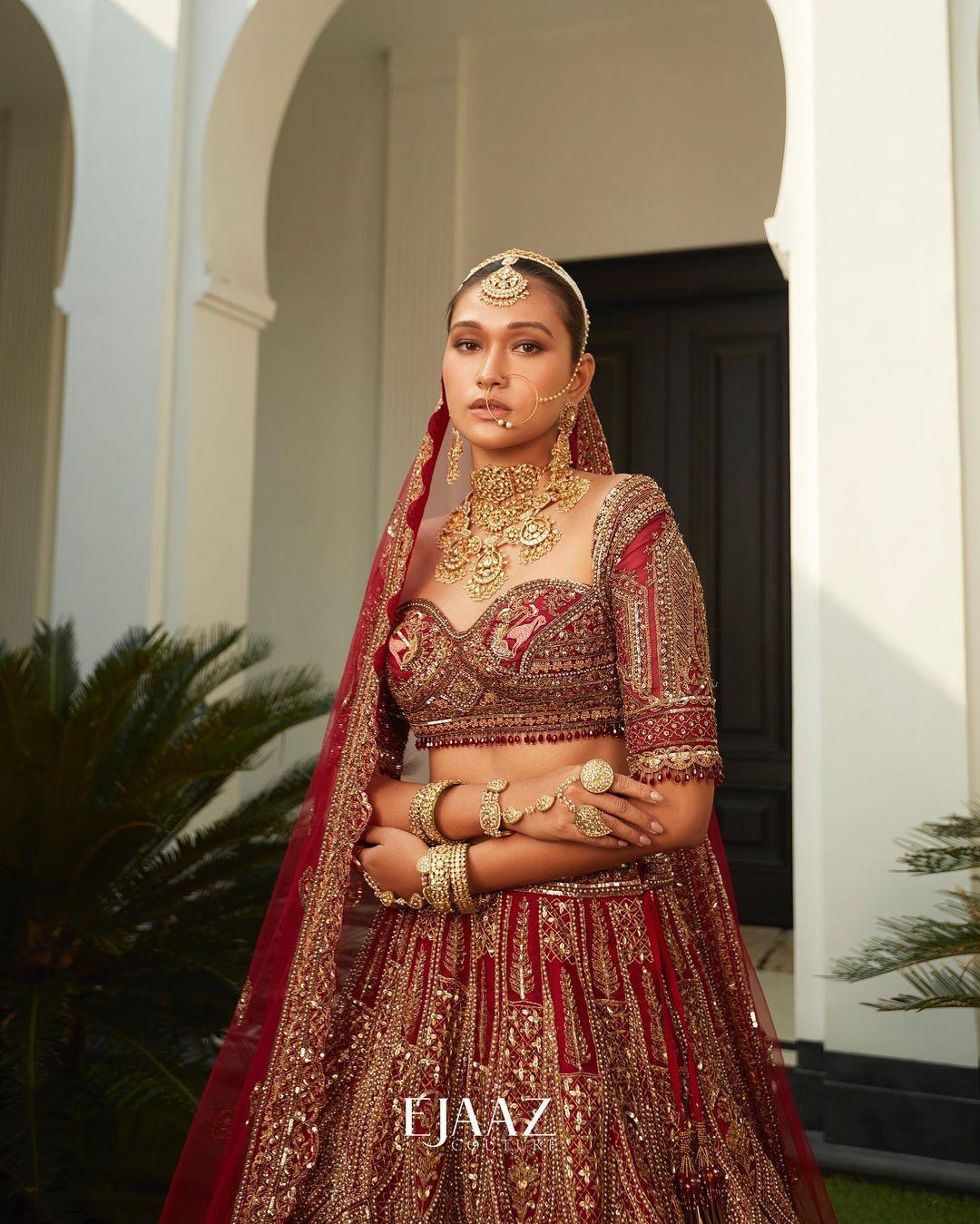 Image Courtesy: Ejaaz Couture
Embedded in the enormity of regalia, this piece also known as Mehr's Mulberry ensemble is ornamented in shades of flickering gold.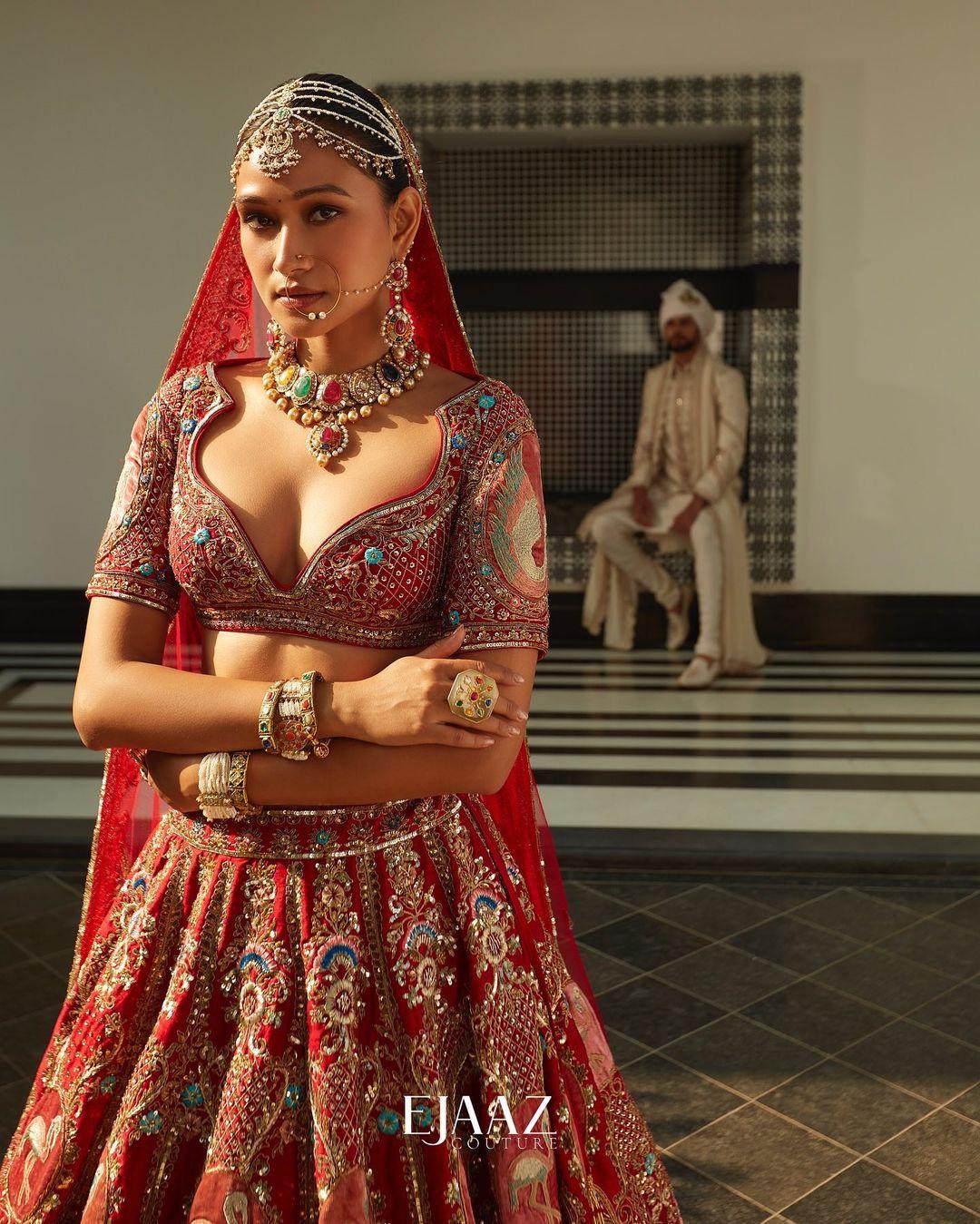 Image Courtesy: Ejaaz Couture
Another gorgeous yet unique wedding saree blouse design with an enchanting neckline that will have you hooked at first glance!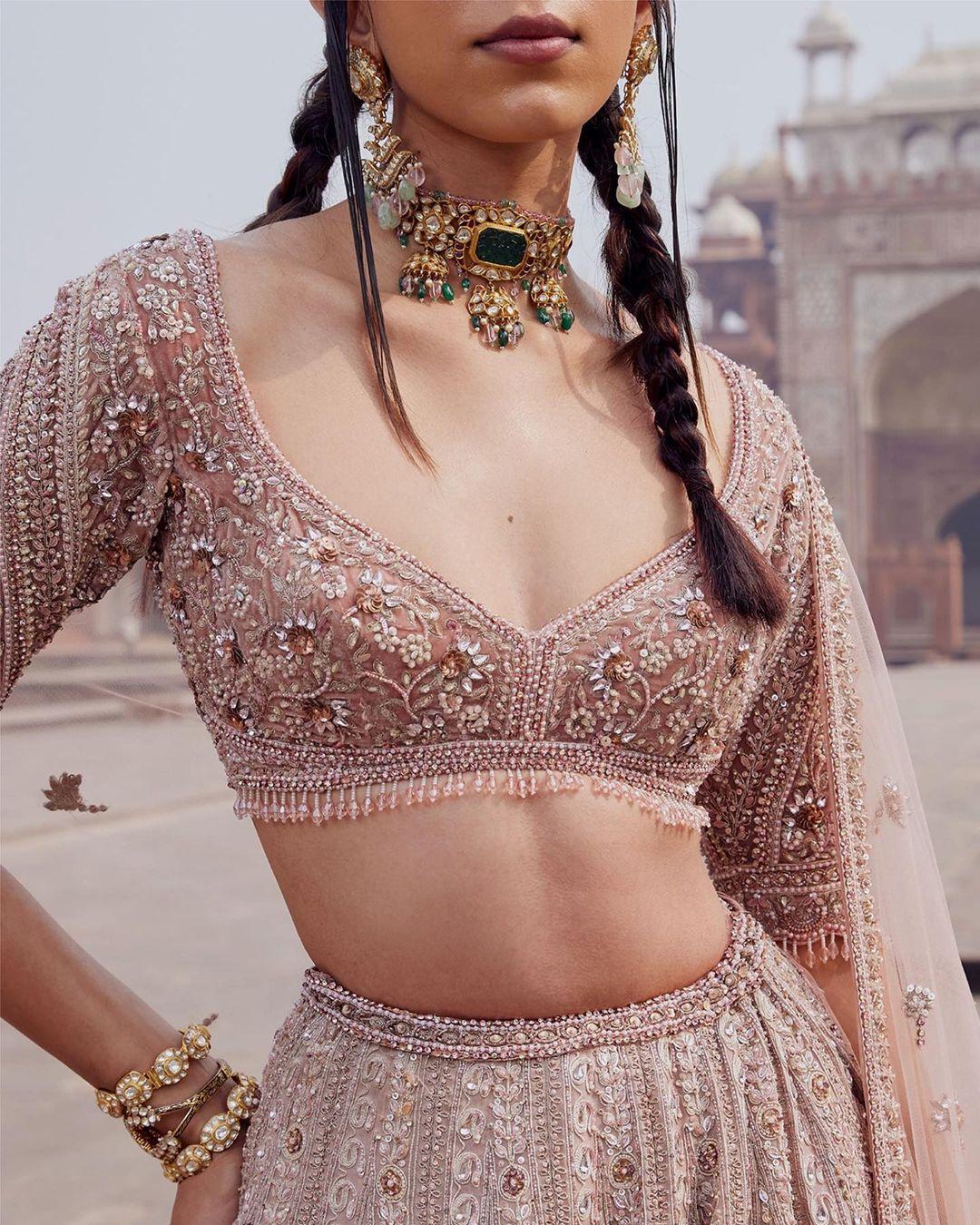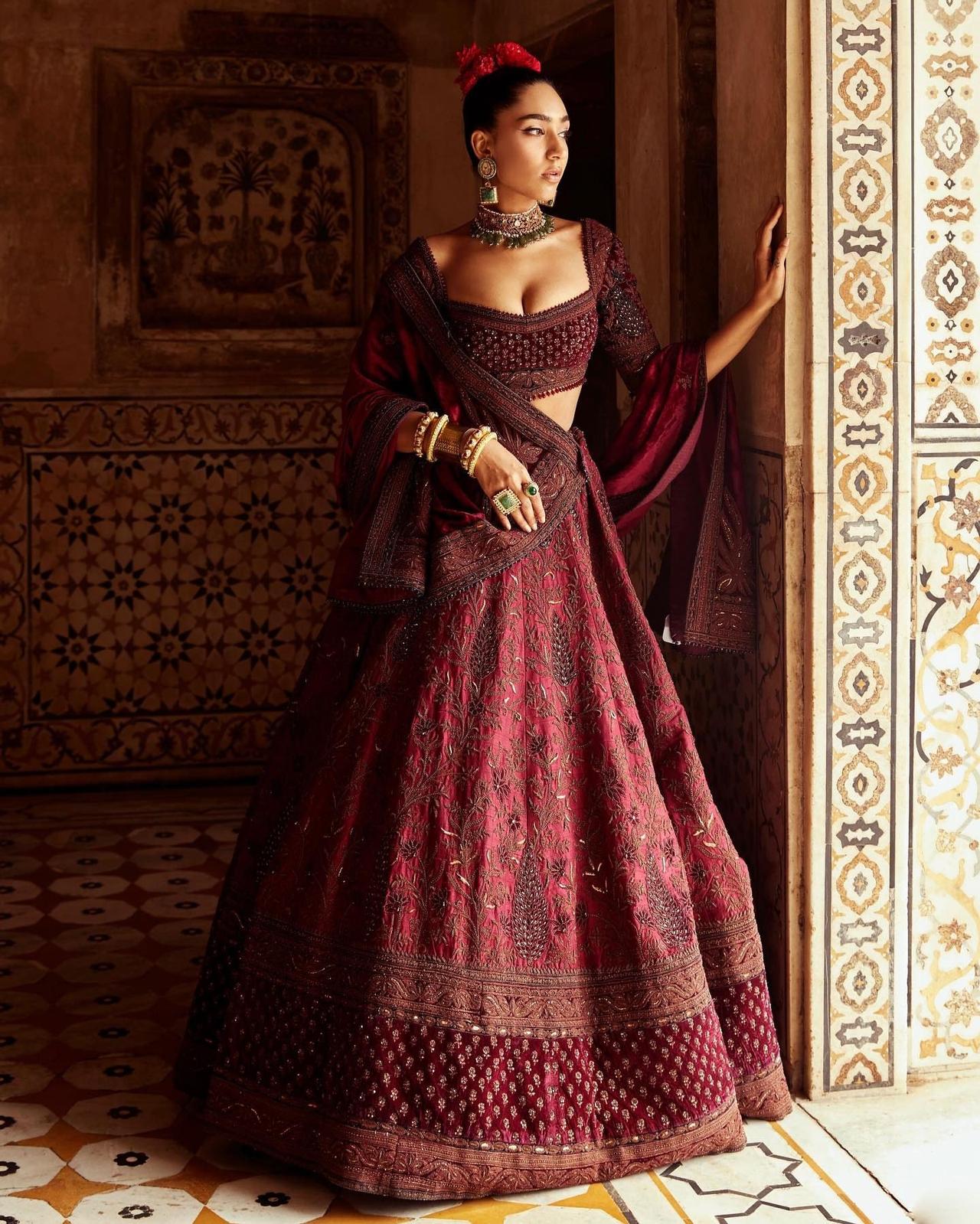 Have you bookmarked your favorite saree blouse designs yet? Tell us what kind of saree blouse designs are you looking for in the comments below!
Read More -
Mehndi Design | Proposal Lines | Simple Finger Mehndi Design | Arabic Mehndi Design | Propose Day Quotes for Boyfriend | Wedding Anniversary Wishes for Sister | Change Aadhar Card Name after Marriage | Tamil Wedding Calendar | Simple Mehndi Design | Pre Wedding Quotes | Engagement Anniversary Wishes | Funny Wedding Wishes for Bestfriend | Blouse Design | Rangoli Design | First Night Tips for Bride | Wedding Anniversary Wishes