7 Cape Sarees That Are Perfect For The Millennial Fashionista Out There
If you are a fan of mixing-and-matching when it comes to your outfits, then these beautiful cape sarees are a perfect sartorial choice for you. Whether you are a bride or a wedding guests, these cape sarees will suit you perfectly.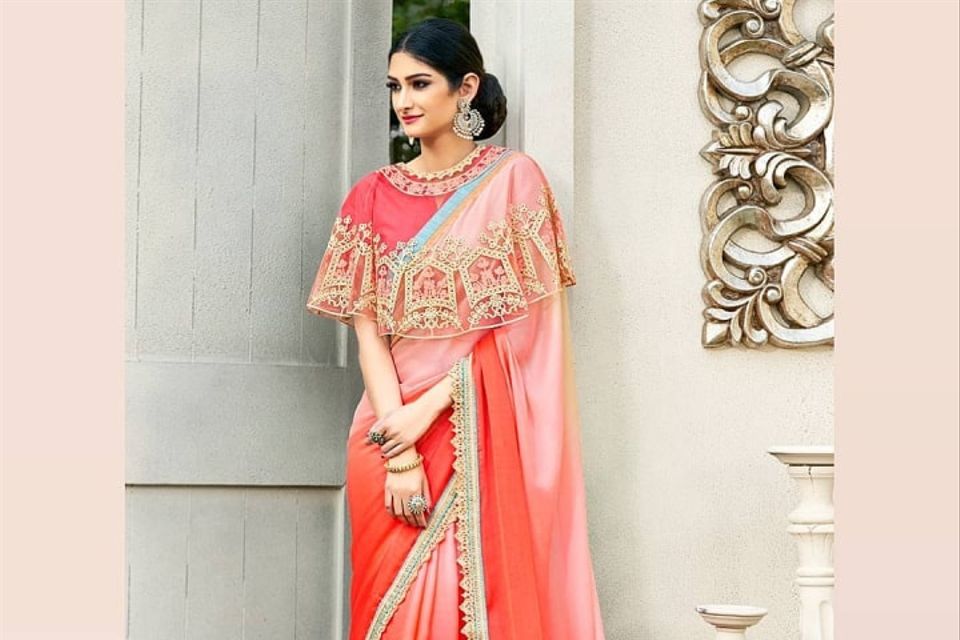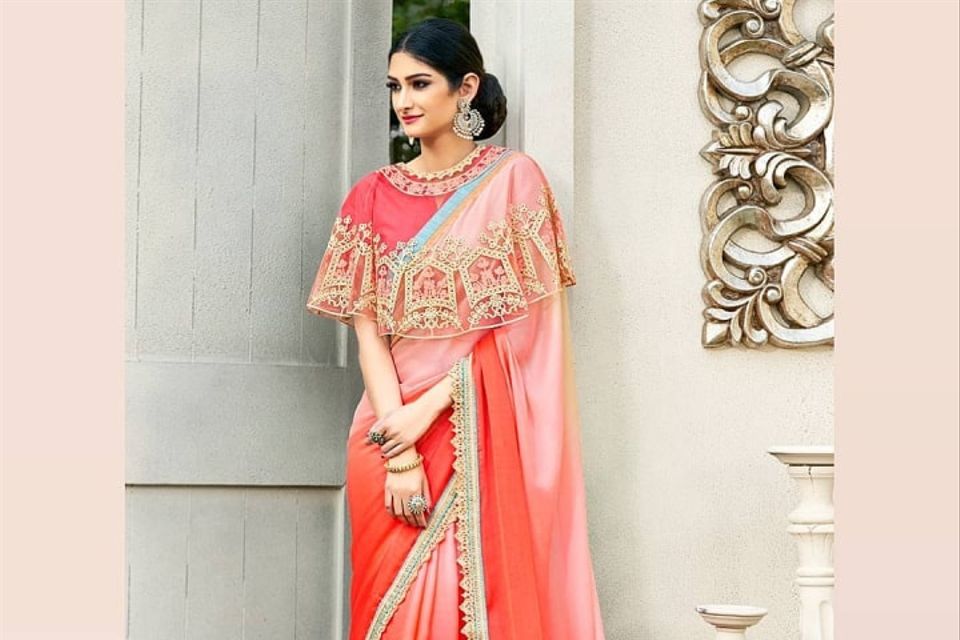 Image Courtesy: Nymphs Collections
Sarees - the nine-yard stunners that can make any woman look like a fashionista. Everything about a saree is just so charismatic and graceful. The drapes, the fall, everything. No wonder why the entire world is so obsessed with this gorgeous Indian garment. And hey, sarees are also one of the most versatile outfits of all time.
Well, let's see. For starters, it is quite easy to mix and match fabrics, colours and styles when you opt to wear a saree. You can wear a cotton saree with a raw silk blouse, an organza saree with a net blouse and so on. Contrasting colours also look great when one is wearing a saree. And moving on to styles. Millennial fashionistas these days are experimenting left, right and centre when it comes to the nine-yard wonders. Be it pairing the drape with trousers or dhoti pants, sartorial experiments always work great with sarees. Which brings us to the newest fad on the saree circuit - cape sarees. While they are not an entirely recent concept, cape sarees came into notice after the master designer, Sabyasachi came out with a pathbreaking design collection of cape sarees. Slowly, they became a rage.
Okay, we won't make you wait any longer and without any further ado, here are 7 gorgeous cape sarees that are perfect not only for one of your wedding functions but also great for when you want to be a stylish wedding guest. Here goes.
1. Pretty in pink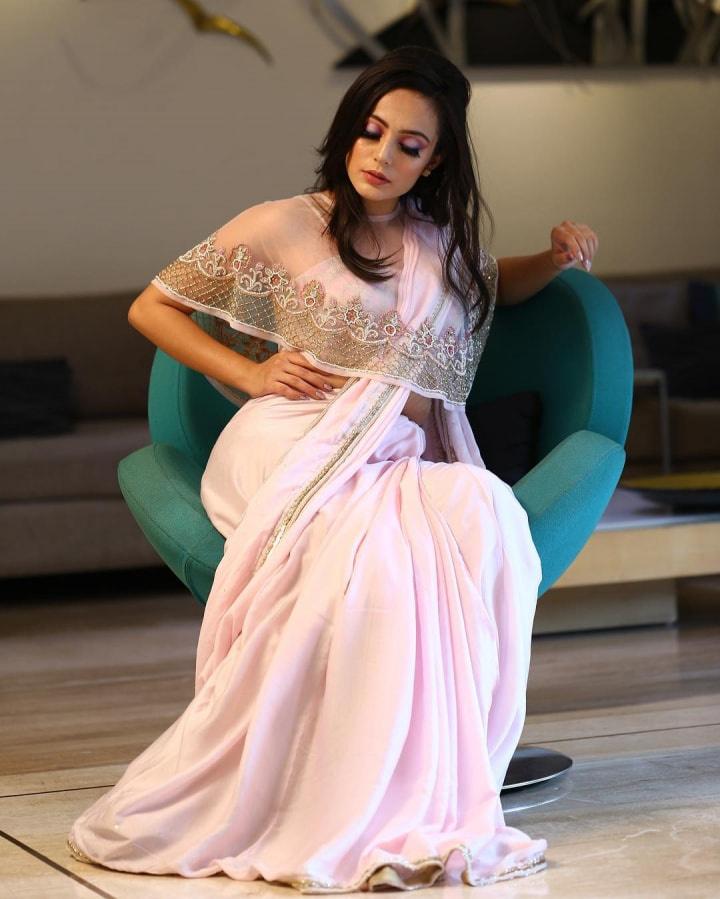 Image Courtesy: Nidhi Halani Label
A beautiful cape saree is all about the intricate detailing. Take this stunning baby pink saree for example. The cape style blouse is embellished with fine stones and has a beautiful network. Beauty lies in the small details. With something as dainty as this, it's best to keep your makeup and jewellery minimal. It is definitely not suited for a bride, but can work wonders for your after wedding functions (read: Rishtedaar lunches and dinners).
2. A royal contrast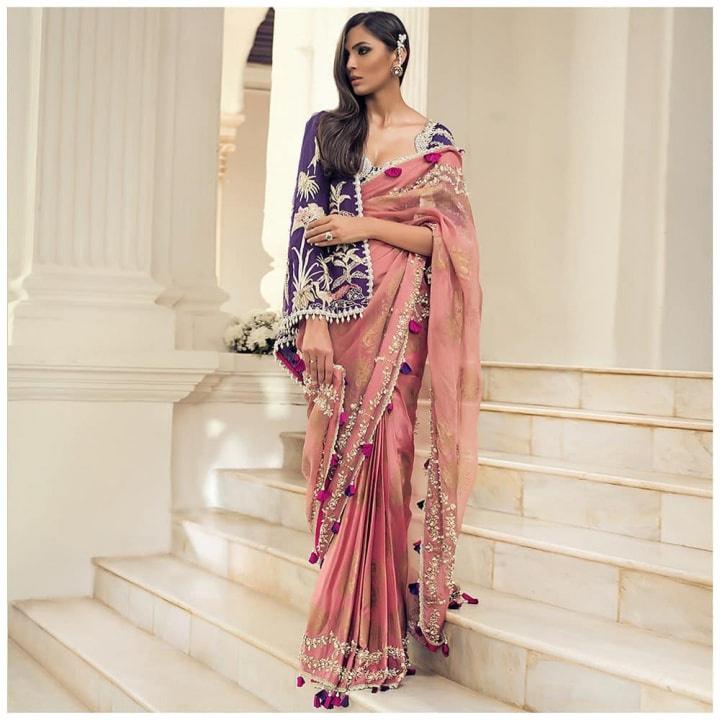 Image Courtesy: Elan Official
Now, this is what we call an outfit that is perfect for a bride-to-be. Like we already said, contrasting colours go well with sarees, even cape sarees. The colour combination of this pretty peach with a vibrant purple is stunning and it is perfect for the Sangeet night. You can pair it with some dramatic eye makeup, a diva-like hairstyle and chunky earrings and your Sangeet night look is good to go.
3. Simple and sweet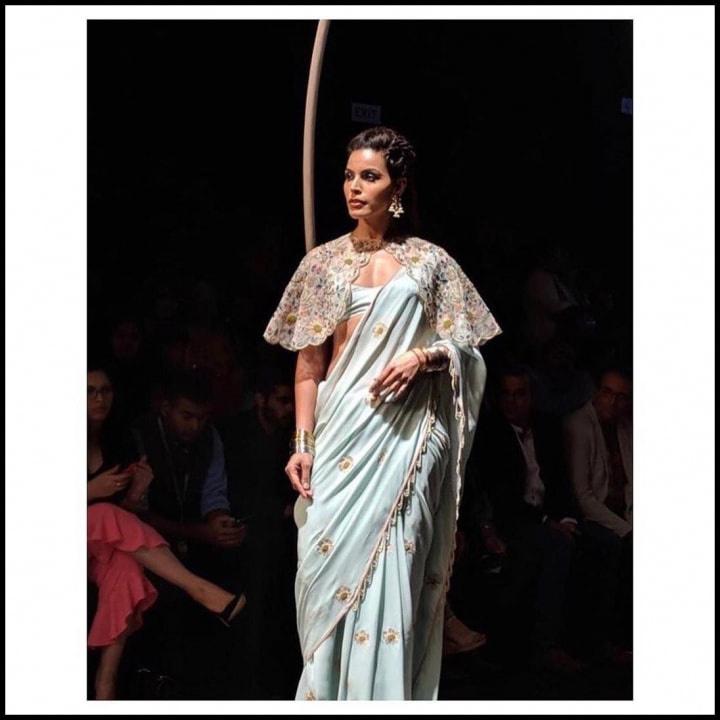 Image Courtesy: Payal Singhal
There is just something special about simplicity and this stunning cape saree proves it. But hey, what it also shows is that even simple can be sexy. A pastel saree with embroidery, a low-cut blouse and a heavily embellished cape over it is our definition of simple yet oh-so-sexy. Pair this cape saree with a ponytail or braided hairdo, and voila!
4. Obsessed with pastels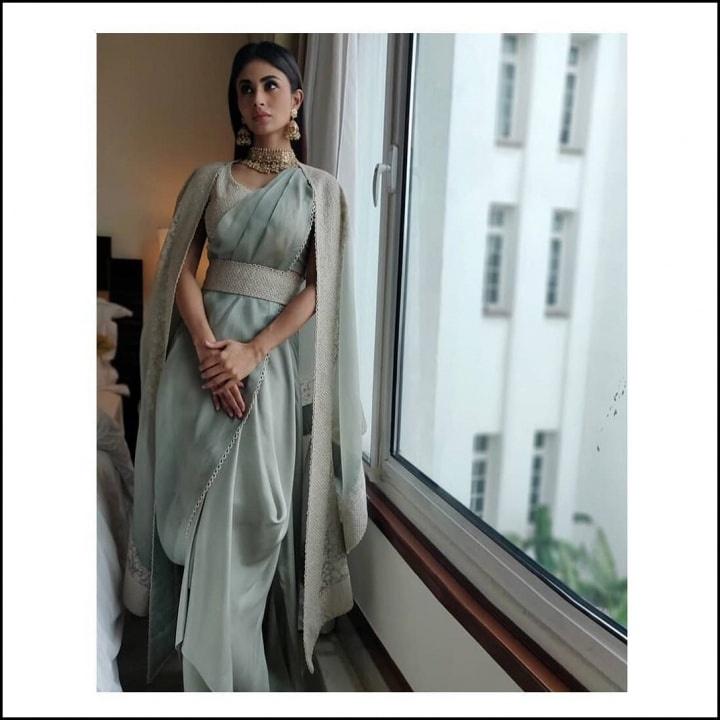 Image Courtesy: Anamika Khanna
Don't you think that pastel colours when teamed with cape sarees really do some great sartorial wonders? Well, we do too. This pretty, pretty cape saree stunned us and we love how the gorgeous Mouni Roy styled it too. Do what she did - accessorise with a broad embellished belt, a stunning choker and Jhumkas and keep your hair straight and you've got a diva look ready. This is a perfect look for your Mehndi function and if you choose a slightly darker colour then maybe you can pull it off at your Sangeet too.
5. Monotone beauty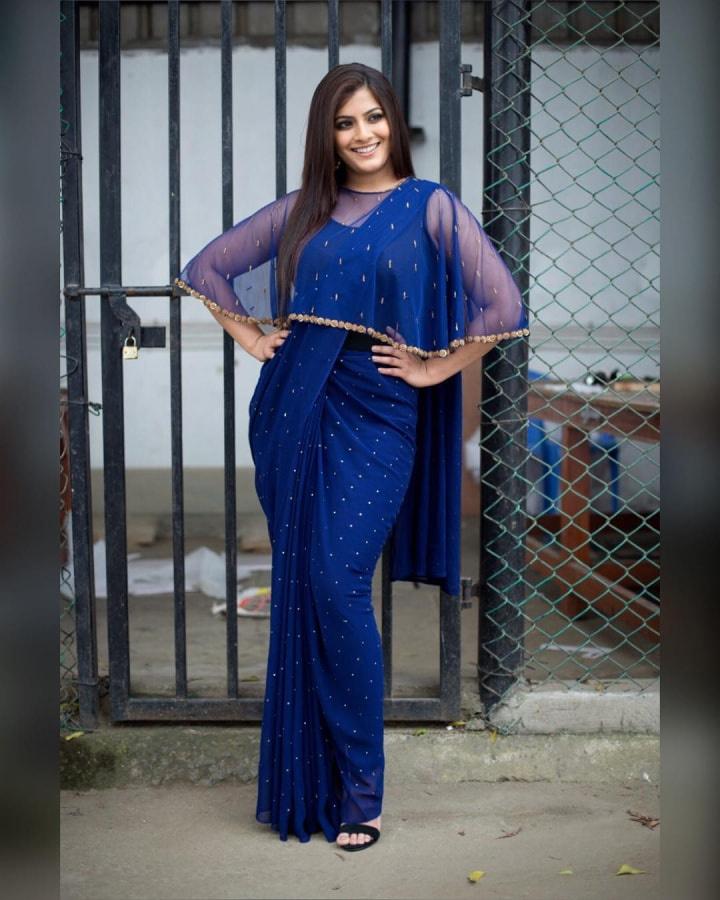 Image Courtesy: MV Bridal Couture
There is something so enchanting about a royal blue saree that we just cannot put our finger on. This very simple blue cape saree paired with a sheer embellished cape with a thin gold border is giving us some serious feels. Since the saree itself is so simple, you can wear it with a pair of heavy earrings and some dramatic makeup. Just keep in mind to not go too loud on either of the too. Style your hair is a messy braid or beauty waves and that should do it.
6. Funk it up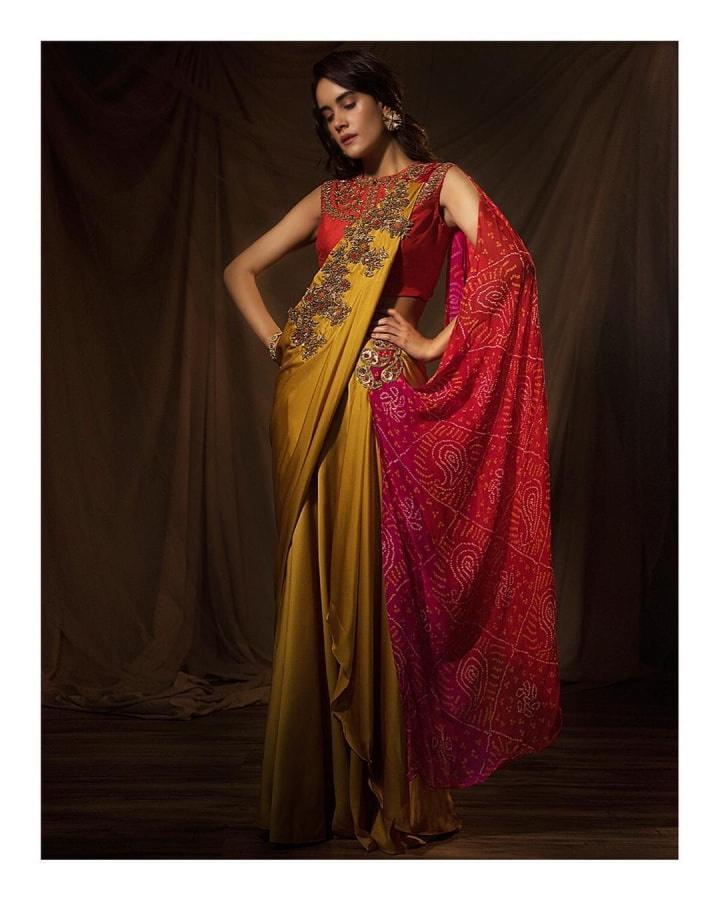 Image Courtesy: Kalki Fashions
Well, well. Here is some funky Bandhini magic for you right there. This is one of the most unique cape sarees we have ever come across. The cape is on one side instead of both and is attached to the shoulder as well as the waistline. What a creative way to cape it, right? You can totally rock this as your Mehndi look. A bun hairstyle and some traditional Rajasthani silver jewellery will work wonders with it. What say?
7. Silky matters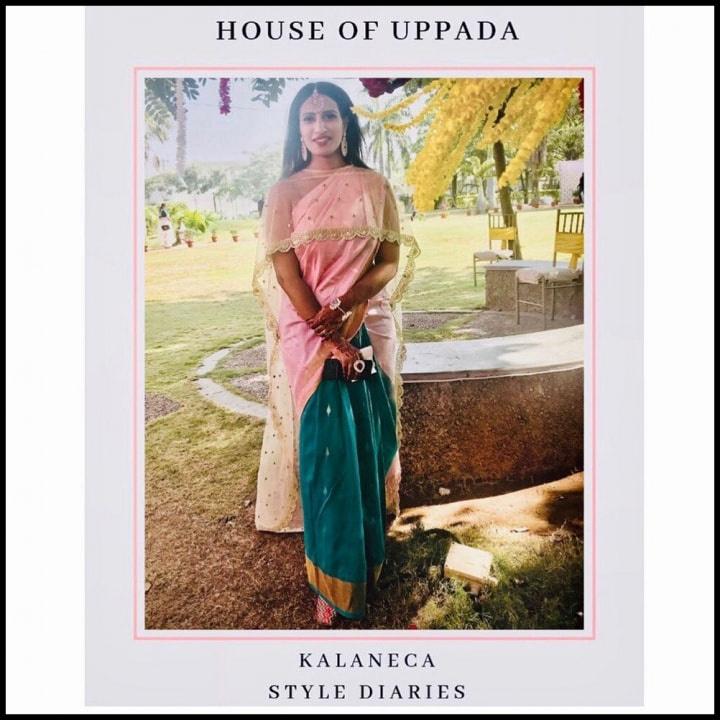 Image COurtesy: Kalenaca Uppada
Remember we told you about matching two different fabrics working well with sarees. Well, here is an example of how great it works. Pair a traditional silk saree with an asymmetric net cape like this one here, and that in our opinion will be the best fusion of cultures anyone has ever seen. Pair the look with open wavy hair and heavy earrings and rest assured, you will turn heads at the wedding.
When, who knew that the good ol' saree could be stylised in such a unique way? But well, you don't know till you don't try. So, we hope you got some serious fashion inspiration from these gorgeous cape sarees. Now go and rock that diva look.
Got any questions or tips that you want to share with us or your fellow readers? Feel free to drop a word in the comments below.