12 Dresses for Mehndi Function For Wardrobe Goals
Scout for different styles, designs & colours that are reinventing the trends for dresses for Mehndi function. Bookmark the ideas you like from our handy guide.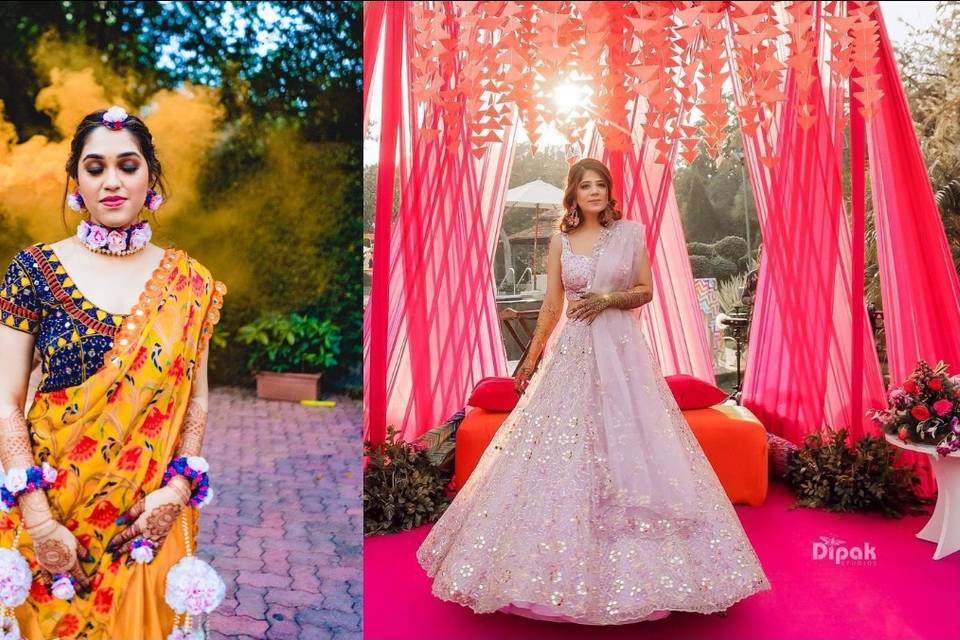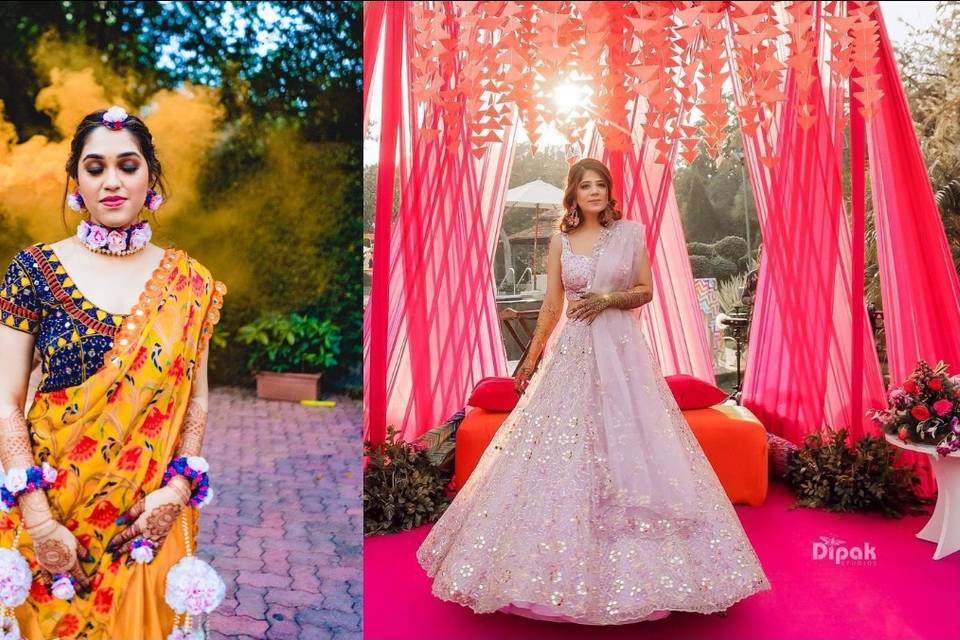 Image Courtesy: AbhiSakshi Photography (L), Dipak Studios (R)
Hola Brides-To-Be! Are you busy looking for dresses to add to your wardrobe for the Mehndi function? Every wedding season brings with it new trends and styles, fresh colour palettes are reinvented and a range of designs are experimented with. We almost always look at a Mehndi function as a ceremony with vibrant hues and happy tones. Most brides pick green, yellow and orange for their colour palette in easy-to-wear attire that allows them to sit and dance for long hours comfortably, and of course, add to their bridal elegance while they get their hands and feet painted gracefully.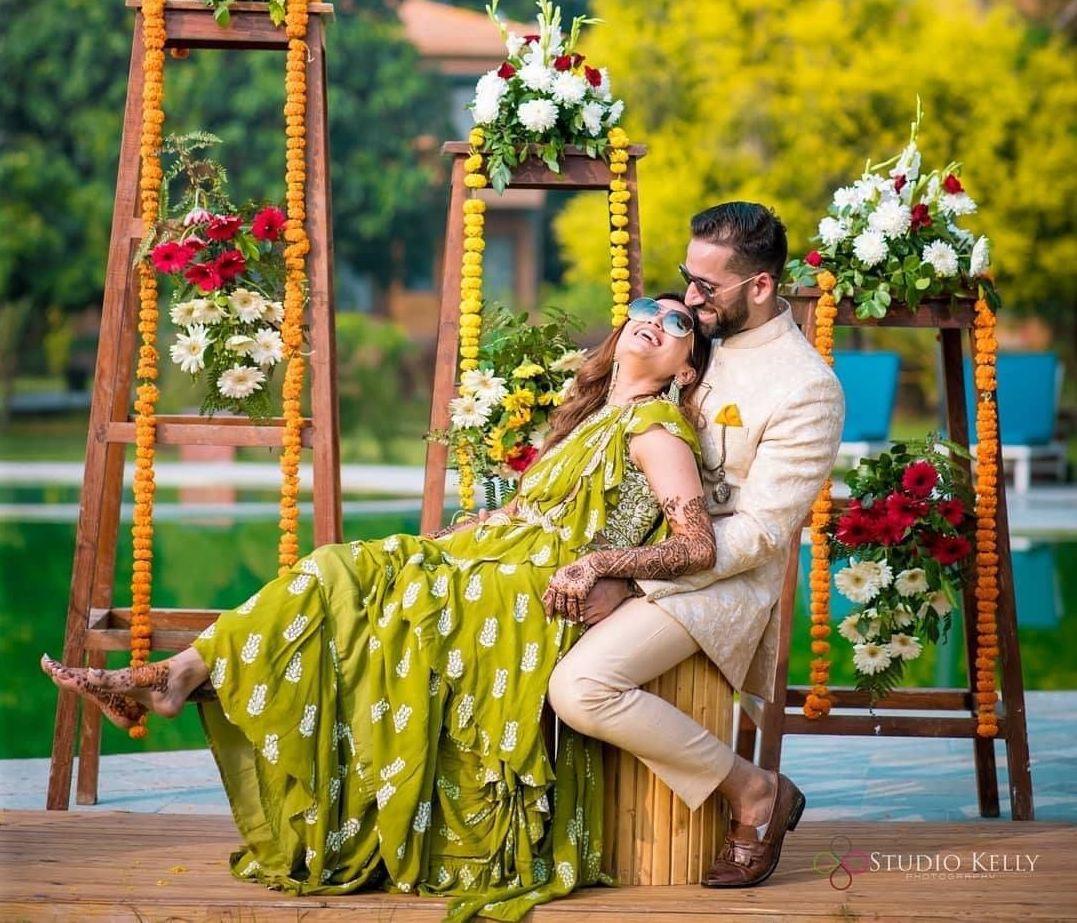 The modern brides do not shy away from experimenting and exploring options beyond the expected! Vibrant hues of blues, even black, have made its entry into the wedding fashion and attire range, from the classic Salwar Kameez to Indo-western gowns and even jumpsuits.
So, ready to find the trending styles, designs and colour palettes for dresses for mehndi function this wedding season? Let's take a look right away.
Teal Velvet Lehenga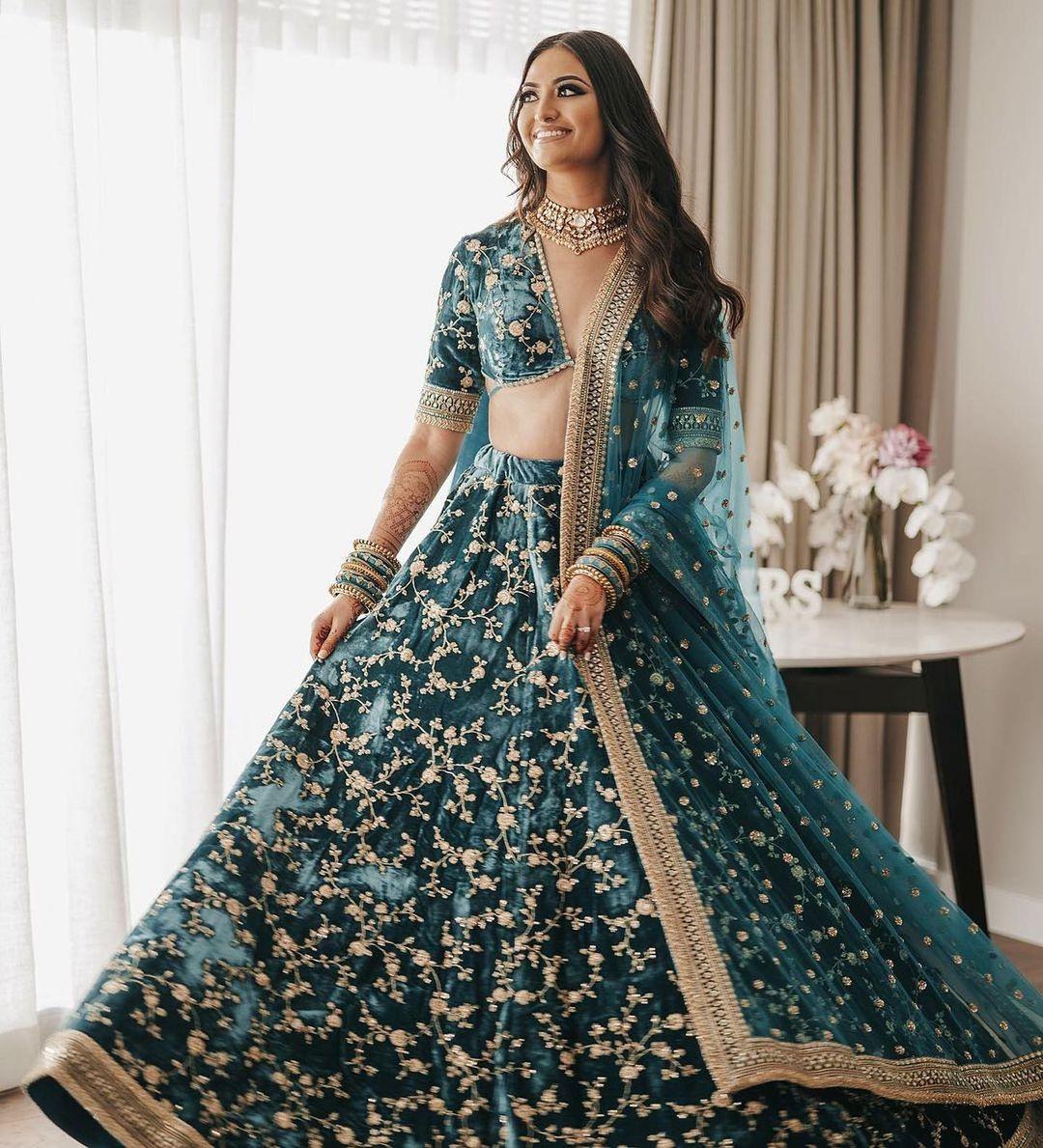 Wear this beautiful velvet lehenga in teal with gold thread work by Mahima Mahajan to add a glimmer to the mehndi function attire. Velvet is a very popular fabric for winter weddings and velvet lehenga with a beautiful velvet blouse can never go wrong!
Green Banarasi Saree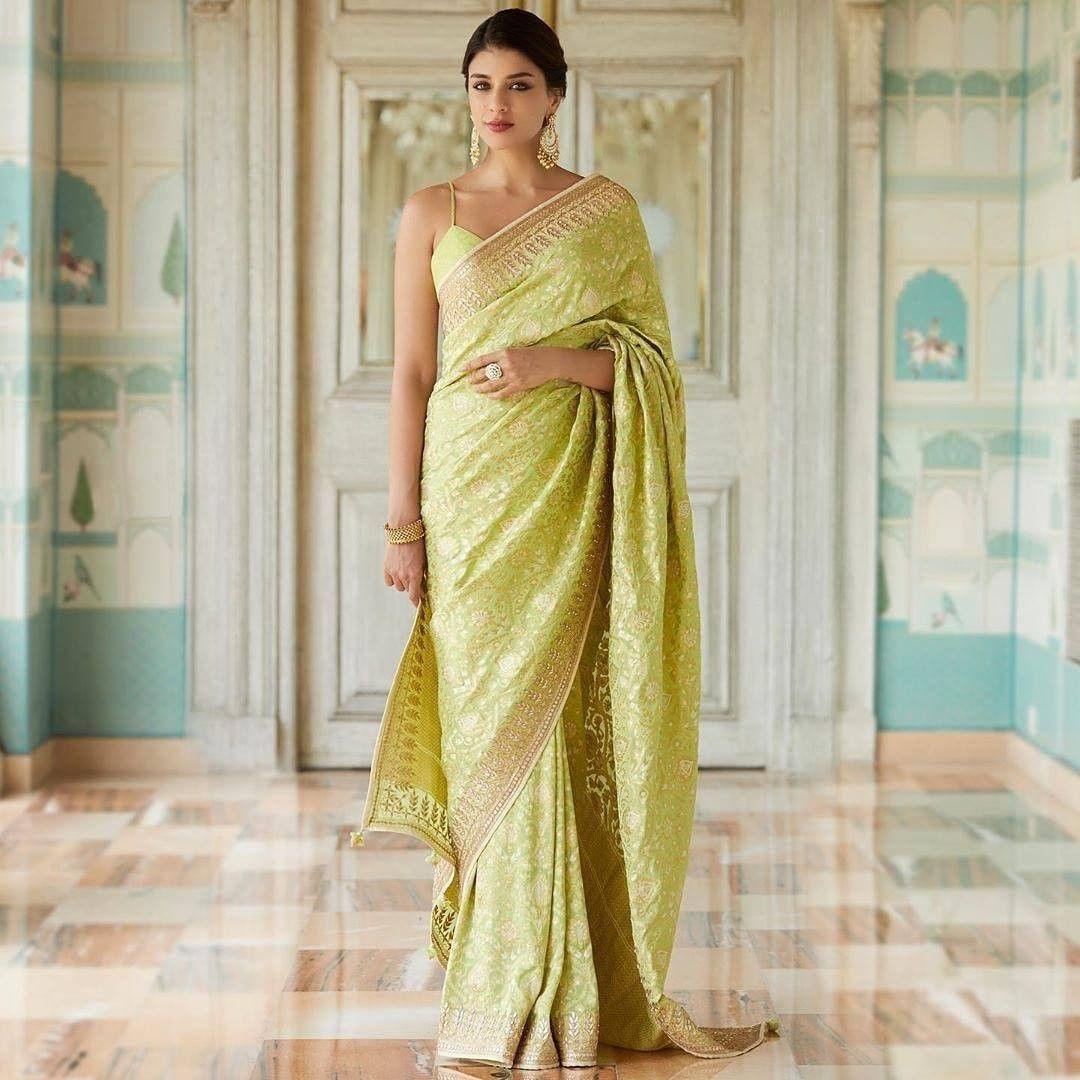 A saree is versatile and can never go out of style. For the Mehndi ceremony, a simple Banarasi saree in lime green is a classic fashion statement that is sure to make you look stylish and beautiful. Pick this Anita Dongre saree for an unforgettable yet simple mehndi look.
Neon Green Lehenga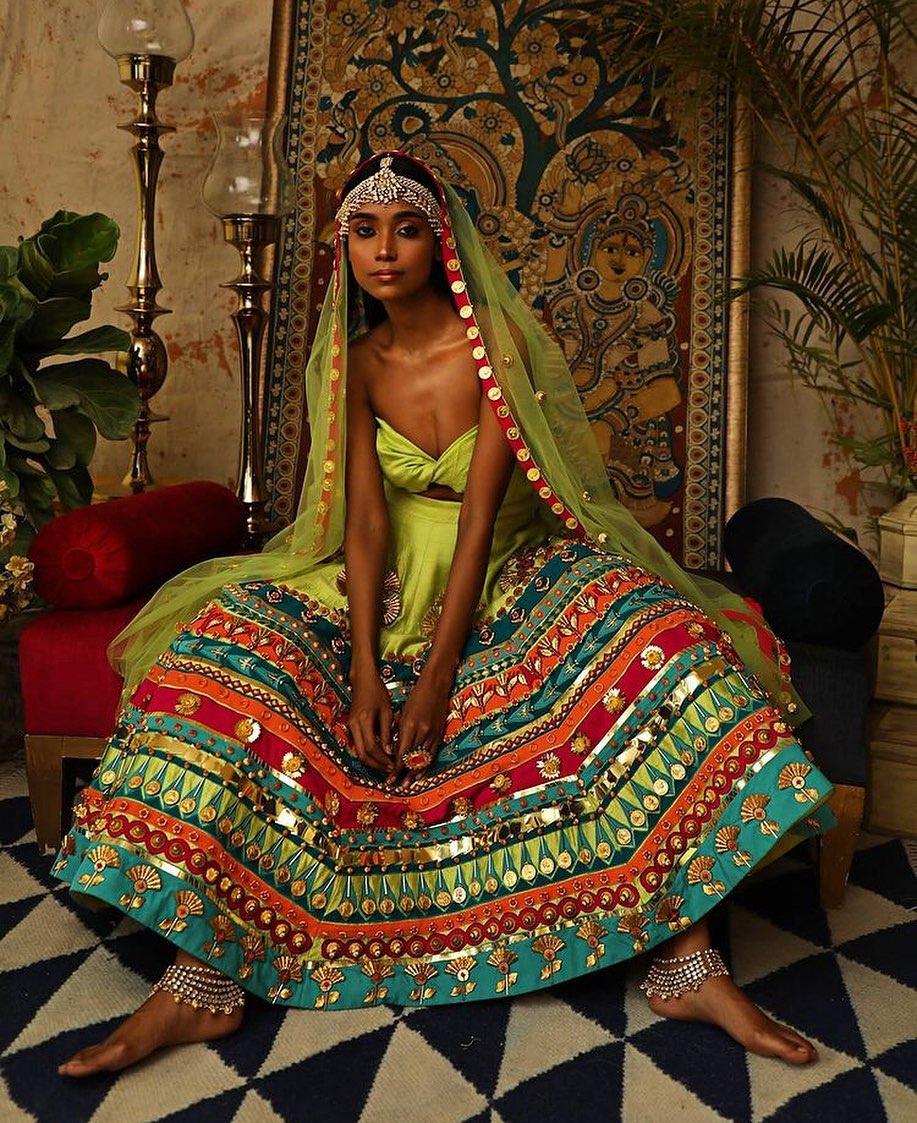 If you want to keep your Mehndi function attire sassy and edgy, then opt for this neon green lehenga with stunning appliqué embroidery on raw silk and vivid colours that run through the skirt parallelly. The nomadic touch of this Apurva Motwaanii lehenga makes it even better for a Boho themed mehndi function.
Skirt with Stripe Choli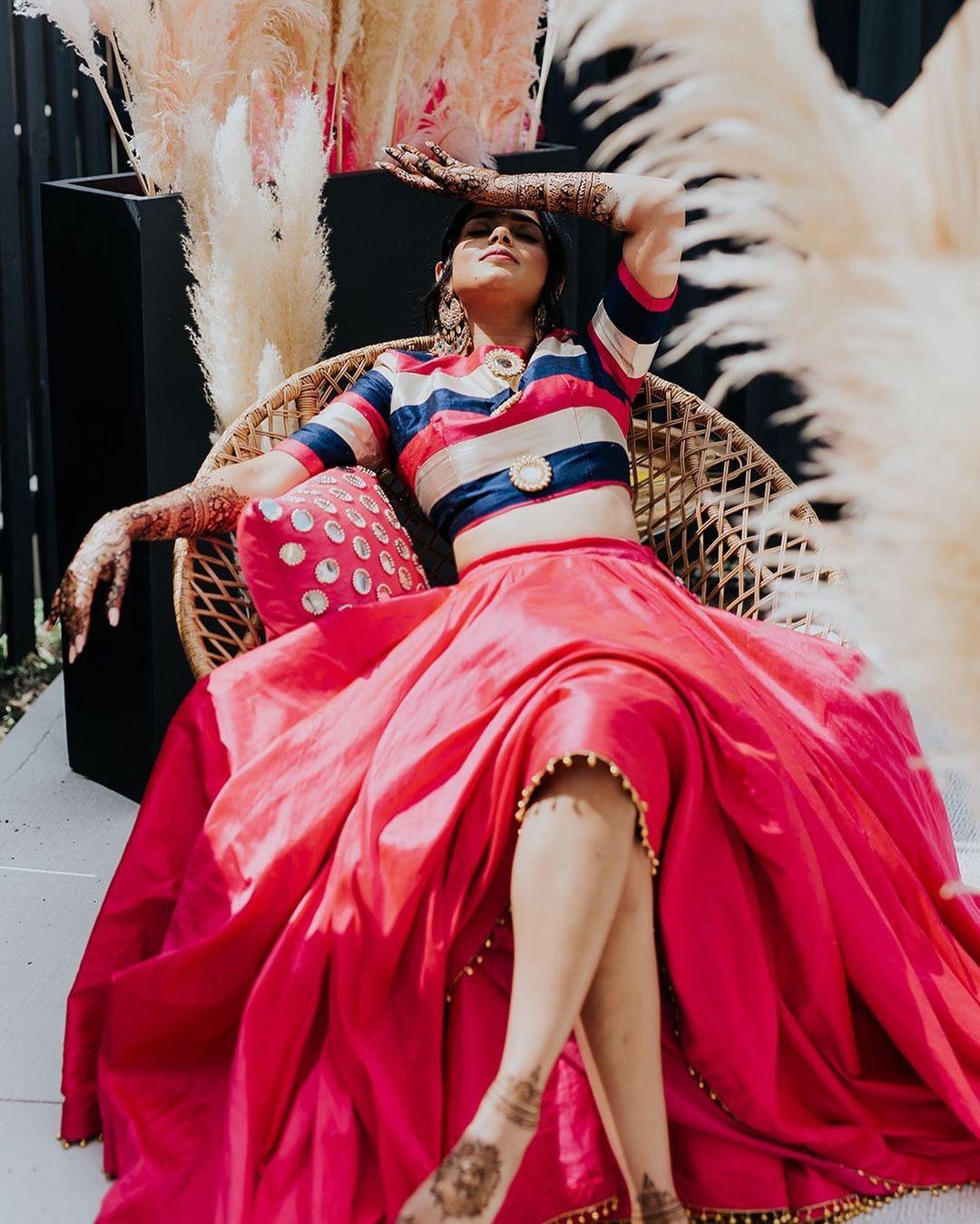 Image Courtesy: Mani K Jassal
Many brides prefer to keep the bridal colours and opulent attire for the wedding day and choose unconventional colours and simpler styles for other ceremonies. Dresses for Mehndi function allow you to pick and choose from a range of colours and styles. You can pair this Mani Jassal long skirt that shows off the ghungroo detailing at the bottom with a striped choli in raw silk. These more unconventional shades like blue, pink and golden look stunning and you can even make your own style statement with your own bridal lehengas.
Pre-stitched Dhoti Skirt with Corset Blouse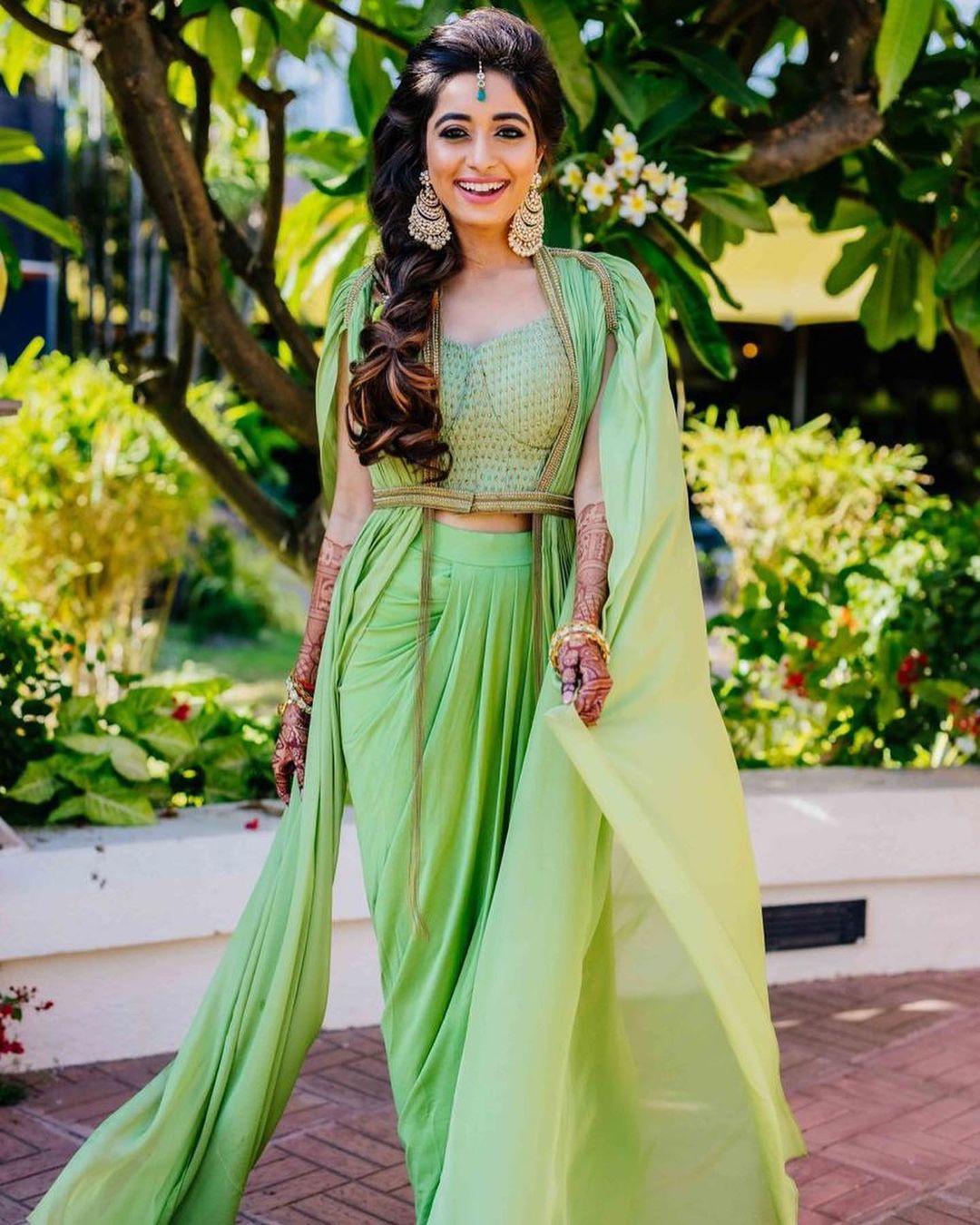 This is one of the most unconventional dresses for Mehndi function. Pick a conventional colour for mehndi - green, and make it absolutely stunning like this bride did. The Indo-western look that the corset blouse gives to this pre-stitched skirt with a saree silhouette is breathtaking!
Pastel Green Floral Lehenga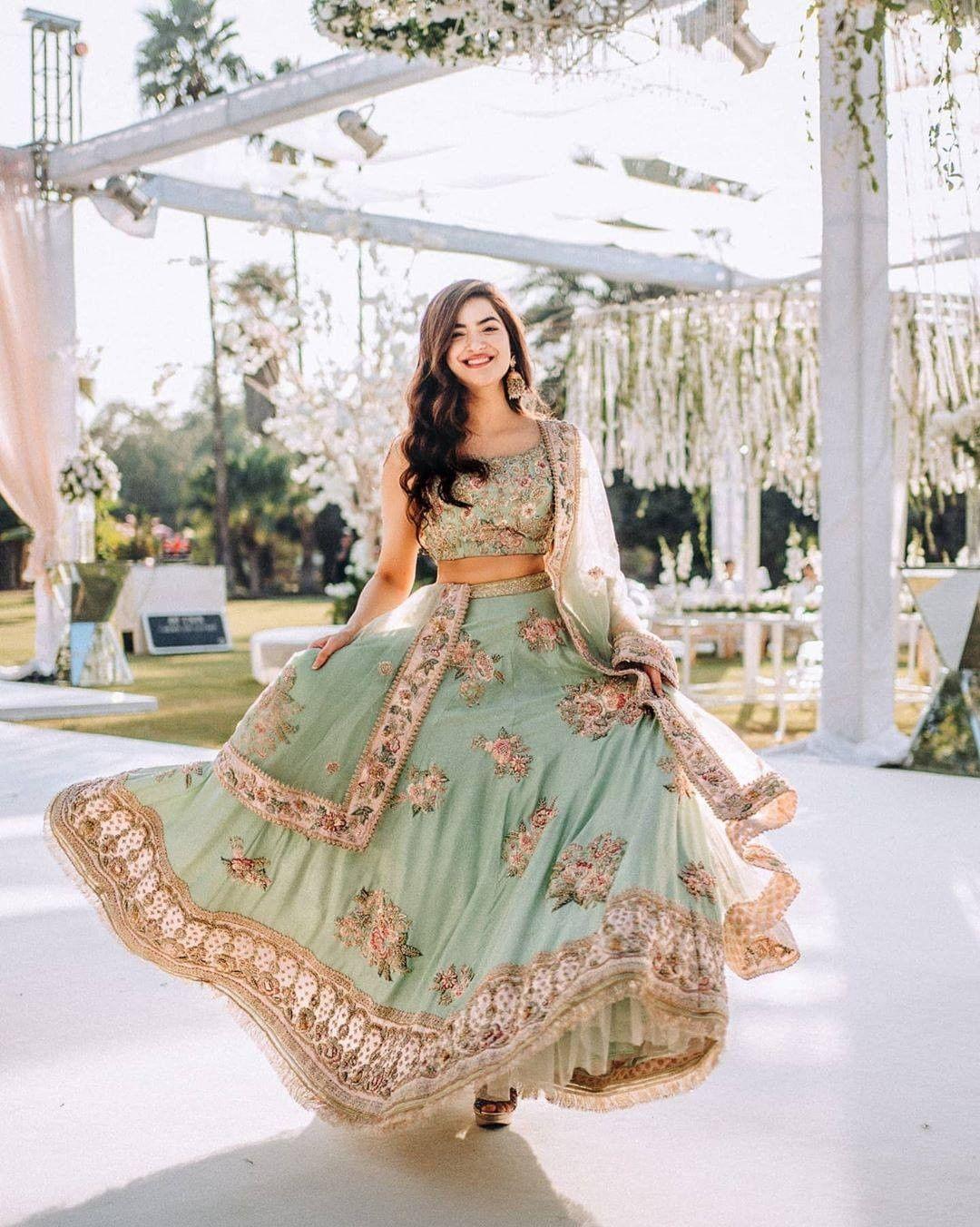 Image Courtesy: Omorose Couture
This is probably one of the trendiest colours when it comes to pastel dresses for Mehndi function. While most brides opt for traditional bright hues, millennials have fallen in love with pastel lehenga designs. This pastel green floral lehenga by Omorose is a hoot!
Lehenga With Contrasting Blouse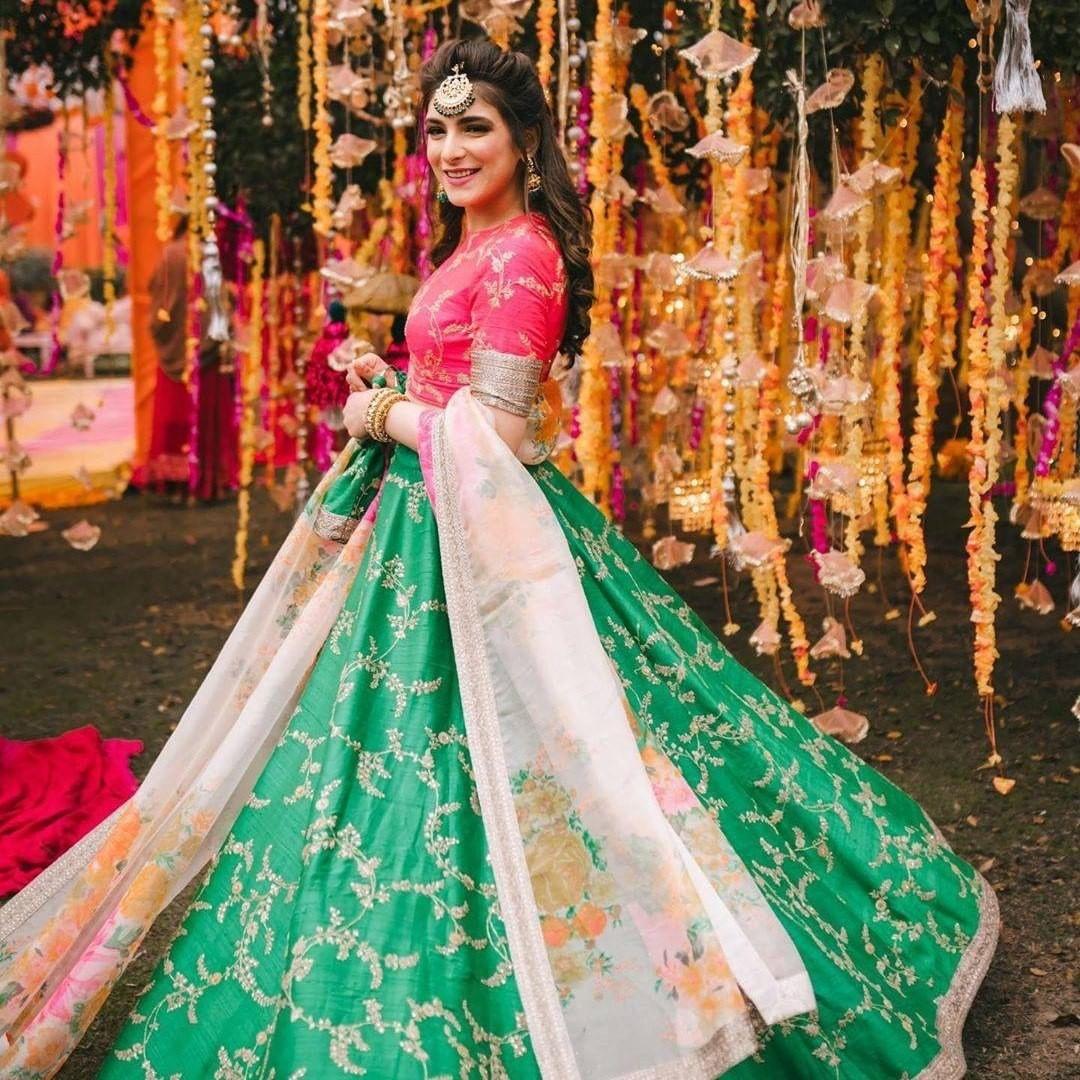 Image Courtesy: Sabyasachi
This is probably one of the chicest trends when it comes to dresses for Mehndi function. We cannot get over this floral detailing of this Sabyasachi lehenga. The contrasting colours for the skirt and blouse like bright pink with a vibrant shade of green add to the beauty.
Fuschia Sequin Jumpsuit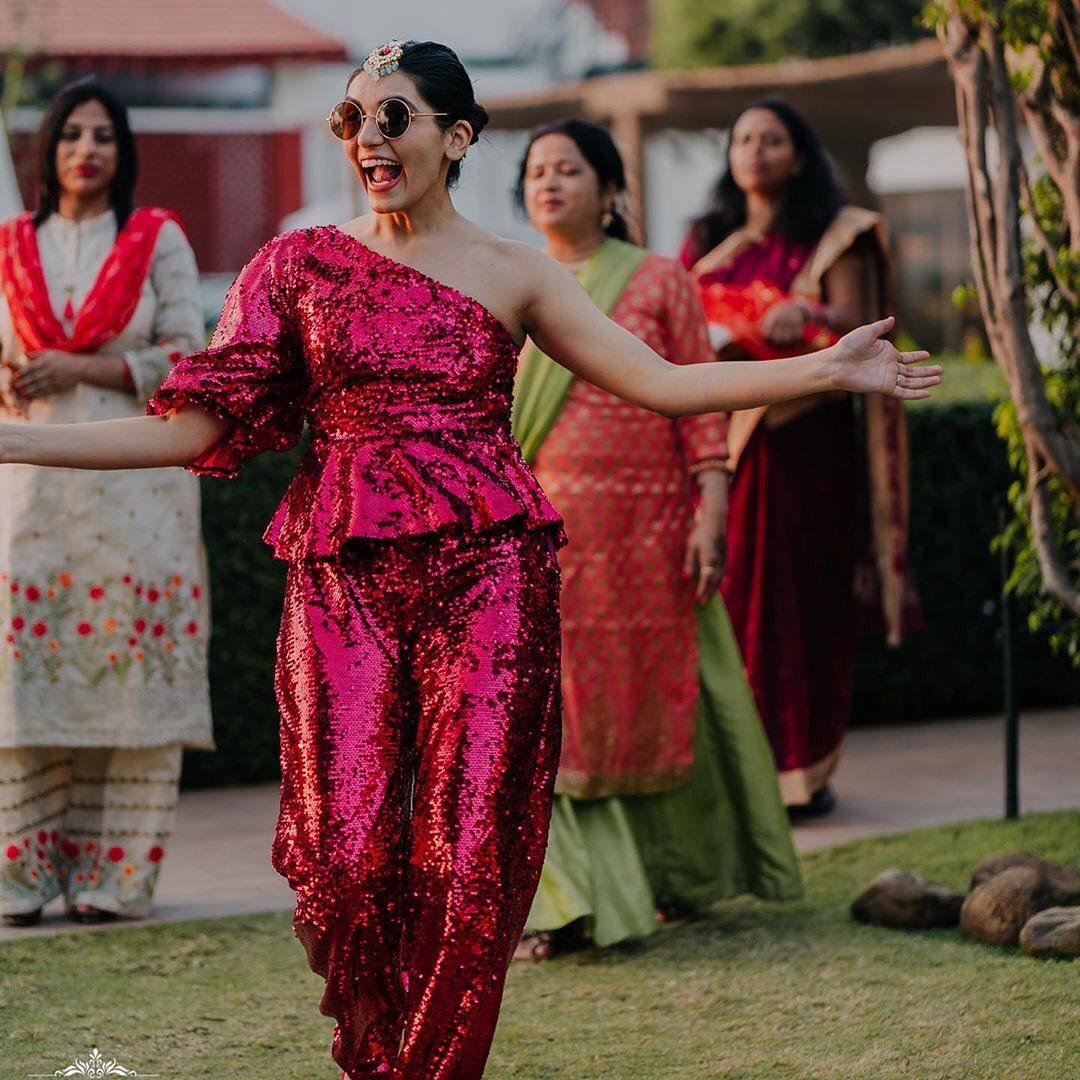 For the brides of today who love to experiment with their wedding trousseau, this sequin jumpsuit from Zara is the edge that you were looking for. Keep it hip and happening and pick this dress for mehndi function!
Green Mirror work Lehenga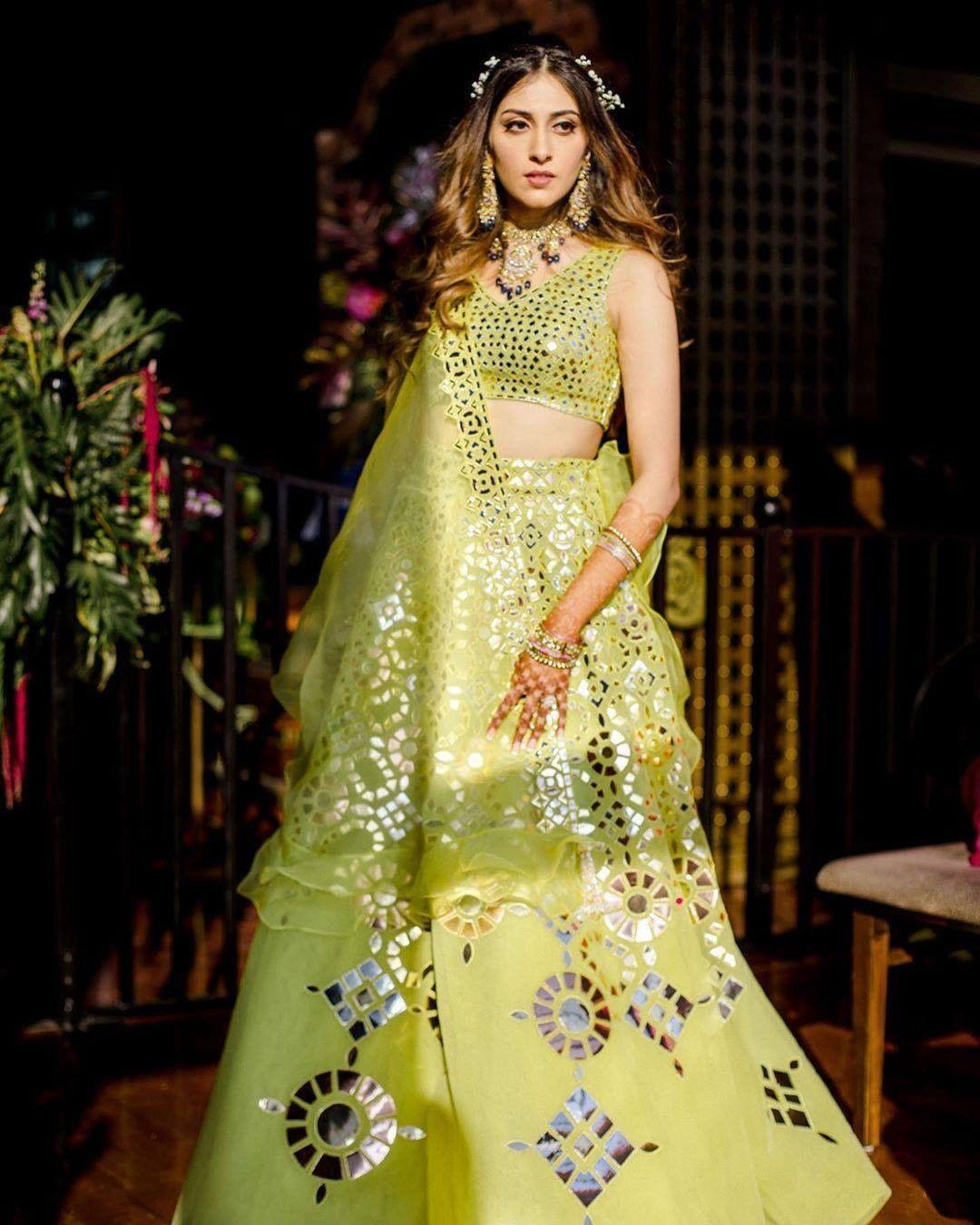 Mirrorwork lehengas are an evergreen trend. Blending traditional mirror work with a modern twist, this Abu Jani Sandeep Khosla worn by Anissa at her wedding - The #AnissaMaanGayi wedding is a beautiful pick for your mehndi function dress.
Dark Green Lehenga with Contrasting Dupatta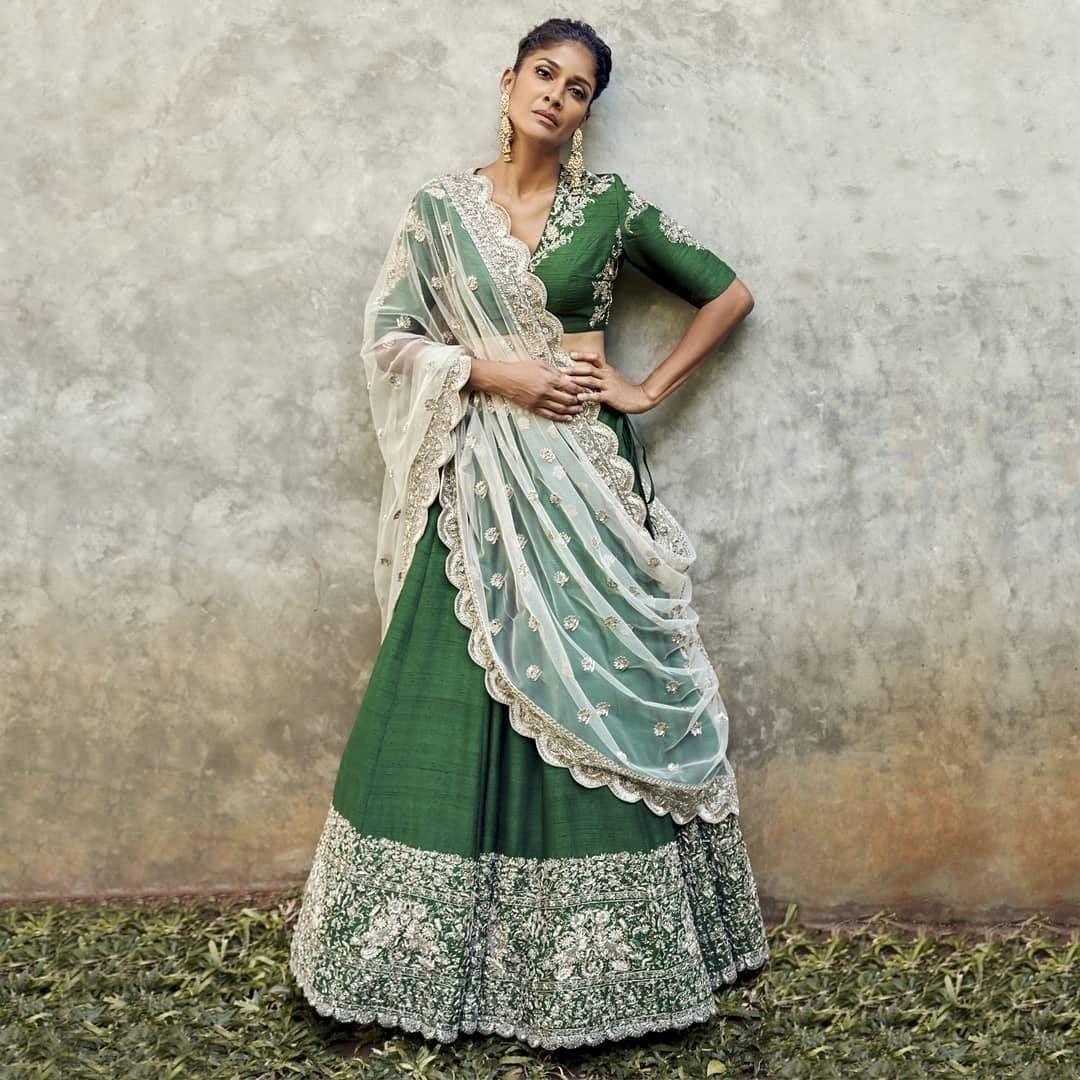 Keeping it simple yet royal and classic, this dark green lehenga by Anushree Reddy is a charmer. The short sleeves guarantee a fuss-free mehndi and the contrasting yet subtle and intricate ivory floral work on the lehenga add to the magic of this look for your mehndi function.
Purple Leheriya Lehenga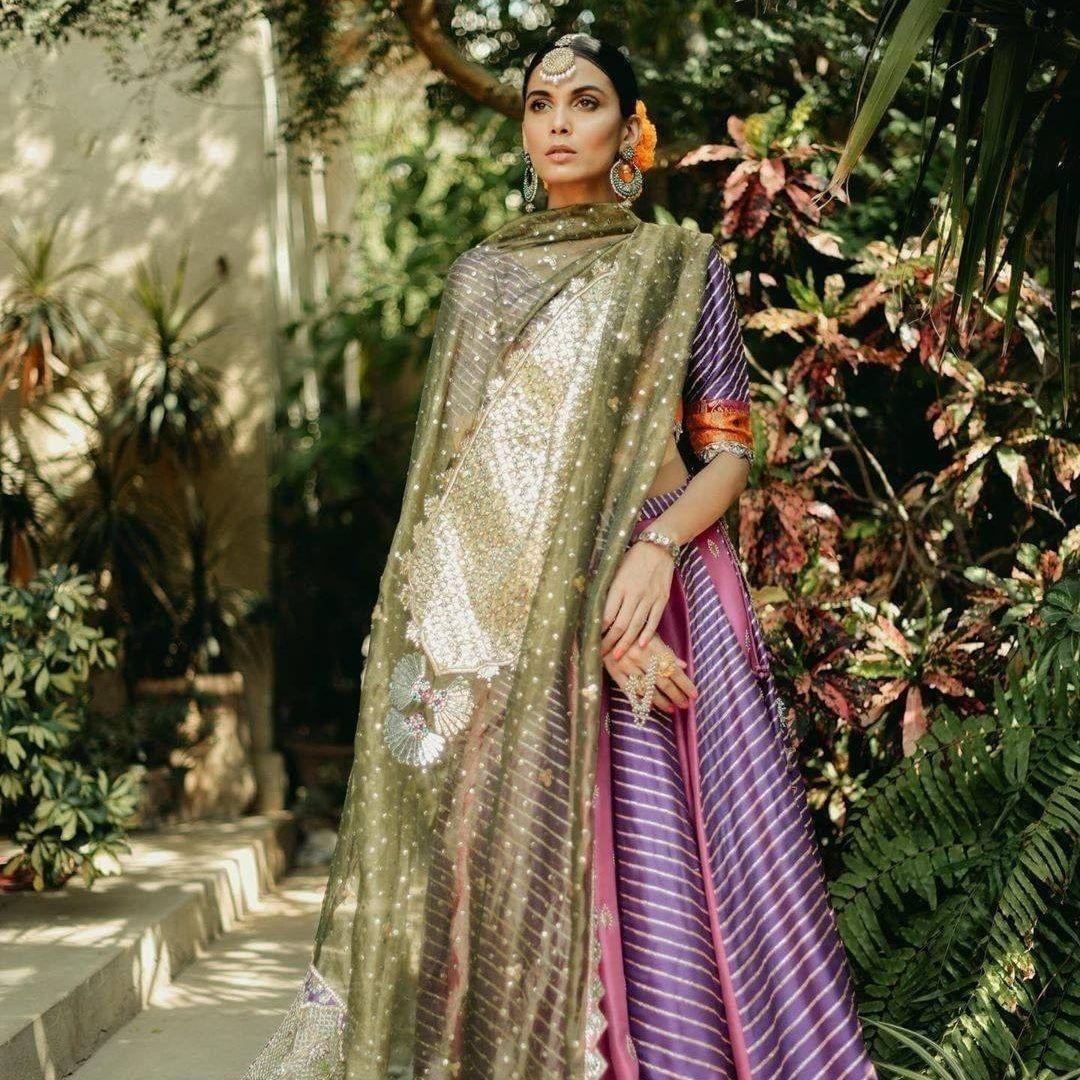 Image Courtesy: Kala by Mubashra
Leheriya prints are such a beauty when it comes to flaunting traditional outfits. This purple leheriya print lehenga with an olive green contrasting dupatta and a dash of tangerine on the sleeves adds the perfect amount of drama to your intimate wedding's mehndi ceremony.
Green Sharara Suit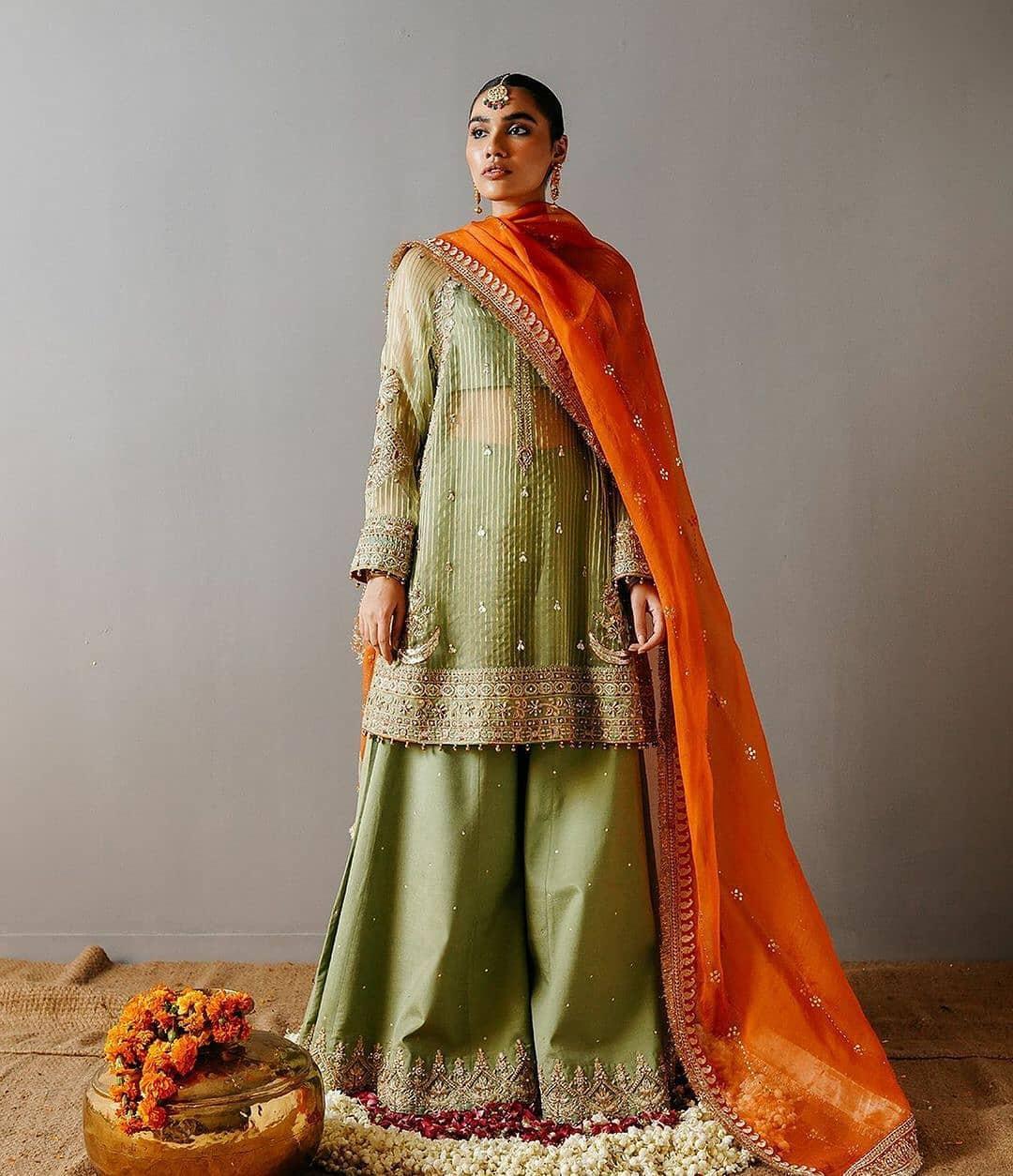 Image Courtesy: Zara Shahjahan
The subtle sage green sharara set with the orange dupatta by Zara Shahjahan is an ensemble that will add to the charm of your mehndi ceremony instantly. You could personalise the sleeves of the Kurta to make your mehndi less messy on the arms.
What's your mehndi attire style going to say about your vibrant personality? Tell us your choices in the comments below.