11 Trending Velvet Blouse Designs for the Stunning Brides of Today
Dress like royalty in these trending & latest velvet blouse designs that we have curated for your bridal inspiration. Scroll up to know!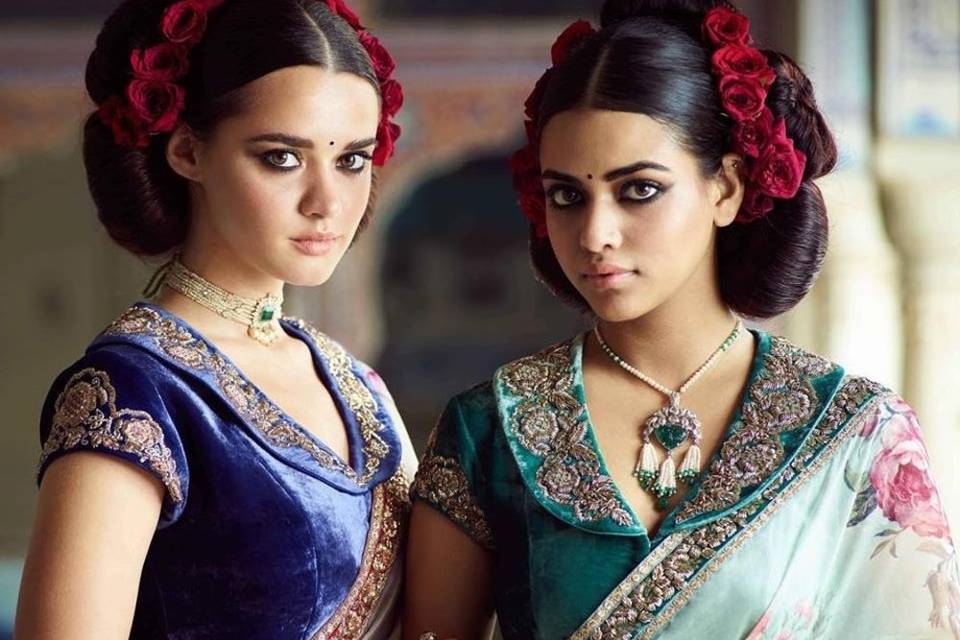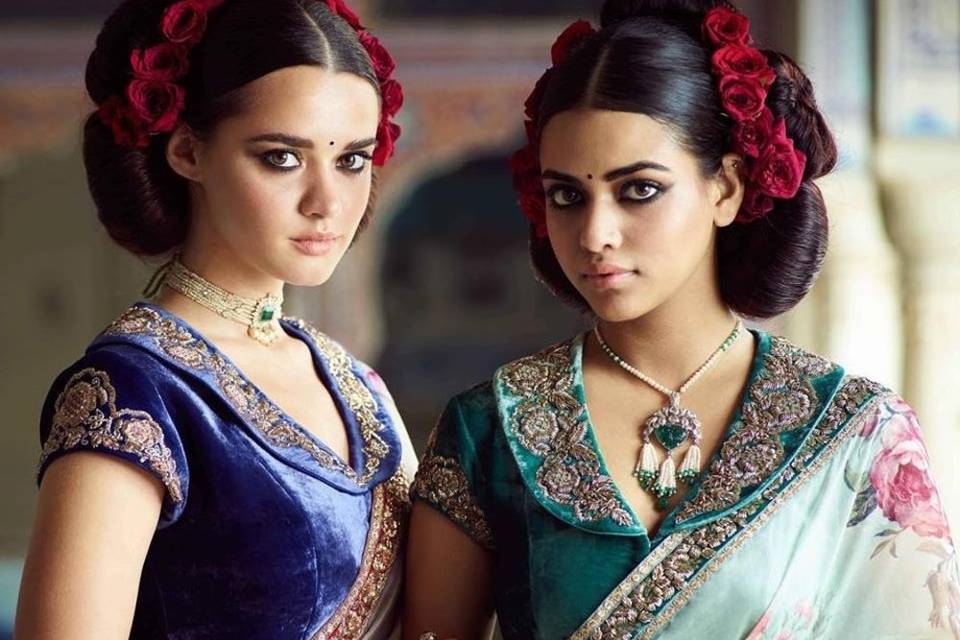 Image Courtesy: Sabyasachi's Instagram
Velvet is a fabric that has been used by many for centuries. Velvet is synonymous with luxury. It is a fabric that is woven on a specific kind of loom that weaves a material with two thicknesses at the same time. This is then cut into two pieces to obtain a short and dense pile on top of the fabric. This complicated method is what makes velvet costlier than other fabrics. The fabric is used to stitch a variety of different outfits, and the options are plenty. Since the fabric has a rich and luxurious look, it is great for weddings and festive wear.
The dense pile of threads on the fabric gives a silky smooth feel to the fabric that cannot be matched. Velvet can be made out of different materials such as silk, cotton, linen, etc. One that is made of pure silk is one of the most expensive fabrics in the world.
Commonly, a mix of silk and rayon is used to make velvet for various kinds of clothing. This fabric that inspired an adjective to describe its nature (velvety) is something that every fashionista loves. Velvet is regal, unique and gorgeous in its various forms.
If you're looking for a fancy blouse to go with your net saree or a net lehenga, a velvet blouse designs can be the perfect option. Let's look at some fashionable velvet blouse designs that will inspire you to come up with your own fashionable designs this wedding season and here are some inspirations for the different kind of velvet blouse designs you can go for, as per your preference.
Maroon Embroidered Collared Blouse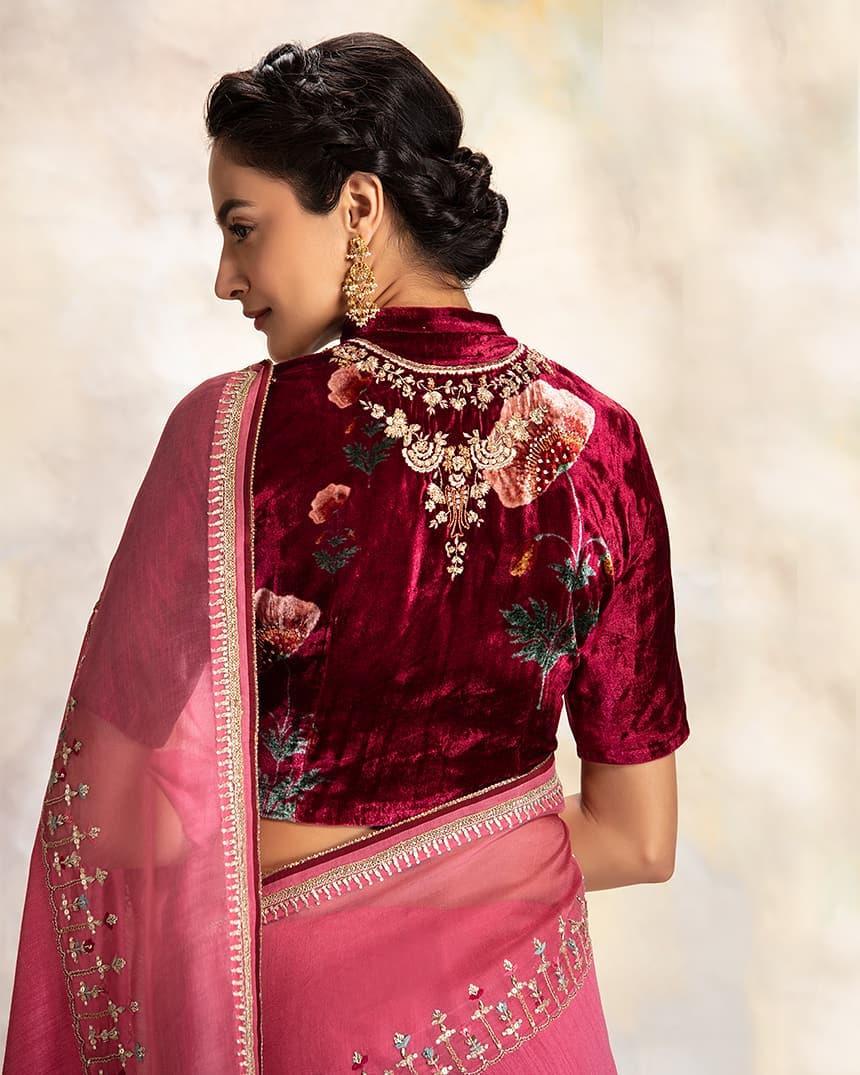 Image Courtesy: Anju Modi
Velvet blouse designs like this gorgeous maroon half-sleeved shirt collared blouse are perfect for any grand celebration. Beautifully crafted in velvet, the embroidered detailing all over makes the blouse look rich and stylish. You could team this blouse with a silk saree or silk lehenga to complete the look.
Emerald Green Velvet Blouse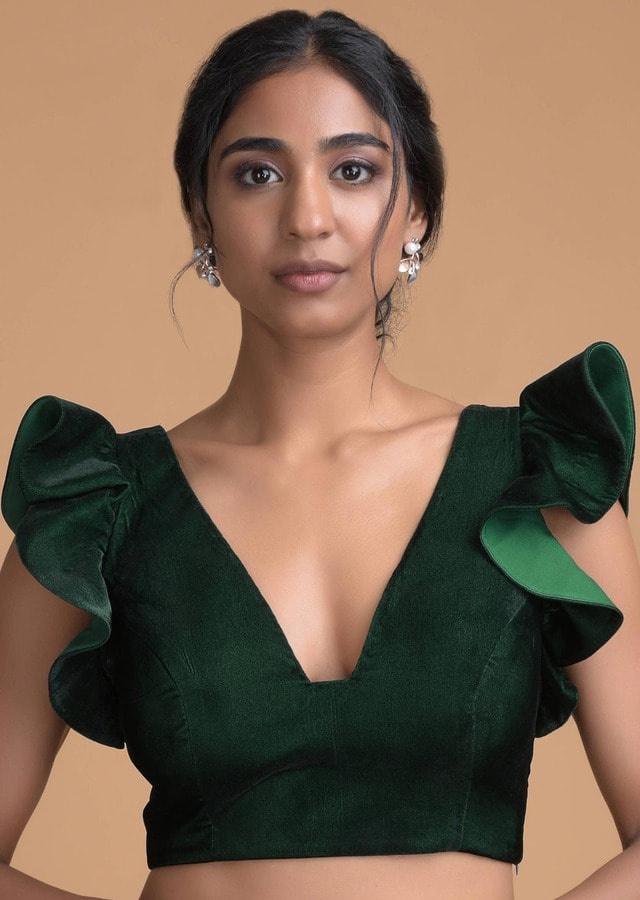 Go in for a simple yet OTT velvet blouse design when you're stuck wondering what to wear for the big day. Check out this emerald green velvet blouse with a side chain and flutter sleeve detailing. The deep V Neck blouse is going to be the perfect wardrobe pick if you are planning to flaunt some impeccable Aad necklace or layered necklaces. The plain fabric in its most regal colour is perfect for the modern brides.
Mustard Full Sleeve Blouse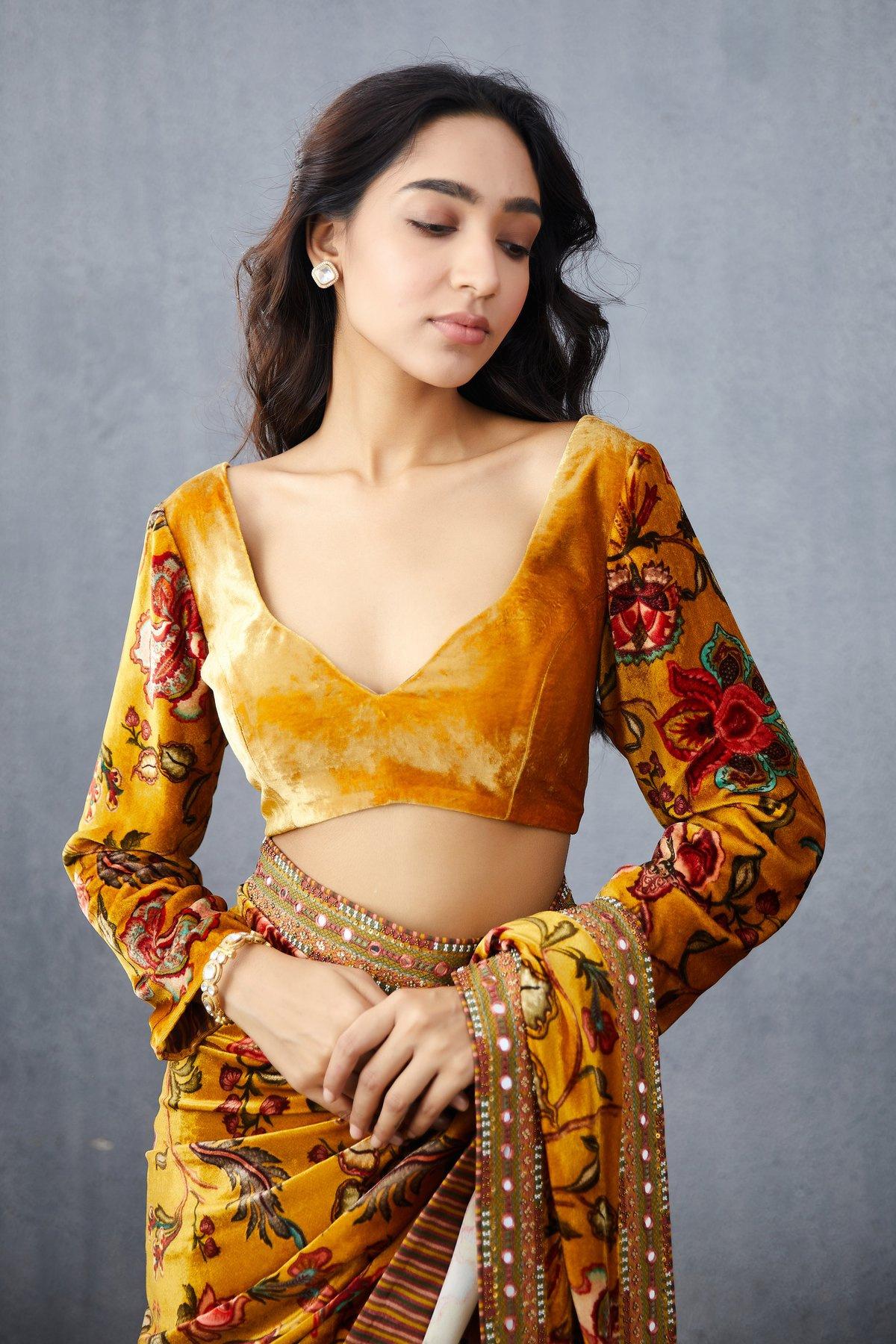 Image Courtesy: Torani
This impeccable mustard velvet blouse design is great for any of your wedding functions or parties. Team this full sleeve blouse with mustard or maroon velvet lehenga or a velvet saree and you are all set to steal the show! Statement earrings and a choker necklace layered with a Rani Haar will also look stunning with this attire.
Sage Green Velvet Blouse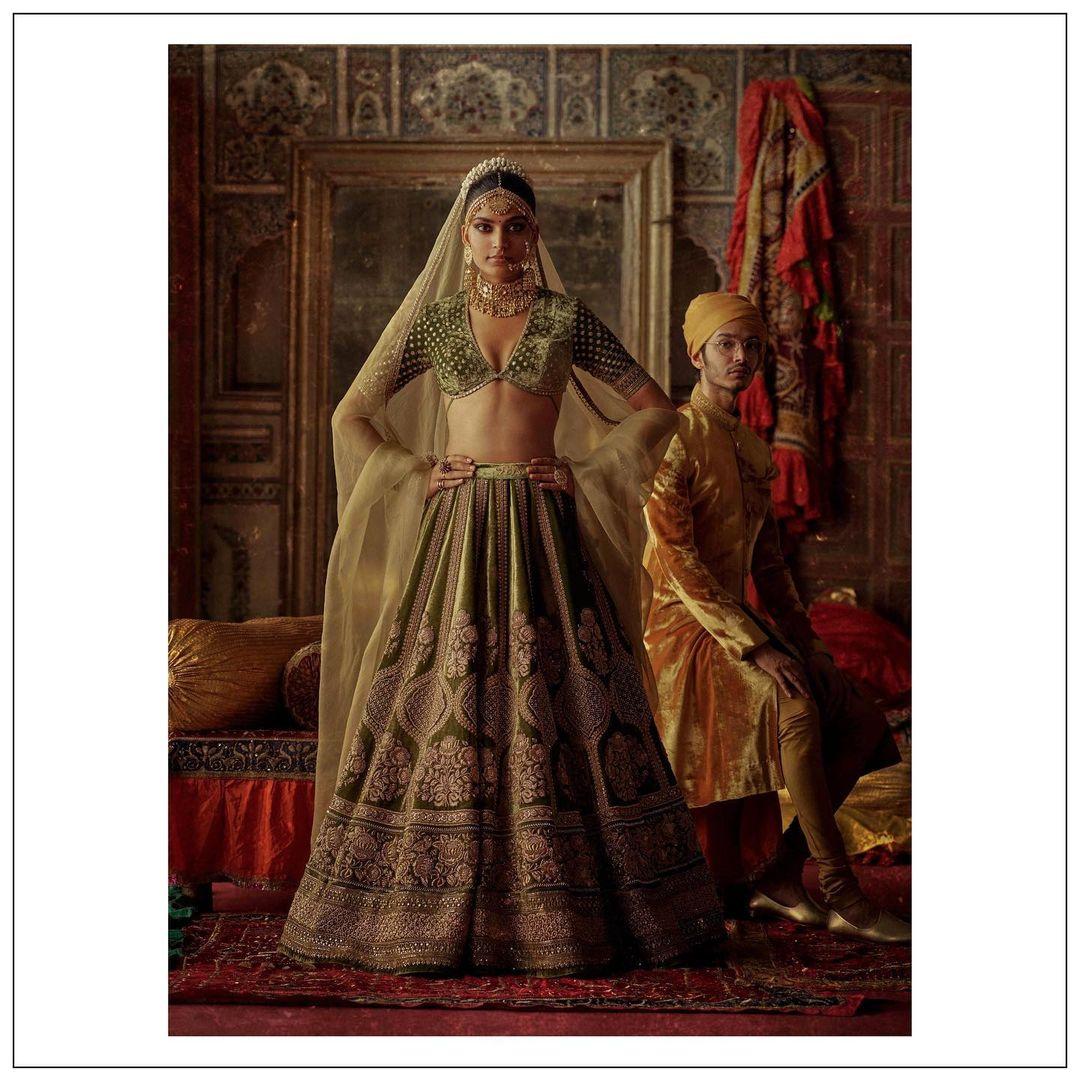 Image Courtesy: Sabyasachi's Instagram
Exquisitely crafted by none other than ace designer Sabyasachi, this sage green velvet blouse with booti work all over and a deep V neck with metallic detailing is an absolute hoot. Pair it with a green lehenga to make your D-day look and unforgettable one. Rajasthani Aad necklace will look complement the look perfectly.
Simple Bordeaux Embroidered Velvet Blouse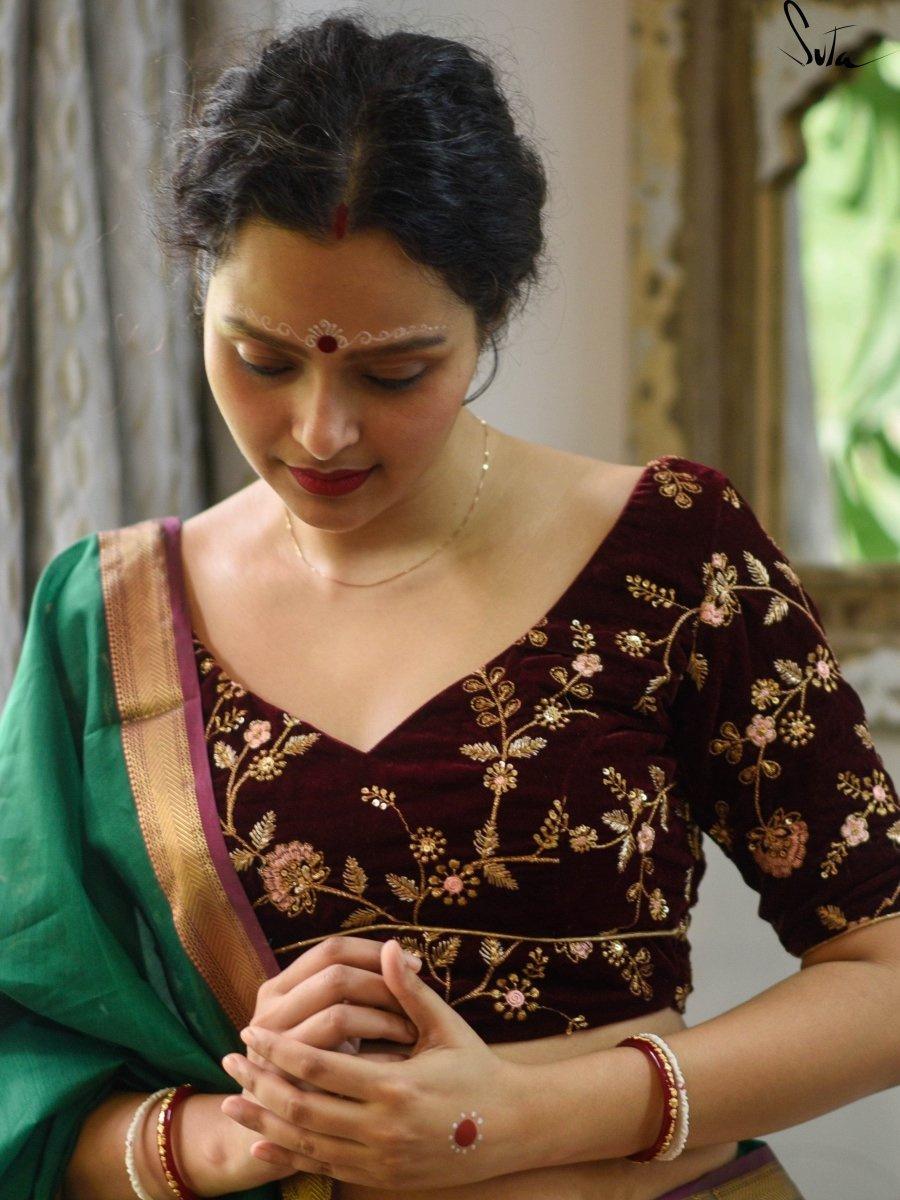 Image Courtesy: Suta
Bordeaux velvet blouse designs are also a good option when it comes to winter wedding wear, especially for a December wedding. Intricate Zardosi work on the sleeves is enough to make this blouse look stunning. A saree, skirt or lehenga will match up perfectly with this velvet blouse. The colour is equally striking and adds a touch of Mughal glamour to any drape that you pick for the big day. Great for weddings and family functions, pair heavy jewellery and traditional Jutti to complete the look.
Deep Sweetheart Neck Red Velvet Blouse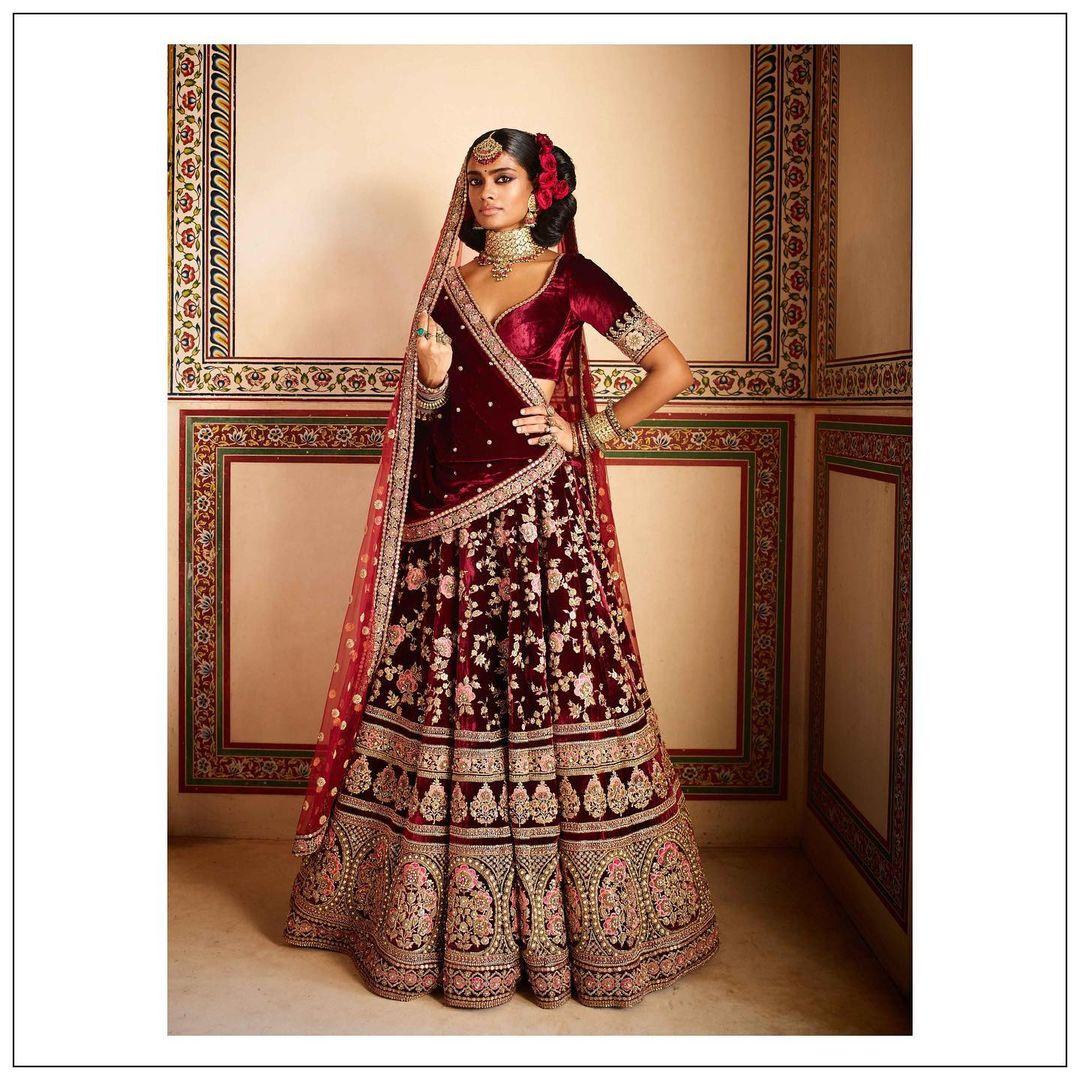 Image Courtesy: Sabyasachi's Instagram
Red velvet blouse designs can never go out of style. A lovely deep neck blouse with Gota work and Zardosi work on the sleeves is nice to team with a saree like this. Velvet blouses go well with heavy sarees and traditional jewellery. All you need is a gorgeous velvet blouse and a fabulous saree to be a showstopper!
Red Wine Hued Sleeveless Velvet Blouse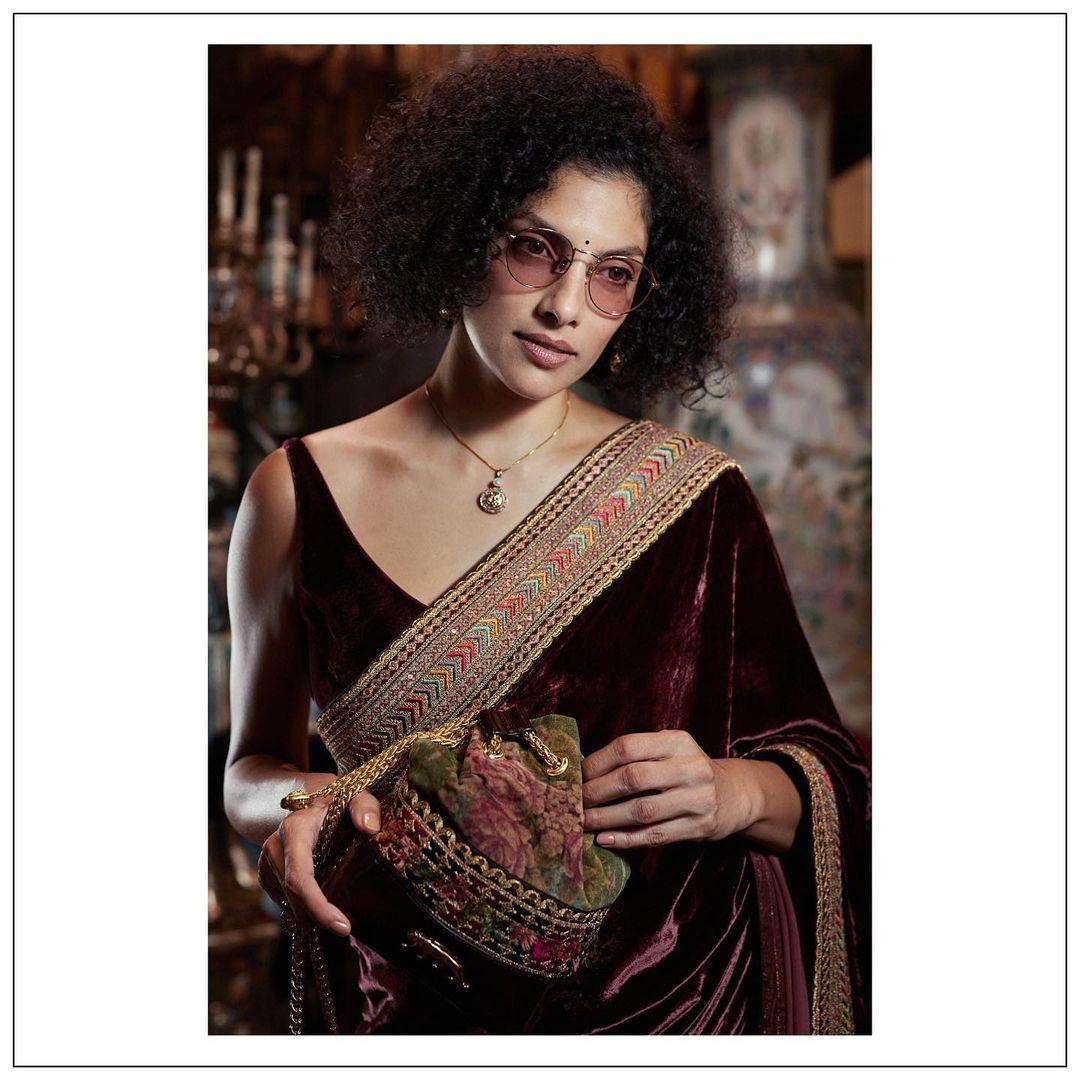 Image Courtesy: Sabyasachi's Instagram
What do you think about this whole velvet look? If you thought of going in for a complete velvet look isn't a good idea, then check out this stunning red wine coloured velvet blouse and saree by Sabyasachi. The blouse is plain and sleeveless, while the saree comes with embroidered Tilla work pallu that's inspired from a lovely Kashmiri shawl. Complete the look with emerald jewellery set.

Velvet Corset Blouse in Lilac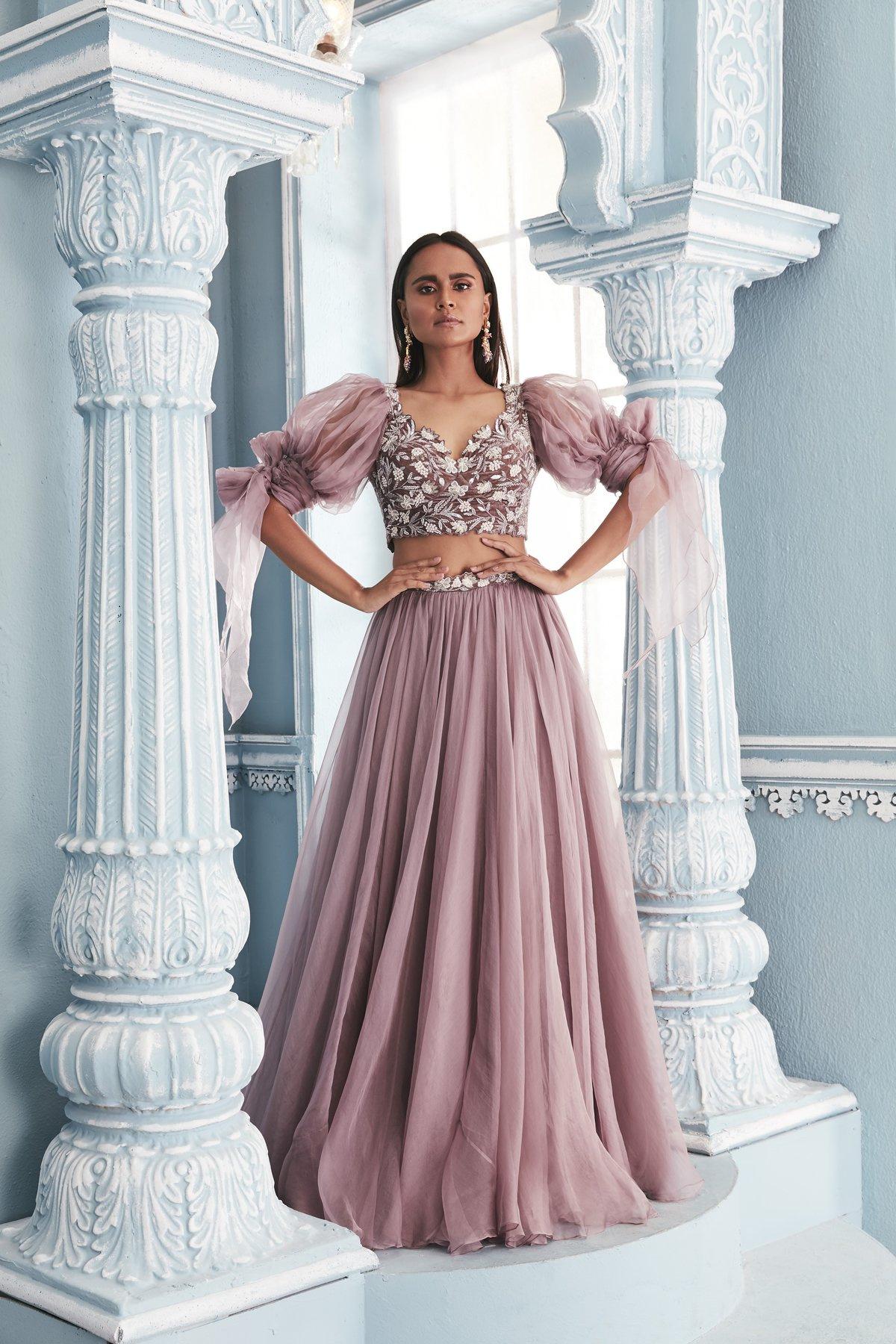 Since velvet is such regal fabric, to combine any other fabric in the outfit, the fabric sure needs to have a subtle sheen and class. This lilac velvet corset blouse design with intricate embroidery in ivory by Mahima Mahajan flaunts dramatic sleeves in organza. Flaunt a twirl n your organza lehenga and pair this lilac blouse with it to add to the glam.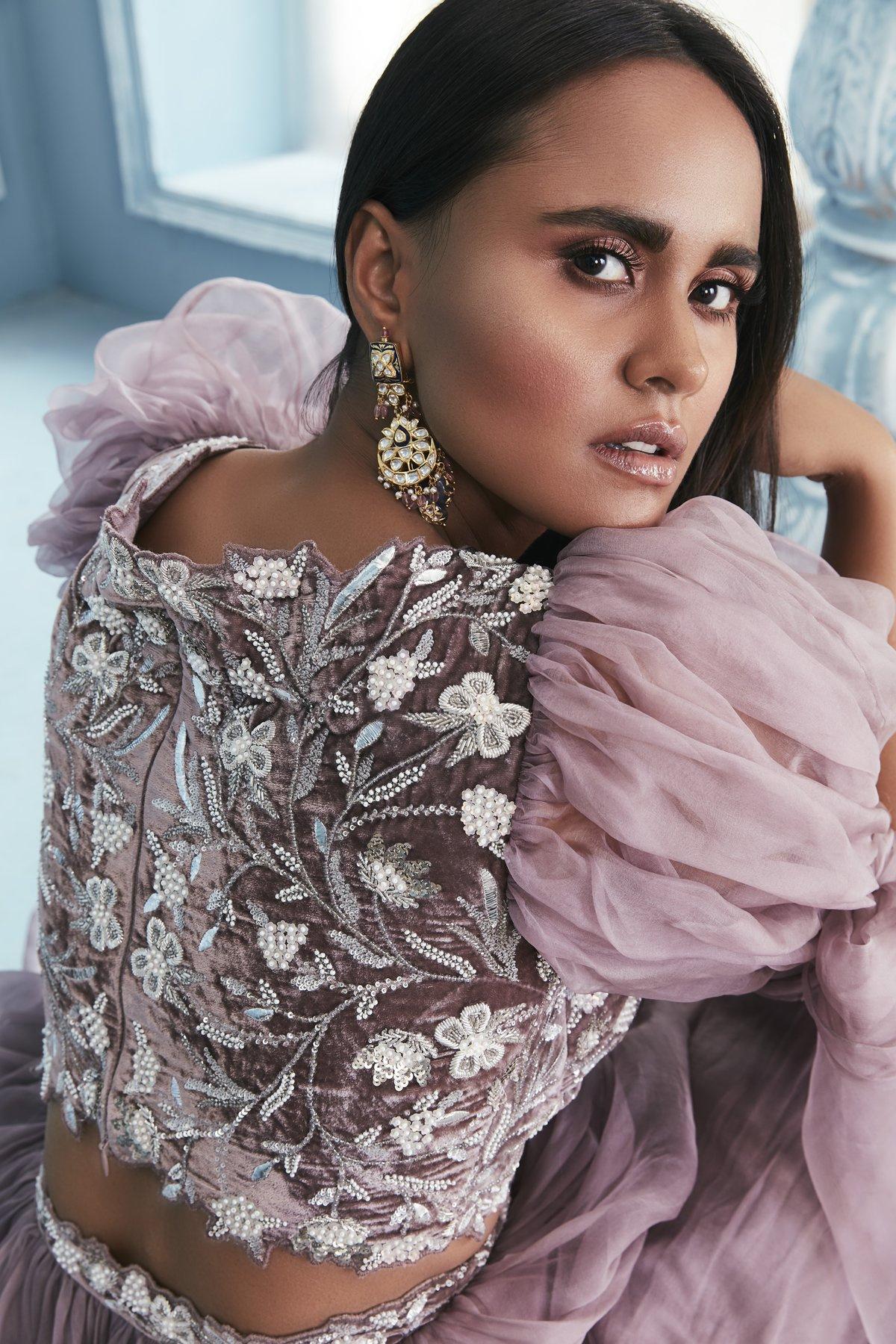 Hand-dyed Velvet Applique Blouse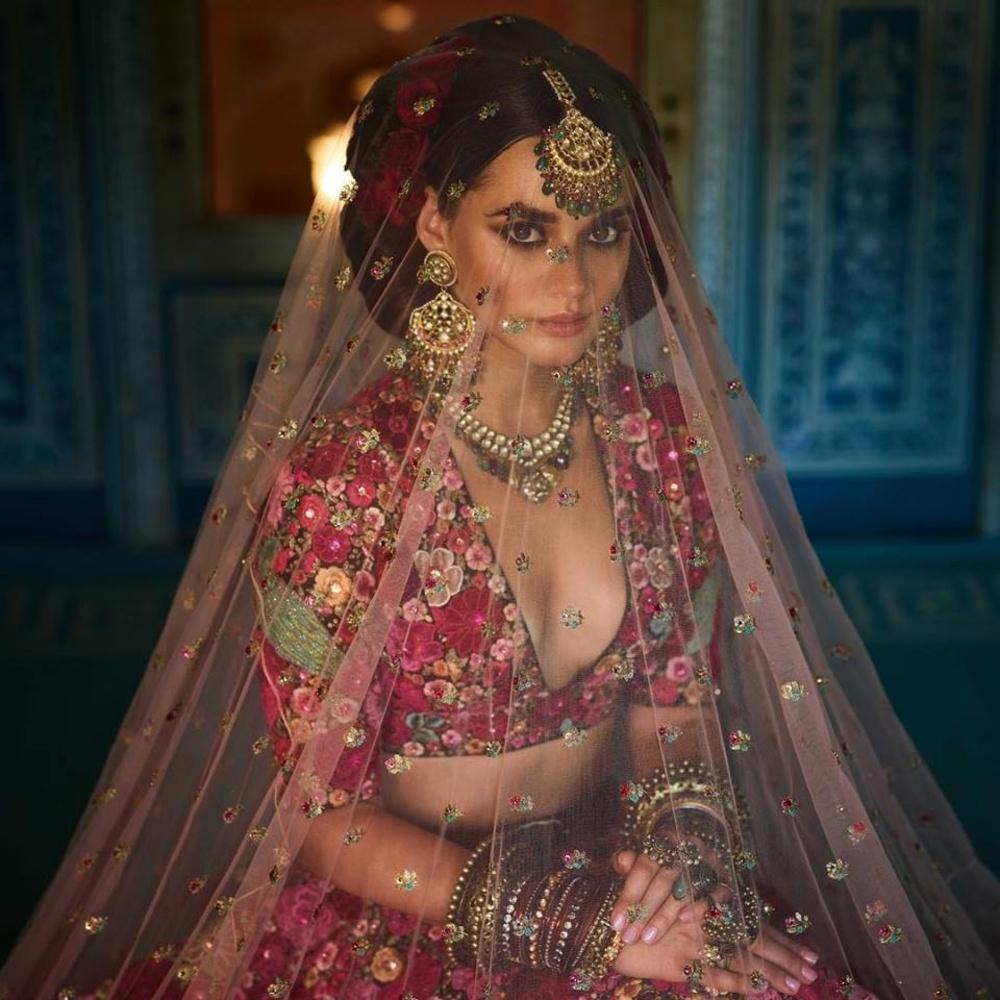 Image Courtesy: Sabyasachi's Instagram
Classic velvet blouse designs are also available in with appliques. Check out this hand-dyed velvet applique blouse by Sabyasachi for your dreamy wedding look. The lehenga and blouse are intricately embroidered on Bordeaux silk with silk floss, hand-dyed velvet appliques, rose-tinted rhinestones and crystals including gold and silver threads. Accessorise this look with heavy Kundan jewellery and a lovely sheer embroidered dupatta used as a veil. You could go for a double dupatta look to add to the royalty!
Peplum Velvet Blouse in Maroon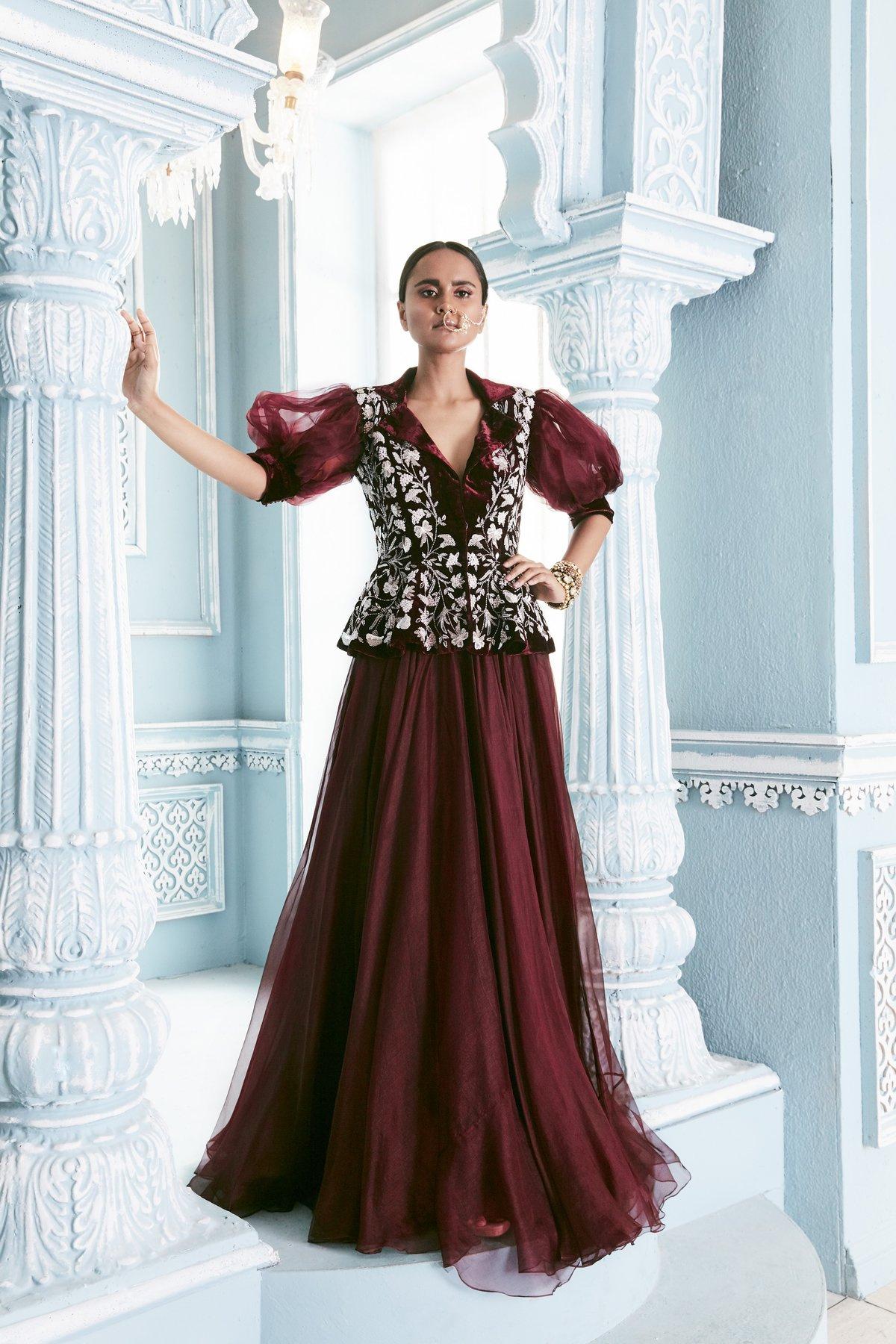 Mahima Mahajan has walked the extent to create dreamy silhouettes using velvet. This peplum blouse design in velvet is one such beauty. The stunning embroidery in silver and golden threads with bead and sequin detailing add to the beauty of this fancy blouse design. Pair your pearl jewellery set and a matching nose ring to add to the oomph!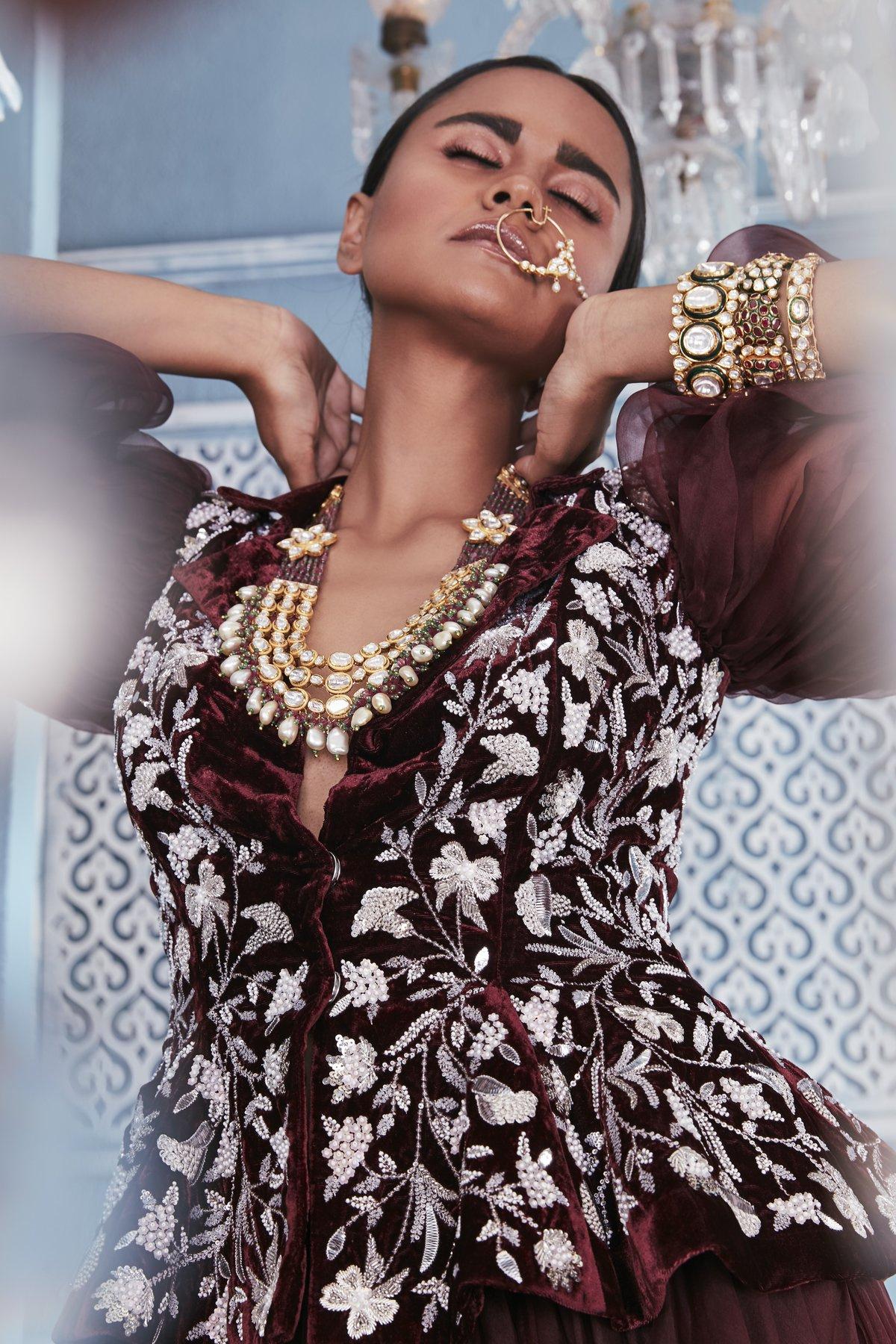 V-Neck Velvet Blouse with Booti Work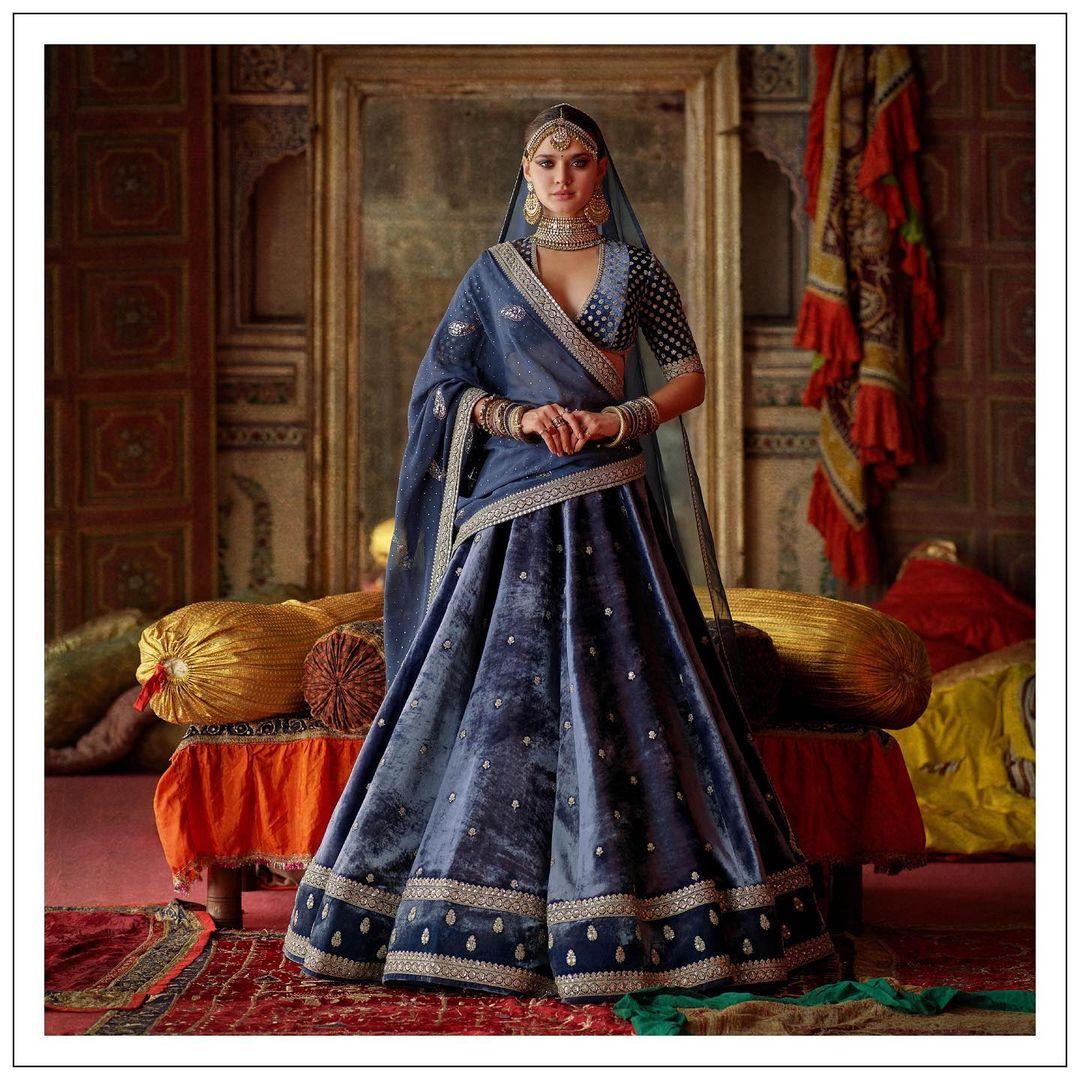 Image Courtesy: Sabyasachi's Instagram
While shades of red, maroon, green are very common when it comes to velvet outfits for weddings, this blue velvet lehenga blouse designs by Sabyasachi is meant for the brides who plan to flaunt a blue lehenga for their big day. Pair it with a heavy diamond necklace and matching earrings or gold jewellery set to complete the look in vogue.
Types of Velvet Fabrics
Today, velvet is available in different types of colours and fabrics. Take a look at the different options of fabric to choose from.
i) Silk velvet
Silk velvet is very popular since this type of fabric is soft and lustrous. It is easy to drape and is used for furnishings as well.
ii) Cotton velvet
Cotton velvet is another type of velvet fabric that is used for upholstery and apparels. It comes with some amount of stretch properties that is awesome.
iii) Rayon and Nylon velvet
Rayon and nylon cost much less than cotton and silk but still looks great. It is lightweight and can be draped easily.
iv) Polyester spandex velvet
This type of velvet fabric is great for body-hugging outfits since it has a good amount of stretch properties.
v) Cut velvet
This fabric comes with different designs that are woven into the material, while other parts of the fabric are sheer.
vi) Crushed velvet
This is another type of popular velvet fabric that is twisted, giving it a crinkle look. This fabric is shimmery and is perfect for stylish wear.
Hope these amazing velvet blouse designs will help you design your next party wear. Velvet is always a great option to go for when it comes to grand celebrations. It's important to choose the right design and colour to match your saree and bridal lehenga. Since velvet is a fabric that is already rich and lustrous, it's important to go for the right match when it comes to your lehenga or saree.
Let us know in the comments below which was your favourite velvet blouse design.