Interesting Statement Peplum Blouse to Add Some Flare to Your Attire
A peplum blouse is the perfect way to take your blouse to the next level. We shine the spotlight on the best styles of the season for your big days!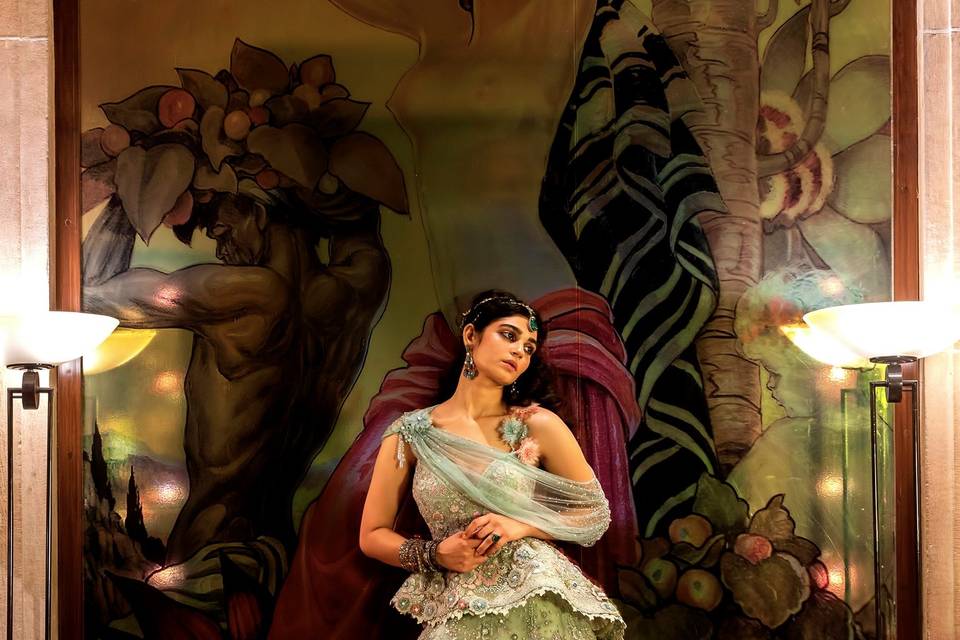 Bridal styles change all the time and as a modern millennial bride, you want to keep up with the latest trends. A stunning lehenga is, without a doubt, a staple part of your wedding wardrobe but a great way to add a modern spin on this classic outfit is with a unique blouse. You can either opt for an off-shoulder or sleeveless top but one style that's an oldie but a goodie is the peplum blouse. This flare from the waist accentuates your waistline. You can even add a ruffled detail at the hemline for an element of uniqueness. Here are a few peplum blouse styles that you can incorporate into your wedding attire.

Royal Details in Peplum Blouse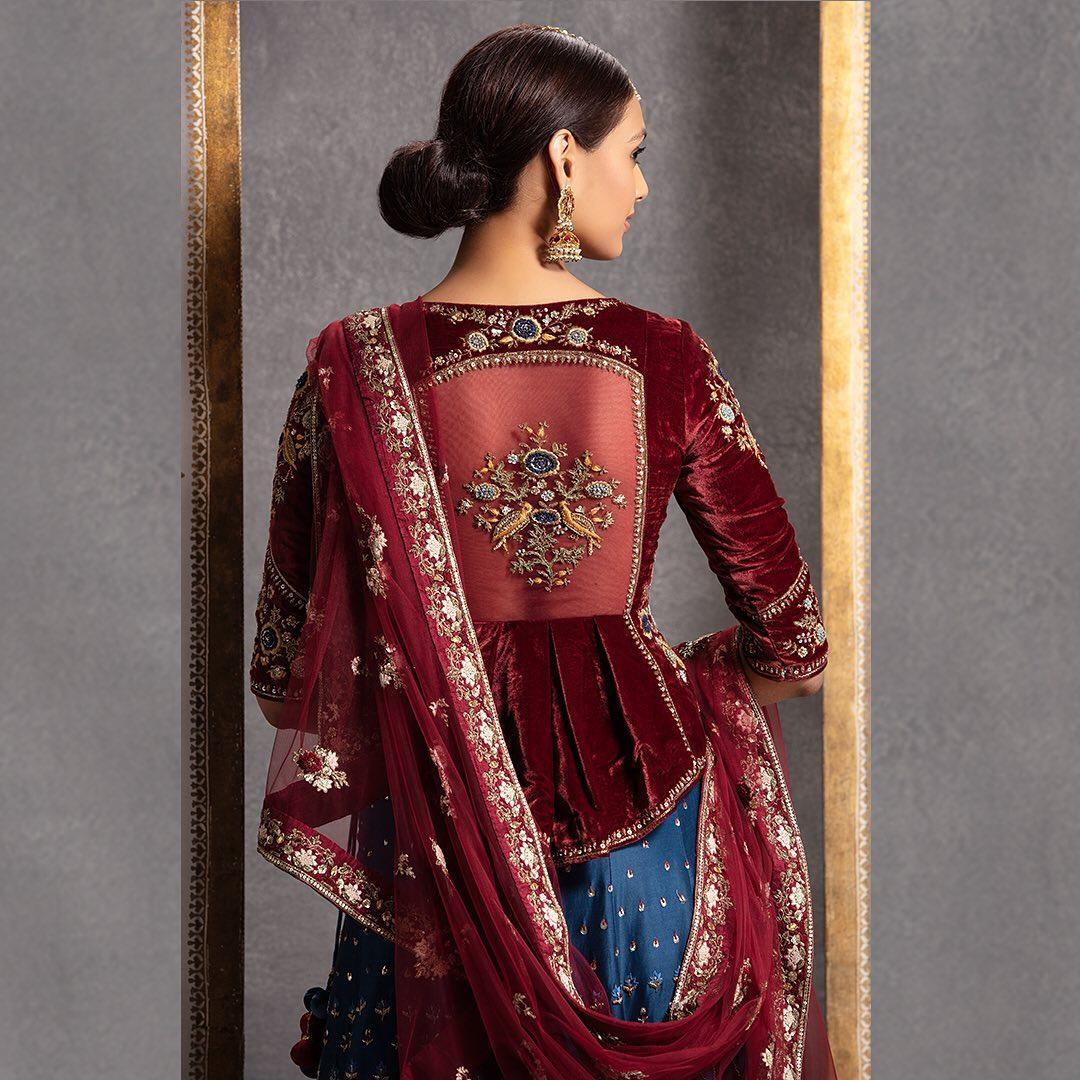 Image Courtesy - Anju Modi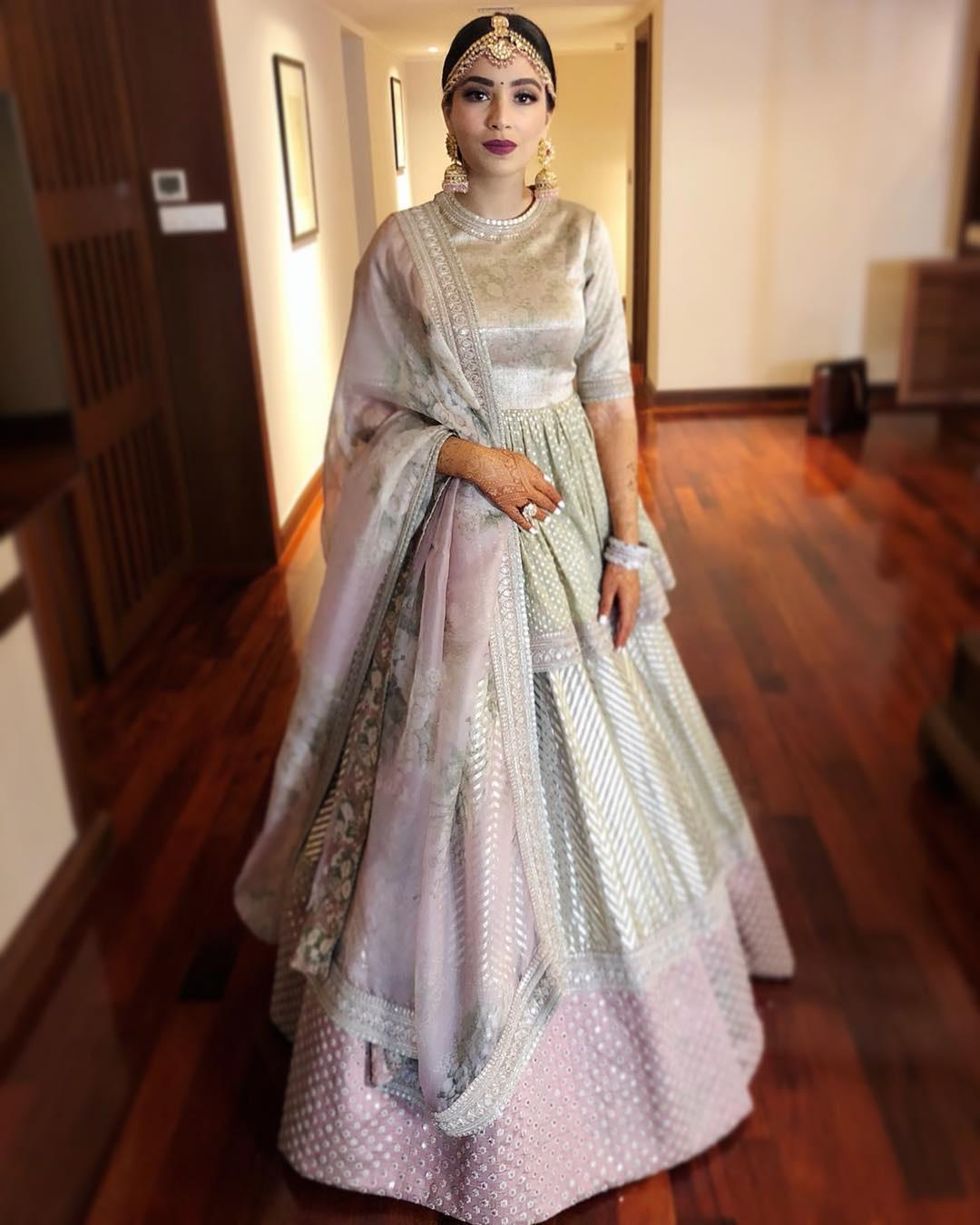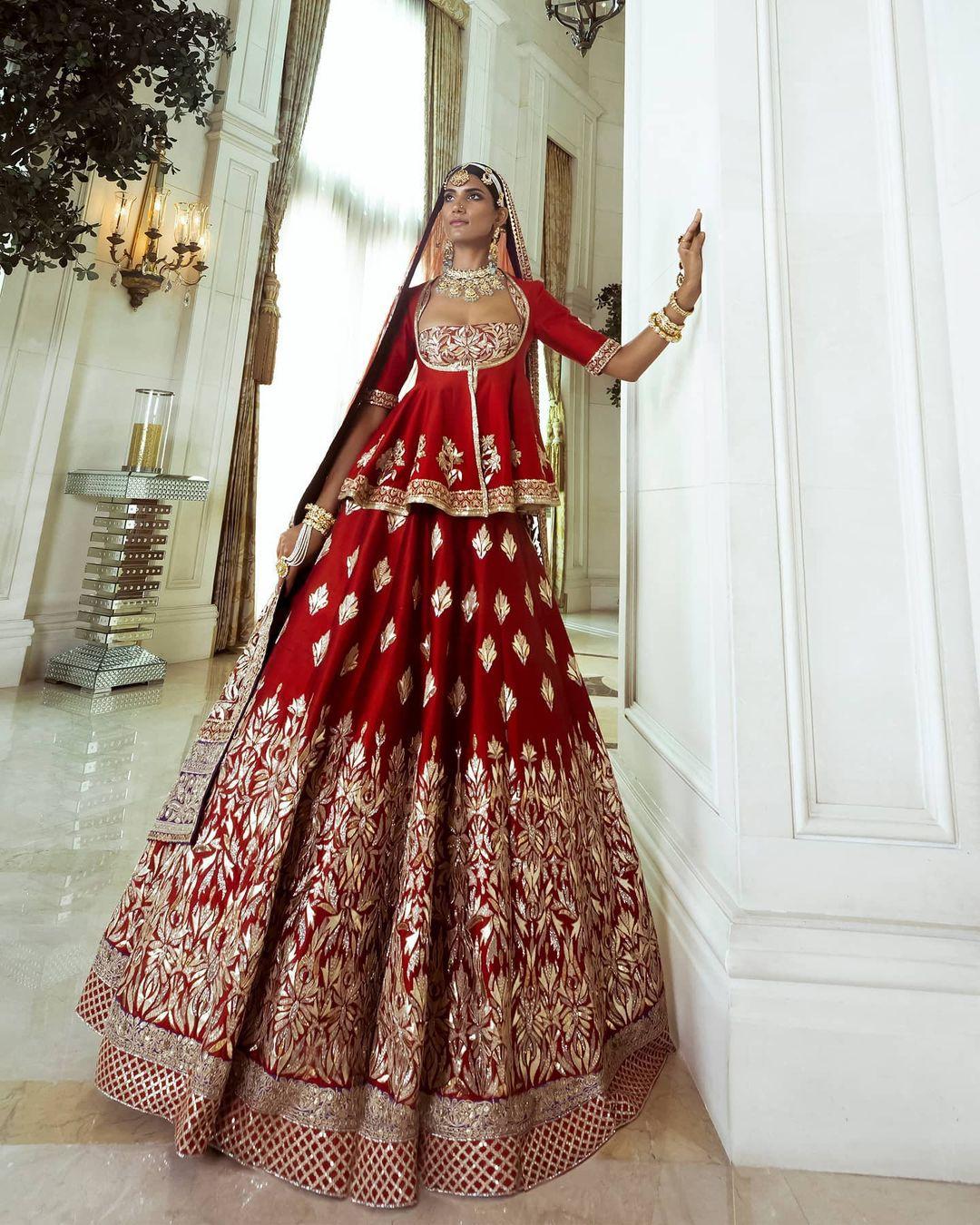 Image Credits - Manish Malhotra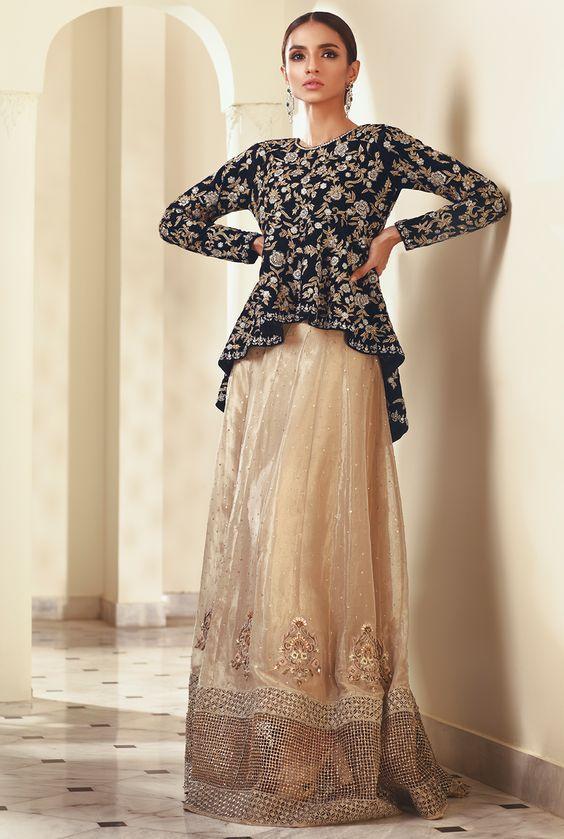 Image Credits - Pinterest
A peplum blouse can add a cutesy factor to any outfit and is the perfect addition to your lehenga skirt or Patiala pants. This bride is wearing a lehenga with a blouse in metallic and pastel tones. The blouse features a silver print followed by Polka dot detailing on the top. It is paired with a skirt that has a silver Chevron print and a light pink border. The blouse gives this bride's attire a unique touch. Peplum blouses are incredibly versatile and can be paired with either a traditional or modern outfit. The silhouette can be styled to suit the vibe of the outfit. This outfit features a classic lehenga skirt that is embedded with various embroidered florals and stonework patterns. It also comes with some lace detailing at the base. The skirt is paired with a stylish blouse that flares from the waistline with a unique cut detailing. The straps on the blouse are made of florals and held together with a netted dupatta.
Also Read: 50+ Latest Blouse Neck Designs To Inspire Your Festive & Wedding Wardrobe
Subtle Tones Peplum Blouses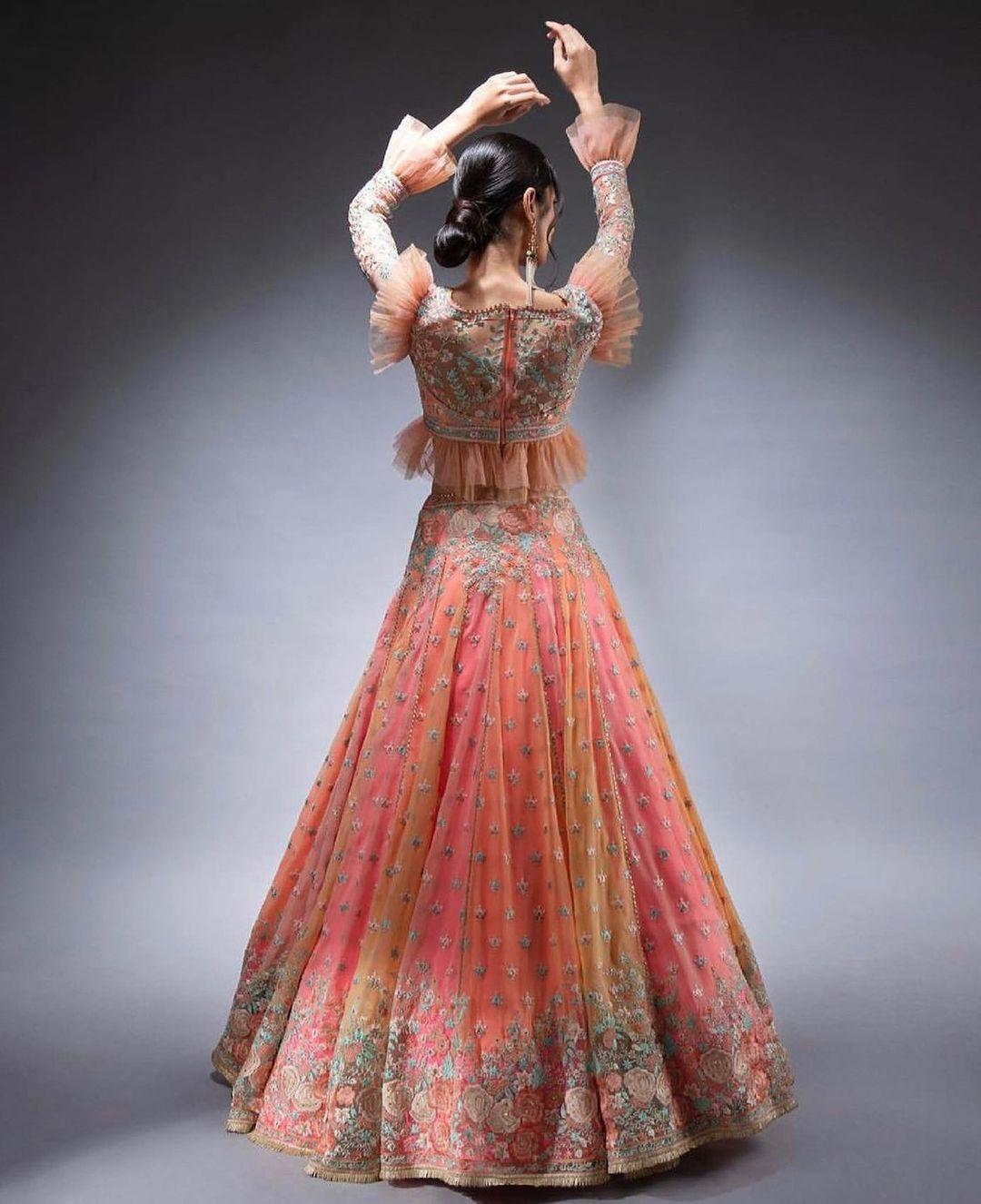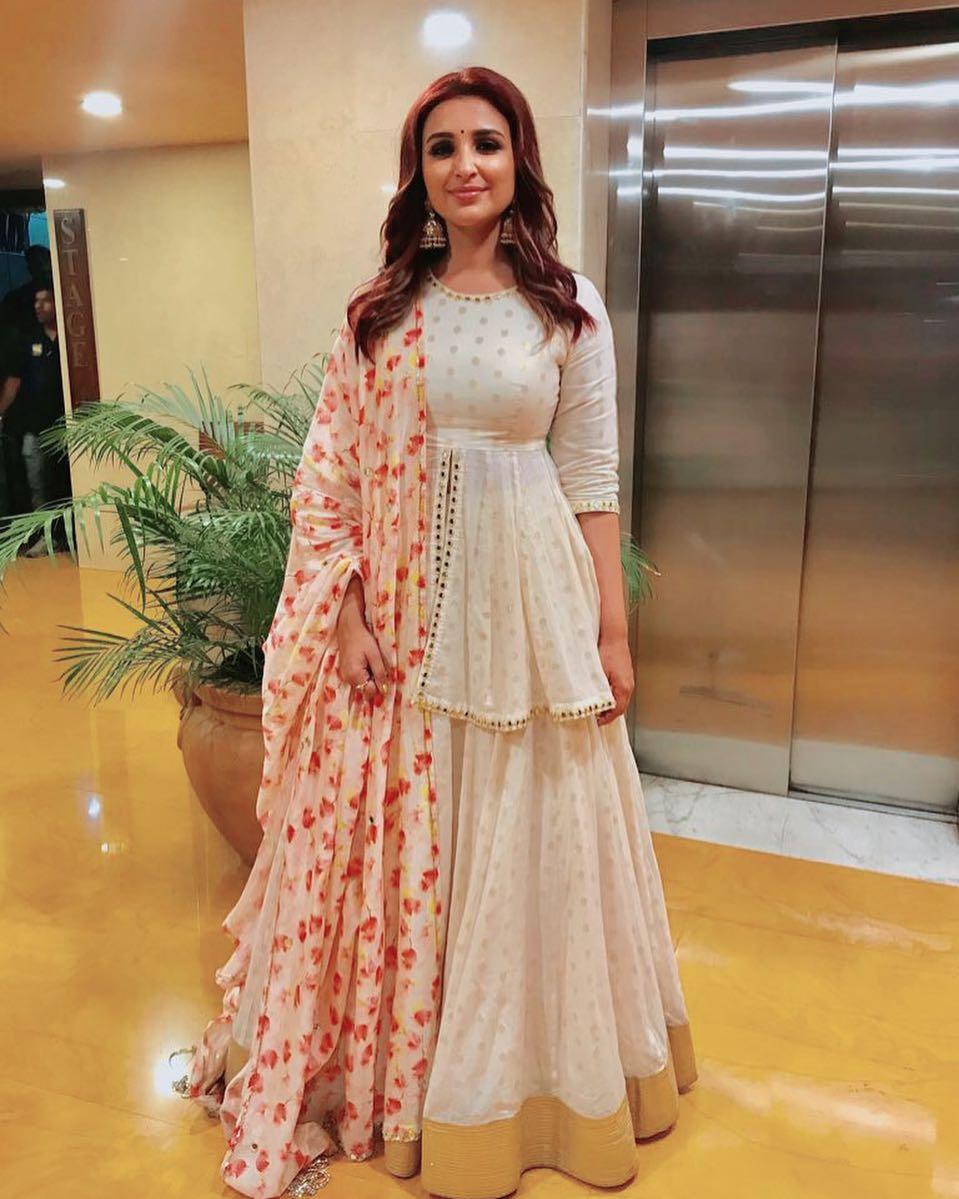 Image Courtesy: Abhinav Mishra
If you prefer sober tones, check out this stunning lehenga with a peplum blouse in cream and gold. This bride's outfit leans towards more traditional with a long blouse and a slit down the middle. It is paired with a matching skirt that has a gold border at the base. To add a pop of color to the outfit, the bride is wearing a bright pink dupatta with a floral print. A pair of statement Jhumkas completes this look.
Find More - 100+ Latest Blouse Designs
Colour Blocking Peplum Blouses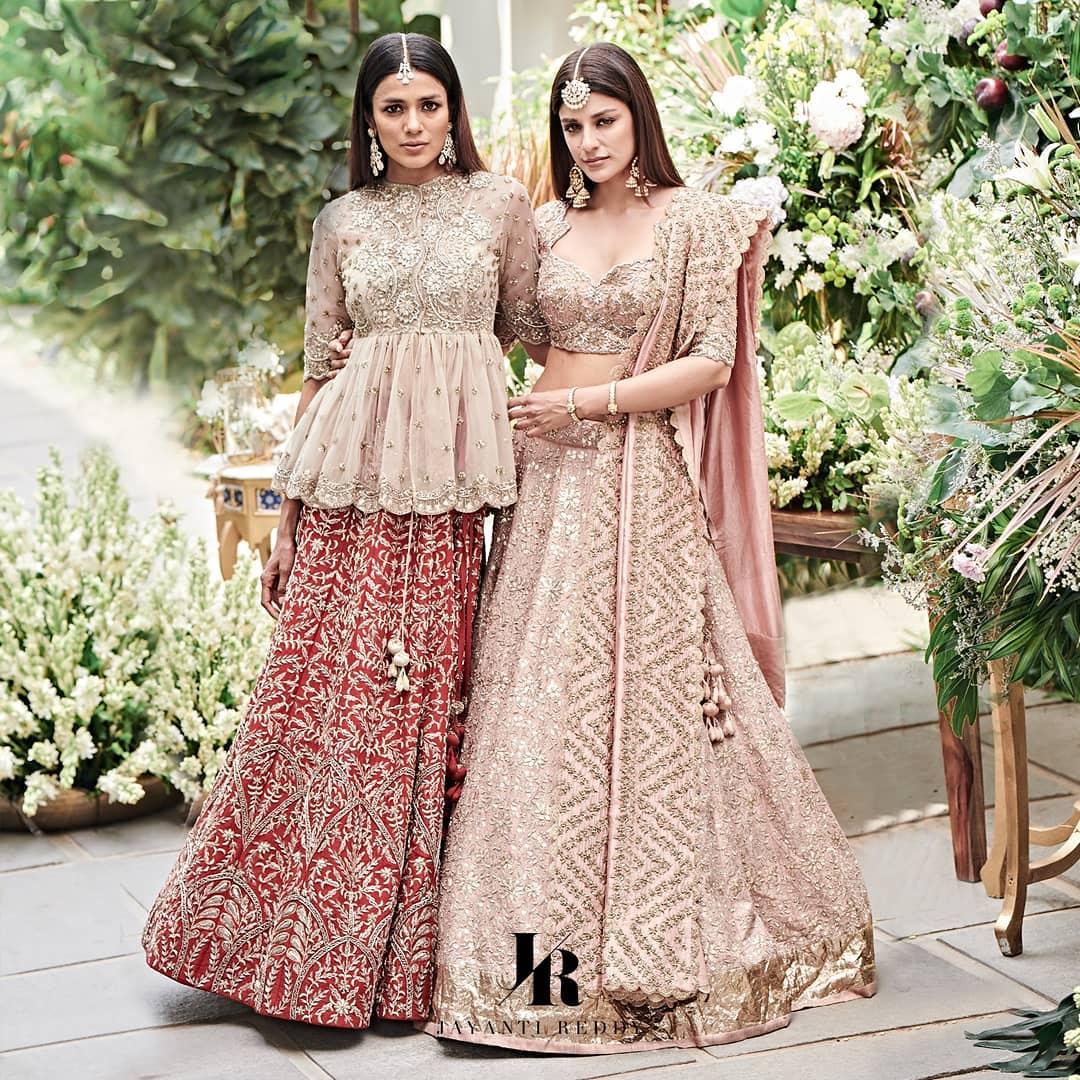 Image Courtesy: Jayanti Reddy
For a more festive look, you can opt for a blouse with tulle detail to add some flare to your outfit. This lehenga uses the color blocking technique with a pastel blouse and a red lehenga skirt. Both the skirt and the top come with heavy embroidery work and sequined motifs. The blouse has a high neckline and a curved border that accentuate the uniqueness of the outfit. If you wish to make a statement with your bridal outfit, this peplum blouse is just what you need.
Peplum Blouses For Pre-Wedding Ceremonies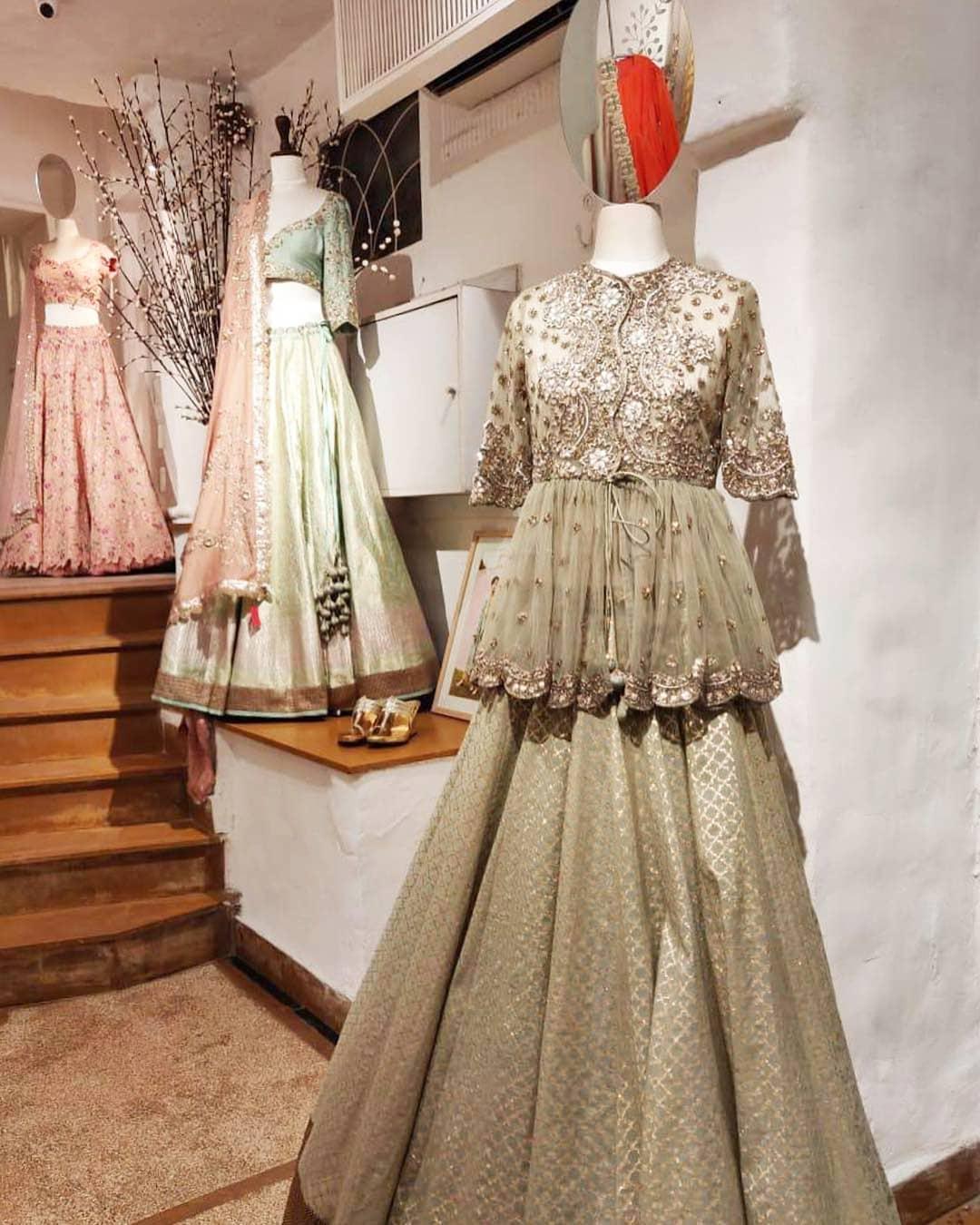 Image Courtesy: Jayanti Reddy
Weddings are usually defined by their bright colors but if you want to take the road less traveled, you can opt for more sober tones like green or grey. This lehenga comes with a blouse that has embroidery work on the top and flares out. It is paired with a matching A-line skirt that has a geometric gold pattern. This lehenga is the perfect combination of traditional and modern.
Patiala Pants Peplum Blouses
Image Courtesy: Jayanti Reddy
While the main wedding calls for a traditional outfit like a lehenga or a saree, the events preceding the big day allow you to get experimental with your outfit. The great thing about a blouse is that you can wear it with pretty much anything. If you are going for a casual chic look, consider pairing this outfit with Patiala pants. Unlike the traditional peplum blouse, this top features a jacket worn over a bandeau. It is made of sheer material and accented with silver motifs. A statement necklace completes this contemporary look.
Find More - 15+ Blouse Neck Designs With Interesting Patchworks
Baby Pink Peplum Blouses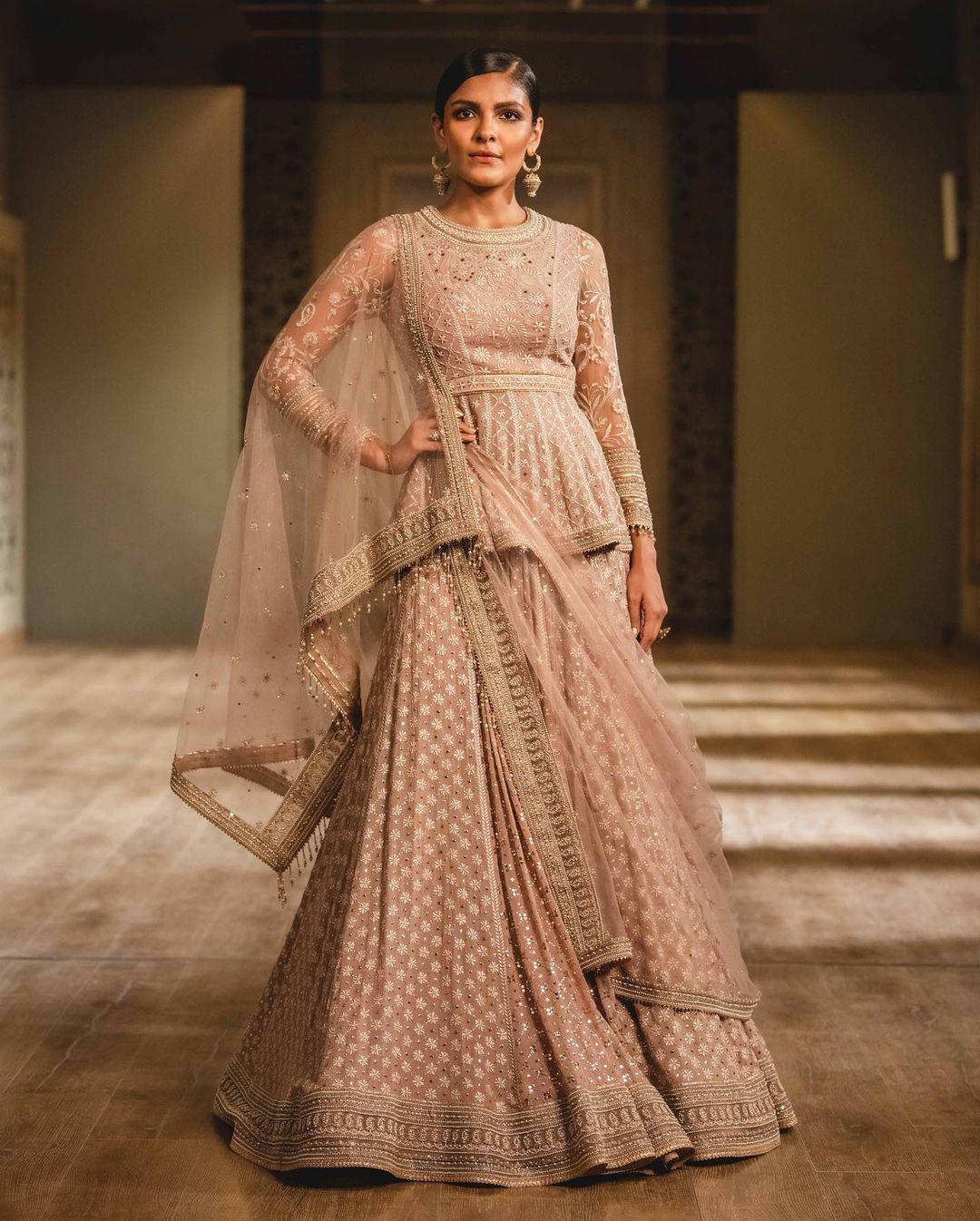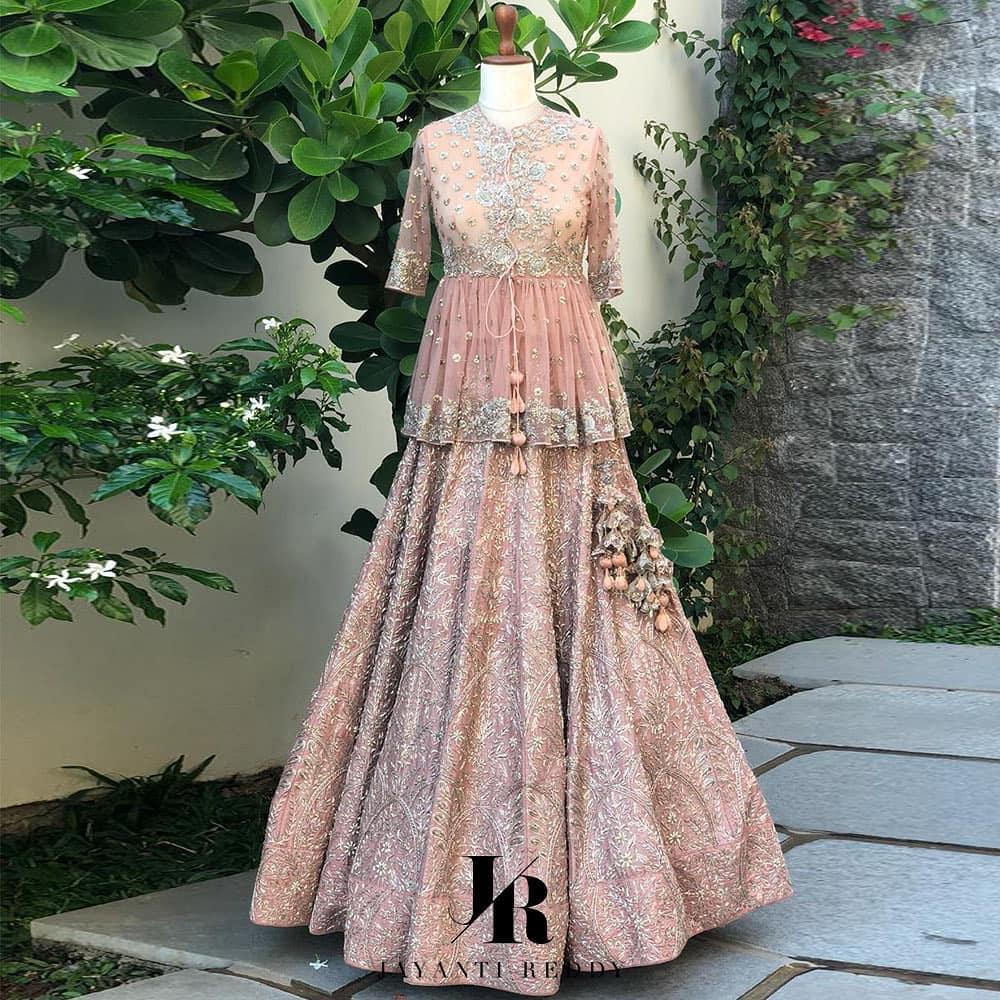 Image Courtesy: Jayanti Reddy
Vibrant shades like pink and green are total winners when it comes to wedding attire. If you are looking for a more festive look for functions like the Mehndi or Sangeet, you can bring on the glitz and glam with this pink lehenga. The peplum blouses are made of a baby pink fabric and accented with silver embroidery and polka dots. This is paired with a skirt that is embedded with silver Zardozi embroidery. This simple silhouette is all you need for the perfect bridal look.
Mustard Yellow Peplum Blouses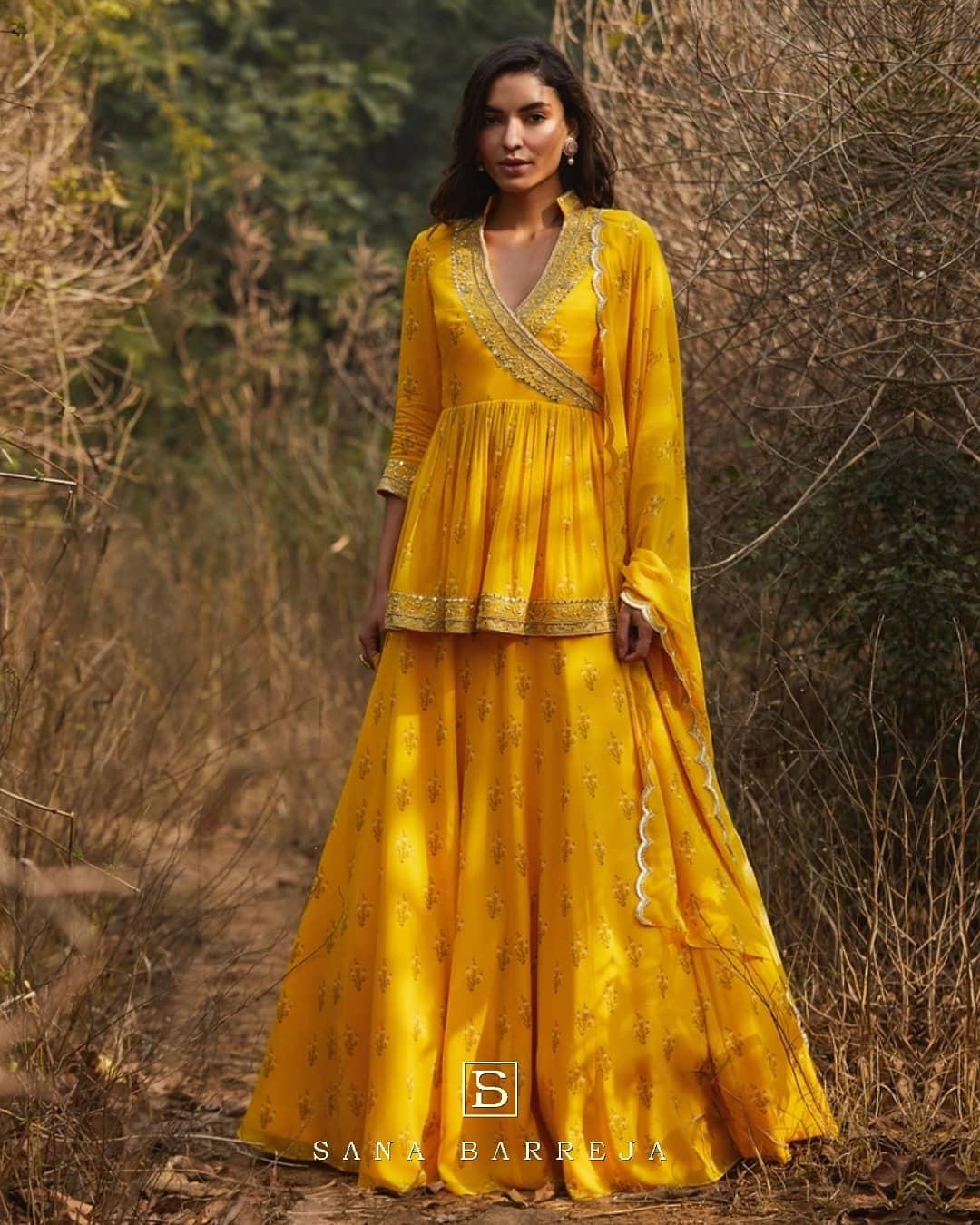 Image Courtesy: Sana Barreja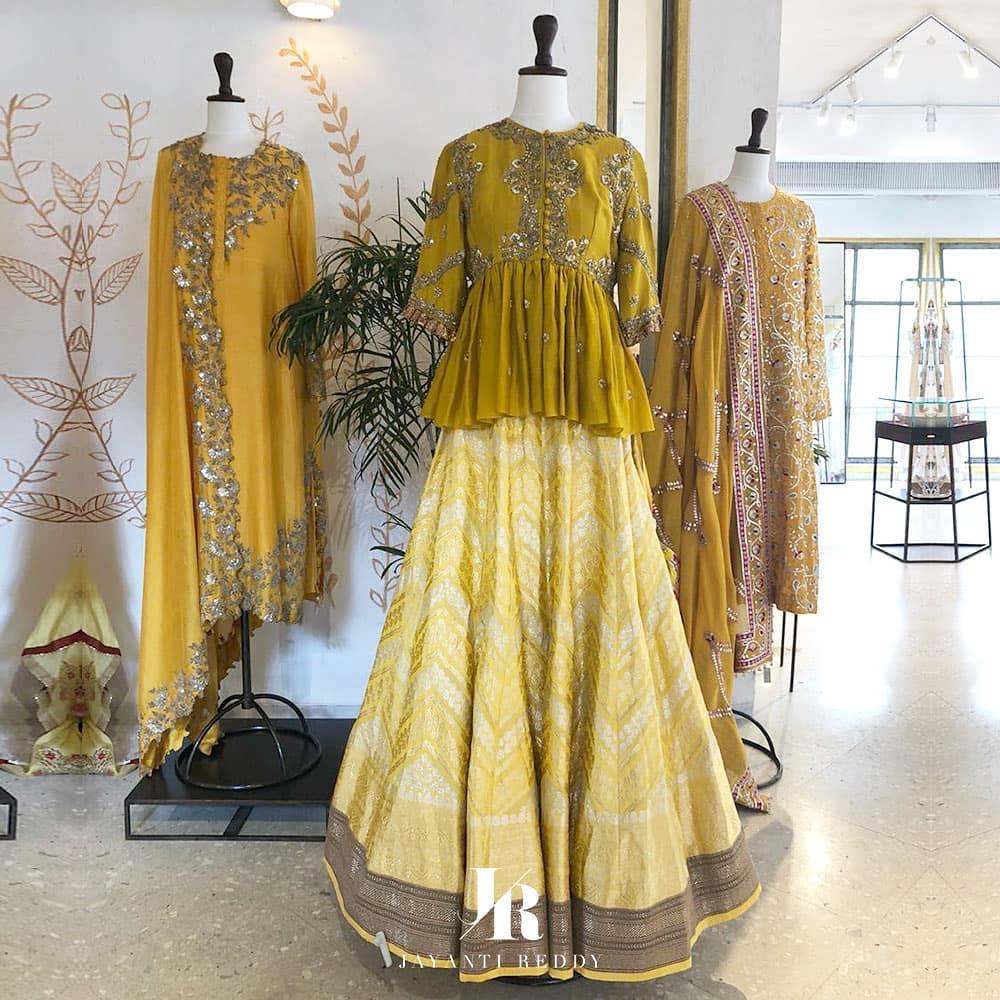 Image Courtesy: Jayanti Reddy
Modern outfits are all about mixing and matching different styles to create a unique look. Brides today want to incorporate modern elements into their outfits while not straying from their roots. This lehenga features a mustard yellow peplum blouse that is styled with silver embroidery on the bodice and sleeves. However, the modern twist in this outfit lies in the bright yellow skirt that serves as a contrast to the darker-toned blouse. It is designed with a white chevron print and bordered in brown. This out-of-the-box outfit can help you make a major statement at the wedding festivities.
Flared Sleeves Peplum Blouses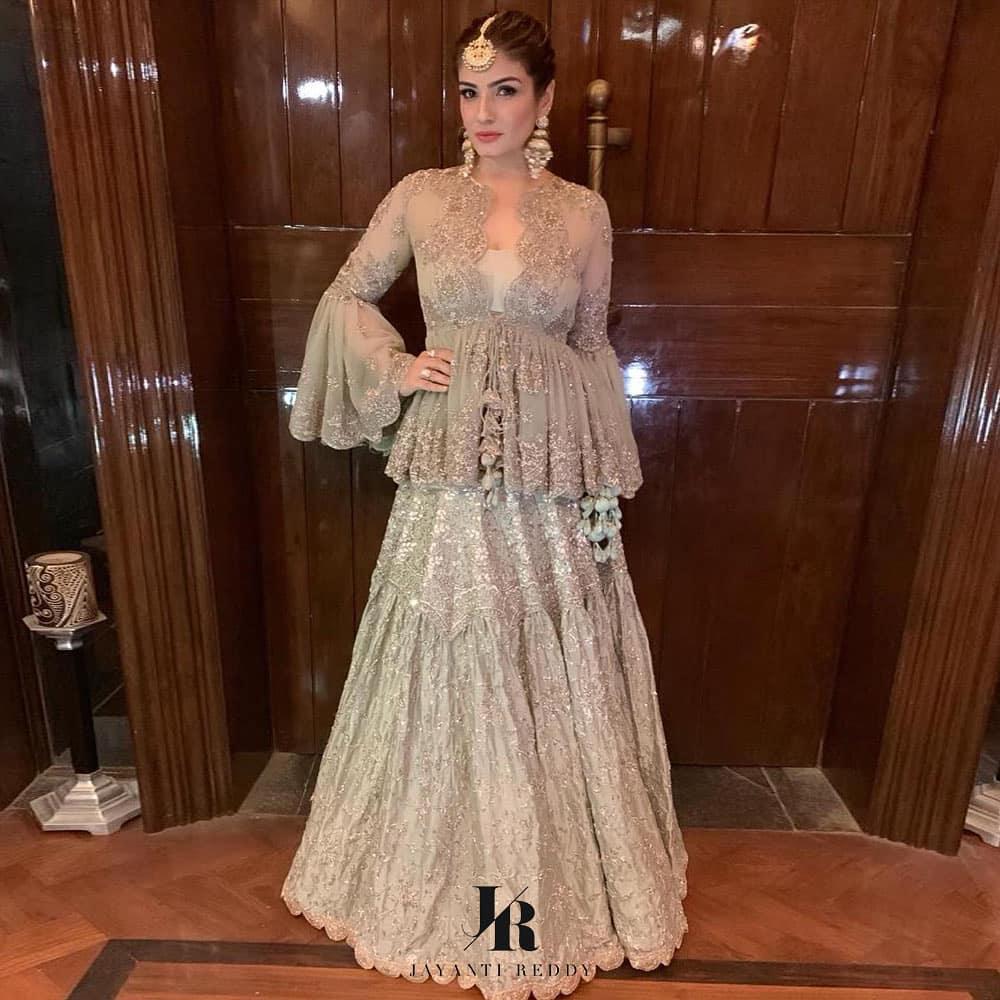 Image Courtesy: Jayanti Reddy
The versatile blouse can be worn in various ways to suit your style aesthetic. This bride is adorned in a jacket-style blouse that is worn over a green bandeau. It is tied at the middle and embedded with silver embroidery across the bodice and the neckline. The sleeves add a cutesy factor to the outfit and flare out at the elbow. It is paired with a silk skirt that has silver patterns to compliment the blouse. Some Chandelier earrings and a Maang Tikka complete this look. The peplum blouse is one of the most versatile silhouettes as it can add a modern element to any outfit. As seen above, this attire can amp up your bridal look and can be styled in various ways to suit the weather or event. Winter brides can opt for a full-sleeve blouse while summer brides can wear a jacket-style top. We hope these looks inspire you to pick the perfect blouse for your wedding attire.
Love these peplum blouse looks? Get in touch with our bridal vendors to find the perfect blouse!
With words by- Divya Premkumar
Read More -
Mehndi Design | Proposal Lines | Simple Finger Mehndi Design | Arabic Mehndi Design | Propose Day Quotes for Boyfriend | Wedding Anniversary Wishes for Sister | Change Aadhar Card Name after Marriage | Tamil Wedding Calendar | Simple Mehndi Design | Pre Wedding Quotes | Engagement Anniversary Wishes | Funny Wedding Wishes for Bestfriend | Blouse Design | Rangoli Design | First Night Tips for Bride | Wedding Anniversary Wishes