10 Different Kinds of Embroidery Work to Increase the Beauty of Bridal Lehengas in India
Embroidery is used to increase the beauty and richness of outfits. Explore all the different kinds of embroidery work that's available for bridal lehengas in India.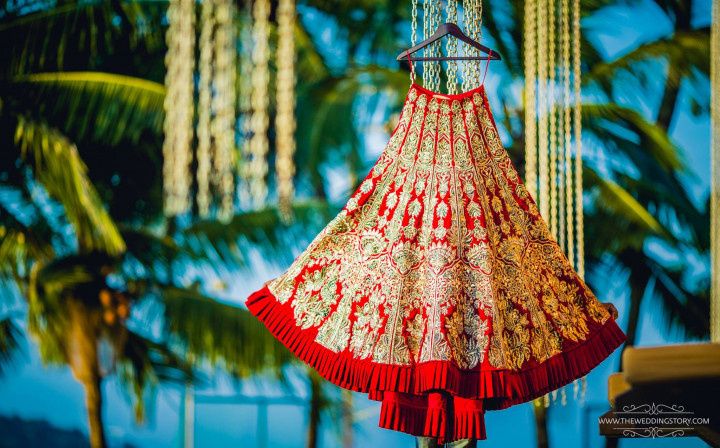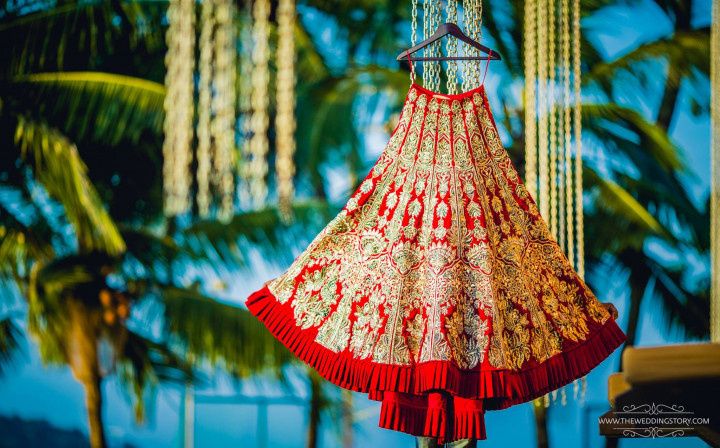 Image Courtesy: The Wedding Story
Every bride desires to walk down the aisle in an outfit that's greatly exquisite, elegant and beautiful. In India, bridal lehenga is one of the most popular choices of most brides. Bridal lehengas feature a choli, a dupatta and a skirt that is lavishly decorated, mainly with embroidery work. While some lehengas feature simple work, some are rich in threadwork; either way, they definitely add to the overall appeal of each bride. If you are a bride-to-be who's all set to explore the market for her bridal lehenga, here's something exciting.
1. Zari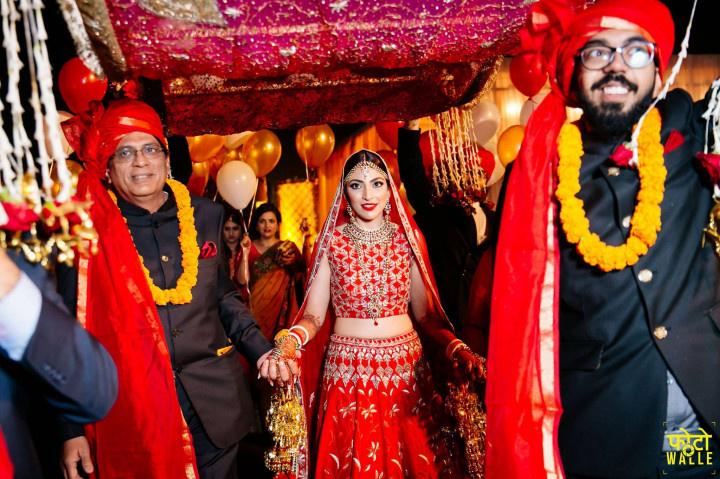 Zari embroidery brings meaning and beauty together by creating rich motifs and artful garments. This traditional Indian embroidery work is an intricate form of threadwork that's done with precious gold and silver threads. Primarily used on silk fabric, this style gives a precious appeal to the outfit and increases its monetary value. Modern-day zari is resistant to rust, hence is quite durable and can be used on fabrics such as georgette and chiffon. This embroidery work is not very heavy, which makes it very illustrious in summer bridal lehengas.
2. Zardozi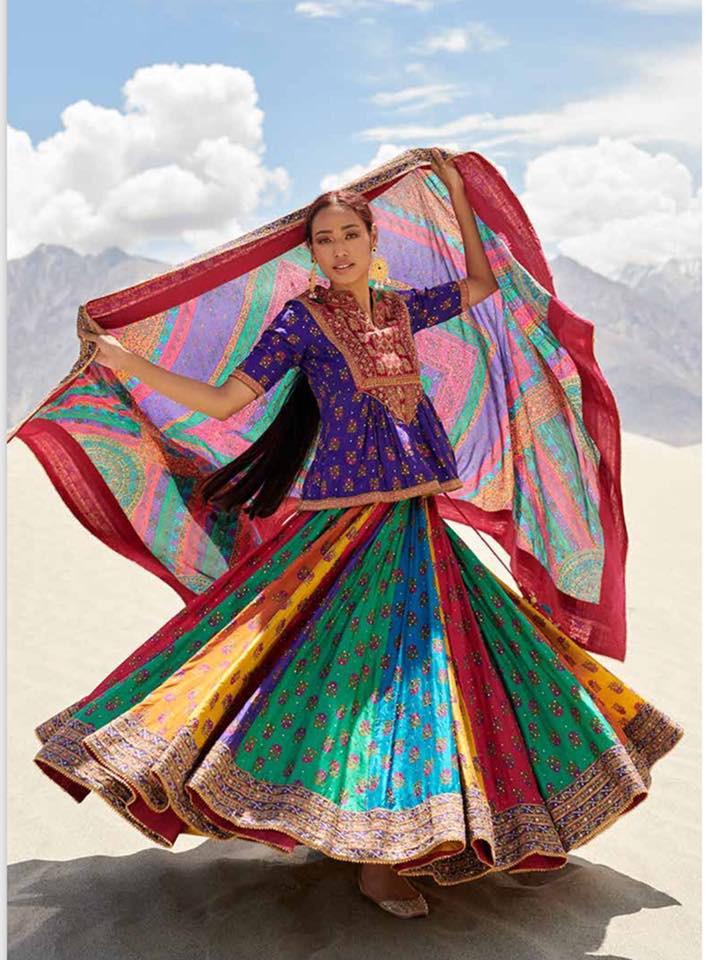 Zardozi is a more elegant, elaborate and ornated version of zari embroidery. Precious pearls, beads and Gota Patti are etched with rich gold threads on heavy silk, velvet and satin fabrics. Zardozi embroidery is created on a wooden framework with tools such as needles, gold wires, metal stars, sequins, beads, thread etc. It can be mixed and match with other types of embroidery work to create a heavy lehenga.
3. Chikankari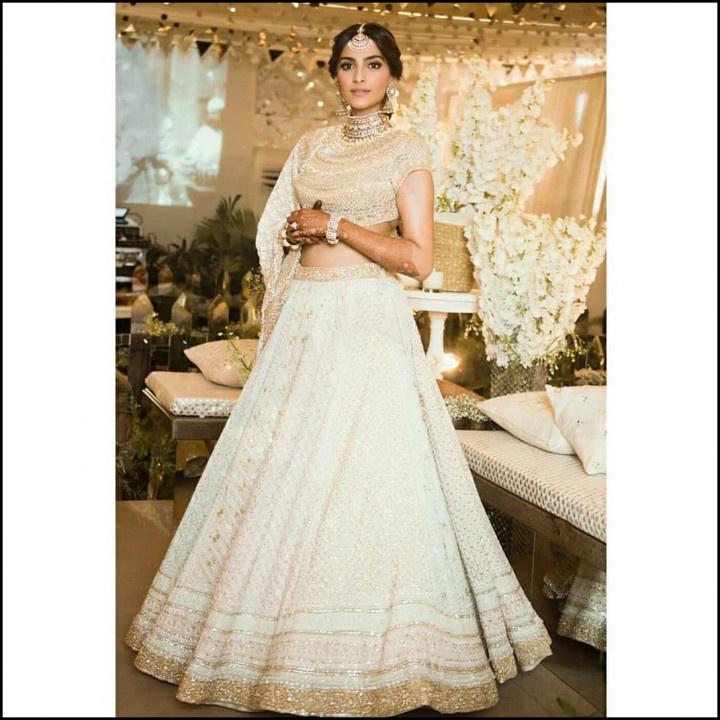 Lucknow's ancient and popular artwork, Chikankari, means embroidery. This simple and precise handwork on the fabric gives it a subtle but classy appeal. Simplicity is the main essence of this embroidery and yet the final look is rich. Due to the influence of Persian aesthetics, this craft features unique and prominent use of floral motifs, such as Booti, Paisley etc. This style of embroidery looks more enhanced on neutral and basic colours, such as ivory and beige. To give Chikankari a bridal look, it's mixed with other elements such as cut dana and sequins.
4. Gota Patti

Gota Patti is a classic Rajasthani style of ornating the garment, which is inspired by the Mughal era. It holds a bridal appeal and can be crafted with gold and copper fibres. This metallic embroidery can be directly done on the fabric or used in the applique manner. Gota work looks most beautiful when done on fabrics like georgette, chiffon, velvet and silk. The golden appeal of this gota looks great with jewel-toned base fabrics.
5. Phulkari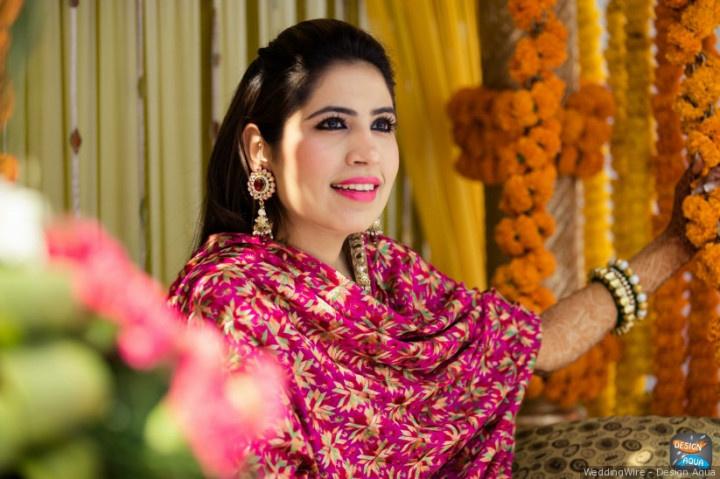 Image: design-aqua-embroidery-work-Phulkari Phulkari means 'flower work' and has a strong bond with the land of Punjab. Spun on a charkha, this style of embroidery was primarily used on dupattas, shawls etc but now brides are adding this element throughout their lehengas. This embroidery is created on the 'wrong' side of the fabric with a silken thread, which ends up enhancing the beauty of the 'right' side of the fabric. The use of bright silk threads and shading technique highlights beautiful elements of gardens.
6. Dabka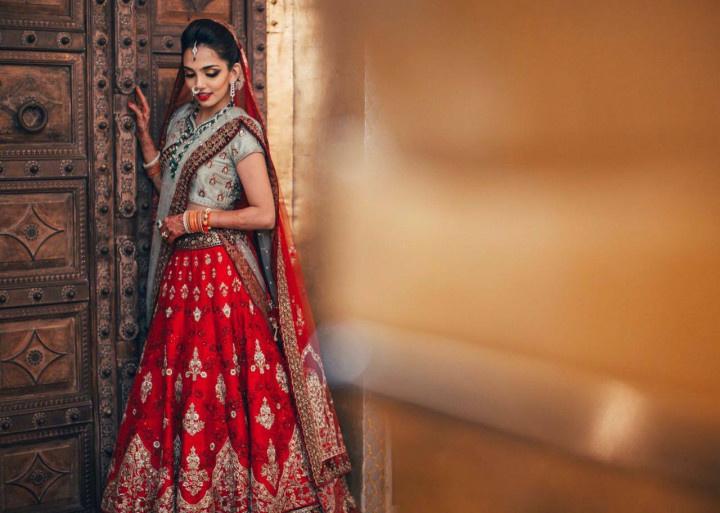 Dabka embroidery work involves a technique that creates intricate patterns with a coiled wire that resembles a spring. This detail-oriented embroidery style calls for high attention to detail and precise designs. The base of this embroidery is formed with a cotton thread which is then covered with a metal coil. Usually done on chiffon, this embroidery gives a 3D appearance. Again, a popular choice for brides who like beautifully crafted but lightweight work on their outfit.
7. Cut Dana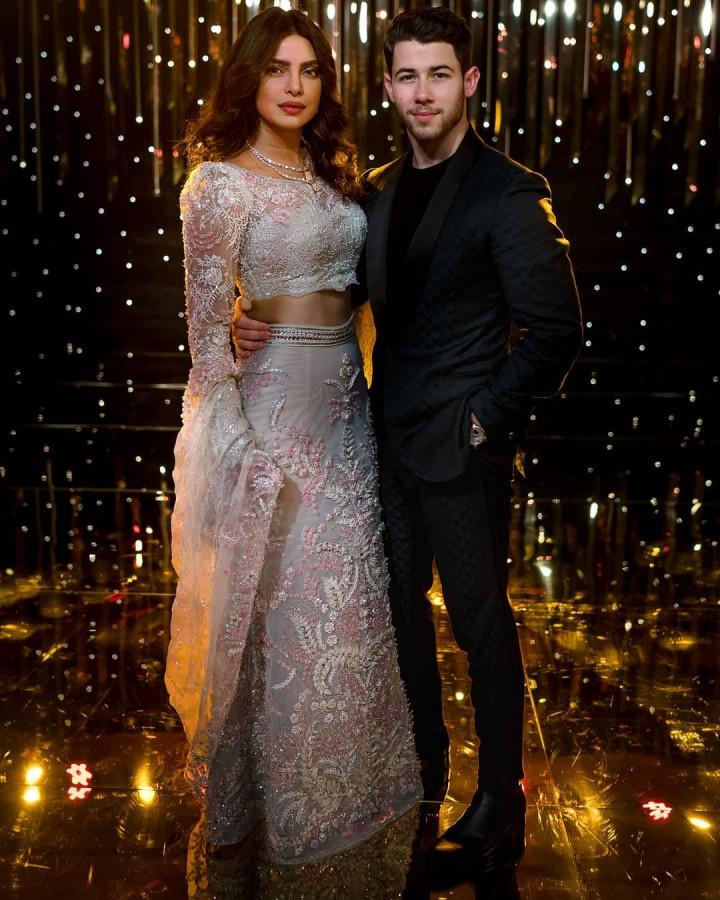 Cut dana work is done with stones and beads. The raw material is cut in specific shapes and sizes so that they reflect light. The most common shapes used are barrel and tubular. They are mixed and matched to create the desired pattern. These are sewn into the fabric to give it a bridal look. They can be made up of various colours and can be glazed with lustre and coatings. Another way to enhance cut dana is by pairing it with thread embroidery in complementary colours.
8. Mirrorwork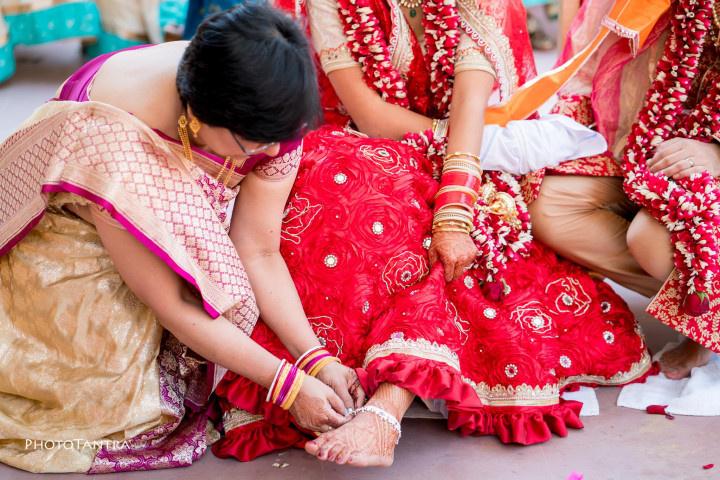 Shisha or mirrorwork embroidery features affixing of small mirrors and providing it with a casing. Special cross-stitch embroidery is used to set these mirrors and increasing the appeal of the outfit. Circular, square, triangular, hexagonal and polygonal mirrors are used to create various patterns. This style is mainly prominent in Rajasthani and Gujarati bridal lehengas.
9. Appliqué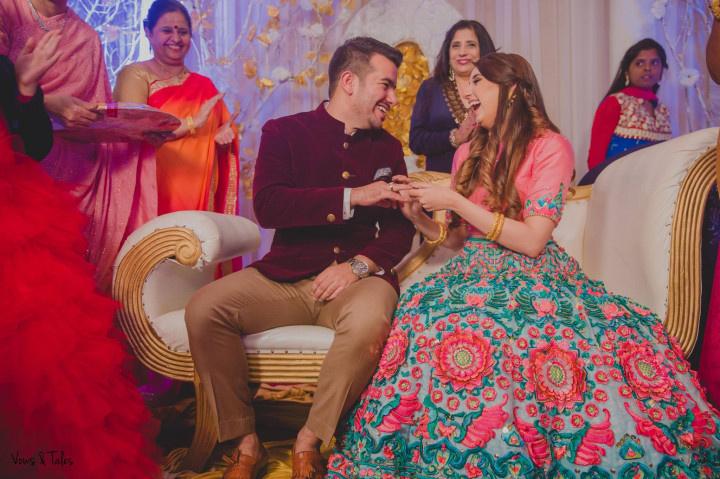 Image: vows-and-tales-embroidery-work-Appliqué In this style of embroidery work, a patch or a piece of fabric is applied or sewed on to either the garment or the fabric. This style derives its root from the French fashion scene and yet has become highly popular among Indian brides. A unique type of needlework is used to apply a beautifully curated piece of fabric on another fabric to give it a 3D look.
10. Gara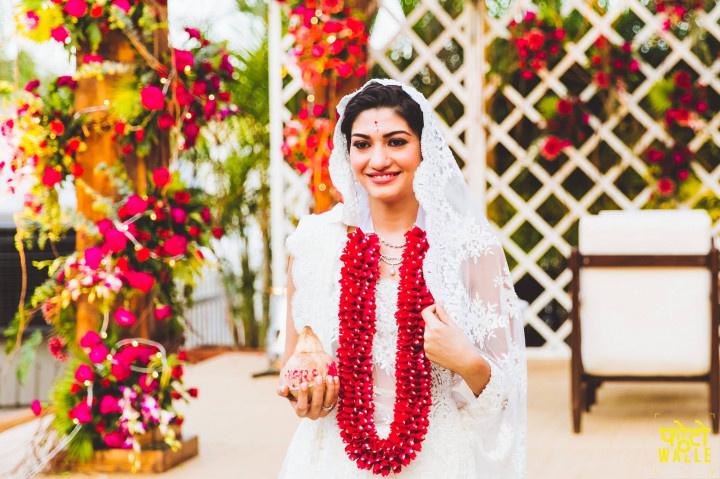 Gara embroidery is a classic element that's loved by Parsi brides but can be seen in modern bridal lehengas too. Usually, Parsi brides wear a saree with Gara embroidery which features the use of intricate motifs such as roses, lotuses, roosters and peacocks. This style of embroidery work gives a rich elegance and that's why it is called an undercelebrated artform of India. Definitely consider this style if you are planning to customise your bridal outfit.
Bridal lehenga shopping can provoke the bridezilla in anyone. But, you can make it worth the wait and effort if you end up with style and embroidery work that appeals to you the most. When visiting a store, do ask for a particular style of embroidery that you love or enquire if they can customize the design as per your liking. The key here is to start looking at bridal lehengas as early as possible. We hope you will make the best use of beautiful embroideries on your bridal outfit to effectuate princess vibes.
Which embroidery styles look stunning on bridal lehengas? Share with us!