The 8-point 'buy Bridal Lehenga' Guide to Help the Brides-To-Be
Heading out to buy a bridal lehenga? Take a breath and go through this essential guide on how to go about it smoothly and even make the experience a no-stress, fun breeze. Read on and take notes for yourself.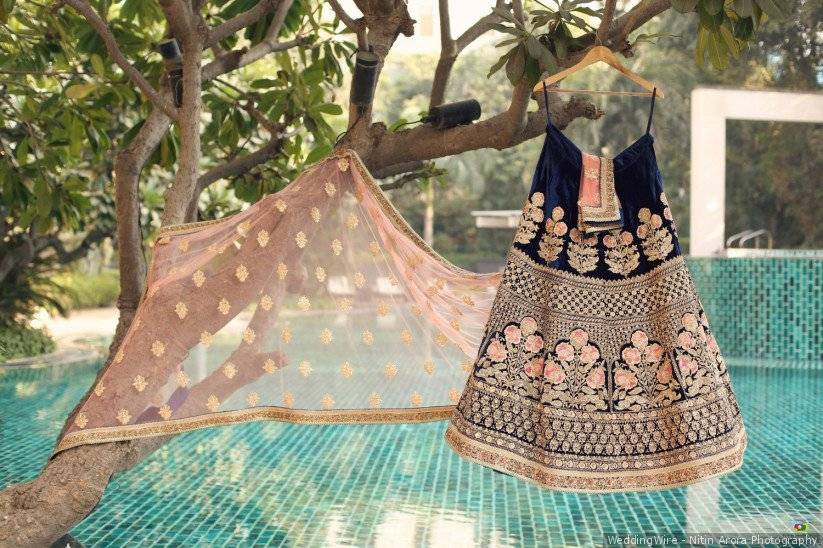 Every bride-to-be comes with her own customised to-do list but one task that's important to all is that of buying the dream bridal lehenga. Let's face it - bridal shopping is not easy, especially when you have the entire wedding to plan alongside. This is why we recommend starting early on your buy bridal lehenga binge, researching well and finding an outfit that defines 'you' as a bride.
Your bridal outfit directly affects many other important decisions around your wedding like the stage décor, your bridal jewellery, bridal makeup and of course, your groom's outfit! The bridal lehenga is a focal point that everything else revolves around and there are many things to look out for when you buy bridal lehenga. From the weather during the ceremonies to the location of the celebrations, you need to buy bridal lehenga that will suit your circumstances and requirements best.
Refer to our simple shopping guide before you hit the markets and make buying your bridal lehenga fun and not stressful.
1. Make a To-Buy list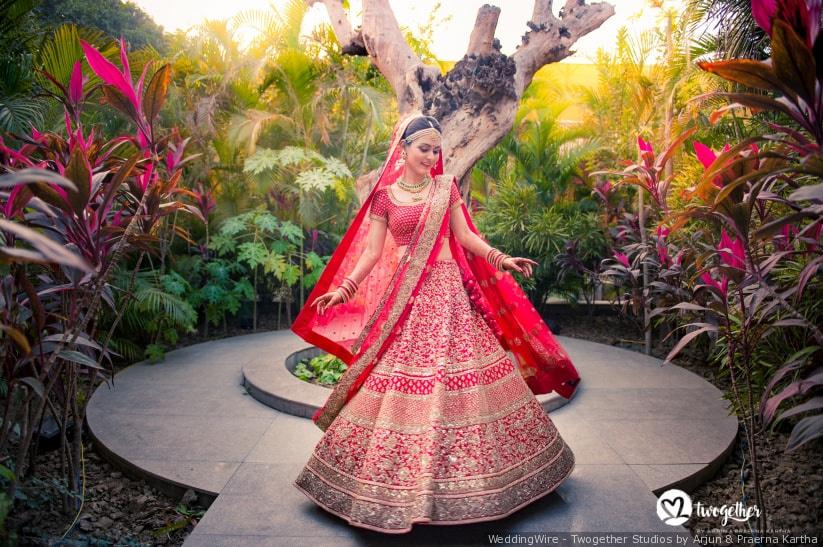 Be clear on what all you need to buy. Is it just the lehenga or other trousseau items as well? Are you looking for lehenga accessories like latkan for lehengas, bangles and jewellery as well? We suggest that you head out primarily to buy the lehenga and latkans. If, on course, you find other items that you happen to like a little too much, only then buy them, else stay focused.
2. Define your budget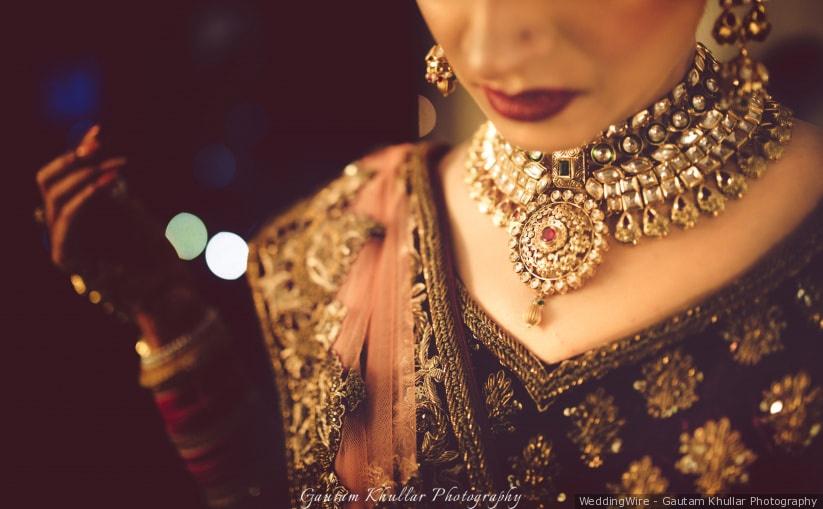 We know that you are ready to invest in your lehenga but do have an estimate of how much before the buy bridal lehenga expedition. Break it down to have a bracket for your lehenga, jewellery, other accessories and shoes. And then use your research to shortlist stores and studios that fit your wedding budget. That way, you won't have the heartbreaking experience of leaving a lehenga you loved, just because it doesn't fit into your financial bracket.
Decide on a minimum and maximum price and visit shops that will get your great lehengas within that price range. The result will be a wedding lehenga you love and won't regret the rest of your life.
3. Find your bridal style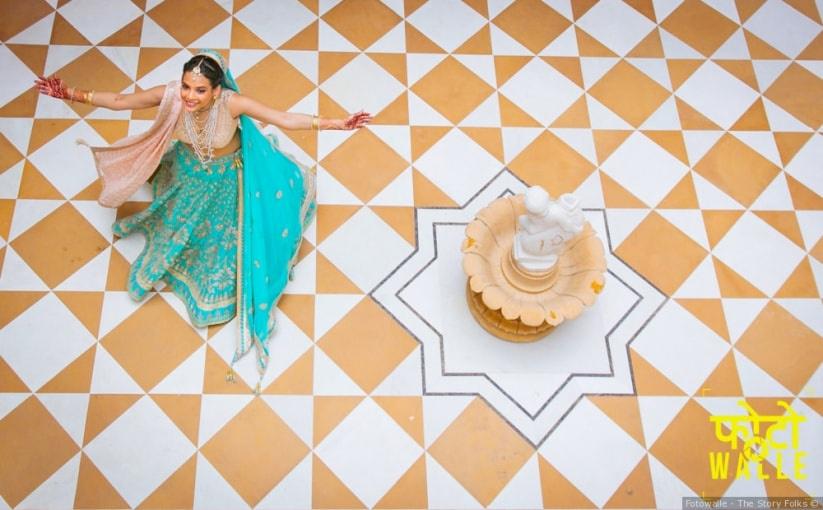 Step one towards closing your buy bridal lehenga journey requires research. Spend time browsing websites and Instagram to shortlist outfits and styles that appeal to you. Attend bridal exhibitions because they expose you to designers outside of your city and help widen your perspective on brands and designer wedding lehengas.
All of this research will help you figure what colour, silhouette, fabric and style works for you, giving you some much-needed confidence in the process ahead.
4. Say yes to colour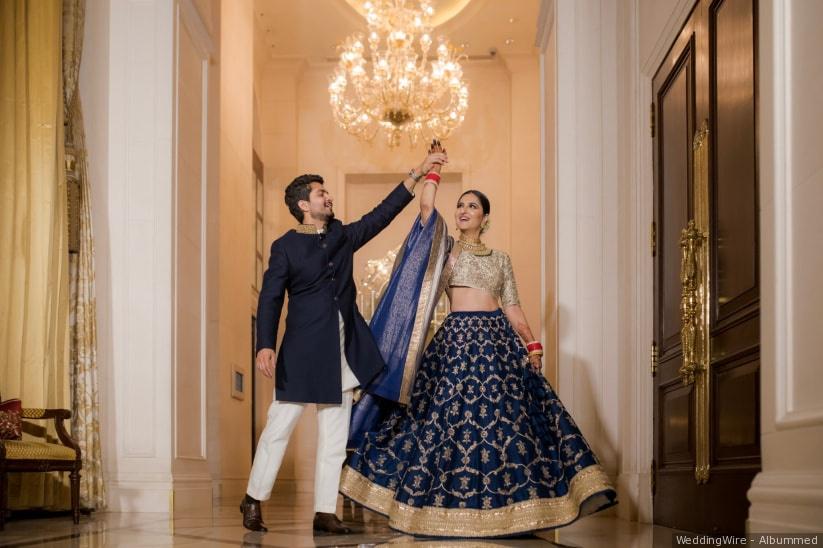 India's top bridal designers like Sabyasachi Mukherjee, Anita Dongre and Manish Malhotra love experimenting with colours and so should you. Your friend may have looked stunning in red but that doesn't mean you have to be a red bride too.
Your wedding outfit should reflect your personality and if your favourite colour is blue, then don't let anyone keep you from wearing a lehenga in that colour. Take inspiration from our offbeat brides and pick a colour that suits your personal bridal style. Also, keep your eyes open to different variations when you go on to the buy bridal lehenga experience.
5. Plan a different look for every function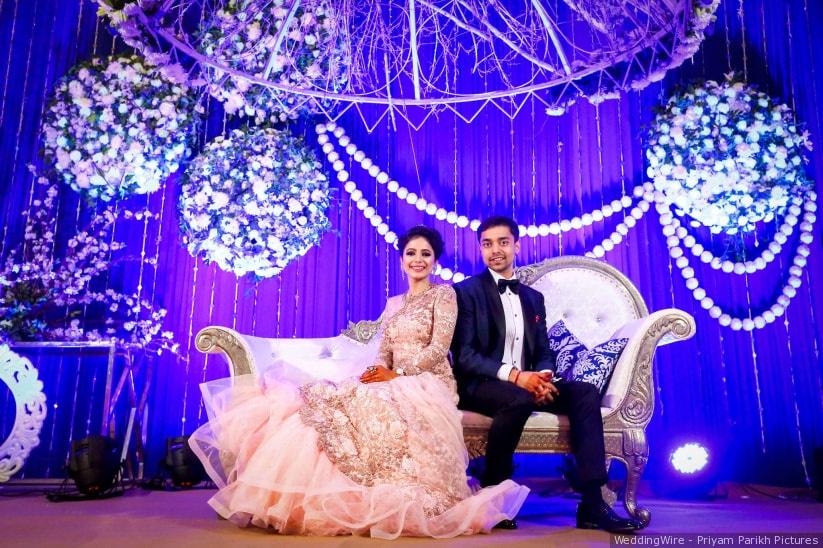 The big fat Indian wedding gives every bride the chance to experiment and create a balanced trousseau set. With that in mind, remember to plan a different look for all your wedding functions.
Try an Indo-Western outfit for your cocktail and engagement, a fun cropped blouse design for your mehndi, a classy bridal gown for your reception and a traditional lehenga for the wedding. Keep this in mind when you start bridal trousseau shopping and you'll come back with outfits that you love after you finish the buy bridal lehenga spree.
6. Don't forget the external factors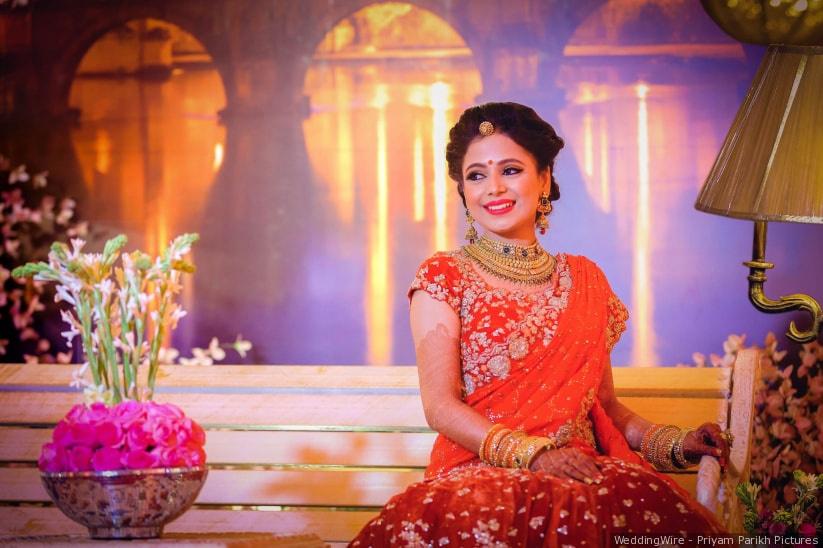 Your wedding date directly impacts your bridal lehenga, in terms of fabrics, colours and even silhouettes. You can't wear a velvet lehenga during a summer wedding nor can you wear a chiffon saree for a winter Haldi ceremony. Keep these external factors in mind to ensure complete comfort on the day of your wedding.
Further, when you go on the buy bridal lehenga expedition, consider layers (both as cancan underskirt and double dupatta design ideas), alongside others like a jacket or cape. Believe us, you will thank the Gods for these if the wedding day happens to be a little chilly.
7. Try before buying readymade outfits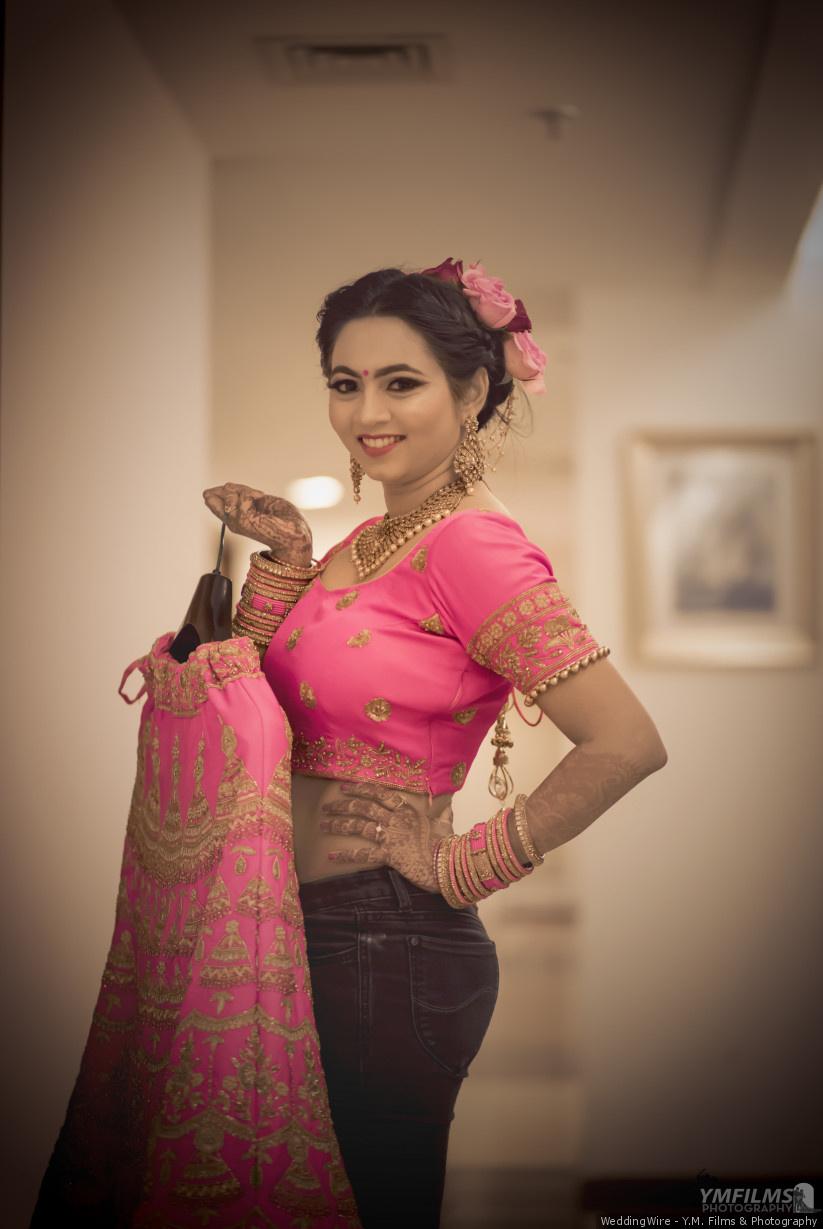 Yes, that's obvious. However, the detail of this trial session during your buy bridal lehenga journey is important. Don't just wear 10 outfits and pick one. Look at the following details -
See how these details work against your form and figure out if they indeed work for you or not. Take pictures and a few opinions before finally buying that one bridal lehenga that speaks volumes with you.
8. Save funds and time for accessory shopping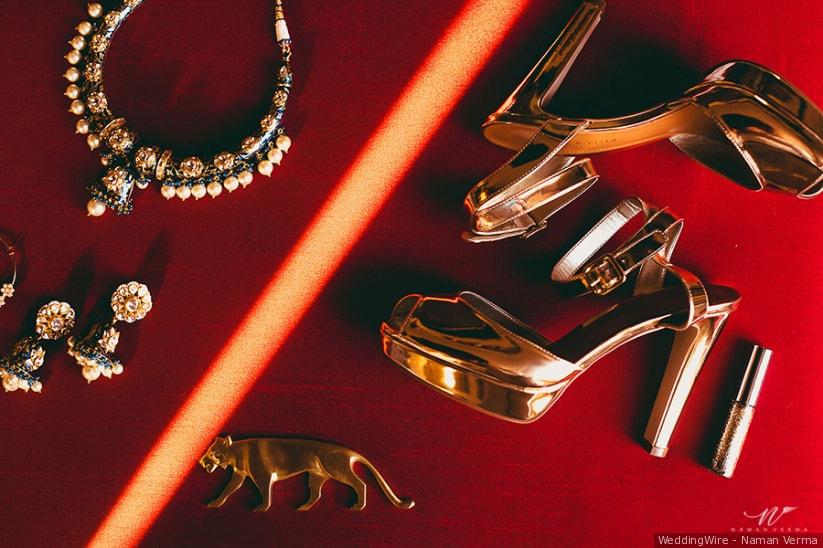 Many brides end up neglecting their bridal jewellery, shoes and hair accessories while choosing their bridal lehenga. Make sure you devote some time shortlisting accessories like the bridal Chura, bridal Kalire and most importantly, your bridal footwear. Turn to Instagram to discover independent jewellery designers and unconventional shoe brands before finalising your entire look.
Now that you are fully equipped to go for your bridal lehenga shopping, do bear in mind that you won't necessarily find the lehenga of your dreams in the first visit itself. Don't get disheartened by that. Plan a couple of trips more in your buy bridal lehenga spree.
Instead, after getting a fair idea of the markets, decide if smaller items of your wedding shopping can be bought from nearby cities to cut down the costs. Remember to shop smart and listen to your gut to know if you've found the one. Tell us how your experience with lehenga shopping was.
Keep These Tips in Mind to Bring Together Your Final Bridal Look
1. Get the final fittings done way in advance.
2. Wear the footwear you plan on wearing on the day of the function so that the fitting is on-point
3. Show your wedding outfit to your makeup designer so that she can figure out a look for you that goes with your features and the colour palette of your outfit as well
4. Depending on the neckline of your blouse, choose the jewellery set accordingly! For example, if it is a deep-U neck then wearing a choker set with it would look drop dead gorgeous
5. Keep in mind the colour of your outfit, if it is a night function then go for a colour that will look amazing under artificial light and vice versa
6. Wear comfortable shoes only. Indian weddings tend to go on for a longer period of time and since you will have to do a lot of walking, better be comfortable than otherwise! So, keep this factor in mind as it is very important
Share your wisdom with others and help other soon-to-be brides in their buy bridal lehenga expeditions in the comments below.