Round Mehndi Designs: 26+ Easy Circle Shape Mehandi Design for Brides & Bridesmaids
Here is the cream selection of simple yet delightful round mehndi designs for hands, feet and legs!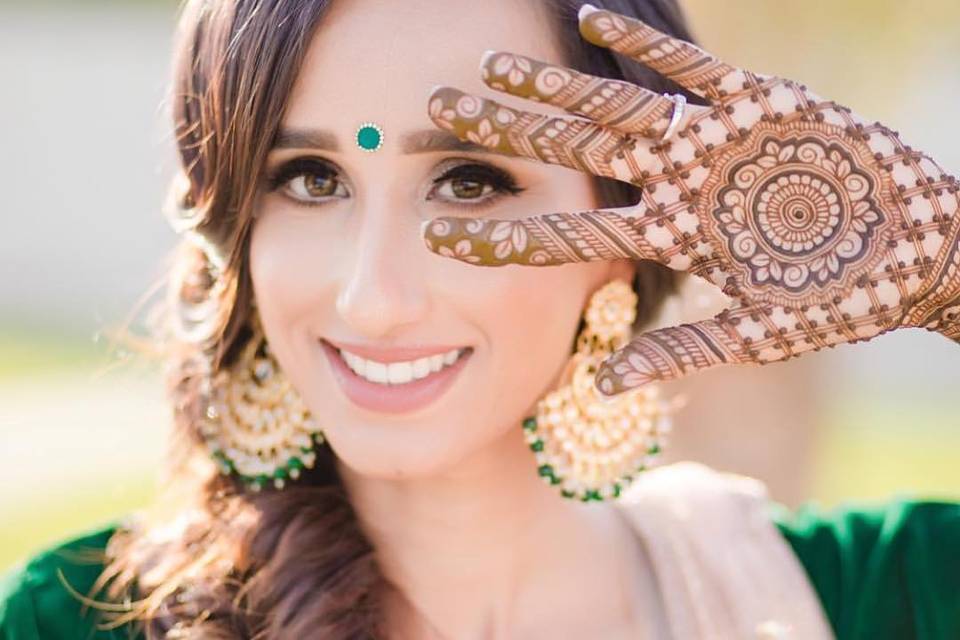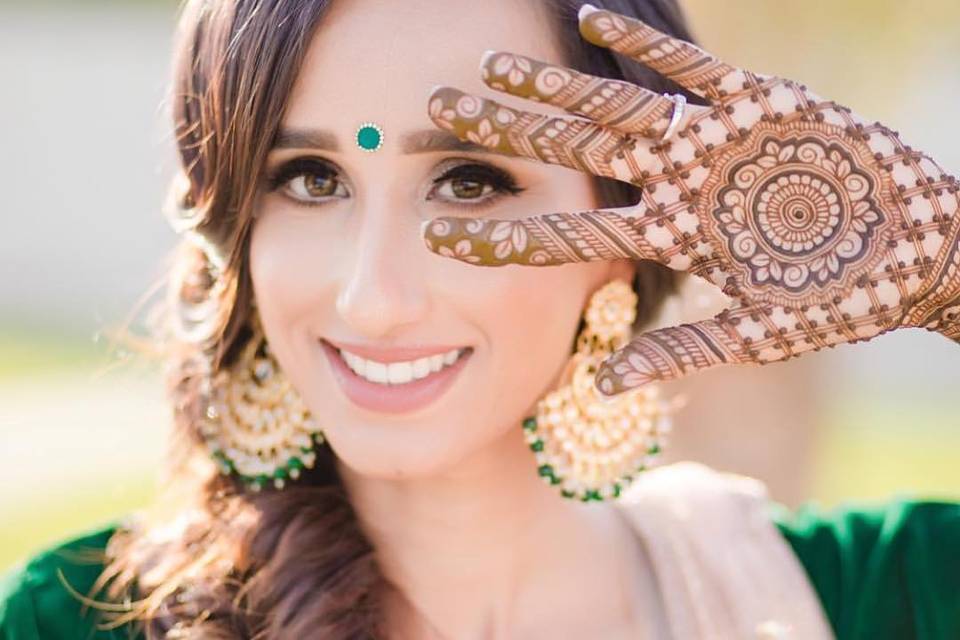 Image Credit - Henna by Divya
This is an epoch where the women set their own trendsetting fashion game, which resonates with their taste, persona and ongoing trends. Likewise, this goes for Henna fashion too as the contemporary women prefer to cherry-pick her Mehndi Design as per their own taste. Yes, some brides are enticed to adorn heavy designs, some look upon the chic patterns and some would like to adorn something artful yet graceful. By this means, you would not be surprised to see the popularity of Round Mehndi in India – also known as Mandala Mehndi. Hailing from the middle east - this is a trend that has never subdued here.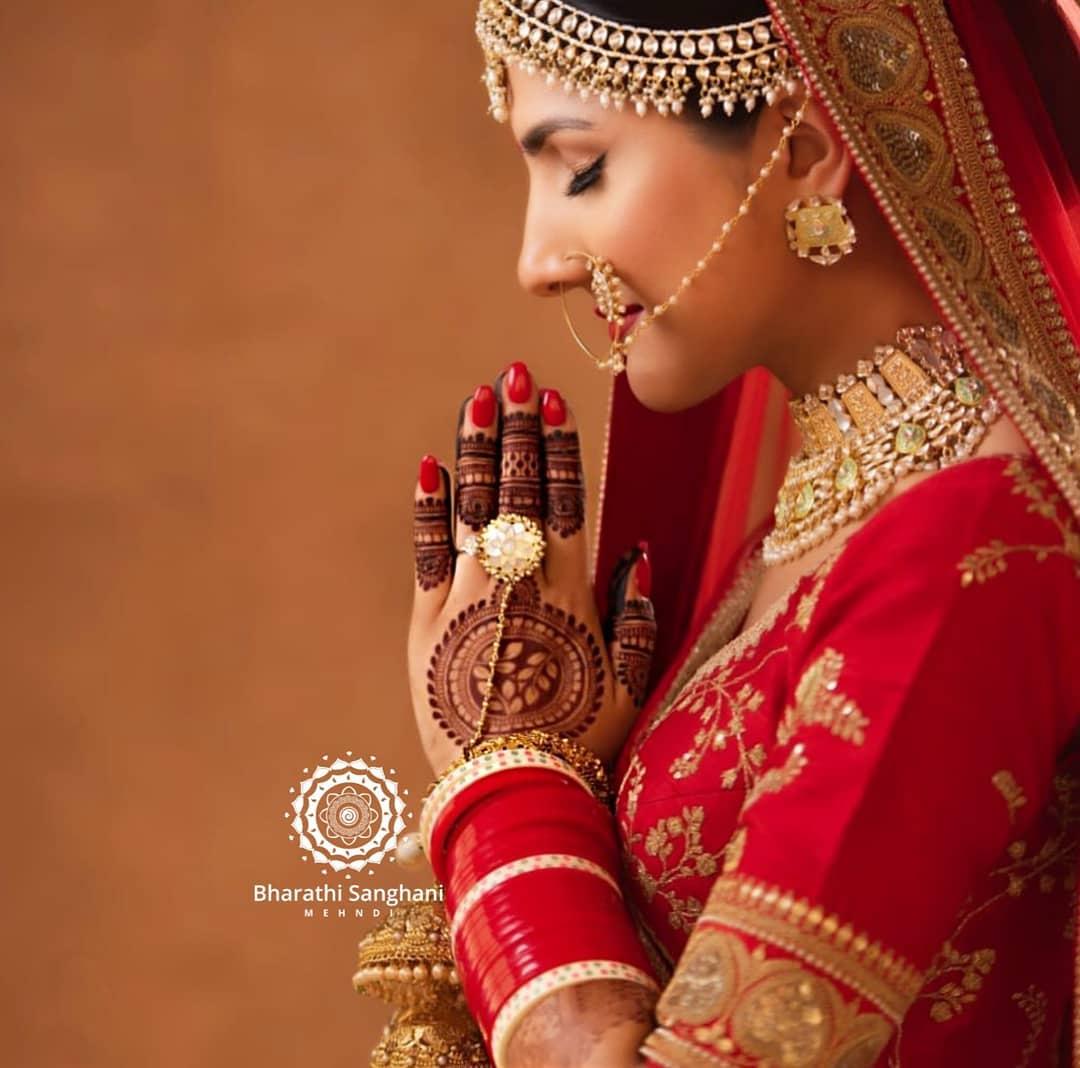 Image Credits - Bharathi Sanghani
Remarkably, the Round Mehndi Design is not only a hit among brides with a subtle taste, but it is a favourite pick for a bride who seeks to follow a trailblazing trend.
Now let us delve into why Round Mehndi Designs is ruling the reign. Along, with that let us explore some exquisite Mehndi designs for hands and legs that might inspire you to finalise your own mehndi design for any of your forthcoming functions.
In this article:
1. Circle Mehndi Designs for Hands
2. Round Mehndi Designs For Legs
Circle Mehndi Designs for Hands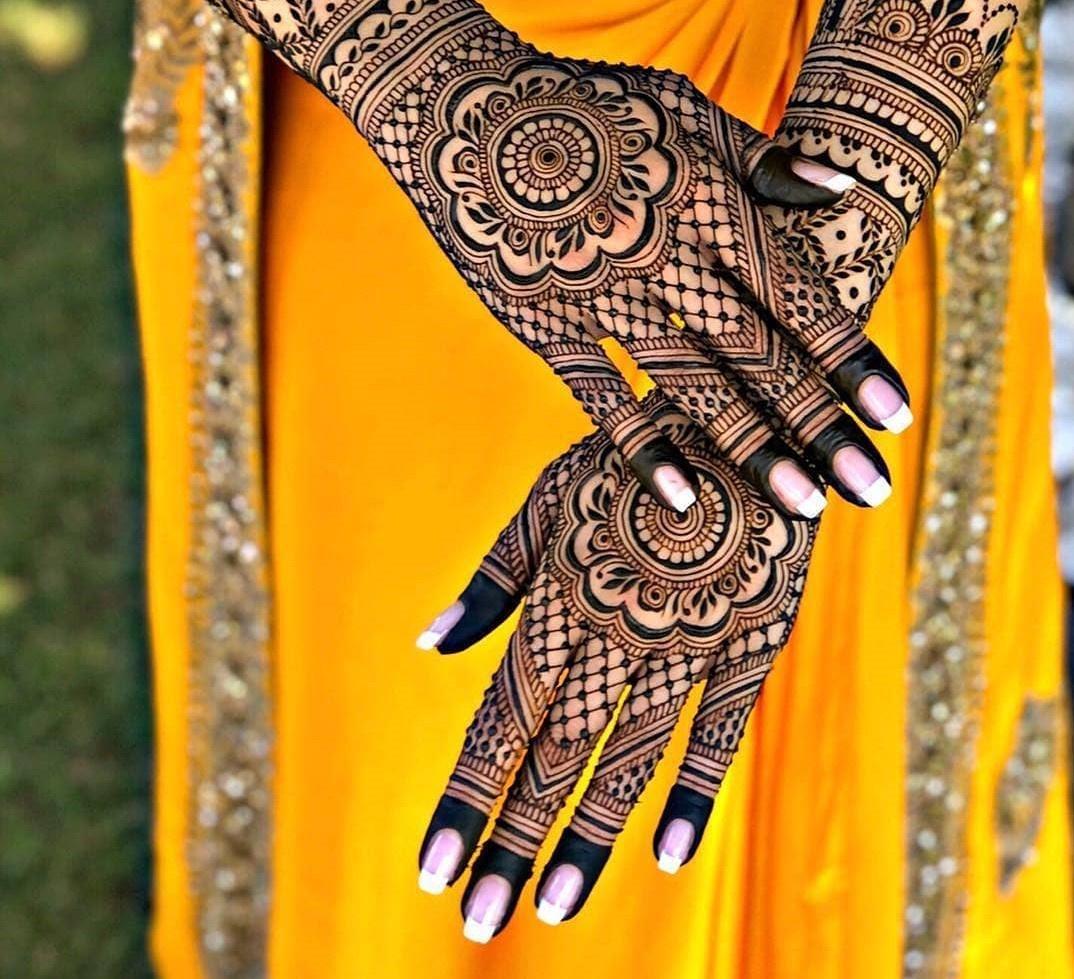 Image Credits - Henna Inspo's Instagram Page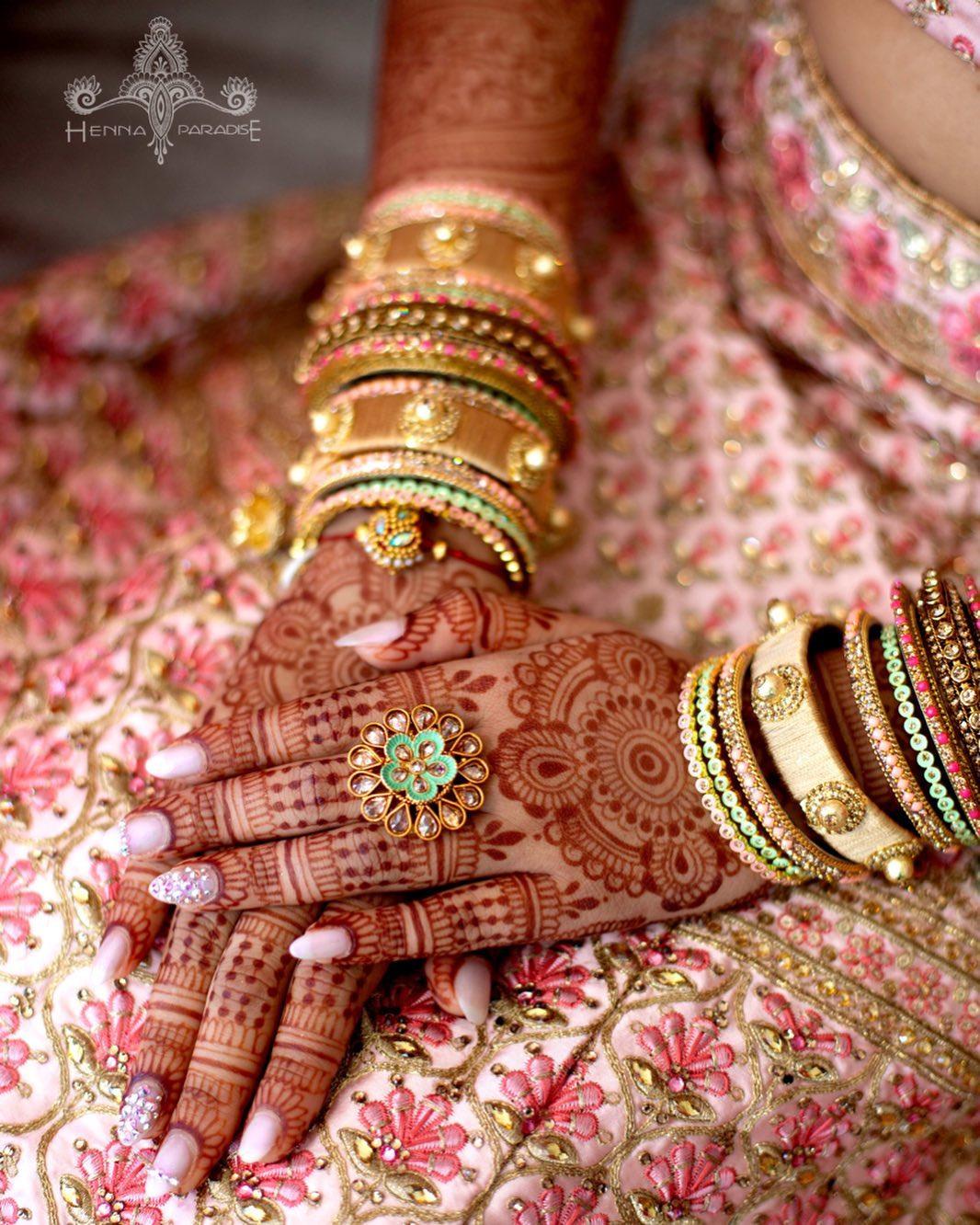 Image Credits - Henna Paradise
The lure for the Round Mehndi Design/Gol Tikki mehndi design for hands is in every season! And if you have wondered what exactly Round Mehndi is then here it is – a circular-shaped Mehndi Design which is extremely popular in India. The quintessence of Round Mehndi Designs lies in its base which is majorly round in shape. Then the base is extended intricate with dainty henna designs that are weaved around it. This gives a multi-dimensional façade to it. Also known as 'Mandala Design' this kind of Mehndi illustrates a big recurring symbol in Buddhism. The Round Mandala here symbolises peace, spirituality, and inner strength. The best part about these designs is that it is simple and classy. The Mehndi with dark strokes proffers a graceful vibe to your demeanour. Leaving the Mehndi overnight is the best way to create this.
Read More - 101+ Simple Mehndi Design Photos Ideas for Brides To Be
Round Bangle Circle Mehndi Design For Hands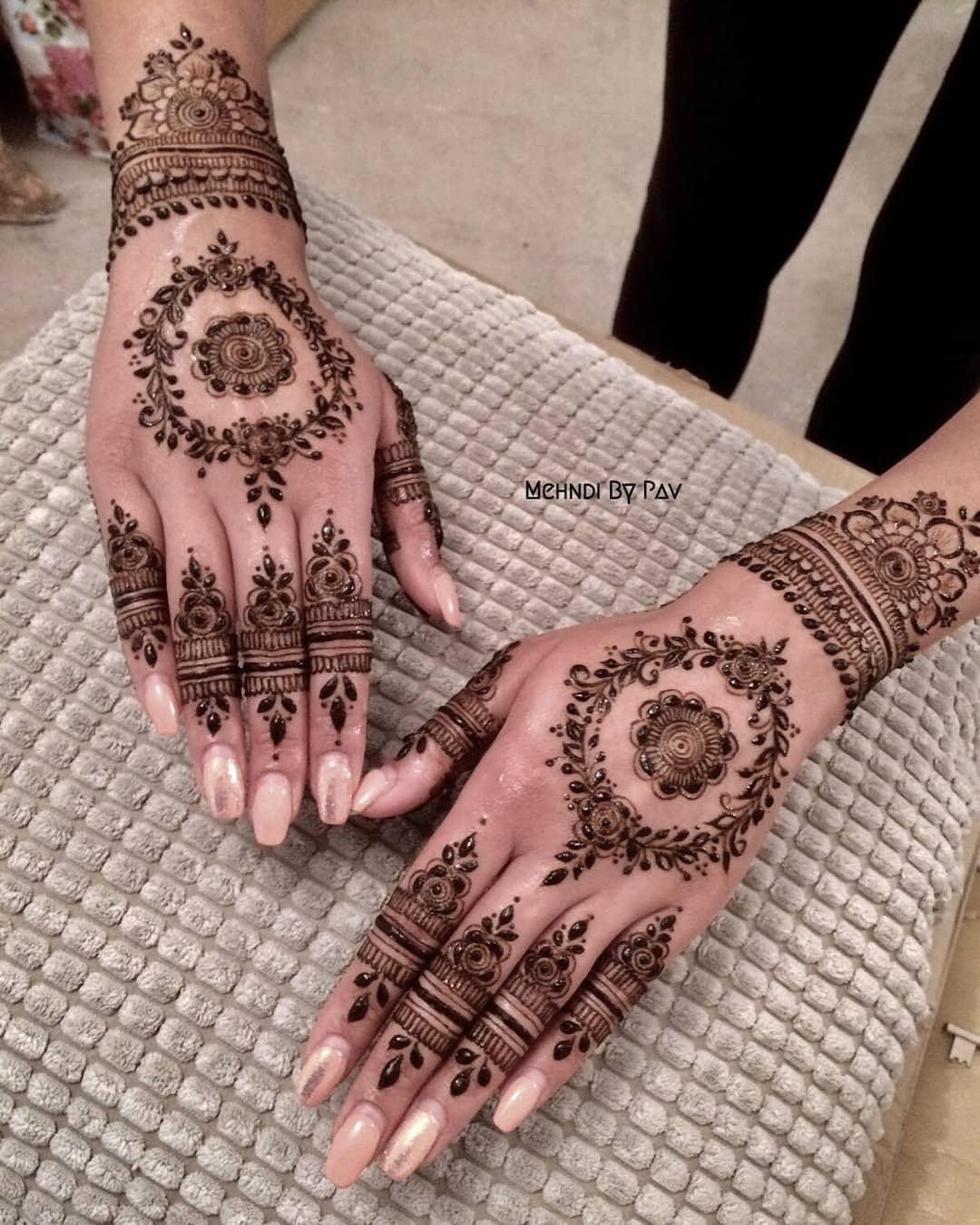 Image Credits - Mehndi by Pav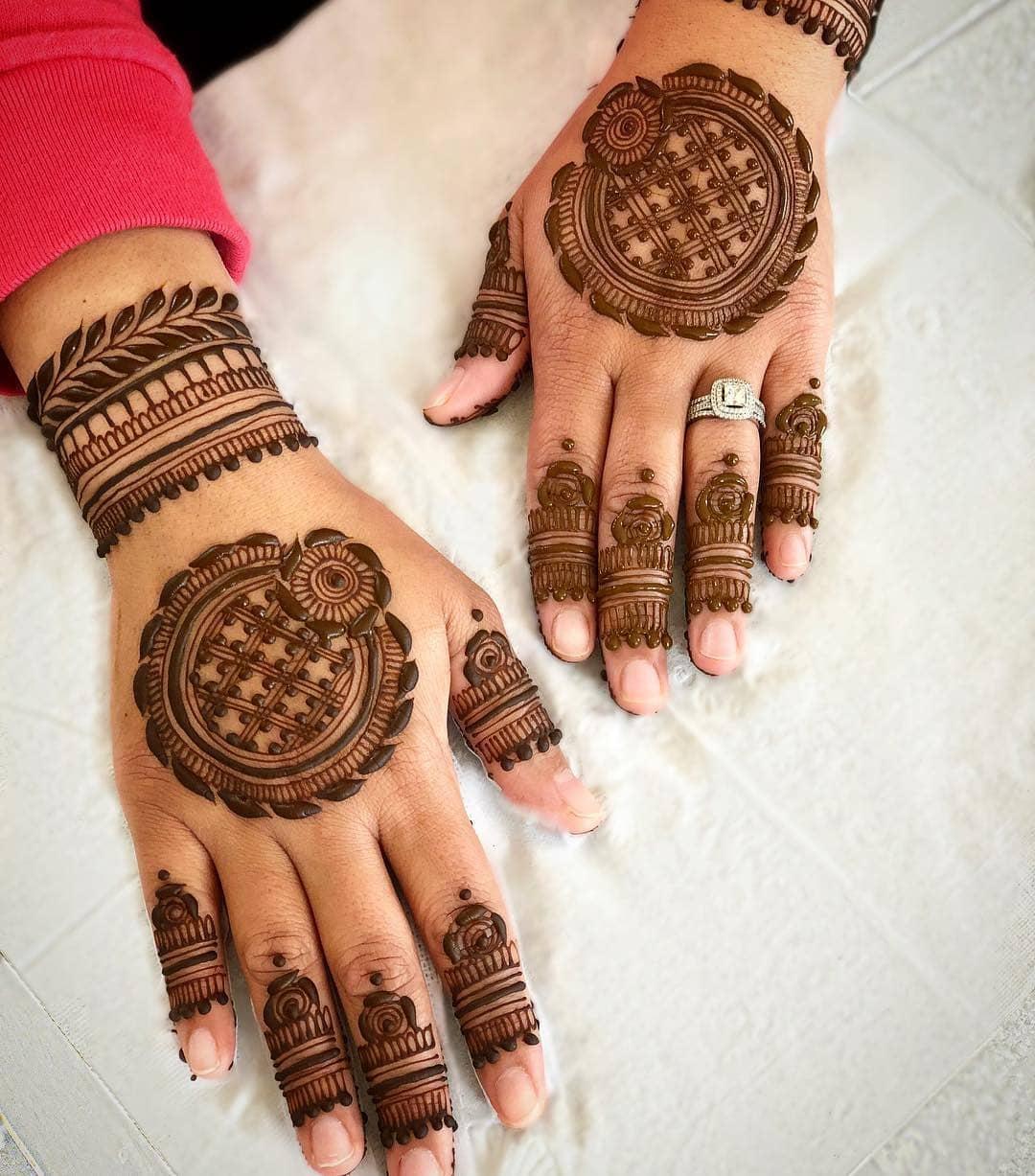 Image Credits - Henna Inspo's Instagram Page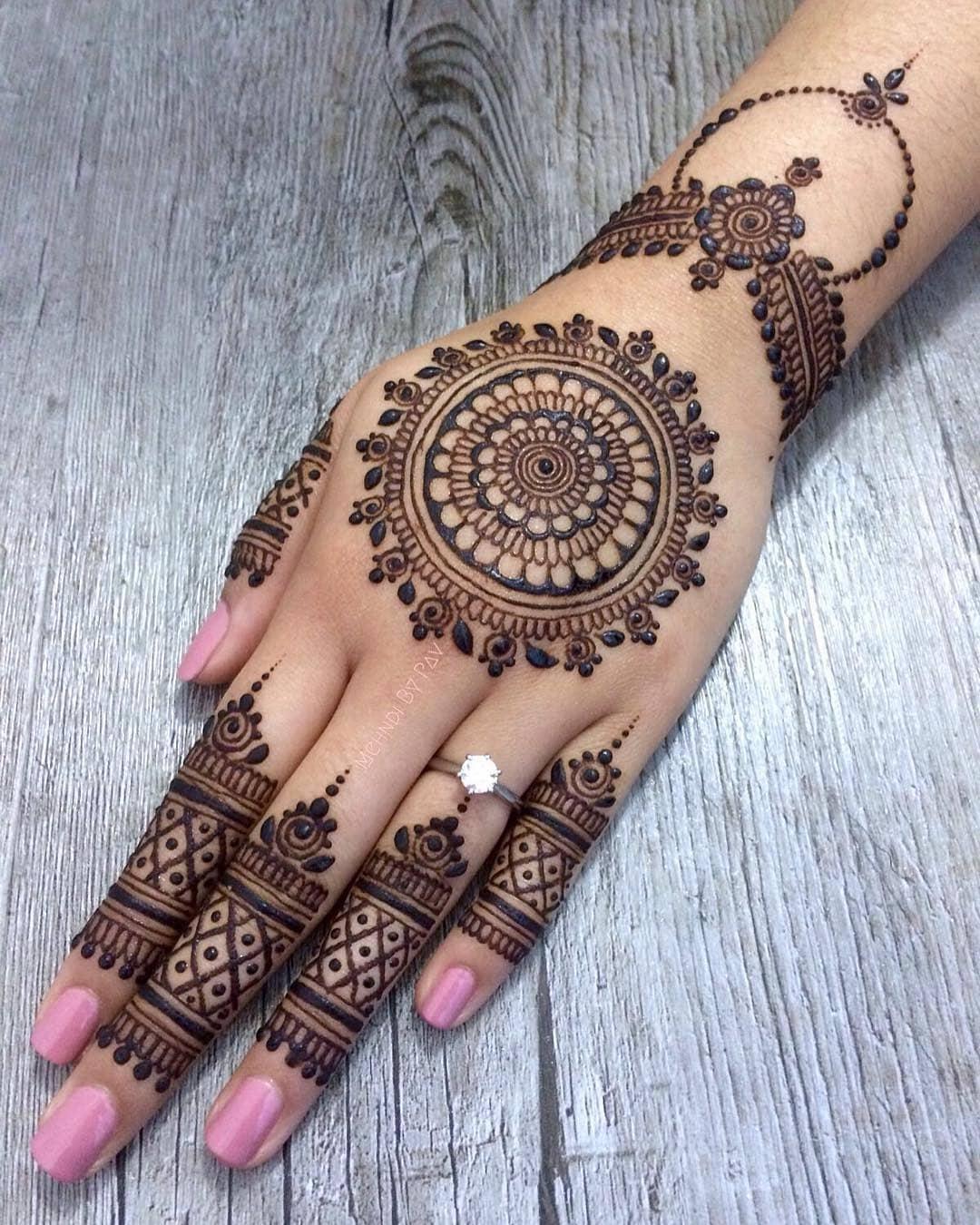 Image Credits - Henna by Pav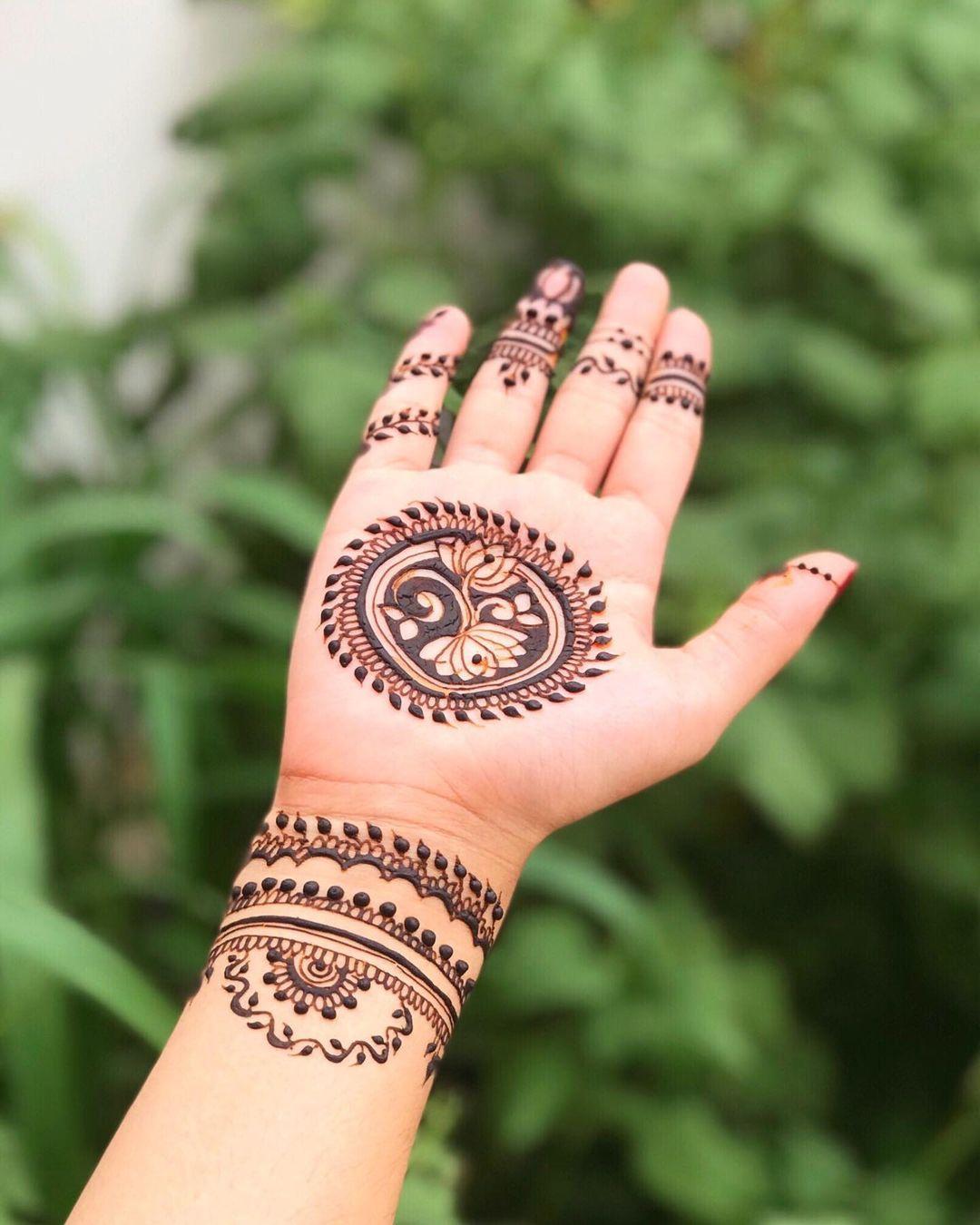 Image Credits - Sara's Mehndi
Round Bangle Mehndi designs are always here to stay. Such designs originated in the Middle East but now these designs have taken our country by storm. The delicate thin round strokes around the wrist give it a bangle kind of a look. Also, this kind of shape can suit any occasion, irrespective of age. So here are some lovely round shape mehndi designs or tikki mehndi design to take inspiration from! The finesse of these Round Bangle Mehndi designs is here to enthral you.
Read More - 50+ Simple Finger Mehndi Designs for Front & Back 2021, Finger Henna Ideas
Round Arabic Mehndi Design For Hands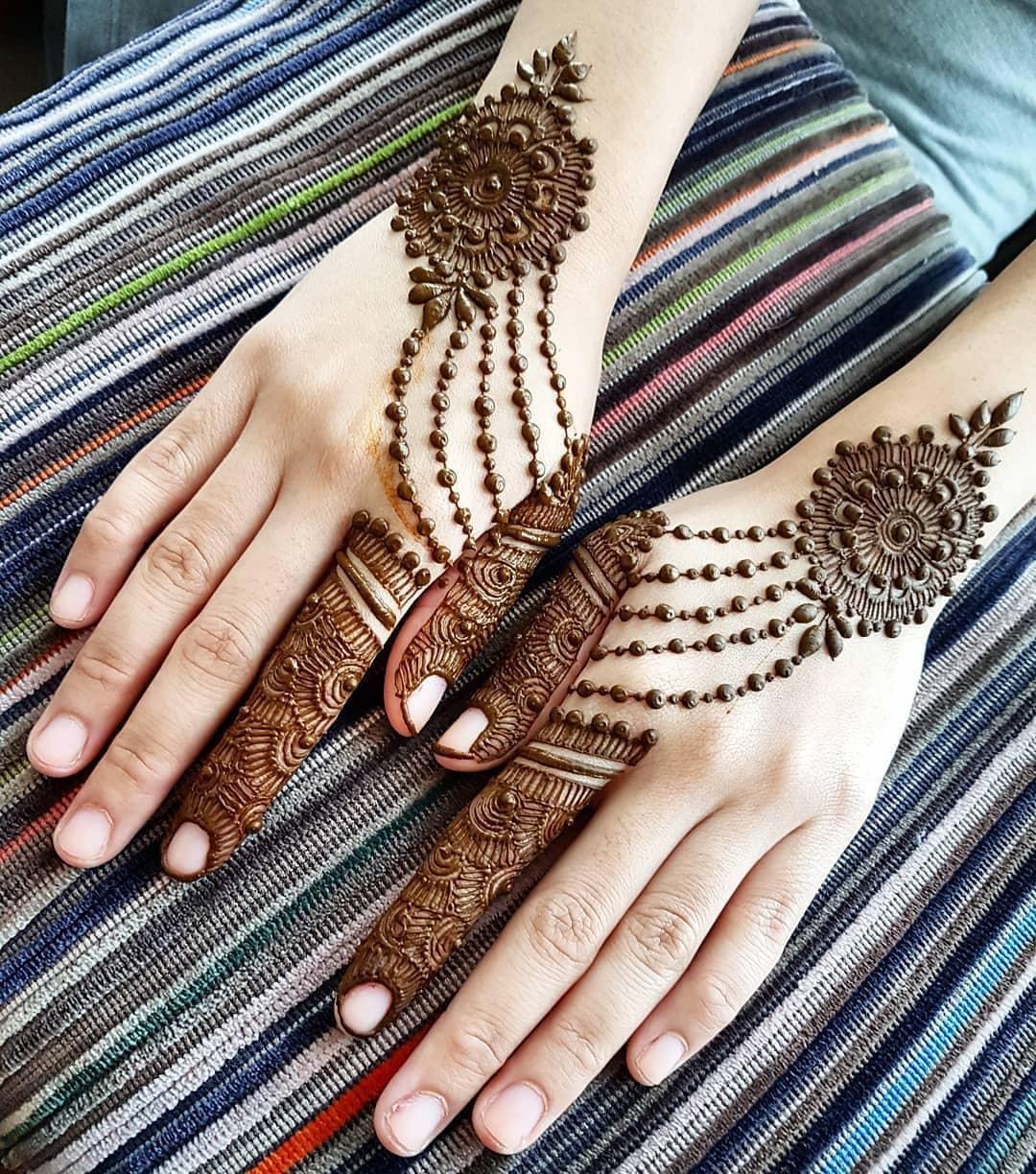 Image Credits - Henna Inspo's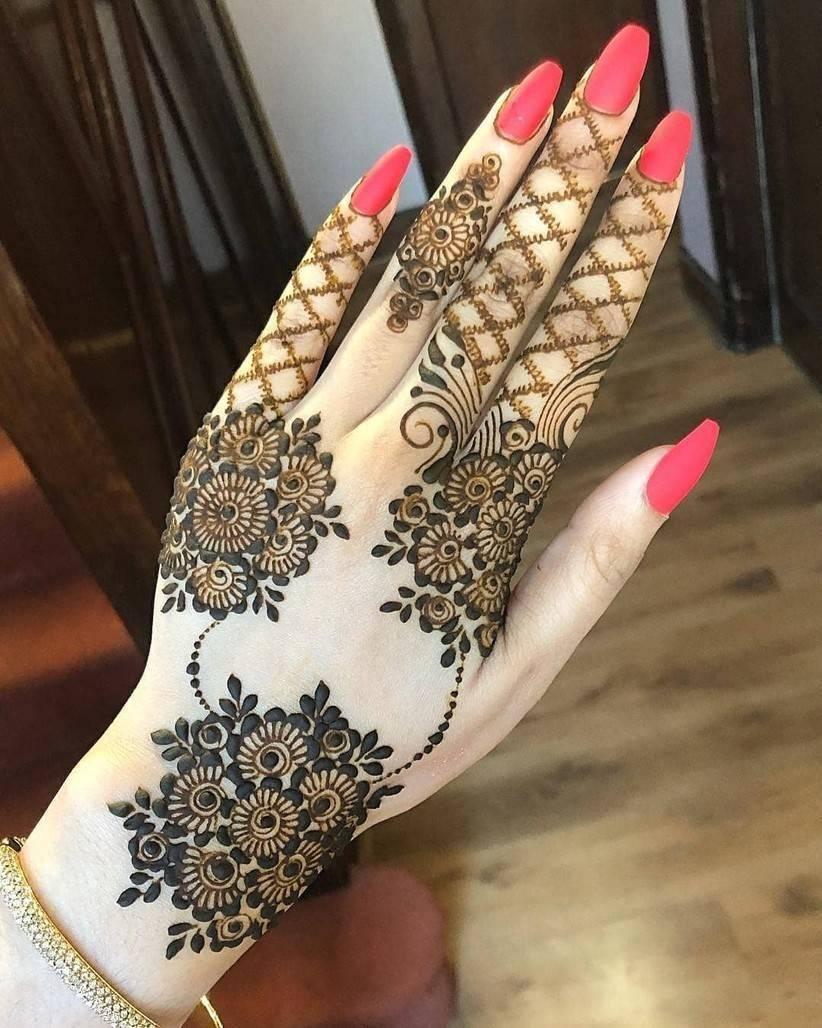 Image Credits - Henna Inspo's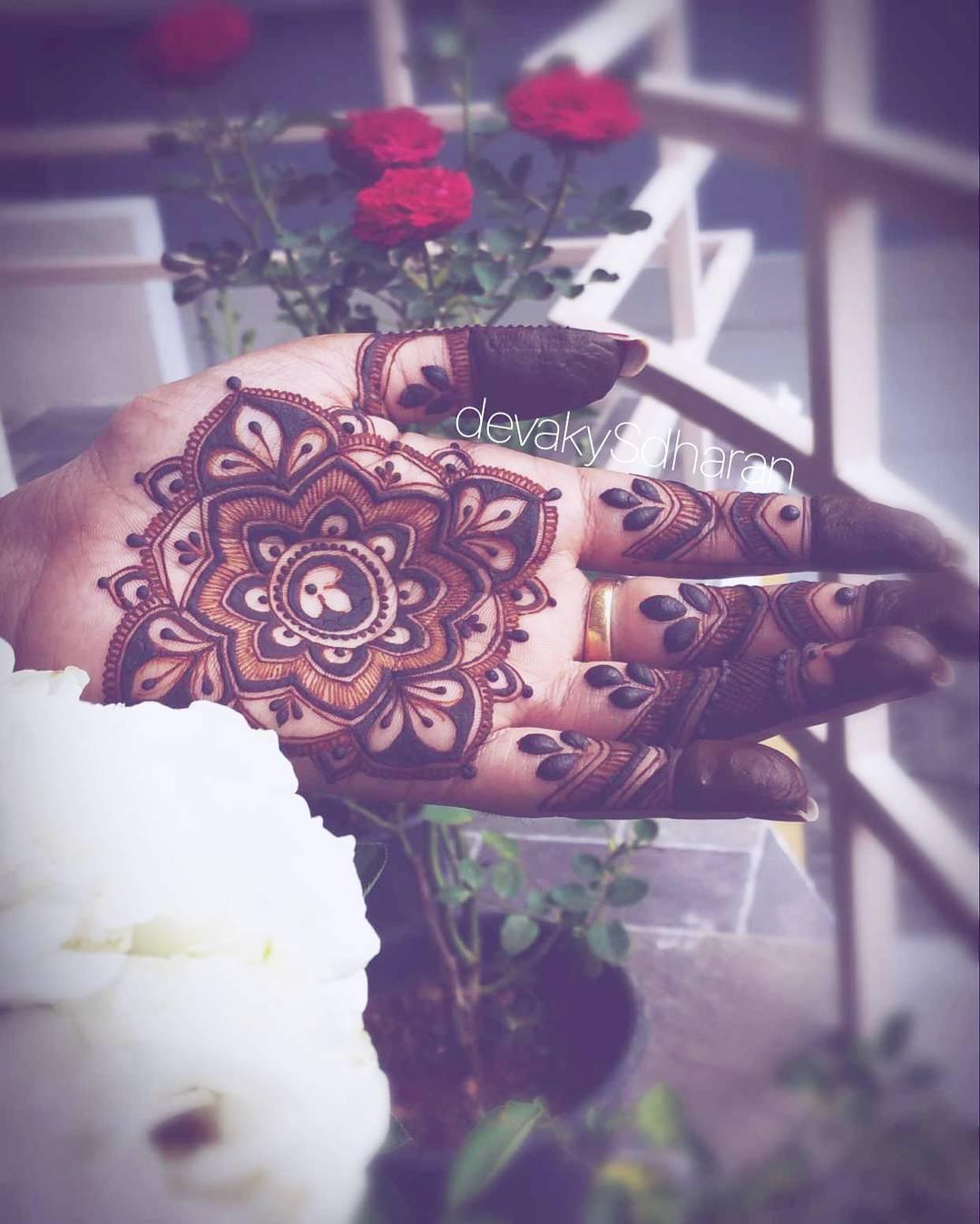 Image Credits - Devaky S Dharan
Who said that a Round Mehndi Design can only have one mandala! Yes, we can definitely make many mandalas altogether. While some Mandala Mehndi Designs or round mehndi have short and beautiful leafy patterns while others are adjoined to the intricate patterns spread all around your palms. These Round Arabic Mehndi Designs or circle mehndi look noteworthy. Also, these kinds of Round Mehndi designs generally comprise magnificent flowery and leafy trail that flows from the index finger/round base to the wrist and beyond. The nature-inspired theme makes the design look spirited and feminine. Here the front finger of the hand is done in a classic pattern. The bewitching easy round mehndi design like floral design is mind-blowing! A perfect design, if you are gearing up for a small ceremony or an evening soiree! The second design has a class elaborated pattern that is extended from the chain-link pattern.
Read More - Arabic Mehndi Designs: 89+ Simple & Easy Arabic Design 2021
Round Flower Mehndi Design For Hands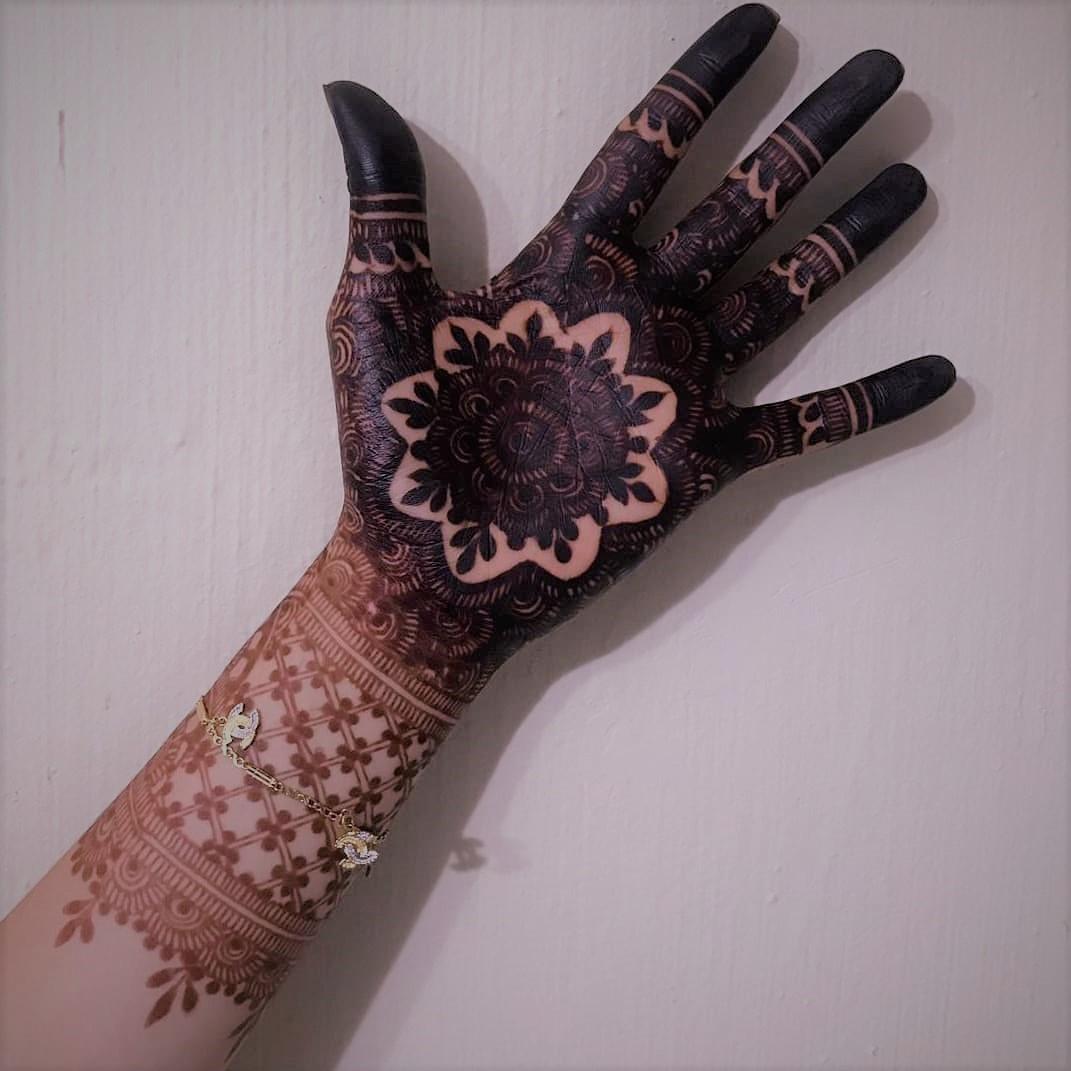 Image Credits - Henna Inspo's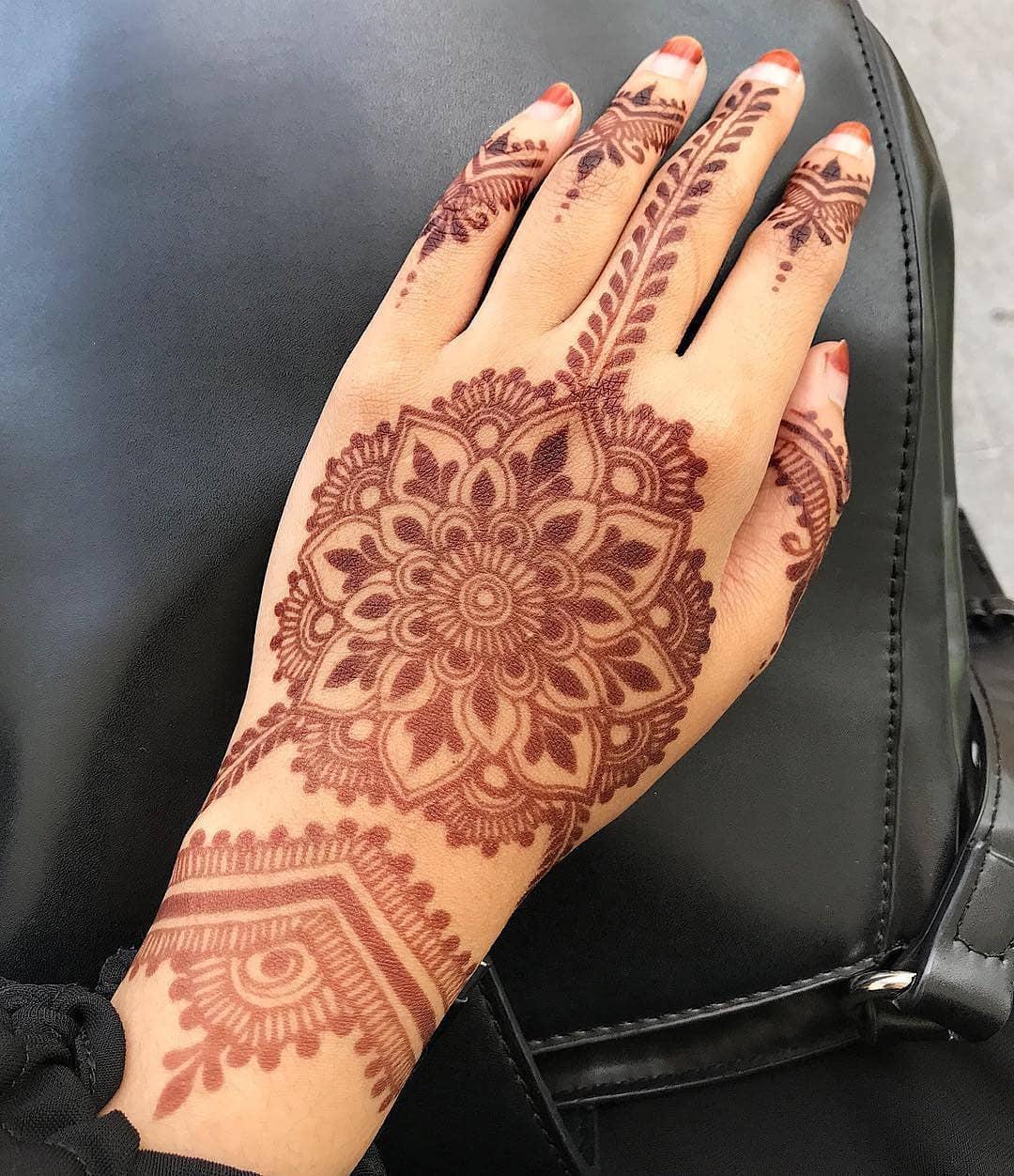 Image Credits - Henna Inspo's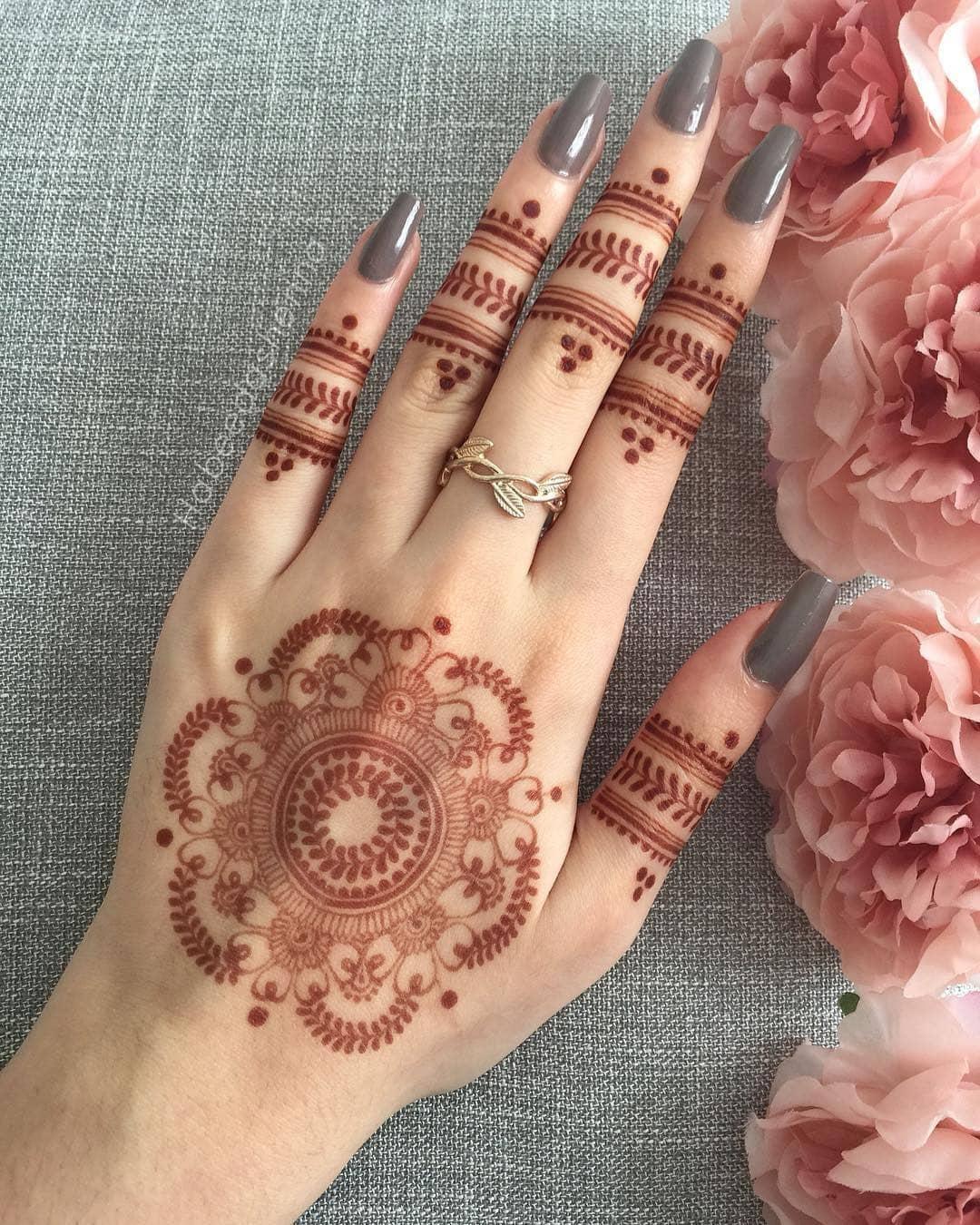 Image Credits - Habeeda's Henna's
If you are someone who appreciates something traditional yet dainty, then this Round flower mehndi design is meant for you. Apart from this, there are myriad flower mehndi designs to choose from. For instance, there are full hand floral mehndi, floral design with geometric patterns, the rose towers design, laces along with flowers etc. These patterns are just the right pick for the brides who want to opt for something ethereal yet traditional. Accentuating the dark strokes and floral patterns – these designs can be your henna goals.
Round Tikki Mehndi Designs For Hands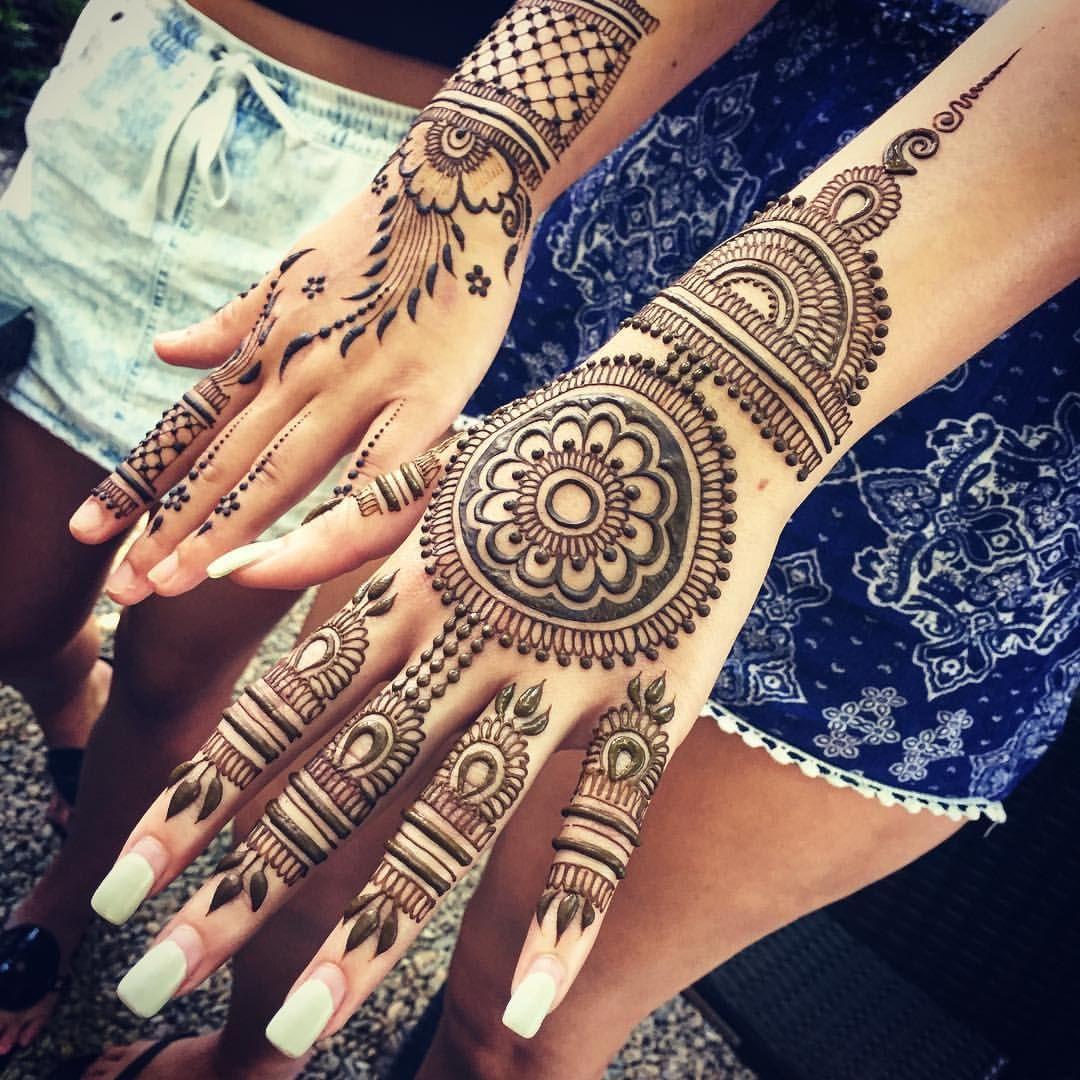 Image Credits - Henna Inspo's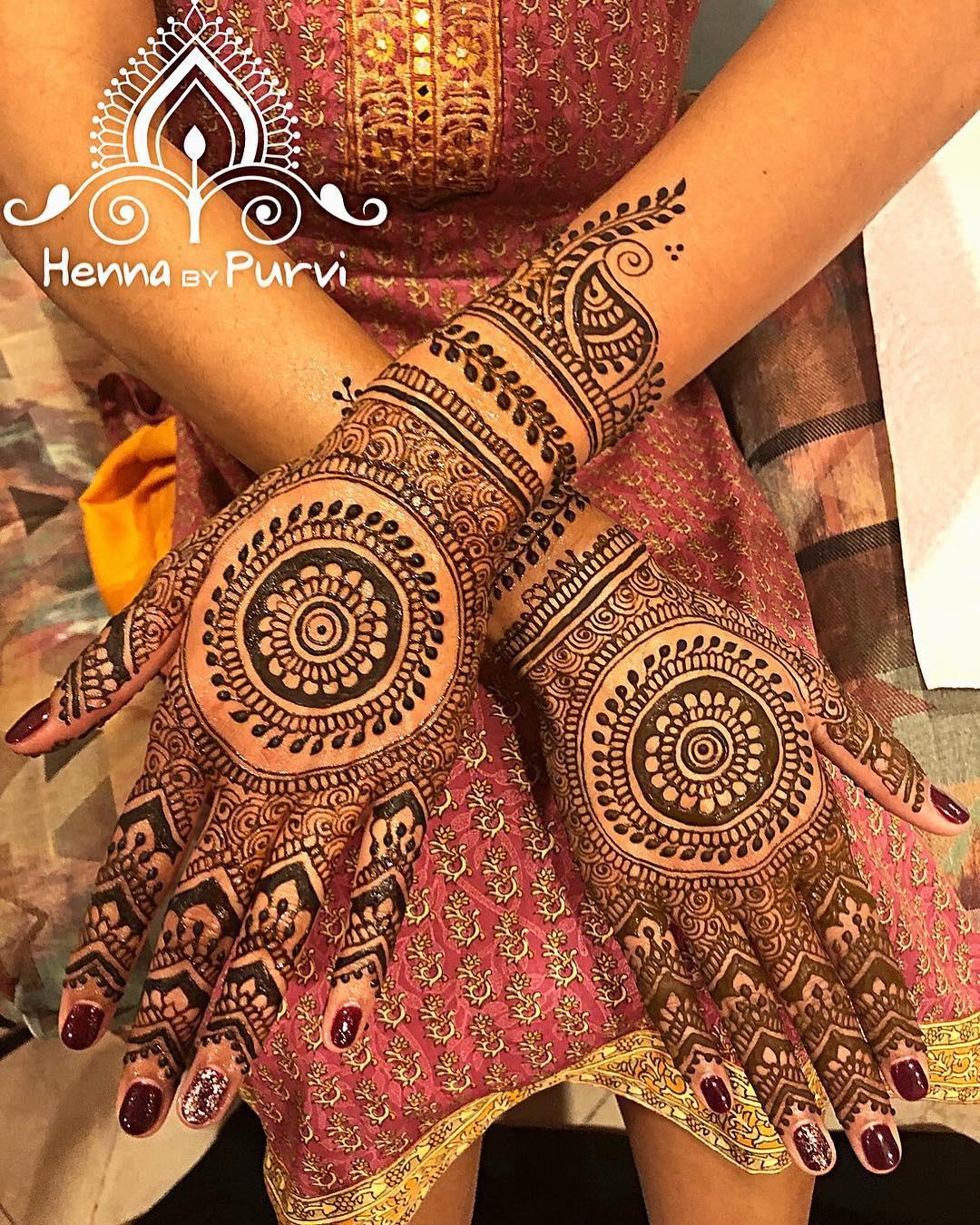 Image Credits - Henna by Purvi
Tikki Mehndi Design is simplistic and can be replicated all over the hands. These simple and not so loud designs look persuasive once the stain deepens and settles, a few hours later. Tikki designs are also versatile enough to match your every dress. So, be it the Sangeet ceremony, the reception or even the main D-day rituals, Round Tikki Mehndi Designs are topping the trend. And not to forget how flowery dots, extended leaves on the fingers makes it look more attractive.
Round Mehndi Designs For Legs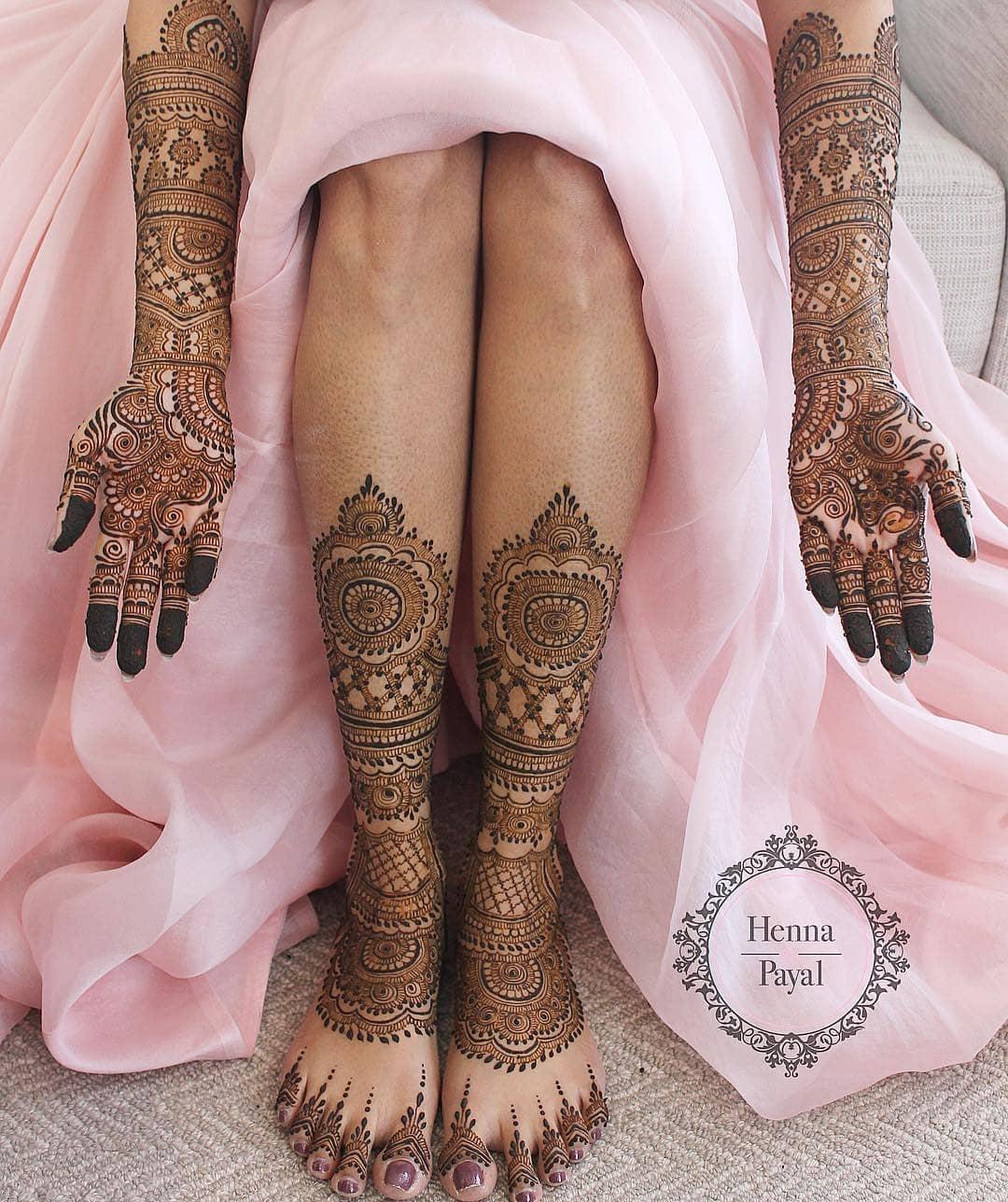 Image Credits- Henna Payal's Instagram Page
Originally, Mehndi was done convolutedly on the hands while legs and feet were kept simple. But times have changed now! The modern bride seeks for perfection - as they prefer intricate motifs on her legs and feet too. While finding hand mehndi designs can be very easy but finding the right leg mehndi design can be a little daunting. With enough inspiration floating around for your hand mehndi designs, here we have curated another section to help you with some unique and trendy leg and feet round mehndi designs.
Style Tip - How elaborate you want to go on your bridal mehndi is your choice. Be it just a little above the ankles, halfway across, or going all the way up till knees – making it look oh-so-unique
Round Bangle Mehndi Design For Legs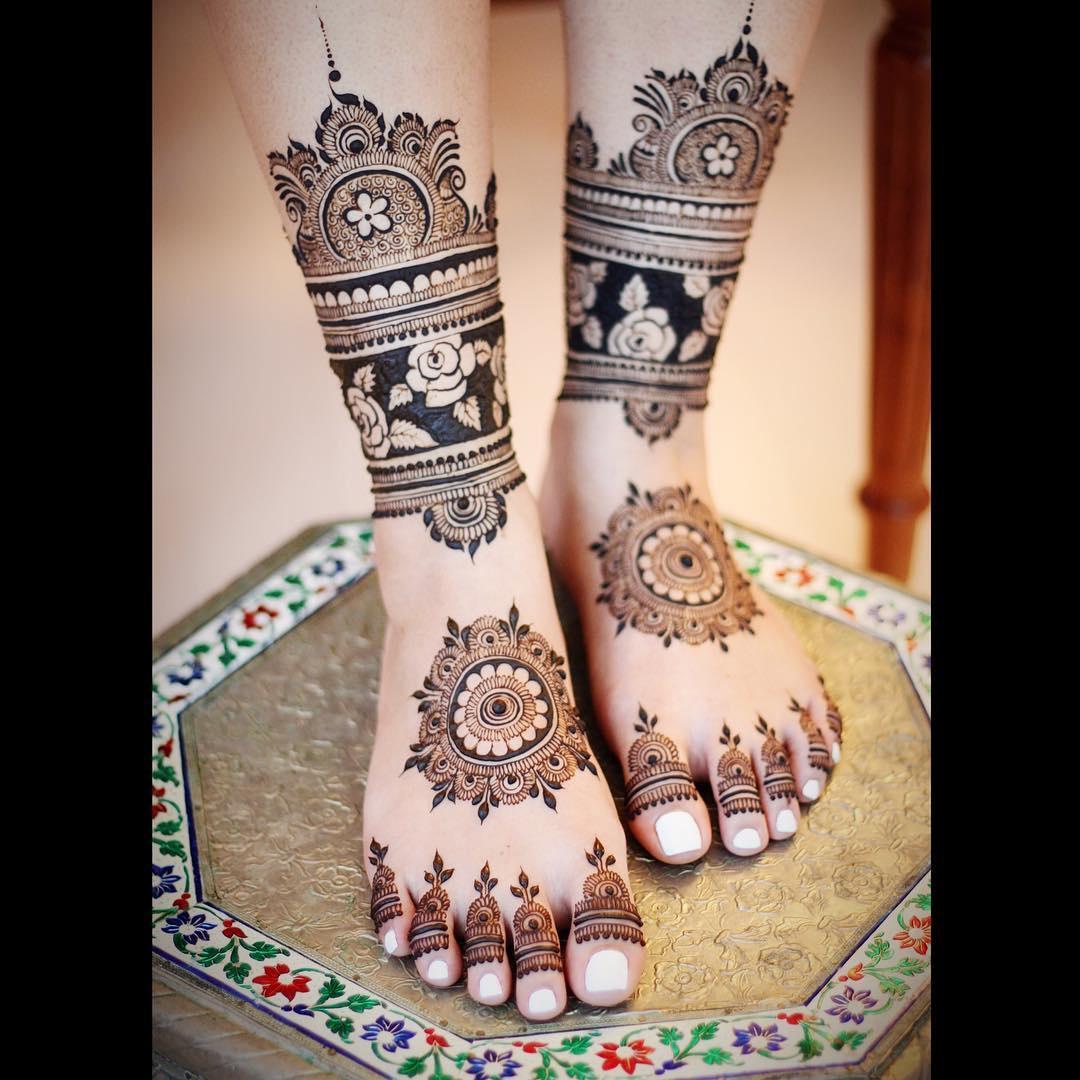 Image Credits - Henna by Pallavi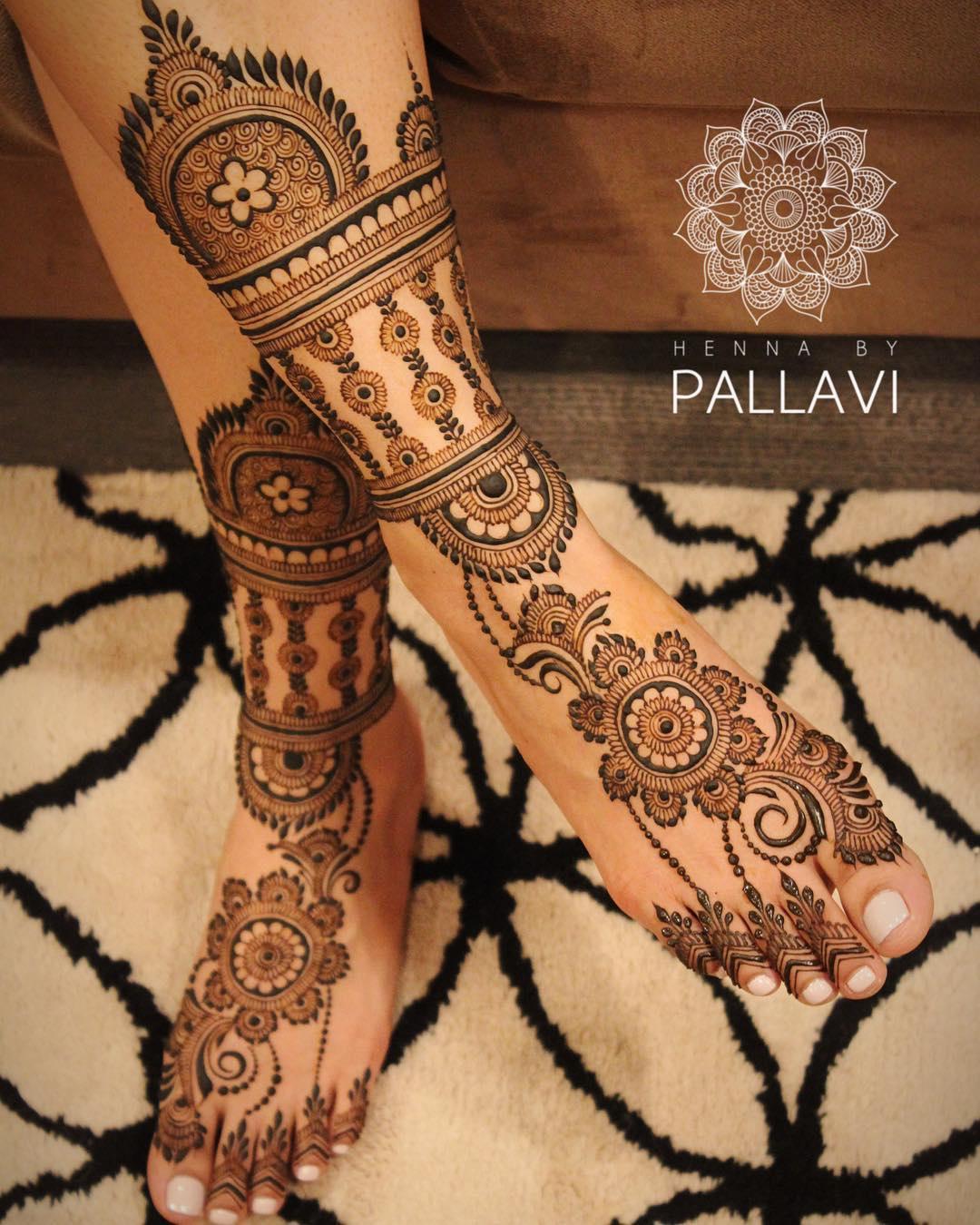 Image Credits - Henna by Pallavi
With lines forming a band, these designs on the legs are no less than a cuff-style foot jewellery. The pattern around it looks impressive and dense but this mandala on the feet and the legs are more remarkable. The charm of these anklets/bracelet design on the legs is matchless and is here to stay.
Scintillating Arabic Round Mehndi Design for Legs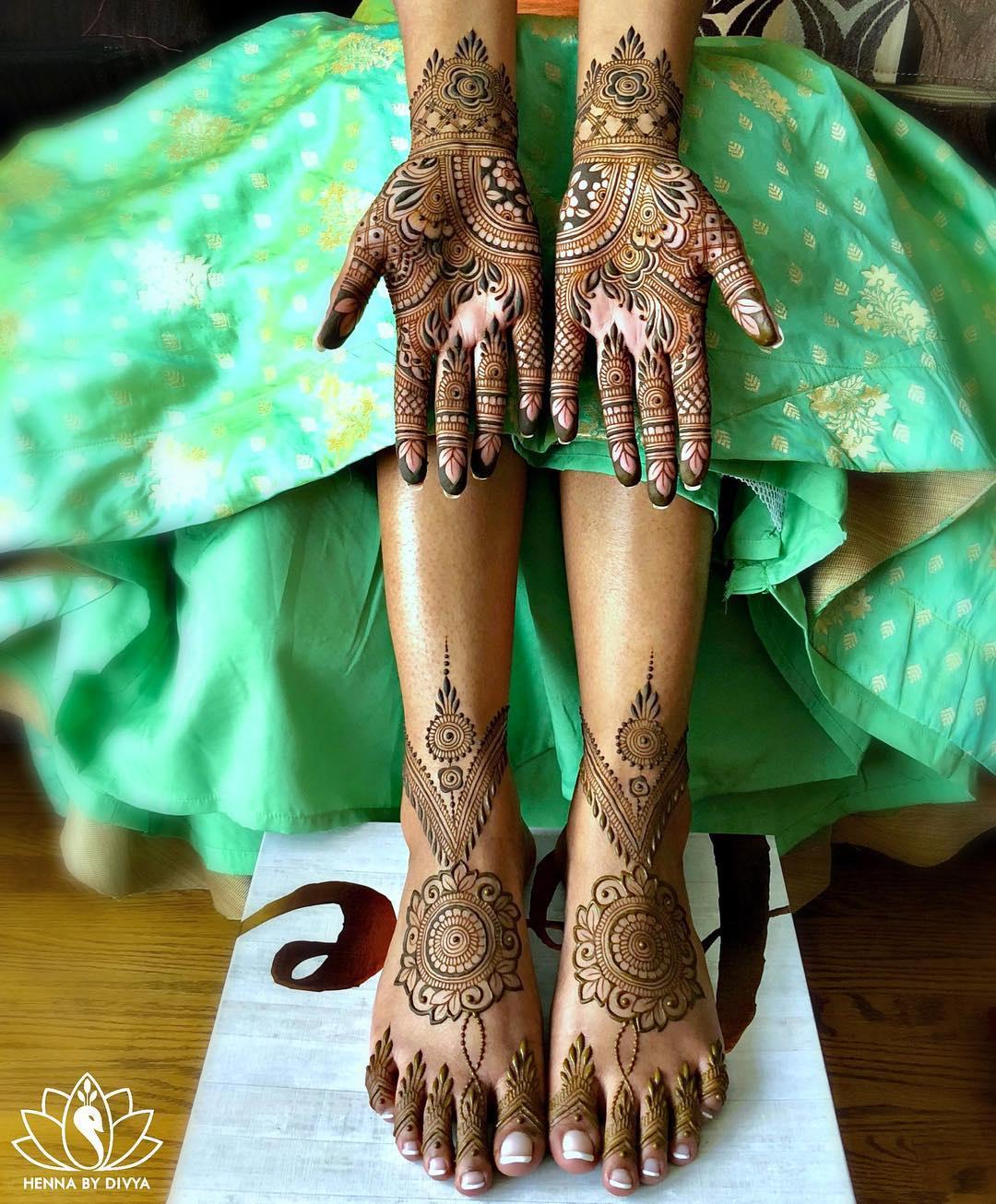 Image Credits - Henna by Divya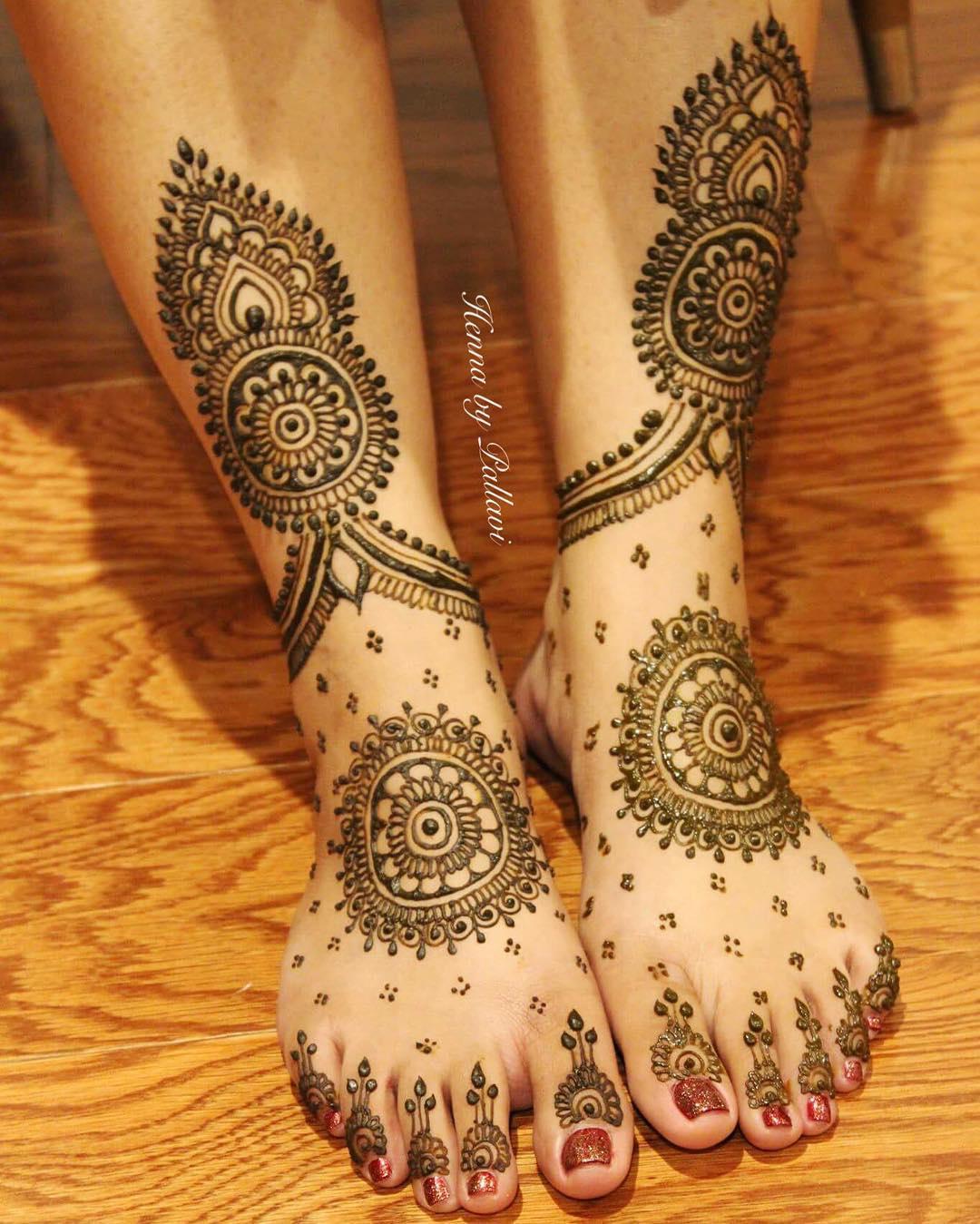 Image Credits - Henna by Pallavi
Round Arabic Mehndi designs are beautified by flowers, leaves and vineyards. They look scintillating on the legs as they encompass nature's bounties like flowery structures consisting of tulips and sunflowers etc. Marked with lines, floral motifs, leaf shapes, and dots, this leg mehndi design is bursting with intricacy. We cannot help but fall in love with how each pattern blends into each other so magnificently. This bewitching mehndi design is meant to be in saved lists.
Look Chic with the Trendy Round Flower Mehndi Design for Legs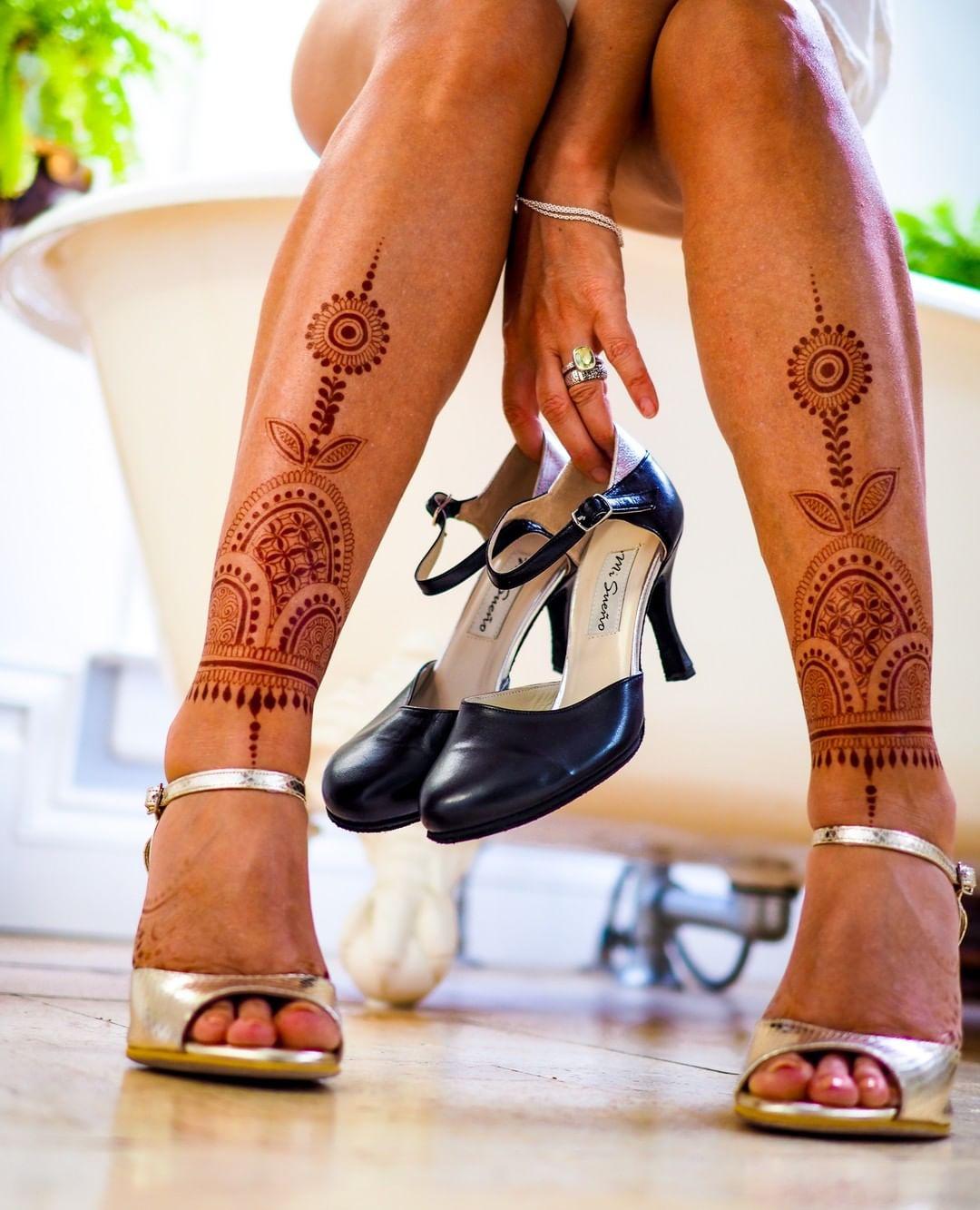 Image Credits - Henna Lounge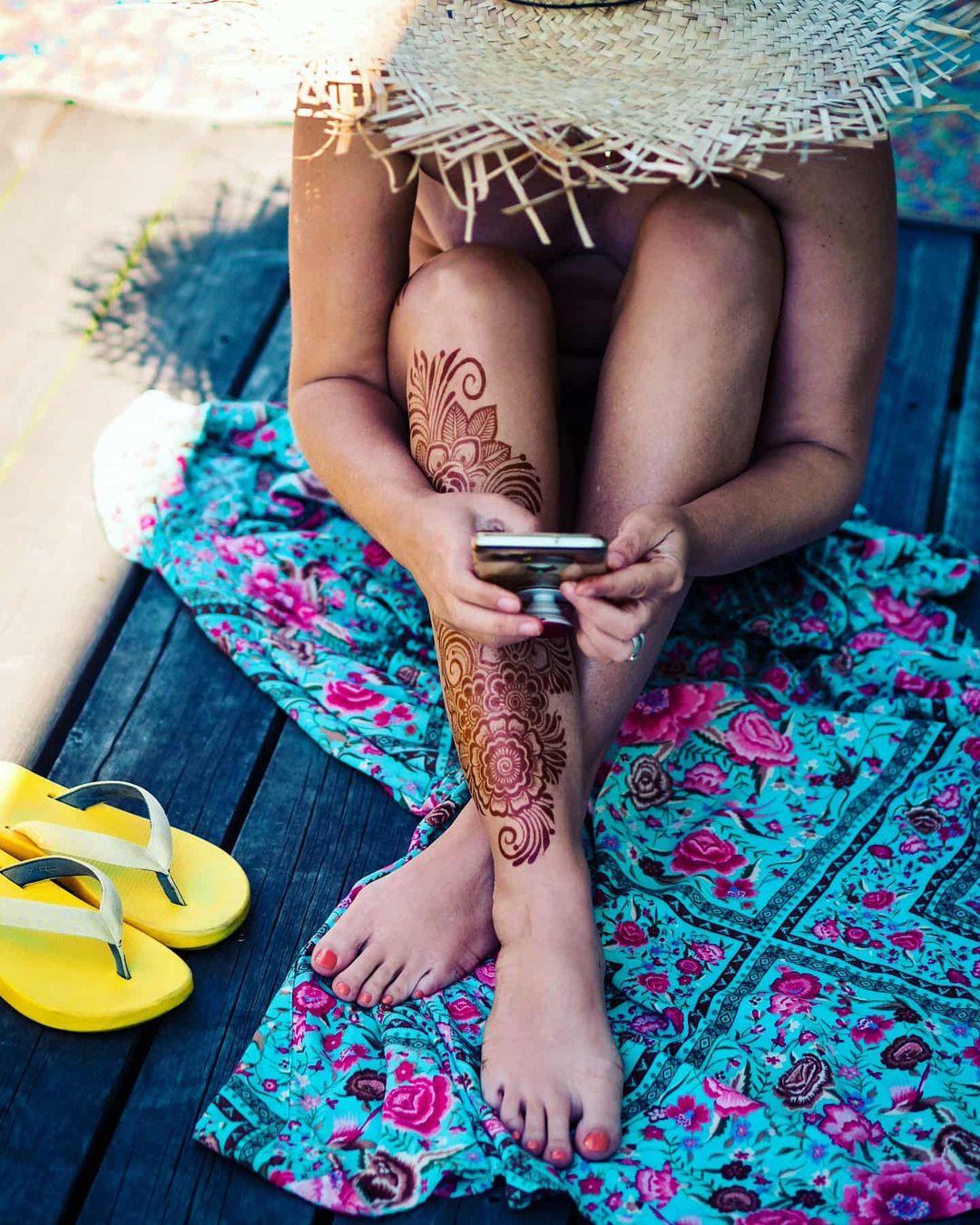 Image Credits - Henna Lounge
Almost every Mehndi design in India includes floral motifs in some form. However, the mandala based floral Henna designs are a hit trend in India. Here we have picked exquisite designs that will be ideal for all the contemporary brides who are looking for trailblazing trends.
These floral designs will look spectacular in the honeymoon phase too.
Go Exclusive with the Round Tikki Mehndi Design for Legs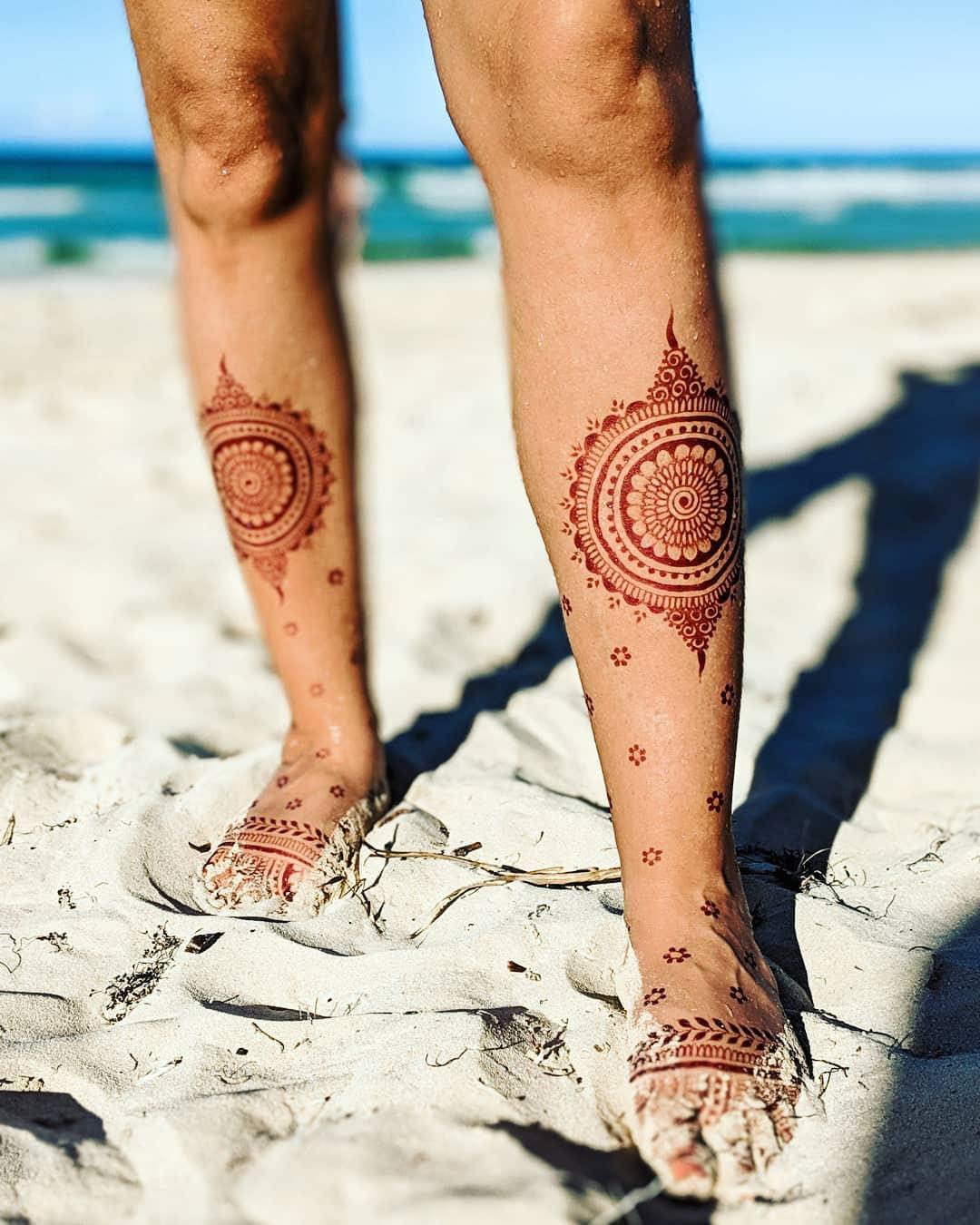 Image Credits - Henna Lounge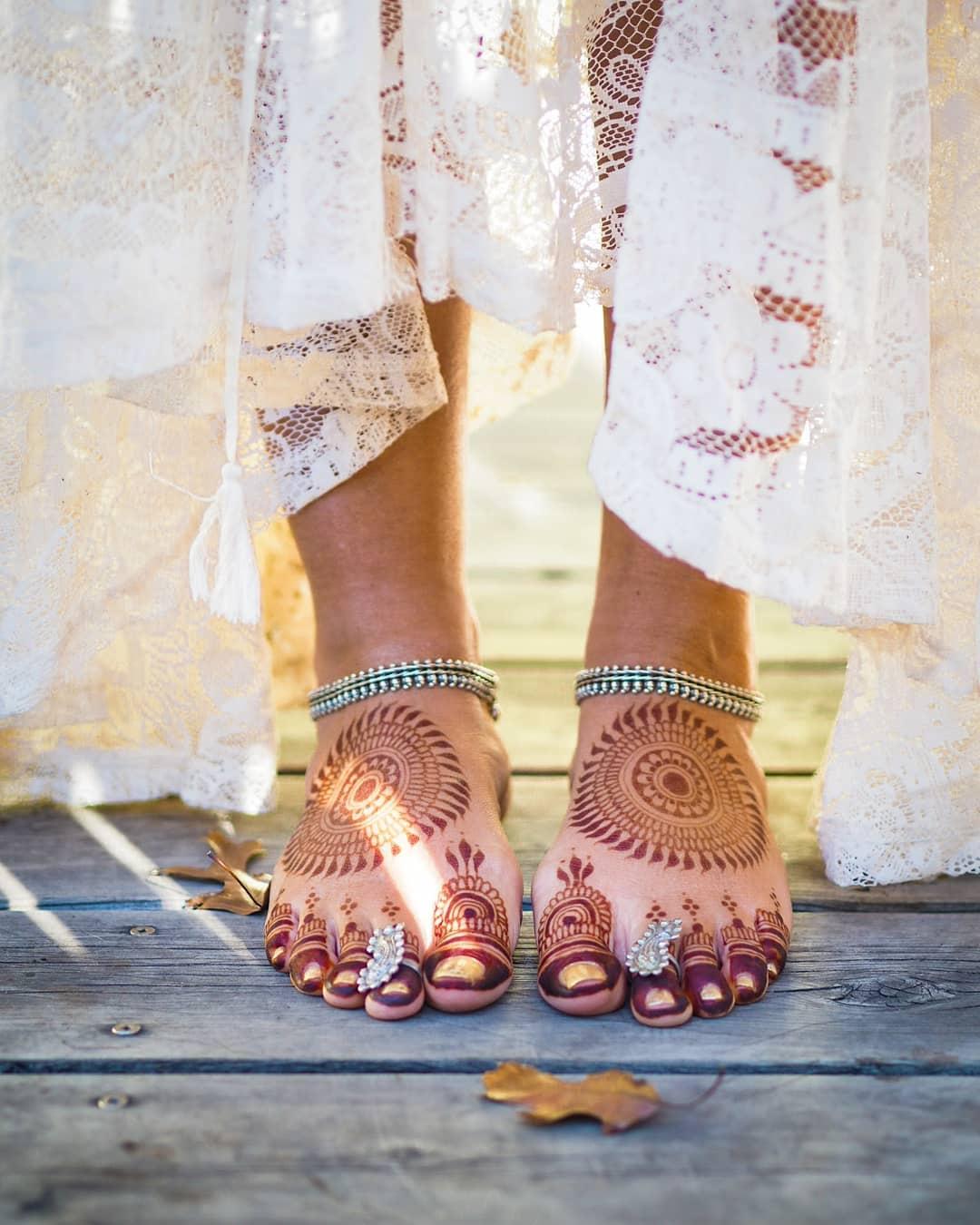 Image Credits - Henna Lounge
Round Tikki Mehndi Designs are the first mehndi designs. These designs are quite traditional, but it resonates exclusivity as they are simple and elegant to create. So, if you think that this is a time to go minimal, exclusive and trendy – then you will be bowled over to see this gorgeous design going just halfway up your legs. The other one is more subtle, tradition yet trendy. This design looks intricate yet super tidy at the same time.
Don't these enthralling designs make you wish to put some exquisiteness on your own hands and legs? Go to our list of 100+ Traditional and Modern Mehndi Designs for Brides and Bridesmaids for the perfect designs.