26 Exquisite Back Hand Mehndi Designs for Your Wedding
A whole bag full of latest back hand mehndi designs has been presented right here to give you a taste of the latest mehndi trends making rounds currently.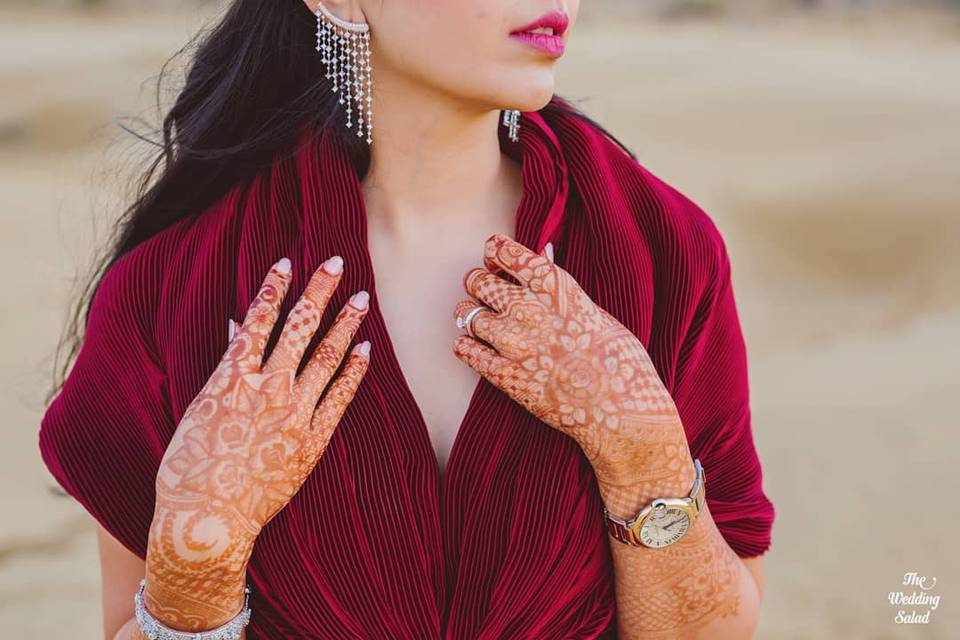 We all agree to the fact that the best shots at any wedding are that of the gorgeous bride flaunting her mehndi. We also understand the dire need to flaunt a mehndi design which is unique and sets you apart from other brides. No need to be surprised by our mind-reading skills there. Before going any further, we want you to know that it is completely okay to be a competitive bride!
Here is a whole bunch of the latest and the hottest back hand mehndi designs. They range from the floral patterns to the finger designs, the bracelet style to line art, the minimal ones to the organic ones. So gear up your seat belts and let us take you through 26 delicate back hand mehndi designs.
The Floral Checker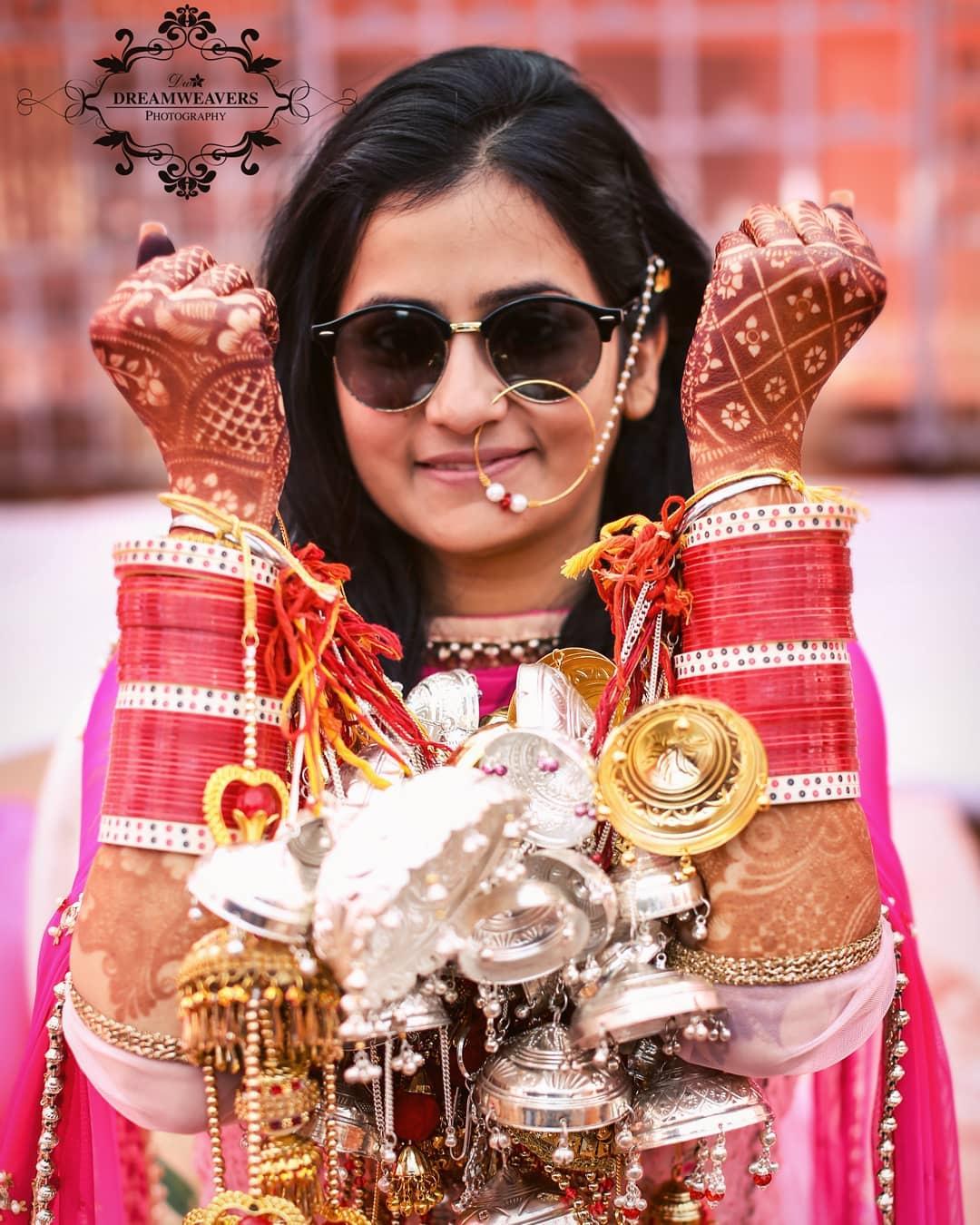 The happy bride can be seen posing with a marvellous design which plays with solid mehndi fill and the floral motifs. A range of flowers can be seen on both he hands with simple shapes on the right and realistic buds on the left.
It is a great choice for the bride who loves henna to the core as this back hand mehndi design covers the entire hand in its colour leaving out floral shapes in the colour of the skin. Go, flaunt those hands!
For the Classy Bride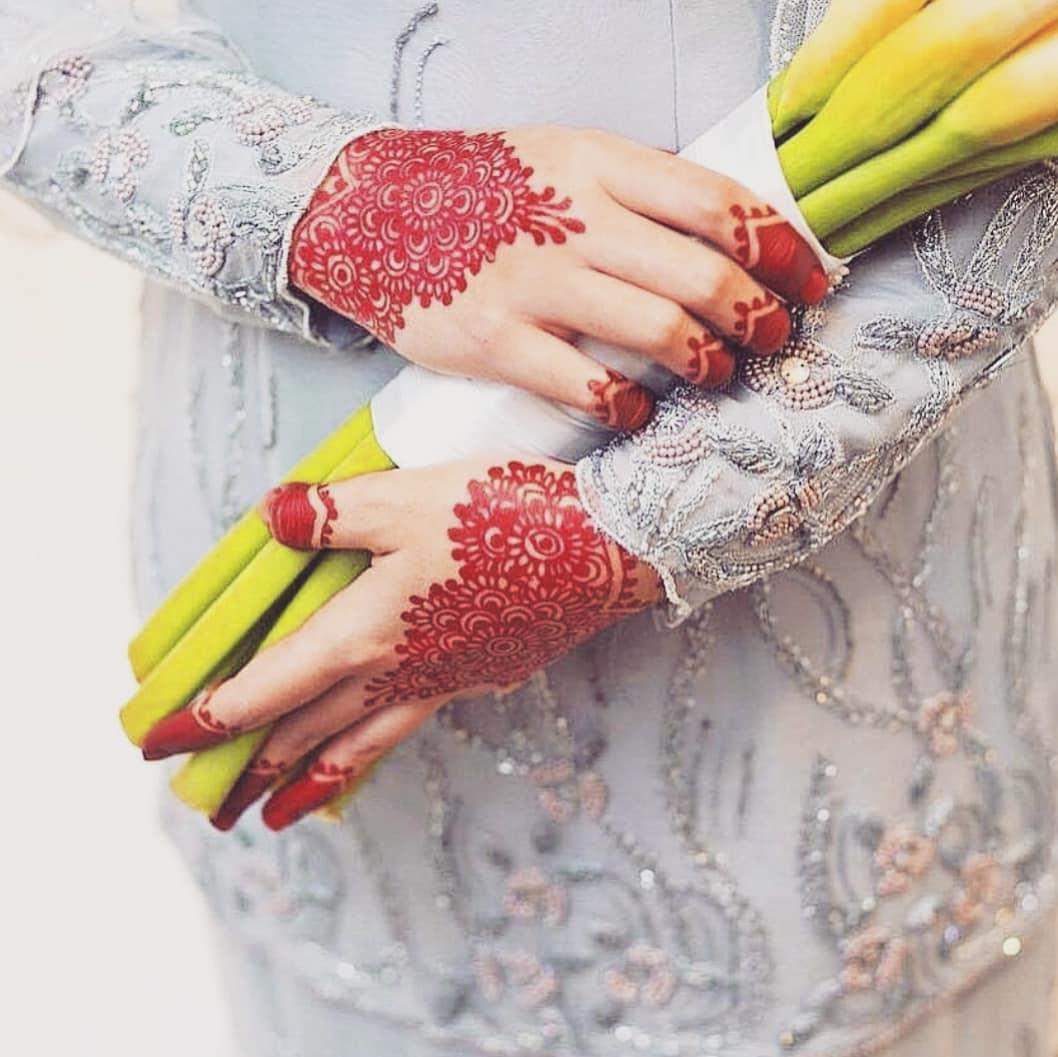 Image courtesy: Henna by Bogor
This classy back hand mehndi design is a very neat yet intricate design formed in circles made by thick mehndi strokes. It looks wonderful with its clean curve details and innumerable circles formed one within the other.
This one is definitely an aesthetically pleasing mehndi design. It is an ideal choice for the classic bride looking for designs covering just half of the hands.
The Finger Bracelet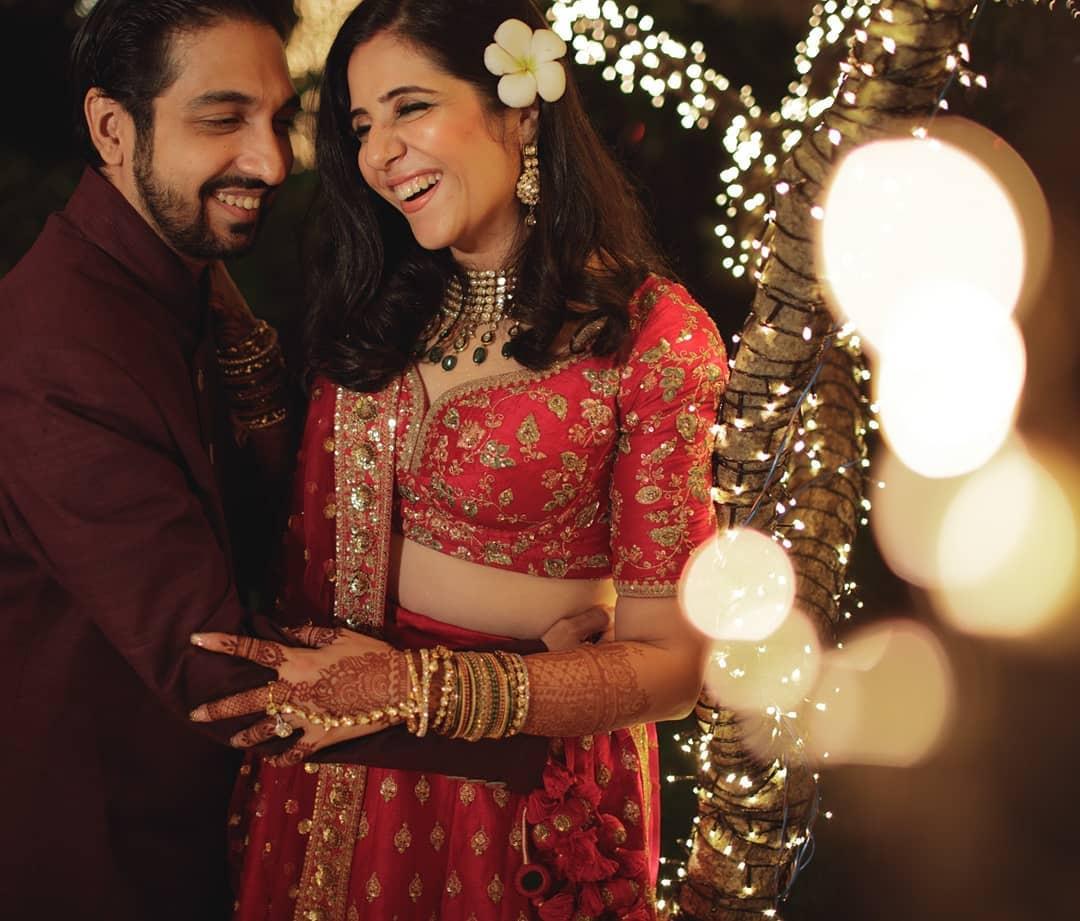 This one is another unique back hand mehndi design drawn on to the bride's hand in the form of a ring bracelet. This jewellery mehndi design differently covers the finger with which the mehndi pattern connects to the overall design.
The regular checks, leaves and flowers forming the pattern look absolutely stunning and classy. It is definitely the one for the classy bride.
The Half Edge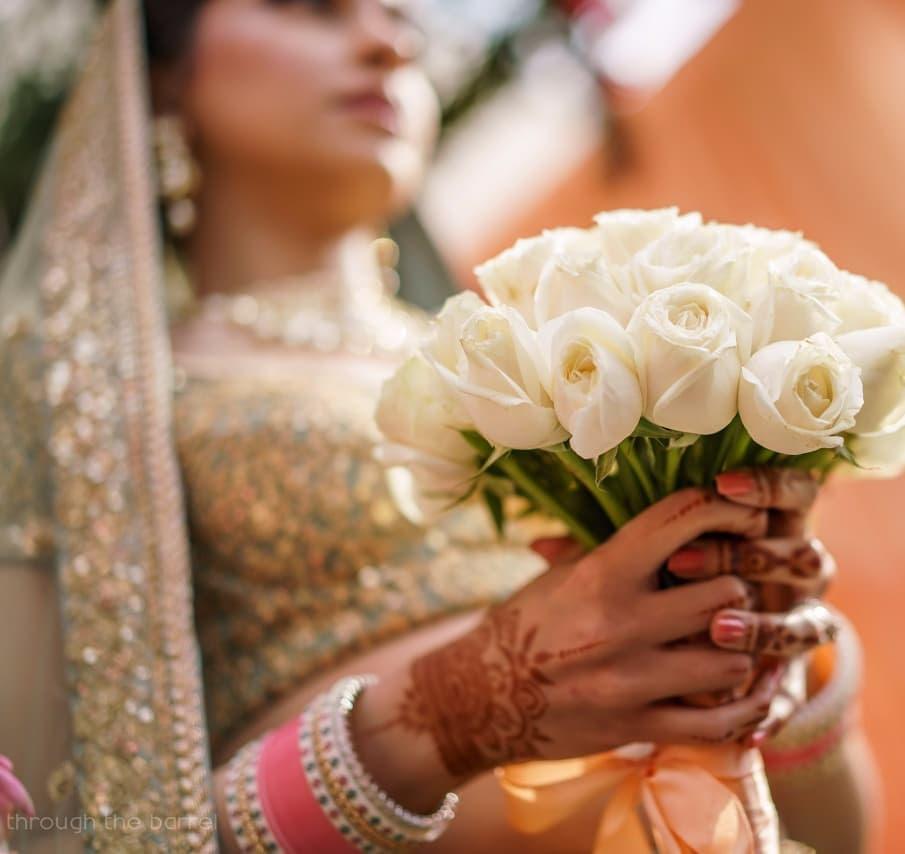 Captured in a little smudged shot is this semi edged back hand mehndi design which plays with proportional dots and shapes formed like a bracelet. The delicate design looks stunning in its minimal pattern.
It is a wonderful choice for the simple bride looking for delicate mehndi patterns for her wedding day. Go for the lovely design without thinking twice.
The Polka Flowers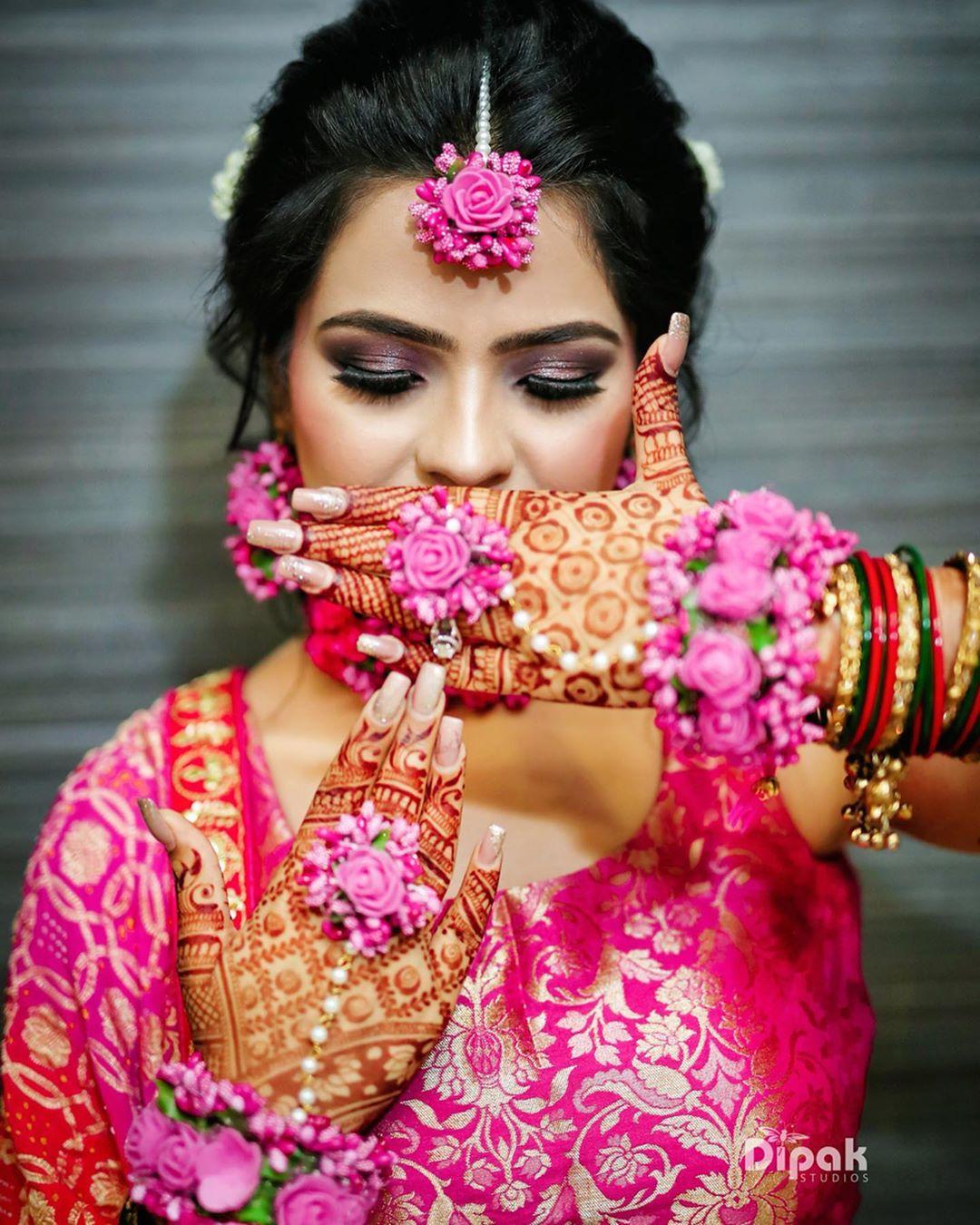 This breathtaking shot of the gorgeous bride-to-be features the lovely back hand mehndi design which is a combination of flowers placed like polka dots, leaves and checks formed by artistic henna lines.
It is a great choice for the bride who is a lover of recurring patterns and flowers. Go for it if you are looking for contemporary patterns for your ultimate Mehndi.
The Draping Pearls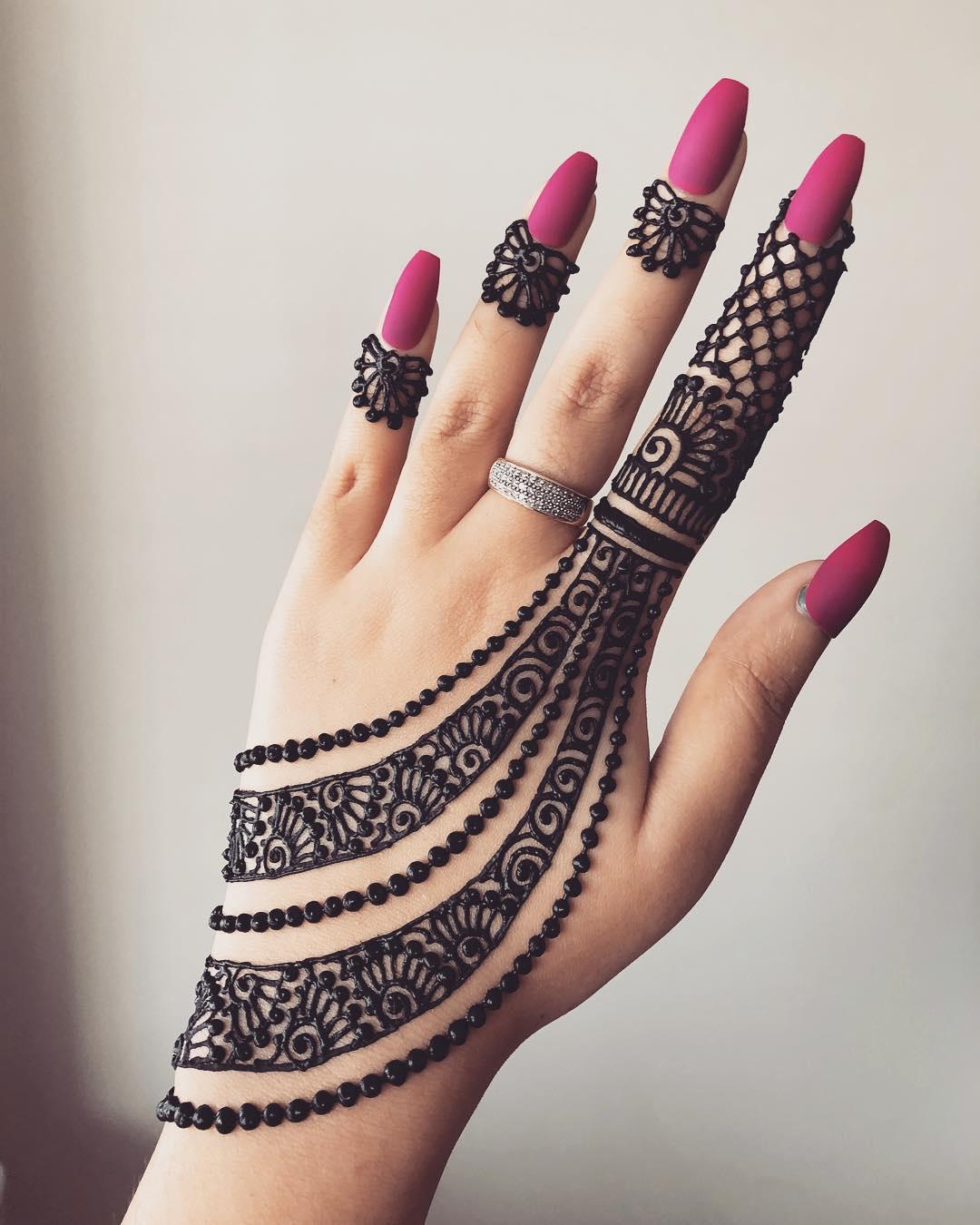 Image courtesy: Mehndi artist Hira
This is a very classy back hand mehndi design for your Mehndi ceremony which uses a string of black mehndi pearls draping artistically. It is an aesthetic unison of checks, florals and bead strings combining into this lovely design.
If you are the bride looking for minimal yet unique mehndi pattern, go for this without thinking twice.
The Jaal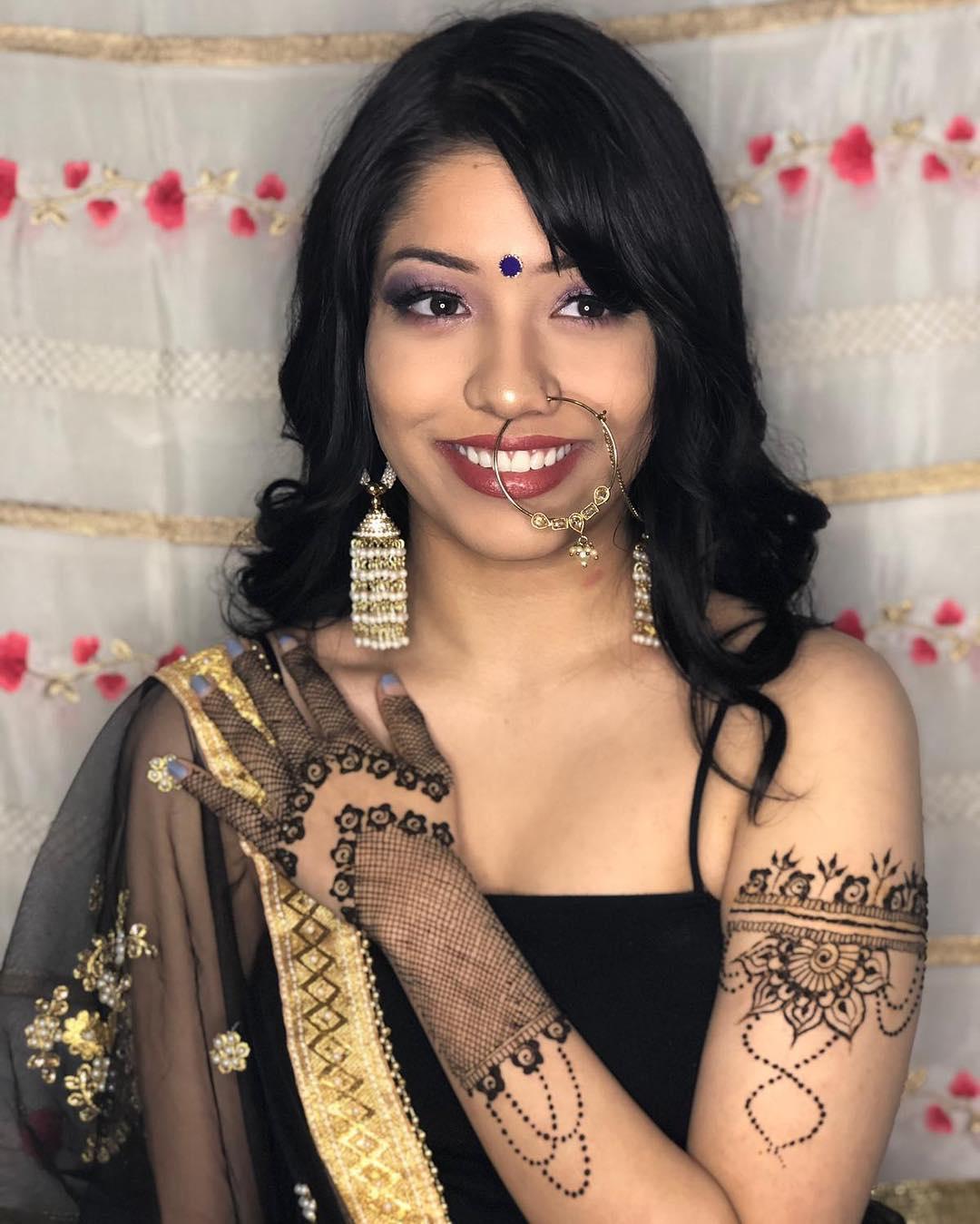 Image courtesy: Mehndi by Manu
Another shining bride posing with her unique back hand mehndi is captured in this spectacular shot. This is an ideal choice for the bride looking for a fuller design which is very subtle at the same time.
It is a plain design with just clean checks made of henna lines covering the entire back hand and arm length. It is a classy minimal design for the simple bride.
The Intricate Fusion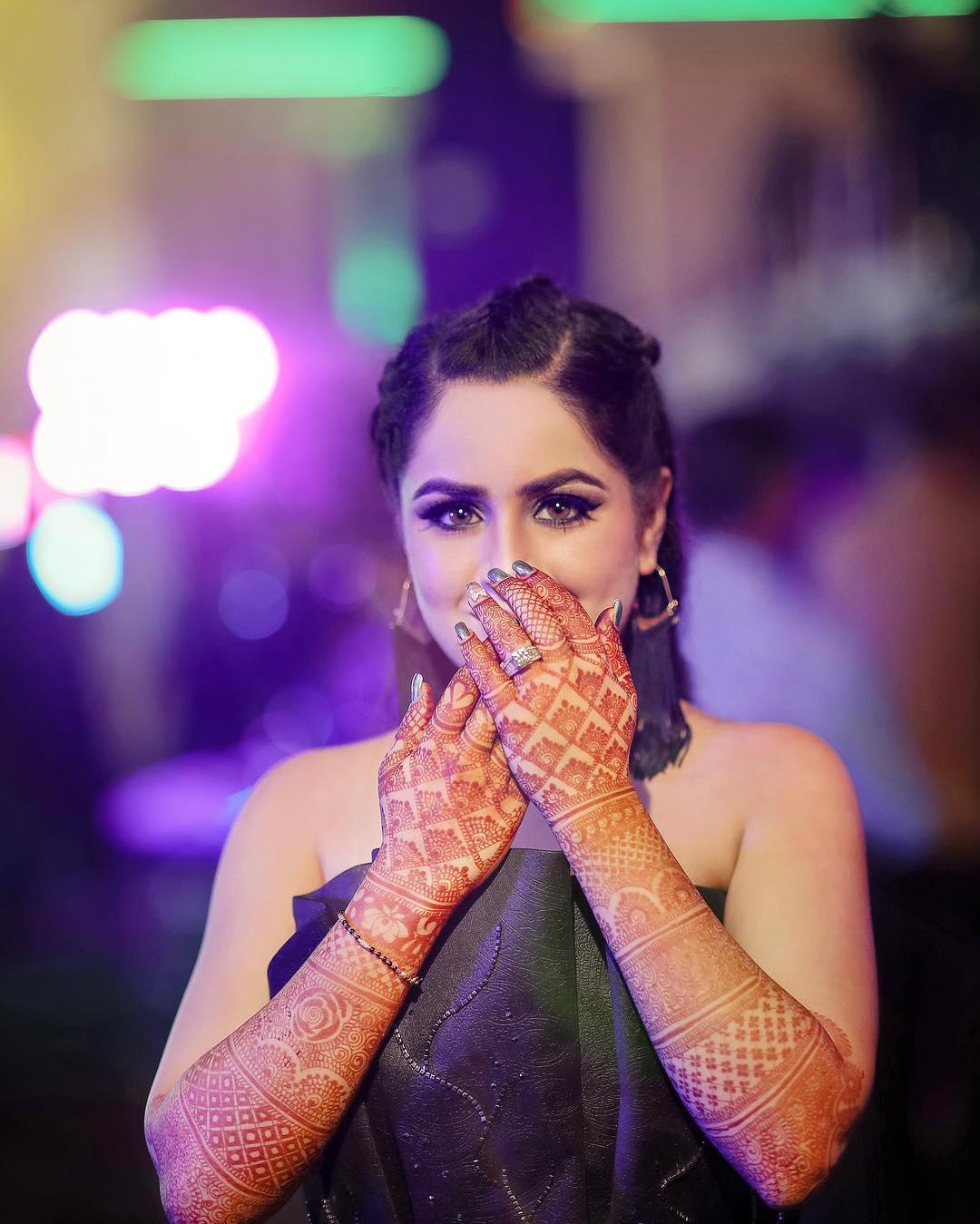 This is a classic and extremely trendy fusion of division patterns and Arabic florals and circles. The criss-cross division is restricted to the back hand and the rest of the arm is adorned with horizontal lines.
It will look amazing on you and let you flaunt that solitaire just like the lovely bride in the picture.
The Showstopper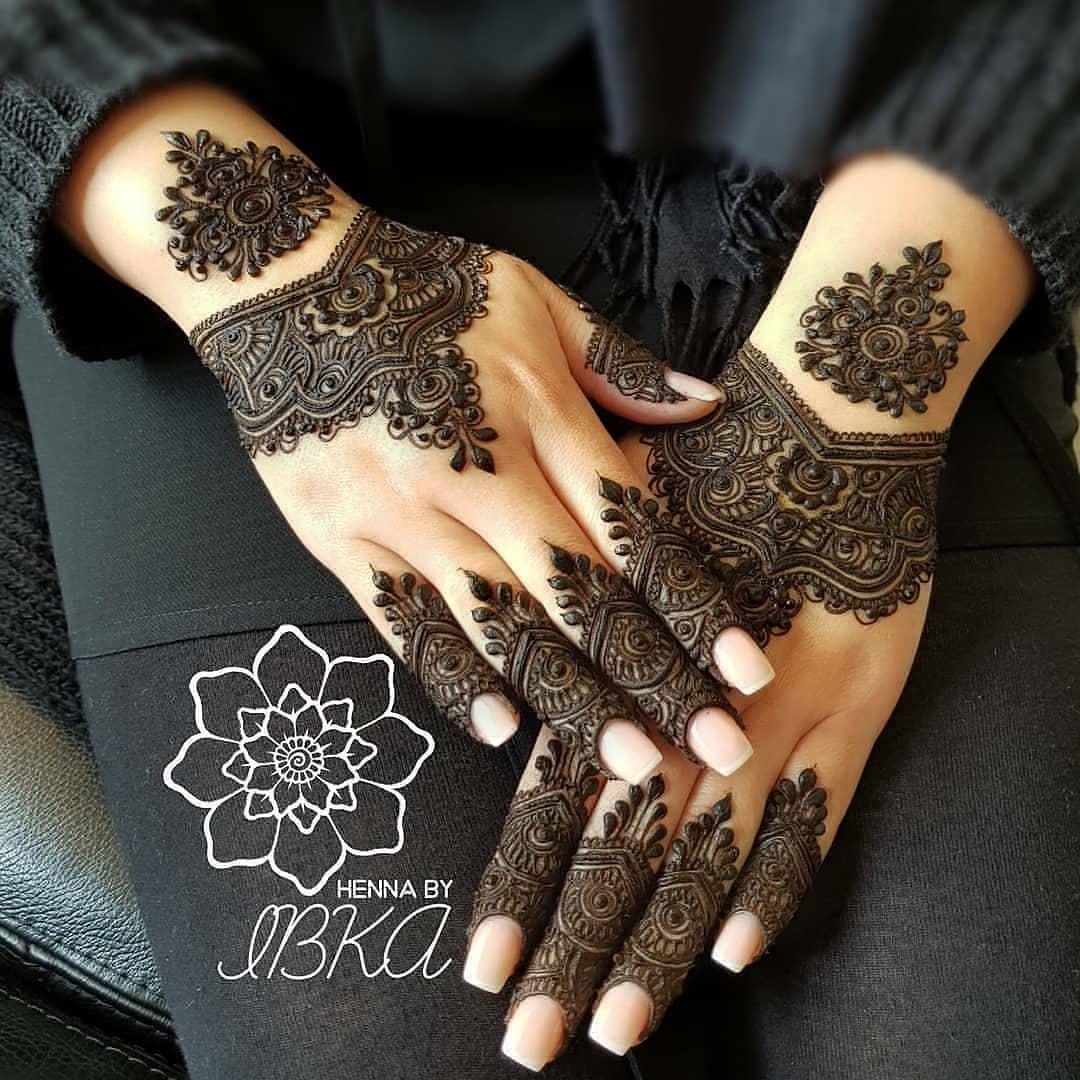 Image courtesy: Sheffield Henna Artist
This one is definitely a showstopper back hand mehndi design with extremely detailed Arabic mehndi design drawn on to the bride's lovely hands looking absolutely stunning.
You can choose it for your lovely Mehndi ceremony and flaunt your hands in those wedding shots with the dark mehndi texture on to them.
The Semi Mandala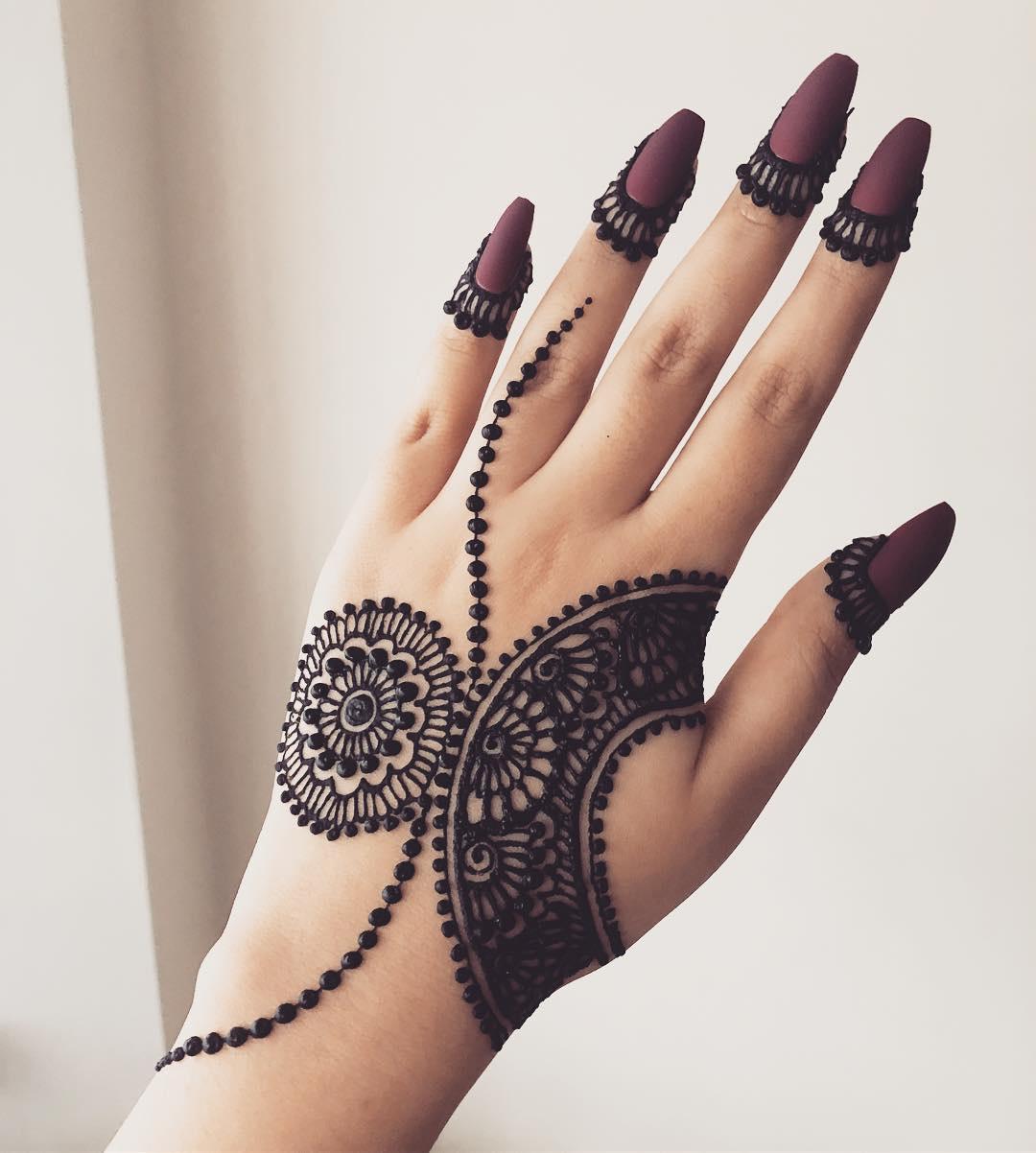 Image courtesy: Mehndi artist Hira
An ideal choice for the new bride looking for back hand mehndi designs which must cover just some part of her hands and leave most of the skin showing.
It is a combo of semi mandalas in two sizes and a beaded string of henna flowing right from the middle looking absolutely lovely and attractive.
The Line Art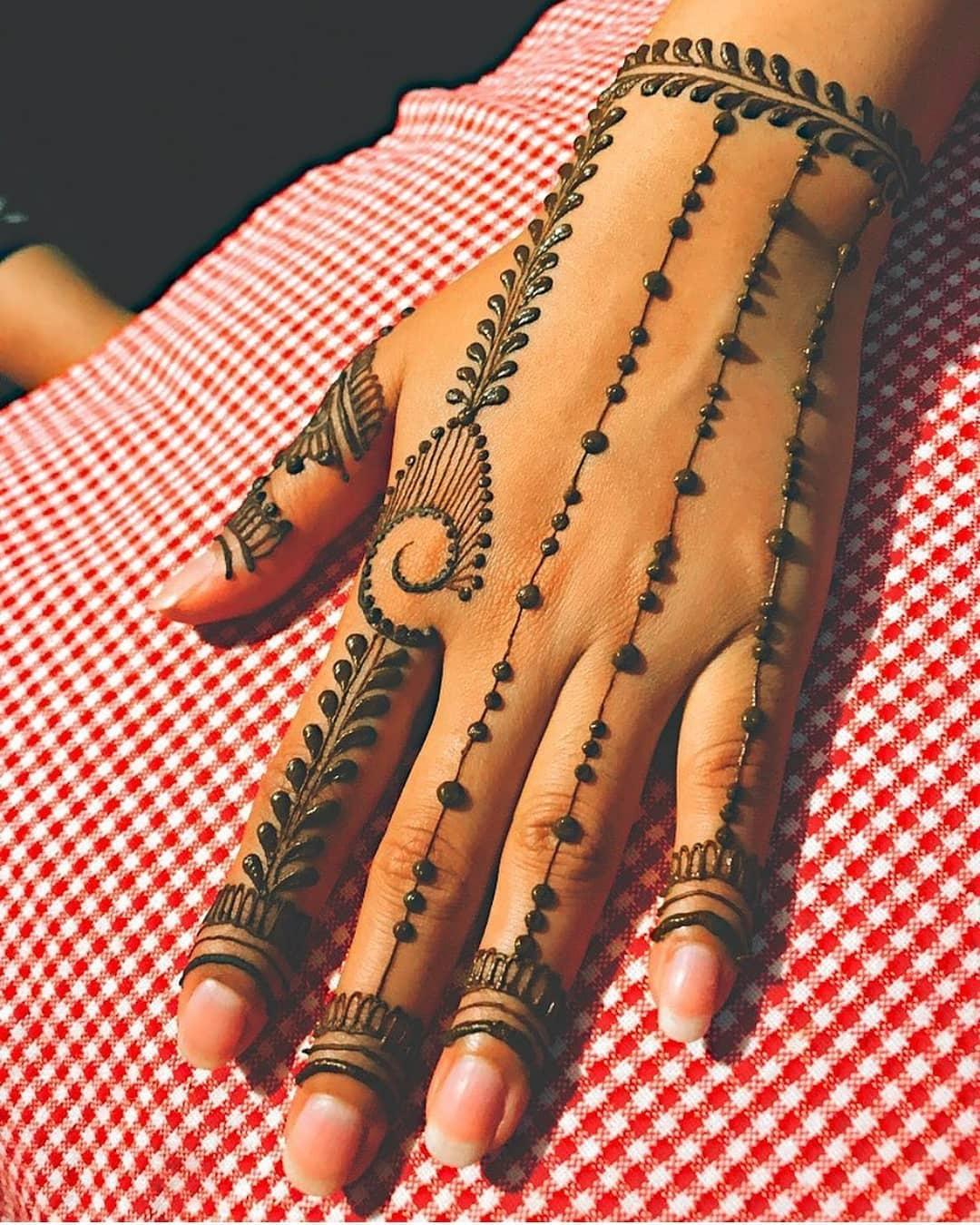 Image courtesy: Shahina
Another minimal choice for back hand mehndi designs which is not just absolutely unique but also very sophisticated. It shall make you stand out with its unconventional characteristics.
Dotted strings falling in multiple numbers with solid mehndi pattern marking its borders is something you will not see very often in bridal mehndi.
The Half Mitten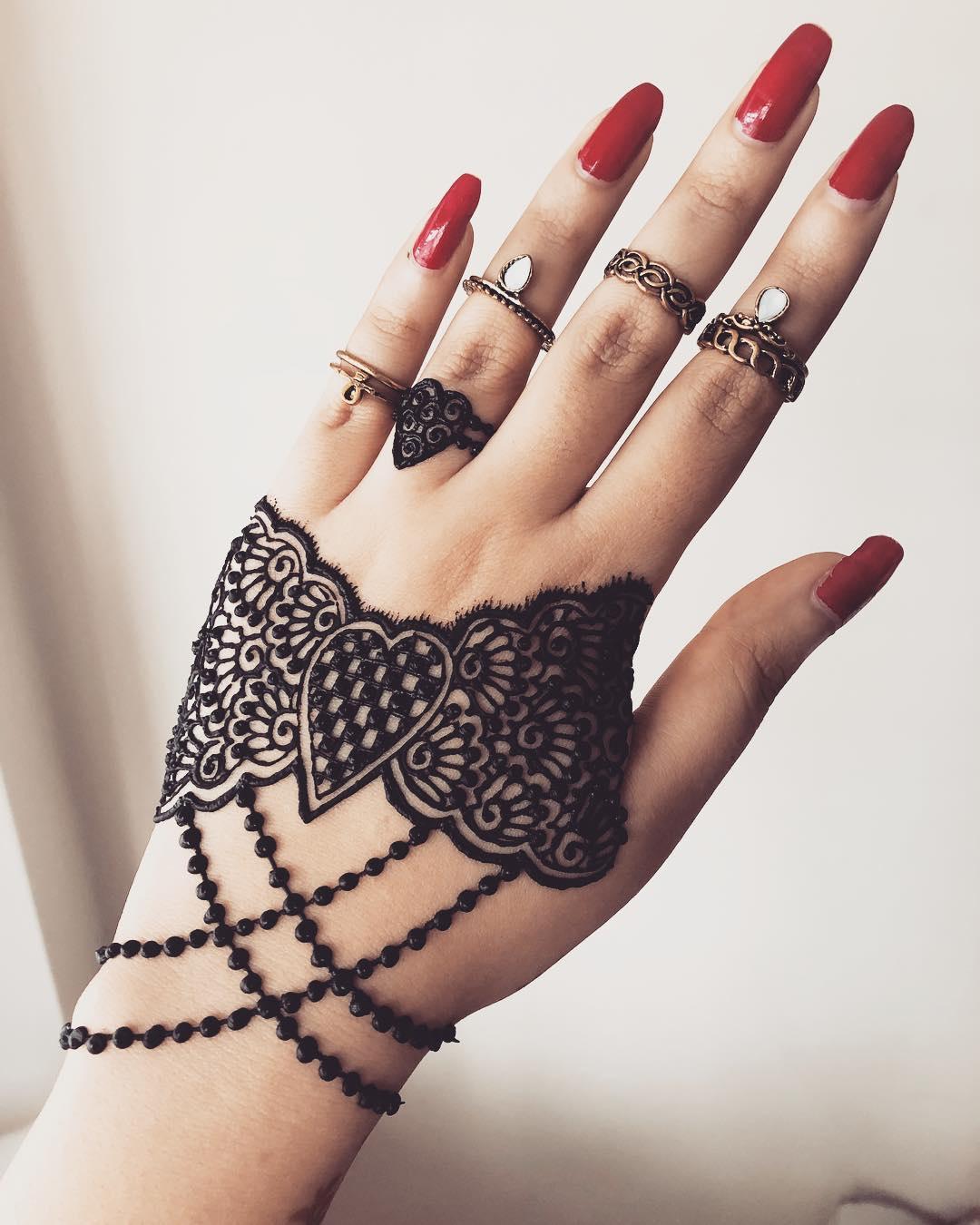 Image courtesy: Mehndi artist Hira
With a mehndi checker forming a cute little heart in the middle, the mehndi pattern with the raw cloth-like texture at one end makes it look lite a mitten glove.
It is one of the very rare and unique mehndi patterns with intertwined strings and clean flowers arranged in a mitten-like form. Don't miss that little heart finger design as well.
Playing With Spaces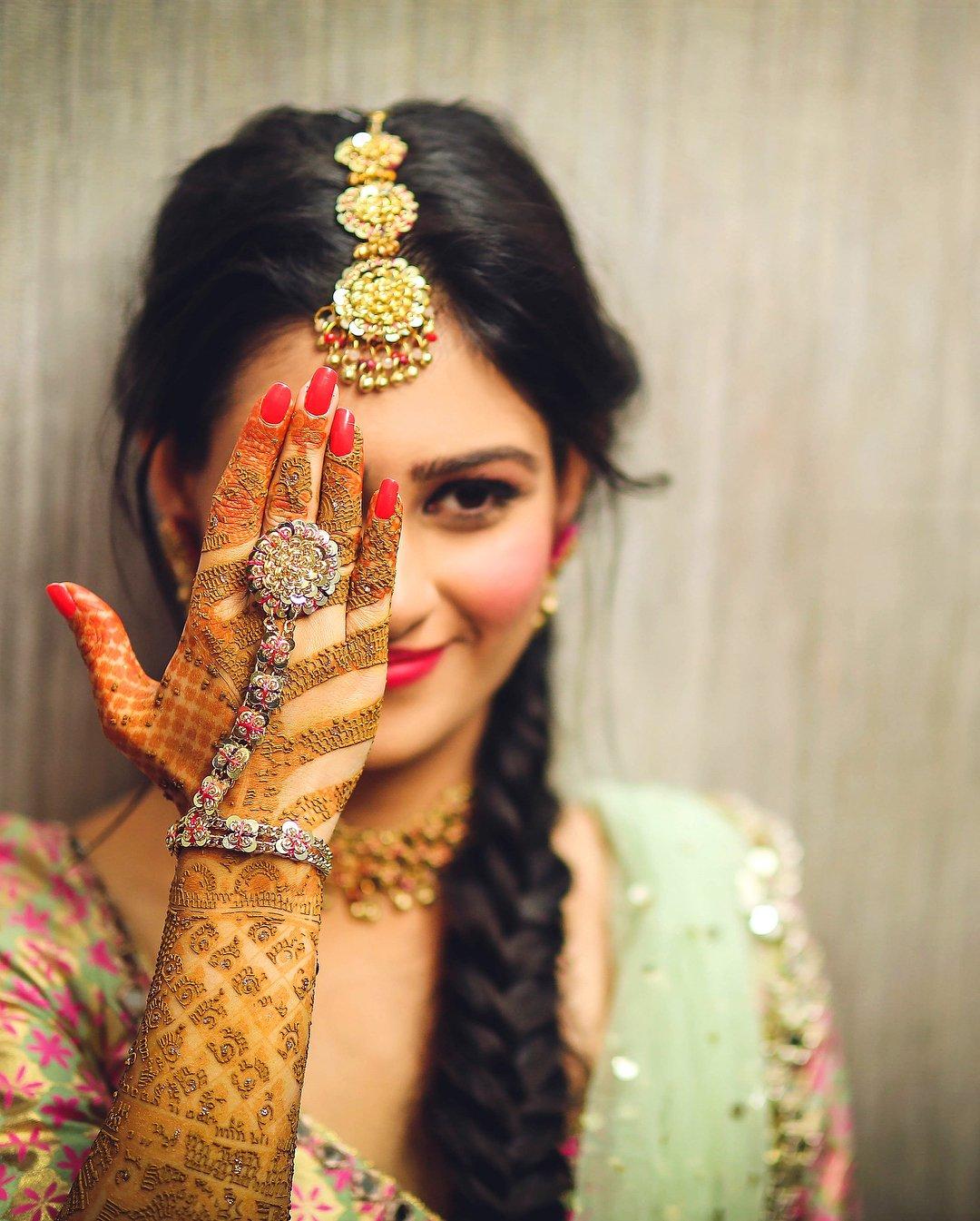 This back hand mehndi design celebrated the coming together of the iconic jaal pattern and the curved Arabic lines which are trending in the henna world.
It is a great choice for the experimental bride looking for an interestingly unique mehndi design for her wedding.
It is all about Symmetry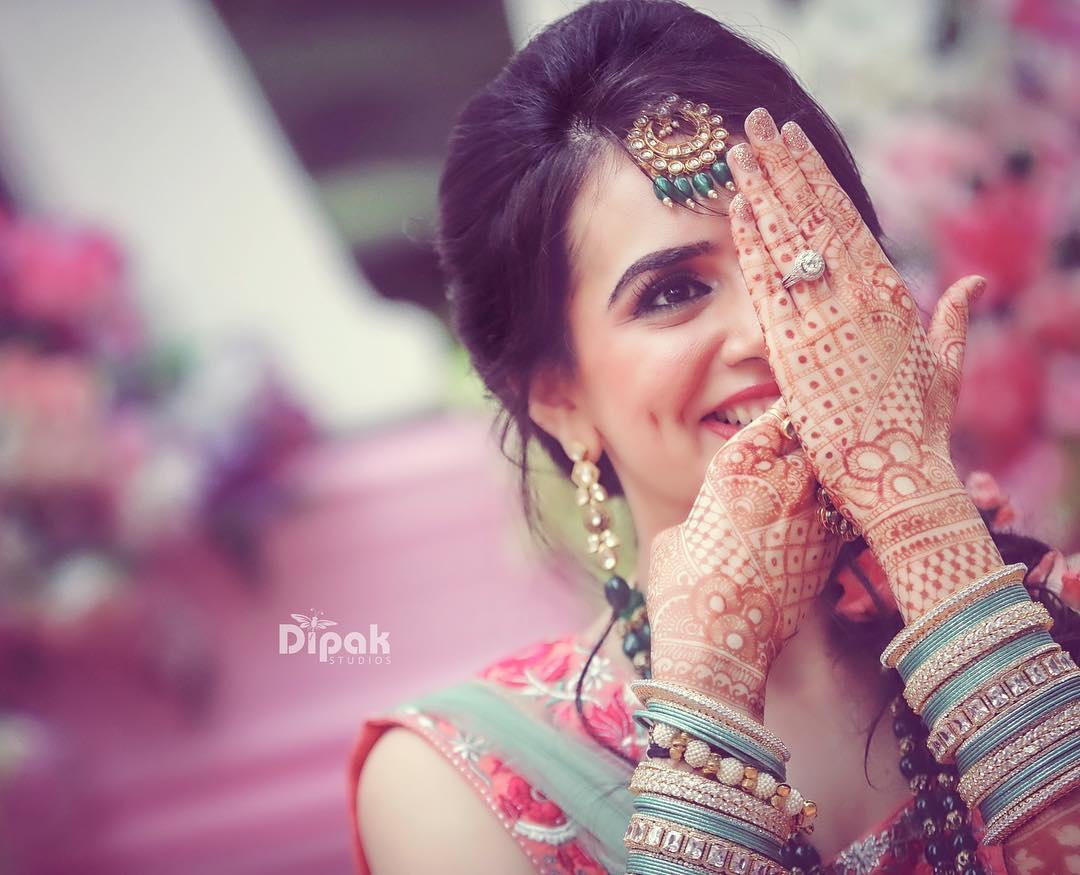 This adorable click of the smiling celebrity bride captures her flaunting mehndi drawn in perfect symmetry. First two fingers are adorning a wavey pattern combining both the fingers.
The other two fingers are full of the delicate dotted checkboxes. The rest of the hand is divided by straight slanting lines making the entire back hand look like an abstract painting.
Minimal Goals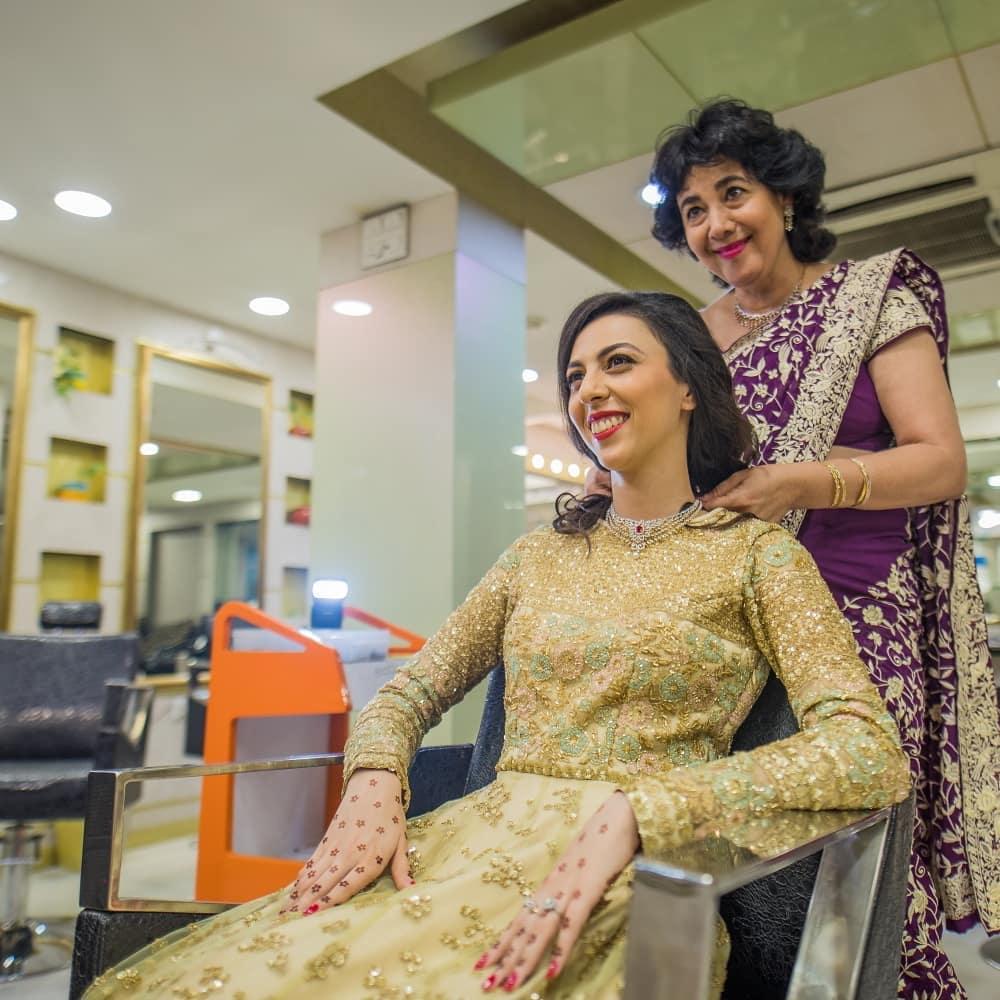 Image courtesy: The Insyn Company
This back hand henna design is hands down the best pattern for the bride who is the lover of minimalism. Both the hands of the gorgeous bride adorn little flowers spread all over the hands looking very unique and stunning.
Go for it right away if simplicity is the word that defines you best. Trust us, you are going to rock your wedding pictures.
The Inverted V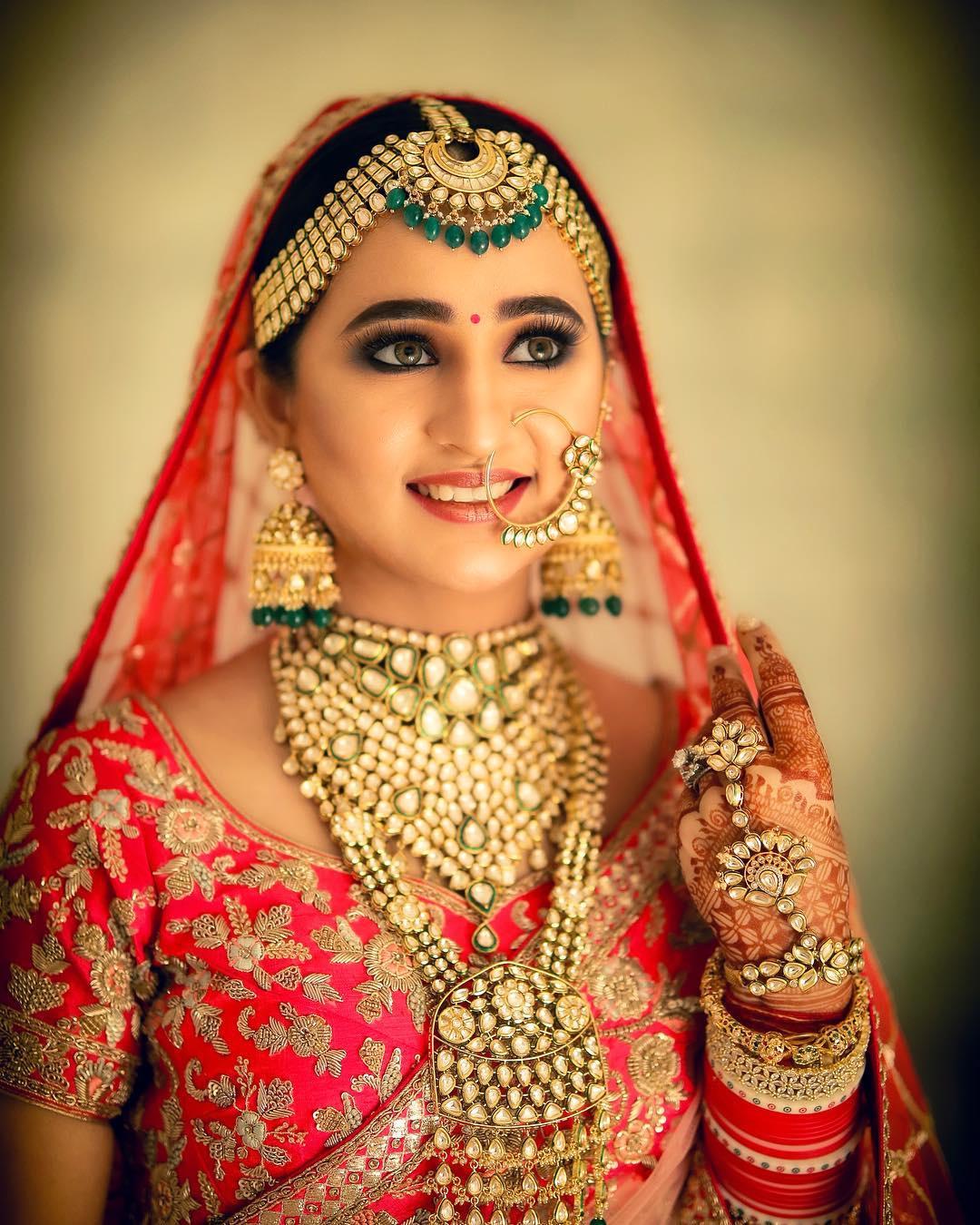 Another very popular mehndi style for the back of the hand is this inverted V style doing rounds on Instagram. After the intricate design on the finger ends, some skin showing in the knuckle area separates the V design and another floral pattern takes over.
It is a unique design with the distinct style of flowers and the waves working at the breakage. Adorn the lovely design and let it do all the talking.
Matching Nicknames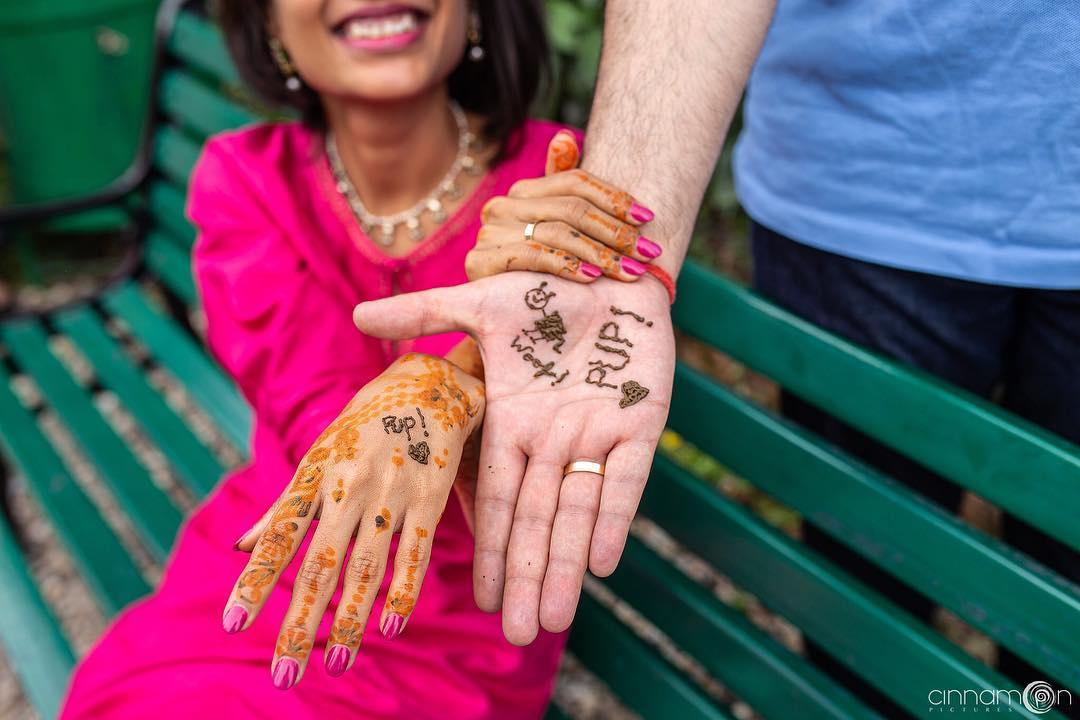 This mehndi design is solely dedicated to the absolutely adorable nicknames of the couple written on both the front and back hand. This is by far the cutest way of making your mehndi unique.
It is definitely going to be an awe-inspiring picture with both of you flaunting your pet names on your hand. Go share it with your partner!
The Dangler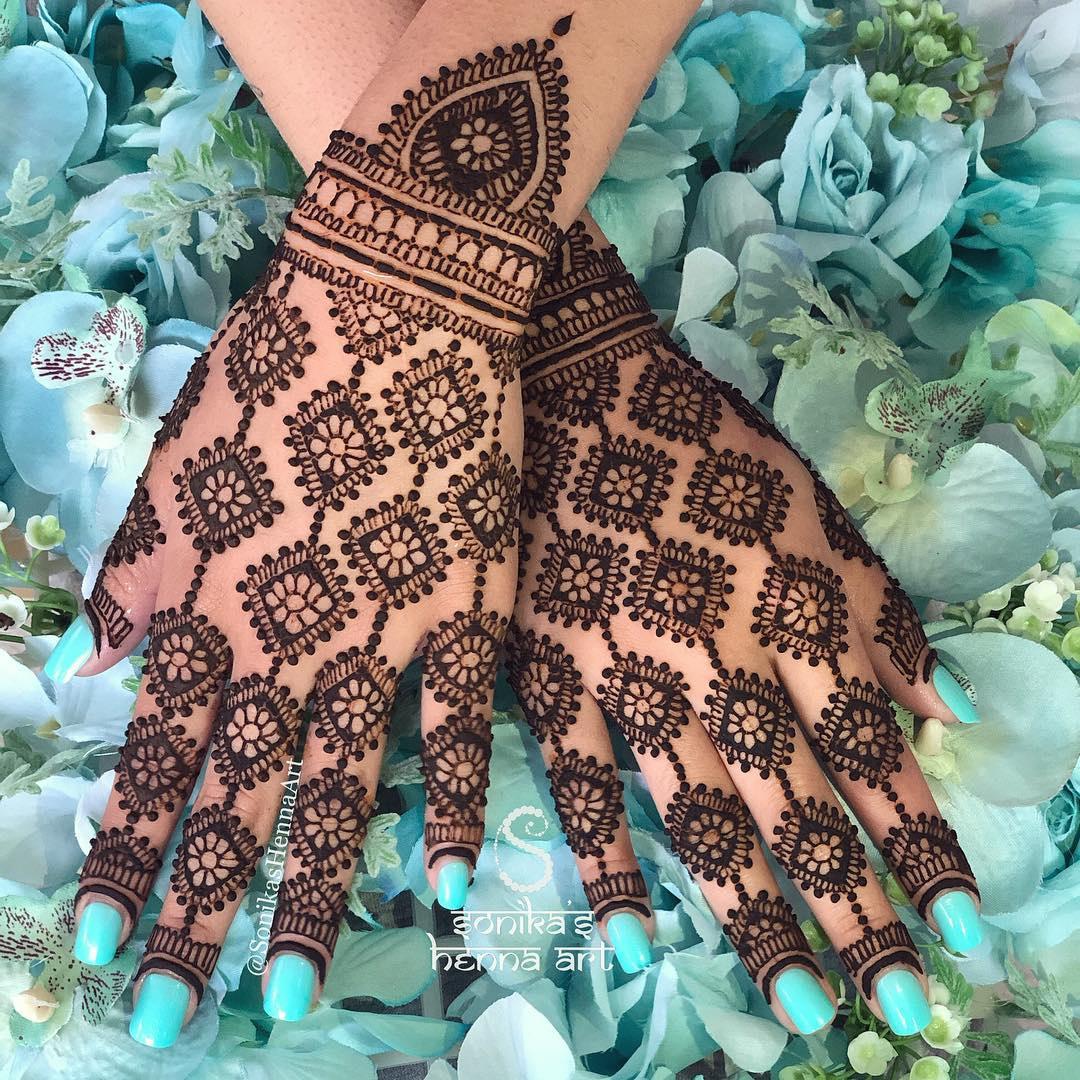 Image courtesy: Sonika's Henna Art
This is the ultimate mehndi design for your wedding day. It is a perfect mix of tradition and style looking absolutely heavenly on the lovely bride's hands.
Just like the bride in this picture, go for that turquoise nail art and unconventional wedding dress. You are all set to make fashion headlines!
Double Trouble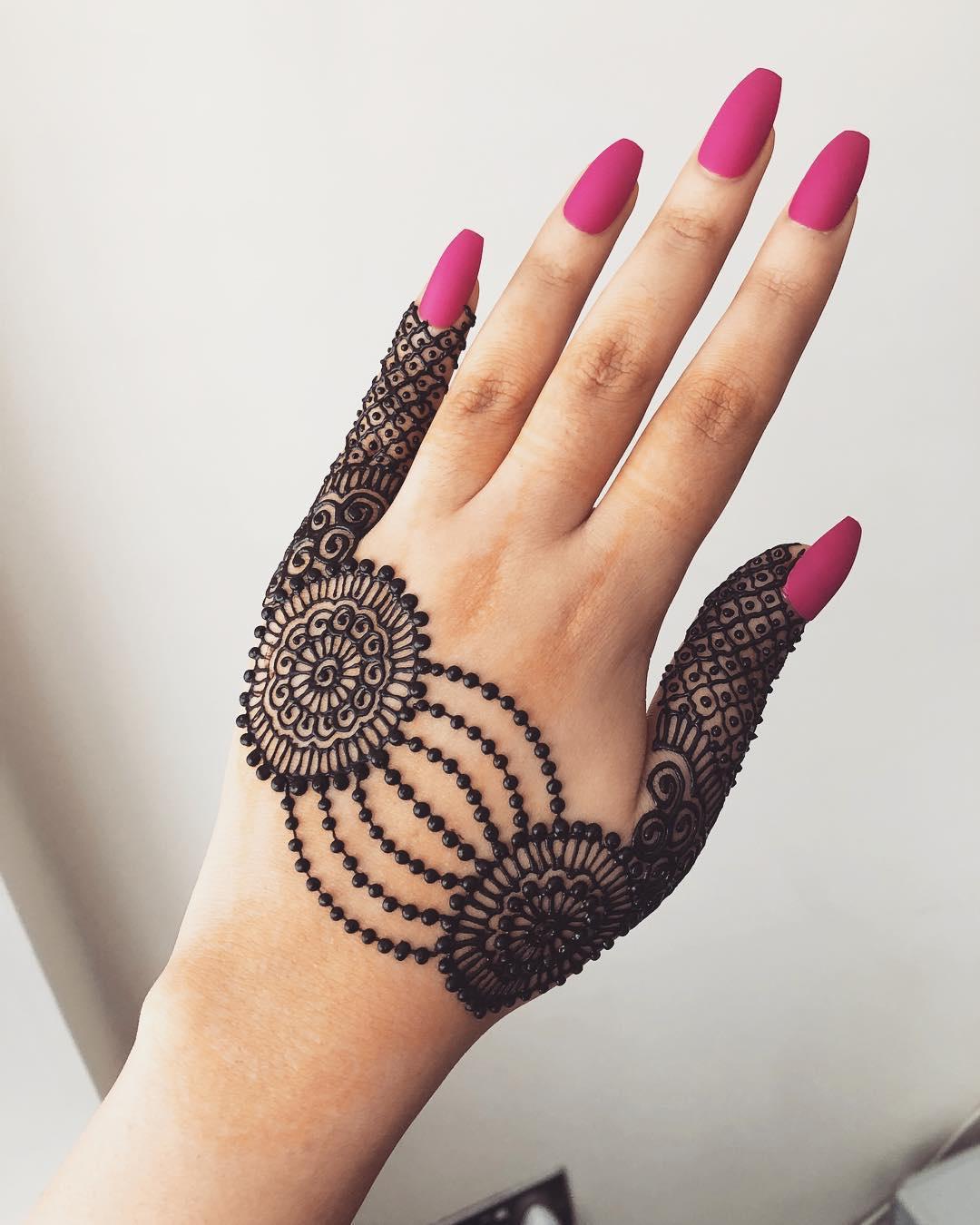 Image courtesy: Mehndi Artist Hira
This back hand mehndi design is one of the most unconventional designs of henna art. It takes a finger and a thumb for its extreme henna details and combines it together with a string of henna dots coming from two circular patterns.
It is a great choice for the hatke bride this wedding season.
The Free Flowing Mehndi
Image courtesy: Mehndi Designer
This unique mehndi design features three irregular shaped circles letting branches of solid henna leaves flowing freely through it. The leafy branches look amazing meeting the respective finger ends.
This is definitely a very unique choice for the botanical lover bride who is ready to set some new trends.
The Leaf Sets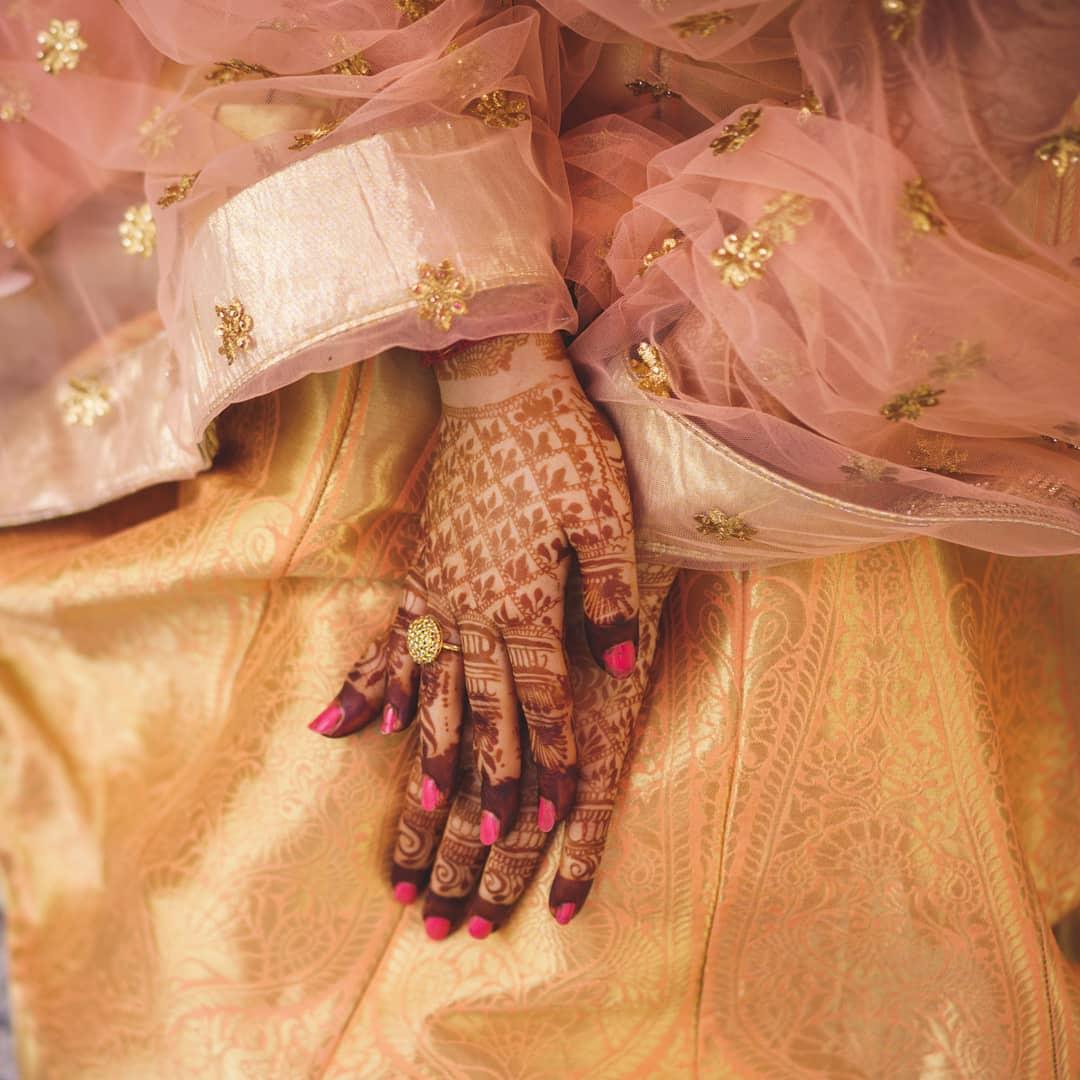 Another pleasing variation of the checkbox mehndi design is this gorgeous one captured in this click. It skillfully brings together the circled lined crossing each other with a bunch of leaves filling each of the boxes.
It is a magnificent choice for the traditional bride looking for henna designs that fill up her entire back hands.
The Single Trail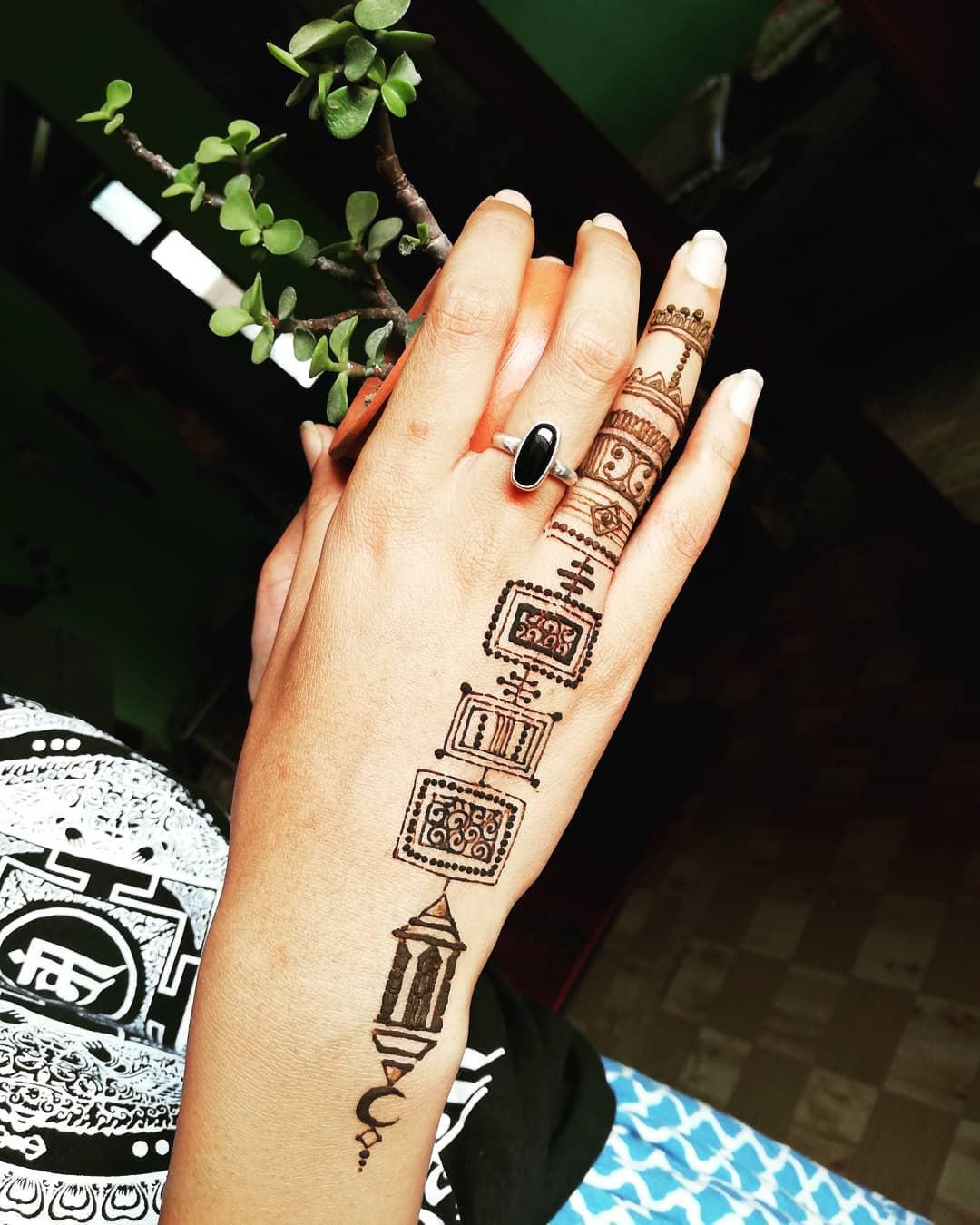 Image courtesy: Henna Nabina
A fine mix of foreign motifs–that's the first thing that comes to our mind when we see this unique back hand henna design. It is definitely a show stealer for both the bride and the bridesmaids. It is a better choice for team bridesmaids because of its utter simplicity.
Go for the minimal trail of rectangles and all the unconventional henna motifs and set new benchmarks right away!
The Organic Style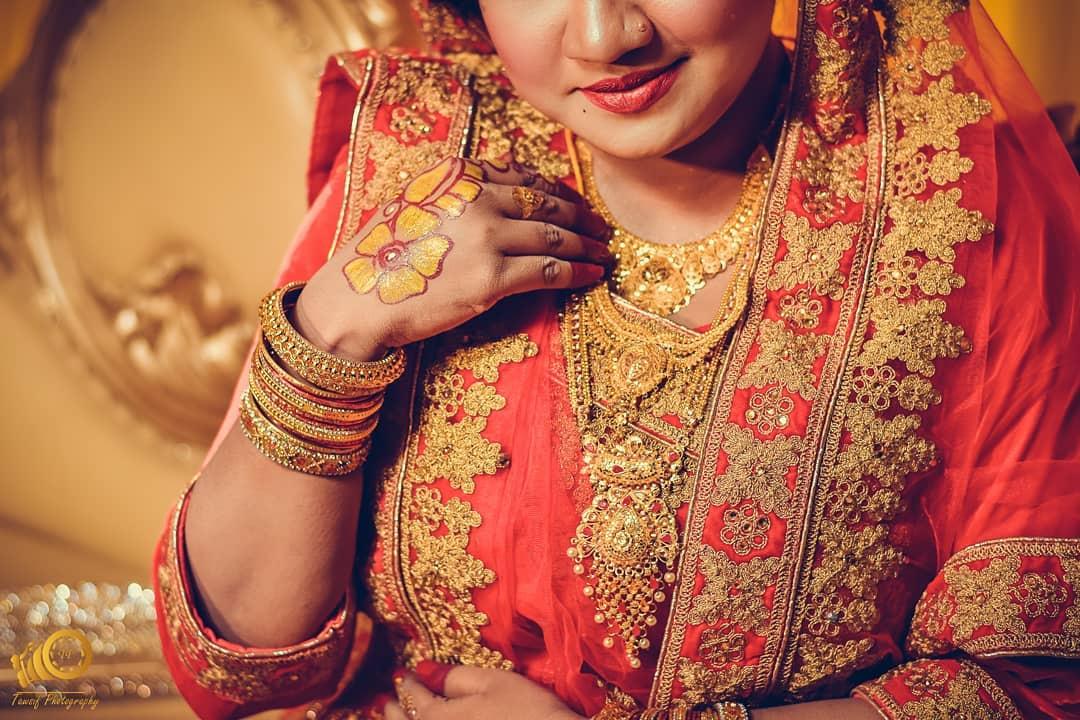 Image courtesy: Tawsif Photography
Hands down the most unique mehndi design are this gorgeous one made in organic colours. Probably a mix of Alta and turmeric colour is this floral piece drawn on the gorgeous bride's back hand.
If you are a bride who is down to earth and looking for more earthy henna options, this is the one for you!
The Cross Board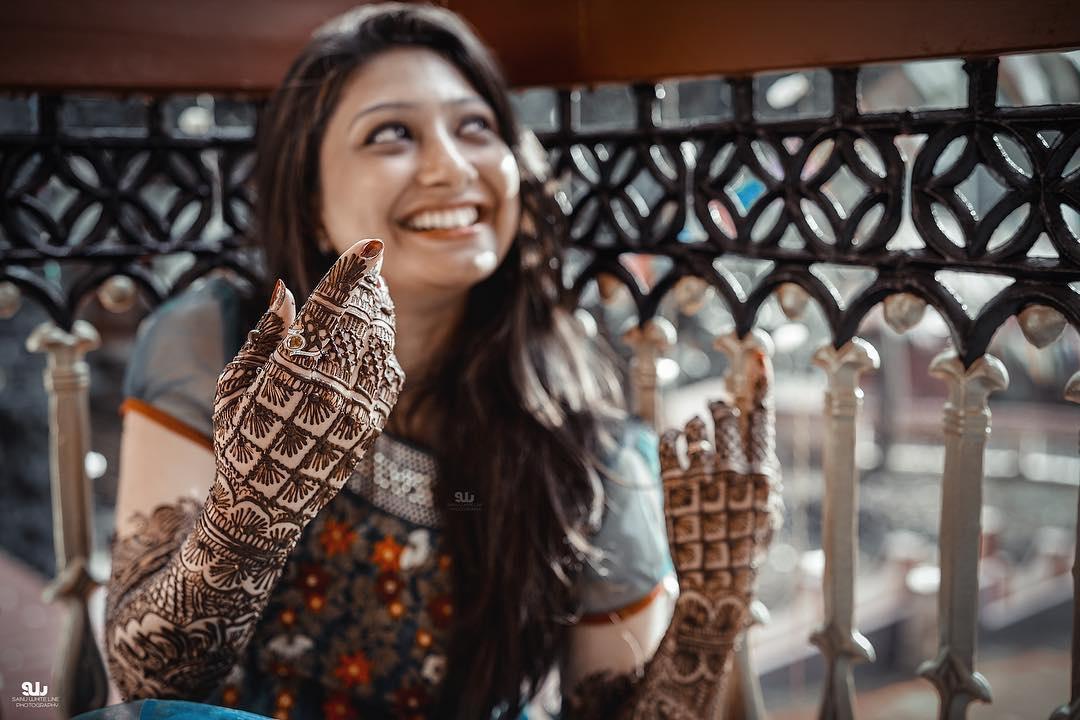 Image courtesy: Sainu White Line
This one is a genuinely pleasing shot capturing the happy bride flaunting her dense back hand mehndi. It is a very dense cross-board full of bunches of lines made in thick henna strokes.
Such patterns make your hand look fuller with mehndi once it has left its colour on to your hands. Indeed a great choice without those regular flowers and circles.
The Ring Bracelet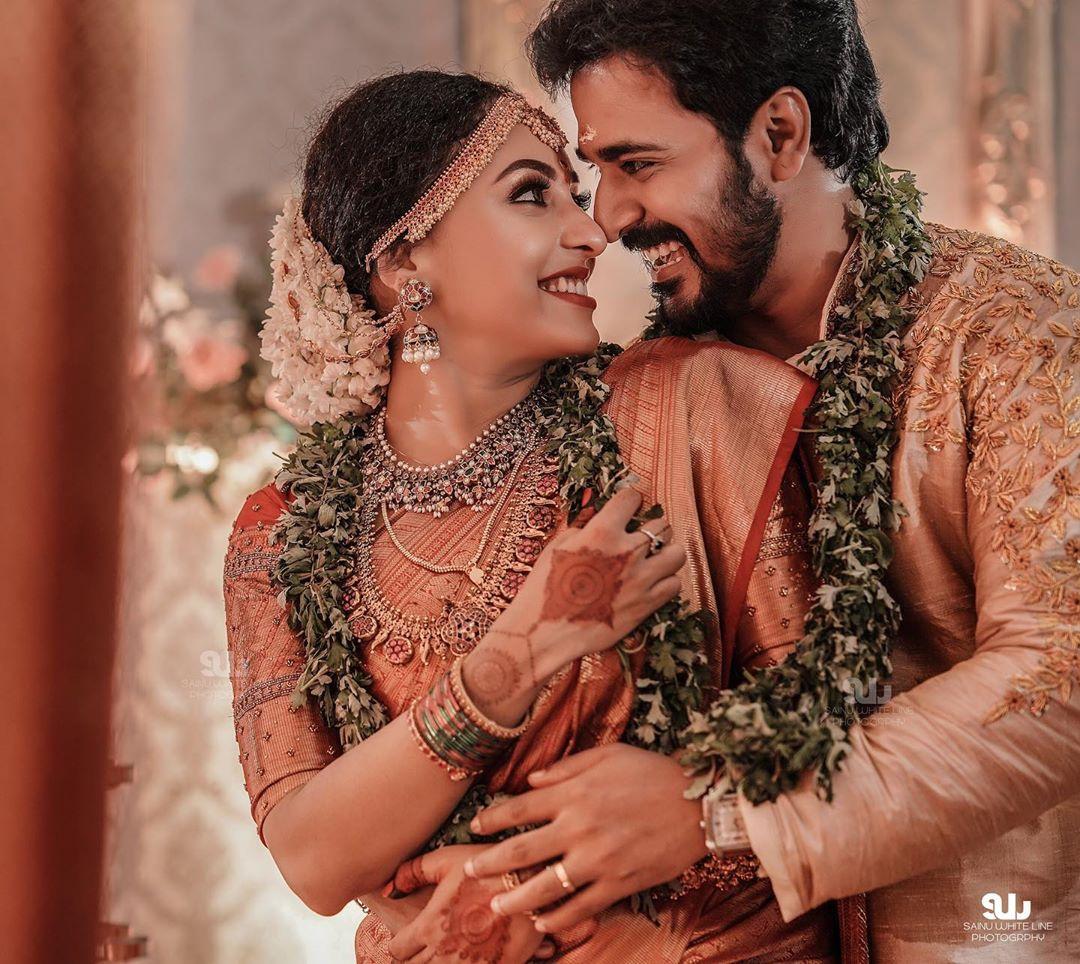 Image courtesy: Sainu White Line
With such a pretty couple in the frame, no wonder the photographer dropped a little focus from the back hand of the mehndi. The ring bracelet style pattern looks quite classy and high-end in the picture.
If less is more for you and you want to flaunt those traditional bangles, then go for this one!
For the Love of Elephants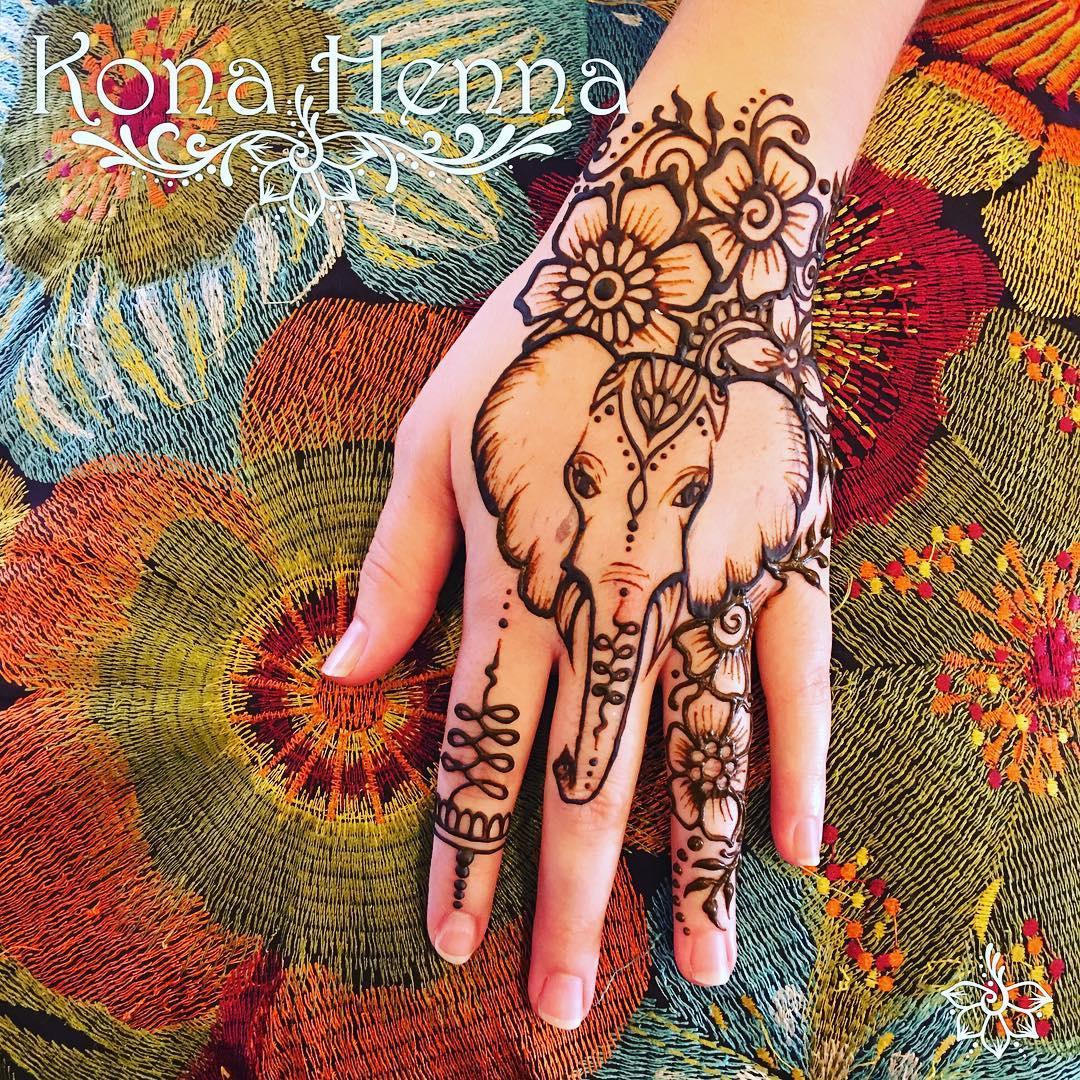 Image courtesy: Kona Henna
A perfect end to the list of the most unique mehndi designs indeed. It is a priceless elephant design adorned by a lucky bride on her back hand which can be your ultimate mehndi design as well. Just find the right henna artist and get this regal motif drawn on your hands for the special day.
If you want to get heads to turn on your wedding day, don't even think twice before choosing this wonderful henna design. Go for it!
We really hope that this maddening range of mehndi designs ranging from florals to elephants, lines to polka dots, check boards to ring bracelets could be of some help to our beloved bride. With the innumerable unique designs to choose from, the gorgeous bride of 2019 has nothing to worry about her back hand mehndi anymore.
Choose your favourite design right away and start looking for the best henna artist to help you get the masterpiece skillfully drawn on to your hands. Your big day leaves no room for absolutely any compromises at all, does it?
Which back hand mehndi design caught your attention? Tell us in the comments below!