Jaw-dropping Statement Necklace Designs for the Bridesmaids
Want to make a statement with your jewellery? Check out these spectacular statement necklace designs for the bridesmaids to flaunt on different wedding ceremonies!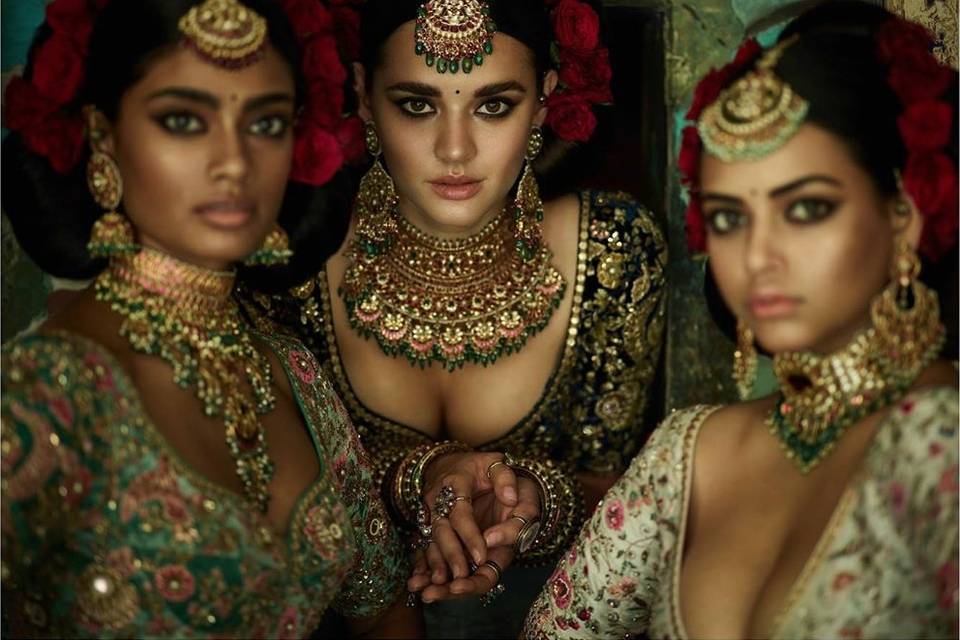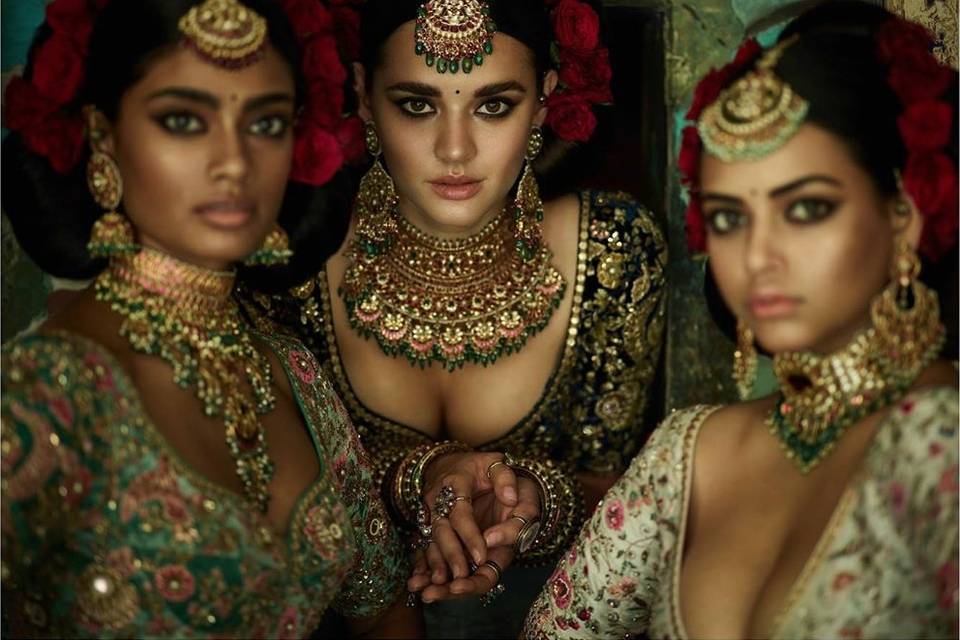 Image Courtesy: Sabyasachi's Official Instagram
A piece of jewellery that a woman chooses to wear is not just an accessory. Now that this has been universally established, it is in fact, an expression of her inner personality - it's an emotion. That pearl choker necklace says she's sassy yet elegant, that pair of gold jhumkas gives a peek to her emotional yet strong charisma, and the colourful silk thread bangles display her mischievous and playful self! Every ornament says something about a woman's true persona.
So, what's your style- minimalist, bold or subtle? Take a look at these gorgeous statement necklace designs that you can sport on your friend's wedding that would just make all heads turn your way!
Broad Polki & ruby necklace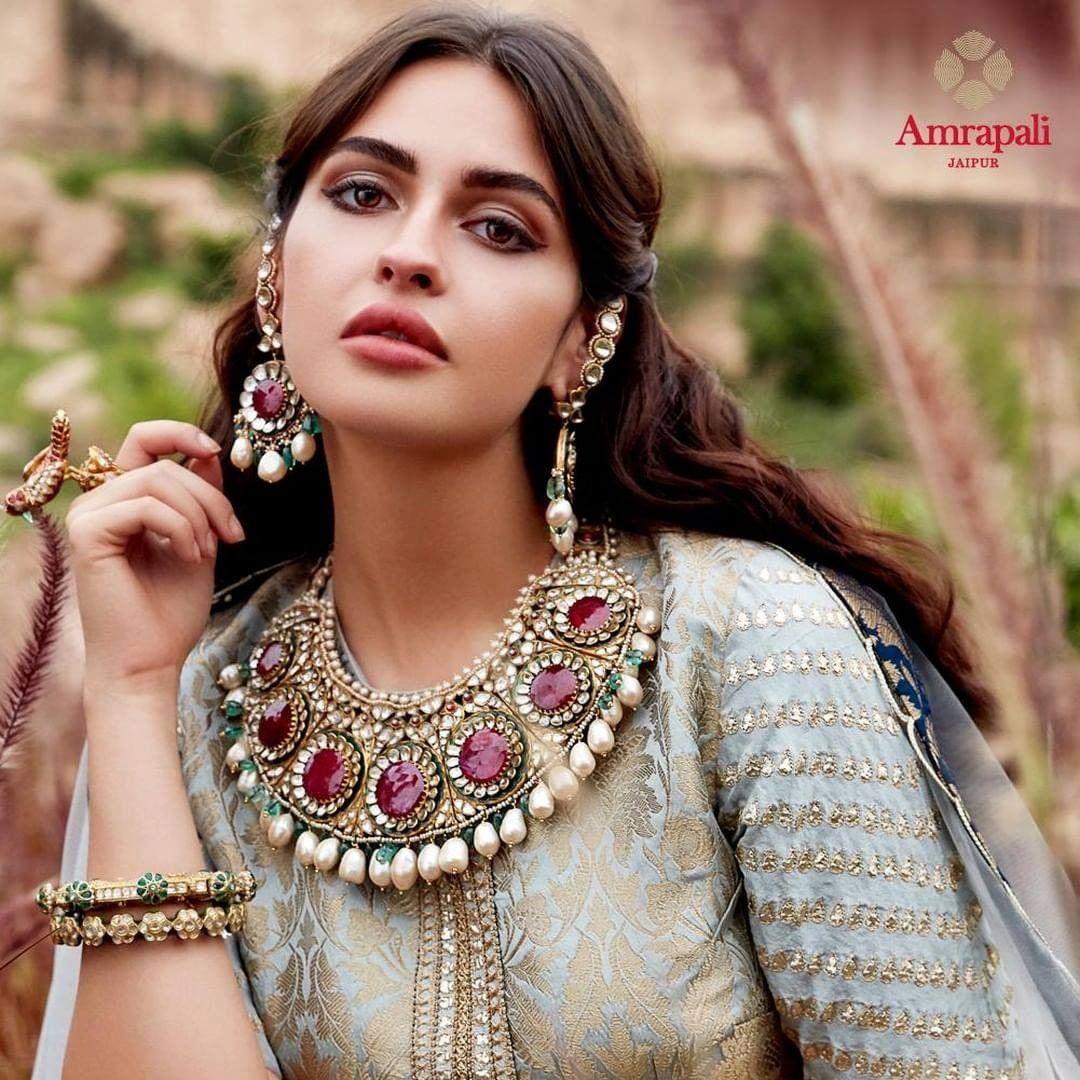 For girls who love the "bold and beautiful" look when it comes to their jewellery designs, this is the kind of statement necklace you're should go for. A broad necklace made entirely with Polki stones with huge rubies in the middle - when you sport a piece of necklace like that, you really don't need anything else to turn the heads! Wear matching statement earrings or you could go with a pair of small studs depending on the occasion.
Ideal occasion: Wedding or Reception.
Fashion tip: Pin up your hair from the sides with a mid parting and keep them open and keep your makeup to the minimum.
Single strand diamond & emerald necklace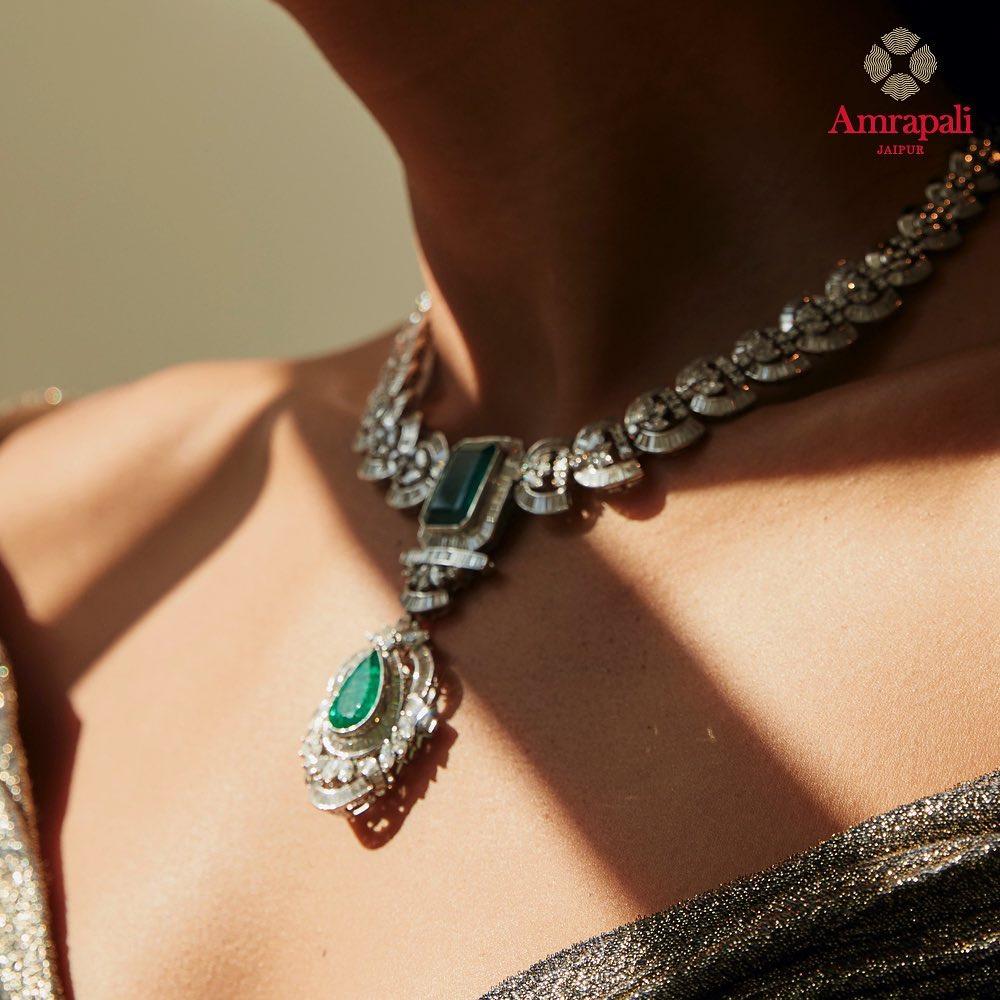 Sometimes all you need is a subtle gesture to make your point. And if you're looking for one such statement necklace, here's one! A single strand diamond necklace with big emerald stones engraved in it, including the teardrop-shaped pendant. The simplicity of this necklace somehow exudes a very strong character. Perfect to go with western dresses, contemporary sarees or Indo-western outfits alike, you can't go wrong with this stunning neck- jewellery!
Ideal occasion: Cocktail, Sangeet or Reception.
Fashion tip: Try a sequin saree or a gown with a deep neck to go with this necklace.
Broad diamond necklace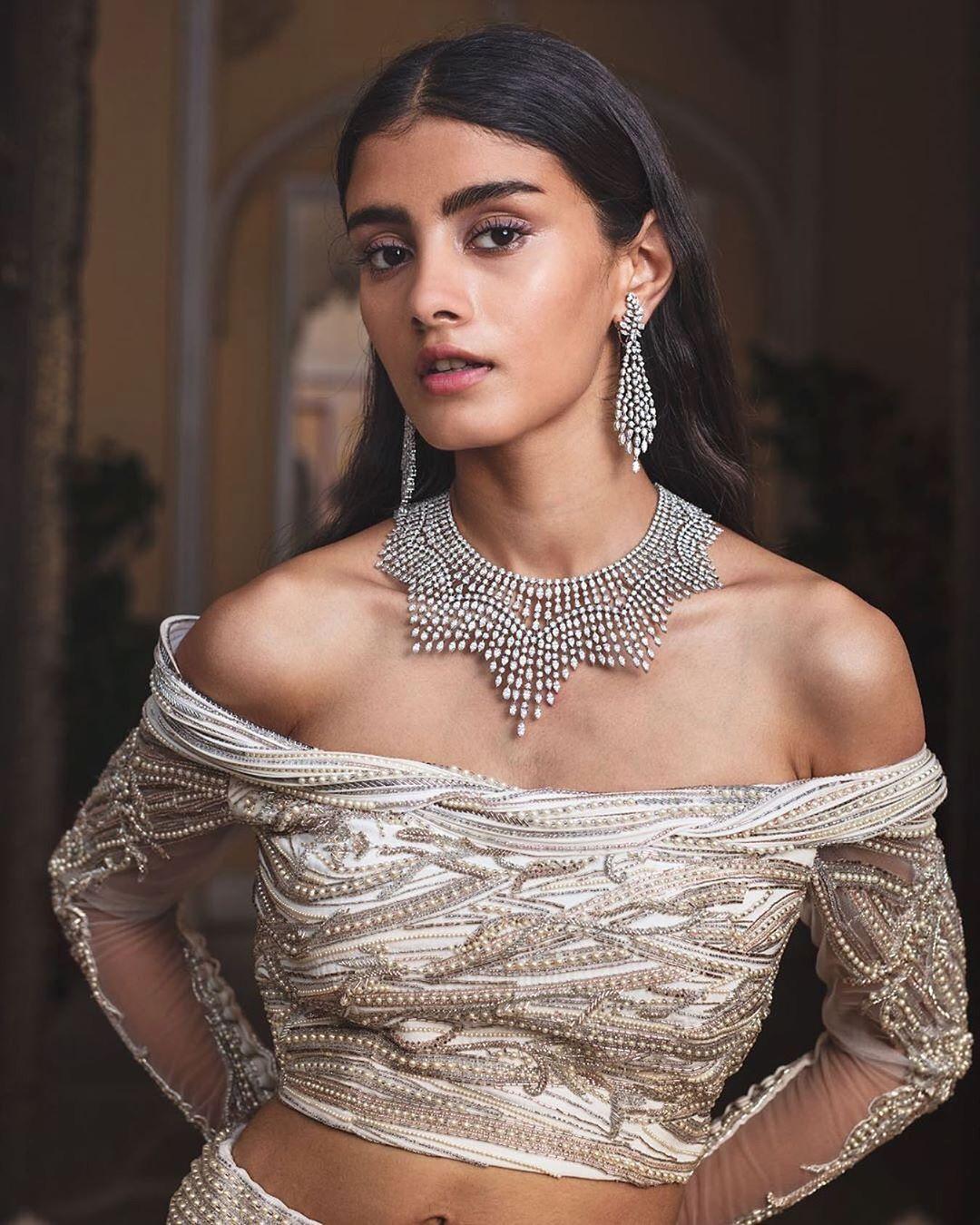 Image Courtesy: Gaurav Gupta Occasions Jewellery
When we're talking about a statement necklace, a candid diamond necklace with nothing else to distract is a sure-shot winner! Especially for women who believe diamonds are their best friends! When you adorn your neck with a broad necklace made of tiny diamond beads, half your work is done here and you really don't need to think any further!
Ideal occasion: Engagement, Cocktail party, Sangeet or Reception.
Fashion tip: Wear matching diamond dangler earrings, sport an open straight hair and nude makeup.
Contemporary silver & stone necklace

Image Courtesy: Sabyasachi's Official Instagram
If you're looking for a minimalist design for your statement necklace, try going for a light-weight necklace with sparse silver and stone setting. This contemporary design gives an informal and fun look as the beads aren't too heavy. Choose an off-beat colour for your stones like rust to add a little funk.
Ideal occasion: Engagement, Cocktail, Reception, Sangeet.
Fashion tip: Wear rust shaded gown or Indo-western dress or a saree and paint your lips with matte red lipstick.
Kundan & gems necklace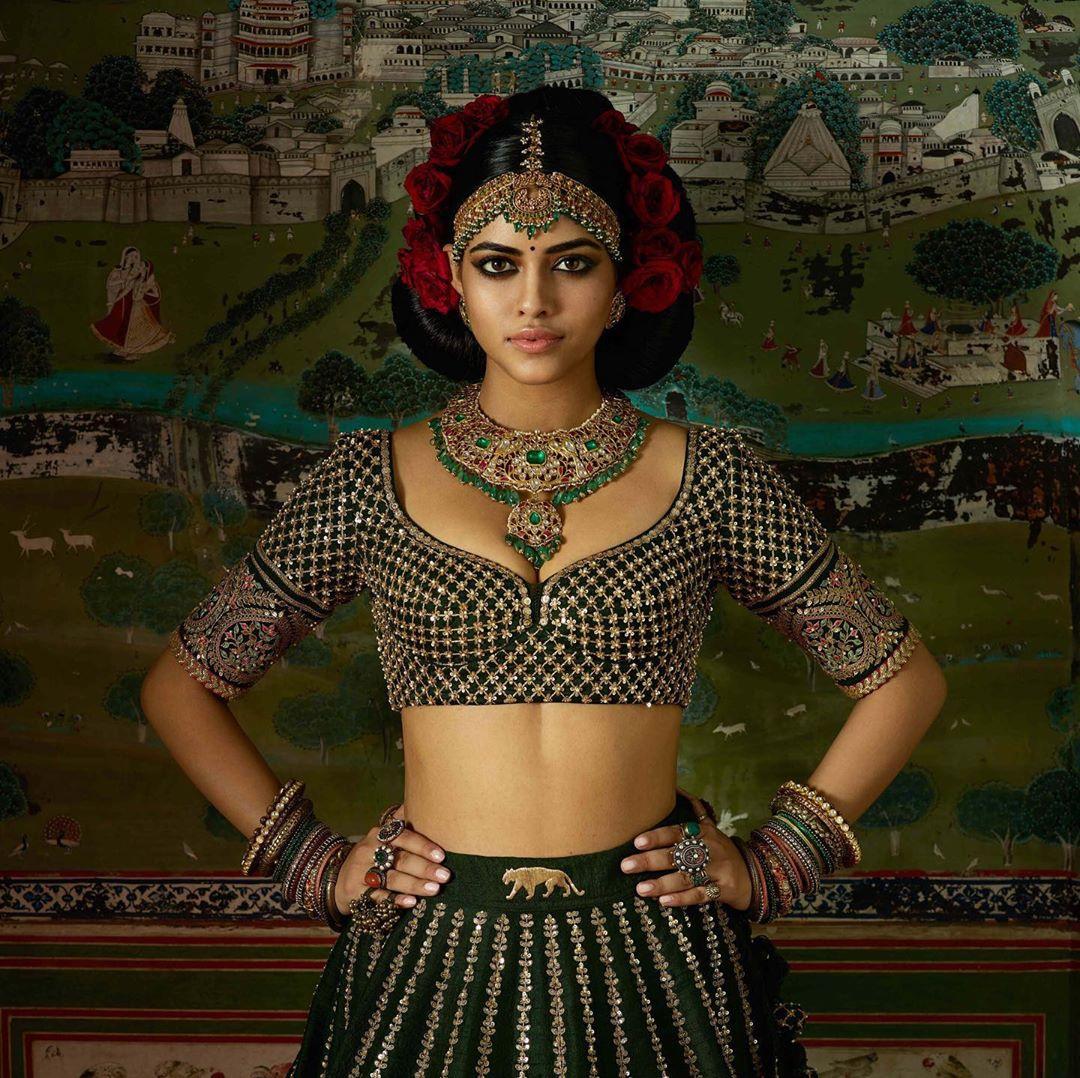 Image Courtesy: Sabyasachi's Official Instagram
How can we not include a stunning creation by Sabyasachi when we're talking about statement necklace? This spectacular Kundan necklace with green gemstones artistically placed makes the necklace a true masterpiece. Bring out the queen in you and own every room when you walk around in this royal slice of ornament. Give your BFF's royal theme wedding that extra regal touch with your own statement!
Ideal occasion: Wedding.
Fashion tip: Wear a low-cut blouse or choli to flaunt your necklace well. Go for a bun hairstyle, nude makeup and dark smokey eyes.
Silver & beads junk necklace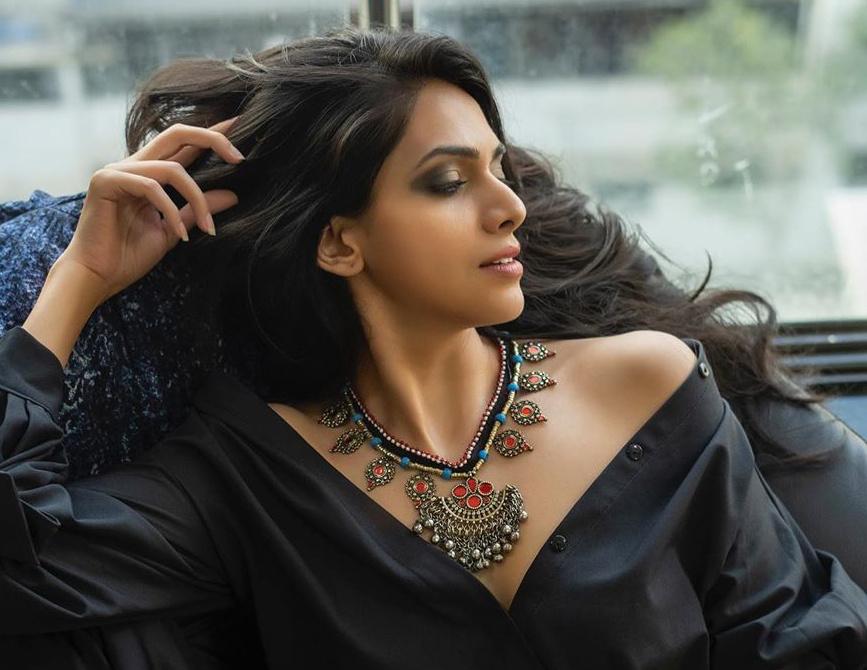 Love silver and artificial jewellery alike? Then this particular statement necklace is just the thing for you! Try this rustic silver necklace combined with beads and stones on your friend's wedding ceremonies and you're sure to become the talk of the town! The black base, along with the red stones and blue beads together gives this piece of adornment a strong character. For a relatively informal occasion, you can easily go with this necklace that screams flamboyance! Did you just add gorgeous Junk jewellery to the Reception #ootn? Or was it adorned with the Sangeet look with the shirt on the lehenga?
Ideal occasion: Cocktail, Engagement, Bachelorette party or Reception.
Fashion tip: Sport a saree in an unconventional drape preferably with blacks and reds. Go for minimalist makeup with dark smokey eyes.
Long pearl necklace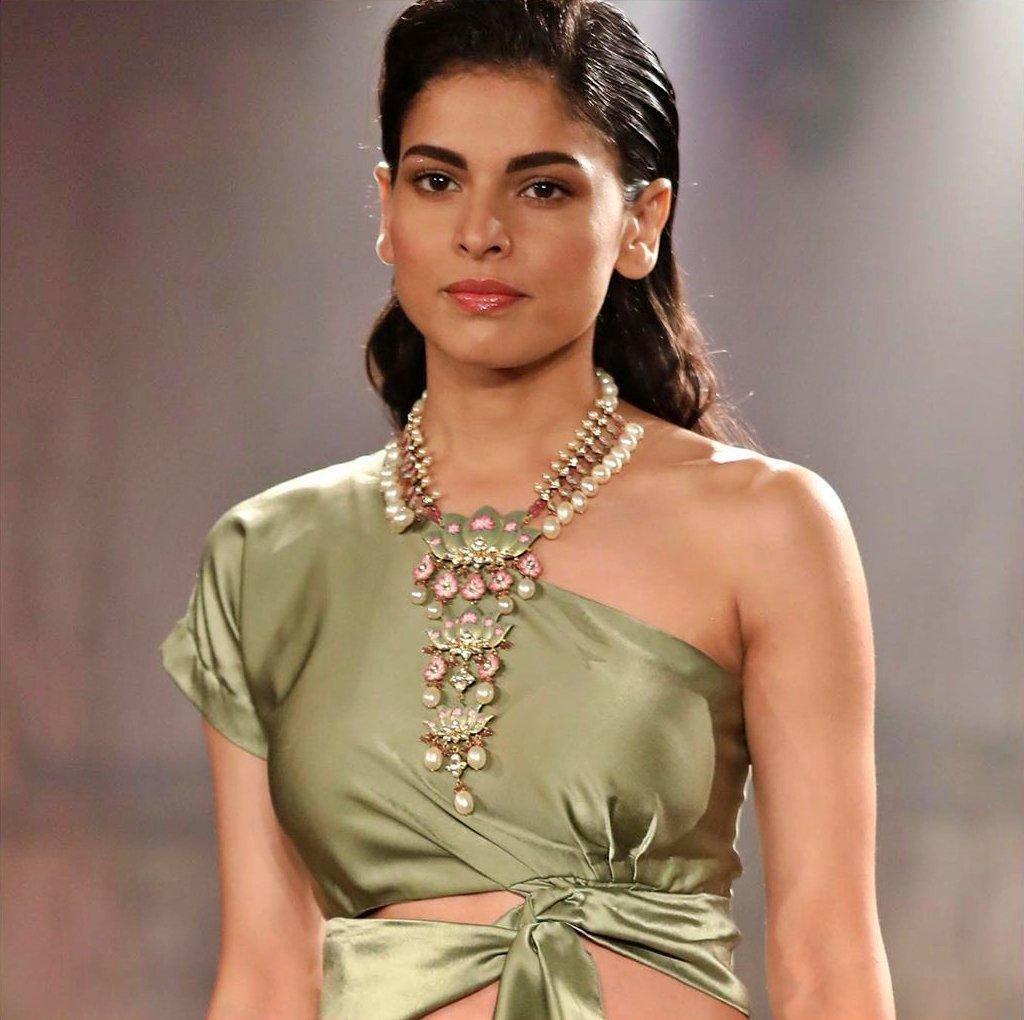 Image Courtesy: Archana Aggarwal Jewellery
If you're the kind of girl who just can't get enough of pearls, here's a statement necklace just for you! Grace up your neck with this long pearl necklace with slight hints of pastel pink and metal. This Archana Aggarwal creation is a complex design yet displays suave and charm and this bespoke jewellery is styled with luxury couture that radiates glory and legacy!
Ideal occasion: Engagement, Cocktail party, Reception.
Fashion tip: Go for western gowns/dresses or Indo-western outfits. Comb back your hair or make a neat bun hairstyle.
Choosing the right kind of necklace says a lot about you. It reflects your personality, your attitude, your opinions! So before you pick your statement necklace, look at the jewellery closely, feel it, try it on and select the one that has "you" written all over it! In fact, you can buy your wedding outfits to justify your jewellery if that's exactly what defines you! Choker necklaces, opera necklace, terracotta necklace or handmade necklace- it could be anything that resonates with a woman. All you have to do is listen. You don't pick your jewellery, let the jewellery pick you!
Which one of these statement necklaces defines you and your personality? Share your thoughts with us in the comment section below!