20+ Open Hairstyle Ideas for Wedding Functions
Giving you extensive options to flaunt an open hairstyle so that you can break the monotonous braids and buns look! Watch out for these hair accessories that can elevate your open hairstyles during wedding celebrations!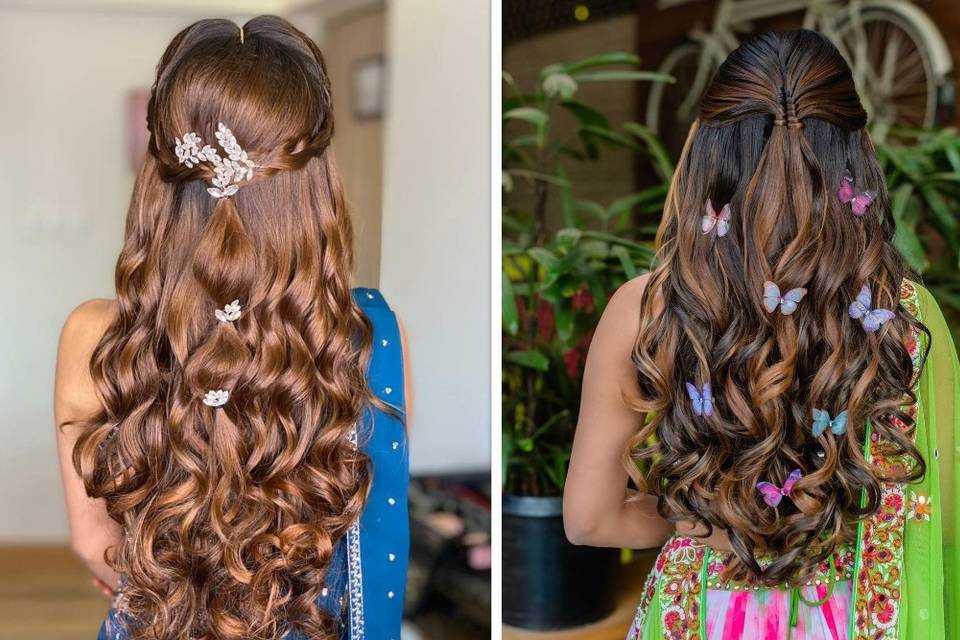 On your wedding day and during all other functions, you want to look like a princess. To complement and complete such royal looks, you need your hairstyles to be on point. Open hairstyles are very trendy and give a much-needed break from tied-up hairstyles. These hairstyles are also perfect for brides. To make open hairstyles look attractive, even in photographs, top up the hairstyle with accessories.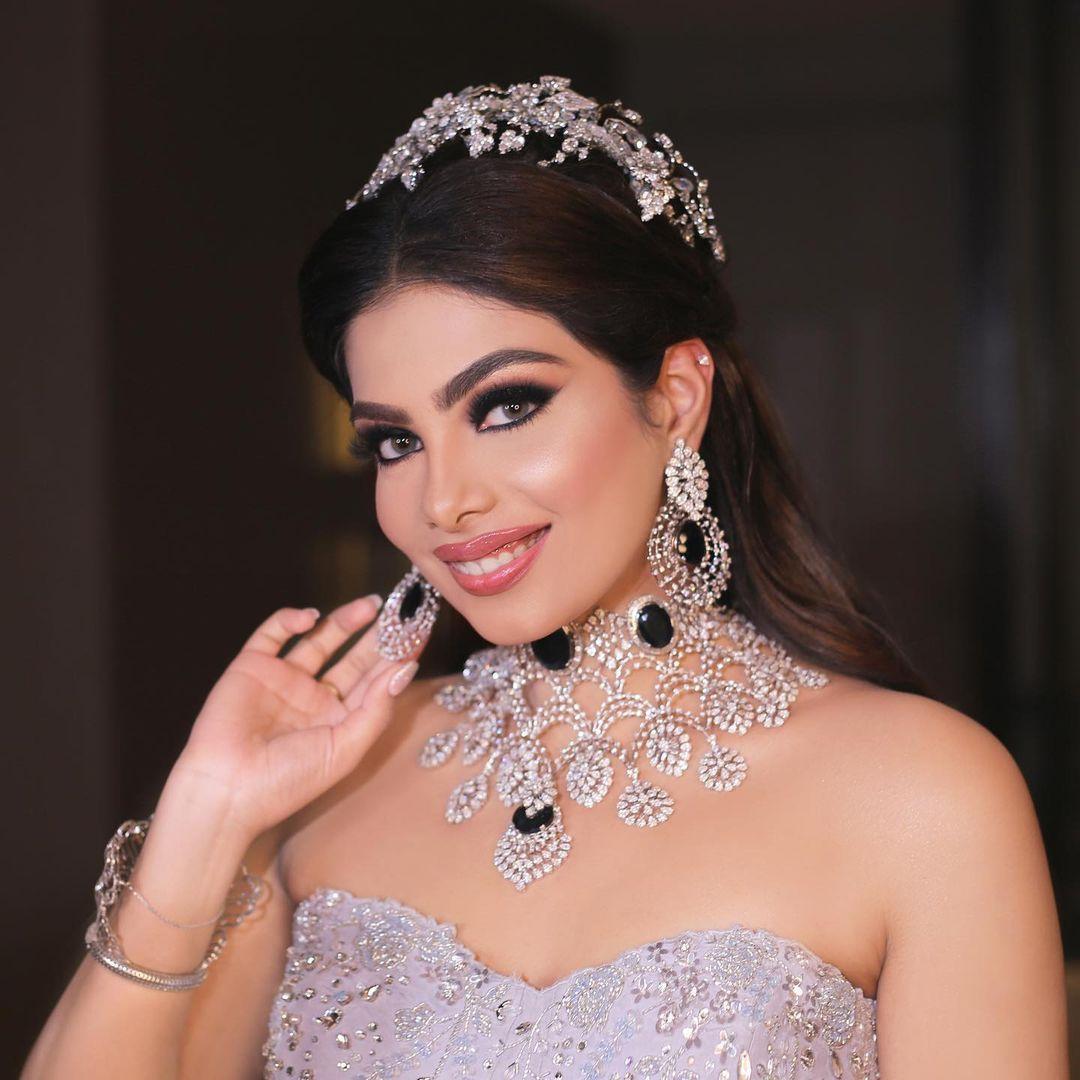 Image Courtesy: Amrit Kaur Artistry
Are you looking for a perfect open hairstyle for your precious day? Here is a list of pretty hair accessories that will give you a perfect look during all the wedding functions.
1. Crystals And Pearls For Open Hairstyle
Hair accessories are a great way to amp up your bridal look with grace. When it comes to choosing the right hairstyle with accessories for your #ShaadiLook, crystals and pearls come to the rescue! Are you that bride who loves everything bling? We have got you covered with a bunch of exquisite hair accessories for open hair.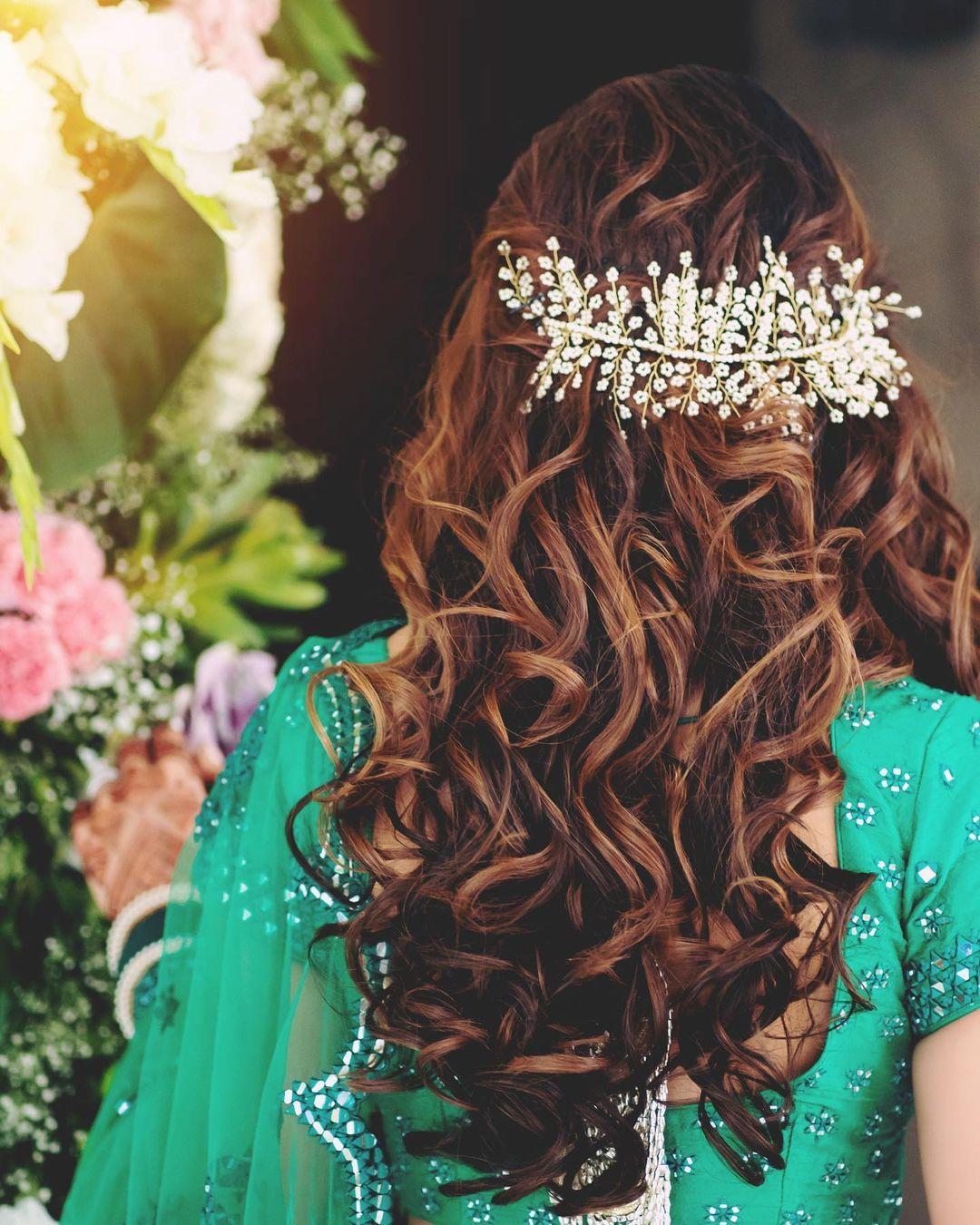 Adding sparkle to your wedding lehenga brightens the outfit. But adding a dash of glam to your wedding hairstyle lets you grab the eyeballs. Shoutout to one of the most magnificent open hairstyle images we have ever come across. Hairstyles with accessories are crossing the bar of grace and glam. If you are planning to leave the hair loose, this new hairstyle image is the perfect pick for you. Let your hair go with the flow of curls, and don't forget to top it up with some gleaming open hair accessories.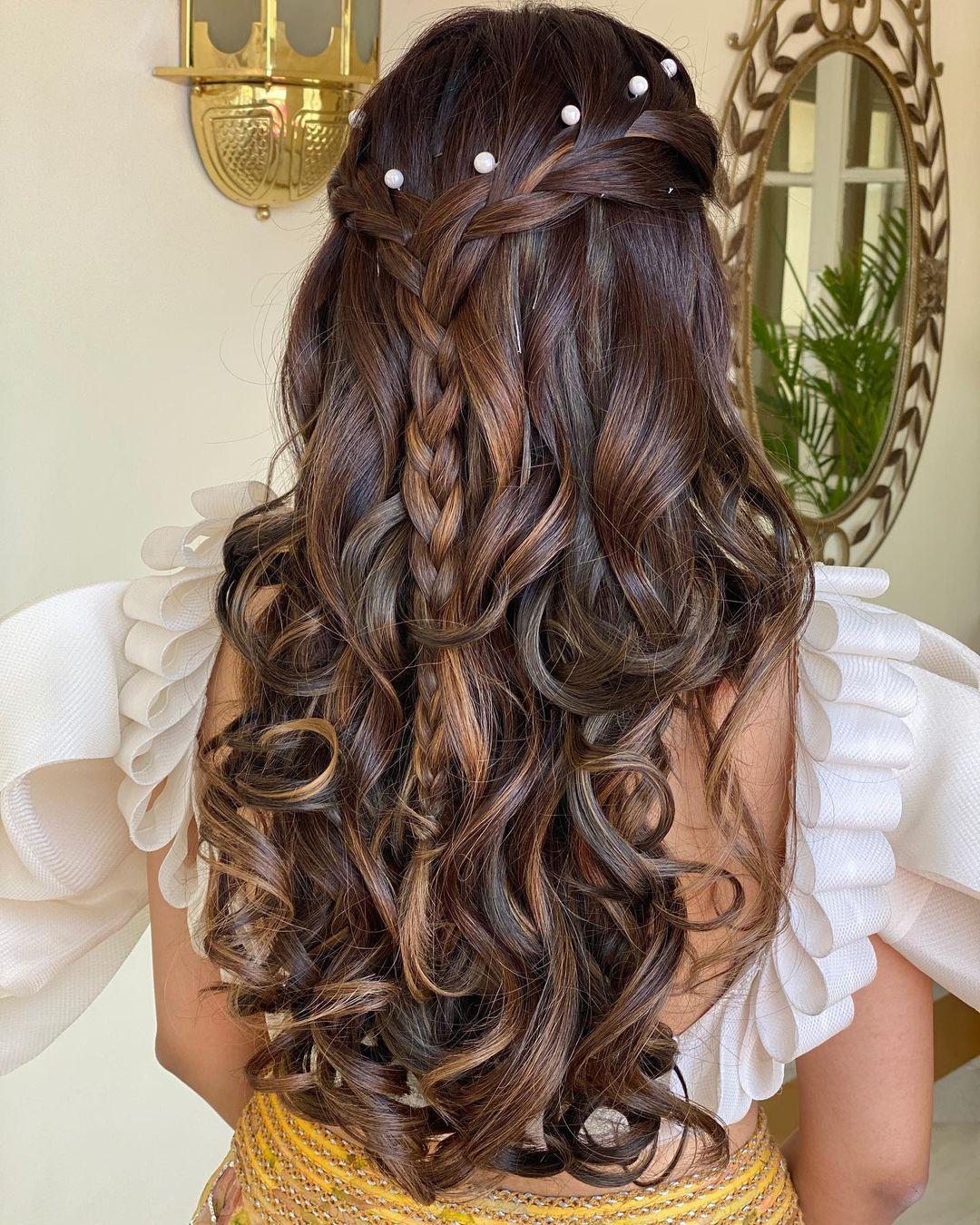 Are you that bride who loves to add elegance to the minimalistic look? If yes, this open hairstyle image is an apt choice for you to hit the stage of new beginnings with grace. Whether it's your engagement function or sangeet ceremony, this latest hairstyle image will add an oomph to the look. Pearls are the best choice to keep the bridal look exquisite and minimal even if it is faux. This hair jewellery complements well with this cute and easy hairstyle.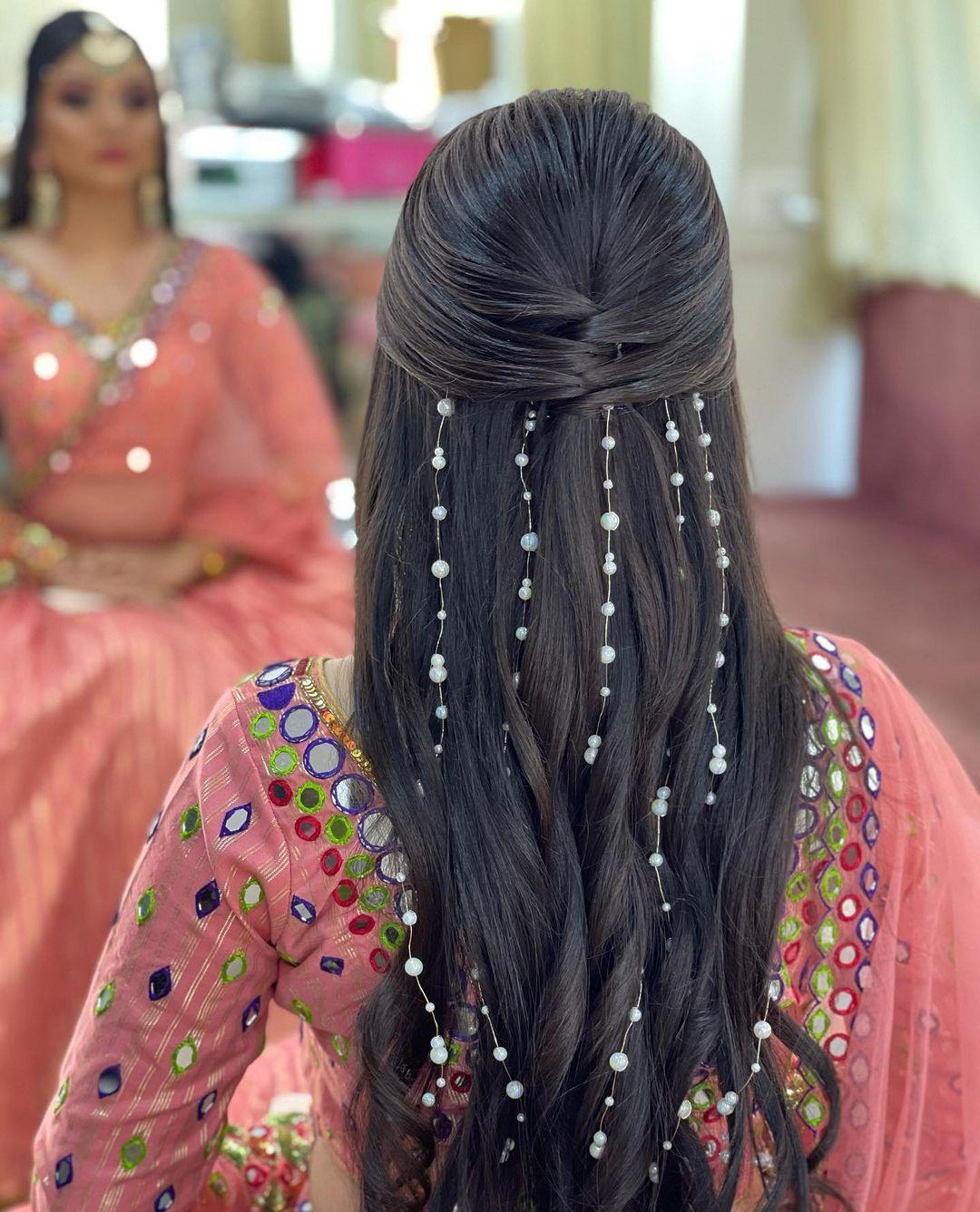 Image Courtesy: Jasmine Beauty Care
Ever seen pearl chain hair accessories? These unique hair accessories for open hair are proof of elegance. Pearls are classic and delightful. They elevate the bridal hairstyle with grace. Wish to enter your wedding ceremony with #Nazakat? This hair jewellery for open hair will level up your Dulhan game to the fullest. We sure are drooling over this dainty hairstyle with accessories. How about you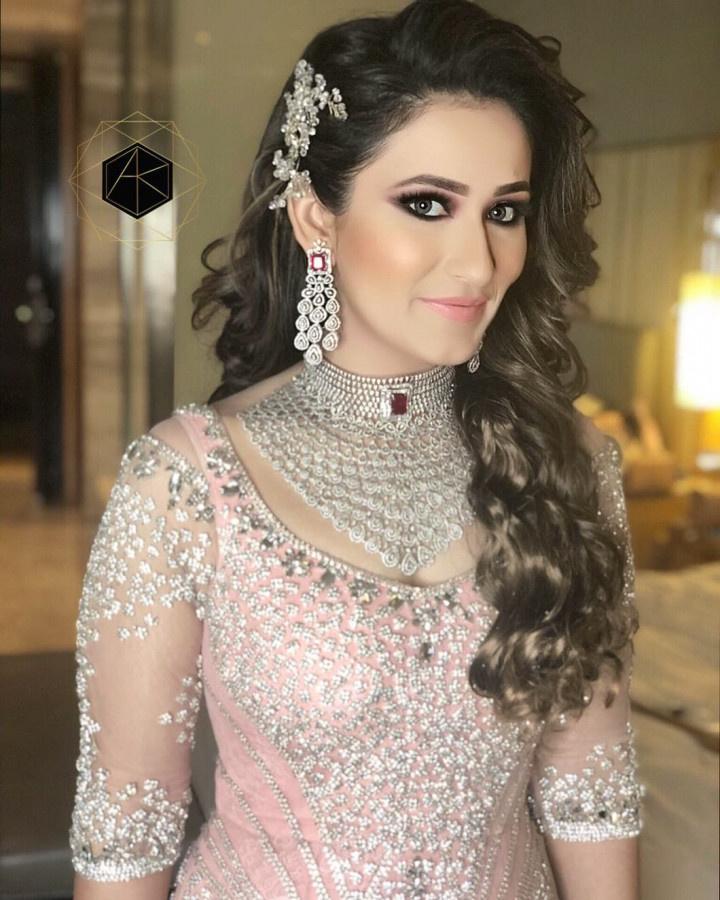 This bride has opted for soft curls to create a voluminous open hairstyle with a side part. To add beauty to her hair, she used a crystal hair accessory that complemented her outfit and makeup. This hair jewellery for open hair will give you princess feels!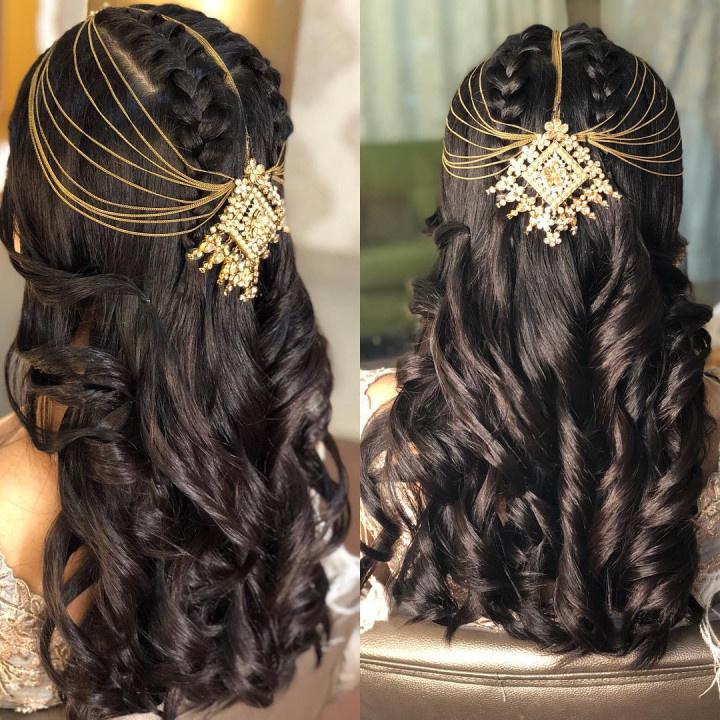 Soft curls, braids and a hair accessory with crystal accents. This bride picked a brooch and chain inspired golden accessory for a sweet yet exotic open hairstyle. Looking for a crystal hair accessory for open hair? Your search ends here!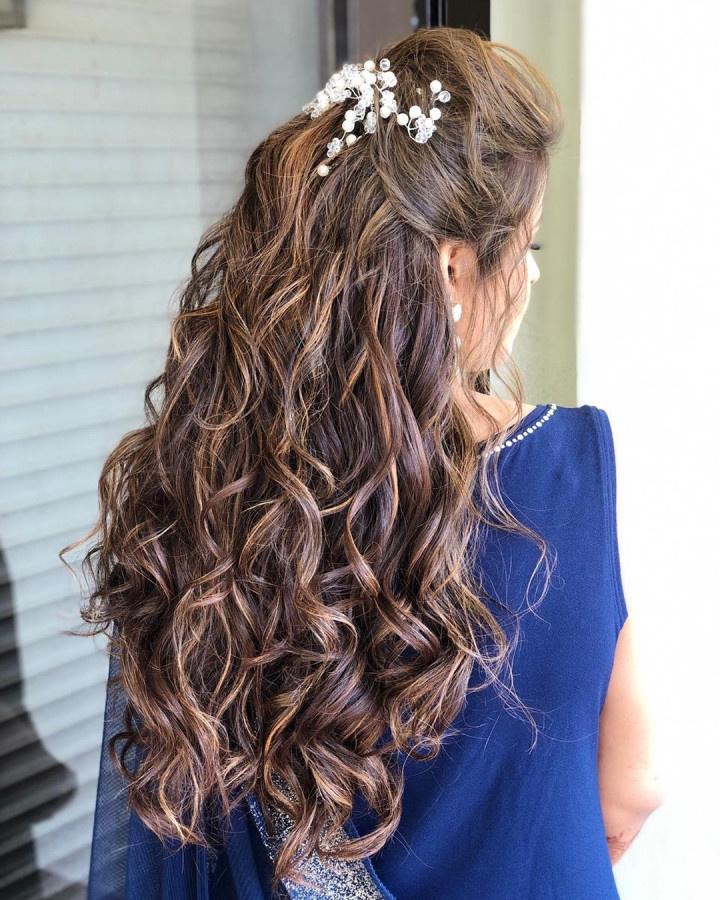 Flirty loose curls and pearls can give any bride a classy and enticing appeal! Tease your hair for added volume and get ready to slay your happiest moments.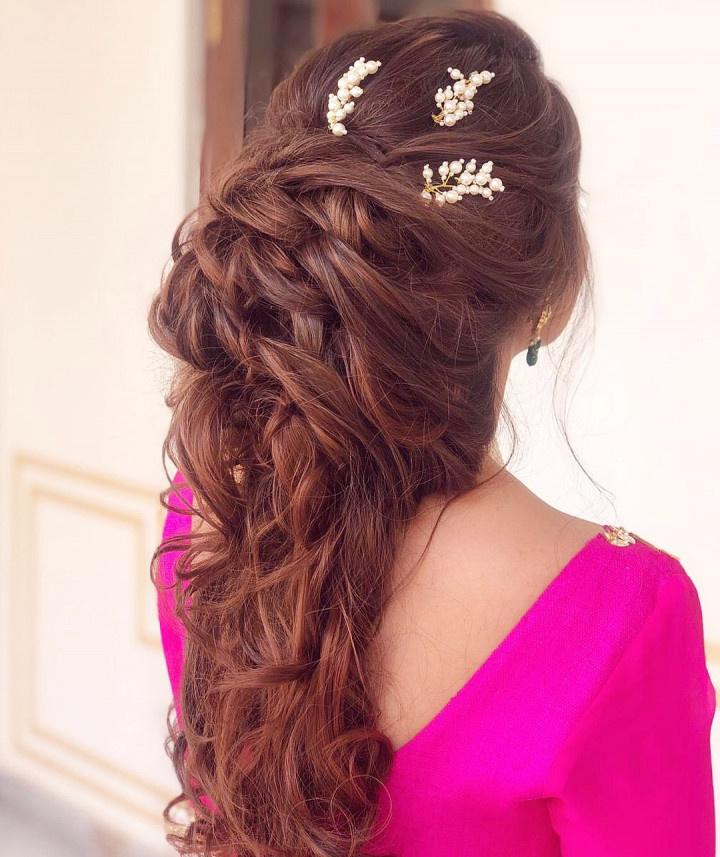 Gorgeously coloured hair, paired with flirty curls and pearls can instantly make you look pretty. Keep your hair loosely pulled back for effortless charm.
2. Floral Hair Accessories For Open Hair
Being a millennial bride is a blessing. From decking up in the most beautiful wedding outfit to wearing gorgeous jewellery and accessories, a complete bridal look includes a lot of things. Did you finalise your wedding hairdo? If not, then these alluring floral hair accessories have got your back! We have listed some of the best flower hair accessories for open hair, which will level up your #BridalGame.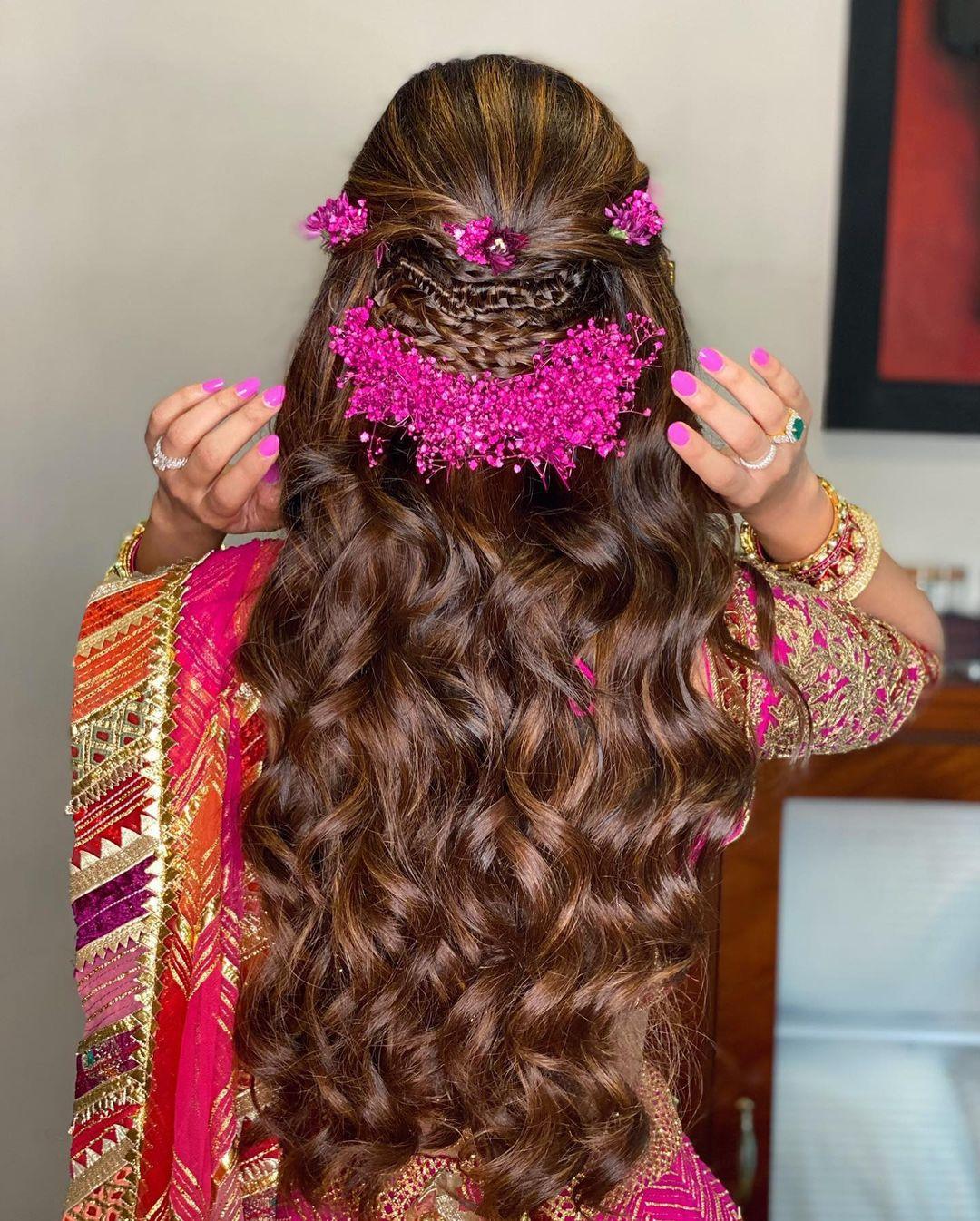 What's better than matching your bridal hair accessories with your wedding outfit? Florals and corals go hand in hand, and this open hairstyle image proves it all! Floral hair accessories are a very recent fad and baby's breath always adds a cherry on the cake. Are you planning to wear a pink lehenga on your D-day? This floral hair accessory is one of the best for open hair.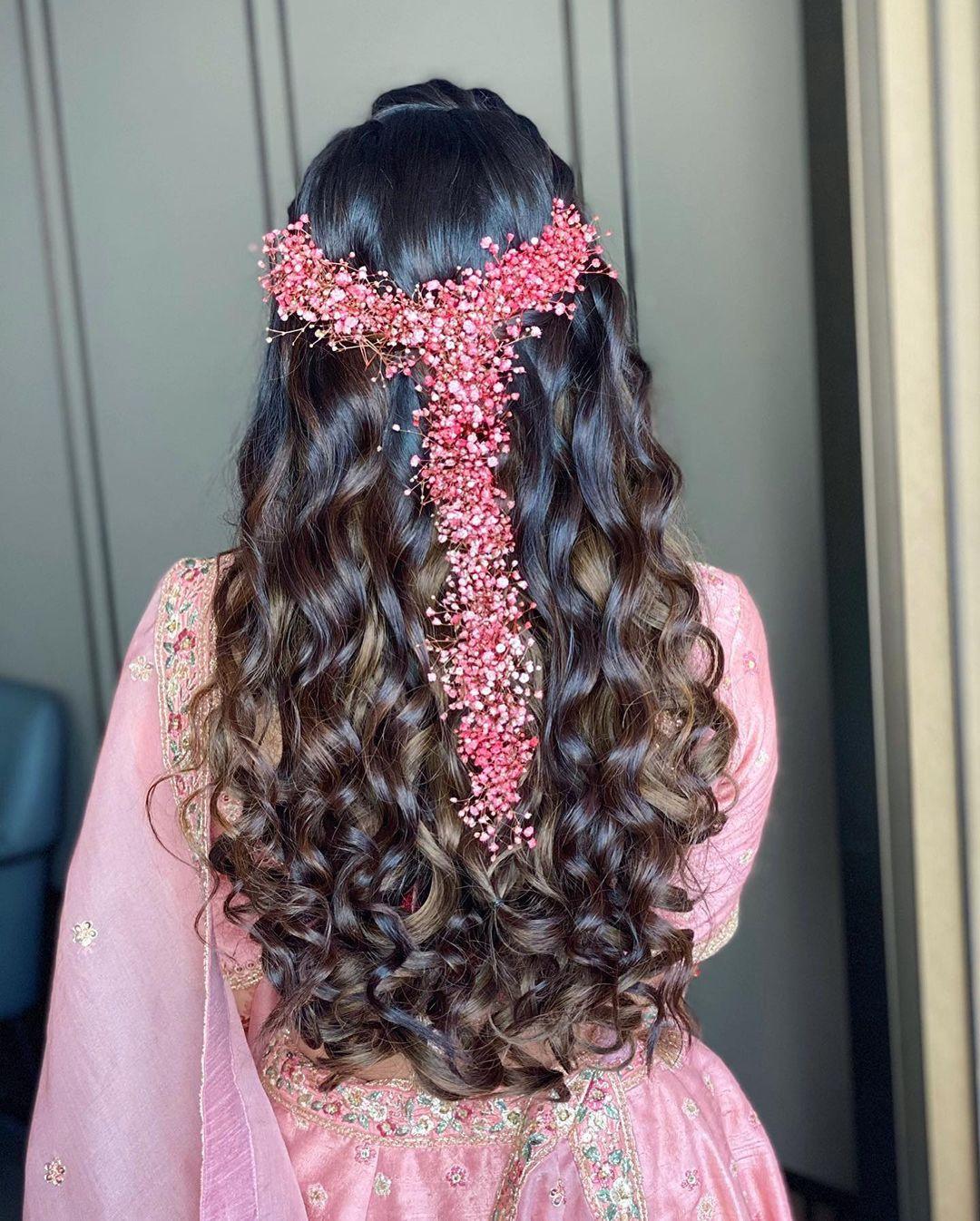 Floral hair accessories are a perfect way to add a pinch of elegance to your princess look. We are swooning over this open hairstyle image which shouts gracefulness! If you are that bride-to-be who loves curls and floral hairstyle, this combination is going to work wonders for you!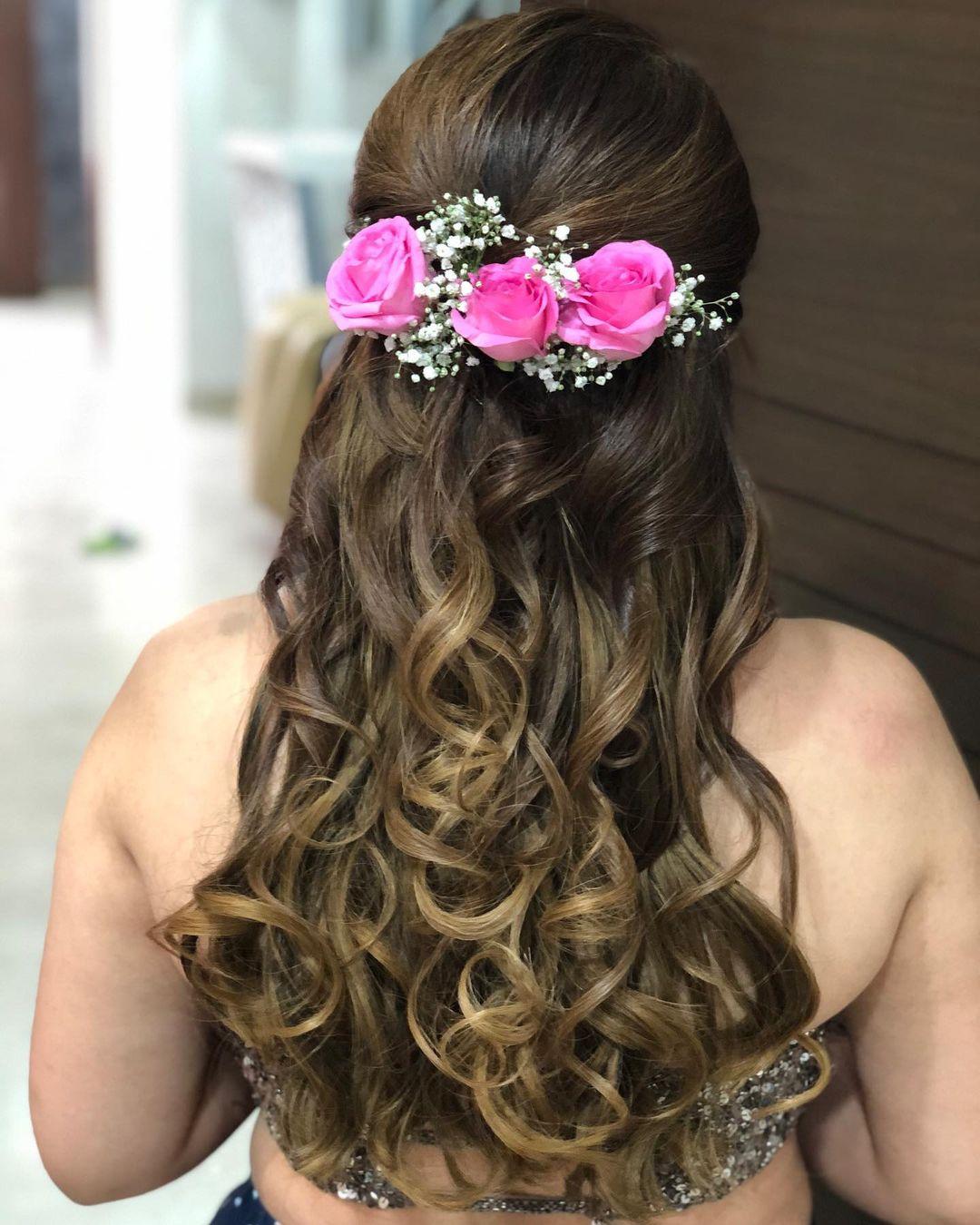 The charm of pink roses hits different when it's paired with loose curls! Nobody can ever go wrong with a hairstyle with accessories, and this open hairstyle is a perfect example of finesse. This half-tied open hairstyle is a win-win for your mehndi ceremony. Add these alluring flowers not only as your mehndi jewellery but your open hair accessory too.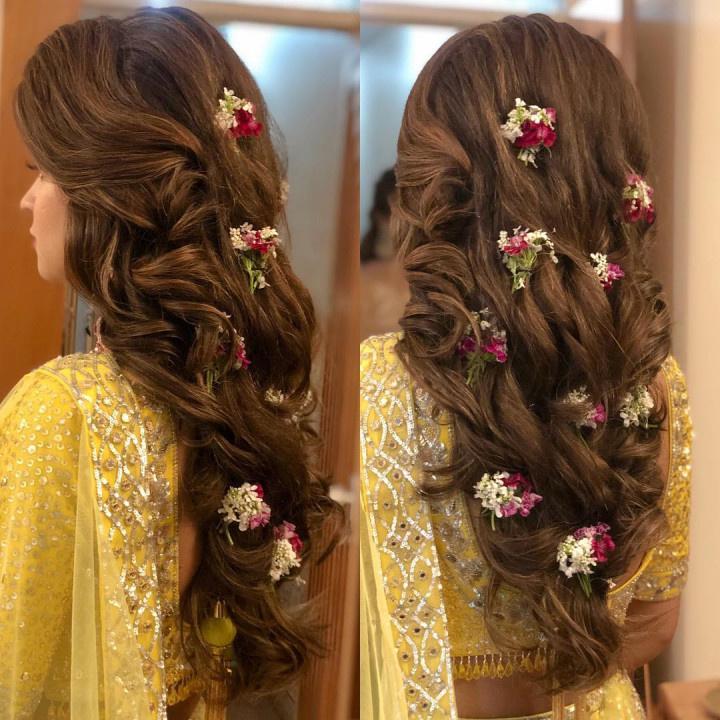 A little bit of teasing and a whole lot of curling can be prettified with the freestyle use of flowers. Pick colours that you love the most and experiment with various flowers available.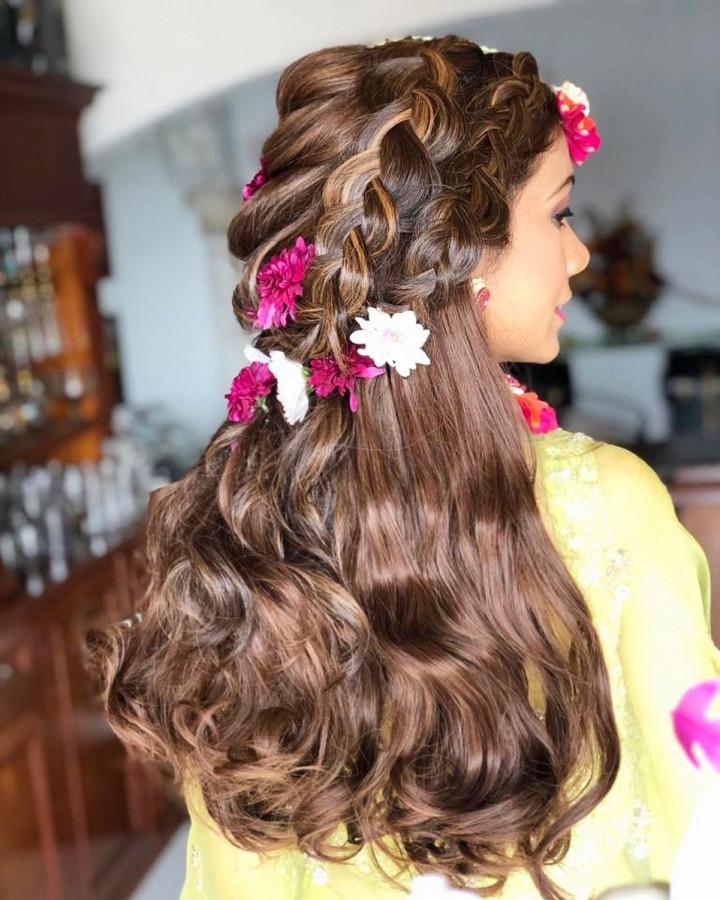 If you like big braids and big curls, we're sure you love big flowers too. Add multicoloured flowers not only as your Mehndi jewellery but as hair accessory too.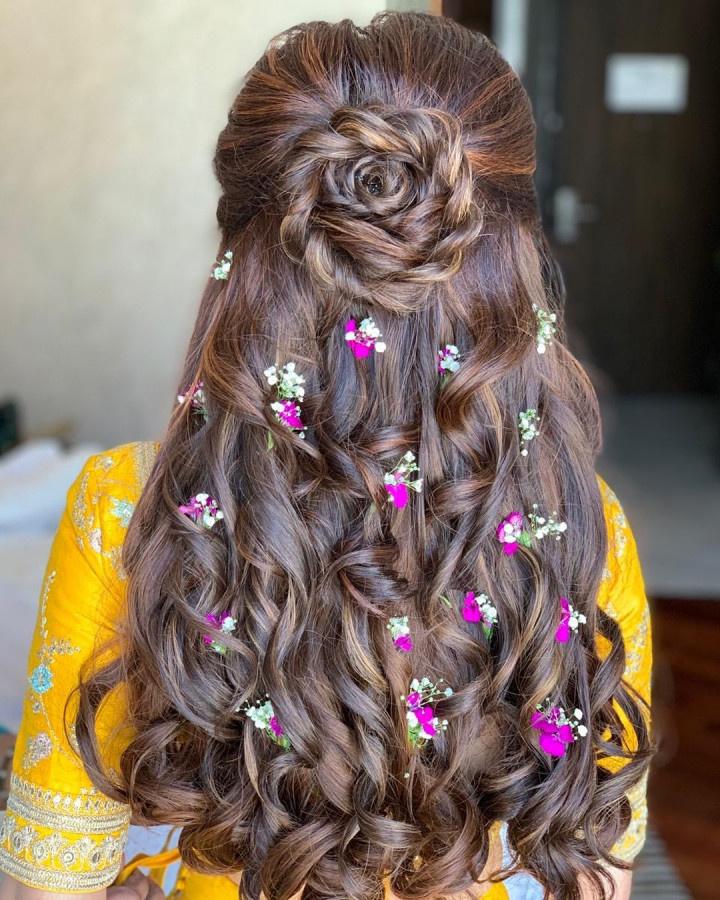 A tiny bun, braids and fresh curls look so beautiful with the addition of tiny flowers.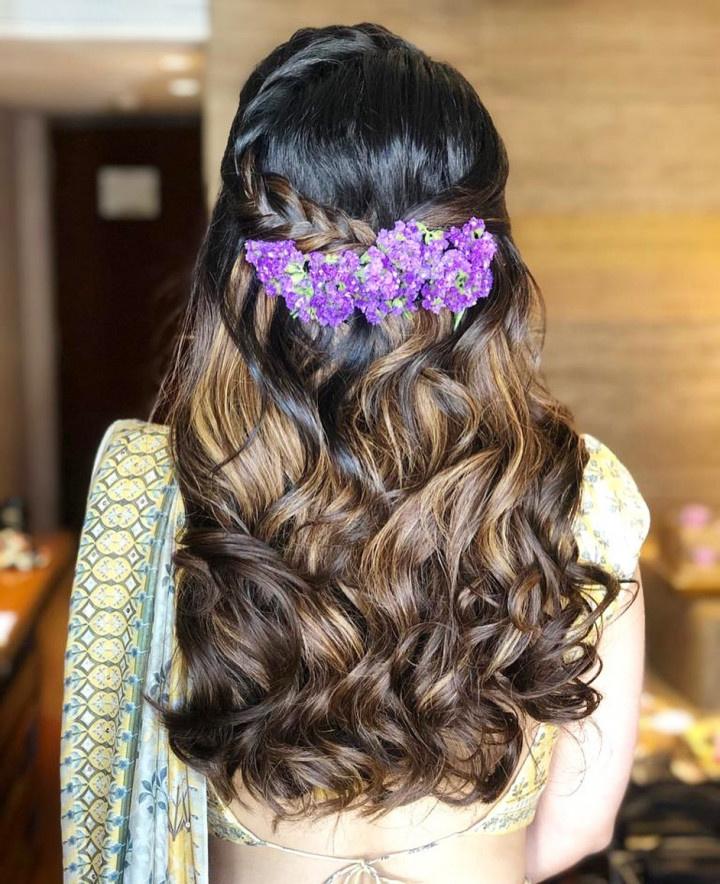 Braid your hair from the sides, clutch them at the back and increase their beauty with fresh flowers. Pick smaller flowers if your hair is short or thin and go big for voluminous locks.
3. Passa and Maang Tikka For Open Hairstyle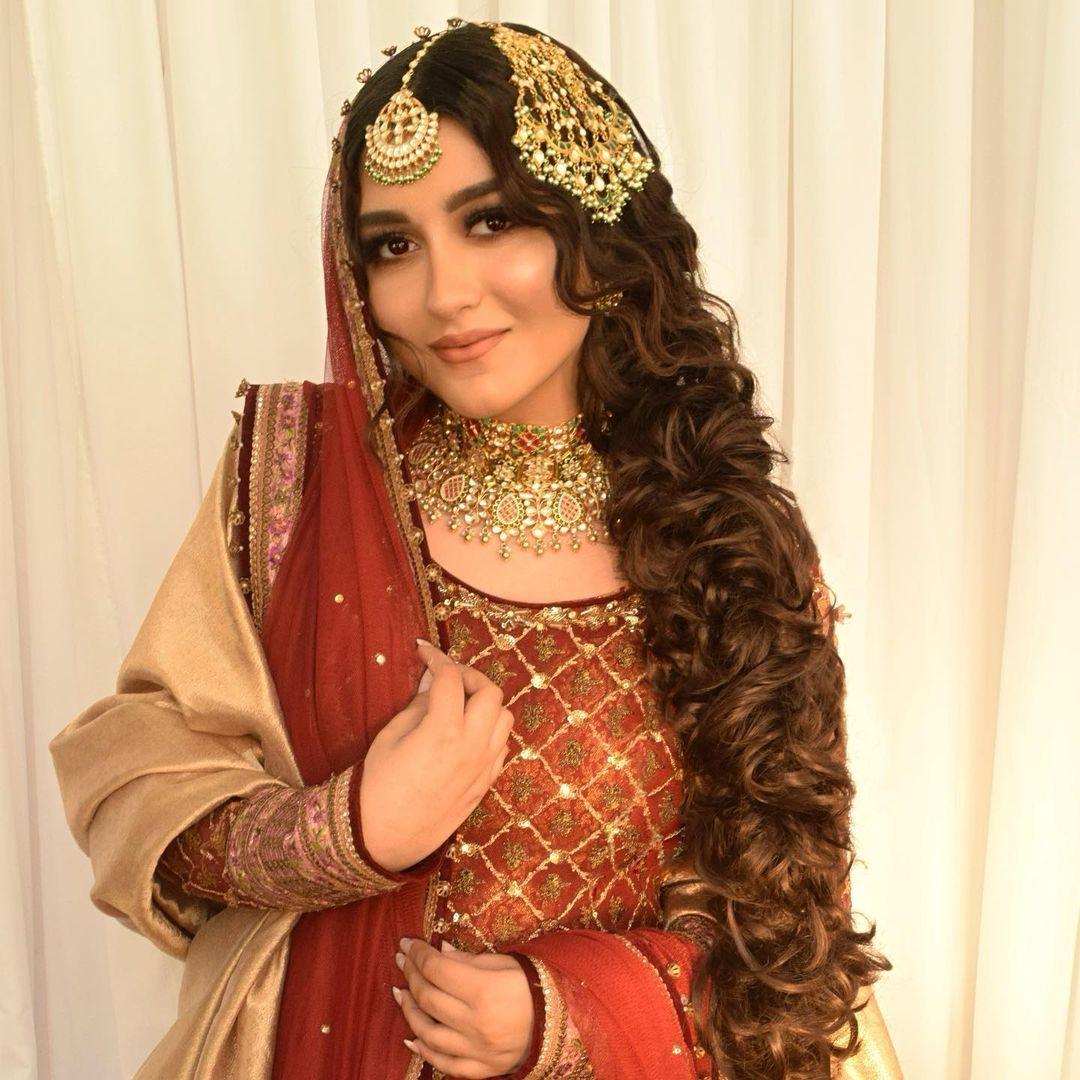 Image Courtesy: Aamir Naveed Hair
Do you know? The combination of Passa and Maang Tikka accentuates your face and hairstyle. This side Passa hairstyle tops up the wedding look with flamboyant vibes. To all the oh-so-modish brides planning to ace their bridal hairstyle, this open hairstyle is it! Heavy curls and gorgeous hair accessories are all you need to have that Begum feel.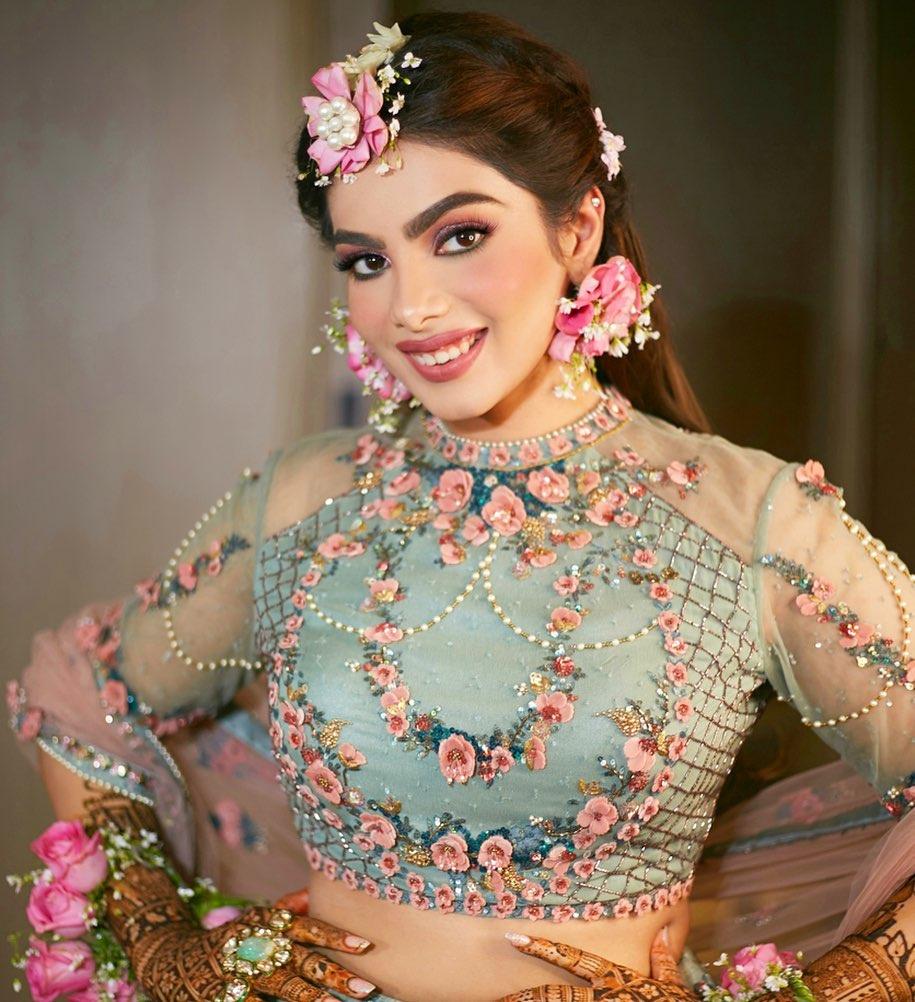 Image Courtesy: Amrit Kaur Artistry
Don't like many or too many flowers in your open hairstyle? A scented Maang Tikka will do wonders for your mehndi look. A Phool for a floral bride works well when adorned elegantly. Keep your mehndi look basic and classy while you opt for this beautiful open hairstyle. Maang tikka styles should always be trendy and easy to carry. This dainty hair accessory for open hair is good to go for your gleeful pre-wedding ceremonies.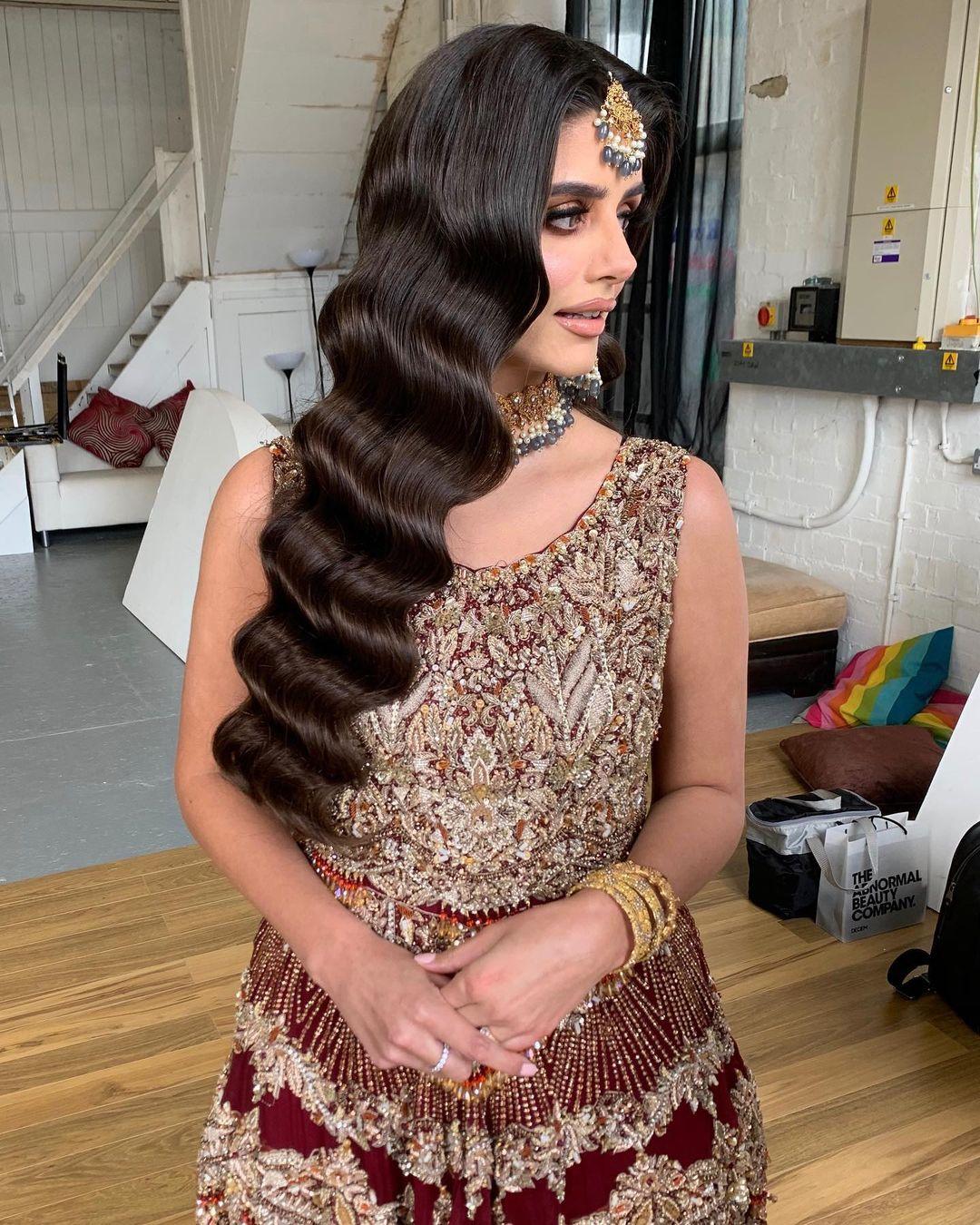 Image Courtesy: Aamir Naveed Hair
Hollywood waves and a marvellous Maang Tikka? What a stunning combination of open hairstyles! If you are that bride who loves to go with the flowing trend, this hairstyle will be your saviour. From well-partitioned hair to matching Maang Tikka, this type of open hairstyle is perfect for your sangeet and reception ceremony. Are you looking for Maang tikka open hairstyles? This new hairstyle image will complete your Haseena looks.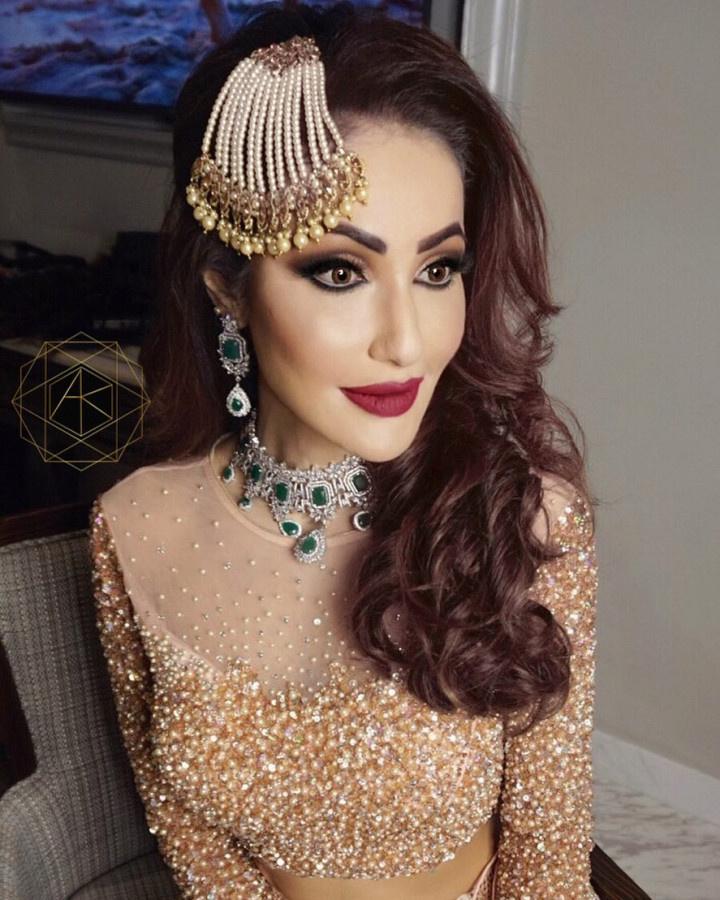 Brides wearing ethnic as well as Indo-western dresses are in love with a Passa. This bride put her hair to one side and adorned the other side with a huge Passa.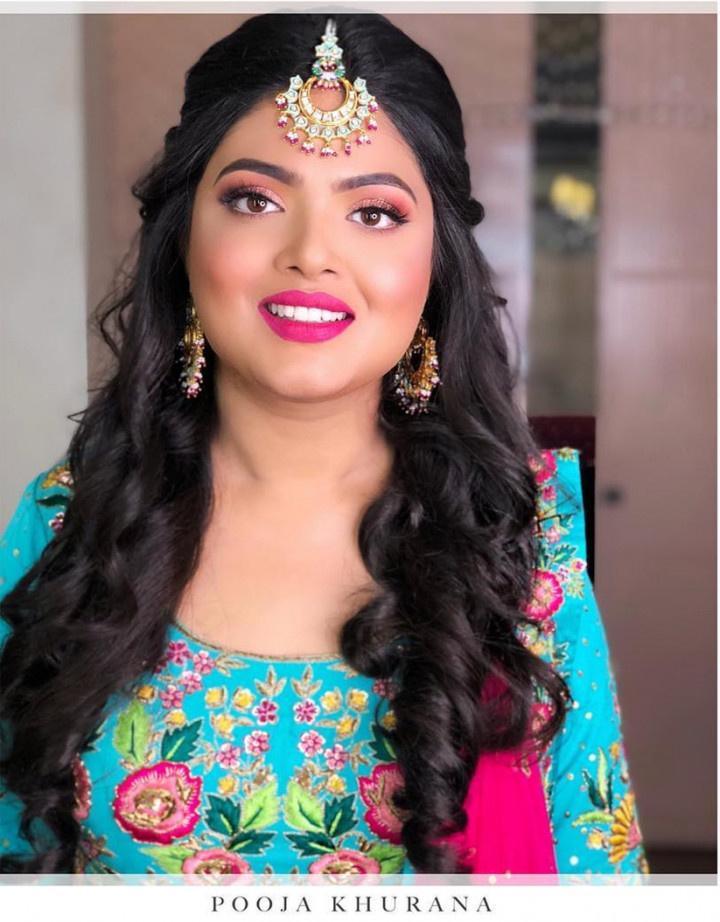 Voluminous curls, when pulled back and when paired with a traditional outfit and jewellery, can make any Indian bride look prettier. Here's how to rock a Maang Tikka with an open hairstyle with elan.
4. Hair Clips For Open Hairstyle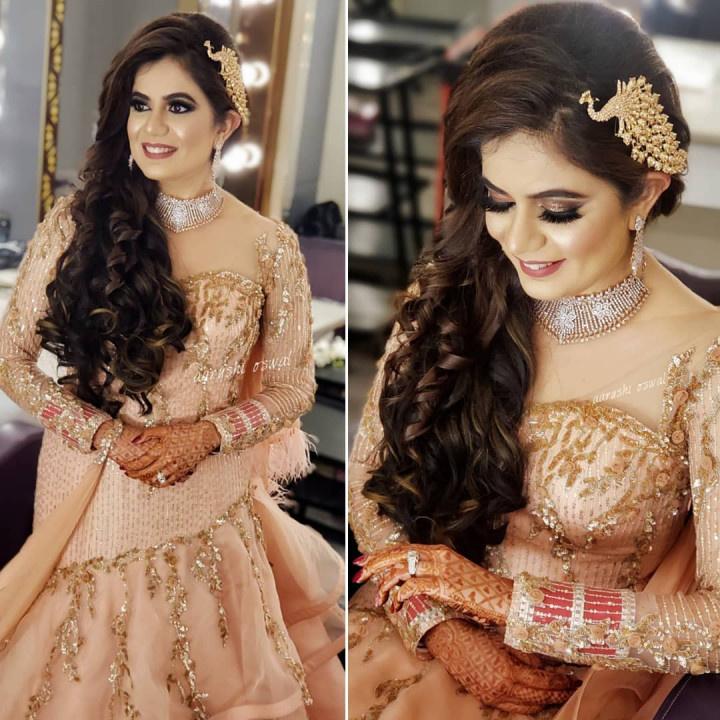 Don't be scared of glitz, glam and drama. Pick a stunning OTT outfit and complement it with a statement hair clip. This golden goddess chose a golden peacock.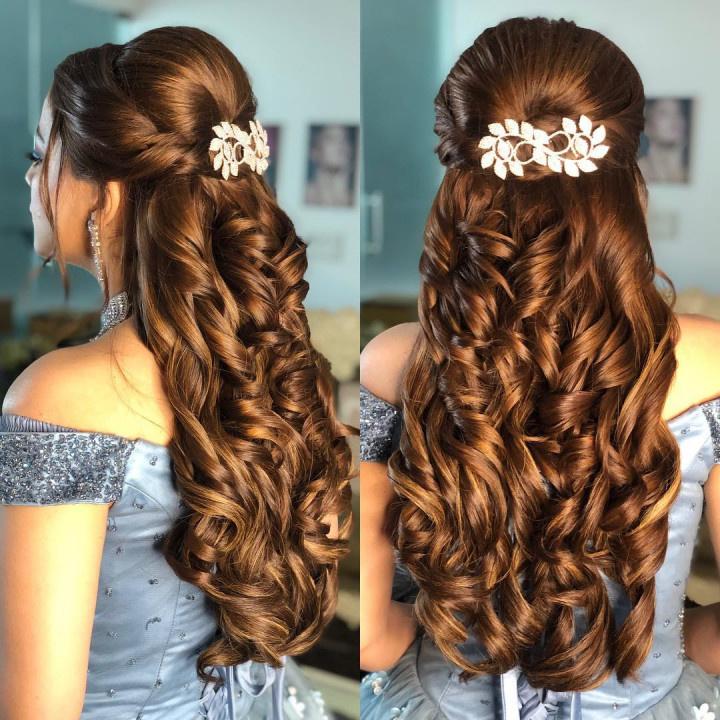 With heavy outfit and opulent jewellery, it's a great idea to keep hair accessory understated. This infinity style crystal hair clip is doing the trick here.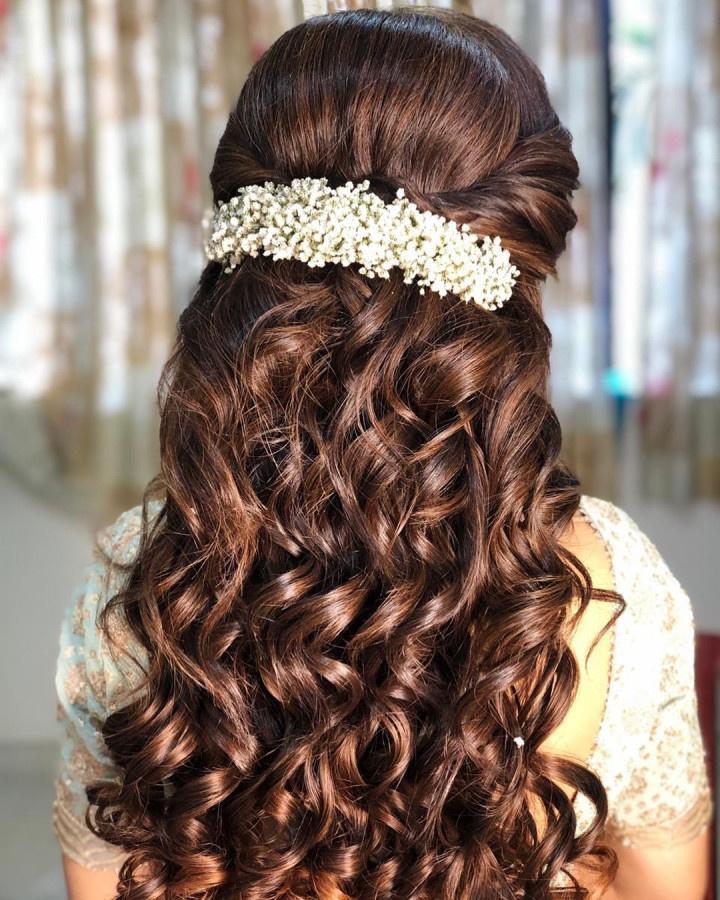 Keep your hair beautifully clutched at the back with a hair clip loaded with soft faux flowers. It's not only a style statement but functional too.
5. Hair Band Accessories For Open Hair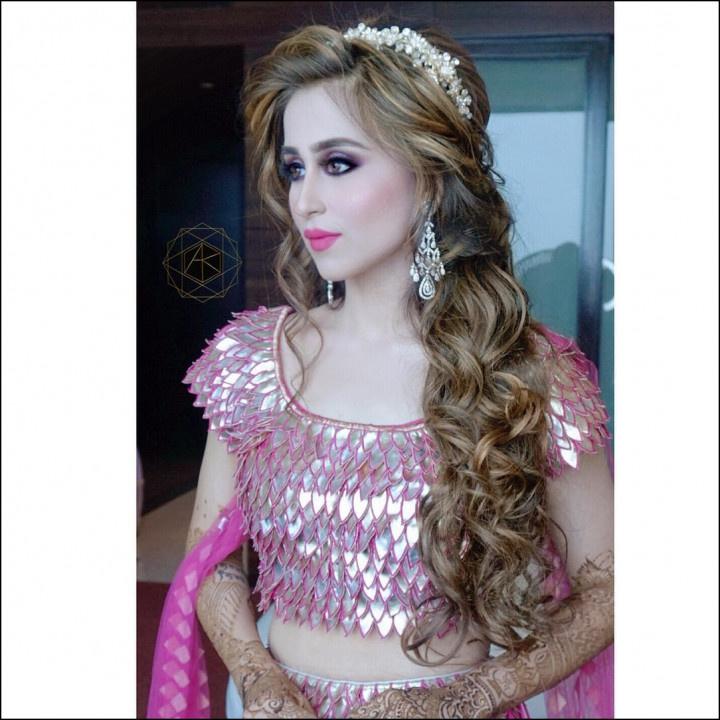 Side part your hair, pull your hair to one side and add an ornamental hairband to the crown for a princess-like look.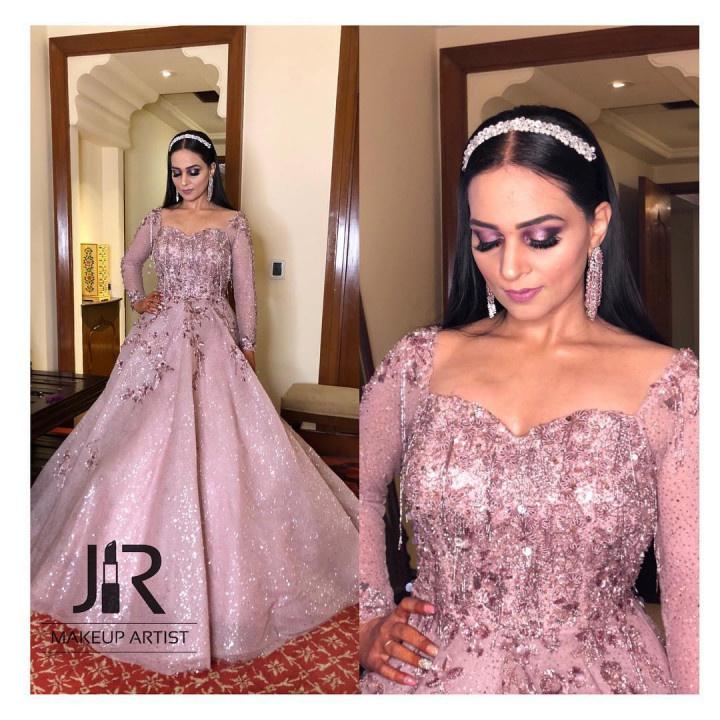 With an opulent dress, super sleek hair, middle parting and a gorgeous hairband, we're drooling over this open hair accessory and its styling.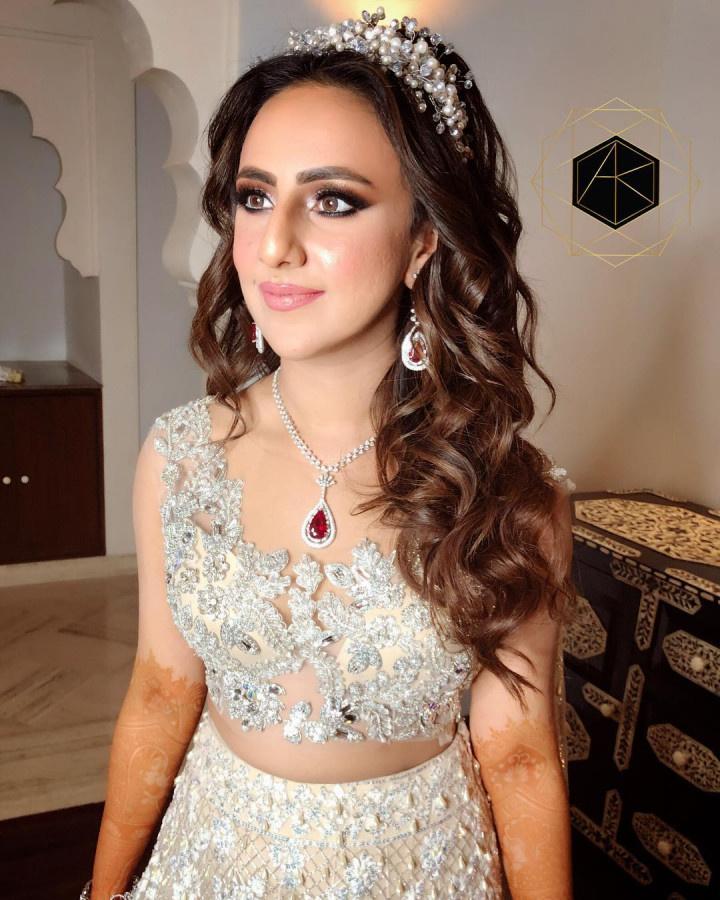 Pick a hairband that features a detail from your dress. This bride picked a pearl band that matches her dress.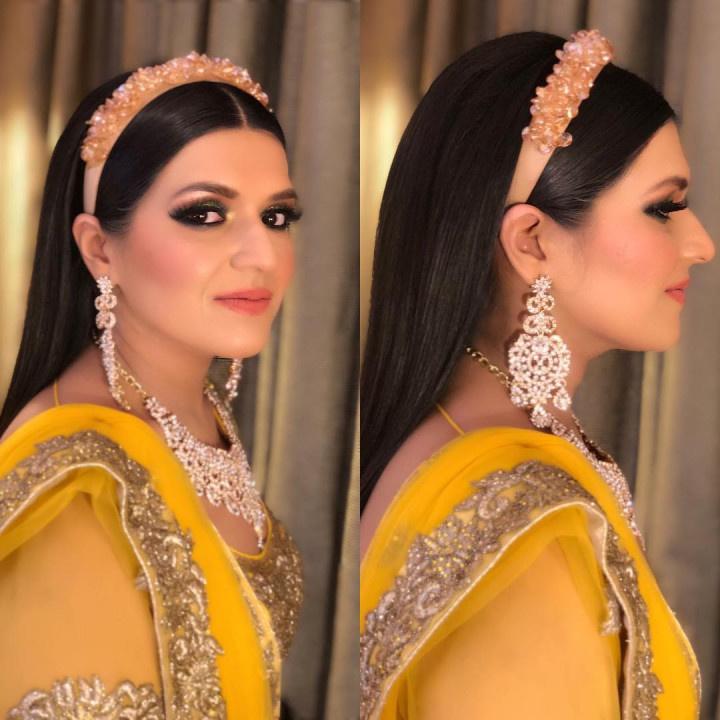 Contrasting hues are yet another way to too look absolutely lovely. Who else is digging this peach band with a yellow dress?
Break the norm by not going for the usual hairstyle and letting your hair down during your wedding functions. We're totally amazed at how just one accessory can elevate an open hairstyle so easily. Before finalising your hair accessory, keep your outfit, hairstyle and overall aesthetics in consideration. Traditional, boho, trendsetting, all types of brides can rely on these foolproof choices!
Would you pick an open hairstyle for your bridal look? Share in the comments!
With words by Shikha Sharma