6 Juda Hairstyle Video Tutorials for Wedding Functions
Learn to create salon-like hairstyles at home! These six Juda hairstyle video tutorials will teach you the art of making hairstyles effortlessly!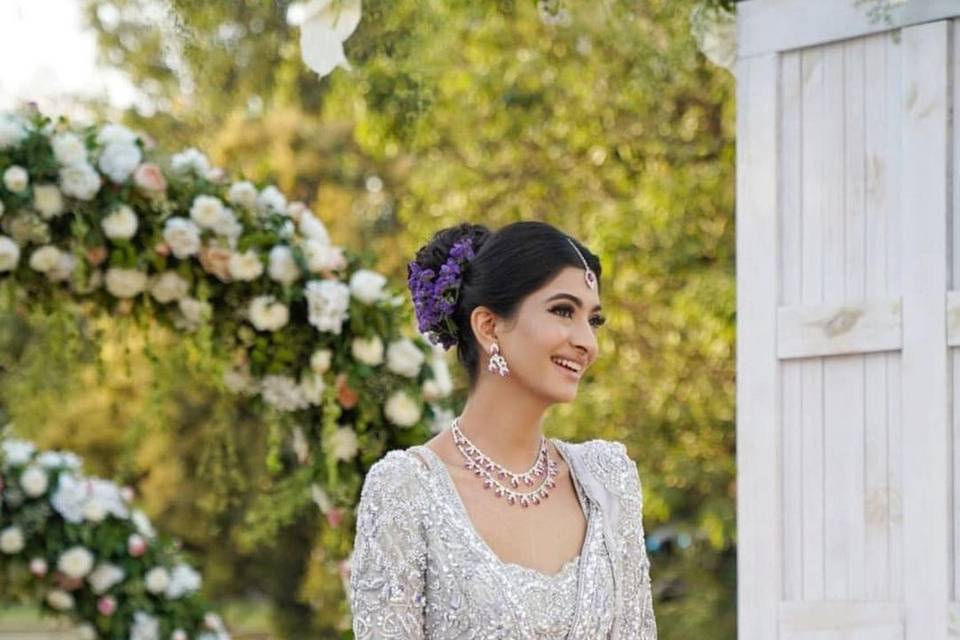 Weddings give us the best excuse to doll up but not just in the matter of outfits and bridal makeup. Hairstyling is a crucial factor as it helps pull your entire look together. Juda hairstyles exude elegance and timeless glamour in the most beautiful way and are known for their immense versatility. Regardless of the texture and length of your hair, you can pick a Juda hairstyle for yourself and match it with any wedding outfit.
Juda Hairstyle For Pre-Wedding Functions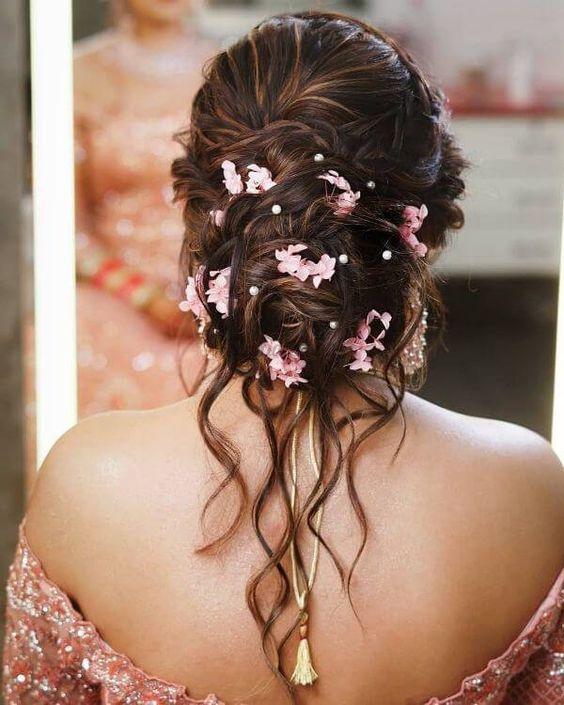 Image Credits - Pinterest
So, for all of you looking forward to creating an incredible and stunning Juda hairstyle or juda designs for an upcoming pre-wedding function, here are Juda hairstyle video tutorials. Check out these amazing juda design hairstyle ideas that suit Indian, Indo-western as well as western attires. If you desire to go for an elaborate hairstyle, try this easy-to-create bridal Juda.
Read More - Wedding Hairstyle Step by Step Guide for Bride & Bridesmaids
Classy Side Puffs - Juda hairstyle with flowers
Begin by sectioning your hair for new hairstyle juda and then make a puff for this new hairstyle juda. Then, make a ponytail on the sideways; tease your hair layer by layer and then pin it as shown in the video. Now repeat the same on the next side. Make sure that you have pinned it nicely. Now make a ponytail with the remaining hair in the center for this hair style juda. Now fold the back ponytail in two sections, further pin it Now stuff the remaining hair in braid form by parting it again and again. Repeat the pinning to let ladies juda in one stagnant position. You can opt for gajra hairstyles or flowers for the ultimate bridal look.
Braided Voluminous Jud hairstyle Video
The beauty of a Juda lies in how intricately it's created. For this Juda hairstyle for weddings and parties, you require long hair; if your hair is short, you can use hair extensions before getting started. Begin by creating a sleek ponytail and then braiding it well. Keep repeating this step until all the sections of your hair are covered. Now take the braid and start rotating in the clock wise direction. Further, rotate the braid one more time in the form of juda, Be careful while fixing the U-pins. Use as many pins to secure the ladies juda in place. Give bounce by straightening the hair as shown in the hairstyle video, Finally, secure with numerous Juda pins and add a hair accessory for a more glam look.
Read More - 8 Braid Hairstyles for Long Hair to Make the Perfect Bridal Look
French Roll Juda Hairstyle Video
Though french roll juda hairstyle designs look difficult but surprising anyone can create this elegant hairstyle with a little bit of practice. Yes, even girls with short or medium length hair. Begin by giving a little bit of natural texture to your hair to proffer it some body and boost its volume. Take a section at the back and secure it with pins. Then, take a section from the left side, twist it and secure it by placing the pins diagonally. Move towards the right section but leave a section in the front. Twist, roll and secure the right side around the already created bun. Now take the remaining section from the front, twist it, roll it and insert it into the bun. Finish up by adding a hair accessory on the side of the bun or juda hair style.
Juda design for wedding functions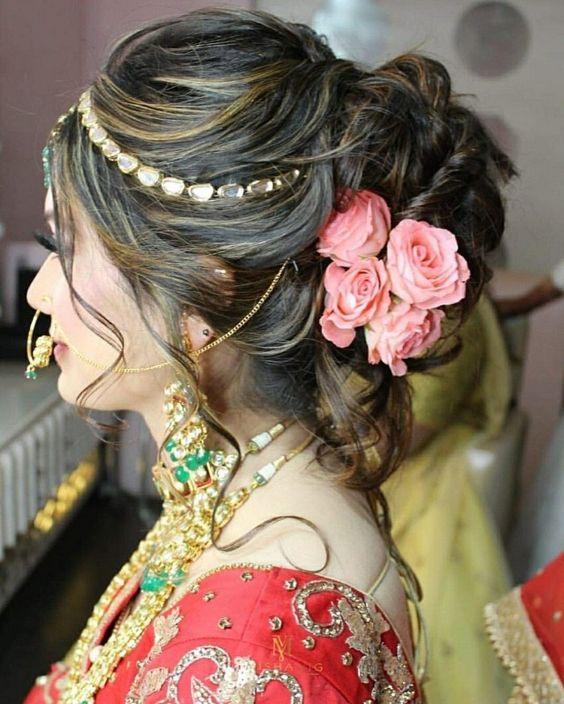 Image Credits - Pinterest
It will certainly get more gorgeous with these hairstyle videos for the contemporary brides. Yes, here are some easy ladies hair style videos for every girl who is ready to wrap in this ethnic Indian juda hairstyle designs Take a look at these hairstyle videos for some serious inspirations for insert face hairstyles.
Gajra Wedding Juda Hairstyle
Gajra Juda hairstyle is popular due to the traditional connotations attached to it. Firstly, make sure to comb your hair properly and then create a center parting. Now comb all the hair backwards from both the sides and then create a low ponytail. Use hair spray or serum to hide the baby hair. Now place your right hand below the ponytail and twist it - the way it is shown in the hairstyle video. Place the upper look while wrapping the juda wedding hairstyle. Do stretch it and pin it to create that perfect wedding jura hairstyle. Now wrap this artificial gajra on the bun. Isn't it easy?
Sleek Juda Hairstyle Video
The fusion of Juda and elegant sleep puff leads to some chic hairstyles and this Juda hairstyle video shows how! For this hairstyle, divide your hair into two sections: through a comb. Secure the front section with clips and do the same on the other side. Now wrap all the hair on the crown, further clip it well. Take a foam finishing hair spray and now spray the remaining hair at the back. Further, make a ponytail and take the top section and press it to get a smoothened look. Take small sections and spray and tease it with a teasing comb. Repeat the process. Now take this mesh and place it just to keep your hair in place. Now take a teasing comb and soften the hair. Give a twist and then pin it under the crown and bottom of the section. Now wrap the pin around the ponytail. Again place the mesh to give that push. Then again take the hairspray. Now wrap a small section and pin it, now push that from the below. Repeat this entirely. Don't worry if the final outcome is not too polished - just spray it and try these straightening hacks as shown in the hairstyle video.
5-minute Juda Hairstyle Video
Divide your hair into multiple sections, depending on the volume of your hair and portion out each section with a clip. Now, take each section and curl it with a flat iron to form flirty and bouncy curls. Take a section of hair at the back and secure it by putting pins horizontally. Gently pull this section up to give it a voluminous or puffed up look with the roll hairstyle or hair juda
Take two sections from the right side at the back, twist them around each other and insert them into the pins. Repeat the same step on the left side and then keep on repeating until all the hair sections at the back are twisted and secured together.
Now, take the front sections and repeat until a messy bun is formed. Carefully take a tail comb and tease the areas where you desire more volume. These six gorgeous Juda hairstyles or hair judas are apt for all the ladies who desire to add beauty to their already gorgeous hair.
Apart from gelling well with various types of dresses, these hairstyles suit all face shapes too. The above step-by-step Juda hairstyle video tutorials are beginner-friendly but still look so detailed that you'd never require a hairstylist again. You can simply do it yourself with these juda videos.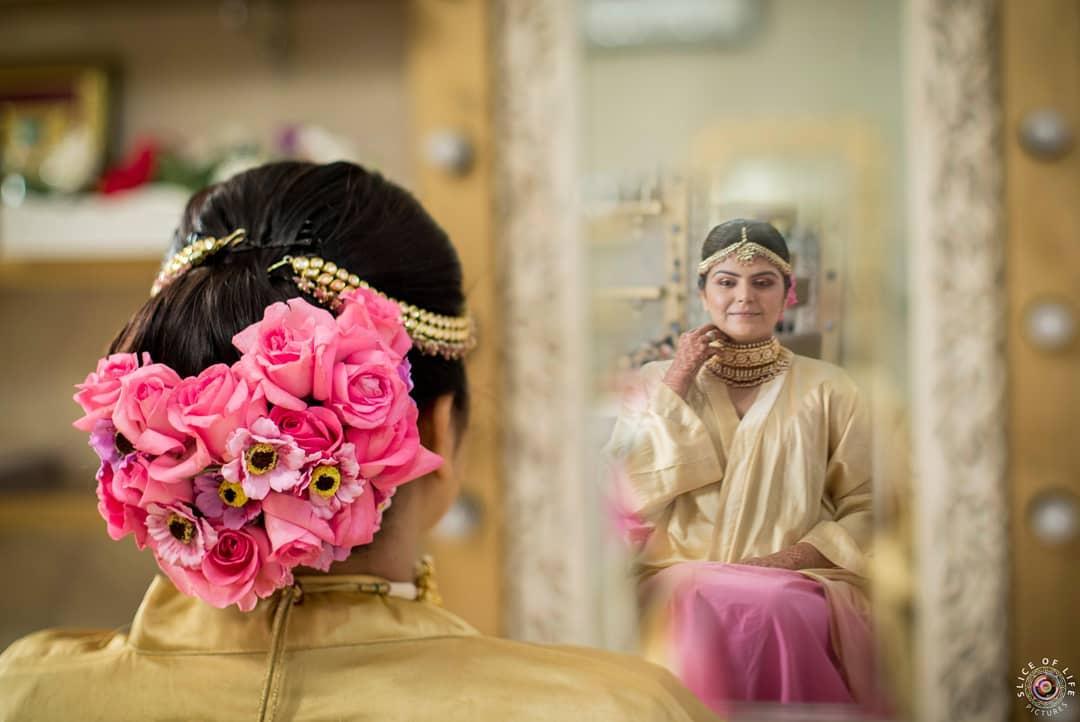 While your hairstylists turn your hair buns into the talk of the town, you can get in touch with professional makeup artists to complete the look for the big day. Also, let us your favourite Juda hairstyle video?
With words by Shikha Sharma