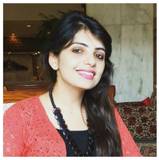 Meha Khera
Senior Associate, Editorial
Words are a sweet escape for Meha - as she is always brimming with effervescent Ideas that need to be poured out on a piece of paper. Keeping abreast with what's happening with this ever-evolving industry, she has utilised her knowledge and skills amid various creative lanes from the last 7 + years. Her forte lies in developing content for celeb weddings, wedding fashion, home decor and offbeat fashion taste.
Experience
Meha Khera is an astute communication professional with a rich experience in the realm of words and creativity. She has worked with brands like Genpact, JWT, Wedding Affair and Fujifilm India. When not multitasking in her professional space and planning the next big leap, she is appreciating the beauty of Indian Weddings and the last conversation she had with a beautiful stranger in a wedding. Rest, food in a wedding gives her food for thought and then she is all ready to bookmark them in her personal journal for all the inspirations! She is a dedicated and determined professional who has developed skills as an Editorial Professional - prompt writer, creative blogger, copywriter, transcriber, social media strategist and independent researcher with a unique writing style to offer for all communication requirements. Above all, she considers herself as a warrior who refuses to Give Up!
WeddingWire Q/A with Meha Khera
What is your Dream Wedding Style/Theme
A place where everything is dreamy, and white.
Bucket List Dream Destinations?
It would be some breathtaking places whose magic is hard to sum up into words. Yes, it can be a relaxing holiday, an epic adventure, or a place filled with history lessons. For instance- Paris, Kashmir, Italy and Turkey.
Who is your Dream Designer?
Manish Malhotra
About your Favorite Celebrity Wedding Look -
Anushka Sharma - I was smitten by the pastel palette used in her wedding lehenga.
Articles published by Meha Khera