20+ Unique Payal Designs To Complete Your Bridal Ensemble
If you're looking for an accessory that sets you apart from other brides, why not have a look at the different payal designs out there?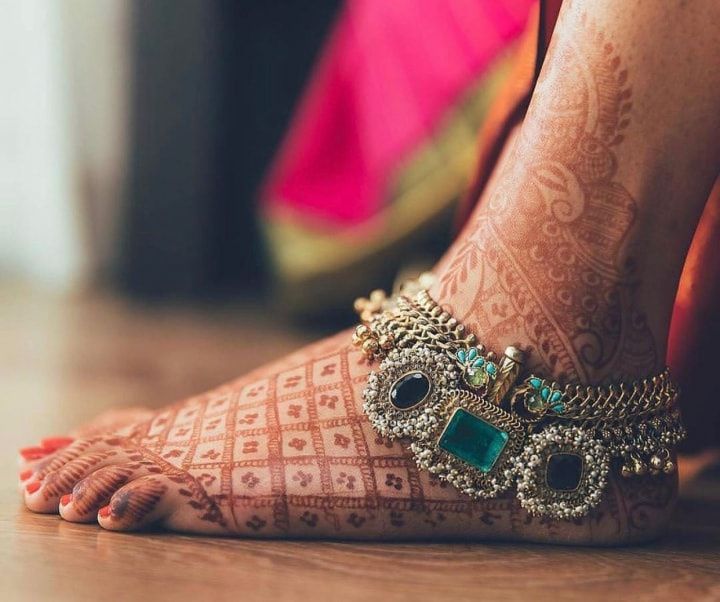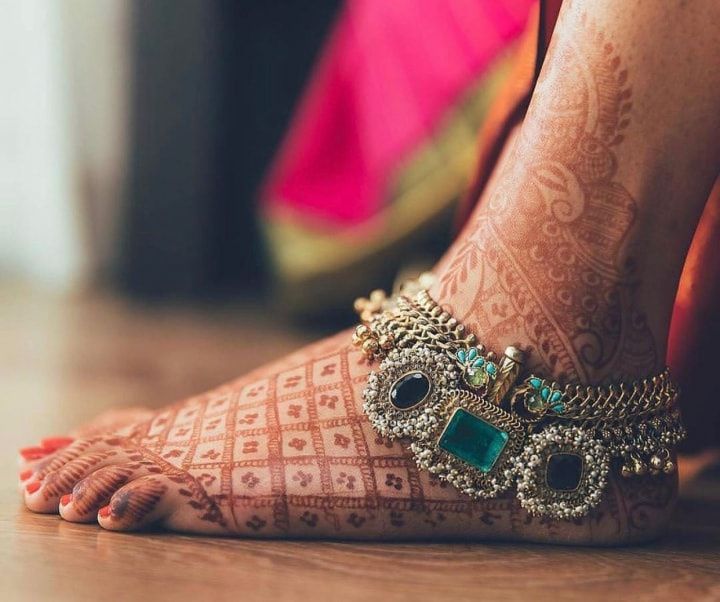 Image Courtesy: Vinay Goyal Photography
Payals are unique accessories in Indian culture because they are known more for their sounds rather than the way they look. Of course, this does not stop people from seeking out intricately crafted Payal designs for their wedding! And why should it? Like any other accessory, these payal designs reflect your tastes and personality. Thus, they should be chosen with care.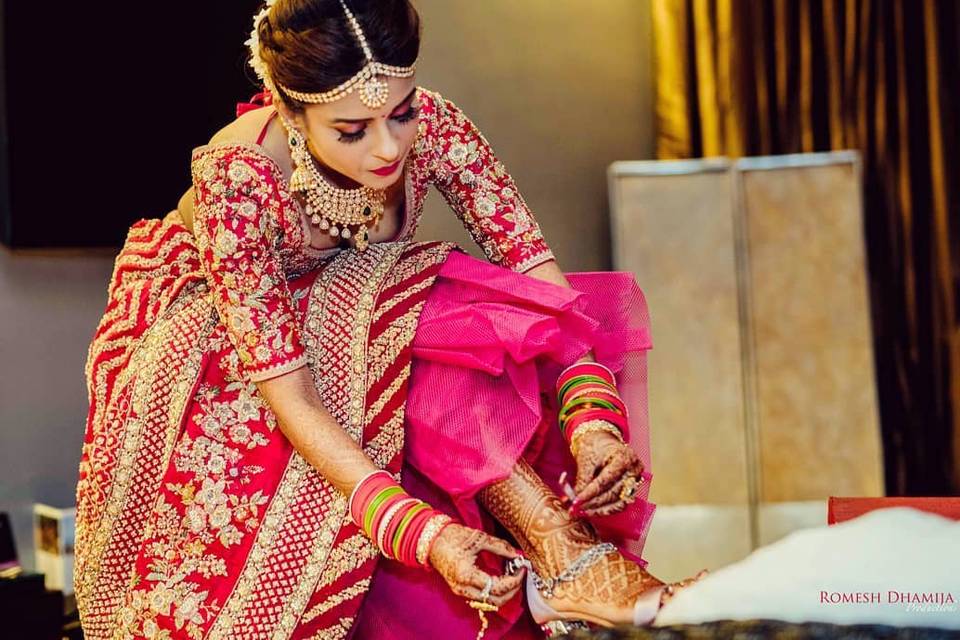 Image Credits - Romesh Dhamija
The payal designs you choose will either enhance your bridal ensemble or create a jarring effect if chosen haphazardly. We will show you how to do the former and avoid the latter!

Modern Payal Designs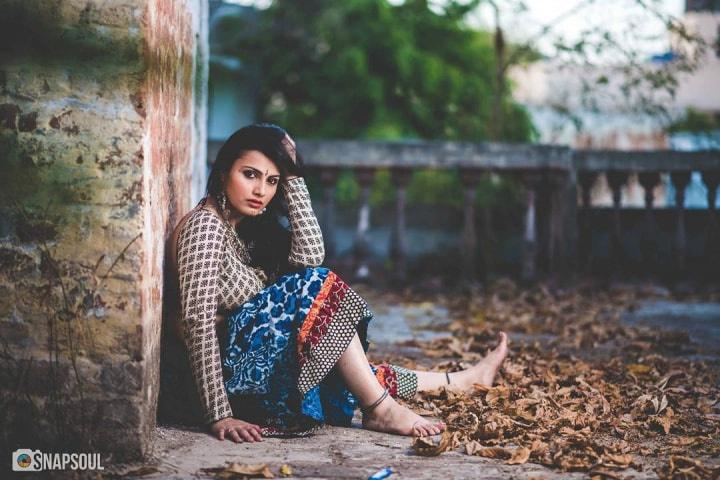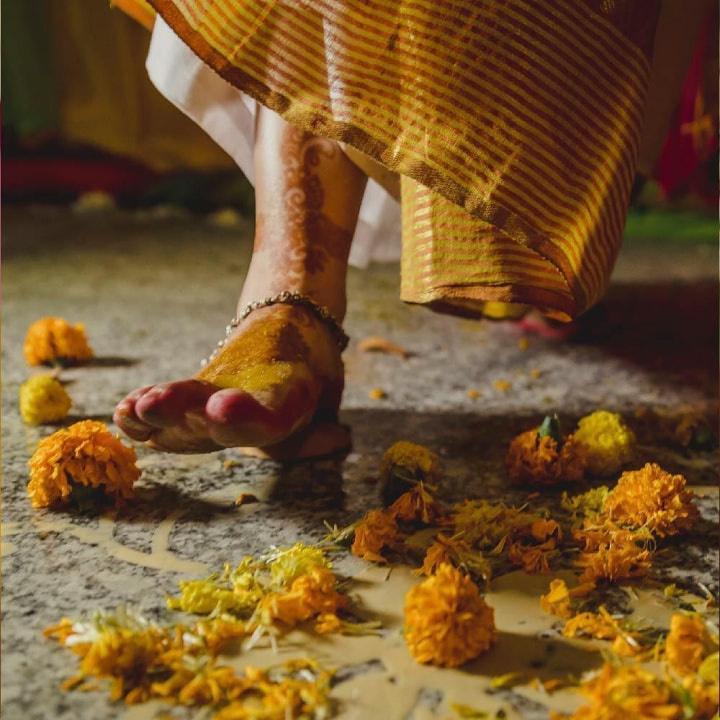 Traditionally, payals were worn by married women to symbolize their status. There are many different Payal designs for the modern bride to explore. Some of these include the following. Now, however, these anklets are worn as accessories when wearing Indian attire. Interestingly, payals are not just a part of Indian culture but were also extensively used in Ancient Egypt and Arab countries. They were worn by women to symbolize their wealth.
Heavy Payal Designs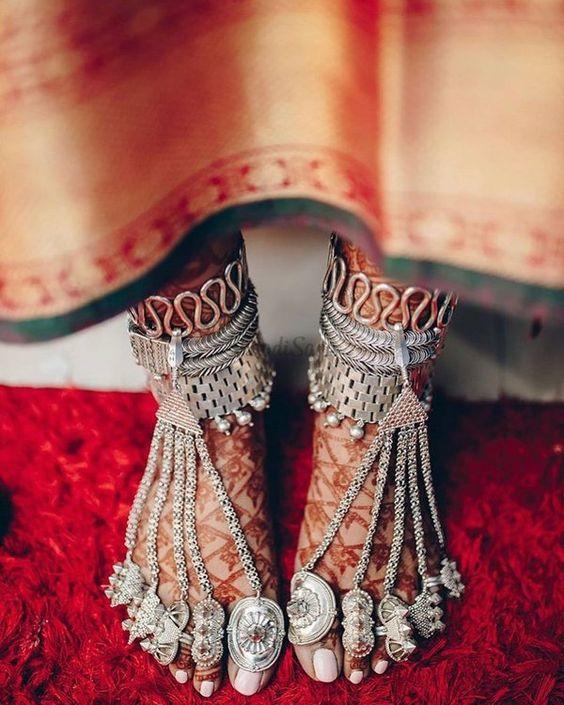 Payals can be considered a variation of Ghungroos – heavy anklets worn by dancers adorned with huge bells. As these anklets were not appropriate for daily wear, payals were crafted as an alternative jewelry item.
Pearl Payal Designs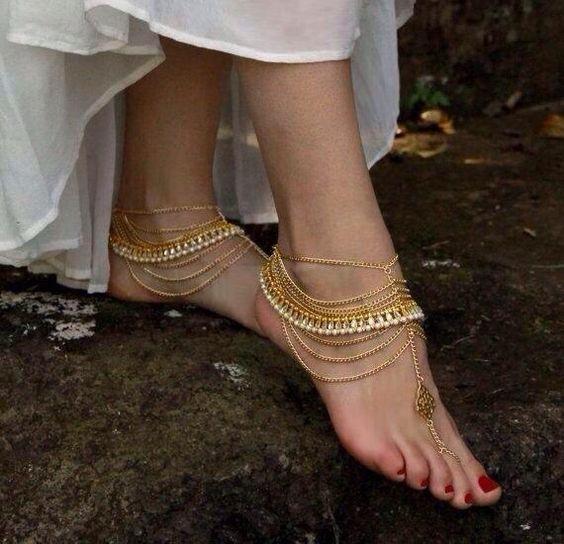 Image Credits - Payal Designs
If you are planning to wear pastel-colored clothing during any wedding function, then you should certainly consider wearing Meenakari or pearl payals along with it.
Oxidized silver designs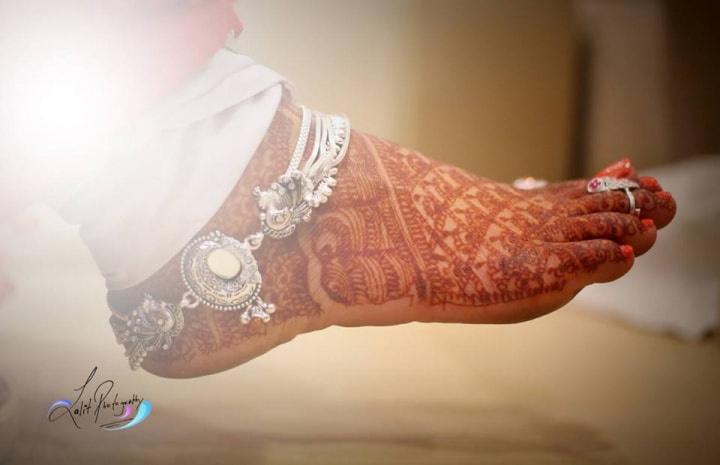 Image Courtesy: Lalit Photography
Oxidized silver is a very popular form of jewelry, especially amongst younger women. This is because they have a 'gypsy' vibe and can create an interesting effect when coupled with western attire. Oxidized silver payals are ideal for lighter ceremonies during your wedding, as they have an informal air. Consider wearing them during Dholki nights because you'll be dancing quite a bit! You can also wear them during informal family lunches that may take place during your wedding week.
Minkari Payal Designs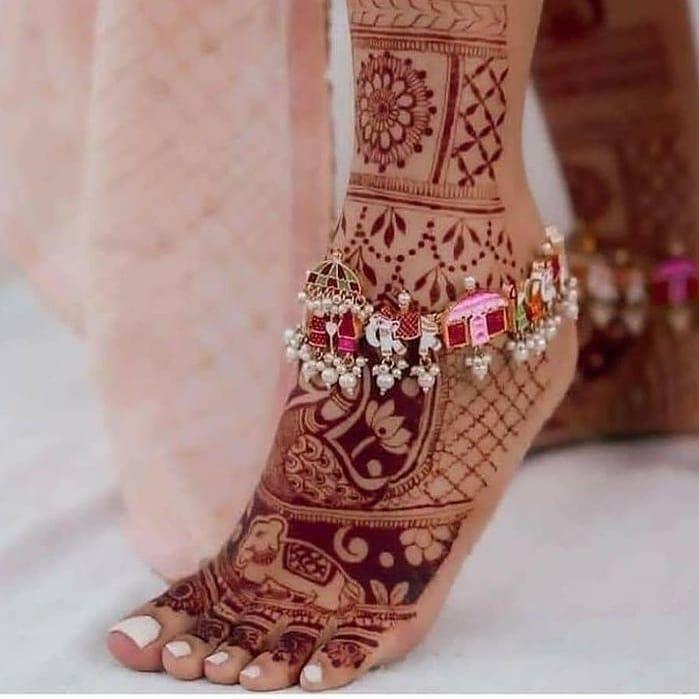 Image Credits - Pinterest
That's not to say that it does not exude a luxurious vibe! Meenakari payal designs are often delicate, with reds, blues, greens, and pinks being the most commonly used hues.
Layered Payal Designs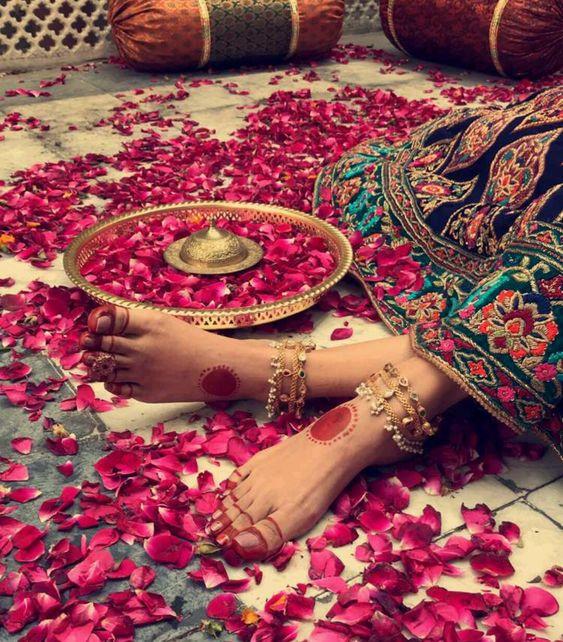 Image Credits - Pinterest
Layering the stips one after another is a good idea for modern brides. This is a great look to sport on your wedding day. You can also wear something similar during your reception.
Heavy Gold Payal Designs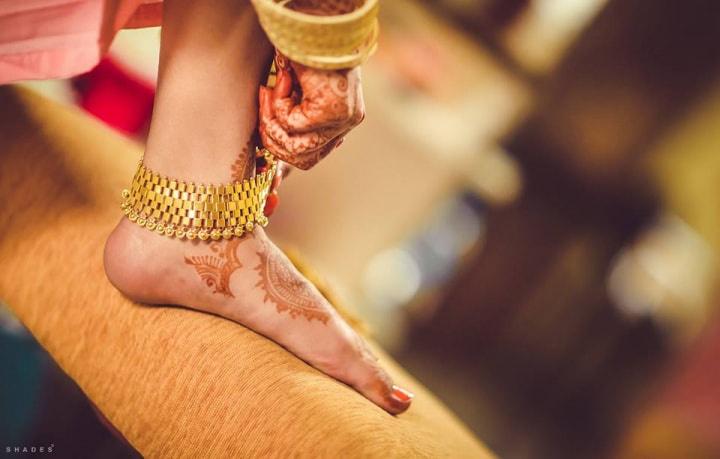 Image Courtesy: Shades Photography by Ashwin M
Intricate gold jewelry is a favorite amongst many brides who love that luxe look. This style of jewelry is also quite popular at South Indian weddings. Pairing a heavy gold Payal with a Kanjivaram silk saree can look stunning.
Kundan Payal Designs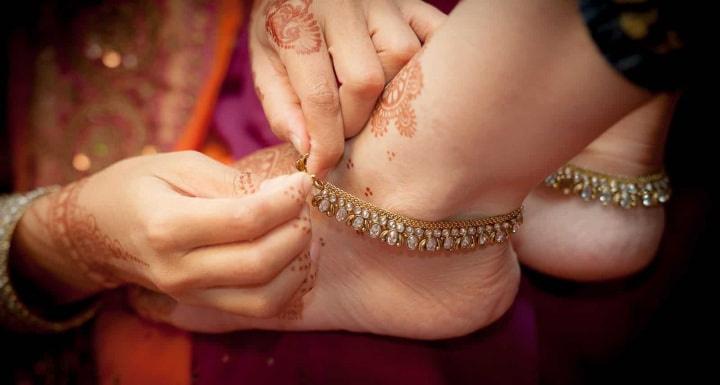 Kundan is one of the most popular styles of traditional Indian jewelry. This style uses raised gold molds to place uncut diamonds and other gems. As a result, both, the gems and the element of gold end up popping. If you are planning to wear a Kundan set during your wedding, you should hunt for matching Kundan payal designs to create a cohesive look. This type of jewelry looks stunning with intricate lehengas, making it ideal for your wedding day or Sangeet.
Peacock Payal Designs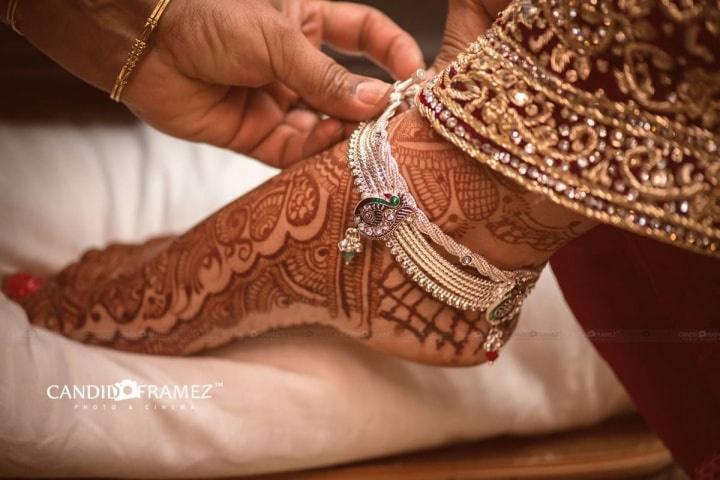 If you want traditional Indian jewelry that exudes a flirty, playful vibe, then peacock jewelry is ideal for you. With intricate enamel work raised around colorful gems, this style of jewelry is girlish and fun.
Diamond Payal Designs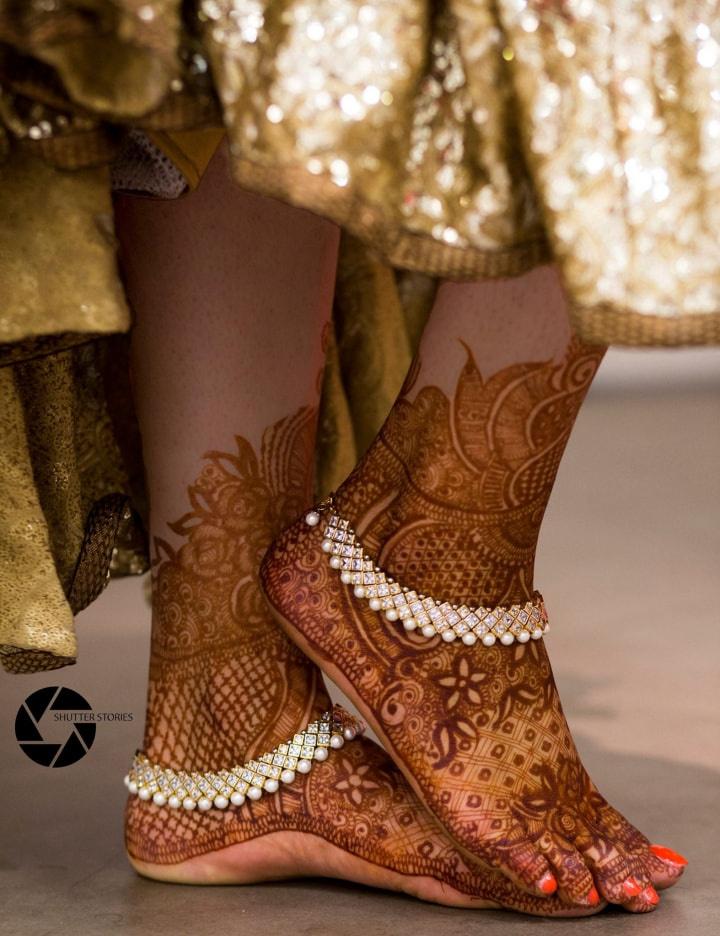 Nothing says luxury and wealth like diamonds do. These jewels can blend in perfectly with almost any type of ensemble. Wearing diamond payals can lend an understated elegance to your entire look, making this accessory perfect for any night event that's sticking to a regal theme.
Gold Payal Designs
You may notice that a certain piece of jewelry may look stunning on a friend, and just about average on someone else. This generally happens because the jewelry may not be appropriate for one's skin tone. If your undertones are warm (your veins appear green), warm, gold-toned jewelry and clothing are ideal for you. On the other hand, if your undertones are cool (your veins appear blue), then cool, silver-toned jewelry and clothing are ideal for you. If you pick your payal designs to match your undertones, you can never go wrong!
Floral Payal Designs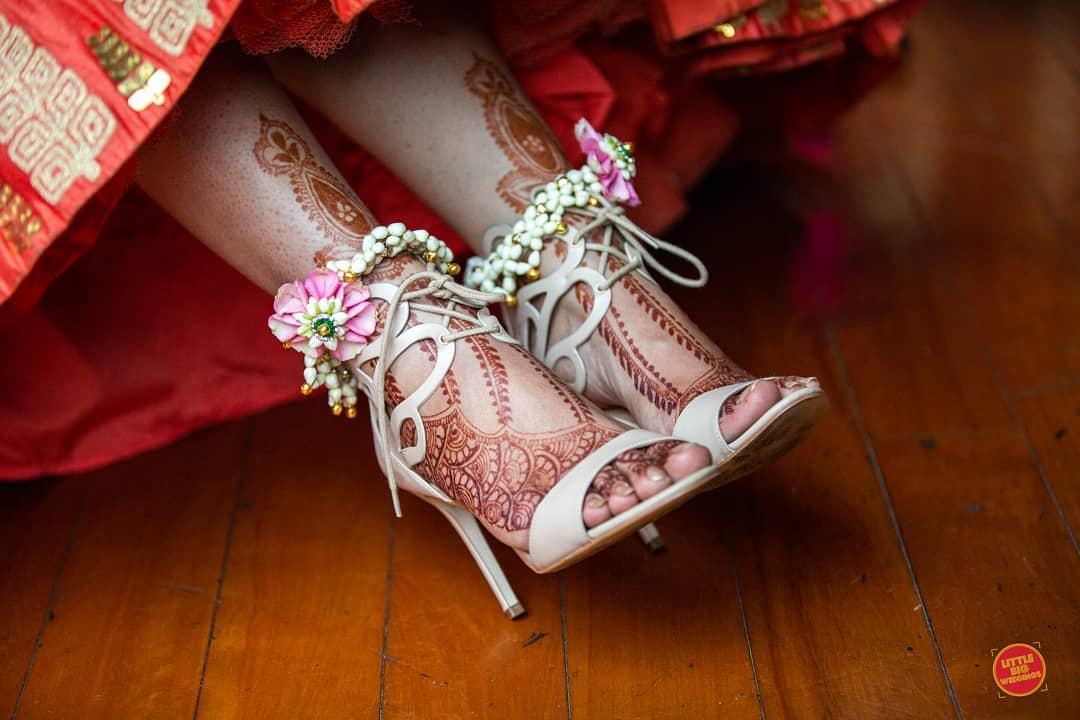 A new addition to the fancy Payal designs we see these days, the floral Payal can be made up of different flowers, such as marigolds, tulips, roses, lilies, and more. Created just like a payal, they are flower jewelry for your feet and look unique once you wear them. Of course, you need to take care that you don't end up breaking this fancy payal while walking down the aisle or on the mandap.
Pearl Payal Designs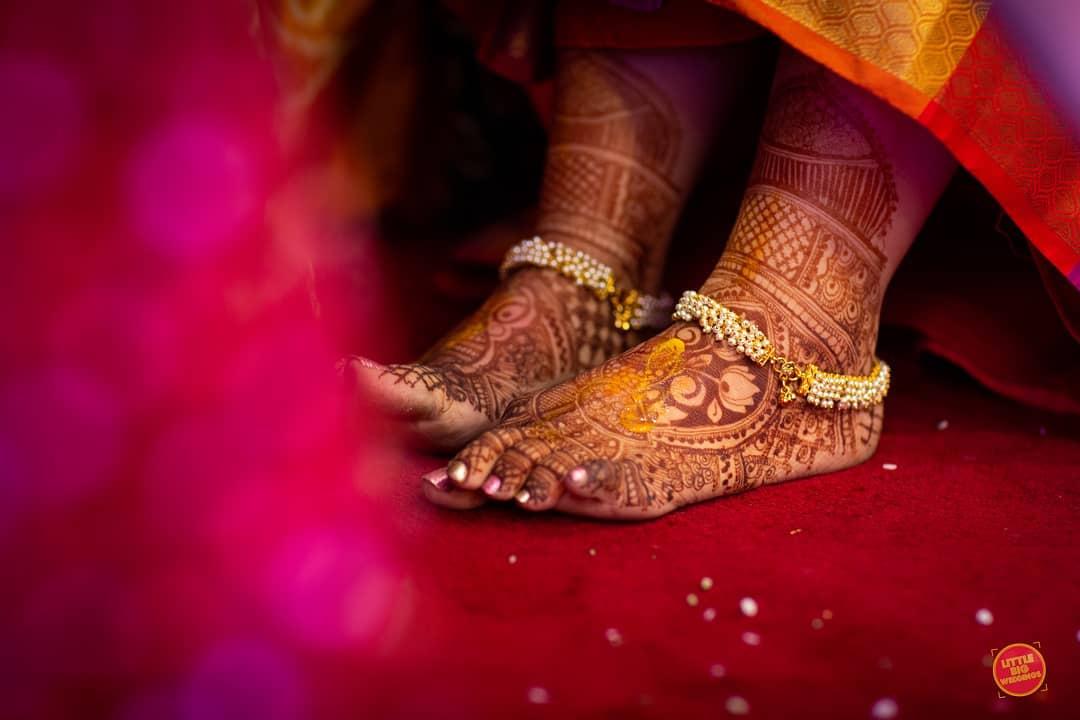 A Hyderabadi jewelry style, this Payal is decked with beautiful and shiny pearls. This is one of the many fancy Payal designs that are loved by women throughout the country.
Silver Ghungroo Payal Designs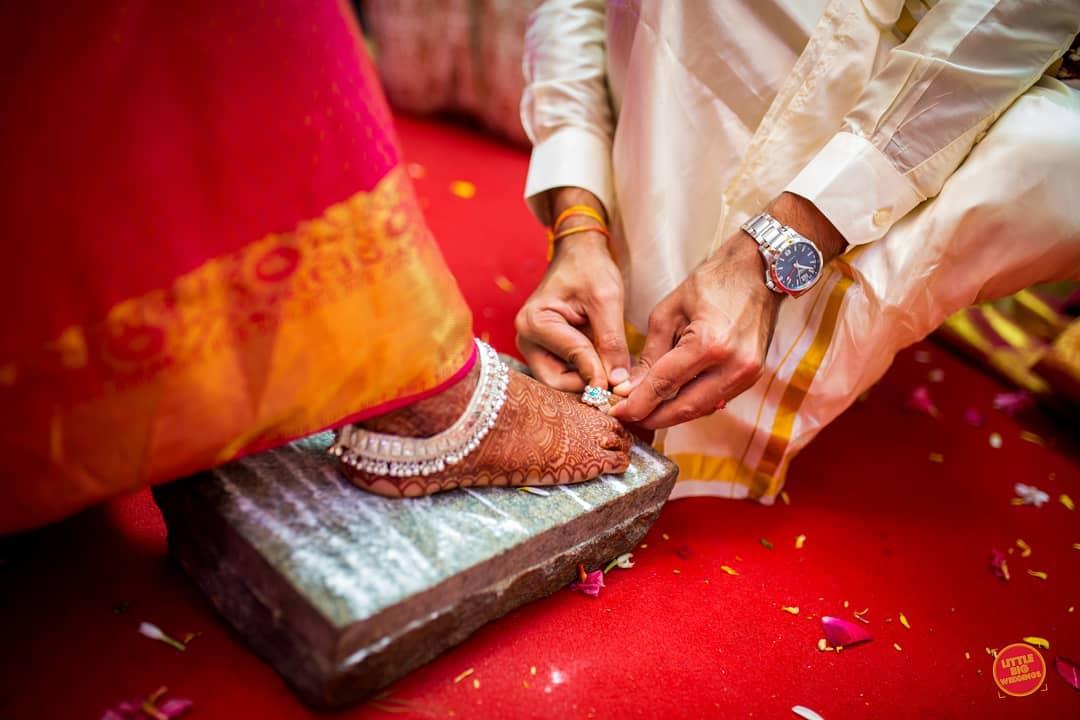 Shining bright and beautiful, this fancy silver Ghungroo payal looks gorgeous on this bride's feet. Made up of pure silver, it has Ghungroos embellished on it which makes it even more beautiful. Another South Indian trend, it's being claimed by the North Indian brides as well. This is one of the most gorgeous fancy payal designs that we've ever seen!
Kundan Pearl Payal Designs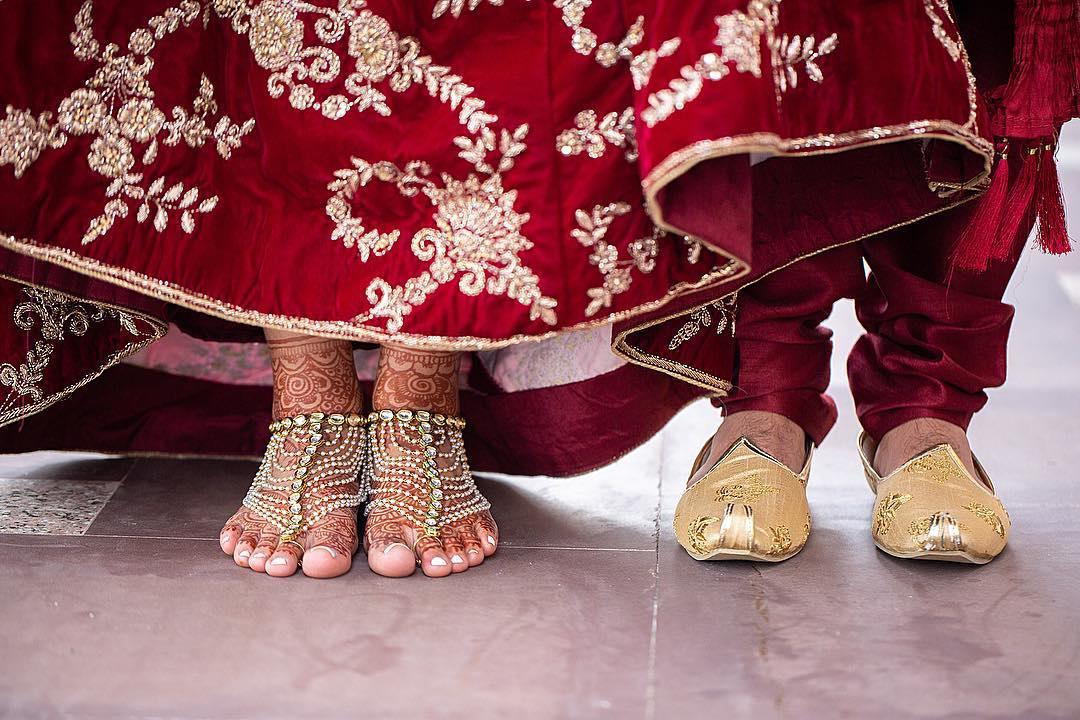 Image Courtesy: Sachi Anand Photography
Made up of uncut diamonds and small Basra pearls, this Kundan and pearl Payal is the fanciest of all. Covering up almost half of the bride's feet, they look imperial and royal in their design. A must for every bride's jewelry trousseau, this is a stunning fancy Payal that will make you look great. With such a heavy look, there's no way this couldn't be a part of our fancy Payal designs list.
Antique Ghungroo Payal Designs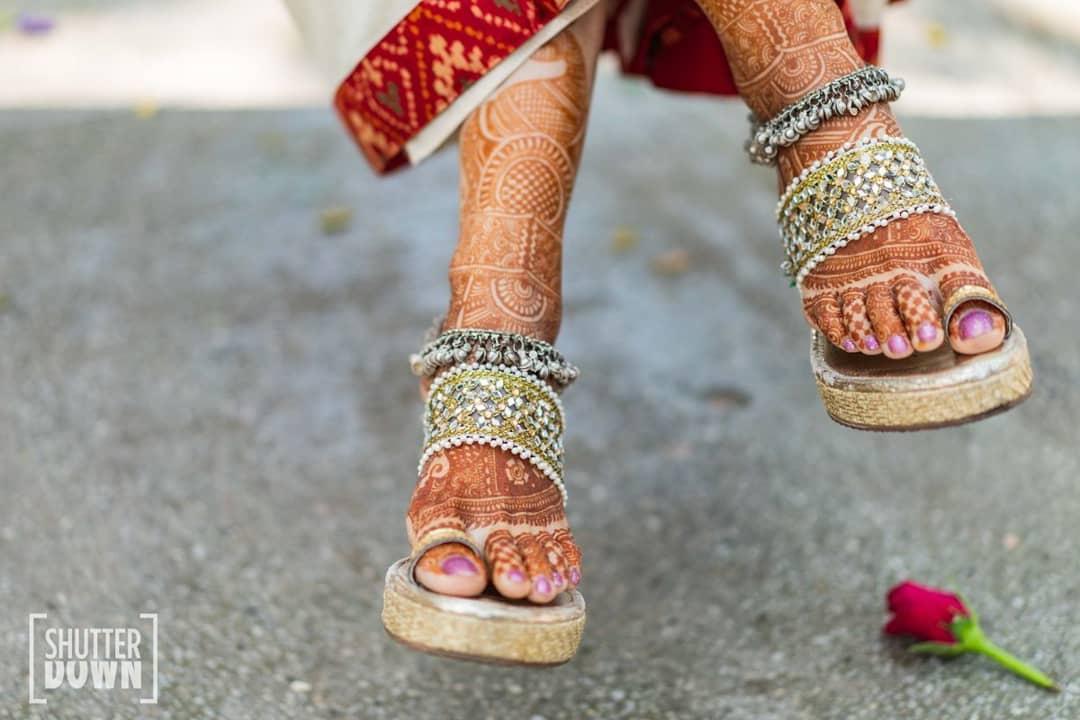 Filled up with Ghungroos, this fancy Payal is made up of unpolished silver. With only Ghungroos in the payal, it has been created in a completely traditional Indian manner, the way brides used to wear payals before we were even born. And the classic nature of this design brings it into the fancy Payal designs list!
Latkan Ghungroo Payal Designs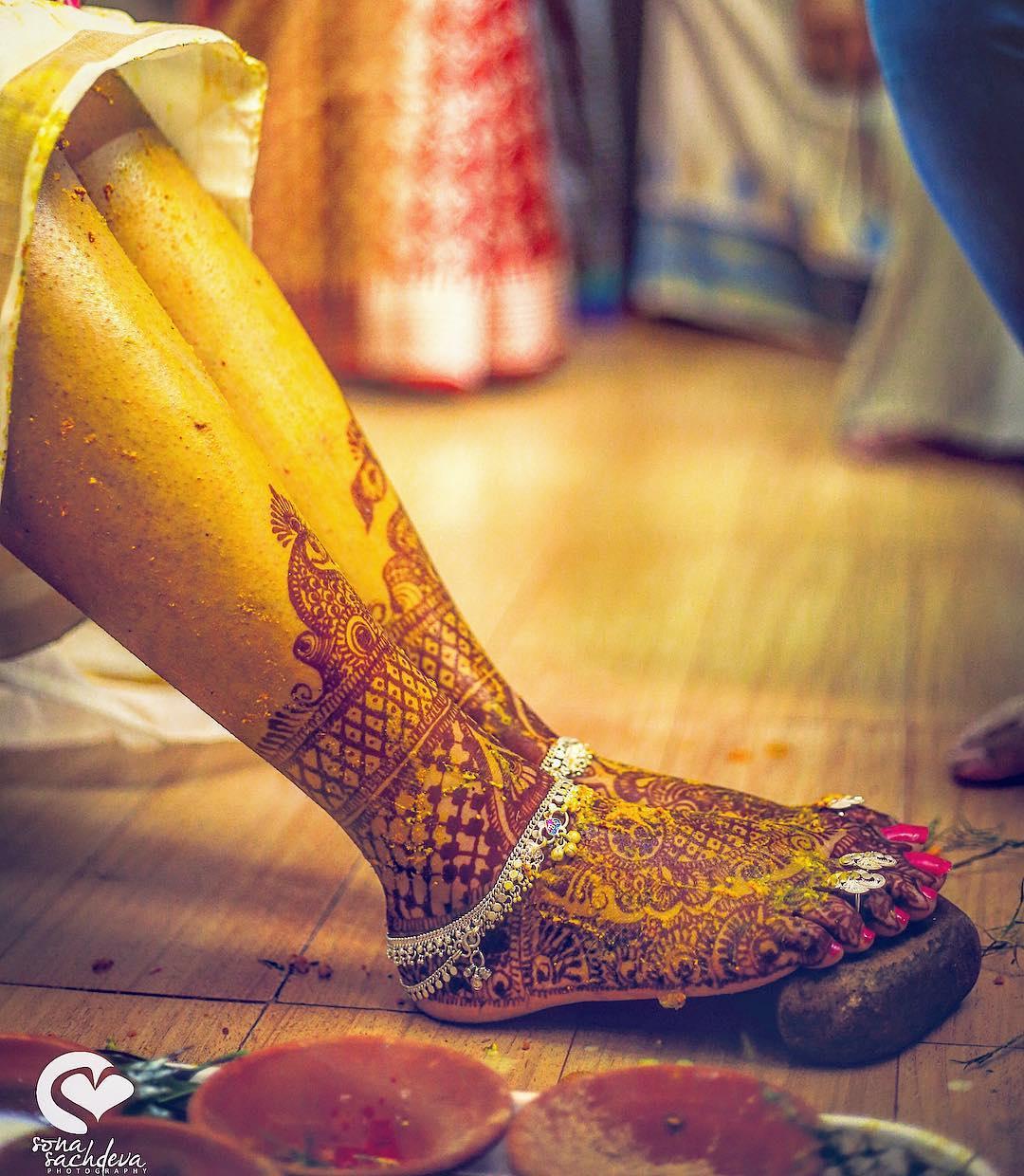 What stands out in this list is the small silver Ghungroo Payal that this bride is donning for her wedding day. The small Ghungroos too have been made up of silver and studded onto the payal. The Latkans on the payal look adorable, and are a unique style as we don't see such payals very often!
Your entire bridal ensemble is made with every piece of accessory you may choose to add to your look. Thus, do not shrug off any element of your attire, thinking it's too small to be noticed. Pay special attention to every aspect of your outfit to create a stunning look you'll remember for the rest of your life!
With words By Anand Kajoli
Top Blogs on WeddingWire India