5 Times Hyderabadi Jewellery Adds Sparkle and Shine To Bridal Looks From The Region
Hyderabadi jewellery is easily one of the most royal and coveted forms of jewellery in India. Invest in authentic temple jewellery and pearl jewellery to sport a regal, Hyderabadi bridal look. Learn more about the royal Hyderabadi jewellery here.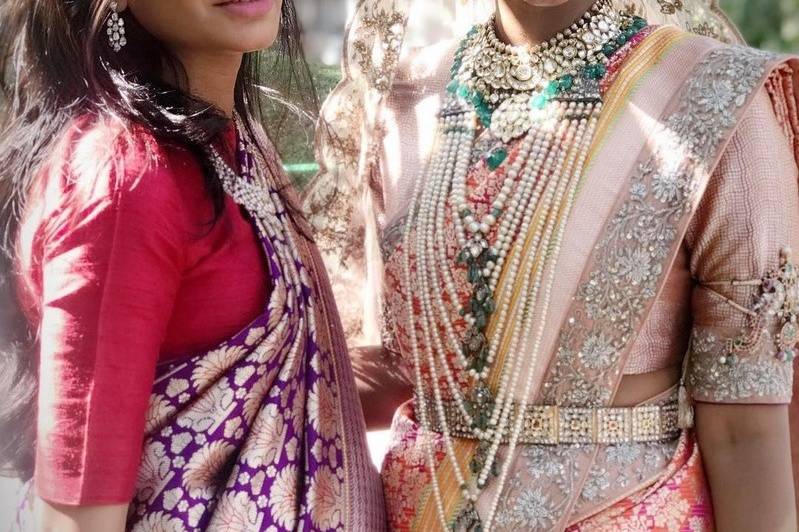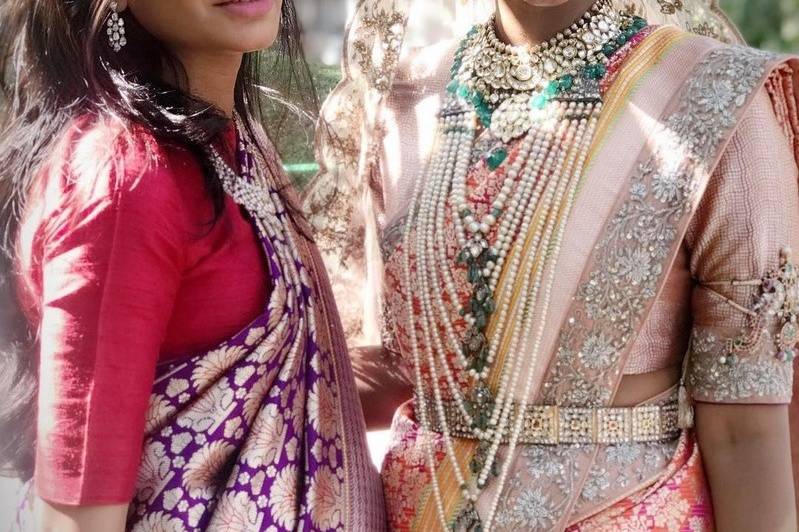 Image courtesy: Pinterest
With the wedding season spread across the horizon, we're chasing the latest trends in heritage jewellery options. And Hyderabadi jewellery is one of those trends which charms us away.
With the long-standing tradition of pouring layers of gold and Hyderabadi pearls to a bride as a holy semblance, Hyderabadi jewellery comes in a variety of forms and designs. The quintessential Matha Patti or Maang Tikka, Passa, layers of necklaces, waist belts and more.
Once housed in the Nizam's prestige regalia, the most prized possessions among Hyderabadi jewellery have included an array of fine gold inlaid with diamonds and pearl jewellery. Bought by the Indian government in 1995 for $218 crore, this set is now showcased at the Chowmallah Place. Renditions of it light up Hyderabadi brides, South Indian brides, Mangalorean and Nizam brides. Let's take a look at the royal Hyderabadi jewellery:
1. South Indian Bride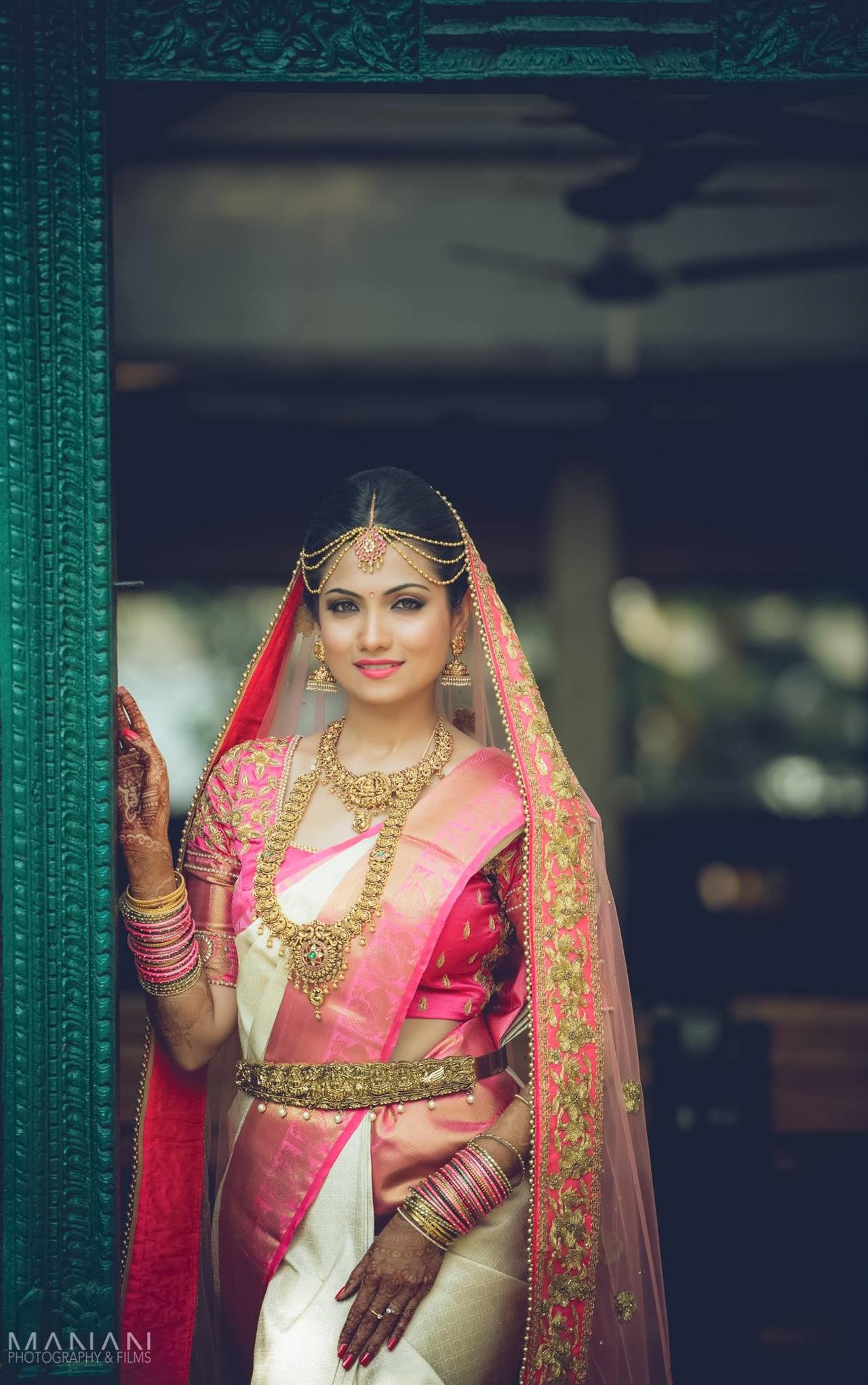 Generally speaking, a South Indian bride prefers to deck in gold and a simple Kasavu saree. Gold is considered to the most auspicious and precious metal, worn by the Goddess of prosperity, Laxmi and thus, South Indian women invest in heaps and tons of real gold. They wear it above the waist and below, silver ornamentation is worn.
Temple jewellery is the most popular Hyderabadi jewellery type which is crafted in pure gold inlaid with diamonds and other precious stones (Navrathnam). A golden crown is a distinguishing element of a South Indian bride and the stunning design on their forehead gold jewellery is said to be holy and pious. Temple jewellery is said so because of the intricate designs that resemble the detailing of temple murals and deities.
2. Mangalorean bride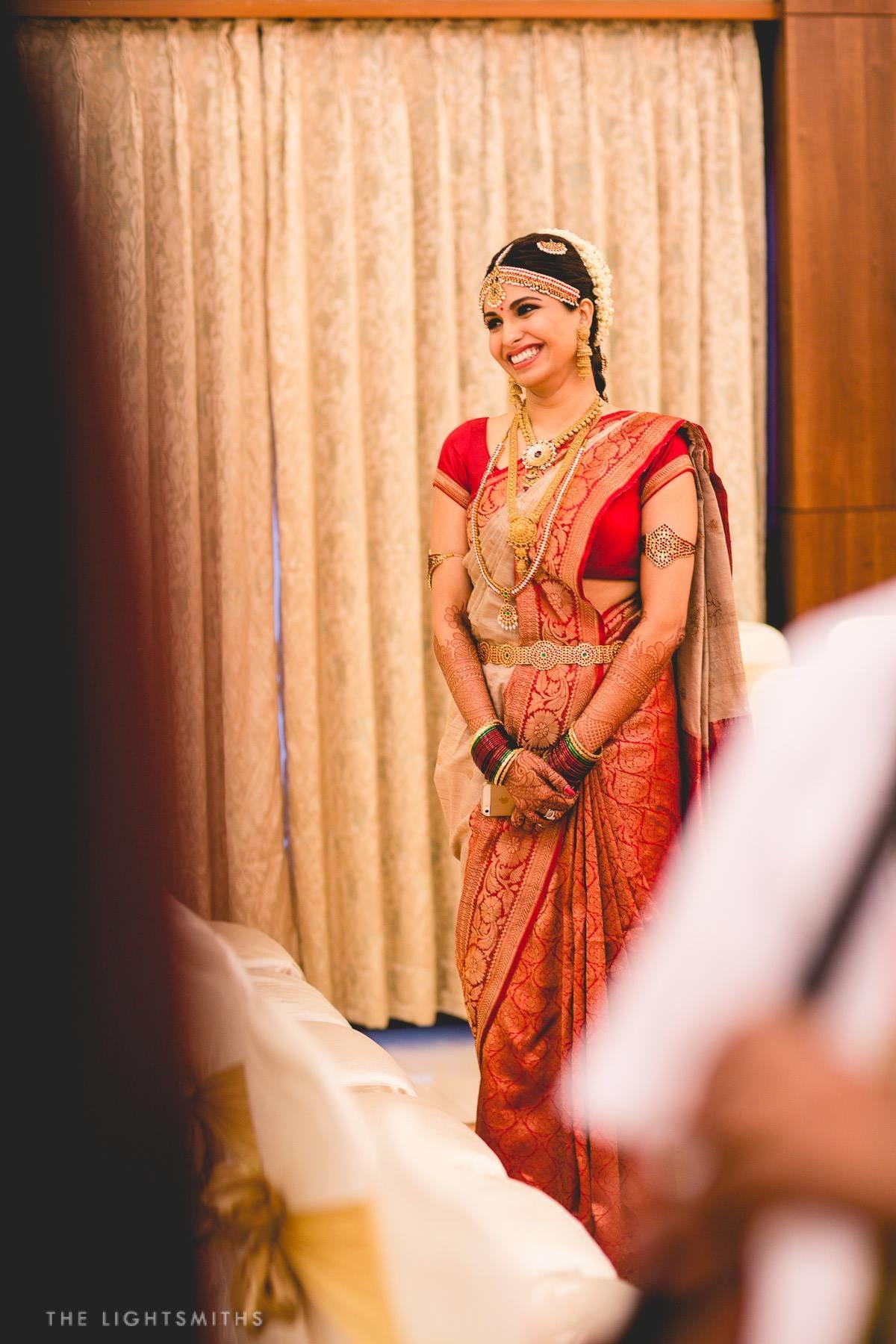 Distinctive yet unique, Mangalorean weddings are quite similar to Hyderabadi rituals and customs. No points for guessing, the attire and jewellery of a Mangalorean bride is almost similar to that of a Telugu or Hyderabadi bride.
Dressed in a rich and authentic Kanjeevaram silk saree with an exotic concoction of real gold jewellery to complement the royal look, a Mangalorean bride is easily identifiable with a gold arm brooch. Her hair smells of the divine aroma of mogras and carnations, she would also enhance her forehead with a decorated matha patti.
The Matha Patti is also laced with gold, pearls and semi-precious stones. Not-to-forget, they also wear a waist belt to cinch their saree with and look their part.
3. Reddy Bride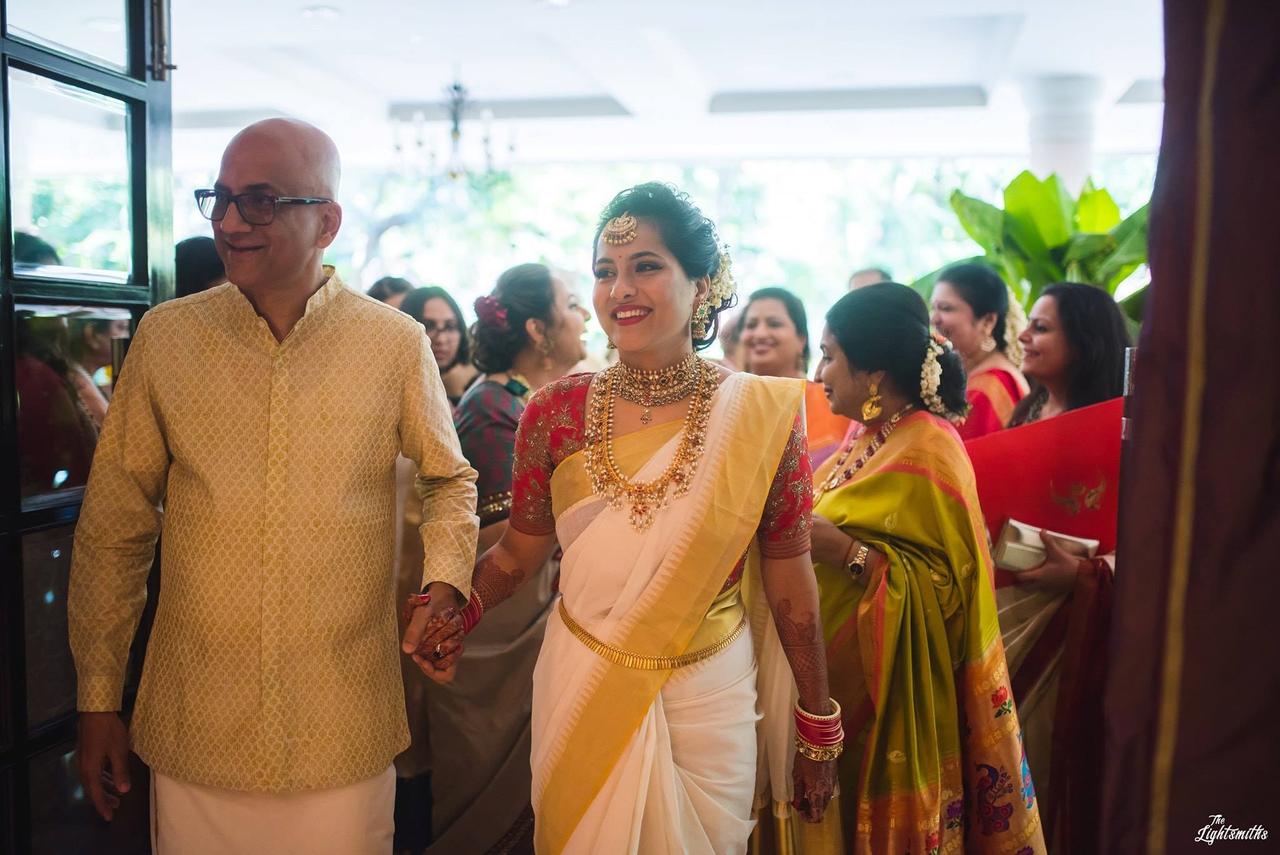 Just like the Hindu brides, Reddy brides enjoy a prestigious and esteemed status quo in the society. They traditionally opt to wear a heavy and rich Kanjeevaram silk saree with layers of real gold jewellery. Modern brides at a Reddy wedding are dressing up in designer lehenga choli accompanied by diamond uncut, kundan or Jadau jewellery.
Talking of a real Reddy bride, she adorns gold necklaces, gold arm cuff, gold waist belt and a maang tikka to complete her look. Gold bangles and gold hair accessories to further enrich her illuminating and luxe look.
4. Nizam Bride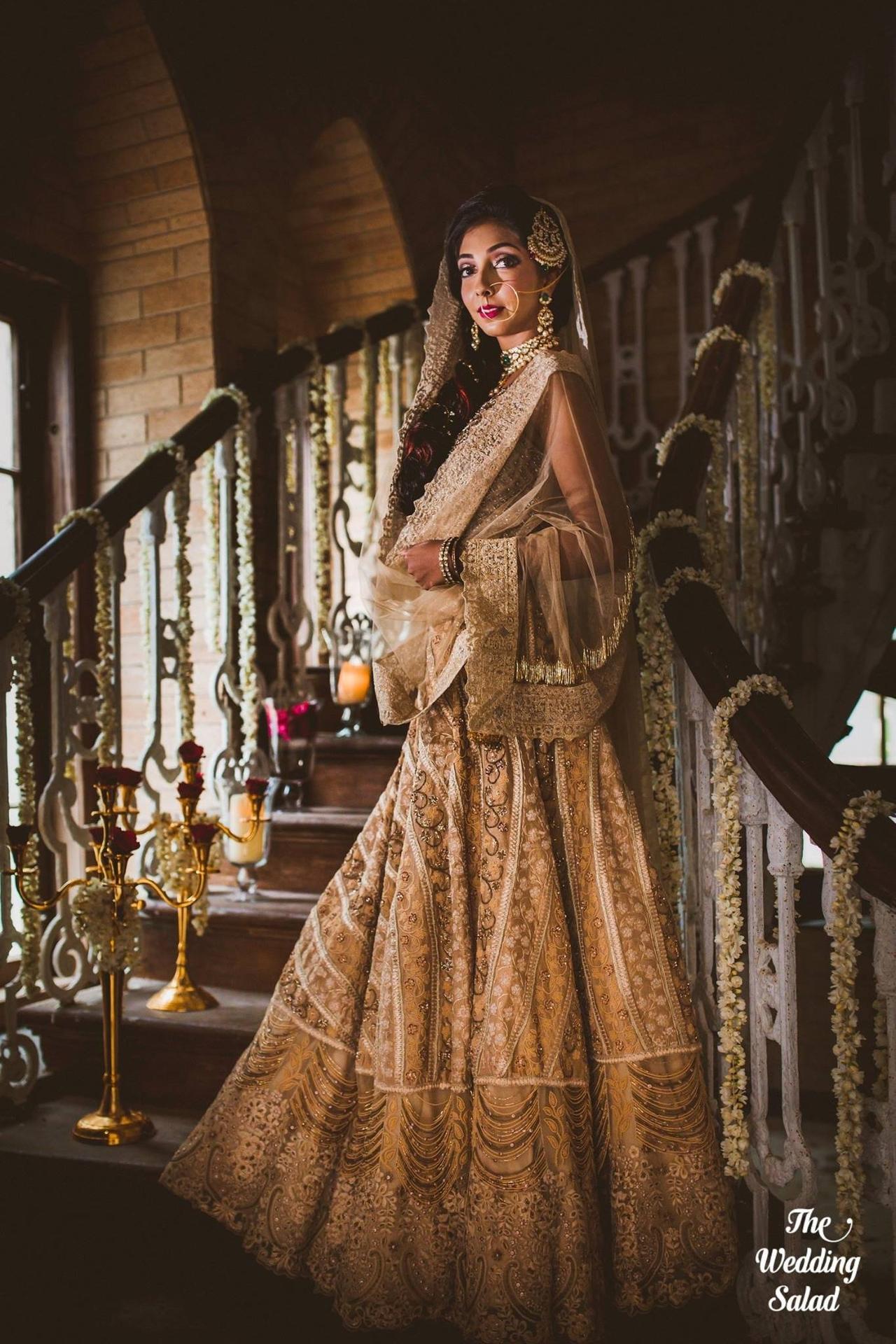 Exquisite and plush, a Nizam bride steps in with grace and poise in her effervescent pearl and gold jewellery complemented by the details on her outfit. She wears the pearl embellished lehenga handwoven with Persian details in hues like solid green, gold or beige. Often, she pairs a salwar suit with a Khada dupatta to complete this look.
They stick to their traditional Nizami jewellery that comprises of a Passa for the hair, Satlada necklace embossed in pearls, chandelier earrings or Chandbalis, and a Nath to finish the look. It exudes magnificence and doubles up the age-old beauty of royalty.
5. Hyderabadi Bride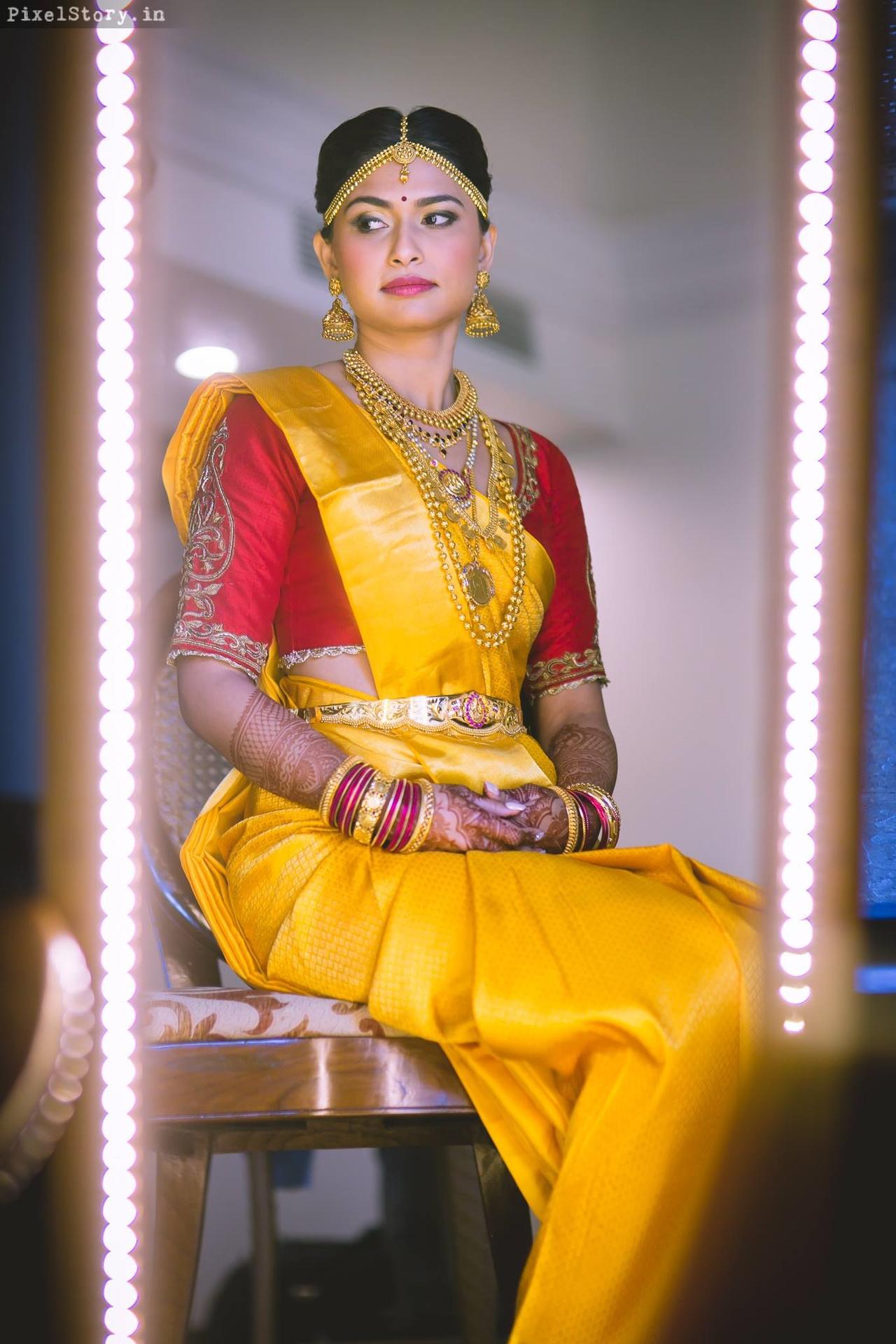 Keen on an understated class for your authentic Hyderbadi bridal look? Take cues from this bride gilded with gold and silk. She steers clear of loud makeup and embraces her natural self. Her traditional Reddy marriage look is highlighted with Hyderabadi jewellery essentials like a waist belt, temple jewellery necklace, Jhumka earrings, Maatha Patti and bangles.
The rich nine yards of her drape is stitched and handwoven in gold by encrusting parts of it on the Kanjeevaram silk saree. Their hair is groomed in a long braid, decorated with carnations and gold hair accessories.
How to Pick the Right Hyderabadi Jewellery?
Before you get cheated or carried away in the gold dust of royal Hyderabadi jewellery, ensure to keep these must-dos in your mind.
i) Trusted Brand:
Always purchase from the trusted goldsmith or retail shops with high credibility. Some of the authentic brands in Hyderabad selling pearl and gold jewellery are Mangatrai, Joylukkas, Modi Pearls of Charminar wherein you can purchase fine genuine Hyderabadi jewellery.
ii) Design Collection:
It is always advisable to browse showrooms with a wide variety and stunning designer Hyderabadi jewellery on display. Temple jewellery, Satlada, pearl jewellery, Passa etc. are some of the jewellery must-have's in every bride's trousseau trunk. You will find a humongous collection of bridal jewellery in Charminar, Nampally and Panjagutta.
iii) Certificate of Authentication:
To further build trust and credibility of the brand, you must always ask for a certificate of authentication issued by the official organizations of pearl, gold jewellery. Stamped and approved by the government organizations, you shall be secure and safe about the precious investment made.
Which Hyderabadi jewellery did you like the most? Temple jewellery with a hint of diamond and semi-precious stones or a Satlada necklace embellished with pure pearls all over for an elegant look, we fell head over heels with the stunning Nizam bride. She evoked a sense of charm and elegance in her pastel-esque couture complemented by classic pearl jewellery to amp up her bridal look.
Hyderbadi jewellery is one of the most coveted forms of heritage bridal jewellery, appreciated by jewellery connoisseurs globally. Tell us which one blew your mind in the comments below.