Here's How You Can Wear Lehenga to Flaunt Your Curves Right
Wondering how to wear lehenga choli to flatter your body? Here are hacks that will help you flaunt your curves & look right for your big day.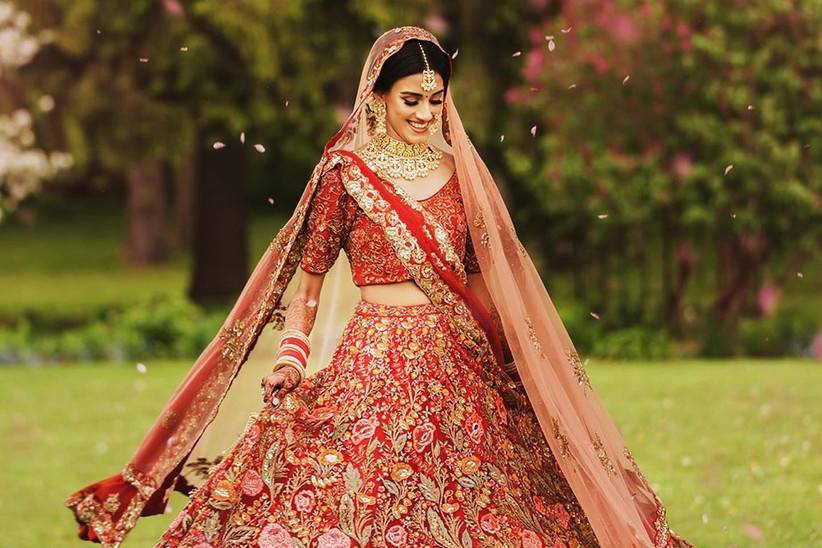 Do you want to hide that extra bulge while you wear a lehenga at the wedding? Do you want to look slimmer than you actually are? Well, if you can't accomplish the target of losing those extra pounds on your skin, don't fret; you can dress up in a way that can help you meet your aim.
If you have been wondering about how to wear lehenga to look slim hacks, continue to scroll below.
Lehenga Wearing Styles by Body Types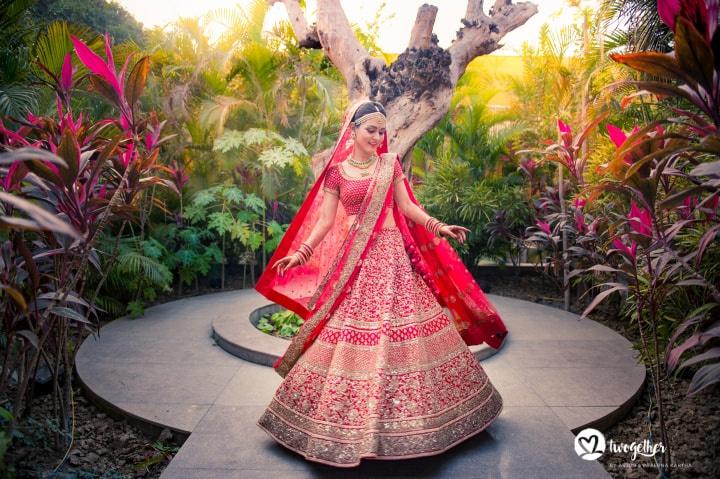 The best way to appear slimmer than you actually are is by dressing up according to your body type. Identify your body shape and follow the tips below:
Pear Shape: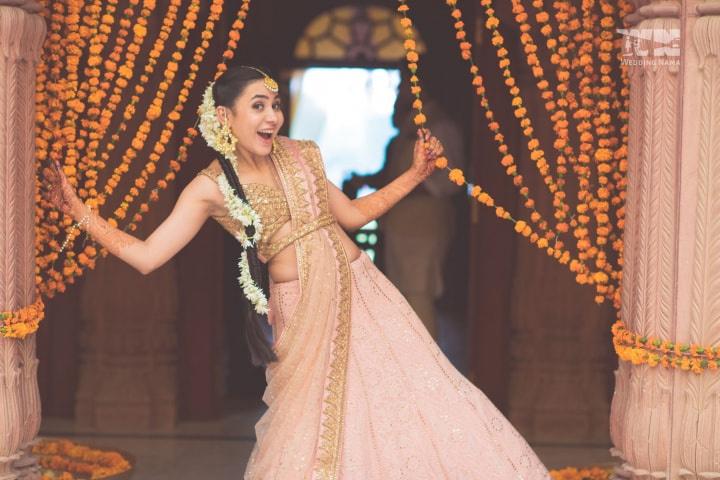 if your body resembles a pear, you will look thinner if you wear a lehenga that is plain around the bottom. Any details are fine if they are lower down your legs. Ensure that any frills or embroidery emphasis your bust and shoulders.
Also, avoid high waist lehengas and elasticated waists.
Apple Shape: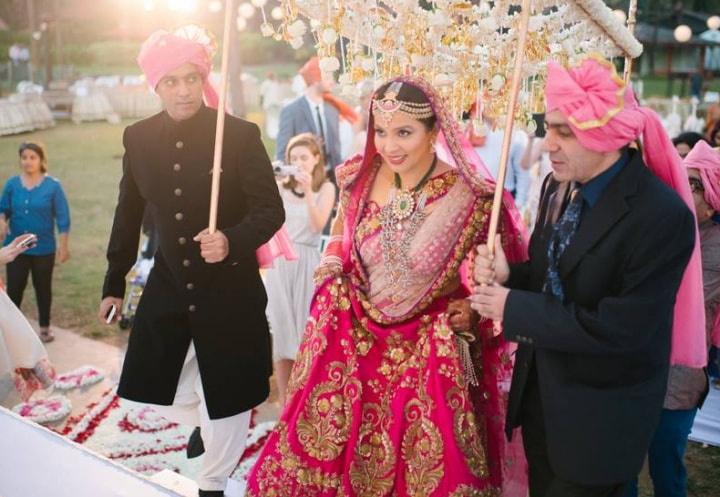 if yours is an apple-shaped body, you will look much thinner if you wear a lehenga that draws attention away from the waist. Consider an empire-line lehenga with a choli that ends lower than the hips.
Avoid high and boat necks.
Rectangular Shape: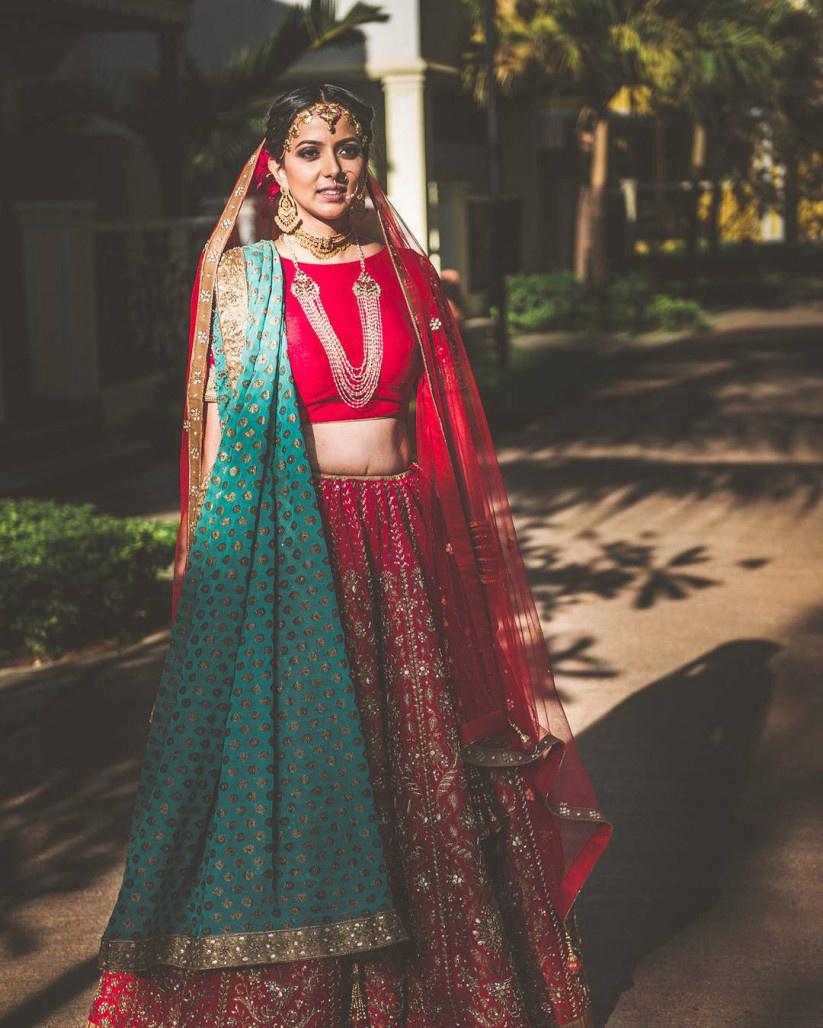 Those who don't have many curves, consider wearing a flared lehenga with a blouse nipped-in at the waist. You can also wear lehengas with details on the bottom and the hips.
Overall Plus Sizes: Choose a Panelled Skirt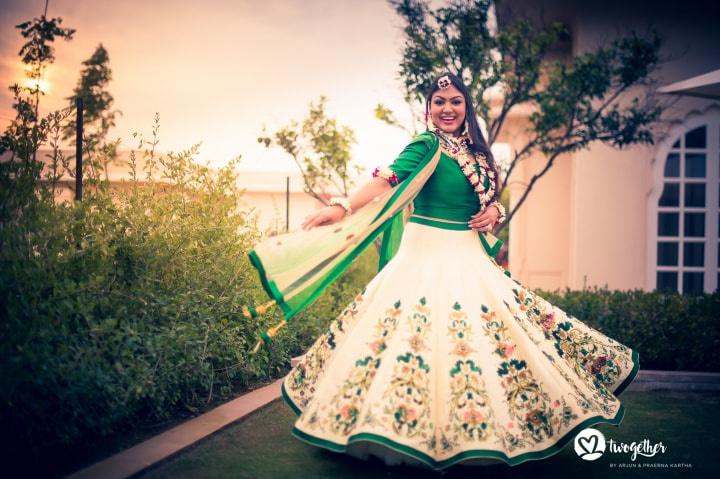 When trying to look slimmer, choosing the cut of the lehenga is where the real trick lies. Opt for a lehenga with a panelled skirt pattern. The more the number of panels, the better look you will achieve as panels will taper at the waist and flare down below covering any extra bulge.
Make sure to avoid fish cut skirts as it will only make your hips look wider.
Dupatta Draping Styles to Look Slimmer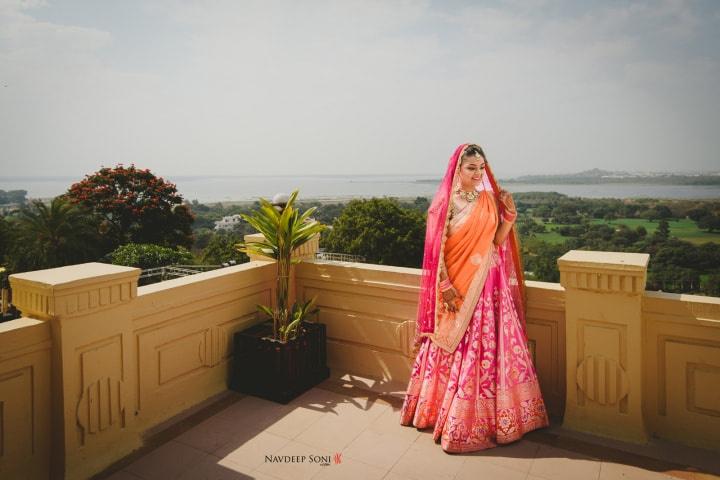 We can't agree more that dupatta is that one magical piece that can help you easily cover up those curvy areas. Although there are numerous dupatta draping styles with the lehenga, the most flattering style is the one pinned on the side, either like a saree or just leave it hanging.
If you are heavier on the chest or have a round face, don't make a voluminous mistake of draping it poufy on the chest.
Another stylish way to wear a lehenga dupatta and hide that extra bulge is by using two dupattas. Drape one around the lehenga, and the other on your head. This way you don't have to compromise with the length of the dupatta.
Use one with ease to drape like a saree that will help to hide your stomach bulge.
Other Styling Methods to Looks Slimmer Wearing a Lehenga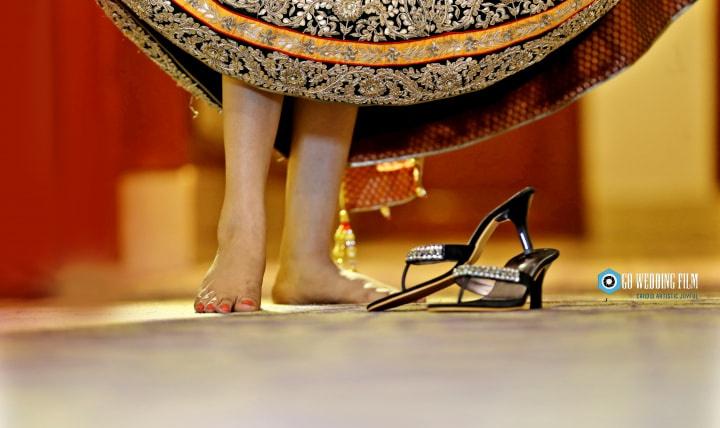 You can also use your bridal accessories to look slimmer. Here are some ways in which you can do that:
1. Say No to Choker Sets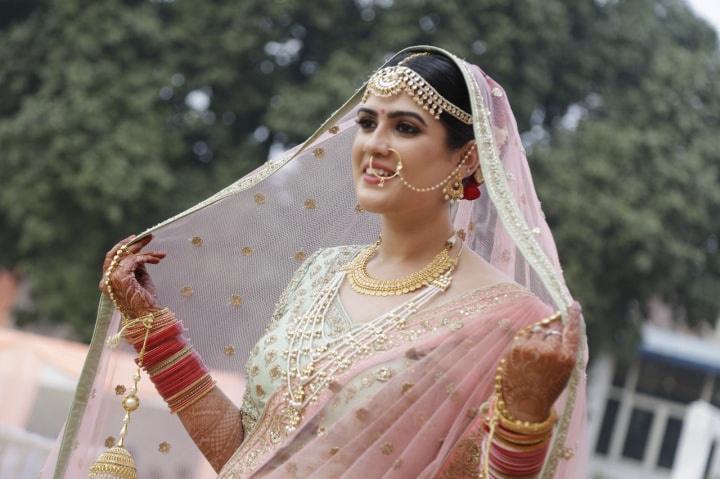 When it comes to wearing bridal jewellery with a lehenga, avoid chokers as they make you look shorter and heavier. Instead, go for long necklaces like Ranihaars and layered Satlada necklaces.
Jewellery that will sit comfortably on the neck will create a vertical line and will make you appear slimmer.
2. Pick the Right Lingerie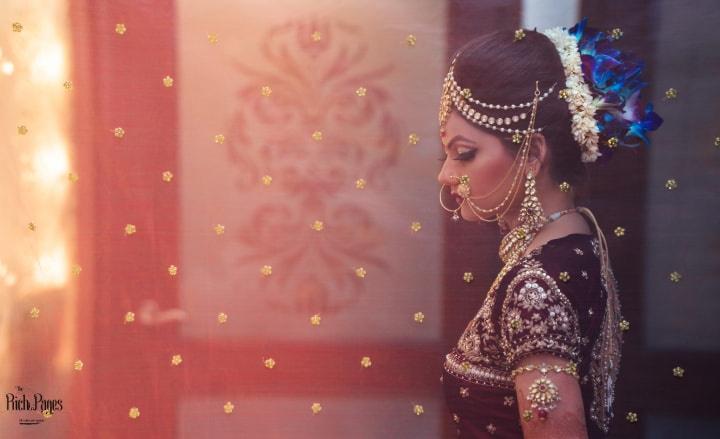 Make sure to wear the correct lingerie under your lehenga. Especially, if you have a heavy chest, it's important to support it right to look slimmer.
3. Monotone Colour Outfit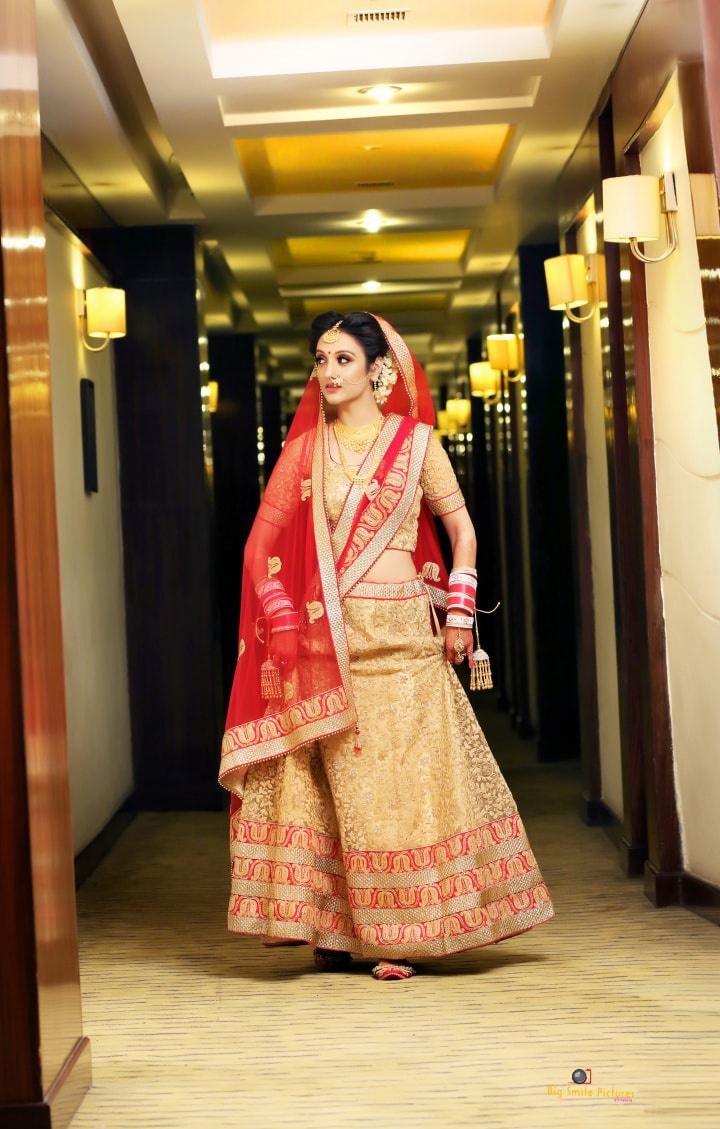 Creating an illusion with a monotone outfit is another great trick. Blouse and skirt in the same colour especially dark shades like browns, wines, and violets will help to create an uninterrupted vertical line making you look slimmer.
You can use a contrasting dupatta to add some colour if you may want.
4. Consider Wearing a Shapewear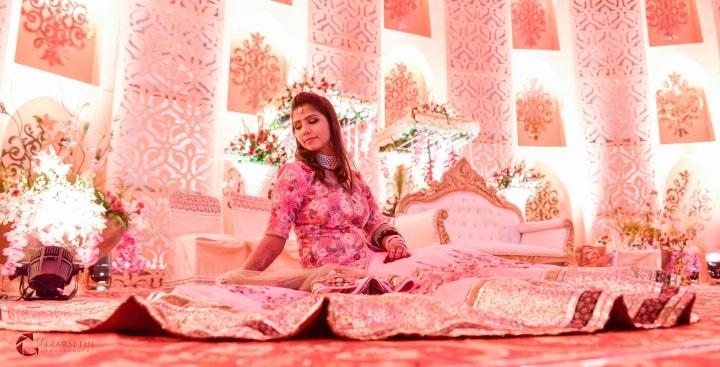 Shapewear is called shapewear for a reason. It's a wonderful trick to set that bulge right and look your best in pictures. If your lehenga has a short blouse, opt for a low waist tummy tucker to get a good fit on the hips.
5. Wear Heels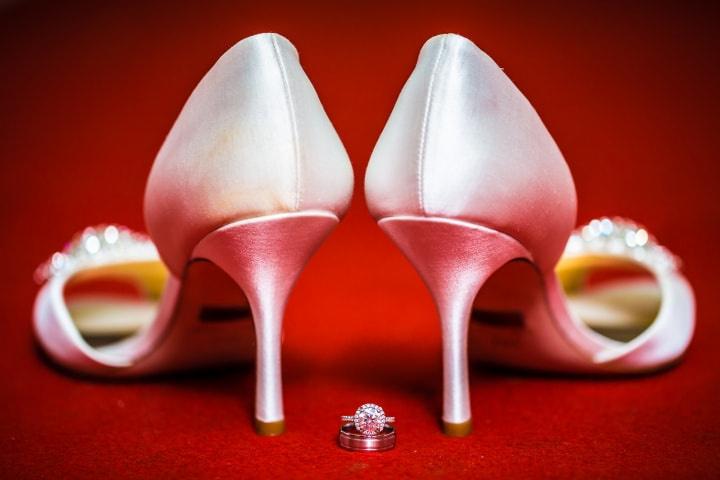 We can't stress enough that ramping up your height is really one of the simplest ways to look thinner. It will elongate your frame which will help you appear slimmer.
If you are not comfortable wearing pencil heels, you can opt for wedges with minimal embellishments and slimmer buckles.
The Last Lehenga Styling Hack - Stand tall!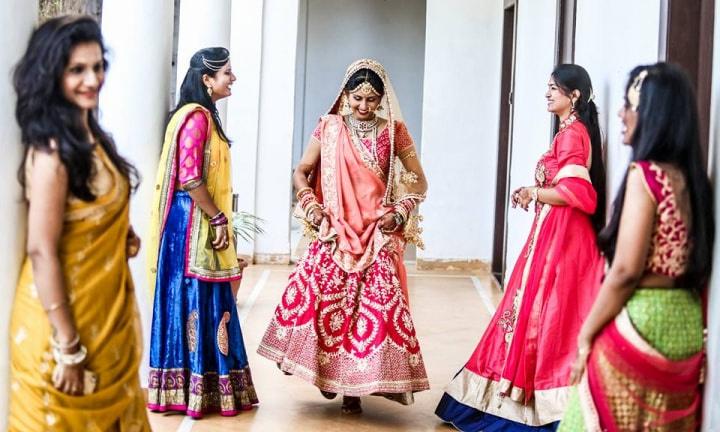 Trust us, no matter what you wear or how you wear it, your body posture has the power to make or break your entire look. This does not mean that you have to stand still all the time, just make sure to keep your back straight and your shoulders back.
No slouching, please! When it comes to this question on how to wear lehenga to look slim, the most important styling tip we can give is to wear it with a smile. It will make you look a million times prettier!
In the end, choose a piece that brings out the best possible version of you. We recommend connecting with some of our Bridal Lehenga vendors for more.