35+ Simple blouse Designs For Brides @ WeddingWire.in
If you are looking for some inspiration for your blouse design and you are a millennial who does not believe in going over-the-top with anything, then these gorgeous yet simple blouse designs are just what you need to see.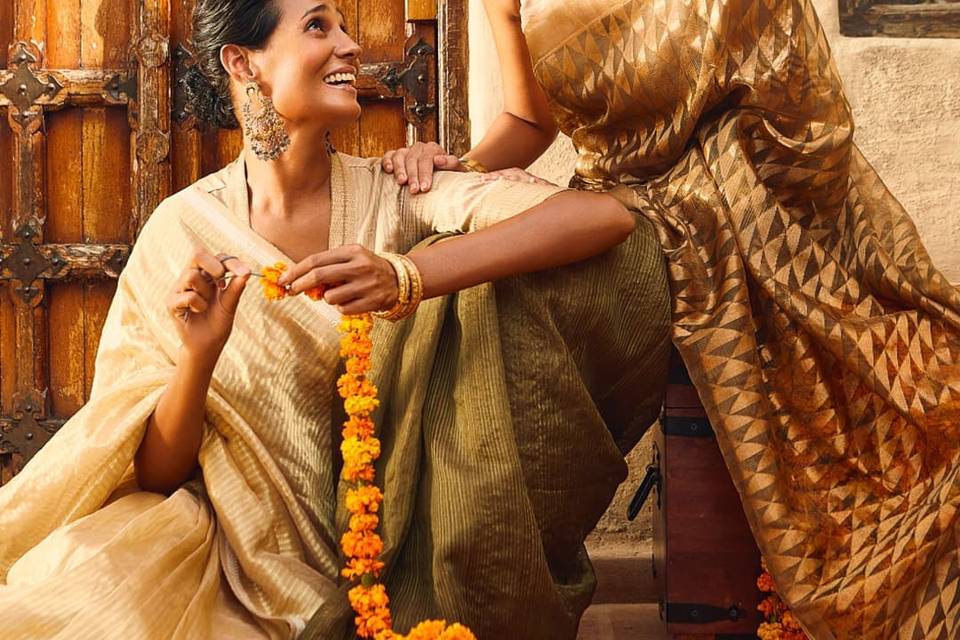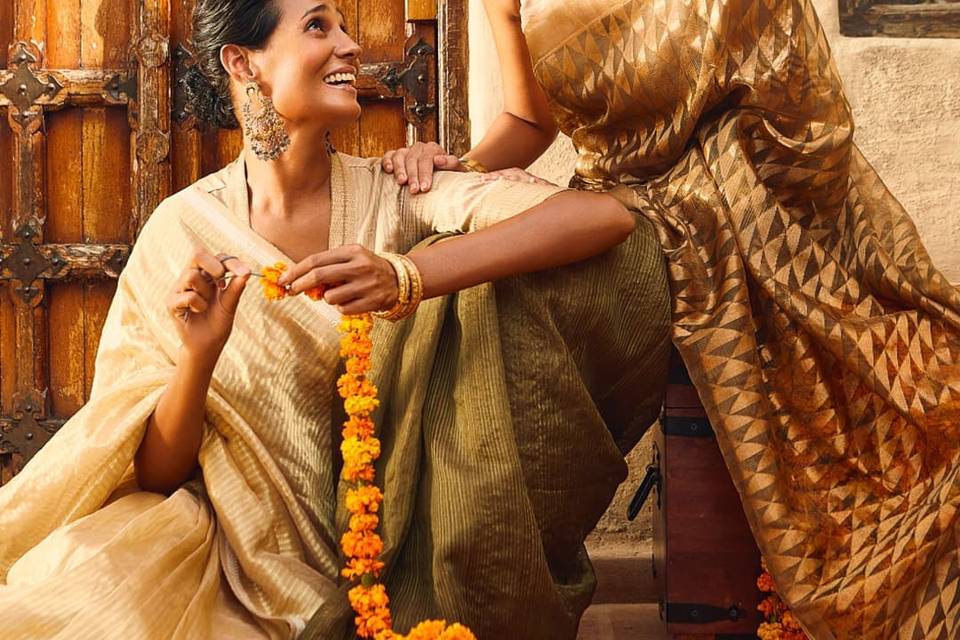 Image Credits - Fabindia
It is extremely important for every damsel to pick up just the right blouse that accentuates her outfit and her overall persona. It is very important for her to narrow down the various kinds of back and neck designs, sleeves, work etc that suit her and go well with the outfit. Only when she knows what kind of blouse she's wearing can she decide the jewelry and hairstyle to go with it. This makes it all the more crucial for the lady to pick the perfect blouse design. Having said that, we also know that every lady is unique in her own way, especially when it comes to her sartorial choices.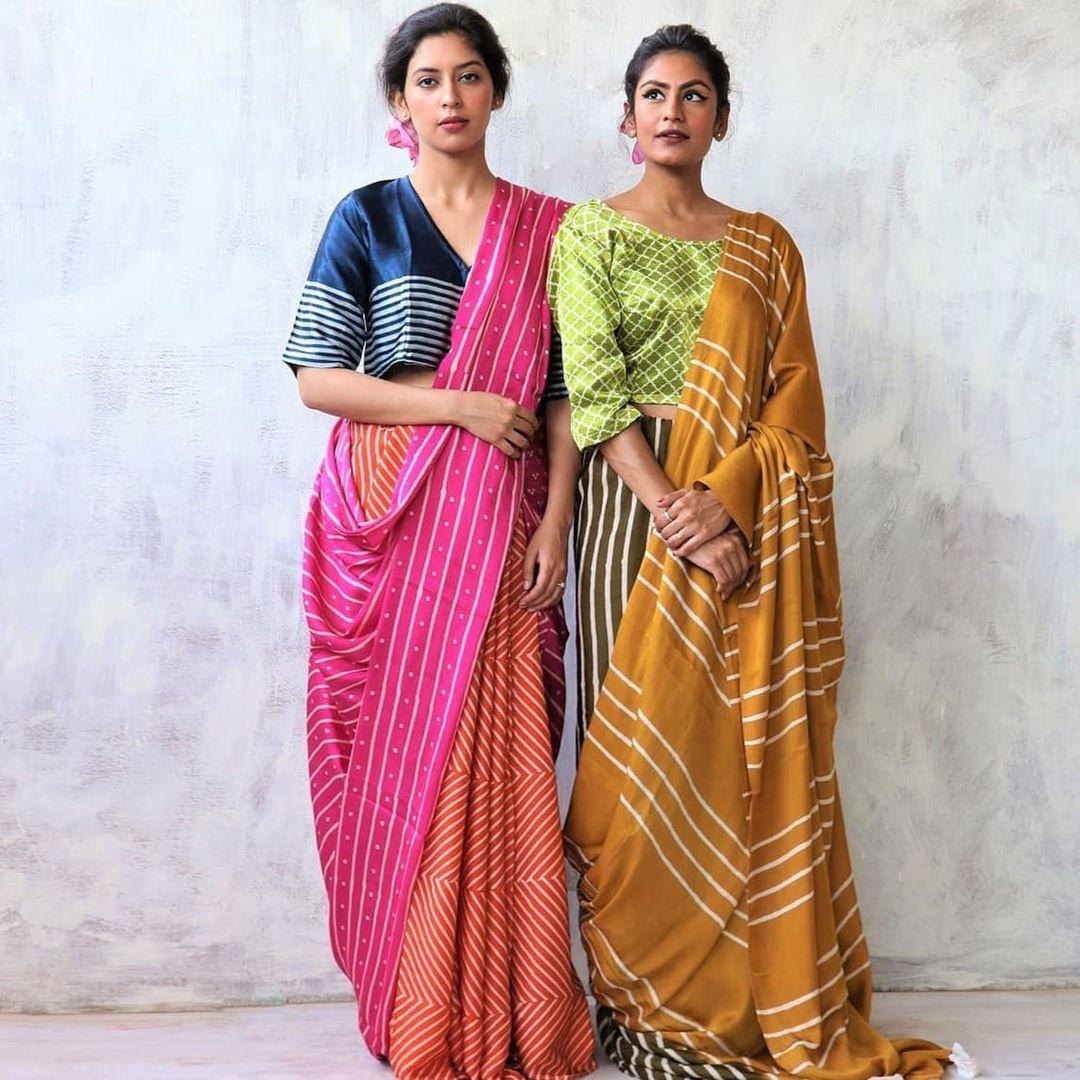 Image Credits - Chidiyaa Online
So if you have a fashion taste which looks classy but is also simple at the same time, then these 35+ simple blouse designs donned by real and stunning ladies are cherry picked for you.
In this article -
1. Simple Blouse Neck Designs
2. Simple Blouse Sleeves Designs
3. Simple Blouse Back Designs
Simple Blouse Neck Designs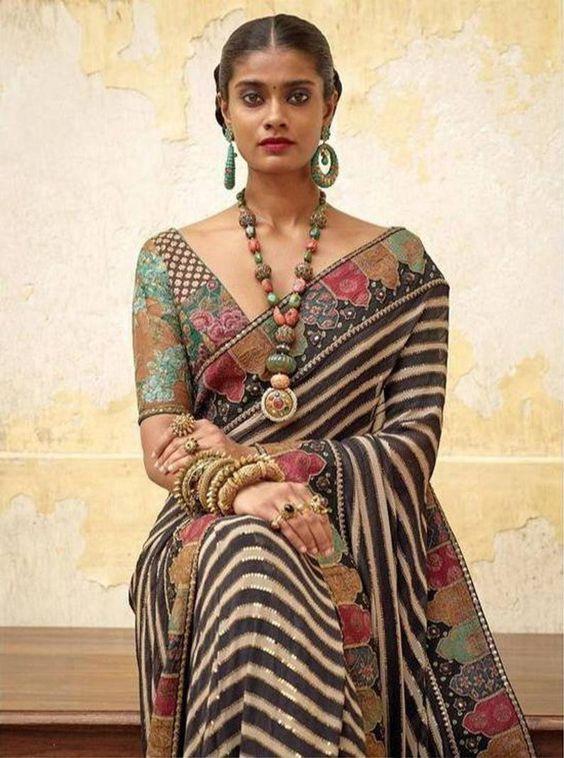 Image Credits - Sabyasachi
One of the most distinctive features of a blouse that makes it stand out from one another are its beautiful necklines. While the millennial brides are a pro at choosing necklines that work for their body type and their style, the fact is that with simple blouse designs for daily wear the necklines cannot be too extravagant. However, some of the styles that we love and feel work perfectly to add the oomph factor include mandarin collar necks, crew neck and boat necks in simple blouse designs. If you are someone that does not wish to make your everyday blouses too fancy then these are the perfect choices for you. But for the millennial brides that like to keep it stylish can even choose between deep scoops necks and V neck designs that look graceful as well as modern. These simple blouse neck designs images exhibit a classy story with royal notes and instances. A simple blouse neck design can be paired with any designer saree or simple lehenga. The royal look of a simple blouse design can elevate your entire look! Scroll below to know that yes, simplicity isn't boring at all!
Also Read - 16 Zero Neck Blouse Designs For You
Silk Brocade Simple Blouse Design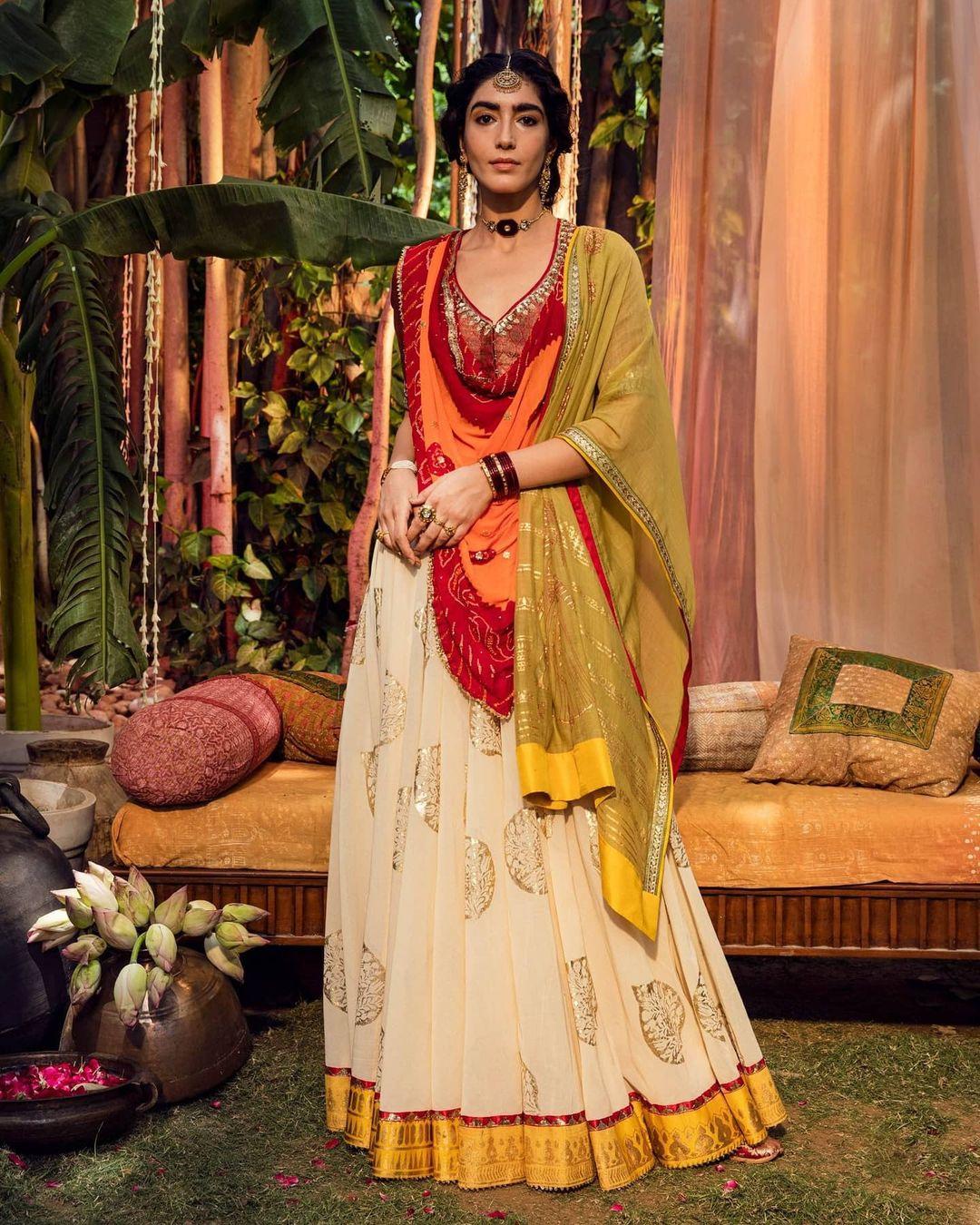 Image Credits - Anju Modi
For someone who loves fashion and wants to stand out, then this simple blouse neck design image is for you. The chanderi look keeps it simple yet scintillating and would match the sense and sensibilities of the Indian women. Here the ace designer has exhibited her creativity through an antique red banarasi silk brocade embroidered blouse paired with a beautiful ivory cotton skirt. Isn't this simple look akin to a royal one?
V-Neck Simple Blouse Designs for a Bride
Image Credits - Masoom Minawala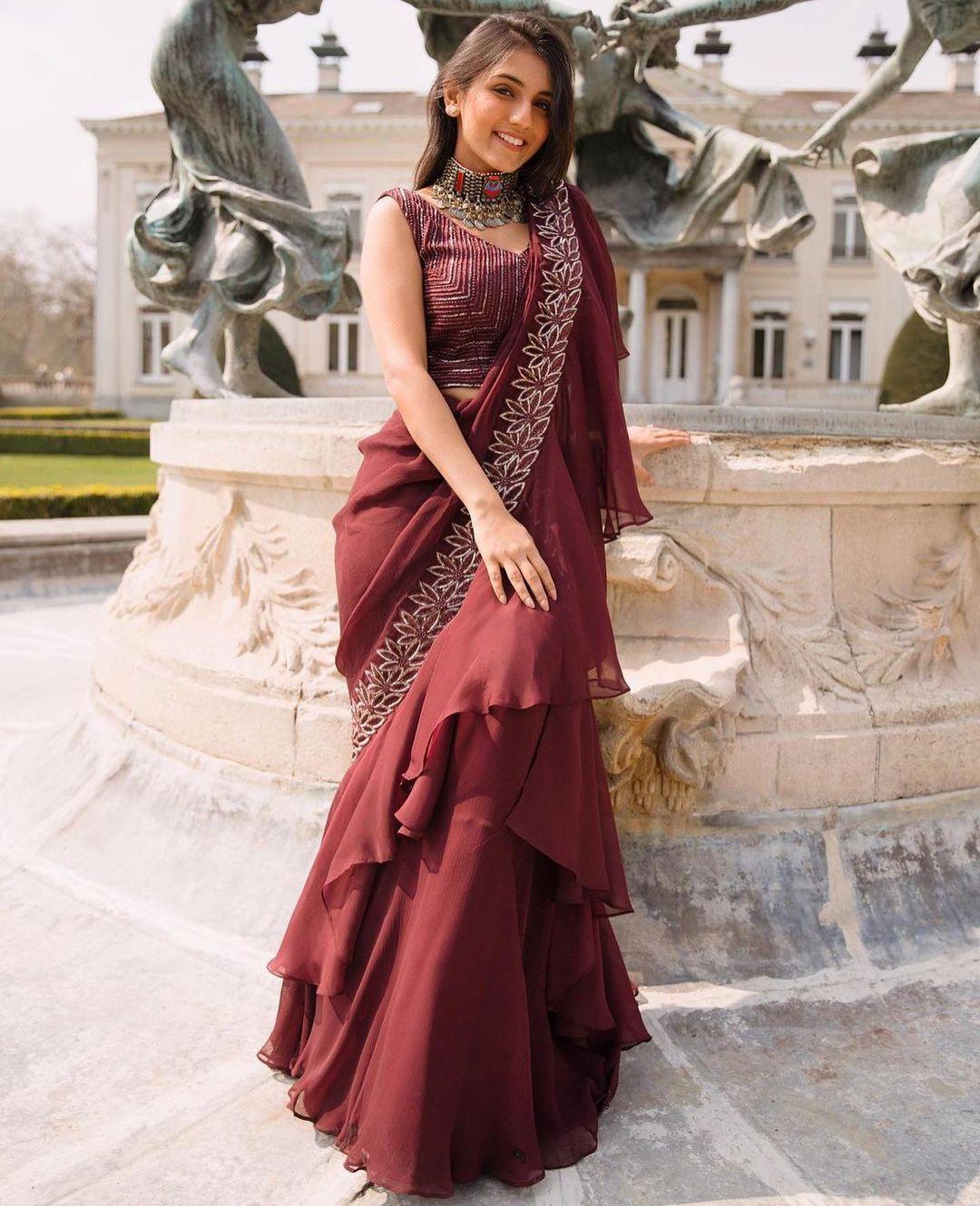 Image Credits - Masoom Minawala
V-neck designs will add charm to your demeanor in any of the close gatherings. Isn't the blend of simplicity and royalty spectacular - see how these simple neck designs are making a big difference here. Be it floral or be it net - simplicity is making everything so pleasant and alluring.
Plunging Simple Blouse Design for Silk Sarees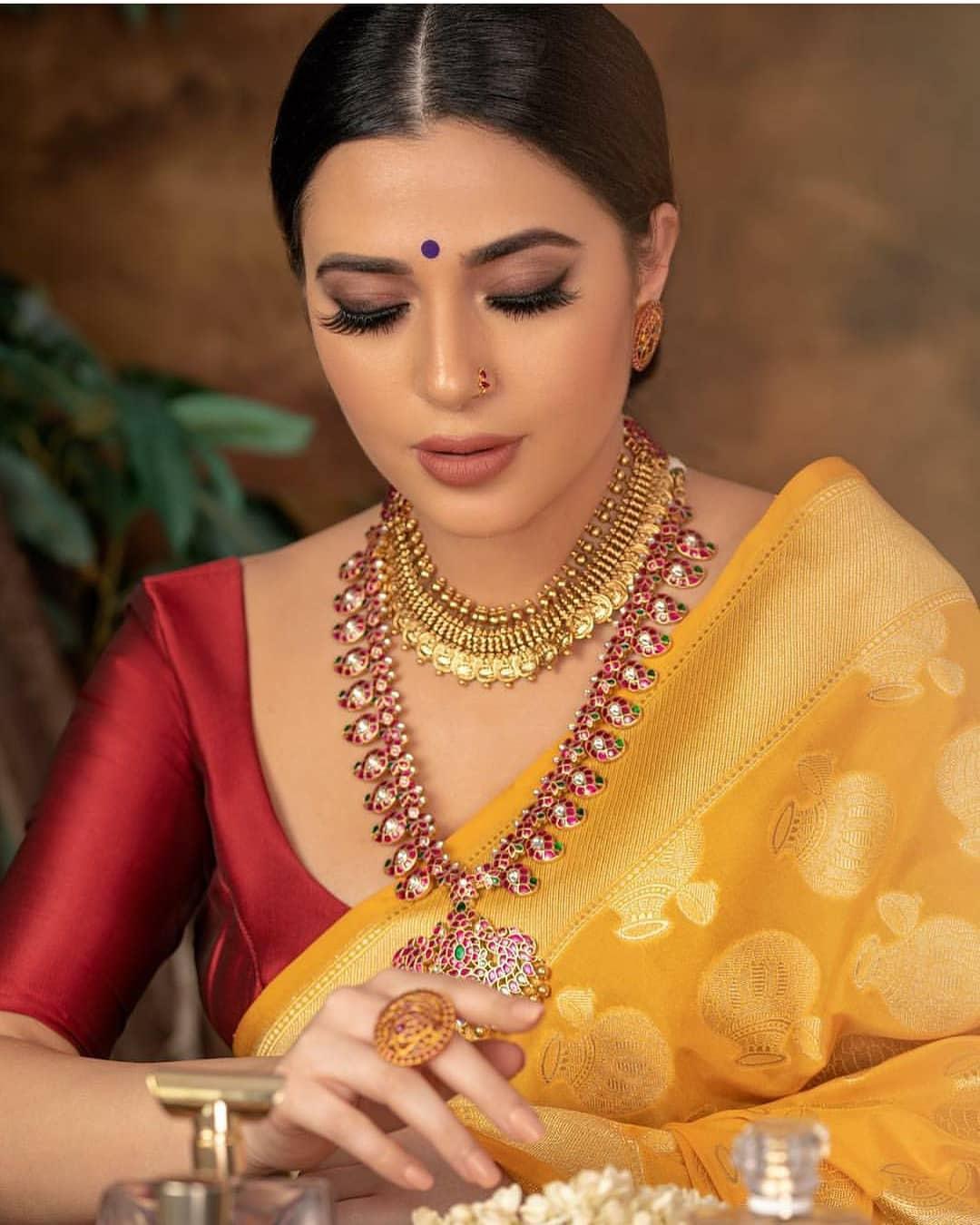 Image courtesy: Silks of India
Talking of simple blouse designs for silk sarees, Silks of India posted the simplest of them all in this shot capturing the lovely model posing in the plain traditional style of silk blouse in all its grace. The contrast is perfect but the wonderfully heavy bridal jewellery with the deep neck seems to be a very intelligent choice. With the big bindi and traditional bun to complete the look, the ultimate package that the picture captures is bound to attract everyone on grounds of class, appeal and simplicity. Go ace those dramatic eyelashes with that textured plain silk blouse.
Deep V-Neck Simple Blouse Design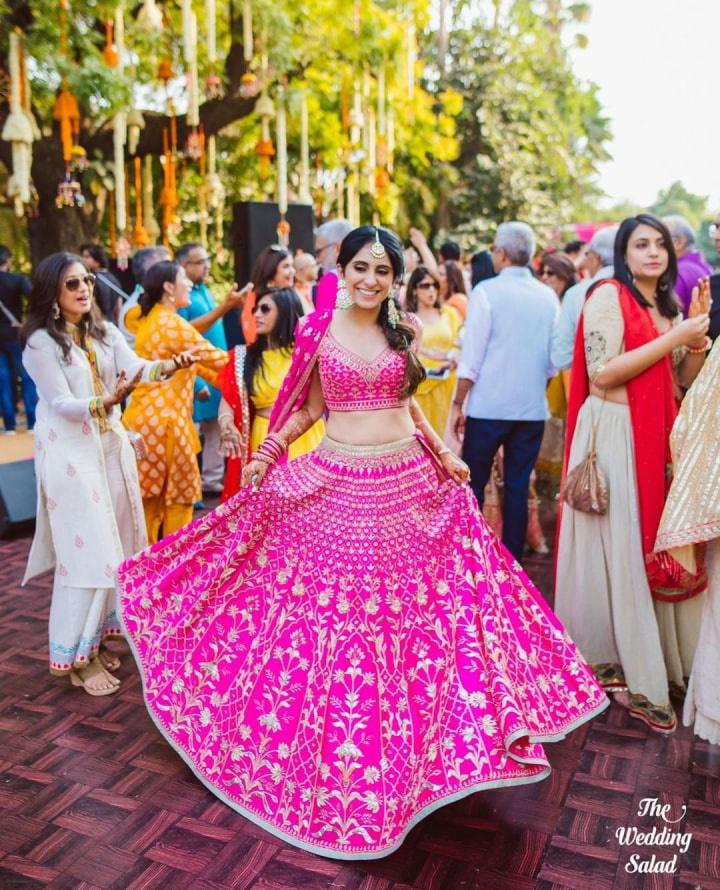 Image Credits - The Wedding Salad
Can you see how Masoom - a famous beauty influencer, the Masaba bride, and the beautiful real bride? They all are pleasing our view whilst adorning beautiful attires. You must have noticed that the blouse has enhanced the overall demeanor in a good way. Now you know why simple blouse neck design is trending? So, here are some swooning simple blouse designs for your every special day. Take a look! These designs above are setting some serious goals for all the millennials. Be it for any occasion - these simple blouse neck designs are worthy to pick.
Zero Neck Simple Blouse Designs for a Bride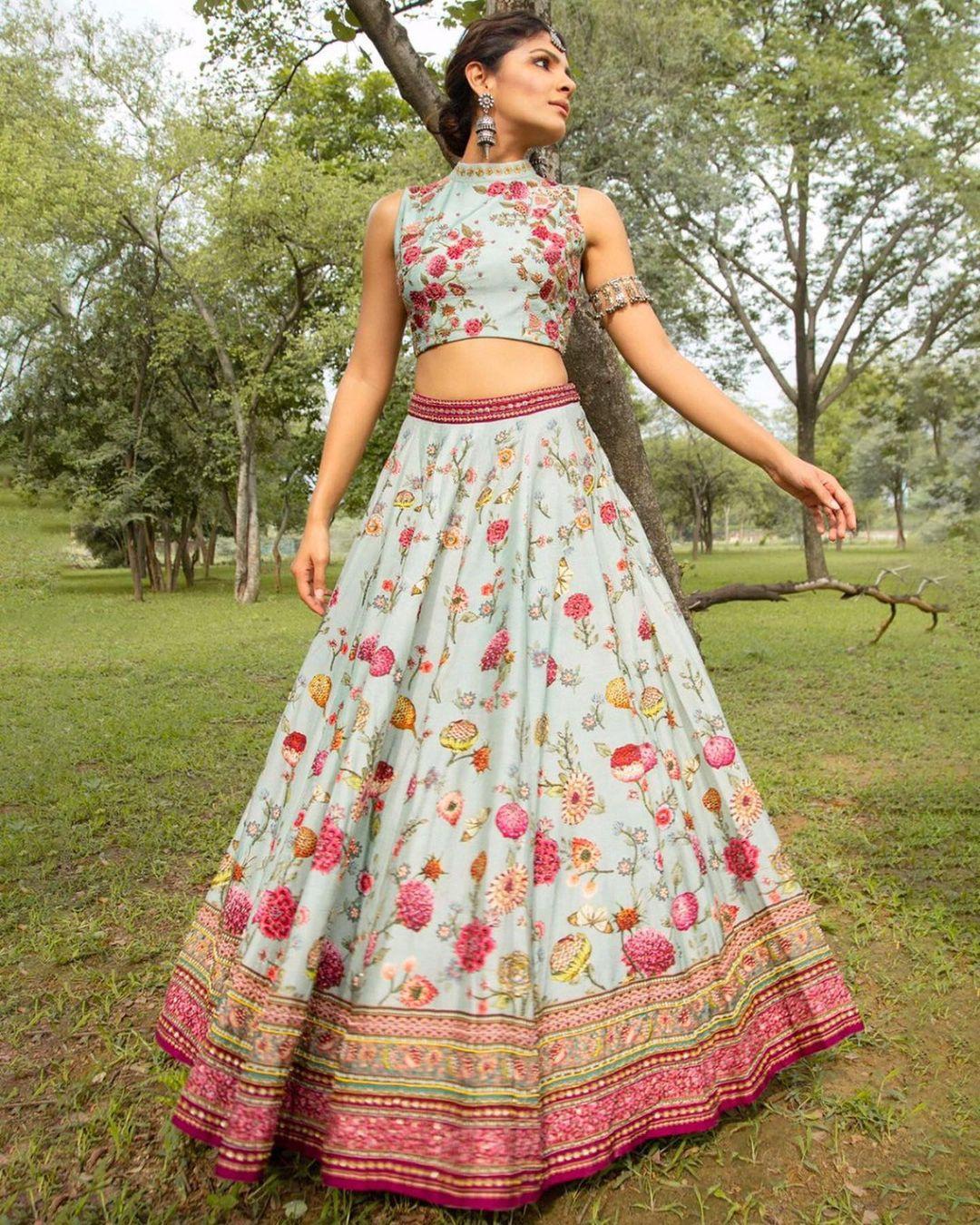 Image Credits - Aza Fashion
Every year, the trend keeps on changing with the change in fashion cycle. The zero neck blouse designs are ruling the trend by storm as they are easy to carry, trendy and chic. The comfort factor makes the zero-neck blouse designs a favorite pick for a modish woman.
Kaftaan Style Simple Blouse Designs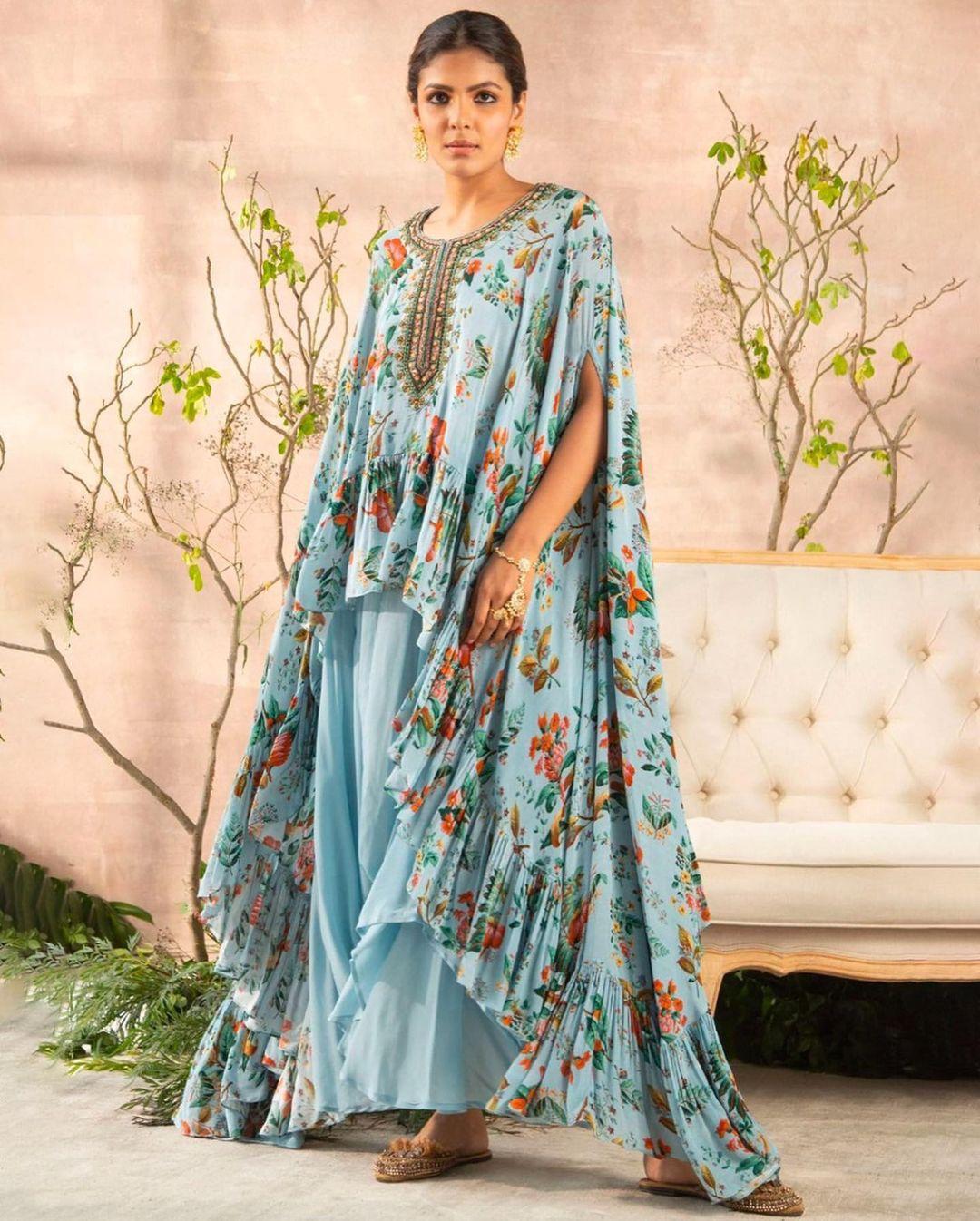 Image Credits - Kalista Collection
If you want to be the talk of the town or talk of the intimate gathering. Thereby, it is extremely important for you to get impeccably decked up and flaunt your persona. Bookmarking and saving the stirring kaftan designs can never go wrong.
Simple Blouse Design For a Silk Saree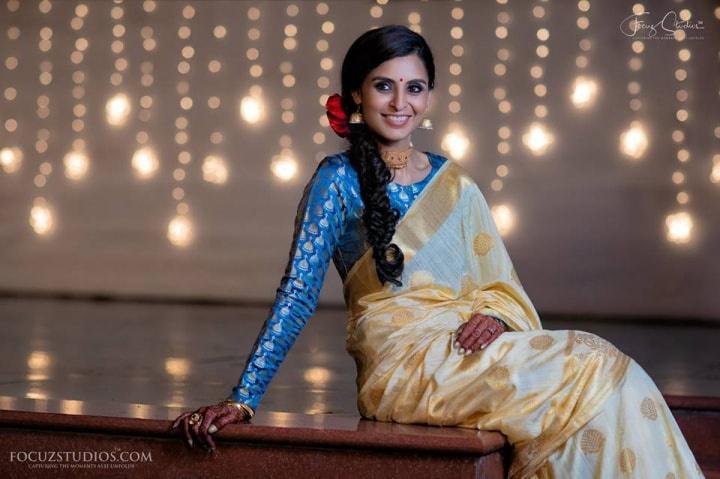 If you are the kind of bride who believes that beauty lies in utmost simplicity then we know the perfect simple blouse design for you. A silk saree or even a Lehenga looks very graceful with a full-sleeved blouse like this one. You can adjust the depth of the neckline according to your taste and be the definition of elegance at your wedding. Choose a very simple blouse with a round neck back. Add a Dori if your shoulders are falling down!
Cotton Simple Blouse Design

Image Credits - Suta Mumbai
With a variety of tried and tested simple blouse neck designs for cotton sarees available in the market, this crop top style blouse is creating stir, The idea of styling a crop top in printed/striped patterns makes wearing a saree a fun thing to do even at the professional space.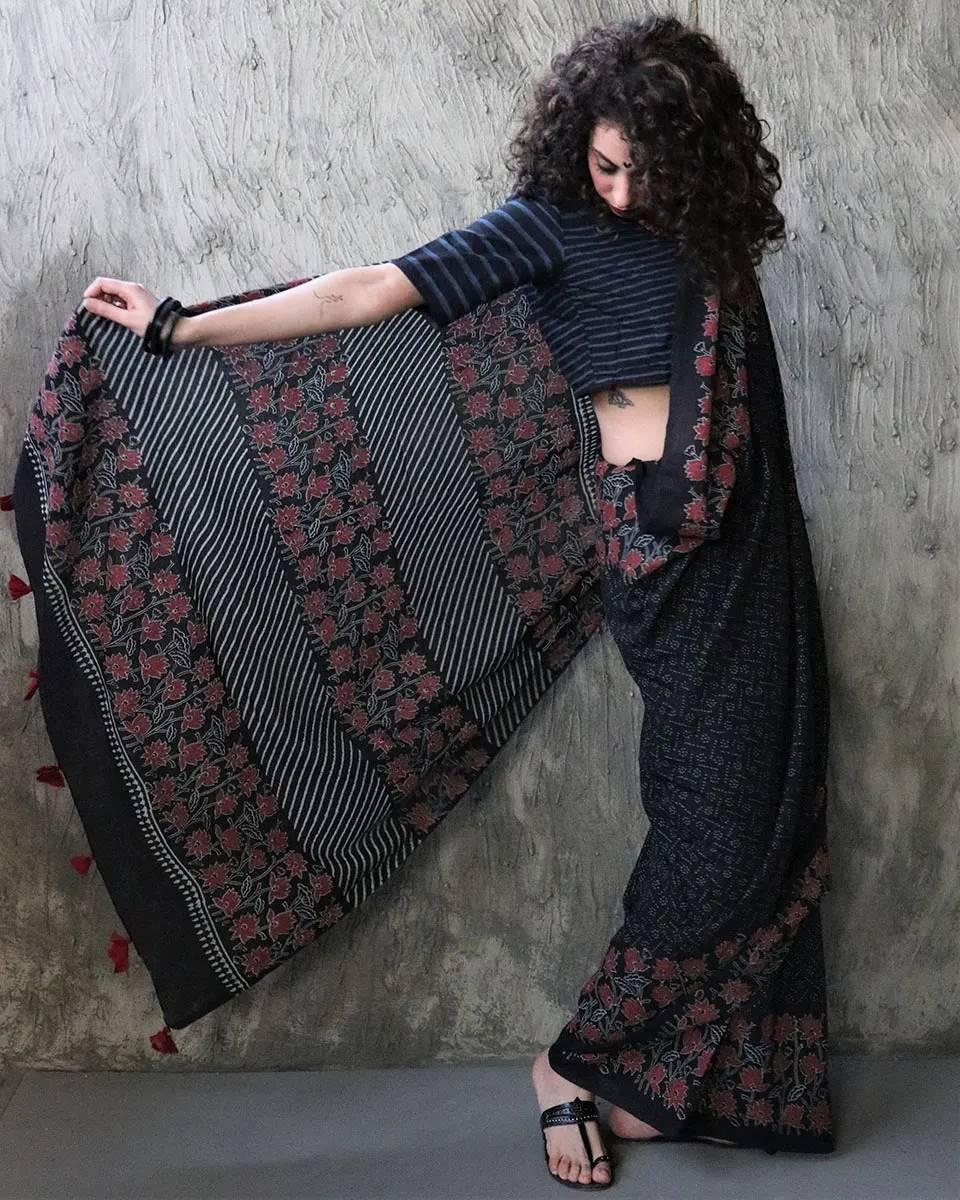 Image Credits - Chidiyaa Online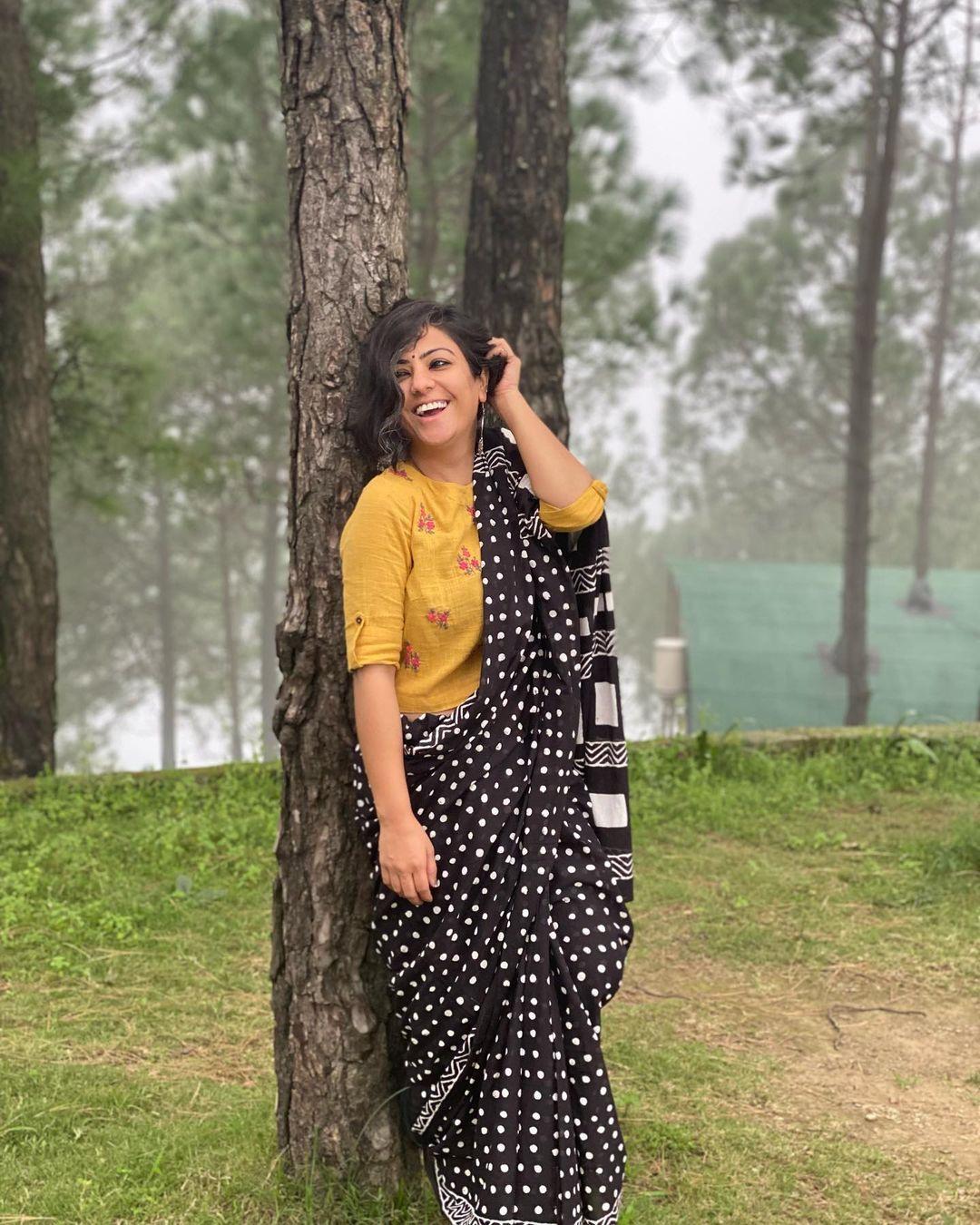 Image Credits - Hathkarga
It is the best representation of the fusion of traditional and modern styles. So if you are up for some experimenting, get these simple blouse neck designs with your simple cotton saree. Cotton saree blouse designs promote the handlooms of India too. These sarees are perfect to be worn in hot and humid weather conditions.
Also Read - Cotton Saree Blouse Designs For Weddings Of The Humid Season
Simple Blouse Sleeves Designs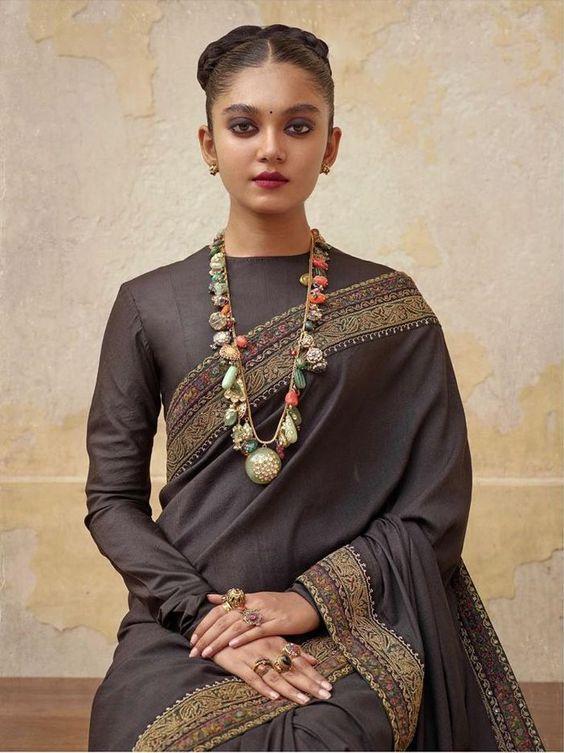 Image Credits - Sabyasachi
While we do not give enough credit to the sleeves of simple blouse designs, the truth is that they really have the power to change things around and twist it up to make your attire look in-vogue. From bell sleeves to cap sleeves, frill sleeves and puffed sleeves, there are a long list of styles to choose from. The key, however, is to make sure that you pick up a design that goes well with the fabric of your blouse or the kind of saree you will pair it with. For example, a bell sleeve blouse may not necessarily fall perfectly with every kind of fabric and in case you decide to pair it with a traditionally classic saree, the combination might seem a little off too. So be careful with your choice of fabric and the saree you will wear your blouse with before indulging in extravagant sleeve styles. Keeping this in perspective let's scroll further to know more about the trending simple blouse neck designs.
Also Read - Blouse Designs: 150+ Traditional & Stylish Blouse Patterns for Your Wardrobe
Simple Blouse Design with Three Fourth Sleeves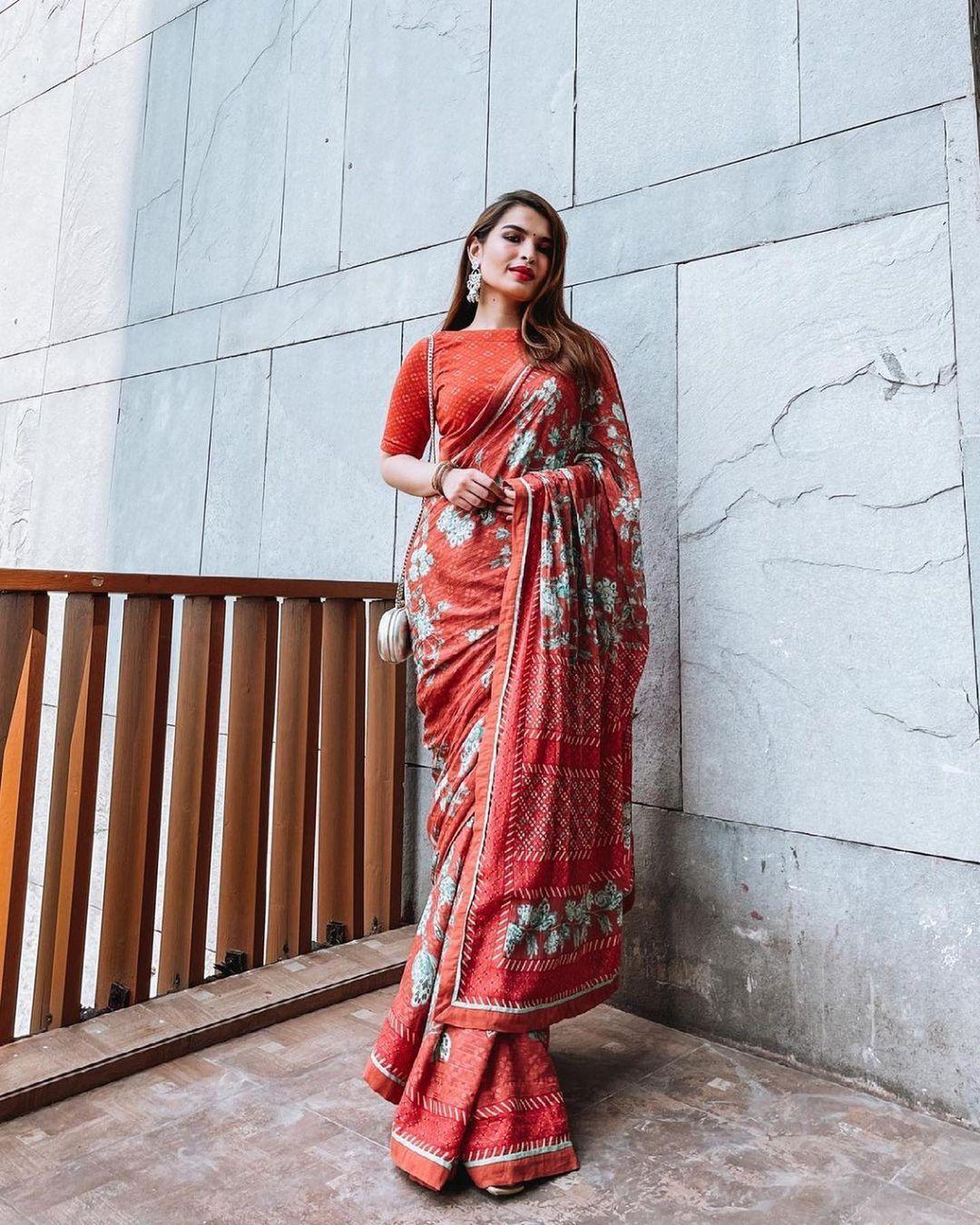 A royal dinner demands a classy dress and royal does not conclude a heavy outfit. Sometimes royal denotes the rich look you exude while walking with confidence or while talking with confidence. Here are zero neck blouse designs that are syncing so well with sarees. Look at this lady – she is carrying the simple neck design with so much panache.
Simple Blouse Sleeves Designs For A Classy Bride
Image Credits - Kalki Fashion
Apart from the plunging sweetheart neckline blouse, this bandhgala-style, zero neck blouse is another one of his classic styles. Isn't she looking amazing?
Classy Half Sleeves Blouse Designs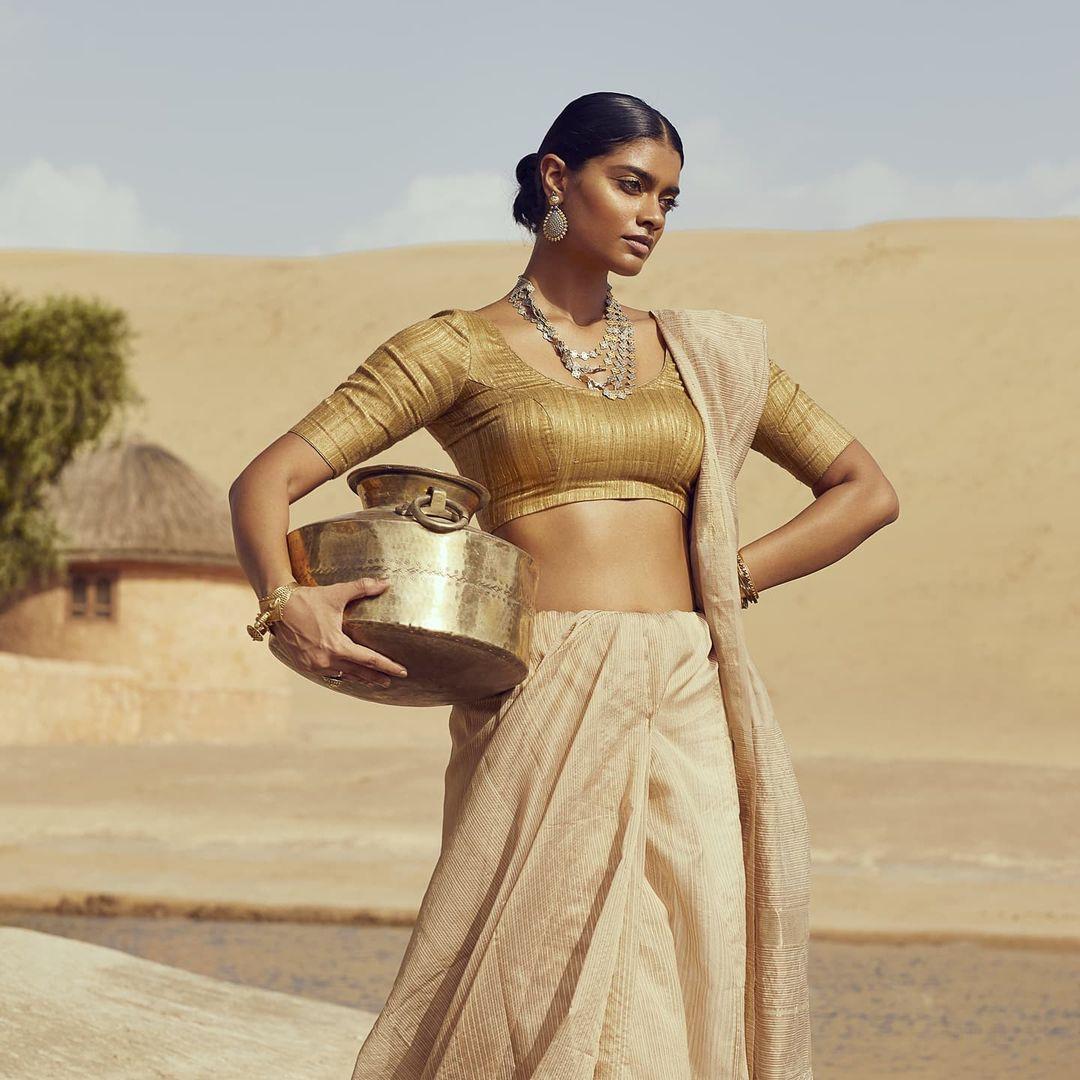 Image Credits - Fabindia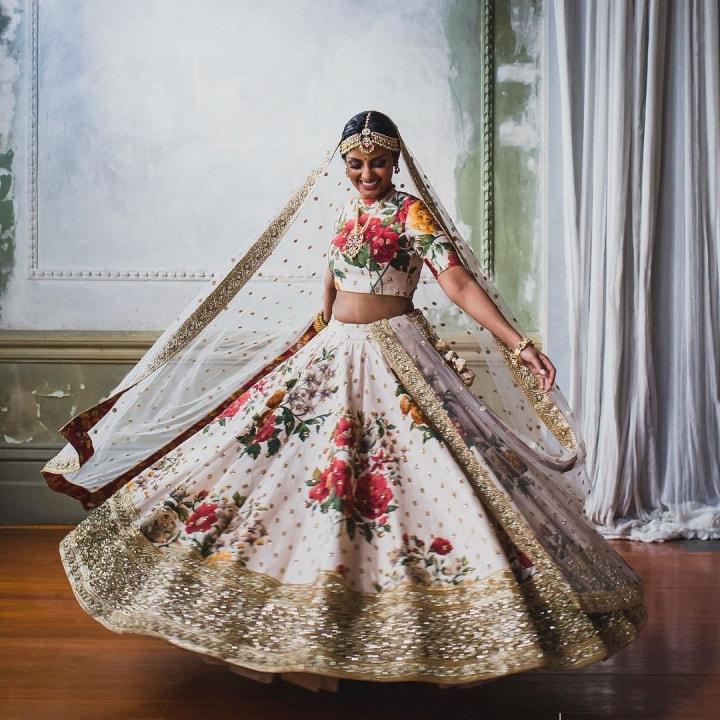 These blouses will add to your look without taking the limelight away from your jewelry or even the outfit. Simple and classy - thes blouses are an amazing asset. If you are a true-blue royal bride, then these blouse designs are your calling. To make the best out of this simple blouse design, you can accessorise your look with a heavy choker or a layered necklace and stun everyone with your gorgeousness.
Simple Blouse Sleeves Design for Velvet Lehenga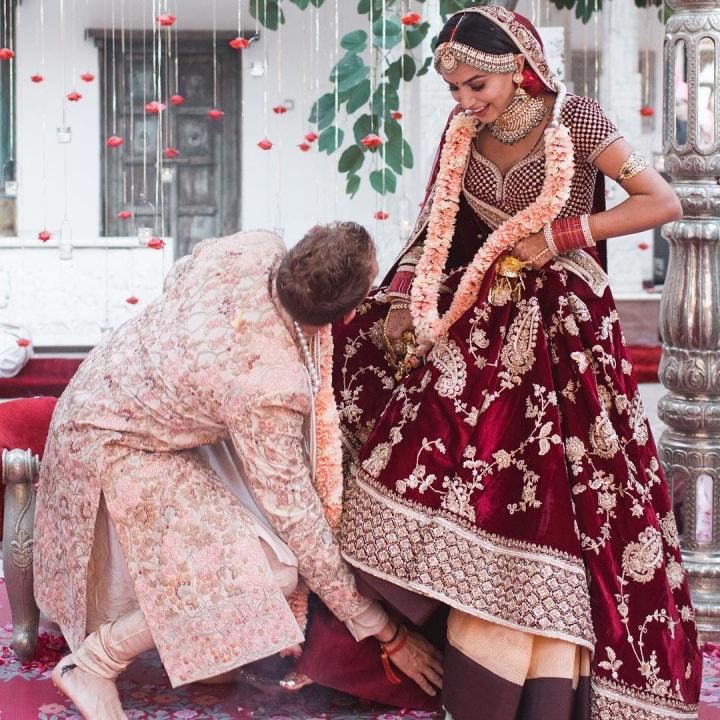 Image Courtesy: Sabyasachi's Facebook
This simple blouse design is such a favorite among Indian Women. This is a perfect blouse design to choose, especially if you think you're going to wear extremely heavy jewelry.
Simple Blouse Sleeves Design For A Pastel Lehenga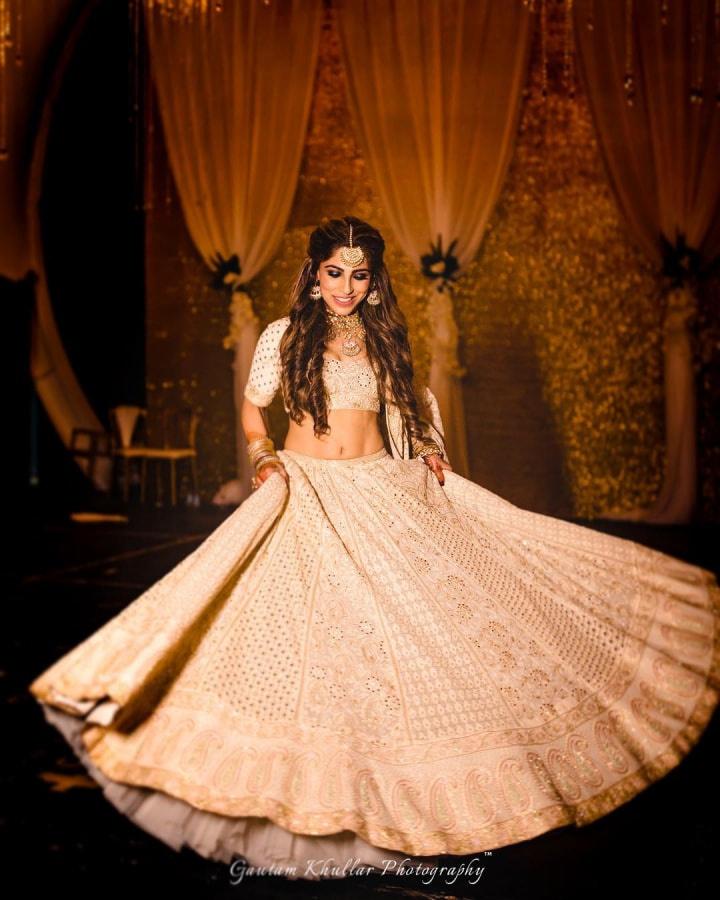 Sometimes a simple round neck blouse is all you need to add that oomph factor to an otherwise simple yet classy outfit. This Choli-style blouse design is perfect for when you want to show off those curves, but want to keep it classy. If you plan on heavily accessorising your look, we suggest you pick something like this simple blouse design so that you can flaunt all your accessories just like you want to.
Simple Blouse Sleeves Design for a Red Lehenga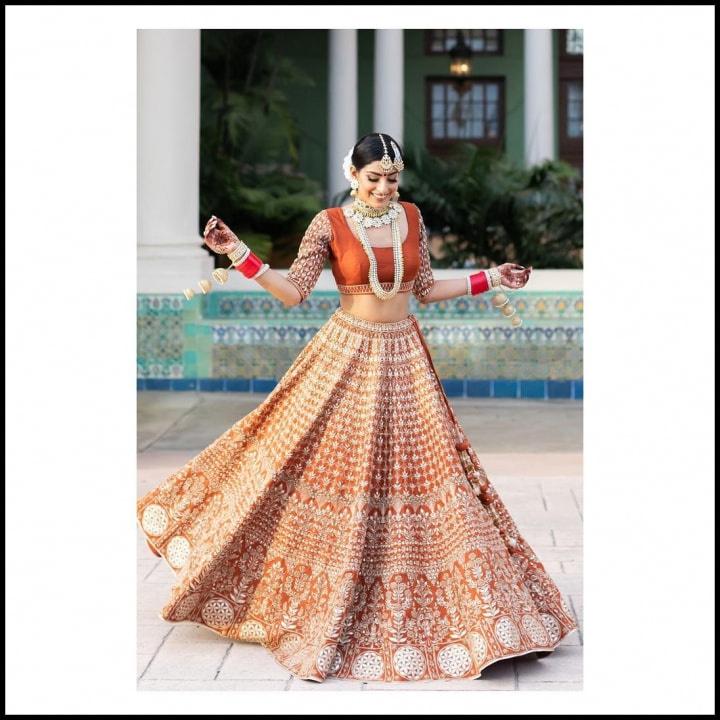 Another amazing blouse design is the one with a scoop-neck cut. It gives you a number of options to choose from when it comes to jewelry and even hairstyles. So, that makes it a total winner! And last but not the least, a sexy back design with a simple neckline never hurt anybody. It is a perfect mix of simple with sexy and will make you look like a diva. Just make sure that you style your hair in a bun so that the back design is clearly visible.
Simple Blouse Back Designs
If you have been stalking every designer page on Instagram for inspiration of the simple back designs then, explore no further! We have some really trending designs and you are going to find a unique blouse design for all your celebrations.
Simple Blouse Back Designs for Festive Wear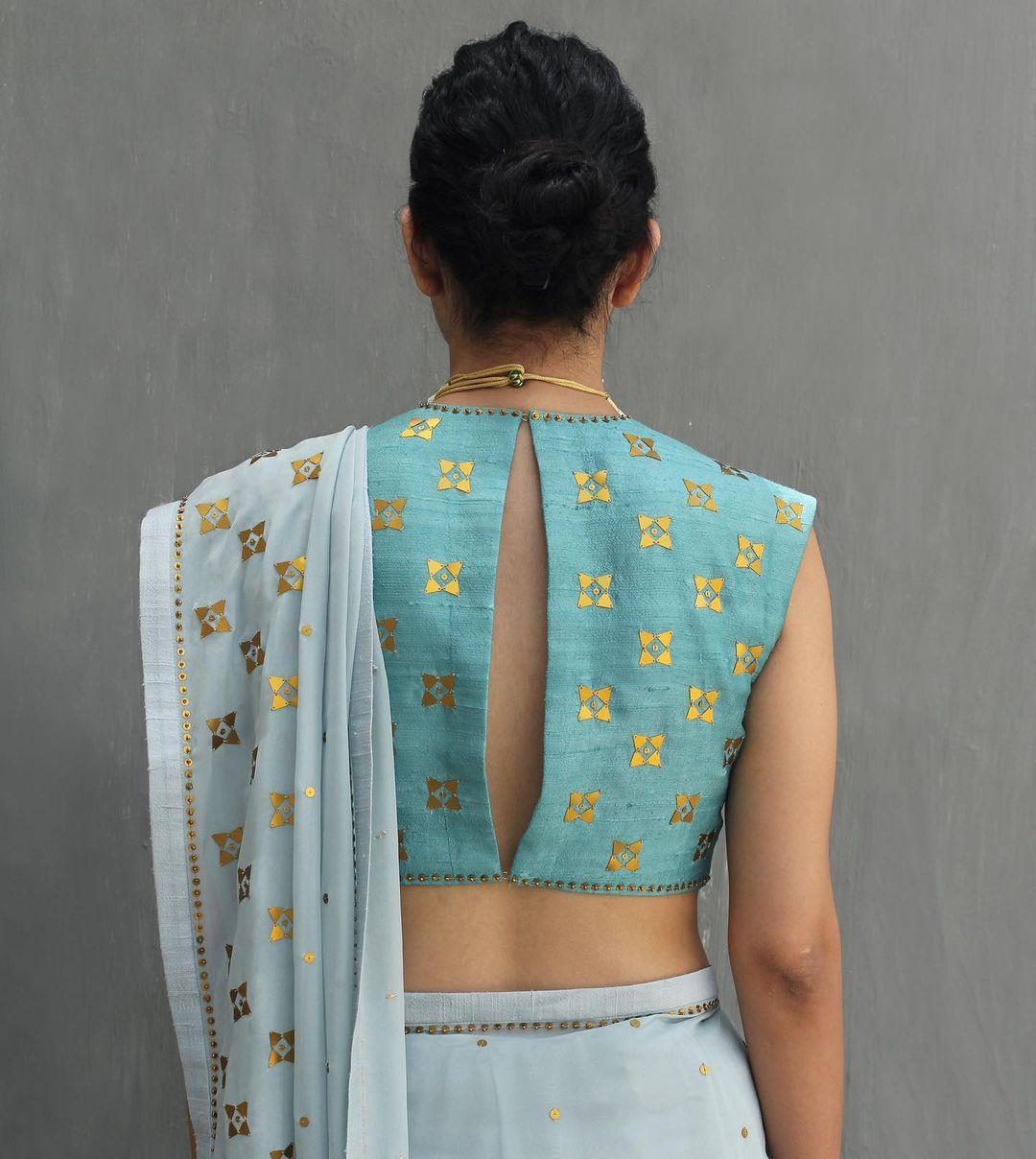 Image Credits - Priyal Prakash House of Design
A sleeveless blouse in a single colour always works as far as simple blouse designs for daily wear goes. Pick any of your favourite saree from the wardrobe and team it up with a matching or contrasting low cut sleeveless blouse...you're sorted. However, the fabric and texture of the blouse is quite important.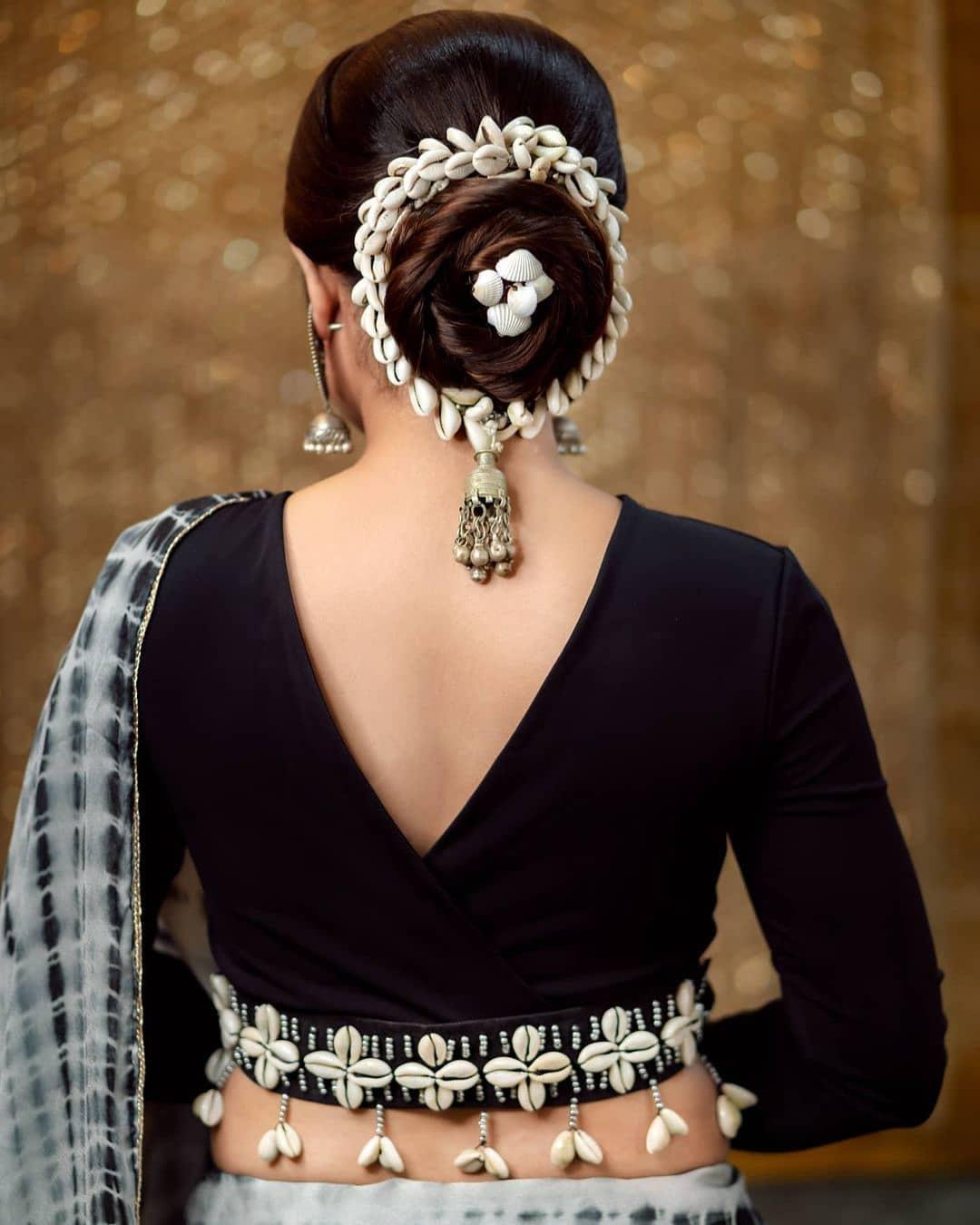 Image Credits - Pinterest
A V-neck design with a minimal shells is often the ultimate choice for blouse designs for monochrome sarees. While the v- neck is here to stay as a trending blouse design style, this simple blouse design also confirms the idea of simple is pretty and serves the right inspiration.
Simple Blouse Back Designs for Plain Sarees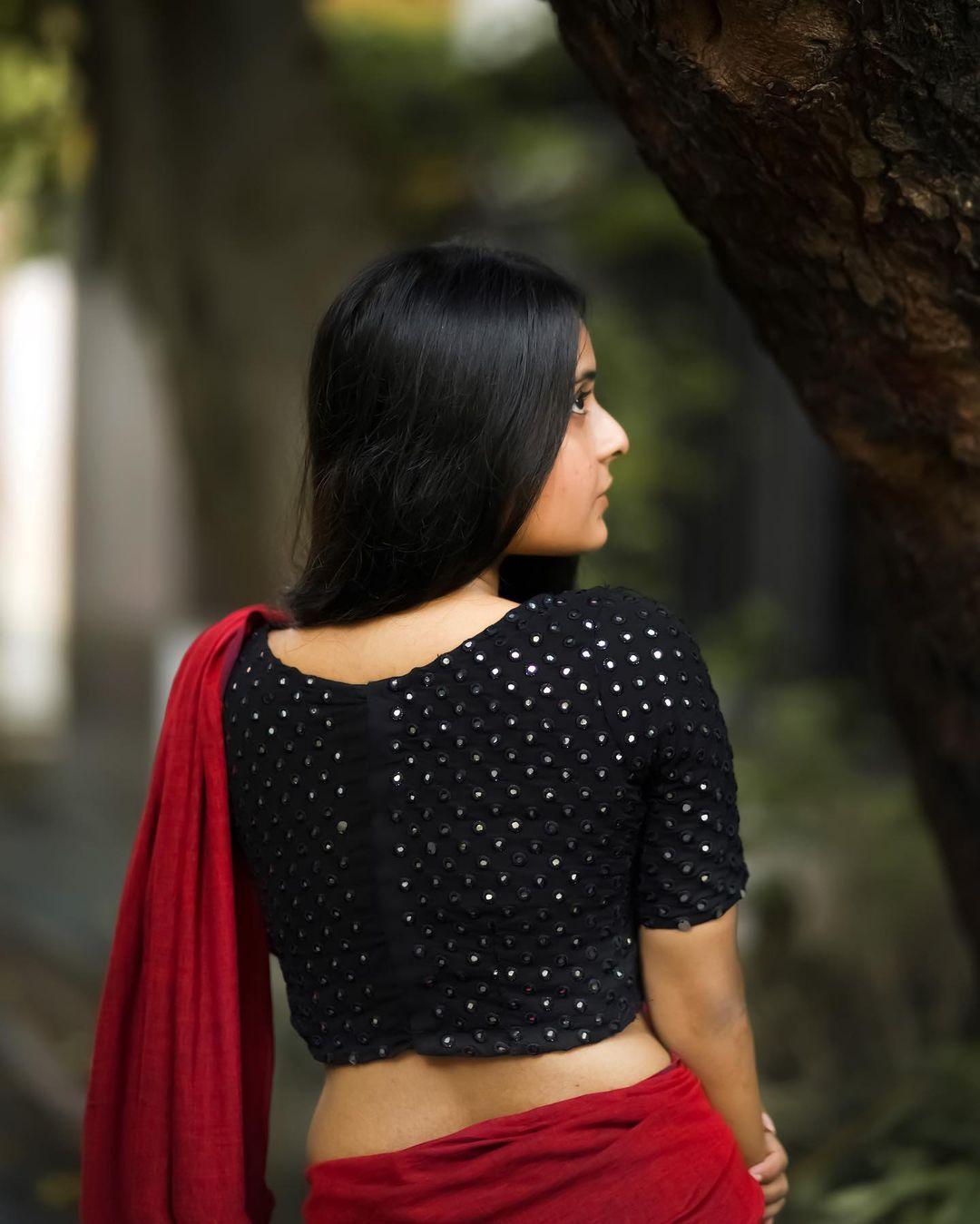 Image Credits - Mori
If you are looking for a simple blouse design with a red sizzling saree then you should never give this design a second thought. This particular outfit looks this ravishing because of the balance between a black blouse and gorgeous red saree.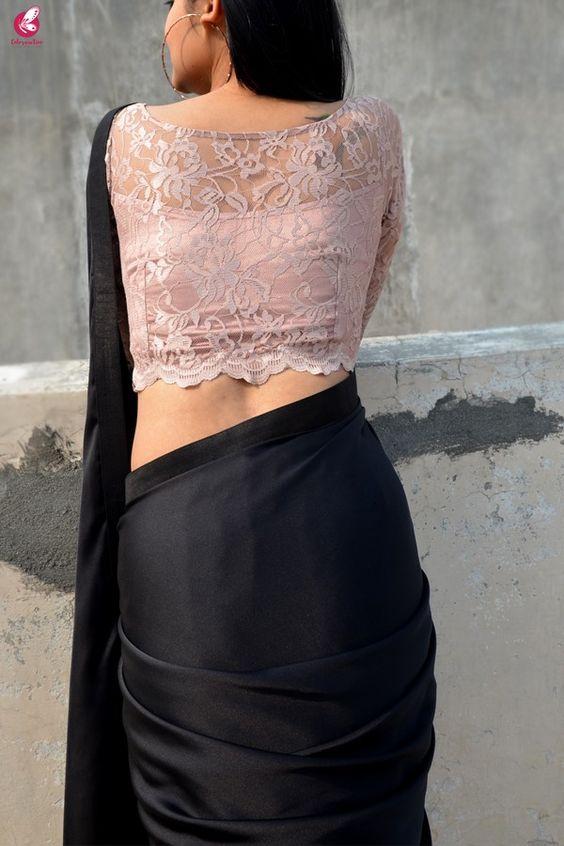 Image Credits - Pinterest
A net blouse can never go wrong with the millennials. In utmost simplicity only it can exude that oomph factor and hence you can steal many glances at once. Isn't this net design so fine, refined and hot?
Simple Blouse Back Designs for Conventional Sarees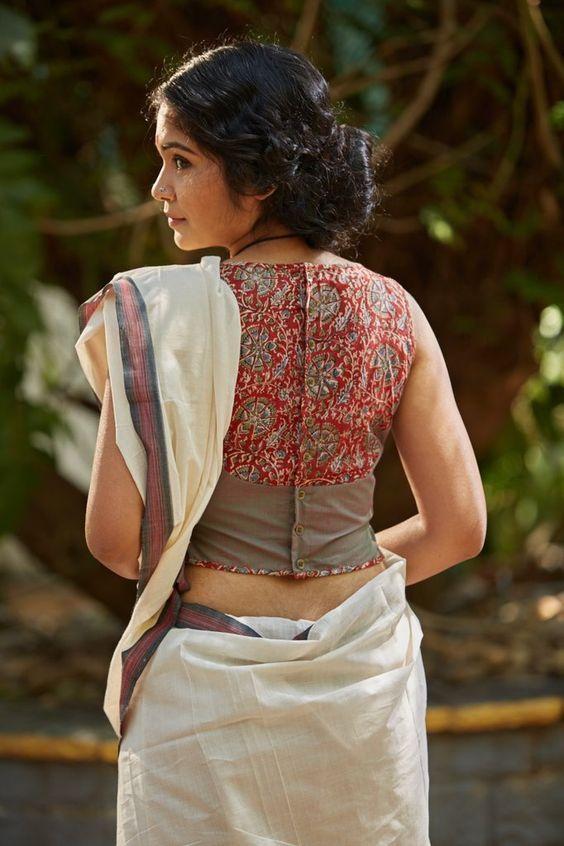 Image Credits - Pinterest
Planning to wear a simple cotton saree? Then don't scroll further as this Simple Blouse Back Designs for Conventional Sarees is definitely alluring for the Indian women.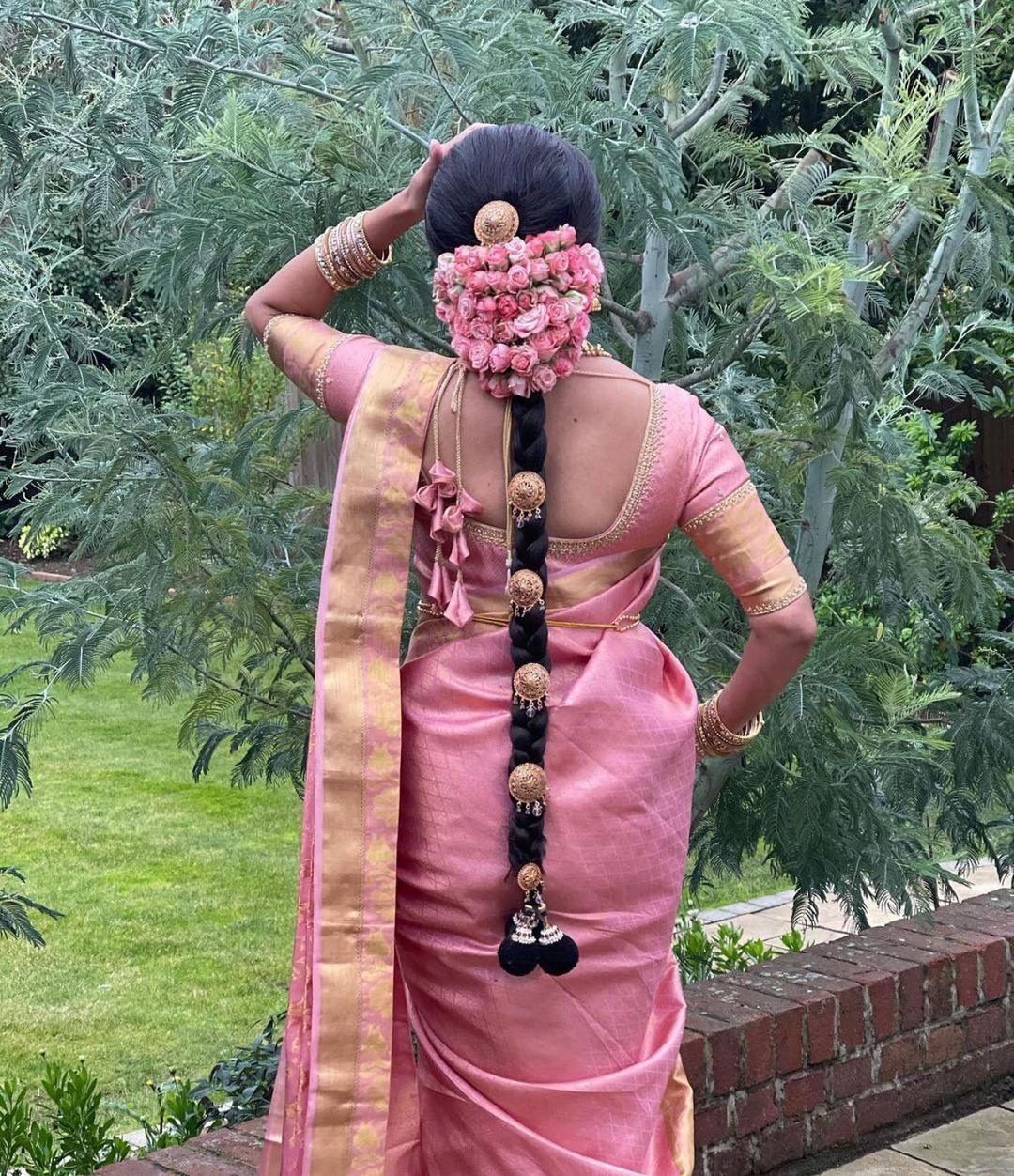 Image Credits - Pinterest
The Bengalis love adorning cotton sarees and every south Indian ladies' wear a silk or Kanjeevaram saree. Most of them prefer a simple blouse over any other fancy blouse design. Take note from this simple blouse back neck design images and choose something simple. You can accessorize your hair with heavy hair jewelry to make the entire look traditional and lovely.
Simple Blouse Back Designs for Classy Sarees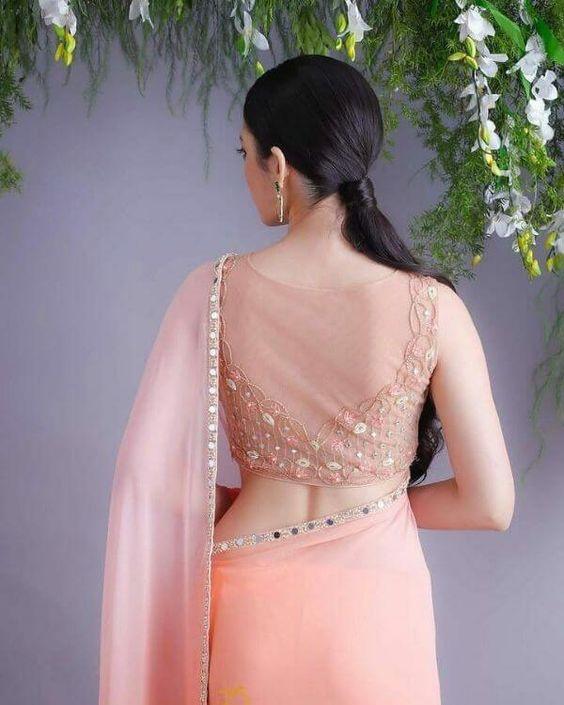 Image Credits - Pinterest
Though they are simple, they are royal as the classy dress materials and embroideries are appealing. Since we have shown you many different kinds of simple blouse designs, we hope you will be able to pick the perfect design for yourself. These are some simple blouse designs that caught our attention!
If you have any questions about what kind of blouse designs to pick for your outfit, any suggestions for your fellow brides-to-be, then feel free to drop your comments below. Also, read our latest blogs on wedding styles and find all the wedding fashion inspiration you need!
With Words By Manvi Malhotra
Read More -
Mehndi Design | Proposal Lines | Simple Finger Mehndi Design | Arabic Mehndi Design | Propose Day Quotes for Boyfriend | Wedding Anniversary Wishes for Sister | Change Aadhar Card Name after Marriage | Tamil Wedding Calendar | Simple Mehndi Design | Pre Wedding Quotes | Engagement Anniversary Wishes | Funny Wedding Wishes for Bestfriend | Blouse Design | Rangoli Design | First Night Tips for Bride | Wedding Anniversary Wishes