Just as the countdown to her big day begins, every bride gets down to serious business and starts planning all the looks for her various wedding functions. While brides tend to pick different kinds of outfits for different occasions, there is one thing which remains a part of most outfits consistently - a blouse. Be it for a lehenga, a saree or even an embellished skirt, the right blouse can easily make or break your look.
It is therefore very important for a bride to pick up just the right blouse that accentuates her outfit and her overall look. It is very important for her to narrow down the various kinds of back and neck designs, sleeves, work etc that suit her and go well with the outfit. Only when she knows what kind of blouse she's wearing can she decide the jewellery and hairstyle to go with it. This makes it all the more crucial for the bride to pick the perfect blouse design.
Having said that, we also know that every bride is unique in her own way, especially when it comes to her sartorial choices. While some brides go all out with their wedding outfits, others like to keep it simple. If you are one of the brides from the latter category and looking for some blouse design inspiration which looks classy but is also simple at the same time, then these 15 simple blouse designs donned by real and stunning brides are tailor-made for you. Check them out and thank us later!
1. Hello sweetheart!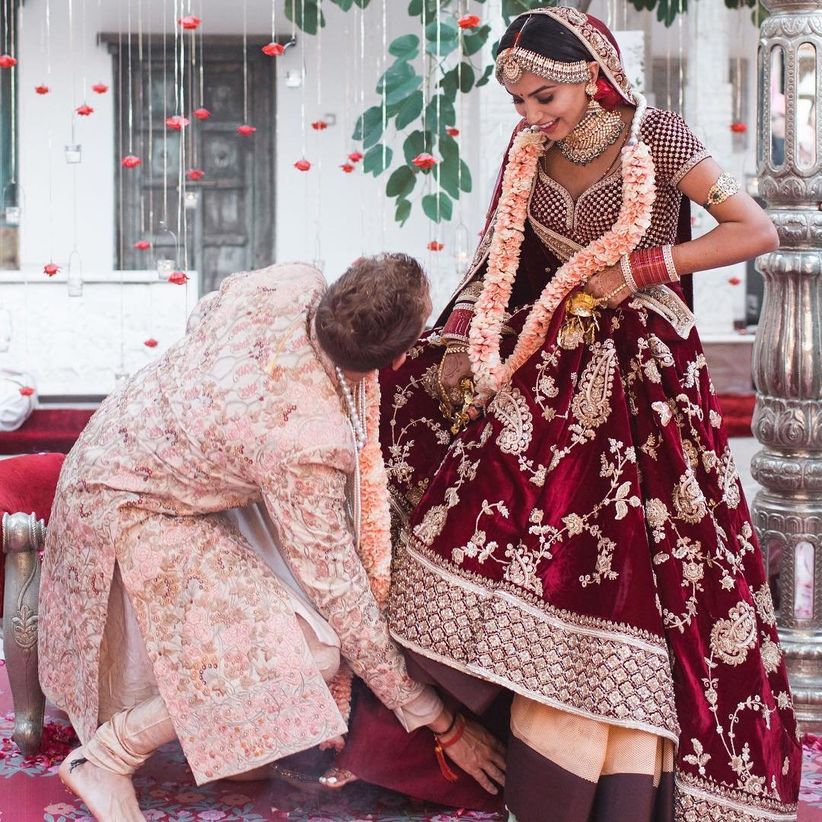 Image Courtesy: Sabyasachi's Facebook
There is something about simplicity that you can't quite put your finger on. This classic and simple blouse design is one of the trademark styles of Sabyasachi. Most of his Lehengas have blouses with this design, the plunging sweetheart neckline, which looks damn sexy but not at all over-the-top. The fact that this simple blouse design is such a favourite among brides says a lot about it. This is a perfect blouse design to choose for your wedding day Lehenga, especially if you think you're going to wear extremely heavy jewellery.
2. Pretty in pastel
Sometimes a simple round neck blouse is all you need to add that oomph factor to an otherwise simple yet classy outfit. This Choli-style blouse design is perfect for when you want to show off those curves, but want to keep it classy. If you plan on heavily accessorising your look, we suggest you pick something like this simple blouse design so that you can flaunt all your accessories just like you want to. The blouse will add to your look without taking the limelight away from your jewellery or even the outfit.
3. Cold Shoulder
Are you the kind of bride who loves experimenting and playing with different styles, but at the same time does not want to wear anything that is too in the face, then this simple yet super sexy blouse design is calling out to you. Cold shoulder designs are a perfect balance between going completely simple and adding a little diva factor to your outfits, a perfect mix of modern with traditional.
4. Badass in brocade
Who said that a simple blouse design cannot make you look badass (if that is what you want)! This stunning bride in her oh-so-sexy and unique jacket-style blouse is giving us all the inspiration to try something new with your wedding looks. This is a perfect blouse design for your Sangeet ceremony. Pick this style and knock 'em dead with hotness, girl!
5. Bandhgala beauty
Sabyasachi is a master when it comes to stunning everyone not just with his gorgeous lehenga designs, but even for his classy blouse designs. Apart from the plunging sweetheart neckline blouse, this bandhgala-style blouse is another one of his classic styles. If you are a true-blue royal bride, then this blouse design is your calling. To make the best out of this simple blouse design, you can accessorise your look with a heavy choker or a layered necklace and stun everyone with your gorgeousness.
6. Simplicity at its best
If your Lehenga is high on embellishments, embroidery or any other intricate work and you do not want to take the limelight away from it, do what this bride did and opt for a simple blouse design with a U-cut neckline. It is also a good idea to stick to basics when it comes to jewellery when wearing such a heavy Lehenga.
7. Bling it up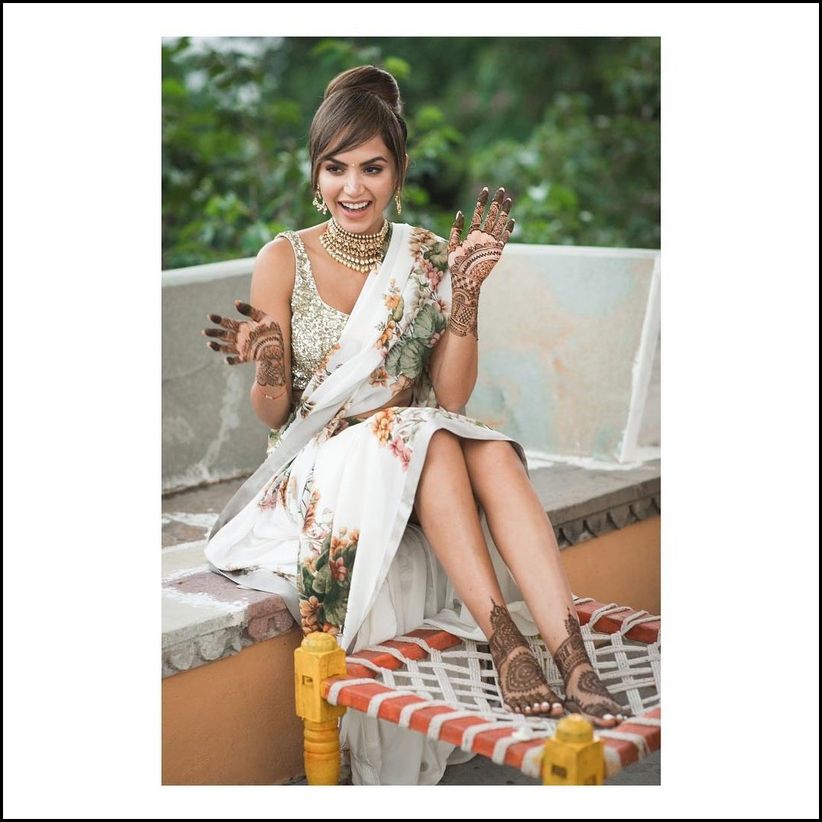 Image Courtesy: Sabyasachi's Facebook
And the master is at it again, giving brides many, many options to choose from since time immemorial, excuse the slight exaggeration. Though Sabyasachi rarely goes the bling way when it comes to his Lehenga and blouse designs, this beautiful yet simple blouse design is proof that sometimes change is amazing. If you want to pep up your sangeet or Mehndi look then you can definitely pick a blingy, strappy blouse like this one and rock your diva bride look with some swag.
8. Floral goodness
When opting for a Lehenga that has the same pattern and colour all over, it's best to keep it simple just like this bride did. Opt for a simple blouse design with a round neck and go for a plunging one if you want to add a little sexy touch to it. Accessorise well and yes, make sure you opt for a pretty hairstyle too. That will compensate for the simplicity, compliment it in fact.
9. Zardozi magic
For brides getting married in winter or even when there is a slight nip in the air, it is best to not expose their waist to the weather, especially on functions before the D-Day. You can opt for a pretty blouse like this one whose hemline goes way below the navel. To add a touch of glamour, you can add some sheer sleeves or maybe some net detailing around the shoulders and you are all set.
10. Embellished with love
Once again, we cannot stress the fact about heavy Lehengas and simple blouse designs being a match made in heaven. If your Lehenga and blouse already have a lot of bling, then make sure the blouse design is simple so as to not take the limelight away from all the other aspects of your outfit.
11. Simple and sexy
An intricately embroidered monotone lehenga like this one works best with a plunging sweetheart neckline. Accessorise your look with a choker and some chunky earrings and you're done.
12. Elegance personified
If you are the kind of bride who believes that beauty lies in utmost simplicity then we know the perfect simple blouse design for you. A silk saree or even a Lehenga looks very graceful with a full-sleeved blouse like this one. You can adjust the depth of the neckline according to your taste and be the definition of elegance at your wedding.
13. Happy brides are the prettiest
You know what they say about happy brides, right? Their smiles are what makes their bridal look complete. But apart from that, you also need to make sure your ensemble is just right. Yet again, simple blouse design + heavy embellishments = win win!
14. Twirl baby twirl
Another amazing blouse design is the one with a scoop-neck cut. It gives you a number of options to choose from when it comes to jewellery and even hairstyles. So, that makes it a total winner!
15. Backstories
And last but not the least, a sexy back design with a simple neckline never hurt anybody. It is a perfect mix of simple with sexy and will make you look like a diva on your big day. Just make sure that you style your hair in a bun so that the back design is clearly visible.
All these brides are a perfect inspiration for the brides-to-be who want to look classy and elegant without going over-the-top with their outfits in any way. We are in love with all these simple blouse designs. Whether you want a deep neck blouse or one with long sleeves, there is something for everyone. Since we have shown you many different kinds of simple blouse designs, we hope you will be able to pick the perfect design for yourself. These are some simple blouse designs that caught our attention!
If you have any questions about what kind of blouse designs to pick for your wedding outfits or any suggestions for your fellow brides-to-be, then feel free to drop your comments below.