89+ Most Romantic Proposal Lines for a Special Start to Your 'Forever'
We curated for you a listicle of some romantic, cheesy and mushy proposal lines which will make them say 'YES' right away! Read on & bookmark them now!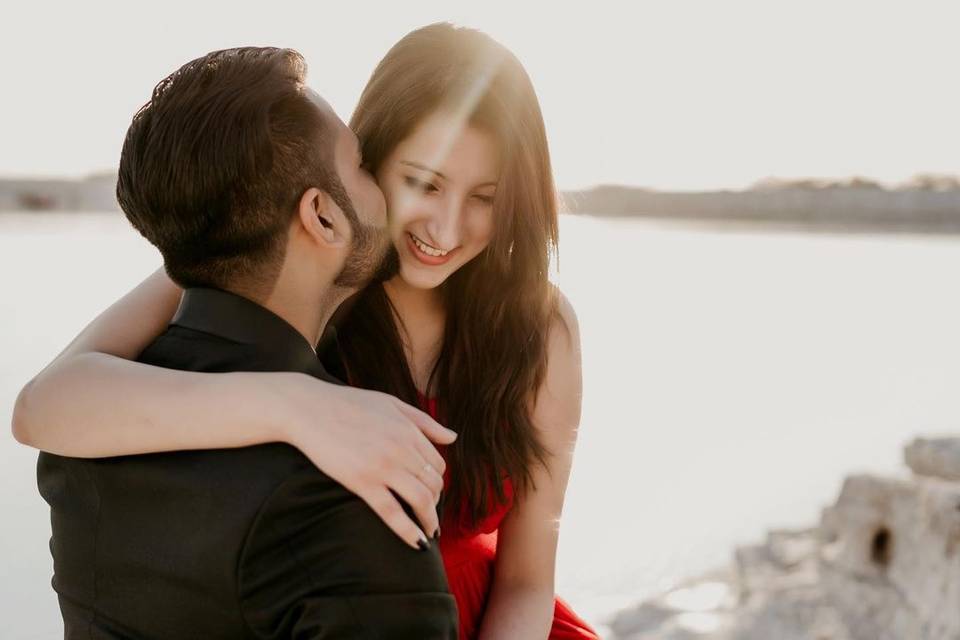 Photography: Light Chamber
It's always about love and there is no denying the fact that expressing all the emotions you feel for your partner is not always an easy task. It could get overwhelming and you might find yourself at a loss of words - speechless and how! That is exactly why we are here to help you communicate it right! If you are planning to pop the much-awaited question, then right now is the time that you get down on your knee, with a ring in your hand and say what you always wanted to say to the love of your life.
A lot of times words don't match up to what we feel on the inside. In such a scenario wouldn't it be easier if one quote or a dialogue or a song lyric could do the trick and sum up our feelings better than our own words could? Proposal quotes are often the key to your beloved's heart. Whether you are looking for lines to propose a girl or cute and romantic proposal lines for your boyfriend, check out these unique love quotes that can be used for a beautiful moment and make your partner love the proposal. The below-mentioned listicle of fun, filmy and romantic proposal quotes/lines will surely help you in popping the big question in the right way!
Here are some proposing lines you must use for the big day and mark the beginning of your ever after together.
Proposal Quotes for Love
Photography: Badal Raja Company
Read these romantic proposal lines and see the smile it brings to your partner's face! These lovely proposal quotes for your LOML will make proposing for the big day a cakewalk. Don't believe us? Try these proposal lines for yourself and let the magic of love unfold!
1. "Found the reason for my smile, the day I found you. Will you let me be the reason for your smile?"
2. "In you, my life becomes whole, with you my days become bright. In your hands I would love to lay, this night and for the rest of my life!"
3. "You deserve the world and all the good things it has to offer. If I fail to find that world for you, I promise to give you mine!"
4. "Are you Google search engine? Because you've got everything I've been searching for in life."
5. "You are my North, my South, my East and West, the sun of my morning and the night to my day!"
6. "I would love for you to grow old with me! The best is yet to be and it begins from the moment you say yes!"
7. "I love the feeling and the butterflies I get when I see you smiling. I would love to smile for the rest of my life too. So, I say it's a yes?"
Find Top Photographers to Capture Your Dreamy Proposal
Photography: ShutterDown by Lakshya Chawla
8. "You are the one I wanted to find, to tell that I need you all my life, from this day on till the rest of my life."
9. "Only you, you're the only thing I'll see forever. In my eyes, in my words, and in everything I do, your sight is the only sight that will ever bring me peace!"
10. "Because every long lost road, led me to where you are; others who broke my heart, they were like northern stars, guiding me on my way, into your loving arms, this much I know is true. God bless the broken road that led me straight to you." - Bless The Broken Road by Rascal Flatts
11."I love you just the way you are." - Just The Way You Are by Billy Joel
12. "Having you by my side is what completes me, makes me and fulfils me. You complete me. So marry me and complete the circle with me!"
13. "I want to be with you forever and ever. We are meant to be together."
14. "I love you. I never wish to be parted from you, from this day on. Be mine through the thick and thin of life."
15. "Hold my hand tight as I want to grow old with you from this day forth."
Also Read: Couple Goals Quotes: 35+ Best Relationship Love Quotes for your Loved One
Romantic Proposal Quotes & Lines
Photography: Photo Phactory
16. "I would rather spend one lifetime with you – than face all the ages of this world without you." - Lord Of The Rings by J.R.R Tolkien
17. "You taught me the real meaning of love. One look at your face sets my world straight!"
18. "You're the only thing that exists in my world. Everything I do just to see a smile on your face."
19. "I love you not only for what you are but for what I am when I am with you." - Elizabeth Barrett Browning
20. "You bring out the best in me. Give me a chance to be the luckiest man alive."
21. "You are the one I wanted to find, to tell that I need you all my life."
22. "'Cause when you smile, the whole world stops and stares for a while. Cause girl you're amazing, just the way you are!" - Just The Way You Are by Bruno Mars
Photography: Sunny Dhiman Photography
23. "Well I found a woman, stronger than anyone I know, She shares my dreams, I hope that someday I'll share her home, I found a love, to carry more than just my secrets, To carry love, to carry children of our own, We are still kids, but we're so in love, Fighting against all odds, I know we'll be alright this time, Darling, just hold my hand, Be my girl, I'll be your man, I see my future in your eyes." - Perfect by Ed Sheeran
24. "When the rain is blowing in your face and the whole world is on your case, I could offer you a warm embrace to make you feel my love." - Make You Feel My Love by Adele
25. "'Cause all of me, loves all of you. Love your curves and all your edges; all your perfect imperfections. Give your all to me, I'll give my all to you. You're my end and my beginning. Even when I lose I'm winning" - All Of Me by Charlie Puth
26. "It's always better when we're together. Yeah, we'll look at the stars when we're together. Well, it's always better when we're together." - Better Together by Jack Johnson
27. "I'll be your dream, I'll be your wish, I'll be your fantasy. I'll be your hope, I'll be your love, be everything that you need. I love you more with every breath, truly madly deeply do I will be strong, I will be faithful 'cause I'm counting on a new beginning. A reason for living. A deeper meaning." - Truly Madly Deeply by Savage Green
28. "I'm so in love with you, Whatever you want to do Is all right with me, 'cause you make me feel so brand new, And I want in life is to spend my life with you." - Let's Stay Together by Al Green
29. "I swear by the moon and the stars in the sky, and I swear like the shadow that's by your side. I see the questions in your eyes, I know what's weighing on your mind & you can be sure I know my heart." - I Swear by Boyz II Men
30. "'Cause I'll stand beside you through the years. You'll only cry those happy tears, and though I make mistakes, I'll never break your heart." - I Swear by All-4-One
Also Read: Happy Propose Day 2021 - 10+ Romantic Quotes, Wishes & Images
Photography: The Royal Knot
31. "I love you always forever, near and far, closer together. Everywhere I will be with you, everything I will do for you." - I Love You Always Forever by Donna Lewis
32. "My arms are reaching out; out across this canyon. I'm asking you to be my true companion, true companion, a true companion." - True Companion by Marc Cohn
33. "So, don't you dare and try to walk away. I've got my heart set on our wedding day. I've got this vision of you girl in white. Made my decision that it's you, alright." - I Choose You by Sara Bareilles
34. "Tell the world that we finally got it all right, I choose you, I will become yours and you will become mine, I choose you, I choose."
35. "And darling I will be loving you 'til we're 70. And baby my heart could still fall as hard at 23. And I'm thinking 'bout how people fall in love in mysterious ways, maybe just the touch of a hand. Oh, me, I fall in love with you every single day and I just wanna tell you I am. So honey now, take me into your loving arms, kiss me under the light of a thousand stars, place your head on my beating heart. I'm thinking out loud. Maybe we found love right where we are." - Thinking Out Loud by Ed Sheeran
36. "We keep this love in a photograph. We made these memories for ourselves. Where our eyes are never closing, hearts are never broken, and time's forever frozen still. So you can keep me inside the pocket of your ripped jeans, holding me closer 'til our eyes meet. You won't ever be alone. Wait for me to come home." - Photograph by Ed Sheeran
37. "When I get older losing my hair, many years from now, will you still be sending me a Valentine, Birthday greetings, bottle of wine? You'll be older too, and if you say the word, I could stay with you." - The Beatles
38. "Tumhare ishq se bani hoon main. Pehle zinda thi. Ab jee rahi hoon main." - Aashiqui 2
39. "Yaad rakhna ki duniya ke kisi kone mein koi khush hai, kyun ki tum khush ho." - Chalte Chalte
40. "Itni shidaat se maine tumhe paane ki koshish ki hai, ki har zarre ne mujhe tumse milane ki saazish ki hai." - Om Shanti Om
41. "Tum oxygen ho aur main double hydrogen...hamari chemistry ek dum pani ki tarah hai" - Parineeti Chopra in Hasee toh Phasee
42. "Mere dil, jigar, liver mein ho tum … waqt bewaqt aaye woh fever ho tum … ab toh meri life mein forever ho tum." - Saqib Saleem in Mujhse Fraaandship Karoge
43. "Mein paise ke liye kuch bhi karsakta hu, toh soch mei apne pyar ke liye kya kya karunga." - Shahid Kapoor in R Rajkumar
44. "Main tujhe bahut bahut bahut love karoonga aur tujhse dher sara love loonga … bol degi love?" - Ranveer Singh in Band Baaja Baaraat
45. "Before I met you, I never knew what it was like to smile for no reason. Now that you're here, I think my entire life will fall into place!"
Photography: KB Studio Productions
Also Read: Propose Day Quotes for Boyfriend - 80+ Propose Day Messages for Him
46. "I could walk forever and a mile with you. Would you like to walk with me?"
47. "I wrote your name in the sand but it washed away…I wrote your name in the clouds but it blew away….I wrote your name in my heart and there it will always stay."
48. "My love for you is like a circle — it has no beginning and will know of no end."
49. "When you realise you want to spend the rest of your life with somebody, you want the rest of your life to start as soon as possible." - When Harry Met Sally
50. "I love you so, so much. I need to make you happy, for me to even have a shot at being happy. Will you marry me?"
51. "I would rather have had one breath of her hair, one kiss from her mouth, one touch of her hand, than eternity without it." - Seth in City of Angels
52. "It's only in the mysterious equations of love that any logical reasons can be found. I am only here tonight because of you. You are all I am. You are all of my reasons." - Russel Crowe in A Beautiful Mind
53. "It seems right now that all I've ever done in my life is making my way here to you." - Graeme Simison
54. "I promise to hold your hand no matter what happens... Till death do us part. Will you marry me?"
55. "You are my best friend, my shoulder to lean on, the one person I know I can count on; you're the love of my life, you're my one and only, you're my everything."
56. "We are the leaves of one branch, the drops of one sea, the flowers of one garden. let's get together forever."
57. "Mujhe chahiye ek aisi ladki , jisse dekhte hi dil ki har aarzoo, saare khwaab , saare rang zinda ho jaaye, abhi aisa hua nahi, lekin ab lagta hai jaise koi andekha anjaana chehra baadalon mein se pukaar raha hain. Pata nahi ye baadal kab hattenge, aur kab woh pukaarne waali saamne aayegi. Par ab lagta hai wo aagayi hai! Tum!" - Dilwaale Dulhaniya Le Jayenge
58. "Mujhe yakeen hai ki mein sirf isliye janma hoon….ki tumse pyar kar sakun….tum sirf isliye, ki ek din meri ban jao." - Dil Chahta Hai
59. "Agar tum mujhe yun hi dekhte rahoge … to mujhe tumse pyar ho jayega firse." - Hum Dil De Chuke Sanam
60. "Aap hume bhool jao hume koi gham nahi…Jis dhin humne aapko bhula diya Samajh lijiyega is duniya main hum nahi." - Teri Meri Kahani (2012)
Also Read: How to Propose a Boy? - Know Creative Ways to Propose a Guy
Love Quotes for Proposal Lines
Photography: Hitched & Clicked
61. "Love is like the wind, you can't see it but you can feel it. And, I feel it every time I am with you." - Nicholas Sparks in A Walk to Remember
62. "It's gonna be love, it's gonna be great. It's gonna be more than I can take. It's gonna be free, it's gonna be real. It's gonna change everything. I feel It's gonna be sad, it's gonna be true. It's gonna be me, baby, it's gonna be you, baby. It's gonna be...It's gonna be love." - Mandy Moore song
63. "Humein tumse pyaar kitna, yeh huma nahin jaante. Magar jee nahin sakte tumhare bina." - Lyrics by Kishore Kumar in Kudrat
64. "When I look into your eyes, I know I won't let go unless you do. When I look into your eyes you made me want to hope of better days to come. When I look into your eyes I realised I want to belong to you all my life."
65. "I cannot let you burn me up, nor can I resist you. No mere human can stand in a fire and not be consumed." - A.S Byatt in Possession
66. "We would be together and have our books and at night be warm in bed together with the windows open and the stars bright." - Ernest Hemingway in A Moveable Feast
67. "Is love this misguided need to have you beside me most of the time? Is love this safety I feel in our silences? Is it this belonging, this completeness?" - Chimamanda Ngozi Adichie in Half of a Yellow Sun
68. "You are sunlight through a window, which I stand in, warmed. My darling." - Jessie Burton in The Miniaturist
69. "It's enough for me to be sure that you and I exist at this moment." - Gabriel Garcia Marquez
70. "...but I also guarantee that if I don't ask you to be mine, I'll regret it for the rest of my life, because I know in my heart that you are the only one for me." - Richard Gere in Runaway Bride
71. "You have bewitched me, body and soul, and I love...I love...I love you. And I never wish to be parted from you, from this day on." - Mr Darcy in Pride & Prejudice
72. "I love you so...so much. I need to make you happy, for me to even have a shot at being happy. Will. You. Marry. Me?" - Ben Affleck in He's Just Not That Into You
73. "It seems right now that all I've ever done in my life is making my way here to you." - Graeme Simison
74. "Can I keep you and never let you go? Can I hold your hand and hug you tight? Can I tell the world how lucky I am to have you in my life? Or simply, can you be mine for the rest of my life?"
75. "My heart doesn't work right without you."
76. "We'll hang out like best friends, make love like soul mates, fight like enemies, stay together like a family. Will you marry me?"
77. "I knew you were my forever when your happiness became more important than mine. Marry me, will you?"
78. "I'm asking you to marry me, not only because I know that we're made for each other, but more importantly because I know that I cannot live a single day of my life without you being by my side. Will you marry me?"
Special Proposal Lines for Partner
Photography: The Blemished Tales
79. "The biggest problem in my life is that I have only one lifetime to be with you… will you be mine forever?"
80. "I knew you were the one for me the moment I realized that my happiness lied in your smiles, not mine. Will you marry me?"
81. "I can't promise everything will be perfect. But I promise we'll make it work, no matter how hard it gets. Be mine forever, will you?"
82. "I knew we were made for each other when I realized that even doing NOTHING with you meant EVERYTHING to me. Will you marry me?"
83. "Ever since the day we met, I've felt a sense of happiness in my life like never before. Will you marry me and make me the happiest man ever?"
84. "I want to be there for you when you're down. I want to share life's happiest moments with you. I want to pamper you whenever I can. I want to help you achieve your dreams. I want you to support me. I want to hold you close now and forever. Will you marry me?"
85. "Everything I've done has led me to you… and everything I haven't done in life yet, I want to do it with you. Will you marry me?"
86. "There are many ways to be happy in life. But I only know one person in the whole universe whom I'd want to share my happiness with…. That's you! Will you marry me?"
87. "In life, a lot of people will hold your hand. But no one will hold your heart the way I do. Will you marry me?"
88. "I don't really know what I'm supposed to do if you say "no," so could you save us both the trouble and say yes?"
89. "I vow to fiercely love you in all your forms, now and forever. I promise to never forget that this is a once in a lifetime love. Marry me?"
Photography: CoolBluez Photography
These eighty-nine proposal lines are some of our favourites from the lot. A few curated from the heart, some from our favourite playlist of sings and some romantic dialogues we all grew up hearing from some epic movies. These proposal lines deserve to be included in your wedding proposal videos, as you surprise him/her with a ring and some champagne to put a head start of your forever after. In a quaint location which is apt for a proposal, with your wedding photographer in the background and some creative ways of popping the question and you're good to go!
Which of these proposal lines did you love best? Tell us through the comments
Read More -
Mehndi Design | Proposal Lines | Simple Finger Mehndi Design | Arabic Mehndi Design | Propose Day Quotes for Boyfriend | Wedding Anniversary Wishes for Sister | Change Aadhar Card Name after Marriage | Tamil Wedding Calendar | Simple Mehndi Design | Pre Wedding Quotes | Engagement Anniversary Wishes | Funny Wedding Wishes for Bestfriend | Blouse Design | Rangoli Design | First Night Tips for Bride | Wedding Anniversary Wishes