5 Gorgeous Bridal Accessories to Complete Your D-Day Look
Looking for the perfect bridal accessories? Here's your guide to complete your look for the most important day of your life.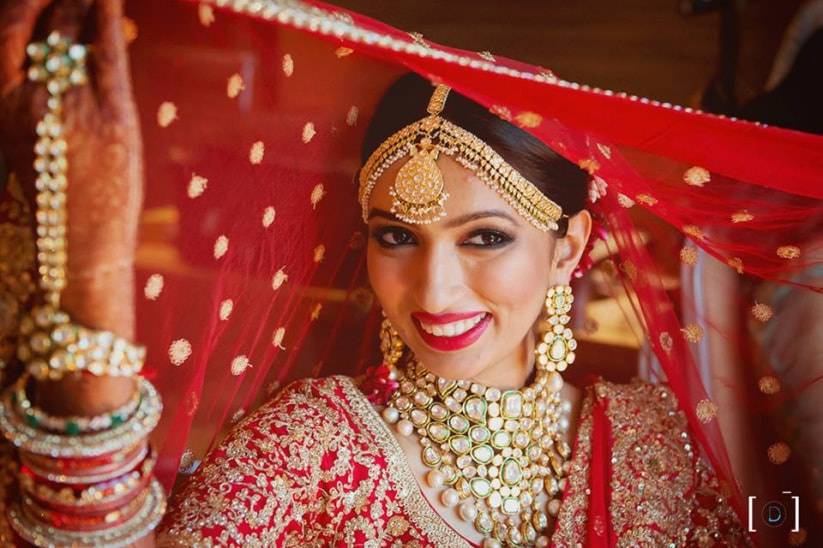 Dear brides, your wedding attire is incomplete without the perfect wedding accessories. Dressing up and looking awe-inspiring on your wedding day is every bride's dream. Along with your bridal lehenga and bridal makeup, one thing that makes you look like a million bucks is the right choice of bridal accessories. Bridal accessories, be it the trendy or traditional ones, are all a part of Solah Shringar. So, we have shortlisted some of the most important bridal accessories for you that will bring the entire look together.
1. Maang Tikka and Matha Patti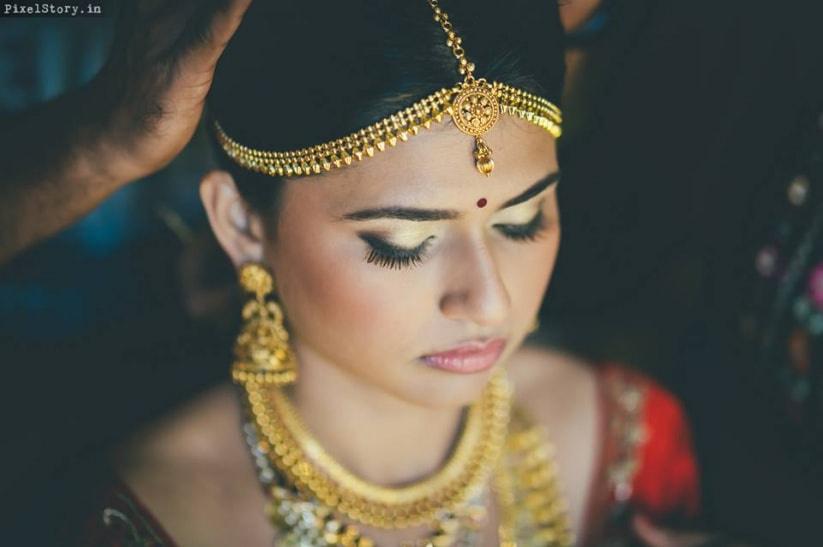 The Maang Tikka is a piece of ornament that runs across the Maang (centre parting of hair) and when attached with a chain flowing across the hairline, it is called Matha Patti. They can be an elaborate thick band or delicate strings of beads, pearls or coloured stones. Take some inspiration from the Virushka wedding and match the stones and patterns from your bridal dress with your Mang Tikka. You can go for a Polki or Kundan based Matha Patti that is an all-time classic. If you want to try something unique, add a Jhoomar or Passa along with the traditional Bindi.
When: Wedding, Mehndi Function, Sangeet Ceremony, Engagement Function and Reception Party
How: An elaborate one works best for the wedding day, whereas a delicate floral one can complement other wedding ceremonies.
The Passa, on the other hand, is an ornament that has been adopted from the Persian culture. It is an elaborate piece of jewellery, similar to a chandelier earring, that sits on one side of the head. You can choose to wear both Maang Tikka and Passa or any one of them. You can even pair a Passa and one-sided Matha Patti for a different look.
When: Sangeet Ceremony and Reception Party
How: If you are wearing a traditional attire for the Sangeet or reception ceremony, a Passa could be the perfect subtle yet stylish bridal accessory.
2. Bindi and Makeup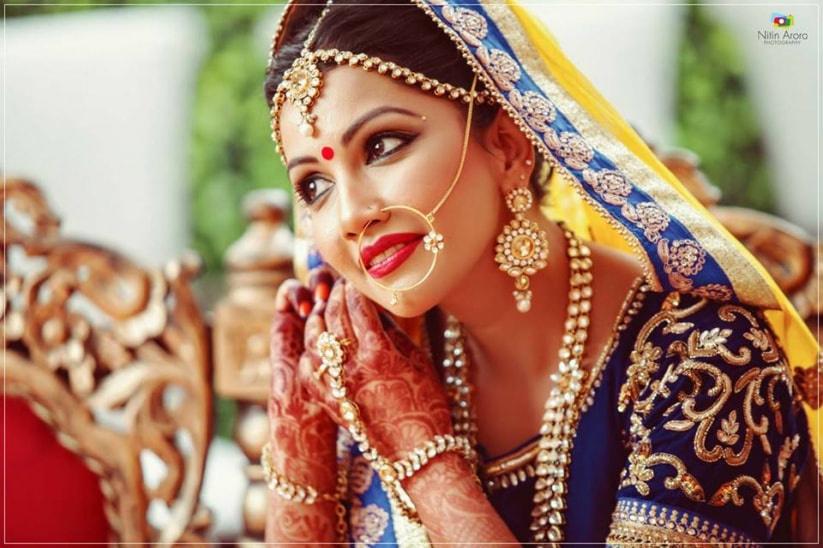 Bridal makeup is also a part of traditional Solah Shringar. This includes the Bindi, makeup and hairstyle. Choose makeup that balances your overall look and brings out the grace of your attire. Your makeup should be in sync with your bridal attire. As obvious as it may sound but you will not pair a fuschia pink lipstick with a red bridal lehenga. It is best to go for a makeup trial beforehand so that on the wedding day, the makeup can be done as smoothly as possible. Remember to carry the outfit for your makeup trial to get the best results.
When: Wedding, Mehndi Function, Sangeet Function, Engagement Function and Reception Party
How: While you can skip the Bindi on all occasions other than the wedding, the perfect bridal look is incomplete without bridal makeup.
3. Gajra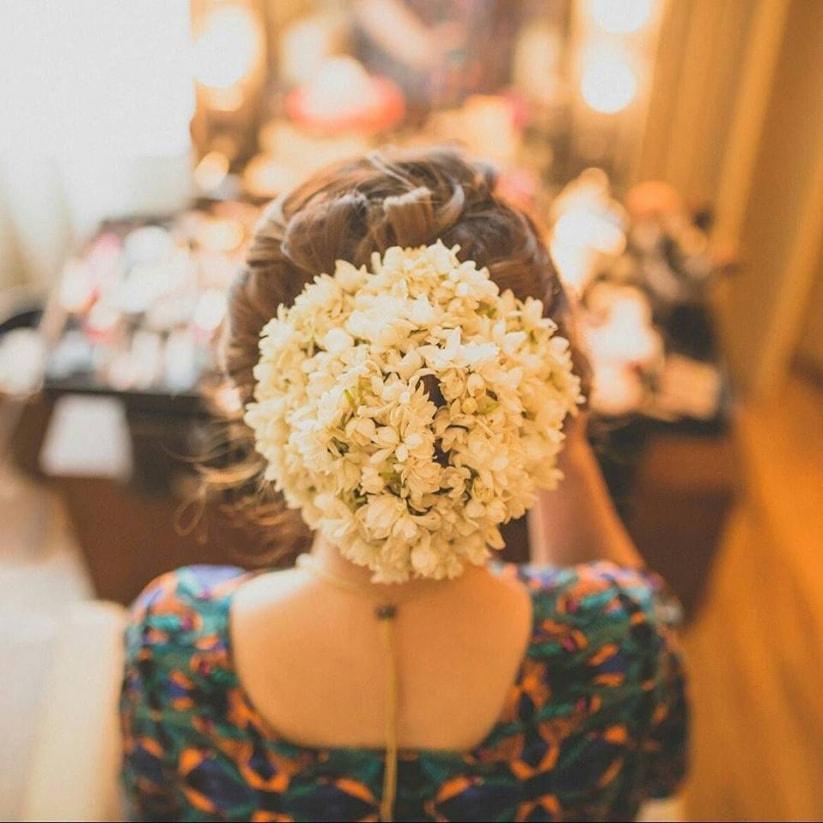 A gajra is a string of flowers worn as a hair accessory and is an elementary part of the traditional Shringar. A gajra frames the face beautifully and adds a womanly charm. You will find flowers used in bridal hairstyles in ingenious ways. Some brides these days prefer a single flower string or a braid with flowers tucked along it, while others wind multiple strings of white jasmine flowers onto a bun. While jasmines used to be the got-to for a gajra in the past, flowers like roses and such are in big use today to adorn a demure bride on her big day.
When: Wedding, Reception Party
How: For the wedding, stick to the traditional Gajra made with strings of white jasmine. You can choose to add wisps of flowers to your hairstyle on your reception day.
4. Earrings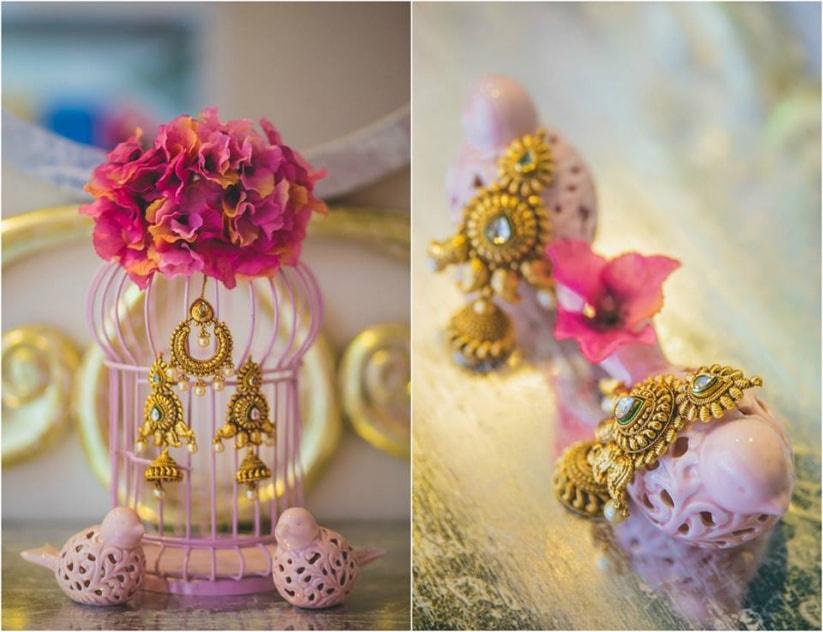 Earrings are an absolute must when it comes to bridal accessories for the complete the wedding look. Earrings balance out the face beautifully and draw attention towards the pretty facial features. You can choose between intricate chandelier earrings, traditional Jhumkas or even studs; depending on the bridal lehenga or dress you are wearing.
When: Wedding, Mehndi Ceremony, Sangeet Function, Engagement Function and Reception Party
What: Add a gorgeous pair of earrings to each of your wedding ceremonies. Wear matching earrings and necklace for the wedding day, pick chandelier earrings for the reception and sangeet. Flaunt Jhumkas for the Mehndi and diamond studs for the engagement.
5. Nose Rings or Bridal Nath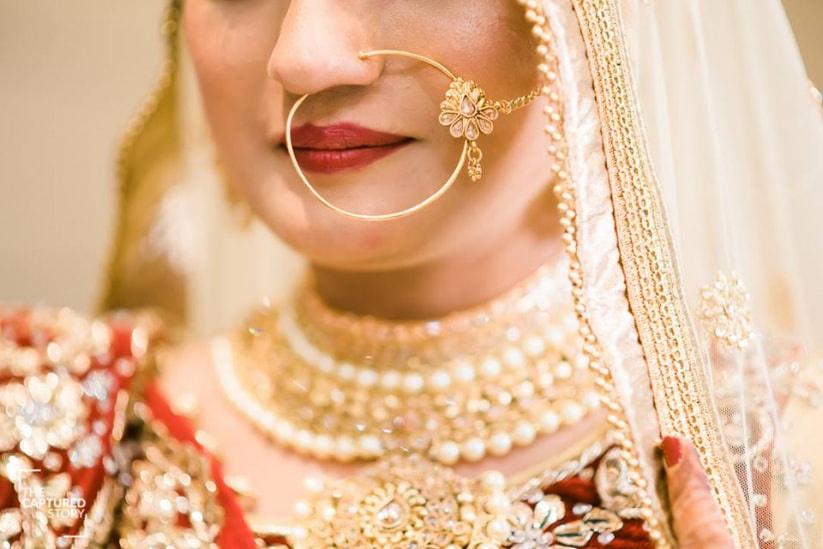 Bridal Nath is a traditional part of bridal accessories, however many wear it for the beauty and grace it adds. Nothing says BRIDE more than a beautiful round Nath adorning the face, while also drawing attention to the full lips. And the best part is you can wear a clasped one if you don't have a piercing. You can look elegant and regal wearing a Punjabi Hoop Bridal Nath to Maharashtrian Naths. If you want a dramatic look, go for a Latkan or big, bold heavily embellished Rajasthani Nathnis.
When: Wedding
How: If your nose is pierced, wear a small stud on the other ceremonies but choose an elaborate nose pin or a nose ring for the wedding day. Try and test the ring for a few hours before the final day so that you are not burdened with this new addition on your wedding day.
6. Bridal Necklace or Haar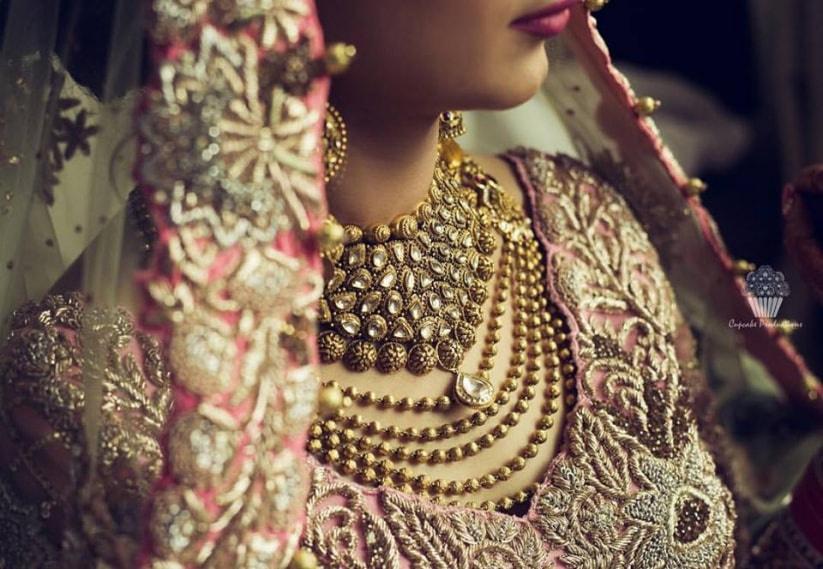 From the pre-wedding functions to Bidai, this is one bridal accessory that all the brides wear with every attire. The bridal necklace frames the neck and adds layers, while streamlining the collarbone. The Haar or bridal necklace can be worn as a single elaborate Haar or as a combination of multiple layers of chokers and longer necklaces. Match the type of sparkle in your wedding attire with your necklace – pearls with pearls and stones with stones. Also, consider the neckline of your dress and play with the sizes of your necklaces. Renting the bridal accessory sets instead of buying them is a wise idea too. But make sure you have at least one necklace in gold that's a timeless classic of all time.
When: Wedding, Mehndi Ceremony, Sangeet Ceremony, Engagement Ceremony and Reception Party
How: Add a neckpiece to each of your wedding ceremonies' outfits. You can keep the elaborate ones for the wedding and choose delicate strings or bold pendants for the other ceremonies. A diamond necklace is best for the reception day.
7. Rings and Haath Phool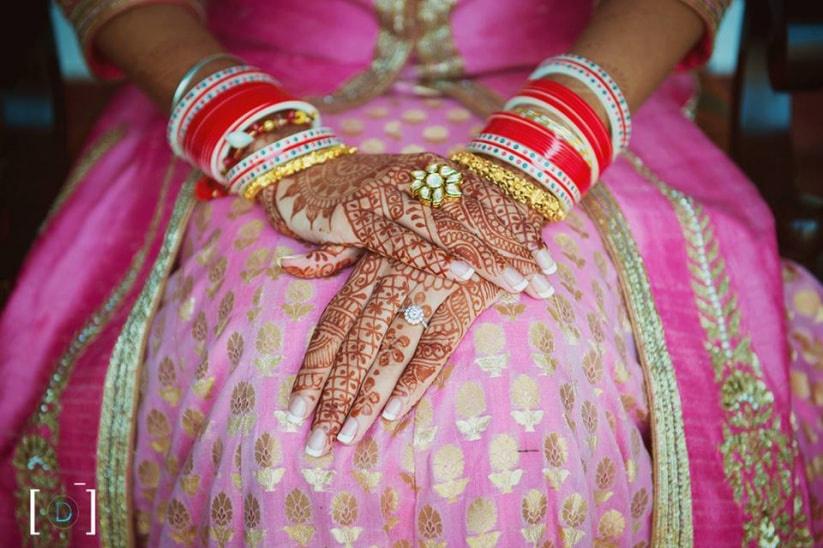 Apart from the engagement ring, add some chunky rings to add more glitter and glamour to your look. You could also wear a Haath Phool which are strings of beads, flowers or pearls that connect a bracelet to finger rings. Their floral versions are popular among brides for Mehndi and Haldi functions.
When: Wedding, Mehndi Ceremony, Sangeet Ceremony, Reception Party
How: Skip any additional rings on your engagement day, but you can add a glamorous ring on one hand or multiple rings for other ceremonies. A Haath Phool made of fresh flowers is a great bridal accessory for the Mehndi function.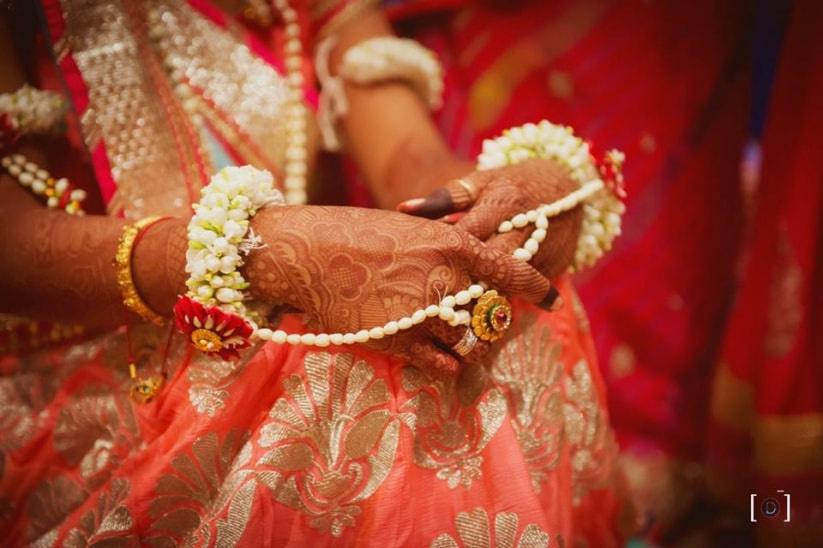 Look at this design, it is so delicate and it is adding tenfold times the grace to the bridal look of this real bride. Besides, these days we have spotted a multitude of brides-to-be who are ditching the old norms and are adopting newer trends in terms of jewellery to amplify their bridal look.
8. Bangles and Bridal Chura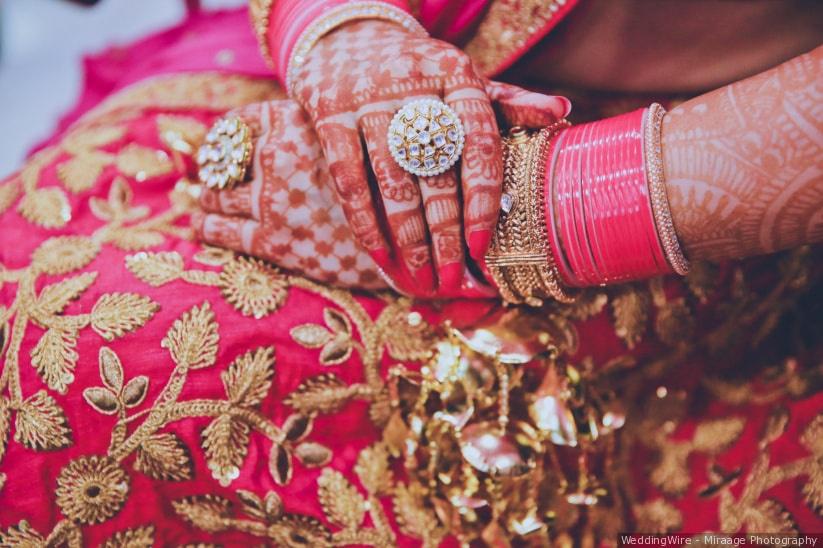 A bride's wedding attire becomes complete when she puts on that perfect bridal chura on. Brides from different cultures wear different coloured chura. While the North Indian brides have red chura, Maharashtrian brides where the green one. Churas doesn't necessarily have to follow a traditional pattern. Wear statement bangles at both the ends, get your groom's name written in bling on a Kangan or try the latest trend of chura with Ghungroos. It's all about being trendy and having fun!
When: Wedding
How: The wedding look is incomplete without bangles or a Bridal Chura. Add bracelets or thick Kadas for ceremonies other than Mehndi.
9. Kamarband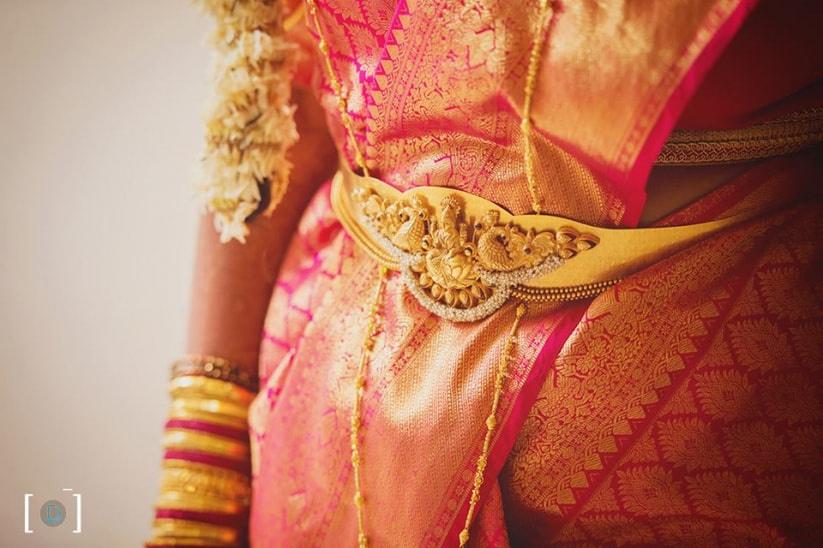 A Kamarband or a waistband is one of those traditional bridal accessories that can never go out of style. Be it a thick gold waistband or a delicate silver chain, it is an evergreen pick to complete the wedding look.
When: Wedding, Engagement Ceremony
How: Wearing a Kamarband can get a little uncomfortable especially if your wedding ritual involves sitting for too long. However, if you want to wear a Kamarband to the wedding, choose traditional designs. For the Engagement ceremony, if you are wearing a Saree, wear a delicate chain in place of a thick Kamarband to add a little grace.
10. Payal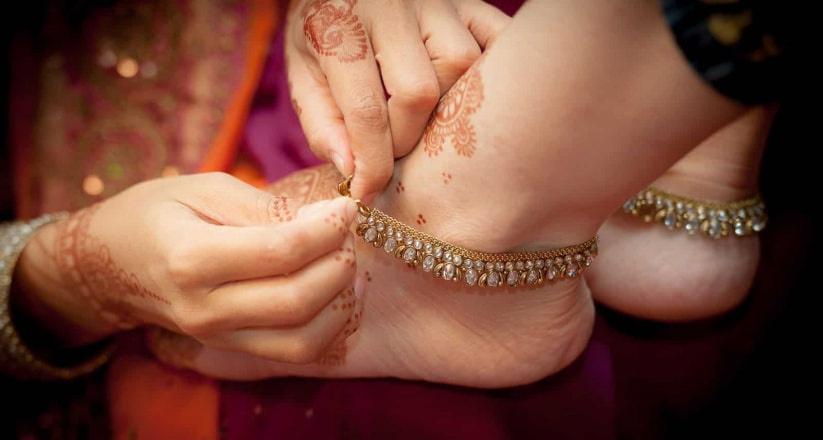 Payal or anklet that is worn around the ankles can be a thick metallic band or a delicate string made of pearls, silver or gold. Kundan or coloured stones encrusted Payals are a popular pick, whereas silver anklets offer a tribal look or modern designs. You can also choose an elaborate Payal that extends into delicate strings attaching the anklet and the toe-rings.
When: Wedding
How: Choose a delicate one if the border of your bridal lehenga is heavy, but an elaborate one works best when you want to enhance the beauty of your henna feet.
We think these are the best accessories that a bride should be wearing on her big day. Now that you have seen all of these stunning bridal accessories, would you choose one or go for all of them on your big day and on the day leading up to your big day? So, go make a list and decide which all bridal accessories you definitely want to flaunt as a bride-to-be!
Which bridal accessories are you planning to flaunt on your big day? Share your views with us in the comments.