The Best Bridal Gold Jewellery Designs with Price Guide - Buy Now
Discover the variety of bridal gold jewellery designs available these days with the price range they fall in.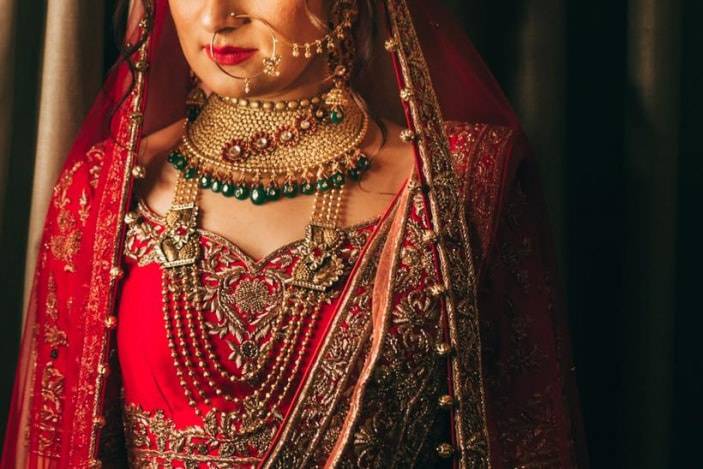 Selecting a few bridal gold jewellery designs from the huge variety of options they have these days, is truly mind-boggling! You will find a plethora of bridal gold jewellery designs with price ranges to fit everyone's budget. Some brides prefer real gold jewellery considering it as an investment and an asset for life. Others just want to enhance their personal style by matching it with the bridal lehenga and engagement ring, creating a statement look.
If you are looking for something exclusive and exquisite, here is a detailed guide for bridal jewellery designs with price:
1. Traditional (temple) jewellery sets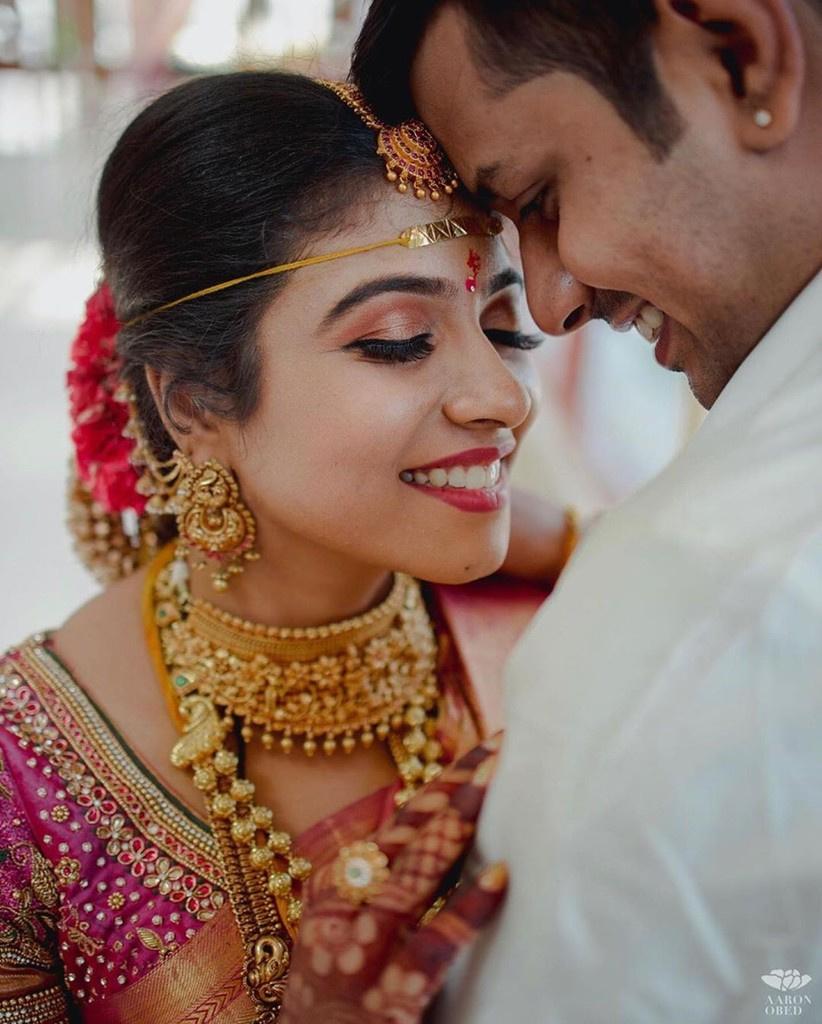 Costume jewellery is not always about trendy and stylish designs. When you look for bridal gold jewellery designs with price, you will be surprised to find some of the most traditional and ethnic bridal jewellery sets can beautifully compliment any ethnic attire. Your beautiful red bridal lehenga can be enhanced with elaborate, simple, heavy or light traditional costume jewellery sets.
Even your gold engagement rings will look a part of the entire scheme.
Price range: ₹3,000 to ₹8,000 (for artificial sets)
₹1,05,000 to ₹20,00,000 (for real gold jewellery sets)
2. Kundan jewellery sets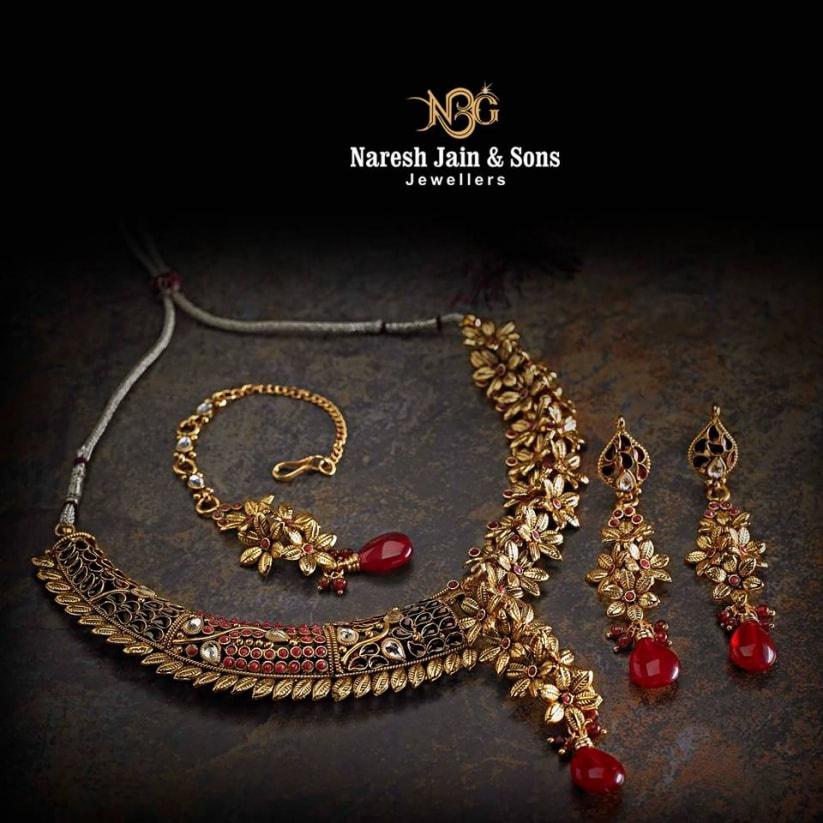 f you want Jadau gold-based bridal jewellery sets to wear more often, opt for a design that is solid gold with a few coloured gems and stones to add that special charm. If thick gold designs are not your style, choose something that is more detailed and intricate.
When looking for bridal gold jewellery designs with price, it is important to understand that more the detailing and more the intricacy of the work, the higher the price will be. This is true even for how bridal lehenga with price varies. Asymmetric designs are quite popular among brides who want to add a touch of modernity to their traditional jewellery.
Price range: ₹ 50,000 to ₹5,00,000
3. Polki jewellery sets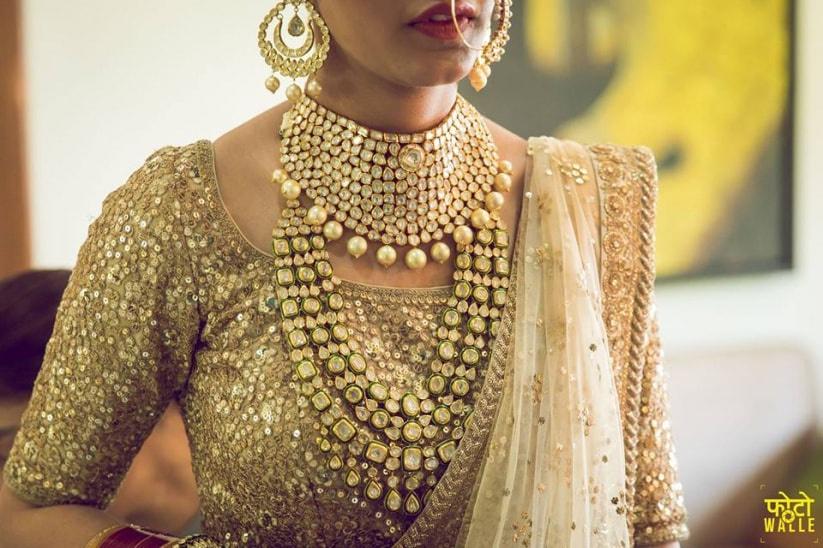 Set on real gold, an elaborate polki bridal jewellery set is absolutely stunning! It compliments all kinds of Indian wedding dresses and you will happily flaunt it for life. It's graceful, elegant and extremely stunning!
You can choose just polki or something that has pearls attached, for the dainty dangling! An elaborate Polki set remains timelessly ethereal and exclusive for life.
Depending on how elaborate it is, what other gems or stones it has and also the jeweller you buy from, the price will vary.
Price range: ₹1,00,000 to ₹10,00,000
4. Costume Gold and Diamond Sets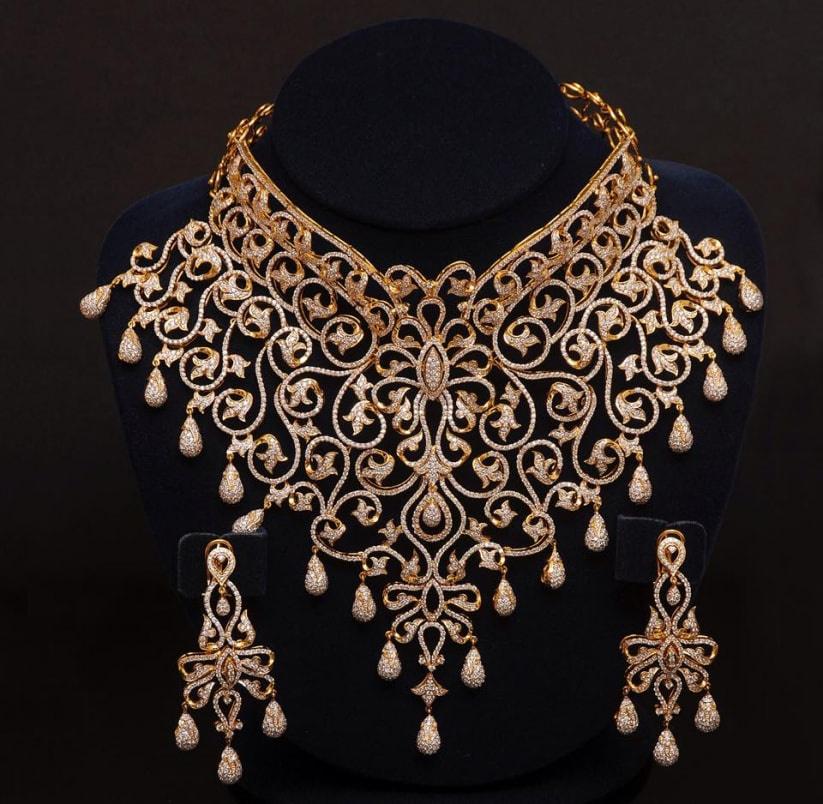 You can always choose beautiful costume bridal jewellery that is high in elegance and low on the price! An elaborate costume gold and diamonds set with chandelier earrings will look as graceful as a real one. This one here looks stunning and also reminds of a floral chaadar design used in bridal mehndi. Just make sure you buy it from a quality store. Good after-care can ensure its long and glittery life making your bridal gold jewellery design with price worth it. You also have the option of taking bridal jewellery sets on rent.
Price Range: ₹5,000 to ₹15,000
5. Meenakari gold jewellery sets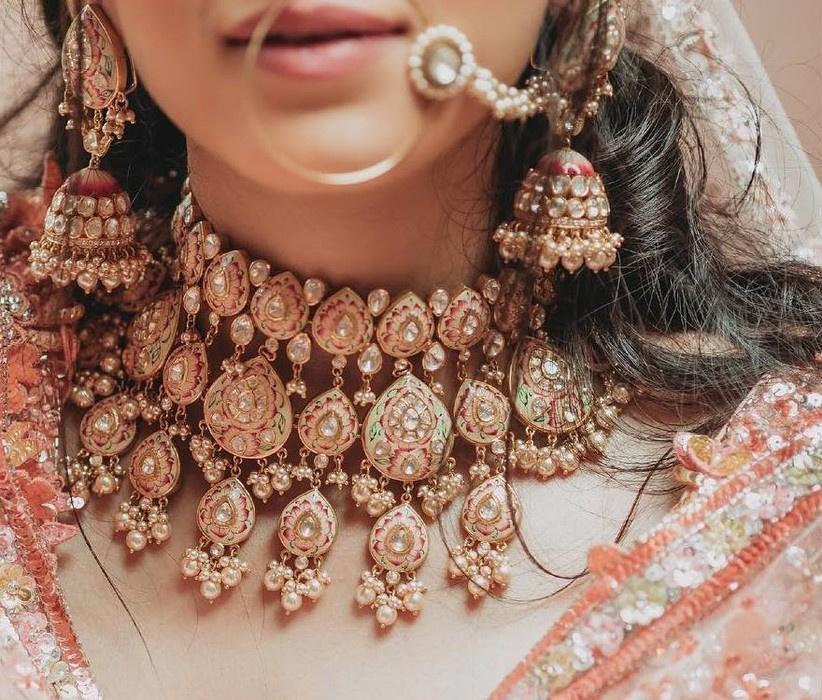 Meenakari, the art of enamelling metal surfaces and creating nature-based motifs like peacocks, leaves, flowers or animals has gotten a new spurt of life in the last few years. And how! The style is now considered chic and is fast-becoming a go-to-choice for top-end designers, either on its own or paired with Kundan and Polki jewellery.
If you're wondering about bridal gold jewellery designs with price, Meenakari is relatively inexpensive and varies over the use of semi-precious and precious stones.
Price range: ₹1,70,000 onwards
Real or costume gold bridal jewellery, always choose quality over design. Even your groom would love it when you outshine his sherwani look. Now that you have an idea about the different bridal gold jewellery designs with price, create that magic in your wedding album it deserves with something truly precious that glimmers of life!
Investing in a piece of jewellery is one of the most daunting tasks and it legit eats up a good chunk of your time. After all, it is that one special thing that every bride takes to her new home. Often seen as a token of goodwill and blesses as well, every bride needs to invest in a jewellery set that sits comfortably with her taste and style aesthetics.
We Will Now Give You Some Additional Tips for Finding Bridal Gold Jewellery Designs with Price to Curate Your Very Own Bridal Treasure Trove of Jewellery:
Read these tips on bridal gold jewellery designs with price and get going!
1. Before you narrow down on one set, ensure that you visit multiple stores. Since you don't go jewellery shopping for a wedding that often, idea is to find the piece which is totally stunning
2. Take your bridal outfit when you go for bridal jewellery shopping. Match the colour tones and if it suits well with the chosen outfit, then half your battle is won
3. Try the jewellery on. See how it looks on your skin tone. It might look pretty in brochures or in hand, but when you wear it, it is another ballpark altogether.
4. If you are investing in costume jewellery, then ensure you check the piece of jewellery very closely. You should be looking for blind spots which have an off-gold plating or a mismatch when compared to the rest of the ornament and then negotiate bridal gold jewellery designs with price.
What kind of bridal gold jewellery designs with price did you choose for your wedding? Tell us through the comments!