4 Drop Dead Gorgeous Bridal Jewellery Sets That Are Perfect for Every Bride-To-Be
Bridal jewellery is timeless, an heirloom, a marvel in space. Check out these bridal jewellery sets that are statement pieces and will definitely add the perfect sparkle and glimmer to your bridal look and turn you into an ethereal beauty.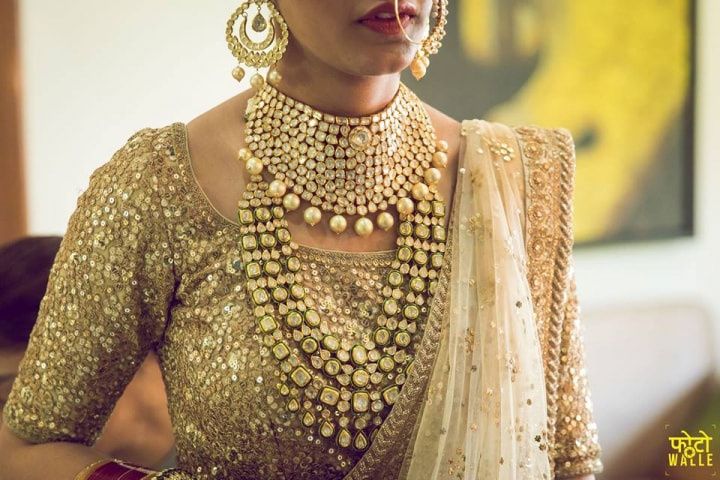 Bridal shopping is like creating a dream wardrobe for the biggest party of your life; a party that goes on for days! So picking out the perfect bridal jewellery sets to go with all your wedding trousseau and engagement rings requires utmost attention and care. Whether you are buying real or costume bridal jewellery sets, flaunt a unique vibe by contrasting your bridal lehenga with the stunning bridal jewellery set.
To buy your bridal jewellery sets online or offline is one hell of a task. There are endless possibilities and designs to choose from. So, it gets awfully difficult for a girl to choose just one from a pool of stunning bridal jewellery sets. The idea is to enhance the bridal attire and make it a statement in itself. These days, you can also get bridal jewellery sets on rent if you would rather spend your money elsewhere, like on your honeymoon. Here's a little guide to help you pick the perfect bridal jewellery sets statement pieces which will not only complete your bridal look but also become a family heirloom that will remind you of your roots and the love your family has for you. So take a look at this galore of bridal jewellery sets and get inspired to rent your very own!
1. Elaborate Kundan and Pearls Jewellery Set for Wedding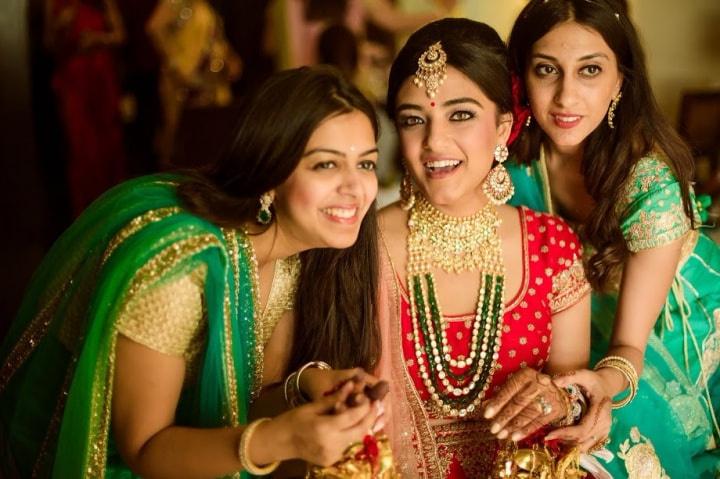 Kundan and pearls is a dreamy combination of glitter and glamour, a match made in heaven, to say the least. The pearls add an elegant touch to the set, whereas the Kundans add the traditional opulence to the bride's overall outlook and beauty. You can pick a broad choker neckpiece, so the dangling pearls rest just below the collarbone.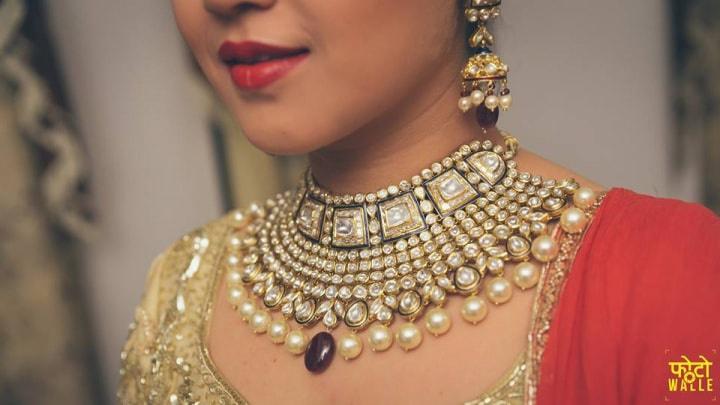 With such an elaborate neckpiece, you can pick smaller earrings with similar work. You always have the option of choosing classic white pearls or orient pearls in shades of pink, black, purple and green which match your designer bridal lehenga.

Or, you can ditch the pearls and stick to the sophisticated Kundan cutwork designs as well! This bridal jewellery set will go beautifully with a lehenga or a saree as the cut of the Kundan stones is very exquisite and the rustic colour will add charm to any combination of clothes that you may be wearing on your big day.
2. American Diamonds and Pearls, with a Hint of Colour!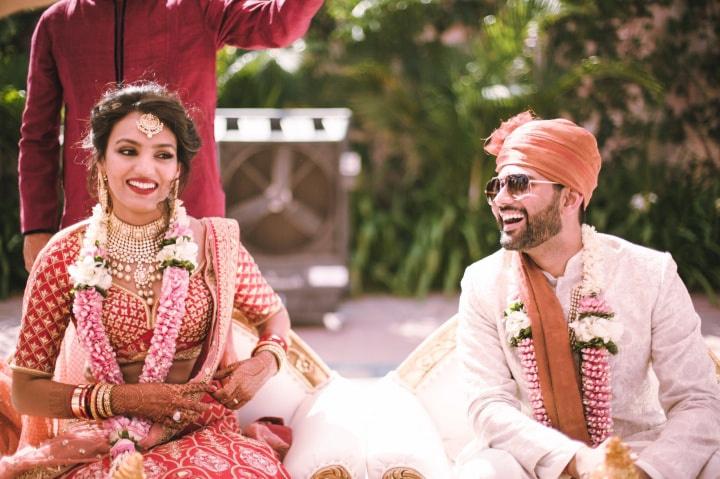 If you want to add a little colour to your bridal jewellery set, opt for an elaborate design studded with American diamonds of different sizes and encrusted with enhancing colours of gemstones.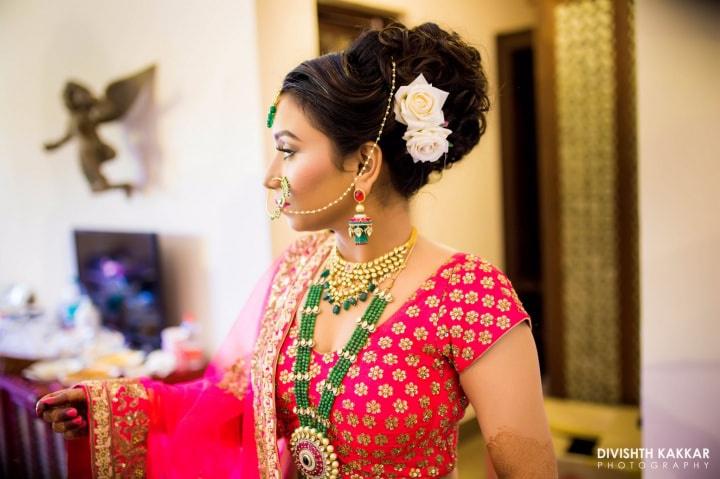 You can choose between ruby red and emerald green for a more traditional look or even go for pinks and blues, depending on the colour of your bridal attire.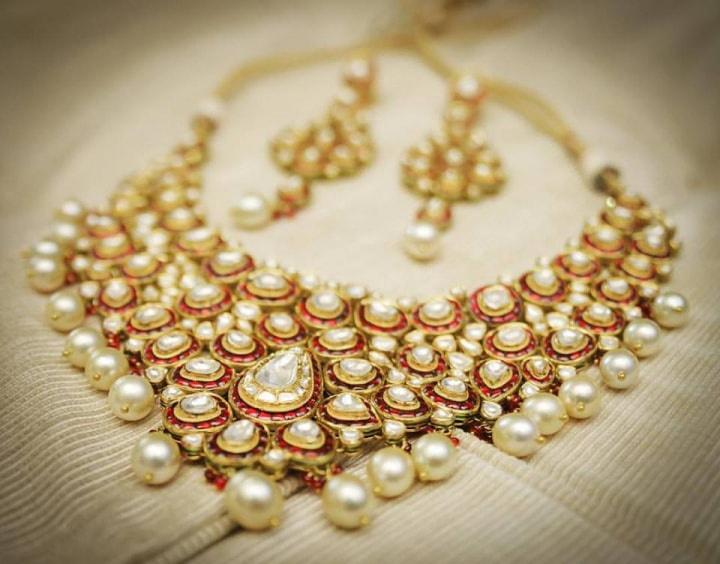 The dangling pearls give a great definition to the set and add to your grace and beauty. A bridal jewellery set such as this one will go well with a red colour bridal outift with a dash of gold since the combo of red and white will look splendid when paired with a red bridal outfit.
3. Beaded Glory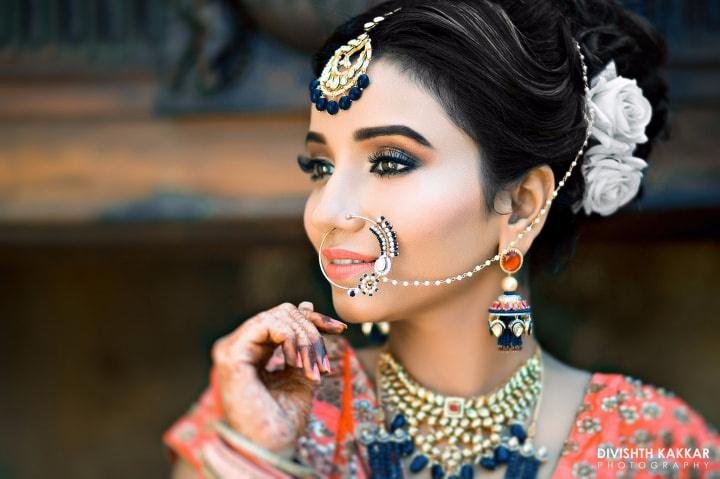 If the exquisite Kundan or Polki set is not your style, you can opt for lighter neckpieces and combine it with the layers of beaded necklaces. Or you can even add strings of coloured beads or precious stones and maintain a subtle style of the Kundan jewellery or Polki Jewellery.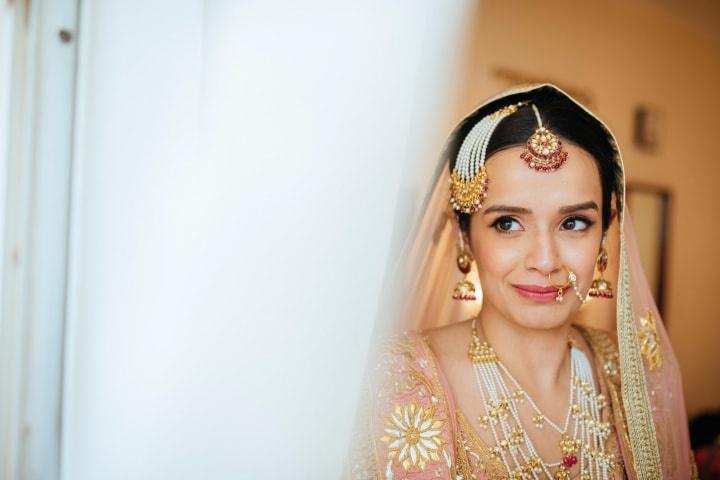 White beads or pearls in varying sizes are the most popular pick for their versatility. Make sure everything, from the Maang Tikka to the earrings and the nose pin have the same look and elegance. Wearing a nose pin will make your overall bridal avatar look more regal and a little of the traditional side and with a veil that covers half of your face, you will look like royalty which you truly are!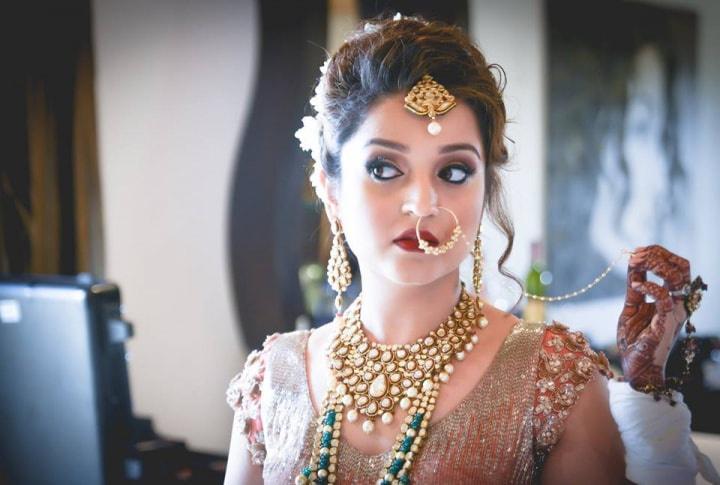 The combination will make your gold engagement rings stand out. You can pair up this set with most bridal attires and make a graceful statement.
4. A Modern Twist to Traditional Bridal Jewellery Sets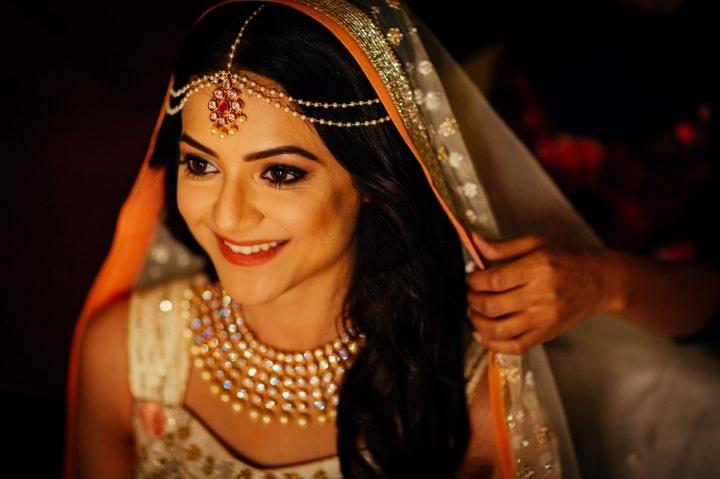 You can choose from the quintessential temple jewellery designs which have a touch of modernity to them or you can pick the classic floral design matching your ensemble and wedding rings. Why not make the chic choice of choker designs to shine on your special day!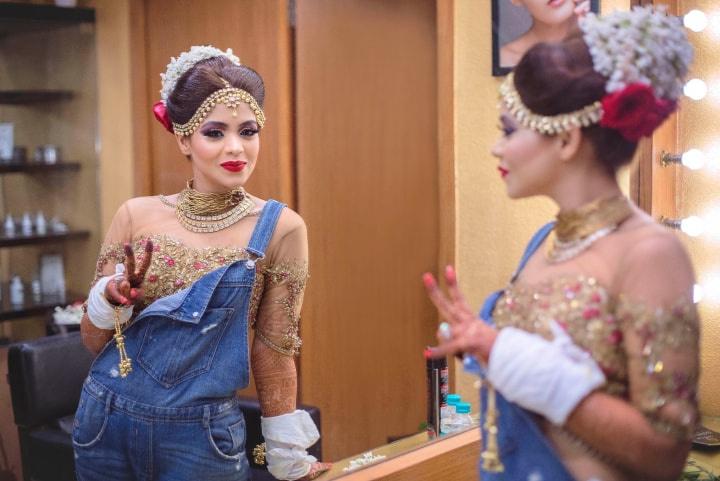 Or select a bridal jewellery set which has multiple intricately designed layers yet looks like one solid piece, which gives off a royal look and an opulent feel. A bridal jewellery set which combines all, pearls, coloured beads or stones, Polki or Kundan designs, together can look absolutely ethereal! A bridal jewellery set such as this one is not onlu apt for your own wedding, but you can always wear it again at a family funciton or a wedding of one of your friends.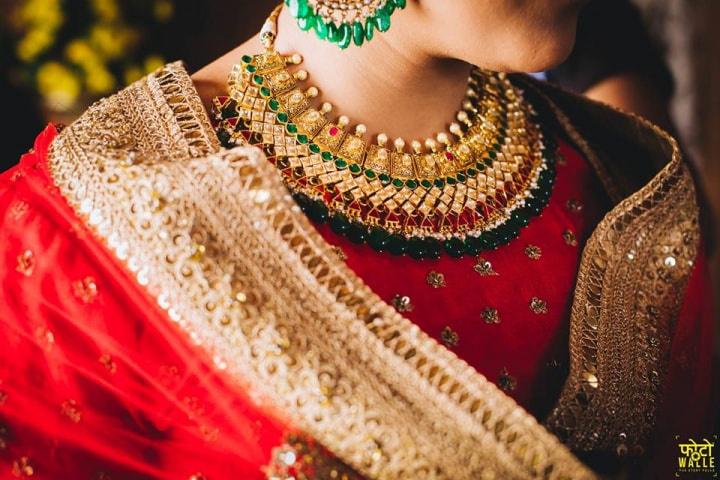 Ready to add a touch of sparkle to your bridal look that'll put your dazzling wedding décor to shame? There's a reason why so many wedding songs are about bridal jewellery. Make sure you pick something that mesmerizes you for years to come. Bridal jewellery is not only essential to add grace and beauty to a bride but it is often times also seen as a blessing and love that is showered upon a girl from her maternal and paternal side of the family.
It is an heirloom, a token of goodwill that the girl takes from her family and into her new phase of life. Spend some time searching catalogues and trends and then curate a list of designs you love most. Jewellery is one of the most sacred and special buys a bride makes and therefore she must take ample time in selecting a bridal jewellery set that is perfect for her in every sense of the word. So, ladies take some time in choosing the right bridal jewellery set because you only get married once and your bridal jewellery set will forever be a reminder of your big and most special day!
Look at some of our vendors and find the one bridal jewellery set that suits you best. Which bridal jewellery set you loved best? Tell us through comments.