10 Mehndi Designs, Easy & Beautiful, for the Not So OTT Bride
Not a fan of the OTT mehndi designs? Well, we aren't surprised because the new age brides prefer mehndi design easy and beautiful to stay fuss-free. Here are some designs for inspo!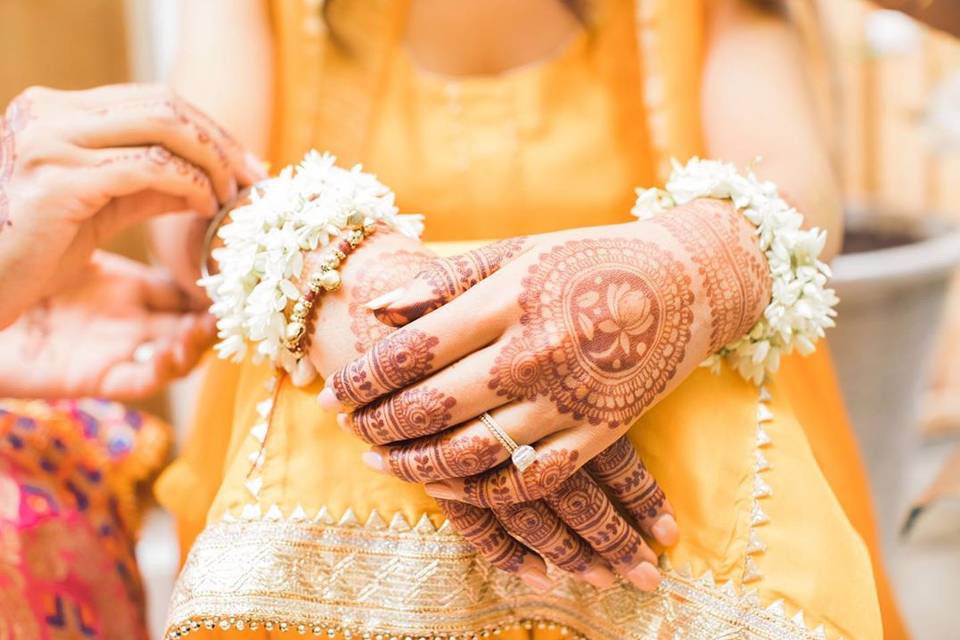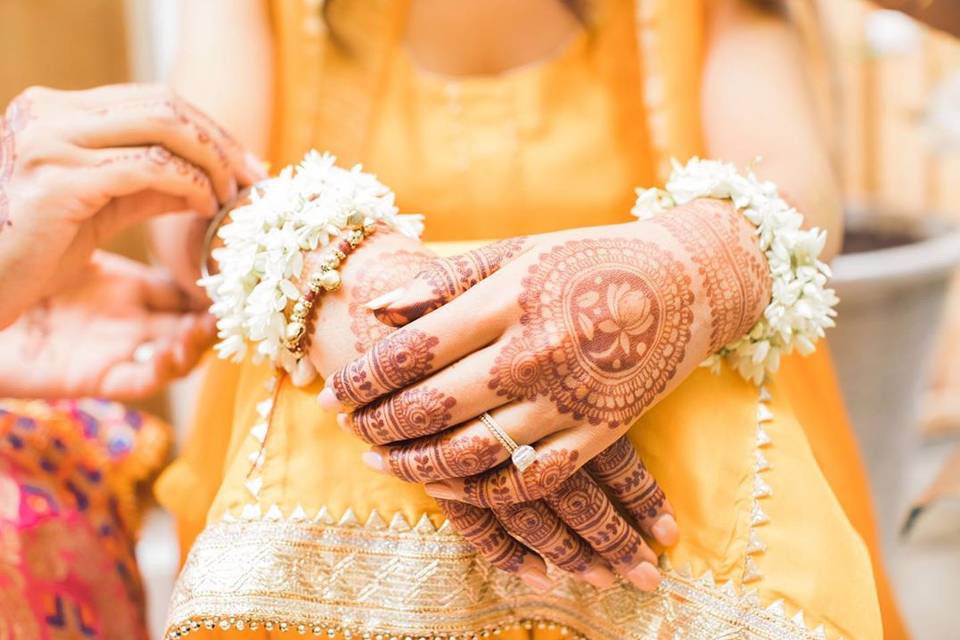 Image Courtesy: Bijou and Bloom
Your wedding is one of the biggest days of your life and therefore everything about it should be just as you want it to be. From the style of outfits you pick to the kind of hair and makeup you prefer, everything must be PERFECT to the T. However, sometimes traditions get in the way of what you would want to have, even your mehndi designs. But not this time! If you're someone who's not a fan of OTT mehndi designs, then go for a mehndi design easy and beautiful, just the way you had dreamt of it.
For those of you that are not sure of what you want, here are some mehndi designs easy and beautiful that will surely inspire you for both hands and feet!
The One With Motifs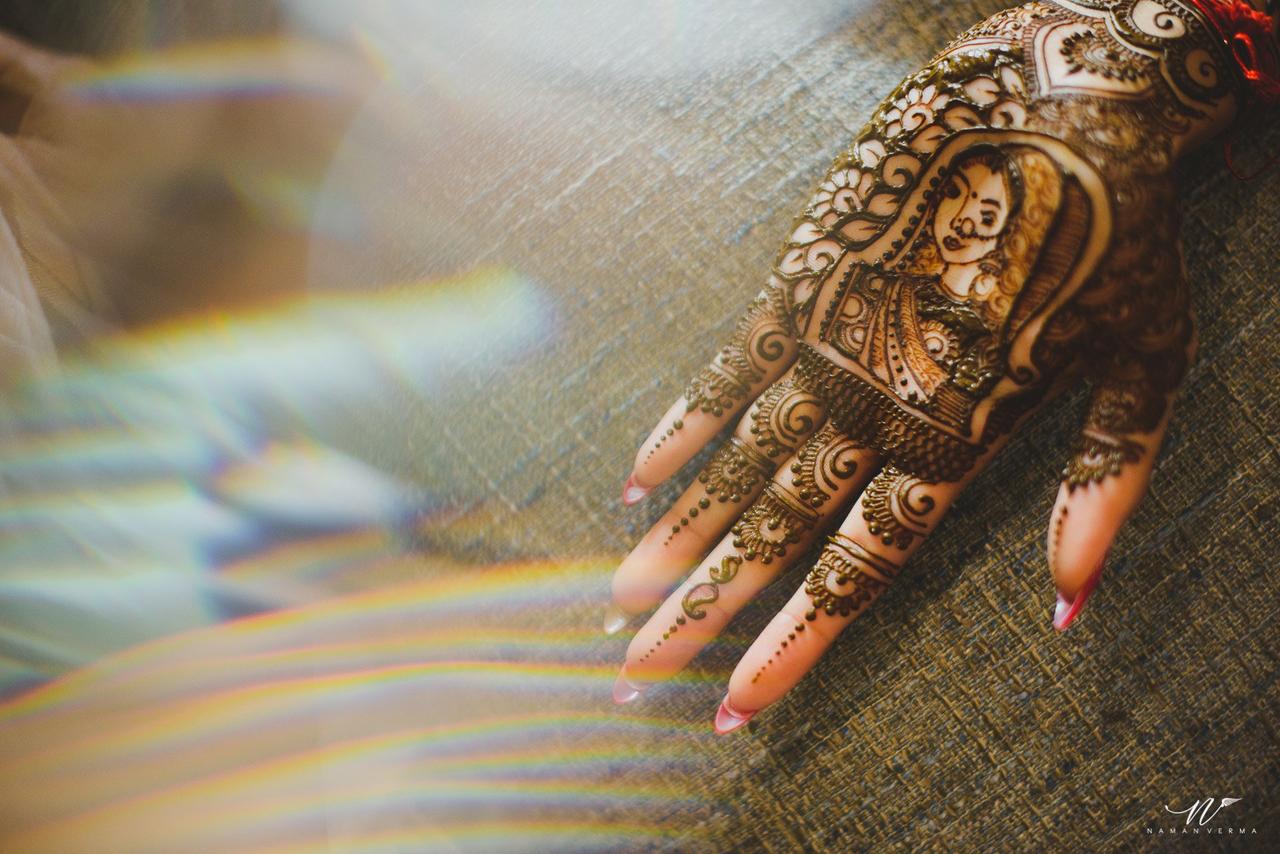 Don't want a very elaborate mehndi but still looking for the traditional elements in a design? Here's a mehndi design easy and beautiful, you'd love. From the intricate bride and groom motif on the palm to the beautiful palki motif on the wrist, this one surely is the perfect blend of traditional yet modern mehndi designs for the new age brides.
The Floral Jaal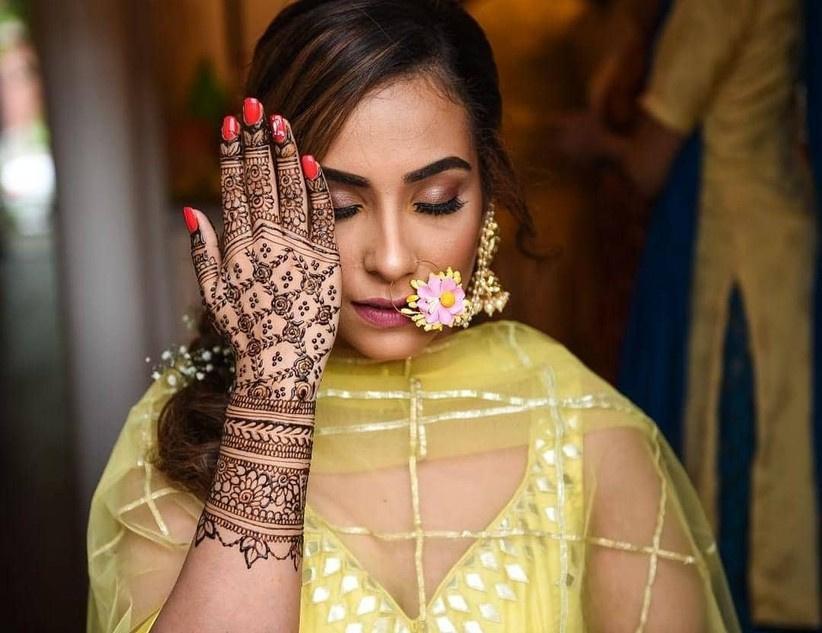 Next on the list of minimalistic mehndi designs is this floral mehndi pattern that is neither too intricate nor too detailed. The rose jaal at the back is a mehndi design easy and beautiful for brides that like empty spaces on their hand and do not wish for all the designs to be clubbed together in a messy way.
The Anklet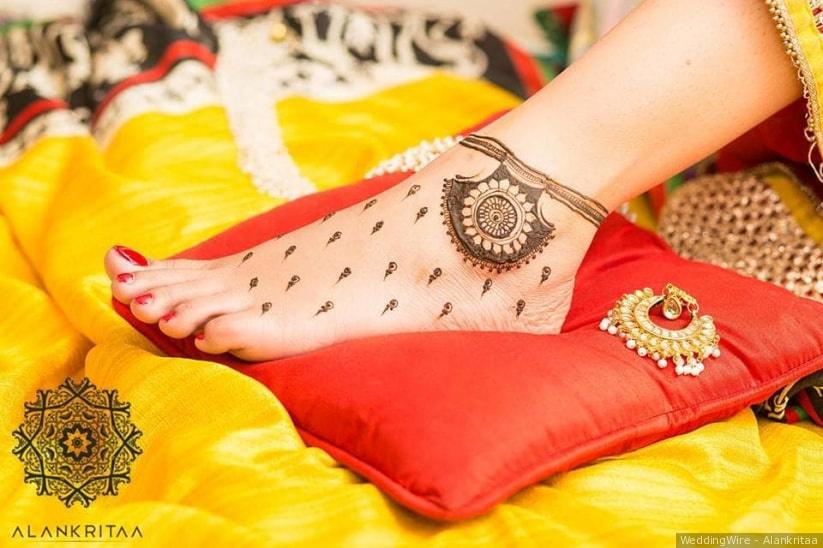 For brides that aren't much in favour of elaborate leg mehndi designs, here's something that is sure to interest you. The anklet mehndi pattern is one that is minimalistic and yet one of a kind. Taking inspiration from a Chandbali, this is a mehndi design easy and beautiful that can be made as elaborate or as simple as the bride wants it to be.
The Flower Mandala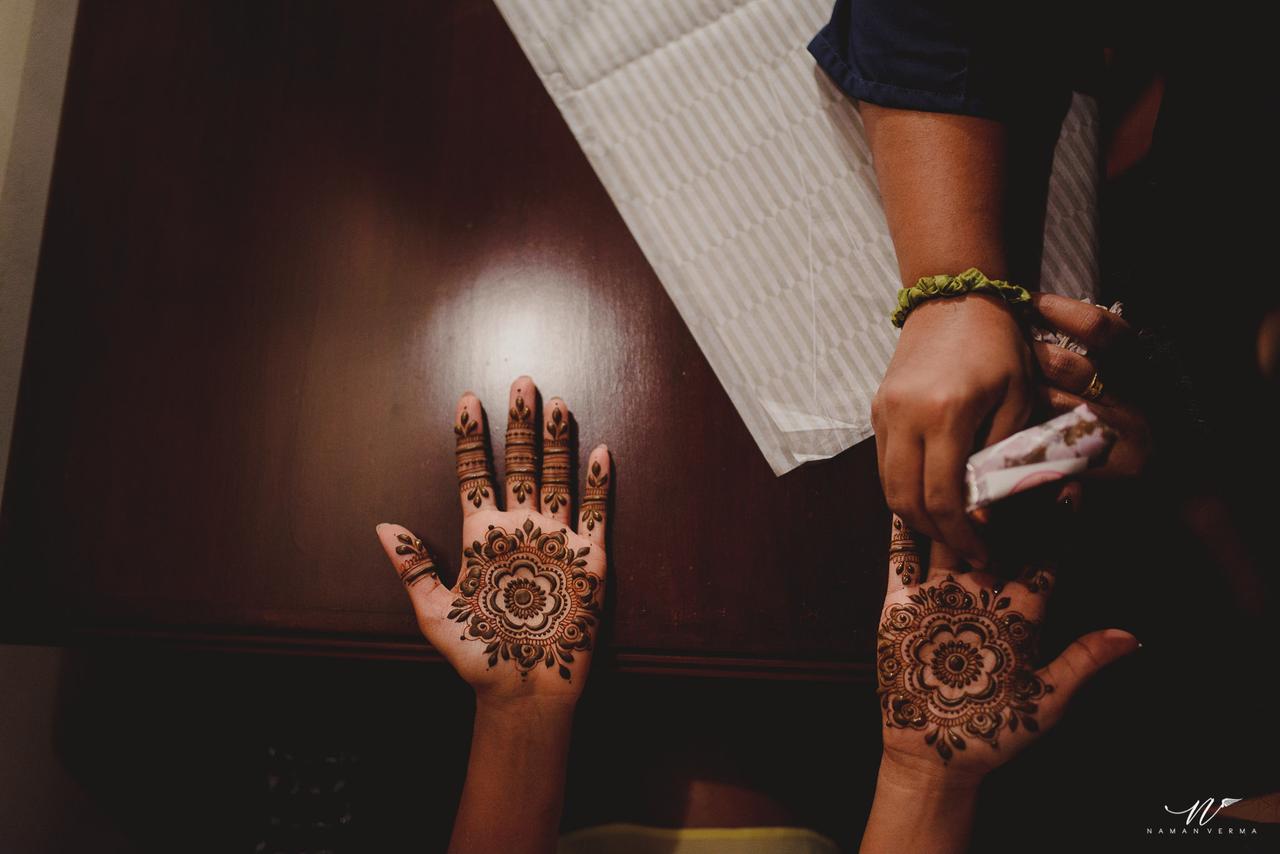 While mehndi designs can come and go, there is one design that never gets too old or boring and that is the mandala design. Some millennial brides might think it is a new concept but the fact of the matter is that floral mandalas are one of the most common mehndi designs that never look passé. So brides that wish to stick to classic choices can choose it their hands or feet or even both.
The Dome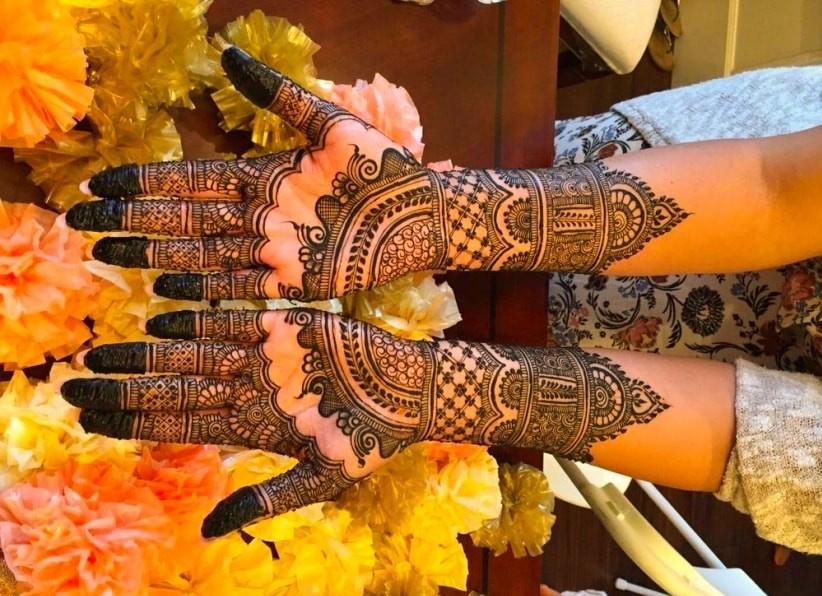 Another extremely famous mehndi design easy and beautiful is one with the architectural pattern that does not just look beautiful on bride's hands but also works beautifully to enhance the look of their feet. This architectural dome pattern mehndi with some empty space around does not just make the design look good but also makes it very millennial and one for the brides that like spaced out patterns.
The Hathphool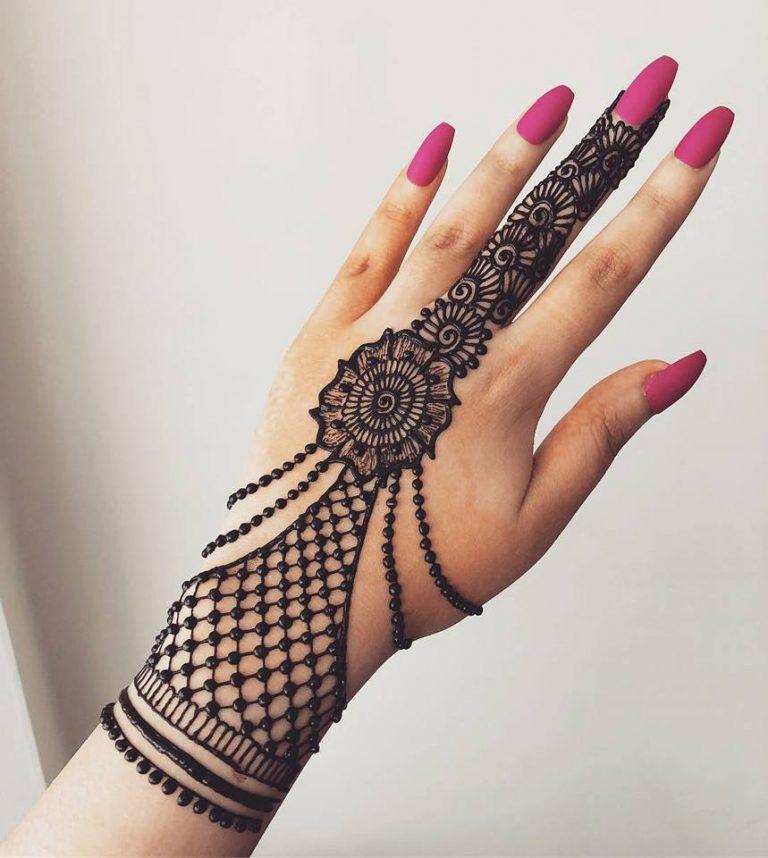 Image Courtesy: Pinterest
While the new-age brides like all the new ideas that allow them to choose minimalistic patterns over OTT designs, this one is special for it is minimal as well as stylish. The modern Hathphool pattern is the perfect blend of unique mehndi design easy and beautiful that looks stunning in photographs by literally working the magic like it is hand jewellery.
The Bird Cage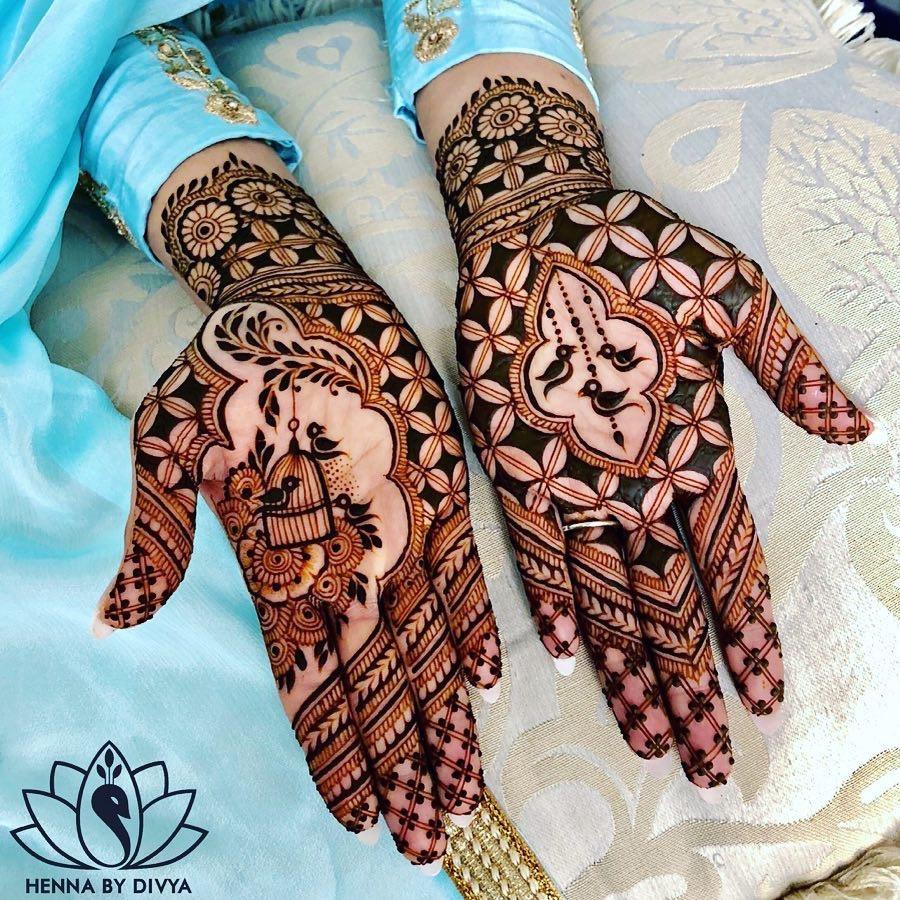 Image Courtesy: Henny by Divya
Bored of the usual elephants and peacocks? Then here's something new for the new age brides. The birdcage mehndi design easy and beautiful is for the brides that want their mehndi to be one a kind. While the focus of the mehndi is on the intricate birds and birdcage, the bold patterns around it make the design flawless as a whole.
The Minimalist Flowers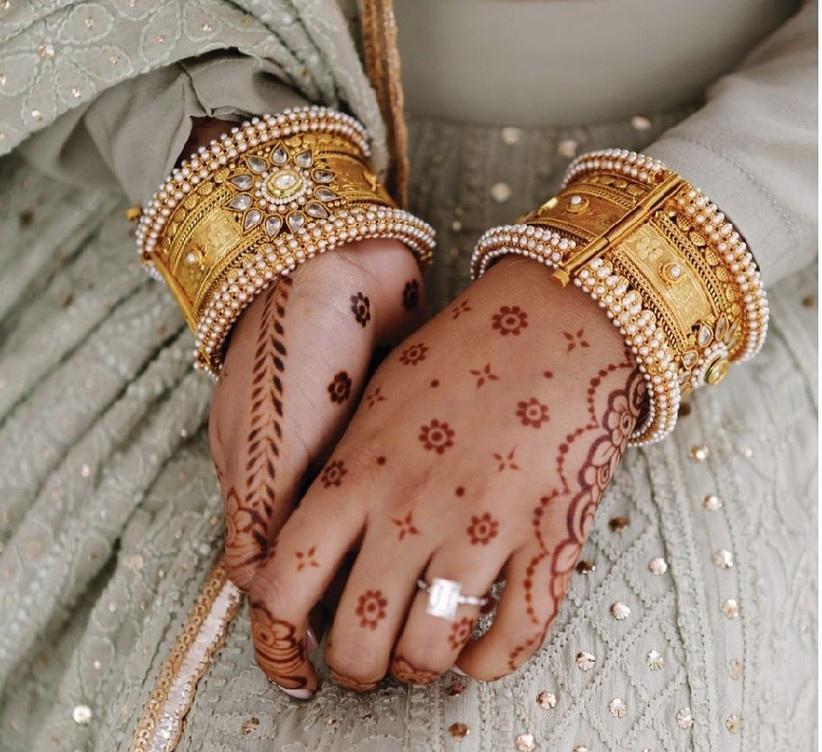 Image Courtesy: Henny by Divya
While our list contains all kinds of mehndi design easy and beautiful, this one is by the easiest and yet very elegant. The minute flowers on the back of the hand do not just look gorgeous but also gives the bride's hand a quirky look. This one is for the brides that love to be different and wish to go for really simple and minimal mehndi on their hands or feet.
The Fun Storyteller
While we have had enough traditional mehndi designs on our list, there has to be something for the millennial brides that wish to go for a design absolutely funky and one of a kind. Here's a mehndi design easy and beautiful that'll do justice to her taste with its girl-boy caricatures and the apt 'Just Hitched' tagline.
The Paisley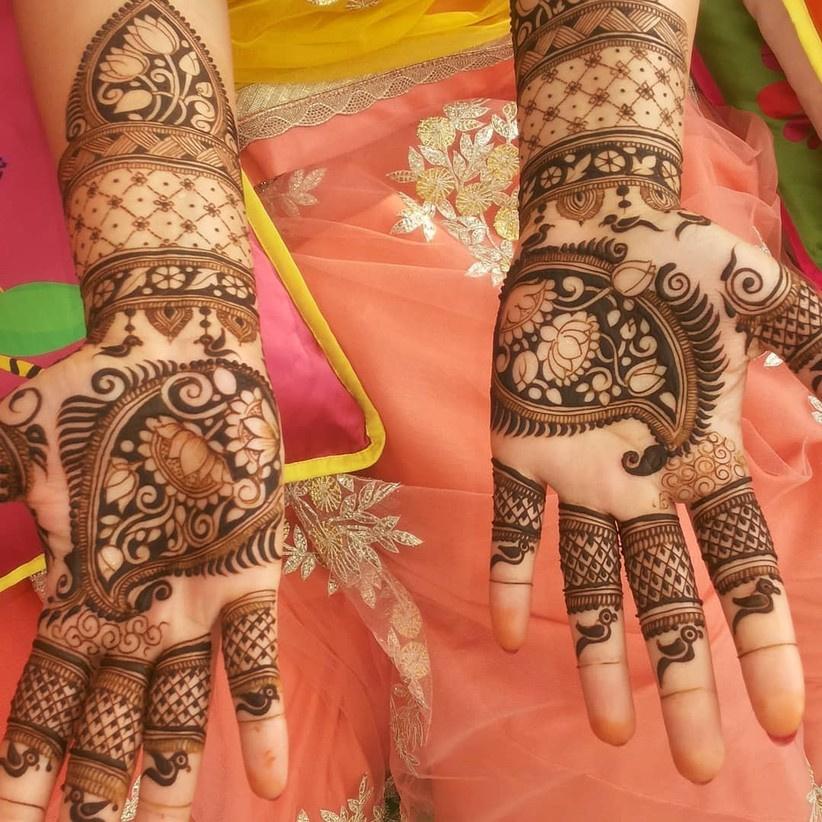 Image Courtesy: Vivek Mehndi Artist
The last one on our list is this beautiful paisley garden mehndi that has all kinds of flowers that make it apt to call it a garden. The bold and the intricate patterns combined, make this one our favourite while also giving the new age brides a reason to choose it over the others.
Amongst all these beautiful designs what remains constant are the easy designs and the minimalistic patterns. So are the new age brides happy? Choose a mehndi design easy and beautiful to keep yourself fuss-free and yet happy because mehndi is that tradition at Indian weddings that cannot be skipped. But it surely is the tradition that you can twist and mould according to your taste to keep everyone else happy and yet own it like a boss.
Which mehndi design easy and beautiful are you totally going to own on your big day? Get in touch with our mehndi specialists who can help you adorn stunning designs.