The Only Wedding Outfits & Jewellery Handbook Every Punjabi Bride Needs
Want a chance to make your 'Tennu Leke' moment a memorable one? Scroll up for some amazing outfits ideas and hit your D-day with confidence and captivating paps!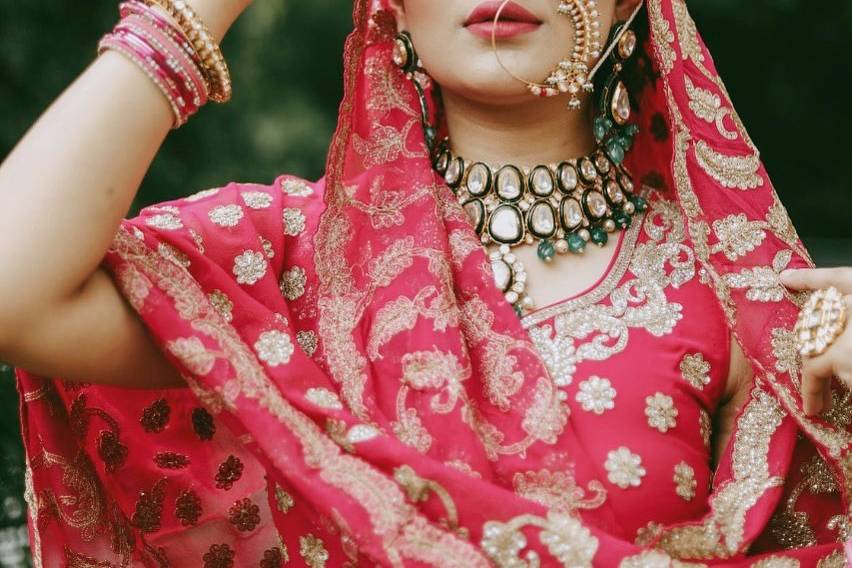 Punjabi Weddings are truly a delight and hold a really special place in our hearts. Whenever we hear about a 'Punjabi Shaadi' a cluster of extravagant things pops on our mind. From 'Sharab Di Gaddi' to 'Bidaai' everything goes smooth with allure and enthusiasm. Well, so is the look of a stunner Punjabi bride who never fails to break the wall of beautiful pizzazz.
The appeal of Punjabi brides is so natural and glistening that the wave of curiosity keeps brushing on us, how can they look so gorgeous! A true-blue Punjabi wedding comprises a lot of ceremonies which make it obvious that a Punjabi bride has to look flamboyant and distinctive on each of those functions. From Patiala Salwar Kameez to sassy gowns, we have compiled some essential tips to make your 'Din Shagna Da' an unforgettable one!
Kirtan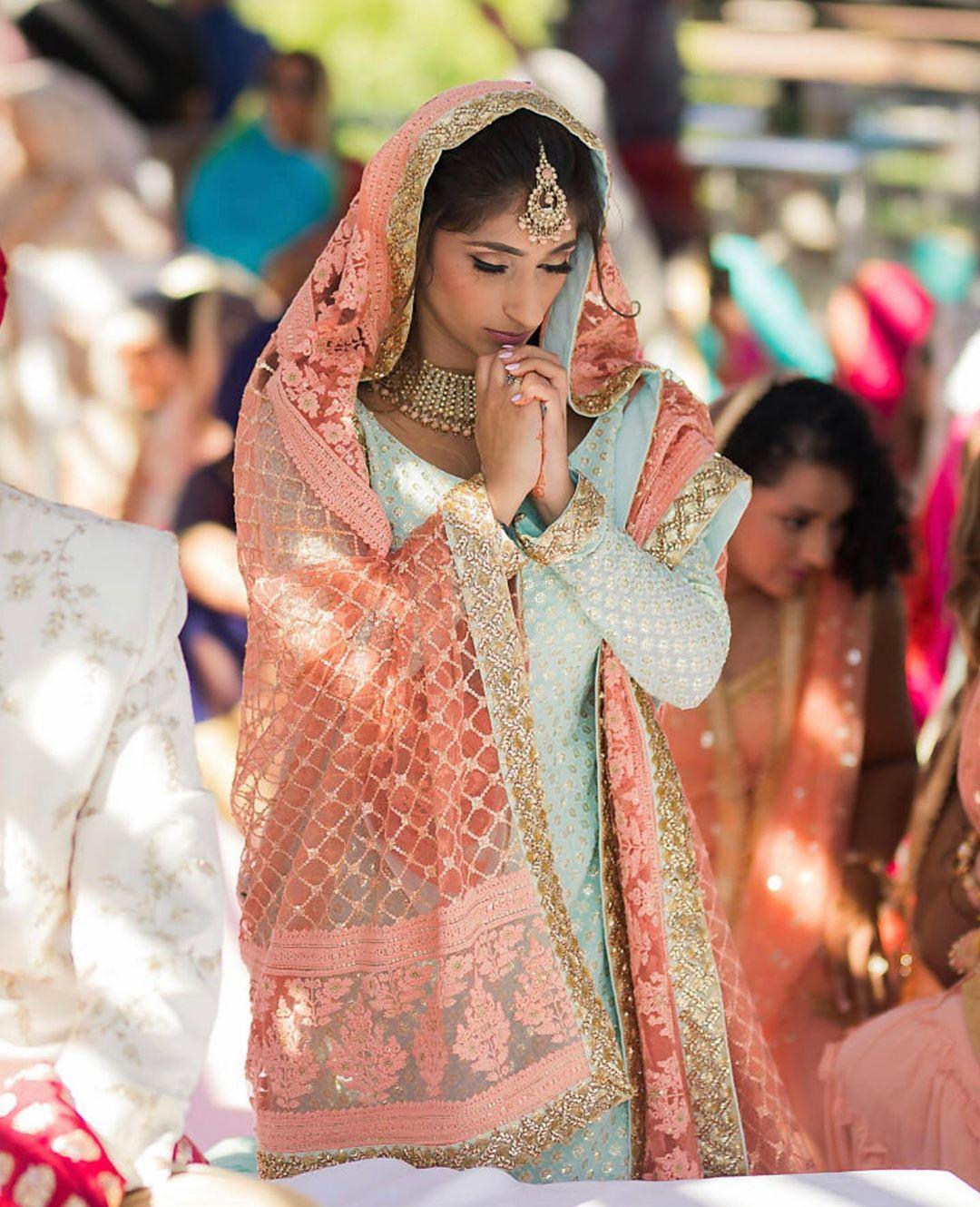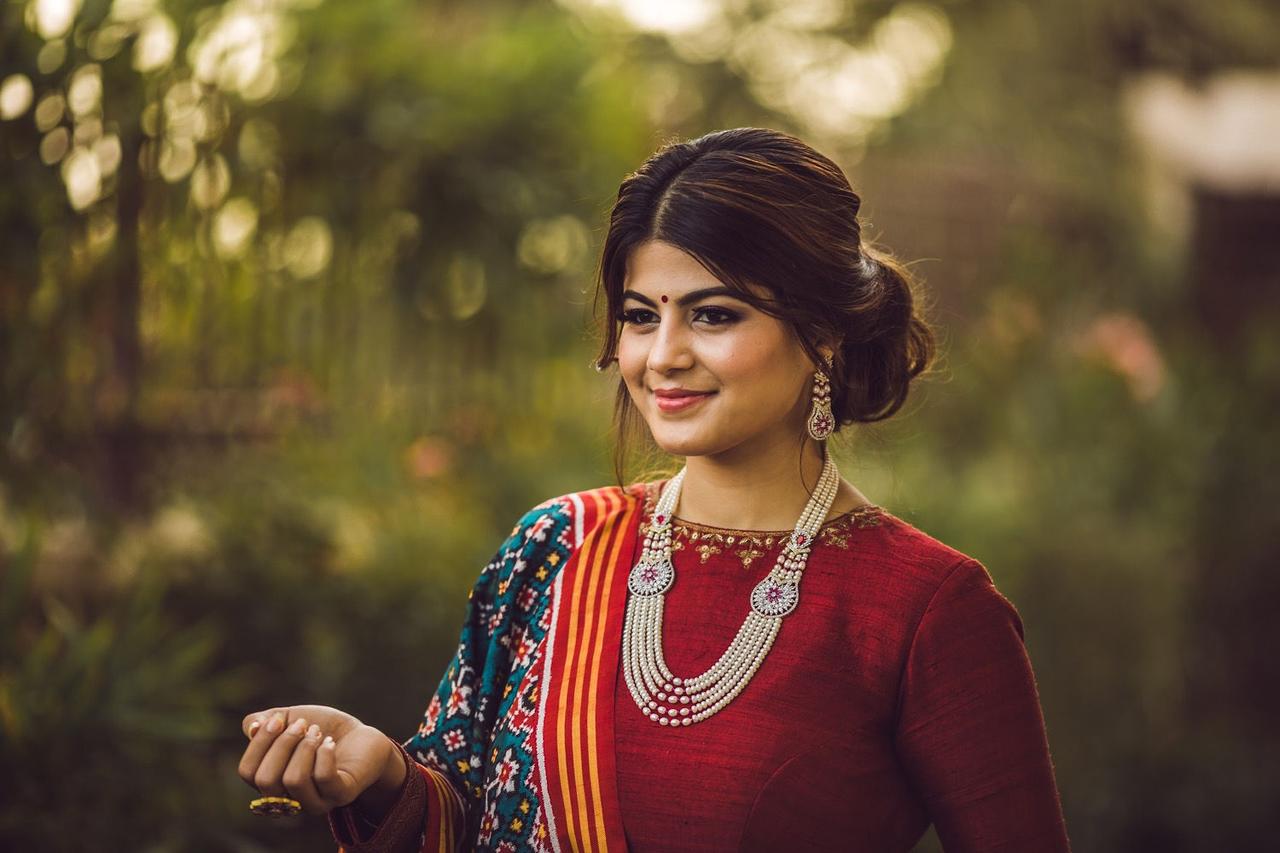 Before commencing with full-fledged revelries, the most significant part in a Punjabi Wedding is seeking the blessings of divine god with positivity and grace. So, this is the first function where a bride needs to follow the queue of fad trends. Wish to ace the look with finesse? We are going to tell you how to match it well!
Mainly, it's the suit which works the best in such functions. A heavy georgette Patiala Salwar topped with a gorgeous kameez and a contrasting net dupatta can bloom the atmosphere with full glitz and glam.
You can opt for a heavier Anarkali keeping the palette light and subtle.
We suggest all punjabi bride's to keep the jewellery minimal, to keep the look serene, however, a light necklace or a simple diamond set would be an apt choice to add the glow!
Sagan/Engagement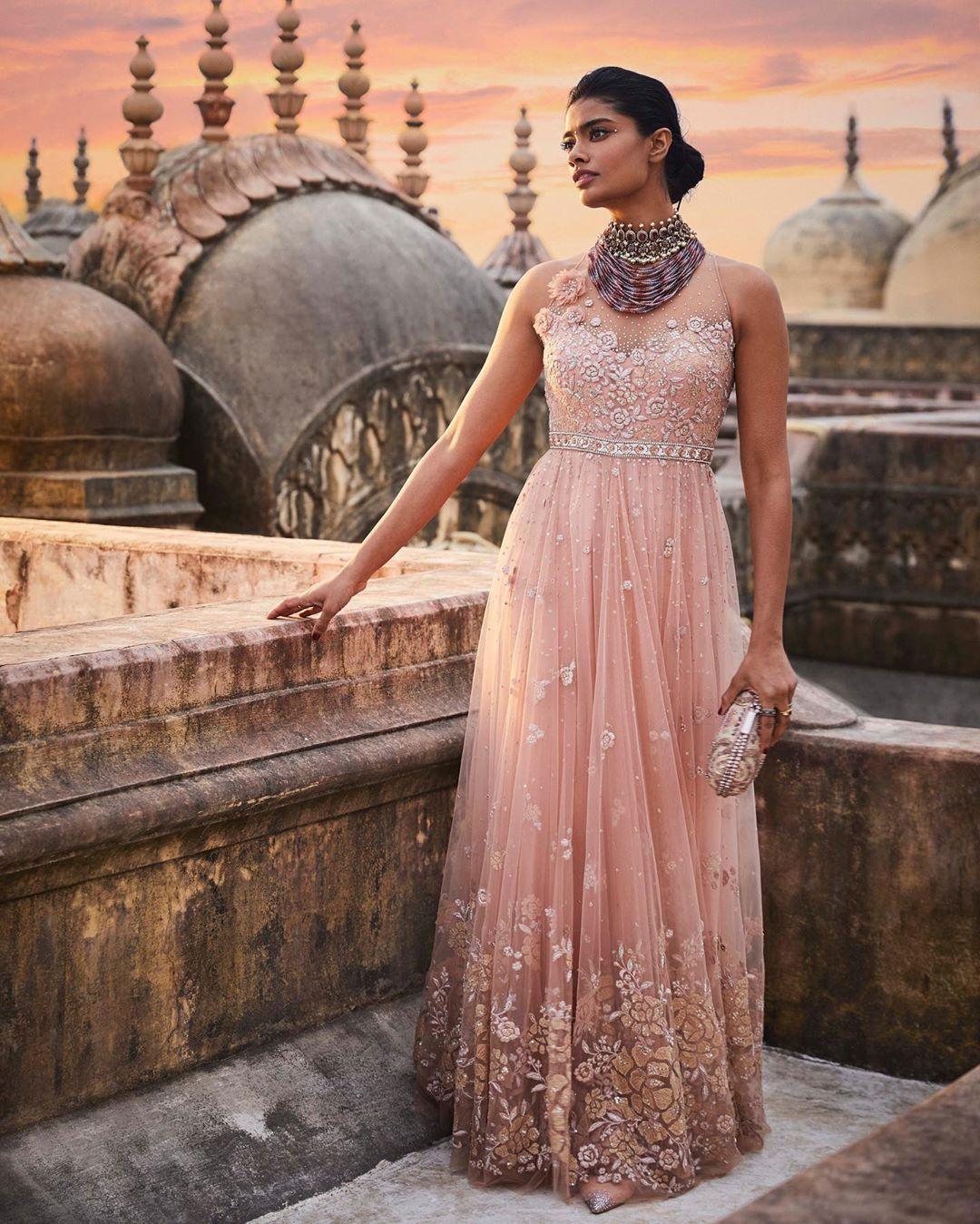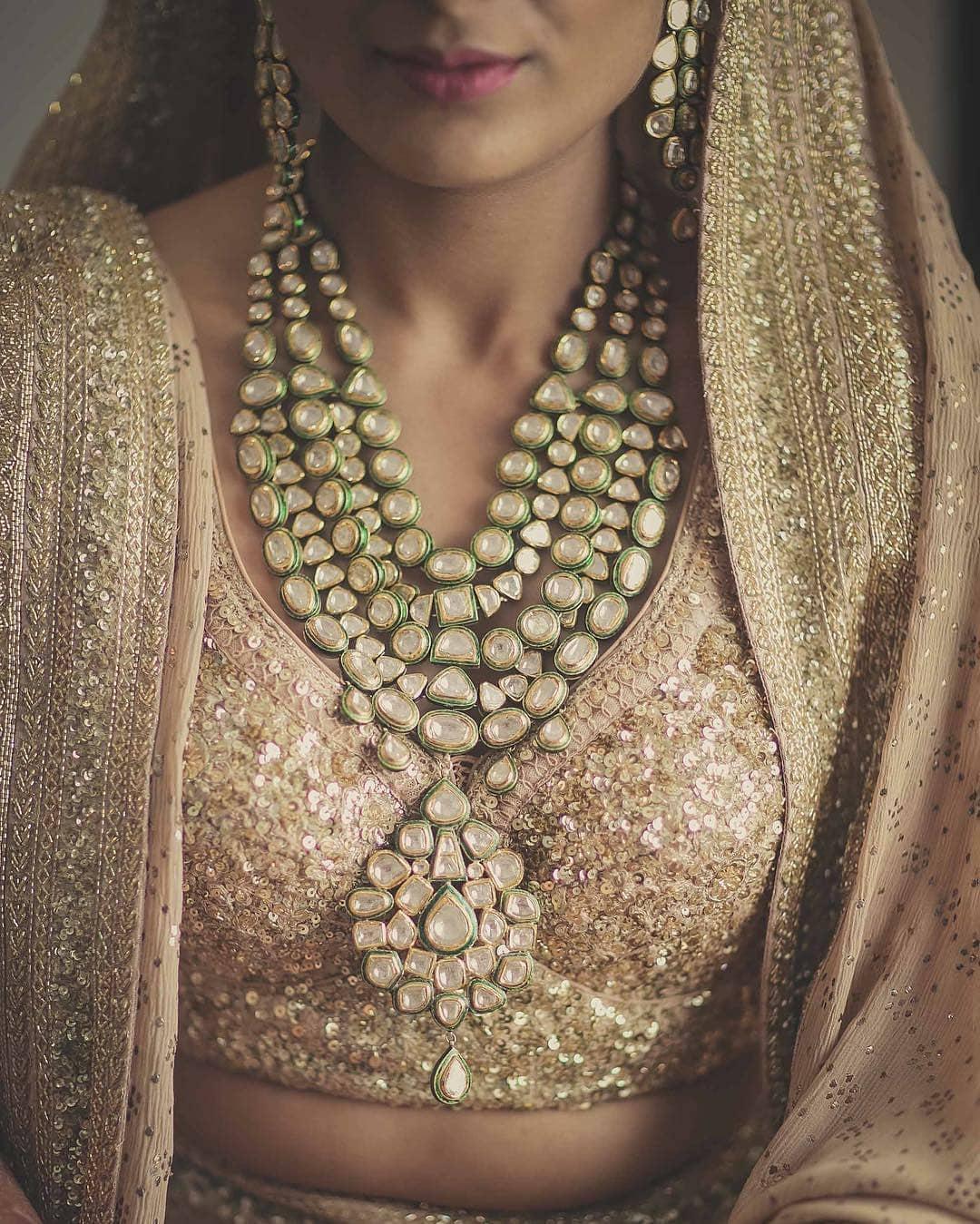 Image Courtesy: Morvi
This ceremony is that one precious flash where the couple gives their first bang on appearance to the public. A Punjabi Bride knows when to hit the stage of zero-hour with moxie and without any nervousness. Are you ready for your 'Love Never Felt So Good' moment? If yes, then first you need to buckle up with your dreamy engagement outfit!
A lighter work and light colour lehenga will go well with the occasion. Though glitz and gorgeous is the trend for Sagan or engagement night, you can opt for pastel colours as they are in trend for this season, keeping the embroidery work light and yet glittery.
Gold or A Kundan Set with heavy earrings completes the punjabi bride look with a lehenga.
Don't want to wear a lehenga? A gown will do!
Diamond Set, Gemstone complements with the gown well.
Sangeet Ceremony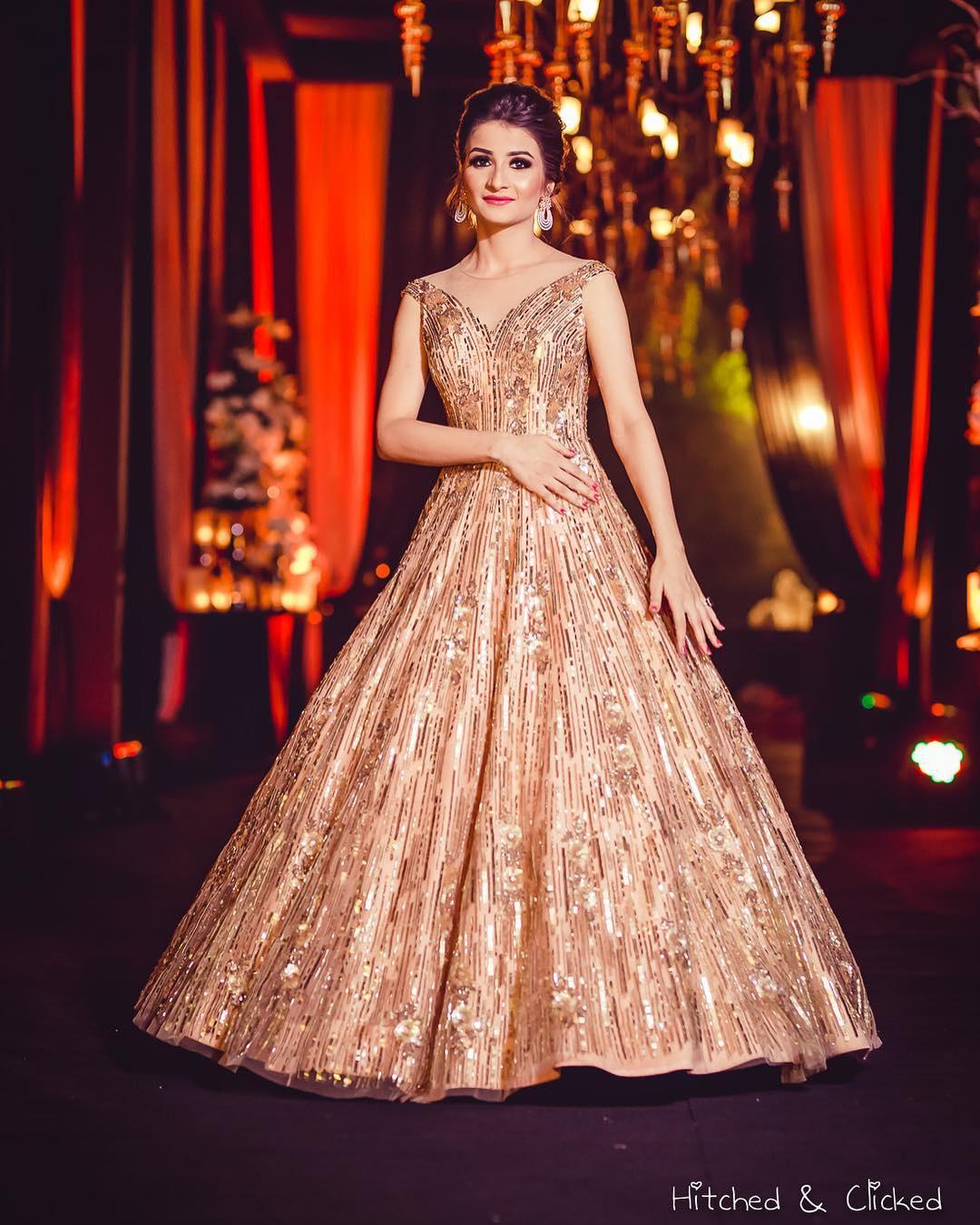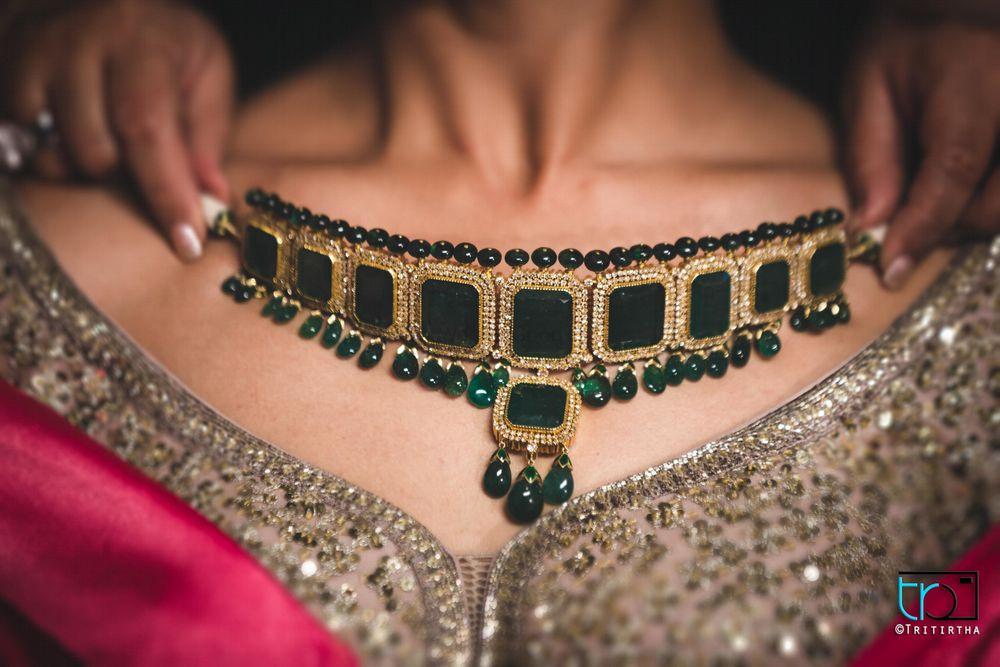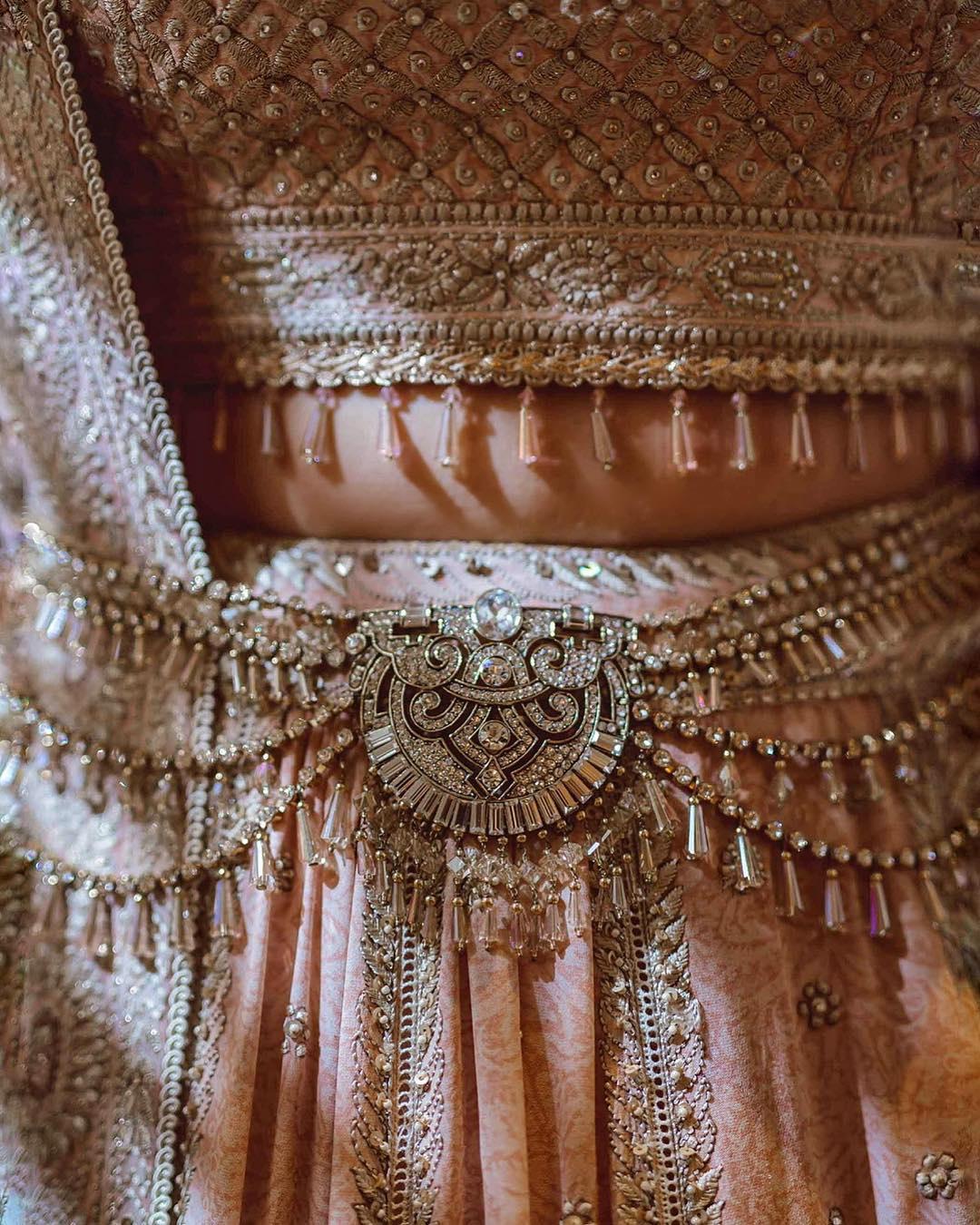 Sangeet Ceremony in Punjabi Families is all about letting out your inner guts to the fullest and enjoy the time of togetherness by hitting the dance floor with energetic bhangra and slayer moves! If you love to show off the thumkas and groove with your friends and family, then this is your time to hit the floor in full fervour. But first, you need to opt for a handy-dandy outfit which goes well with the Sangeet function.
An exquisite and shimmering pink lehenga, matched with a stylish Polki choker can steal the show of the ceremony with gracefulness.
A fully detailed Anarkali Suit topped with paisley or traditional embroidery and the crimson red border around the neck gives the royal blue colour a perfect pop.
The head Jhoomar and Juda hairstyle makes the perfect combo and goes well with this rocky function!
Wish to go out of the box? You can also lay your hands on, golden lehenga or a sequin saree!!
Haldi Ceremony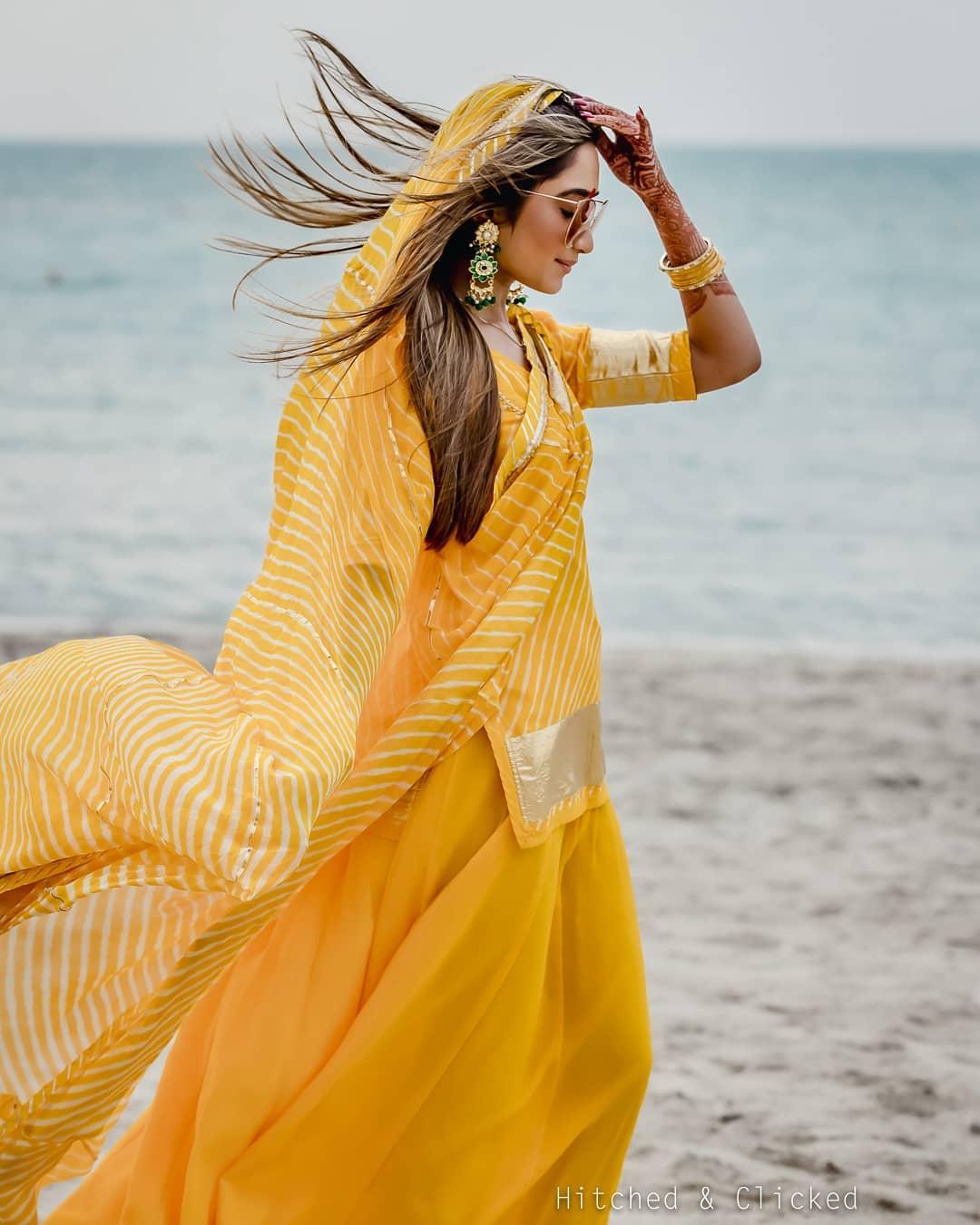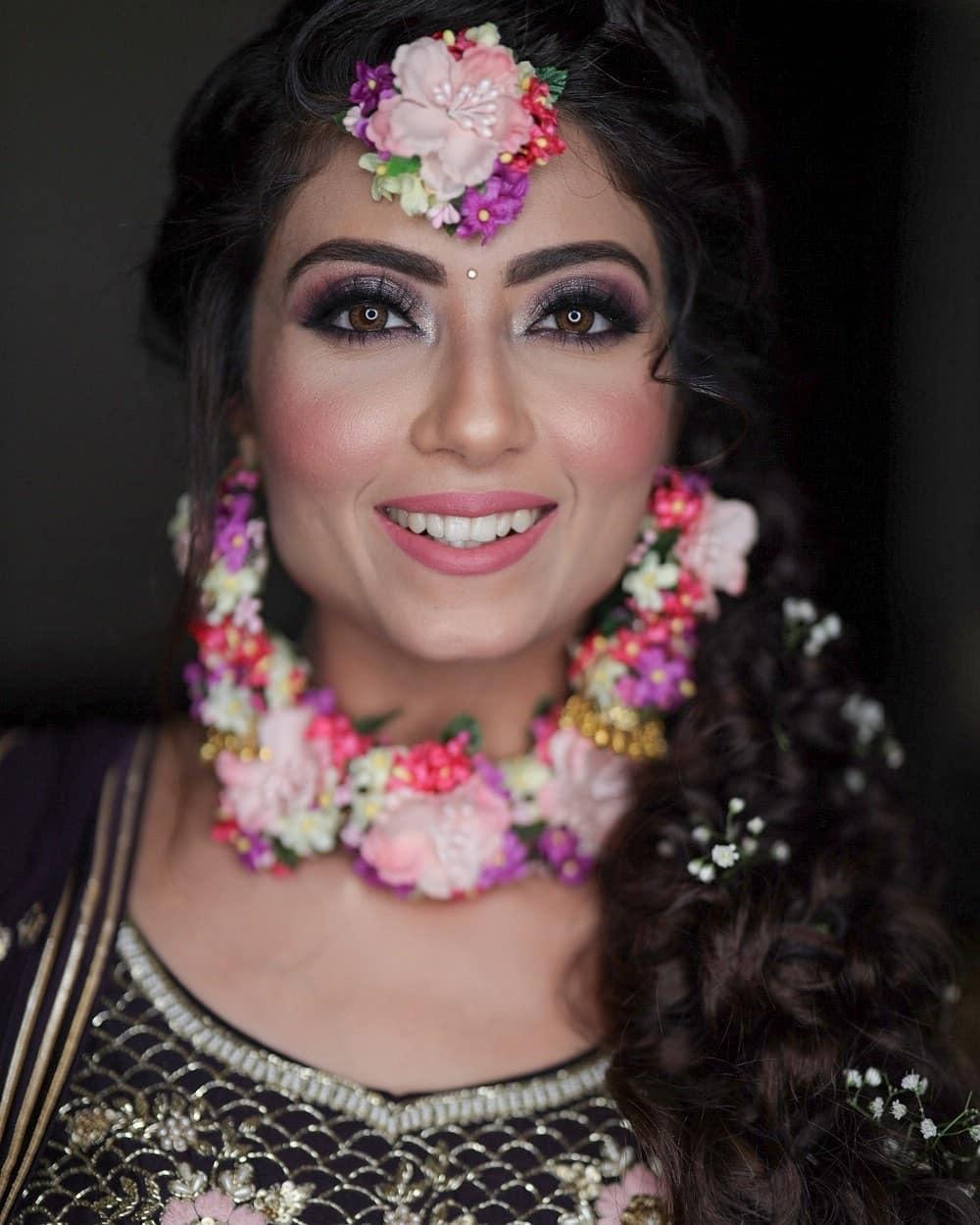 In Punjabi families, yellow is the colour for Haldi function, but a Punjabi bride can easily crack the multi-coloured look easily, because why not?
A Simple yet elegant yellow sharara matched with a simple net or a gota patti dupatta will create a sense of sunshine in the souls of the guests!
A vibrant lehenga will do wonders!
A Floral and flamboyant yellow saree can go well too! Floral Jewellery adds a cherry on the top!
Mehndi Function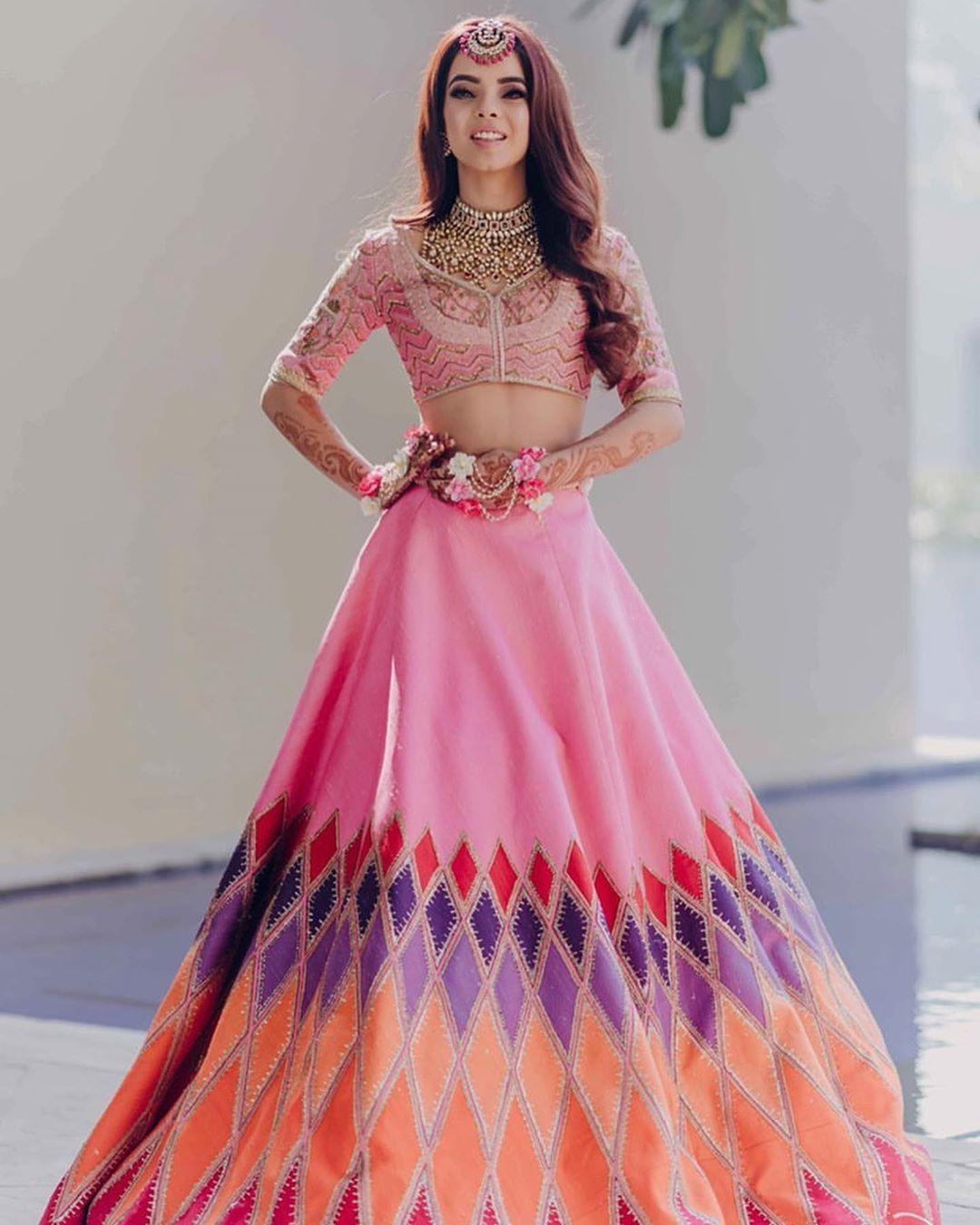 Image Courtesy: RJS Company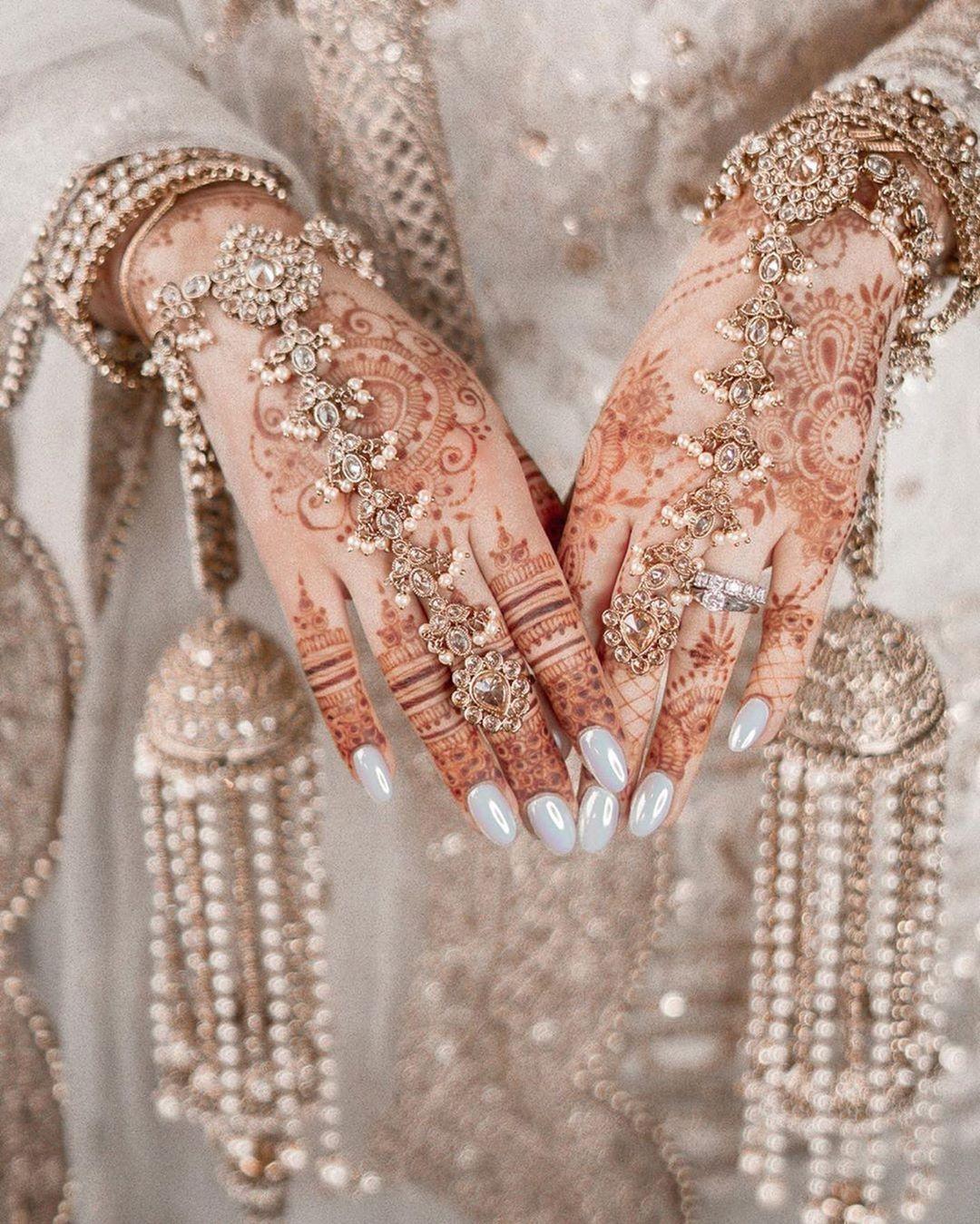 Did someone say mehndi function in a Punjabi family? Because that's one of the best pre-wedding ceremonies which creates a forever remembrance in the hearts of the guests and family members! Therefore, the only aspect where a Punjabi Bride should focus is on her gracious attire and modern mehndi design!
A shimmery lehenga with a hint of elegance will do well.
Opt for a simple suit with a mint of colourful embroidery with knee-length straight pants so that you get a chance to flaunt your mehndi well.
Looking for the perfect punjabi bride jewellery ideas? Floral Jewellery and personalised haathphools are hitting the cloud of the trend with grace.
Anand Karaj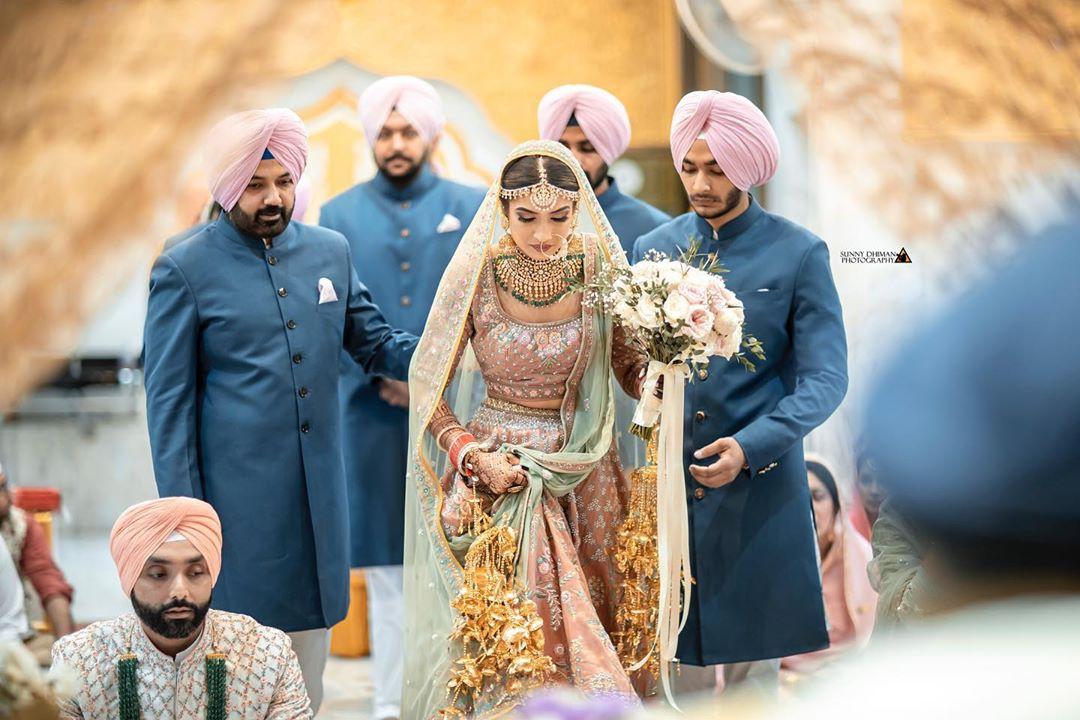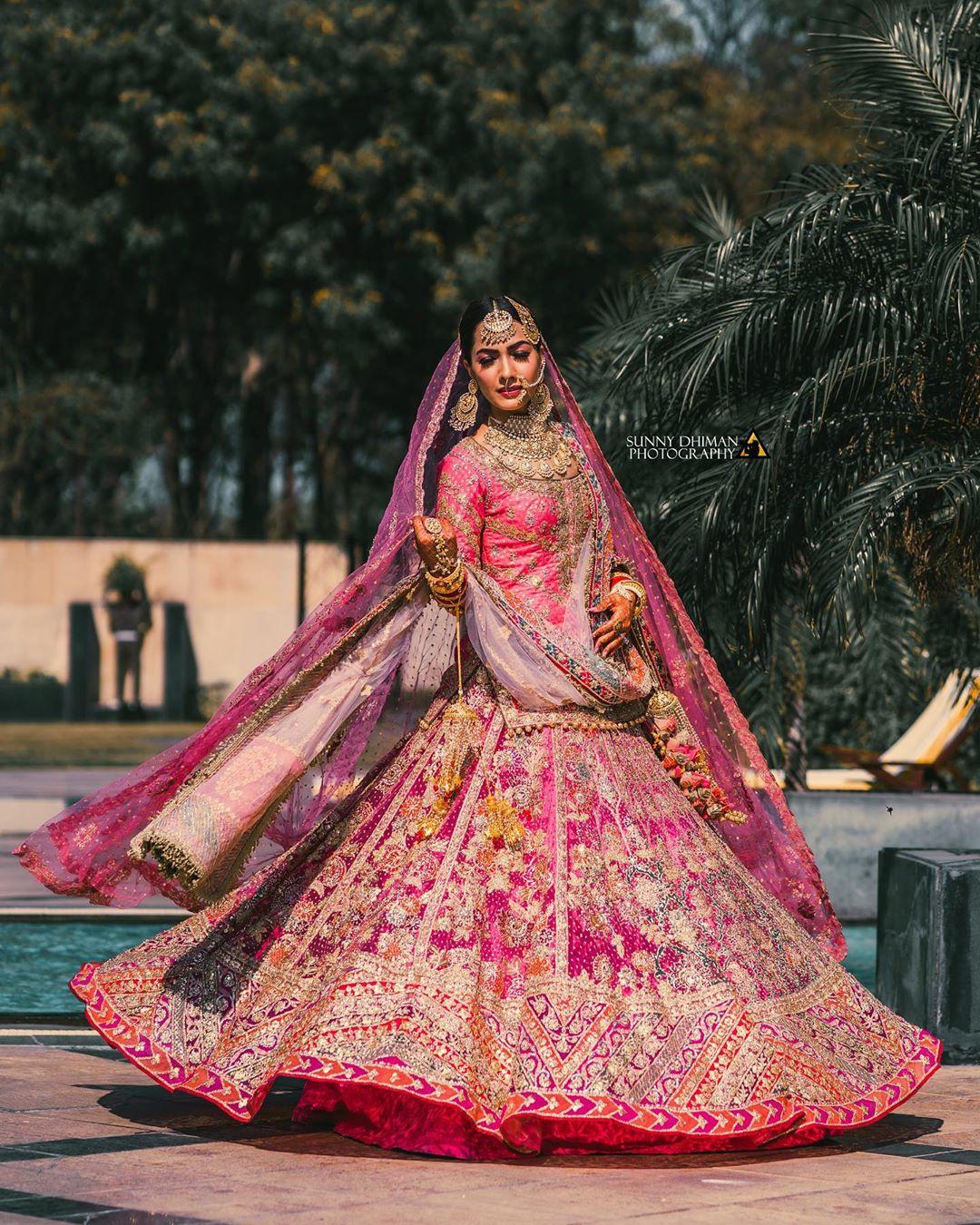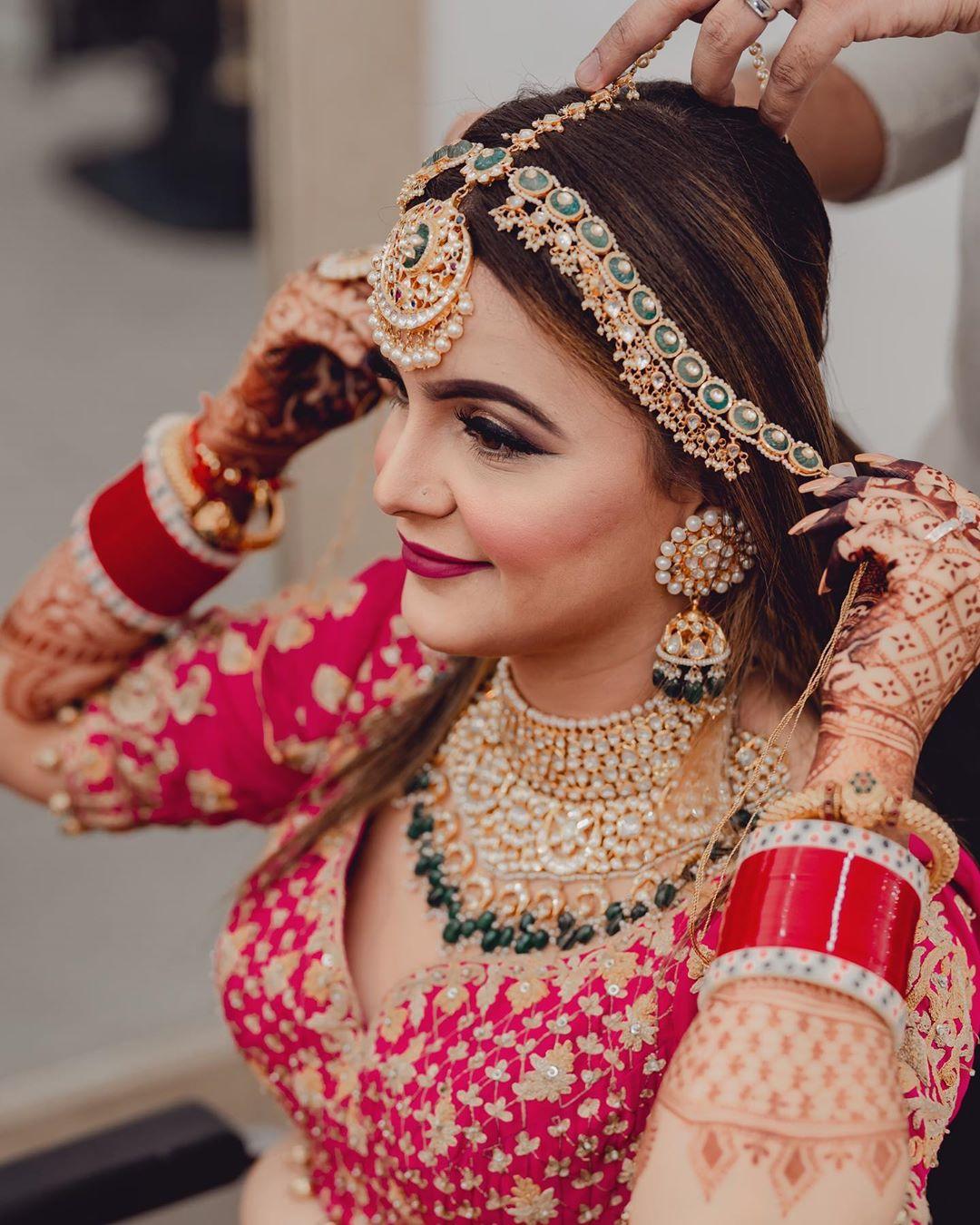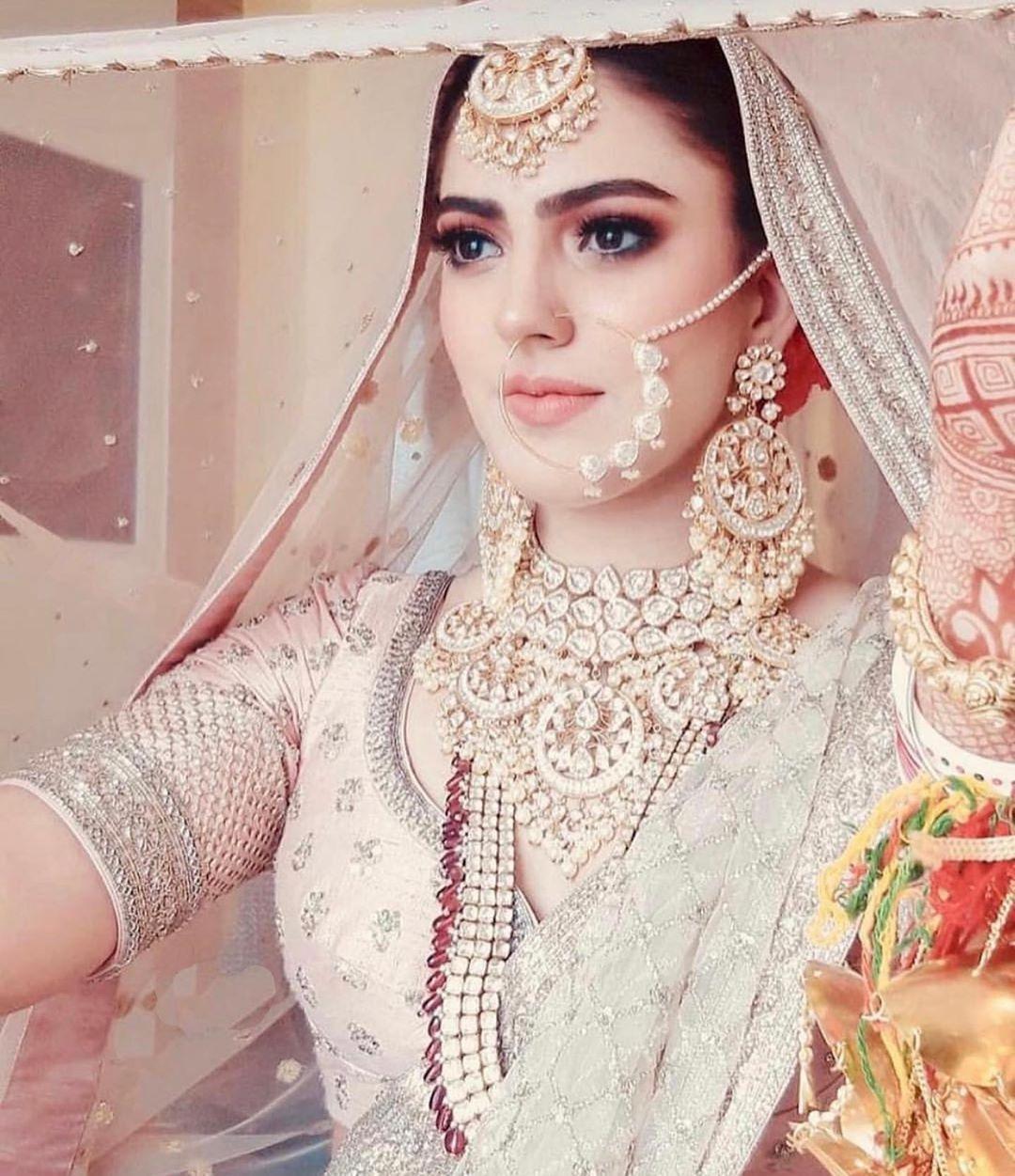 Sikh Brides are meant to break the epitome of easy and ordinary and pile it with dignity and richness as they are the centre of attraction! Get a chance to leave your guests smitten by your charm! You must opt for a soothing yet regal outfit to turn some heads as you enter the Gurudwara for the ceremony.
Choora and Kaleere accentuate the look of a Punjabi Bride and is an essential part of the traditional and glorious bridal look!
Opt for a coral pink long choli with lehenga styled with double dupatta drape!
And, Golden jewellery or a heavy Kundan set can give a great hint of splendour to the outfit!
A blush pink lehenga with a double dupatta will make your bridal look magical and make you walk down the aisle with confidence and eminent happiness!
And jewellery? Top up your attire with Polki and emerald jewellery with subtle and dewy makeup!
Addition of Matha Patti and Nath can never go wrong when you have that big sparkling smile on your face!
Hindu Punjabi Wedding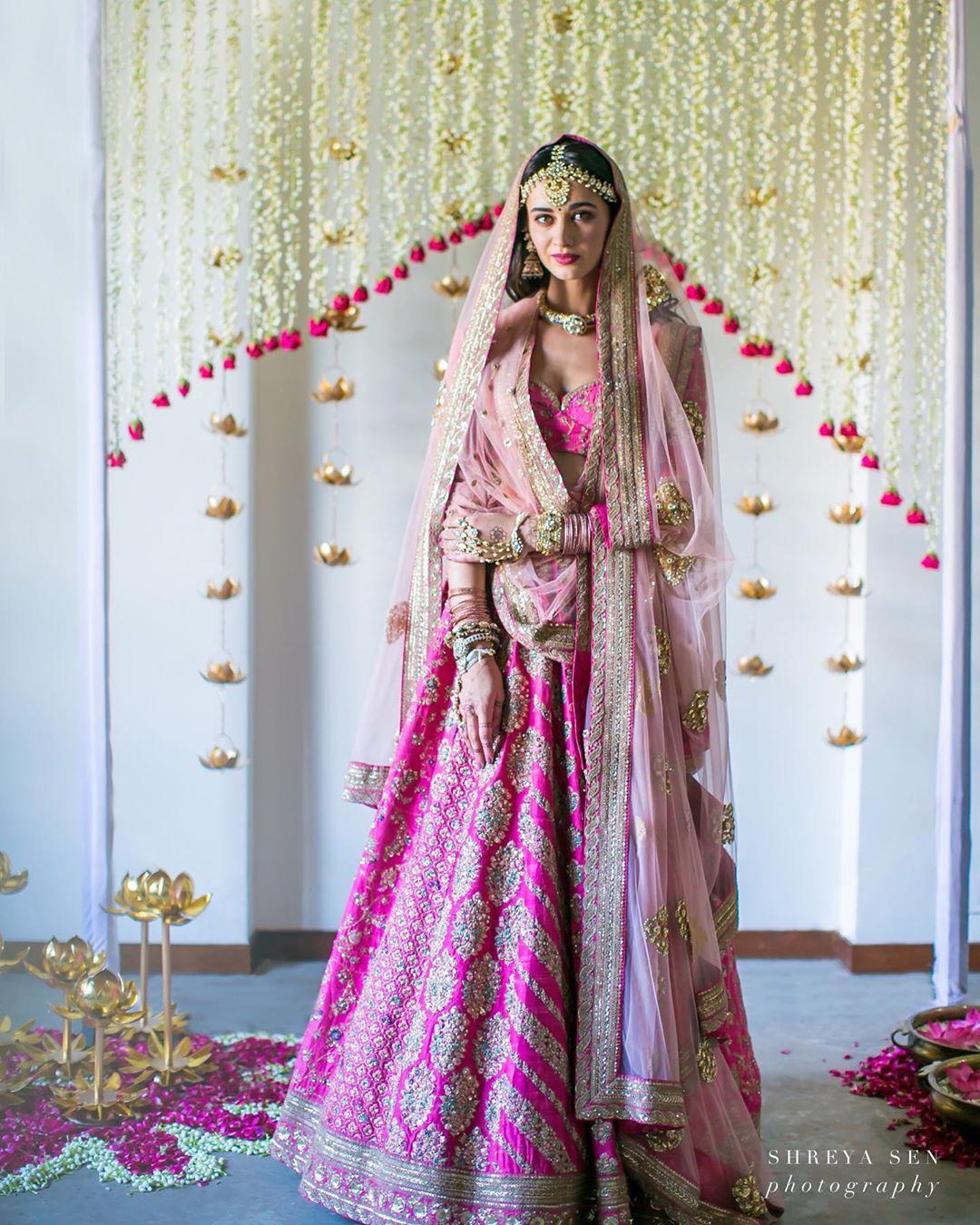 Image Courtesy: Shreya Sen Photography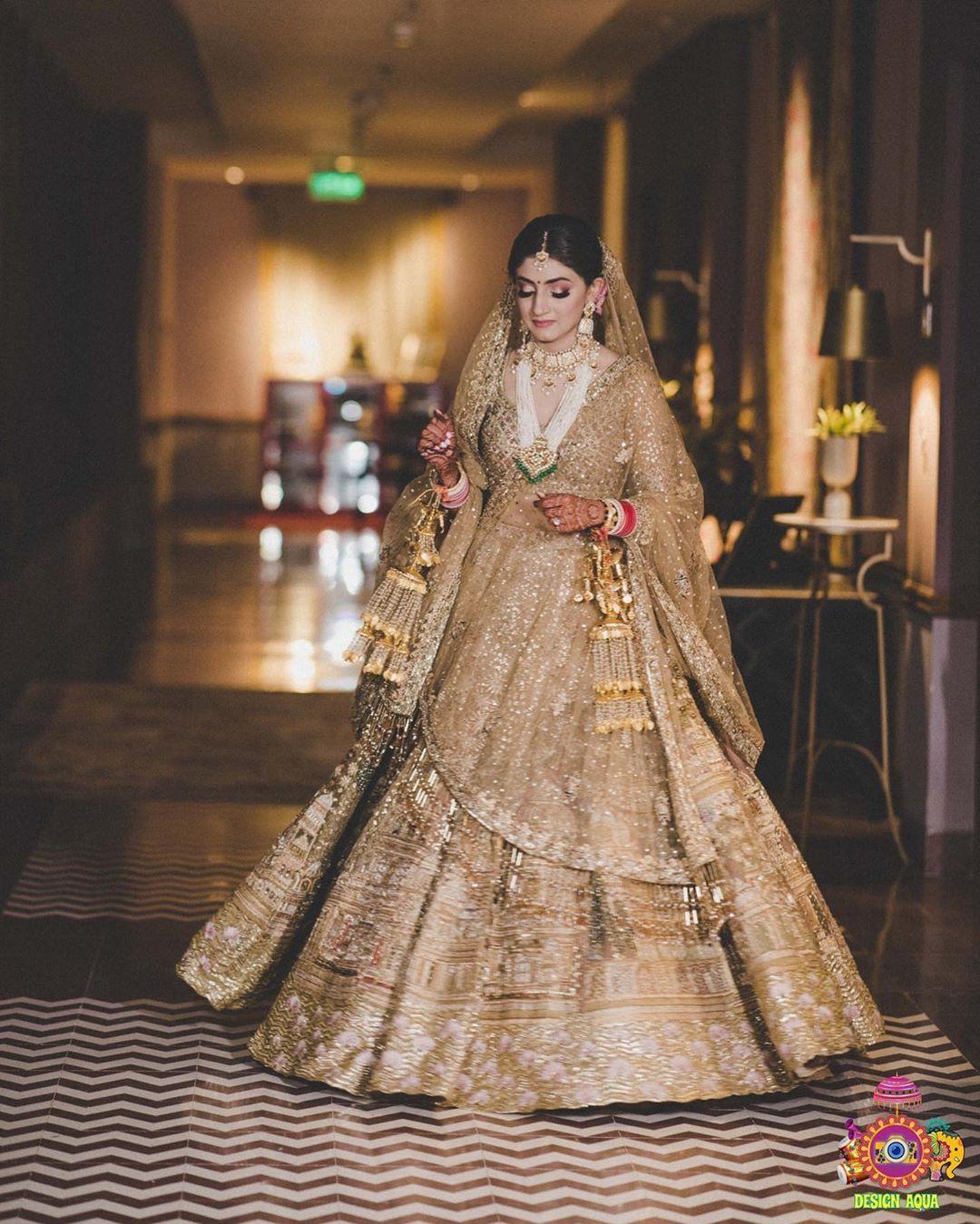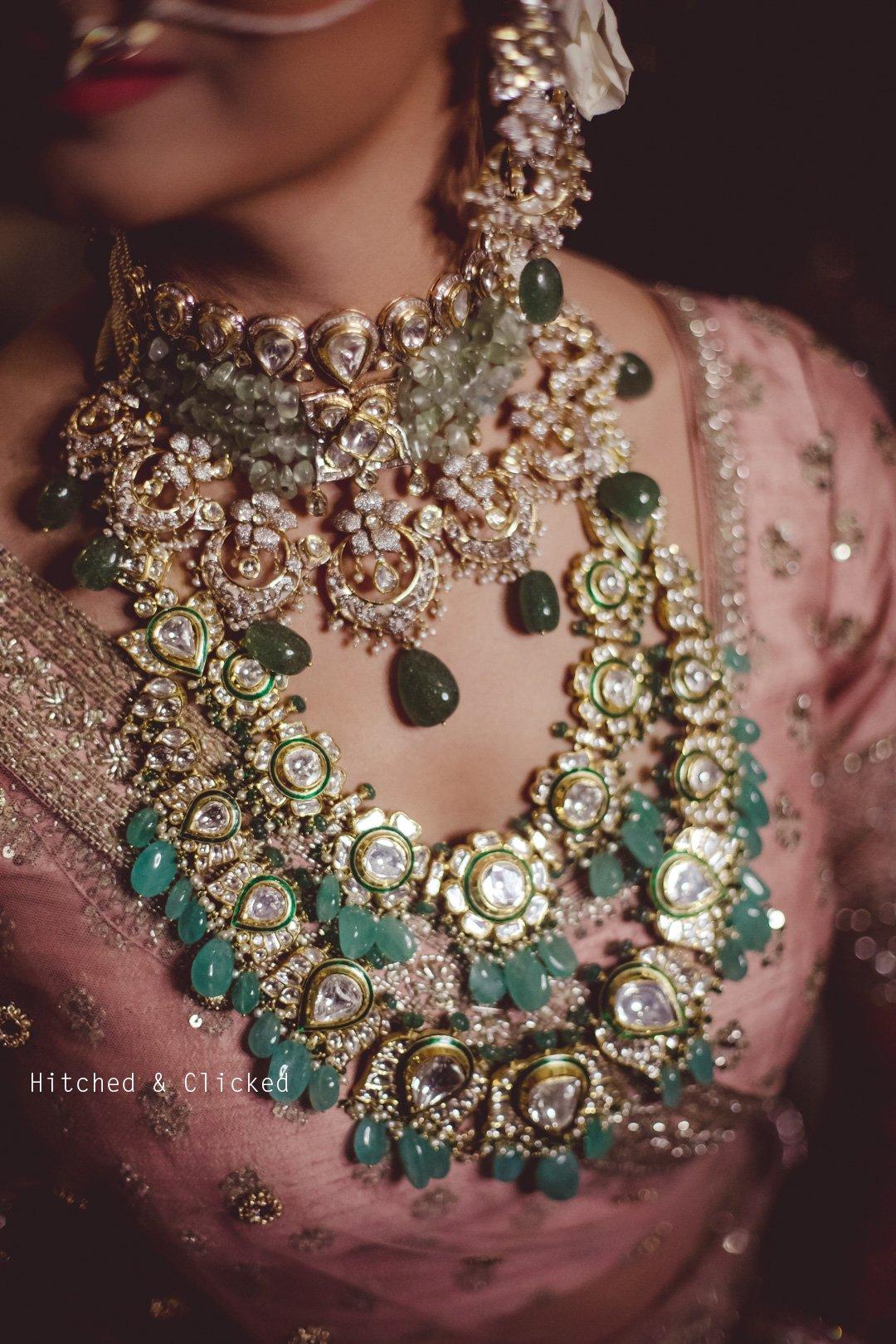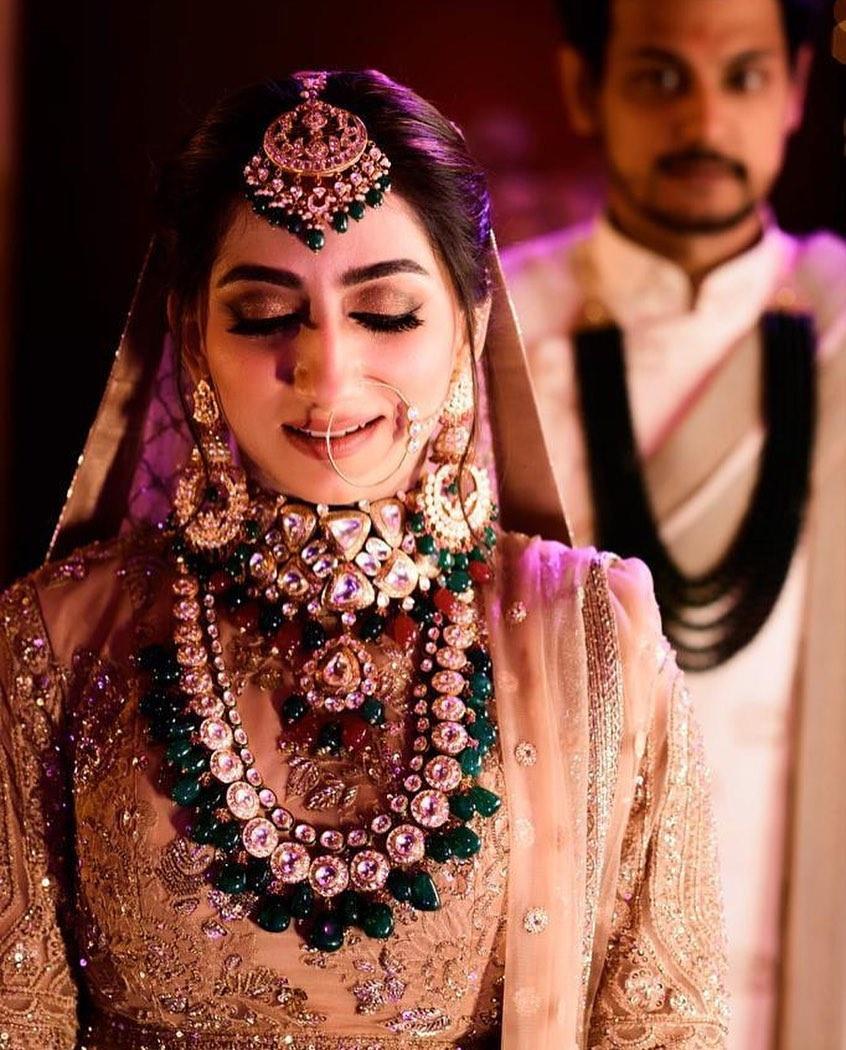 A Punjabi bride waits for her D-day with utmost excitement because it is going to be her 'PRINCESS' moment finally! It's time to flaunt those beautiful glittery outfits and get rid of the plainness of style with the #ootd being OTT!
A vibrant multi-coloured lehenga with a blend of refined embroidery and a majestic contrast orange dupatta with royal blue borders shouts perfection!
And, a heavy Kundan set with enamelling blue gemstones adds prettiness to the bridal look.
A magenta Patiala Salwar Kameez teamed with a heavy jewellery set gives a bold and beautiful look.
Big Picturesque Nath and Maangtikka can blow your look with merriment and joy!
A crimson red raw silk lehenga blended with gotta Patti paired with an embroidered choli and sheer dupatta can do well for you D-day!
Every Punjabi bride-to-be has a couple of sentiments to raise their bridal look with, never forget to include YOUR thing in the outfit!
Reception Ceremony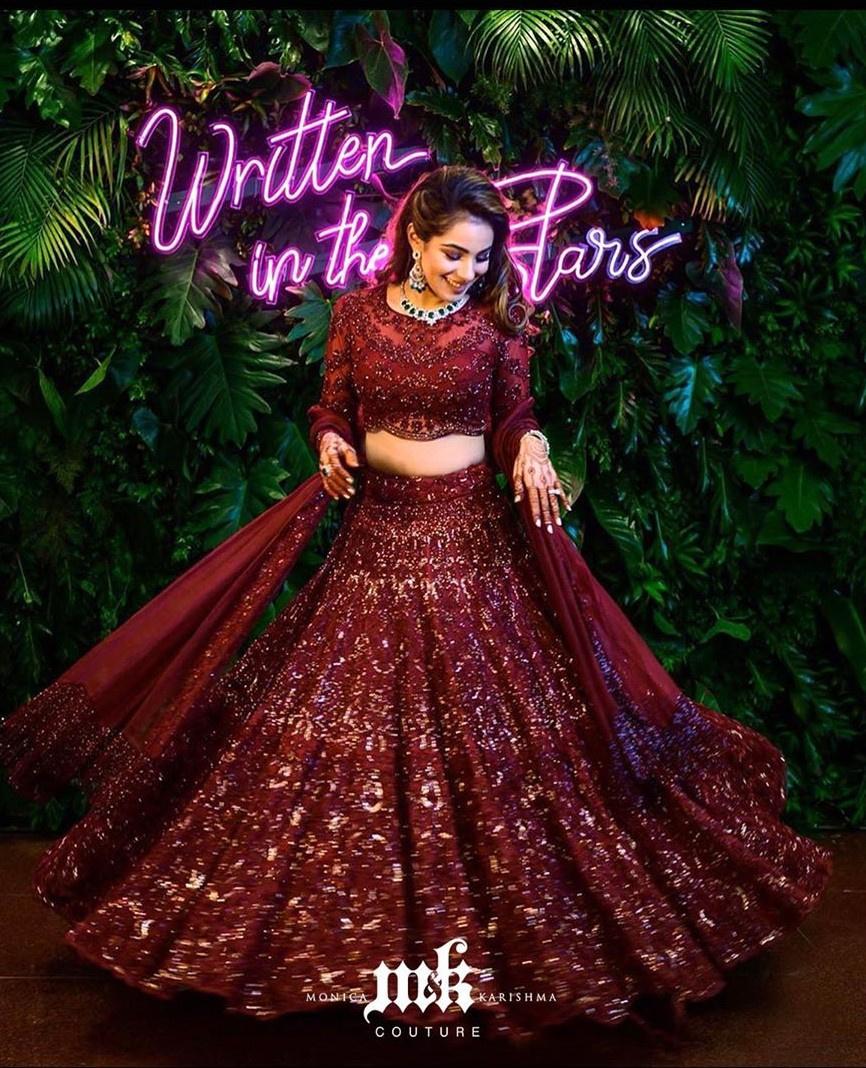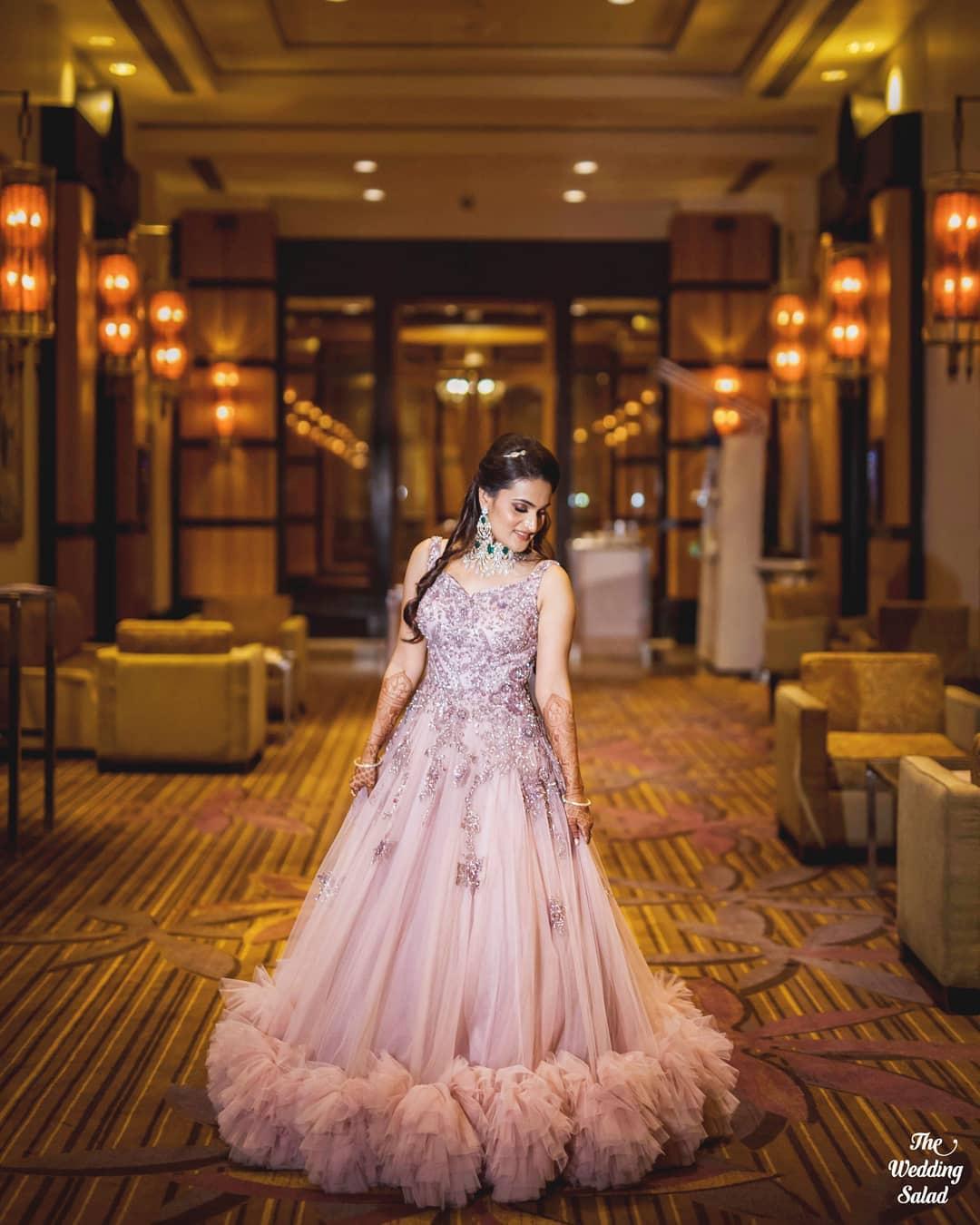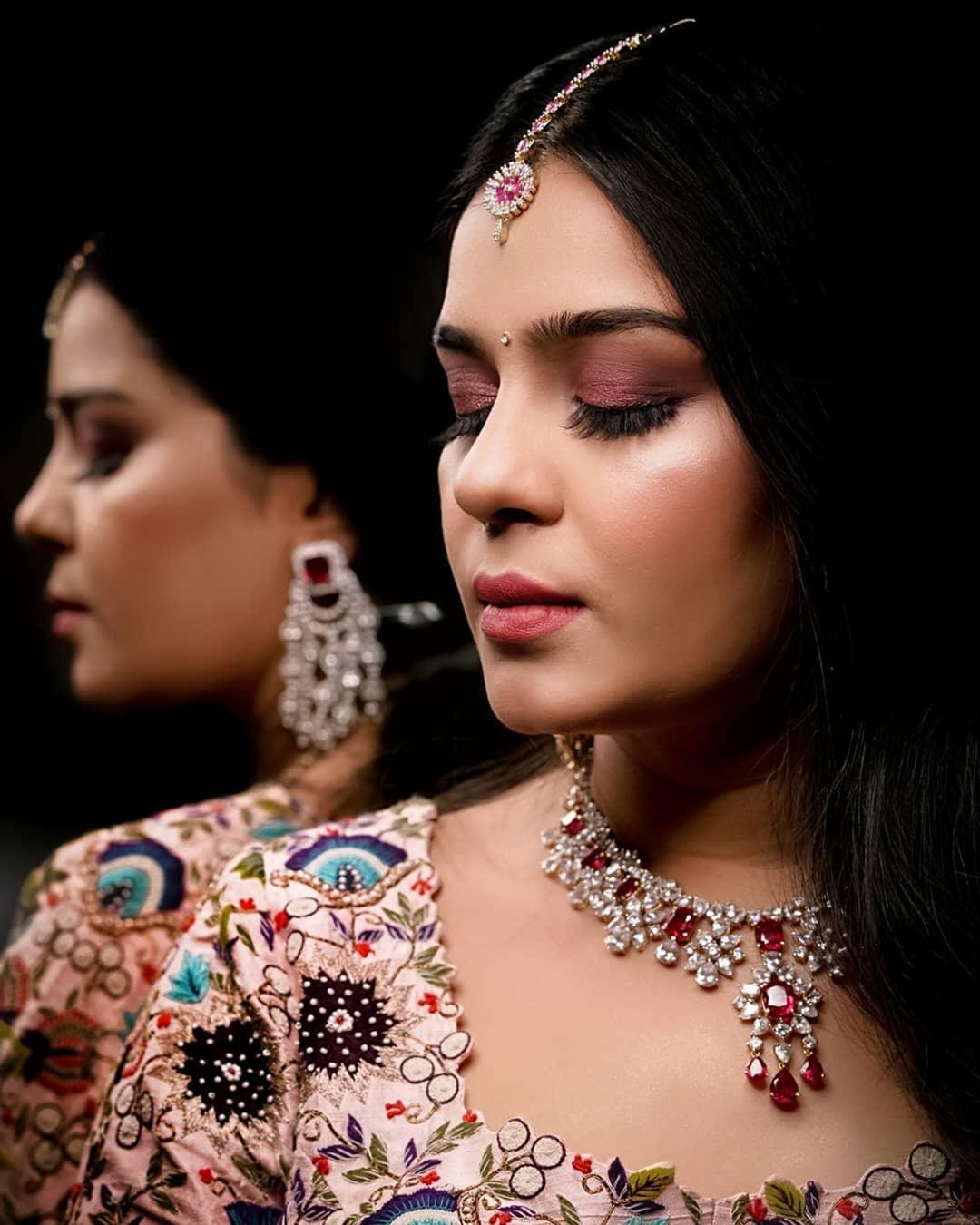 Image Courtesy: Orange The Salon
Reception is a divine function and has the heart of Punjabi families as this is the last wedding bash! Here the bride gets a chance to elicit her 'Sauda Khara Khara' moment and make it a style statement. A bride should always follow the queue of breath-taking jewellery and polished outfit!
A fairy gown crested with a diamond set is the perfect combo!
Why arrange a disco light when you can be the disco ball on your reception day?
An elegant lehenga with minimal jewellery works best! (Only if you are ready to wear a lehenga on your reception day)
If you are going to be a Punjabi Bride, we hope you found your favourite pick here and tick your D-day with new beginnings and bliss!
-Words by Surbhi Sachdeva