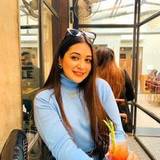 Surbhi Sachdeva
Senior Executive - Editorial & Community
About the Author
Surbhi started her career at WeddingWire India in 2019 writing storefront descriptions for some of our fantastic wedding vendors. Here she learned a lot about the wedding vendors and the intricacy of wedding planning. From giving useful information about a wedding vendor to writing meaningful content, she managed to grab the attention of the users.
Exploring her knowledge of wedding trends and couple needs further, she joined the WeddingWire India community and dipped her creativity into examining the couple needs and wedding fashion trends. Surbhi also joined the editorial team to write wedding-centric and fashion blogs. On weekends, you'll find her chilling with family and friends. She loves to read books and watch romantic movies.
Experience
Surbhi has dreamt of becoming a writer ever since she experienced working with lifestyle bloggers. Over the years, she interned in a lot of companies like Hindustan Times, Arm Worldwide, ItattYou, Film screen and gained experience in writing useful articles. Surbhi has worked at WeddingWire India for over two years now. She has experience of 8 months in writing for vendors on the WWI directory. She joined the WeddingWire India community in 2019 and organised frequent Community giveaways and introduced new strategies to level up the brand's online presence. Surbhi specialises in offering worthy wedding information to the WWI community. She is also a part of the editorial team and offers fashion-centric content to the company. From writing lifestyle blogs to e-commerce content, she has developed skills as an editor. She loves to explore new situations and loves to overcome challenges with grace!
WeddingWire Q/A with Surbhi Sachdeva
What is your Dream Wedding Style/Theme?
Being from a Punjabi family, I wish to have a royal and traditional wedding with fresh flowers all around. I wish to get smiley candids clicked on the Mandap. (Just like B-town Couples)
Bucket List Dream Wedding Destinations?
Udaipur and Maldives
Who is your Dream Designer?
Sabyasachi
About your Favorite Celebrity Wedding Look?
I drool over Kareena Kapoor Khan's and Anushka's Sharma wedding. The touch of royalness flowed from their wedding!
Articles published by Surbhi Sachdeva