List of Top 9 Recipes Of Indian Desserts To Make This Diwali
Festivals are incomplete without Indian sweets. Are you planning to fuse happiness with Indian sweets this Diwali? Here's a list of top Indian desserts recipes to make at home!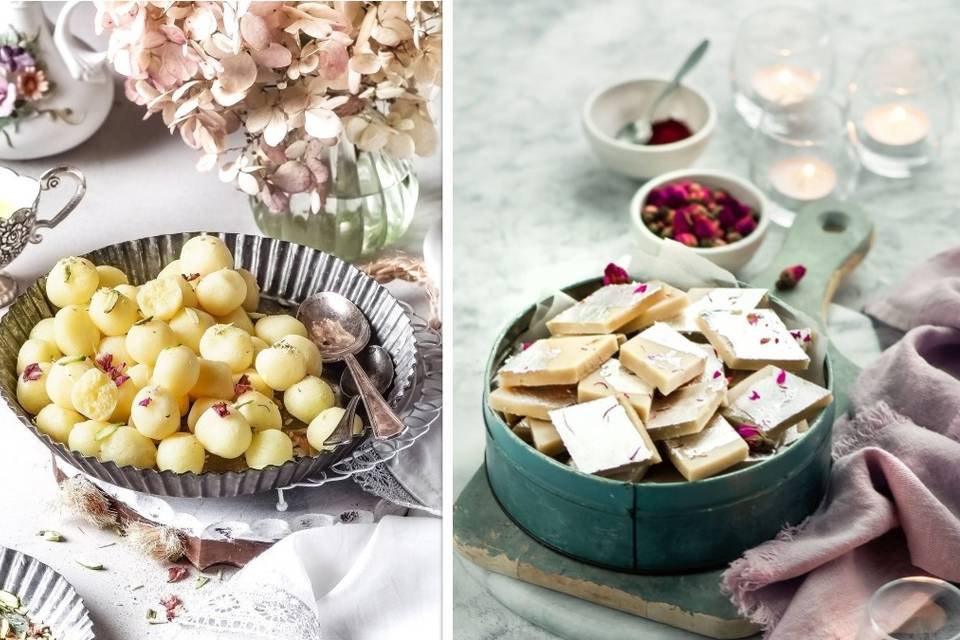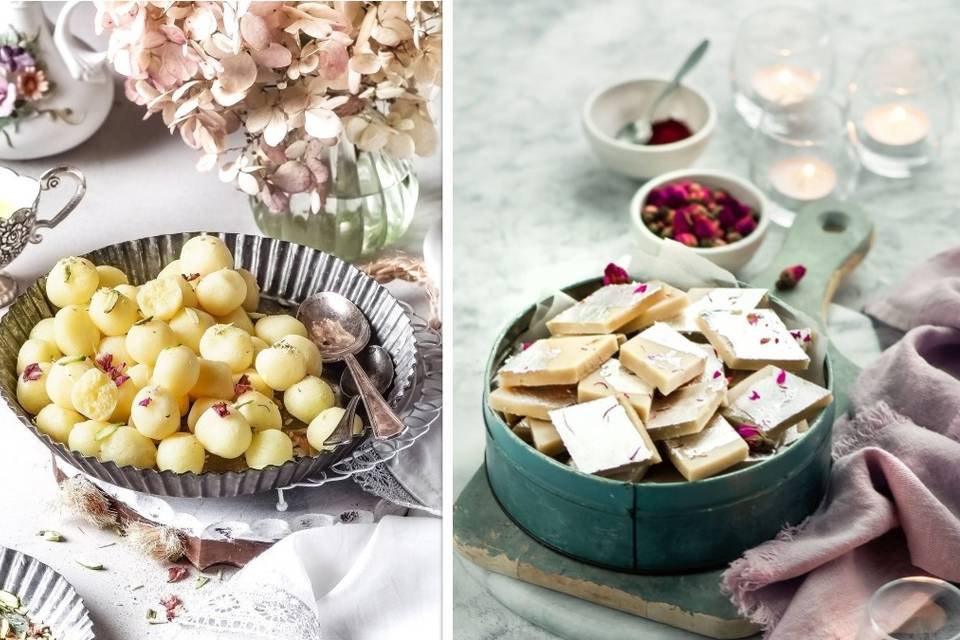 Image Courtesy: Binjal Pandya
Diwali is a festival of love and new beginnings. From choosing the best Diwali outfit to decking up the corners of your home with beautiful rangoli, this festival tops the meaning of happiness. We get to make tonnes of happy memories with our loved ones, but one moment that steals the feels is the 'Kuch Meetha Ho Jaye' Moment. Indian sweets are indeed the highlight of Diwali and add a delectable feeling to the festive mood. Do you have a sweet tooth and love to experiment with Indian sweets? Well, who doesn't! Indian sweets are the real dealmakers for festive occasions.
Are you on a scrumptious inspiration hunt for this Diwali season? From delicious Gulab-Jamun to universally accepted Motichoor ke ladoo, We have curated a list of Indian sweets recipes that can be made at home with ease. Scroll up!
The Heavenly Moong Daal Ka Halwa
Shoutout to the heart of all of the sweet-tooths! Whenever there's a celebration, Moong Dal Ka Halwa does wonders. Moong dal ka halwa is relished throughout the year and is one of the easiest recipes made at Indian homes. Have you made a dessert do-to list? Take a chill pill, as this Indian sweet recipe will amp up your sweet days with ease.
The Trail Of Diamonds- Kaju Katli
Hands down to one of the 'Lajawaab' Indian sweets we have ever come across! This traditional Indian dessert is made by thickening milk, cashew nuts, and other ingredients. Kaju Ki Barfi is stated as 'Jaan' of every Indian household. If you are a sweet lover, then this Indian sweet is a win-win for the Diwali season. Watch this easy-peasy recipe while you add a pinch of 'Mithas' in this festive season.
Also Read: 10 + Diwali Gift Ideas for Your Loved Ones
As Sweet As Gulab Jamun
Indian desserts make us go weak in the knees. Are we right, or are we right? Someone has truly said old is gold. Gulab Jamun is one old delight that eases out our cravings with sugary ingredients. This luscious dessert is just like a cozy blanket in the winter season. People distribute this token of love to their near and dear ones. The two magical ingredients that make this dessert a cherished one is Khoya and Sugar. This recipe video will bless your festive vibes with toothsome feels.
The Delicate Ras Malai
This Indian sweet is famous in Punjabi weddings, Rajasthani weddings. Ras Malai is a total melt-in-the-mouth dessert and is a perfect addition to the festive vibes. Have you ever experimented with making this super-delicious sweet at home? If not, then here is your chance to elevate sweet cravings with bliss!
The Scrumptious Son Papdi
Ever loved an Indian sweet so hard that it overwhelms your soul with bliss? Son Papdi is the one delightful dessert that makes our taste buds go oh oh oh! This sweet is apt for all types of festive occasions and ranks in the Diwali season. Get your hands on this golden recipe of Son Papdi and start the new beginnings with happiness.
Everythings Love With Moti Choor Ke Laddoo
Let's admit we can never get rid of Moti Choor Ke Laddoo. There are different types of flour mixed with sugar and sweetening. Do you wish to shower your place with all the sweet feel on Diwali? This Indian dessert is apt to double the celebration with love and bliss. Bless your cravings with this luscious recipe of moti choor ke laddoo and make this Diwali unforgettable.
The Go-To Kheer
Diwali is not only the festival of lights but the festival of flavours! How can we miss the queen of Indian desserts? Rice kheer is that gi-to dessert that satisfies our inner guts to the fullest. This delicious Indian dessert is not only for festivals but for every different type of occasion. What are you waiting for? Click on the youtube link below and make this yummy dessert at home!
Also Read: Festive Diwali Decoration Ideas For Your Beautiful Abode
The Spongy Rasgulla
Rasgulla is a very popular Bengali dessert that is relished by everyone! To all the people who cannot go a day without having dessert, Rasgulla is your saviour. The chenna balls soaked in sugar syrup are all you need to ease your sweet cravings. Elevate the festivity with this tasty Rasgulla recipe and open the box of 'Khushiyaan' with your friends and family.
Sooji Ka Halwa
If you are learning to make Indian sweets for the Diwali vibes, then Sooji Ka Halwa is an apt choice for you. Sooji Ka Halwa is a soulful sweet that is prepared in every Indian household and adds a flavour of togetherness when relished with near and dear ones.
Why not make this Diwali special by making this handy Indian dessert? Watch the recipe below while you add a pinch of love to it.
Read More -
Mehndi Design | Proposal Lines | Simple Finger Mehndi Design | Arabic Mehndi Design | Propose Day Quotes for Boyfriend | Wedding Anniversary Wishes for Sister | Change Aadhar Card Name after Marriage | Tamil Wedding Calendar | Simple Mehndi Design | Pre Wedding Quotes | Engagement Anniversary Wishes | Funny Wedding Wishes for Bestfriend | Blouse Design | Rangoli Design | First Night Tips for Bride | Wedding Anniversary Wishes