#WWIExclusives: Bridgerton Actor Charithra Chandran on How Indian Culture Was Represented in Season 2
In an interview with The Knot Worldwide, Bridgerton Star Charithra Chandran talks about the significance of showing Indian wedding customs & adding Bollywood music in Season 2.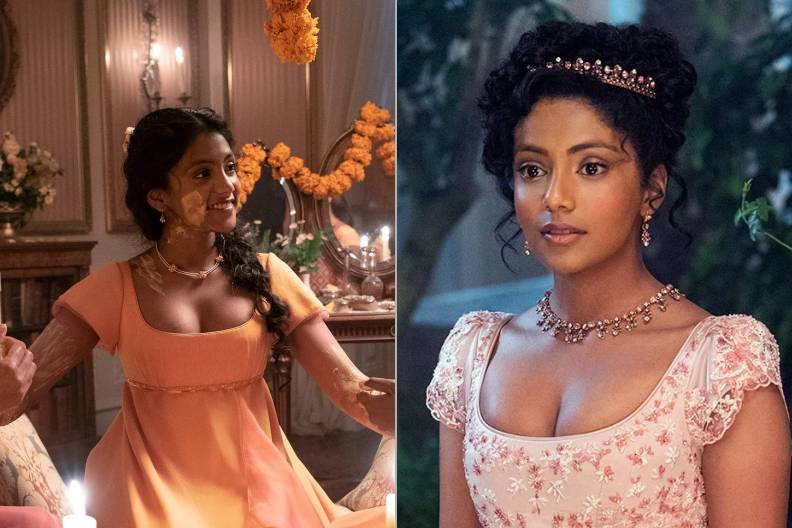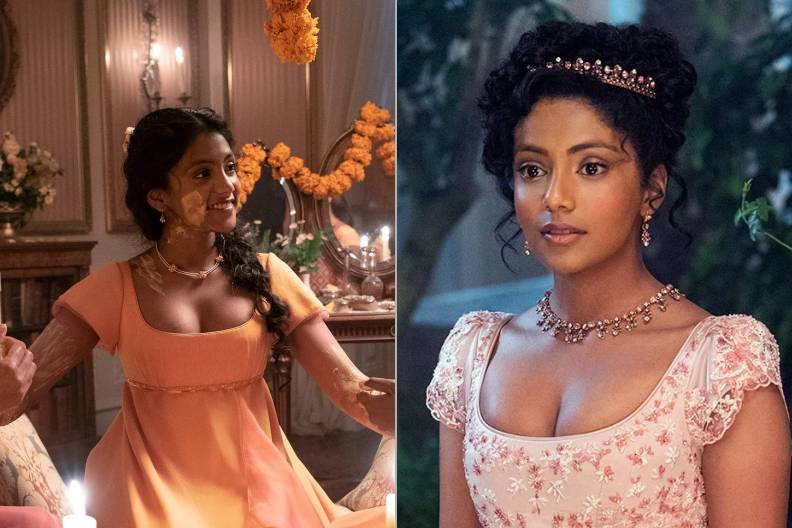 Image Credits: @BridgertonNetflix/Instagram
Dearest Gentle Reader,
The global phenomenon, Netflix's chartbuster hit 'Bridgerton' has returned and the list of reasons why we love it is almost as long as Rapunzel's hair. On the top of this list sits forbidden love - courageous, lustful, torrid passion that consumes you. The allure of the Regency era is my second favorite thing - credits to my front seat to the millennial movement in India that has us wrapped in the beautiful bright colors of Acculturation. But what brings Season 2 closer to our homes (now that it's already ruling our hearts), is an inter-cultural script that seamlessly writes anecdotes of the Indian culture, alongside the grandeur and pomp of the Regency period.
With the return of Season 2, the romantic trial of the next-in-line sibling from the Bridgerton family tree, Anthony Bridgerton (Johnathan Bailey), is the talk of the ton. The Viscount is prowling for the perfect Viscountess, and who could be a more ideal match than the woman gifted with the title 'Diamond of the Season' by the Queen herself. We know there's an outpour of prospects and undivided attention for the Diamond of the season - Edwina Sharma played by Charithra Chandran, but we at The Knot Worldwide made an addition to her dance card (because if I may say so, the best conversations happen at balls).
In a heart-to-heart with The Knot Worldwide, Charithra Chandran reveals her standpoint on the Indian customs and traditions that added exemplary diversity to the show.
Cultural Representation in Bridgerton, Season 2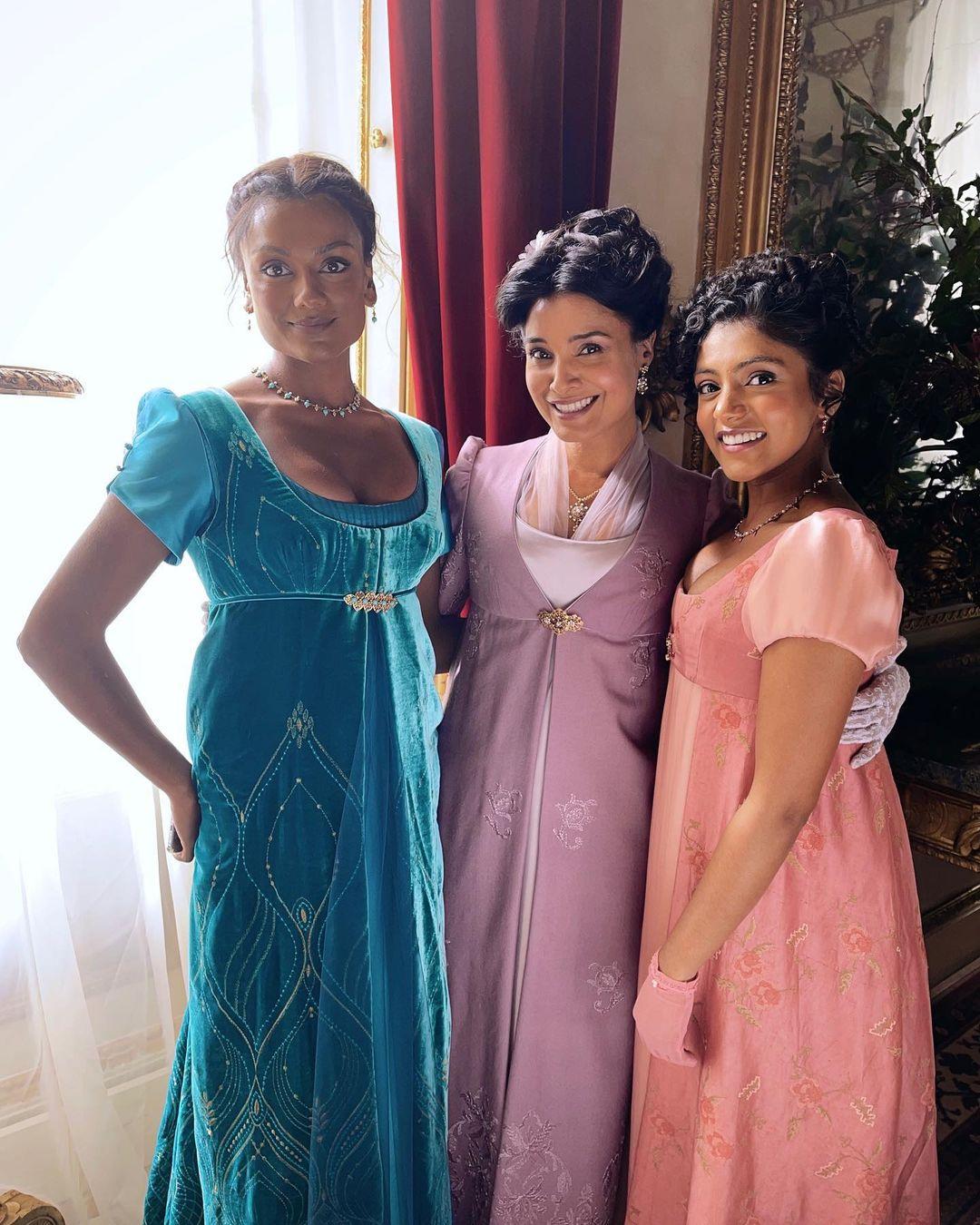 Image Credits: @BridgertonNetflix/Instagram
Author Julia Quinn's, 'The Viscount Who Loved Me,' painted Kate and Edwina as Sheffields instead of Sharmas. The noticeably white maidens from the book were reimagined by Bridgerton Producers Shonda Rhimes and Chris Van Dusen, as women with dreams from Bombay, India who made a long journey from home. Kate (the elder sister) is represented as the decision-maker of the family after the unfortunate demise of their father; taking responsibility for raising her younger sister, making strides to ensure her sister is the 'incomparable' during her society debut, but masking all of her desires for the Viscount in the process. On the other hand, Edwina is the graceful, well learned, sensible and composed, dutiful sister and daughter. Together the sisters represent beauty, conviction, and strong characters, that the Viscount struggles to find in the maidens of his shire.
Speaking of authentic cultural representation in the industry, Chandran shares, "In Bridgerton, we're not showing a full Indian or Hindu wedding. We're showing what these specific characters would be doing. More than anything, it's important to normalize this representation. As people get more accustomed to different cultures, it'll be less of a novelty. It'll just show another way of doing things. So I think what Bridgerton is trying to do is normalize experiences that are different from a lot of other people's experiences."
Bridgerton imagines an era of love beyond perfection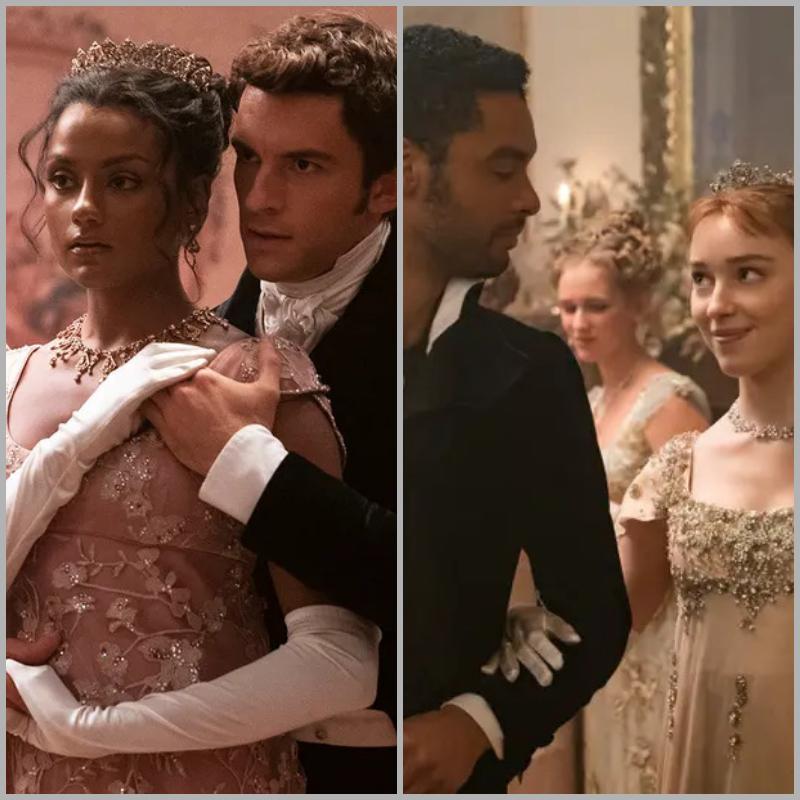 Image Credits: @BridgertonNetflix/Instagram
Knowing how our caste, culture, language, and customs have shaped our upbringing here in India, there are many doubts that arouses in our minds as we sway through the episodes of Bridgerton. But this epic Regency period romance is not about historic accuracy or perfection. It's a ton reimagined, weaving elements of London and Bath, with a stunning Black woman reigning as their Queen.
It is an aspirational world, where while the King is confined to his home due to his mental condition, the narrative presents Edwina with an opportunity to soothe the King with kind words without being thrown into the jail. Talking about how this scene resonates with her, Chandran shares, "One of my favorite scenes is where Edwina speaks to the King. When she saw the King, she saw someone who was in pain much like she was in pain, and she provided the comfort she so desperately wished she had. What I love about that is she showed such bravery and strength but in a very gentle way. We often associate strength with being very confident and bold, but actually, strength comes in different shades."
Bollywood romance, music, and wedding scenes are sprinkled in Bridgerton 2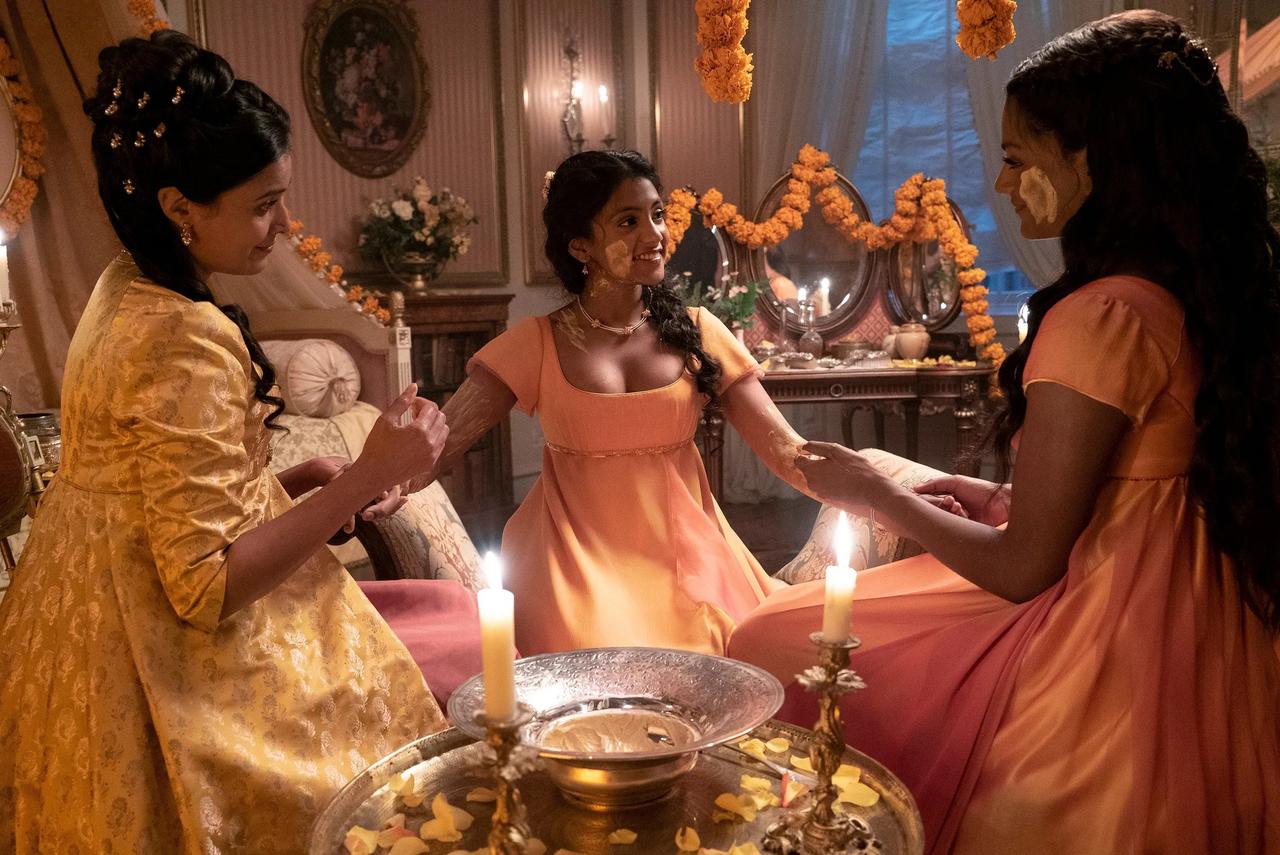 Image Credits: Liam Daniel/Netflix
As a literature lover, there are moments in Bridgerton, when I am held in the clutches of the faintest memories of Mr. Darcy. Anthony's infamous wet shirt moment or the stern jaws and tight-lipped restraint that continues to vex Kate, and yet pull her with his invisible strings. Bridgerton finds an in-between space to marry a Jane Austen classic romance mood with Bollywood, and how!
The Haldi ceremony that left so many International viewers in awe of our wedding customs deserves the first shout-out. Coming from a Bengali family, I have always known 'gaye holud' or the Haldi ceremony to be so much more than a pre-wedding party. Haldi is considered a sacred Ayurvedic tattva (ingredient) that adds to a woman's natural beauty. It is one of the most pious wedding rituals and the only common ritual that is practiced by various cultures or religions in India. The Sharma sisters, along with their mother were seen celebrating Haldi, as they applied the turmeric paste on the bride-to-be and a myriad of marigold flowers played witness. "Immigrants tend to lean on their culture and their customs in moments of pure joy and deep sadness. We seek comfort and celebration in our culture," Chandran says as she highlights the significance of this scene.
Also Read: Haldi Ceremony - The Perfect Blend of Tradition & Fun
The orchestral cover played in this scene stands apart not only for us but also for Chandran. Good music is a living entity in itself and the Bridgerton producers breathe that life into the show's cultural depiction. The classic title track of Kabhi Khushi Kabhi Gham adds the perfect touch to this scene. "It's a beautiful song and it really works for that scene. That song choice in itself is such proof that we weren't doing this just for a while audience. Those kinds of easter eggs would only be known by Indian viewers of Bollywood lovers. It is also just a nod to the culture we're representing and the people that are being represented," Chandran says.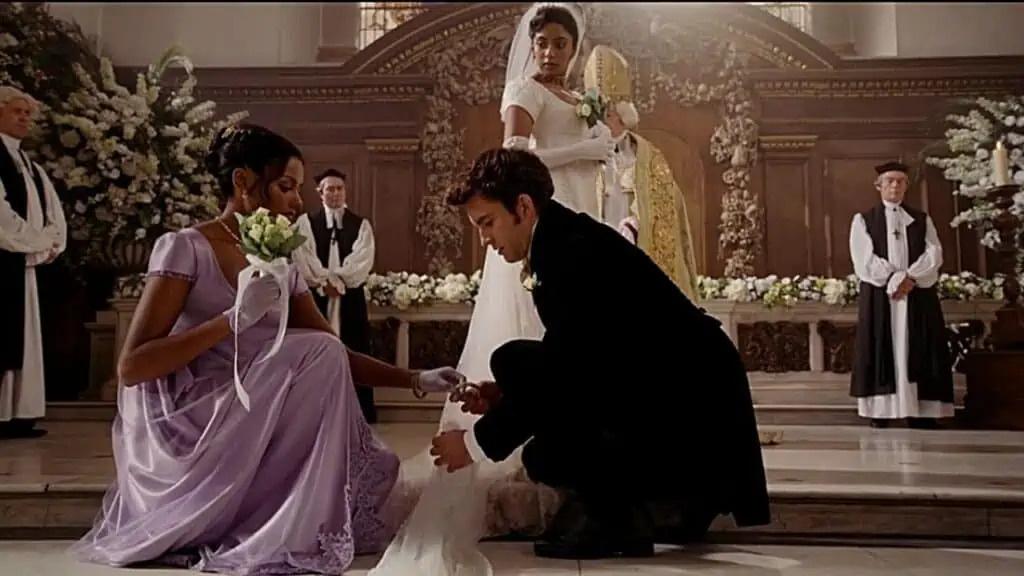 Image Credits: Theenvoyweb
Another ultimate Bollywood moment of this show is at the altar when Edwina stands in front of Anthony draped in her wedding gown, but the world has blurred and Kate's face stands out in his vision. In a moment of weakness, as Kate's heirloom gold bangle drops on the floor, Anthony swoops in and hooks it to her wrist. Kate's biological mother's bangles held the power to draw up feelings that reside in the depths of their being, and Edwina's world comes crashing down because the realization is a whirlwind. Bangles, after all, have always played a crucial role in our weddings. The jewellery signifies blessings - 'shagun', from our elders that is much needed to embark on a new journey with your life partner.
Also Read: #LovewithLegacy - Leading Ladies Share Their Family Heirloom Story
Bridgerton 2 protagonists rise through the societal pressures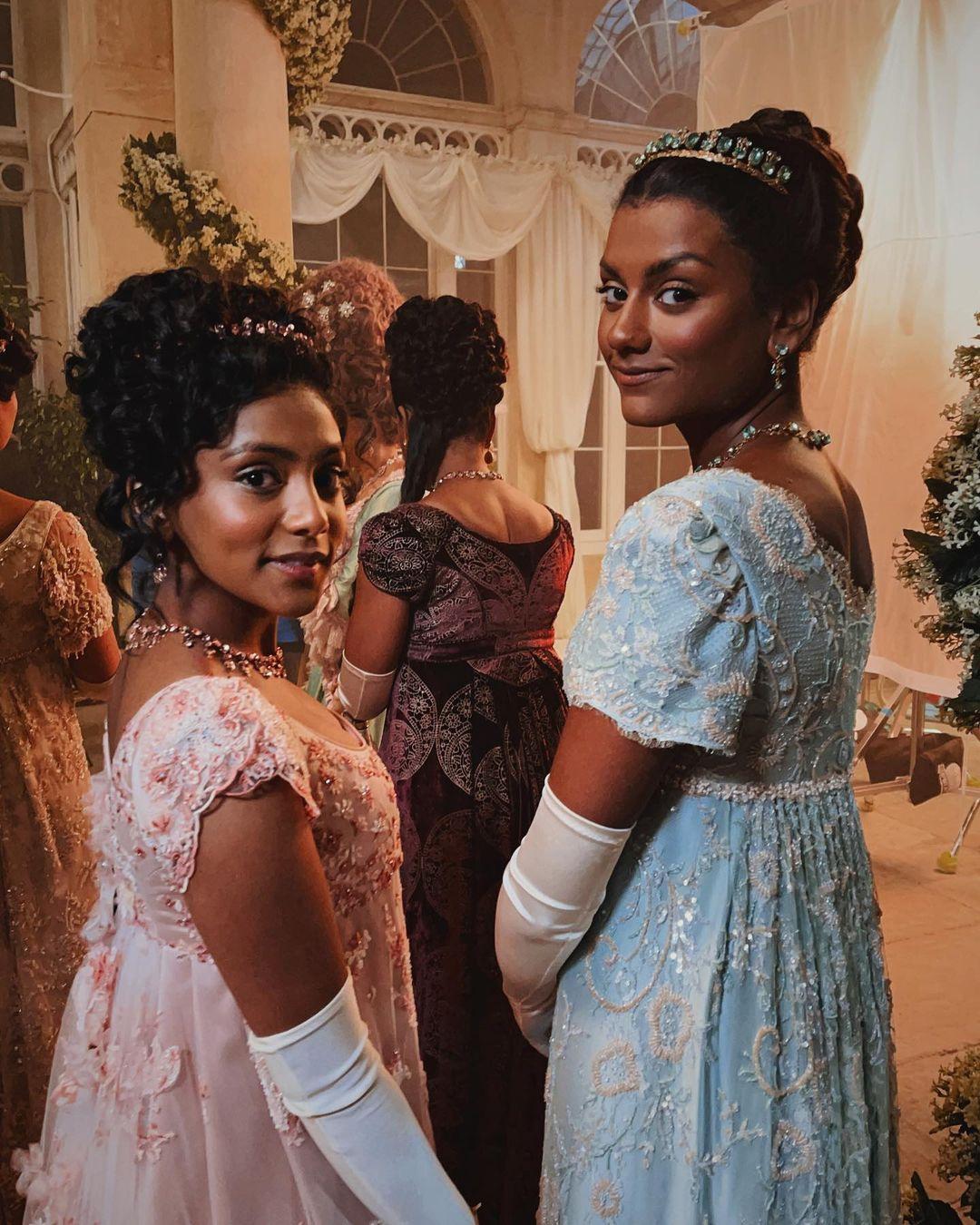 Image Credits: @BridgertonNetflix/Instagram
Right from the beginning of Bridgerton, really strong narratives settle into subtle. There might be an uproar outside the world of Bridgerton and the noises around choosing dusky women to represent India were quite loud this time, but the creators of the show stand by their belief in making powerful statements through their art. They stand for the acceptance of dusky women as protagonists in their story, and like any other strong narrative, there are two sides to this coin too. Chandran highlights, "I've received so many wonderful messages from young girls and women everywhere saying how emotional it made them, which is exactly what we wanted. It means the world."
Many women who have dealt with fairness cream suggestions, myths about dusky skin, and criticisms all their lives are elated to see the leading ladies of Bridgerton. Chandran adds, "Growing up, dark-skinned women across the world are often told that they're not allowed to go into the sun or there is something wrong with us—color is seen as a hindrance. So, the fact that the diamond and the leading lady of the season are both dark-skinned—and it's not mentioned or made into a thing—is so powerful."
And then there is The Choice that Edwina is allowed to make, regardless of the societal pressures she rises out of heartbreak and chooses herself. Talking about representing a community and taking strong calls, Chandran shares, "It's much easier said than done. Any time that one stands up for oneself, it takes an immense amount of courage. There's always a level of privilege that needs to be acknowledged. It's much easier to be brave if you have less to lose. I always caveat it by saying that sometimes people have fewer options and we have to recognize that. We need to have empathy for people that are in difficult situations. Although not directly related to Edwina, Anthony, and Kate's storyline, playing Edwina has helped me have a lot of empathy for people that are stuck in, for example, abusive relationships. It's so much harder when you have fewer options. In terms of what Edwina shows to other people, even at the last moment, you can still make choices. It is scary and uncertain, but I think that very few people regret picking themselves in retrospect."
Also Read: #LoveisLove, Regardless of Religion, Gender, Skin Colour, or Body Size
Chandran: "I will have a very traditional Tamil wedding"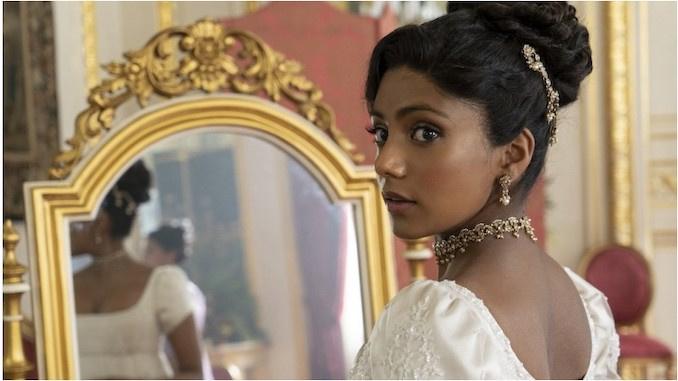 Image Credits: Liam Daniel/Netflix
Shedding light on her love for Indian weddings, Chandran reveals, "There's a role for every family member in an Indian wedding. There are official and unofficial roles. It's just such an inclusive experience and practice. What Indians really emphasize is that it's a coming together of families. When you get married in India, it's so much more than just the couple. This comes with added pressures, but it's one of the most beautiful aspects. I will have a very traditional Tamil wedding."
Also Read: Decoding Tamil Marriage
Gliding through all eight episodes, here's what I am taking away - A royal wedding of a British man and an Indian woman that was hosted by the Queen herself was allowed to be left in shambles because a woman decided to choose her honor above everything else. The world of Bridgerton doesn't revisit the familiar with historical accuracy, but with aspirations of bringing the diverse cultures of the world together, and we are here for it!
Sarah Hanlon contributed to the reporting of this story