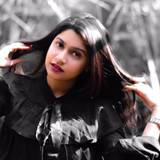 Rumela is the Lead Editor at WeddingWire India. She specializes in thought leadership content, exclusive interviews, and brand storytelling and has been working in India's wedding and luxury lifestyle industry for almost 7 years. When she is not swinging at the full creative spectrum, she is usually either paw parenting or reading/watching fantasy or historical fiction. She dreams to explore every countryside and storybook town in the world.

Experience

The journey of lifestyle and fashion content began for Rumela in the year 2015 with India's oldest wedding magazine - Wedding Affair. She was in charge of handling cover shoots, conducting celebrity and expert interviews, handling brand associations, editing final lasers, and signing off proofs of the final layouts. Soon after, Rumela landed the opportunity to work for Padma Vibhushan awardee, Satish Gujral and his daughter, Raseel Gujral Ansal - India's leading lifestyle designer. With the Gujrals, Rumela pushed her limits and handled Digital Content Strategy and Marketing Communications for all accounts under the RGA brand. She is currently leading Editorial and Community and creates Content strategies for WeddingWire India.
WeddingWire Q/A with Rumela Sen
What is your Dream Wedding Style/Theme?
A rustic outdoor day wedding with a scenic backdrop. Must have decor elements - a naturally green venue, fresh floral decor, and wooden or white furniture.
Bucket List Dream Wedding Destinations?
An Intimate wedding at the Banff National Park.
Who is your Dream Designer?
The dream is to design every outfit for my wedding events on my own and set some minimal bridalwear trends. If I must buy - I will choose between a Zuria Dor bridal gown or a Karan Torani saree.
About your Favorite Celebrity Wedding Look
Kate Middleton's wedding dress was designed by Alexander McQueen - Now & Forever!
Articles published by Rumela Sen