Black Friday Sale 2023: Best Wedding Packages To Plan Your Dream Wedding in Budget 
In a first of its kind, WeddingWire India introduces a Black Friday sale for weddings. If you are planning your wedding right now, we have the best wedding packages and lucrative deals for your wedding venue and wedding vendor bookings.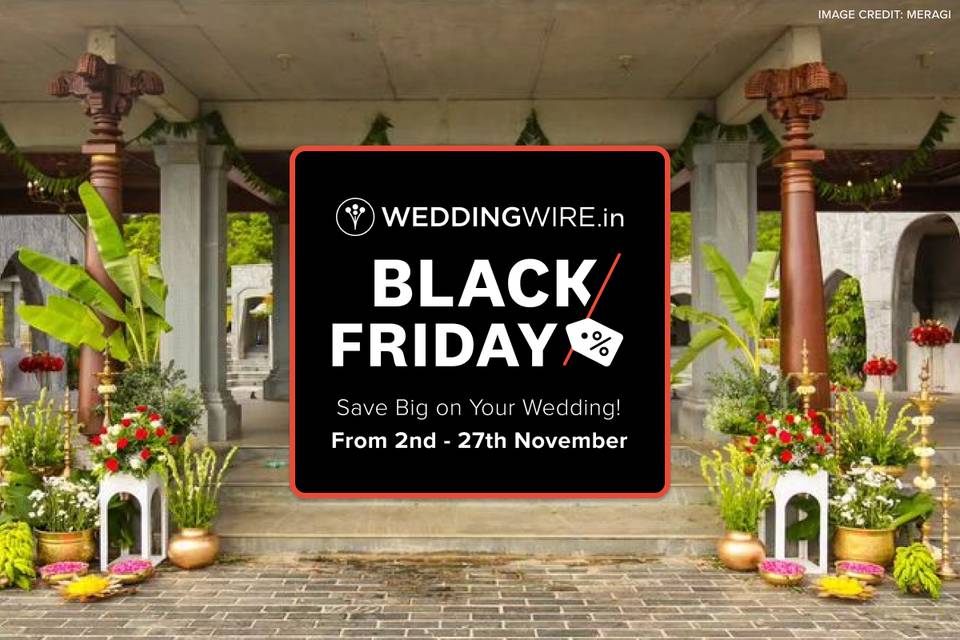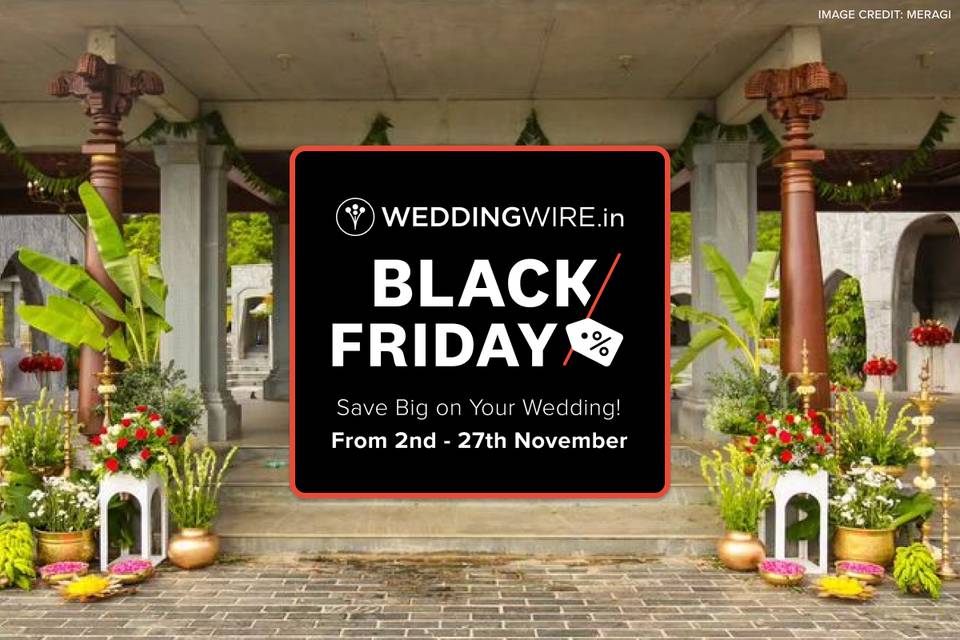 Image Courtesy: Meragi
The Black Friday sale by WeddingWire India offers the most exciting deals on wedding bookings. The sale has been exclusively planned to make your wedding planning journey smoother and easier and to acquaint you with some of the best deals offered by trusted wedding venues and wedding vendors across India.
You might have loaded carts from other e-commerce websites with home decoration items, fashion items, and more. At WeddingWire India, you can collect the best discount coupons and avail enticing offers on wedding venues, wedding photography packages, bridal hair and make-up packages, catering packages, discounts on wedding decoration services, and more.
WeddingWire India Black Friday sale
The exciting Black Friday sale begins on November 3rd, and it will last until the 27th of this month (October). You have almost a month to explore the discounts available on the website, contact these vendors, and close your booking.
If you have just gotten engaged or are already on your planning journey, make the most of this time to avail discounts on wedding bookings for all categories.
Which wedding vendor categories are offering Black Friday discounts?
WeddingWire India is offering discounts, exclusive packages, or freebies across each wedding planning category to share a holistic wedding planning experience with you. Use our platform to avail the best deals on throwaway prices and packages.
Wedding Photographers: Up to 30% discount on wedding photography packages only for WWI couples.
Wedding Planners: Avail discounts on wedding planner packages for destination or residential weddings.
Bridal Makeup Artists: Find exciting discounts and offers from trusted bridal makeup artists in your city.
Wedding Lawns and Farmhouses: Avail up to a 30% discount on wedding lawn and farmhouse booking packages.
Wedding Resorts: You can get a 5% to 20% discount on wedding resort bookings.
Banquet Halls: Up to 30% discount on banquet hall booking prices.
Hotels: Up to 20% off on the total hotel booking amount.
Wedding Catering: Up to a 20% discount on the total catering service cost or one complimentary service like a free wedding cake.
Explore More Deals & Categories
How do I use the Black Friday discount coupons?
It could not get easier than this! All you have to do is open the deal page and click on 'Get the Deal'. The website will then ask you to submit your contact details and some information about your wedding, like your wedding date, average guest count, etc. Once you fill in the details, you will receive an email from WWI with your e-coupon. Show this e-coupon to the vendor manager before you close the final booking amount with them and avail exclusive Black Friday discounts for your wedding booking.
Don't forget to read any terms and conditions mentioned in your discount coupon before they close the booking deal. Make the best use of these exclusive Black Friday discounts and enjoy saving money on your wedding bookings.
Top Blogs on WeddingWire India