Create a Free Wedding Website on WeddingWire India
Don't let wedding planning take a toll on you and make you want to pull your hair off your head. Here's how you can make a free wedding website on WeddingWire India & why it is a must!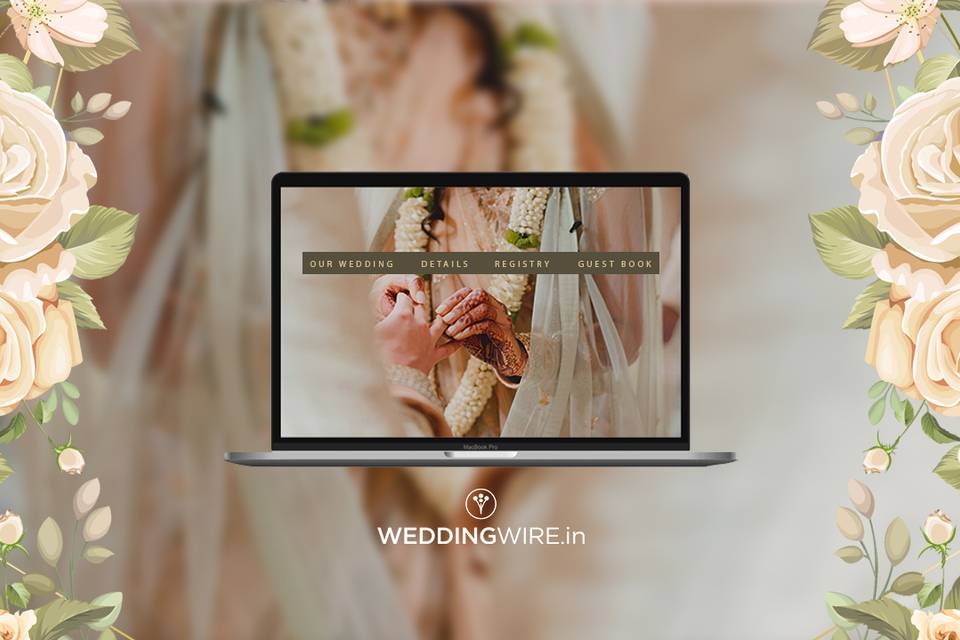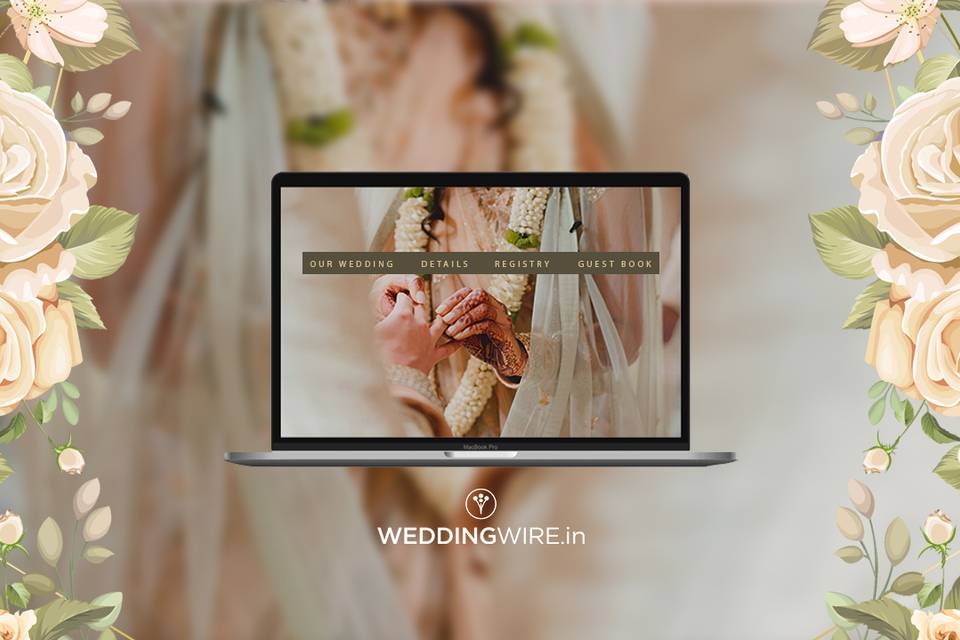 With millennials spending more than half of their lives working with technology, its safe to say an impressive amount of time and energy is saved when there are computers involved, be it for any process. As complicated as weddings are, have you ever thought of discovering new ways of wedding planning.
Aloof to the concept of a wedding website? Fret not, we'll take you through it. It's primarily a bank of information you need to smoothly roll out before your wedding. It helps convey necessary information and enables smooth communication between you and your guests. From keeping a track of RSVPs to sharing photos of your wedding, a wedding website is an incredibly handy tool to take control of every big-little aspect of wedding planning. The website can serve as a beneficial networking tool for your guests and keep them posted about the wedding logistics, end minute changes, or any communication you would want to have with them without calling them 23567 times.
But what about your privacy? We understand your wedding is a very personal affair and it shouldn't be made available to anyone with a search engine but the good news is, we take good care of your information. You can change the privacy settings and even password protect the information. The only people who would be able to access all information would be the ones you share the credentials with. Relieved, are you?
It can be a tad bit overwhelming to create a website if you've never worked your hands on tech, we've done the heavy lifting for you and made a step-by-step guide to create your wedding website on WeddingWire India. Scroll below to get started!
In this blog:
1. Step-by-step Guide to Creating Wedding Website for Free on WeddingWire India
2. 6 Reasons you Need a Wedding Website
Step-by-Step Guide to Creating Wedding Website for Free on WeddingWire India
Step I - Discover our wedding website feature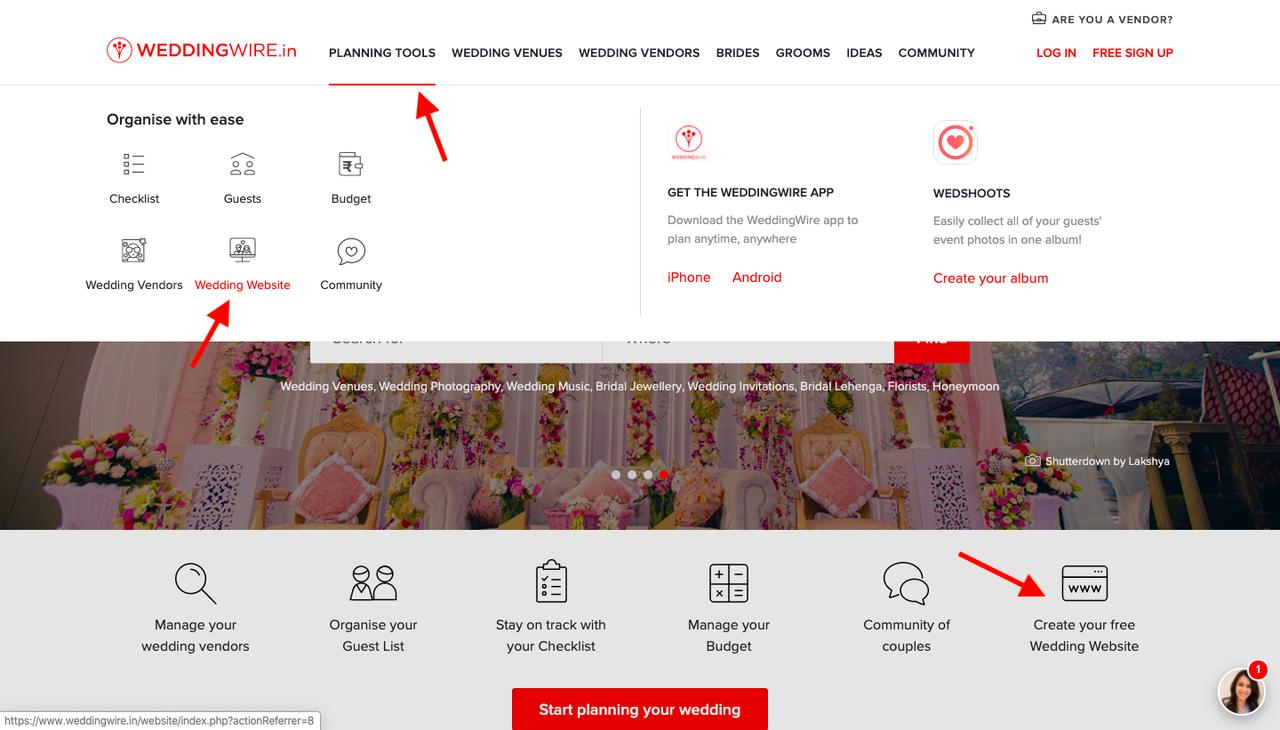 Log on to https://www.weddingwire.in/ to get started. Click on the Planning tools tab and discover our Wedding website feature. Click on Wedding Website to get started.
Step II - Login in & choose from a plethora of themes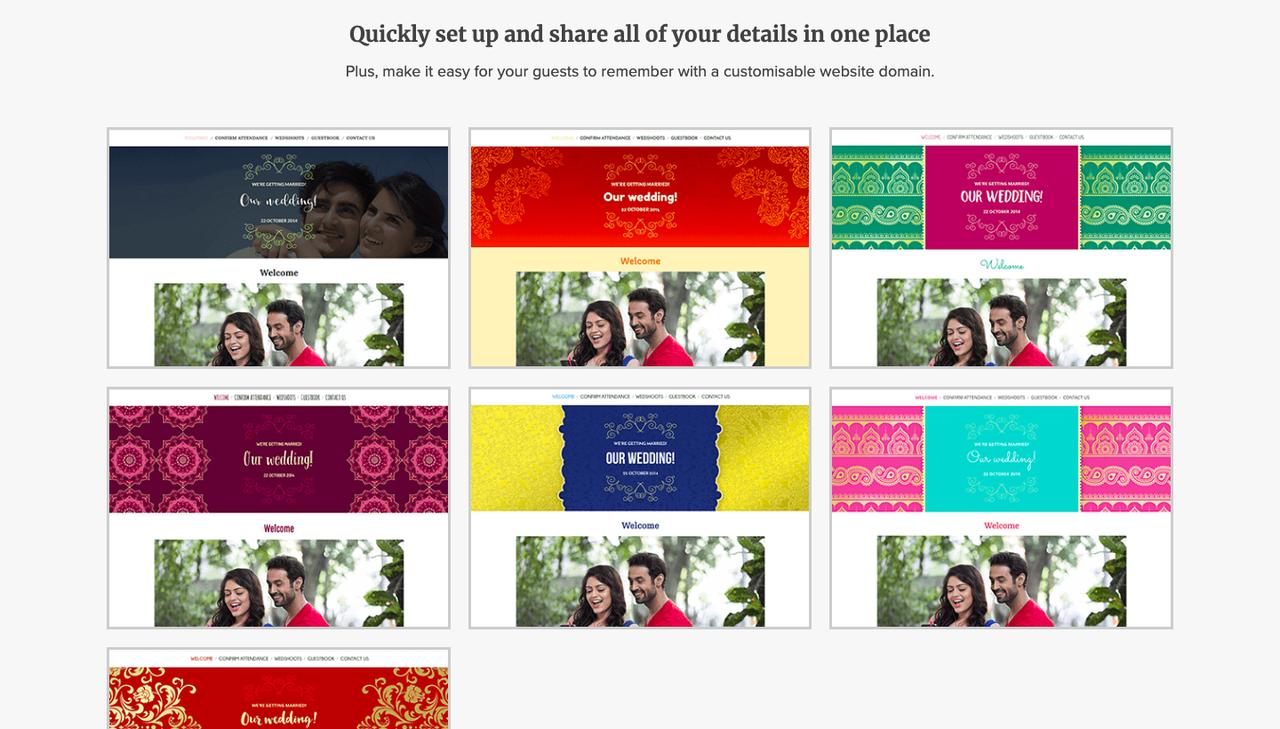 Log in with the help of your Facebook or Google Account and you'll see widespread options of themes at your disposal. Pick a theme in accordance with your preferences or the theme of your wedding.
Step III - Get. Set. Design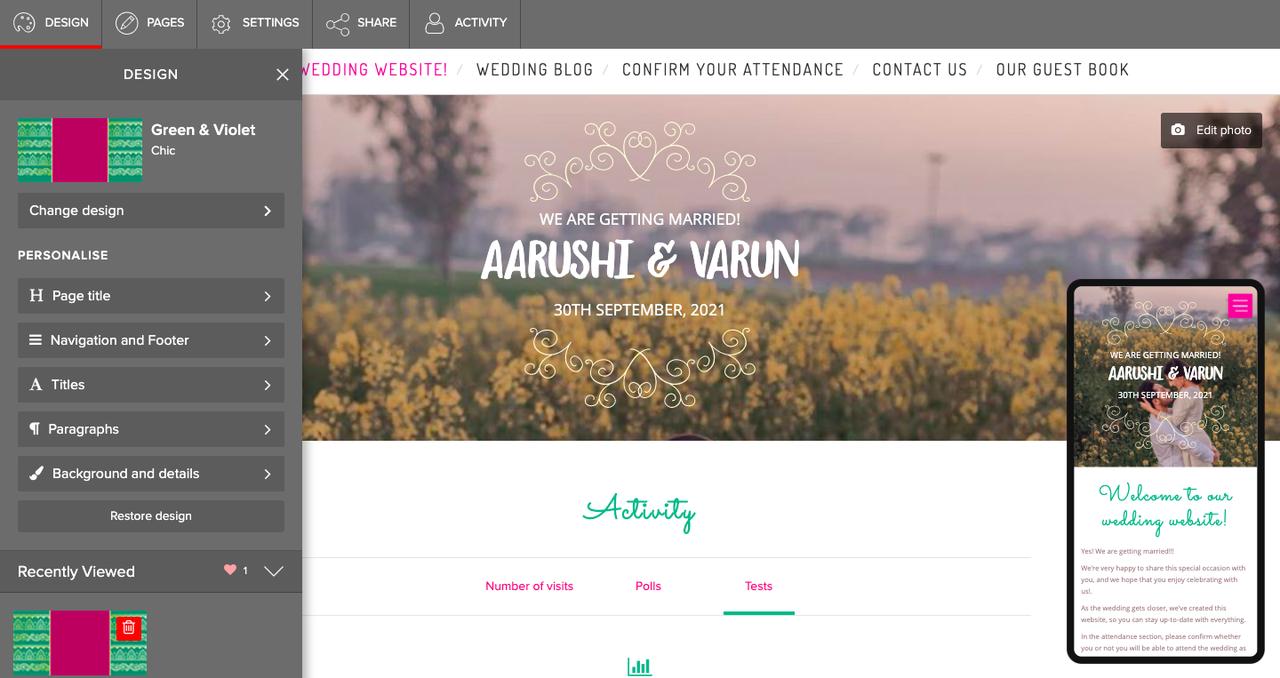 Getting into the specifics of designing your wedding website, this website creator has all the tools you need to create a personalised website. From selecting from a variety of fonts, colours and layouts to adding the desired number of pages, you can add a bunch of information for your guests and yourself without any added costs. You can also choose to secure some pages while some can be made public. Convenience at its best!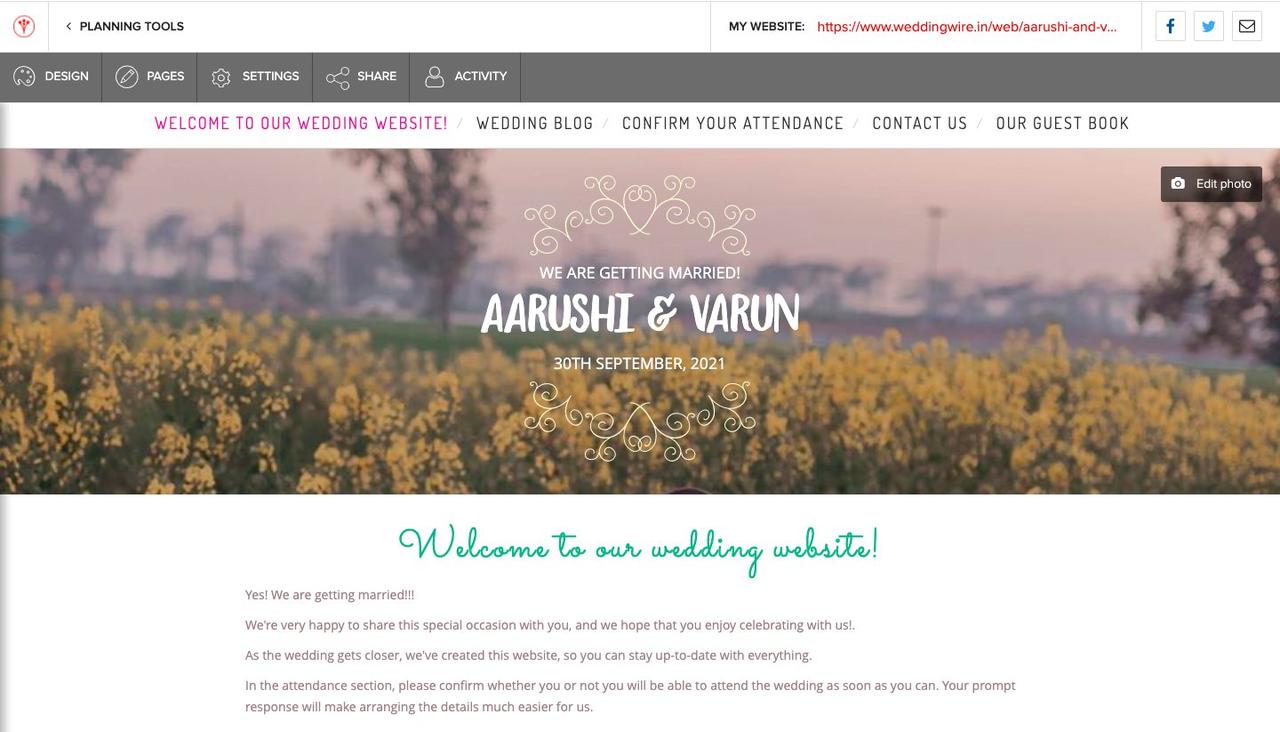 Now coming to the navigation and footer tab, which are ideally your pages, you can totally customise them too. If you choose to work around with the default set of pages, here's a run-through of each page.
On the first page, you can inform the guests what to expect from the website and how they can use it to keep themselves updated with the particulars of your wedding.
In the wedding blog section, you can narrate your love story in a nutshell, to keep your guests engrossed and hooked to your wedding website.
Moving forward, you can easily RSVP your guests and make arrangements accordingly. This will ease a lot of external communication that usually happens via text or calls and keep all your information secure in one place.
You can add your contact details to help your guests reach out to you in case they have any concerns. You can dedicate a person or set a time for yourself to resolve all concerns your guests might have.
Lastly, the guest book will help you record messages from your loved ones which you can cherish in the after years of your marriage.
Step IV - Share your wedding website with your friends & family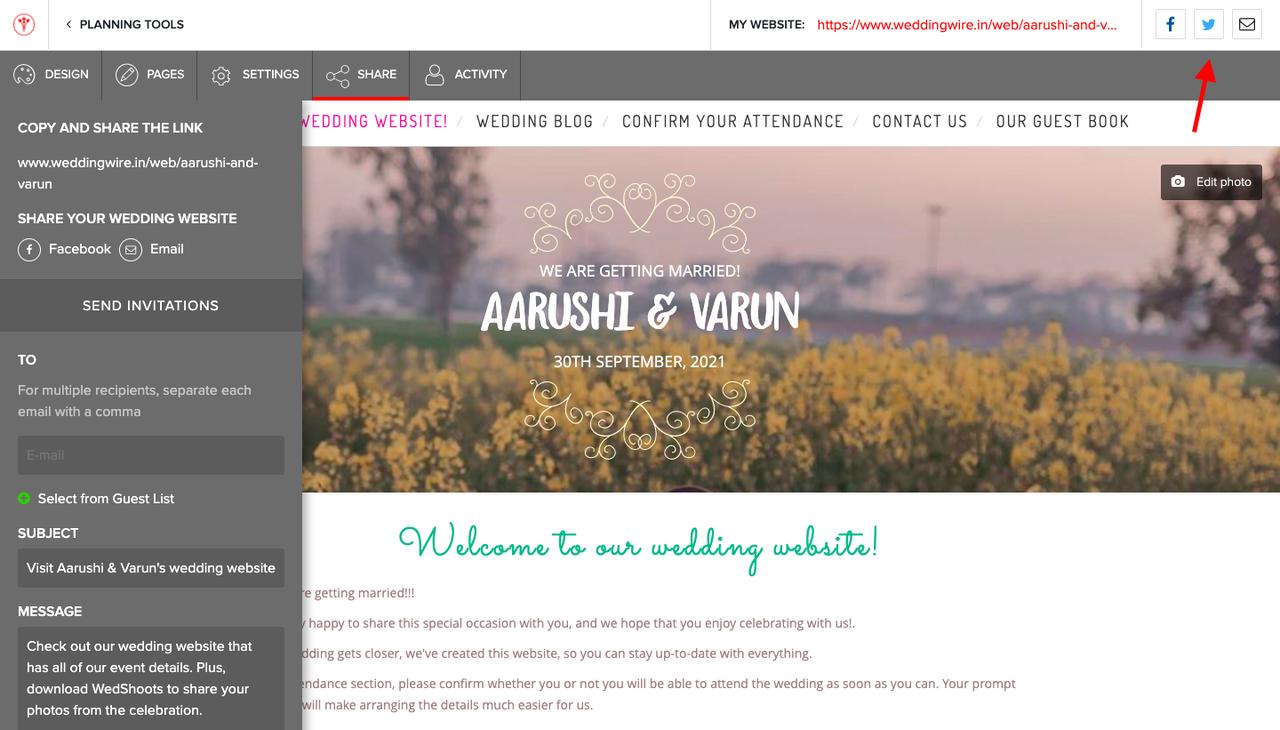 You can share your website with a bunch of people via email or just broadcast on your social media platforms. You can also control the privacy settings and enable password protection. Yes, that's possible. Not everything that is on the search engine is made public for anyone and everyone. Be assured of your privacy!
How easy is that? So, get rolling and create your personalised wedding website in a jiffy! Come back to the blog if you get stuck somewhere.
6 Reasons you Need a Wedding Website
They are eco-friendly & budget-friendly
Why do you think e-invites are one of the most raging trends in Indian weddings? Just because they look modern and fancy? It's not all that, electronic communication reduces carbon footprint and waste of paper, hence trees. You are also likely to cut down on the extra you would splurge for RSVP cards which can be easily worked out with a wedding website. The environment & your pocket will love you for it!
They help you stay organized
Considering how insane wedding planning can make you, wedding websites are god sent to keep you feeling sane and in control of your plans. From managing RSVP to smooth communication between you and your guests, your wedding website plays a vital role in the whole process. You can arrange your guest list and their status feasibly with the help of a website.
They enable easy & effective communication
Picture this: You are a couple of weeks away from your wedding and the weather forecast predicts rain on the day of your wedding. You most likely need a plan B for the worst-case scenarios. For example, you plan to change the timings of your wedding from daytime to night time. Instead of reaching out to your phone and writing a hundred messages, reach out to your wedding website and drop notification to your guests. Having a wedding website at your disposal will help you communicate last-minute updates quickly and efficiently.
They are always accessible
For sure you're creating your wedding journal and penning everything down but carrying your mobile everywhere is more sensible than carrying your journal. With the help of a wedding website, you will be at ease to know that all your important details are accessible in a few clicks and are safe. Also, relying on notepads to track your guest list can be a tricky task. You are most likely to misplace some or the other information.
They are an everlasting memento
Lastly, after the wedding day is set and the house is no more decorated with strings of genda phool, what will stay as an everlasting memory of the unexplainable wedding madness? Your wedding website. While its primary aim is to give you ease, it also gives you a lifetime of memories wrapped in a URL. You can share your professionally-captured wedding photos with your guests and they can share everything they caught on their cameras and you can together celebrate your union even after years have gone by.
You'll see wedding planning will be less overwhelming when you have the right resources at your disposal. A wedding website streamlines the nerve-wracking journey of wedding planning whilst creating something worth cherishing for a lifetime.
So are you creating your wedding website already? Tell us in the comments below!
Read More -
Mehndi Design | Proposal Lines | Simple Finger Mehndi Design | Arabic Mehndi Design | Propose Day Quotes for Boyfriend | Wedding Anniversary Wishes for Sister | Tamil Wedding Calendar | Simple Mehndi Design | Pre Wedding Quotes | Engagement Anniversary Wishes | Funny Wedding Wishes for Bestfriend | Blouse Design | Rangoli Design | First Night Tips for Bride | Wedding Anniversary Wishes