How to Create a Free Wedding Website on WeddingWire India
Here's a guide to creating a wedding website for free. Add the website link to your WhatsApp wedding invitation messages and use it for effective wedding guest communication.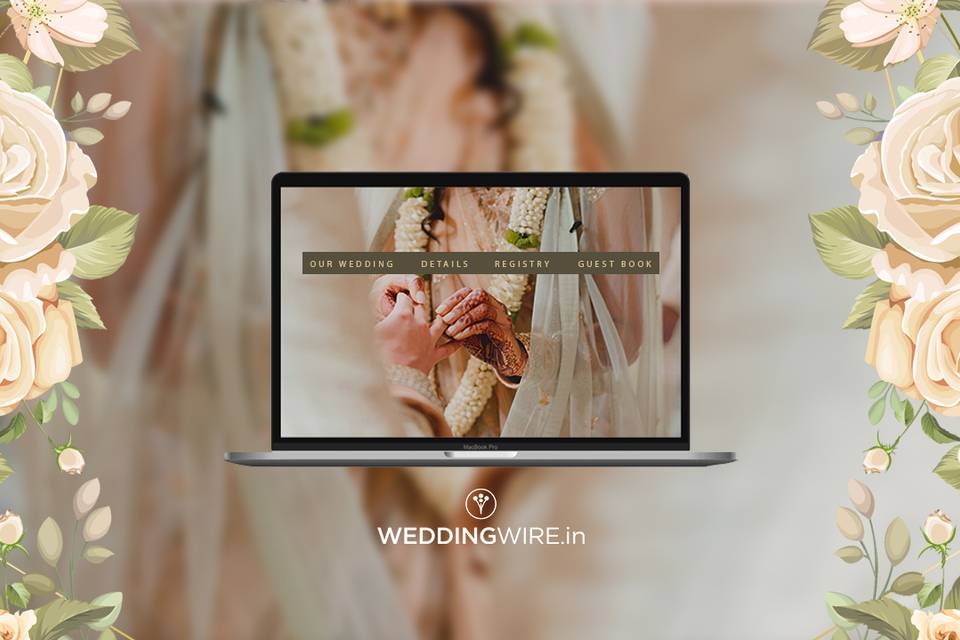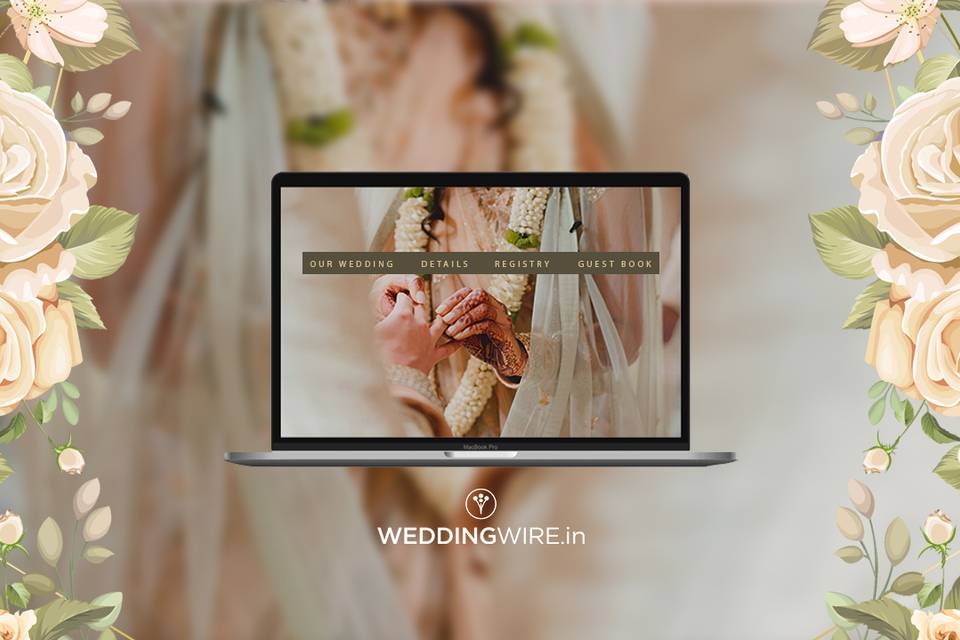 It goes without saying that an impressive amount of time and energy are saved when computers are involved in any process. Wedding planning might be a tough nut to crack, but digitalization is making everything easier. Creating a wedding website is just another step in this process.
Why create a Wedding Website?
Creating a wedding website is one of the basic wedding planning and guest communication tasks abroad - especially in markets like the US and Canada. As a millennial, I highly recommend adapting this global trend to make guest communication a breeze.
Firstly, it's fun to have a wedding website with your couple's name as the website URL. Add fancy and cute pictures of the two of you and make this web page your own! Add all the necessary information, like your wedding dates, your venue address, the schedule of each event, dress codes, etc. You can also connect your updated wedding guest list to your wedding website to keep track of RSVPs. One of my favorite highlights is having one platform to share all your wedding photos with guests. A wedding website can serve as a beneficial networking tool for your guests and keep them posted about the wedding logistics and end minute changes.
Make a Wedding Website for Free
What about your privacy? We understand your wedding is a very personal affair and shouldn't be made available to anyone with a search engine You can change the privacy settings and even password protect your website. The only people who would be able to access all the information would be the ones you shared the credentials with. Relieved, are you?
In this blog:
1. Guide to Creating Wedding Website on WeddingWire India
2. Advantages of a Wedding Website
Guide to Creating Wedding Website on WeddingWire India
Step I - Find our Wedding Website Feature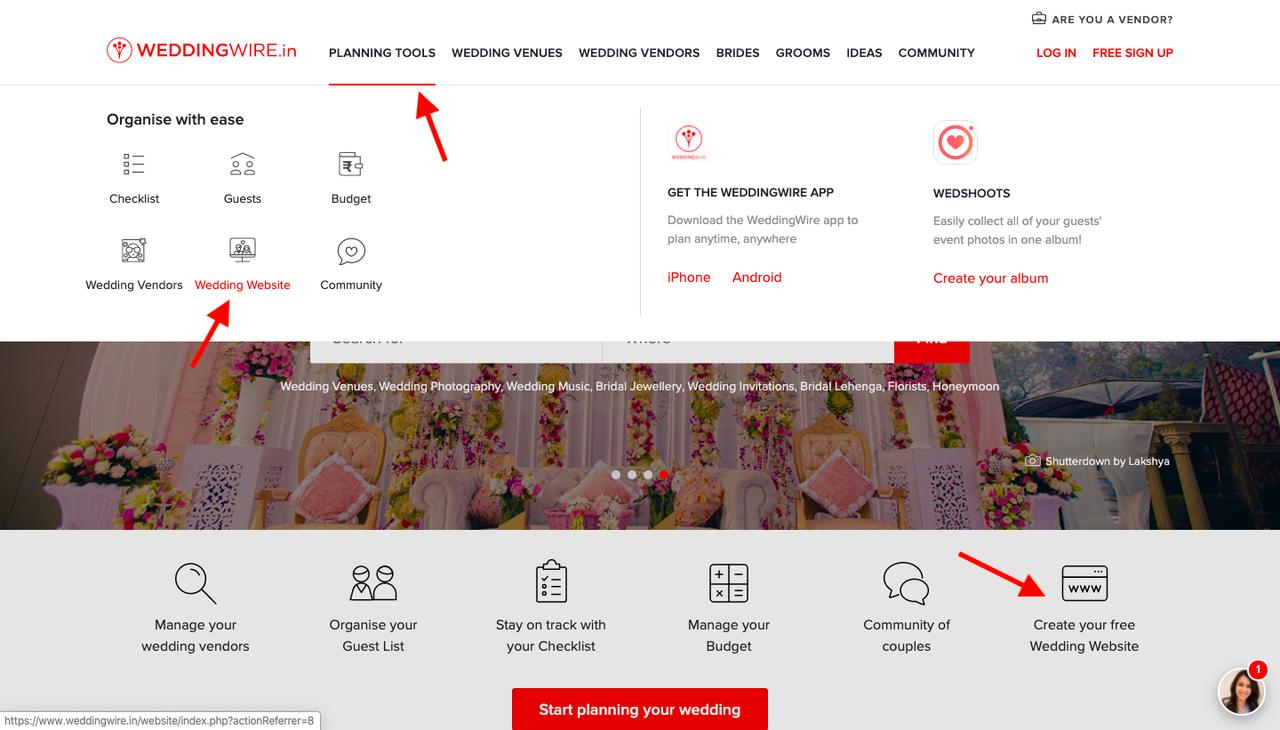 Log on to https://www.weddingwire.in/ to get started.
Click on the Planning Tools tab and discover our Wedding website feature. Click on Wedding Website to get started.
Step II - Log in and choose a website theme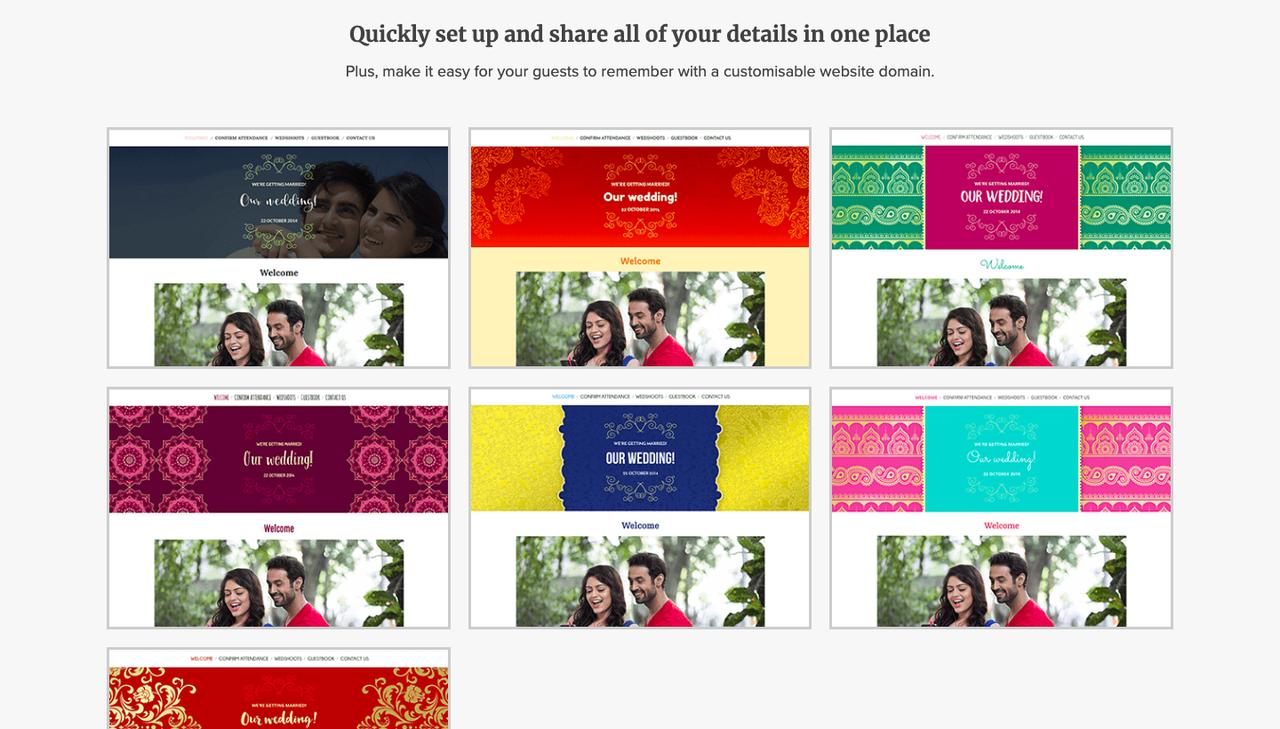 Sign up with your e-mail or log in with the help of your Facebook or Google account, and you'll see multiple wedding themes to choose from. Pick a wedding theme that matches your wedding style.
Step III - Get. Set. Design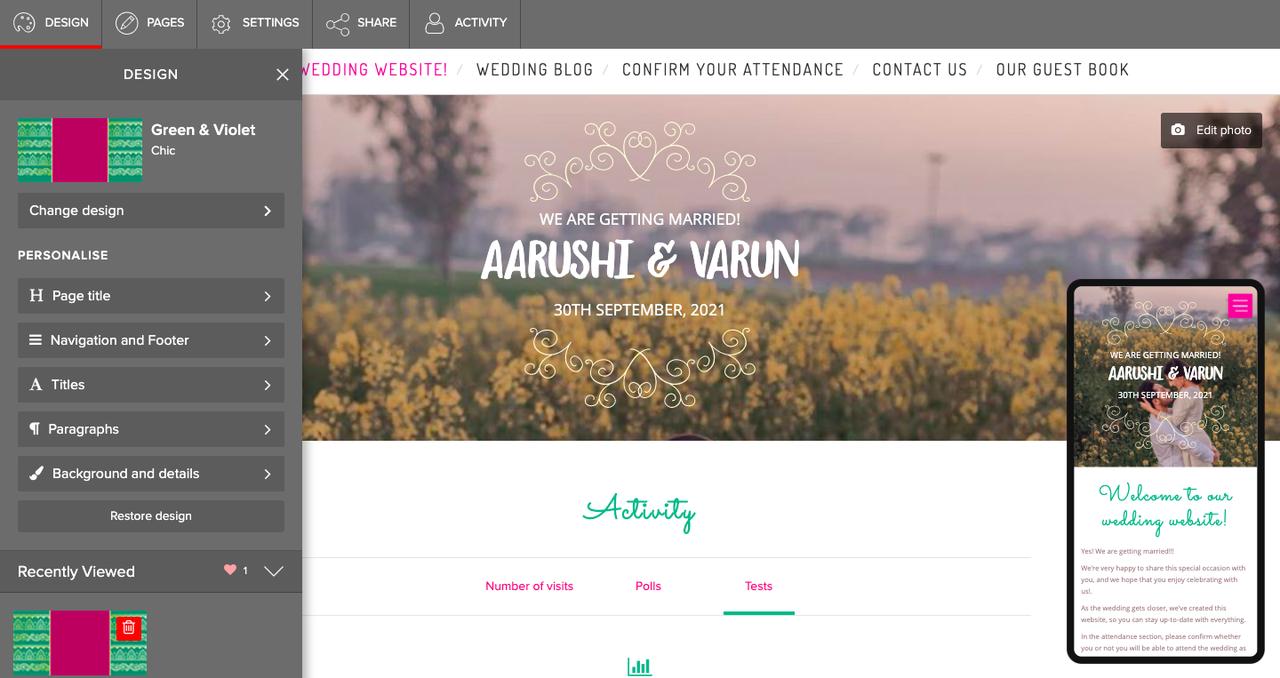 WeddingWire India's free wedding website creator offers a personalized experience to all its users. Once you log in and choose your theme, you can personalize the typography and color theme of the page title, footer note, and the various paragraphs separately. You can also add a background color to your entire website.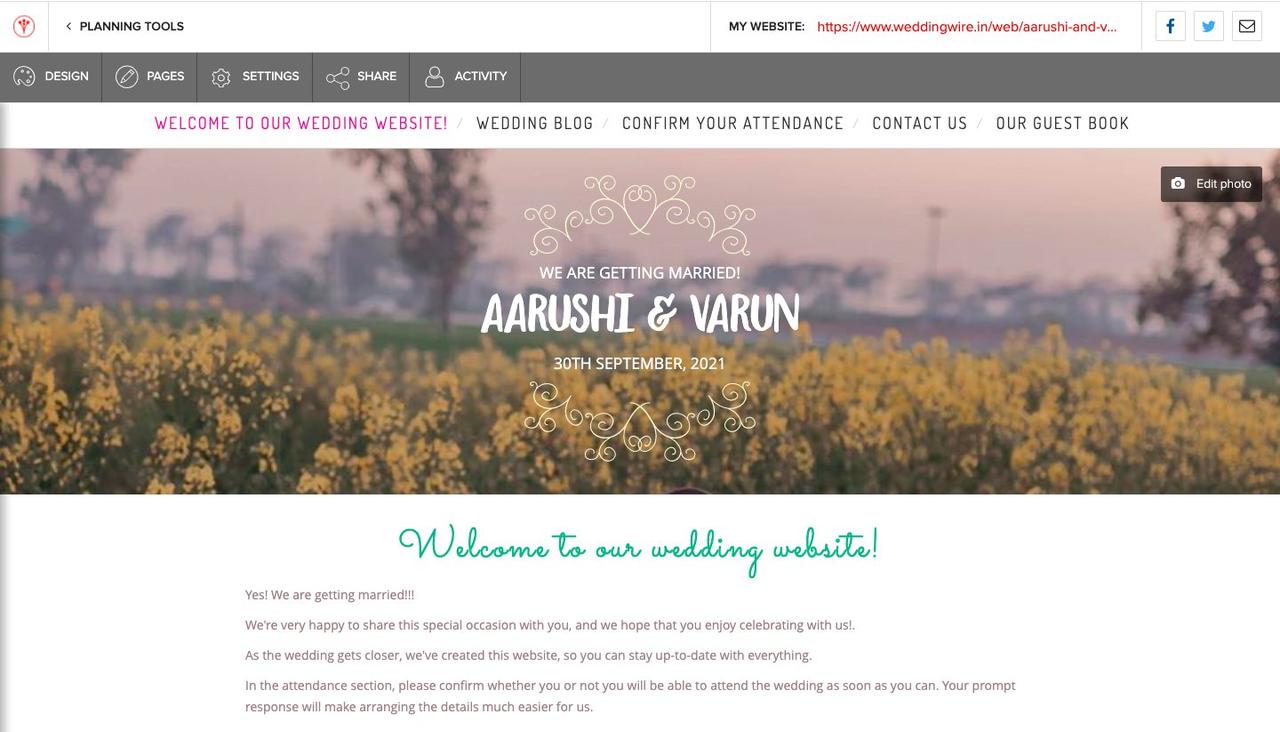 Next, you can finalize the main categories or pages of your website. I have shared my top recommendations below to make your website complete in terms of information for guests.
Welcome your guests to your homepage, and keep the homepage neat and simple. This page should have one of your favorite couple photos together, along with your wedding date and location.
Your second page should be dedicated to your story. Name the page 'Our Story'. Tell them how you met and how your love story began. This helps your wedding guests connect with you at a deeper level.
You can dedicate one page to your wedding schedule. Add the dates and pre-wedding/wedding events in a flow here, and don't forget to mention the theme and dress of each event (if any).
You can add one page for the wedding photos. This is where all your wedding photos will be uploaded for easy guest access.
The last page can be for RSVP.
Step IV - Share your wedding website with your friends & family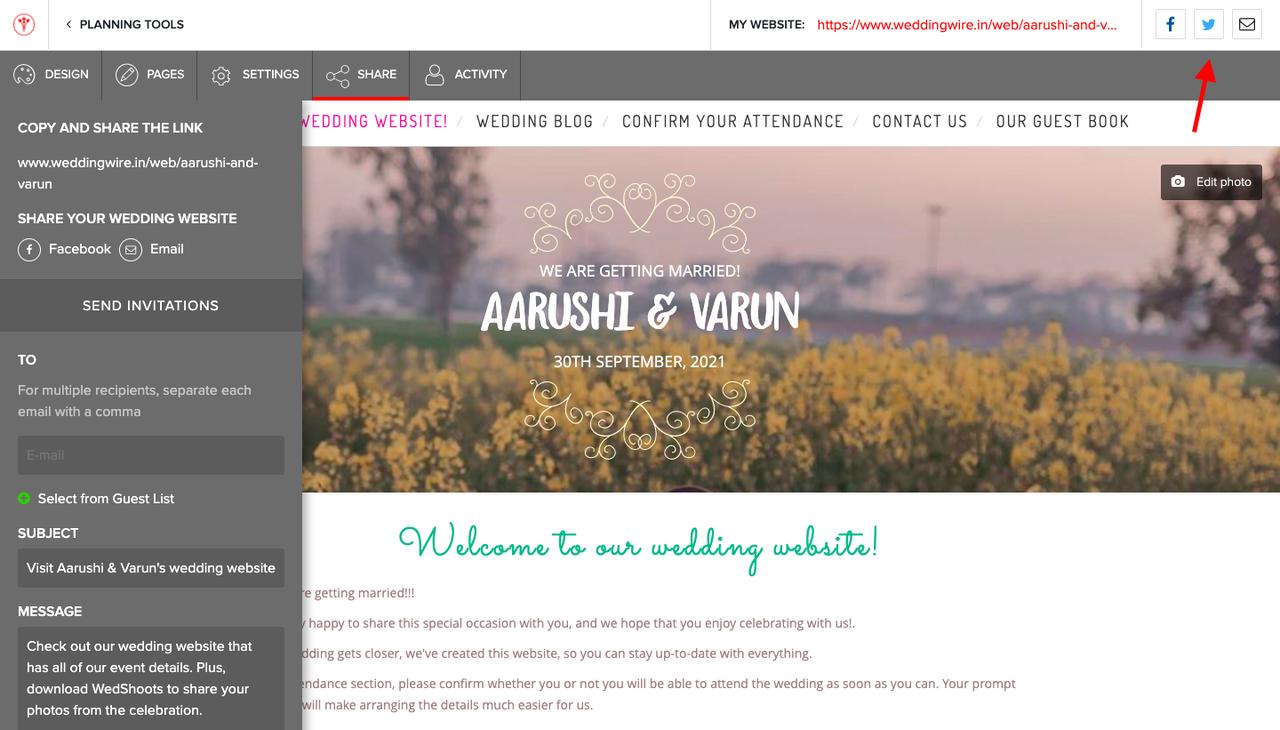 You can share your website with your guests either through WhatsApp or email. Send this website link with your WhatsApp wedding invitation and request that your guests RSVP on the website directly.
Free Wedding Budget Planning Tool
Advantages of a Wedding Website
They are eco-friendly and budget-friendly
The past few years have seen e-invites grow in popularity for multiple reasons. Sending digital invites through email or WhatsApp reduces the carbon footprint and curbs the waste of paper. You are also likely to cut down on the extra amount you would spend on RSVP cards, which can be easily worked out with a wedding website.
They help you stay organized
Wedding websites are tech-sent to keep you feeling sane and in control of your plans. From managing RSVPs to ensuring smooth communication between you and your guests, your wedding website plays a vital role in the whole process. You can arrange your guest list and their status with the help of a website.
They enable easy & effective communication
Picture this: You are a couple of weeks away from your wedding, and the weather forecast predicts rain on the day of your wedding. You most likely need a plan B for the worst-case scenario. For example, you plan to change the timing of your wedding from daytime to nighttime, or you decide to move the wedding indoors from an outdoor lawn. Instead of calling all your guests one after another, make the edit on your wedding website and drop a notification to your guests. Having a wedding website at your disposal will help you communicate last-minute updates quickly and efficiently.
They are an everlasting memento
After the wedding day, the house is no longer decorated with strings of genda phool, and the anticipation for your biggest event is over. Don't let the excitement fade because it's now time to update your wedding website with all your wedding photos and videos.
Wedding planning will be less overwhelming when you have the right resources at your disposal. A wedding website streamlines the journey and gives you a dedicated place to keep your memories alive!
Find Top Wedding Planners Near You
Read More -
Mehndi Design | Proposal Lines | Simple Finger Mehndi Design | Arabic Mehndi Design | Propose Day Quotes for Boyfriend | Wedding Anniversary Wishes for Sister | Tamil Wedding Calendar | Simple Mehndi Design | Pre Wedding Quotes | Engagement Anniversary Wishes | Funny Wedding Wishes for Bestfriend | Blouse Design | Rangoli Design | First Night Tips for Bride | Wedding Anniversary Wishes