The Future of Weddings in India After COVID-19
What is the Future of Weddings post COVID-19? Are intimate wedding ceremonies the new trend? What are the safety precautions that will be taken by vendors and service partners? We answer all the raging questions!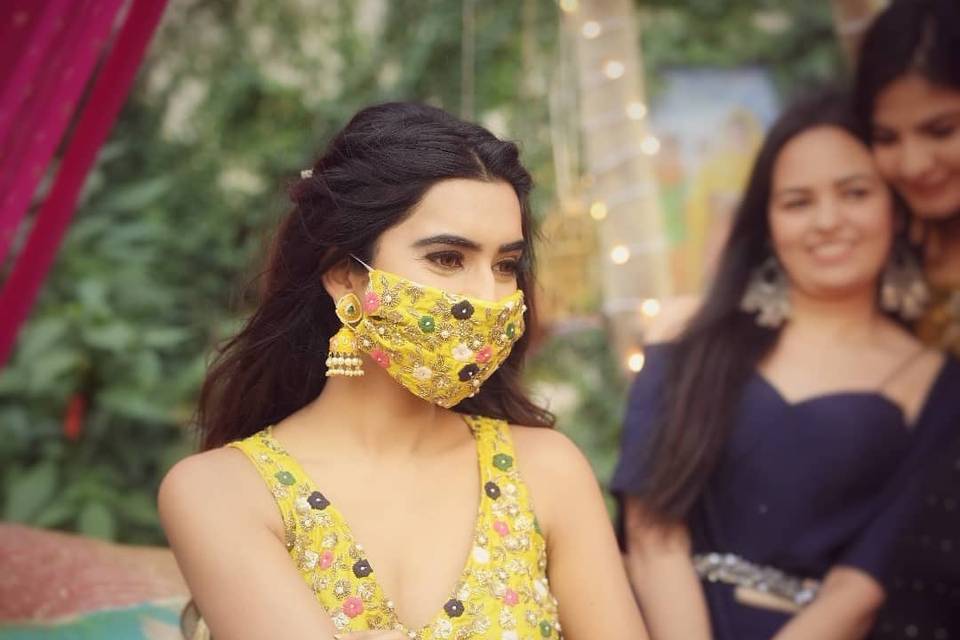 COVID-19 has seen Indian wedding trends transition rapidly. It all began with a digital intervention, with guests across the world attending wedding ceremonies through Zoom calls when real couples chose to plan intimate weddings in their living room. The Big Fat Indian Wedding trend took a back seat and real couples drove their Weddings in the time of Corona from the comfort of their homes with limited family members. When the restriction in lockdown ease, couples in India should be able to plan a wedding with 30-50 people in attendance. Many couples have opened their minds and hearts to the idea of intimate weddings but nothing is set in stone.
The Knot Worldwide family delved into deeper conversations with the trusted Wedding Experts in India and abroad to zero in on the major highlights that determine the new reality of weddings across the world. From health and safety measures, layouts, new wedding celebration formats, to rethinking the guest experience, we have tried to cover it all.
This article talks about -
2. Changing Trends in Wedding Layouts
4. Rethinking the Guest experience
A New Reality
While the world reopens, many countries including ours are still battling the second wave of COVID19. This has led to either complete lockdown or implementing guidelines limiting large group gatherings and events in certain parts. As countries and states continually adapt local regulations in response to the potential of changing circumstances, The Knot anticipates weddings post lockdown to be celebrated in a number of different ways. One factor that will remain constant is the desire for human connection and the celebration of love with loved ones—no matter what that celebration looks like.
With the help of wedding industry experts, The Knot shares the new reality of weddings regarding health and safety measures, layouts, new event formats, and rethinking the guest experience.
Health and Safety Measures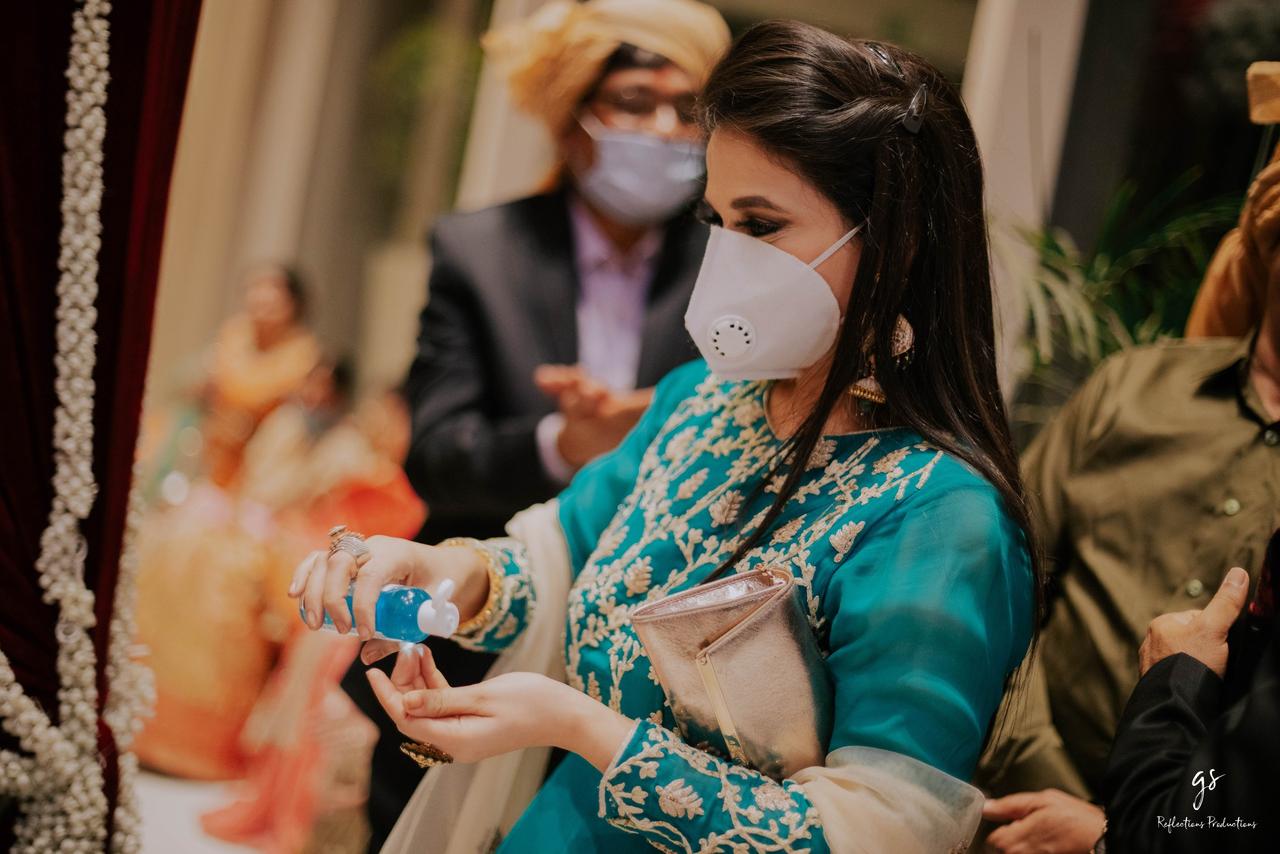 Temperature Checks, Masks & Gloves and Sanitisation
Planners or venue owners will help couples ensure that sanitisation is top of mind before and during every celebration. Hyatt Place, Gurgaon confirms, "Temperature reading will be mandatory at the entrances. Hygiene kits (sanitisers, tissue papers, masks) will be provided at all interaction points for guests and associates to use. Alcohol-based Hand sanitiser will be placed at convenient locations at venues, especially entrance, inside the event space, the restrooms, near buffet counters and near the bar counter. All guests will be offered face masks at the entrance by the hostess before entering the venue. Set up crew will finish work one hour prior to guest arrival, ensuring proper time for sanitisation of all guest contact points. Event space temperature will be maintained at 24°C (+/-1°C). All associates will be in PPE and we will ensure proper replacement of masks and gloves at regular stipulated intervals."
Jimmy Mistry, CMD, Della Adventure Resorts, shares, "There are a lot of new-generation products available where you do not need to get into sanitisation on a daily basis. The efficacy of the sanitisation materials that will be used, will be good enough for 45 days to 90 days, depending on the product. There are two products we are working on right now- one is US based and the other is a Swiss product. Every other company's R&D department is working on these kinds of products. One change that is evident in the washrooms is that you will start seeing European style pedal-operated flushes, or sensor operated flushes.
Also Read: Safety Precautions for Intimate Weddings
Changing Trends in Wedding Layouts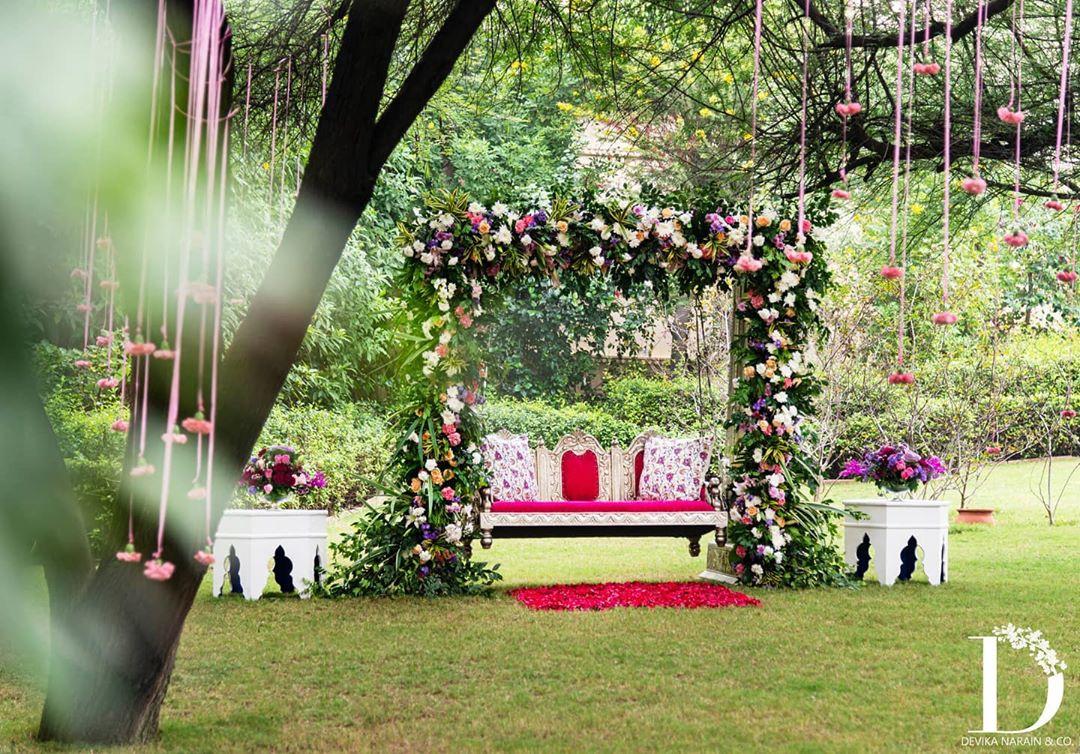 Plated vs. Buffet Meals
While delectable food is still top of mind for couples, the manner in which dishes are prepared and served will follow stringent safety precautions. Most venues have confirmed that they will likely opt for plated meals instead of a buffet in the near future. Puneet Chhatwal, MD & CEO, Indian Hotels Company (IHCL) shares, "Restaurants and banquet areas will have fewer tables and all self-serving buffets are suspended for now. Menus will largely be digital or single-use, with greater emphasis on wellness-oriented food sections for healthier meals and a greater level of immunity."
Hyatt Regency, Delhi shares, "We recommend the Sit-down meals as it will reduce contamination of the service gears on the food installation bars. We will serve the food in individual portion and opt for pre-plated food or passing around snacks and food options. We will also have dedicated food handlers serving food items to customers instead of multiple customers touching the same serving spoon."
Rise of Mocktails & Health Juices
Restrictions on alcohol and alcoholic drinks have raised questions on the kind of libations that can be offered at weddings. Premium hotels like Pride Plaza Hotel, Aerocity have confirmed that they are following all Government regulations and have decided to add varieties of exotic mocktails, aerated beverages, smoothies and juices in their offerings.
Also Read: Top Catering Trends & Tips for Intimate Weddings
Open-Air Venues Rise in Popularity
Couples who are looking for venues to plan intimate weddings may consider open-air venues to eliminate the possibility of guests feeling confined in a closed space. Wedding ceremonies can be planned in Marriage gardens, Wedding Lawns and Farmhouses.
Also Read: Types of Open-Air Venues
No-waste Wedding Initiatives
No-waste wedding initiatives are top-of-mind for couples and planners. Post the lockdown, weddings may witness a more sustainable approach. Sabah Sheikh, Founder, Ātisuto Events, shares, "Sustainable materials like natural wood, un-dyed yarns, recycled textiles, compostable dinnerware, more plants than flowers, use of wild or local flowers that can be easily sourced near the venue will be in demand. There are wide ranges of fabrics available that can be used in a customised manner. Jute and canvas can also be considered."
Ceremonies Adopt Socially-Distanced Seats
Since downsizing the guest list for weddings is the new normal, we might see ceremony venues accommodating social distancing with spaced-seating arrangements. Bhavnesh Sawhney, Co-founder–FB Celebrations, suggests, "We can even expect more creative seating arrangements like theatre seating or circular seating, allowing your guests to have a 360-degree view of the ceremony and couple. Essentially due to social distancing, the physical placement of chairs on each table will reduce to be able to keep a 6 ft distance from one another. Elderly guests can be seated together away from the youngsters. Children can even have their own corner. There will be great trust and bonding due to the closeness of family; this will lend a homelike feel to the ceremony." Nilma Dileepan, Founder of With Love Nilma suggests, "Decorators might opt for a semi circle layout around the mandap to give a safe layout to the seating plan. We can have single seater sofas as they occupy more space and hence make social distancing possible."
Also Read: Experts' Guide on Planning an Intimate Wedding
The New Age Receiving Line: Gesture Lines
While greeting each guest is suggested etiquette for couples and their family members, premium hotels are suggesting a unique spin on contactless greetings, whether this involves an element of their culture like a bow, or something more casual and playful like a contemporary "gesture line". The creative folks at Indian Hotels Company, IHCL have come up with fond and familiar warm welcoming gestures for their guests like 'Namaste', 'Adaab' or 'Khamma Ghani'.
Format of Weddings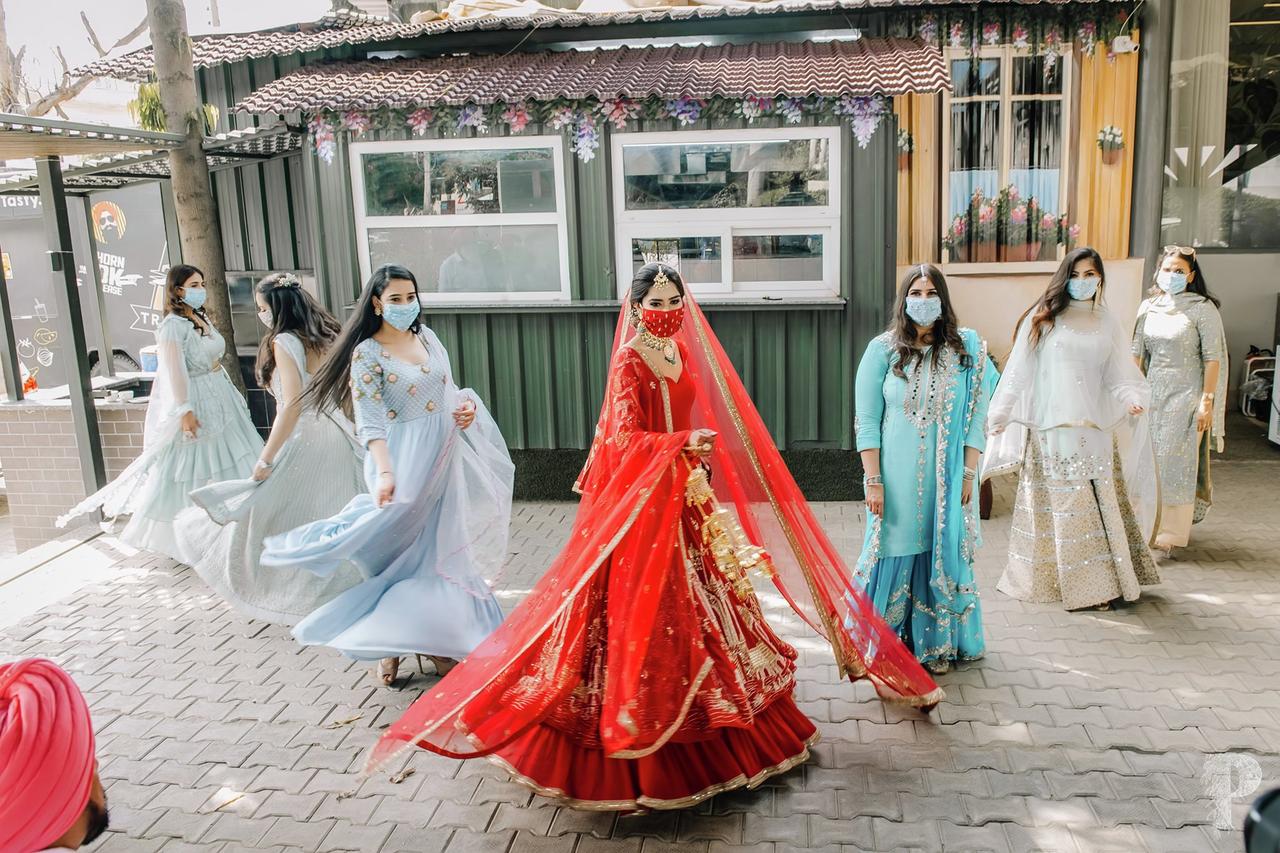 The influence of social distancing and limiting large group interactions will likely continue to shape weddings even after distancing restrictions are loosened or lifted. Couples will likely make changes to their wedding day formats, whether that be shifting to a weekday wedding to ensure their full vendor team is available, revisiting their guest list for a more intimate and intentional gathering, or planning multiple wedding celebrations to accommodate various guest groupings. New wedding day formats may include:
The Rise of the Minimony: Marry Now, Celebrate Later
During the lockdown, many couples have gotten creative with ways to honour their original wedding dates and have hosted their wedding ceremony from the comfort of their living rooms. 13% are partaking in mini-ceremonies, or what The Knot Worldwide has coined a "minimony." Couples are celebrating their marriage ceremony intimately with a small group of loved ones in person. Their remaining family and friends are attending the ceremony over a zoom call. While minimonies cannot take the place of a couple's postponed wedding celebration, the small commitment ceremonies are often a cathartic way for couples to bond in honouring their original wedding date during this unprecedented time. With the country gradually opening up from the lockdown and the number of guests allowed at a wedding celebration limited to 50, planners are now helping couples to coordinate with other wedding vendors, such as venues to accommodate smaller no.of guests, wedding photographers who can cover the most memorable wedding moments with a downsized team, etc. Couples are hiring a wedding photographer to capture this smaller minimony and then post photos on their wedding website.
Weekday Weddings
Many couples are being flexible when rescheduling their wedding date, with some couples opting to switch their wedding celebrations to a different day of the week 12%—Couples are making this decision to ensure their full vendor team is available on their new, rescheduled date. FNP Gardens have confirmed that they are suggesting couples and their families plan their wedding ceremonies during the day. This could help them to cater to every couple's wedding dreams and make it easier for FNP to provide their venues to a larger number of clients.
Also Read: Pros of hosting Weekday Weddings
Micro Weddings
Due to the unpredictable lifting of social-distancing restrictions, some couples may look to move forward with planning a micro wedding or an intimate wedding celebration with a reduced guest list. The reduction in the guest count can allow couples to focus on creating a truly one-of-a-kind macro experience, splurging on personalisations, a decadent sit-down meal at a five-star restaurant, sustainable wedding decoration for intimate weddings or outside-the-box guest entertainment. Some couples who host micro weddings may also choose to host a larger party in the near future with the rest of their guest list.
Also Read: What is a Micro Wedding & How to Plan One?
Multi Weddings
Guests can utilise the events they had already planned for their wedding weekend ( wedding ceremony, haldi & mehendi, and reception) to host multiple celebrations, inviting different groupings of their guests to each event. This concept, similar to a shift wedding, allows couples with a guest list on the larger side to celebrate with each and every one of their guests throughout multiple separate festivities. Unlike the shift wedding, multi weddings happen over a span of an entire weekend instead of just one day, allowing for lengthier events.
Sequel Weddings
The Knot, initially coined the term "sequel wedding" in 2019 when referring to couples who had multiple ceremonies for cultural, religious or other reasons. In the time of COVID-19, sequel weddings are taking on a new meaning for couples who still want to celebrate with all those nearest and dearest to them safely. A sequel wedding is a larger-scale second celebration (i.e. a wedding that's been postponed), following an event that is more intimate in nature like a minimony or micro wedding. Having a minimony allows couples to solidify their union or to honour their first proposed date, while throwing a sequel wedding allows them to bring their wedding vision to life and celebrate with all their guests.
Shift Weddings
The concept of a shift wedding may also appeal to couples who want to maintain a full guest list, allowing them to celebrate with all their loved ones in a similar way to what they initially planned, but in shifts. With shift weddings, couples are able to host their wedding day festivities at their original venue and with their full team of wedding vendors in shifts of people, allowing them to adhere to social-distancing guidelines and event capacity restrictions. Venues will properly clean and sanitise between groups arriving on site. This concept may help couples create a fulfilling celebration after a long period of self-isolating, without having to make the difficult decision to cut their guest list.
Rethinking the Guest Experience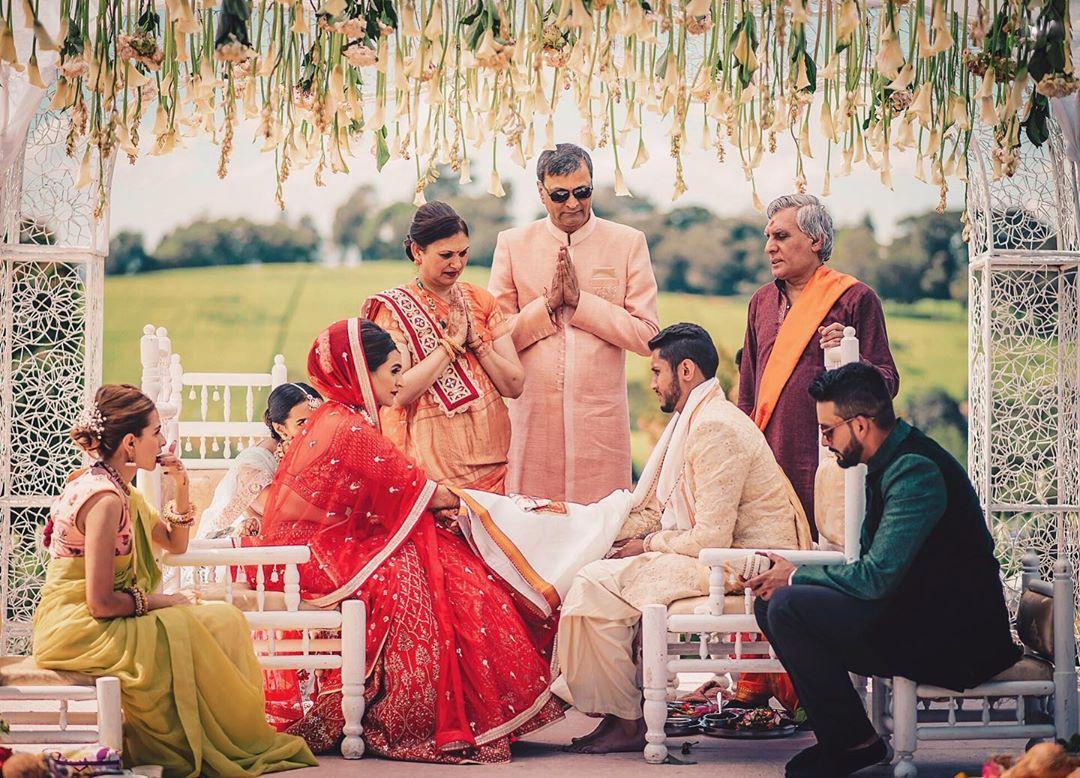 Image Courtesy: Shades Photography
Guest Communication Enhanced by Digitisation
To help guests feel safe and in the know, couples will likely shift their methods for communicating with guests in advance-before wedding celebrations, inclusive of incorporating more details on paper stationery, like heath and safety information and an increased reliance on technology like wedding websites and virtual gifting methods.
Wedding websites are the best way for couples to remain in constant contact with guests on updates related to their upcoming wedding. A list of frequently asked questions is a great place to start, with details on any new accommodations like hotel blocks or day-of transportation and any new health and safety precautions that will be incorporated into wedding festivities.
Guest Experience Enhanced With Alternative Entertainment
Couples may include hyper-personalised alternative entertainment for their guests to enjoy at a safe distance. Dance floors can be replaced with entertainment ideas that will keep your guests seated. These experiences can include live musical performances or family performances with limited performers on the stage. Music vendors may also lean into technology, like the silent disco concept, so guests can be more spread out and celebrate at a safe distance.
Personalisation to Reach an All-Time High
We are anticipating many creative new personalisation trends to emerge in the next year due to couples infusing more personal, unique touches into their special days. Nilma Dileepan, Founder of With Love Nilma shares, "Sit down meals will draw more attention to table seating decors which introduces scope for personalised doodles for guests and name cards. Couples can also consider personalised monogrammed giveaways for each guest, ask friends and cousins to share speeches and toasts to make it a truly intimate experience etc."
Live streaming for Faraway Family
The rise of wedding streaming for loved ones tuning in from afar will also likely increase in the next year due to guests who may be uncomfortable traveling or being in large crowds immediately following the pandemic. In addition, guests will likely take a digital-first approach when it comes to gifting for weddings and wedding-related events like showers and bachelor(ette) parties. Sawhney, from FB celebrations shares, "As with other aspects, entertainment will also be reimagined, to accommodate the social distancing and health requisites of the new normal. We foresee the following ideas being introduced:
Instead of dancing, consider planning more entertainment that will keep your guests seated.
Family performances to be the focal point, making the celebration more intimate
Entertainment can be morphed into a virtual experience thereby having customised content without striking off another guest from the list
More engaging activities to keep everyone involved
He further adds, "The digital disruption has ensured that we can be a part of any event virtually. We predict ceremonies that will be relayed online live via digital platforms for those who are not able to be present. Artist's performances can be digitised. Personalised virtual screens and smaller pre-event functions can be held virtually to add to the experience. Guests can engage in interactive activities and games that bond. A digital world ensures that everyone can enjoy together, even though they may be miles apart!"
No matter what the current COVID-19 struck scenario looks like, better days are on their way! #Loveisnotcancelled and couples are finding the sweetest possible ways to let their wedding dreams come true.
If you are planning an intimate wedding and need the right vendors to add wings to your dreams, find the most trusted wedding vendors and safe venues on our platform and start planning today!