Celebrate this Pride Month with WeddingWire India #LoveIsLove - Real Couple Stories
Three impeccable love stories of couples from the Pride Community that will surely make your hearts melt. Scroll on, and get some tissues too, its going to get emotional.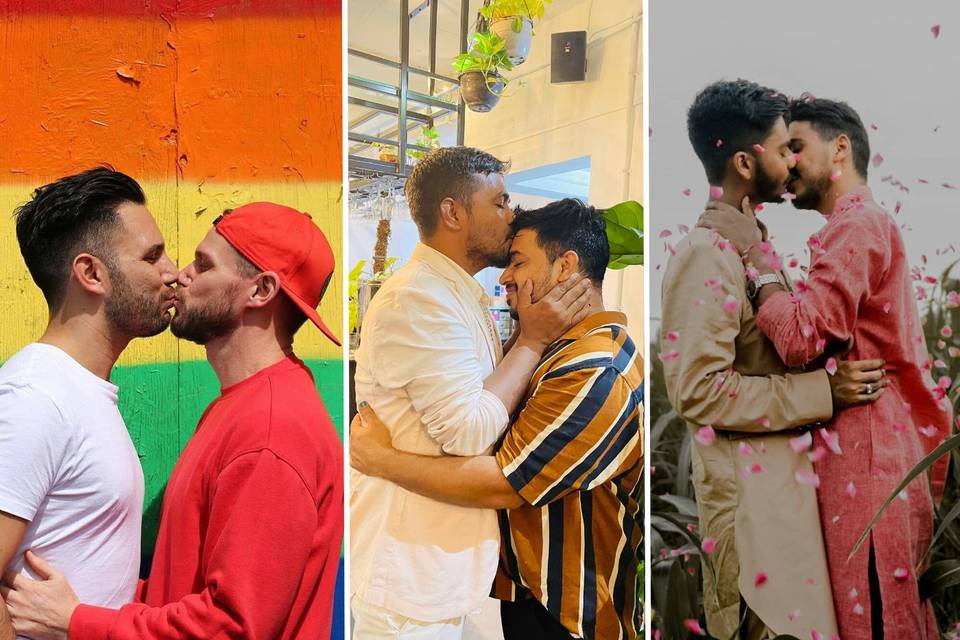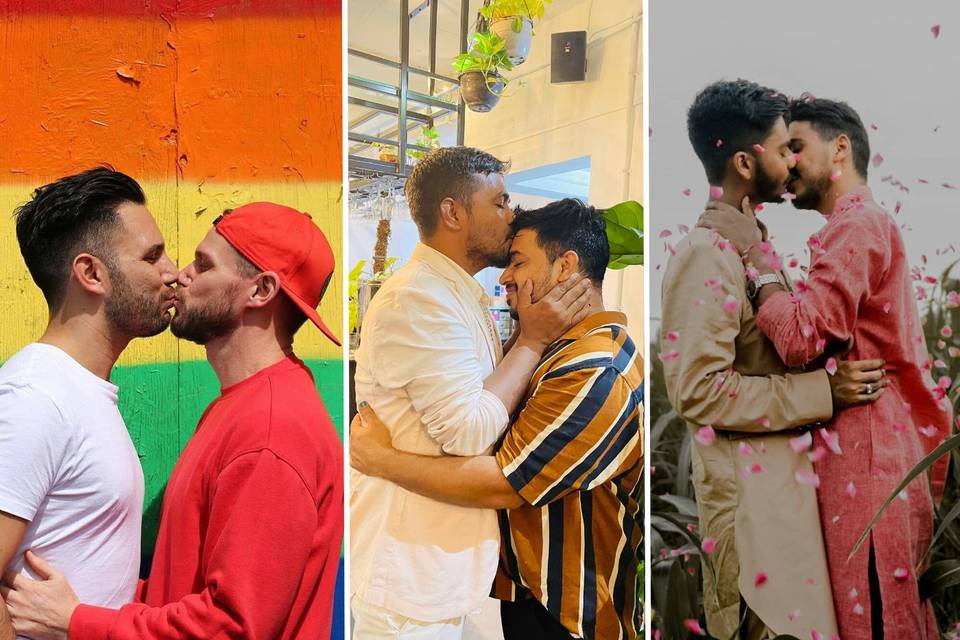 Call it cliched, but we want to start this with a quote. Richelle E Goodrich said, "Love conquers all. I do not mean the exhilarating, spell-bound sort of love that temporarily intoxicates us. I mean the profound, unconditional, Christ-like sort of charitable love that endures forever. That love conquers all." Bringing to you the heart-melting love stories that conquered all, stories that will make you dream of your favourite movies and novels, WeddingWire India is here with the #LoveIsLove tales.
In this article:
2. The Traveling Gays - Doug & Sanjay
From their first Hellos to their happily ever afters - hear the three couples narrate their journey at WeddingWire India.
Pritam & Manish
View this post on Instagram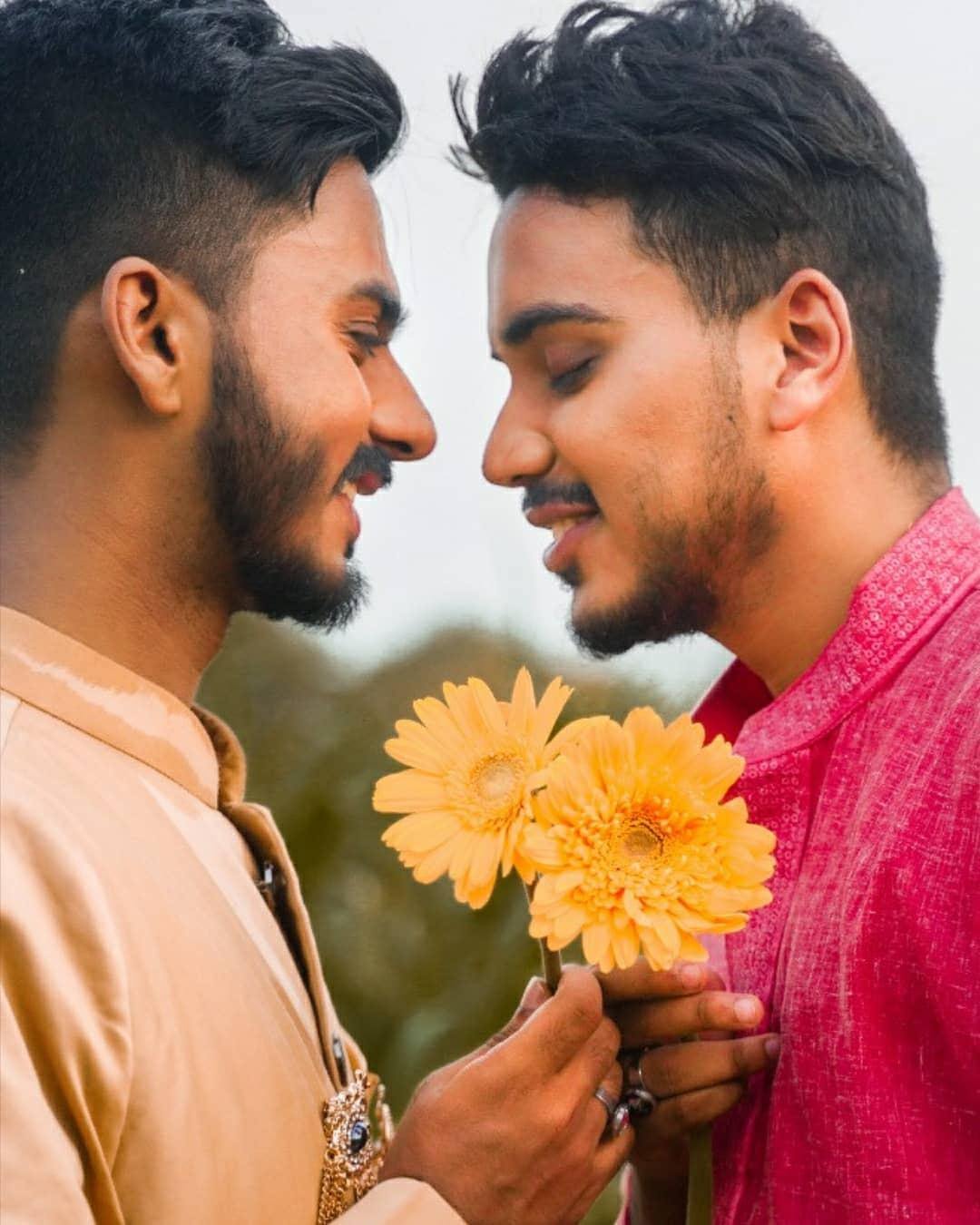 Sometimes all it takes is a text to turn your life around. The same goes for the beautiful journey and love story of Pritam and Manish. Witnessing such pure emotions makes us believe truly that #LoveIsLove.
Talking to us about how did they love story began, Manish said, ​"So we met on Instagram. 19th June 2020, I still remember it was the 1st phase of the lockdown. Pritam was gay but I used to consider myself straight back then. One fine night I posted a FRIENDS story on Instagram & he reacted to it. I replied quite casually if he was a FRIENDS fan too - not really aware that it would have come this far since then!"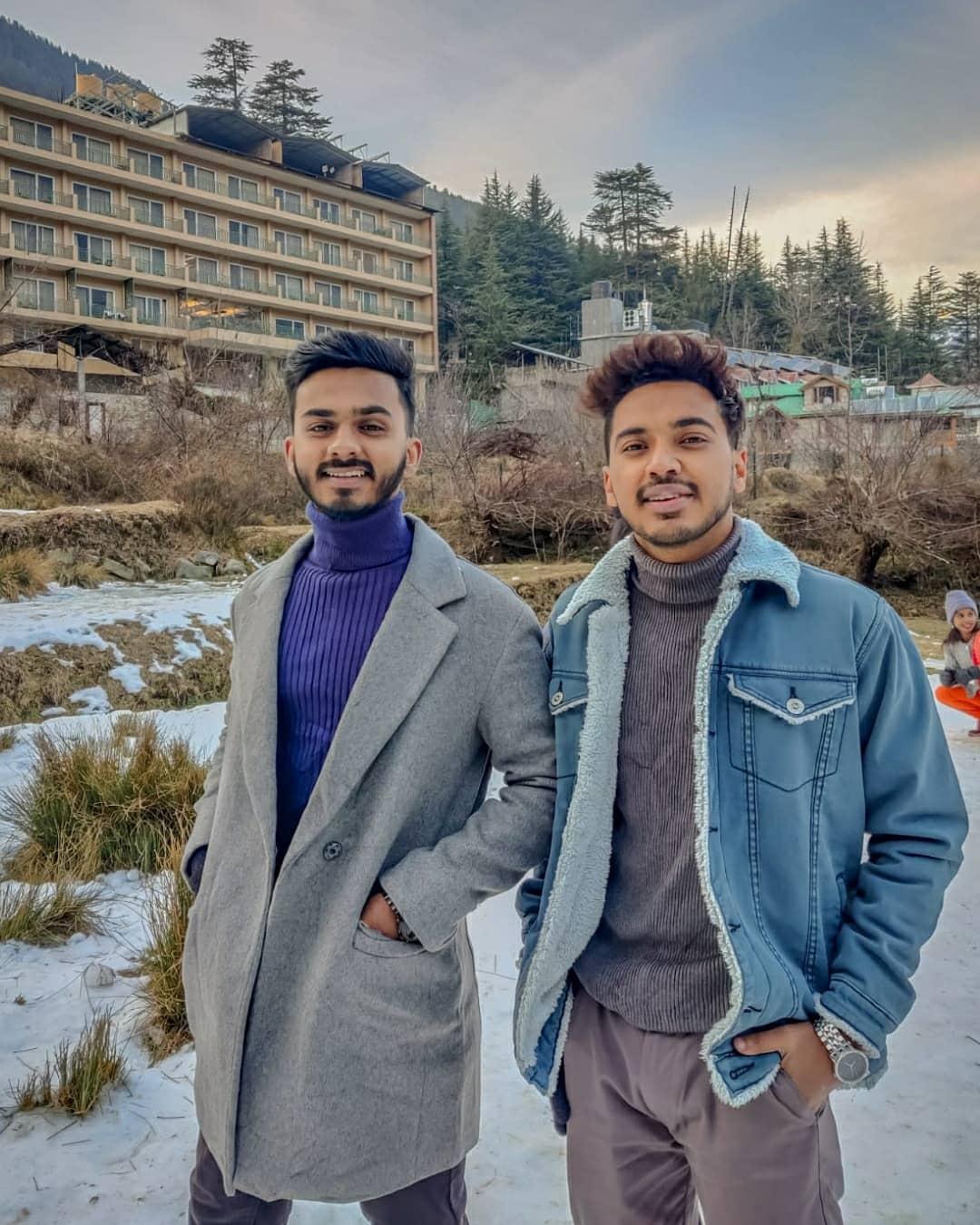 "We immediately clicked! We texted that night & he started to feel quite familiar - like family. The next day I happened to go through his profile & noticed some posts so I asked him if he was gay or bi-sexual. To this, his reply was yes, he is gay. It came as a little shocker but like I already mentioned there was a vibe.
"After a few days of talking constantly, one random night over a drunk phone call Pritam proposed to me. I was taken by surprise, to be honest, but at the same time I was happy. I confessed that I had feelings for him too & like a month later, we happened", Manish added.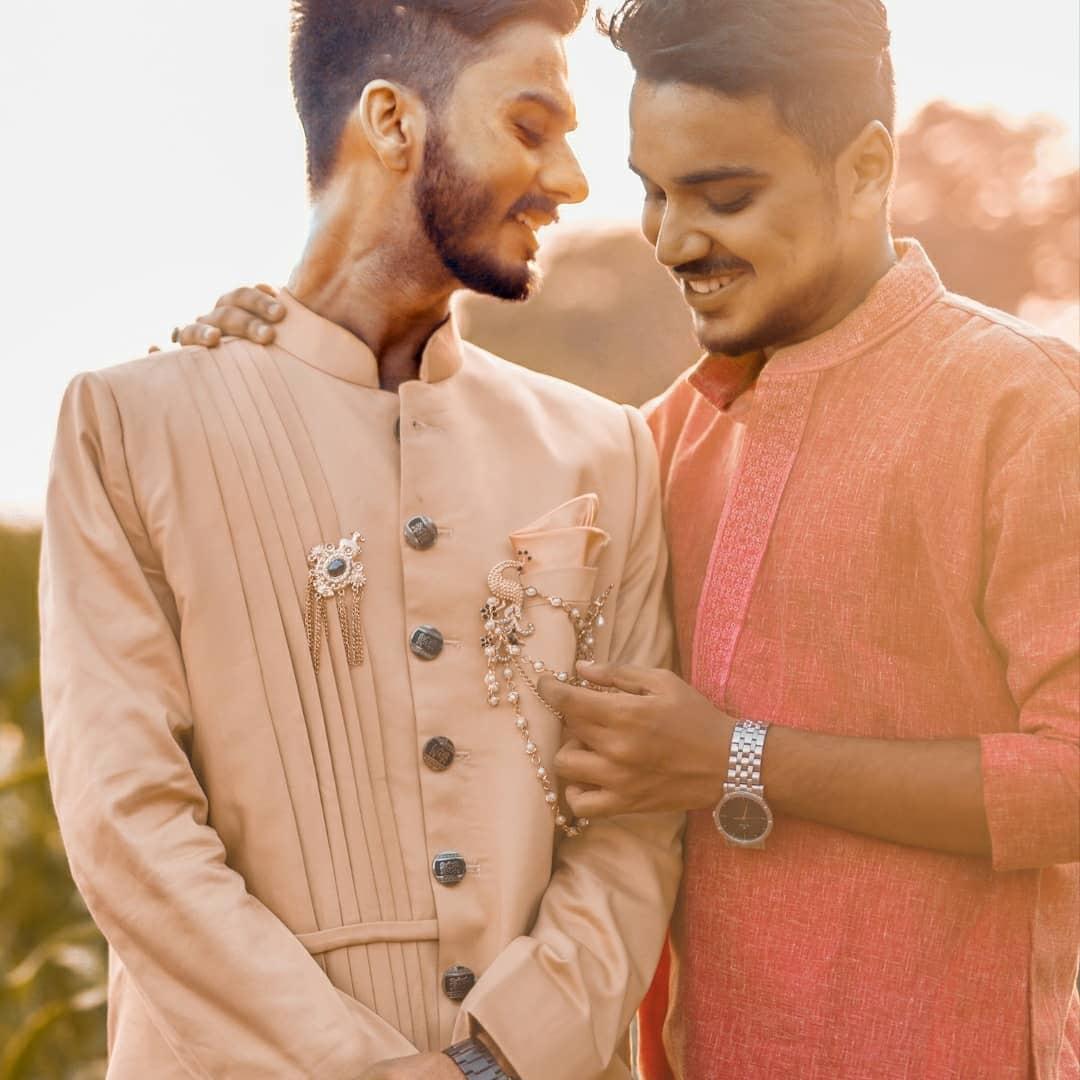 "I had to take some time to figure things out for myself because it was entirely new for me. We took some time to talk & get to know each other better in that 1 month. It was a lockdown, so we had to wait till July 21st to actually meet. It was at his place. It didn't feel like I was meeting him for the first time, even though I was an introvert! I hugged him. It was something else you know - we didn't even realize that the hug had lasted for more than 5 minutes."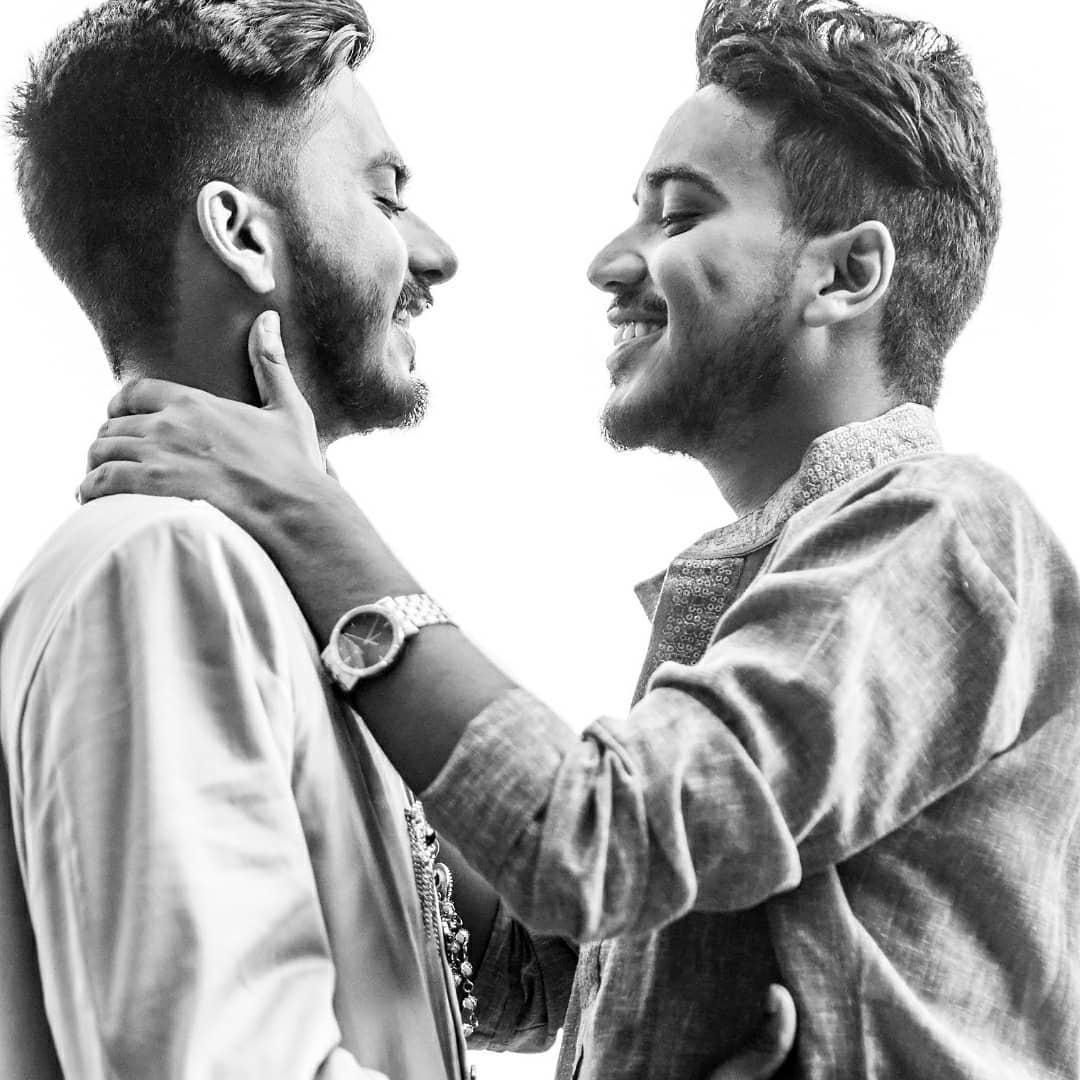 Manish concluded the interview by recalling their best times together saying, "This was the time I proposed to him because I was deeply in love with him. For me, it wasn't confined to just physical presence - it was much more. It took some time especially for me because this wasn't what was "normal" for me at first. But right from the start, I had an emotional connection with Pritam that I had never felt before. We travel a lot together - the Manali trip was my favourite."
Also Read: A Tale Of Two Hearts - A Gay Indian Wedding That Will Make Your Day! 🏳‍🌈
The Traveling Gays - Doug & Sanjay
View this post on Instagram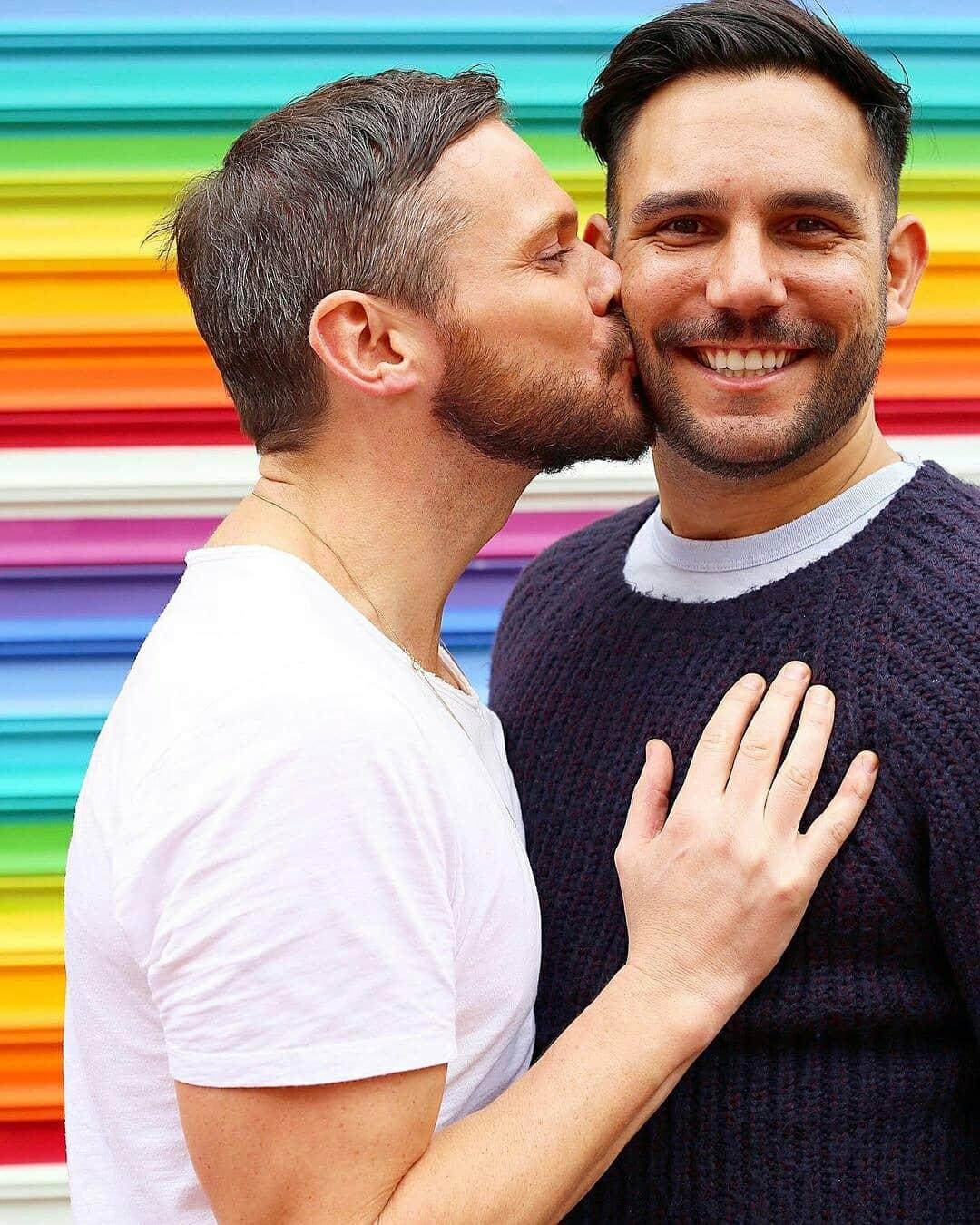 Wise men say, only fools rush in. But I couldn't help falling in love with you...Doug and Sanjay's fairytale wedding was as perfect as their love for each other. We are totally swooning over their heartfelt love story and we wanted to share it with you all through the exclusive conversation with the couple that makes us put our faith ever the more in the concept of #LoveIsLove
Giving us insights about their love story, Doug said, ​"We met at Manchester Pride in 2009 whilst I can definitely say it was love at first sight from my side, Sanjay took a tiny bit more work haha! We have had a few little breakups when we were younger but that was more to do with growing up. I think we have always known."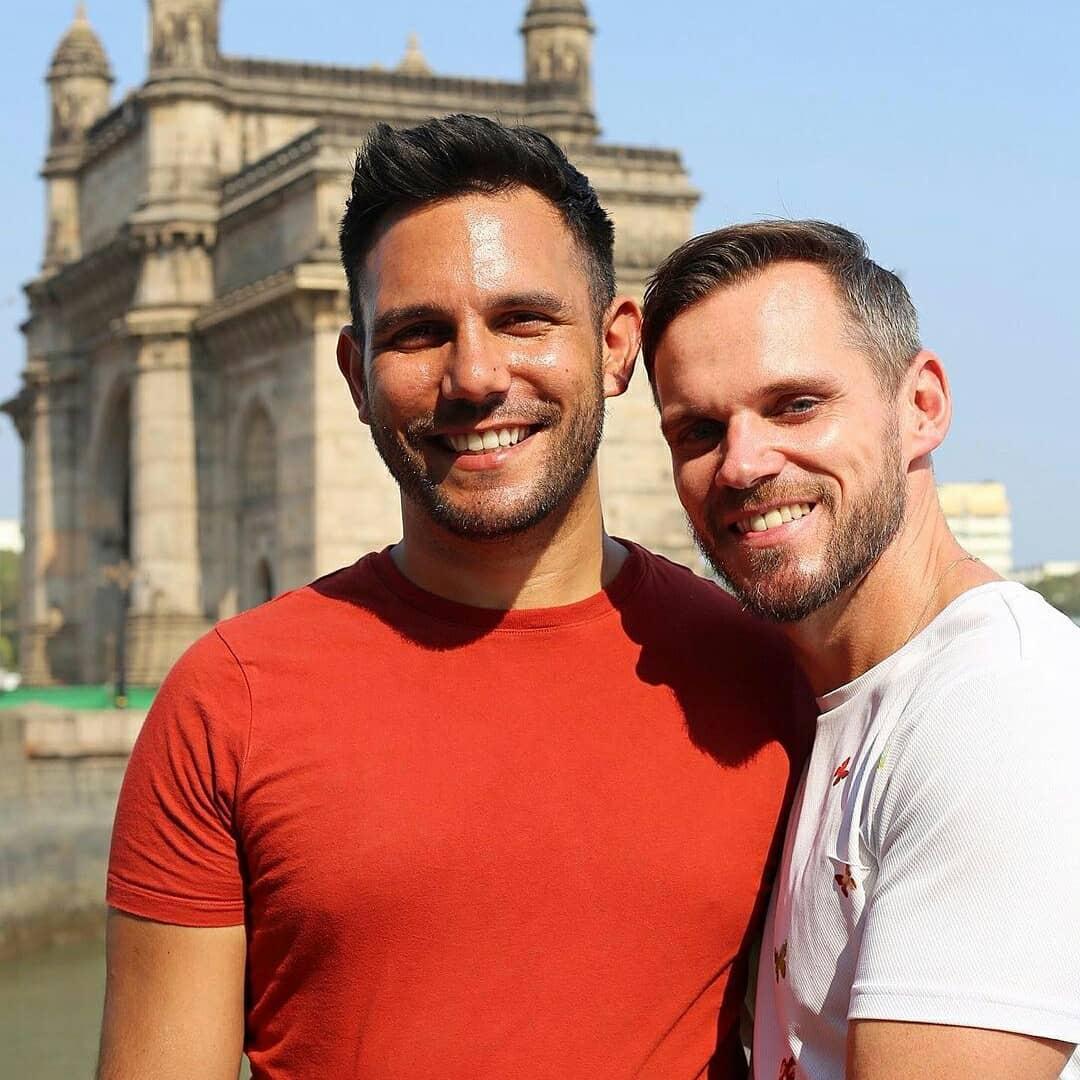 "Our proposal was incredible. We had booked 4 days in Mykonos. On the 2nd day, we had booked a day trip to Santorini. It has always been a dream of mine to visit this picturesque island. When we arrived, Sanjay surprised me by saying he had booked a hotel & we would be staying the night. The hotel was amazing with a small outdoor pool on the balcony & breathtaking views. We headed out for the day to do some sightseeing. On our return, Sanjay had arranged for a private dining experience on our balcony. It was timed to perfection - we finished our dessert, we were watching the stunning Greek sunset; Sanjay dropped to one knee & asked me to marry him!" Doug added.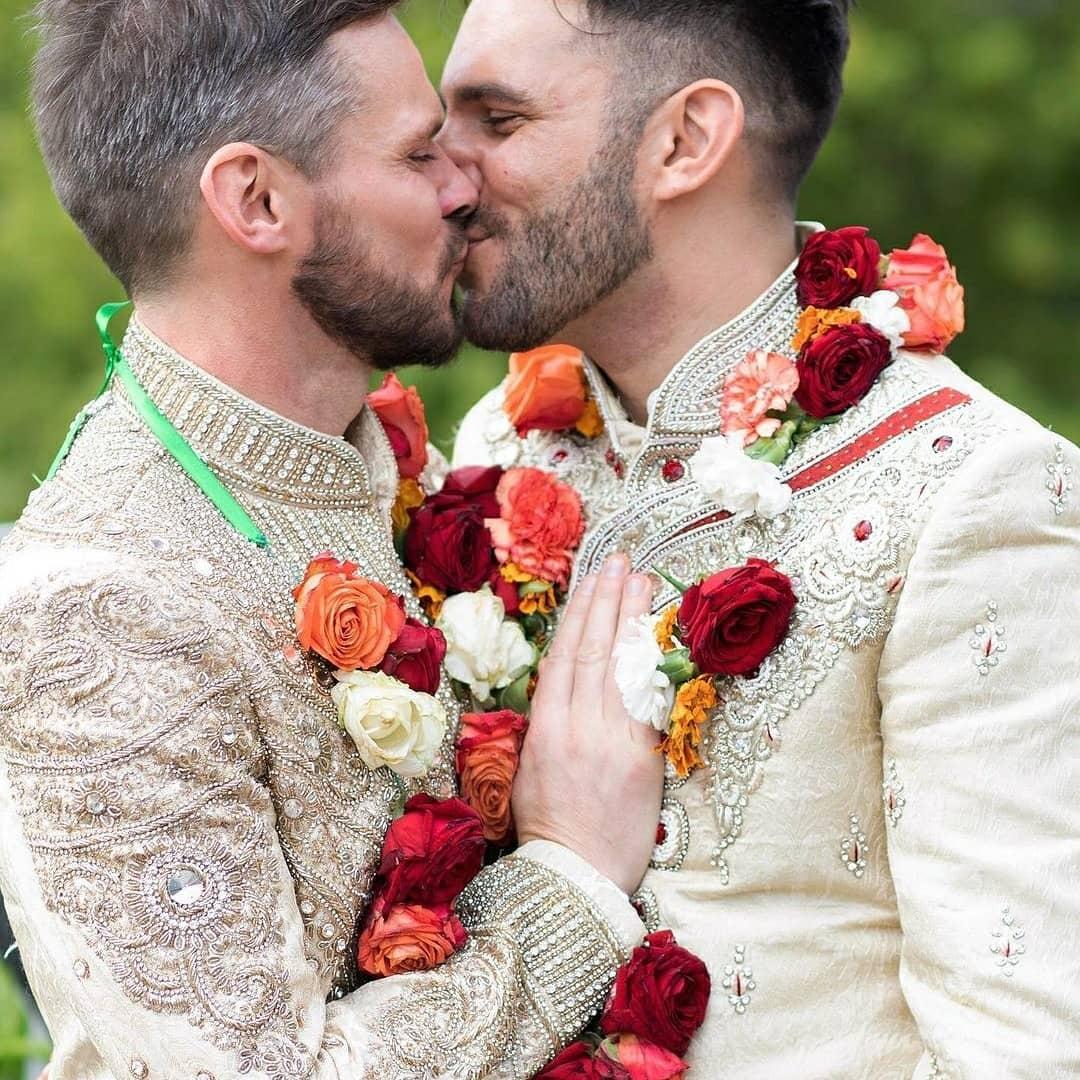 "We had our legal registry in the U.K. at a bandstand in our local park. We just invited family. We wore traditional Indian dress & our mums made us garlands which our families exchanged. It was an intimate & special day. The day after we flew to Greece with 130 of our friends & family. We had a Mehndi night arranged by Sanjay's family. It was beautiful & brought our families closer. We got married (again) over the water at the villa we stayed at. We are lucky that now we celebrate two wedding anniversaries."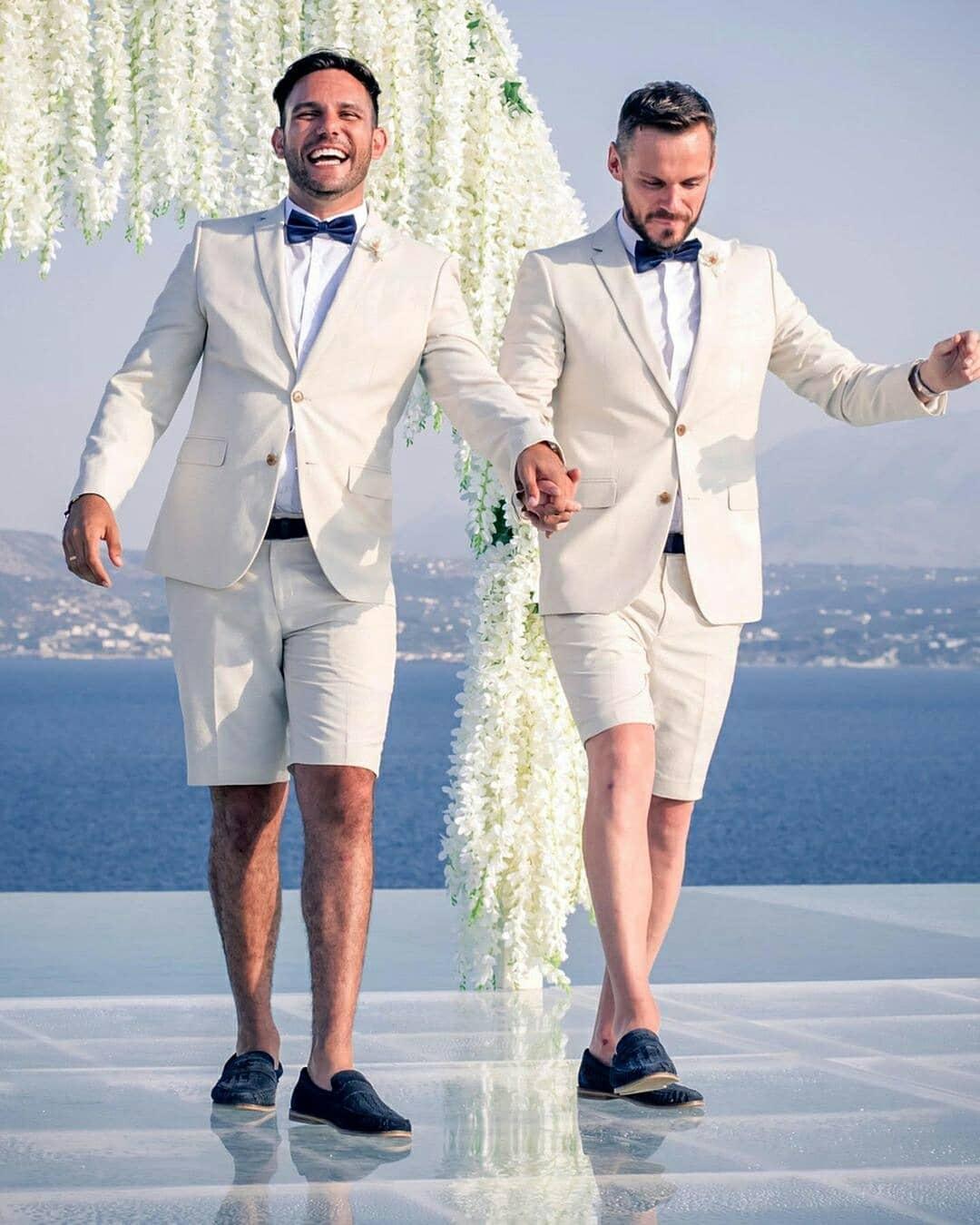 "It's definitely been an emotional rollercoaster. We are so excited for our little baby via surrogacy. We have been together for more than 13 years. We are just so excited for our next chapter. Our families are so thrilled to be welcoming the baby to the family. The Traveling Gays - our Instagram page started a few years ago as we have been travelling together ever since we have met. We had hundreds of photos from previous holidays that we started posting. We have been overwhelmed by the positive messages we get through the account & the LGBTQ community." #LoveIsLove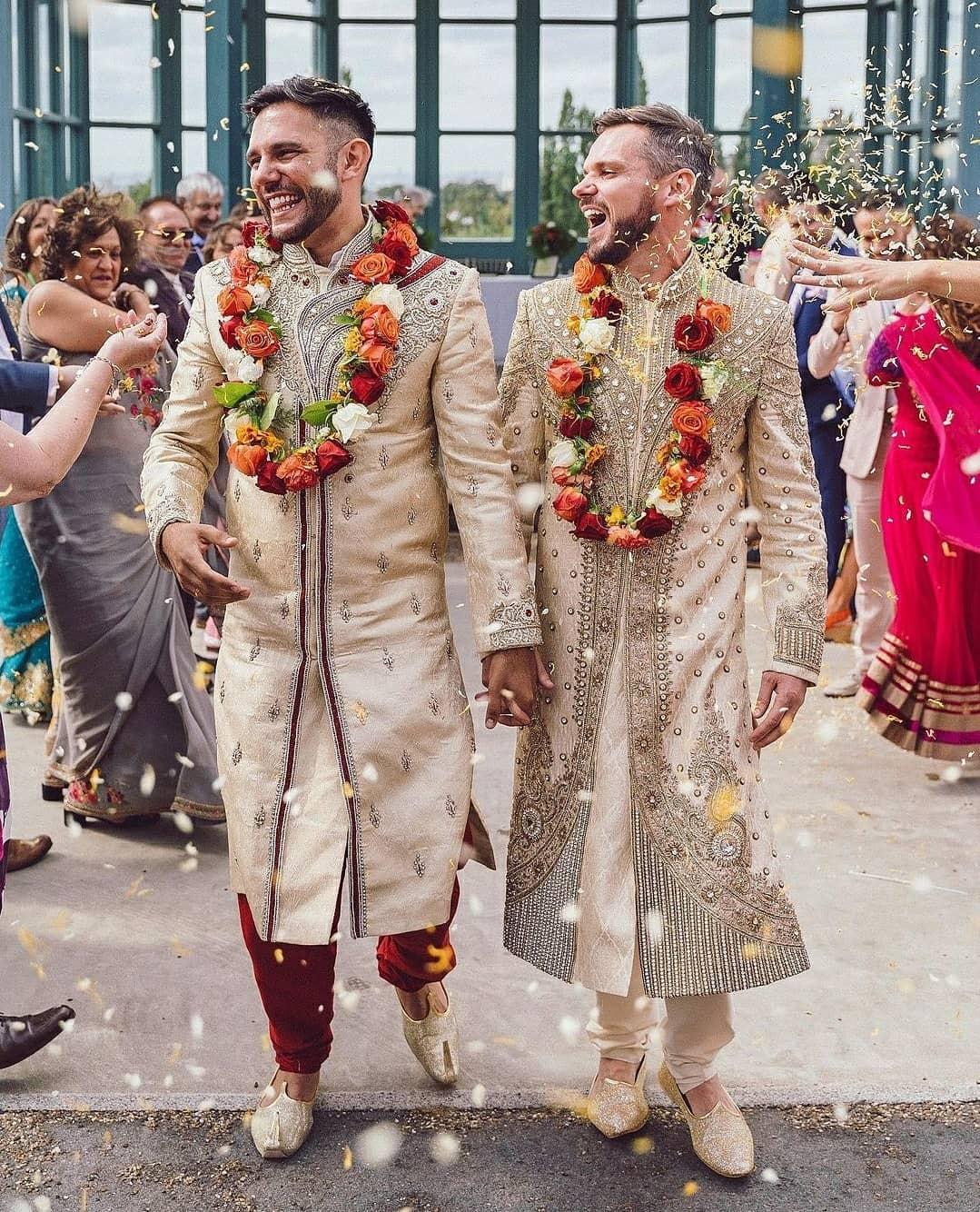 Doug concluded the interview by talking about their beautiful celebration of togetherness. "What was meant to be a very low-key registry in London turned into such a magical day we will never forget. We got married in the park near where Sanjay grew up in our traditional Sherwanis with our gorgeous garlands made by our mums. The weather was forecast for thunder and lightning so we hired 40 umbrellas for the guests so we couldn't believe our luck when we got the sun. Apparently, the cake had toppled over in the box and had to be covered in flowers to disguise it which we didn't even notice. Our nephew and nieces did a gorgeous reading for us of 'When You Wish Upon a Star'. There were tears, laughter and so much joy. Seeing many of our family member meeting for the first time, laughing and joking was such a special sight. We didn't have an official reception just a few drinks back at the local pubs which was so lovely and relaxed. What an incredible day we will never forget."
Ankur & Deepak
View this post on Instagram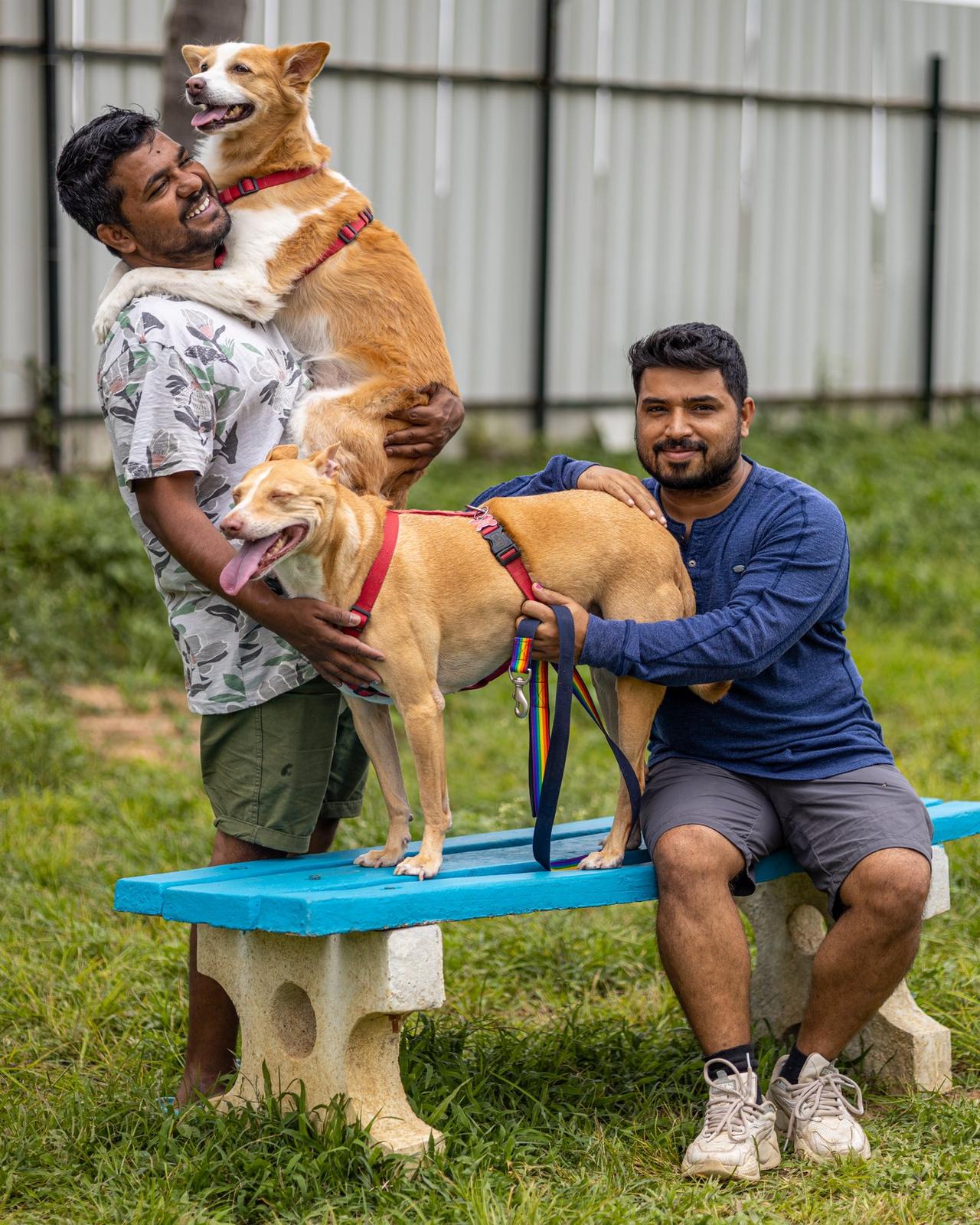 For our last interview, we spoke to Deepak and Ankur giving us insights into their beautiful love story and the strong relationship they built. Telling us how they first met, Ankur said, "Deepak and I met on a dating website, and to our surprise, we share the same year and date of birth. Little did we know that this was only the start of an enchanting love affair. Due to societal stigma, self-acceptance of sexuality is a challenging process. But Deepak and I choose to be true to ourselves and celebrate our sexuality with pride.
"I'm from Haryana and my family considered my interest in men a disease, and they tried everything to get me to change my mind. They even forced me to marry a woman of my parent's choice, and I succumbed. After the marriage, I felt I had done the wrong thing and spoiled a girl's life. That's when I took a stand and got divorced. However, at that time, Article 377 was in place, so I could not openly speak about my sexuality and my love for Deepak."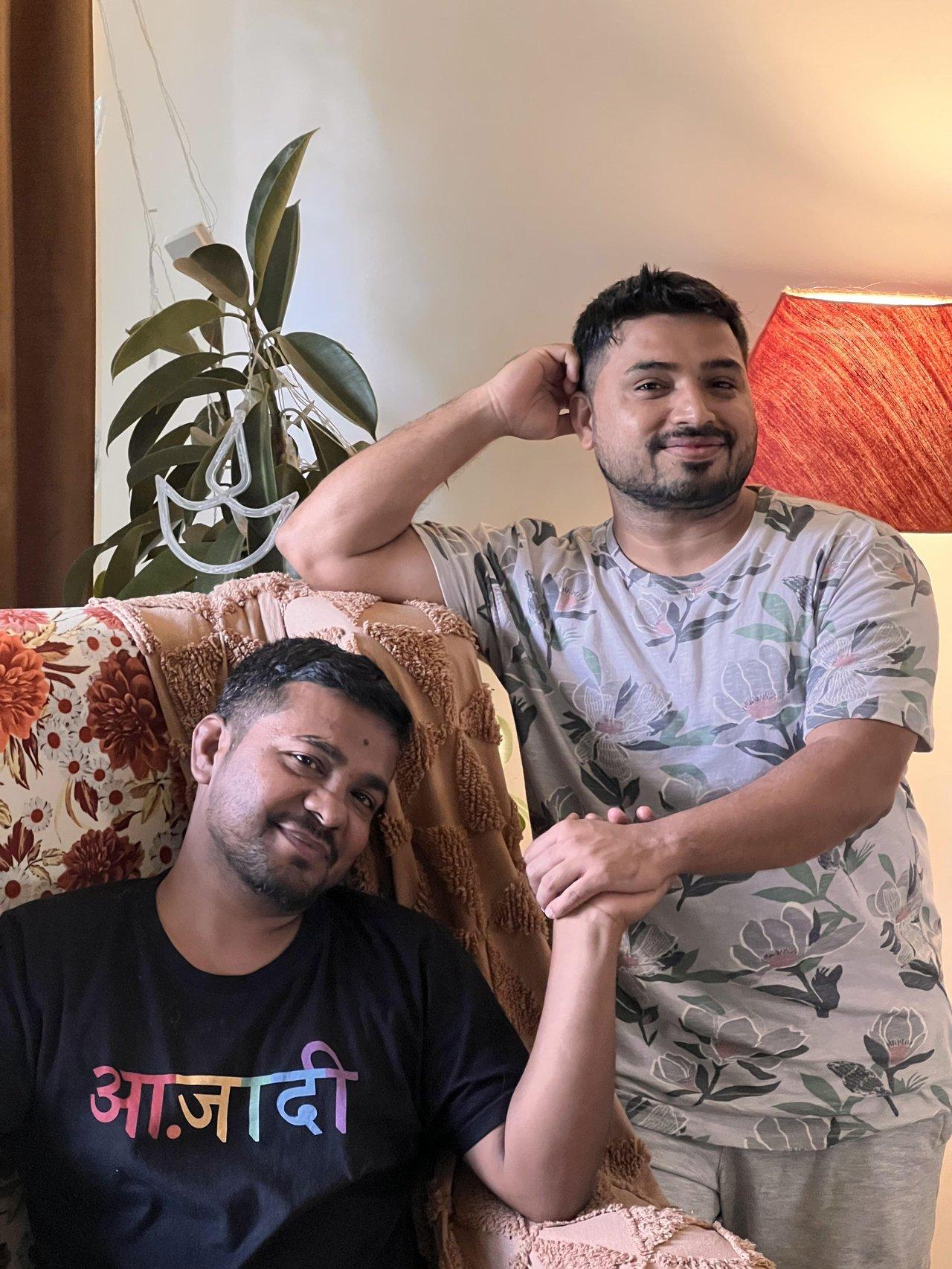 "After a decade of togetherness, our families finally came to terms with our choices and understood the true love we have for each other. Getting acceptance from all our loved ones was painstaking, but we believe that love has No reason. No boundaries. Its sole intention is to bring two people together to a time called forever."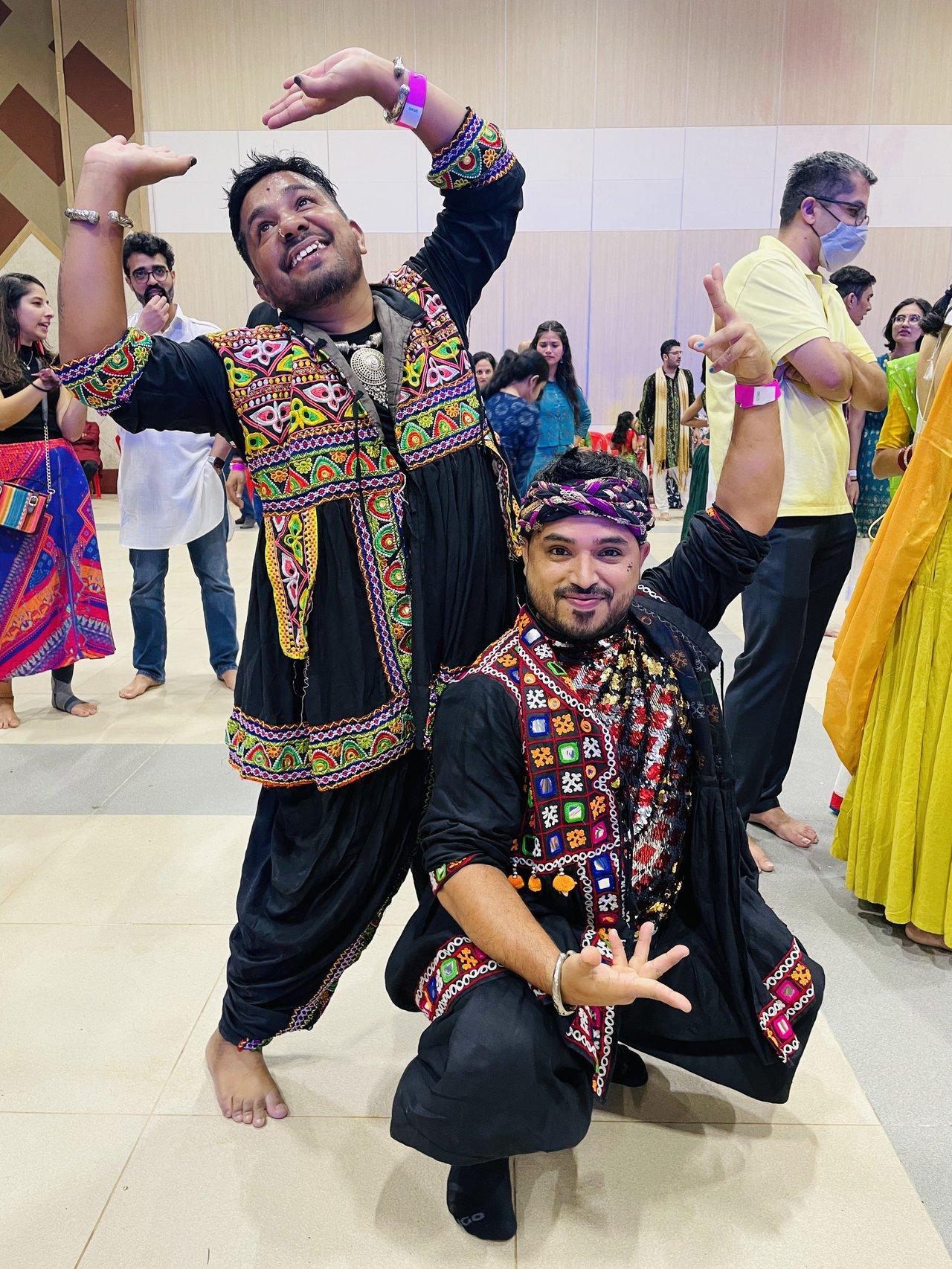 Redefining couple goals in a beautiful manner, Ankur concluded the interview by saying, "Now, after 14 years of being together and having adopted three beautiful pooches, we have decided to tie the knot soon. We would love to adopt a transgender or HIV-positive child who may be considered unwanted in the eyes of society. During the pandemic, we fed street dogs and prepared meals for about 300 covid patients. We're trying our best to redefine couple goals. We strongly believe in the LGBTQ cause, that our desires need to be considered normal in the eyes of society, and that there should be more workplace initiatives to encourage acceptance of our choices. We strongly believe that labels aside, we are all unique, and we are all valid."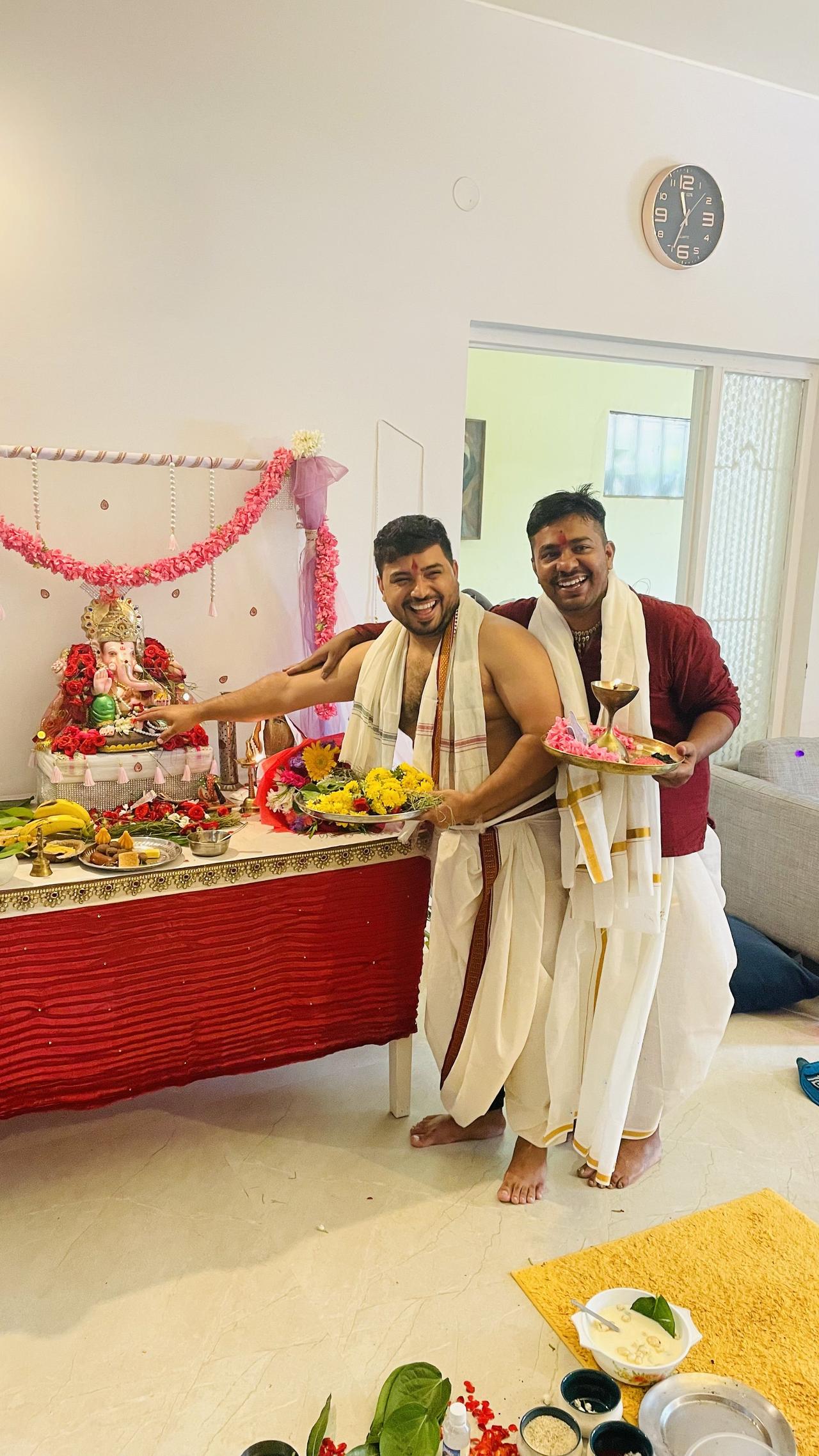 These stories are each beautiful in their own ways - romantic to the T too, but most of all, their stories are an inspiration. For the years of struggle that is resulting in a welcoming world for every gender and every community, these are the three beautiful stories that hopefully give you the affirmations that it is going to be alright, and your story is going to be as beautiful too.
Interviews by Anwesha Das
Note: All images have been provided by Pritam & Manish, Doug & Sanjay and Ankur & Deepak respectively.
Do you have an inspirational story to tell too? Write to us or leave a comment below.
Top Blogs on WeddingWire India