Gleeful Same-sex Couple Portraits That'll Leave You in Goosebumps
This compilation of same-sex couple portraits are immensely heartwarming & a testimony of what unconditional love looks like because #LoveIsLove.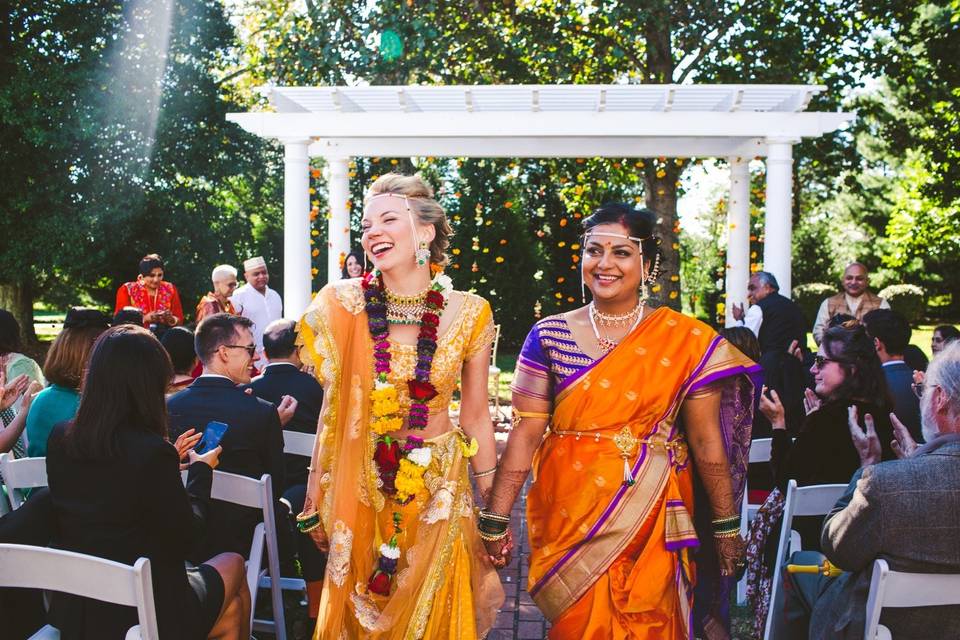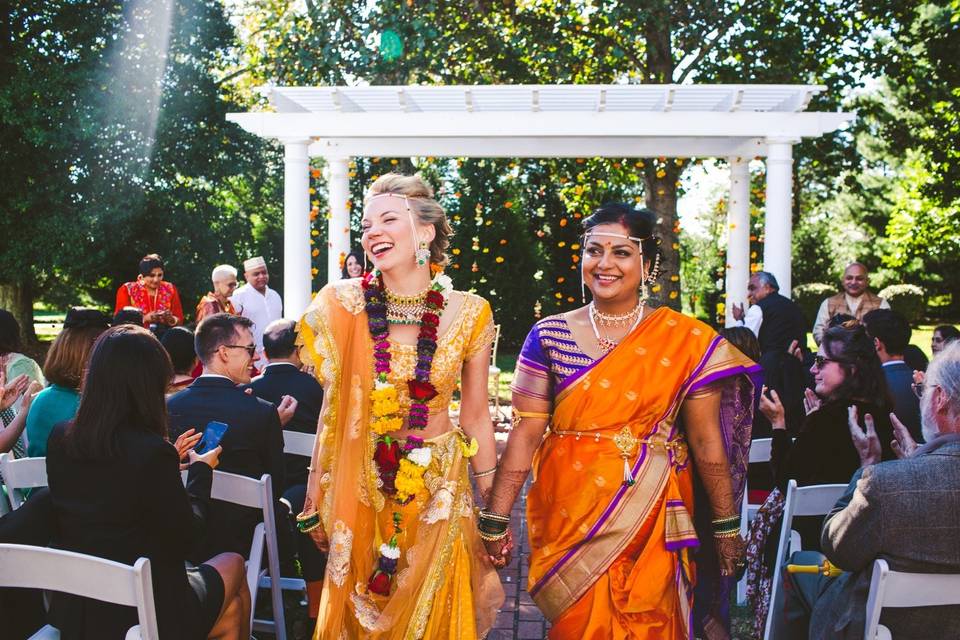 Image Courtesy: Erica Camille
We don't need pride month to celebrate LGBTQ+ couples, we just need to lay our eyes on insanely in love partners to go aww-dorable! With same-sex relationships and weddings seeing the light of the day, it is impossible to stop gushing hard over their surreal love. Although there's no definite description of what love is, one thing's for sure, same-sex couples possess colossal positivity and are bursting with passion for each other.
While we're still working towards normalising same-sex love in our country, it is tear-jerking to witness how these couples have gathered the strength and achieved monumental moments by truly embracing their unconditional, unbounded, love. From elated delineation of love and laughter to the more delicate moments and to the sweet sentiments of pride, these same-sex couple portraits are loaded with palpable feelings which are bound to make you reach for some tissues.
So bring on your happy tears because, in honour of the courageous love shared between couples, we have compiled a series of same-sex couple portraits for you to see and gush along. They're sure to send tingling sensations across your body, yes, they're tremendously soul-stirring! You can also refer to these couple portraits and draw some inspiration for your "madly in love" couple portrait.
In the middle of wedding rituals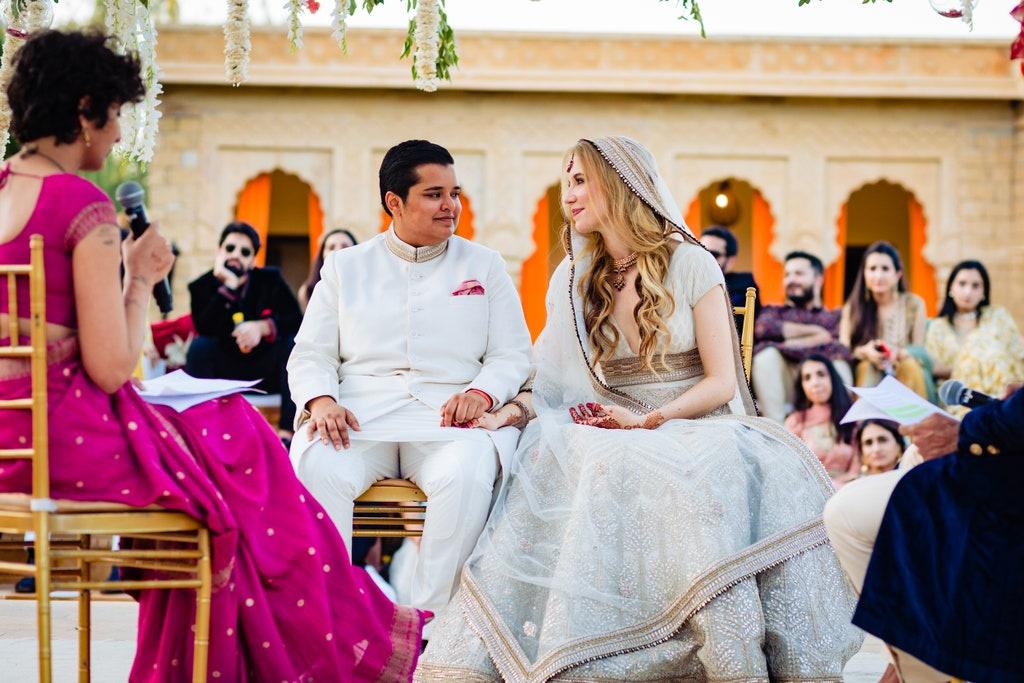 Catching gay couples in the middle of their wedding rituals is a delight for sore eyes. This is candid photography at its best. The amount of love, peace and fulfilment you'll witness is unmatched and there's nothing more beautiful than that. This Indo-American lesbian couple stole a moment in the middle of their wedding rituals to share eye contact and we haven't seen anything more soothing in a long time. The way their eyes meet and lips curve into a gleeful smile are a true testament to serene yearning for each other. Just find yourself someone who looks at you the way these two look at each other.
Sharing hearty chuckles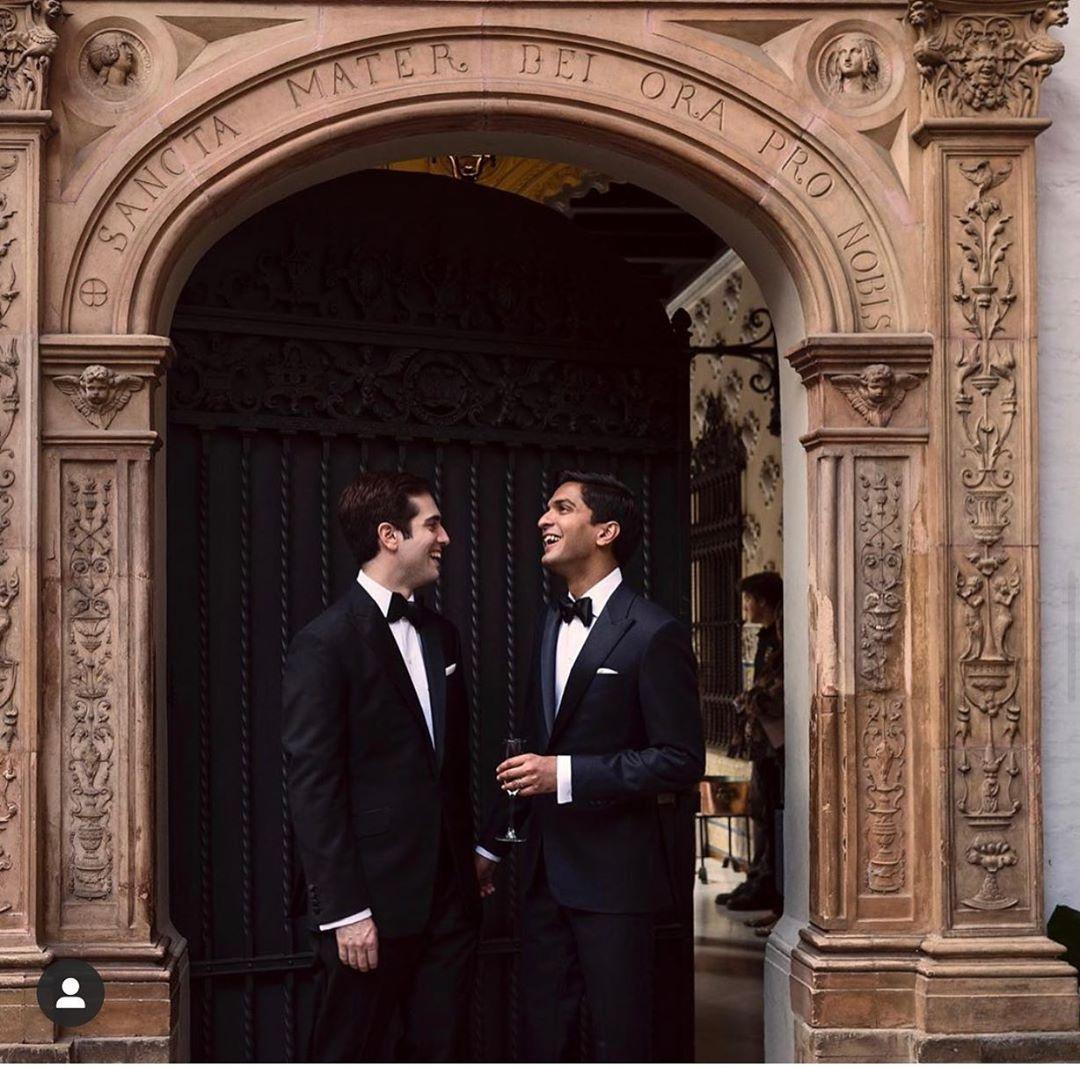 Image Courtesy: Niccolo Guasti
The sound of hearty giggles fills our heart with warmth every time and watching these same-sex couple portraits wherein the couples are sharing spirited chuckles makes us jump out of joy. If this isn't what true happiness looks like, we don't know what does and this is exactly what we love about weddings in general–heartening candid moments, filled with laughter.
Absorbing the moment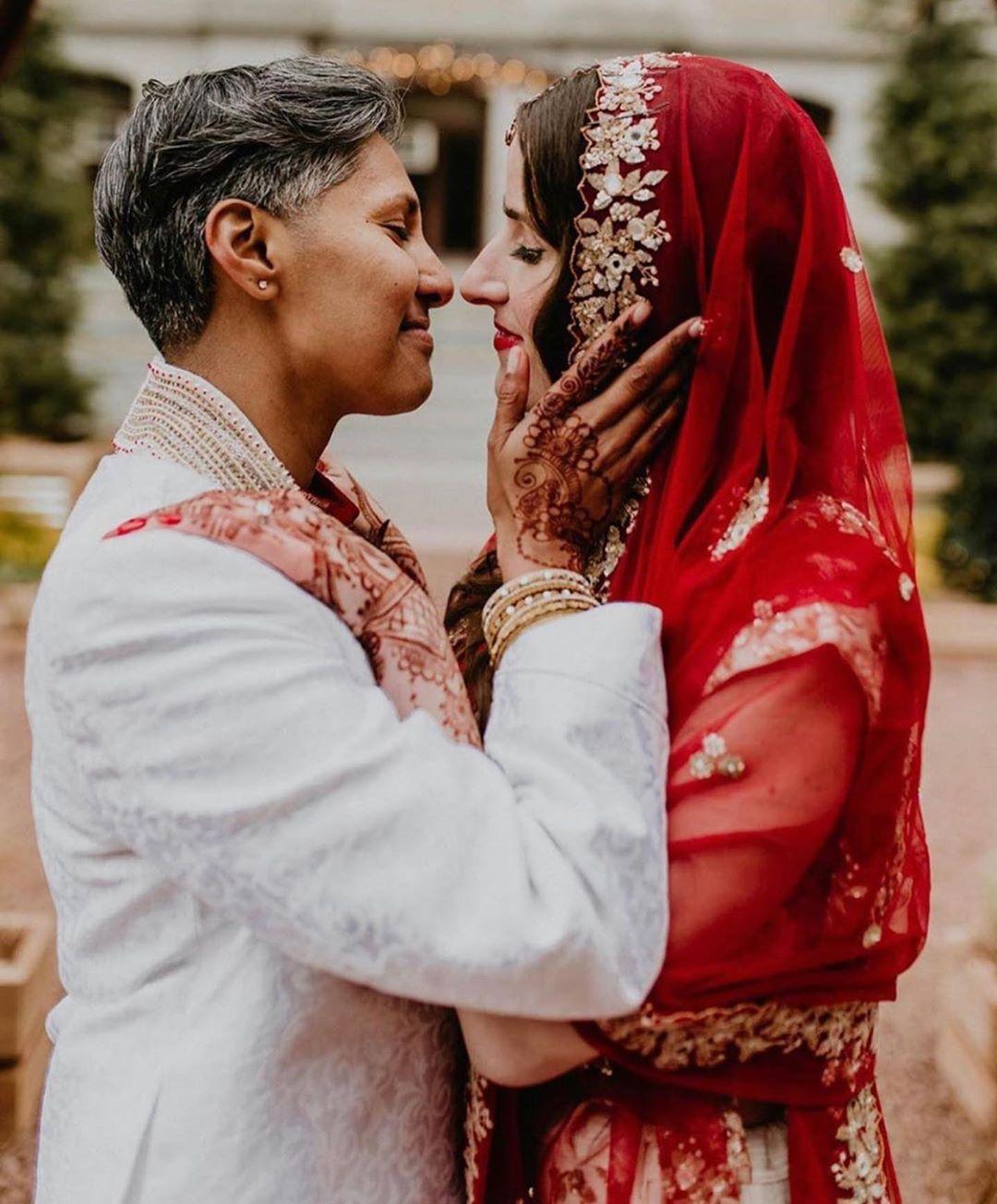 Image Courtesy: The Bere Collective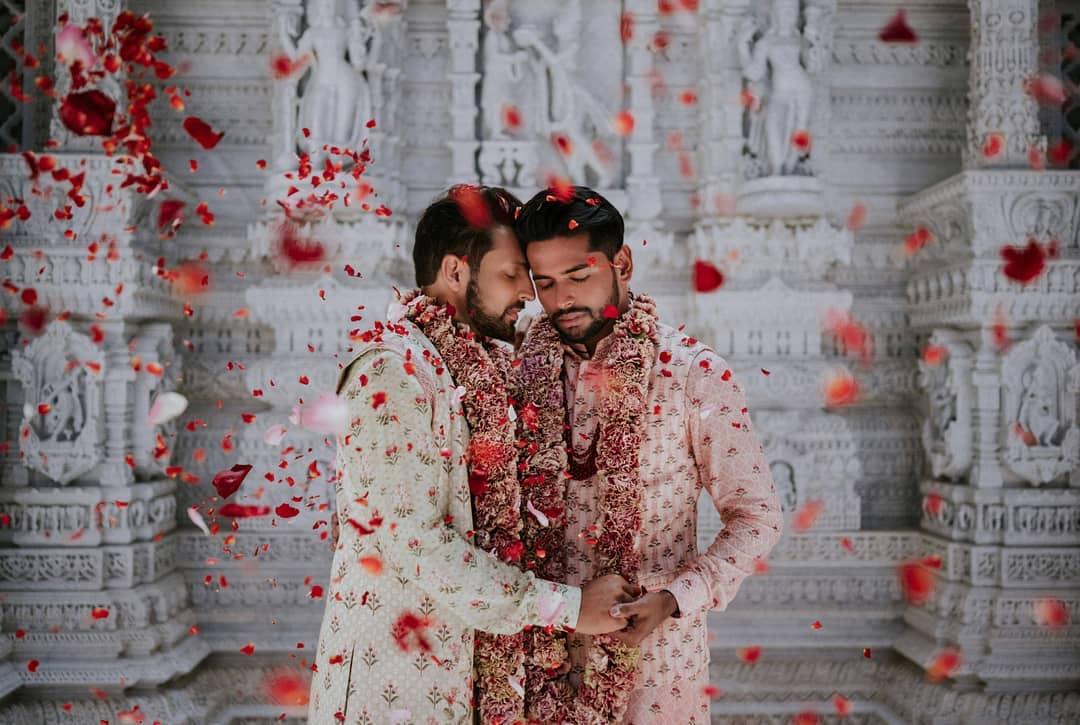 Image Courtesy: Charmi Patel Pena
After spending years of yearning and respite in the utter hope of being united with unperturbed love, these portraits of same-sex couples absorbing the moment where they embark on a new journey is truly comforting. Finding contentment and purpose all at once does feel like a moment where all you need to do is exhale any inhibitions and inhale enlightenment. The Bere Collective duo and the Anita Dongre grooms are setting the standards for couple photography too high!
Owing to their solidarity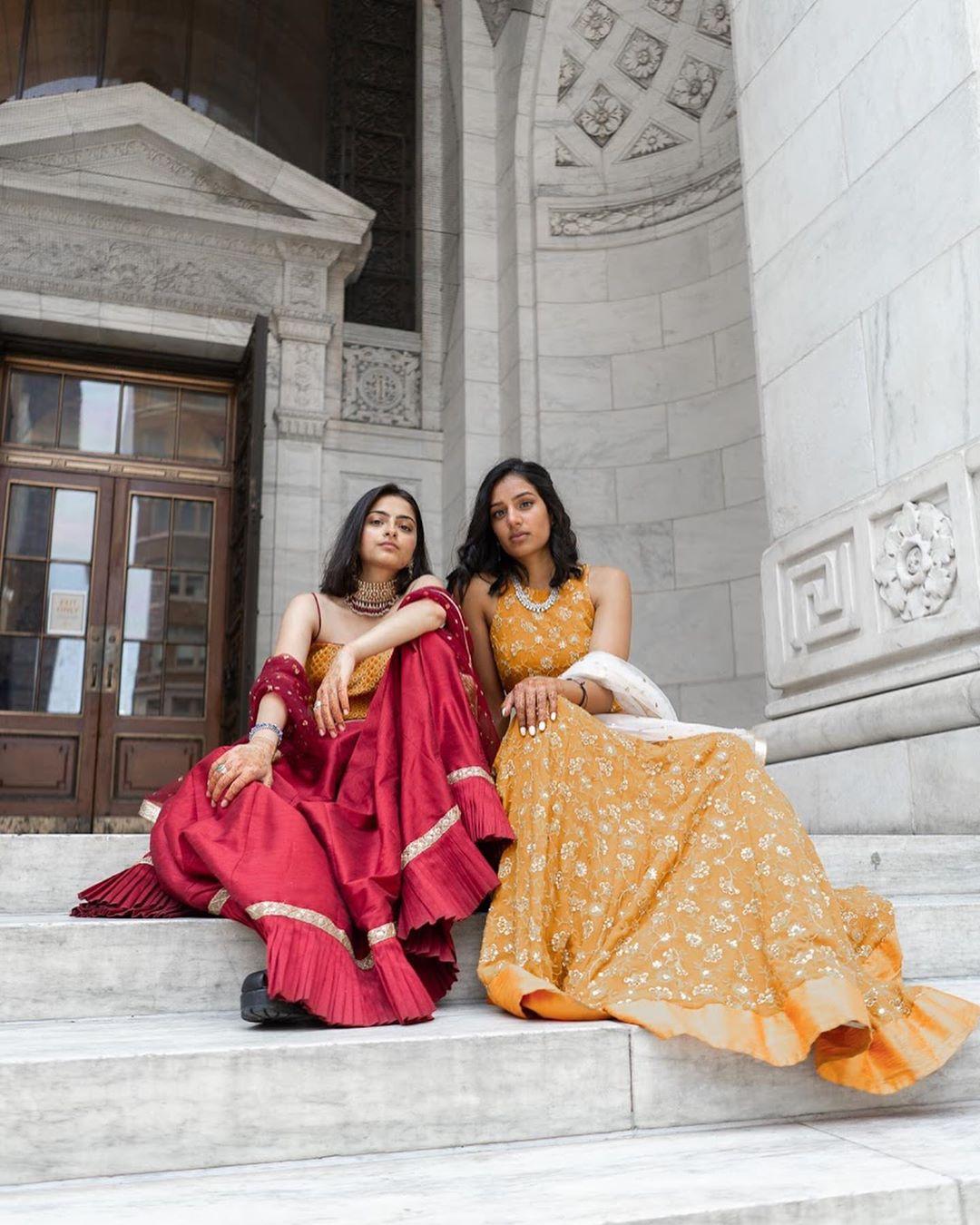 Image Courtesy: Sarowarr
Repulse does indeed bring out the best in us and as far as gay couples are concerned, their journey of togetherness didn't come served on a silver platter. For what it's worth and what they deserve, striking a pose in absolute solidarity of their love is undeniably empowering and more so, profusely liberating.
Sharing Eskimo kisses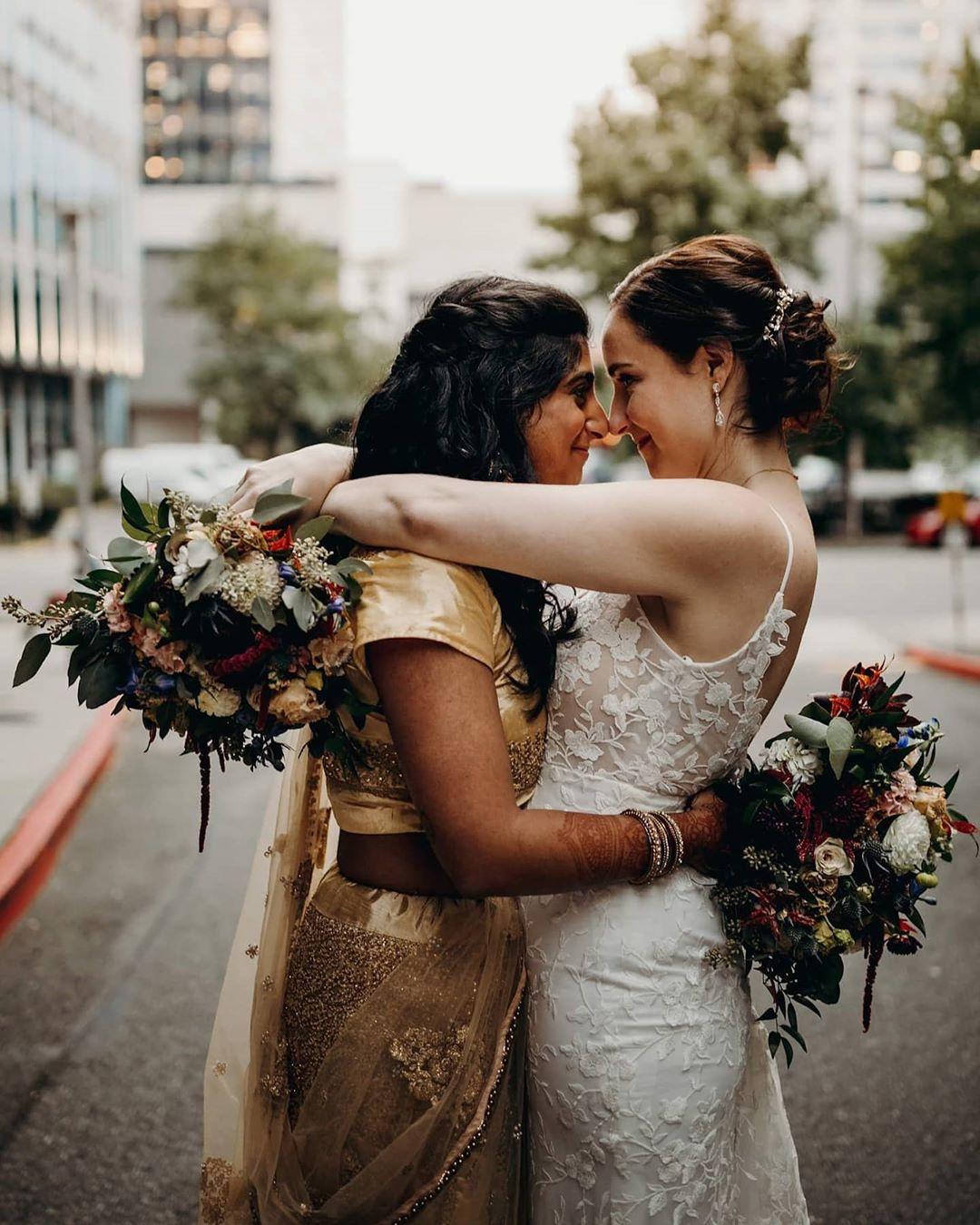 Image Courtesy: Carley Jayne Photography
Eskimo kisses are the best kind of kisses and this couple is making our heart smile with theirs. Holding wedding bouquets and wrapping each other in their restfulness, this lesbian couple is giving us one helluva same-sex couple portrait to gush endlessly over. What a picture-perfect moment and seriously, what is more adorable than Eskimo kisses?
Poised in solemnity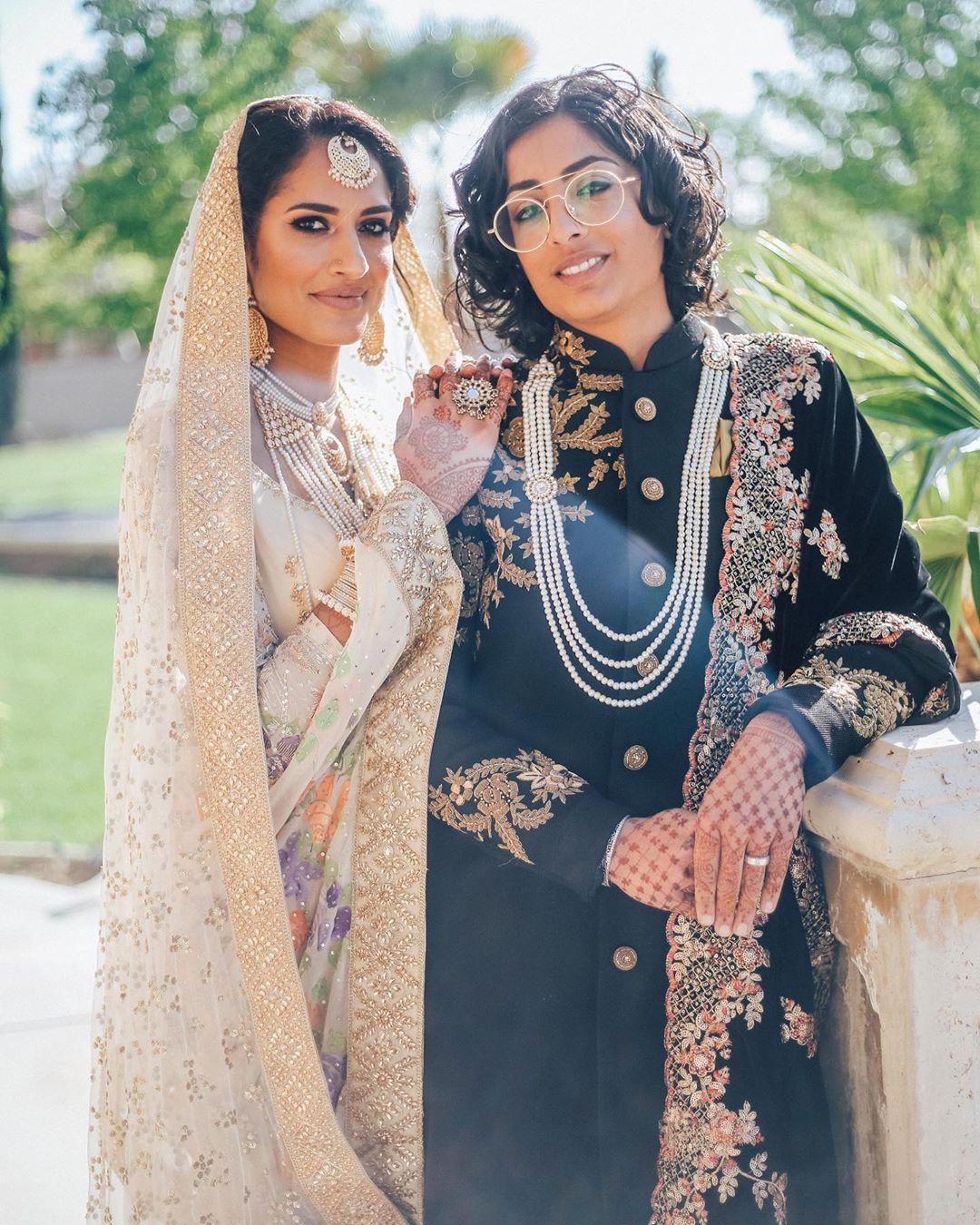 Image Courtesy: Senna Ahmad Photography
There's nothing quite euphoric than the day two madly-in-love people ceremonialise their love and tie themselves in holy matrimony–and watching this lesbian couple stand unfazed shoulder to shoulder is a true depiction of unbarred, relentless love. From the white saree that complements the black sherwani, to their jewellery - everything was just perfect for a couple portrait. The sun may be shining brightly upon them but there's nothing brighter than their gleaming soul as they finally declare themselves wife and wife.
Raising a toast to unconditional love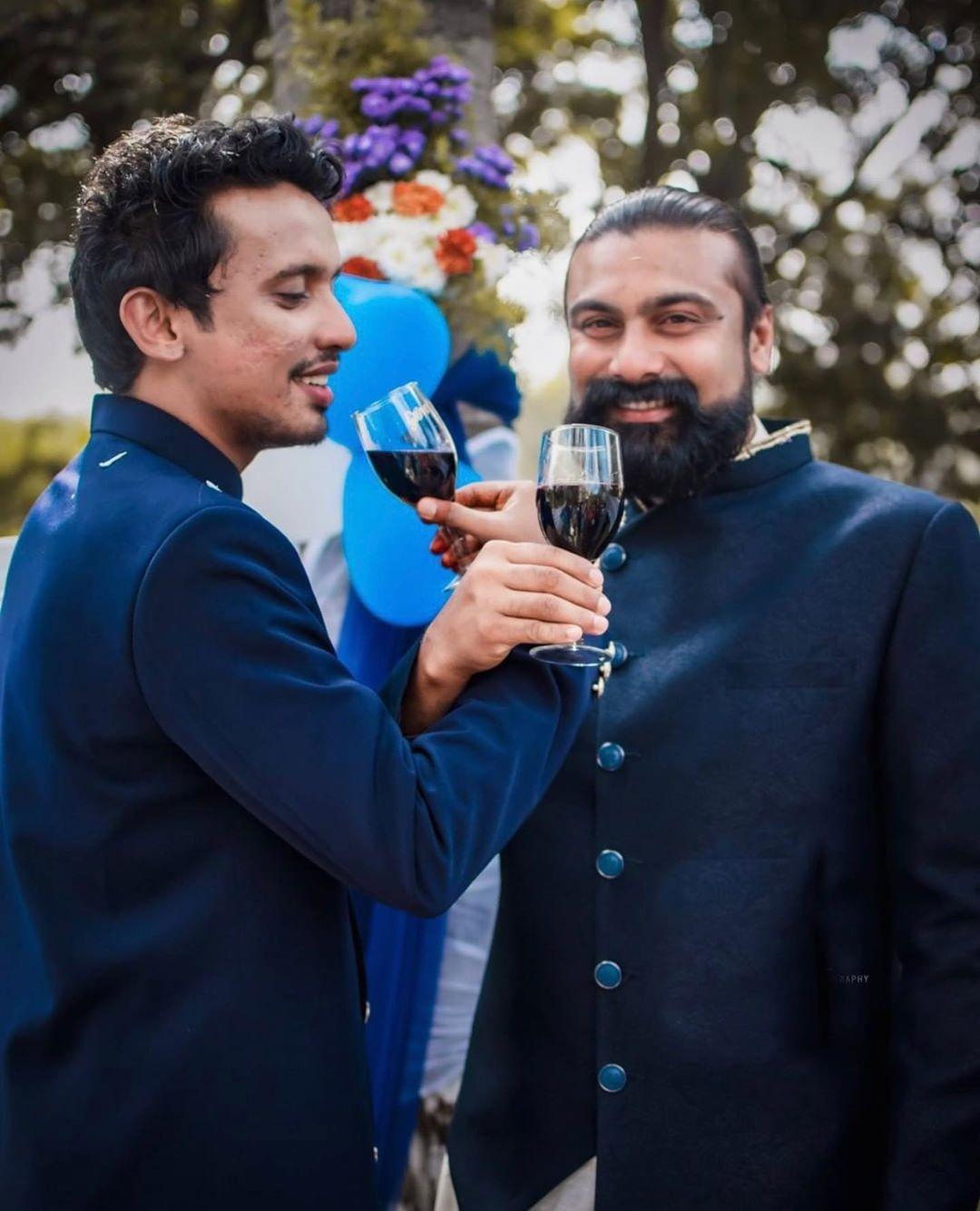 Image Courtesy: Zastra Photography
The feeling of finally solemnising gay love into an eternal bond with due respect and admiration of the friends, family and also the society definitely calls for great celebration and we would totally sip to that. Get inspired by this gay couple and raise a toast to hardships that are now bygones and a future which is full of excitement, passion and love. A love that binds everything in the end; eradicates all differences, knows no bounds and is free from all conditions.
Also read: This Same-Sex Wedding Story of Keshav Suri and Cyril Feuillebois Has Our Heart.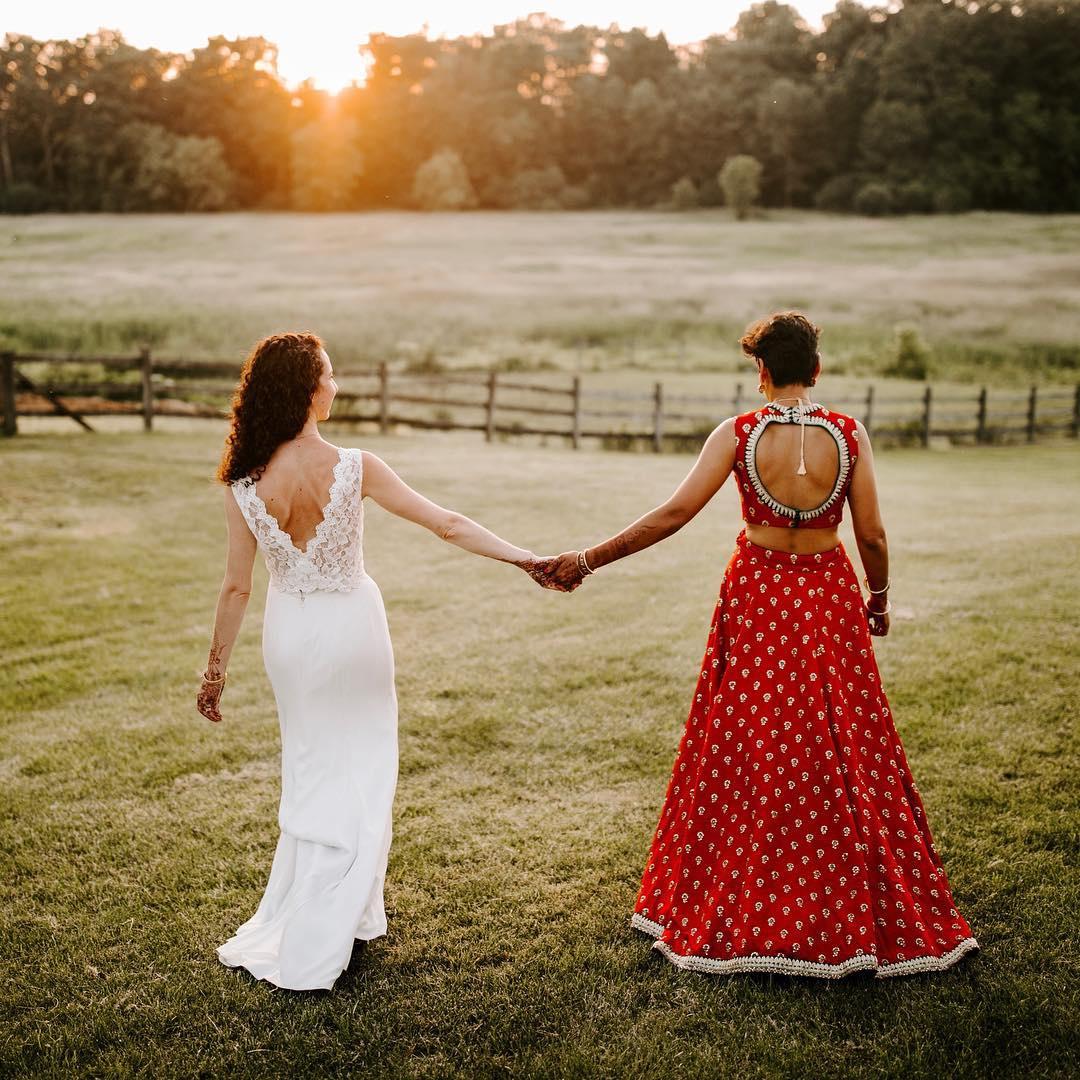 Image Courtesy: Tana Helene
Getting married in itself is an extremely hearty and emotional celebration–and to be able to tie the knot with the person whom you love and was denied the right to do is tremendously liberating and of course, gratifying. The days of hardships, denial, secrecy have been brushed under the rug and you can finally embrace the power of love, faith and wholeheartedness. Nonetheless, we're swamped with the warmth and compassion we witnessed in this hearty bunch of same-sex couple portraits. Are you too?
Get in touch with the best photographers in your city to make sure you have breathtaking photos to capture the candid emotions of every moment that lead to the big day.
What do you think about these adorable same-sex couple portraits? Share your thoughts with us in the comments below!
-With words by Anwesha Das.