30 Quirky Couple Photographs Poses to Strike That Will Breathe Life and Romance Into Your Love Story
Couple photographs are your chance to explore the many cute, fun and adorable dimensions of your relationship and capture them. Here are some photos which do them in the best way.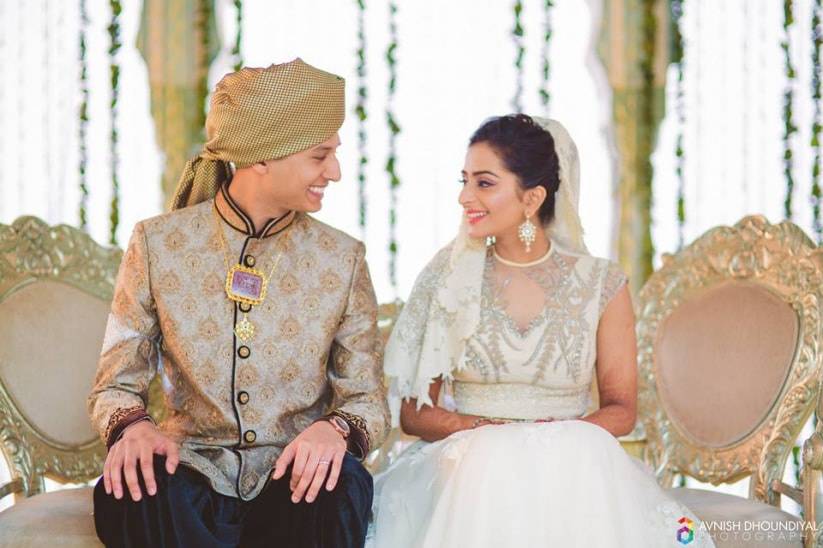 Be it pre-wedding or any wedding ceremony for that matter, the couple photographs are the highlight of them all. I mean is there anyone who doesn't want to look at the couple who cannot get enough of one another? Right from the save-the-date to the pre-wedding, the wedding to the zillion pre and post wedding ceremonies, all are the perfect opportunities to pose and click Insta-worthy couple photographs. Building upon a treasure trove of memories is the right way to pave way for this new journey of yours. Wouldnt you want to remember your first date? Or your favourite restaurant you dined as a couple? This is why it is essential that you capture your love and life on the reel.
As this is the age of social media, Instagram is definitely one of the most popular platforms for people to showcase their life and everything that makes it better and beautiful. So we have curated 25 couple photographs, from wedding photographers around the country, to give you that nudge and inspiration to get you planning and clicking. Here we go:
1. Smiling at the Beautiful Future Ahead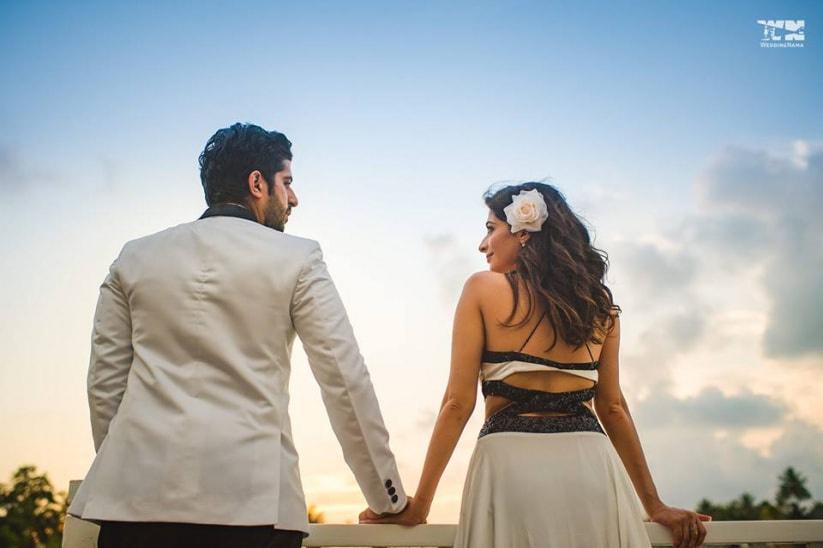 A back shot with a couple sharing a serene moment, smiling at the beautiful future that lies ahead of them tells a story in itself. This is a perfect pre-wedding couple photograph, as both are getting ready to welcome a life together. Together through thick and thin? Absolutely!
2. Flower Shower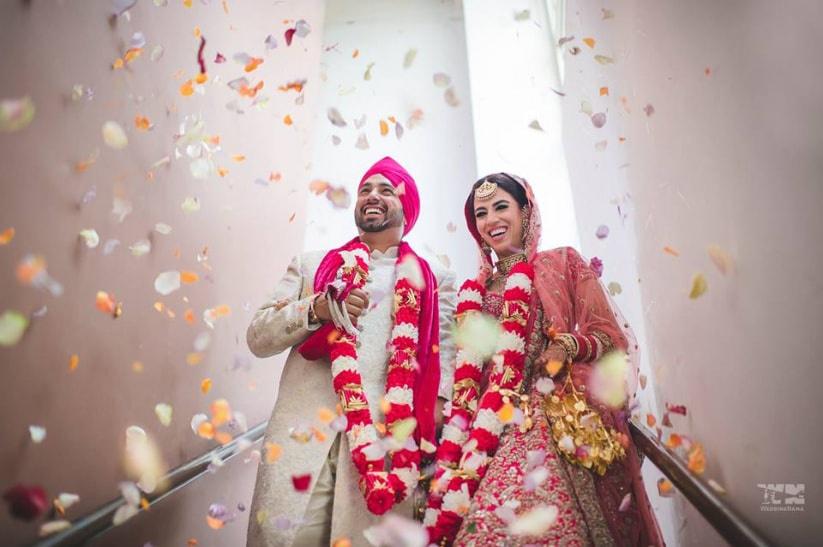 Showered with flowers, love and laughter, a picture such as this includes everything that makes the moment magical. It is an innovative style of photography that is real and smartly highlighted with raining fresh flowers. It projects happiness, freshness and realness. Serenade with your beloved under the sky full of flowers.
3. Cuddle Bears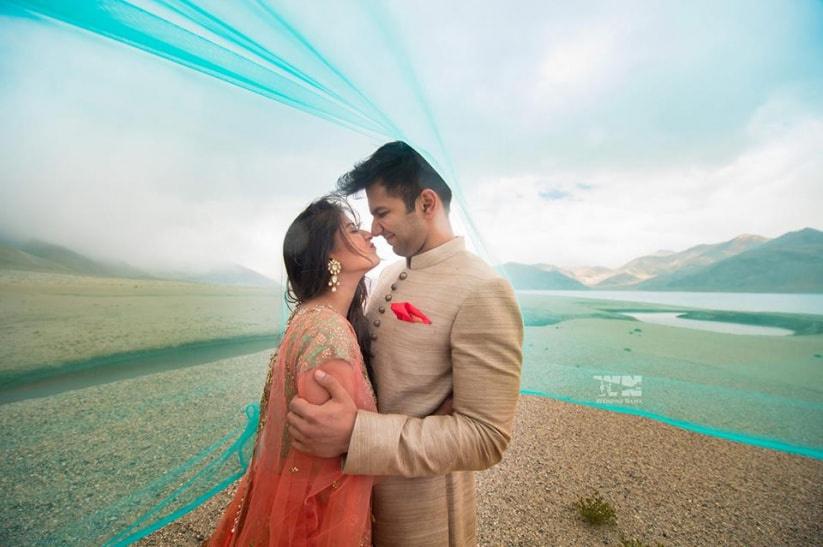 In real life, we cuddle and make cute faces, steal moments and let the child within guide us. Allow your wedding couple photographs to capture all that too. Cuddle up and enjoy the cuteness and quirkiness of your better half. It displays a fun and adorable element between a couple. This is the cutest thing we've seen so far. How about you?
4. Dancing Queen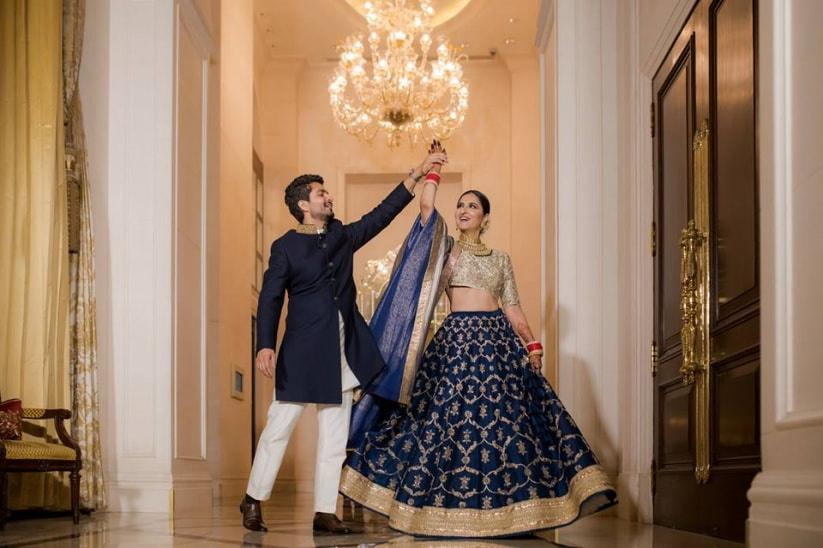 Now that you have your dance partner for life, right by your side, why not twist and twirl and capture that moment too? This could be perfectly captured on the Sangeet or Reception ceremony when you are a little footloose and fancy-free. There is no better way to capture yourself in some candid shots than this one right here.
5. In Your Arms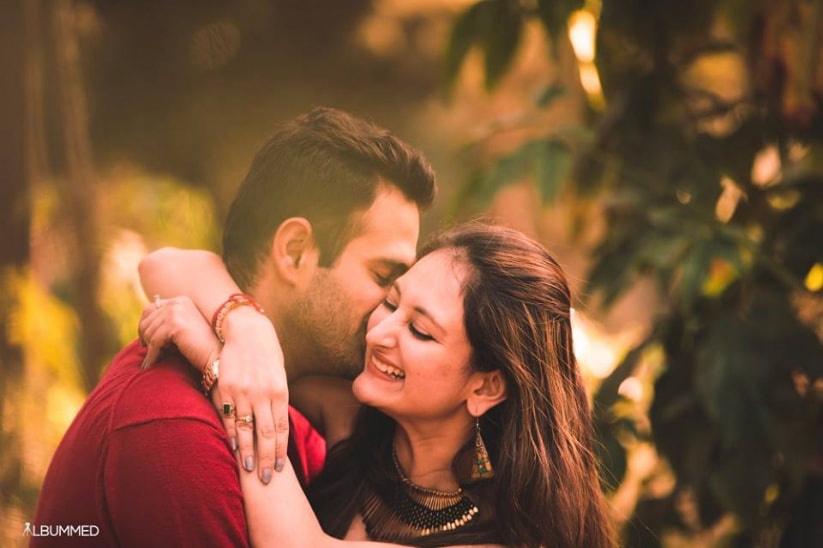 Lose yourself in each other's arms and be amazed by the results of the couple photographs that follow. Forget about the camera and just enjoy the feeling of being in the arms of your soulmate. Embrace to grace your wedding album with an overflow of love and kindness with these oh so cute poses!
6. The 'She Said Yes' Moment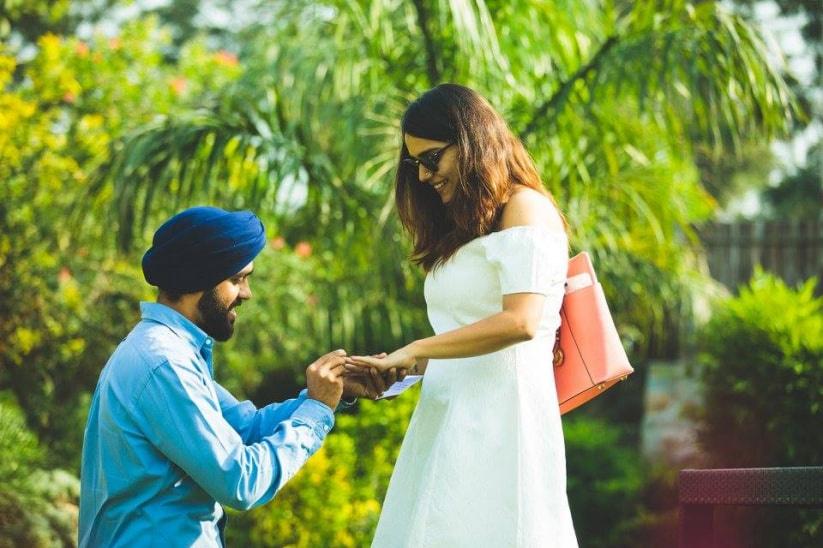 Recreate the 'Will you marry me?' moment by going down on one knee. The bride is sure to blush and smile every time that happens and yes that means Insta-worthy couple photographs.
7. The Candid Black and White Picture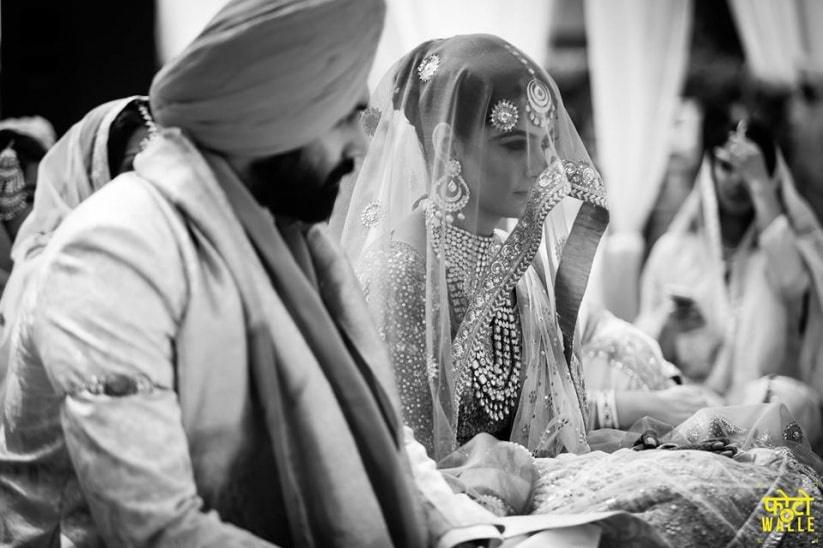 There is something so magical about black and white couple photographs, especially when captured candidly. These pictures capture the real and many emotions running at the moment.
8. Stealing Moments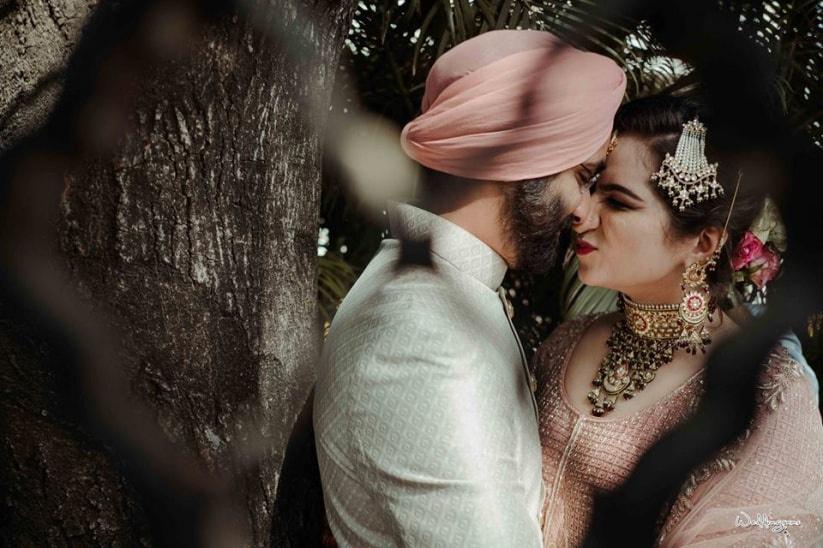 Just get away from all the chaos and drama and steal some quiet-squishy moments with your partner. These stolen moments make for the most candid and pure couple photographs; capturing a love that is beautiful. Some stolen moments and some stolen kisses is the right way to pave your romance and make it a whirlwind ride of love, fun and frolic.
9. Of Shadows and Silhouettes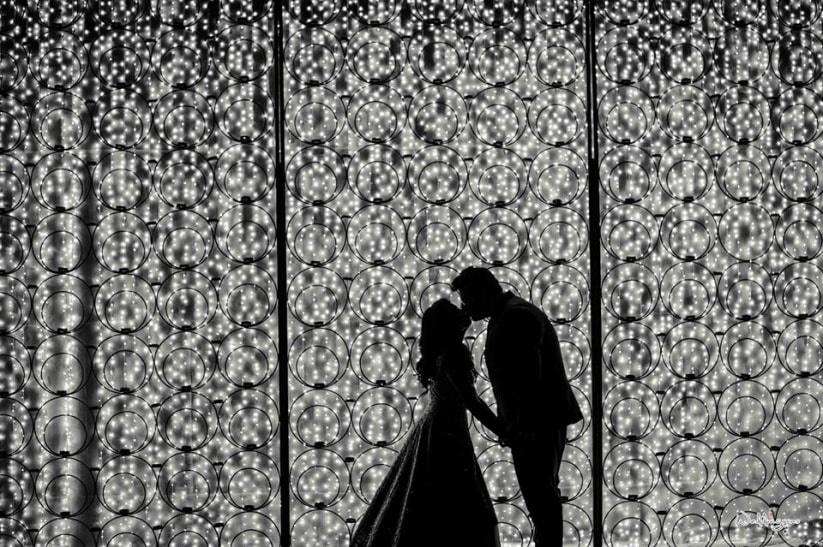 A picture can be beautiful even when you are not exactly in it! A shadows and silhouettes picture is a quirky way to capture the love, yet get just get a peek into it. It's cute and stylish too.
10. Two to Tango!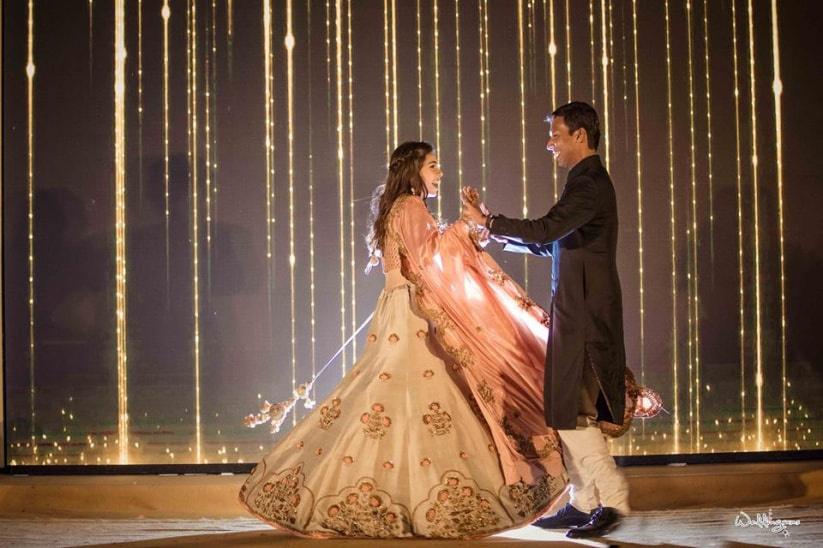 Be it the Sangeet or the Reception ceremony, make sure you get dancing couple photographs that will make you smile for life. It takes two to tango, so kick the dancefloor and set it on fire with your soon-to-be-husband.
11. The Swag!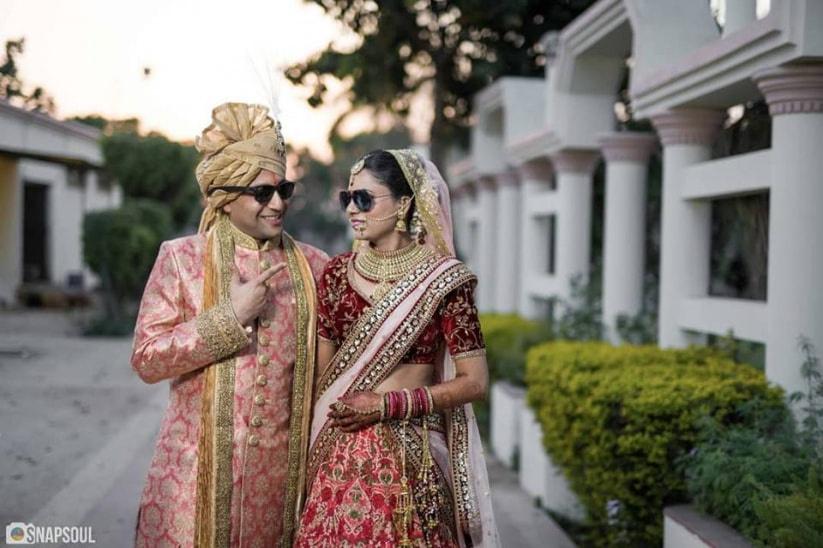 Make sure your swag and style are not dimmed but highlighted in your couple photographs. Don't be basic, when you were meant for swag!
12. Warm Welcome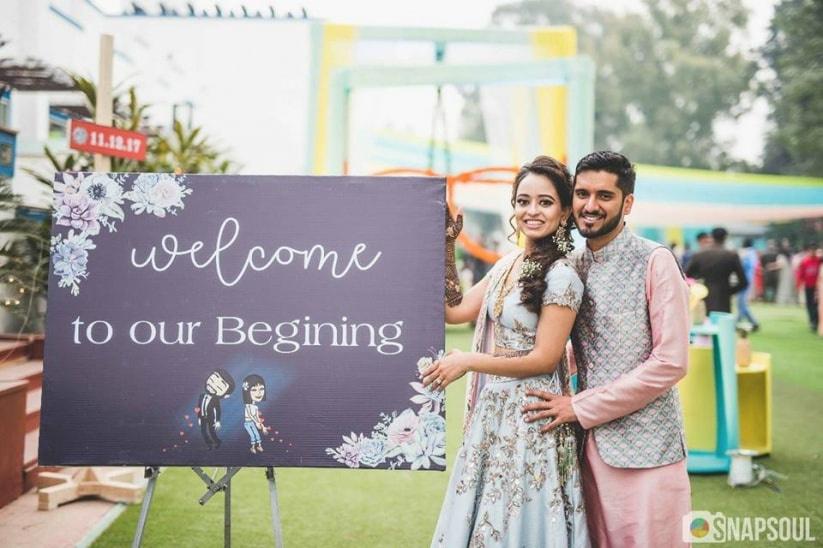 Allow people a peek into your life, by inviting them to be a part of it - quite literally! A message such as this is a great way to let your Insta-family know that you are excited to share the beginning of your life with them. It doesn't get any better than this! Really!
13. Playful and Proud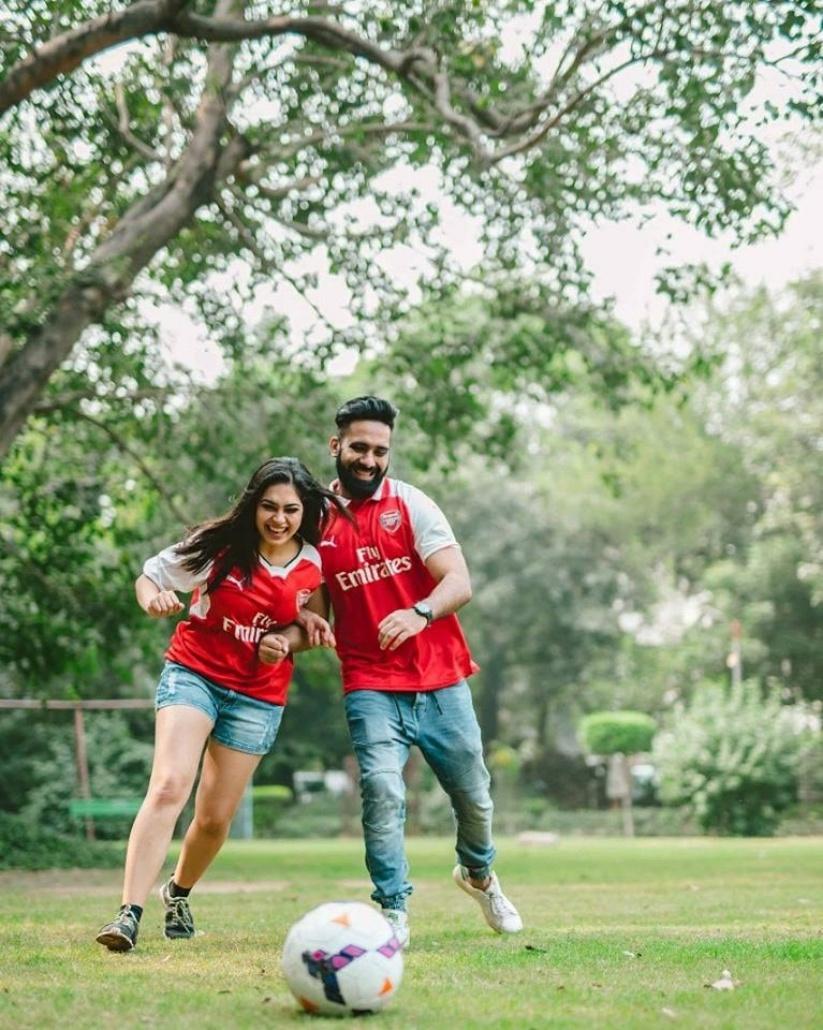 Bring out your playful side and capture fun couple photographs. Be it a sport or a shared interest, enjoy your partner's company and be proud of calling them your own.
14. I've Got Your Back!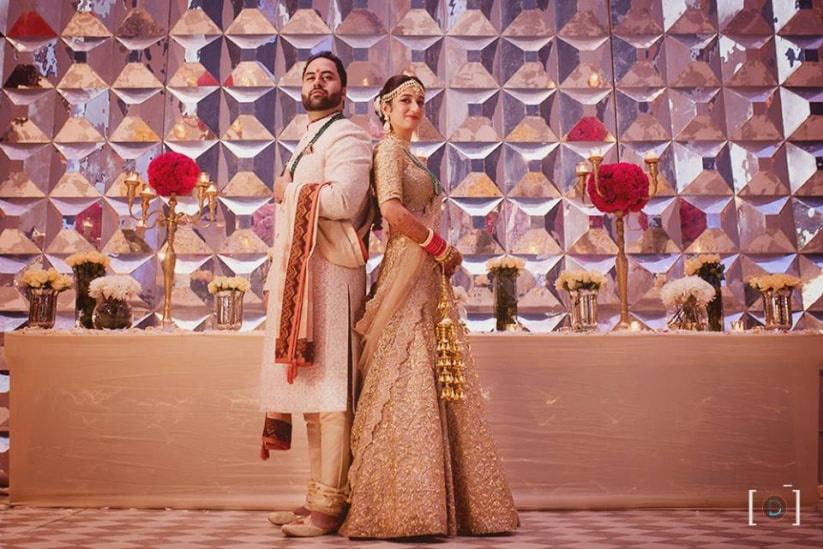 A power couple deserves a powerful stance to make for impactful couple photographs. Move over the cliché pictures and make a statement.
15. The Bollywood Saga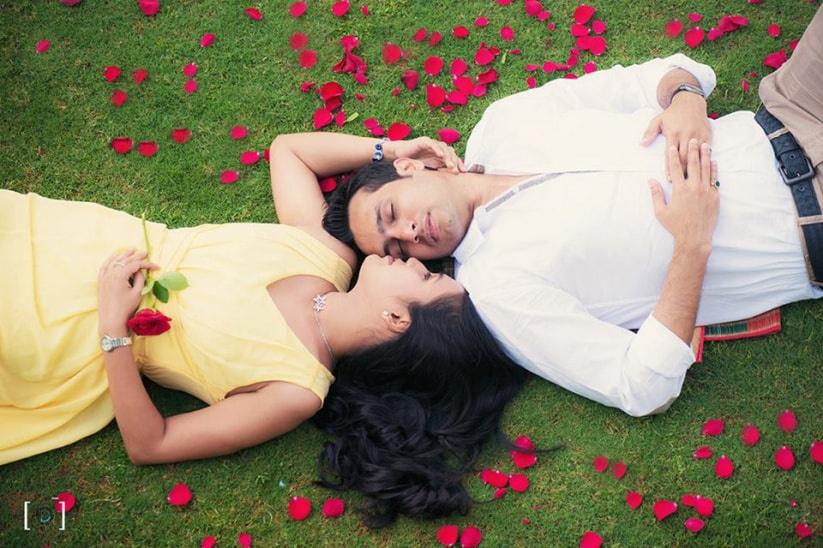 A 'very' Bollywood-inspired pose, but one that definitely works! It is a popular pose for the couple photographs that is surely Insta-perfect.
16. Making Traditions Trendy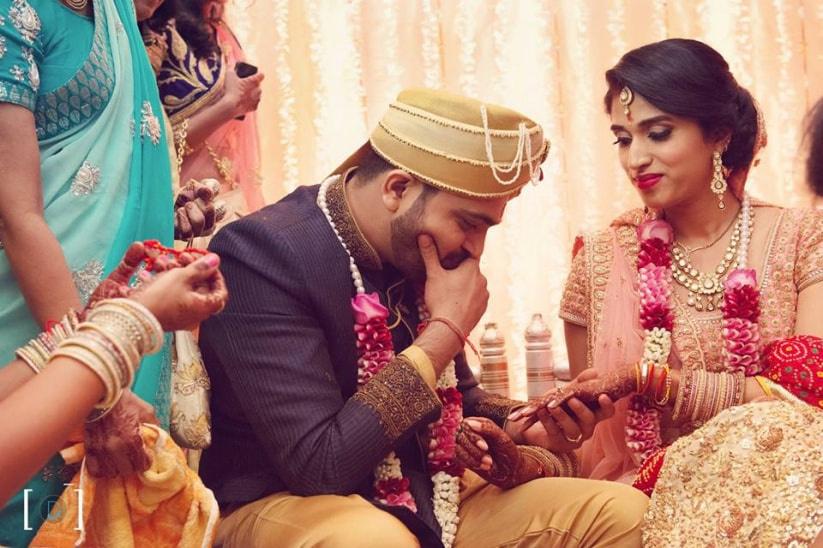 Pick up on small and cute traditions for memorable couple photographs. Just like the picture above where the groom is trying very hard to find his name hidden in the Henna design.
17. It's all about Love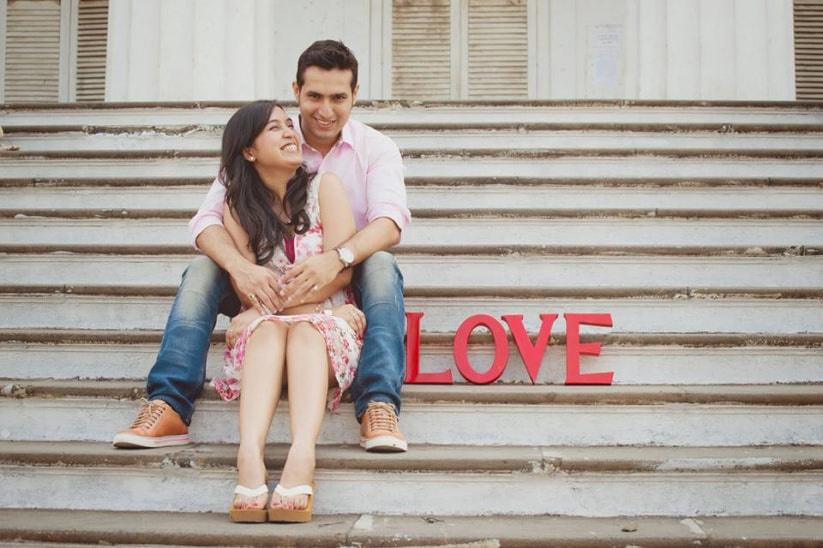 Spell it out for the world; use cute props like the one above to add a quirky touch to your wedding couple photographs. This one's perfect for a pre-wedding shoot.
18. In Your Eyes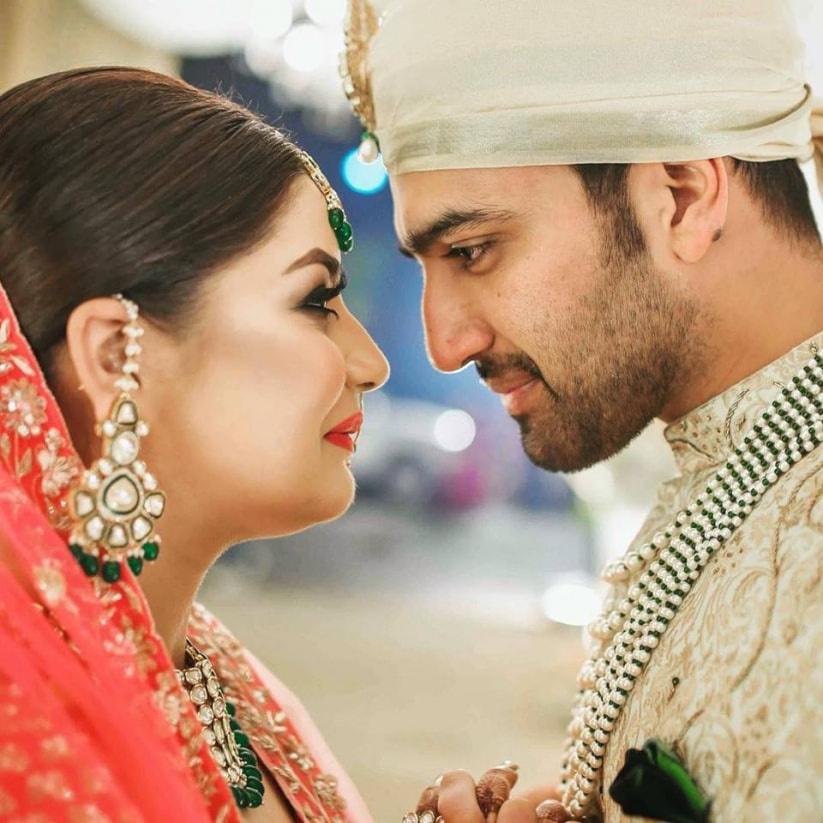 Do we say more? Lose yourself in your partner's eyes and capture that moment.
19. Hand-in-hand, For Life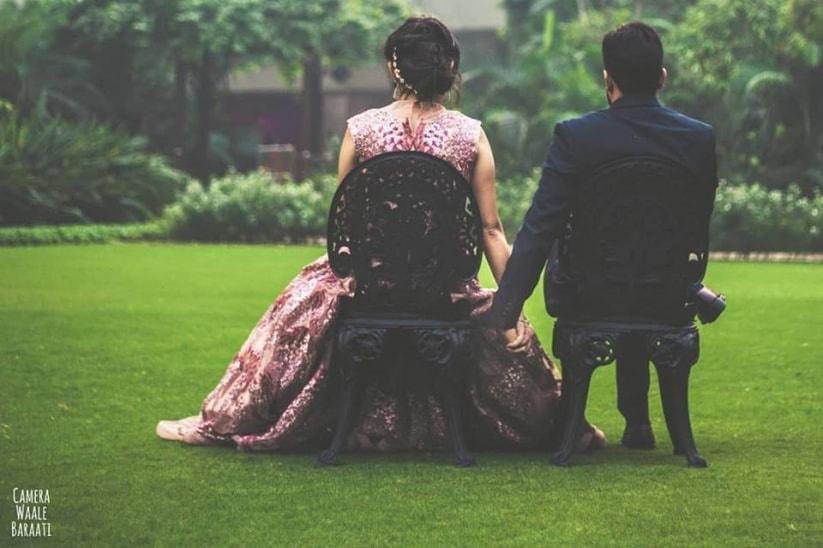 Couple photographs tell a story - your story - let them be the best ones ever! A hand-in-hand picture presents partnership, togetherness and the union for life.
20. The First Dance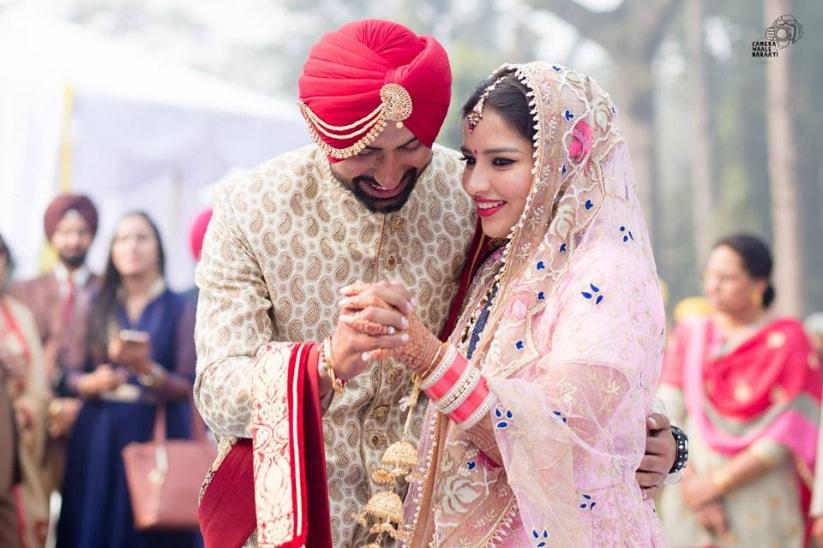 Make sure you capture the first dance as man and wife for memorable and remarkable couple photographs that will make you relive that moment for decades to come.
21. You Light Up My World!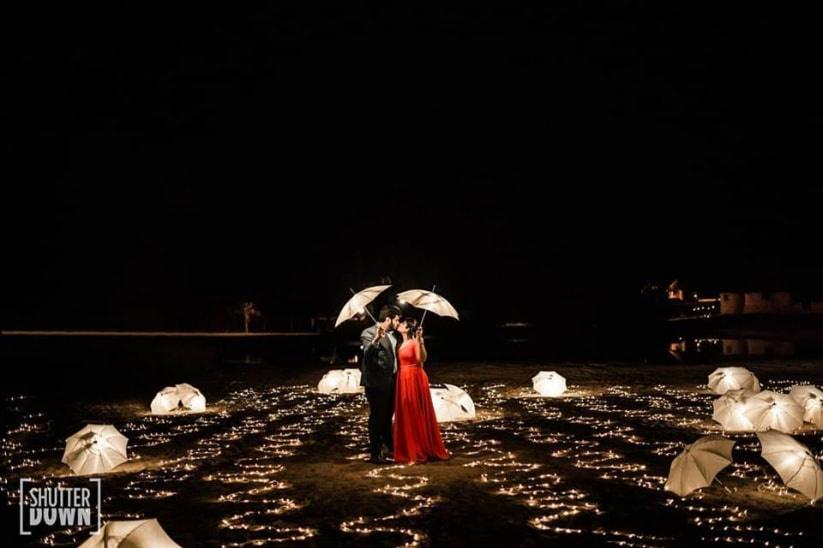 Use technology and advanced cameras to create magical effects for your couple photographs. A professional wedding photographer will perfectly use light to enhance you and your love story.
22. Put the Cray in Crazy!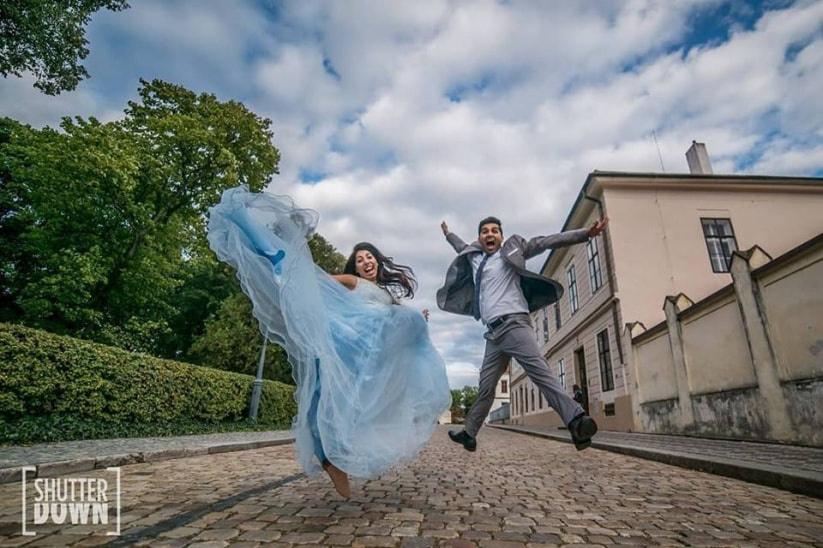 Go crazy, be wild and be YOU! That's the recipe for Insta-worthy couple photographs. Just look at this couple jumping with craziness and get inspired.
23. A Walk to Remember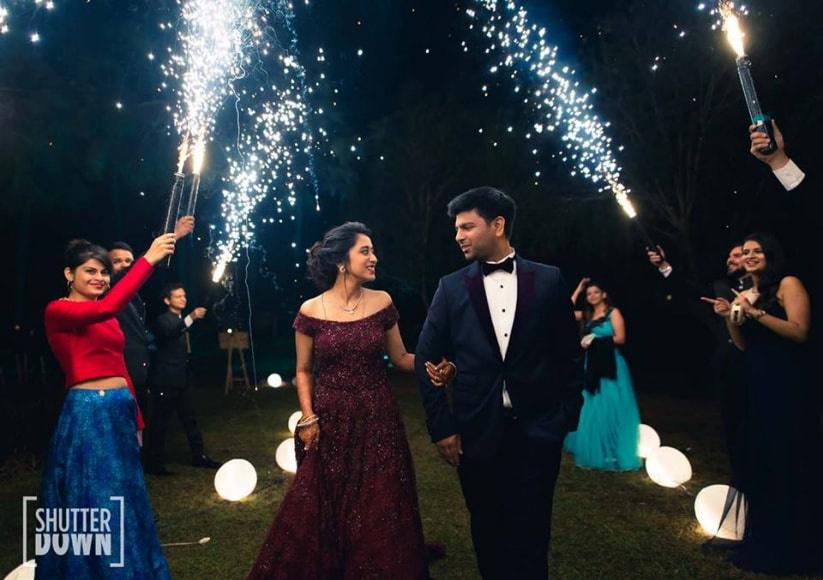 The feeling you'll get walking down the aisle, as husband and wife, for the very first time, is something you will always remember - capture it!
24. The Royal Affair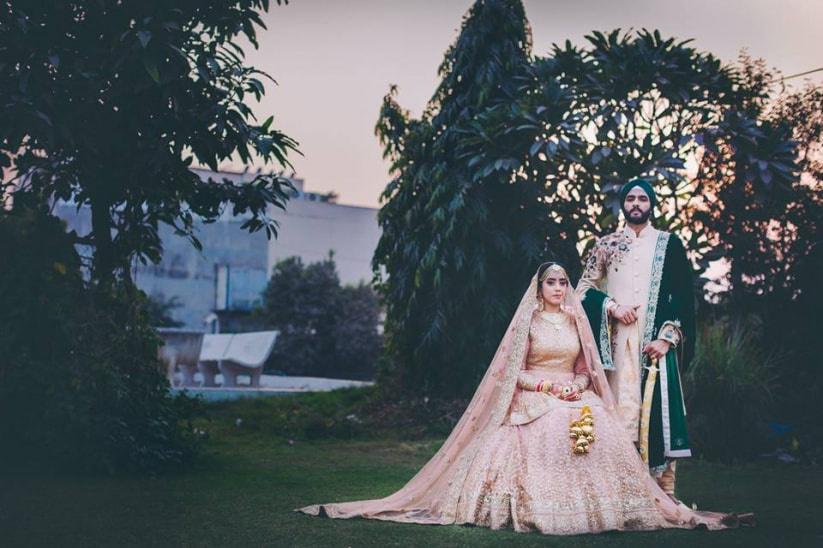 Make a royal statement for keepsakes. This is the kind of couple photograph that deserves a place on the family picture wall.
25. Tied (together) for life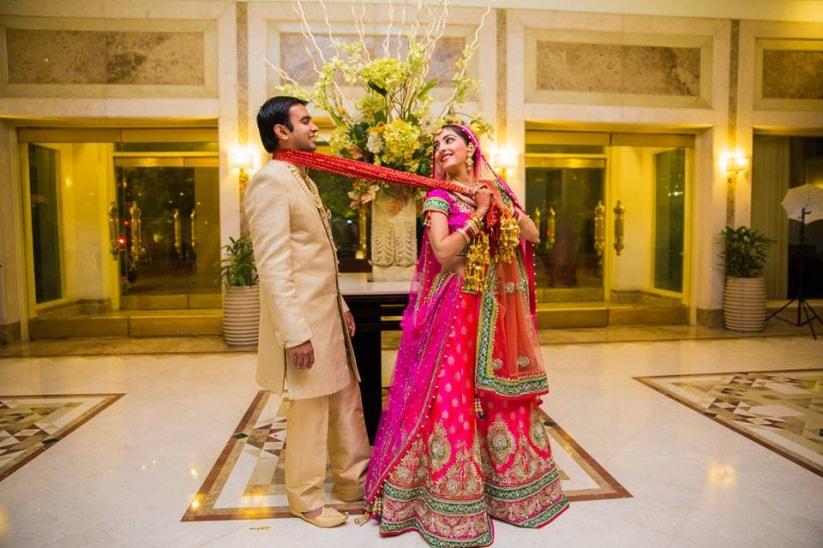 Now that you have finally tied the knot, there's no turning back from here and you are definitely not running away. So why not make that into a funny and cute pose?
26. Rhythm of Love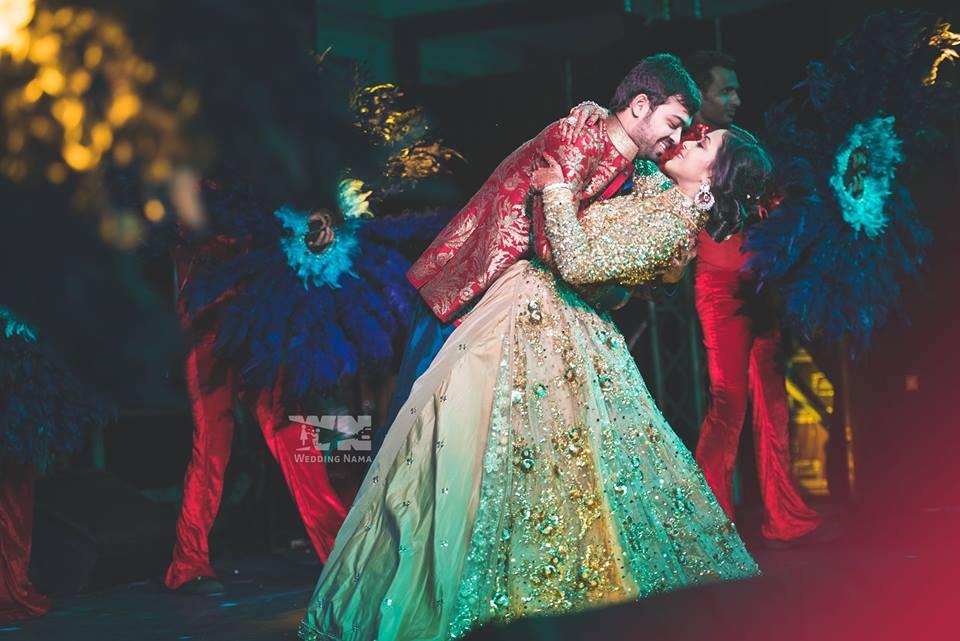 For that perfect first dance performance that will definitely set the stage on fire with your love and chemistry. Stunning couple photographs like these will really capture your feelings and emotions while you and your partner have the time of your life. This is surely one pose you need to strike and bookmark to include in your wedding album.
27. Wedding Announcement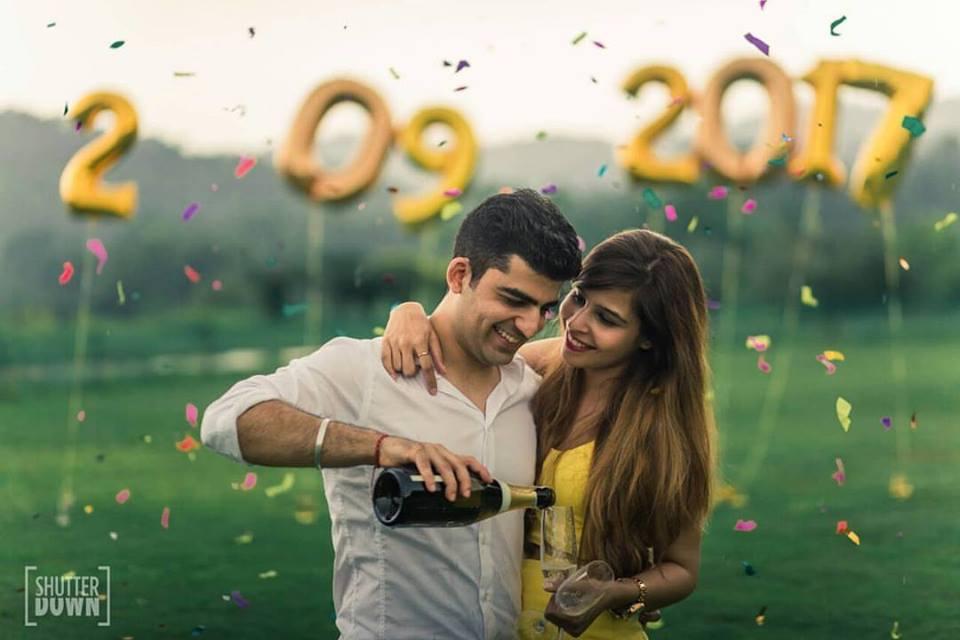 Looking for fun and creative ways for your wedding announcement that can even double as a beautiful couple photograph? Well, then this is it. While celebrating a new beginning of life with each other, you can definitely send this as a part of your save-the-date invites and share your happiness with all of your loved ones a well.
28. Reversed Roles Maybe?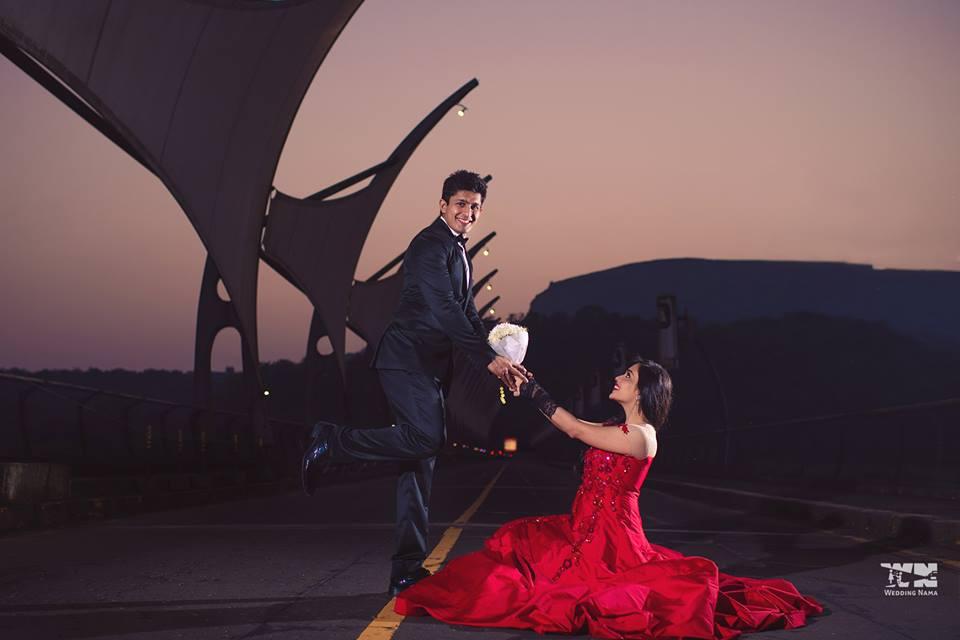 Well, it is not necessary for the groom only to go down on one knee, and this stunning couple photograph perfectly captures this thought and feeling. When love is equal, there is nothing that you both would for each other. Even if it means for all your brides to go down on one knee for your man and express all that your heart holds for him.
29. Off-Guard Capture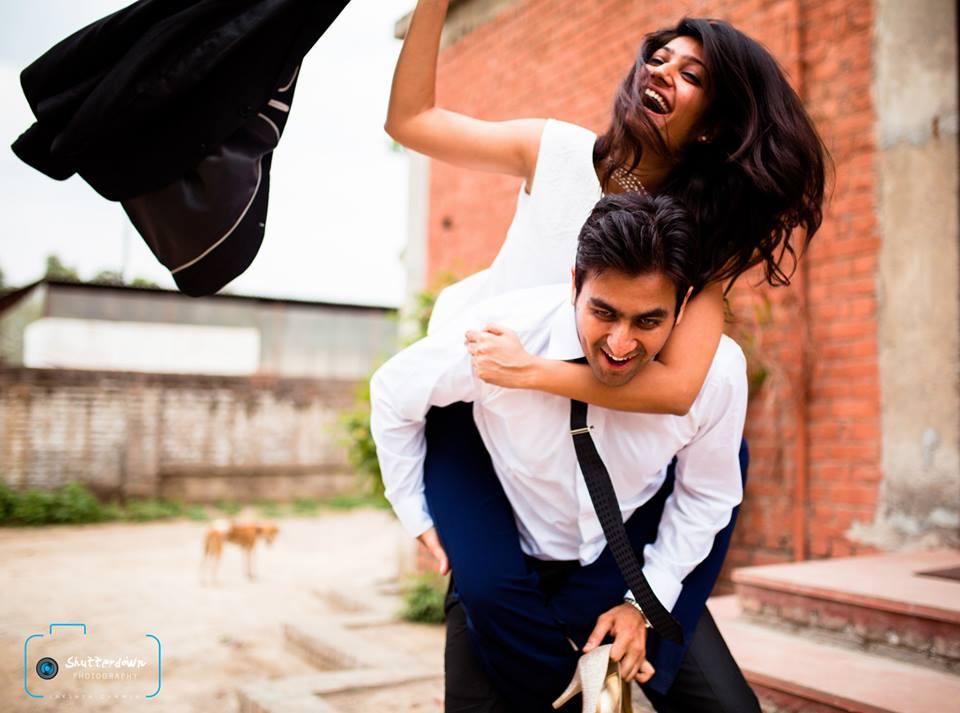 Fun and quicky pose for couple photographs are the best ones to incorporate in your wedding album, as they always have a fun story behind it. It may be a moment or a candid pose, but it will surely be an experience that would be transformed into a beautiful memory which you would cherish for the years to come. And for that, this wonderful couple photograph will surely offer you some inspiration.
20. Moments of Laughter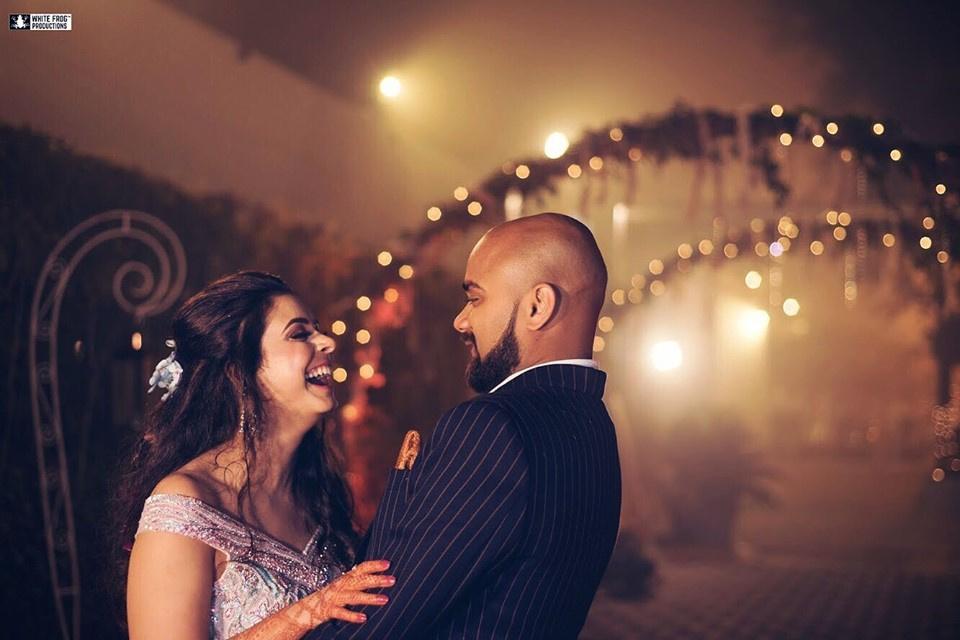 Between the chaos of your wedding festivities and the rollercoaster ride full of emotions, you both can definitely steal some moments of love and laughter to look back and cherish.
Inspiration is everywhere, it all depends on what your love story is about. Are you the crazy couple who paints the town red or the madly in love couple who snuggles and steals moments of love? Let your couple photographs capture the 50 shades of love, life and more as you turn a new page into your love life. Let this new chapter be the best one yet in your journey so far.
What story will your couple photographs tell? Let us know in the comments below.