D-Day Calls for a Bold Move with a White Saree for Wedding This Season and the Bride Can Flaunt It 6 Ways
We're sure you have started shopping for your wedding trousseau and looking for vibrant shades. While picking the outfits, why don't you experiment and try a white saree for wedding this time!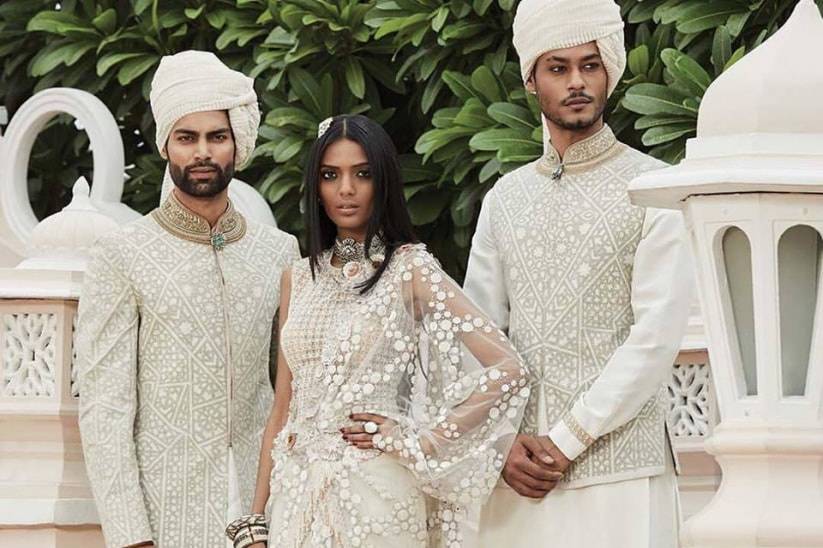 White saree for a wedding is the newest chic trend that is taking the wedding fashion circuit by a storm. From designers like Tarun Tahiliani to Manish Malhotra, everyone is nowadays is going the white way in their ensembles' design. To top it all, our millennial brides are not shying away from wearing white saree or lehenga at their weddings. And why should they? White for generations has been an inevitable part of South Indian, Bengali and Parsi weddings. So, make a bold statement on your D-day and make white wedding saree your statement avatar!
To inspire you on how to score 10 on 10 as you try this trend, we have these courageous brides who made white cool at weddings and how!
1. White saree for wedding with lacework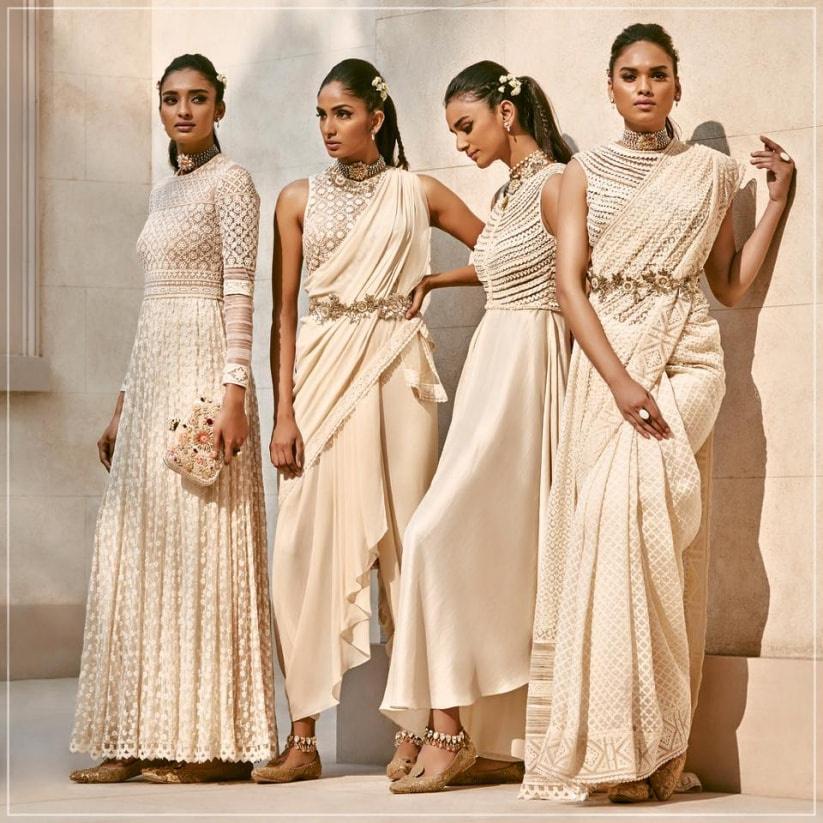 The white will make your outfit look simple, subtle and will add an attractive glow to your face. This look is also best suited for the morning wedding as then the dove-colour will come out with its best ability making you look extremely dazzling. A gorgeous sequined white wedding saree or one with lacework here designed by Tarun Tahiliani is the best example of how you can look totally gorgeous in white.
Adorn it with oxidized silver jewellery and look exceptional. The neckpiece with pearl studded designs or a diamond or other stone studded designs of jewellery will also make sure that your look is highlighted well. Emerald green jewellery or turquoise blue ones will add the pop-up fun colours to the delicate look.
Your partner can also twin with you in a white or ivory-coloured sherwani. In fact, the good old gold will mean no harm either.
Makeup to go with the look: You are already wearing a contemporary outfit which will garner a lot of attention. Best makeup look with it can be going basic, just enough that you look polished. But overall it should not be an OTT look.
2. White saree for wedding with a coloured border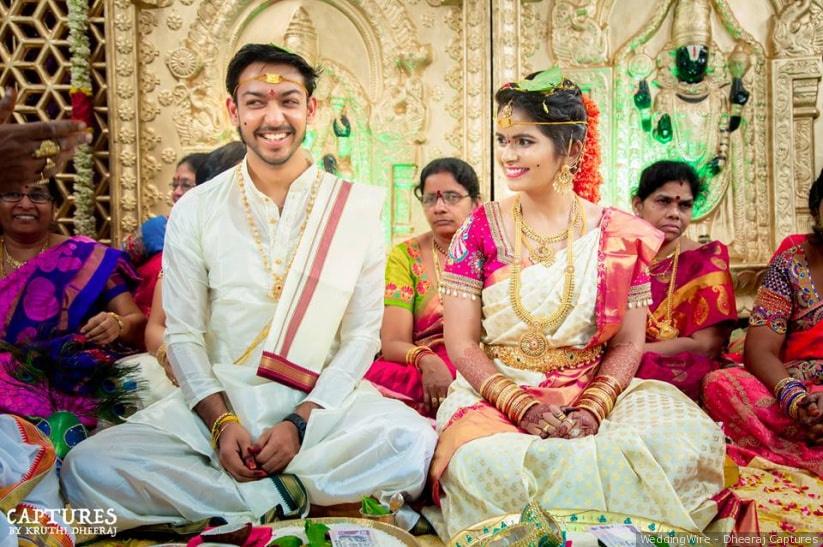 If you do not want to go all-white saree then we have a magic trick for you! Brides are nowadays adding the quirk of other colours by adorning white wedding saree with pink or red borders. The snowy colour which illuminates the glow of your face when mixed with blush pink colours. Look at this gorgeous South Indian bride who mixed her authentic Kanjivaram white saree with a pink border which is totally accentuating the grace of the outfit. The red Banarasi saree is a trademark of every Bengali bride in history, but the "Laal paar shada saree" is the signature style for the brides apart from the royal sherwani. The colour in the borders is a regal touch to a plain white saree.
Makeup to go with the look: Your saree is a mix of white and other colours so why not make your makeup inspired by the same? Don a bright lipstick shade that will complement your outfit and your skin tone perfectly. Keep the eye and overall makeup minimal especially if the ceremonies are meant for dusk or night.
3. White saree for wedding in silk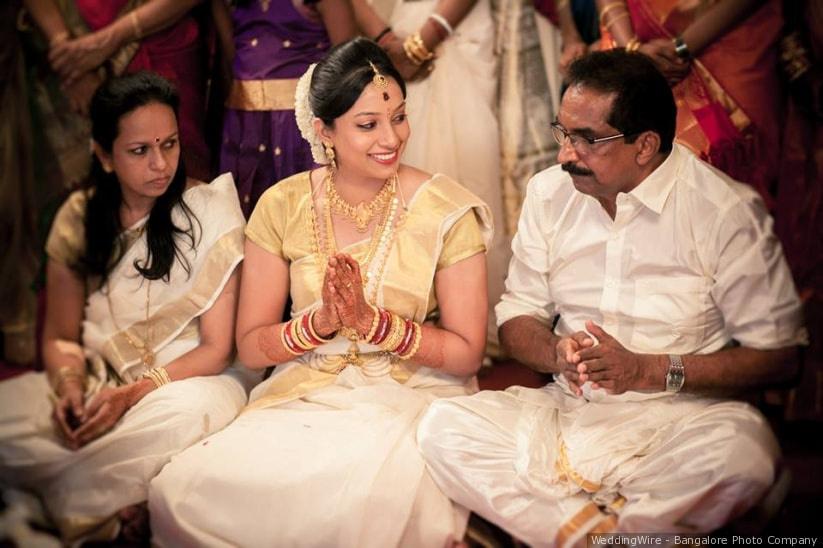 South Indian brides know exactly how to don a white wedding saree trend. The South Indian bridal saree in silk with golden borders is what makes their look simply breathtaking. Look at this pretty bride, smiling from ear-to-ear in this majestically beautiful white saree with golden border. She has draped a Gadwal saree which is woven in cotton and the border with Pallu is pure silk with golden work. The simplicity is the extraordinary factor of the saree and you can see the glam the bride is flaunting with the golden jewellery adorned for the big day.
Makeup to go with the look: The white saree with a gold border calls for an elegant and regal look. Base your makeup well and put on a dewy avatar. This look will make you look the freshest of all your looks. You can go for a bright lipstick if you want a dash of pop-up colours apart from the subtle shades.
4. White saree for wedding even guests can carry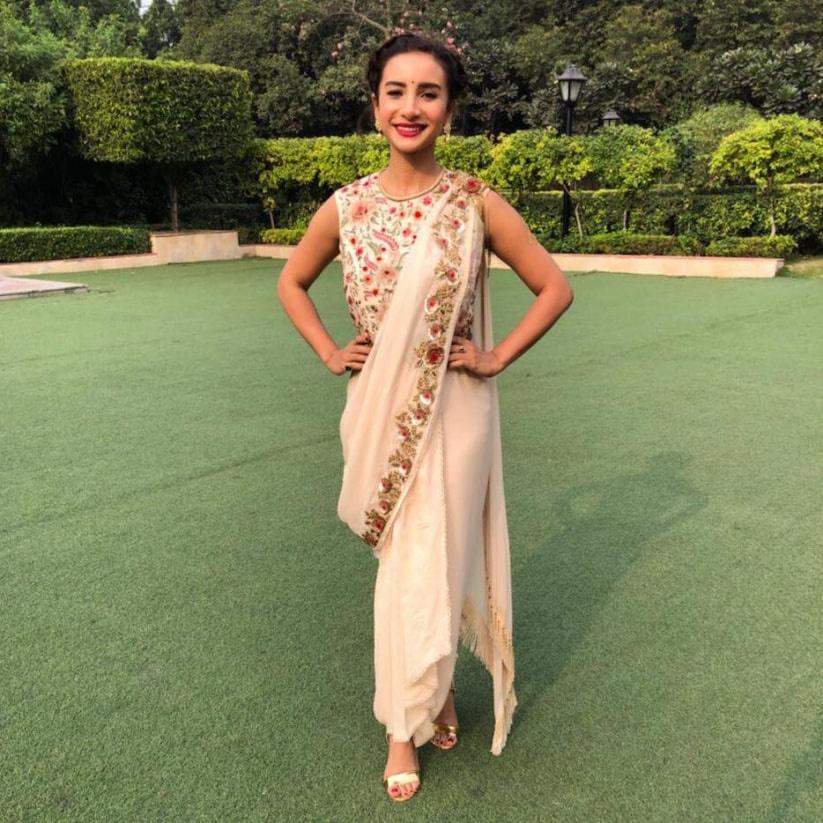 Not only for the modern Indian brides, but this white wedding saree tradition is also for the guests to try on. Don't be bogged down by the societal norms of not wearing fixed colours on a wedding, go for a transformation in the rules. Check out this ethereal white saree that looks extremely satisfying to the eyes with its simplicity. Don't you think the charm of her face is enhanced with this outfit?
Makeup to go with the look: Take a cue from this guest and try on a captivating hairstyle instead of focusing on your makeup. Choose one that suits your face shape and the blouse's neckline.
5. White saree for wedding with a contemporary twist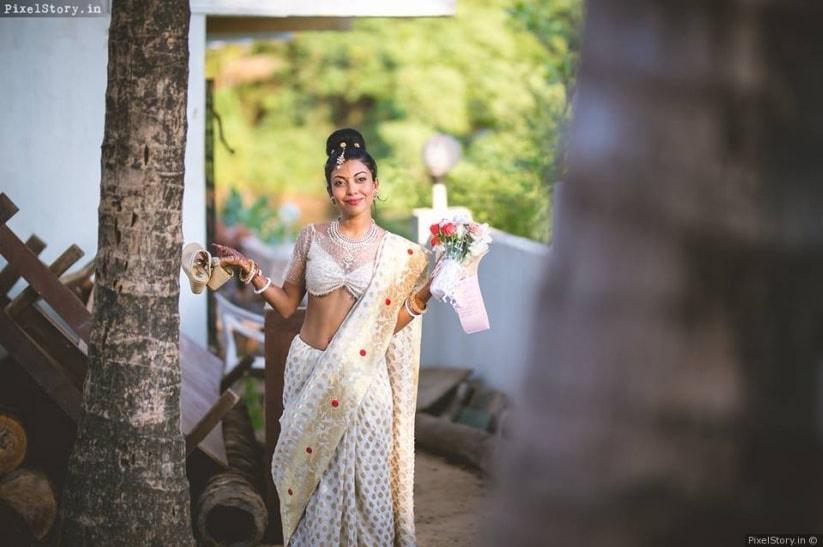 Glinting with happiness on her D-day is this beautiful bride in white who is wearing a sheer blouse and golden work on the entire saree. With her beautiful diamond necklace, we think she is one of the boldest brides we have ever seen. The sheen on the mesh sleeves and neck of the blouse is everything hot that is making the crowds go gaga. Oh and that low-waist saree is commendable! Do take this bride's Maang Tikka and the traditional golden bangles paired with this look as fail-proof fashion advice.
Makeup to go with the look: When you are making such a fashion statement with your white saree, make one with your makeup and hair-do as well.
6. White saree with statement blouse and earrings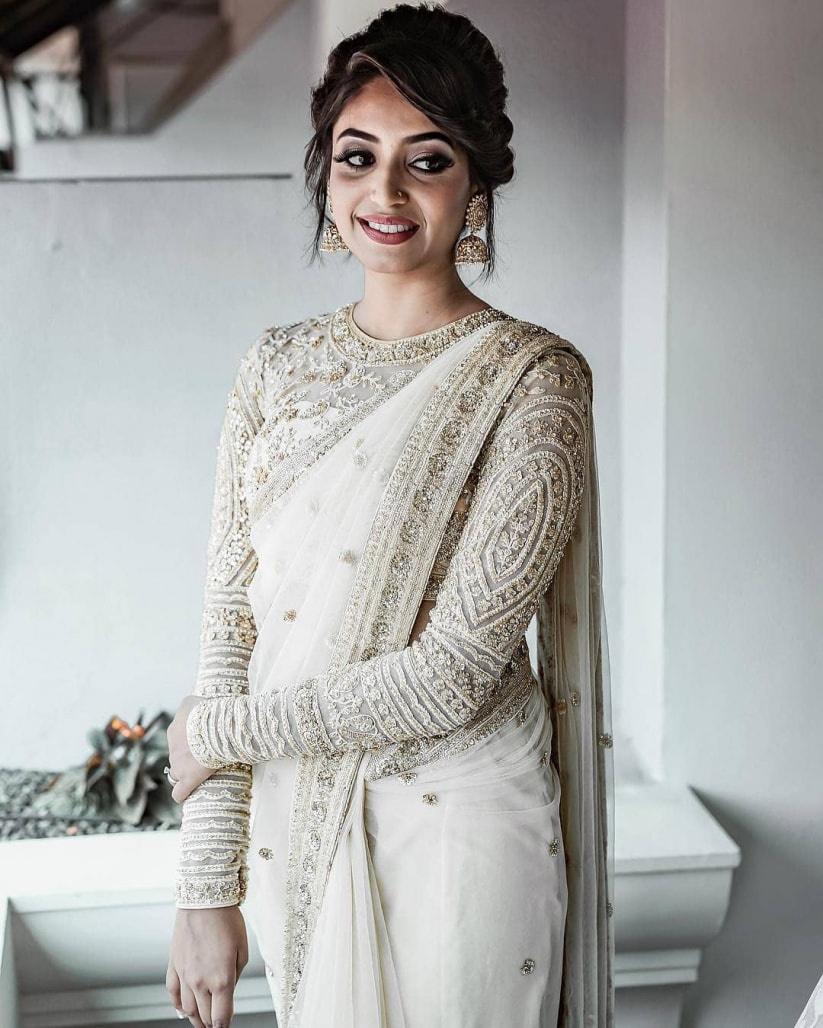 In addition to the subtlety, white wedding saree can look beautifully fresh and make you look graciously illuminate your makeup. White is the most harmonious colour of love (yes, it has moved to white now instead of red) has also been approved by the biggest of designers. Look at this dazzling bride in white who optimised her white wedding saree with her adorable smile and kohl lidded eyes!
Makeup to go with the look: This regal looking saree calls for an understated makeup look. The makeup should accentuate all your features and yet balance the whole ensemble.
So, if you know of anyone who is still living in a bubble and thinks that white saree for wedding is inauspicious, share these tremendously inspiring designs with them. And if you're on the same page with us, then ditch the cliche approach of wearing red and rather go all-white on your D-day.
So, go and look out for a white saree or lehenga for yourself among the best stores near you and look breathtakingly beautiful.