6 Gorgeous Wedding Bangles Every Bride Must Purchase Before Her Big Day, Get Ready to Dazzle the Walk down to the Aisle
Bangles are an essential part of a woman's bridal jewellery. The trick, however, is to find the perfect set to complement most of your outfits. Here are some tips to help you find the right set of bangles for yourself.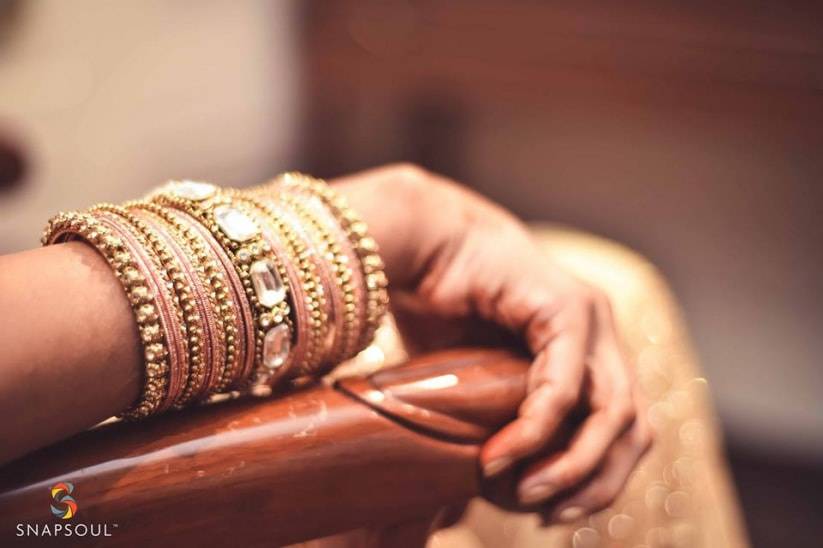 If you're getting married anytime soon, you'd have inevitably started looking for things to incorporate to your wedding trousseau. From shopping for clothes to bridal jewellery, there must be a lot on your list, including finding the perfect bangles. They are considered auspicious and are important for brides from every culture to wear - on their wedding day, on first festivals after their wedding and even in day to day life. From daily wear to special occasions, there are different kinds of bangles to suit every attire. And when it is your wedding, everything should just be the best and deserve every bit of your attention.
Bangles are like the epitome of traditional investment on jewellery and from heavily worked ones to light ones, they are a must for the bridal outfit. When you are adorned in gorgeous jewellery with the bangles ringing at every step, won't you like that extra bit of attention on your Big day?
So here's your guide to finding the perfect bangles that will not only look stylish but will also be easy to carry.
1. Matching with your bridal outfit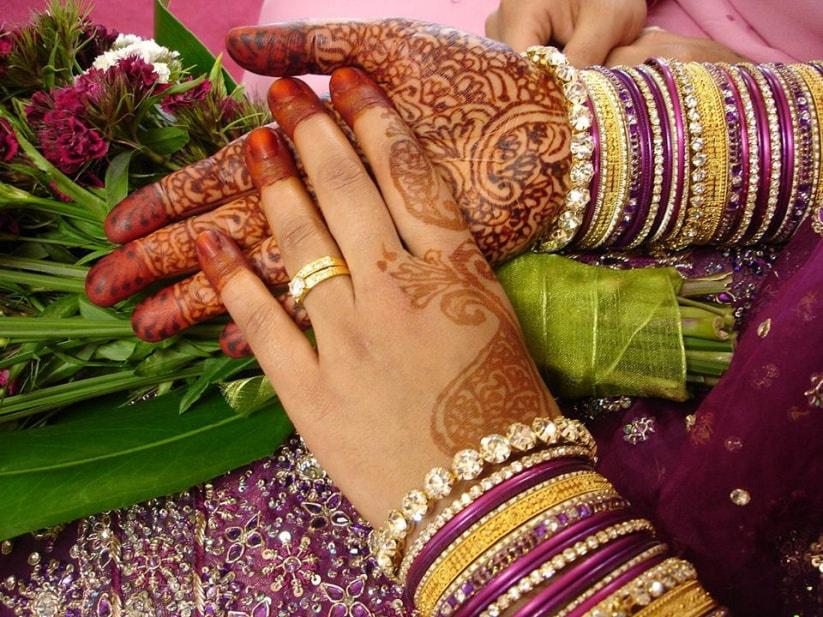 The safest bet you can take is wear a set of bangles that go with the colour of your bridal outfit. If you're wearing a red lehenga or saree on your wedding, you can pair it up with bangles in the same shade. Although, you should avoid going over the top. You can also opt to wear a Chooda. Worn by Punjabi or Sikh brides, these traditional bangles are becoming quite the rage among brides from other cultures too. Keep it basic while you stick to a single colour, but don't forget to add one or two statement pieces on both ends. Let your bridal attire do the talking!
2. Contrasting or colourful shades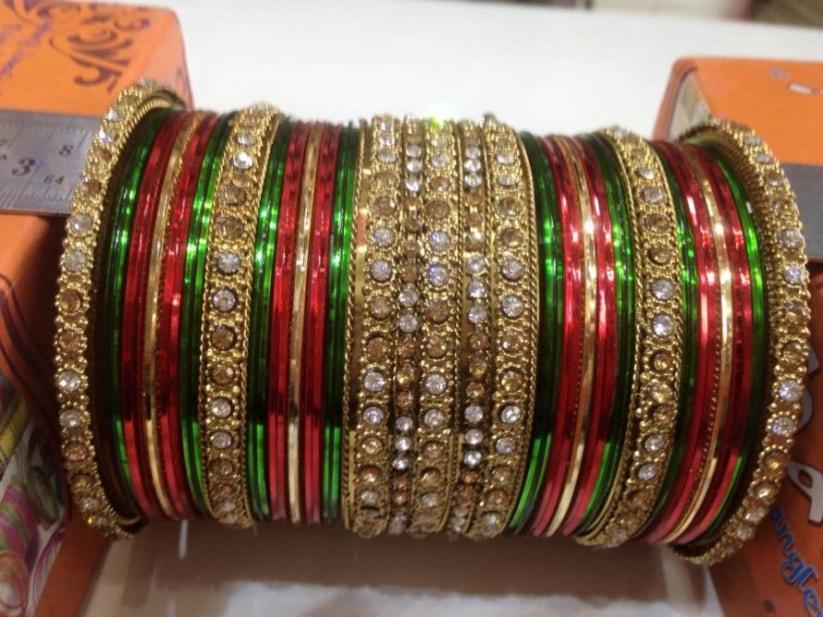 You can also wear bridal jewellery in contrast with your lehenga, especially bangles. For example, if you're wearing a pastel pink coloured lehenga, you can opt for bangles in a shade of purple. Also, most lehengas also have a base colour which is highlighted in other colours. You can also wear bangles that are a mix of the colours on your bridal attire. The best part is that these multi-coloured bangles can be used later with other clothes as well. The contrasting shade of bangles worn on the forearm with gorgeous mehndi designs to flaunt is an extravagant feeling.
3. Traditional Kadas and Kangans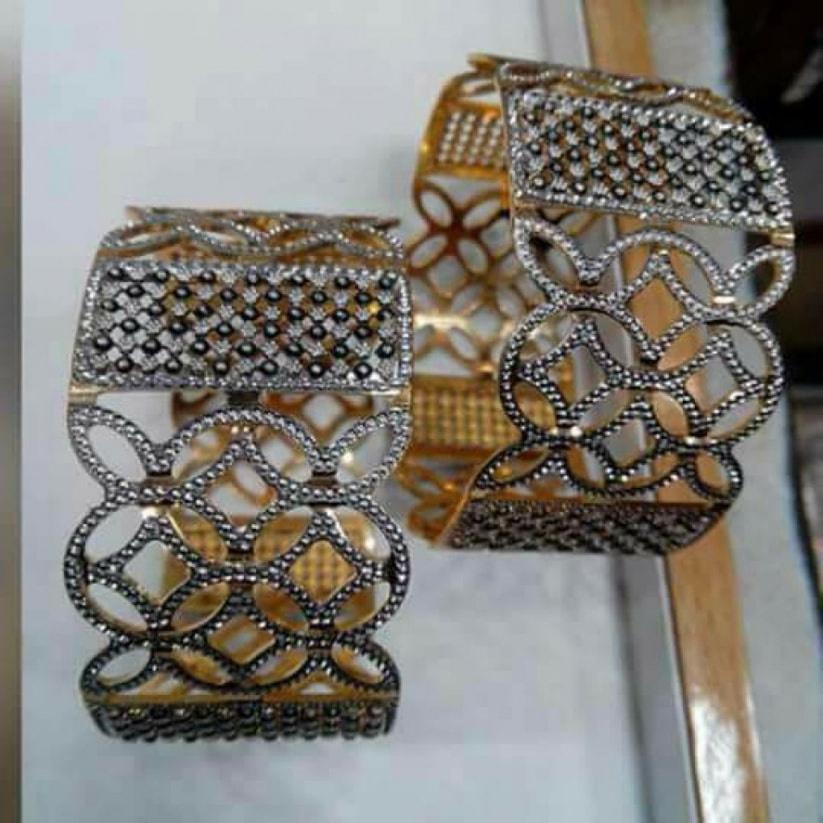 Traditional gold Kadas or Kangans are worn by every bride. You can go for chunky statement Kadas or Kangans as they can be worn standalone with any traditional outfit and add a lot of glam to your attire. If you want to wear more bangles, pair them up with plain ones so that they still stand out. They also go with a variety of other attires from your pre-wedding ceremonies like engagement gowns or maybe with a skirt and blouse you choose for the sangeet, a salwar suit that fits for mehendi and haldi ceremonies and even later when the big day has passed, you can pair them up for various occasions too.
4. Glass bangles or metal bangles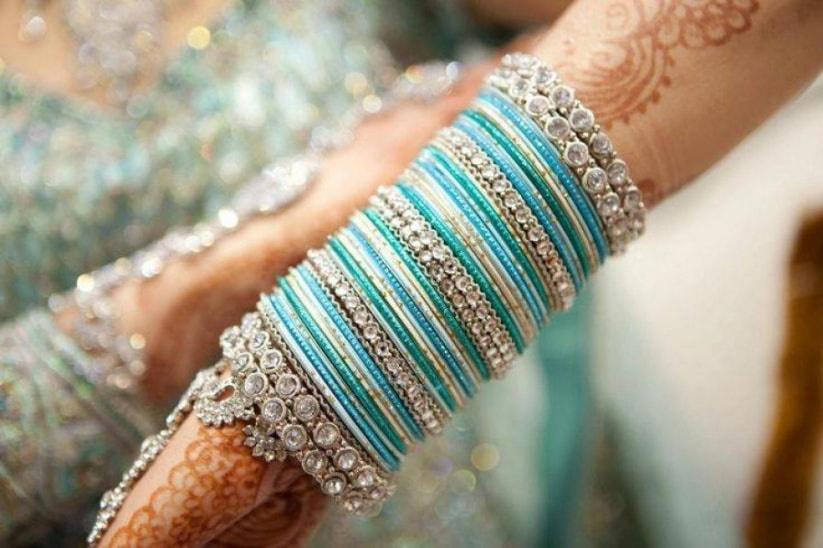 Glass wedding bangles come in all colours and look very beautiful. However, the problem is that they're extremely fragile and need to be handled with care. You can replace them with metal bangles, since they also come in all sorts of colours and designs, and you don't have to worry about damaging them. They will be a bad idea to wear it on eventful nights like the sangeet ceremony or engagement and so on with anticipation of dancing and moving around, but for the big day, it is indeed a preferred option.
5. Kundan bangles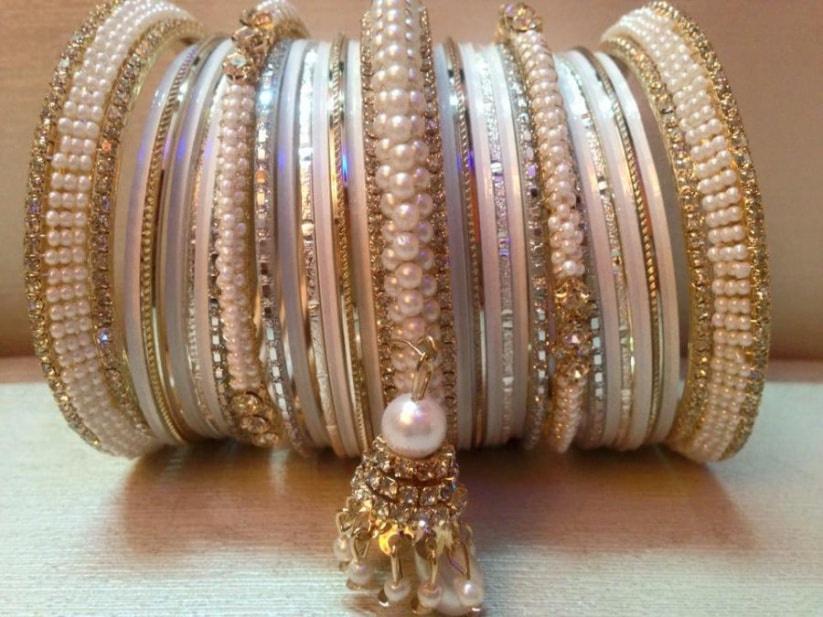 Wedding Bangles with Kundan work look traditional yet add a very contemporary touch to your attire. On your wedding day, you can pair them with contrasting glass bangles or your Chooda for a stylish touch, and after your wedding, you can wear them at any occasion and even pair them with plain suits or sarees. Minimalistic, yet chic! The Kundan setting of stonework upholds the conventions and traditions of the wedding ceremonies and can be later reused when the day has passed. They are the perfect merger of modern and traditional.
6. Getting your right size in bangles
While some bangle sellers have a size guide and a measuring tape to get your bangle size right, others may not be properly equipped. So we suggest that when you go wedding bangle shopping, you go with full preparation. After all, you don't want to spend money on something only to find out that you'll have to go all the way to have it exchanged or remade. So don't go unprepared. No, you don't have to do all kinds of complicated stuff, just take a bangle or a Kada you normally wear and match its circumference with the bangle you intend on buying.
7. Ensuring that you can carry the set with ease
It is important that on your wedding day, you're comfortable in your attire. While you ensure you consider all the pros and cons when you go shopping for your lehenga or bridal jewellery, which also needs to be taken care of is that you can carry your bangle set with ease. To ensure that, make sure you choose wedding bangles that have no stones popping out of them. Go for bangles with a smooth base, not a rough one as that might end up intertwining with the work on your lehenga.
Also, make sure you wear a small set of bangles so that you're able to move your hands comfortably and able to carry out other tasks with ease.
Some Easy Tips to Take Care of Your Wedding Bangles Post Wedding
From the never-ending pool of wedding bangles that you will own post-wedding, it will become a hassle for you to keep them in mint condition. But, don't worry we are here to help you keep your tensions at bay and give you some hacks to ensure that each of your wedding bangles stays as lovely as ever!
1. Never box them up together. If you have glitter based wedding bangles, then hurdling up them in a box will lead to the chipping of the colour
2. Use a wedding bangle stand to stock them. You will easily find one in the market and the idea is to keep them in a straight row so that they don't jingle with one another
3. If your wedding bangle stand is open, then it will attract a lot of dust depending on how less you use them. So, to keep them clean and avoid colour fading use a paintbrush and dust them every now and then but very gently
So whether it is the makeup or the bridal jewellery, even the smallest thing that a bride wears helps in completing her overall look on her D-day. So make sure you choose your bangles correctly. We hope now you are satisfied and know exactly what kind of wedding bangles you must invest in before your big day!
What kind of wedding bangles would you rather add to your bridal jewellery?