Take a Look at These 6 Bridal Jewellery Sets with Price Approximated so You Can Make an Informed Choice
Purchasing bridal jewellery sets is not just a financial investment, but an emotional one as well. Here we guide the bride-to-be through different forms of bridal jewellery sets (with price estimations). Read and decide accordingly.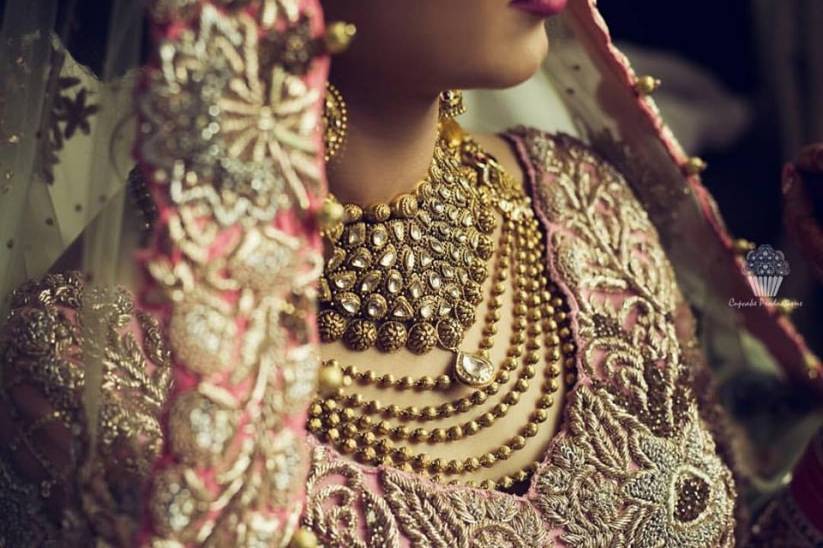 Bridal Lehenga, check! Wedding venue, check! Wedding decor, check! However, you're still missing one sizeable investment in your wedding experience as a bride-to-be. It's bridal jewellery, especially heavy, ornate sets in real gold. Choosing the right shimmers for your special day, the ones which will stay as an investment and a possible heirloom can be a daunting task. In this article, we count the different types of bridal jewellery sets (with price) and the things you should keep in mind before buying such a gold jewellery set.
From picking a jewellery set or perhaps just your engagement ring is a daunting task as the market is filled with designs and various price range. So much variety at times can be a bit overwhelming. Indian wedding jewellery grabs every onlookers attention. therefore, a bride-to-be needs to pick a design which makes her look like a show stopper. This article will make your eyes pop with stunning and intricate jewellery pieces, a blend of traditional and modern statement pieces. So read on and start bookmarking the jewellery sets you love most.
Different kinds of Bridal Jewellery Sets (With Price):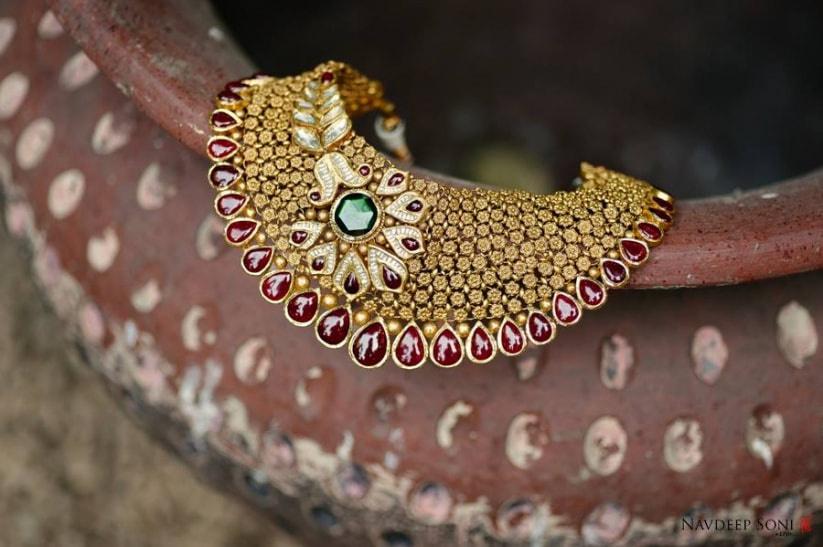 Bridal jewellery is often inspired by traditional crafts coming from the royal courts that have fascinated brides since aeons. While some might prefer stones and colours, others might go for the intricate gold designs. The actual beauty of these jewellery pieces lies in its intricate detailing and the cutwork design. Indian jewellery is famous all over the world for its splendour and mastery of designs and even people of other countries love to adorn it on their special occasions because no one can so to wearing these exquisite pieces. Here is a quick guide to the different kinds of bridal jewellery that makes India a land of rustic charm:
1. Kundan gold jewellery: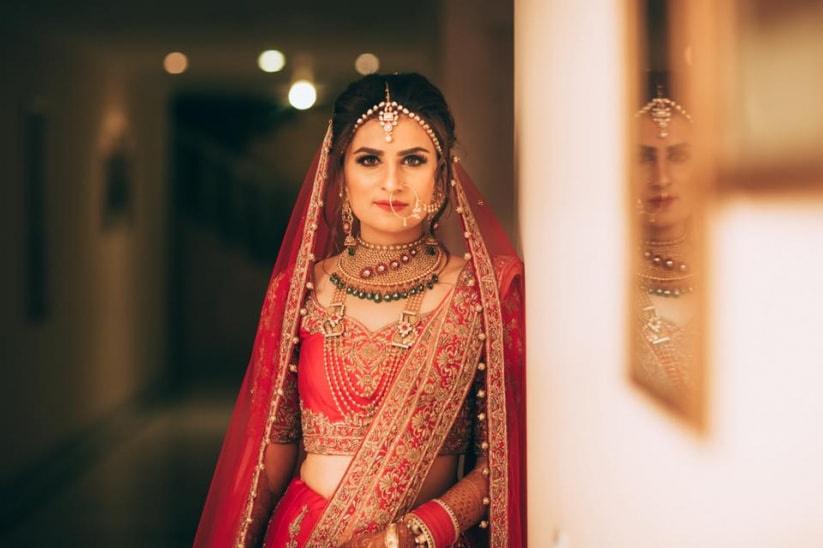 Kundan means refined gold. This popular jewellery art from the Mughal era has its roots in Rajasthan and Delhi, with elaborate glass stone designs, held together with molten, often pure gold in chunky and heavy settings. The style is used as a casing for semi-precious and precious gemstones too - like emeralds, sapphires and rubies. With a stunning piece such as this you're set to rain on everyone else's parade by looking so desirable.
Where to buy: You can find good Kundan gold jewellery designers and vendors in Jaipur and Bikaner.
With beautiful, traditional designs, this kind of jewellery gives that royal, colourful feel. If you remember, actor Aishwarya Rai wore some elaborate sets during the movie 'Jodha Akbar', which added to her queenly stature. She even wore Kundan gold jewellery at her wedding. It was also seen on Deepika Padukone in her last royal role in 'Padmavaat'.
How to recognise Kundan jewellery (vis a vis Polki / Jadau) - These are set in gold with precious and semi-precious stones.
Price range - Rs 3 lakh onwards
2. Polki gold jewellery: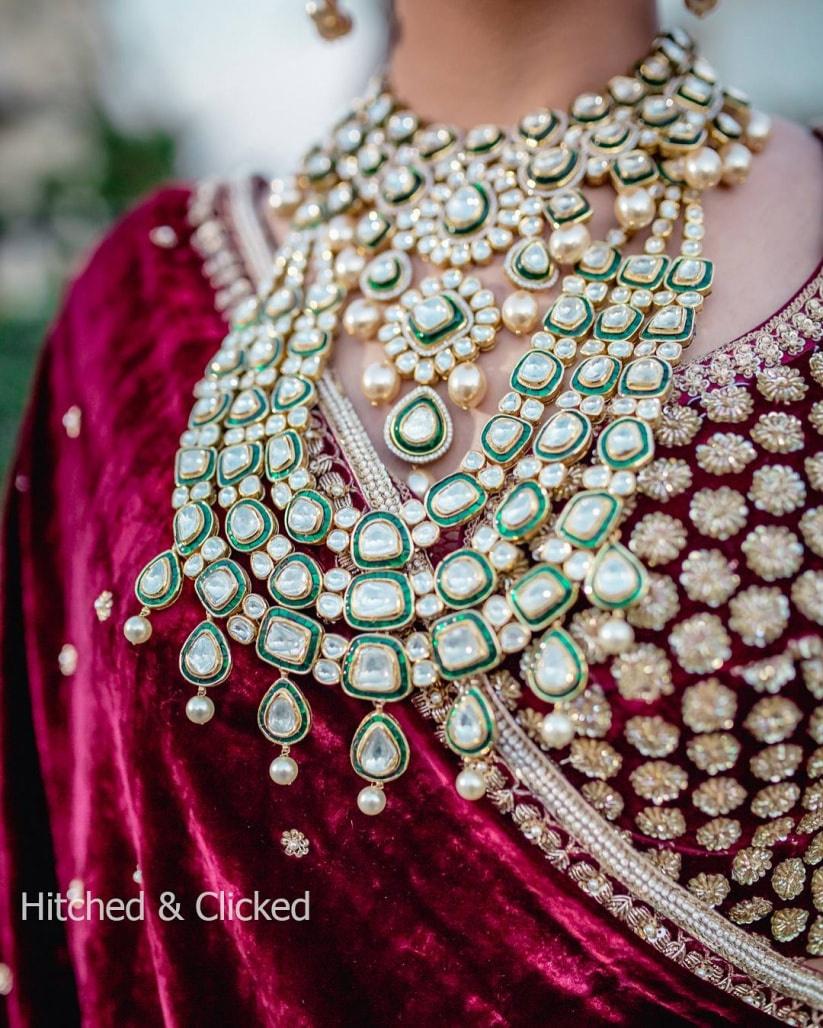 Polki jewellery is quite similar to Kundan jewellery, but way more expensive, as it is all about casing uncut natural diamonds in traditional patterns. This jewellery type draws inspiration from traditional Mughal art too and was popular among the courts of Rajasthan and Gujarat. Polki jewellery is perfect for women who are unafraid to test run vivid patterns. You can also go for some vivid colour combinations when buying your bridal jewellery. You can mix and match diamonds with sapphires, a string of rubies or emeralds.
Where to buy: If you're looking for unique and traditional Polki jewellery designs, then head to Bikaner. The newer centres for this form of jewellery are Hyderabad and Orissa.
The beauty of this kind of bridal jewellery is that the uncut, raw diamonds have a certain shine that can't be matched. Actor Bipasha Basu wore both Polki and Jadau jewellery on her wedding.
How to recognise Polki jewellery (vis a vis Kundan / Jadau) - It would feature only uncut diamonds.
Price range - Price for jewellery sets begins from Rs 2.50 lakh
3. Meenakari gold jewellery: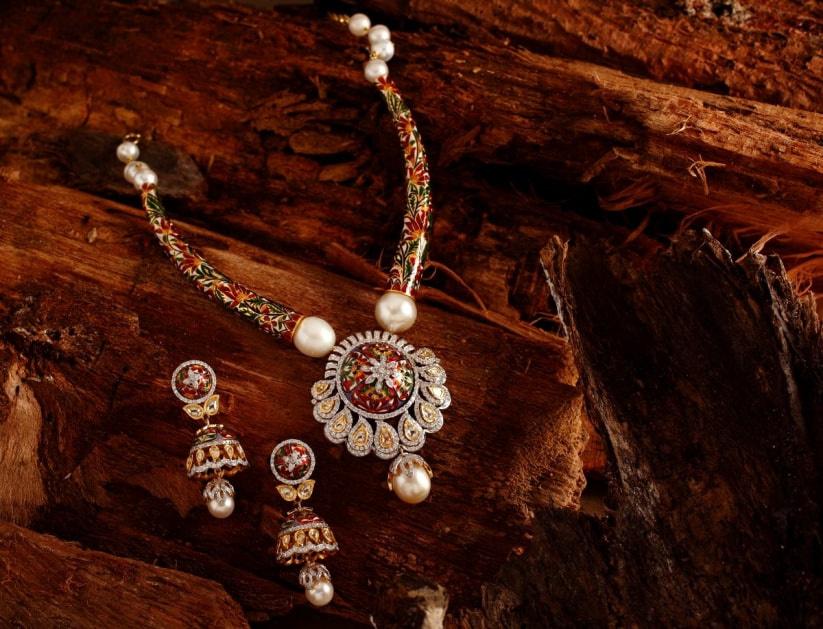 Image courtesy: Antara Jewellery
Meenakari is the art of enamelling metal surfaces with various natural motifs like peacocks, leaves, flowers or animals. This Rajasthani art was initially used in Mughal architecture. It was also used as a perfect finishing for flamboyant Kundan and Polki jewellery.
However, the style originates from Persian art. While the original word 'minoo' is masculine in Persian, it means heaven and the artwork refers to the azure colour. The art form was invented by Iranian craftsmen of Sasanied. Later, the Mongols brought it to India and beyond. Meenakari jewellery is perfect to pair up with Mehndi outfits. Since they are so colourful and vibrant you can flaunt these tiny baubles anywhere.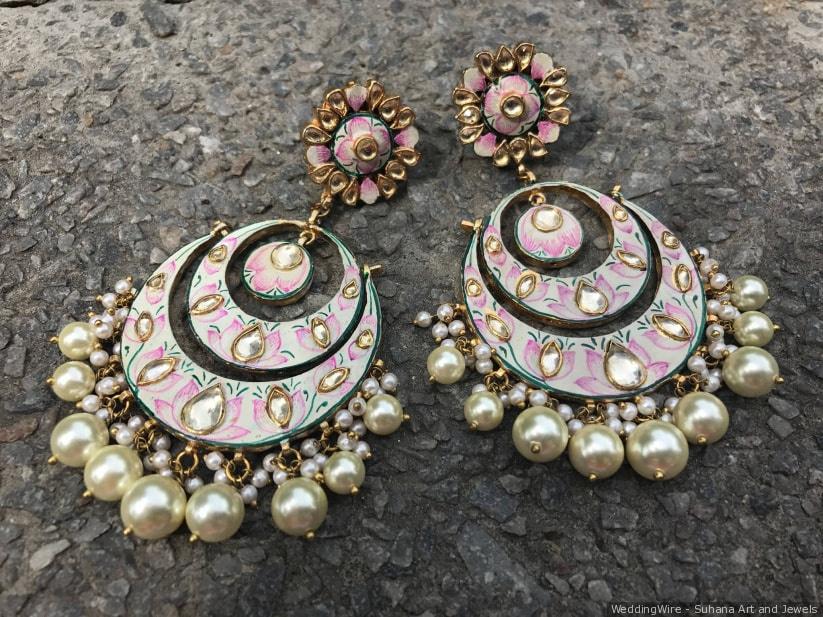 Where to buy: Distinct Meenakari styles are found in Lucknow, Varanasi, Kangra, Bhawalpur, Kashmir, Jaipur and Delhi.
The art of enamelled jewellery has developed in all of these regional centres into distinct styles and techniques. In Lucknow, 'Meenakars' prefer blue and green enamelling on silver. Varanasi seems to prefer the dusky rose-pink or Gulabi Meena. There are craftsmen in Kangra, Bhawalpur and Kashmir too. It's also found in Jaipur and Delhi.
Price range - Rs 1.70 lakh onwards.
4. Jadau gold jewellery: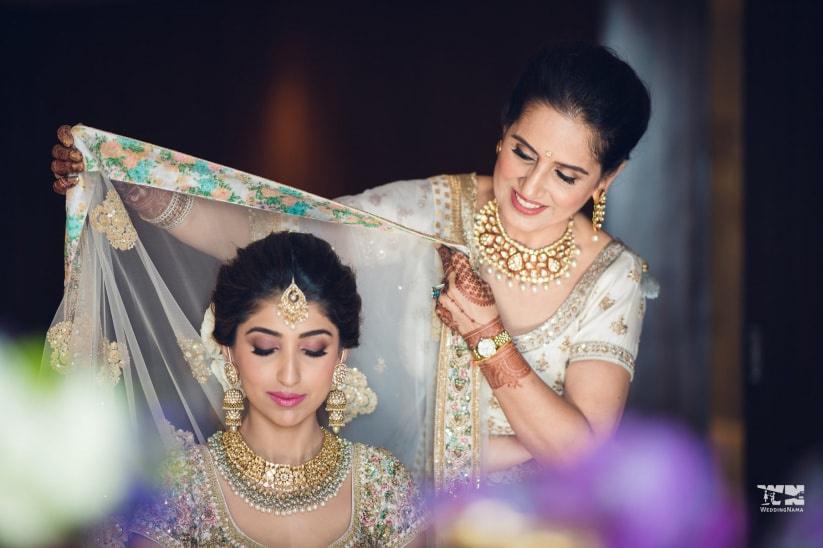 Jadau means engraved. And this bridal jewellery originated in the Indo-Gangetic plains but has been perfected in the city of Bikaner. This also comes from the Mughal era and stands similar to Kundan jewellery, Polki and Meenakari.
The process is quite intricate and needs a group of craftsmen. The basic design is moulded, the shapes for the stones are engraved, the stones are then put into the engravings and sealed into the pure gold base with gold foil. The stones are then enamelled.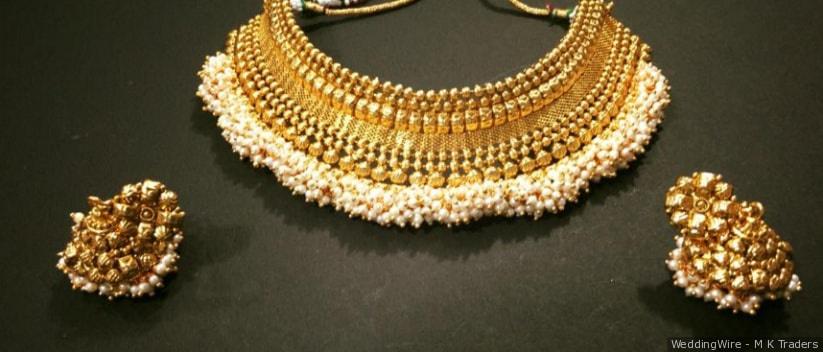 Where to buy: Jadau gold artisans are found in Ahmedabad and Jaipur.
The most popular items are Tewata or Timaniya aka necklace, Bangari, Gajre, different types of Kare used for men and bangles for women. The peacock is normally the most used design. Actor Anushka Sharma wore a lot of jadau pieces on her wedding.
How to recognise Jadau vs Polki and Kundan - It's a blend of all three jewellery styles and is a high-ticket item.
Price range - Rs 9 lakh onwards
5. Classic gold jewellery: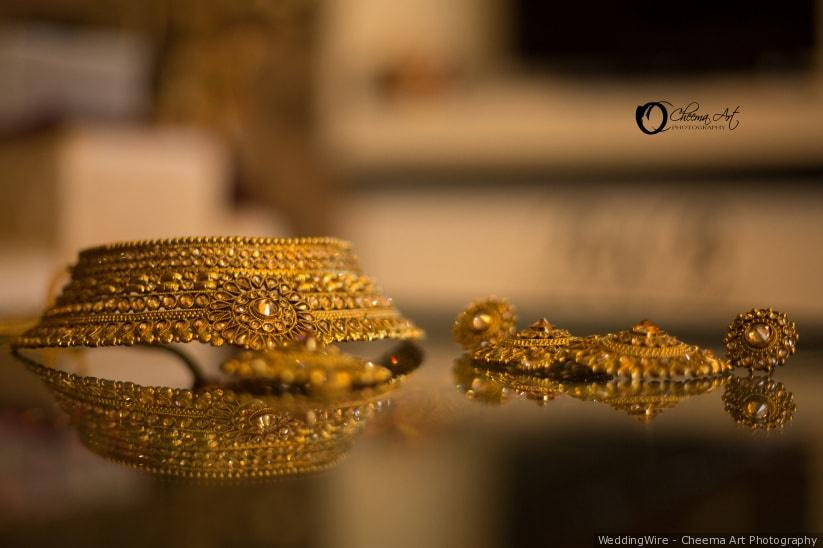 Classic Gold jewellery will never go out of style for weddings. From the bride's mom or the bride herself, a classic gold jewellery set works wonders to accentuate the overall look. This has been more popular in the southern parts of India, especially in Tamil Nadu. The deities were traditionally decorated with gold ornaments. Get unique designs to make the pure gold stand out. Actor Vidya Balan went for the temple look on her wedding with gold jewellery.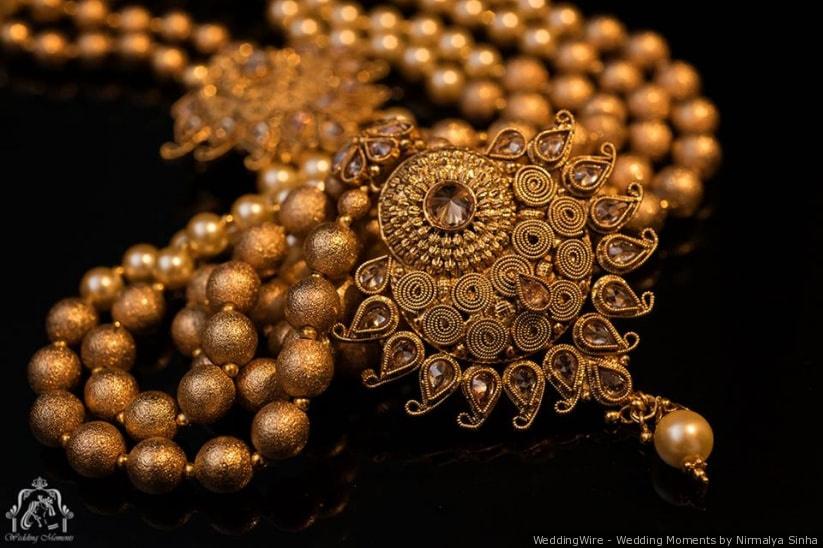 Where to buy: Temple jewellery and heavy gold jewellery sets are available across India
These classical gold jewellery styles range from temple jewellery in Kannadiga, Tamil Nadu and Andhra weddings to Bengali and Rajasthani traditions.
Price range - Rs 2 lakh onwards
6. Lac jewellery: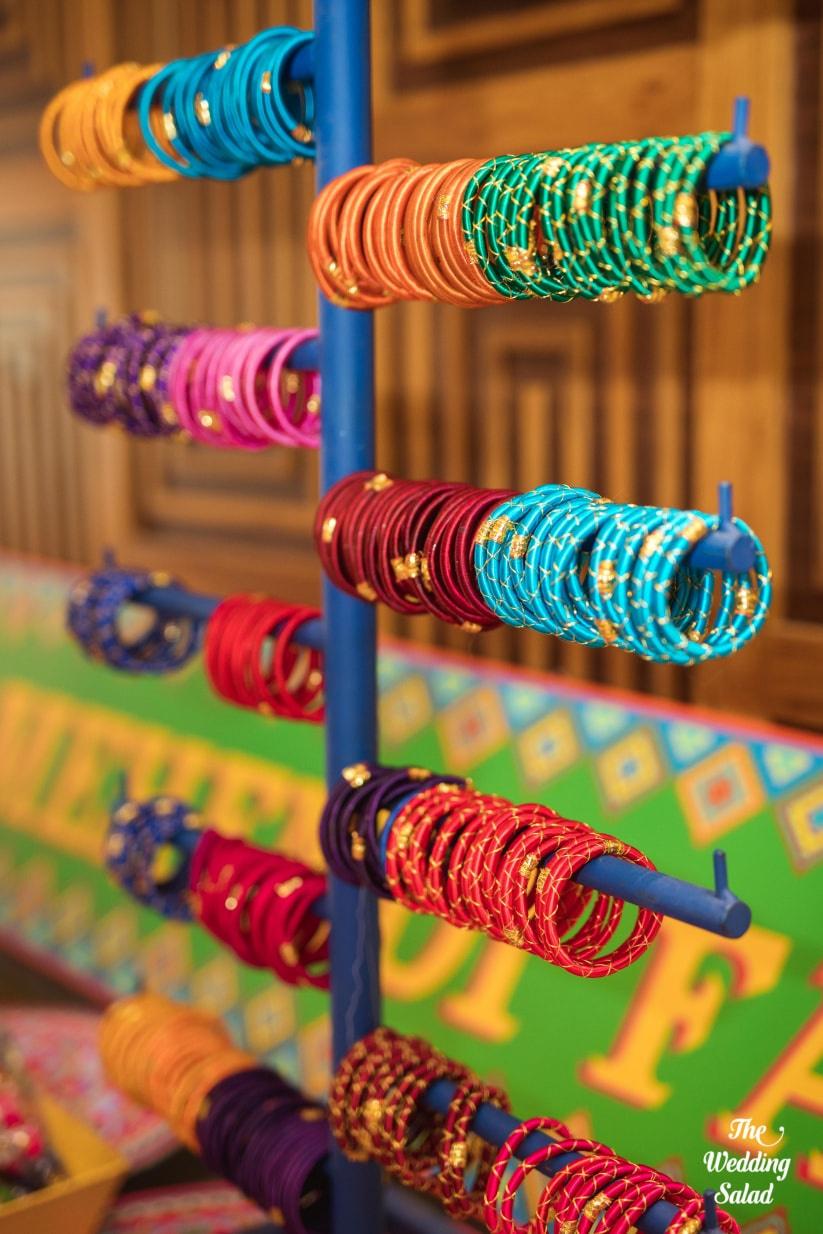 Lac or lacquer jewellery also finds its roots in Rajasthan. This is made from the thick waxy resin from the female lac species, making them as natural an item of bridal jewellery, as possible. They mostly come in shades of red. Lacquer is perhaps the most popular with young women as it looks very colourful and exotic. As lac work can only be done on a wooden base, the craftsman needs to be skilled on that. You can also use lacquer jewellery pieces as a return gift for your female wedding guests. They come in exotic colours and designs and you won't be able to stop yourself from wearing them to multiple events.
Where to buy: Bihar, Gujarat and Rajasthan
Lac jewellery originated as a tribal wear in most of these places, though later, Lac bridal jewellery from Gujarat and Rajasthan as the addition of semi-precious stones too. Gujarat is also known for lacquered bracelets (chiefly from Ahmedabad and Surat).
Price range - Lacquer jewellery in gold is available from Rs 1.5 lakh.
Choosing the Right Bridal Jewellery

So, how do you go about choosing the right bridal jewellery? The wedding budget does play a crucial role in your decision. However, it's not the only consideration. Your overall bridal look, choice in Bridal Lehenga or bridal saree, wedding theme and aspirations for your big day all play a role in this decision.
"At Sunar Jewels, the pricing starts at Rs 1.5 lakh onwards, depending on the piece," says CMD Parveen Goel. "But the different styles do accentuate the beauty of a bride".
The wedding ceremony in question has a role to play too. While a lot of brides are now opting for diamond-based jewellery (either in platinum or white gold), there are also those who go for simpler works for a Mehndi or a Sangeet ceremony, like Gota jewellery or floral jewellery. (We have explored this in a piece on jewellery for the Mehndi ceremony).
In the end, your bridal jewellery should be a careful decision. Give a little thought into making it the most memorable one.