Bridal Shower Ideas and Outfits for Your Bachelorette Night
With the ideas of bridal shower getting grander day by day, brides are starting to take their look rather seriously. Let's help them choose the perfect look for their big celebration.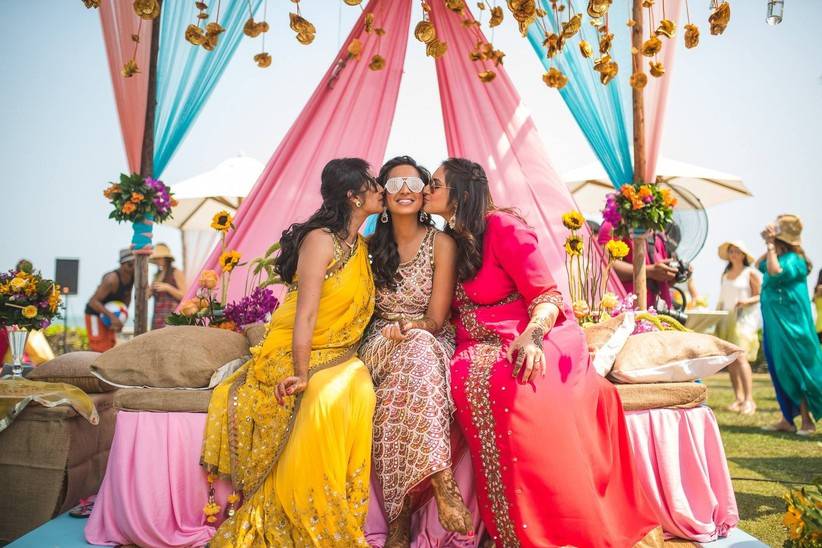 Bridal shower is the grand celebration before the actual wedding usually thrown by friends and family for the bride. This is a concept that has existed for many years now, but off-lately has been taken more seriously and done on a bigger scale than before. With themes being the current obsession the bridal shower these days ought to have one according to which the entire food and games menu also gets decided.
While brides have minimal participation in the planning of the bridal shower, their only job is to put a look together and switch on their inner charm as they sing and dance the night away. Well, those of you thinking it isn't that big of a deal, we'd say it is.
We truly believe that putting a bridal shower look together is more difficult than her wedding look. For the bridal shower, brides need to keep it minimalistic and yet very eye-catching, and for those who have a maximalist style still, need to ensure that it suits the occasion right.
With the vibe varying from fun to fancy, the key is to strike the right chords with the bridal shower ideas in terms of the outfit. Those of you who still haven't figured it all out, we've put together some our favourite bridal shower ideas in terms of the outfit that you can take inspiration from and stun your friends and family on your big day.
1. The Pretty Princess Obsession - When pink is life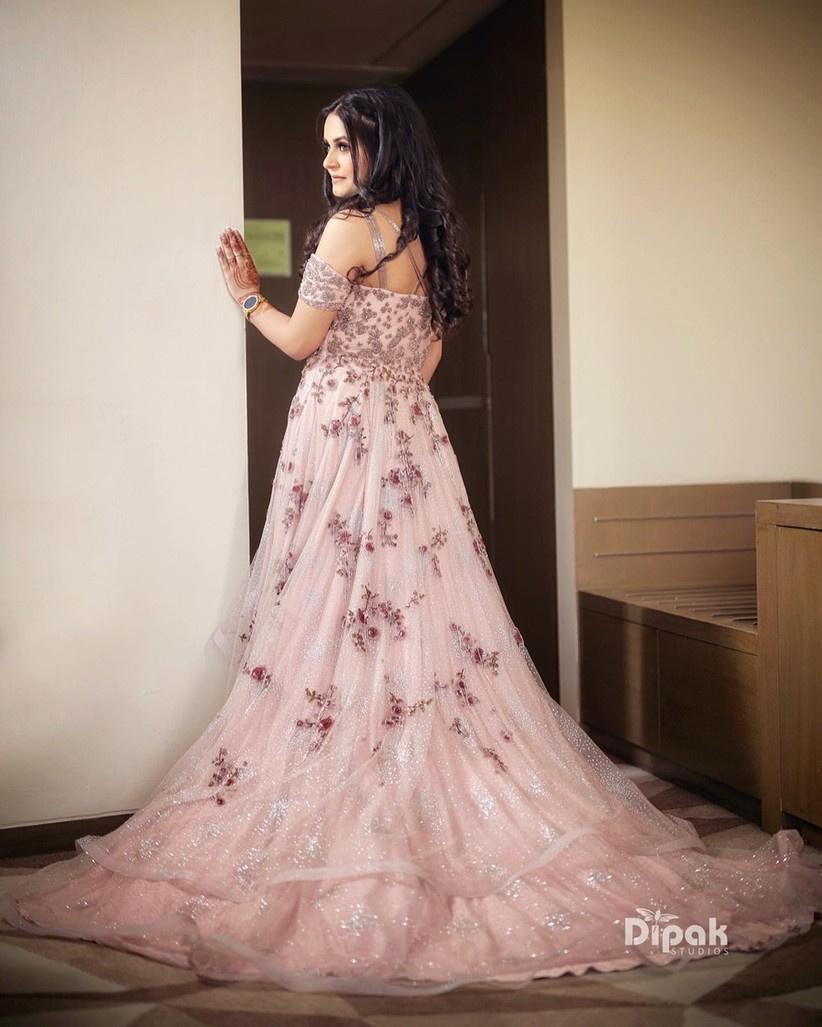 While gowns are every bride's favourite these days, there is something about a bridal shower gown that makes it different from the wedding gowns. Here you can play around with styles, cuts, and also keep it as light and breezy as you wish. Our favourite out of the entire list of gowns is this baby pink gown that has dainty flower embellishments on a delicate net that makes it look like the perfect bride-to-be dress.
The off-shoulder pattern with delicate strappy back is what we think adds a sexy charm to the dress. For the brides who obsess over delicate princess-like gowns are being thrown a fairy tale themed bridal shower must go for this one.
2. The Boho-Chic Vibe Always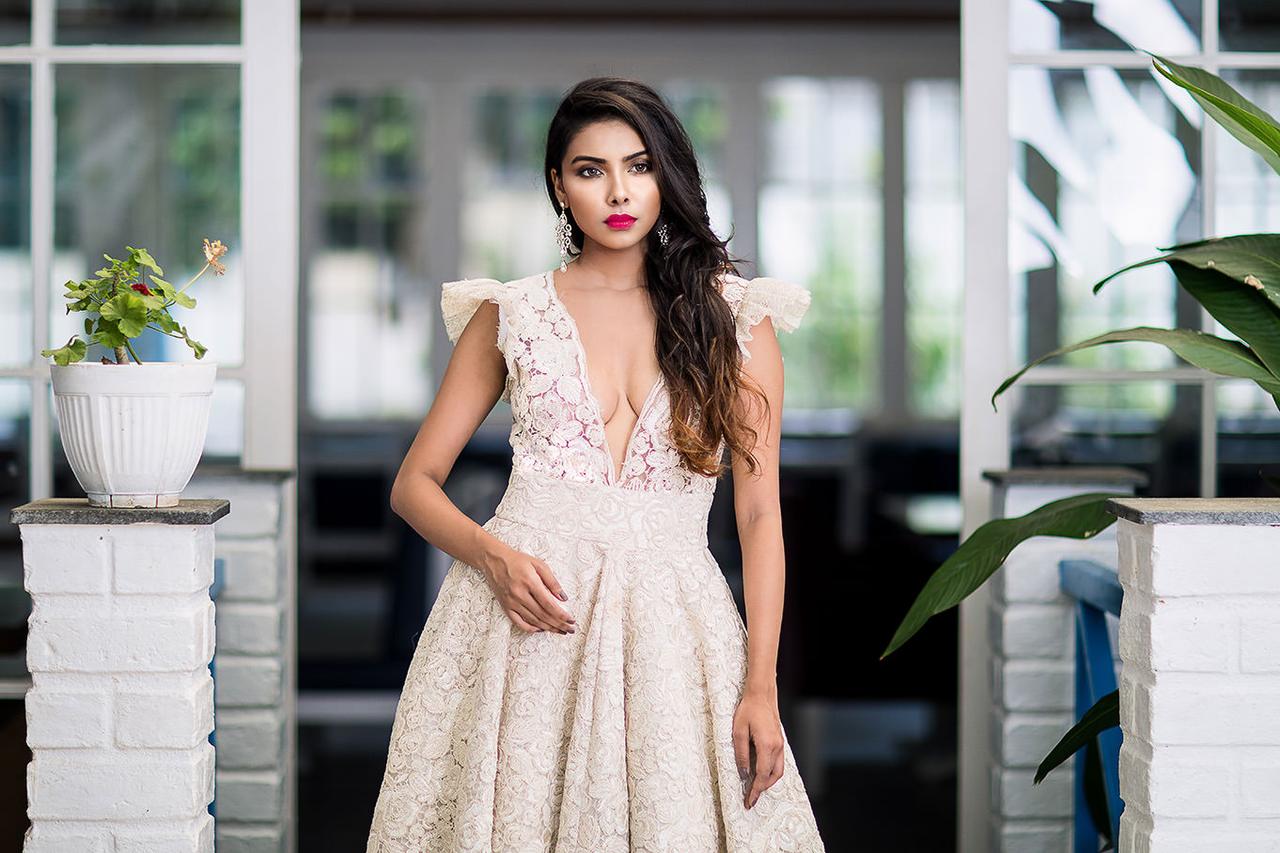 Brunches with a lavish food menu, great décor and a bohemian vibe is a common thing in bridal showers. It is one of our most favourite ones to attend as well. It is the relaxed vibe and the great detailing that the brides really crave for amidst their busy schedule of wedding preparations. The most appropriate outfit for such bridal showers is a bohemian white or off-white dress with minimal or no detailing.
You can accessorise them a little to suit the occasion and look forward to a chill afternoon with wine, gossip, and your girls.
3. Casual Coords To Unwind - Yes, please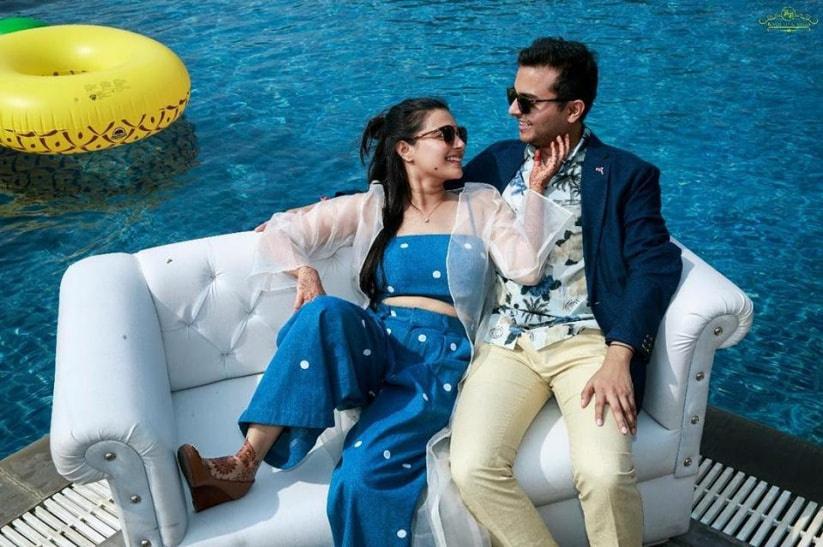 We believe every group of friends have a vibe, some are hoity-toity, some are super laidback and most of them keep it casual. If you and your friends fall in the more casual and comfort category, and that's what the theme to your bridal shower is and then look for a classic pair of co-ords like these denim ones, and go have a great time unwinding with a few drinks at the bar.
With the hype around bridal showers so much, it is the casual fun evenings with your friends that will create lasting memories for the bride for a lifetime. It might be the last time she's single with her girlfriends at the bar checking out guys sitting at the next table. Just make the most of this evening without keeping the emphasis on the outfit minimal.
4. The Party Animals' LBD - the best of the lot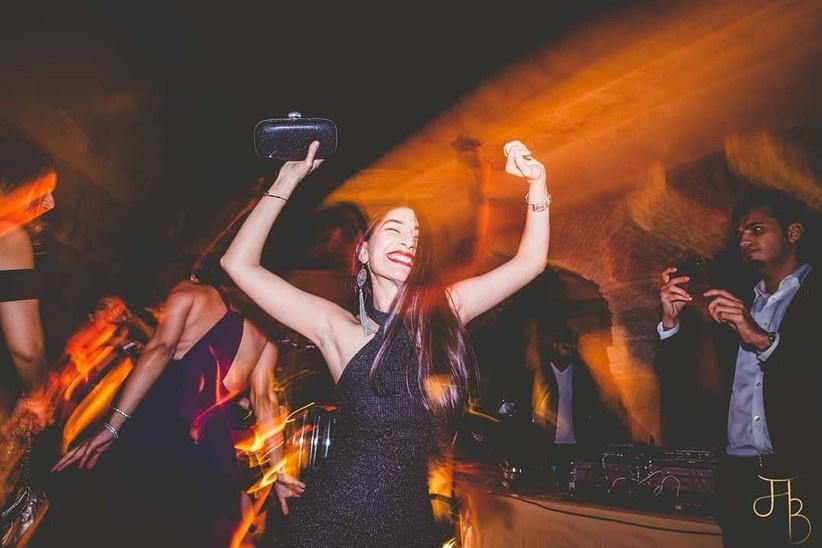 We all have one group in which everyone loves to party, go out dancing, hop bars, and don't call it a night until sunrise. For bridal showers ranging tin this category, we suggest you nothing but the fanciest shimmery little black dress that is sure to shout put that you're the one this party is in honour of.
Keep the hair and makeup just about enough for you to handle on a Saturday night as your dress will be the highlight of the look that is enough to turn all eyes on you.
5. The Crop-Top and Skirt Kinda Day - bridal shower ideas with respect to the outfit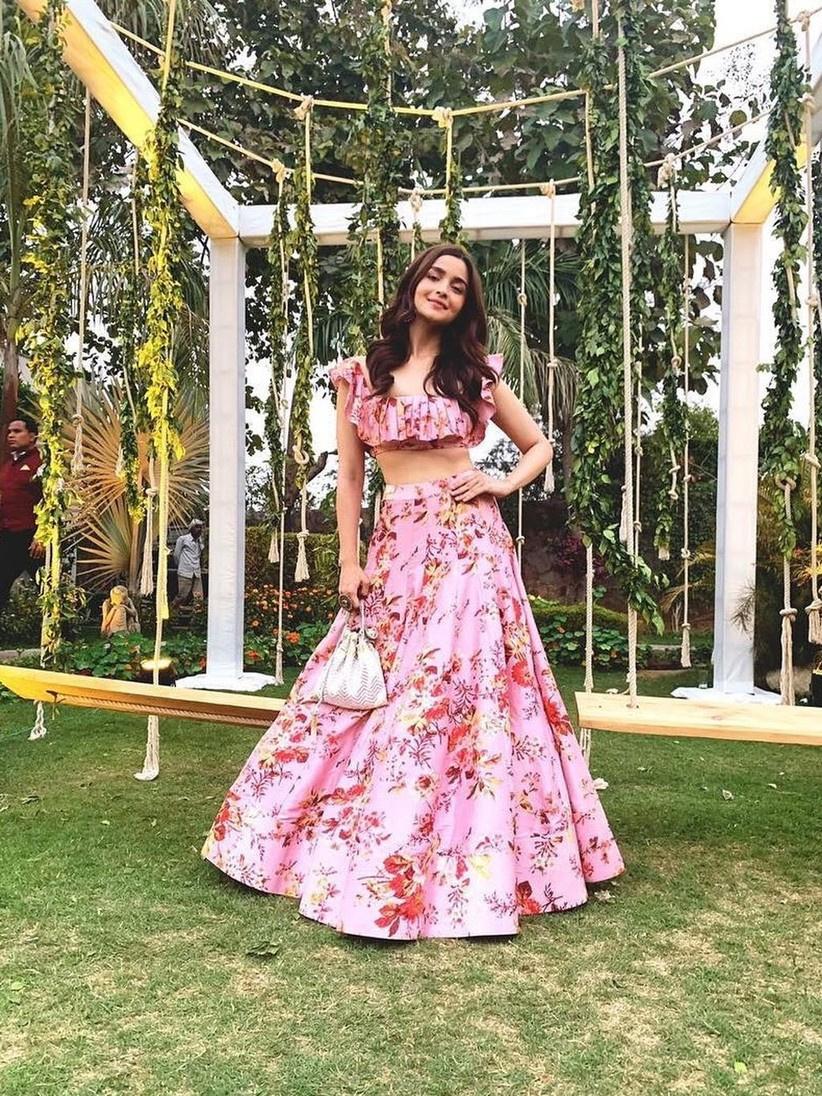 Most brides look forward to their bridal shower only to be able to carry off something dressy that would not make it to their wedding outfits. Well in most cases it is their easy breezy crop top skirts with ruffles and floral print that make for the perfect bridal shower outfit. With something as dressy as this one, the accessories can be kept minimal, with the focus being only on the dress.
A lunch party with friends and family is the appropriate time to don this and let everyone notice the abs that you've been working on before the big day.
6. Seas the Day - bridal shower ideas with respect to the outfit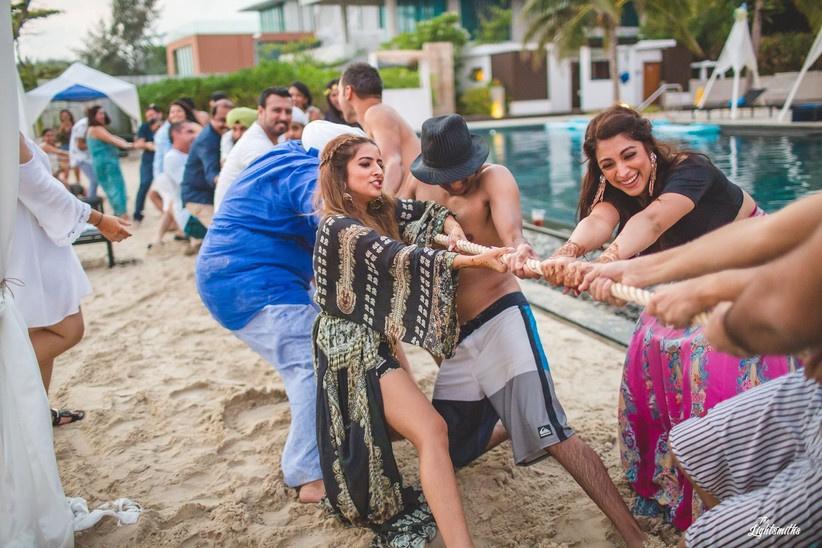 Bored with foods and drinks, bridal showers with pool and games is a perfect summertime bridal shower. If your friends are throwing you the most fun bridal shower where you get to spend time by the beach or play competitive games by the pool then a dramatic beach dress is what you're looking for. Make sure that it is one that allows you to move around freely and play all the games that they've planned.
For brides that think beach dresses can get too casual, you can accessorise them with tiaras or fancy floral jewellery that'll make you stand out. Keep in mind that the theme is casual but you're the bride-to-be and strike the right balance.
7. Jackets That Add Glamour - bridal shower ideas with respect to the outfit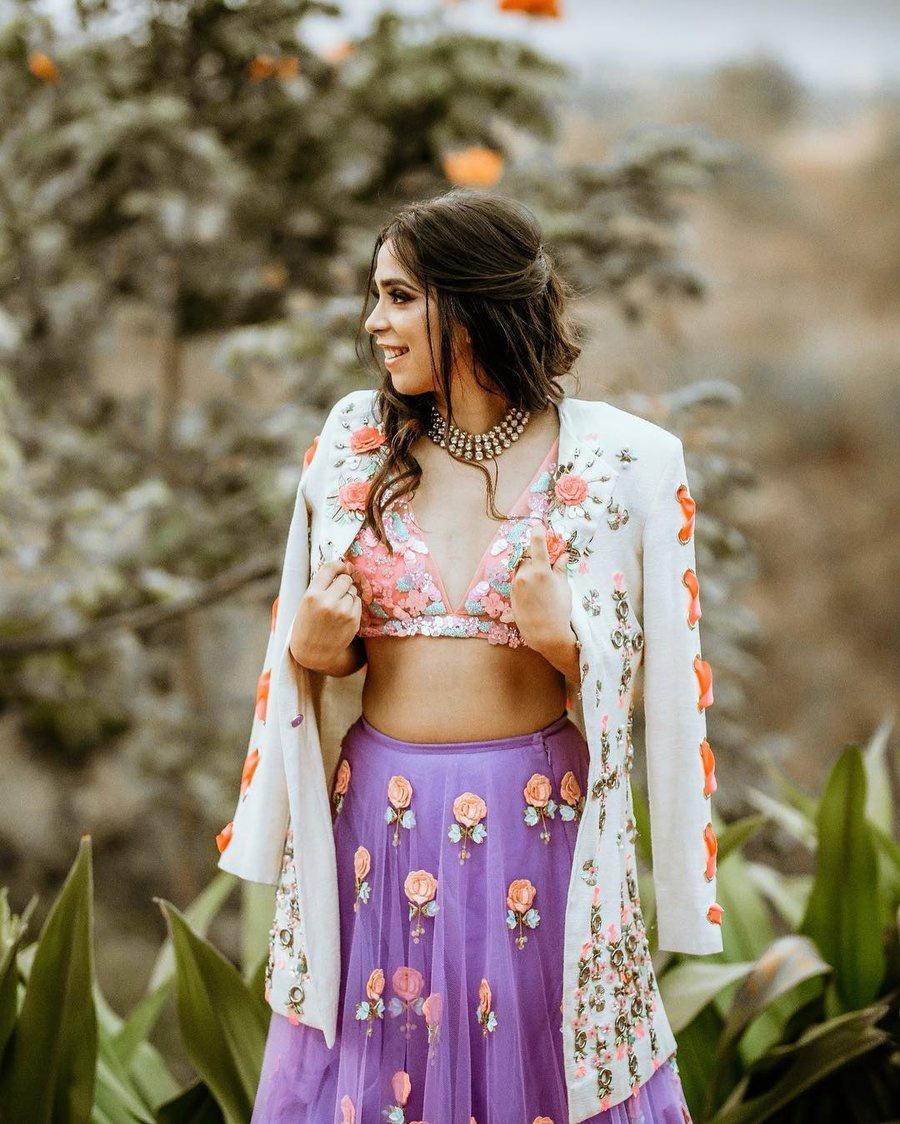 For our couture brides, less glamorous is not an option, Therefore, even for their bridal showers, they believe in going a little extra edgy and wearing something OTT. This long jacket over crop top and skirt is not just dramatic but also all things fancy. For maximalist millennial brides, this could be a great choice of bridal shower dress. With embellishments all over, you cannot keep hair and jewellery subtle for this one.
If you are going in with this as your bridal shower dress, make sure you take a parlour appointment and get a perfect hairstyle done. Add some necklace to the plunging neckline and you're good to go.
8. Quirky Asymmetrical Patterns - bridal shower ideas in terms of the outfit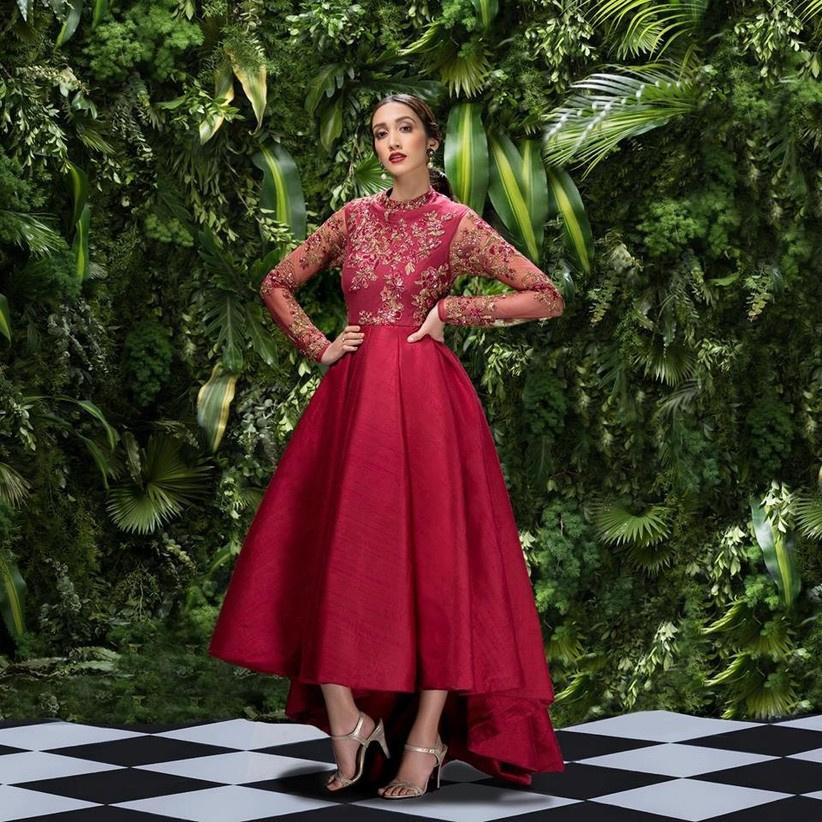 For brides that are looking to strike the perfect balance between formal yet quirky must have a close look at this asymmetrical beauty that is the perfect bridal shower dress. From the colour to the cut and the embellishments everything falls together perfectly to make it our top pick.
The work on the torso is also beautiful and delicate just how you'd prefer it to be. Wear this to your lunch or dinner party with minimal accessories and a good hairdo and you'd be ready to rock the bridal shower.
9. The Flare of a Saree - bridal shower ideas in terms of the outfit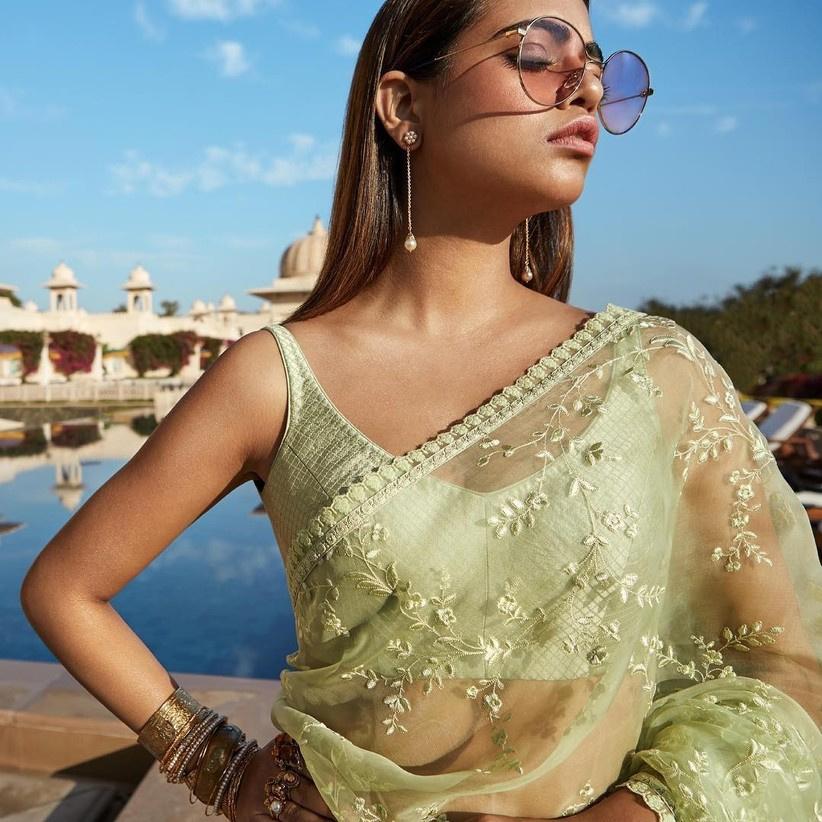 Image Courtesy: Sabyasachi
Don't look shocked to find saree as one of the bridal shower outfit options. This is for the brides that love the elegance of a saree and have something similar in organza or net for their bridal shower.
Apart from being elegant they are also very rarely carried off by brides-to-be. It will not just be refreshing but also unusual to find a saree that suits the occasion perfectly. We suggest you keep them light because it is not a wedding function. Pair it with some statement jewellery and keep you sun-glass game strong.
10. Saleem ki Anarkali in Anarkali - bridal shower ideas in terms of the outfit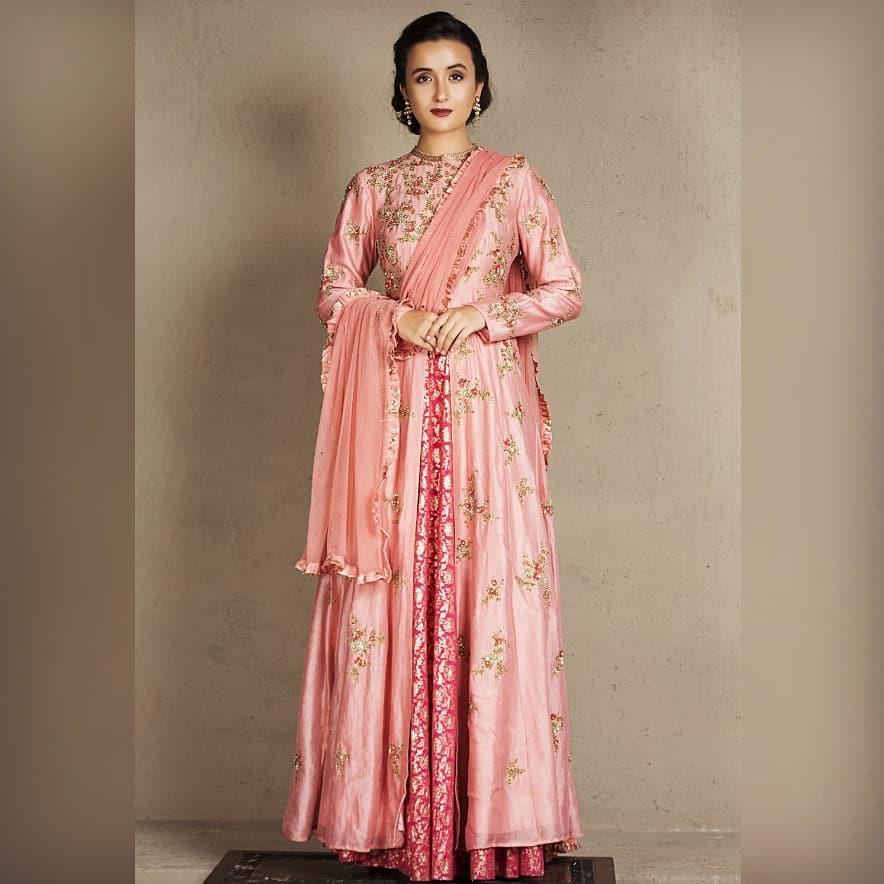 Image Courtesy: Joy Designs
This one is for the brides-to-be that love ethnic wear and would not mind donning an Anarkali to their bridal shower. Anarkalis are one of the most elegant and versatile pieces of Indian clothing.
This one is a perfect choice for bridal showers thrown by family members as brides who are already too excited to wear lots of ethnic clothes and jewellery can start already. Pair them with some dainty Jhumkis and low bun to complete the look.
While we've put together all the trending bridal shower ideas in terms of the outfit, it goes without saying that it's your day and you can choose to dress however you wish to. Even if that means going for something extremely unusual and unseen, we are all for it. The key here is to celebrate the big day and the big decision of your life. Therefore, what is important is to cherish this time with your friends and family and charge yourself up for the bugger celebration coming your way. Just go ahead and have a ball of a time!
What do you plan to wear to your bridal shower from these bridal shower ideas in terms of the outfit? Tell us a little and we'll hint your girlfriends to go for a similar theme.