10+ Simple Stage Decoration Ideas That Fit Into the Budget Right
Looking for simple yet elegant ways to decorate your wedding stage? We have got you covered with these inspiring simple stage decoration ideas that are not only appealing to the eyes but are also budget-friendly. Have a look!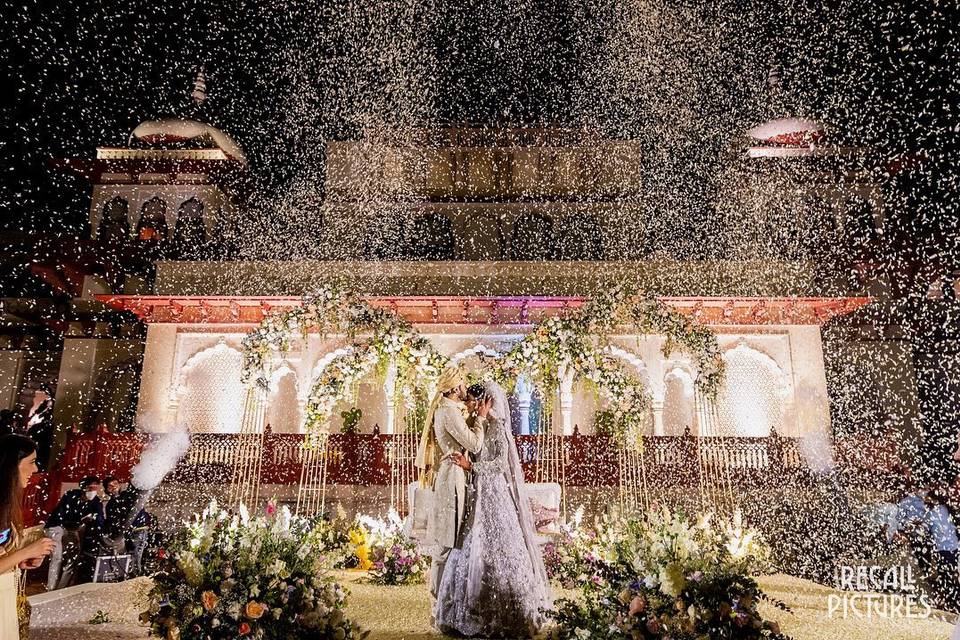 Wedding Decoration: Atisuto Events I Wedding Planners: Mpire Events I Photographer: Recall Pictures I Venue: Rambagh Palace
Do you fancy a simplistic wedding for yourself? If yes, then you must have a look at a few of the gorgeous simple stage decoration ideas that not only appeal to the eyes but are simple and easy to incorporate. The best part about these ideas is that they are budget-friendly as well. From tea light candles and lanterns to flowers and drapes, these ideas involve things that can be assembled without burning a deep hole in your pocket. Get inspired!
Floral Simple Stage Decoration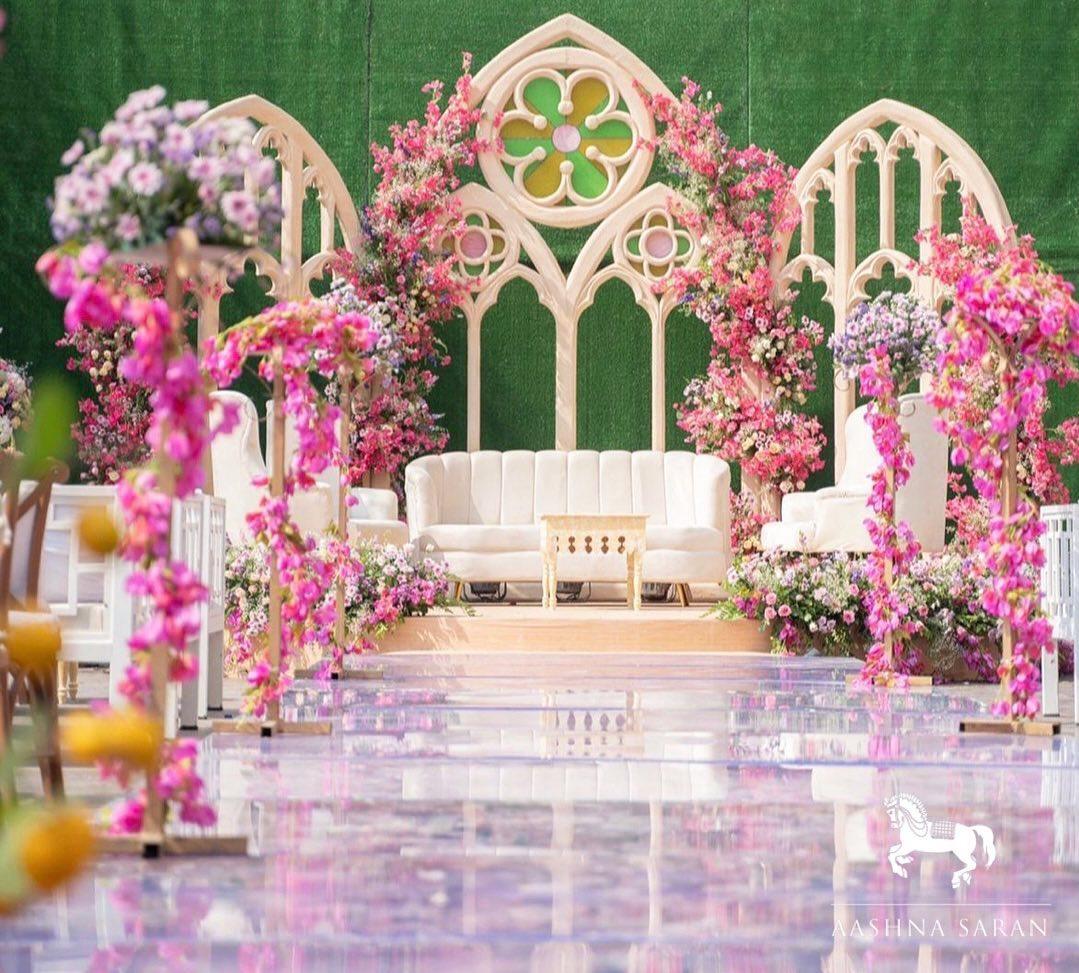 Wedding Decorators: Aash Studio I Venue: JW Marriott, Juhu
Now, doing this will not be a hassle one bit! There are umpteen ways to dress a particular spot on the stage, like, for example, a wedding backdrop. You can create a stunning backdrop with foliage hoops or chandeliers. The cost of getting the greens won't be much and you can procure them from your backyard or garden. Floral Pink is essential to the wedding stage decor, and one can add layers of oomph to it with simple things. Another idea is to theme a focal point as per your wedding. If you are going for a traditional wedding, create a focal point with an arch.
Simple Wedding Stage Decoration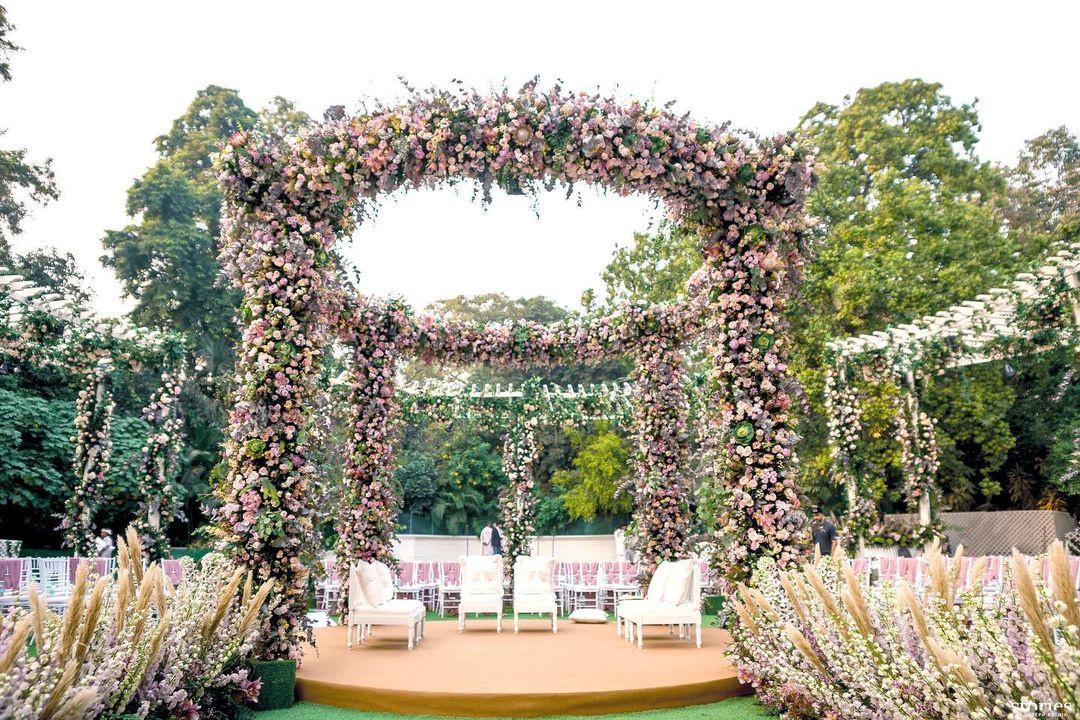 One of the best ways to save big money on your wedding is to opt for a place such as a garden or a beach rather than going for hotels, resorts, or marriage halls. If the place is pristine, you don't need any extra decoration for your stage or the venue. They come dressed with natural bounties for which you don't need to spend one dime. If you are having a beach wedding or a gorgeous green wedding, simply have an arch built on the sands for you to showcase yourself and your groom to the guests! For garden settings, don't build any platforms. Simply have a simple backdrop of buntings and ribbons. The natural blooms will add dazzles to the decor at no cost.
Book The Wedding Design Company Now
Simple Stage Decoration With Colourful Backdrop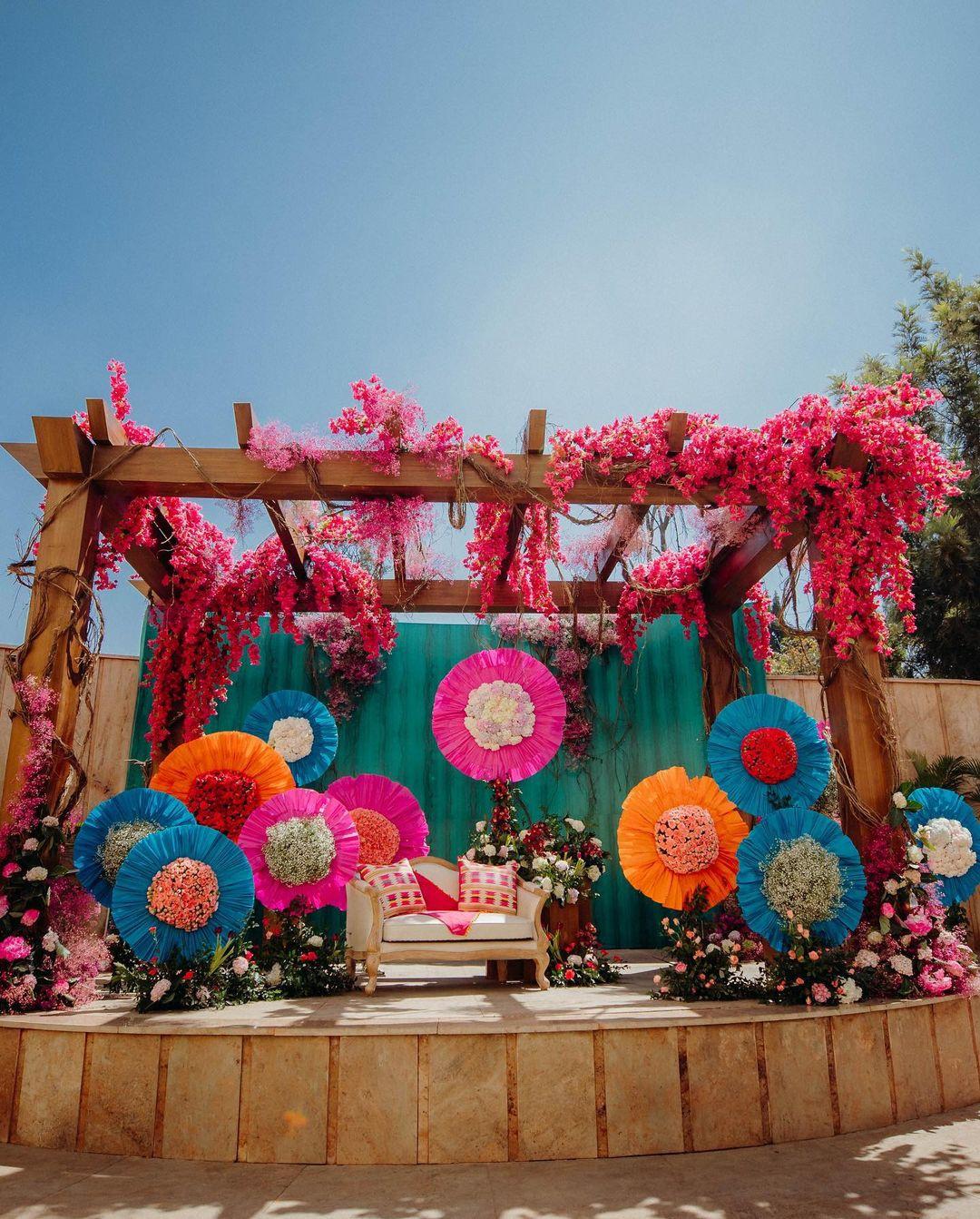 Wedding Decorators: The Wedding Design Company I Photographers: Aashish Photography
Isn't this delicately put-together stage decoration aww-worthy? These quirky paper flowers and cascading vines on the seating stole all our hearts for all the right reasons. The riot of colours in the backdrop is further adding whimsical notes to the setting.
Book The Wedding Design Company Now
Simple Engagement Stage Decoration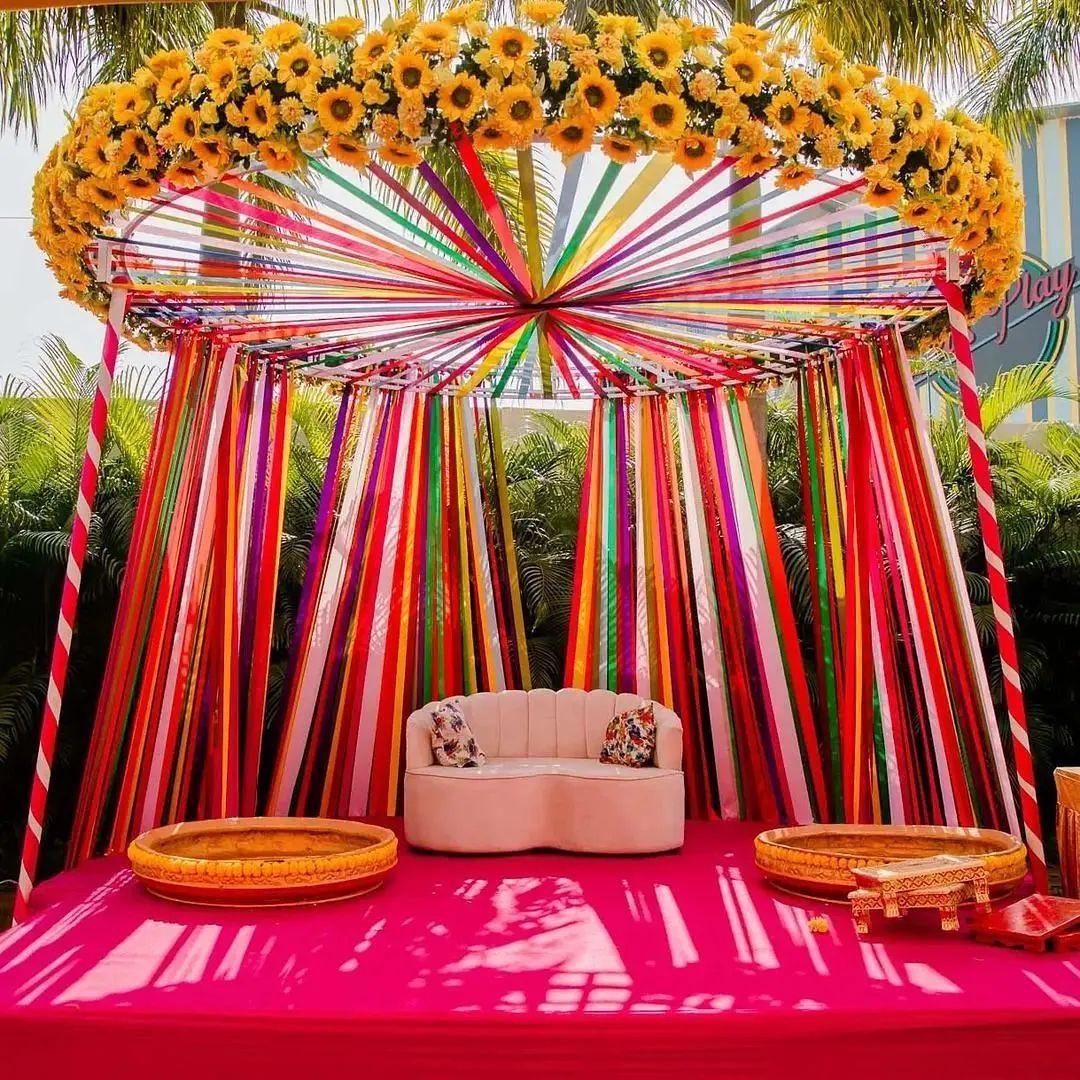 Decorating with drapes is trendy and adds a punch of style to a wedding. If you want to save money on a stage's decor, choose to drape the arches with burlap instead of satin or silk. Burlap is sold at reasonable rates and adds a rustic charm to a wedding's decor. Or choose to add a splash of colours and create a gorgeous simple stage decoration for your Haldi ceremony.
Book LA Badhai Ho Events Pvt. Ltd. Now
Simple Stage Decoration for Sangeet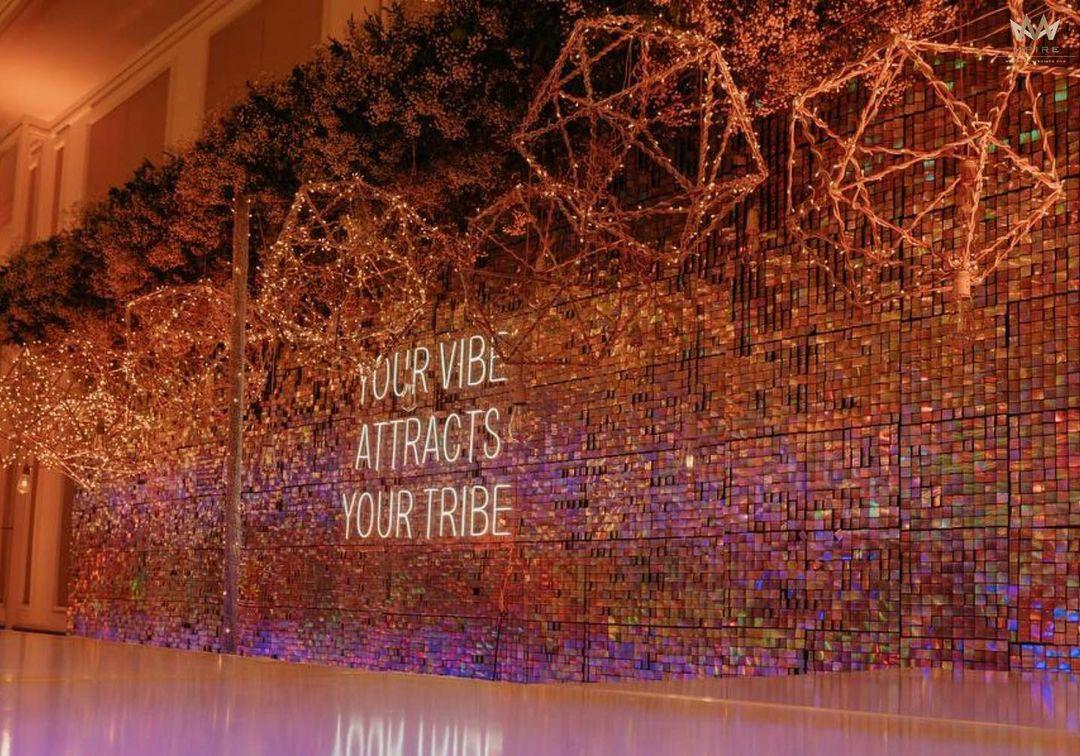 Wedding Planners: Mpire Events I Venue Trident Mumbai
How about dressing up your wedding stage with glittering chandeliers and sparkling walls for a soft romantic appeal? Stunning stage decorations like these are very much in vogue and are used for their charming effect as well as pricing. Just add your wedding hashtag or any quirky sign, and your simple stage decoration, perfect for your sangeet night, is ready.
Simple Haldi Stage Decoration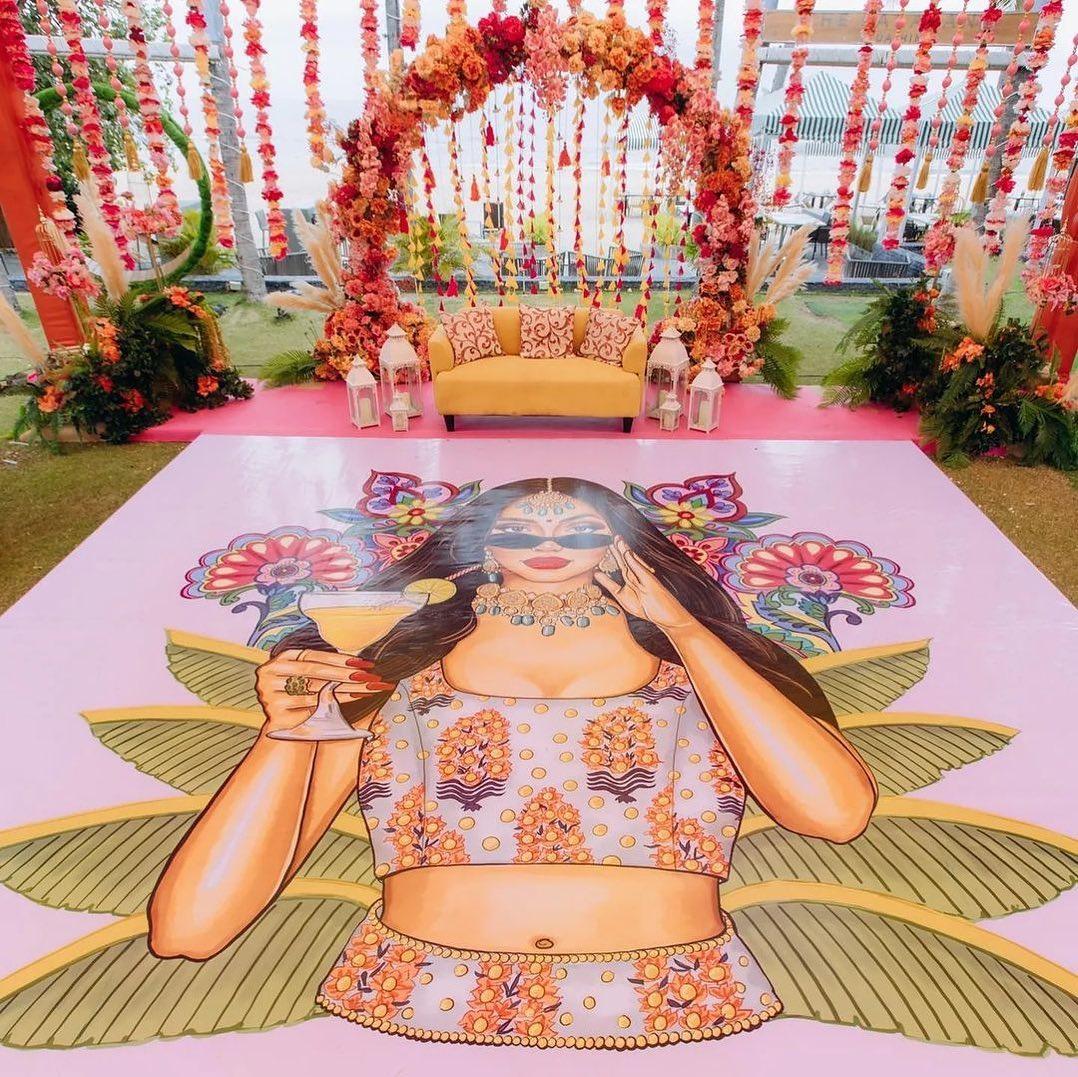 A backdrop of a stage must look attractive. But, you need not pay through your nose to achieve this goal. Even a simple flower wall decor will look wonderful and appealing. Create a backdrop mesh with local flowers such as Marigold or Gainda Phool. It will look stunning and will be way less expensive than exotic blossoms. Hang paper flowers on a wooden frame, or, else go for dreamcatcher hoops with artificial flowers hanging from them. Floral chandeliers can be hung from the ceiling of the stage.
Book LA Badhai Ho Events Pvt. Ltd. Now
Nature-inspired Simple Stage Decoration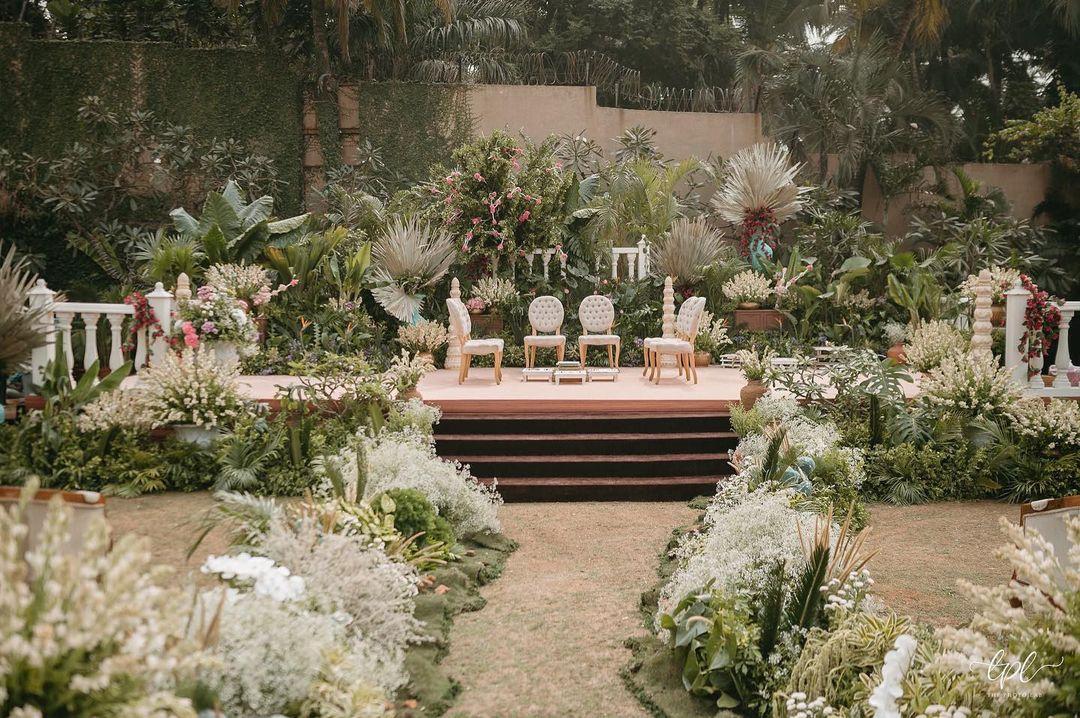 Wedding Planners: The Crimson Circle I Photographers: The Photo Lab I Venue: Taj Land Ends
Your choice of venue plays a major role in creating your wedding decorations, and when it comes to simple stage decoration, you can always play along with all the natural surroundings that you have at hand. You can create the best kind of stage decoration while planning your wedding at a garden or farmhouse in your city and add lots of flowers, leaves, vines etc.
Laced Simple Stage Decoration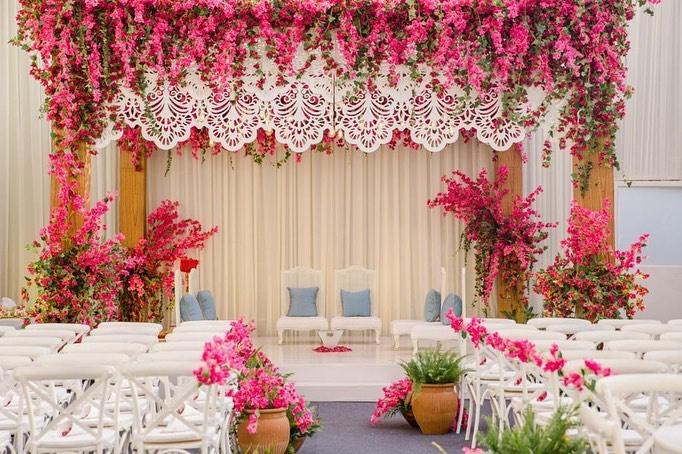 Another budget-friendly idea is to hang colourful flowers with lace cutouts from the ceiling of your stage or stick ribbon garlands on the backdrop. These are cheap and will enhance your stage's look instantly.
Archway for Your Simple Stage Decoration

What better way to start your fairytale happily ever after than to build an actual threshold to step into the new chapter of your life? This beautiful cutwork archway makes a perfect simple stage decoration where you can even exchange Varmalas too.
Prefabricated Simple Stage Decoration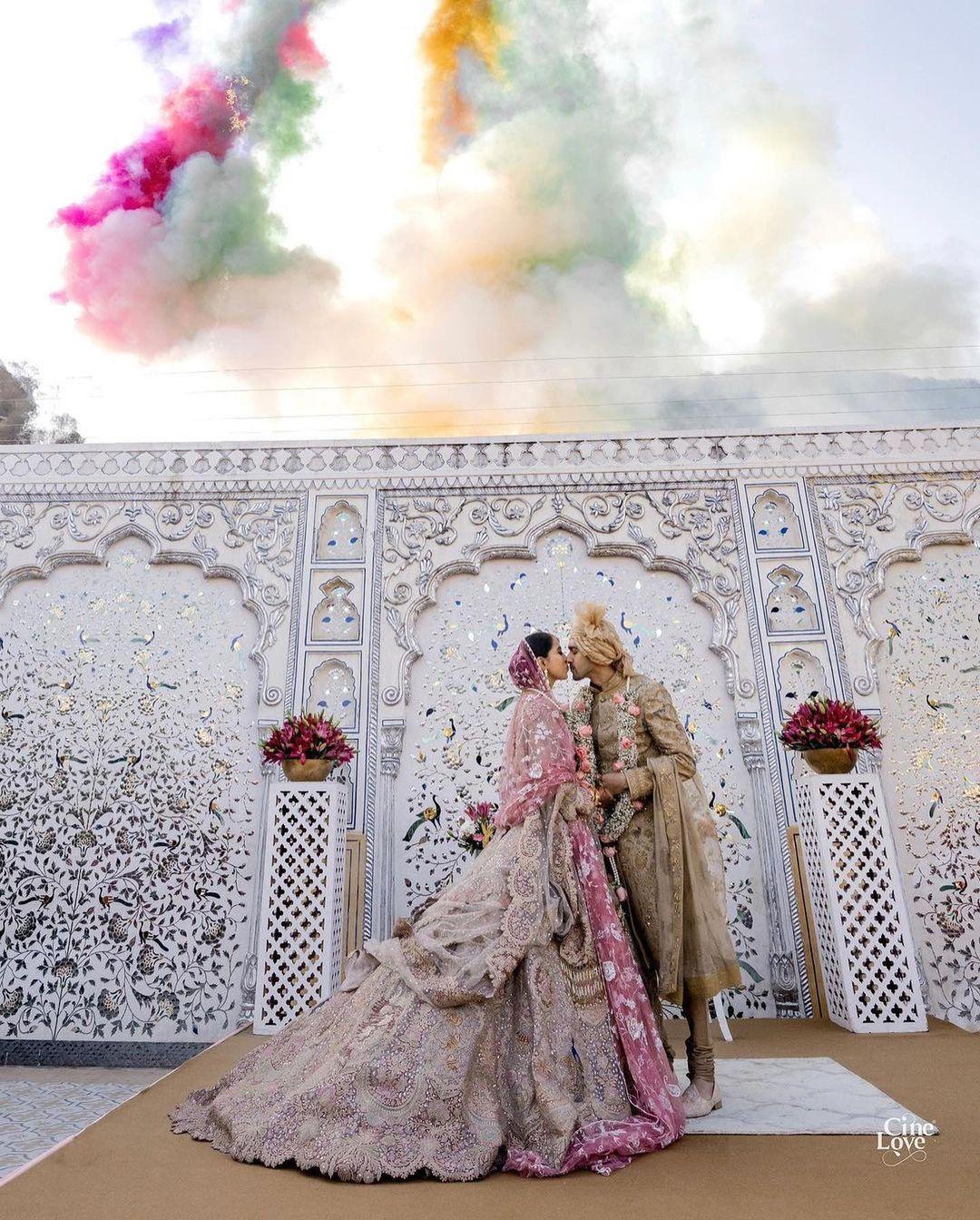 Wedding Planners: Encasa Events I Photographers: CineLove Productions I Venue: The Leela Palace Jaipur
You can even get your wedding decoration team to create a prefabricated decor for you with your choice of prints and cuts. The result will truly be awe-inspiring.
Pool Side Simple Stage Decoration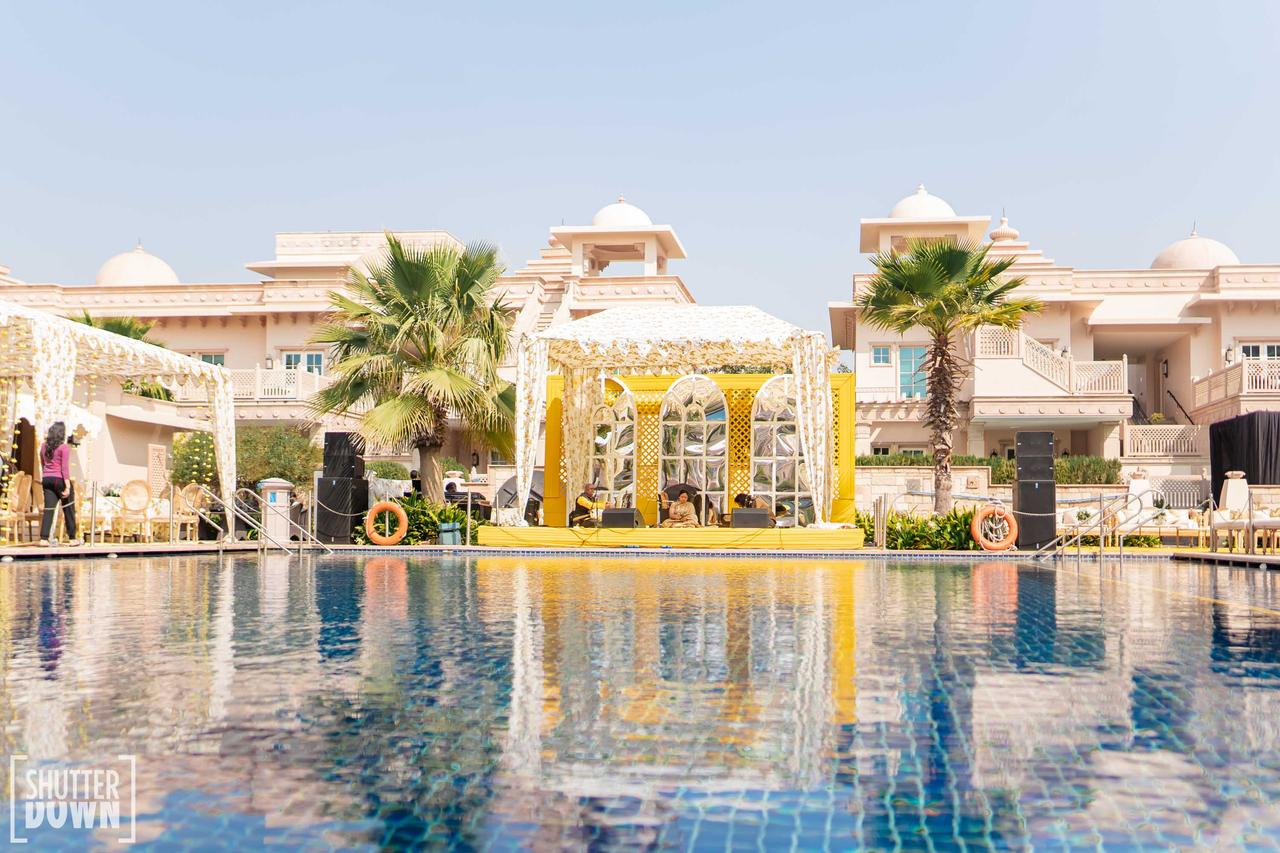 Wedding Planners: Theme Weavers Designs I Photographers: ShutterDown by Lakshya Chawla
Getting married in the fort? Then pick this simple yet classy and royal stage decoration idea. Who says that a simple stage decoration cannot look charming? For it to look appealing to the eyes, you can use drapes to dress up the stage backdrop or the arches.
Book Theme Weavers Designs Now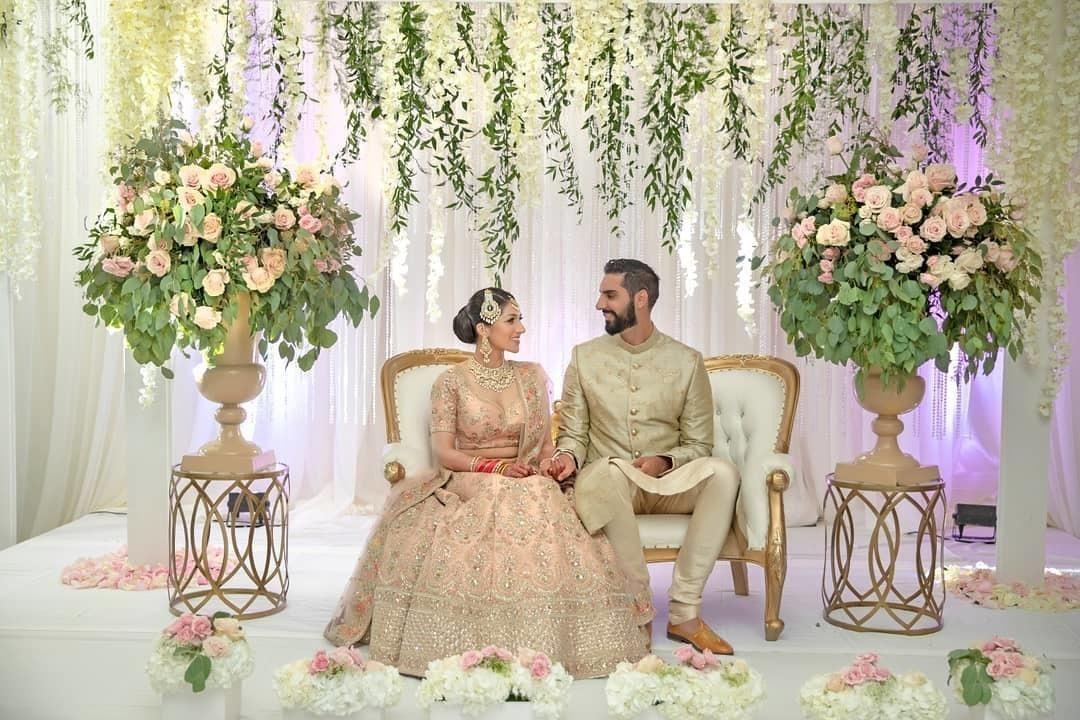 Image Courtesy: Wedding Documentary
With these simple stage decoration ideas, you can cut back on the cost. So, get in touch with some of the best wedding decorators in your city and plan your stage setup today. Go ahead and pick any one of these ideas!
Which one of these beautiful and simple stage decorations ideas will you pick for your wedding celebrations? Do let us know in the comments below.
Top Blogs on WeddingWire India