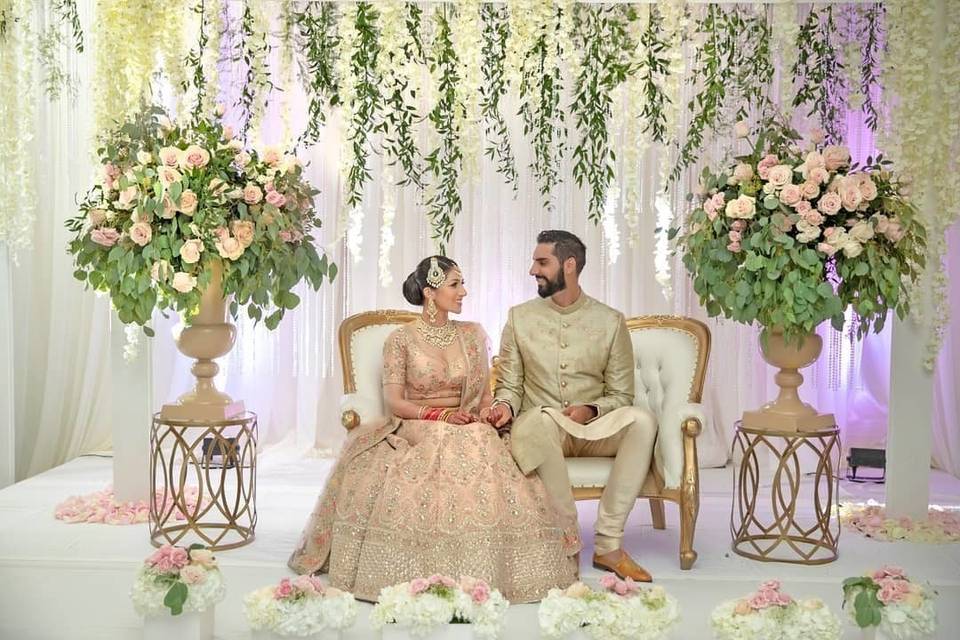 Image courtesy: Wedding Documentary
Do you fancy a simplistic wedding for yourself? If yes, then you must have a look at few of the gorgeous simple stage decoration ideas that not only appeal to the eyes but are simple and easy to incorporate.
The best part about these ideas is that they are budget-friendly as well. From tea light candles and lanterns to flowers and drapes, these ideas basically involve things that can be assembled without burning a deep hole in your pocket. Get inspired!
1. Create a simple focal point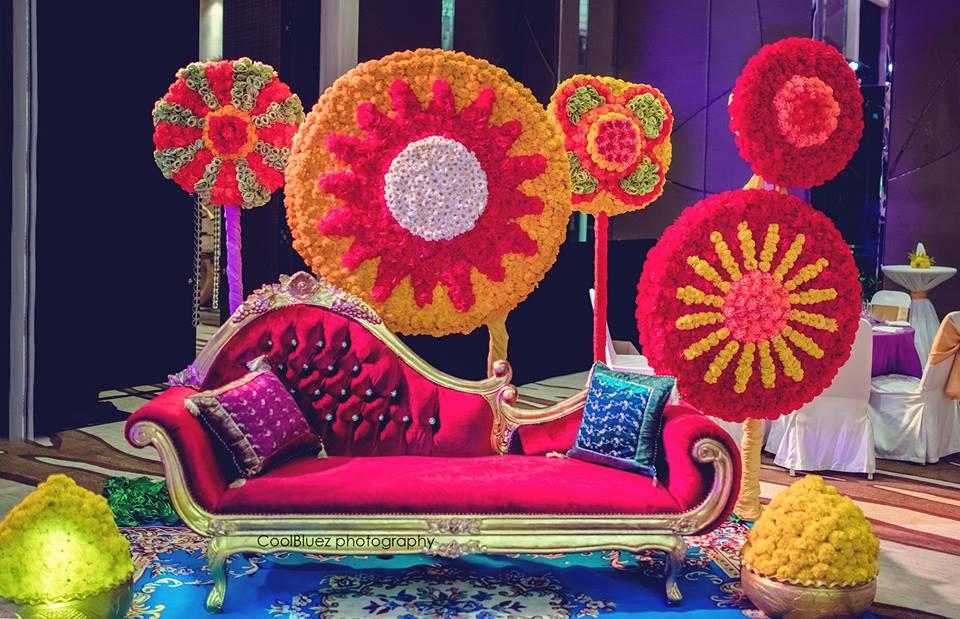 Now, doing this will not be a hassle one bit! There are umpteen number of ways to dress a particular spot on the stage, like for example a wedding backdrop. You can create a stunning backdrop with foliage hoops or chandeliers. The cost of getting the greens won't be much and you can procure them from your own backyard or garden.
A focal point is essential to the decor of a wedding stage and one can add layers of oomph to it with simple things. Another idea is to theme a focal point as per your wedding. If you are going for a traditional wedding, create a focal point with an arch. Its cheaply available and you can dress it up in different ways.
2. Pick a naturally beautiful setting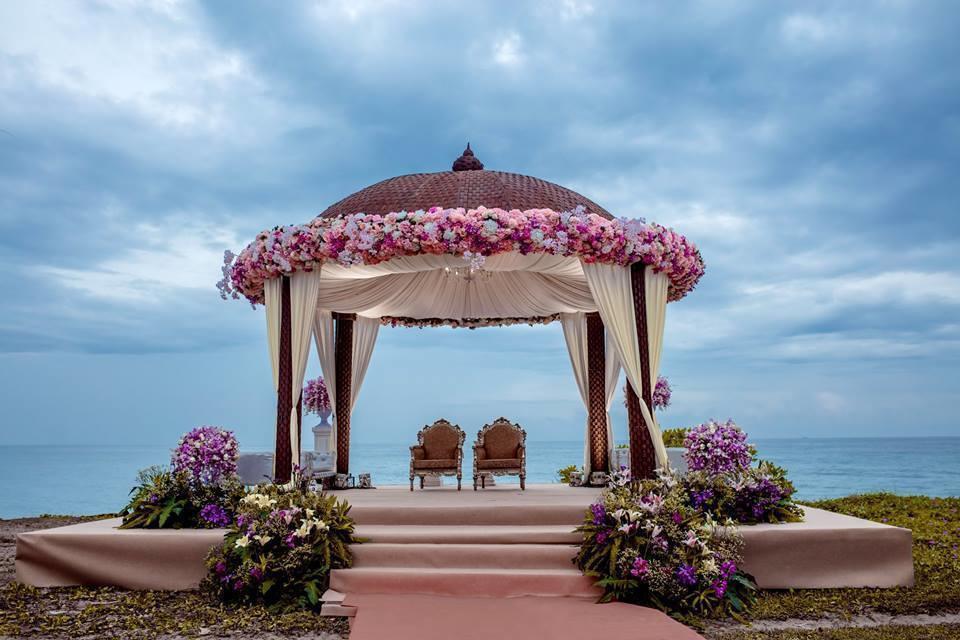 One of the best ways to save big money on your wedding is to opt for a place such as a garden or a beach rather than going for hotels, resorts or marriage halls.
If the place is pristine, you don't need any extra decoration for your stage or the venue. They come dressed with natural bounties for which you don't need to spend one dime.
If you are having a beach wedding, simply have an arch built on the sands for you to showcase yourself and your groom to the guests! For garden settings, don't build any platforms. Simply, have a simple backdrop of buntings and ribbons. The natural blooms will add dazzles to the decor at no cost.
3. Simple stage decoration with drapes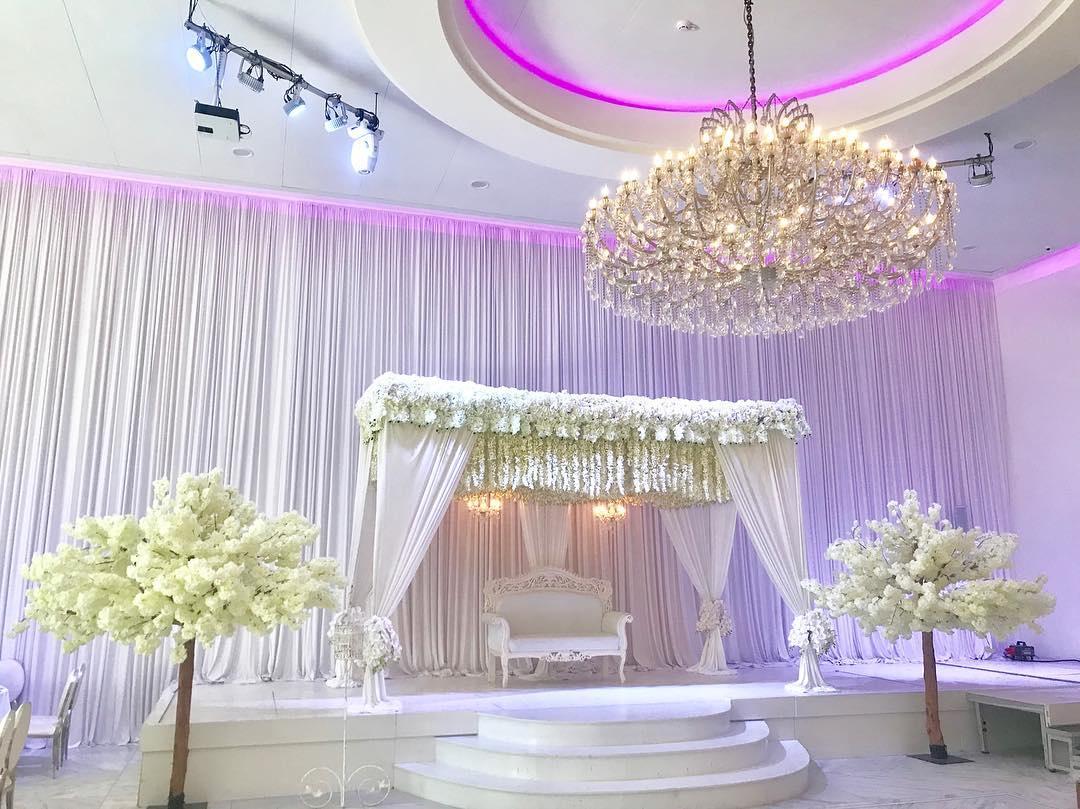 Image courtesy: Wedding Beauty Services, New Zealand
Who says that a simple stage decoration cannot look charming? For it to look appealing to the eyes, you can use drapes to dress up the stage backdrop or the arches. Decorating with drapes is trendy and adds a punch of style to a wedding.
If you want to save money on a stage's decor, choose to drape the arches with burlap instead of satin or silk. Burlap is sold at reasonable rates and adds a rustic charm to a wedding's decor.
4. Simple stage decoration with tea light candles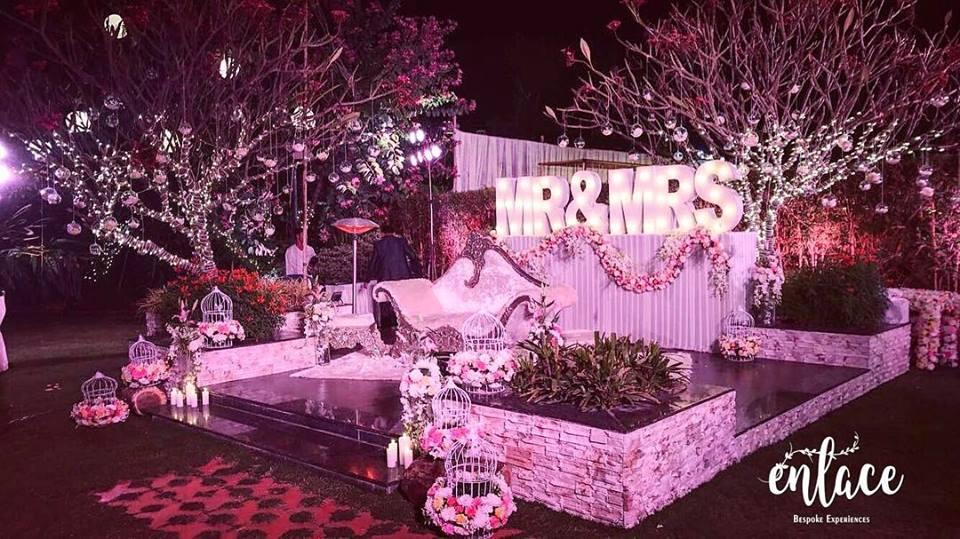 How about dressing up your wedding stage with tea light candles for a soft romantic appeal? Candles like tea lights are very much in vogue and are used for their charming effect as well as pricing.
Flowers are costly, especially when you use them to dress up your stage as you need them in bulk. The more the flowers, the more will be the price you pay. So, instead of going for huge and elaborate floral arrangements on the stage, go for tea light candles.
You can hang tea light candles in lanterns from the roof of the stage, or, in mason jars. Create a string of tea light candle jars at the backdrop for a stunning effect.
5. Simple stage decoration ideas with a floral backdrop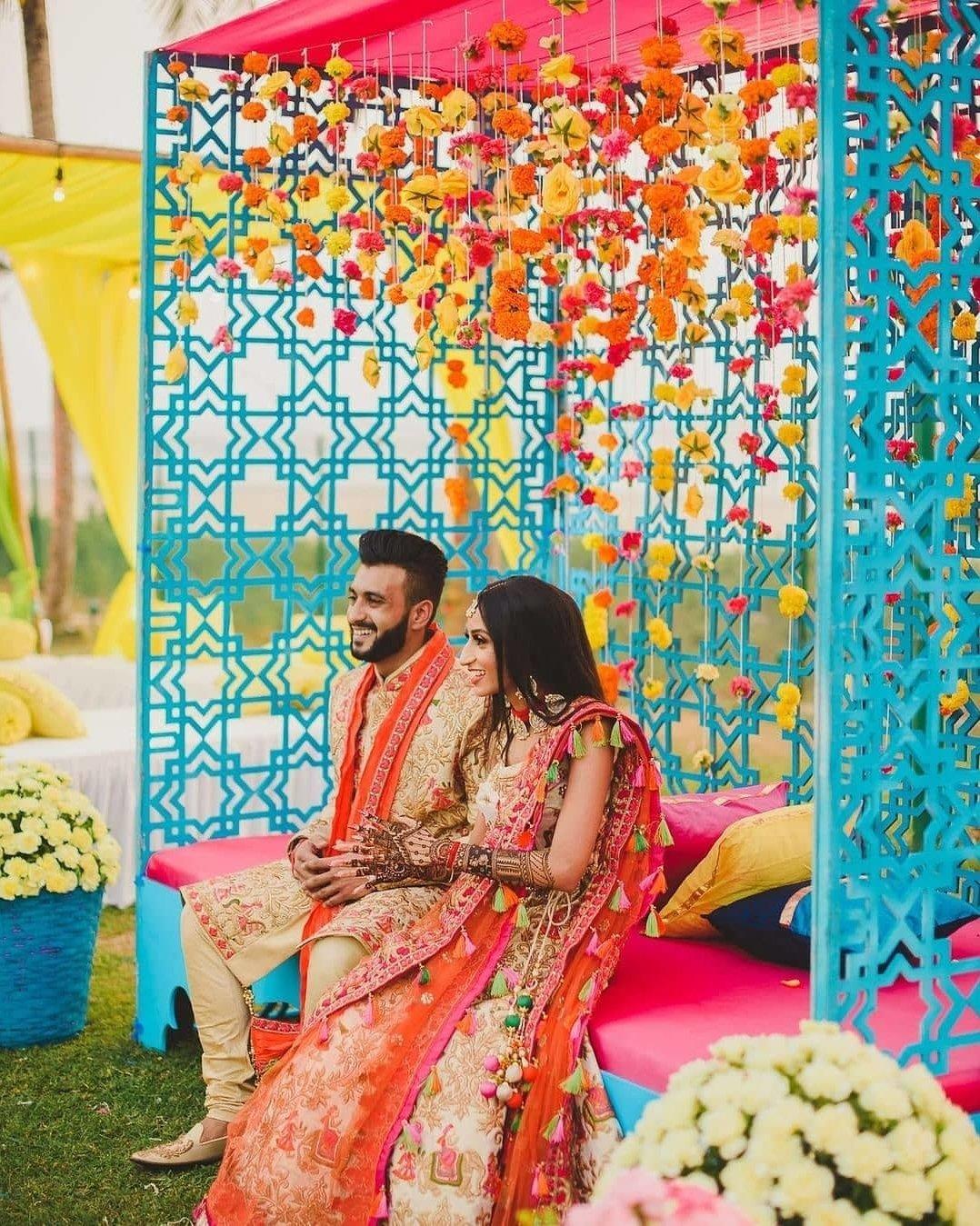 A backdrop of a stage must look attractive. But, you need not pay through your nose to achieve this goal. Even a simple flower wall decor will look wonderful and appealing. Create a backdrop mesh with local flowers such as Marigold or Gainda Phool. It will look stunning and will be way less expensive than exotic blossoms.
Hang paper flowers on a wooden frame, or, else, go for dreamcatcher hoops with artificial flowers hanging from them. Floral chandeliers can be hung from the ceiling of the stage.
6. Simple stage decoration ideas with fairy lights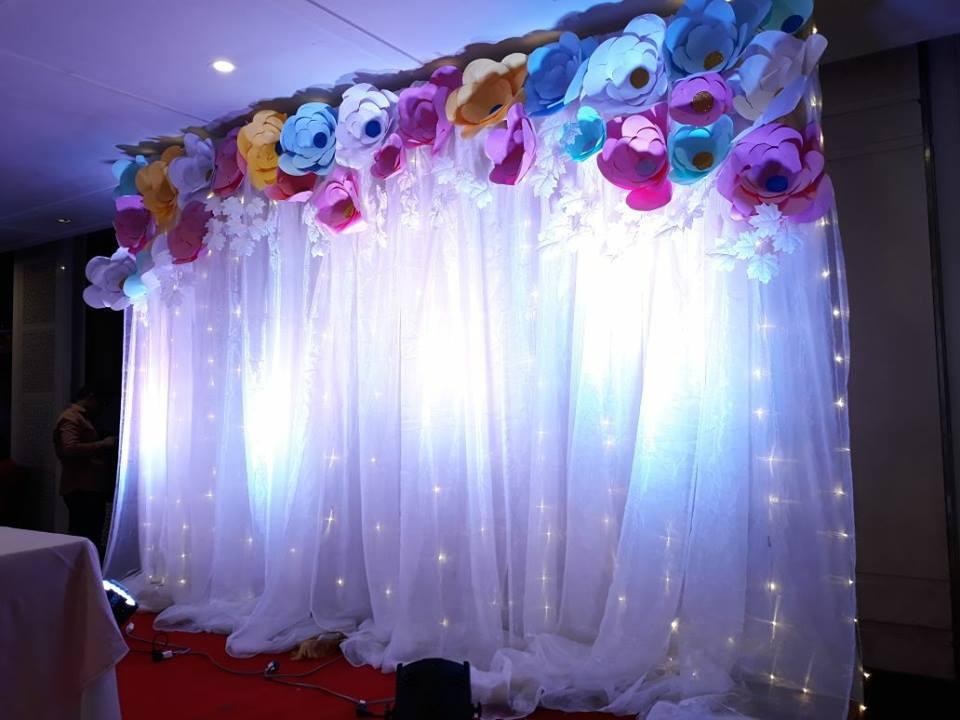 Use fairy lights to illuminate your wedding stage. You can dress up lanterns, pillars or arches of your stage with these gorgeous and cheap lights.
These light strings are inexpensive and can be stretched over to cover and hang from tall, vertical elements or wrapped around them.
7. Simple stage decoration ideas with colourful ribbons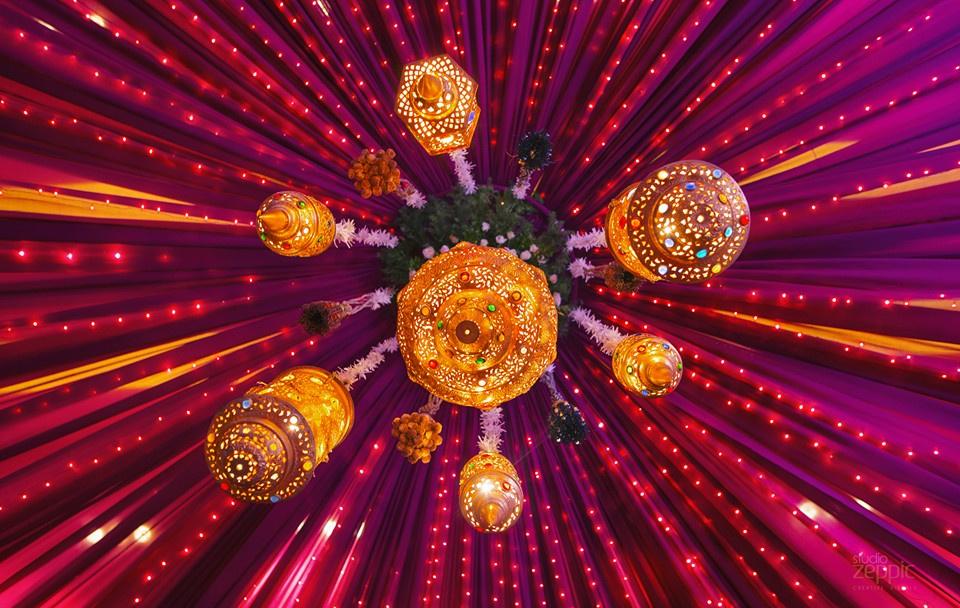 Another budget-friendly idea is to hang colourful ribbons from the ceiling of your stage, or, stick ribbon garlands on the backdrop. These are cheap and will enhance your stage's look instantly.
8. Backdrop with couple names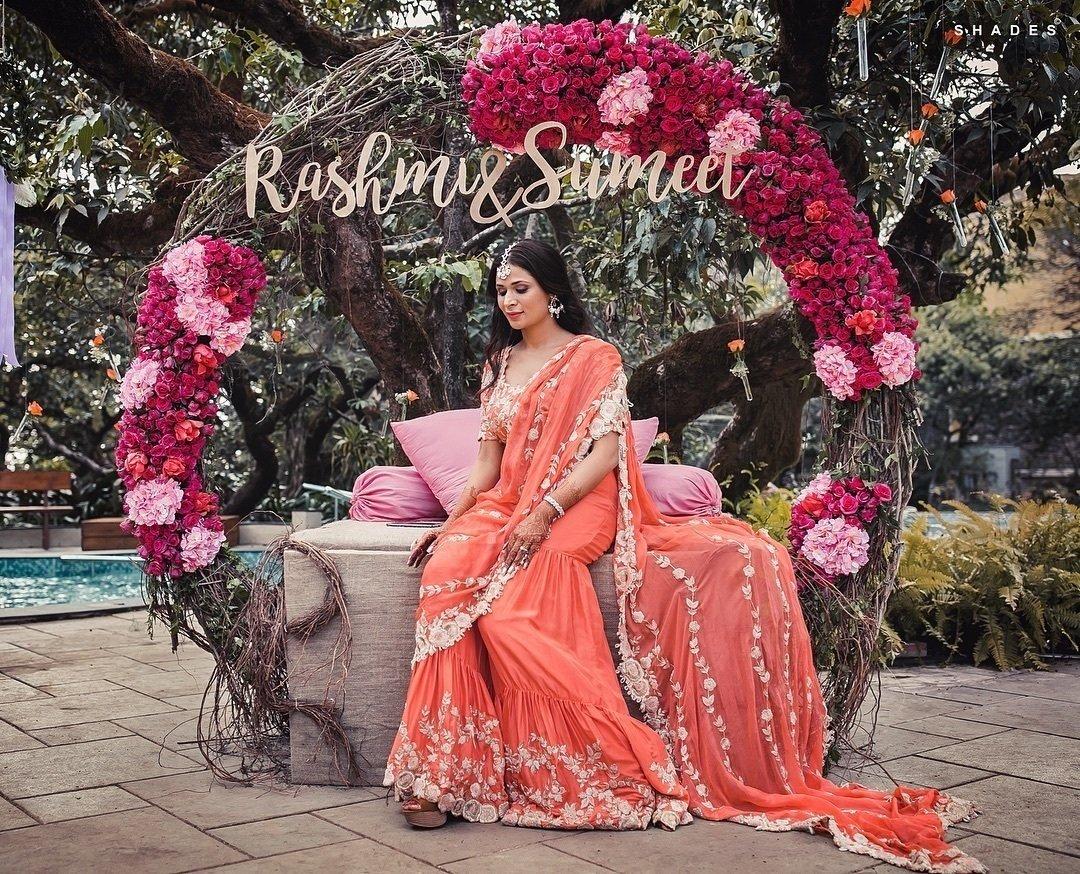 Image courtesy: Shades Photography by Ashwin M
What better way to announce to the world that you are a couple than to have a stage backdrop with your names? The idea is economical and very funky, given the craze for wedding hashtags these days. Create a photo booth on the stage with your names along with hashtags, and you are done.
With these simple stage decoration ideas, you can definitely cut back on the cost. So, go ahead and pick any one of these ideas!
Implement these simple stage decoration ideas with the best decorators in your city.