40+ Fun Photobooth Ideas to Take Your Wedding Decor to the Next Level
If you're planning to have a photobooth at your wedding and are looking for inspiration, here's a heavy dose of photobooth ideas!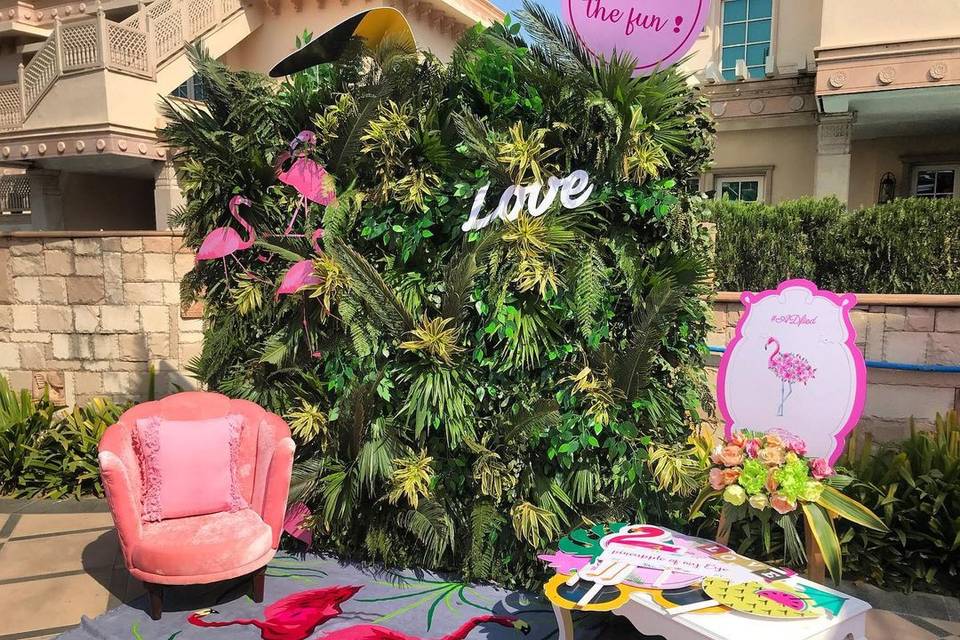 Wedding Decorators: Wedding-e-Khas
Wedding entertainment for guests has evolved from the family members singing songs to having interesting light works, skilled dancers, quirky decor and funky photobooths. It is the fun factor of photobooths that attracts a lot of guests and lights up the Mehndi or wedding-day decor, whichever day you pick to opt for it. The designs and themes will vary according to the event and its decor, like for a cocktail party, it can be glamorous frames, bicycles and rickshaws decorated with flowers are popular at Mehndi function. Want more options? Read on for photobooth ideas from real weddings.
In this article:
1. Colourful Photobooth
2. Elegant Photobooth
3. Floral Photobooth
4. Neon & Tropical Photobooth
5. Vintage Photobooth
Colourful Photobooth
Be it a Haldi ceremony, a Mehendi ceremony or any other day time wedding ceremony, colourful photobooths are always a good idea. If that is what you're looking for, we've got a perfect list for you including vibrant flowers, bright fabrics, and happy hues!
Quirky Scooter Photobooth for Haldi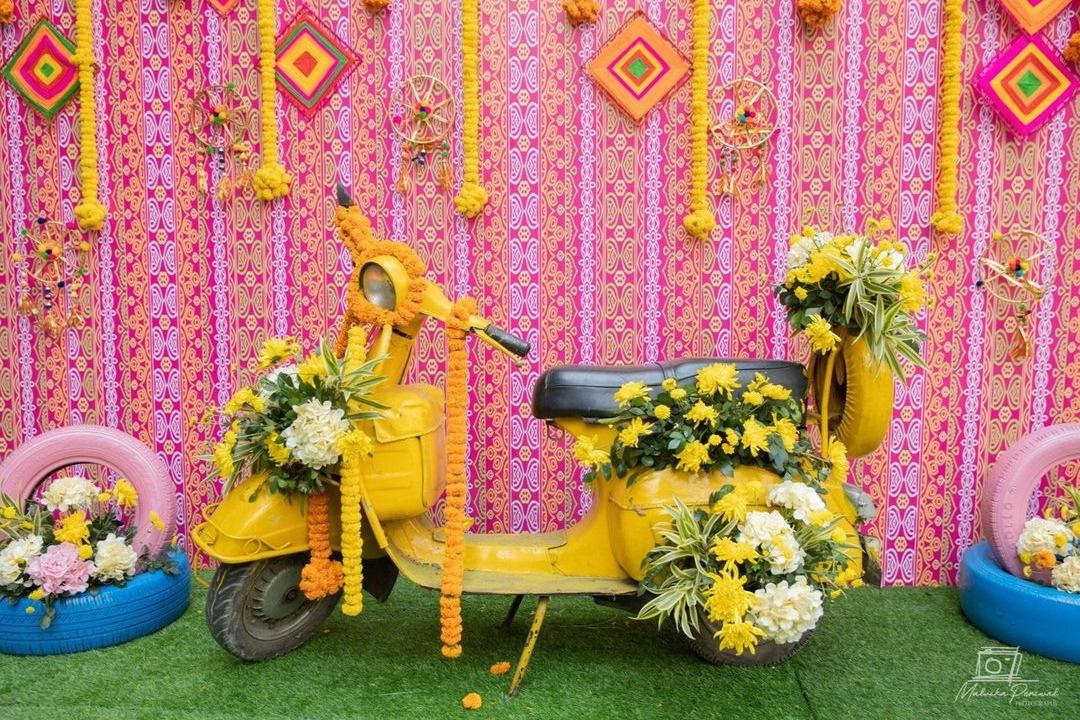 Wedding Planner: 25 Star Events & Entertainment, Photographer: Malvika Periwal Photography
Find Top Wedding Planners Near You
This vintage yellow scooter is not yet out of fashion! Set up your photobooth with this classic scooter and add up to the aesthetic with some marigold flowers. We promise, your friends and family will love this setup and you'll have a ton of fun pictures here!
Simple Haldi Photobooth Setup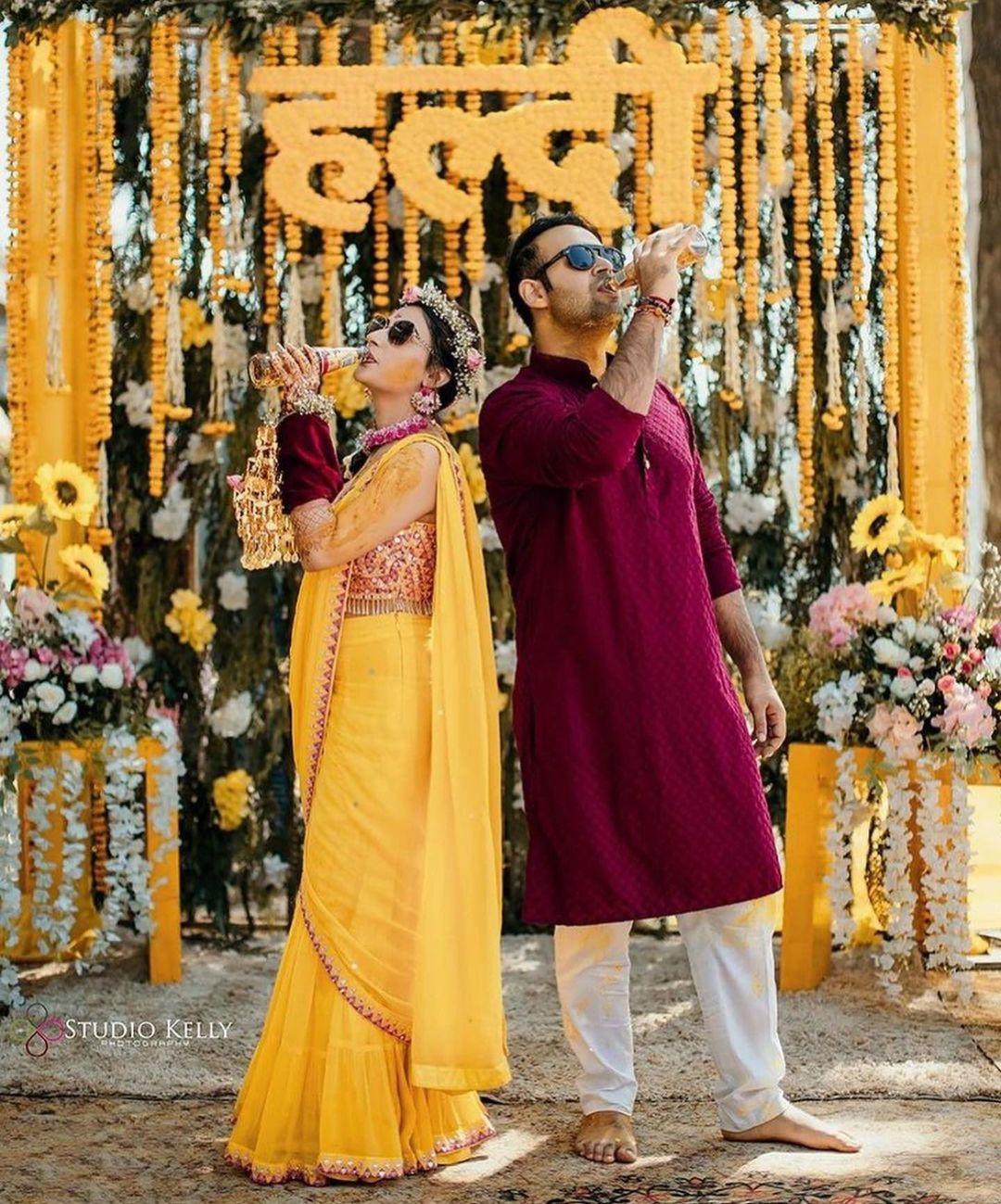 Wedding Planners: Anb Events
Haldi ceremony is one of the best wedding ceremonies for adding colorful backdrops as it is a day functions. You can opt for a simple yellow backdrop like this one and let the guests steal the spotlight in front of this backdrop for some fun pictures!
Rajasthani Photobooth Decor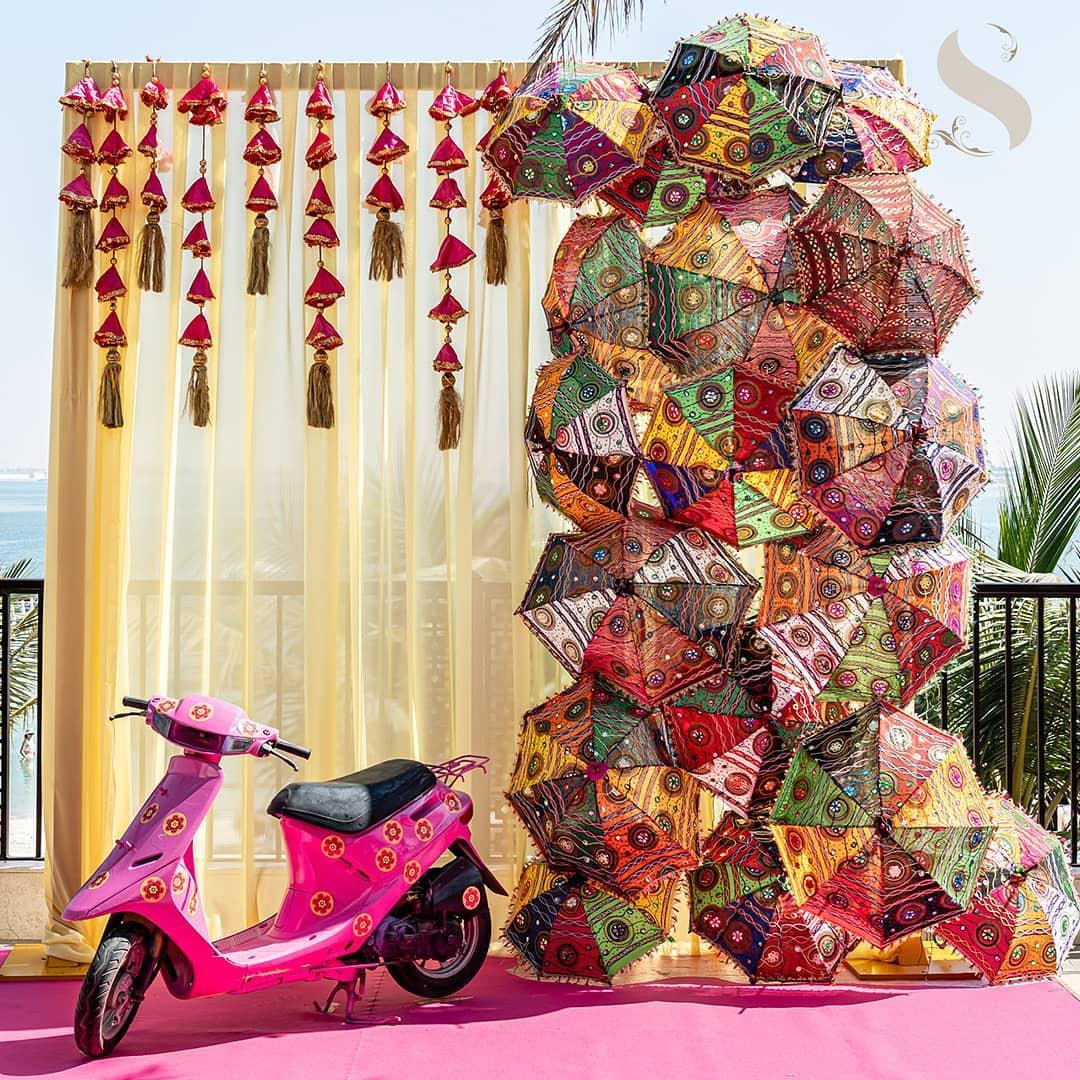 Wedding Planners: Events by Saniya, Photographer: Wedding Imprints
You can never go wrong with colourful Rajasthani decor for a photobooth and this is just proof of that. Other than colourful umbrellas and vintage scooters, you can also add colourful Latkans, quirky backdrops and flowers.
Photobooth with Hanging Frames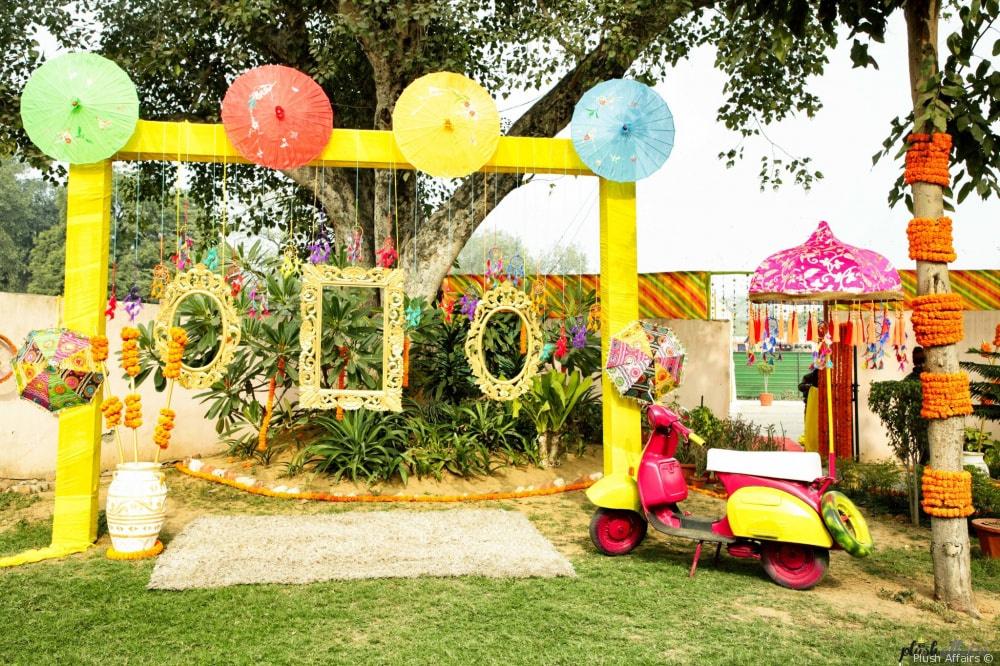 Photographer: Plush Affairs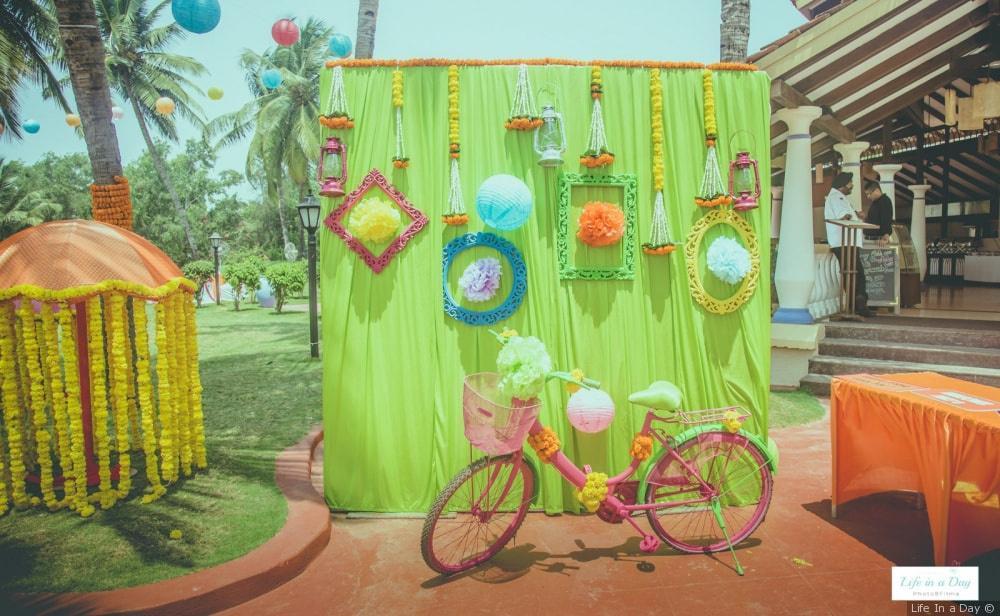 Photographer: Life In a Day
You can even combine different elements like Rajasthani umbrellas, scooters, dreamcatchers and frames to pretty up your photobooth ideas. This would give your guests the freedom to choose whichever prop they want to pose against.
Colourful Decor for Photobooth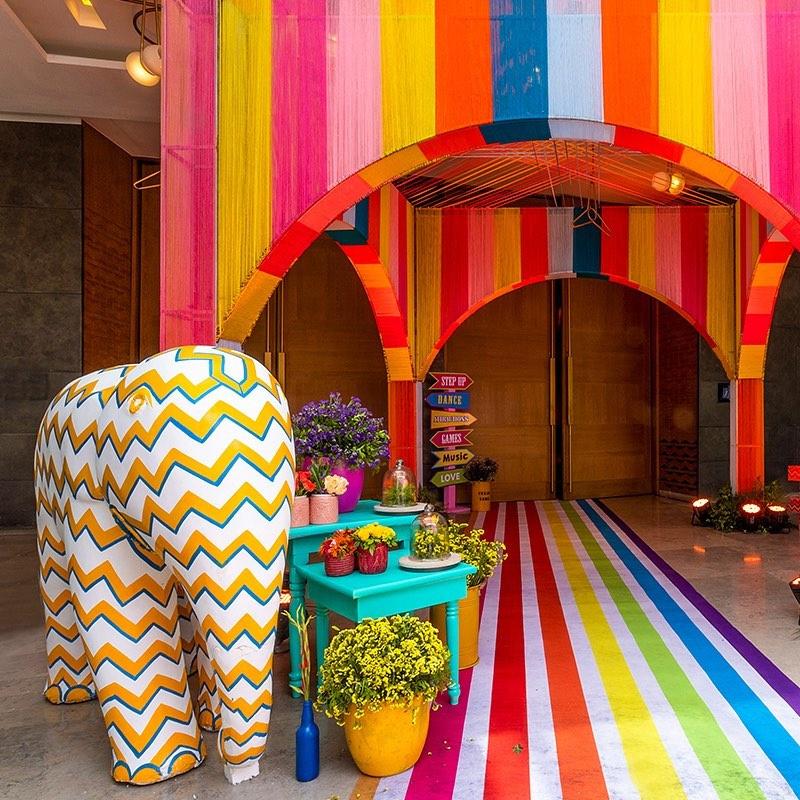 Wedding Planners: Innocept Studio, Photographer: Prakash Tilokani Photography, Decorators: FnP Weddings & Events
Can't get enough of colours? Check out this photobooth decor idea! You can also add some props to this photobooth and your guests will surely be clicking lots of great pictures here!
Photobooth with Colourful Frames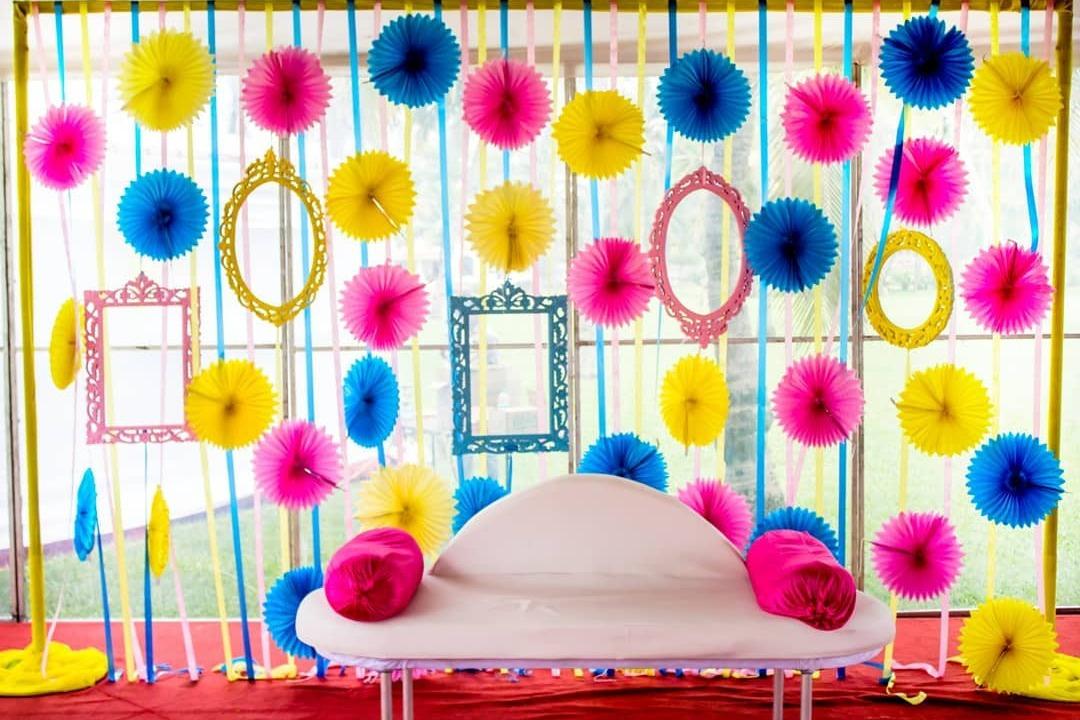 Wedding Planners: Mpire Events
Another way of adding colours to your wedding with a photoobooth is by adding different frames with colourful elements like the ones used here! This photobooth is perfect for a daytime funtion like Haldi or Mehendi ceremony.
Rickshaw Photobooth for Mehendi Ceremony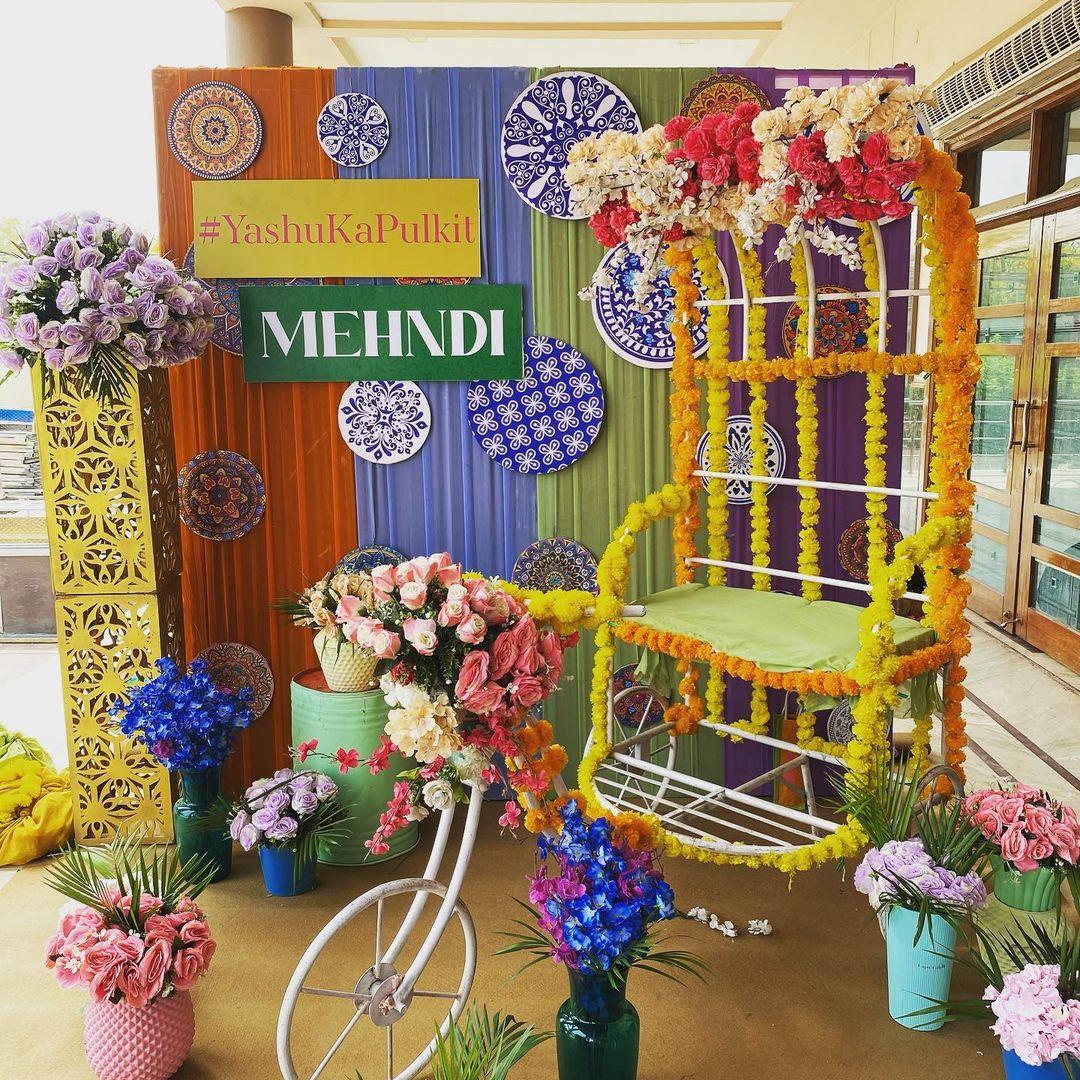 Wedding Planners: Orbit Entertainments
There is nothing more Indian and fun than cycle rickshaws and this is just proof of that. You can get this photobooth decorated with the colour of your theme for the wedding ceremony and this will surely be a hit with your wedding guests.
Vibrant White and Blue Photobooth Decor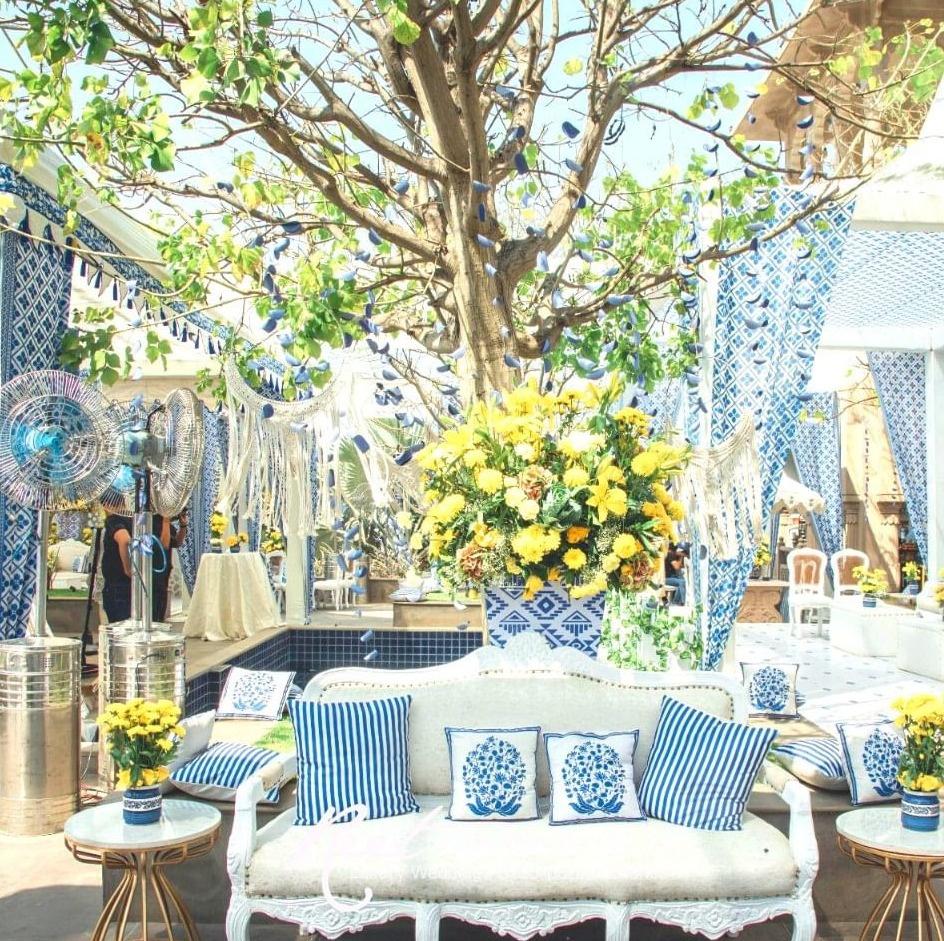 Wedding Planners: Reet Entertainment
Lookin to get subtler colours for your wedding day functions? Check out this blue and white themed decor that makes for the perfect photobooth backdrop for any wedding. The yellow flowers are adding just the right amount of brightness and hue to this setup!
Vibrant and Colourful Photobooth Decor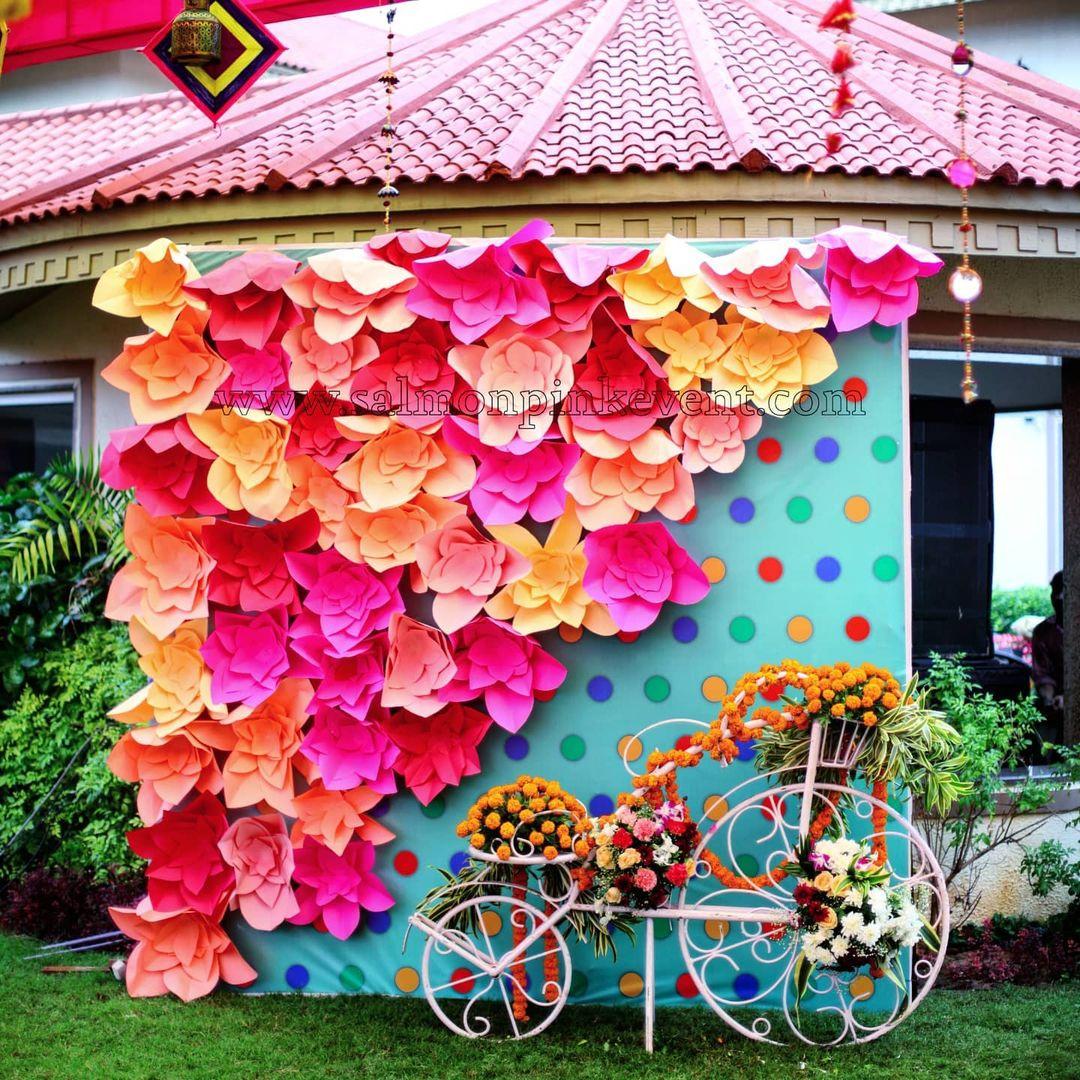 Wedding Planners: Salmon Pink Events
Vibrant photobooths like these are a huge hit at day functions at weddings like Haldi and Mehendi. If you're keeping a similar theme for the Haldi ceremony, this is a great photobooth backdrop idea to take inspiration from.
Pastel Photobooth for Haldi Ceremony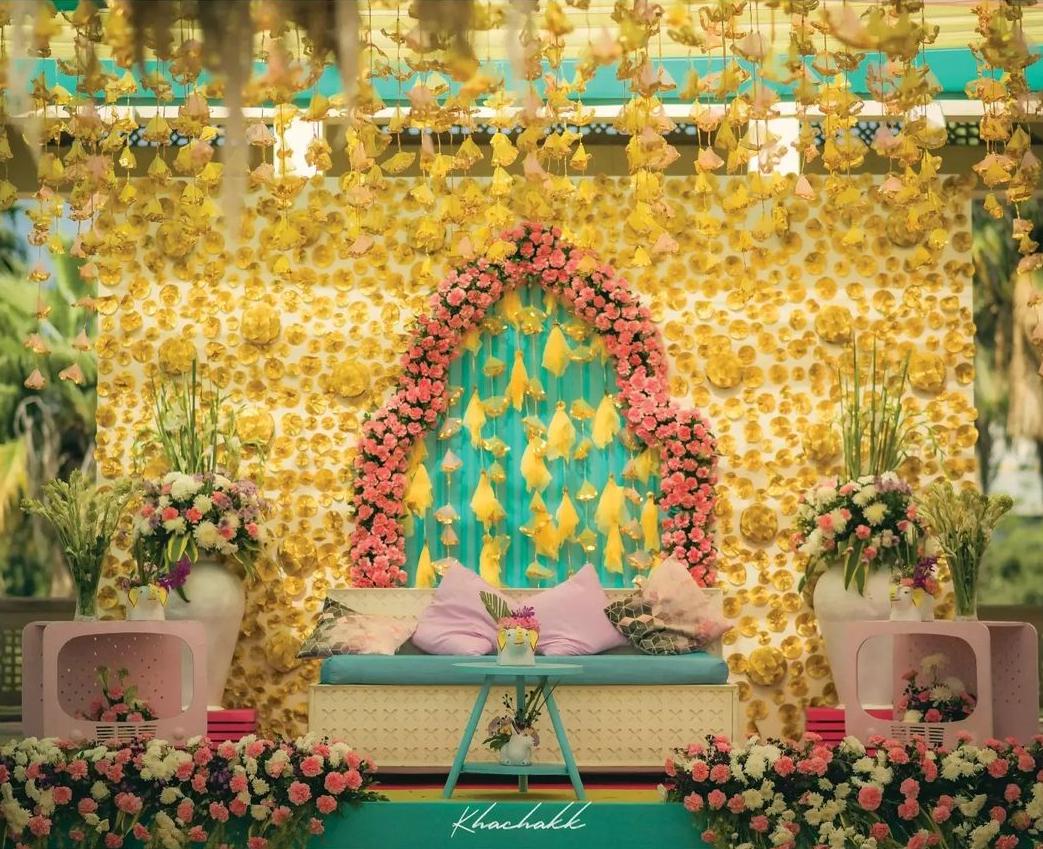 Wedding Planners: Sea Rose Affairs, Photographer: Khachakk Studio
Don't want your wedding to be brightly coloured? We've got the best option for you to introduce colours in a more elegant way. Take a look at this pastel themed Haldi photobooth setup full of pastel blues, yellows and pink!
Quirky & Modern Photobooth Decor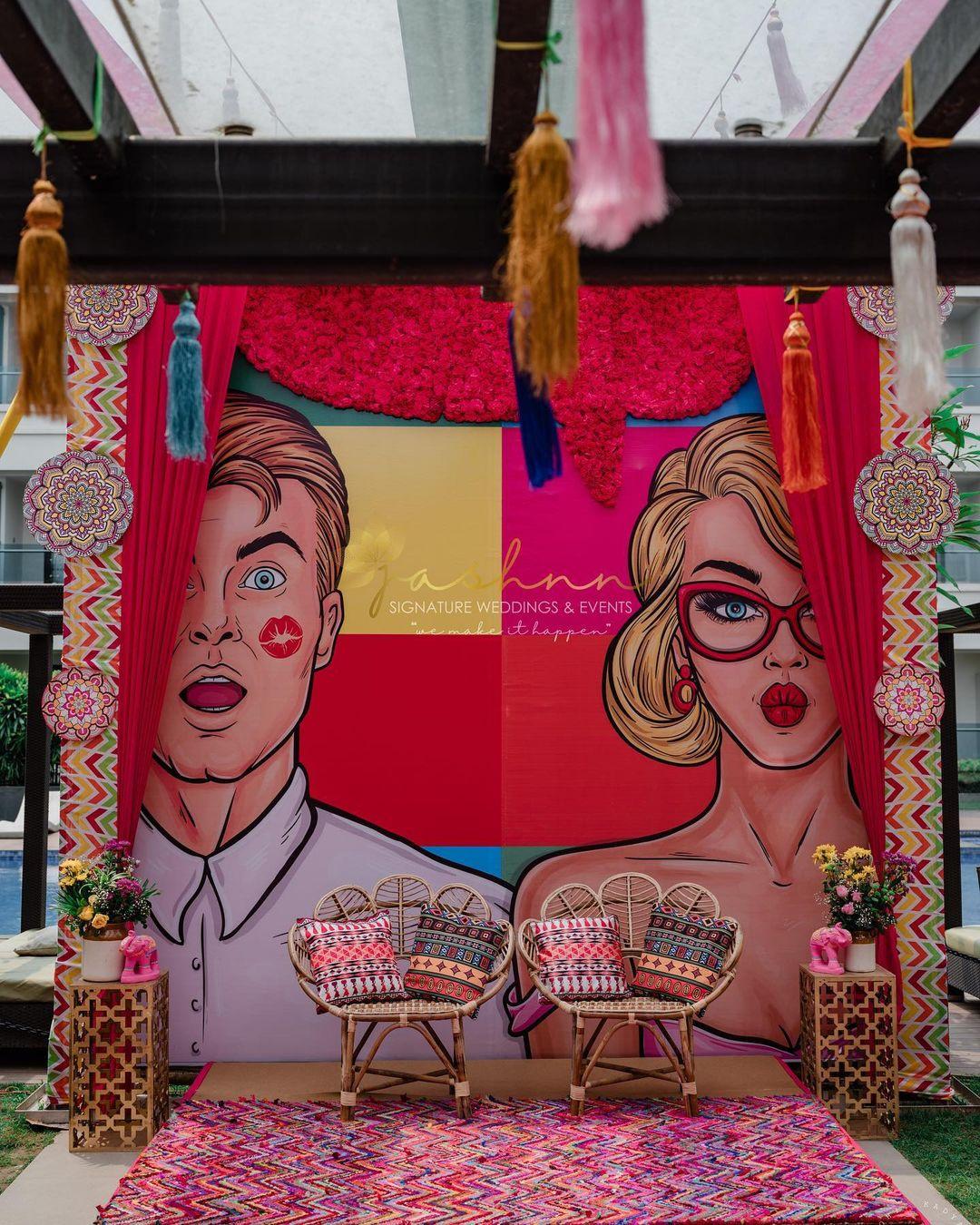 Wedding Planners: Jashnn-Signature Weddings, Photographer: Rohit Kadyan
This quirky photobooth idea is a must have in your bookmarks if you're looking for something other than floral arrangements and vintage cycle or scooter decor for your wedding photobooth.
Bright & Happy Photobooth Decor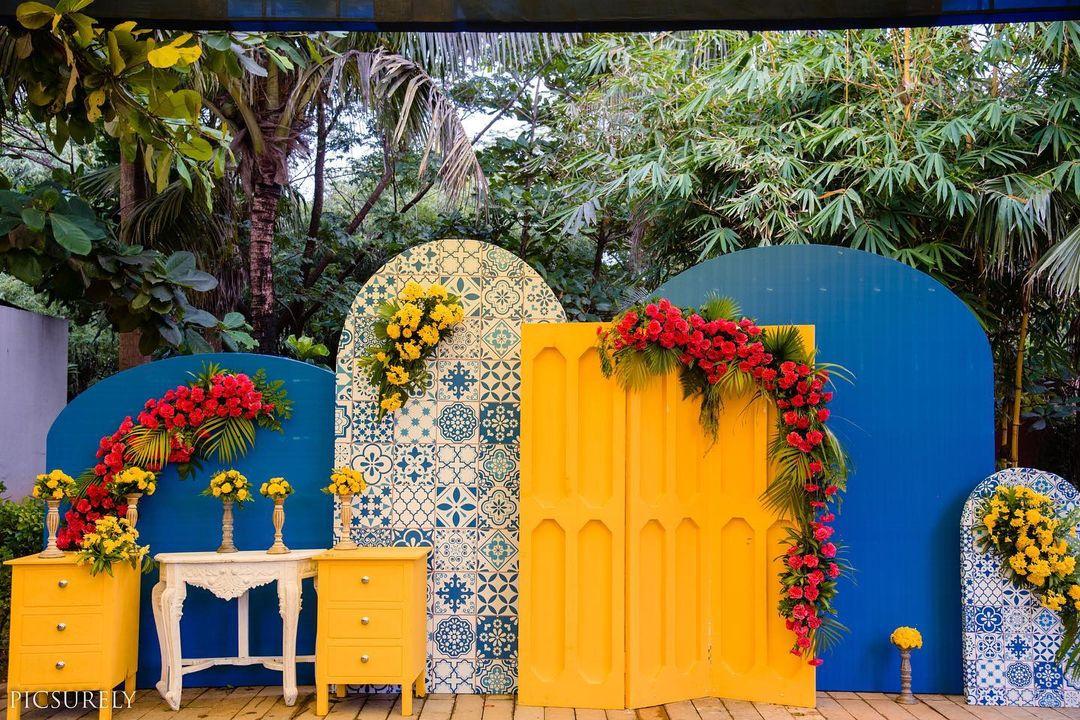 Wedding Planners: The Wedding Ties
For a more minimalistic and cleaner look, this vibrant and bright photobooth backdrop is the perfect option. The colourful doors and the minimal floral decor makes this a great photobooth backdrop for your daytime wedding functions.
Photobooth Decor with Colorful Kites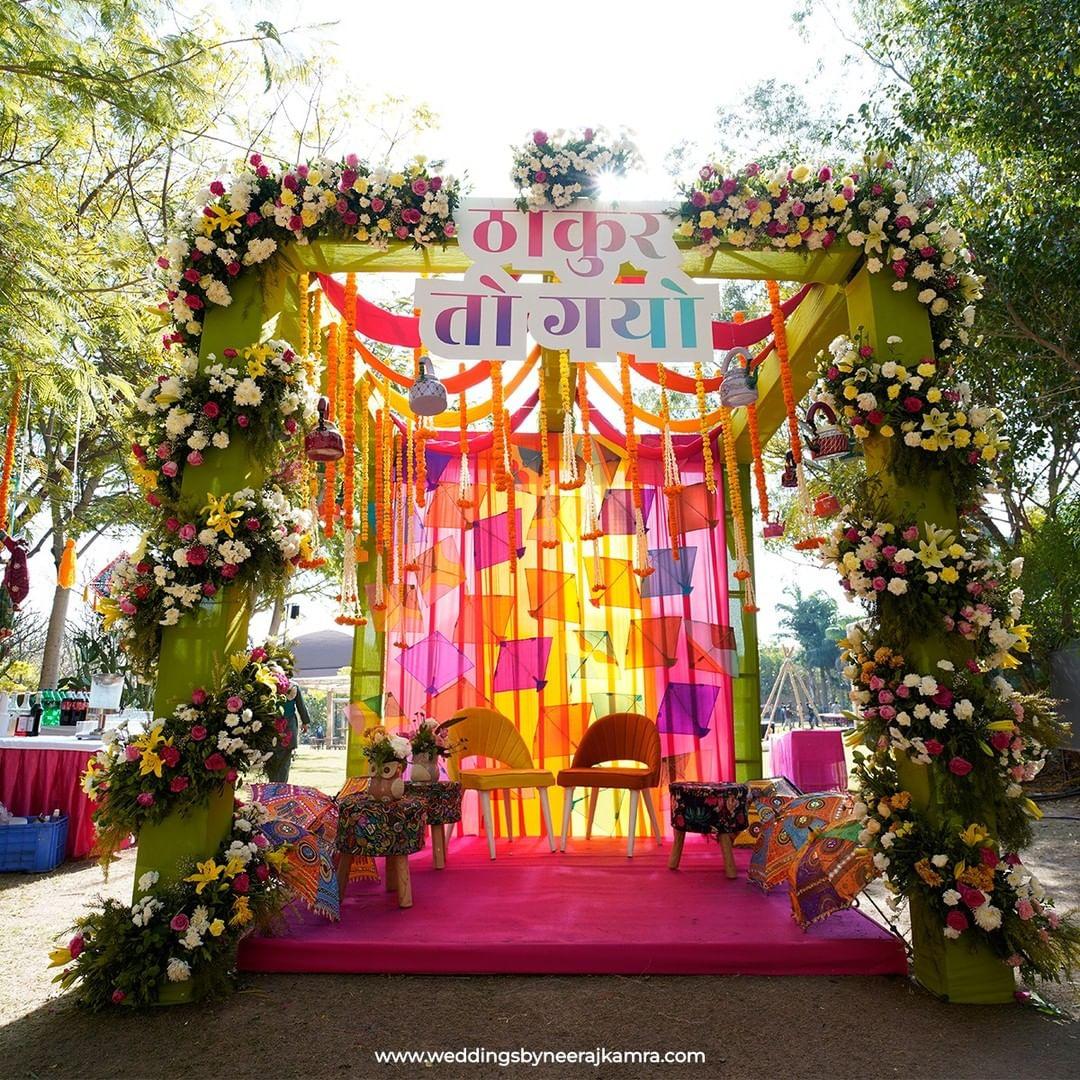 Wedding Planners: Weddings By Neeraj Kamra, Venue: Ananta Udaipur
If you have a specific movie or TV show reference in your head that you think will go perfectly with the photobooth setup at your wedding, this is a great example to bookmark! Get your sign customized and hang it on the top of the photobooth for adding in the personalization and fun factor!
Quirky Rajasthani Photobooth Backdrop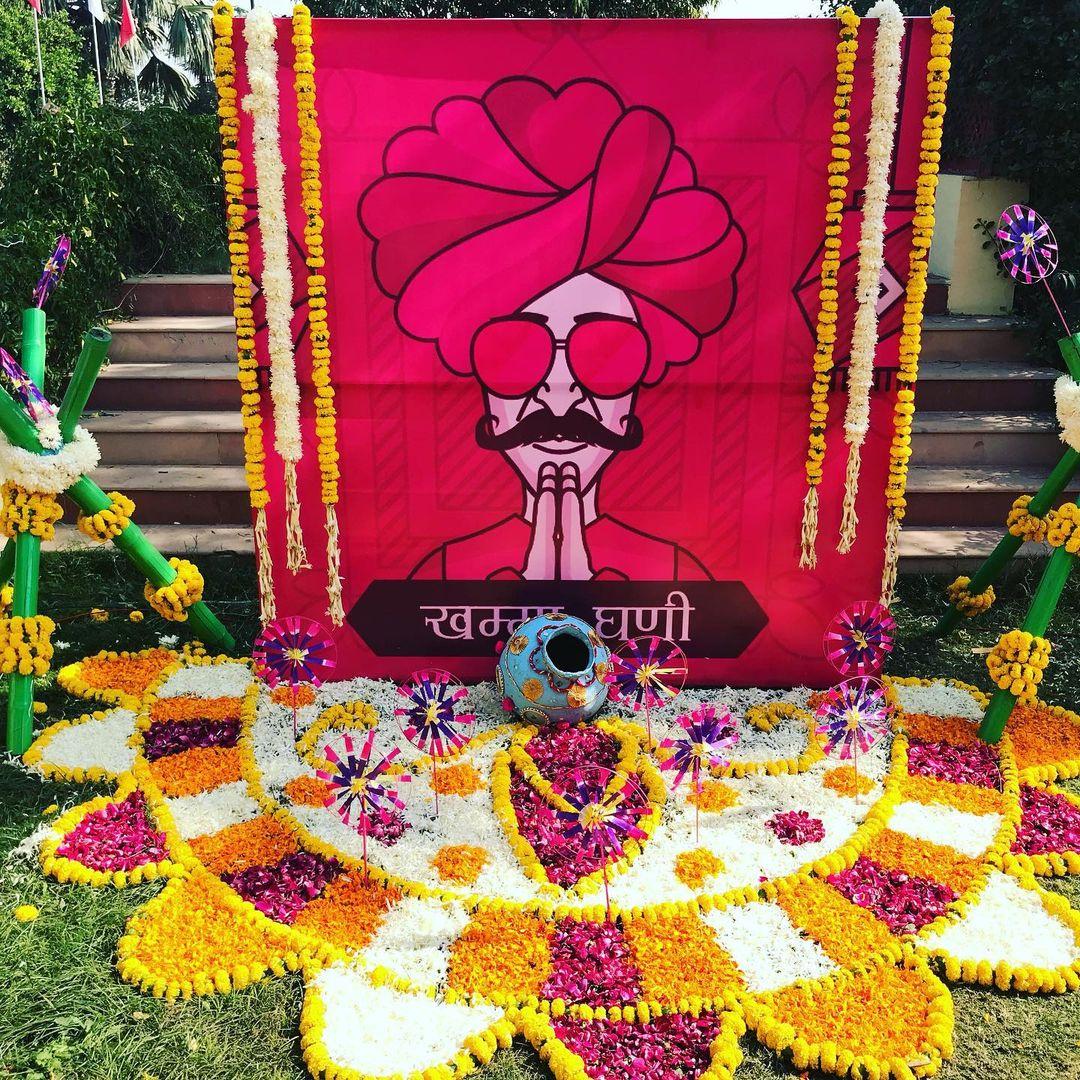 Wedding Planners: Wonder Creations Events
If you're having a wedding in Rajasthan- destination wedding or otherwise, this kind of a decor is surely going to be a hit. Your guests will love the fact that you used the local cultural elements at the wedding and this will add up to a wonderful wedding experience as well.
Elegant Photobooth
Not looking for colourful and vibrant hues? You've landed at the right place, because we've got the just the right list of subtle and elegant photobooth ideas. Be it pastel flowers, ivory backdrops, mirrors or elegant chandeliers and classy candle stands, just scroll and you'll find your kind of elements here.
Dreamy Pastel Floral Photobooth Decor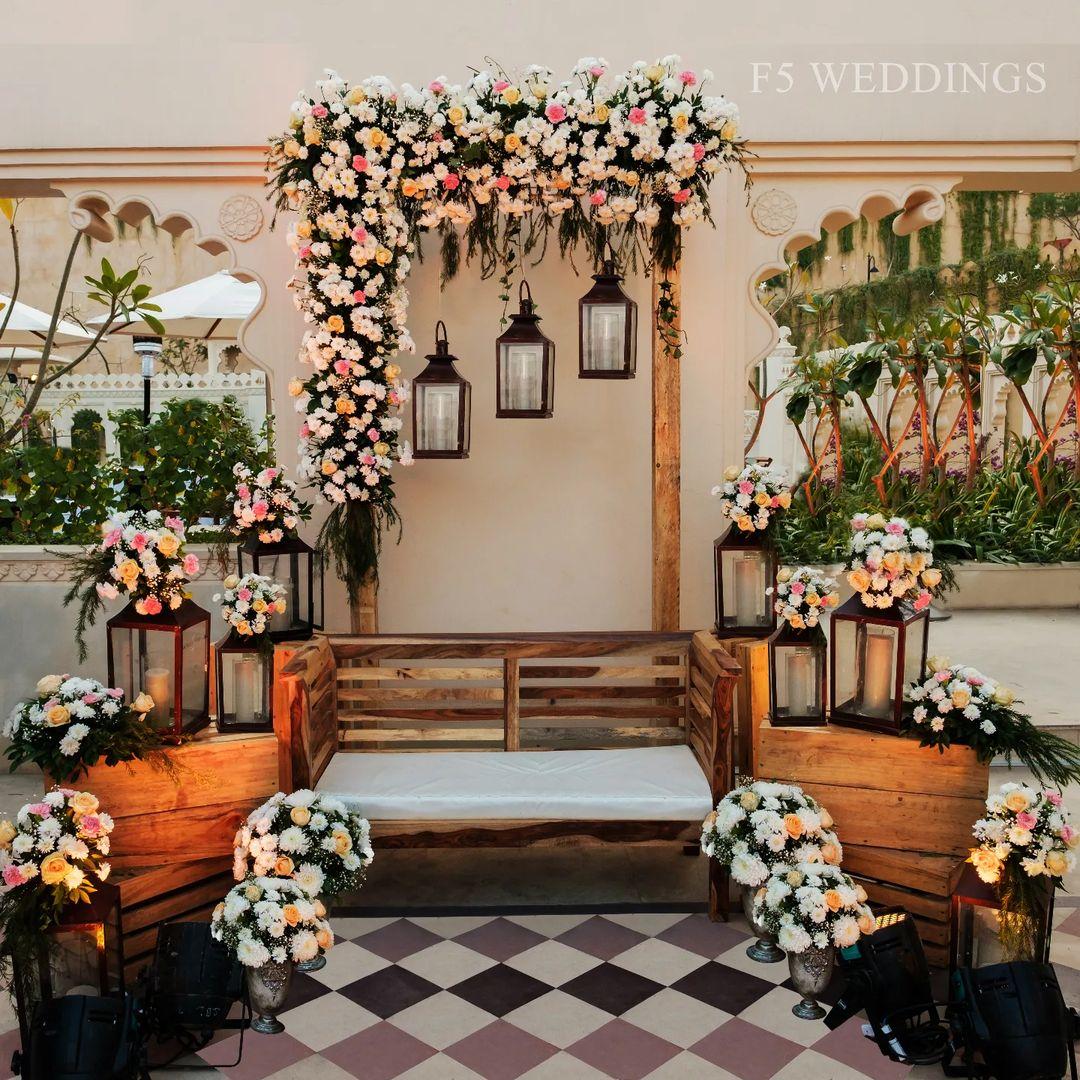 Wedding Planners: F5 Weddings, Photographer: Knotting Bells,
If you're all for classy decor, this photobooth idea is for you. If you're looking for a similar aesthetic, ask your decorator or planner for minimalism, white and pastel flowers, huge lanterns and earthy textures to keep things clean and elegant.
White and Gold Mirror Photobooth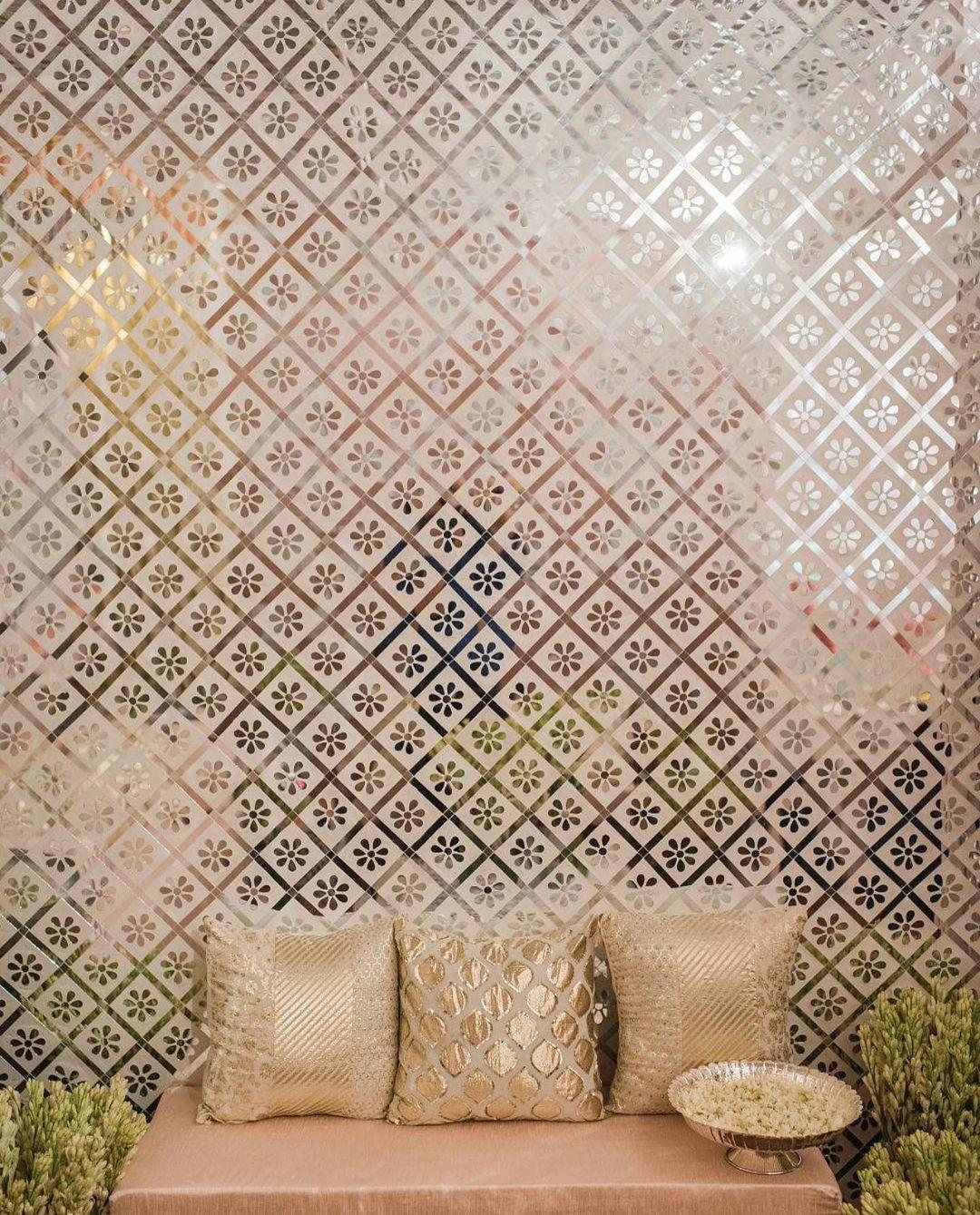 Wedding Planners: Rani Pink
This is one of the most popular and trending photobooth backdrop ideas currently. If you're having a white, ivory or gold themed wedding, this
Bride & Groom Initials Photobooth Decor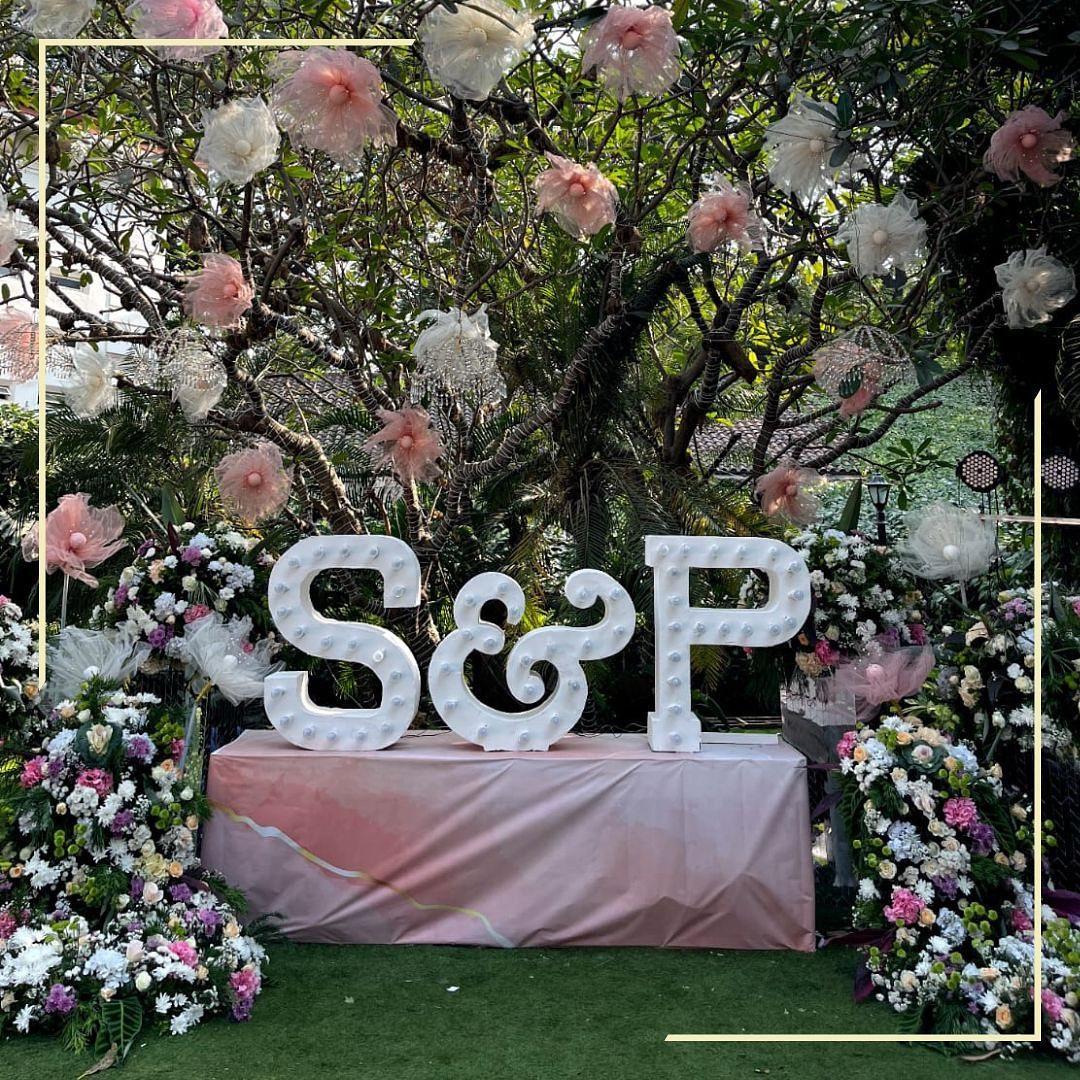 Wedding Decorators: Samani Decorators
Looking to personalize your wedding's photobooth backdrop? This is another one of great options you have! Put up the bride and groom's initials and add up pastel elements around it for a elegant and subtle look to the photobooth.
All Things White & Pastel Photobooth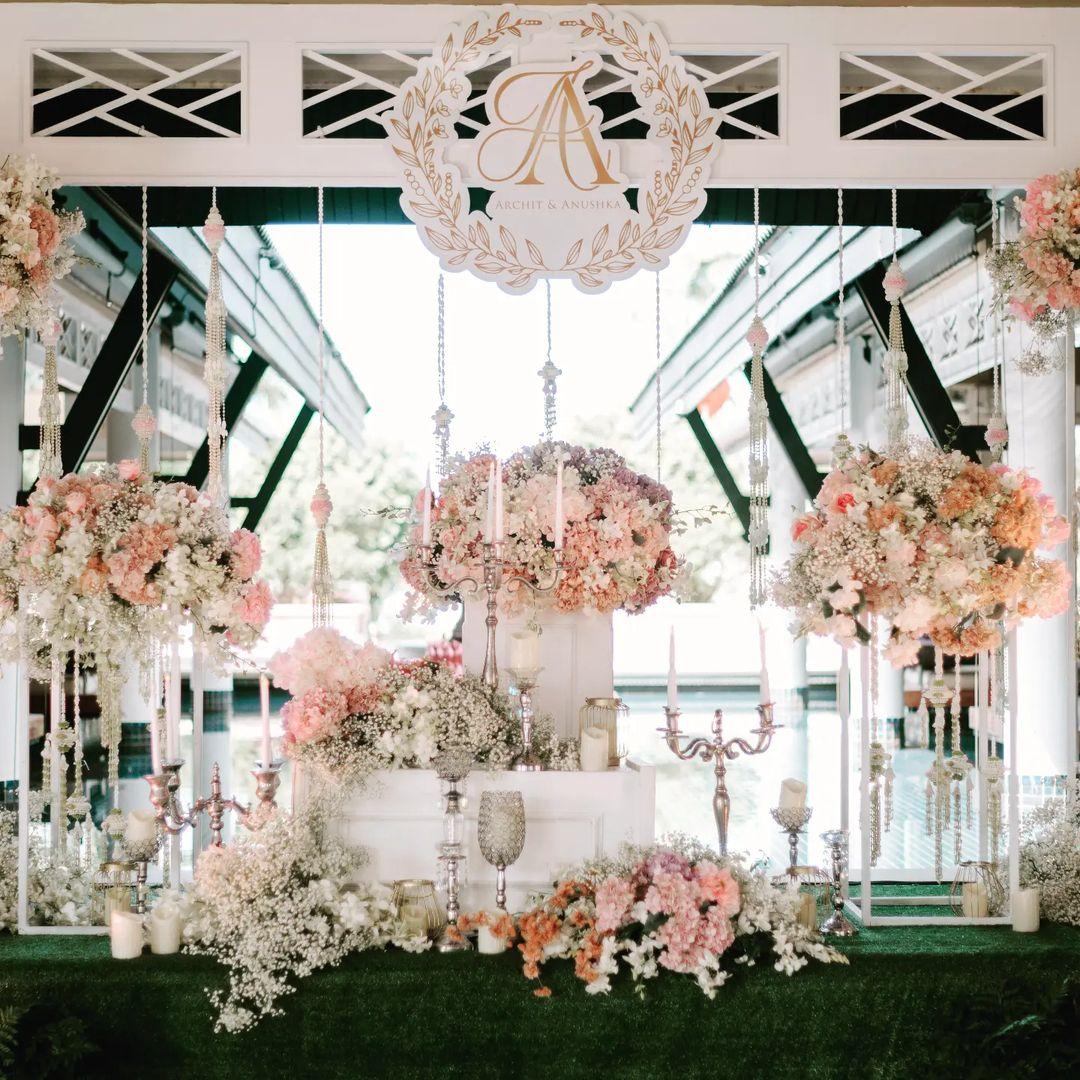 Wedding Planners: The Wedding Network
This is one of our absolute favourite elegant photobooth setups for daytime weddings. Give special attention to the decorative wine glasses, pastel pink flowers and the gorgeous candle stands used in this photobooth.
Photobooth with Bride & Groom's Neon Sign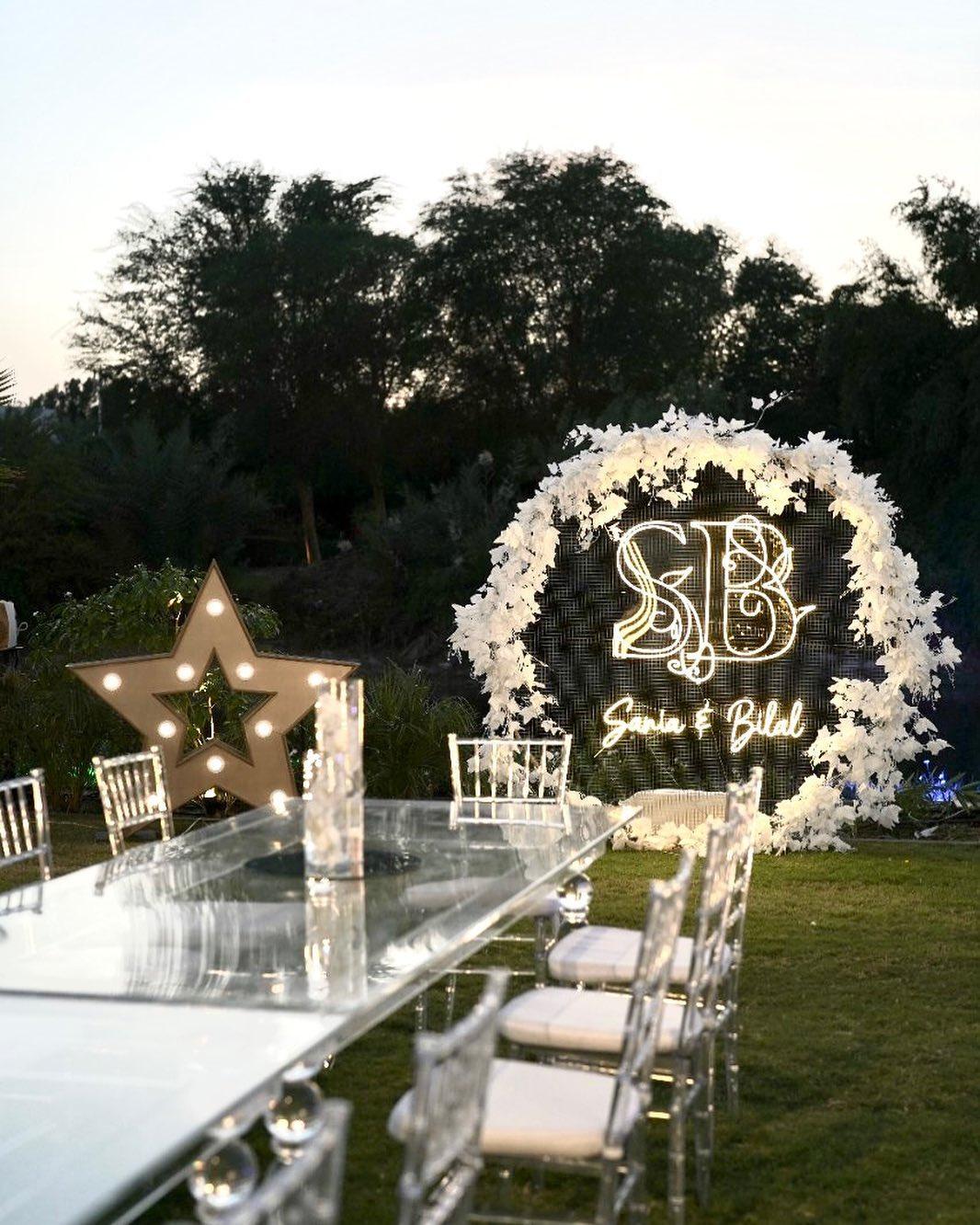 Wedding Planners: Vivaah
For a more intimate setting, this kind of a photobooth will be perfect. You can modify this as per your theme and add flowers of different colours around the bride and groom's initials' neon signs.
Glittery White Photobooth for Sangeet Night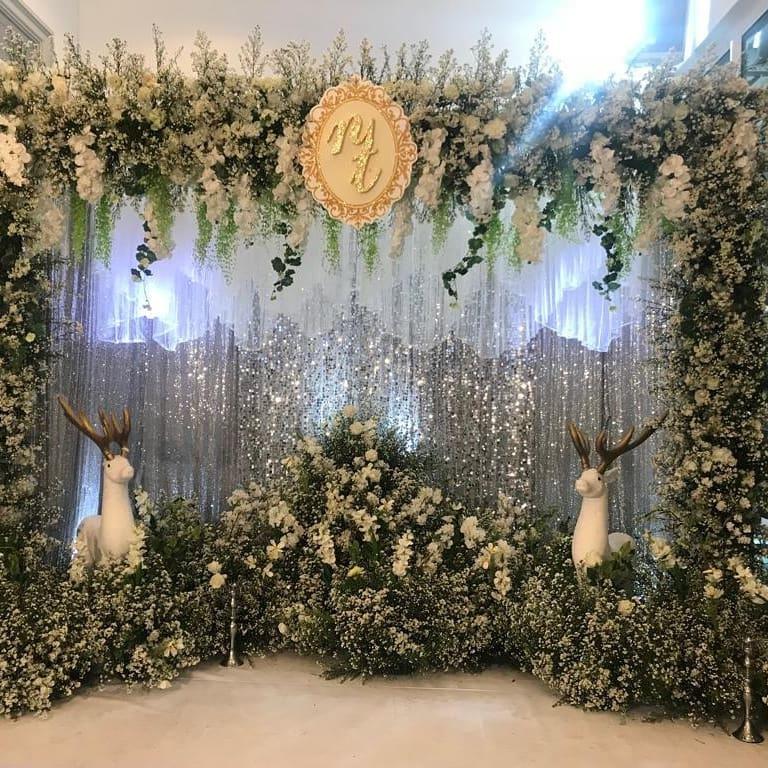 Wedding Planners: Yes Media
If you want to add a little bit of glimmer to your photobooth and make it one with your starry night themed Sangeet night, this is a great example that you should be bookmarking right away.
Floral Photobooth
Flowers are an integral part of decor be it at a photobooth, at centre pieces or at the stage backdrops. When it comes to photobooths, you can play around with flowers in a million different ways. Whatever be the theme of your wedding functions, we've got a floral photoooth idea for you here.
Photobooth with Dreamy Floral Arrangements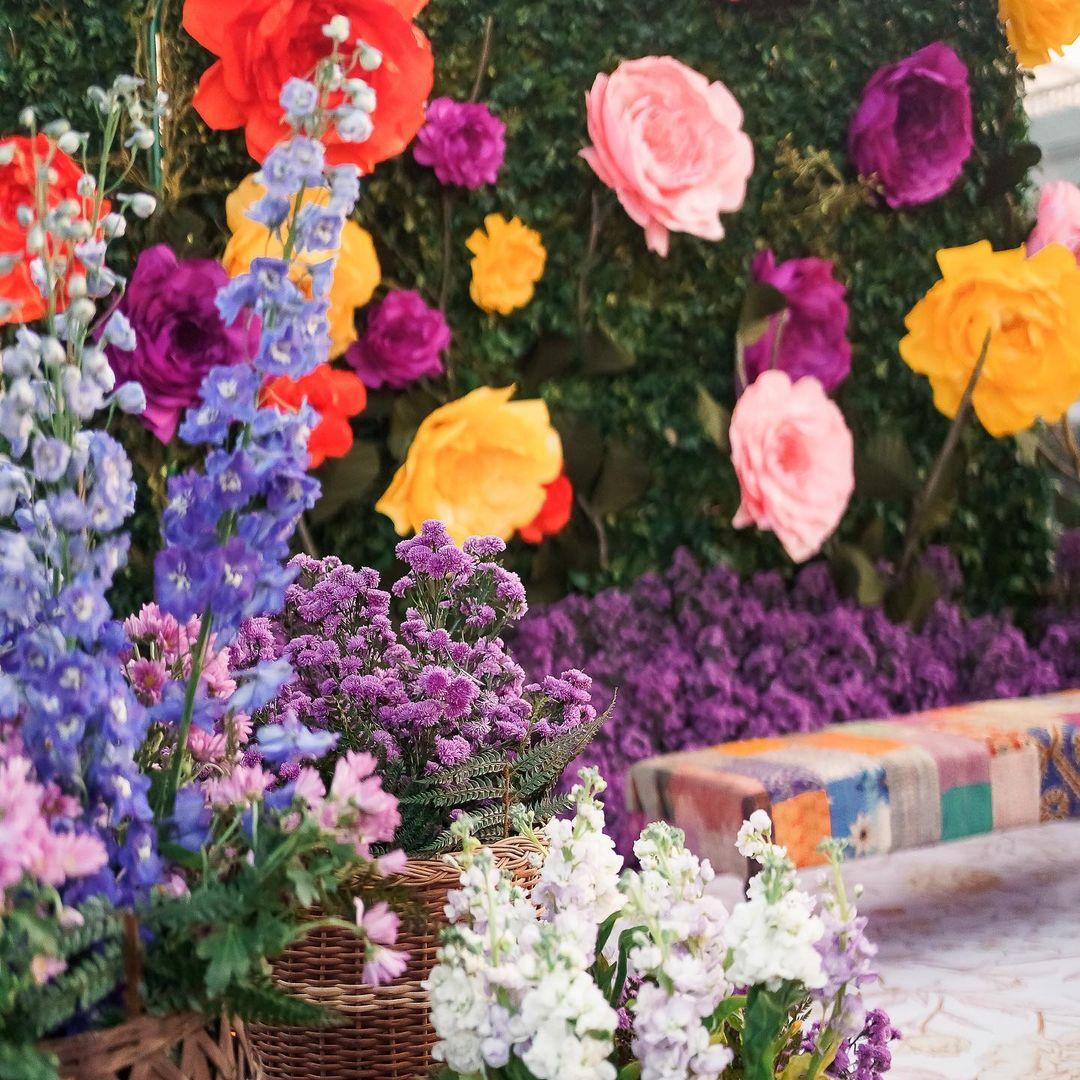 Wedding Planners: Akarshana Events
Looking for something more elegant? Ask your decorator to add bright and colourful flowers that go with the theme and add it to a backdrop with a colourful bench in front. This will make for an amazing photobooth at your day wedding functions.
Pastel Butterfly Photobooth Decoration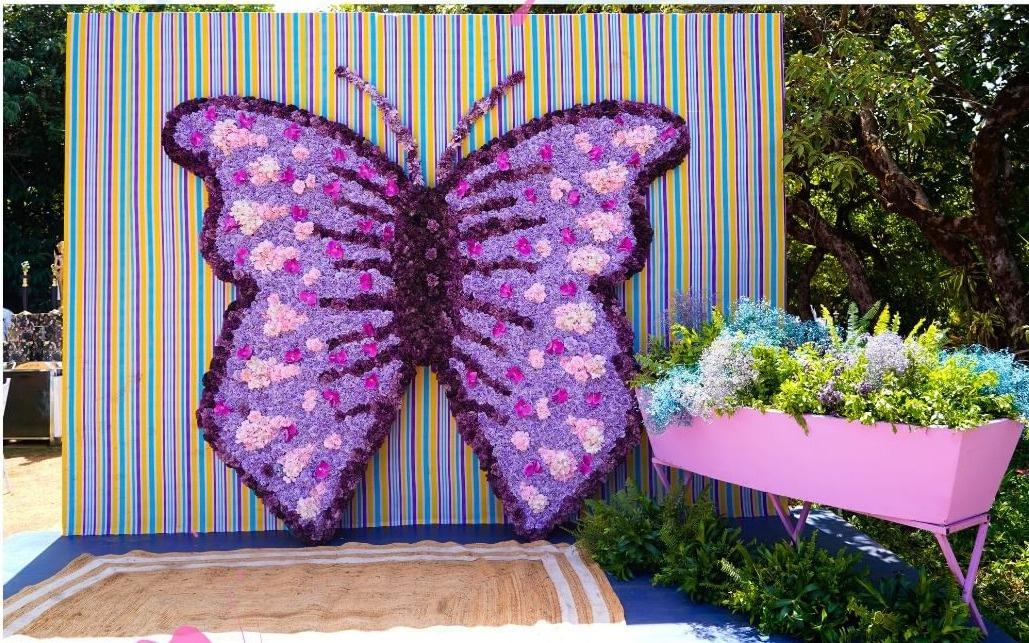 Wedding Planners: Celebration Events, Venue: Le Méridien Mahabaleshwar
This is surely going to be your friends' and cousins' favourite part of the wedding! An all-floral massive butterfly backdrop is a brilliant idea for a photobooth at one of your daytime functions at the wedding.
Pastel Pink Photobooth Idea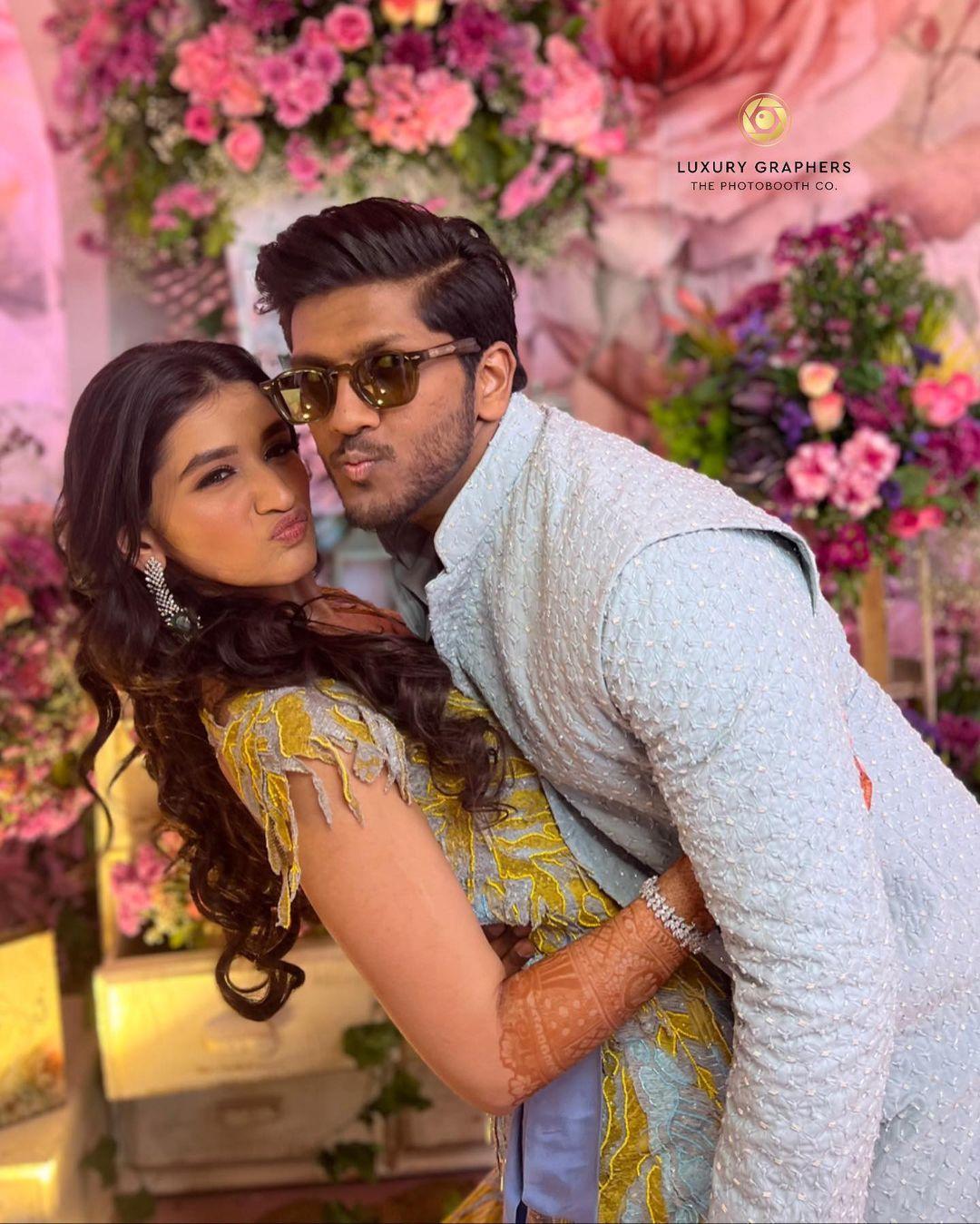 Wedding Entertainers & Photobooth: Luxury Graphers,
For a perfect pastel floral photobooth, take inspiration from this fun picture. This is a great photobooth idea for day functions where you want to keep things subtle and less vibrant but also want to make the venue look lively.
Grandiose Photobooth Backdrop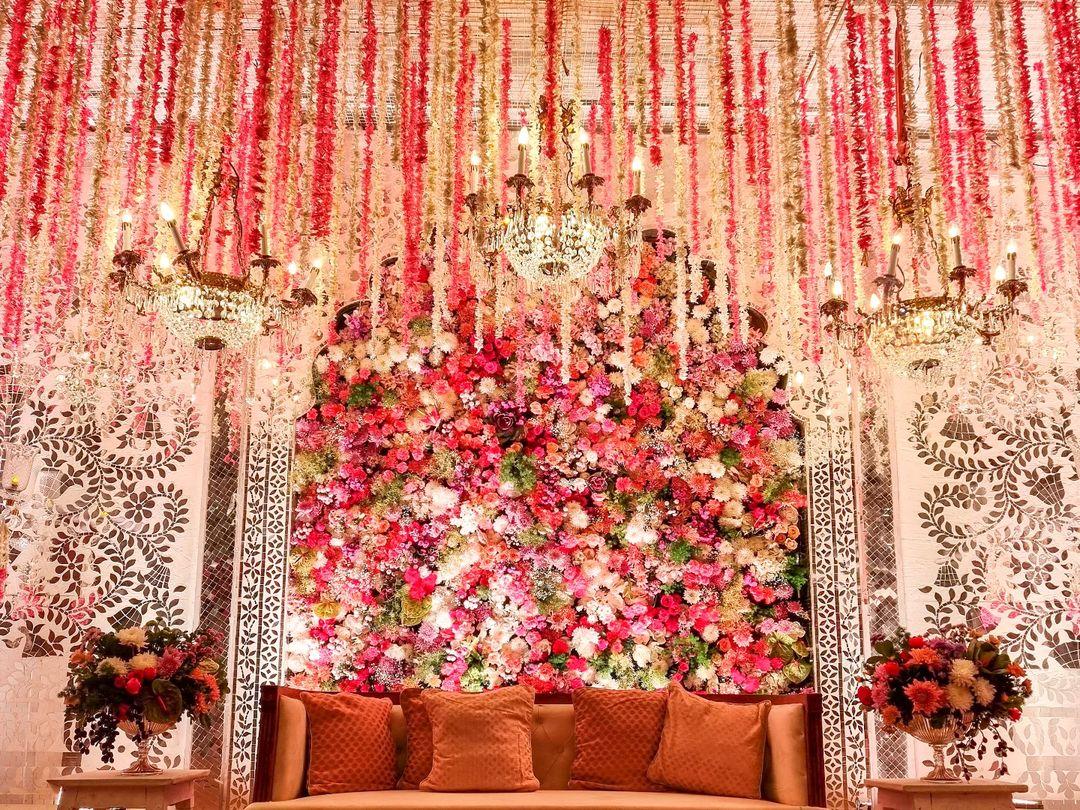 Wedding Decorator: Nuptials By A Square
For a grand photobooth backdrop, try adding a flower wall that goes with the theme of the wedding. To complete the look of the photobooth, consider adding mirrors, hanging floral decor and candlestands.
Photobooth Backdrop with Red Roses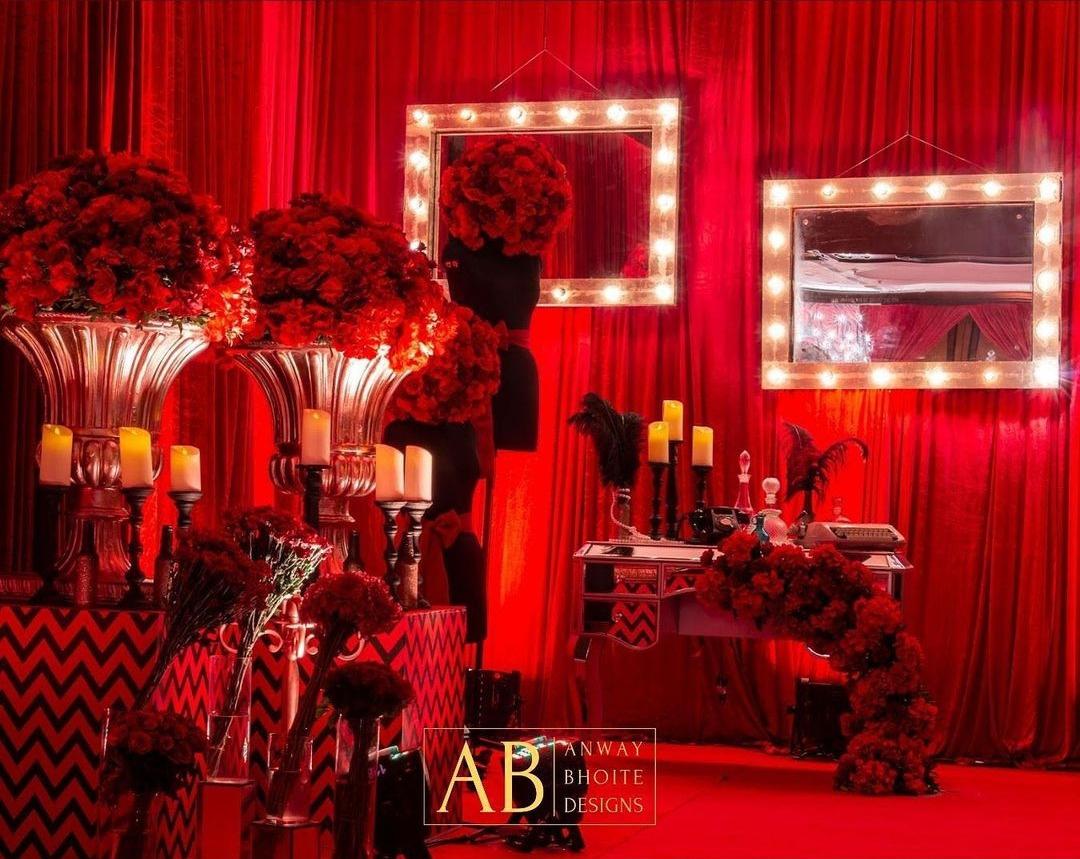 Wedding Planners: Purple Chariot, Venue: Taj Land Ends, Photographer: Knotting Bells, Wedding Entertainers: Entertainment Bay
Are you looking for something that makes your wedding stand out from the rest? Take a look at this red rose themed decor for a photobooth!This one is surely going to catch everyone's eye and you will get tons of pictures here to cherish for a lifetime!
Photobooth for Mirror Selfies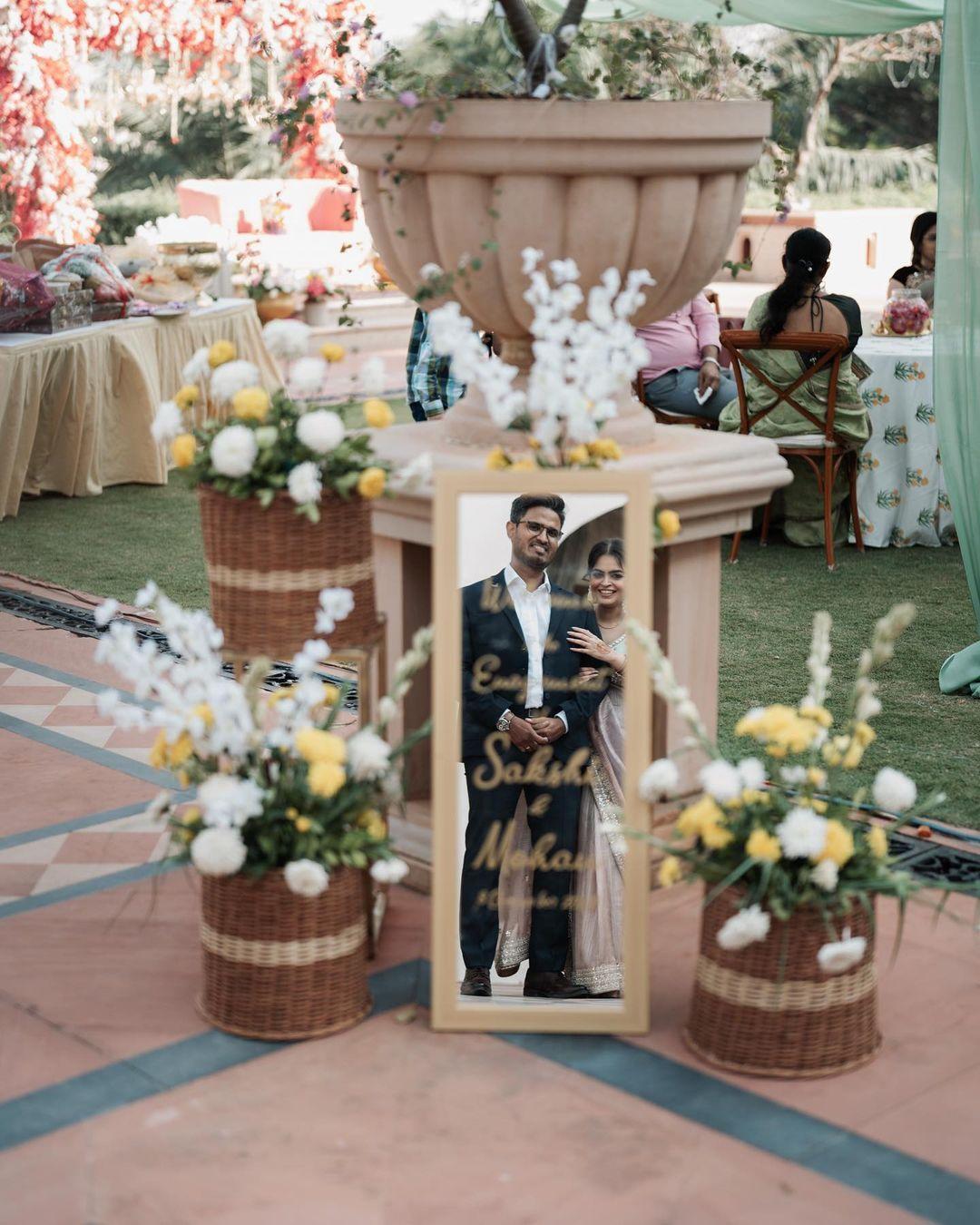 Wedding Decorators: Shaddi Ka Ladoo, Photographer: Mrinal Khatnani, Venue: Taj Krishna, Hyderabad
If you're someone who loves taking mirror selfies, don't shy away from adding that element into your own wedding too! This cute photobooth idea will make sure your wedidng guests are getting aesthetic mirror selfies at your wedding.
Bride & Groom Caricature Photobooth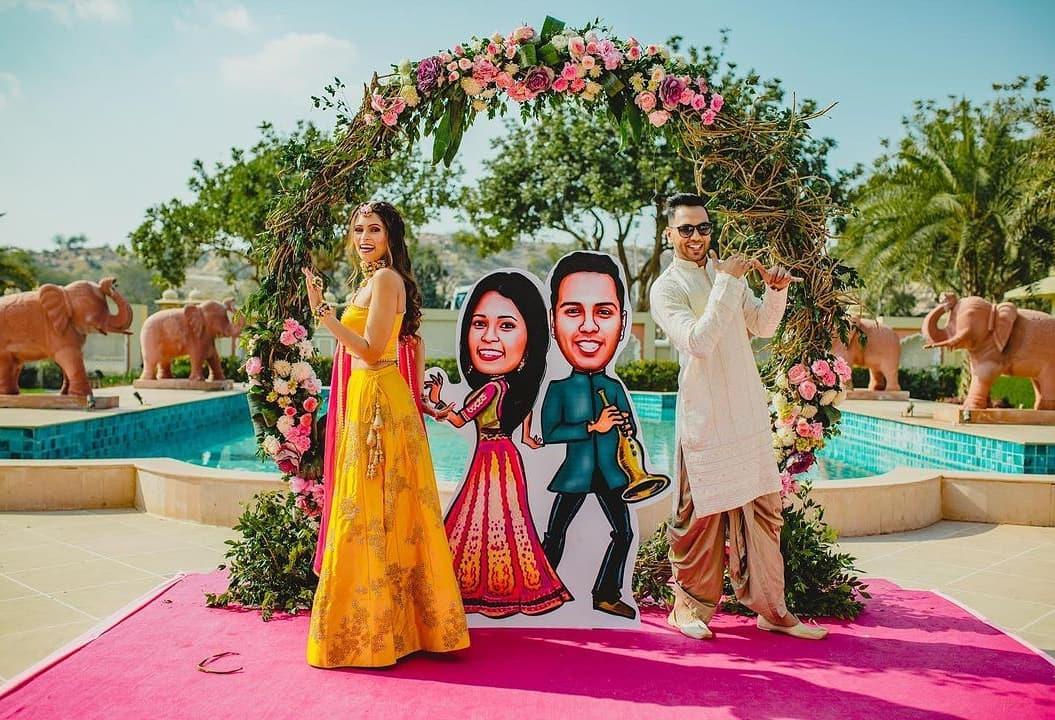 Wedding Planners: The Dreams Events
This photobooth idea takes personalization to the next level. The cute little caricatures of the bride and groom at a photobooth will give way to the most fun pictures of your guests at the wedding that you will surely enjoy looking at later on!
Traditional Marigold Photobooth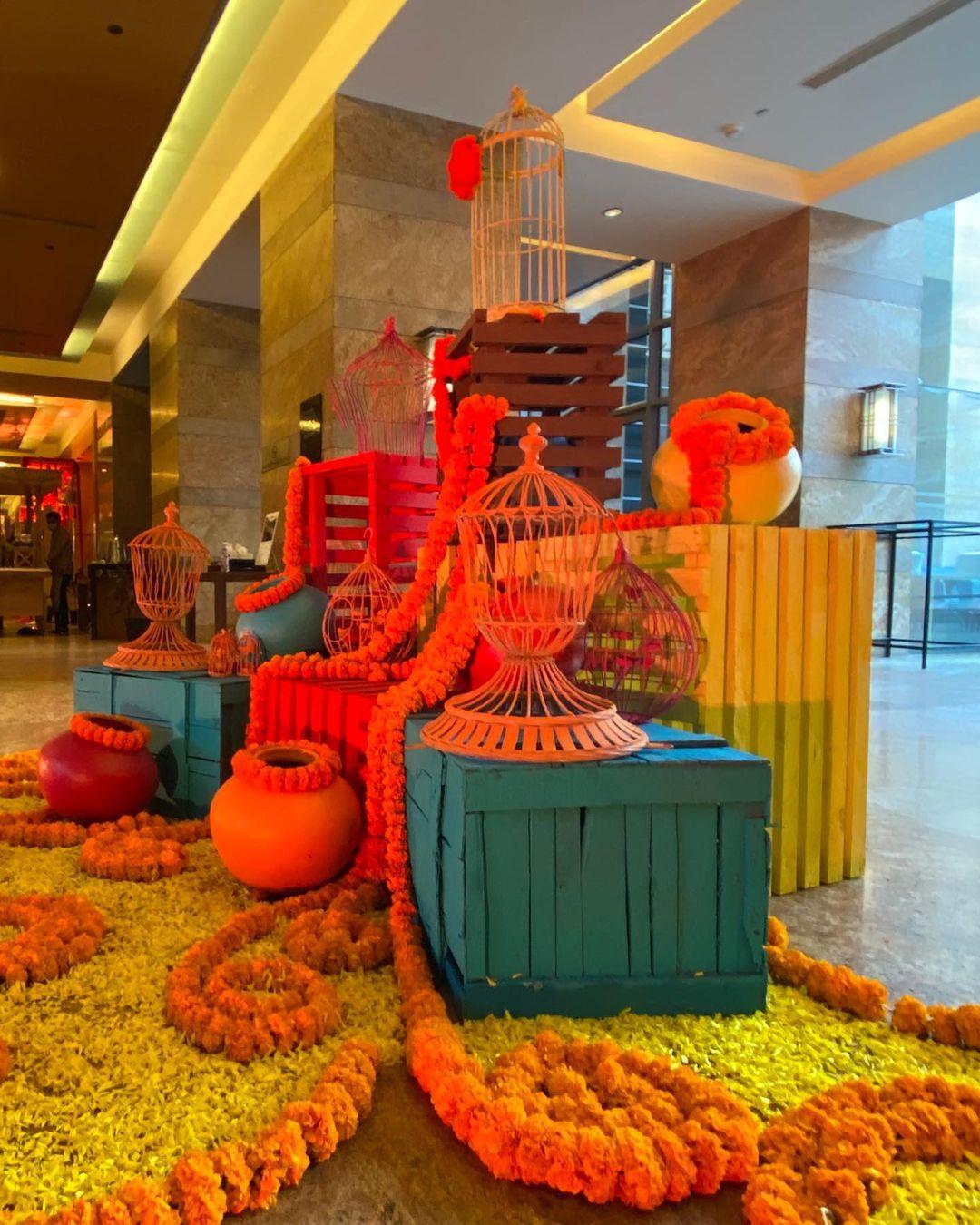 Wedding Decorators: The Wedding House, Venue: Grand Hyatt, Mumbai
There is nothing more traditional and beautiful than marigold flowers and if you're someone who loves this look, you should go for a photobooth that has them as the centre piece. Try mixing up yellow and orange flowers and add in other elements like lamps and colourful pots to complete the photobooth.
Photobooth with Pink Flowers & Chandeliers
Venue: Alila Diwa Resorts
This pink floral dream of a photobooth has our hearts and we're crushing over the vibrant mix of purple and pink here. The chandeliers are worth taking a note of and the chairs are completing this photobooth look!
Haldi Photobooth with Marigold Flowers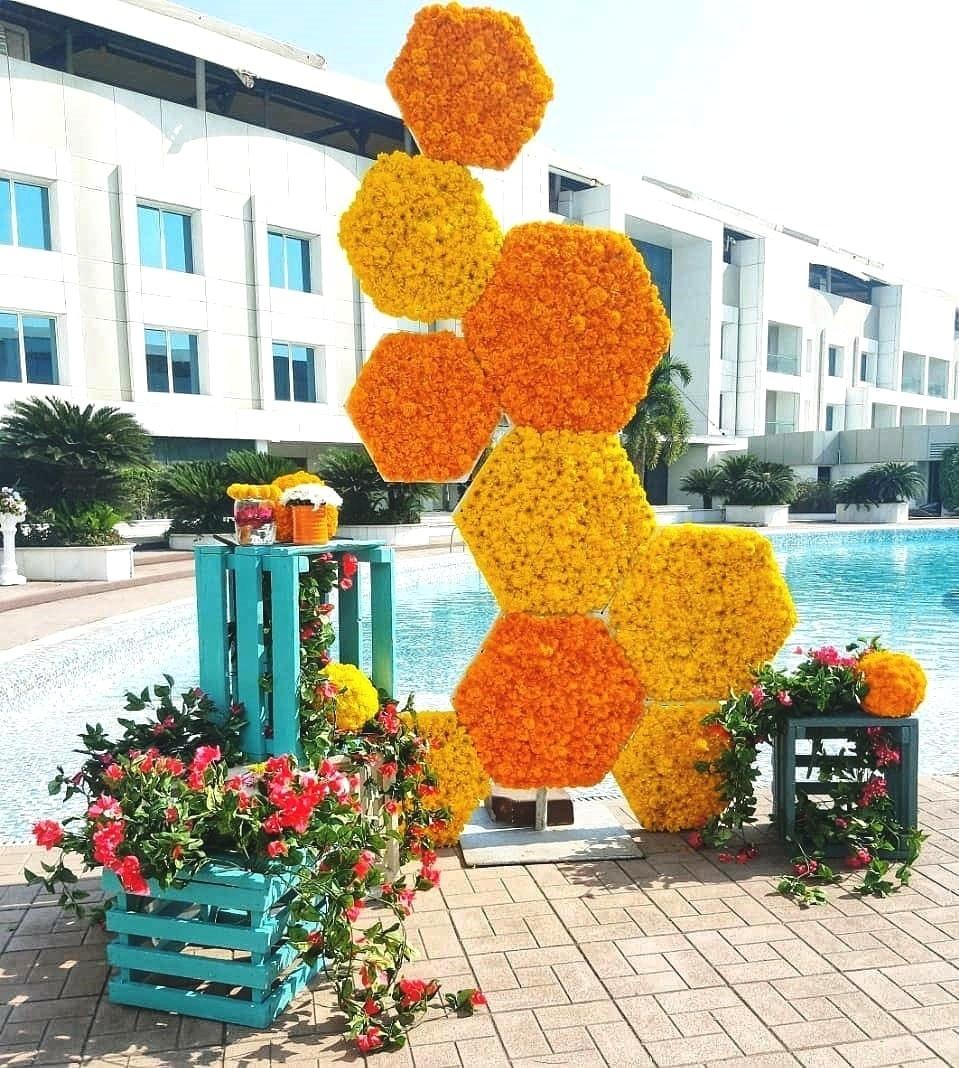 Wedding Decorators: Weddings N Dreams
This unique floral wall filled with marigold flowers is a unique take on photobooths. If you're looking to use marigold flowers at your Haldi decor but do not want to go the traditional way, this is a great photobooth idea to bookmark.
Traditional Haldi Photobooth Decor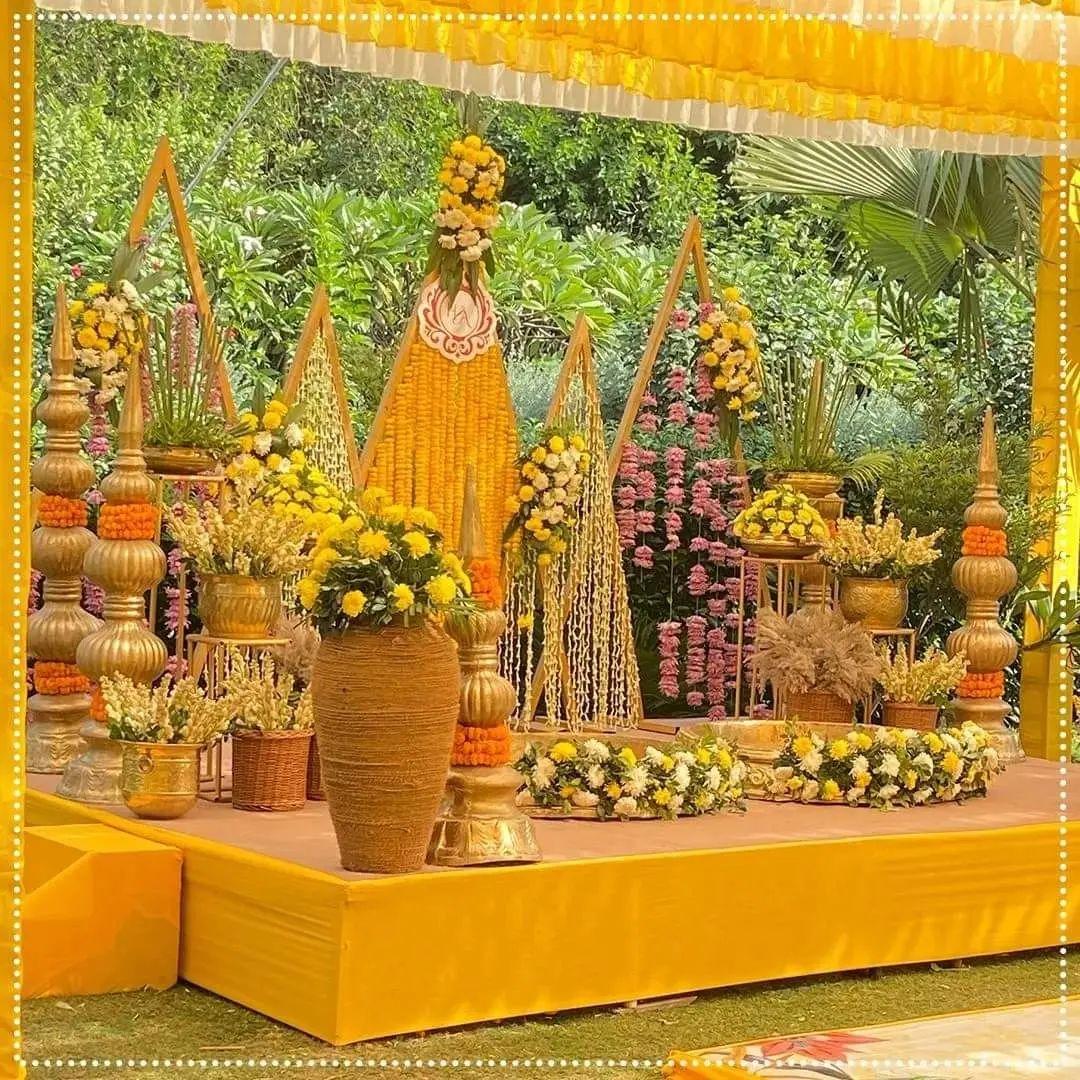 Wedding Planners: Eatos Events
Let's face it, Haldi ceremonies are incomplete without the traditional yellow marigold decor isn't it? If you said yes, you'll love this decor! Take inspiration from the all yellow decor and the traditional gold pots on the sides for your Haldi photobooth!
Simple Haldi Photobooth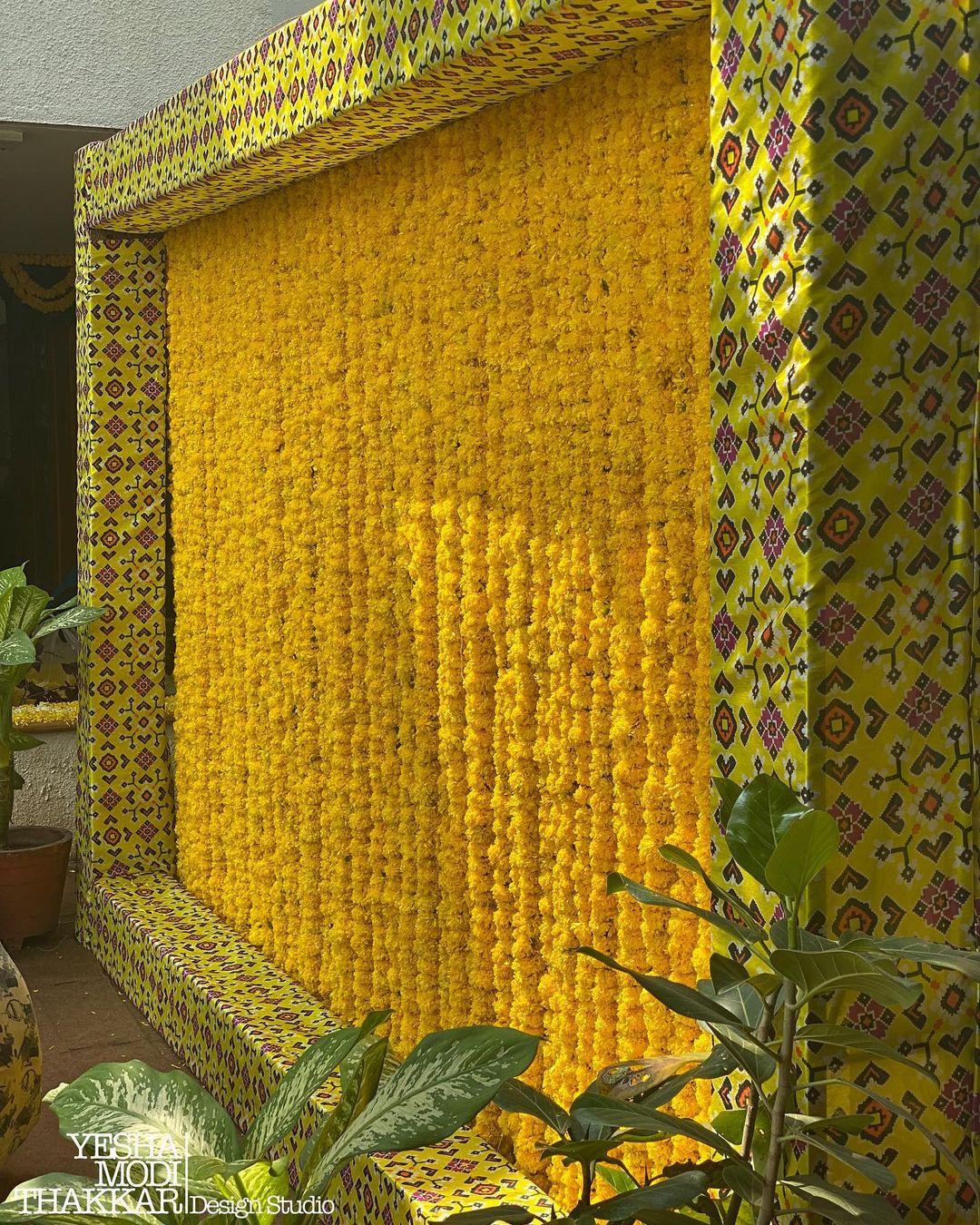 Wedding Decorators: Yesha Modi Thakkar Design Studio
If you like things simple and classy, this is your kind of photobooth decor. You can replace the yellow marigold flowers with any flowers of your choice and get a photobooth that your family and guests will absolutely love!
Neon & Tropical Photobooth
If you're looking for photobooth ideas for a nigh time wedding function, you should be looking at photobooths with neon signs and tropical themes. In fact, if you like all things green, you'll love tropical themed photobooth backdrops for your daytime functions as well. Scroll to find the best neon and tropical themed photobooth ideas.
Creative Pendant Photobooth Backdrop for Sangeet Night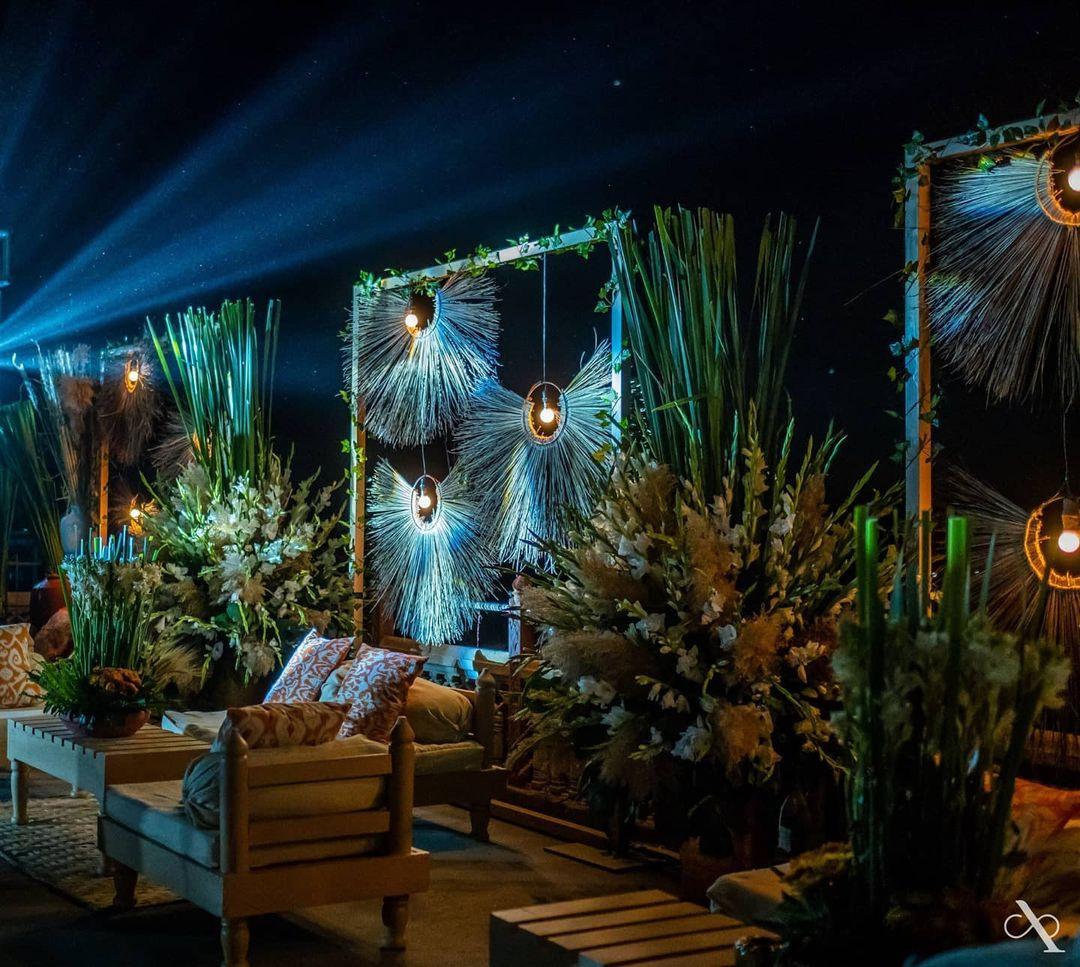 Wedding Planners: Aura Affaire
Looking for something a bit more creative? Take a look at this pendant backdrop! The planners have locally sourced dry grass and have created these beautiful pendants for a gorgeous night function photobooth backdrop.
Tropical Photobooth Decor Idea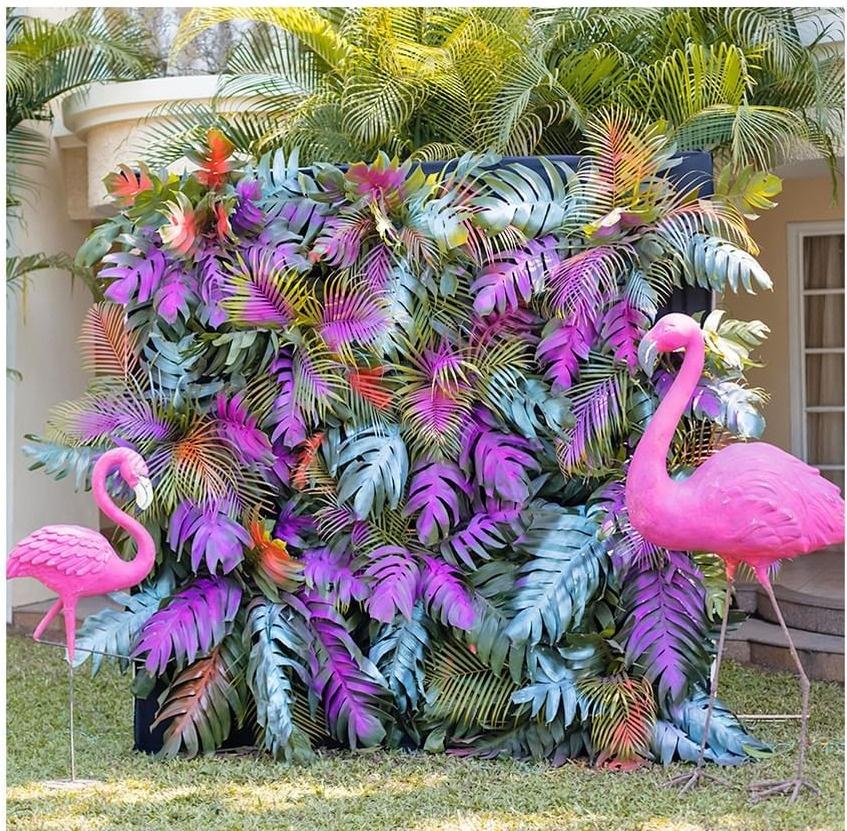 Wedding Planners: Dream Makers Event, Venue: The Zuri, Photographer: Picsurely
If you're having a tropical-themed wedding, you will love this trend of massive leaves and pink flamingoes for wedding decor. This also makes for a great photobooth decor idea and is surely going to be the place for the most fun clicks at your wedding!
Photobooth for Garden-Themed Sangeet Night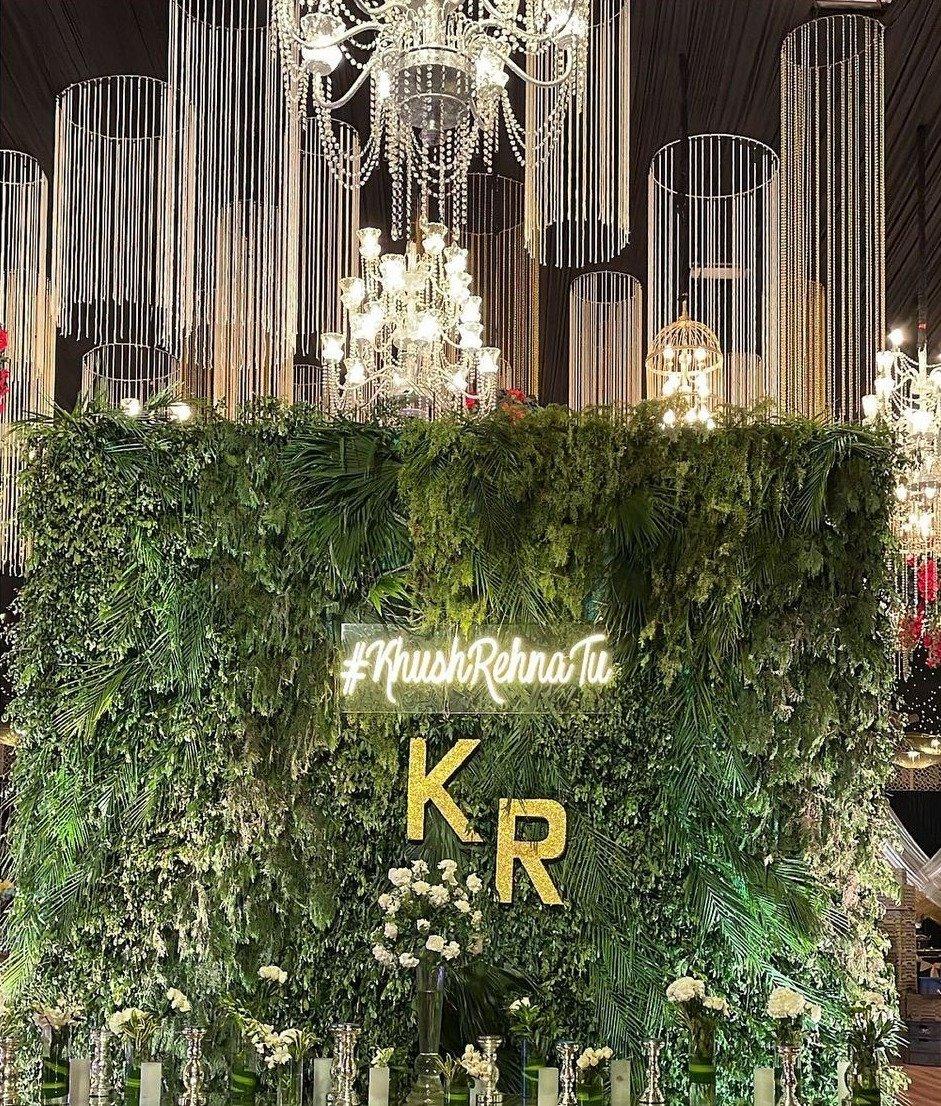 Wedding Decorators: Kalush Events
This photobooth backdrop has a little bit of everything- some neon, some tropical vibes and the bride and groom's initials. This photobooth is perfect for a tropical themed Sangeet night and is sure to be the centre of attention for all guests!
Glimmering Neon Photobooth for Sangeet Night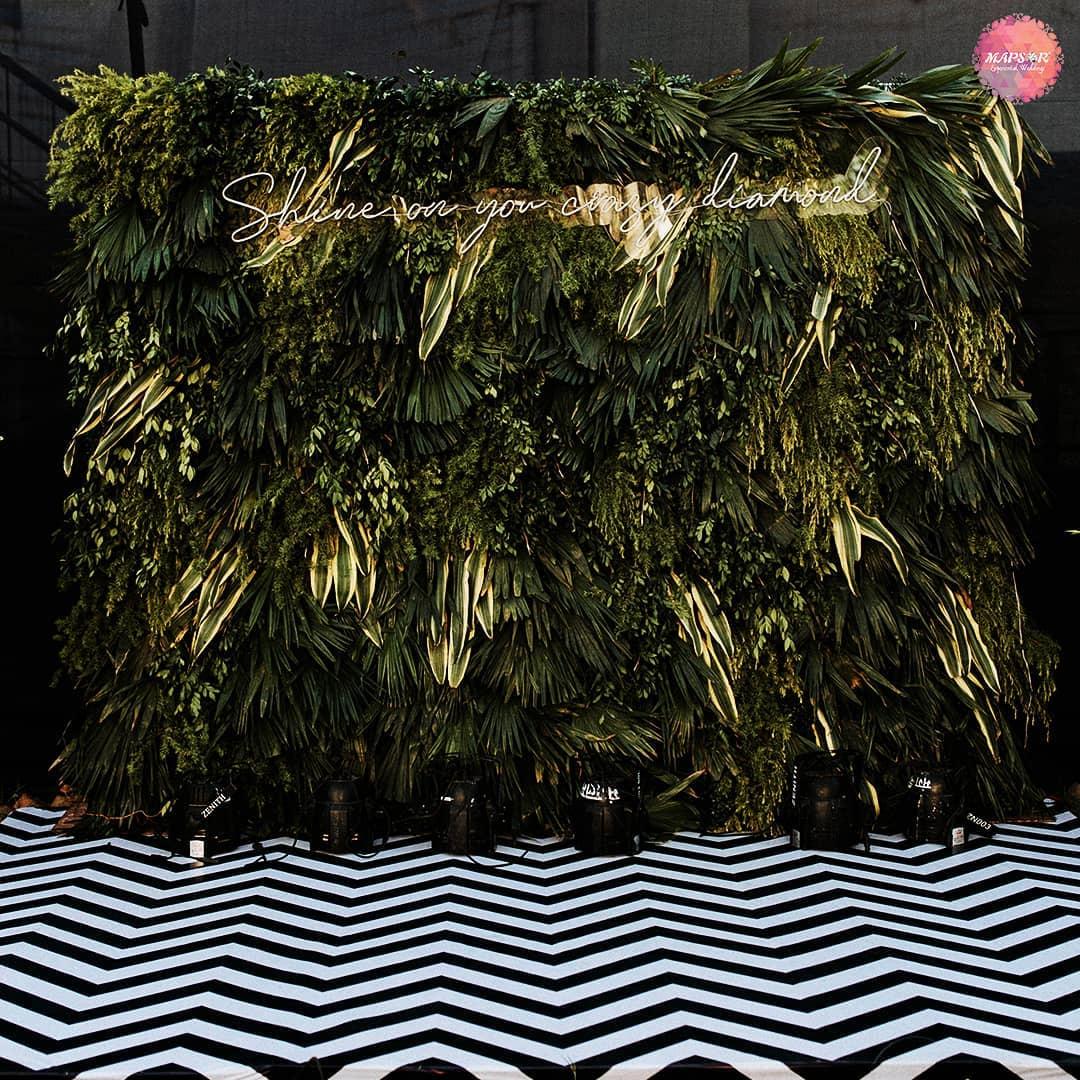 Wedding Planners: Experiential Weddings by Mapsor, Photographer: Mohit Jaura
Looking to jazz up your night wedding functions? Take a look at this gorgeous photobooth idea! You can modify the neon sign and make your own quote for the guests to click selfies and pictures to cherish the memories of your wedding forever!
Photobooth Backdrop for a Summer Wedding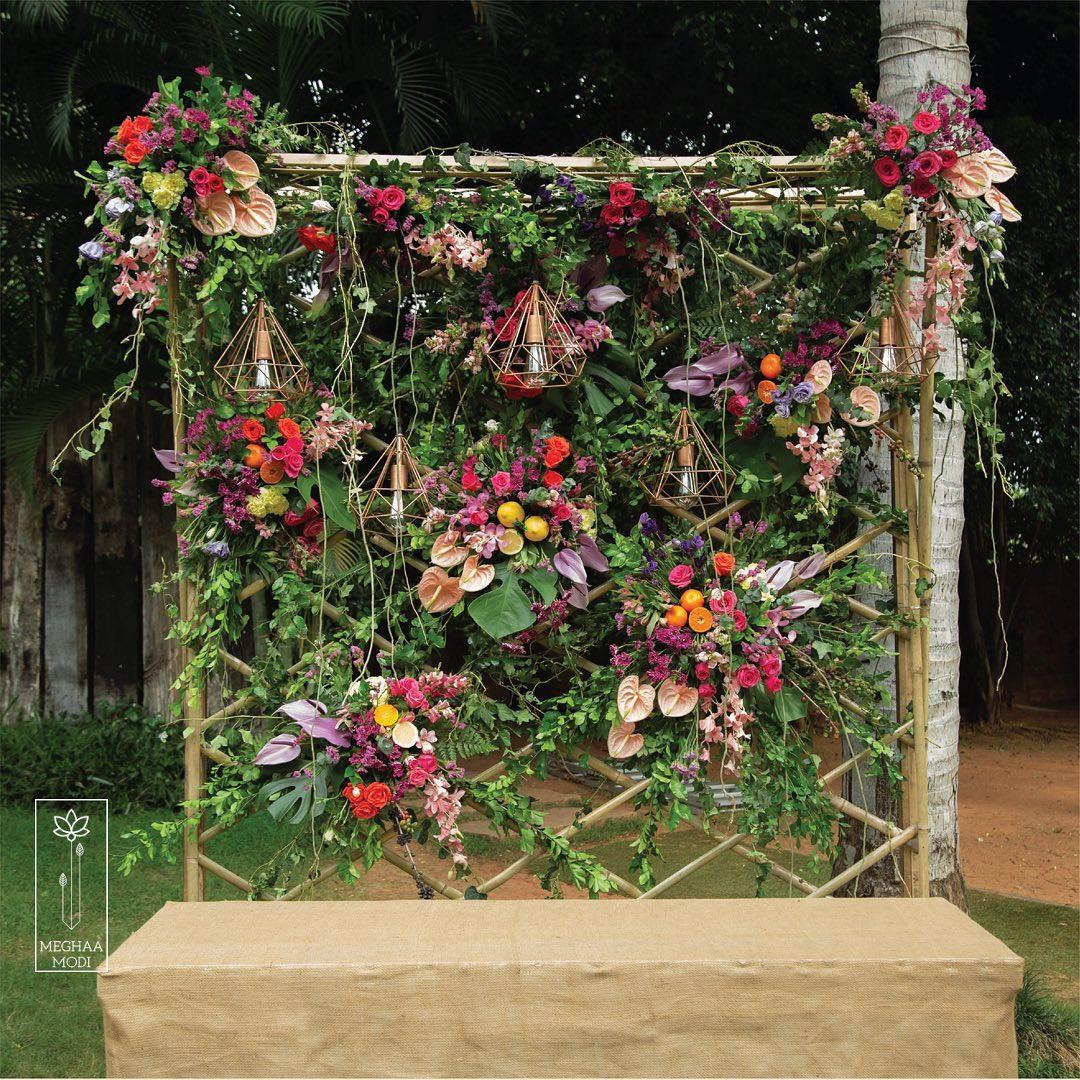 Wedding Decorator: Meghaa Flowerbox
Nothing says summers like bright flowers and citrus fruits. And if you think you can't integrate these elements in your decor, take a look at this photobooth backdrop and think again. This idea is perfect for your summer wedding and will look great in your pictures too!
Glimmering Photobooth Backdrop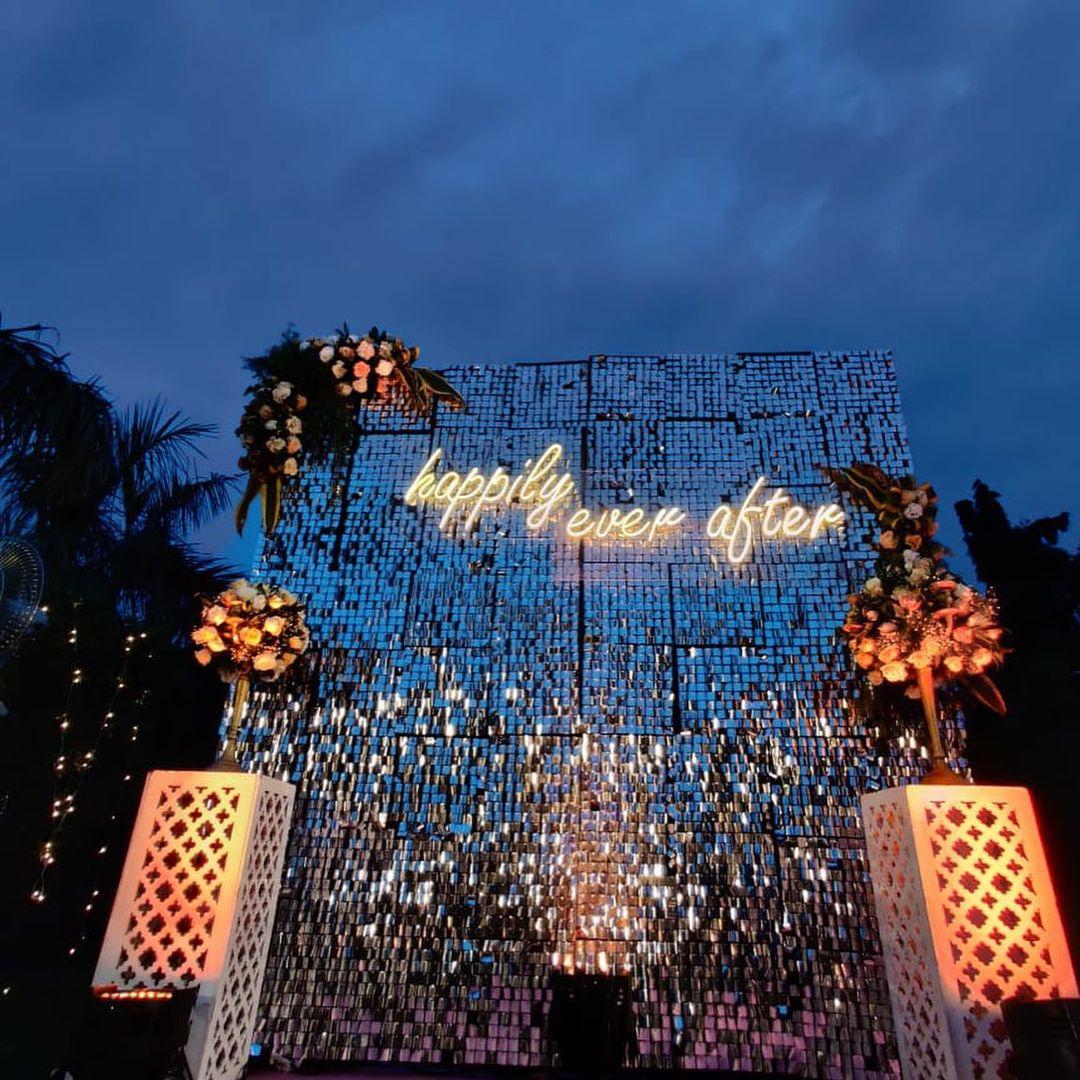 Wedding Planners: Modern Events
If you're having a starry-night or disco-themed Sangeet night, look no further for the perfect photobooth! Your guests will love when their glimmering outfits pop in the pictures in front of this glam photobooth backdrop.
Tropical Themed Photobooth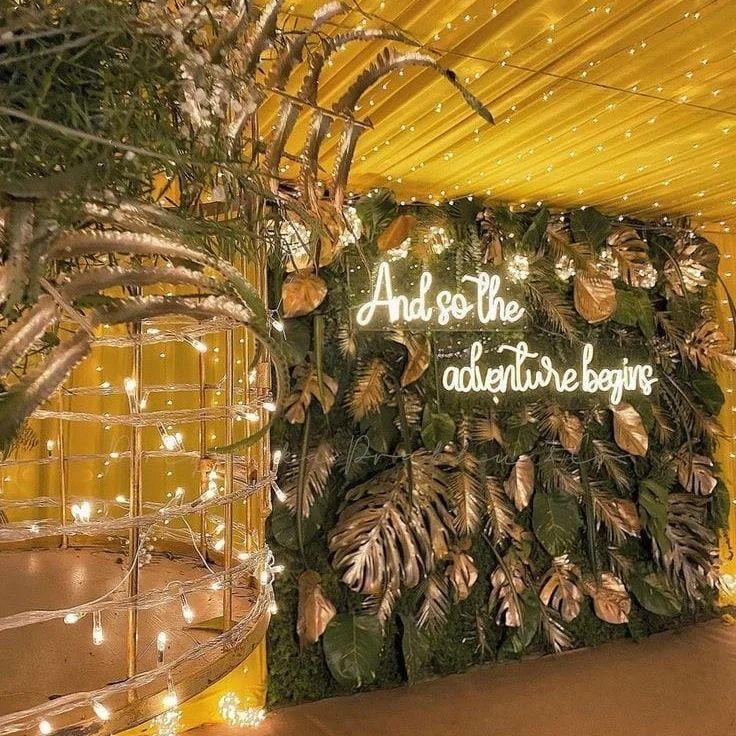 Wedding Planner: Signature By Aashima
Another one of a great example to bookmark for a garden or tropical themed wedding photobooth. The greens and golds of this photobooth backdrop along with the neon sign is sure to give your guests some Insta-worthy shots!
Jungle Themed Photobooth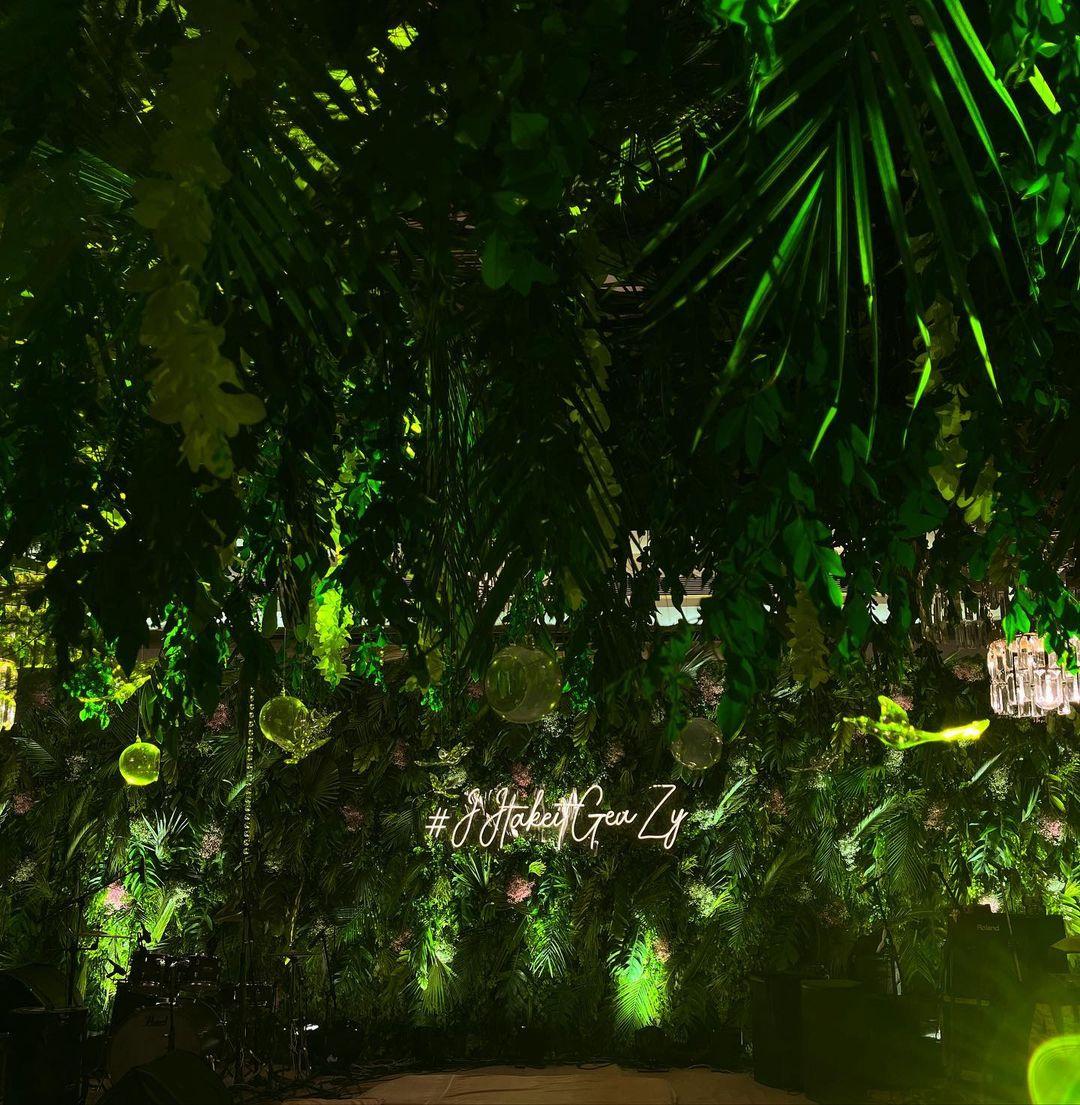 Wedding Decorator: The Delhi Decor Company
This photobooth is nothing less than a film set! Integrate some party balls, crystal balls and chandeliers to the trusty old leafy photobooth backdrop and you'll have this kind of a gorgeous photobooth for your wedding.
Vintage Photobooth
Are you a fan of all things vintage and are having a vintage themed wedding? We've got just the right list of vintage-themed photobooths that will have you and your wedding guests excited to click pictures in all your outfits!
Vintage Aesthetic Photobooth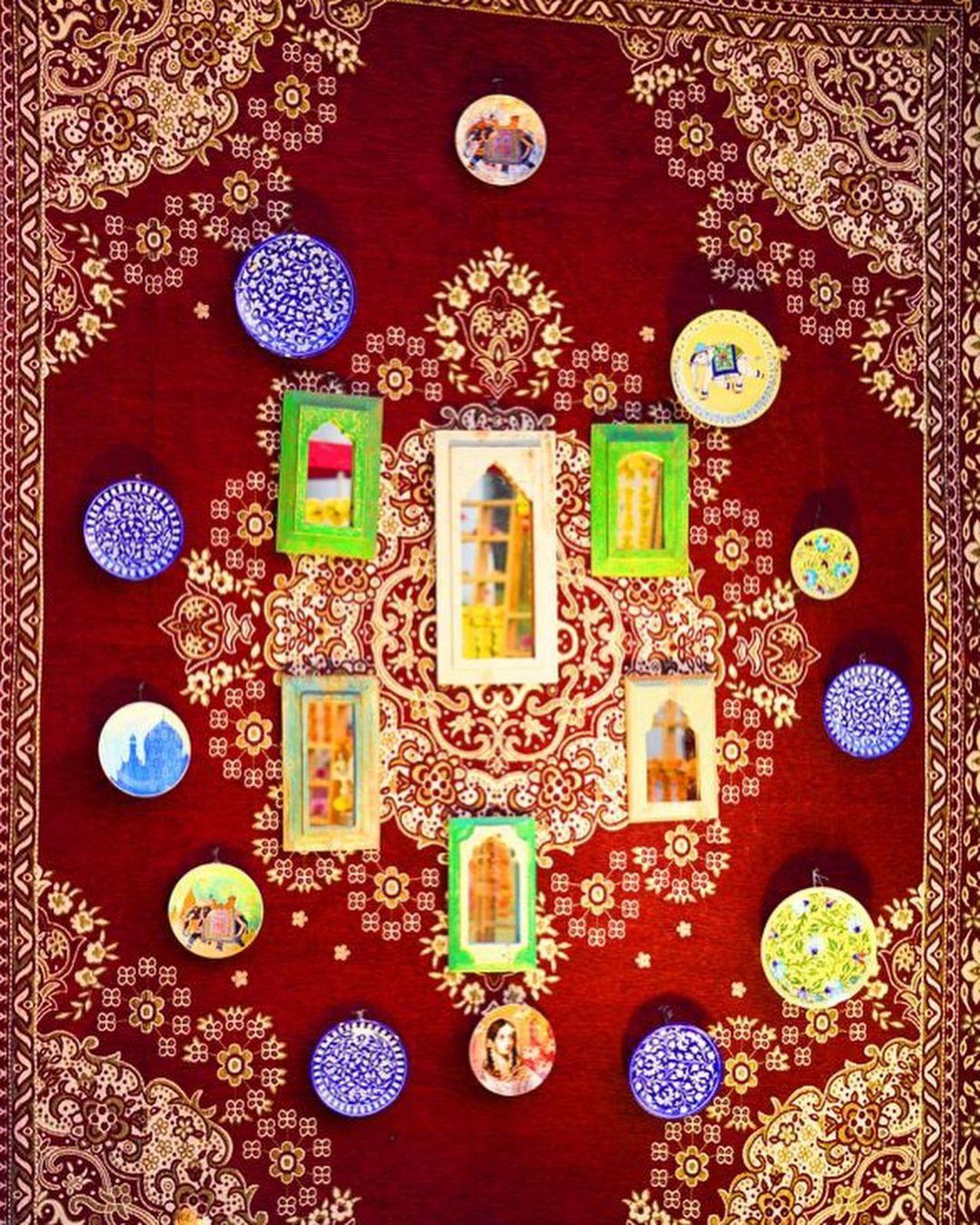 Wedding Planners: J Fine Design
Looking for something vintage? This photobooth backdrop idea is perfect for you! With its colourful mirrors, bright red background and its classy and vintage feel, this backdrop will surely be the place where the most pictures will be clicked at your wedding!
Backyard Wedding Photobooth Decor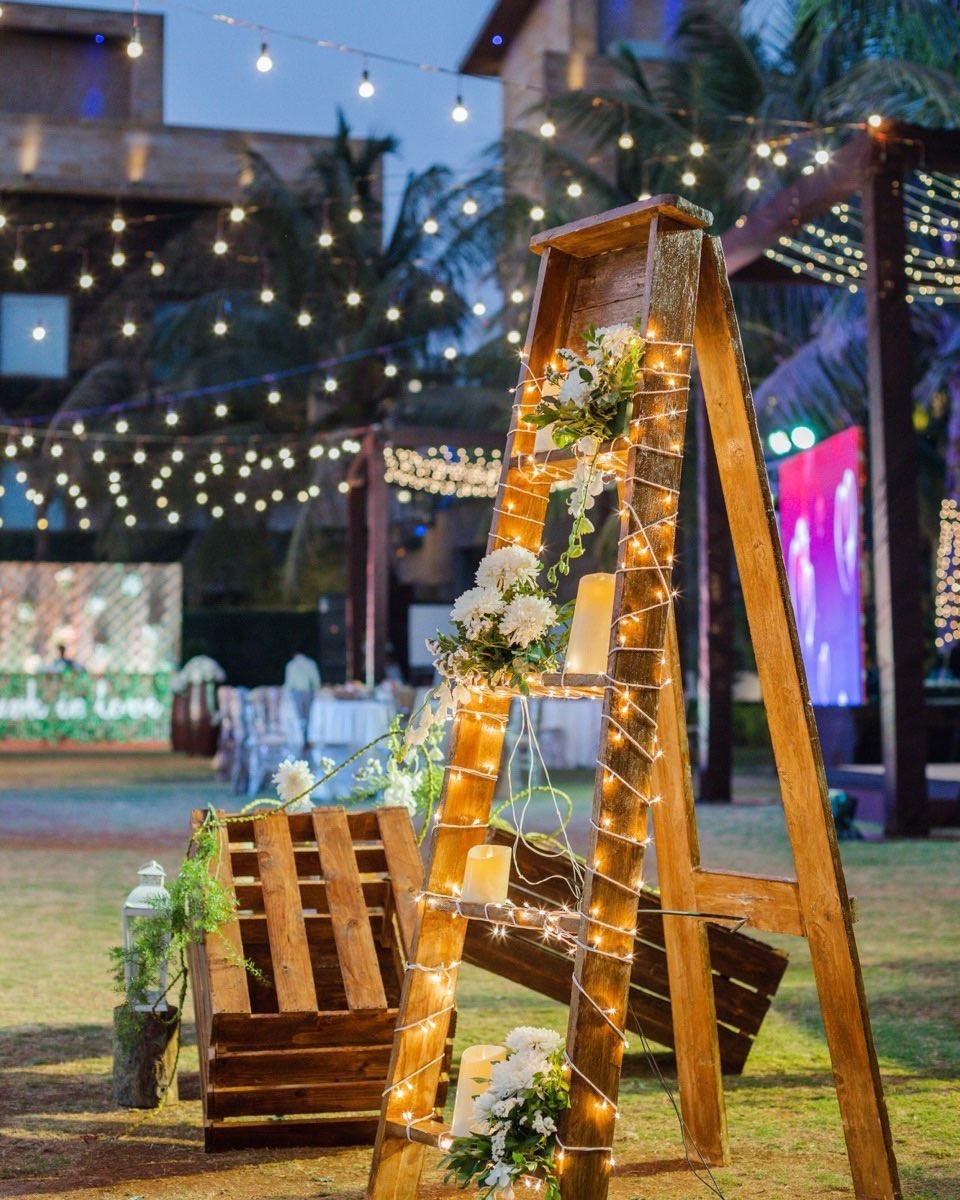 Wedding planners: L Amore Weddings, Decorators: Classic Wedding Concepts, Venue: Della Resorts
This photobooth setup is perfect for a boho or garden themed wedding. The simple and minimalistic material used, the earthy tones and the elegant white flowers make this an amazing photobooth to keep at your night wedding functions.
Photobooth with Classy Vintage Decor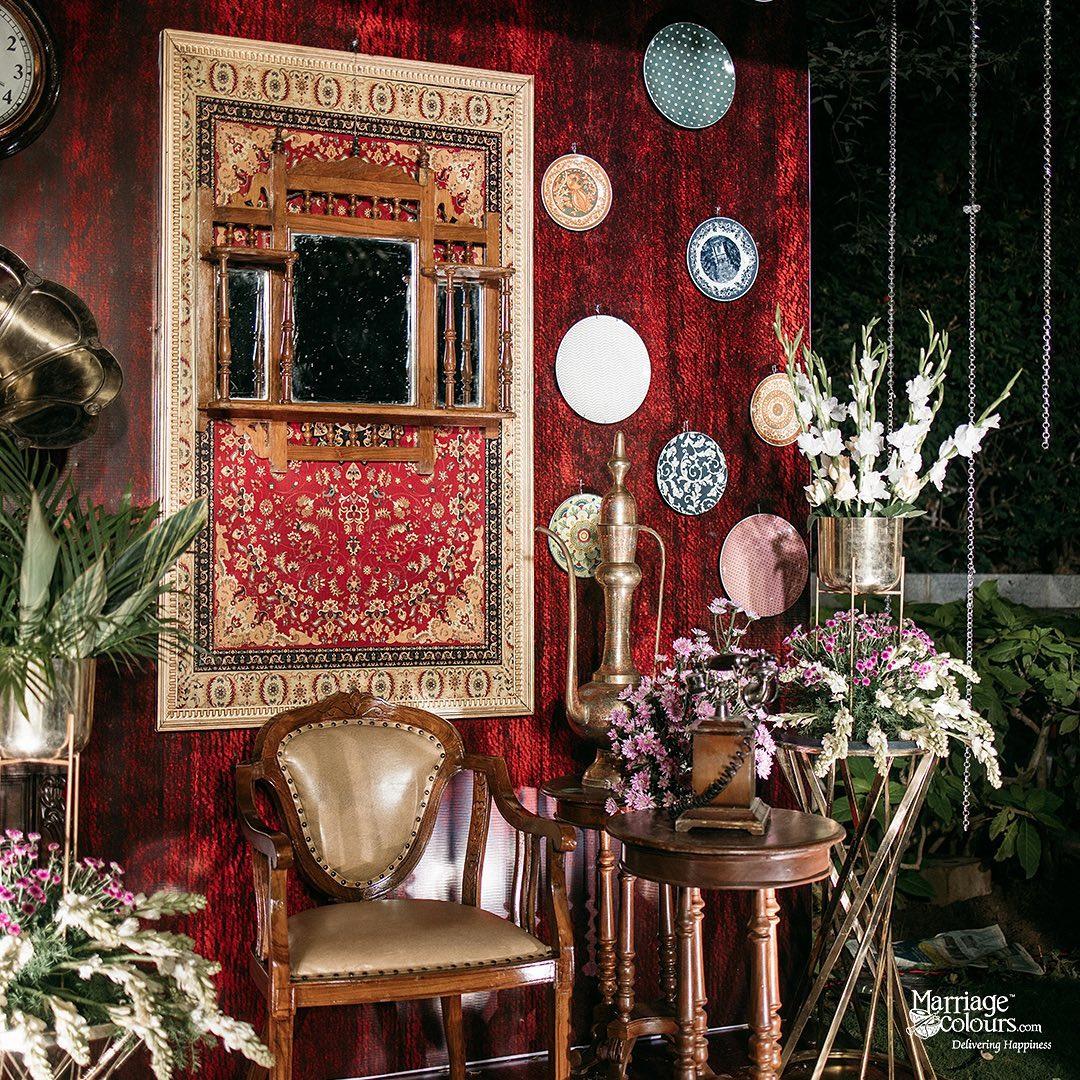 Wedding Planners: Marriage Colours, Venue: The Leela Palace, Chennai
This unique photobooth idea will have all your guests clicking lots of pictures and making memories! Bookmark this idea to show to your wedding decorator or planner and get ready to bedazzle your wedding guests!
Vintage Cycle Photobooth Idea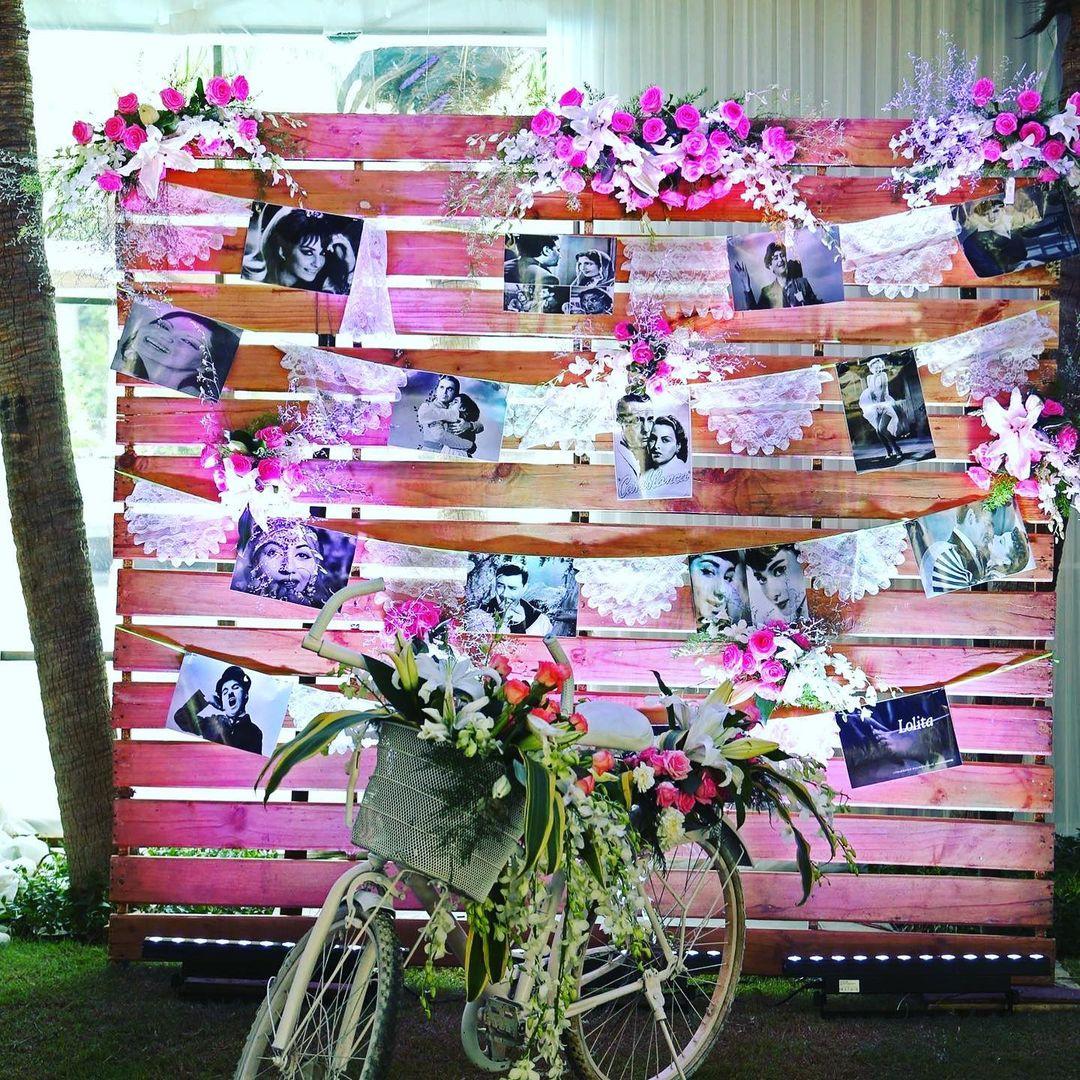 Wedding Planners: RK Events
Looking for something a bit more simpler? You can go for this classic photobooth decor with vintage pictures and floral decor on a cycle. To add a little bit of jazz, you can also get a brightly coloured vintage scooter or cycle rickshaw.
And with this, we've come to the end of the list of our favourite photobooths. Do let us know in the comments which one is your favourite and if you have any suggestions, send us a hi on any of our social profiles!
Top Blogs on WeddingWire India