12 Funky Photobooth Props To Quirk Up Your Shaadi Day Pics
Keeping your guests engaged during your wedding is always a good idea. Check out these 12 photobooth props to make your wedding a trending hit!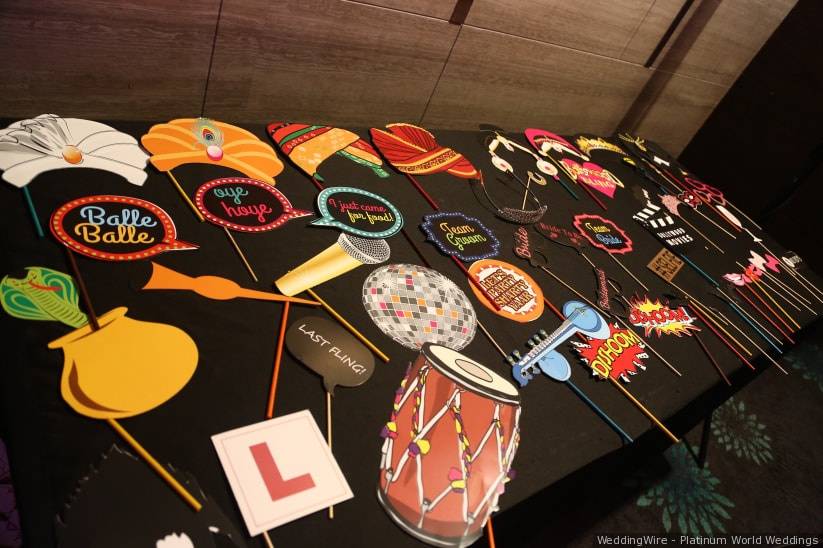 Image courtesy: Platinum World Weddings
Weddings are all about taking pictures to preserve memories that will last a lifetime. So, why not add props that can make these wedding pictures all the more beautiful?
Try out these 12 ideas for photobooth props and we guarantee that the 'selfie section' will be a big hit with all your guests!
1. Unique Masks as photobooth props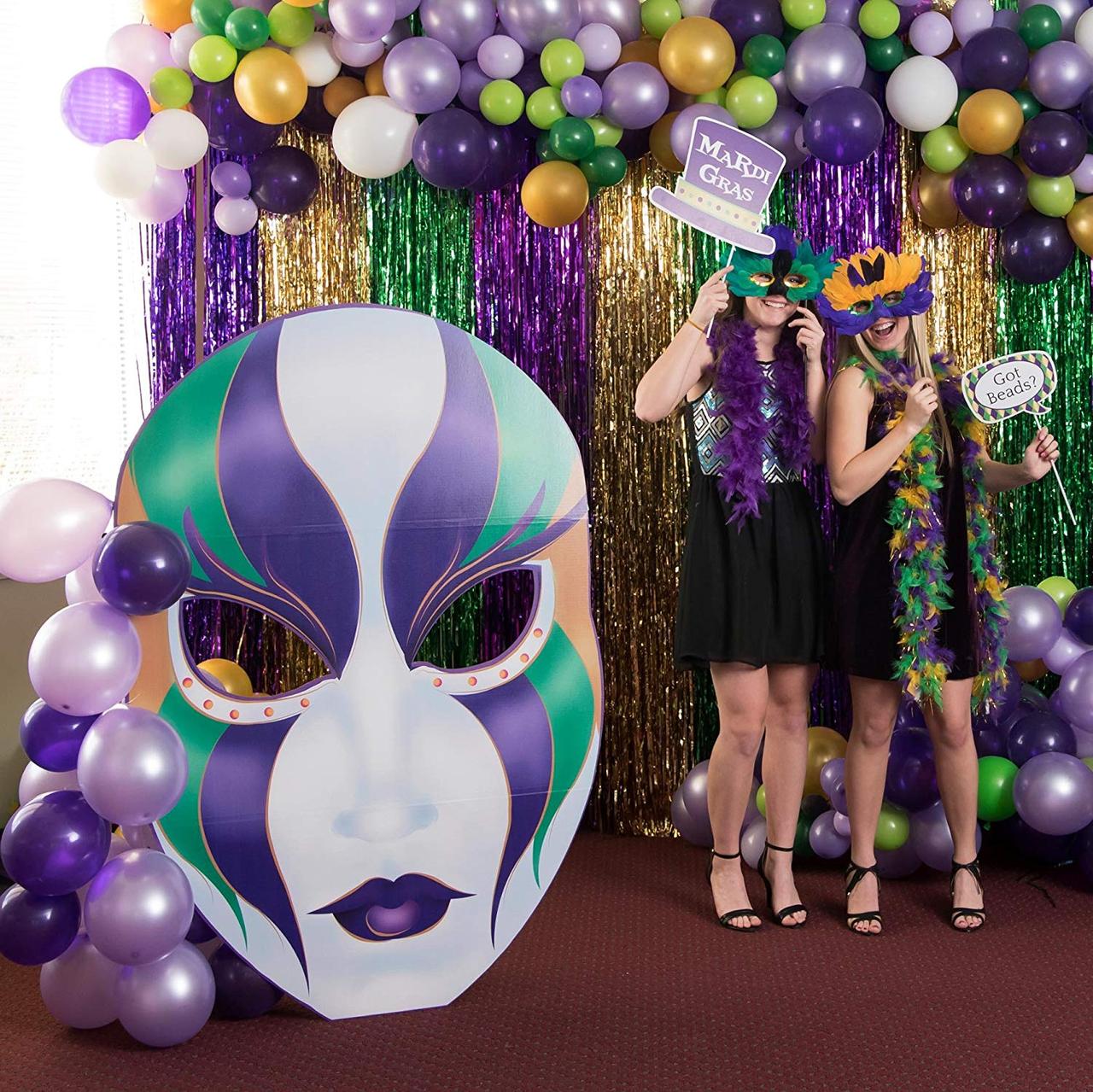 Image courtesy: Clay shop
Give a spin to regular masks and create unique ones. Go all out! Add feather, glitter and more to your masks to create props that your guests will truly enjoy. You can experiment with the colours as well.
From golden to silver and multi-coloured ones, with masks as props for your photo booth, you will be all set to create an engaging time for your guests. Additionally, you can also create a pop-up board for your photobooth for weddings in the shape of your mask!
2. Quirky curtains as photo booth props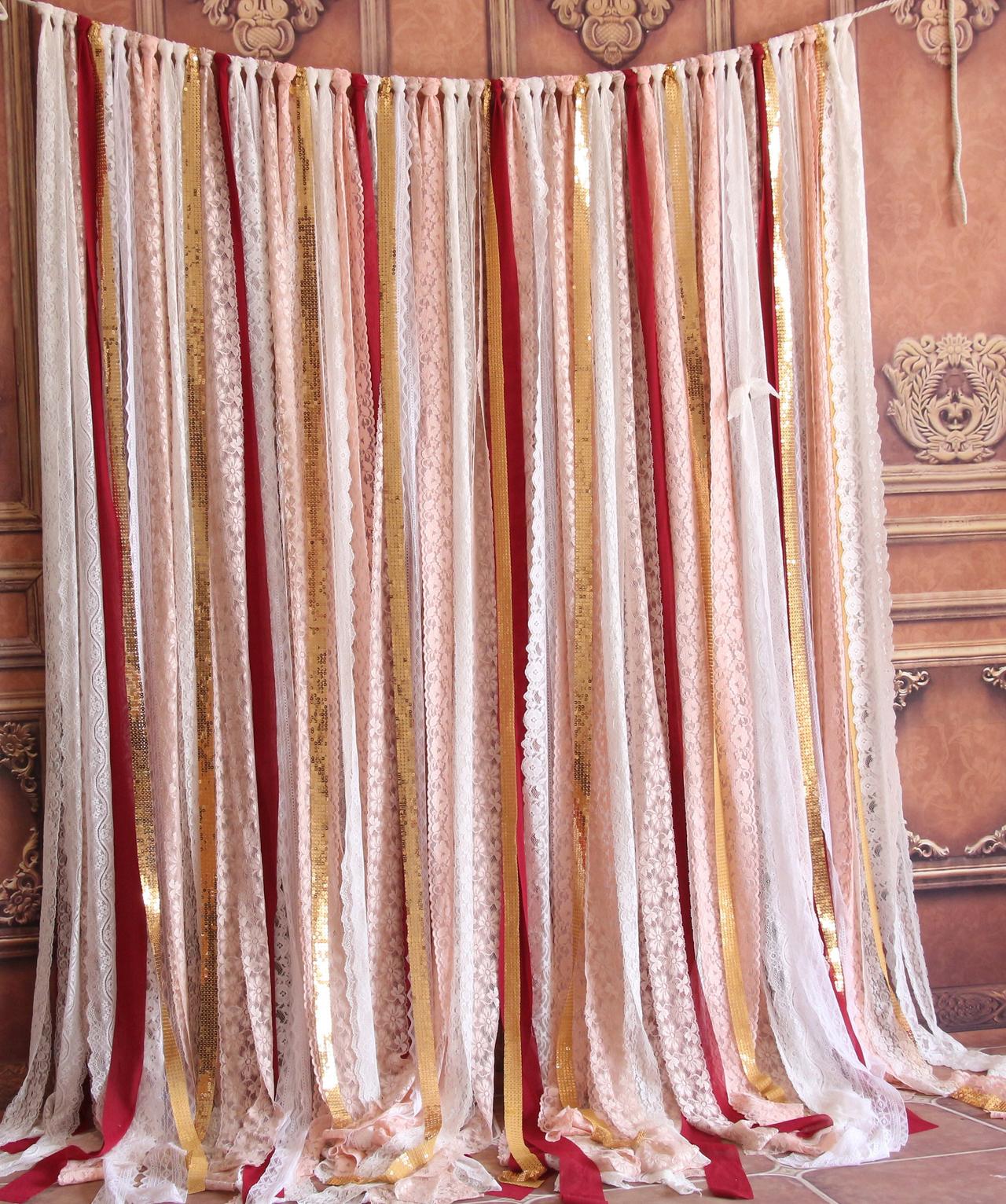 Image courtesy: Etsy
Backdrops are the most important thing when someone is clicking a picture. So why not amp up the backdrop game in the selfie station at your wedding? The easiest way to create a stunning backdrop is by picking a glitzy curtain! Oh, and don't forget to match the curtain with your wedding decor!
You can also have a look at these backdrop decoration ideas for inspiration.
3. Polaroid frames as photobooth props
Image courtesy: GoodPrints
Polaroid frames have been in vogue for quite some time. Make the best use of them and create fantastic photobooth props for your wedding. The white Polaroid frames go well with any kind of decor.
You can also add your wedding hashtag and date at the bottom to make the pictures memorable.
4. The classy photobooth props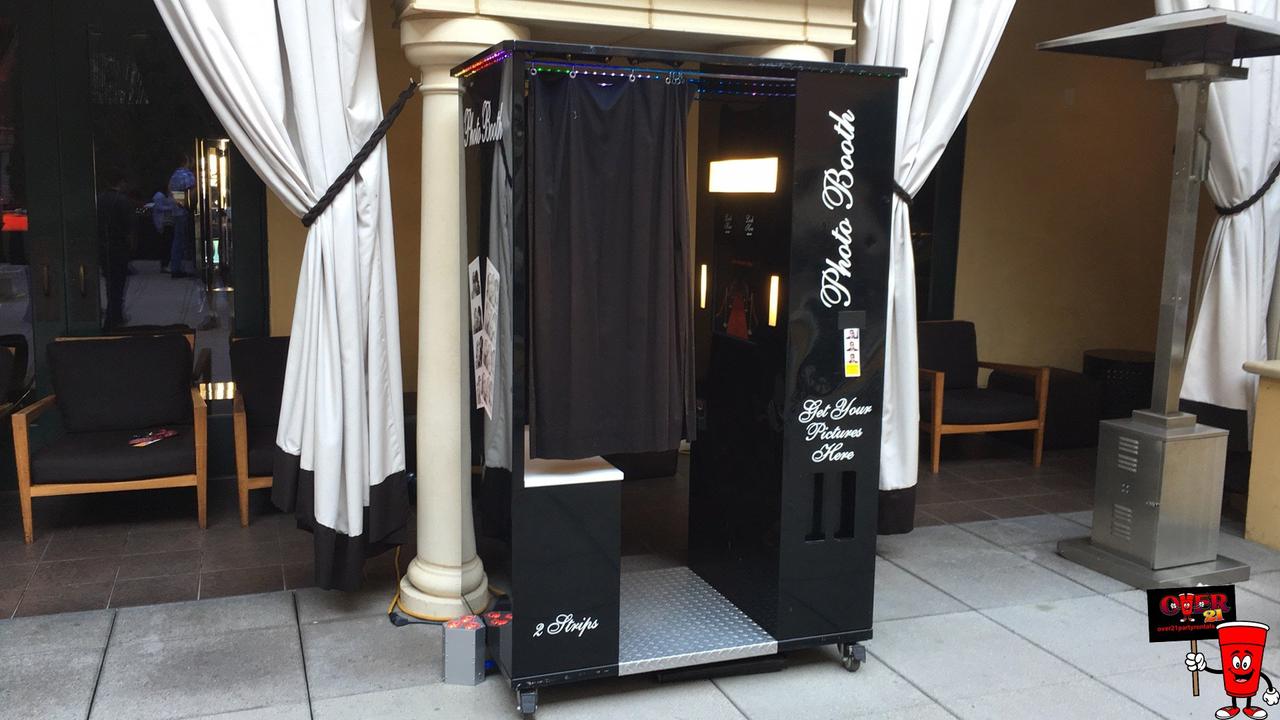 Image courtesy: Over 21
Don't want to go overboard with the photobooth props? We have an option of a classy photo booth for you.
Instead of keeping different kinds of props, you can ask your decorator to create a classy photobooth in black and red (classic colours) and voila! You'll have the stylish yet classy photobooth you wanted.
5. Wedding hashtag as photobooth props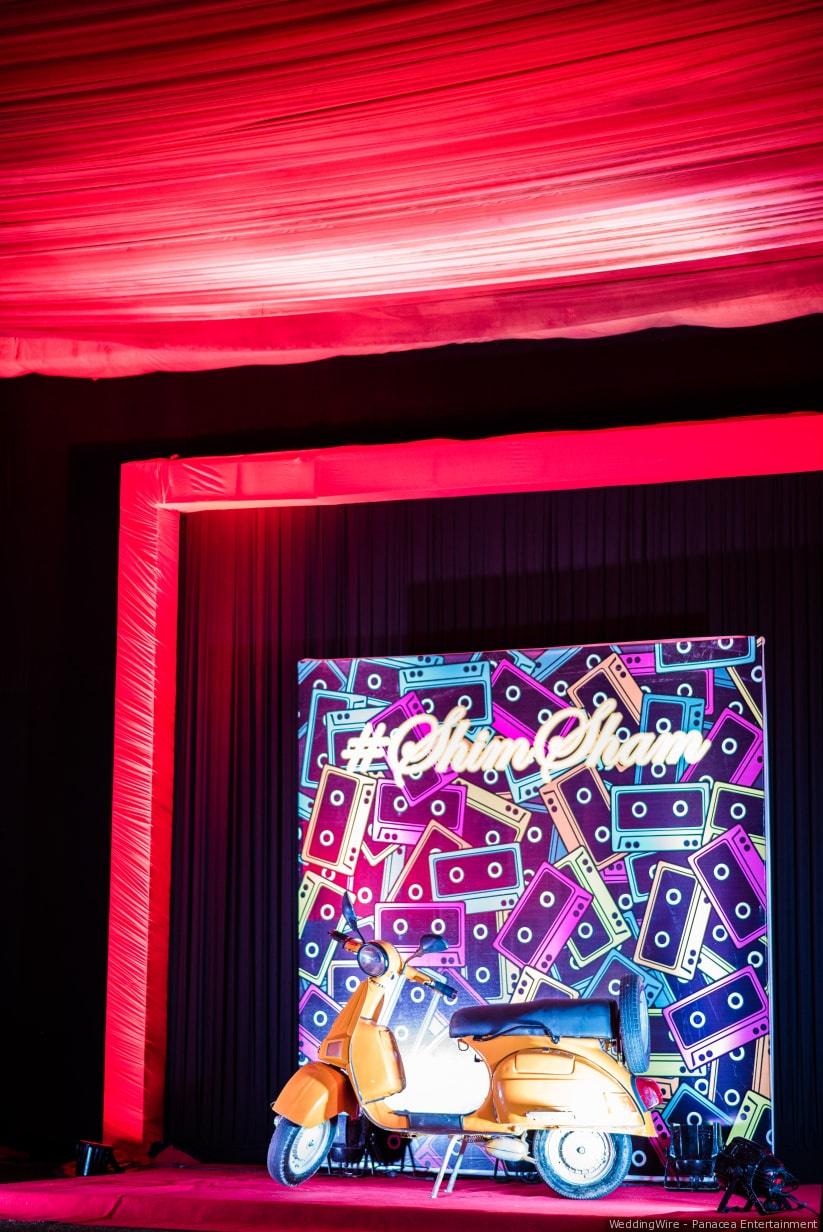 Image courtesy: Panacea Entertainment
Almost all couples these days have their unique #couplehashtag. The best part about that is, you can make photobooth props out of that.
Pick quirky fonts to get your hashtag printed on a board, add a cute scooter in front of the backdrop and you'll have simple, yet fun photobooth props!
6. Creative cut-out photobooth props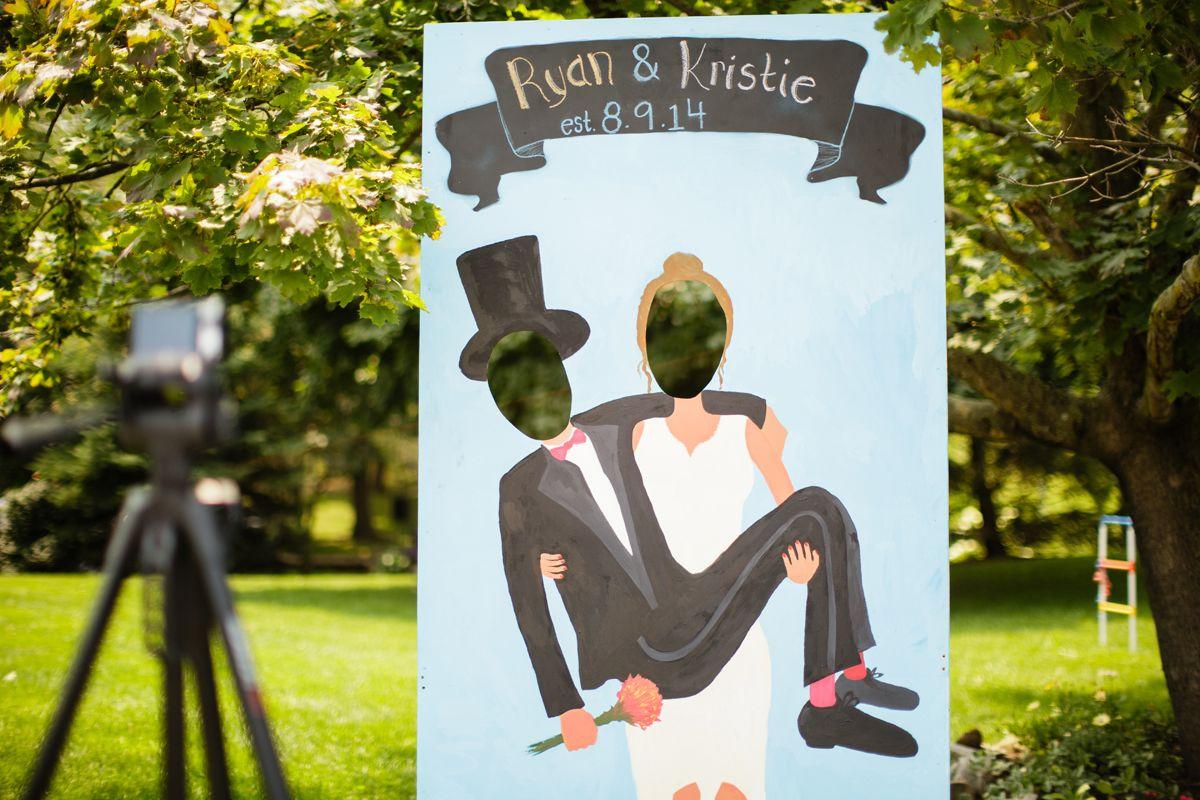 Image courtesy: Pinterest
Everyone has fun when it comes to taking selfies with a cutout board! Go a little creative and make the cutout in a couple's format, as shown in the picture.
The backdrop on which the cutout is being made must be plain and of a light colour, so as to not take away attention from the cut-out.
7. Faux frames photobooth props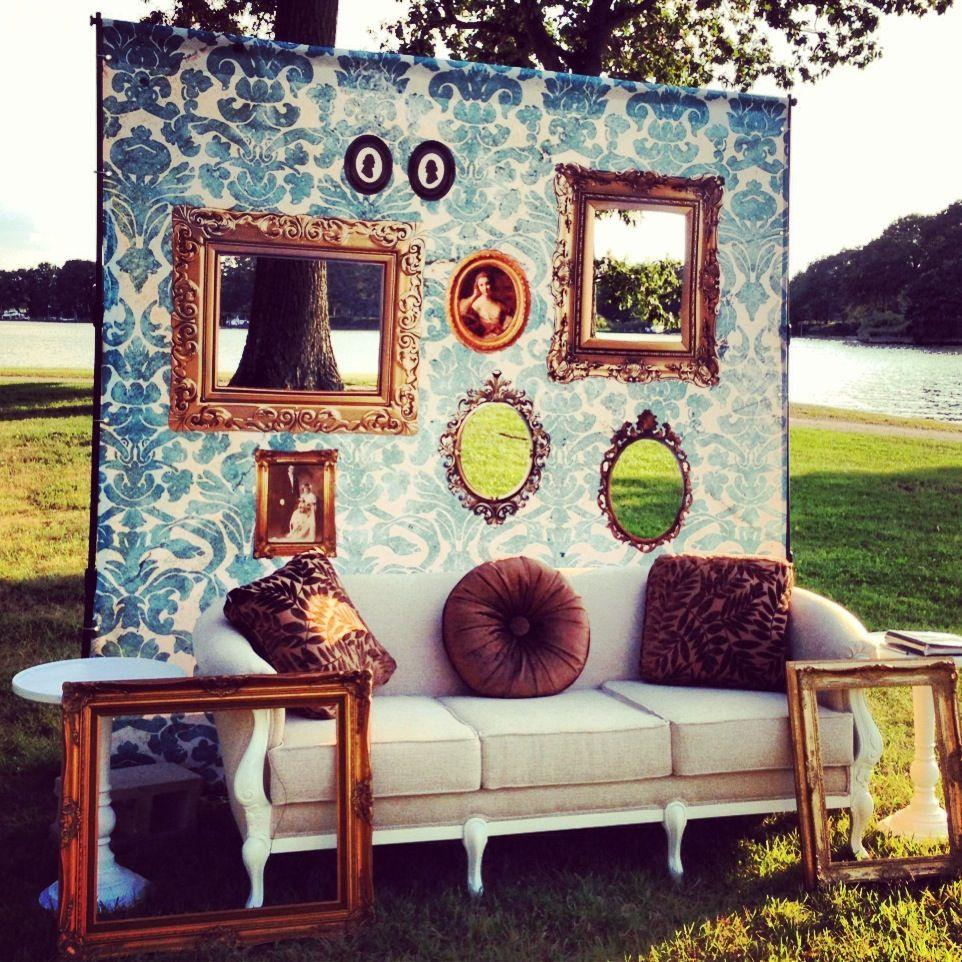 Image courtesy: Pinterest
A drawing room setting in the middle of nowhere? Oh yes! Although this works best as an outdoor prop, once executed this will look gorgeous. While picking the frames for the station, go for the vintage ones.
Your guests can either sit on the couch to take pictures or pop in from behind the frames to create a 'picture-within-a-picture' effect.
8. Funny speech bubbles as photobooth props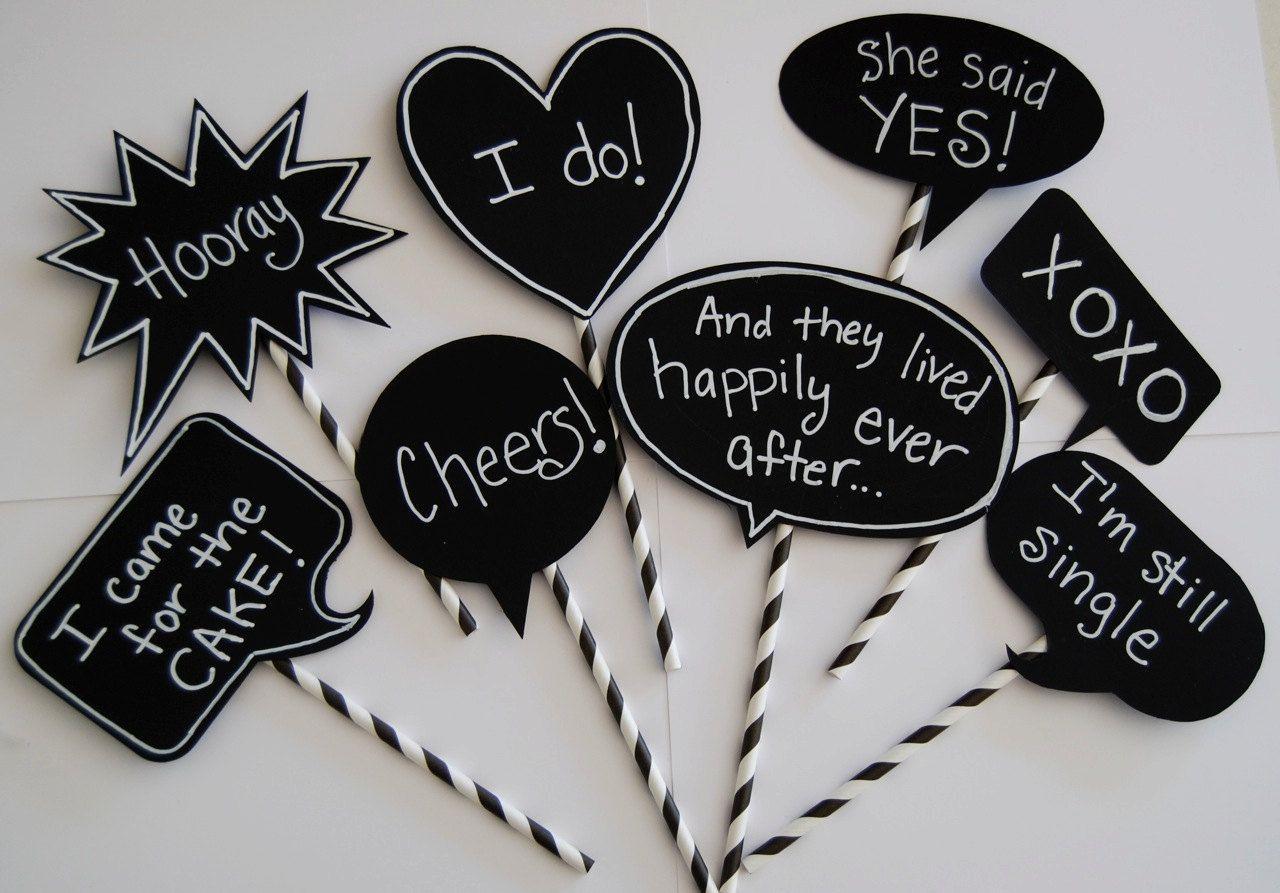 Image courtesy: Pinterest
Speech bubbles are the most popular photobooth props and they definitely deserve to be. Easily customisable and great to pose with, they are a must-have addition to any wedding or gathering.
Think of a few captions you'd like to put on the speech bubble or you can ask your decorator to show you some of the custom speech bubbles used for weddings and take your pick from there.
9. Hanging photobooth props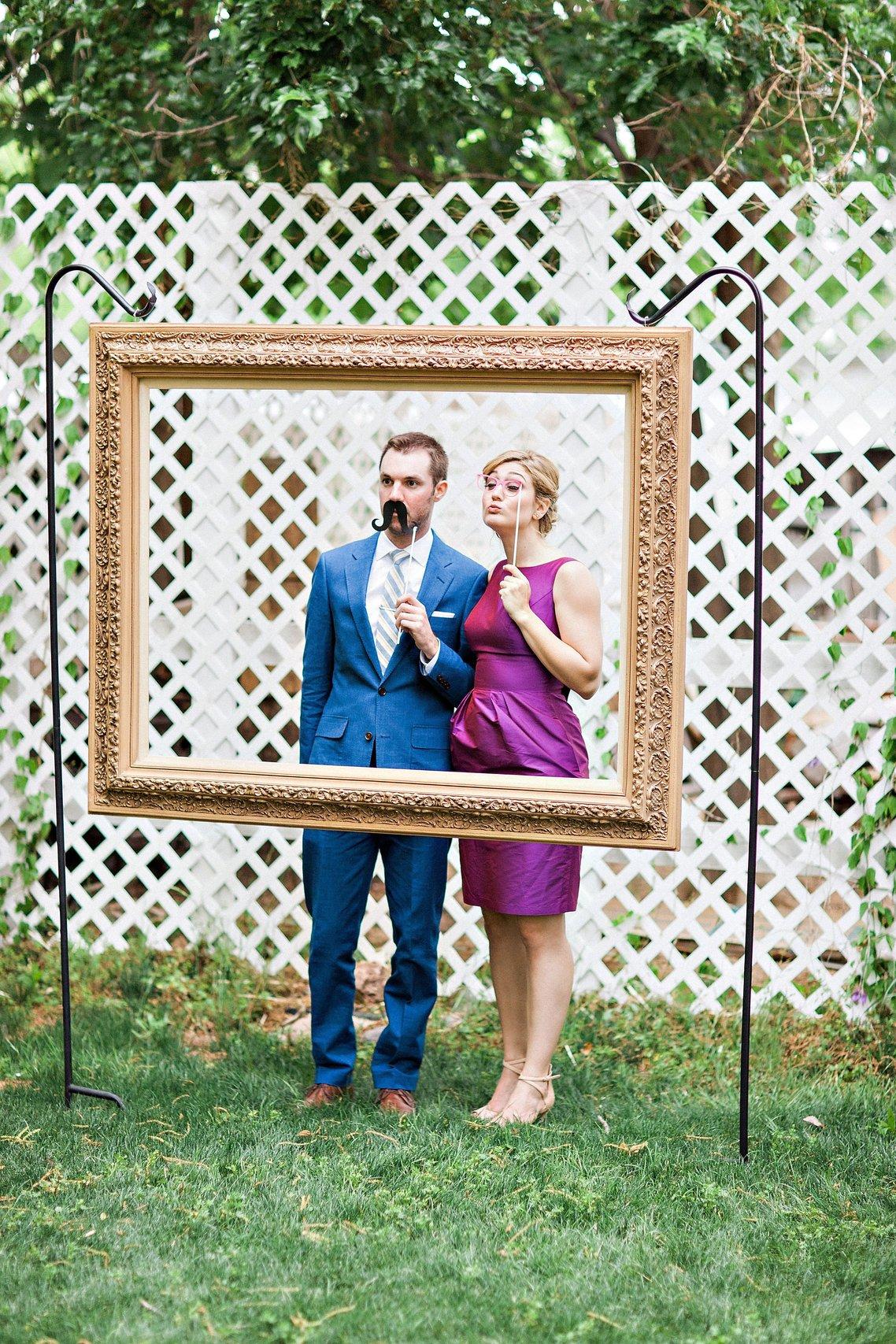 Image courtesy: Pinterest
Want something fancy for your wedding photobooth props? The hanging photo booth prop is your answer! Don't worry, although this looks fancy it is actually very easy to create.
All you need is two thin metal stands and a frame of your choice to hang it from. You can also hang it from trees with invisible strands.
10. Neon Signs as photobooth props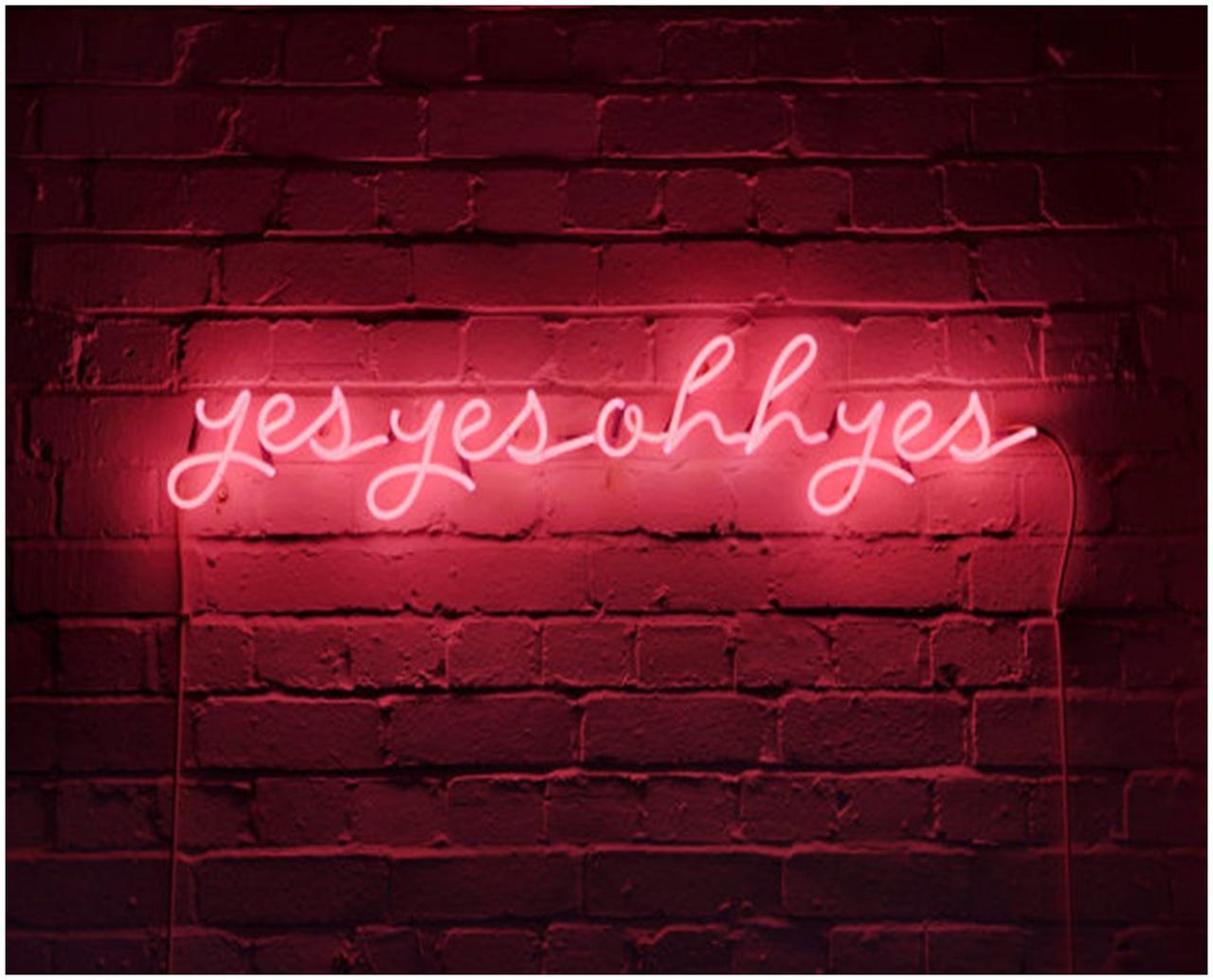 Image courtesy: Signs NY
Neon signs always add the 'glam effect' to almost every photo. If yours is an entirely indoors wedding and you don't have the option to get props outside, then this is perfect for you.
You can pick any colour for the neon sign but we'd recommend picking one in red or blue. The words can be customised too!
Image courtesy: Valve Vintage Booth
11. Retro photobooth props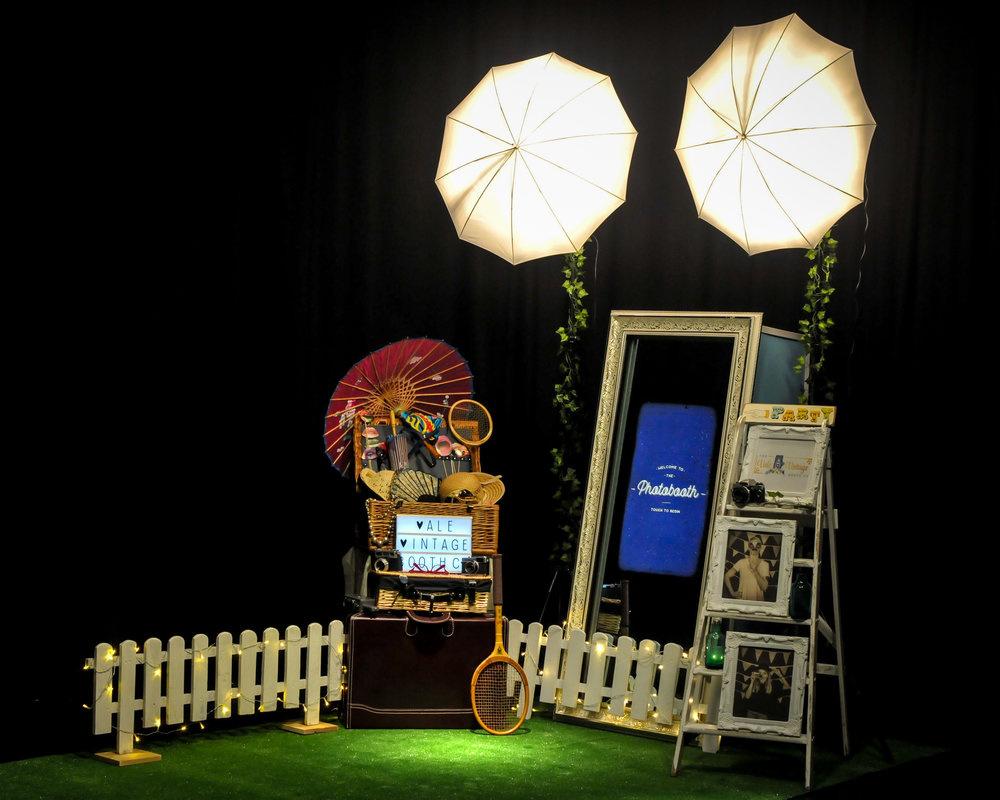 Retro elements can make any wedding photo look beautiful. To give your guests amazing photos go to an antique shop and pick random vintage elements that you can put together against a backdrop and create a vintage effect.
From umbrellas to telephones to old computer screens, you'll have a lot of options when it comes to this one!
12. Chalkboard as photobooth props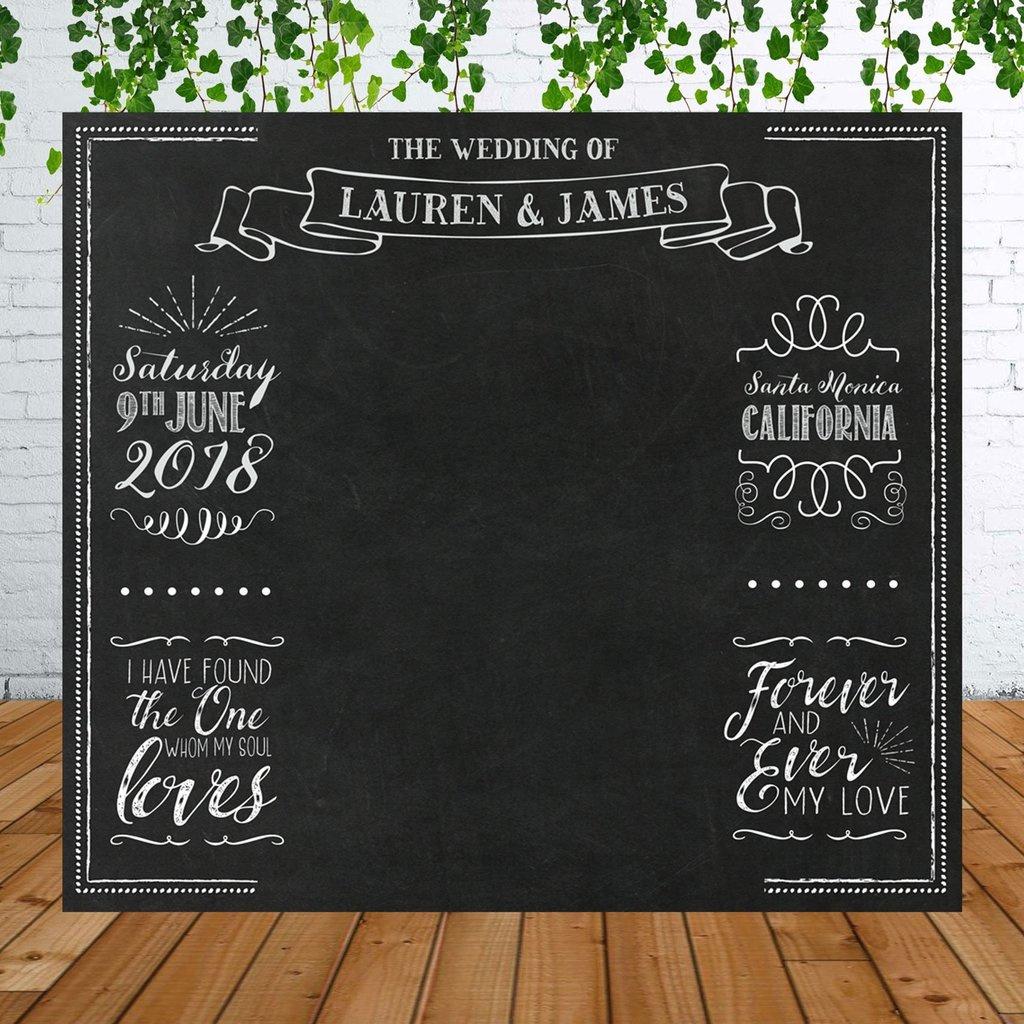 Image courtesy: Z Create Design
Need an effortless photobooth prop that also makes for great photos?
All you need is a big chalkboard and then fill in your details in it. Keep the centre empty and the details to the sides, so that your guests can pose in front of it. Simple, right?
Creating photobooth props is always a fun idea for weddings. You can either pick one of these options or mix and match a few of them to give your guests a lot of options when it comes to taking selfies and pictures!
Want trending photobooth props for your wedding? Get in touch with our wedding planners!
Written by Rohini Roy