8 New Ideas for a Photobooth for Weddings – Make Memories That Last a Lifetime!
A photobooth is essentially a designed space made specifically for taking pictures in. Make sure your guests have a place to take all their selfies by having these photobooths for weddings at your functions!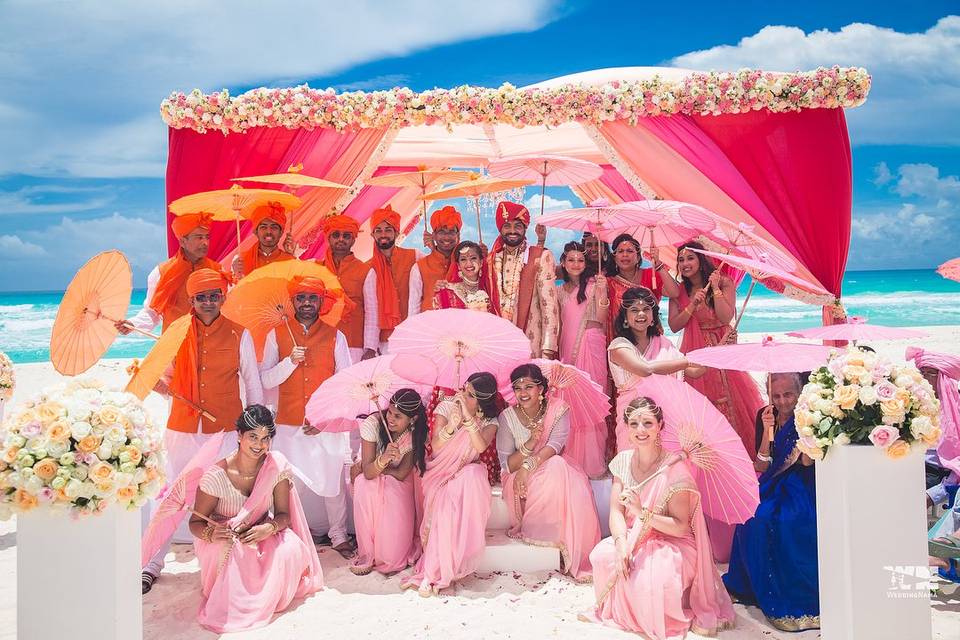 Photobooth for wedding is a great idea for couples who want interesting photographs before or during the wedding ceremony. What makes them so popular is the fact that they create unique and creative pictures based on what the couple likes. However, if you can't come up with your own idea, does that mean you should ditch the photobooth? Of course not!
When brainstorming, keep in mind that the ideas should be in line with the overall theme of your wedding for the photobooth to be an organic part of the functions, and not just a gimmick. For instance, if you are having a beach wedding in Goa, the booth should have beach-themed decor. To help you with the tough challenge of coming up with great ideas for your photobooth, here is a fun list of things that you can incorporate at your wedding. These ideas work for both, the bride and groom, and the guests as well.
1. Hanging Frames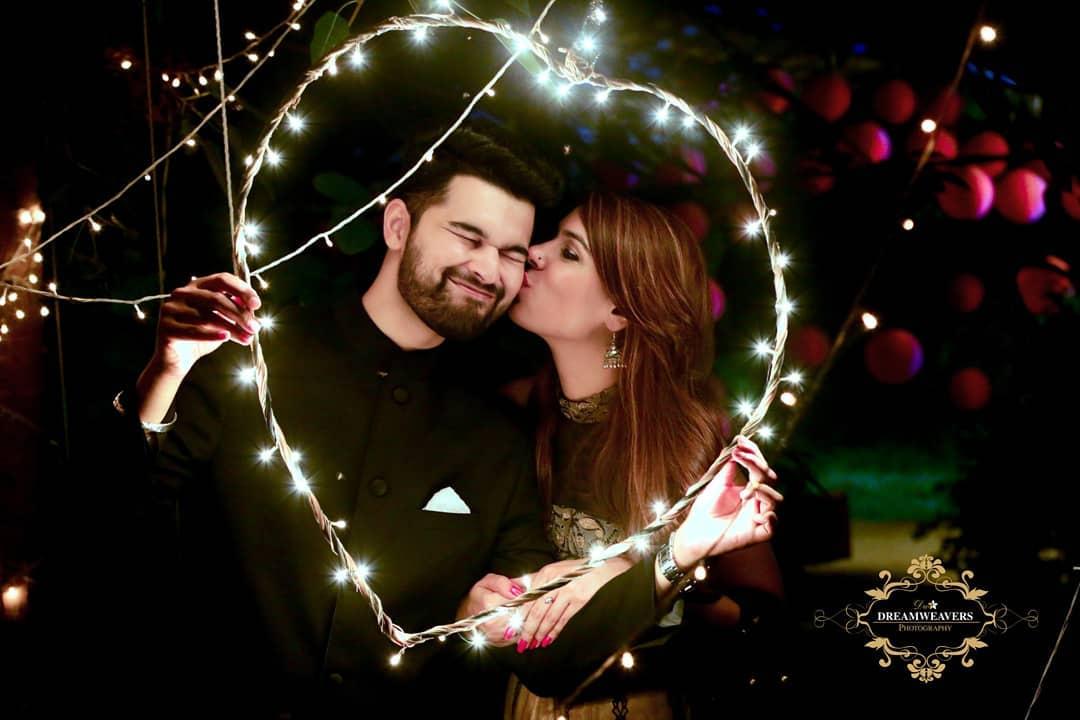 Having a photobooth for wedding made of hanging frames is an idea that can look cool without adding to your costs. You can use frames of any kind or shape in the background to create a fun area for everyone to capture some great moments. You can add a bit more flair by adding ribbons or by creating quirky designs using metallic wires.
2. A Desi ride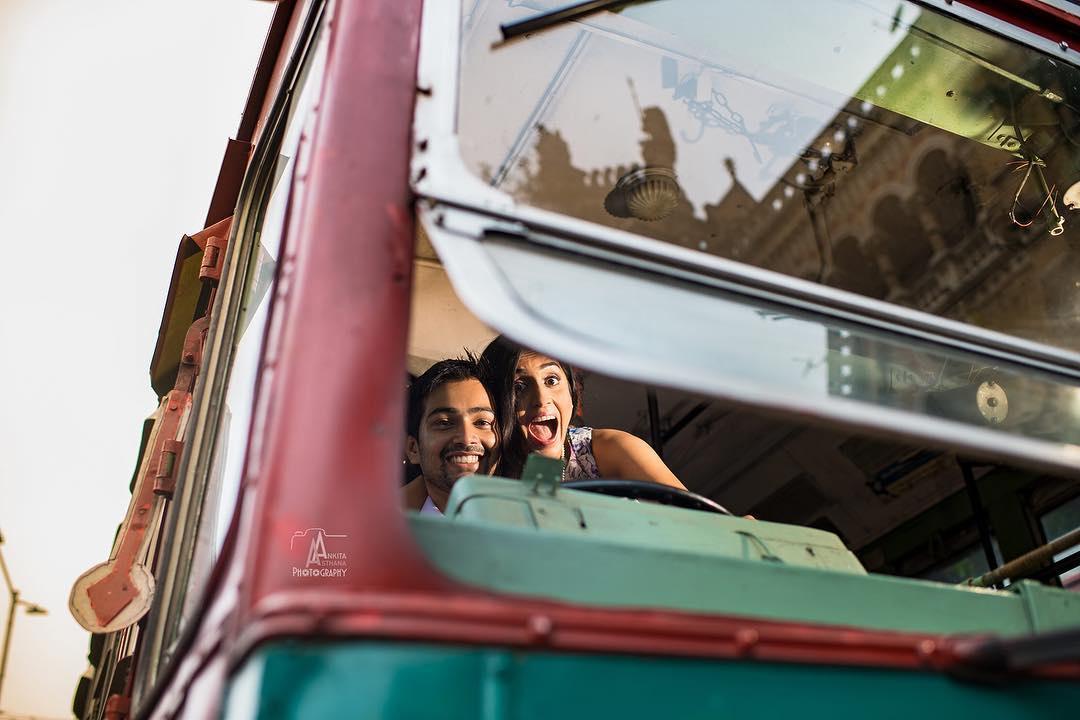 Many couples love the idea of taking pictures with styled Autorickshaws. You can choose any ride you like but do not forget to cover it with flowers. It can be a rickshaw, a bike or even a tractor if you can manage to get your hands on one! It can be the perfect setting for you and your spouse to get some stunning pictures with some fun couple poses. In addition to that, it will be a great area for your guests to make some memories as well. Go for marigold flowers if you want the photobooth to have an ethnic aura.
3. A wall with Giant flowers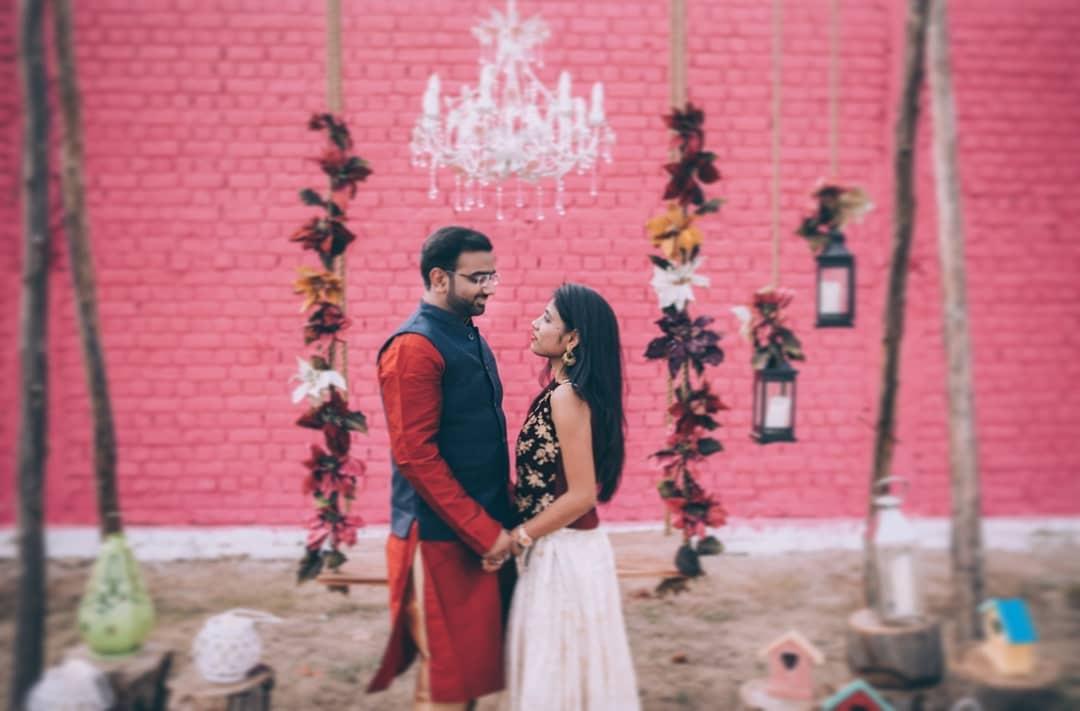 This is another theme using flowers. However, this time we have kitschy faux flowers! Ask your decorator to craft huge flowers made of cloth or paper and fix it on a wall. Make sure that you use contrasting colours for the flowers and the fake wall to make the flowers more prominent. You can also have a doorframe built on the wall if you want an added layer of detail. Voila, there's your photobooth for wedding. Just wait and watch how the bride and her friends line up for absolutely stunning pictures in their floral lehengas!
4. The very popular Instagram booth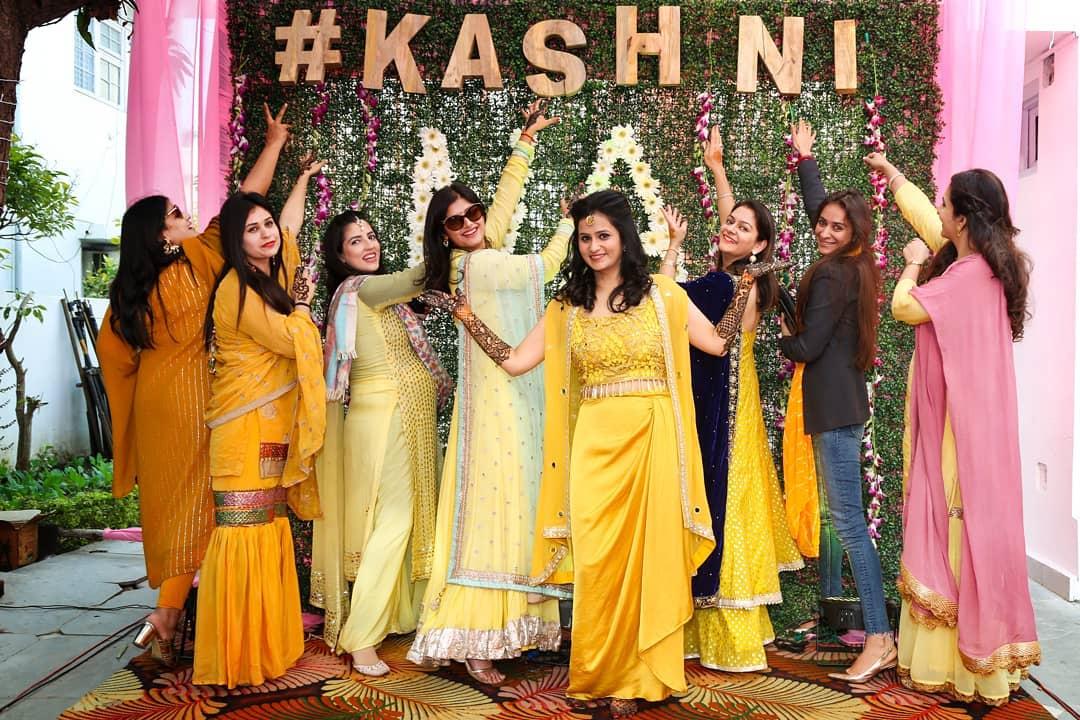 Instagram is the best photo-sharing apps in the world right now and it would be apt to have a fun photobooth for wedding with the app itself as a theme. Basically, what you need are frames that mimic the look of an Insta feed. Another cool thing to add is a rotating floor to create some funky boomerang or slow-mo videos. Do not forget to create some placards with quirky phrases starting with a hashtag to complete the whole look.
5. Faux Window Framed Wall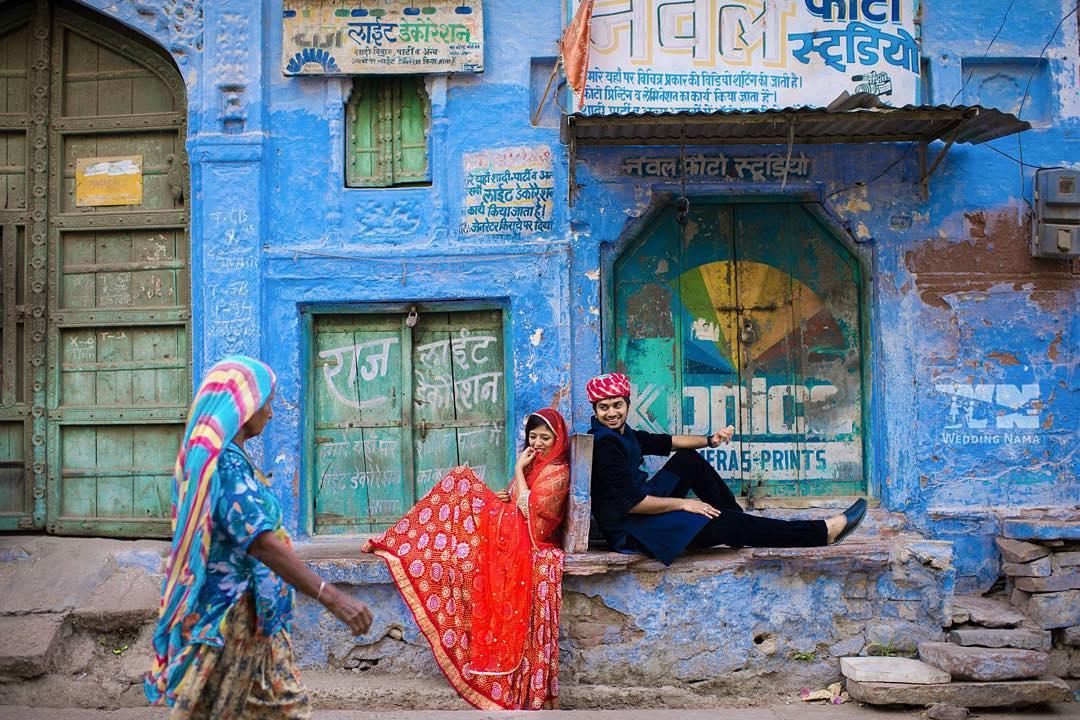 Create a wall with a number of window frames that are unique in each way. The variety of windows is what makes it a matchless photobooth for wedding. Your guests will thank you later when the pictures taken here will make their way into actual frames later on!
6. The Mela Vibe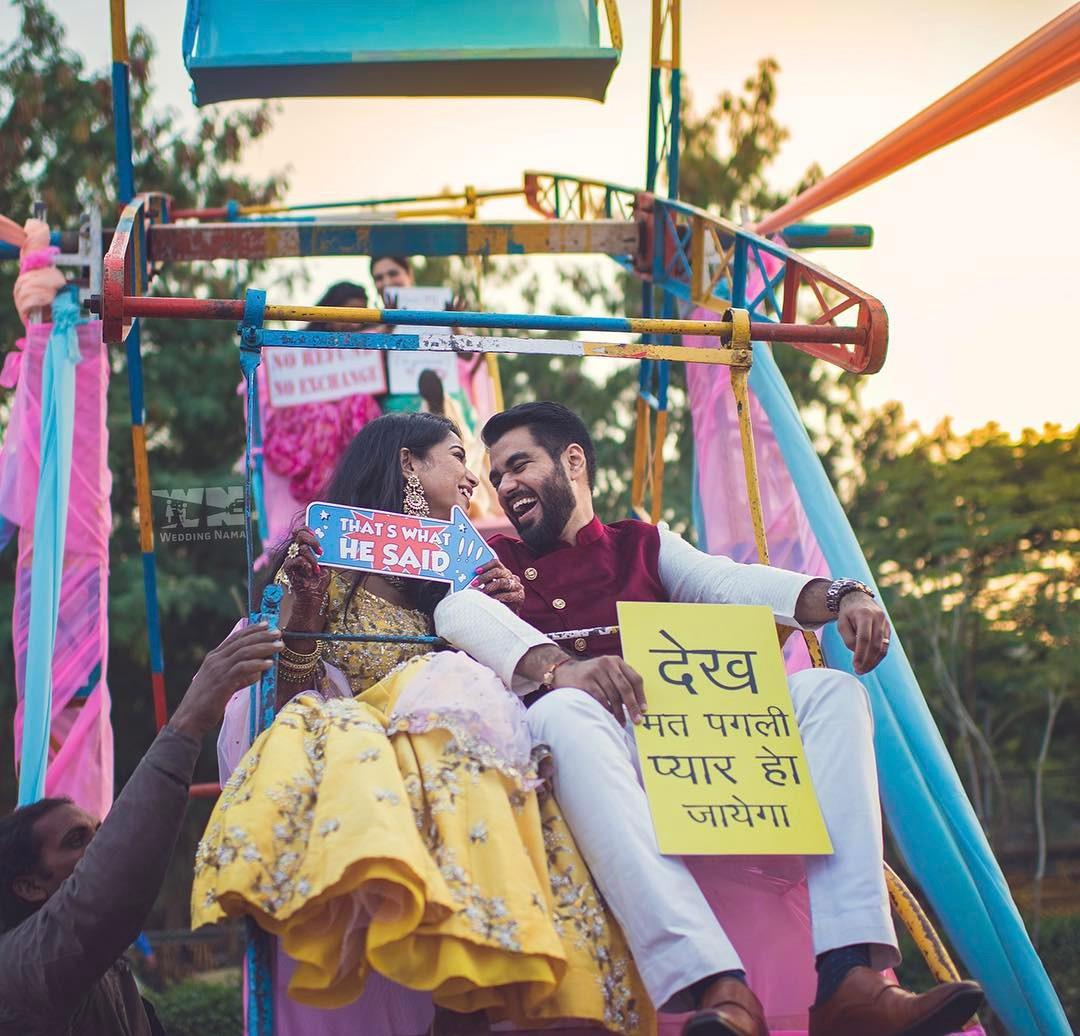 Want more Desiness at your wedding? You can bring this vibe with your photobooth! For a Mela aesthetic, can use pinwheels as a major prop. Add a cotton candy machine or a Pani Puri stall in the background to add more flavour to the setting. Such a setting will not only resonate with your friends, but it will also bring back fond memories for the older crowd. You'll definitely spot your family trying to pose here!
7. Pop Culture-themed booth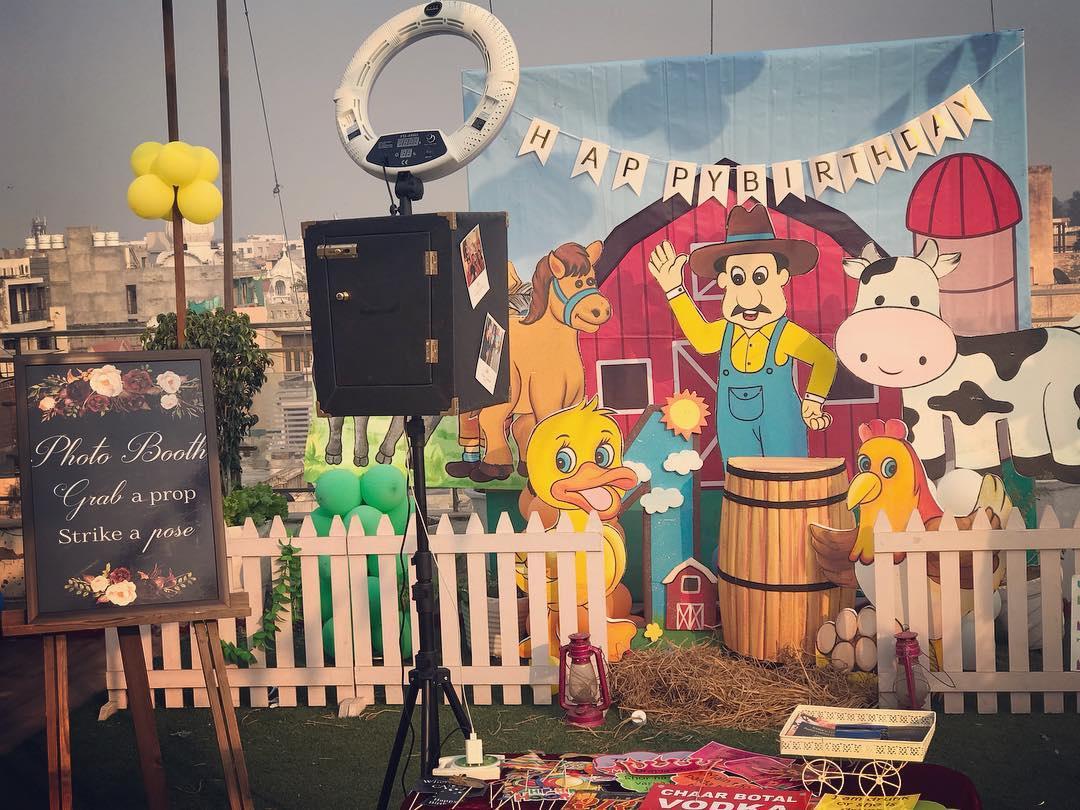 Image Courtesy: Pop Culture
Having a pop cultured themed booth lets you enjoy plenty of options to make it as personalised as you want. You can create a Harry Potter booth with wands, owl cages and a replica of Hogwarts or create a booth based on the Avengers. The options for this kind of photobooth for wedding are endless. Try choosing a popular theme so that a larger number of your guests connect with it.
8. A cool pool based theme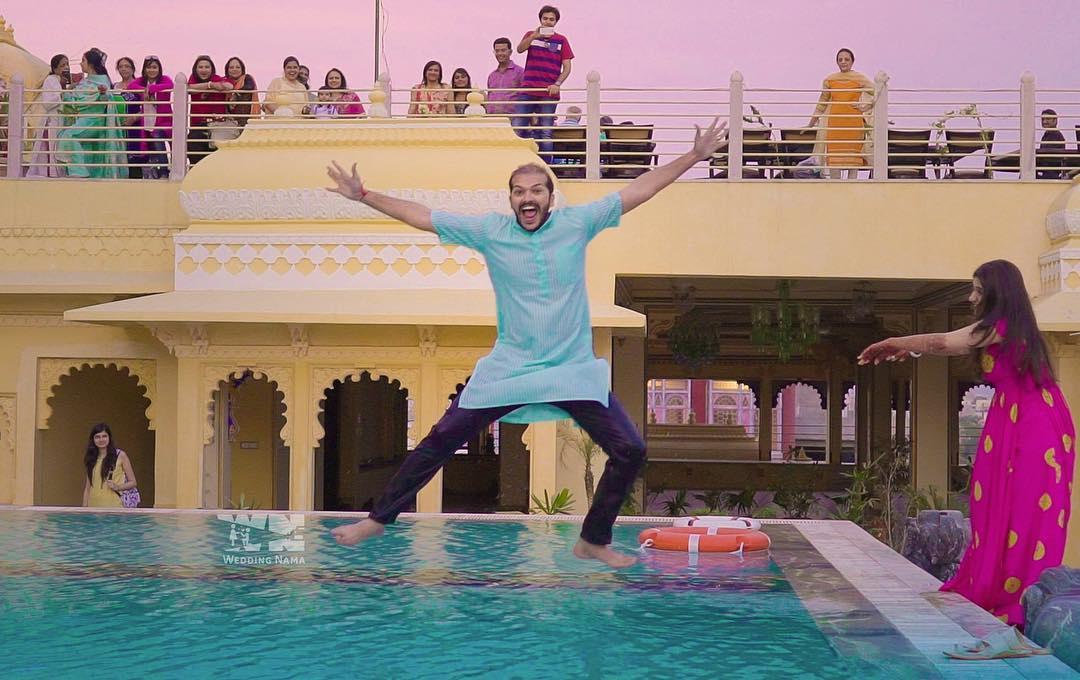 If you are having a pool party during one of the functions, it is important to create a photobooth for wedding that matches the vibe. Have cool colours, balloons, swim rings and other such cool pool related props.
With these great ideas for photobooths for weddings, nothing will stop your pictures from getting a myriad of likes!
Get in touch with our photobooth for wedding vendors today!