All the Floral Lehenga Inspiration You'd Need for Your Big Day - Check It out Right Here
Floral lehengas are quite a rage for brides nowadays, not just for the D-Day but for other functions too. Here are some designs you are going to absolutely love. And hey, we came prepared with their approximate prices too, so yay!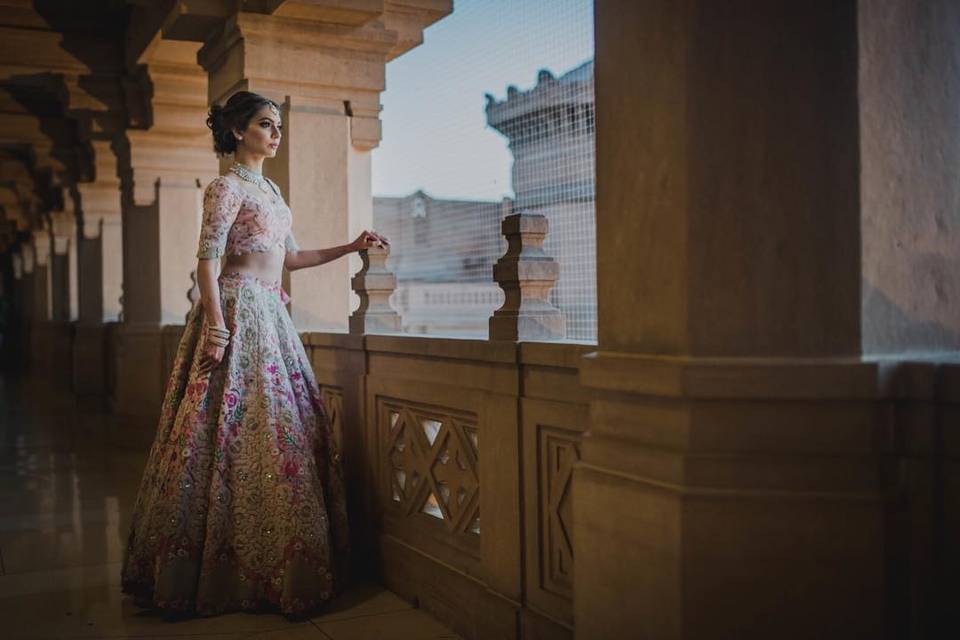 If all else fails, stop worrying and go the floral way. If you learn this one tiny thing then you can be fully assured that your life will become simpler than ever. A wedding, be it an Indian wedding or a foreign one, is incomplete without flowers.
Flowers are the most important part of any wedding. They are everywhere - the decor, the Varmala, the ceremony and even the bride's attire. Flowers could be present as an adornment in the bride's hair, or she could go for floral jewellery. But brides these days are not limiting the floral content in their trousseau to just these.
Their outfits are going the floral way too and it's the most beautiful trend we have seen. All the bridal dress designers, right from Sabyasachi Mukherjee to Anushree Reddy and even up and coming ones are well aware of the beauty that is floral lehengas. This is probably the reason why almost all designers have incorporated a few floral designs in their outfits.
If you are a bride who is obsessed with all things floral too, then you have to check out these floral lehenga designs by these awesome blossom designers. And hey, they come with their approximate prices so maybe you could even make a decision about what to buy and what to skip right here, right now. Take a look:
1. Sabyasachi Mukherjee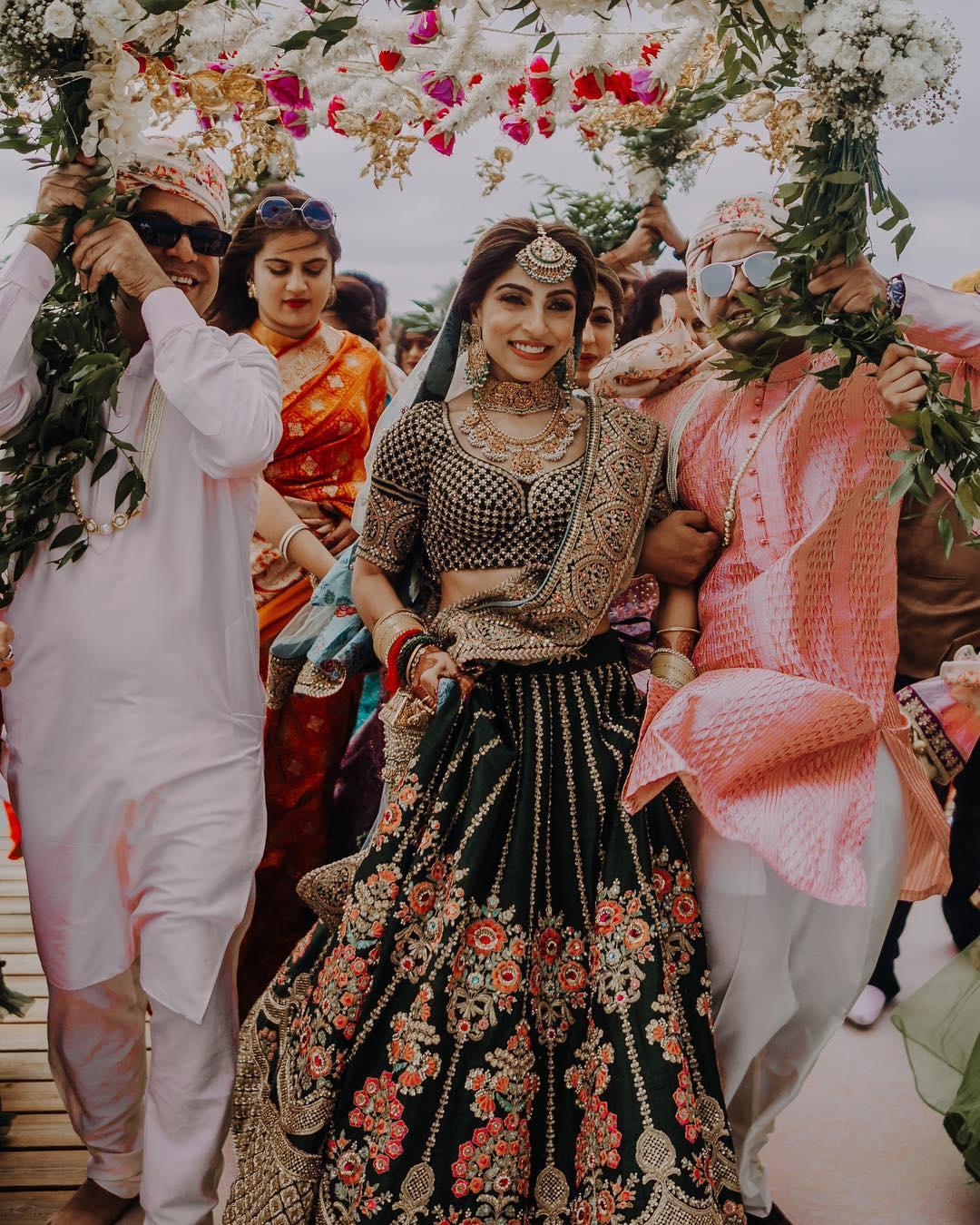 When it comes to floral lehengas or any bridal lehengas for that matter, we can confidently say that Sabyasachi Mukherjee is the master of the art. He knows what brides want most on their big day - to look royal and elegant and their gorgeous best. And that is exactly what his designs give them. Sabyasachi has a very signature style and floral motifs are a major part of it. He has redefined floral lehengas in a way that nobody could have imagined. He taught us that not all floral lehengas need to be pink and red. They can come in a variety of colours.
In fact, if you just want a touch of floral in your attire, then Sabyasachi has a great tip for you. Opt for a floral Dupatta instead of a whole ensemble and you will turn heads as the prettiest bride ever. Bonus: Did you know you could even rent Sabyasachi lehengas?
Prices: Approx. ₹3 lakh each
2. Anushree Reddy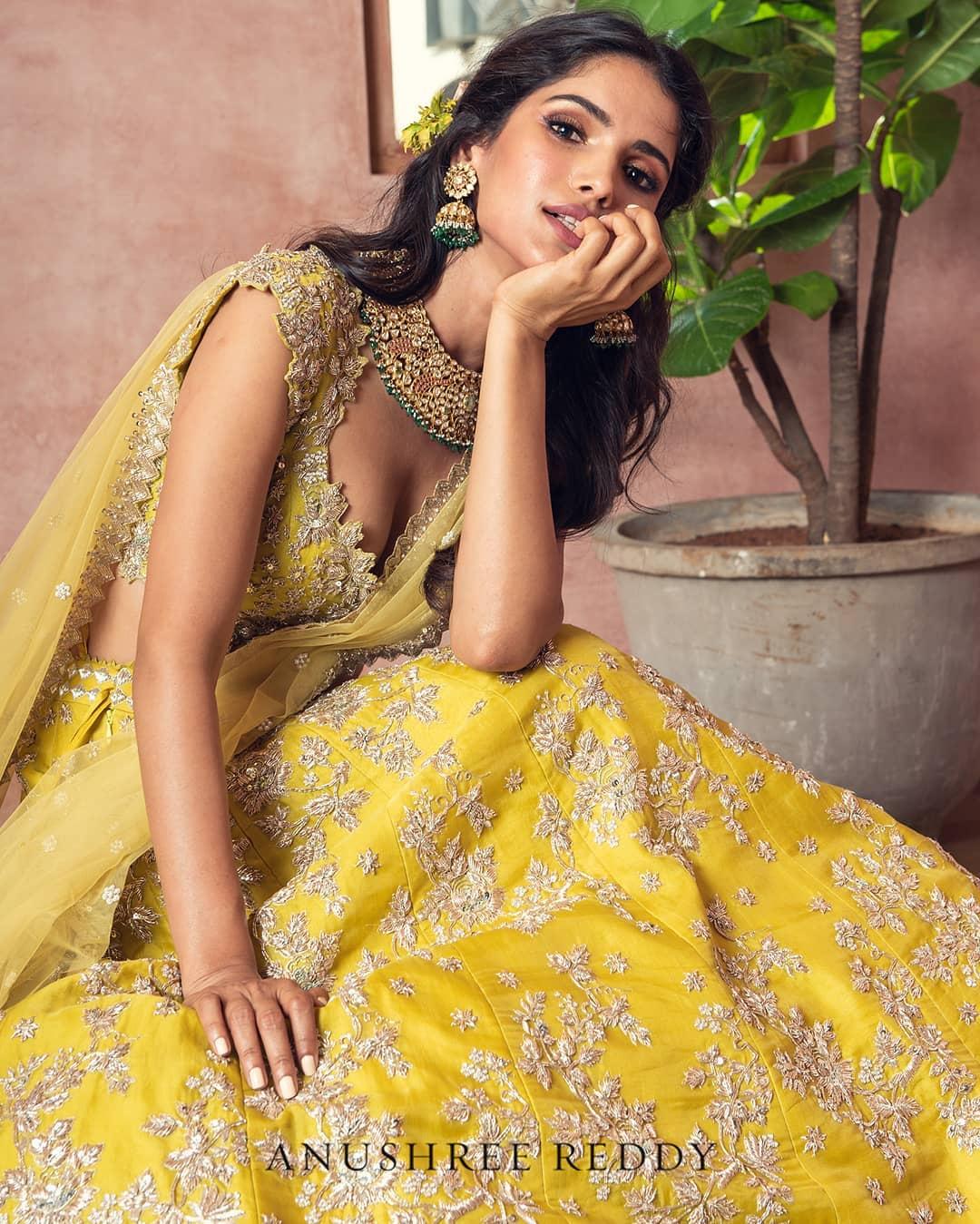 Another name that immediately comes to mind when talking about floral lehengas is Anushree Reddy. She is one designer who knows her motifs, colours and designs well and she knows that brides can never get sick of some pink, red and yellow in their outfits. Most of Anushree's floral lehengas come in shades of these three colours and they are vibrant redefined.
Price: Approx. ₹2 lakh
3. Abhinav Mishra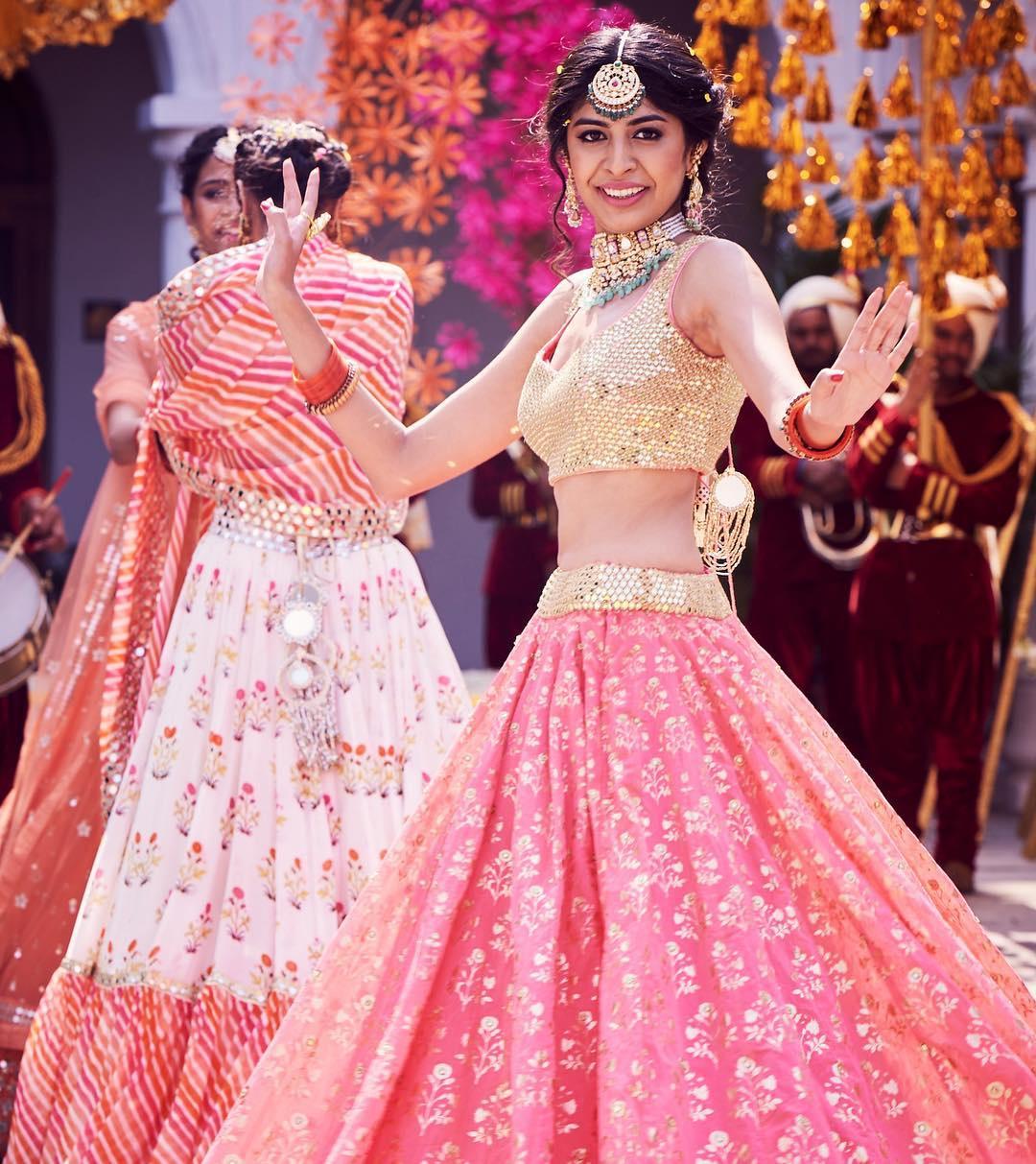 Image Courtesy: Abhinav Mishra
This stunning design from the collection of the much sought after designer Abhinav Mishra has our hearts. It is so colourful and vibrant and just emits positive energy. So stunning! The intricate sequin work makes the floral motif stand out against the bright pink colour of the skirt. And the combination of gold and pink had us at the get-go!
This is a perfect pick for your Mehndi or Sangeet function, and even more so if you are having a summer wedding.
Price: Approx. ₹1 lakh
4. Mahima Mahajan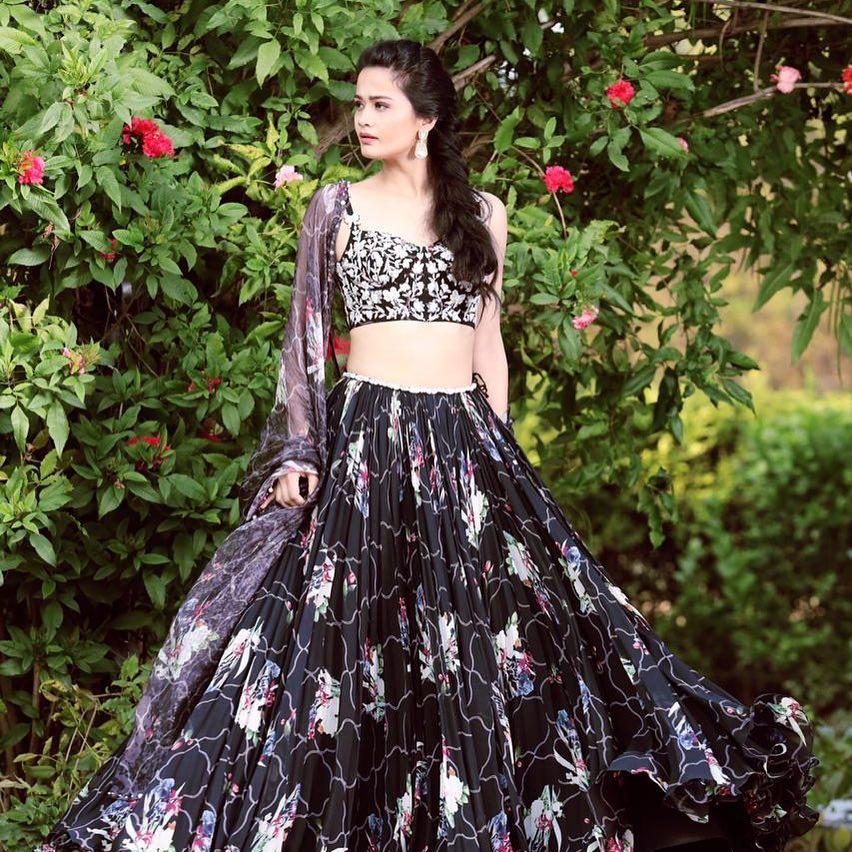 Mahima Mahajan is a budding designer from Delhi who specialises in chic and modern designs. She usually works with pastel and light colours and that's what makes her designs stand apart.
If you want to opt for a lighter floral lehenga for one of your pre-wedding functions like the Mehndi function or Sangeet, where your focus is more on comfort than sequins, then you could definitely opt for a Mahima Mahajan design like this one. So elegant and breezy, this one's perfect for a summer wedding.
Price: Approx. ₹45,000
5. Mrunalini Rao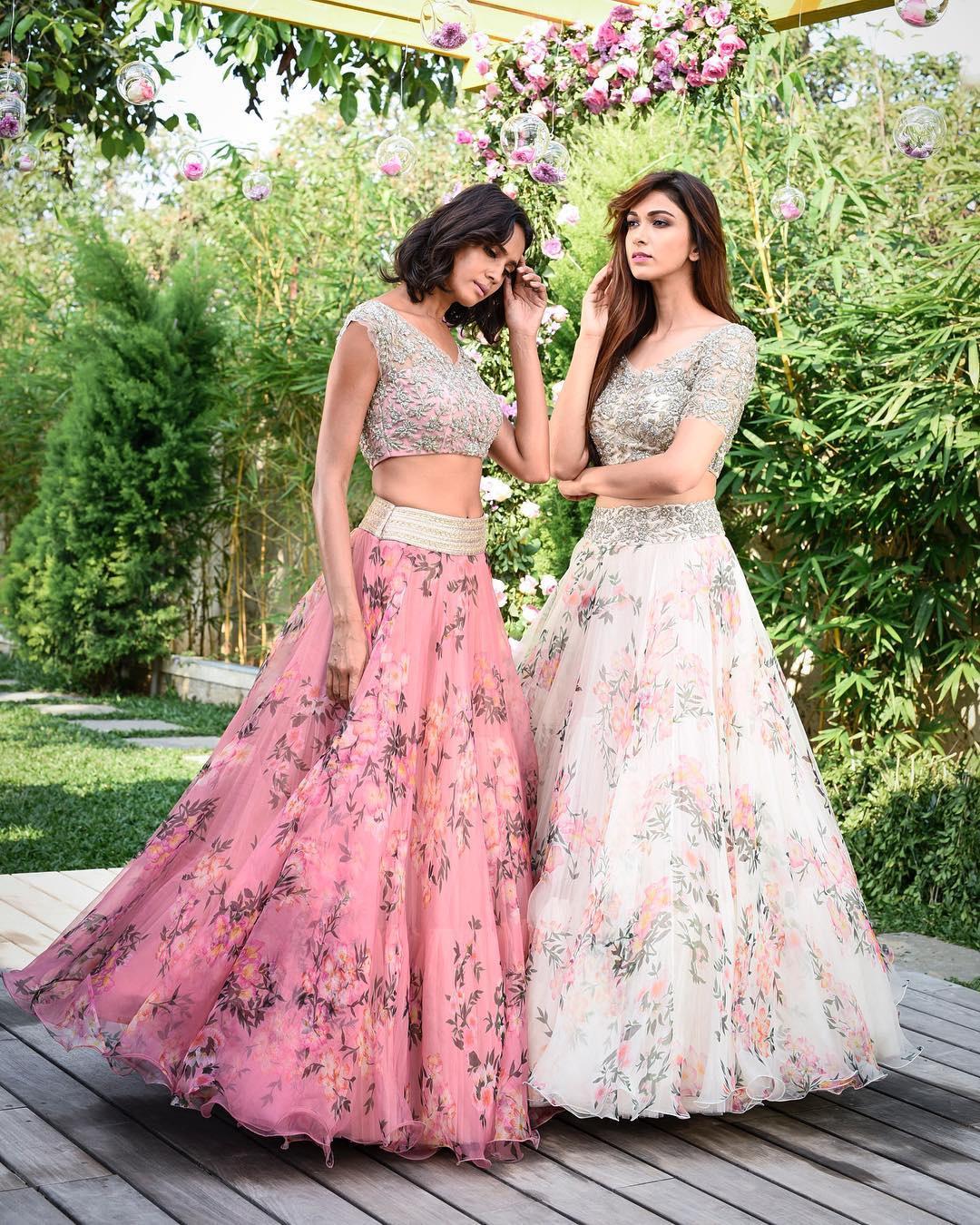 Image Courtesy: Mrunalini Rao
Just like Mahima Mahajan, Mrunalini Rao's designs also spell chic and modernity to the T. Her designs are very versatile though, as they vary in colours and fabric and even work. You can find breezy printed floral lehengas in her collection and also pick out some stunning bright coloured sequinned ones. But these light and simple floral lehengas from her latest collection are sheer gorgeousness.
Price: Approx. ₹50,000
6. Anju Shankar
Another budding designer who has an array of beautiful designs to offer, Anju Shankar knows the art well. Her focus seems to be more on chic and unique designs than anything else. Her outfits, especially lehengas are fresh and very summer-friendly. If you want to wear something light for your day wedding or a pre-wedding function, you can definitely check out her collection.
Her designs are also great for your post-wedding dinner parties etc. Since they are so reasonably priced, you might even be able to find some everyday wear outfits for your newly married days.
Price: ₹19,000
These are just some of the stunning floral lehenga designs we came across. We really hope you got some much needed floral inspiration from these!
Do you have any questions about your bridal trousseau or anything else? Just drop it in the comments section and we'll be happy to help.