Want Stunning Sabyasachi Lehengas on Rent? Head To These 5 Stores
Want the original at bare minimum costs? Then picking up Sabyasachi lehengas on rent could be the way out for you. Here's a list of places where you can rent one from.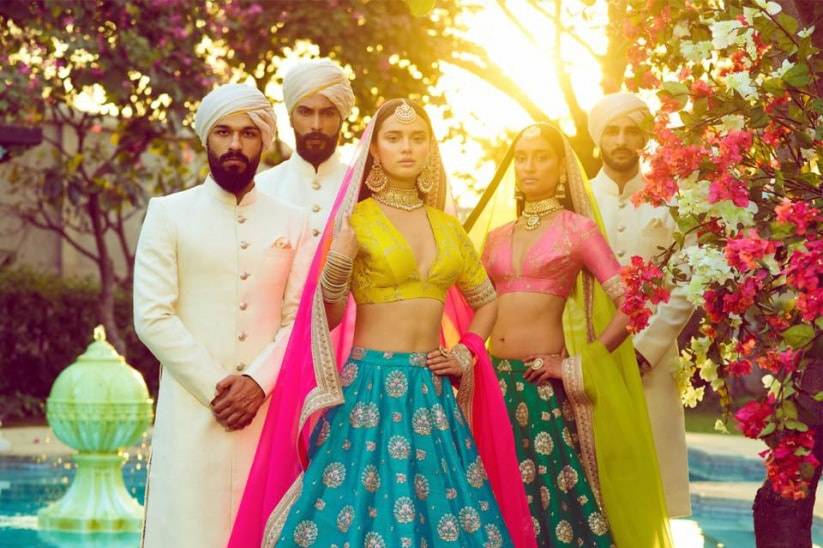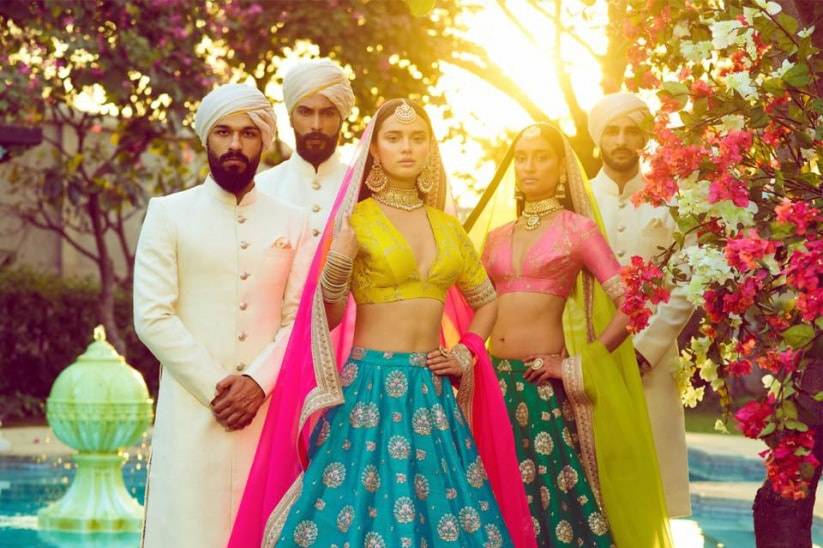 Image Courtesy: Sabyasachi's Facebook Page
Sabyasachi lehengas on rent - now that's a dream come true! The ace designer is the master behind some of the most drop-dead gorgeous Bollywood brides of 2018, the creator of larger than life costumes seen on the big screen, and he is every bride's dream designer.
That said, the artwork and the exclusivity of a Sabyasachi creation come at a cost and a big one at that. With the option of having Sabyasachi lehengas on rent, the cost becomes less than half, without compromising on the style and beauty of what the designer is renowned for. The problem is, there are so many people trying to copy the designs and even renting and selling fake designs under the name of the brand.
The solution is, we've got a list of places where you can get Sabyasachi lehengas on rent at a great price, a guarantee of originality and the convenience of selecting from multiple options. From shimmery cocktail wear lehengas, light and breezy lehengas for Sangeet to exotic creations to make a unique bridal statement; you can get Sabyasachi lehengas on rent for every occasion.
Points to consider when Getting Sabyasachi Lehengas on Rent: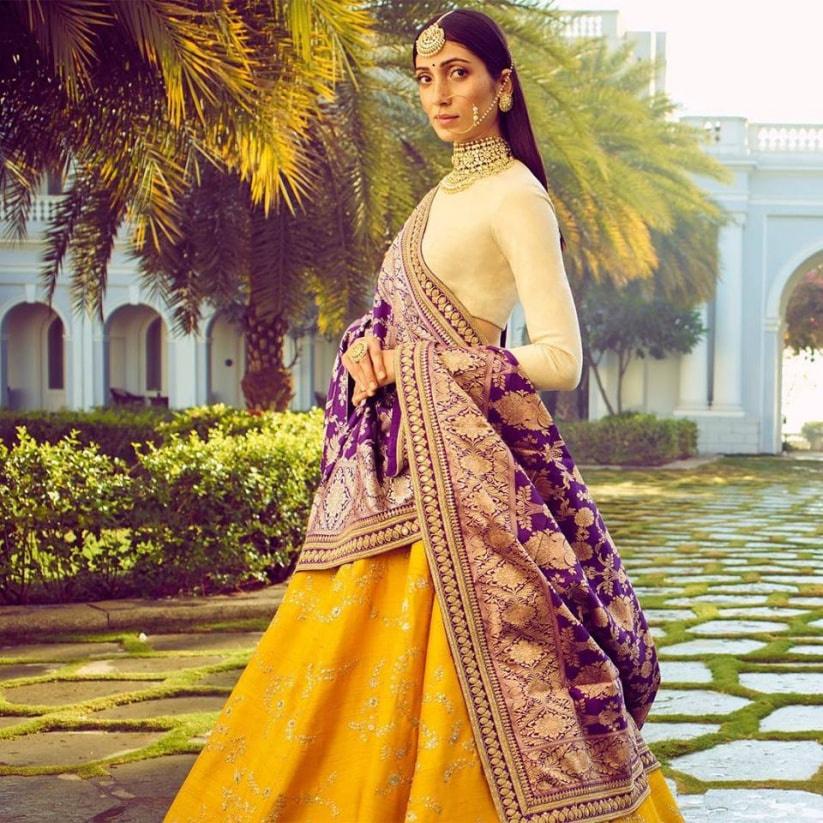 Image Courtesy: Sabyasachi's Facebook Page
While renting a Sabyasachi is a great idea, being careful where you rent from is what truly makes it a worthwhile experience. Of course, the very first thing you need to ensure is that you get your Sabyasachi Lehengas on rent from a vendor that is only dealing with original stuff. However, there are some other points to consider, like:
Check for the shipping cost information to make an informed decision
Understand the returns and exchange policy to make it a hassle-free renting experience
Check for sizing and fitting options to get a custom fit
If the vendor provides the option of a physical store, and not just an online one, it's always recommended to visit and try the outfit before you rent it
5 places to get original Sabyasachi Lehengas on rent?
1. Flyrobe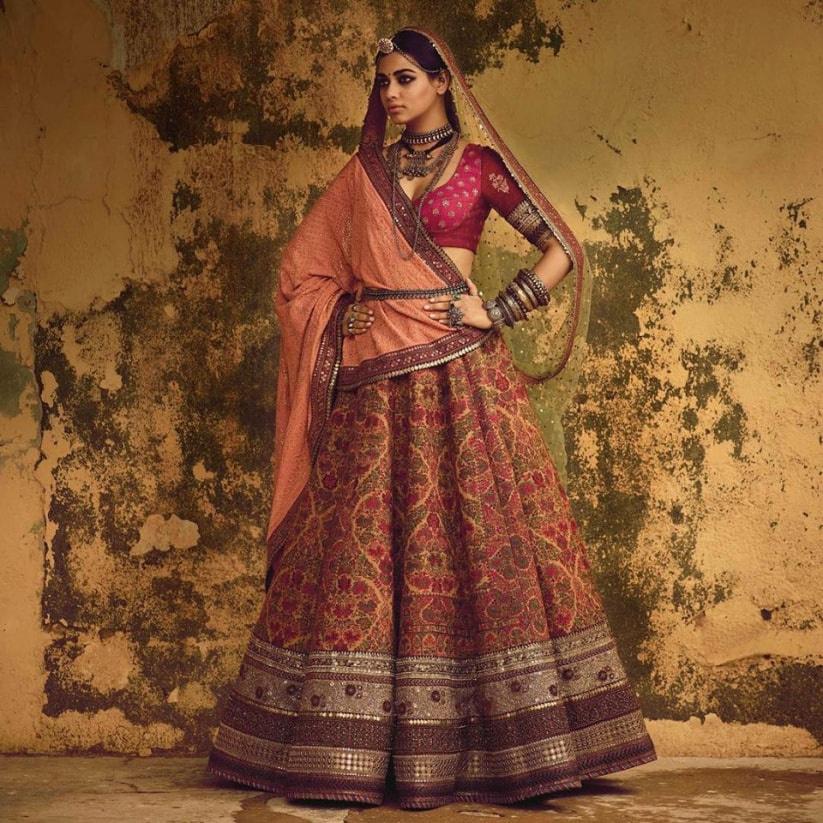 Image Courtesy: Sabyasachi's Facebook Page
One of the biggest fashion rental platforms in India, Flyrobe offers a wide array of Sabyasachi Lehengas on rent. You can choose multiple styles of Lehengas according to the occasion. It runs great deals and allows you to choose the right size for you. It comes with an assurance of quality and the ease of picking the perfect Lehenga in just one click.
2. Stage 3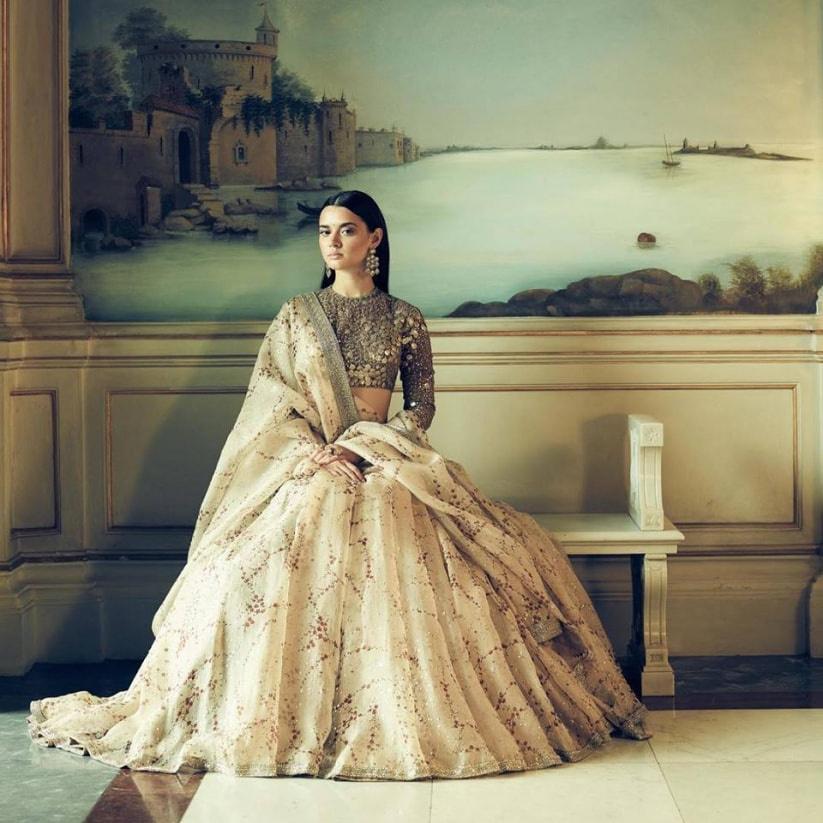 Image Courtesy: Sabyasachi's Facebook Page
Every woman wants to wear and flaunt a Sabyasachi creation that is crafted to perfection. Now we all know that designer outfits come at a huge price and can easily shake up our budget. Stage 3 makes that designer dream come true because you can rent designer Lehengas that have rocked the runways and will now make you the head turner.
3. Wrapd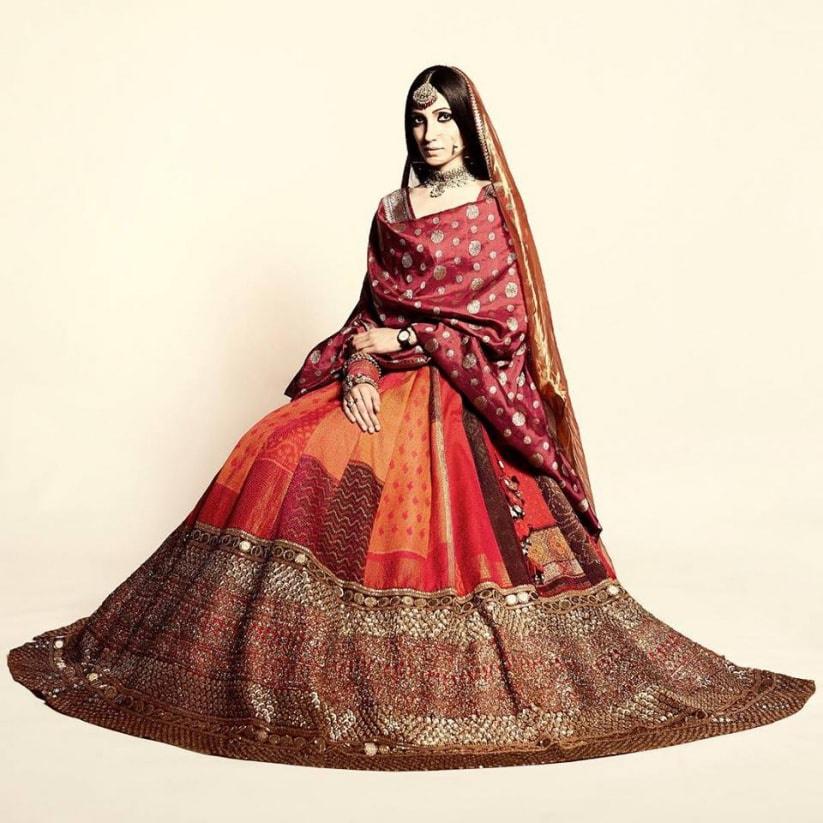 Image Courtesy: Sabyasachi's Facebook Page
Wrapd has come up with an amazing rental solution for beautiful attires. All you need to do is visit their store and choose the Lehenga that appeals to you the most. You then book the outfit and an expert will take your exact measurements. You can then just go and collect the outfit, exact to your measurements, flaunt it and then easily return it to the store. It's the best of both worlds!
4. Rent An Attire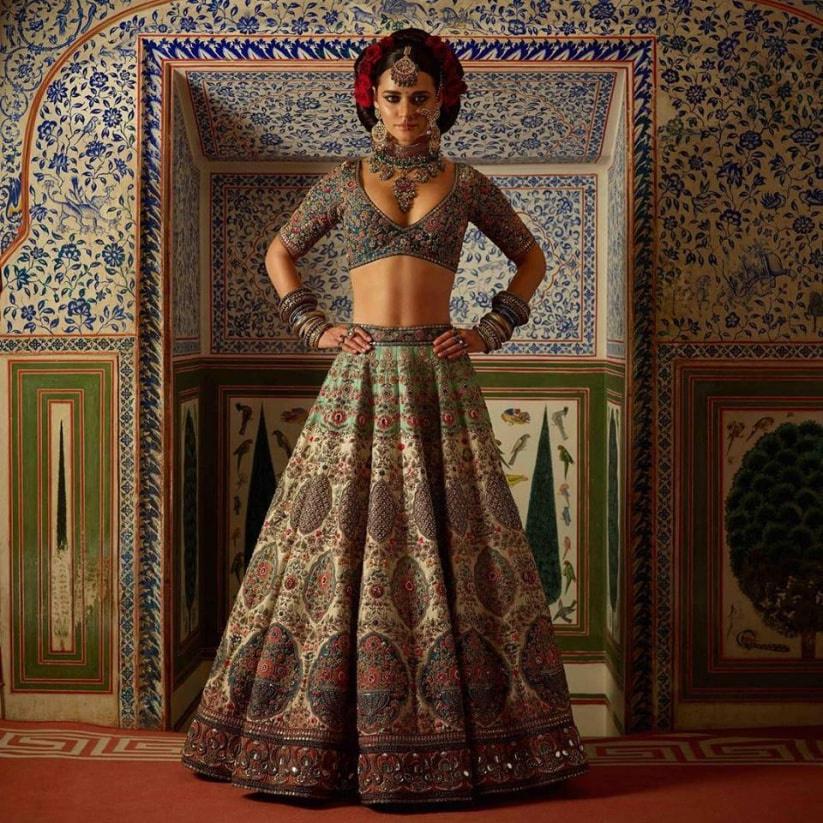 Image Courtesy: Sabyasachi's Facebook Page
It's as simple as the name. Rent an Attire is an online fashion rental platform that believes 'different is beautiful'. You can pick Sabyasachi Lehengas on rent and even book accessories to go with it. From elaborate Bridal collections to simpler Lehengas that you can wear at other wedding functions, and even stunning cocktail wear Lehengas. You get it all under one roof and at amazing prices.
5. Rent It Bae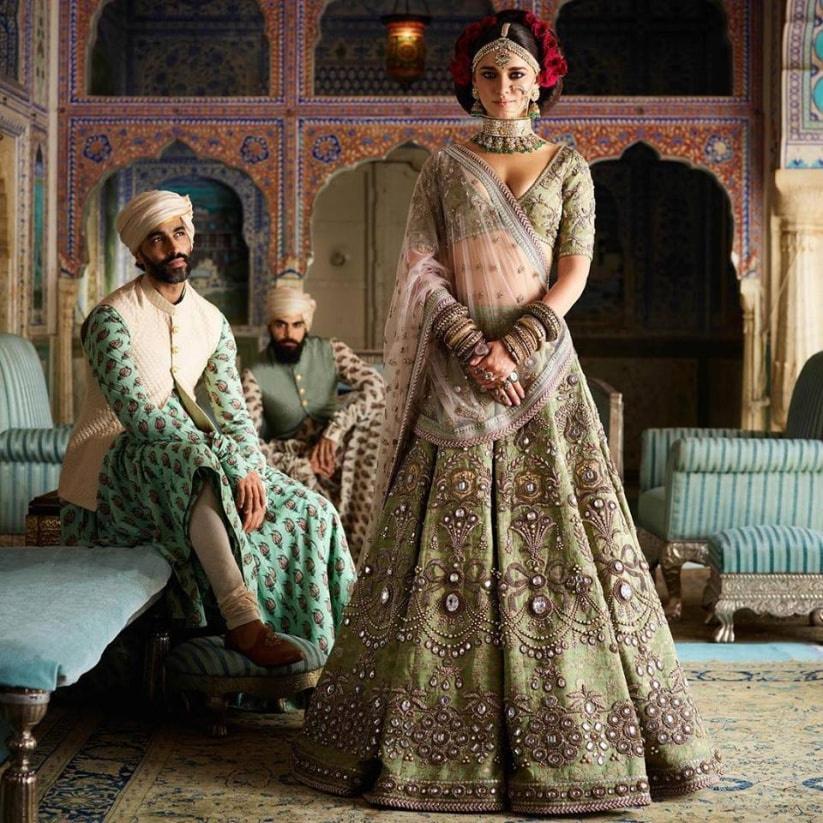 Image Courtesy: Sabyasachi's Facebook Page
Choose from your favourite designer, brand or category and bring home Sabyasachi lehengas on rent. This new-age fashion portal understands modern fashion needs and caters to all kinds of clothes, styles, trends and individual needs. The rentals are affordable and you can easily make a statement at any and every occasion with Rent It Bae.
Still wondering why renting is better than buying?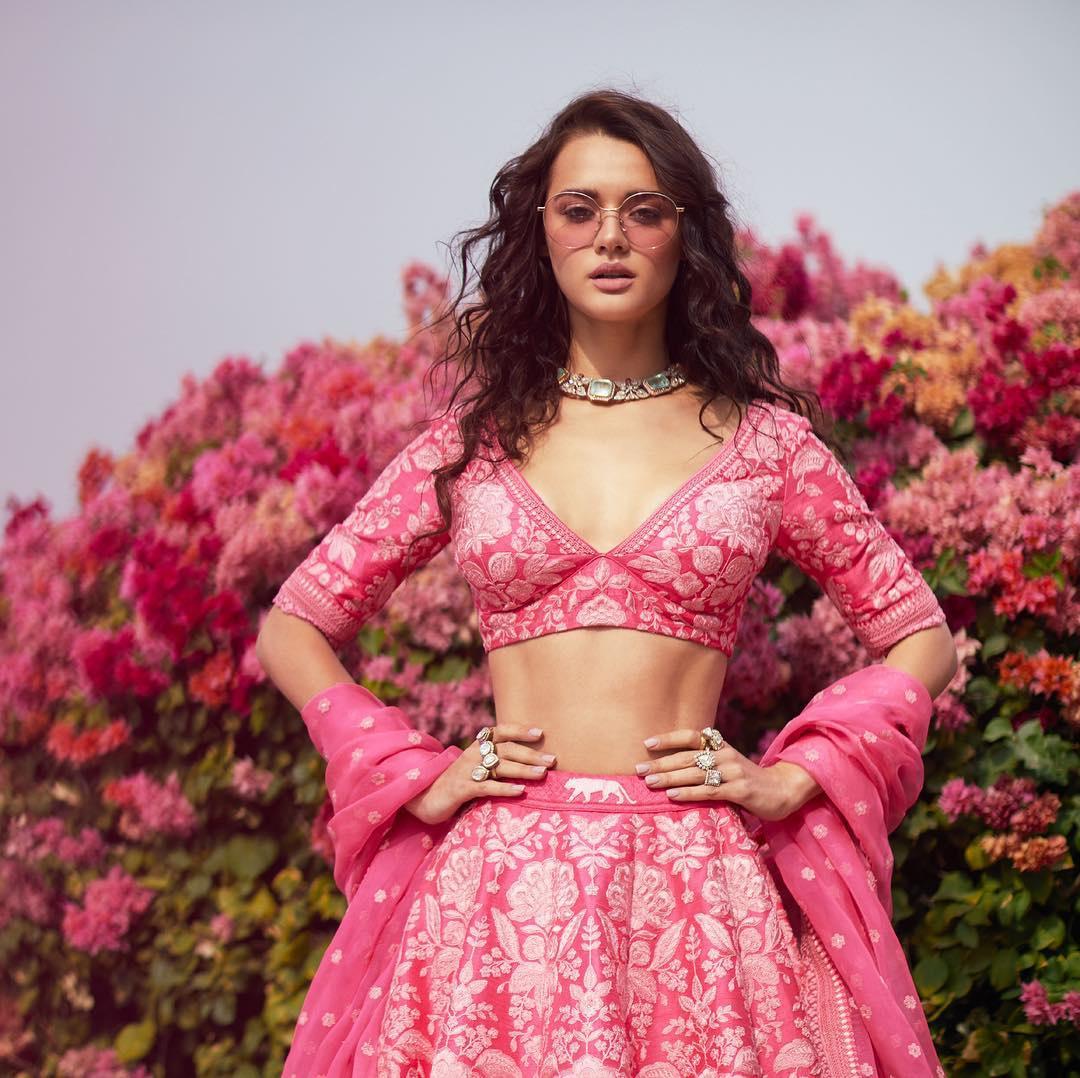 The answer is simple, with the option to get Sabyasachi lehengas on rent you can save tons of money, create a designer statement look and you never have to worry about repeating an attire. What more could you ask for?
Here is a breakdown of why renting your Sabyasachi lehenga makes a lot of sense:
1. The cost equation
Remember, cost matters. Especially if you have set your sights on a designer lehenga for your main wedding function or any of the minor day functions. While a Sabyasachi lehenga is available in the market for anywhere between ₹2,50,000 to ₹7,50,000. Renting a Sabyasachi lehenga, on the other hand, would cost a minimum of ₹15,000 with a ₹10,000 security deposit. Satisfaction guaranteed.
2. Get multiple designer looks
Keeping the cost factor in mind, remember that you can easily in 2-3 Sabyasachi lehengas on rent at the price of just one. In fact, you can add more designer outfits to your kitty - consider a Manish Malhotra for your Sangeet or a Papa Don't Preach for your mehndi function.
3. No repeats - guaranteed
Buying a Sabyasachi lehenga comes with the added responsibility of milking the garment of all of its worth and (god forbid) repeating it over and over. With a rental outfit, you can guarantee yourself no repeats by turning it in as soon as your essential event is done.
4. Extend the rent phenomenon
Now, that you've had the flavour of picking up Sabyasachi lehenga on rent, extend your vision of the rental world further by picking up bridal jewellery on rent, accessories on rent and even decor ideas and photobooth props for your big day. Pick, pay and return at a fraction of the cost and for the max experience.
5. Pick from the latest Sabyasachi collection
Think that the latest Sabyasachi collection is out of your budget? With Sabyasachi lehengas on rent, it's not and you can pick the right one for yourself.
Would you consider getting Sabyasachi Lehengas on rent or prefer to buy one?