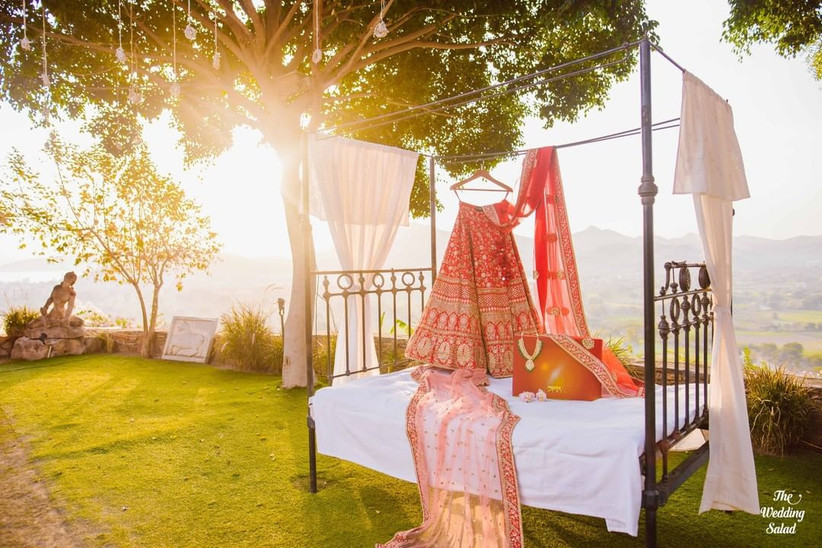 Image Credits- The Wedding Salad
You've spent hours and hours oggling at various bridal lehenga collections? It's time you get to business and get some real work done. While the options available are unlimited, your bridal dress should be one that is a reflection of your own taste and style. Narrowing down on a wedding lehenga has never been so easy.
Each one of us spends hours reading about our daily horoscope or which colour is lucky for us. So, we have combined the two and have curated for you a list which will tell you what the stars have in store for you. Some brides look for latest lehenga collections from chhabra 555 bridal lehenga collection, neerus bridal lehenga collection, manyavar bridal lehenga collection and silk bridal collection etc. Read on to find which colour from this bridal lehenga collection would be the best choice for you as per your zodiac sign.
Bridal Lehenga Collection for Aries Lady

Zealous, adventurous and a natural leader, the colour red is perfect for an Aries bride. Aries is a star sign which doesn't like to be ignored. So, what better way than this to make a stunning impression on your husband and wedding guests. You can opt for various shades of red. From fiery red to a deeper tone of red and maroon, you'll look like a diva in all.
Bridal Lehenga Collection for Taurus Bride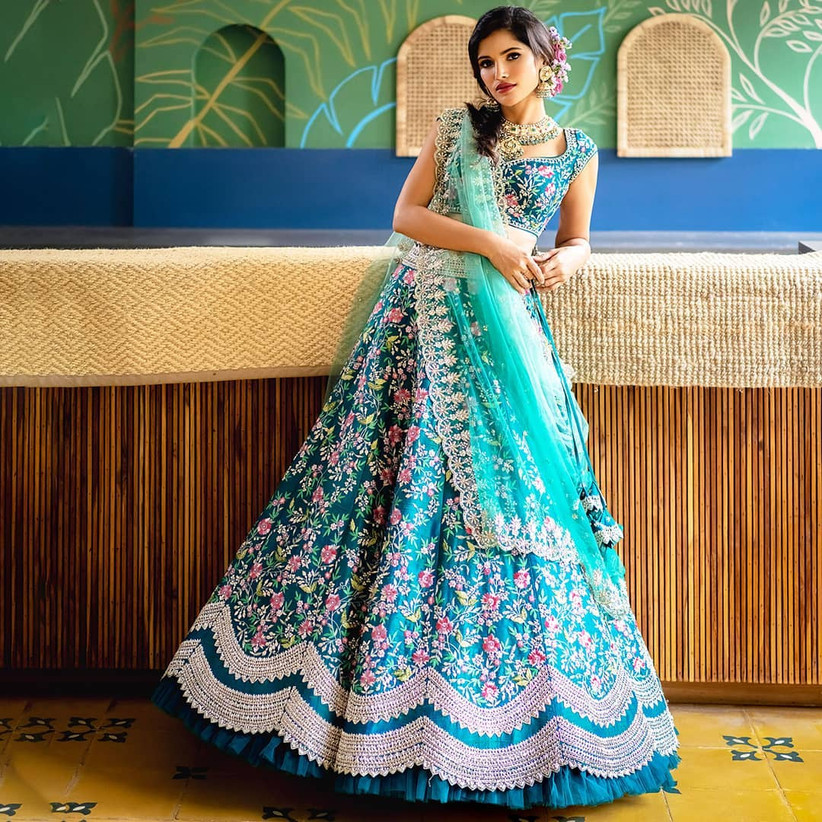 Image Credits - Anushree Reddy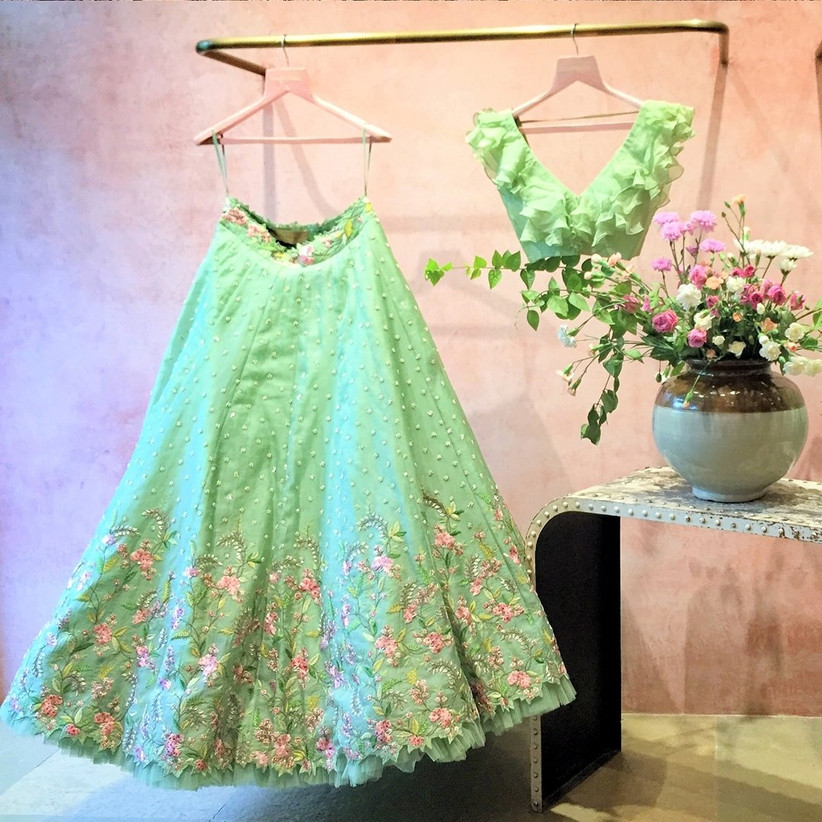 Image Credits - Anushree Reddy
Given to your nature of being a nurturer at heart, a shade of green is best suited for your motherly instincts. Your spirit is pure and you like to keep yourself in check with your immediate surroundings, therefore green will bring you growth and prosperity. Different shades of green are lucky for you and will go best with your calm personality.
Bridal Lehenga Collection for Gemini Brides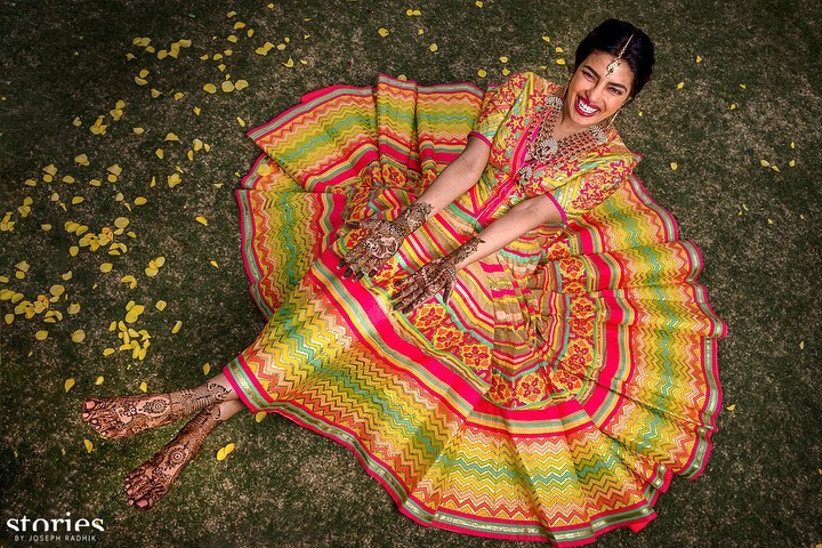 The Gemini lady has an affectionate nature which wins the heart of everyone she meets and greets. So for her happy go lucky demeanour, a bright yellow, orange lehenga from our bridal lehenga collection is just perfect. This life-giving colour will shine through a Gemini's exciting, upbeat nature making her look like a summer dream.
Bridal Lehenga Collection for Cancer Brides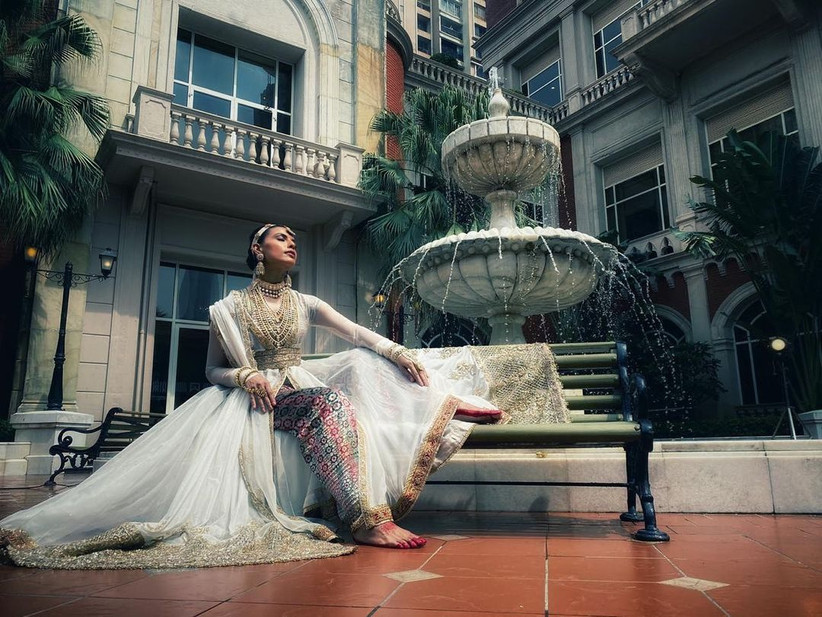 Image Credits - Manish Malhotra
Haven't yet finalised a lehenga for you wonderland winter wedding? Well if you're a Cancerian bride-to-be then this is the combination that will bring you most luck. A nurturer at heart, a Cancerian bride would be deeply involved with every little thing at her wedding. So, it is obvious that her bridal lehenga should be just as delicately detailed and proper to her taste as well. Silver and white are colours of intuition and purity. These colours are sure to make you look radiant as ever in a colour so delicate - just like your star sign!
Bridal Lehenga Collection for Leo Brides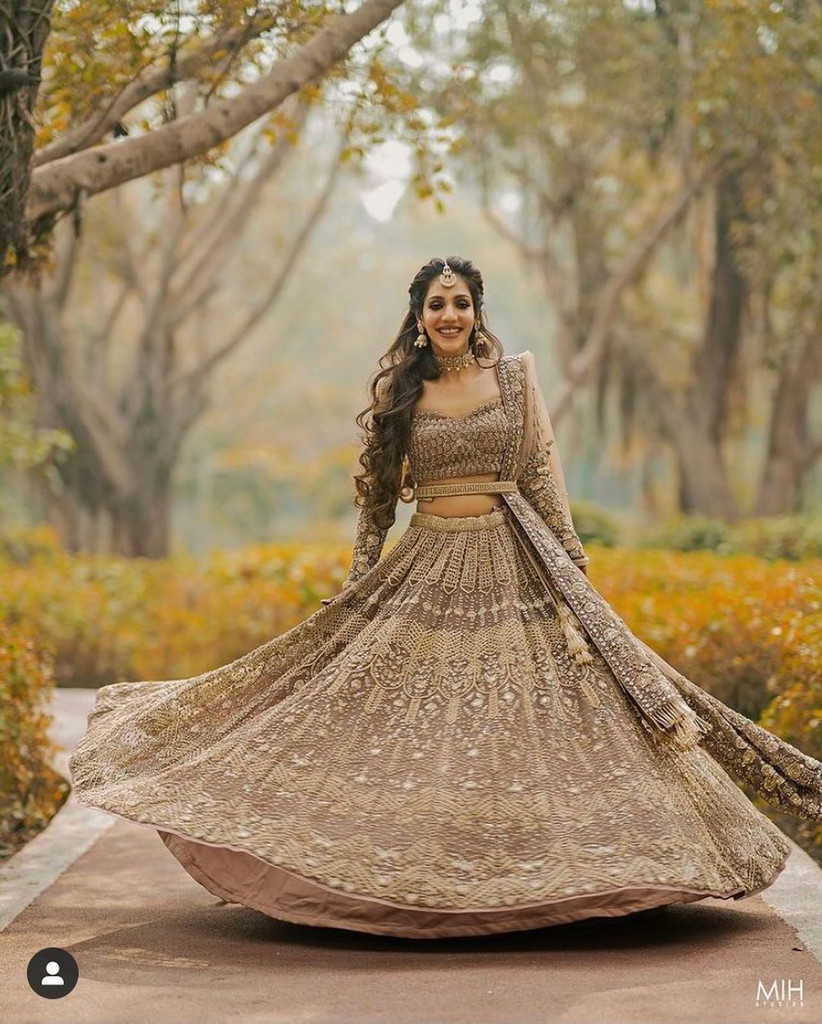 Image Credits - Aditya & Rohit
The lioness of the jungle & the leader of the pack, a Leo woman loves everything that screams bold yet beautiful. Majestic, glamorous and attention-grabbing, golden lehenga would be the right amount of bling from our bridal lehenga collection to bring in your oomph factor. The golden colour will empower your heart and exhilarate your personality. So, without a doubt wear a golden lehenga from our bridal lehenga collection and let the stars do the talking.
Bridal Lehenga Collection for Virgo Brides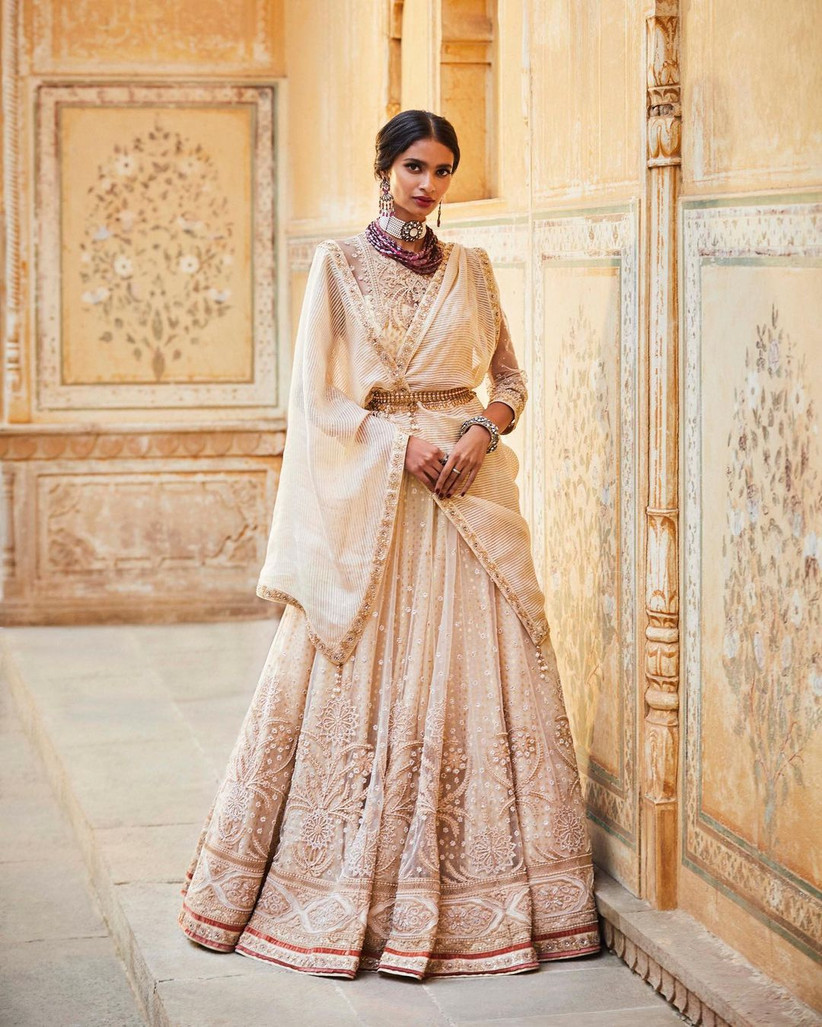 Image Credits - Tarun Tahiliani
A dire need for everything to be perfect, a Virgo bride's nature posits the earthiness of Earth. They are grounded but at the same time strive to achieve perfection in every walk of life. So, it is obvious that they would spend ample time in finding the perfect bridal outfit as well.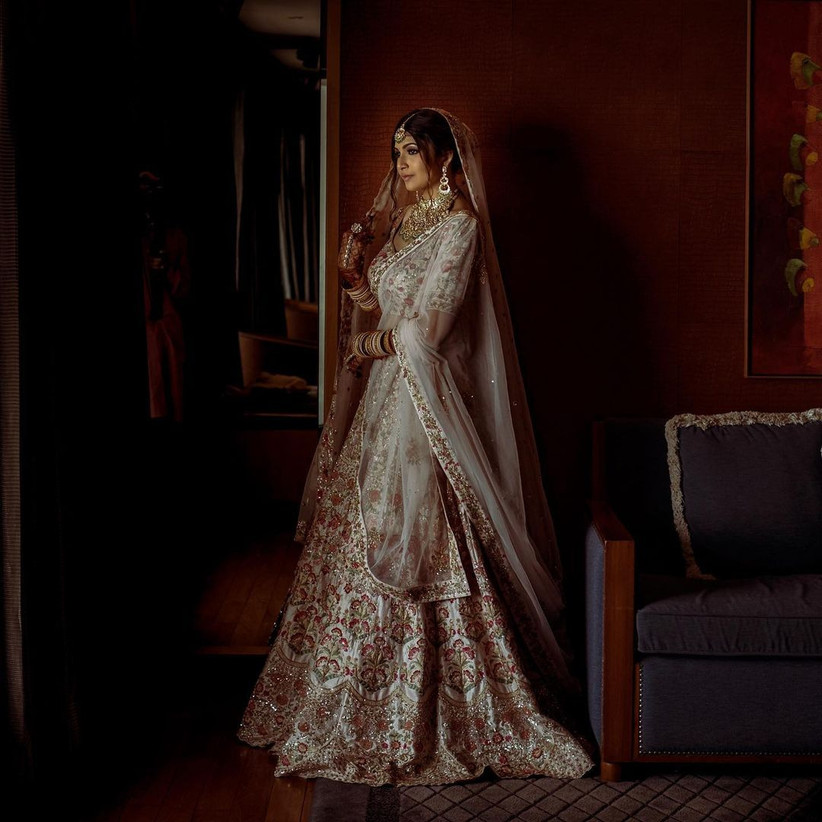 Image Credits - Shyamalal Bhumika
A Virgo bride should go for either green, beige, cream or brown lehenga from our bridal lehenga collection. Brown colour will provide the Virgo bride with stability and green will add to her growth in life as a person. It is a big day for you and we want you to dress the best for this one, in hues that will bring you luck and prosperity.
Bridal Lehenga Collection for Libran Brides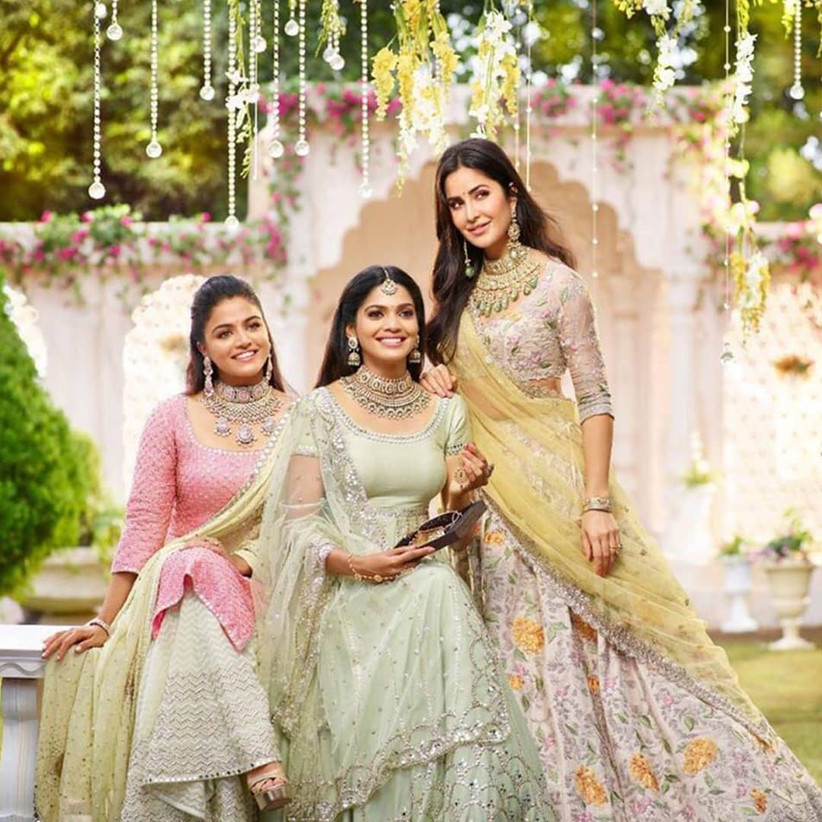 Image Credits- Anushree Reddy
Fascinated by balance and the symmetry of things, a concoction of light blue, pastel pink-green, cream will do justice to the aesthetic vibe of a Libran bride. These pale hues will compliment the calm and likeable presence of a Libran bride.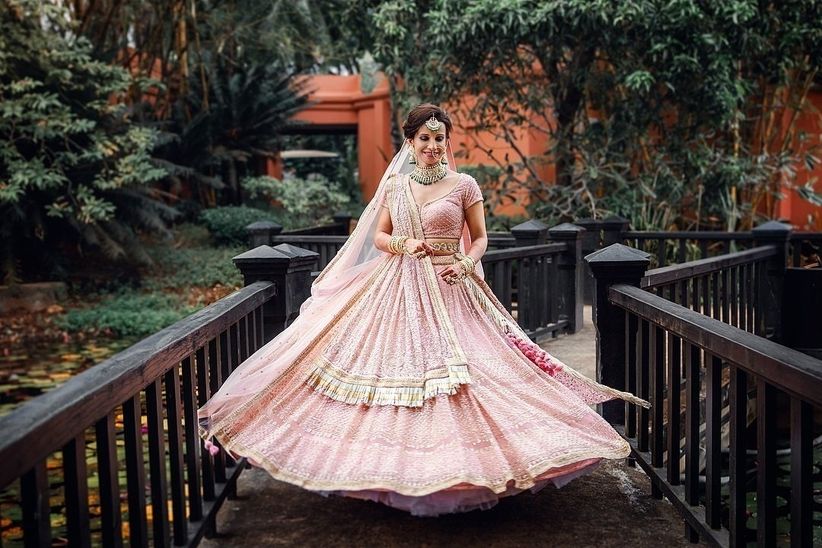 Icy blue lehenga for a Sangeet ceremony or this cherry blossom shade for a Mehndi function, these two colours are perfect for these connoisseurs of beauty who need a romantic outfit to mimic their mood.
Bridal Lehenga Collection for Scorpion Brides

Image Credits - Gaurav Gupta
The brave heart of the lot, the Scorpion lady is dark, mysterious, and inquisitve. Scorpio's strength of letting go and its ability to transform itself is what made us choose black, dark red, monochromes, grey, wine for this fierce lady. These colours will help you redefine yourself and challenge the set boundaries when it comes to bridal lehenga. This bridal lehenga from our bridal lehenga collection is surely one of a kind but then so are you.
Bridal Lehenga Collection for Sagittarian Ladies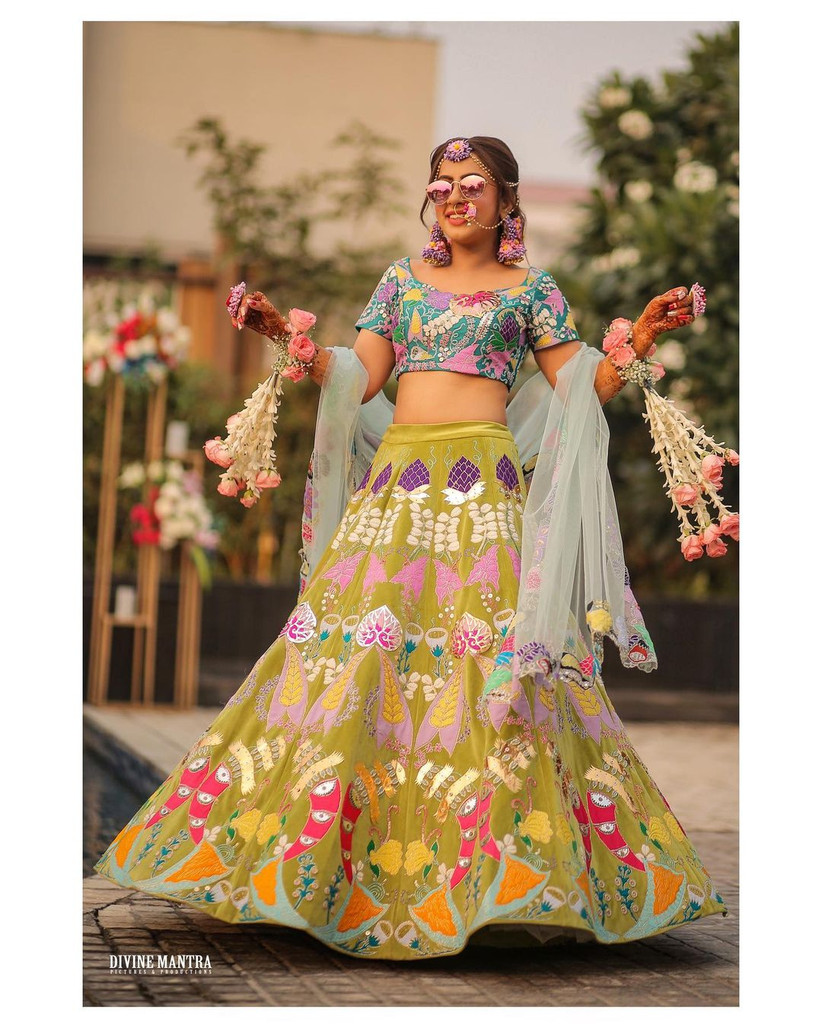 A Sagi bride will light up the room with her witty and lively persona. and, that is how her bridal lehenga should be as well. Purple is the colour for this star sign! Unafraid by the challenges of life, a Sagittarius bride will own her wedding like a star in shades of purple, green and blue too. A mulicoloured or a purple outfit, a stroke of that voluminous mascara and there she goes, the wonder woman!
Bridal Lehenga Collection for Capricorns
Ambitious, optimistic, versatile, philosophical and creative, a shade of Earthy grey and brown will help a Capricorn bride find her strength and roots in life. Your strong sense of belief and no-nonsense attitude makes you a pivot of stability and reliability. Grey will nourish you with a sense of self and brown will keep you determined as you strive towards your goals in life.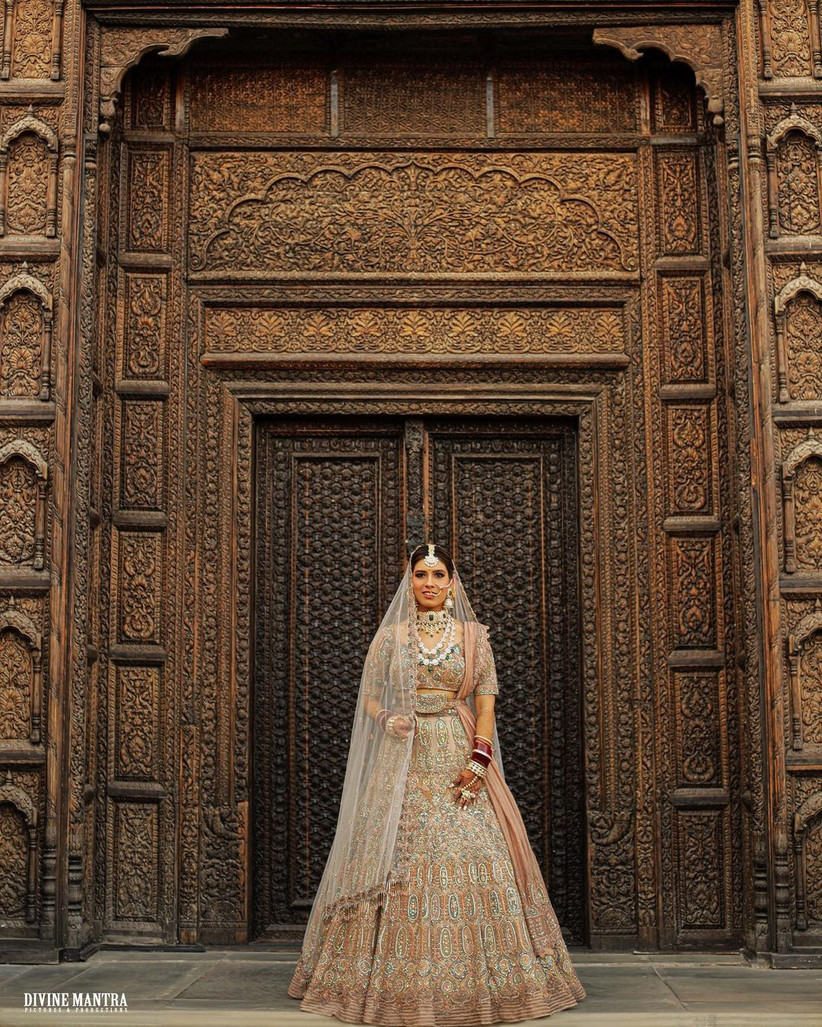 This grey lehenga would be perfect for your reception ceremony. The real beauty lies in its simplicity which makes it so eye-catchy. We totally love this colour on this Capricorn bride. How about you?
Bridal Lehenga Collection for Aquarian Brides
An Aquarius lady will surprise you when you least expect it. The ruling planet of this star sign is Uranus which is also blue in colour. The Aquarius women are independent, untamed and unconventional. They won't shy away from opting for bold hues! You can experiment with different shades of blue, from light to dark, whatever you please! Colour blue will be symbolic of the vastness of your dreams and aspirations and create a smooth flow of ideas, conversation, and experimentation that you dearly cherish.
Bridal Lehenga Collection for Piscean Brides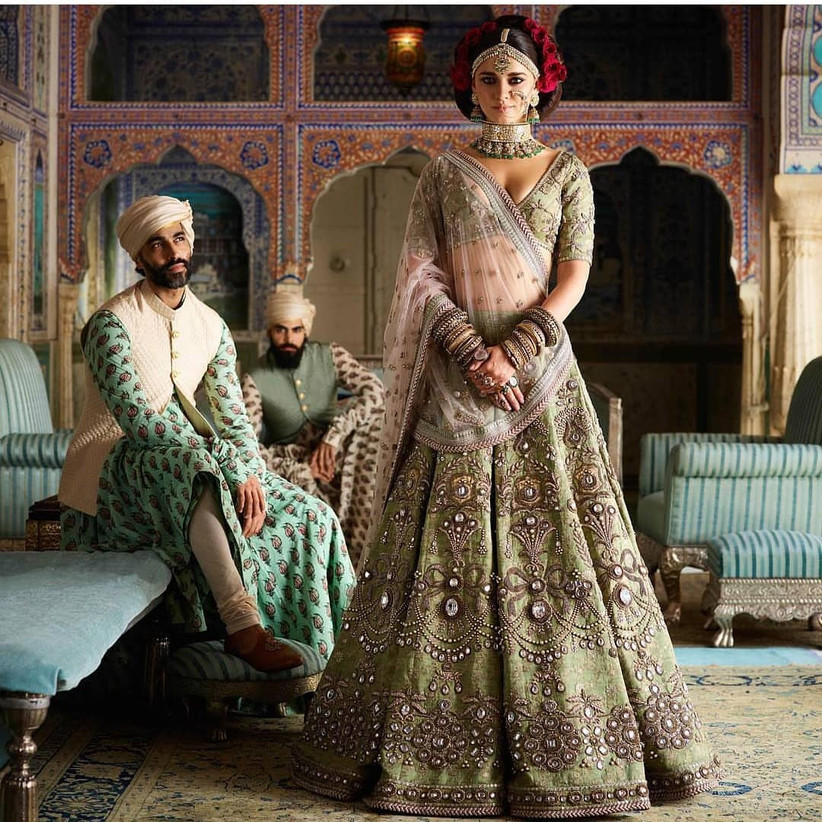 Image Credits - Sabyasachi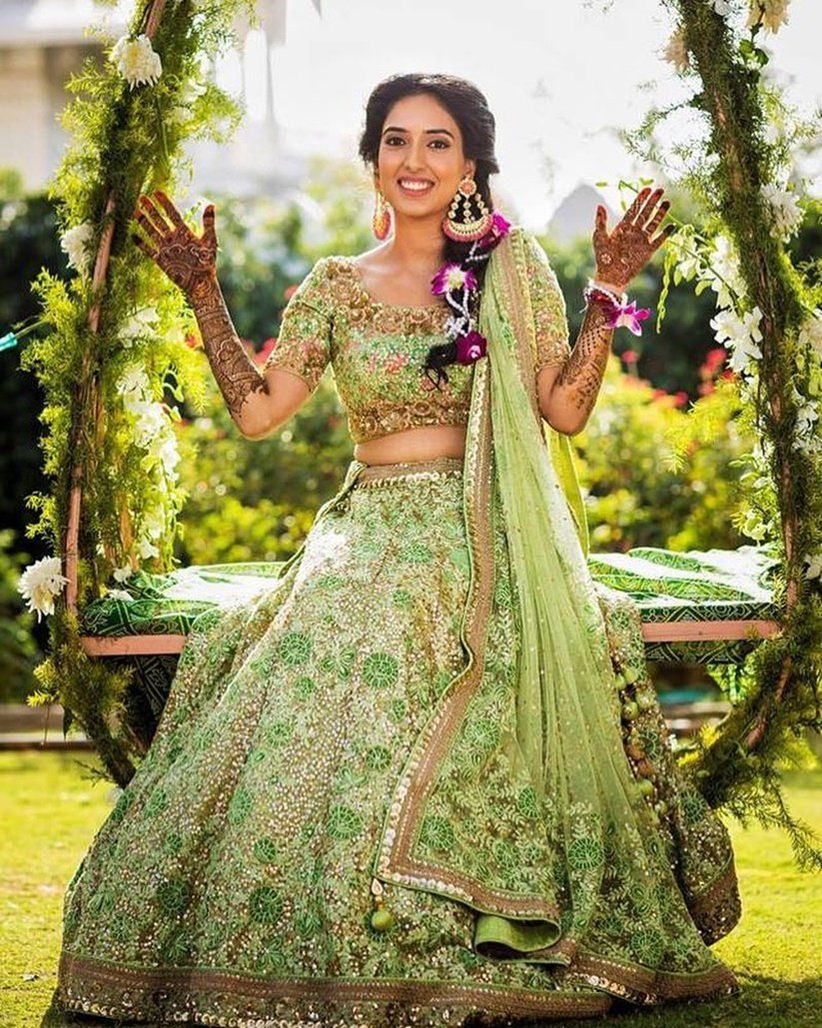 Image Courtesy: Wedding Story
The ethereal nature of dreamy-eyed Pisces is best described by a light-hearted shade of green. Light green represents renewal and inspiration, an encouraging factor for the healing and rejuvenating qualities that a Pisces woman possesses. A dress in this shade would be apt for your inherent qualities and also complement your personality and the traits of your star sign.
Evergreen Bridal Lehenga Collection
Look like a queen on your big day and wear a colour that sits perfectly well with your personality and the traits of your zodiac sign. Each zodiac signs has a deep-rooted connection to particular colours. Now that you have found the colour according to your sign, find yourself a bridal lehenga which brings out your inner beauty. These are some evergreen lehengas that you would like cherry pick for your d-day!

What do you think about the lehenga colour of your zodiac sign? Tell us through comments.
With Words by Meha Khera