5 Tips To Nail The Red Bridal Lehenga For Your D-day!
Finding the perfect red bridal lehenga is a herculean task, so, we've compiled a checklist to make it easier for you.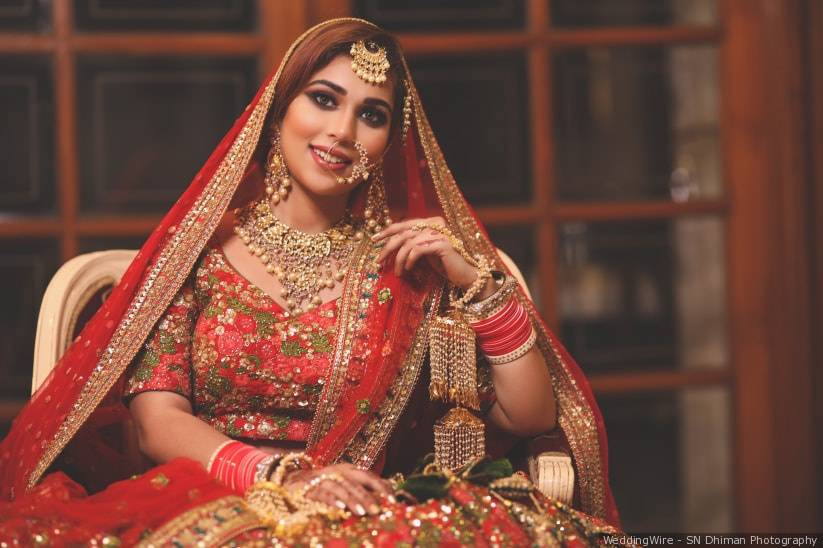 For every bride, her wedding look always comes down to the red bridal lehenga. It is the outfit that everything else is centred around especially the pictures, for which your wedding photographer will need 2-3 hours. The colour red in a wedding signifies many things mostly positive and very dominant just like the colour itself. The red bridal lehenga emphasizes on strong emotions like love, for starters. The wedding is in fact about the love you share with your better half and the journey that is about to begin after you exchange your vows.
A red bridal lehenga also stands for the excitement that is vested in the ceremonies and the grand celebrations. The energy that the colour red gives out when worn in attire is commendable and very strong and the energy that is invested in the wedding is also grand and red becomes the ceremony. It is also about the strength and passion that is relatable for the bride and her leap of faith n taking a life-changing decision that will be her cherished memory all along. A red bridal lehenga is not only a tradition but a dream every bride wishes to fulfil. Some people may think red is not their colour, but red has various hues and shades that will be suitable and if you're the bride who wants to sport a red lehenga, you go girl!
Nowadays, nearly every detail of the red bridal lehenga can be customised so it's possible to get exactly what you want. From how much cancan you want to the cut of the red bridal lehenga, choose all the details that complement your body type. Finding the lehenga may take time and a lot of effort but in the end, it's worth it. To make this easier we've compiled a checklist to help you work your way through the maze. Bookmark it and keep ticking off each prerequisite during your wedding shopping.
1. What is your shade of red?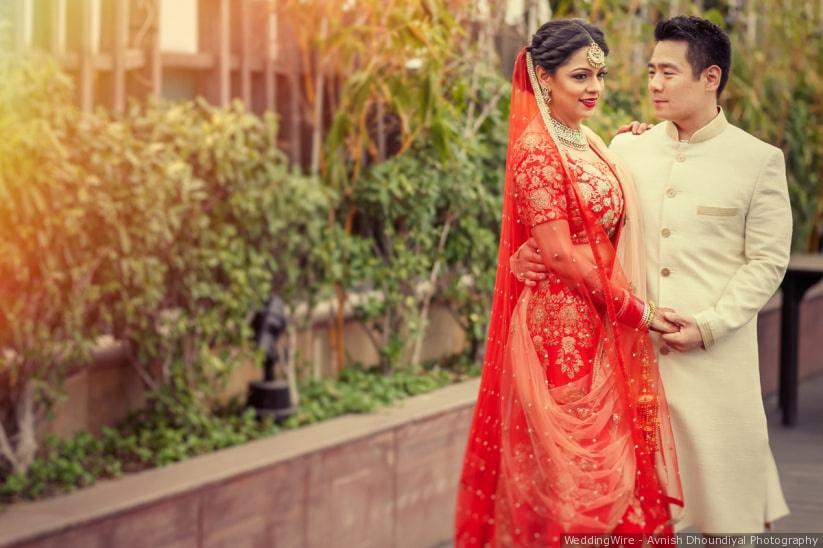 These days it's not enough to just say you want a red bridal lehenga as there is a whole range of shades it includes. Many brides are going for the deeper shades while others opt for the brighter, cherry red colour.
Once you get the base colour right, you can add the embroidery and the Dupattas to match with it. Since the red will be most visible, it should be a shade that complements your skin tone and you should feel comfortable wearing it.
An important factor in choosing the right shade according to your skin tone will be the undertone. If the veins along your wrist appear blue, you should pick the shades of red with a cool undertone to them. If they appear olive or green, you should opt for shades with a warm undertone to them. If you can't decide because there's a mix of them all, you can be confident in flaunting any shade because you have a mixed undertone to your skin. This knowledge will also come in handy when selecting lipstick shades.
2. What kind of embroidery do you want?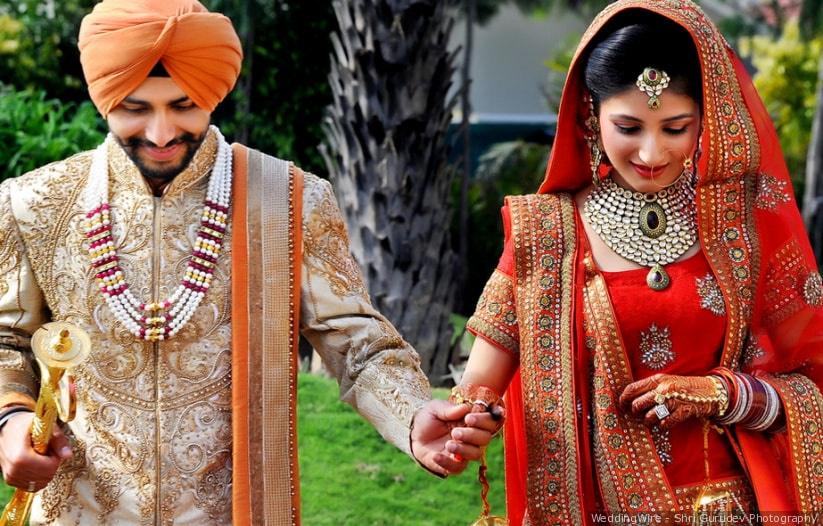 You can either go for a heavy designer bridal lehenga or light and chic one. Gold on red is the classic but who says you must stick to that? For something subtle, get a matte finish gold or wired buff silver embroidery. You could also add embellishments like small pearls or a muted blue or green within the main design. This tends to give the lehenga a contemporary look. When choosing the embroidery for the lehenga, do keep in mind the design for the blouse. Another popular choice among brides, thanks to the Anita Dongre collection, is Gota Patti lehenga.
3. What kind of blouse would you like?

The bridal lehenga is complete only with a great blouse which fits well and looks cohesive with the skirt below. With a heavy bridal lehenga go for a lighter blouse or vice versa. Have a snazzy back if you don't want to stick to the rules. Have a tie-up blouse and add some fun Latkans to it! You can even go for a contrast blouse for that oomph factor. Or play it subtle with a light and dark combination for the lehenga and blouse.
4. What kind of Dupattas do you want?

All Indian brides need to have two Dupattas with their bridal lehenga. One as a veil and one as a Dupatta. It is wise to get a Dupatta that is in contrast to the colour of the red bridal lehenga so you don't overdo the red. With red, a golden or silver net Dupatta is always a hit. Add a great border with work that matches the bridal lehenga, and add some small booties throughout. Don't make it too heavy otherwise it'll weigh your head down gets uncomfortable. For your bridal photoshoot during a Puja or ceremony, you can also choose to flaunt a floral Dupatta.
5. Got time for research?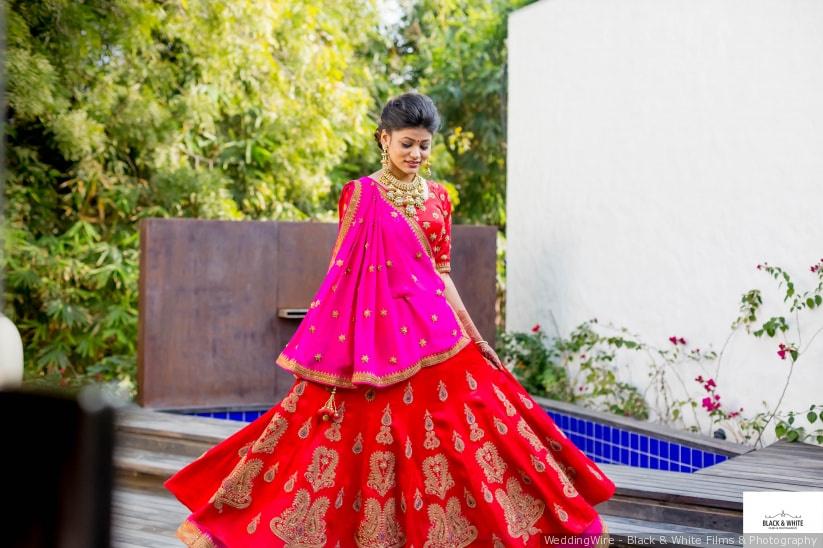 To get the exact red bridal lehenga that you want it is very important to do research and have a clear image in your mind of what you want. When you get confused with the variety of bridal lehenga designs, the reference images you bookmark will come in handy and even give you inspiration for the wedding poses. Finalise a bridal lehenga that you are happy and comfortable with and most importantly, is true to your personality. We suggest you create a Pinterest board and save interesting designs and follow WeddingWire's Instagram and Pinterest for the latest and trending inspiration.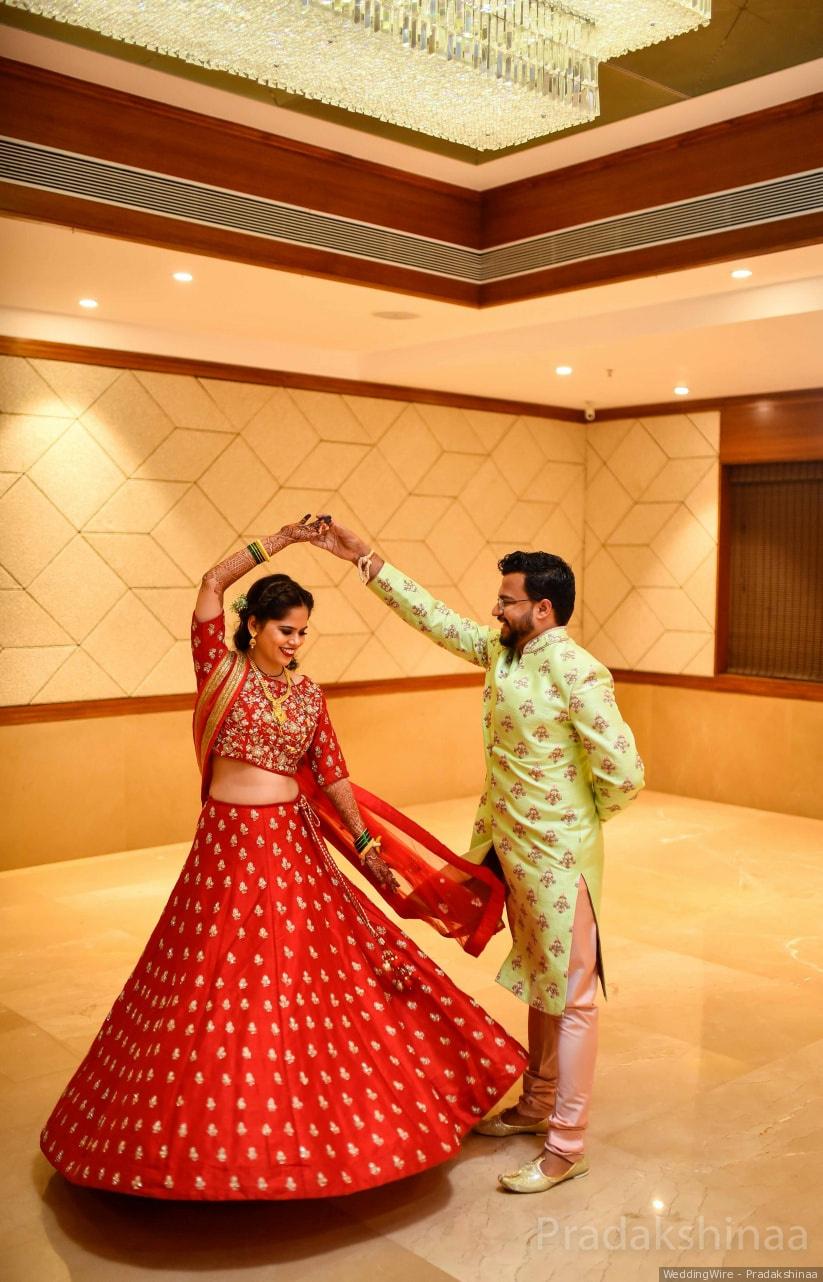 Finding the perfect red bridal lehenga is tough but not impossible. Get a lehenga that complements your bridal makeup, jewellery, hairstyle and maybe even matches with your groom's sherwani. Take a close friend along for shopping to keep you hydrated, fed and encouraged so you're a happy, content and pretty bride. The company you take along for your bridal lehenga shopping can influence your final decision, so choose your wedding shopping companions carefully.
Browse through expert bridal lehenga vendors near you for inspiration and tell us which red lehenga made it to your D-day.