Designer Dolly J celebrates Women with 'Gulenaar' at the FDCI India Couture Week 2020
You cannot keep your eyes off the screen with ace couturier Dolly J presenting at the FDCI digitised India Couture Week 2020. Here are the details of the magic she weaved!
#DecodingCouture in 2020 has a new avatar as the India Couture Week 2020 has come to our screens. The pandemic definitely could not dampen the spirit of celebrating couture and like every other year, this year vows to wow you with the elan and art through a digital fashion show.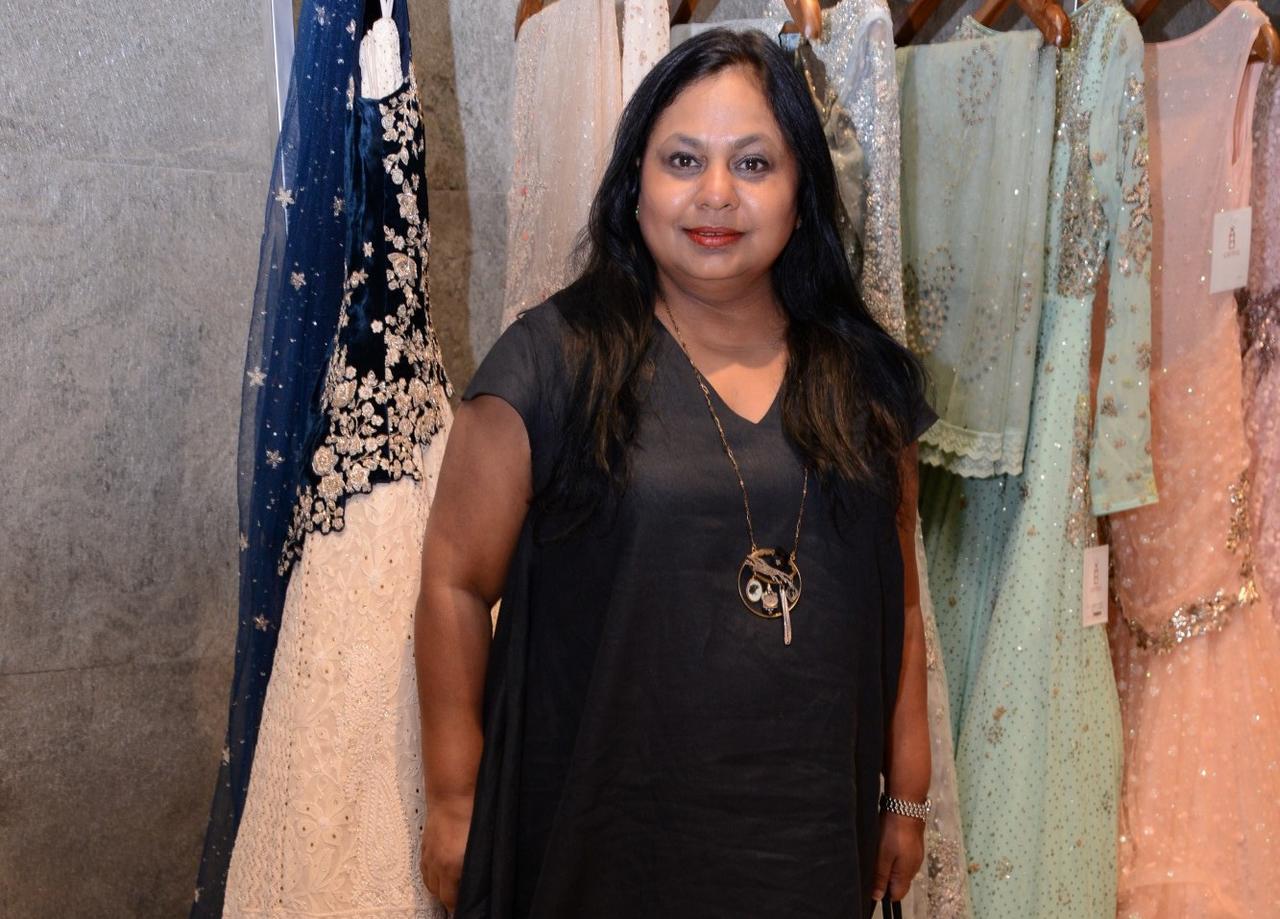 Image Courtesy: Shivangi Reviews
While most of us have been missing the upbeat music, the behind the scene sneak peeks and the rush that the ramp gave us when the lights went out to mark the beginning of a majestic fashion show - the couture films presented on FDCI's Instagram page this year, have its own unabating charm that stays with us.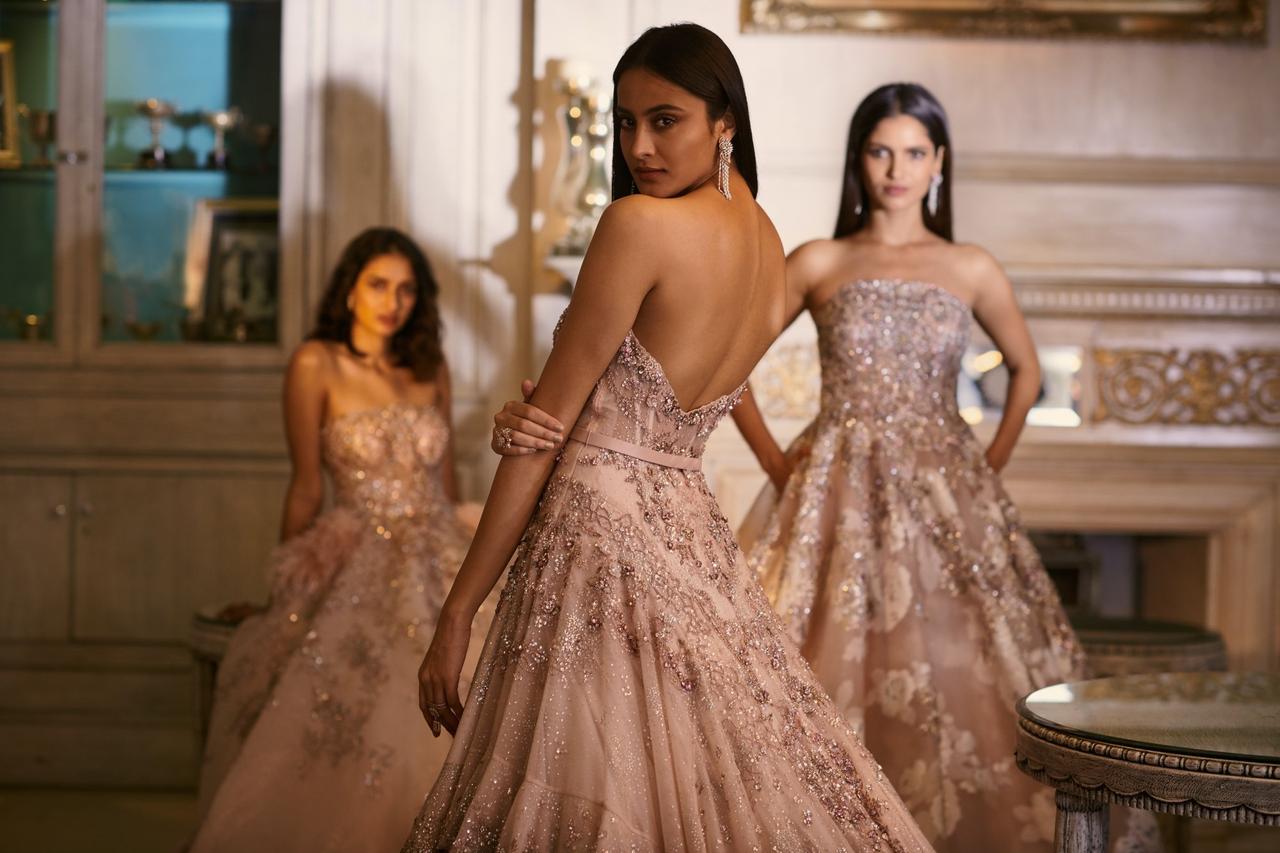 All that said, who knew that a luxe fashion showcase would be accessible to the world at large right from the comfort of their homes? With an exclusive front-row view of the magnificent show, we are sitting back to experience the magic that veteran couturier Dolly J weaves in her couture film.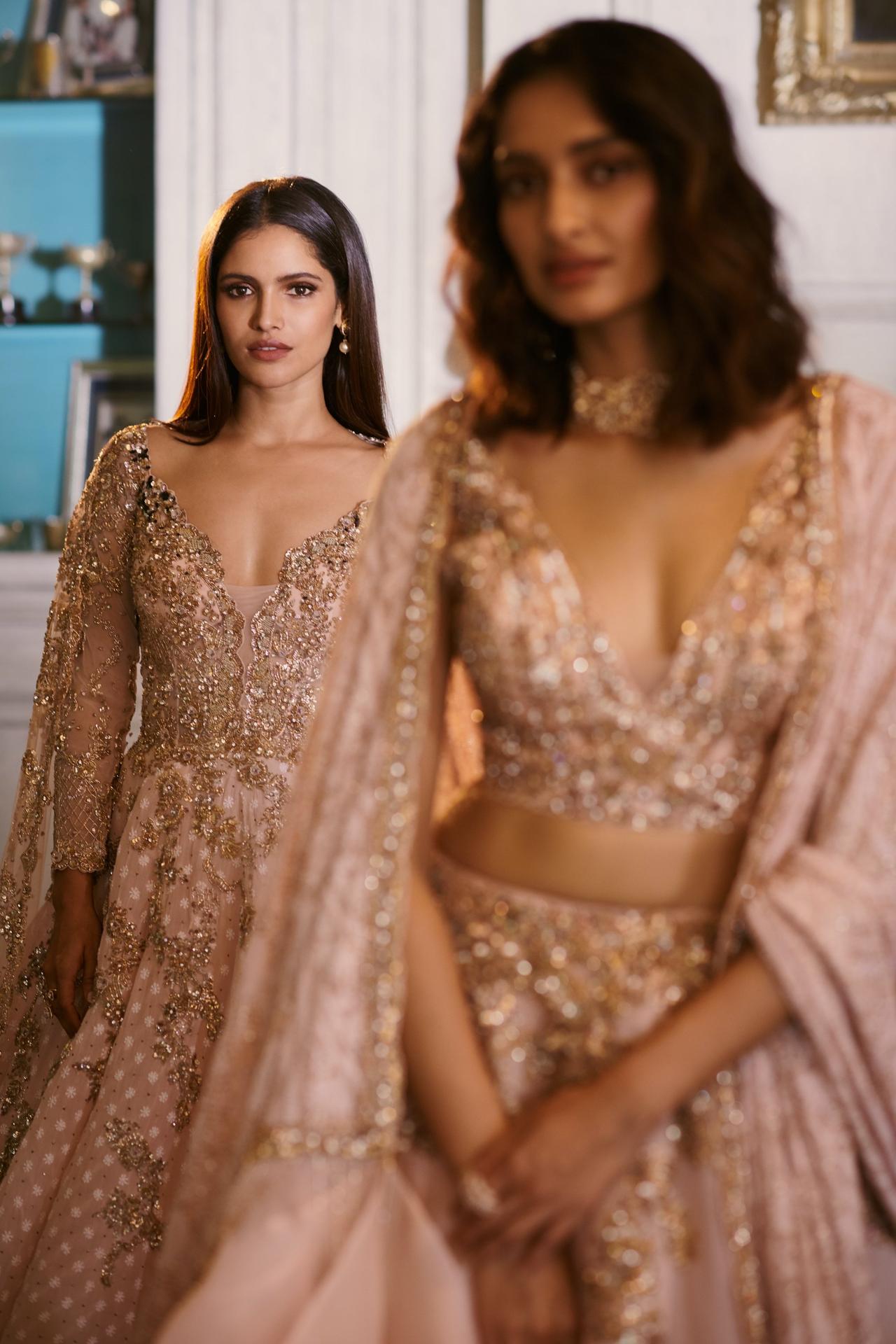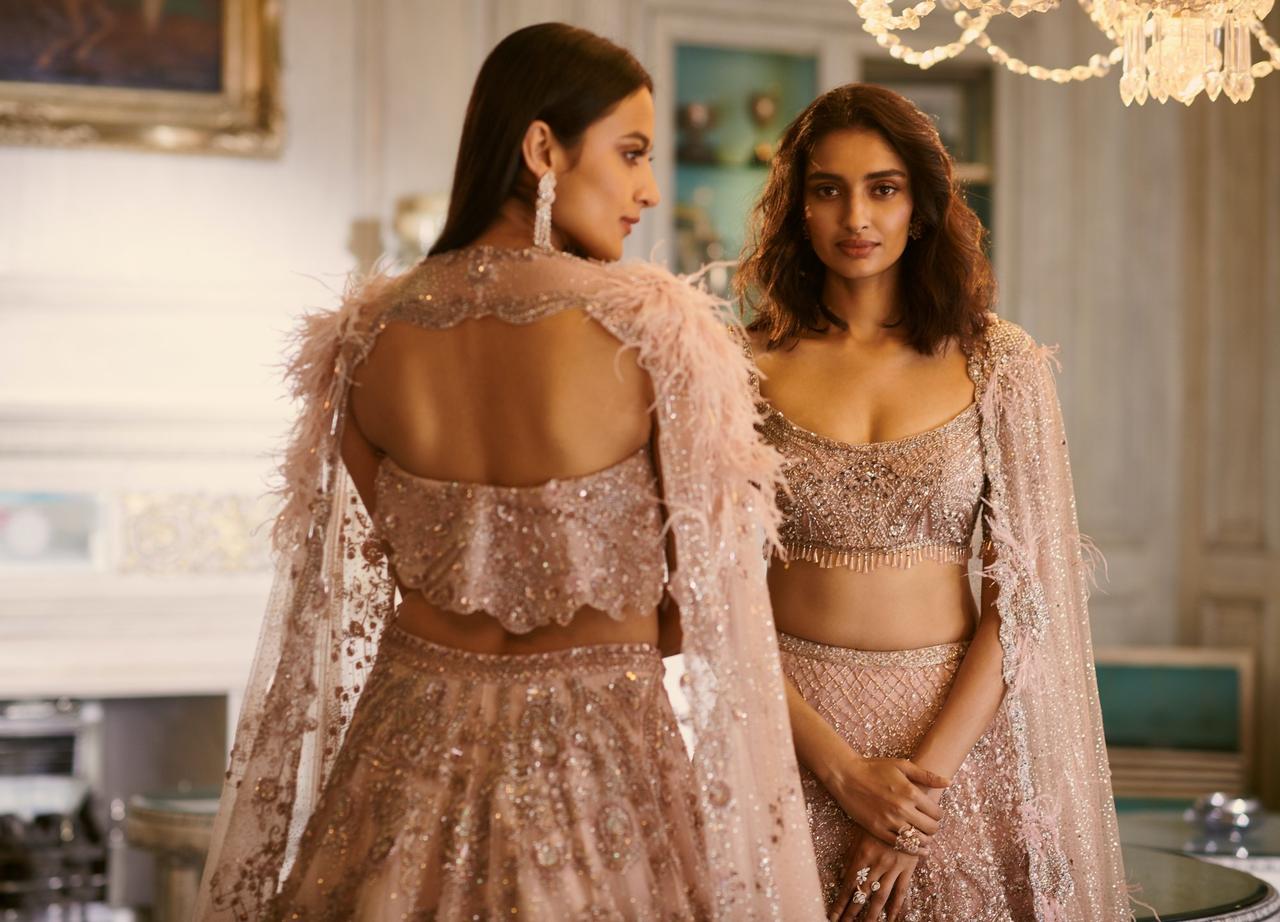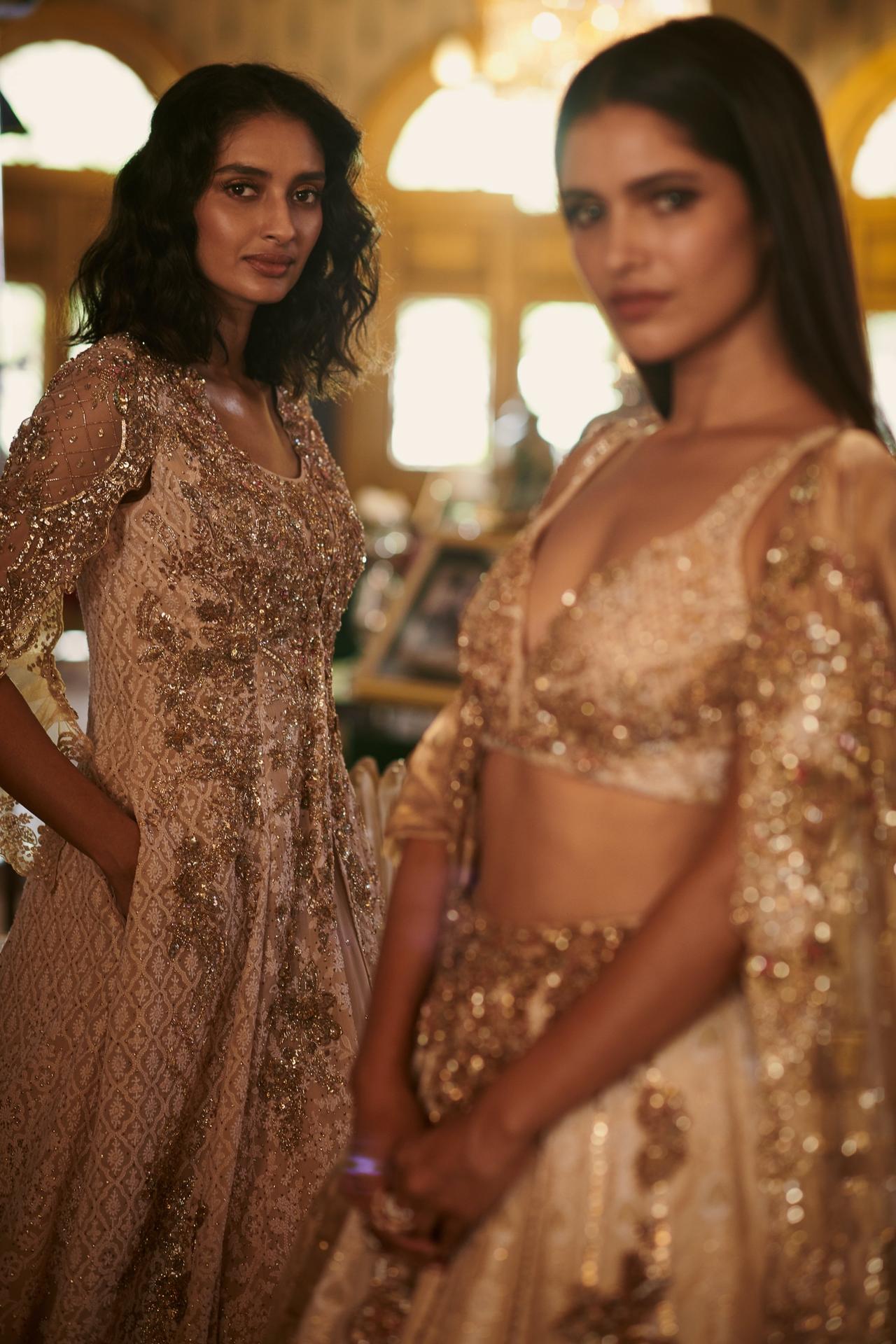 This eponymous brand stands for sustainability and ethics in fashion. Staying true to her roots, the talented designer Dolly J says, "This collection is named Gulenaar. The name 'Gulenaar' represents a gorgeous woman who is hope and courage personified especially in these times that the world is going through. She is a confident woman who is happy in her own skin, shape, size and colour. We want the brides to feel confident on their special day through this collection. This is a very tight yet a very exuberant collection."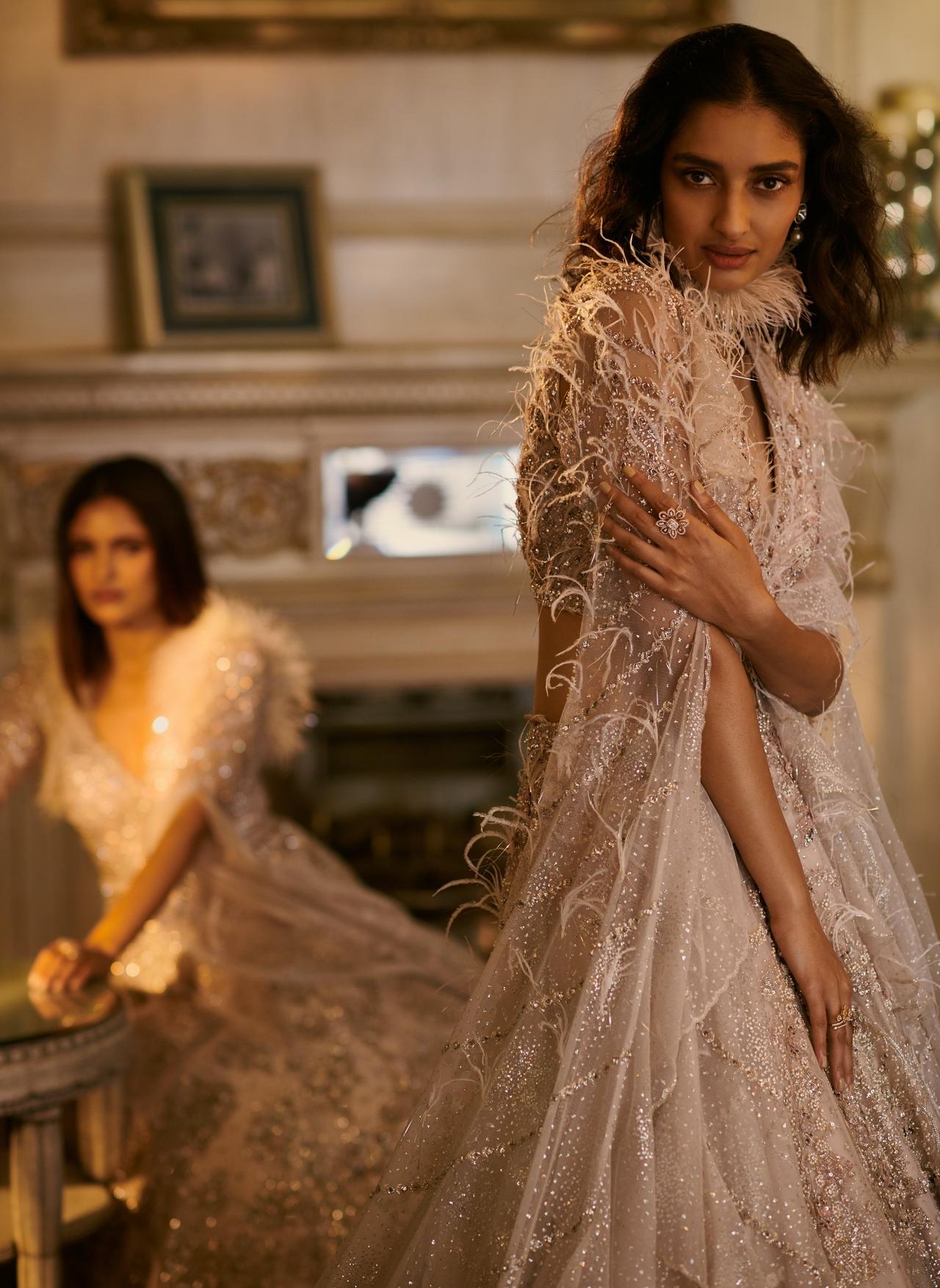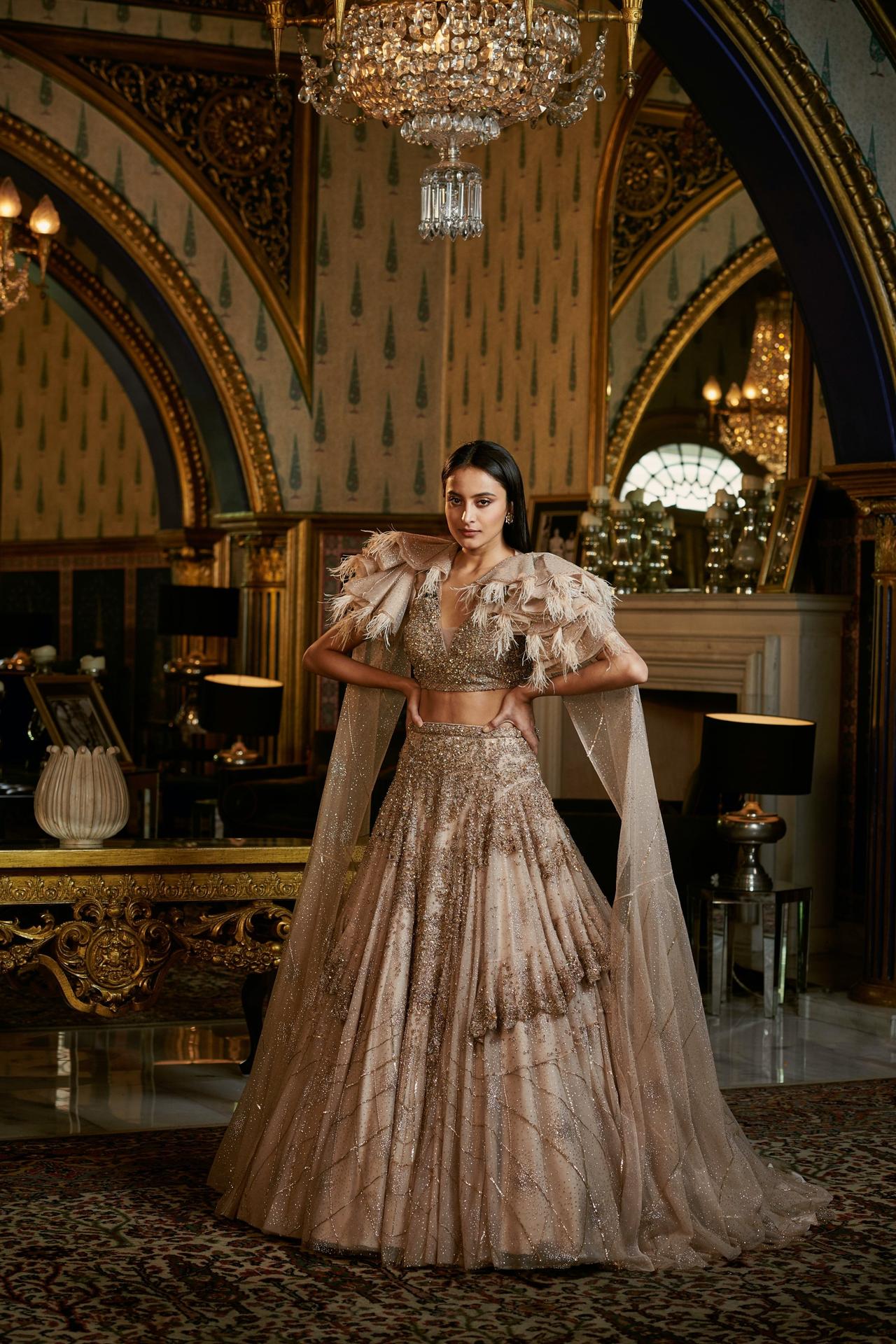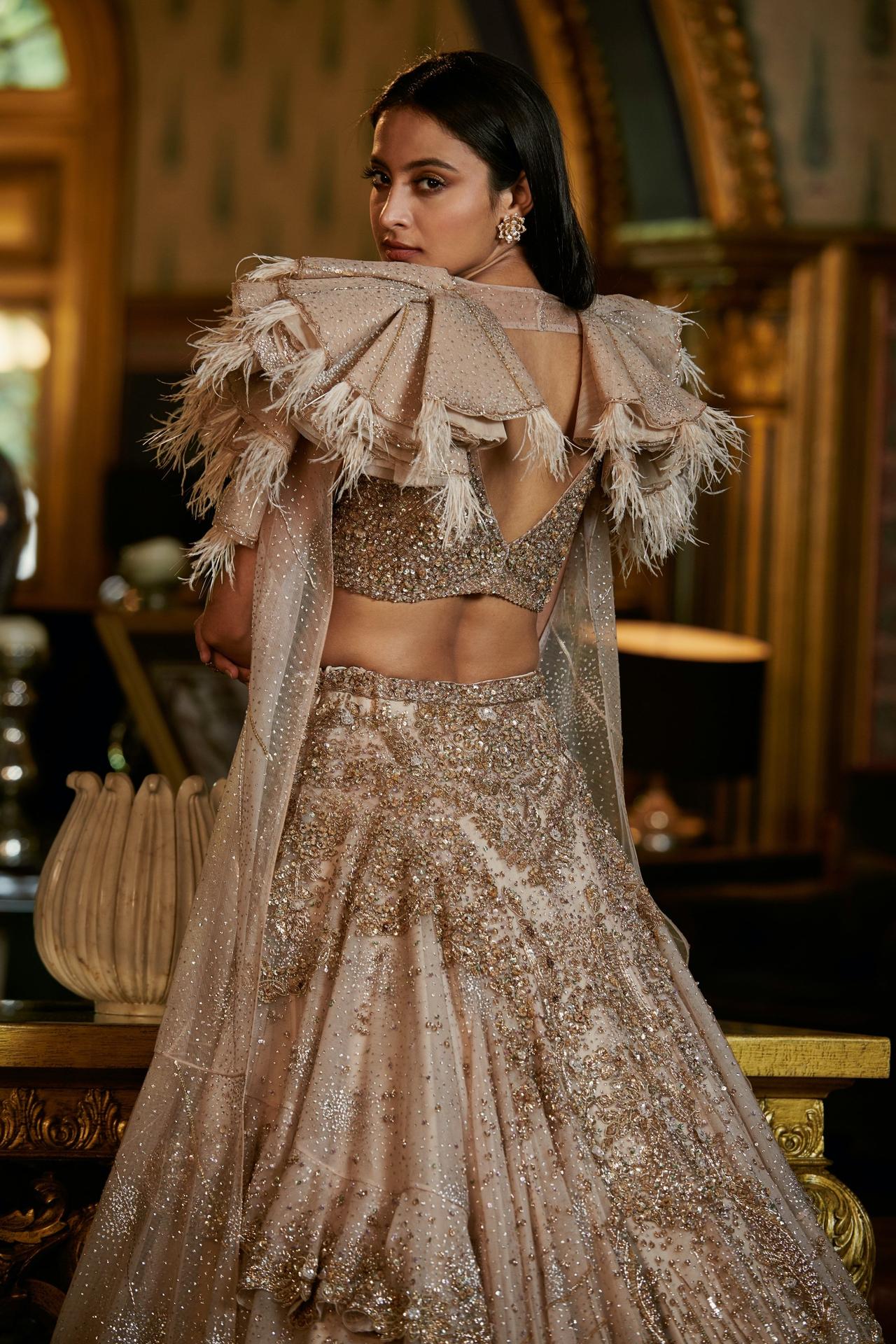 As fashion's ruling models - Vartika Singh, Dayena Erappa & Sonali Sharma sway in magical bridal lehengas and gowns, we gradually fall in love with the narrative that Dolly J has spun using delicate threads in golden. The royalty and finesse that Indian couture is all about, has been splendidly showcased in her collection Gulenaar. Gulenaar is an Urdu word and its literal meaning is the flower of pomegranate (anar).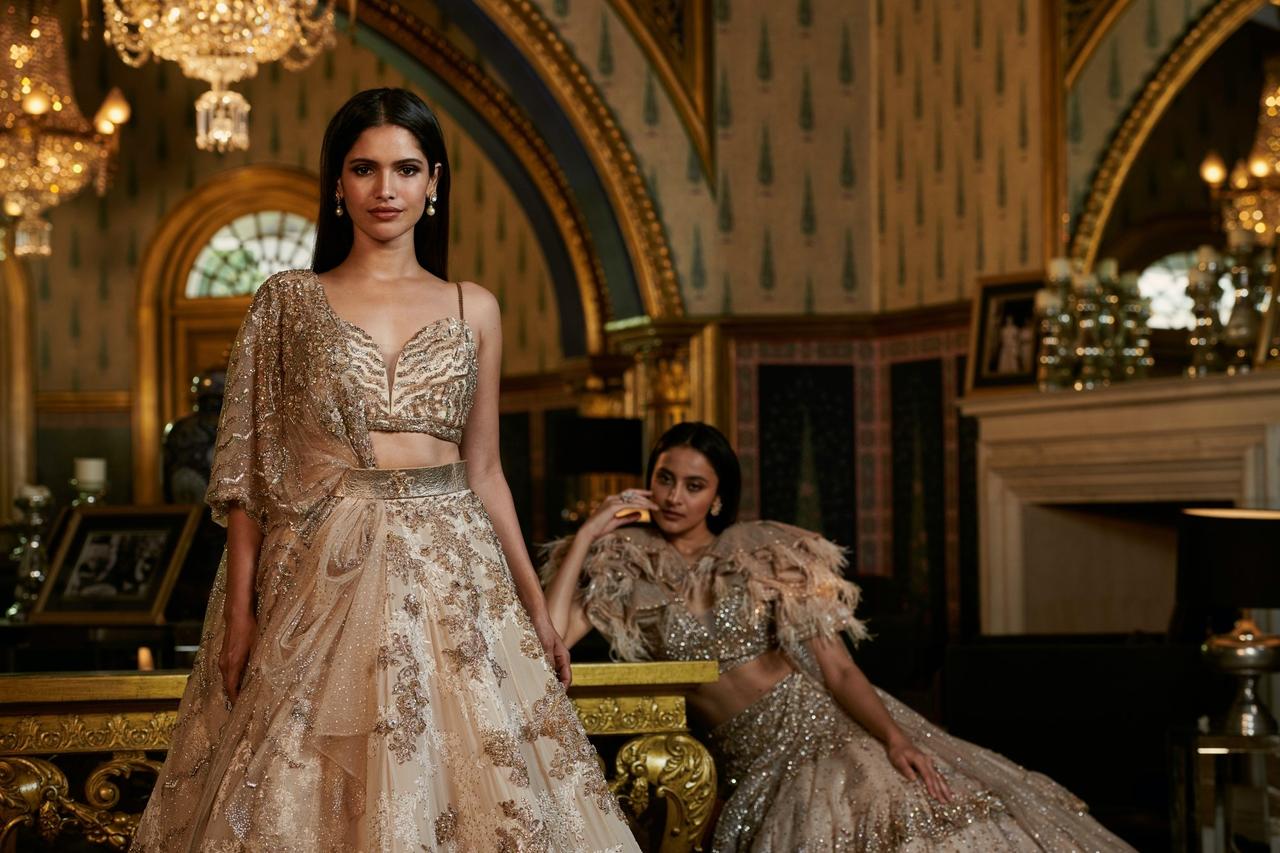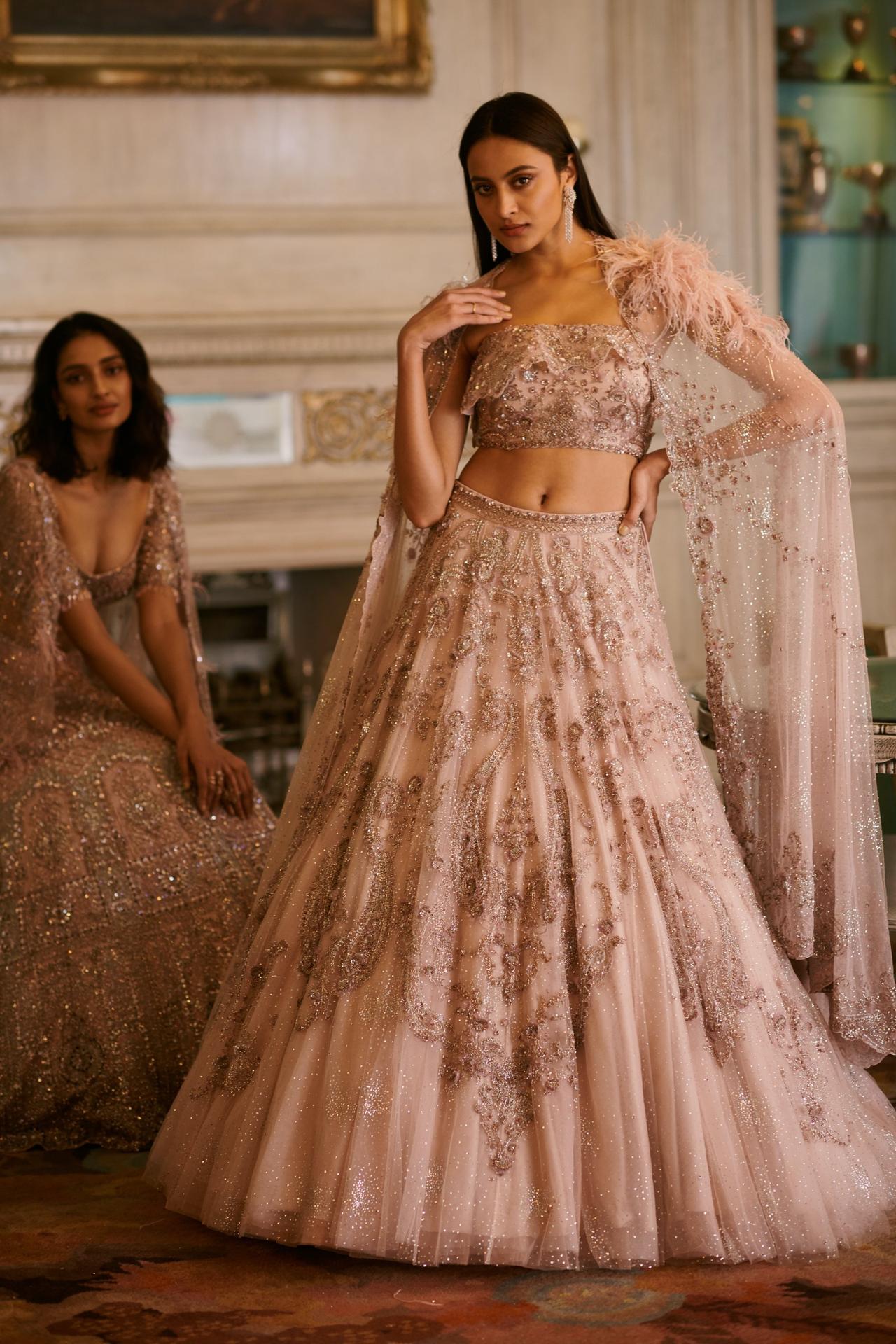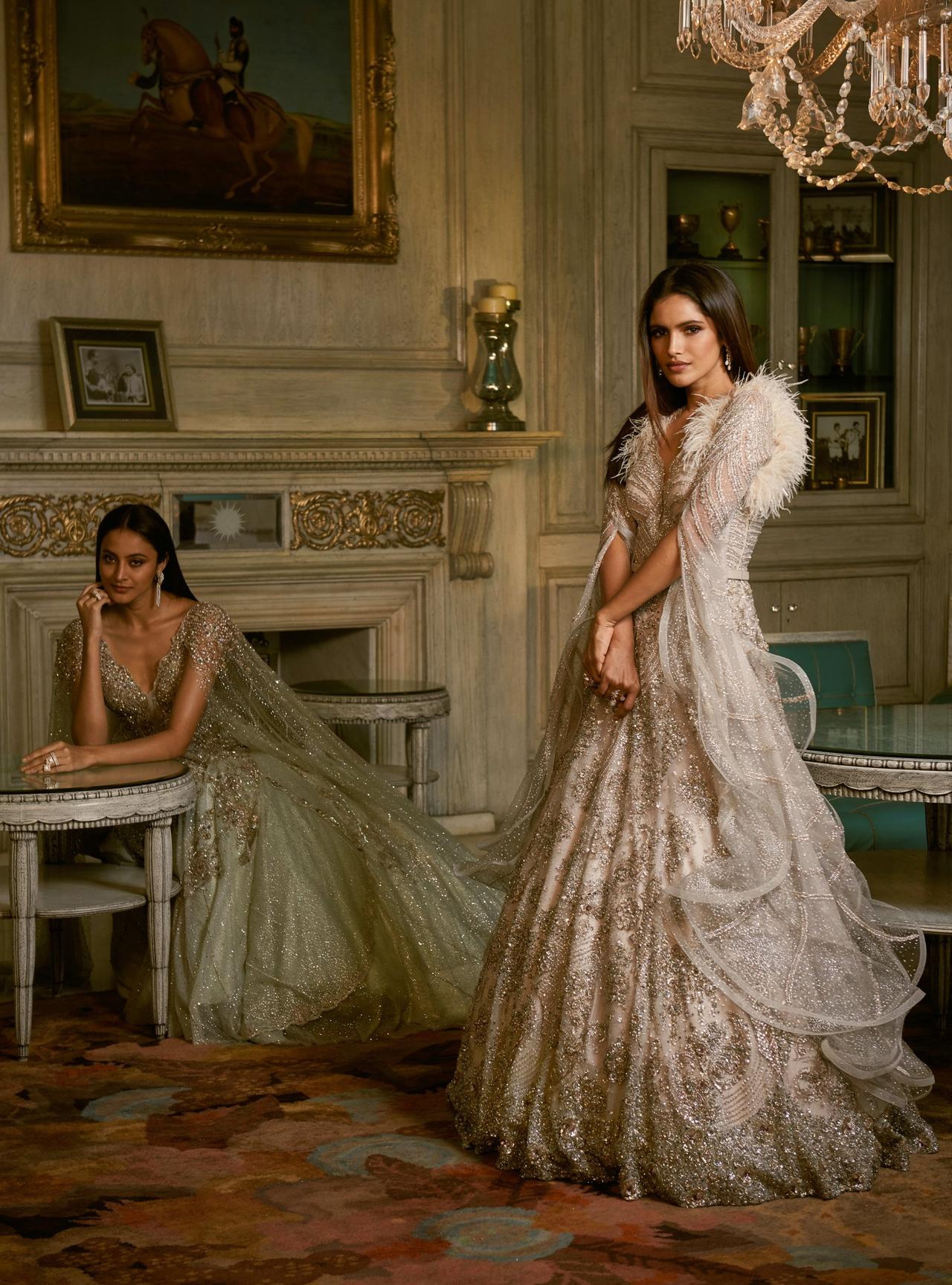 Dolly J speaks about her collection and shares, "Nothing can dim the light that shines from within; nothing is more impressive than a 'Gulenaar' who does not seek validation as she is confident in the extraordinary way the Universe has created her. Our ICW 2020 collection 'Gulenaar' is suspended between dream and reality. Keeping the current scenario in mind the ensemble is elaborate yet, 'functional bridal wear'. Intricate handwork of silver and gold threads has taken prominence in this bridal line. The collection has been specially designed keeping Indian weddings in mind. Heirloom Chikankari has been given a new avatar with western drapes. We have developed a special fabric which is Luxe silk organza, woven with jacquard, for our discerning brides. The palette is rich with a mix of pastels and jewel tones. Singular in their exquisiteness and elegance, each ensemble is a piece of art and time-intensive."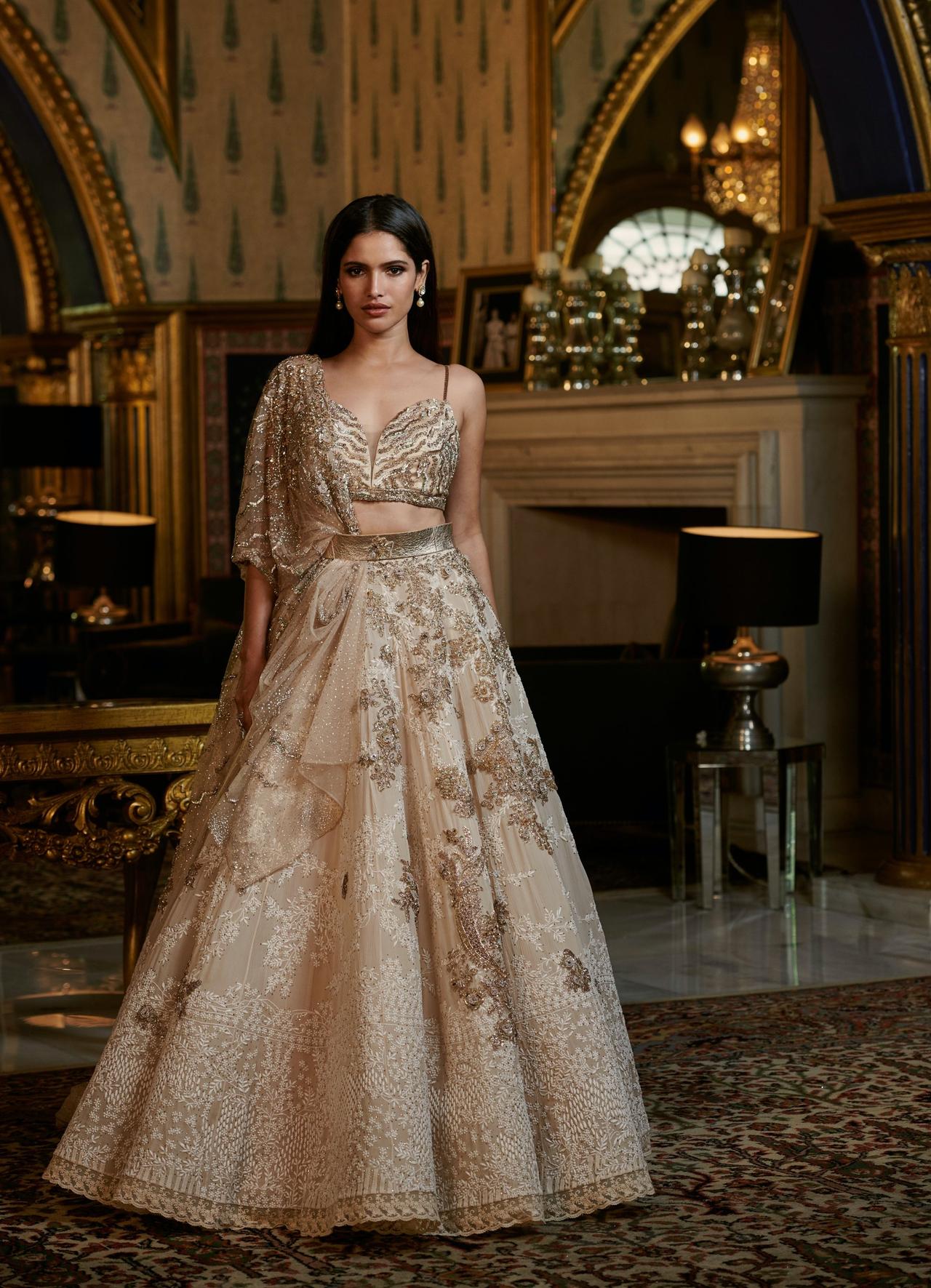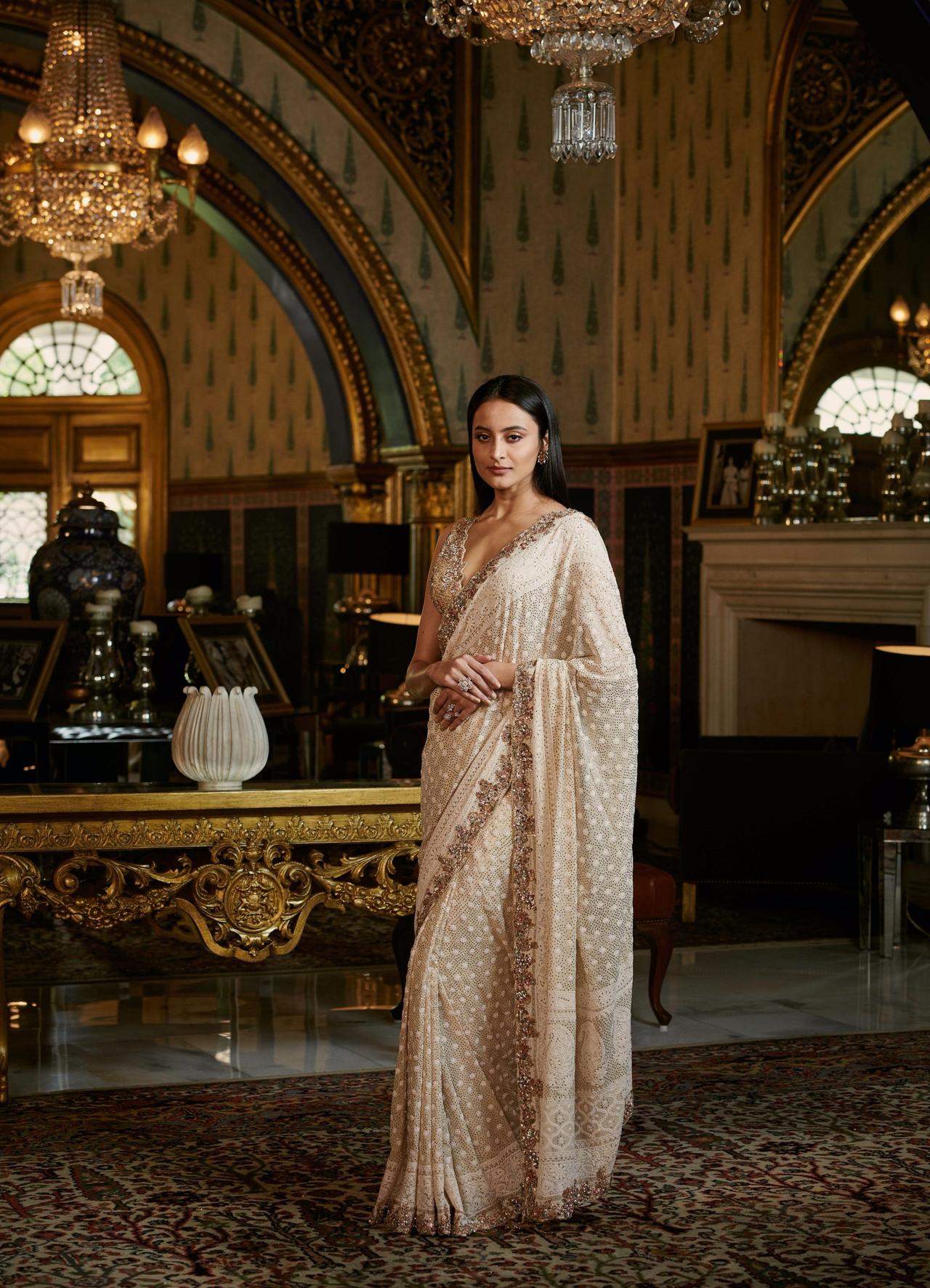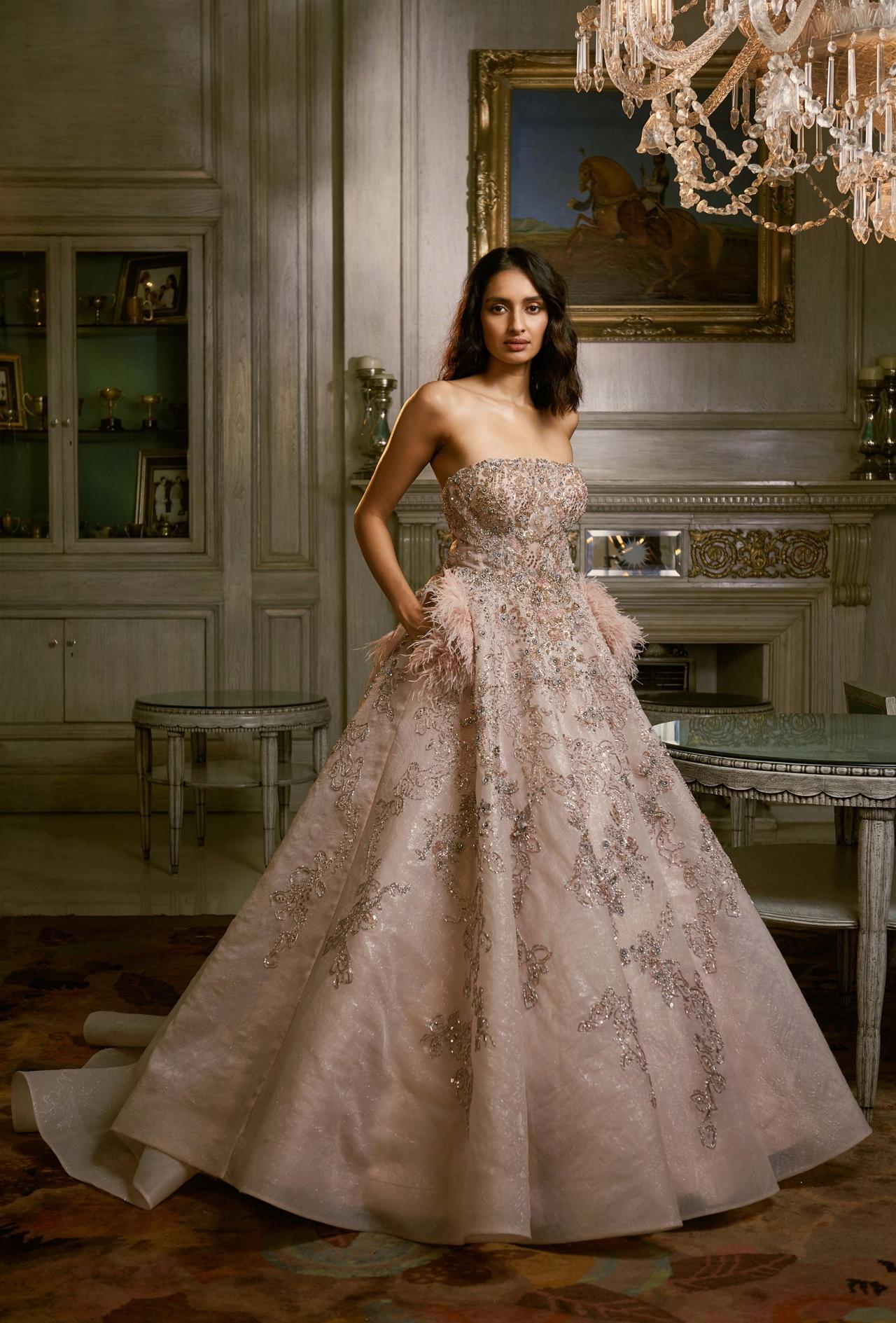 Chikankari sure has been the forte of the brand and a hot favourite of the designer for many years. This year, however, they have introduced Chikankari in a brand new way. They have weaved Cupid designs and fused it with Banarasi golden tissue dupattas which looks absolutely gorgeous when coupled.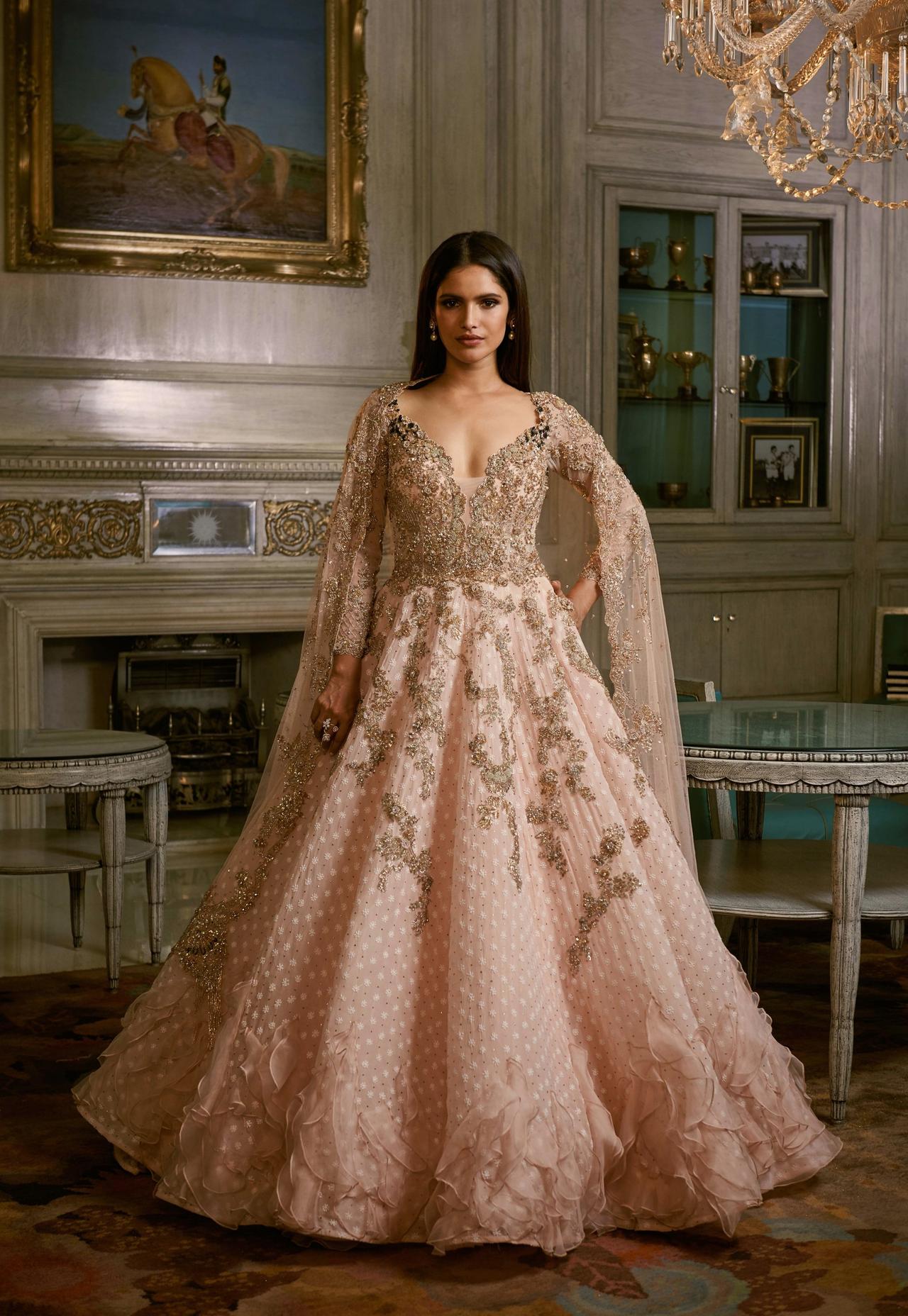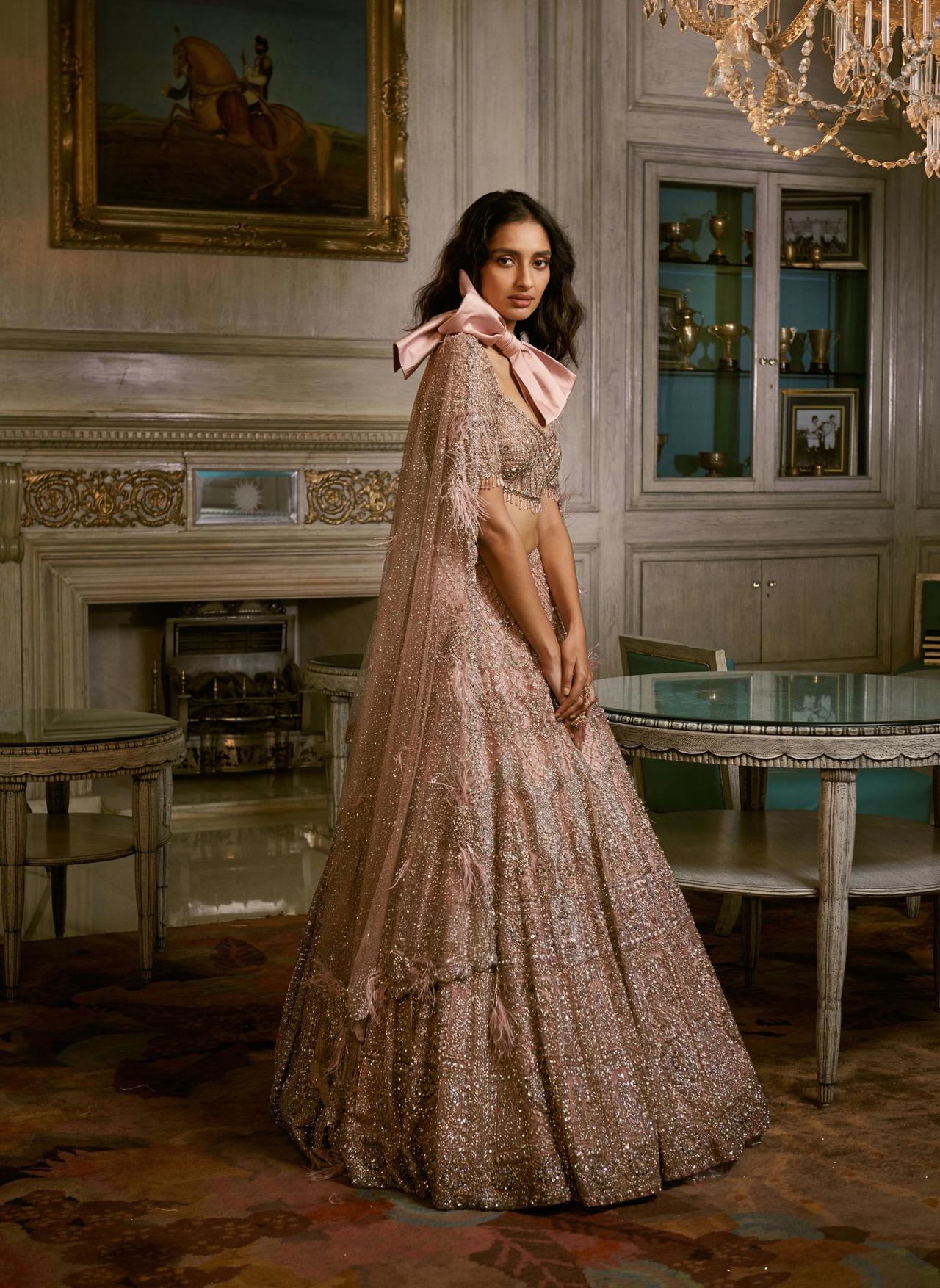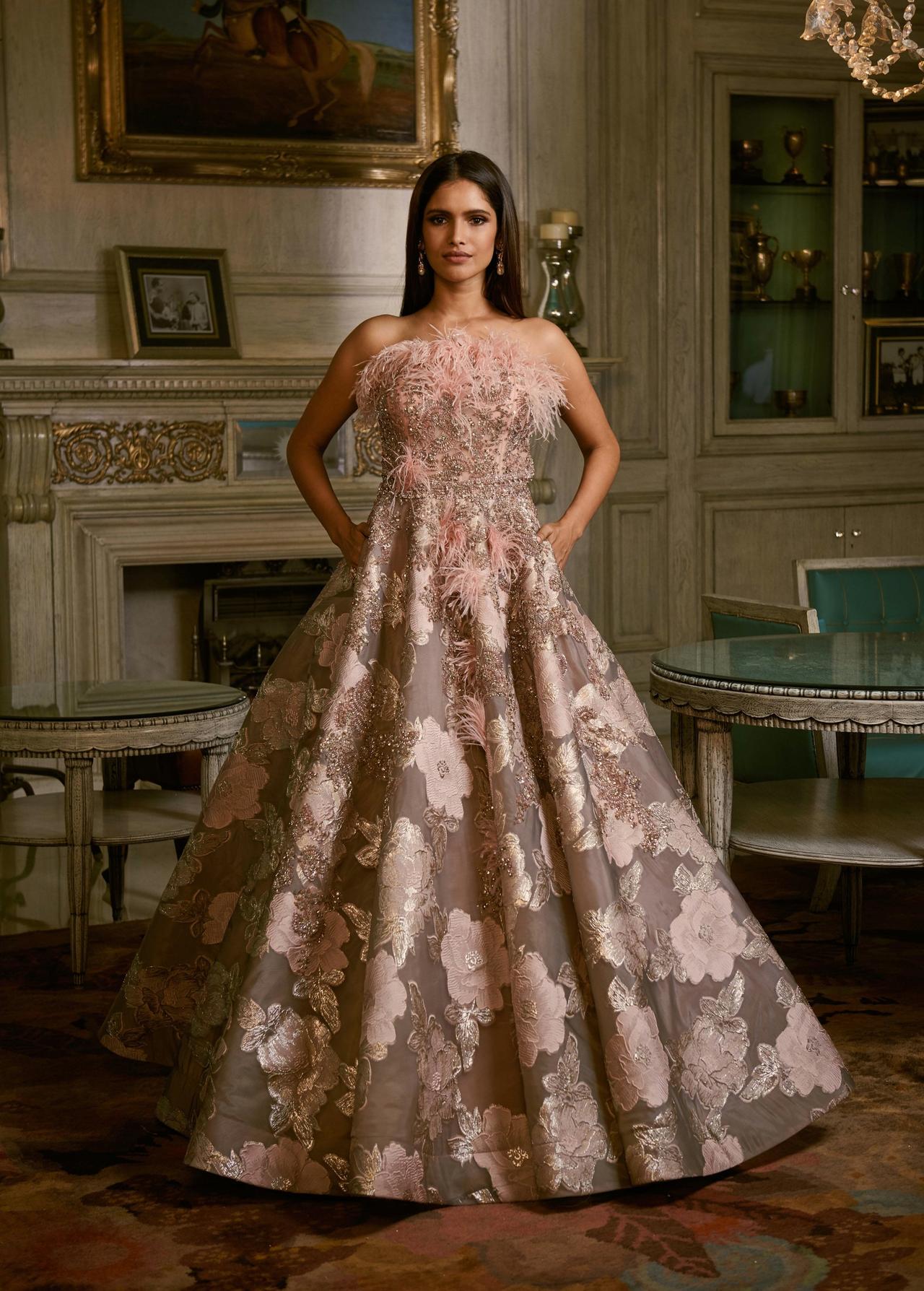 While the designer celebrates the confident women of today, the sultry yet beguiling voice that narrated the poetry replaced the idea of background music. The narrative candidly describes the beauty of women.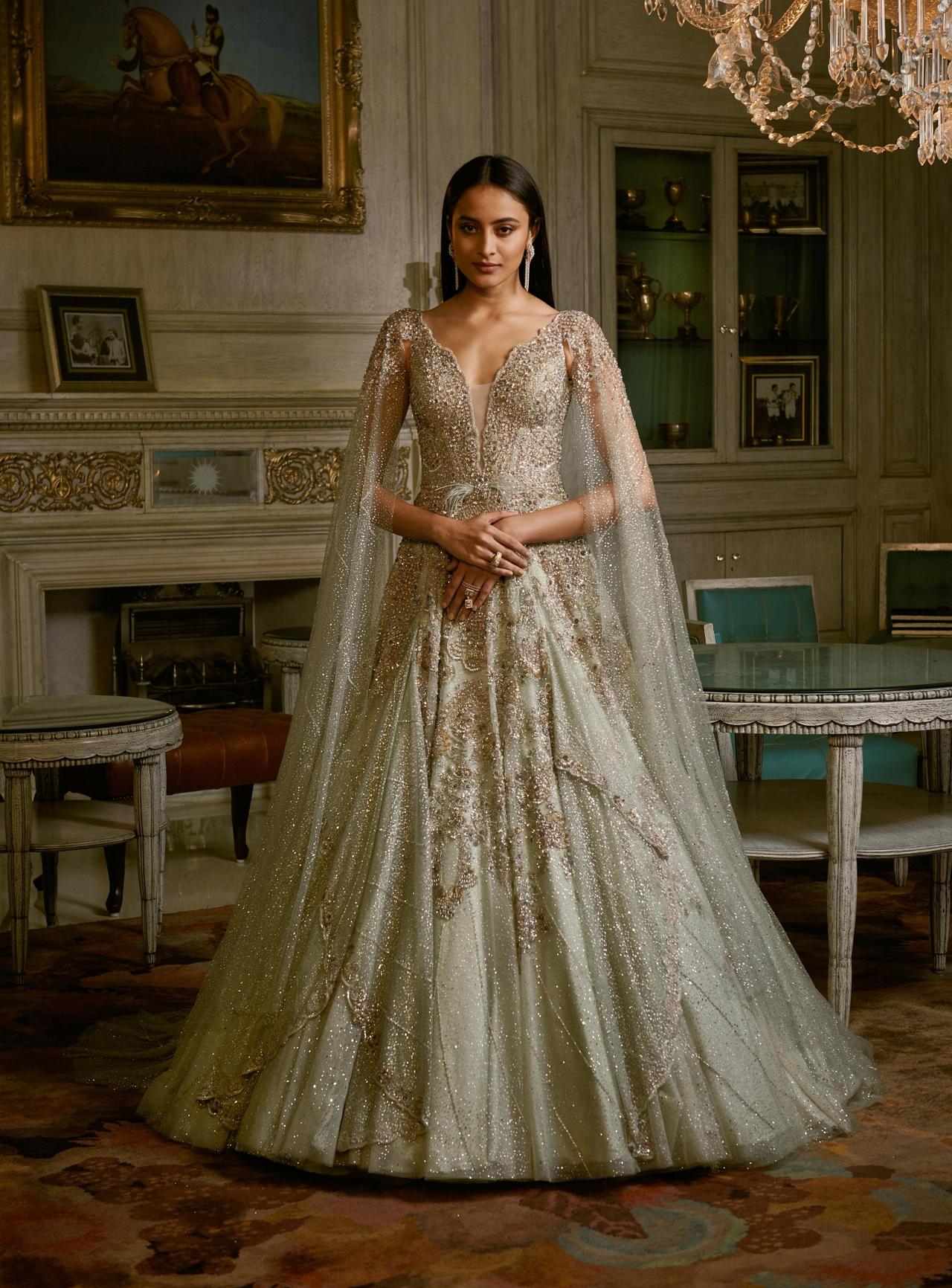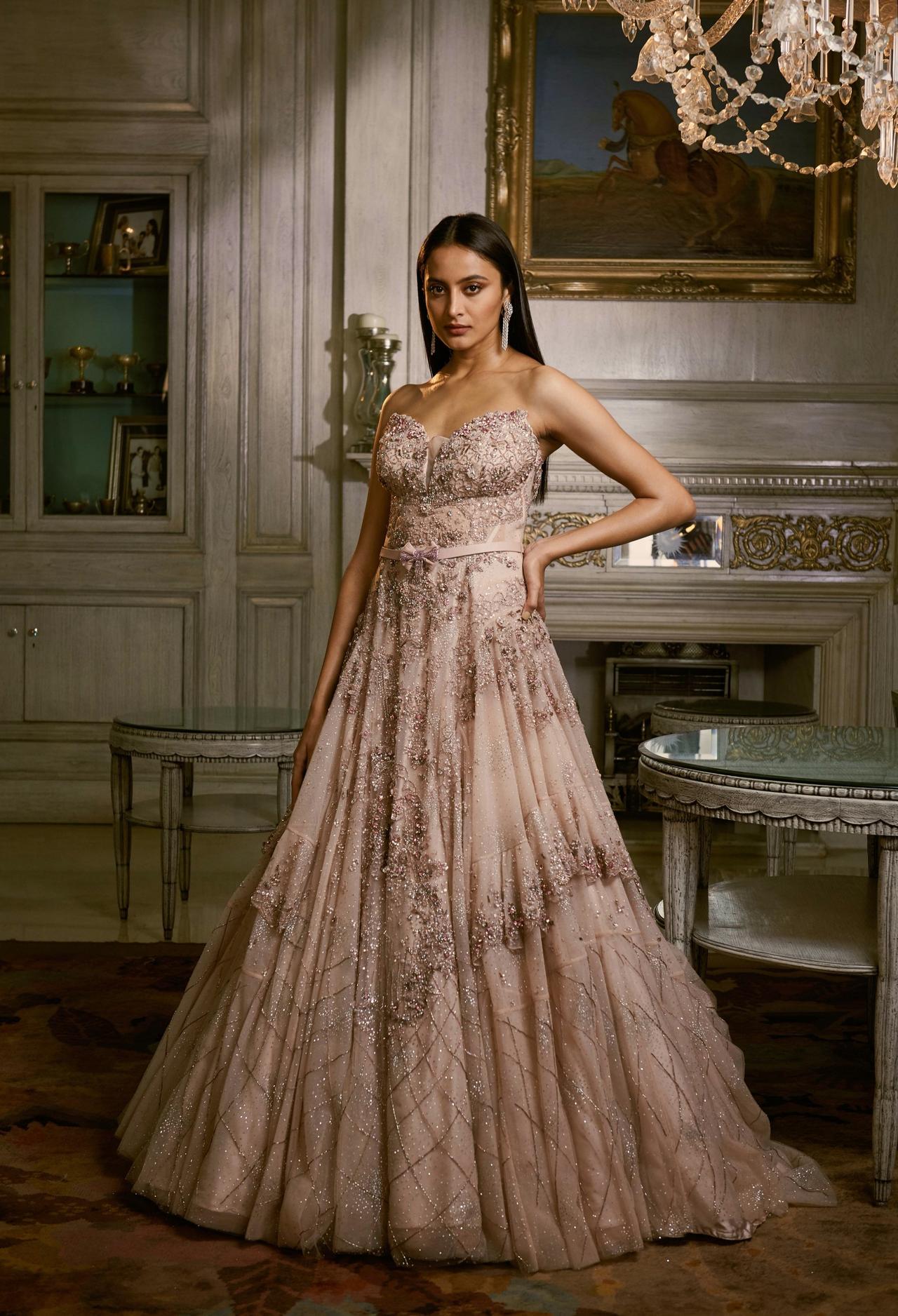 The models gracefully descend from staircases in a rustic vintage structure with stunning architectural detailing that also adds to the classic element of the collection.
The structured blouses along with ruffled sleeves and feather detailing on the sequin and crystal works left us awestruck. Each design flaunts a dramatic element - some experimented with bewitching blouse back designs with cutouts and some had deep V neck designs.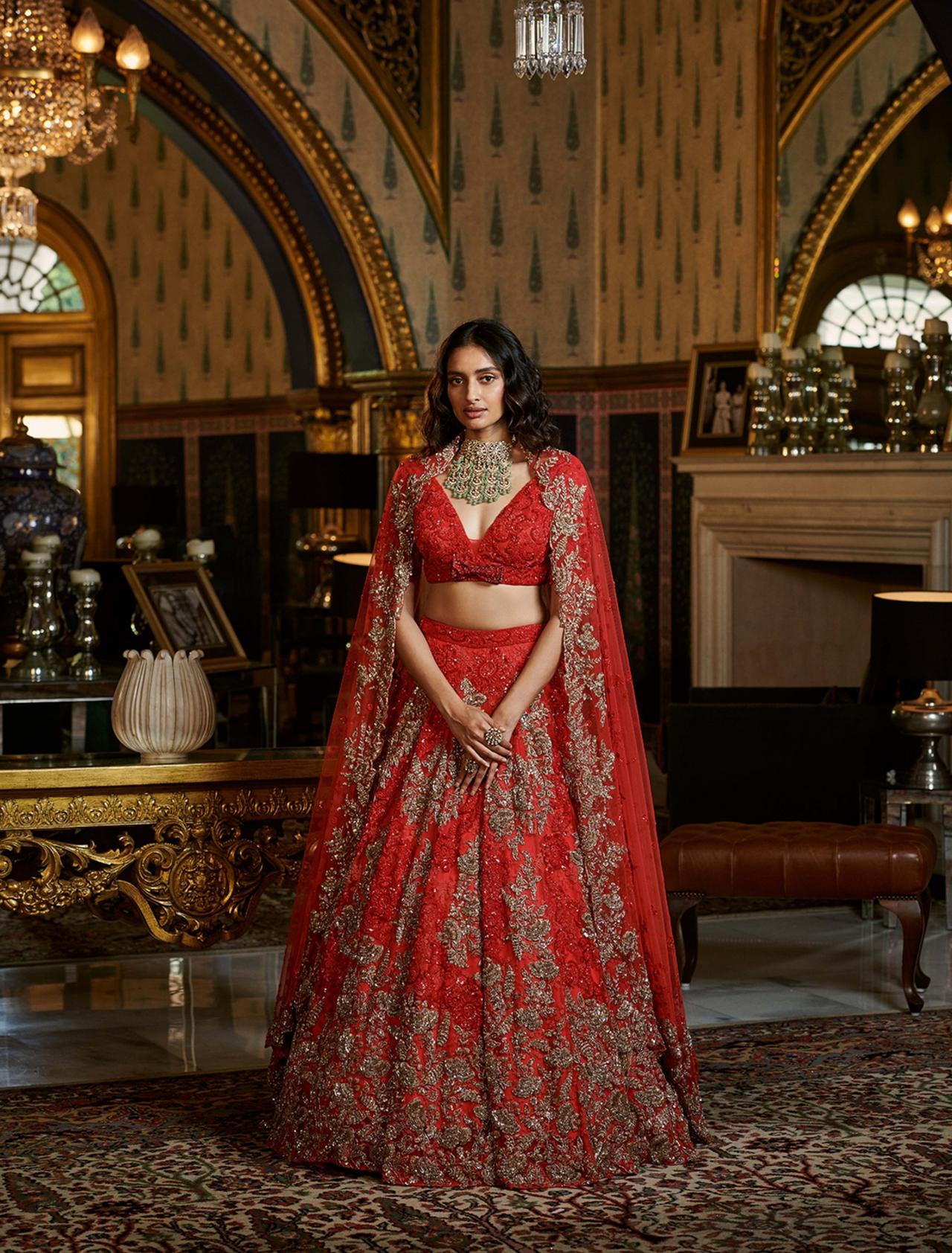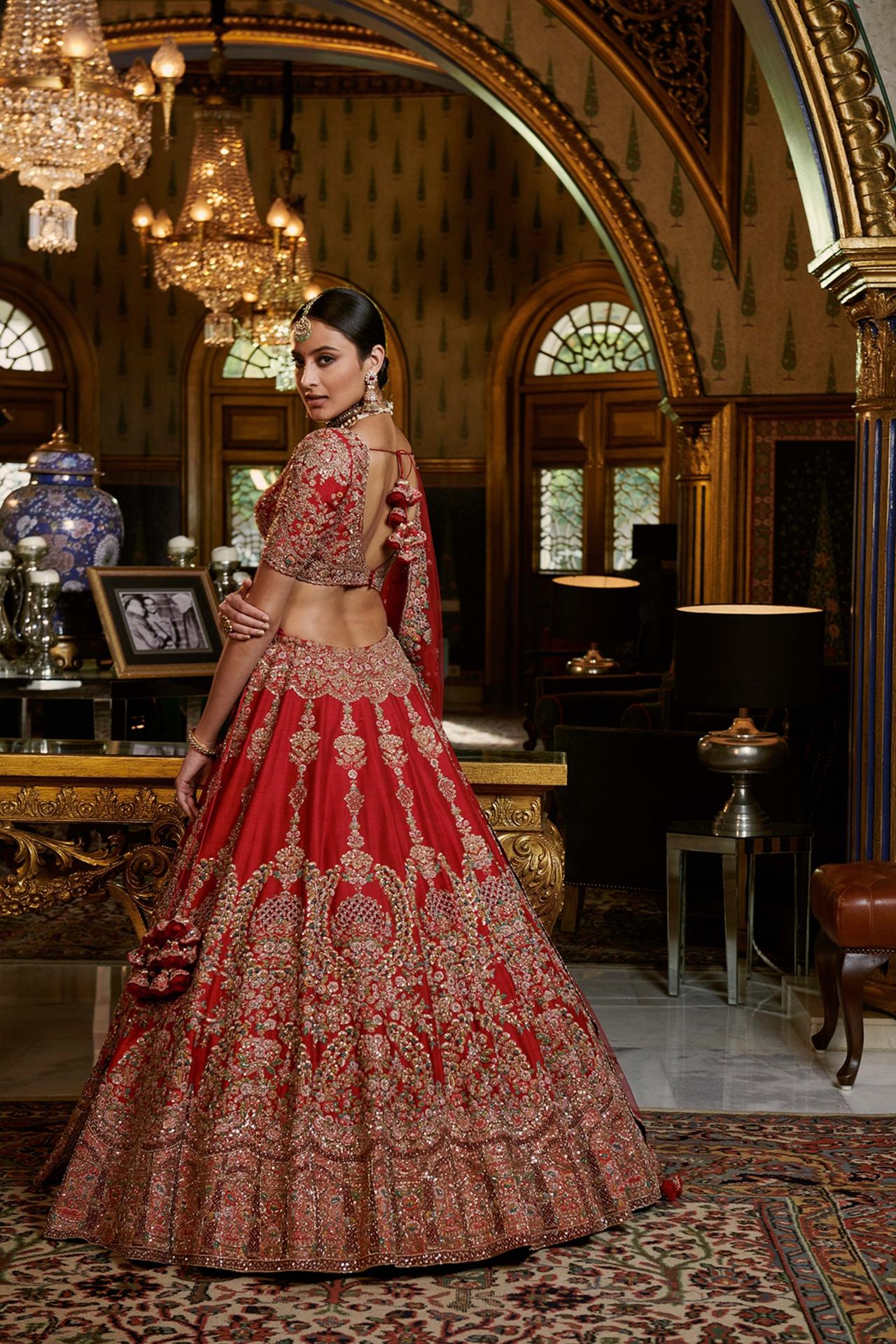 In times like these when we cling onto hope and wait for a silver lining, this collection enlivens our hearts and promises a better tomorrow. We cannot wait for the brides to walk down the aisle in these pieces as they take their vows of forever and after.
Watch the show here:
Stay Tuned to our space and follow @weddingwireindia on Instagram for all the exclusive details of ICW show.
Note: All images are by FDCIxDollyJ.